INSIDE: A sneak peek into the Ian Potter Childrens Garden Melbourne.
Tucked away in a corner of the Royal Botanic Gardens of Melbourne, the Ian Potter Children's Garden is the antidote to super chaotic children's playgrounds in Melbourne.
This nature playground in Melbourne is a place to roam, to scamper, and to play in amongst Australian native bushland.
If you are looking for fun things for kids to do in Melbourne, pop it on your Melbourne itinerary.
Take a look inside the Melbourne Botanical Gardens Children's Garden here.
Disclosure: This article contains affiliate links. If you make a purchase after clicking on one of these links, we may receive a small commission at NO extra cost to you.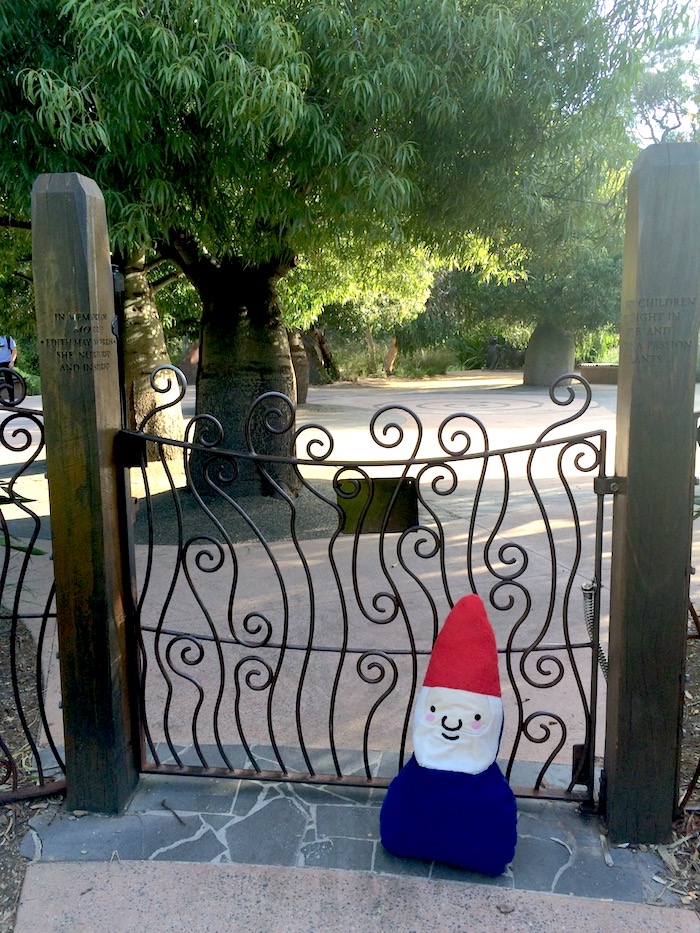 Ian Potter Childrens Garden Melbourne
Get amongst it at the The Ian Potter Foundation Children's Garden.
There's EIGHT different gardens within the garden to explore.
The Ruin Garden
The Meeting Place
The Wetlands
The Bamboo Forest
The Gorge
The Plant Tunnels
The Kitchen Garden
The Tree Tower.
BYO healthy road trip snacks, and enjoy a picnic in the Botanical Gardens of Melbourne, on the:
Oak Lawn, beneath the mighty oaks. A top spot in Autumn!
Western Lawn, close to the Children's Garden, with plenty of space to play
It's the ideal day out in Melbourne for garden play with friends, and to learn about lots of different species of Australian plants and grasses.
(Here's a list of what you'll find in the garden)
---
Book Now: 24 Hour Melbourne Hop On Hop Off Bus & River Cruise tickets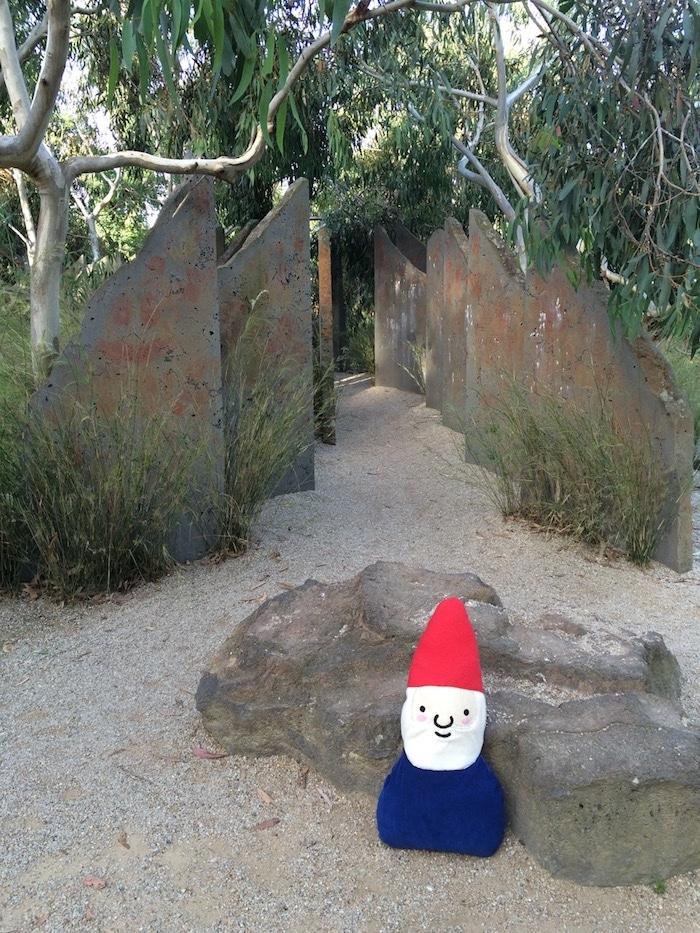 Hands-on activities at the Ian Potter Foundation Children's Garden
Children can play, explore and discover the changing colours and seasons of nature at the award-winning Ian Potter children's playground as they stroll and wander among the plants, waterways, pathways, and rocky outcrops.
The Melbourne garden design is accessible for everyone.
ALL :
ages
backgrounds
abilities and
cultures.
The goal at this Melbourne garden for kids is to immerse children in nature so they grow up with a sense of ownership and responsibility for the environment.
With luck, this early immersion will be enough so that as adults, they continue to practice conservation throughout their lives.
---
Visiting Melbourne with Kids? Book a 1/2 Day Tour of the Neighbours "Ramsey St" set with exclusive access!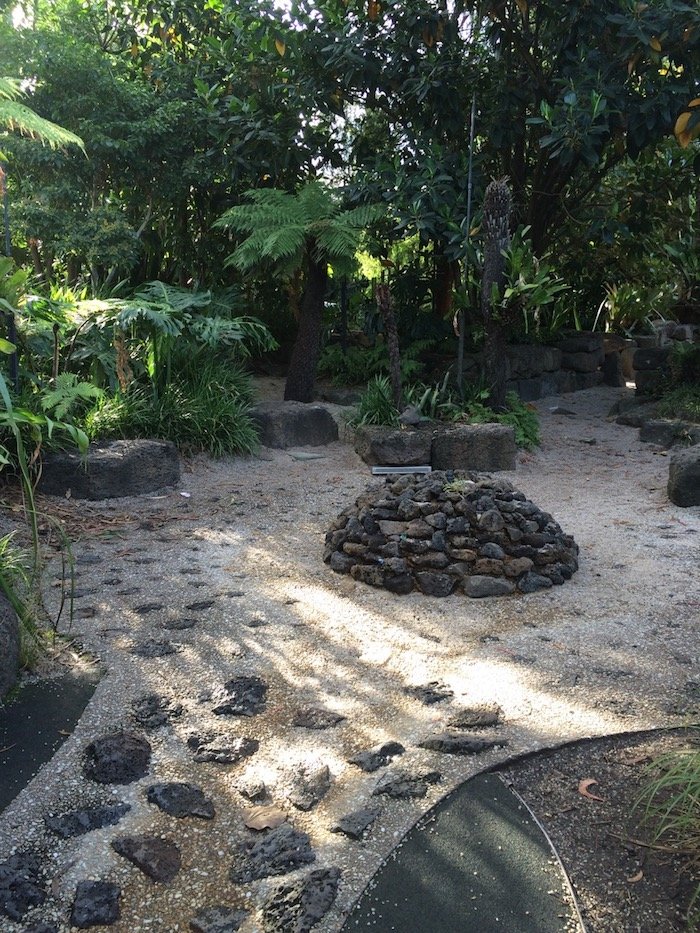 50 things for kids to do at Ian Potter Foundation Childrens Garden
Kids need inspiration? Take a look at this list of 50 things for kids to do at the Ian Potter Foundation Children's Garden
Worth a visit?
DEFINITELY.
It's on Roam the Gnome's list of top 10 playgrounds in Melbourne.
BYO Sunscreen and hats.
---
Hungry? Book a 2 hour Foodies Tour of Queen Victoria Market. Kids 8+ welcome.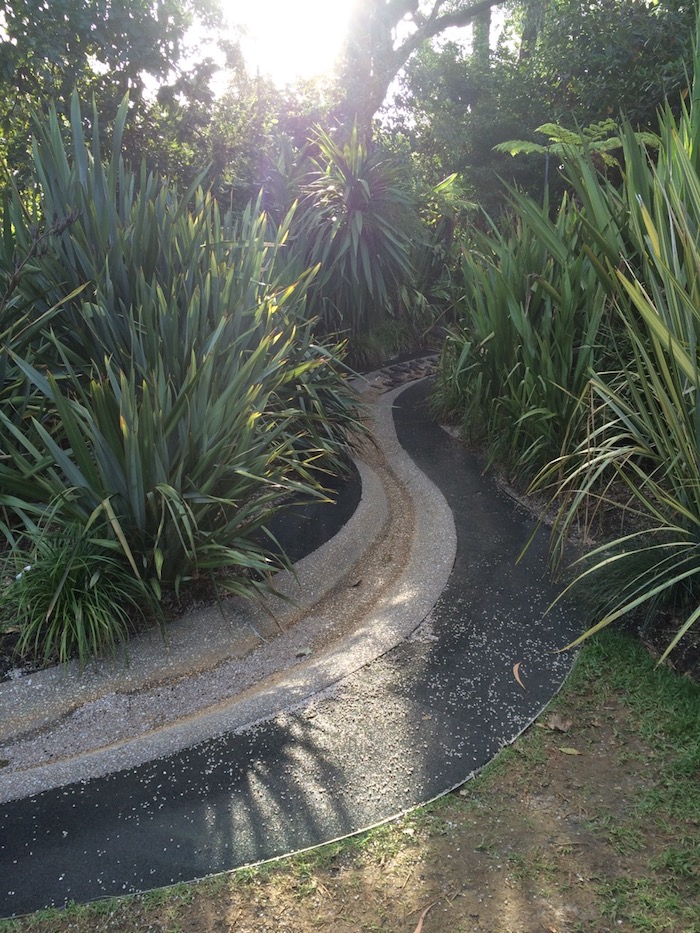 Water Play at Ian Potter's Garden in Melbourne for Kids
There's water play too.
Remember to BYO swimmers and towels if you are visiting during Spring or Summer.
The kids WILL get wet, both at the Meeting Place, and at the River Mill.
Pics and details below.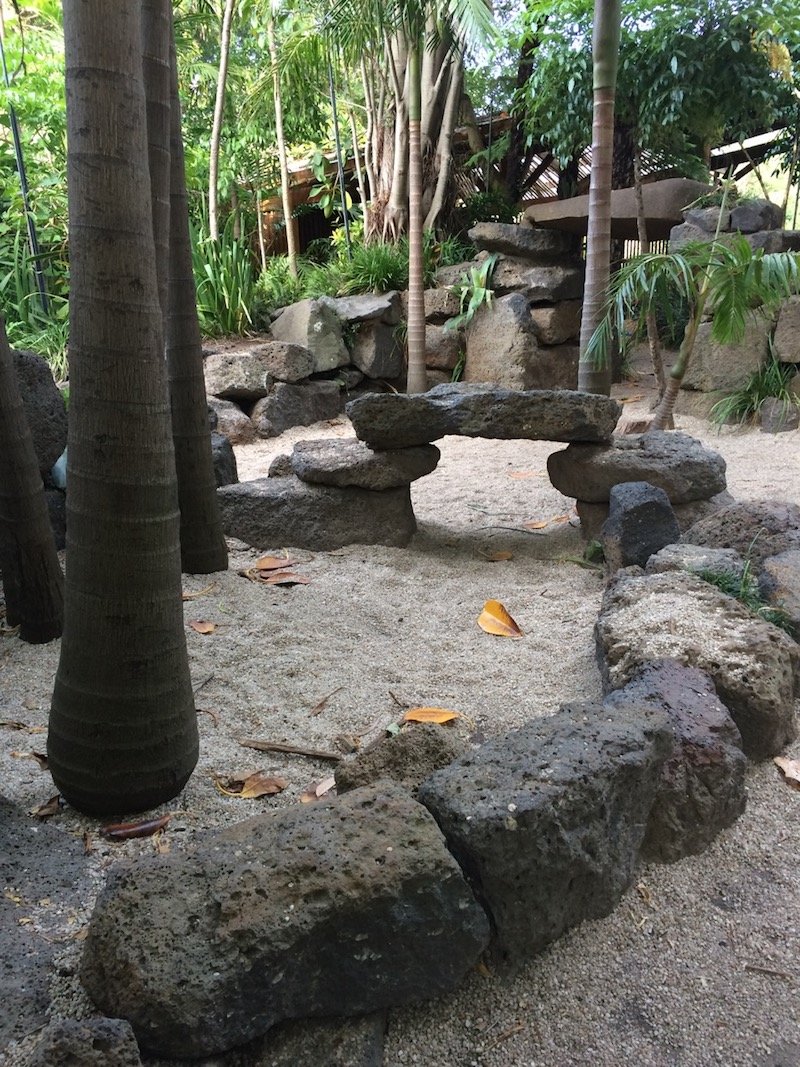 No.1: The Ruin Garden
There's rocks to climb over and rock tunnels to pass under.
And places to dig and scoop too.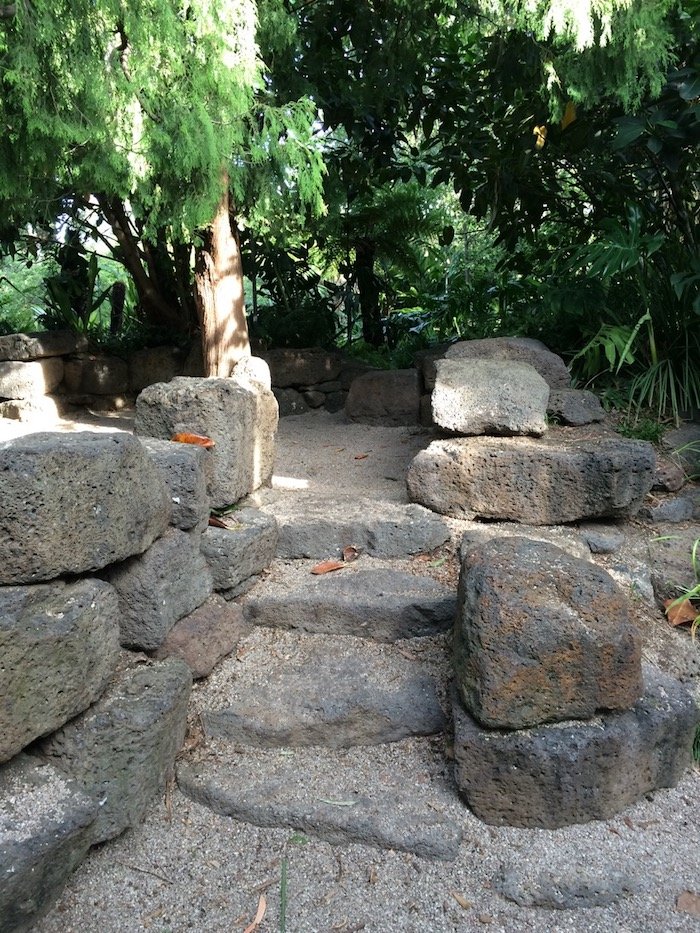 It's my fave spot.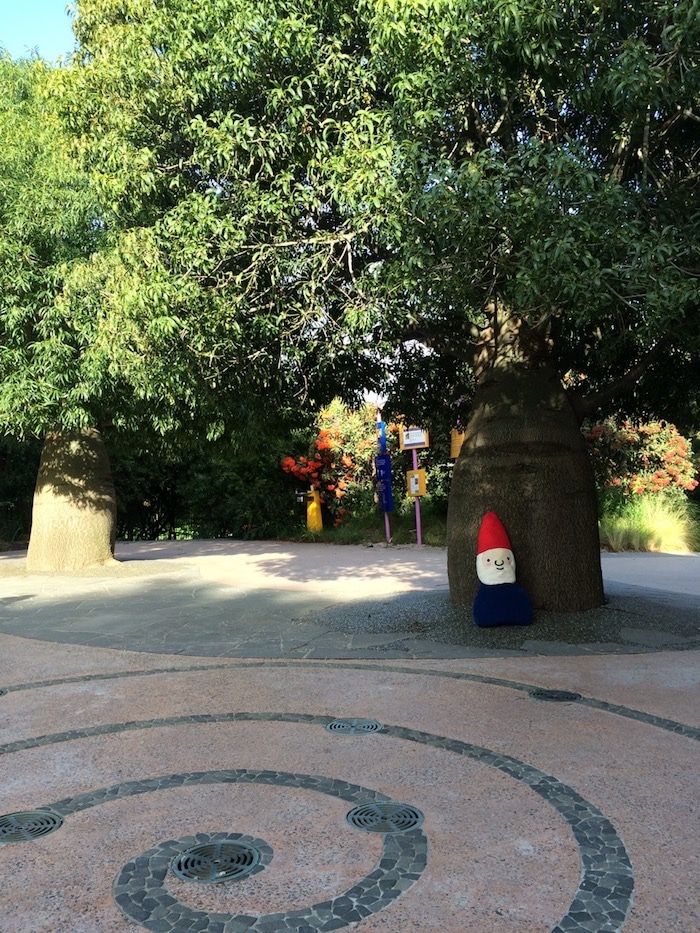 No.2: The Meeting Place
The Meeting Place has spiral fountain jets that spray water into the air between 10am and 4pm, daily.
But only on warm days 25 degrees or more.
(No catching a chill here)
Check out the Queensland Bottle Trees here too. These rotund trees are something special!
No.3: The Wetlands
In the centre of the gardens, a natural pond is home to nature's creatures.
It's the place to spy insects, plants and fish.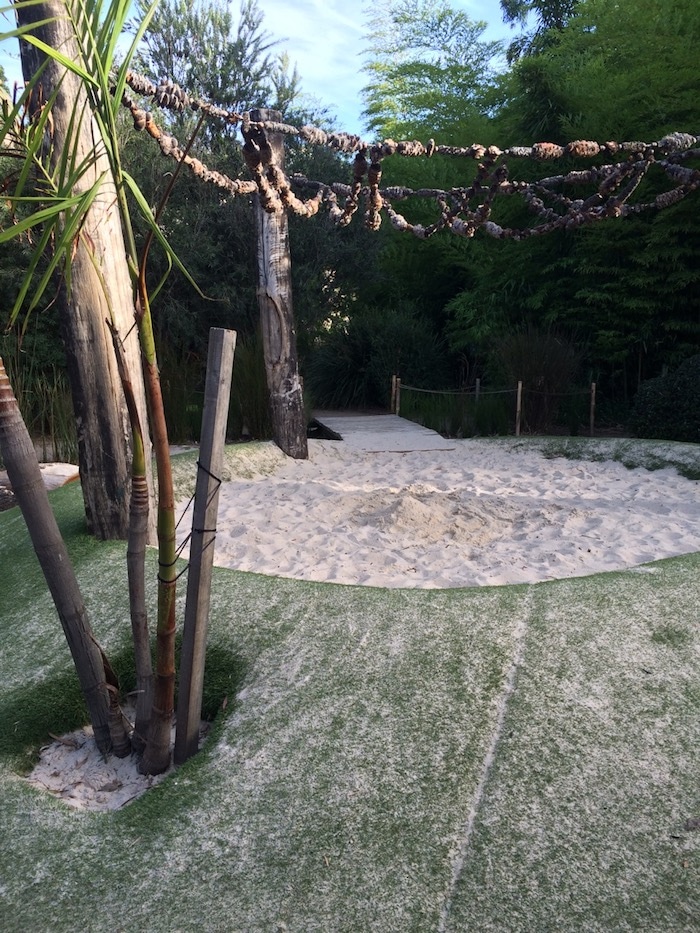 No.4: The Bamboo Forest
Bamboo forest is a cool spot to sit, as the kids dig in the sandpit.
BYO sandpit toys.
(Check out our list of digging toys for the sandpit & beach)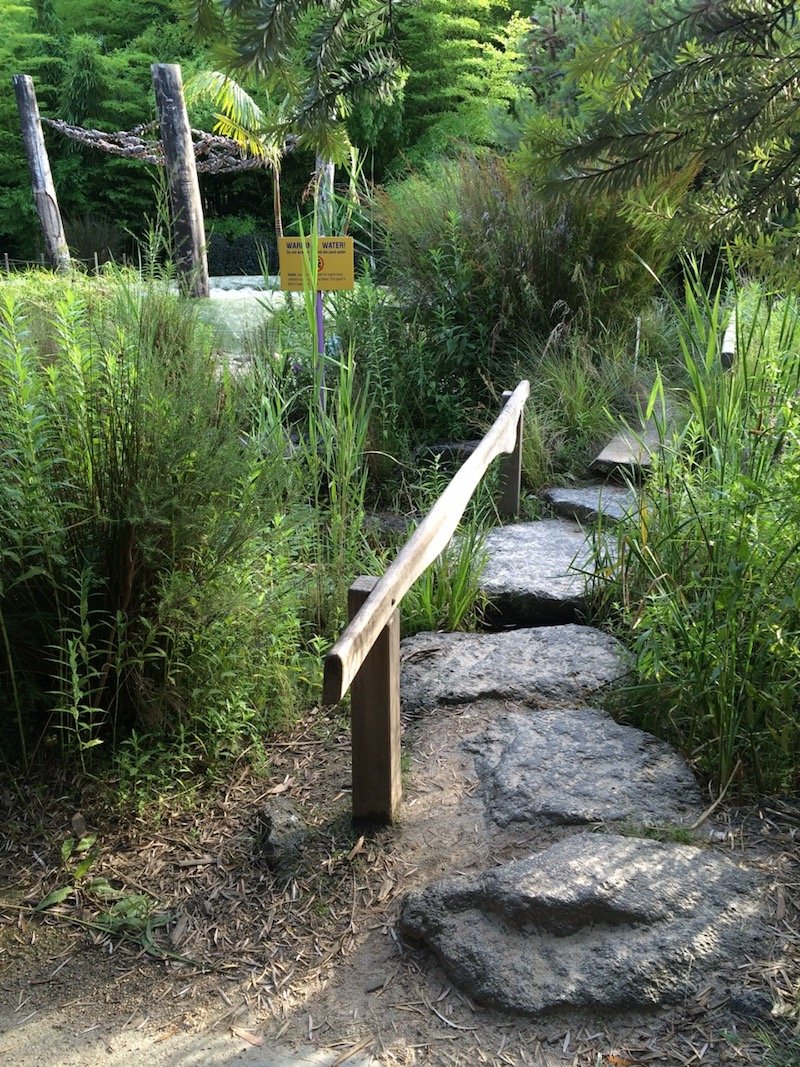 No.5: The Gorge
There's space to explore nature, without fear of snakes or other dangerous Australian wildlife.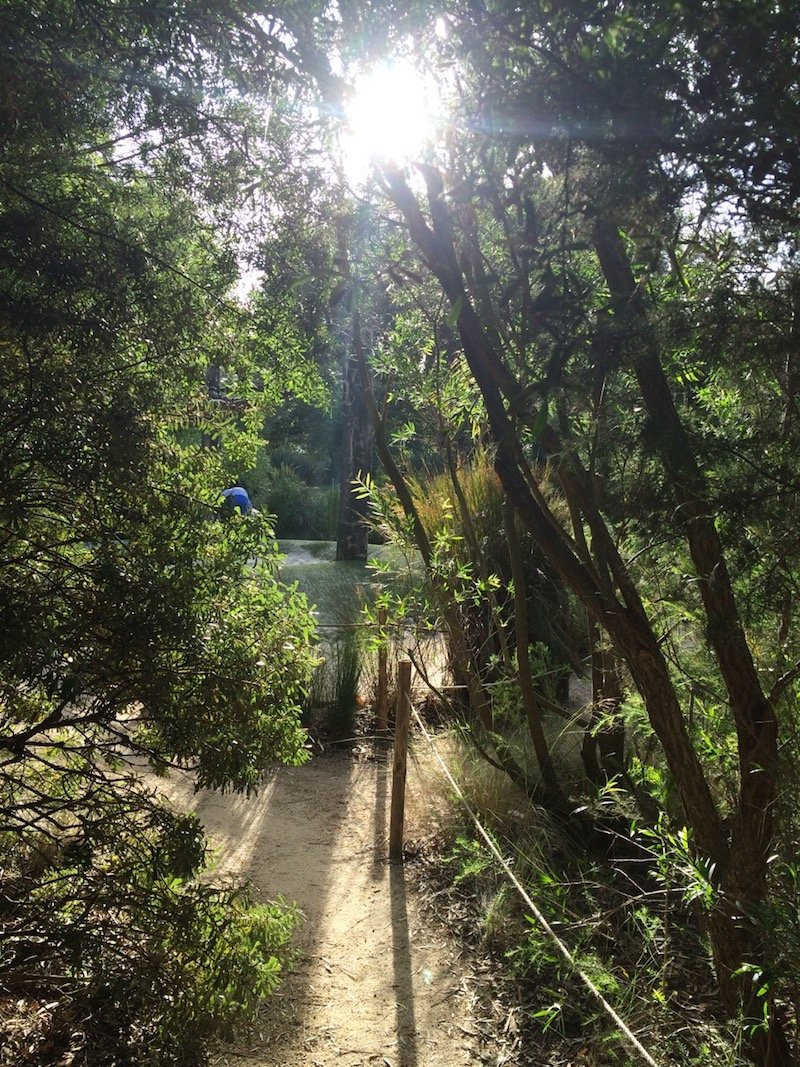 No.6: The Plant Tunnels
The plant tunnels play area is ideal for a game of hide and seek!
No.7: The Kitchen Garden
This is where you can get dirty helping to grow fresh veggies (spy the scarecrow!)
Learn all the ins and outs of planting in season, and companion planting tips too.
Plants and trees you'll find here include:
Olive tree
Passionfruit vine
Persimmon
Japanese banana
Tamarillo
Rhubarb
Fig
Orange
Black Muscat grape
Babaco
Medicinal Aloe
Plus, herbs including rosemary, thyme, chamomile, Vietnamese mint, Nasturtiums, Parsley and Apple mint.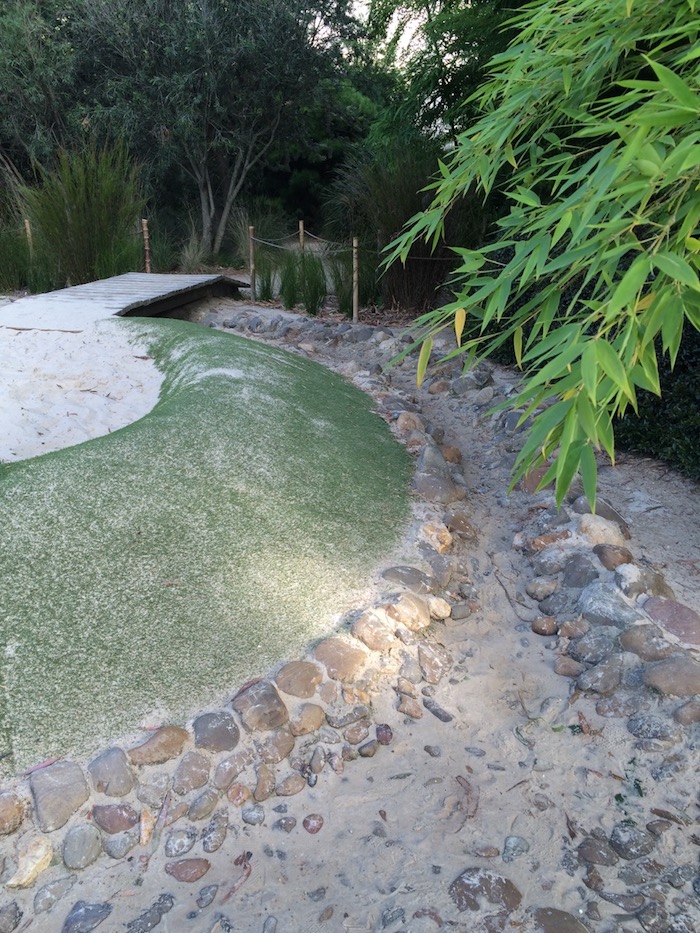 No.8: The Rill Stream
The Rill stream is a river stone-encrusted waterway that runs from 10am to 4pm daily too.
Find a leaf boat and sail it along, or play jump and skip over the stream and back.
Lots of fun for little ones.
No.9: The Tree Tower
The newest addition is the Tree Tower.
Climb up high for awesome views of the garden.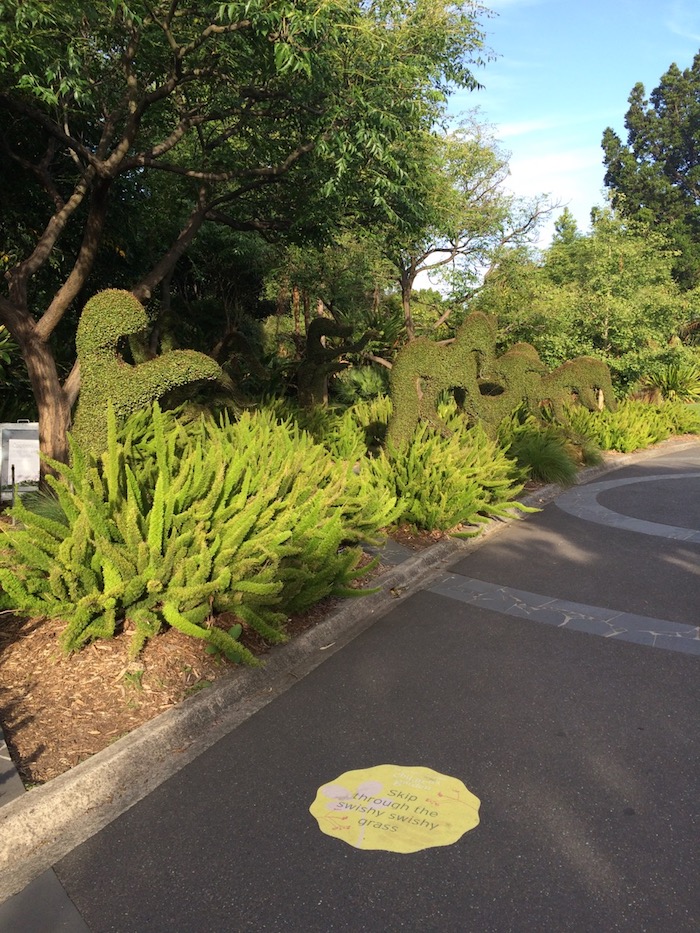 Topiary Sculptures
Around the garden edges, along the pathways, spy unusual topiary.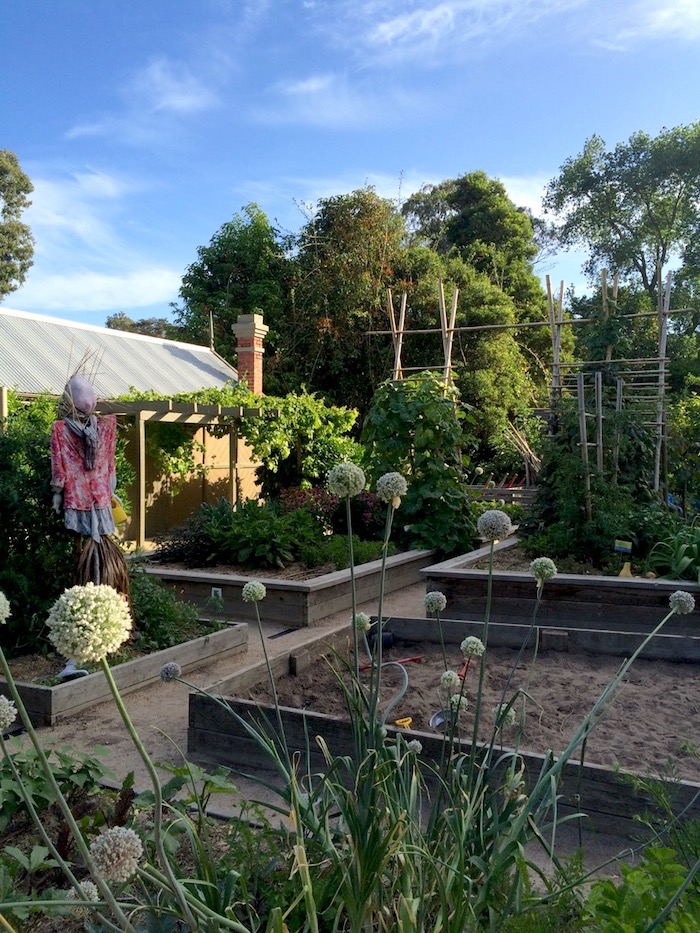 Vegetable Gardens
Spy these gardens as you wander round.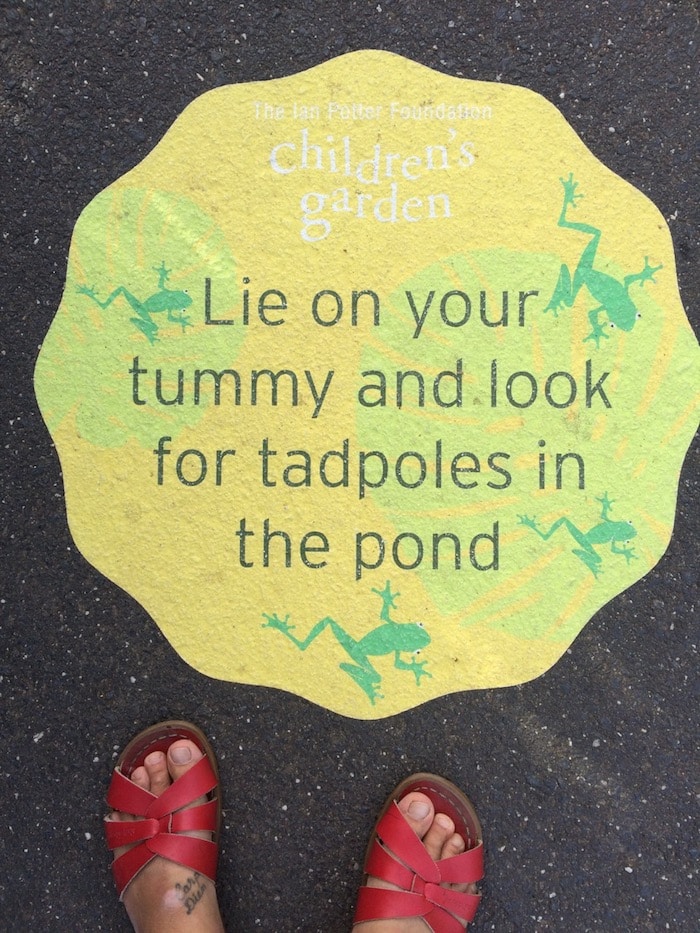 Things for Children to do at Ian Potter Foundation Children's Garden
Look for the spots with suggested activities of things for kids to do at Ian Potter's Garden.
Hot tip: Look out for mandalas in nature!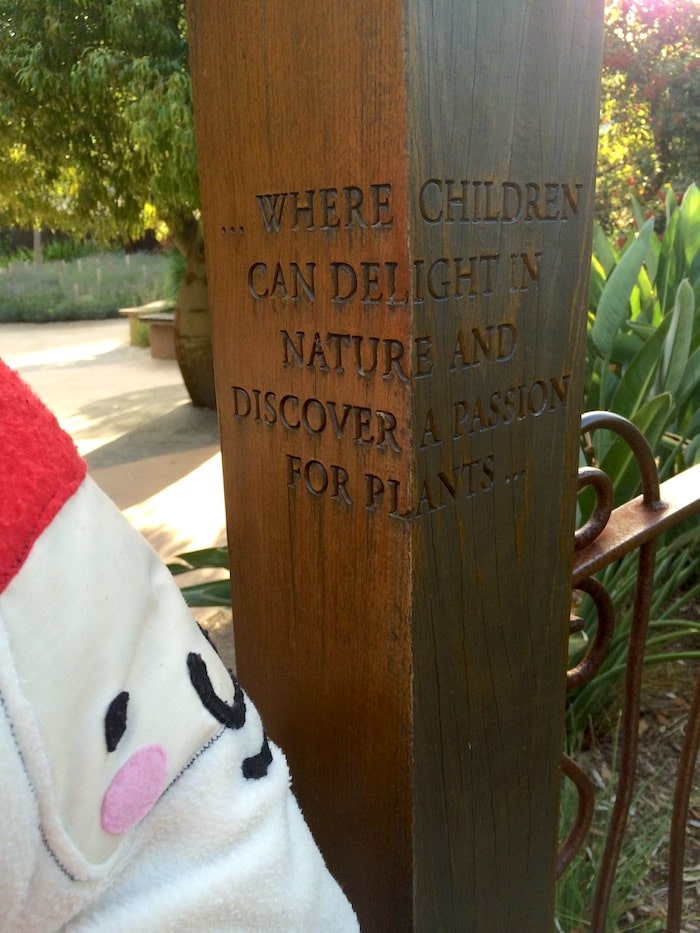 THE INSIDE SCOOP: The Ian Potter Children's Wild Play Garden
Correct at time of publication on Roam the Gnome. Please check with venue for updates. We apologise in advance if there have been any changes we are unaware of. All prices in AUD dollars, unless otherwise stated
Address: Royal Botanic Gardens Melbourne, Birdwood Ave, Melbourne VIC 3004
Website: Click here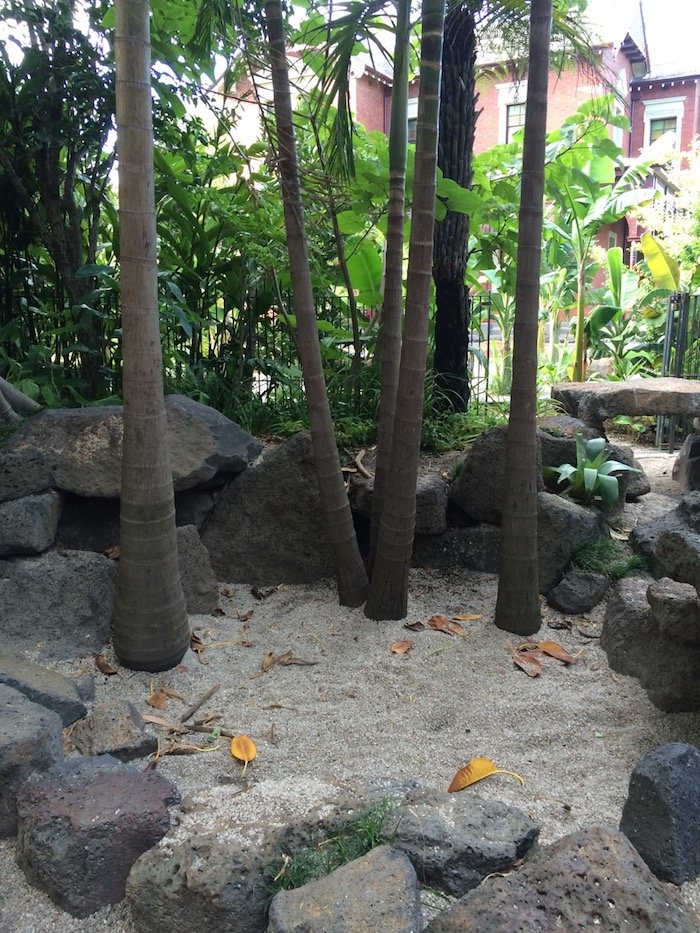 Opening Hours at Ian Potter Children's Garden in Melbourne
Open:
10am–sunset Wednesday–Sunday and public holidays
10am–sunset seven days a week during Victorian State School holidays.
Closed to the public Monday and Tuesday, during Victorian State School terms.
Closed for winter break (restoration, maintenance and rejuvenation) for eight weeks following the end of July school holidays.
Entry fees: Free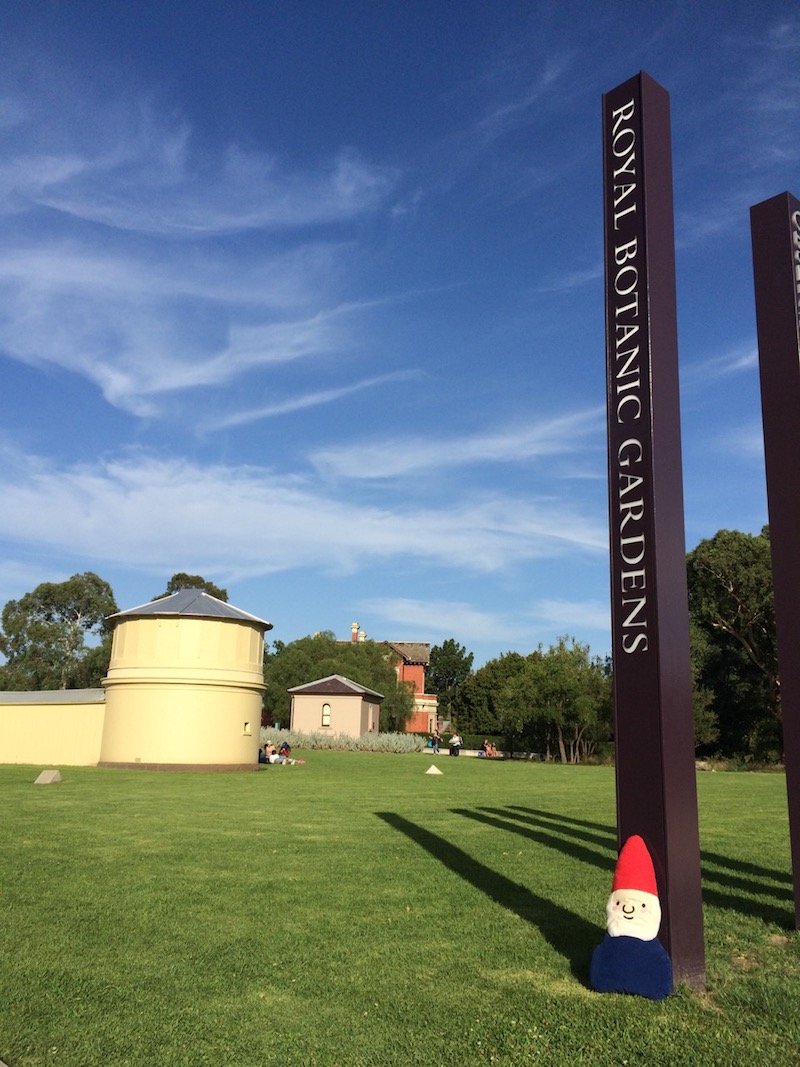 How to get to Royal Botanic Gardens Victoria
Royal Botanic Gardens Victoria at Melbourne Gardens is approximately two kilometres from Melbourne's city centre.
By Bus: Route 605 (Melbourne Observatory/Birdwood Avenue)
By Tram: Routes 3/3a, 5, 6, 16, 64, 67 and 72 (Stop 19 Shrine of Remembrance/St Kilda Rd)
For detailed public transport information, visit Public Transport Victoria.
By Bike: Designated bicycle paths along the Yarra River and Melbourne CBD lead to Melbourne Gardens.
Please note that riding of bicycles in the gardens is not permitted.
Dedicated bicycle parking is available at Observatory Gate.
Parking: Street metered car parking for up to four hours is generally easy to find close to entry gates.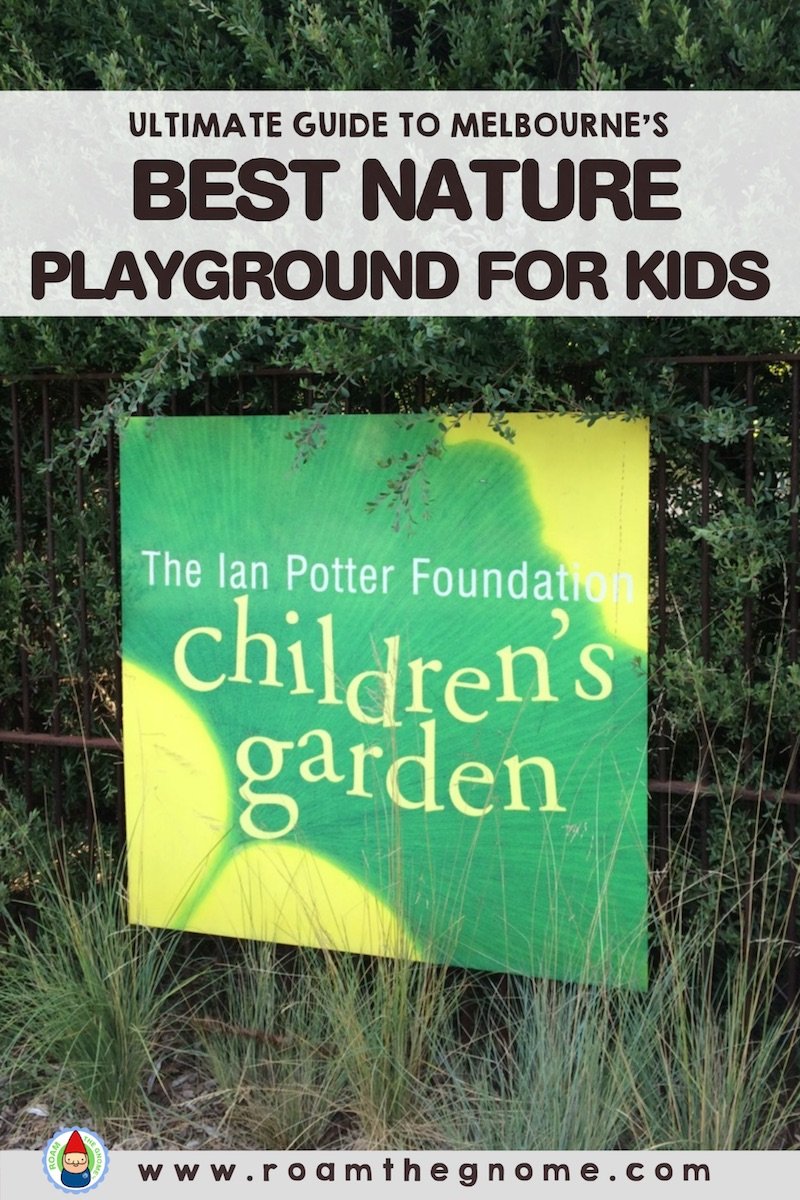 Ian Potter Children's Garden Map
Visitor information & facilities at this Nature Playground in Melbourne
Toilets: Yes, including baby change table. Walk 50 metres to the right from the front gate.
Disability access: The Children's Garden is accessible for wheelchair users, visitors with walking frames, and parents with prams.
Shade: Yes
Enclosed: Fenced all round
Ground cover: Grass, bark, sand, mulch, rocks, concrete
Picnic tables: BYO picnic rug.
Water Bubblers/fountains: Yes
Scooters and Bikes: No
Dogs: No
Notes:
Children must remain clothed at all times.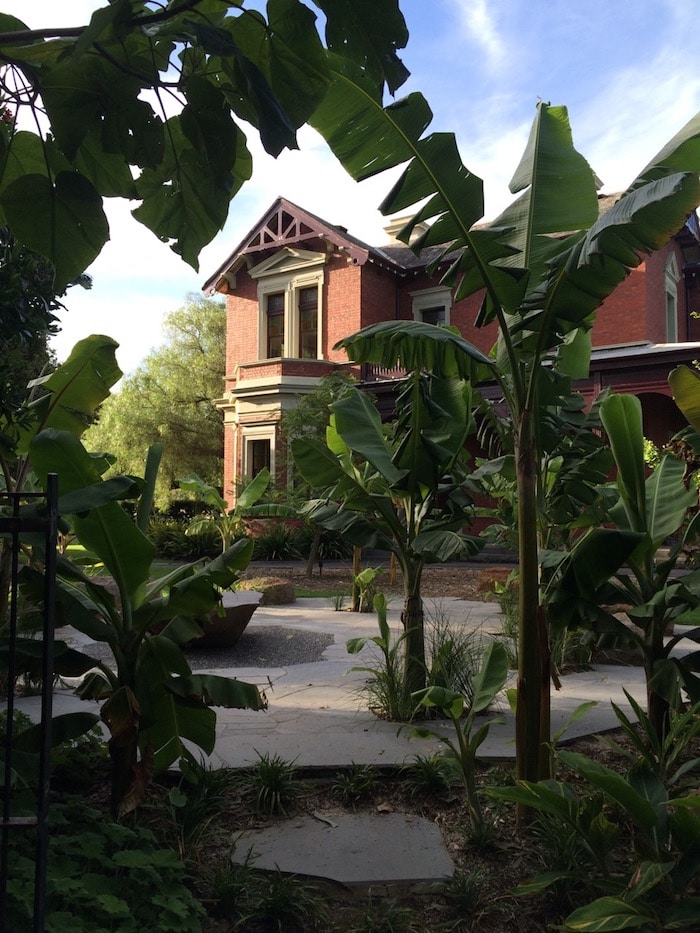 Toadstool Rating: The Ian Potter Foundation Children's Garden
Nature play lovers, and imaginative kids who create their own games & stories, will adore it.
This place in Melbourne for children is better suited to younger kids under 12.
There's not much to "DO" for older kids, but it's a quiet calm space if they like reading, or chatting to mates.


Looking For More Things to Do in Melbourne with Kids?
Click the blue links below for more Melbourne attractions for kids.