INSIDE: Roam the Gnome's Comparison Guide to the Rovaniemi Santa Claus options
There are at least FIVE different Santas you can meet in Rovaniemi Lapland.
Maybe more?
Want to know how to prioritise which Santa/s to visit during your Lapland Christmas vacation?
Take a look at our insider's guide to choosing the BEST Rovaniemi Santa Claus experience below.
Disclosure: This article contains affiliate links. If you make a purchase after clicking on one of these links, we may receive a small commission at NO extra cost to you.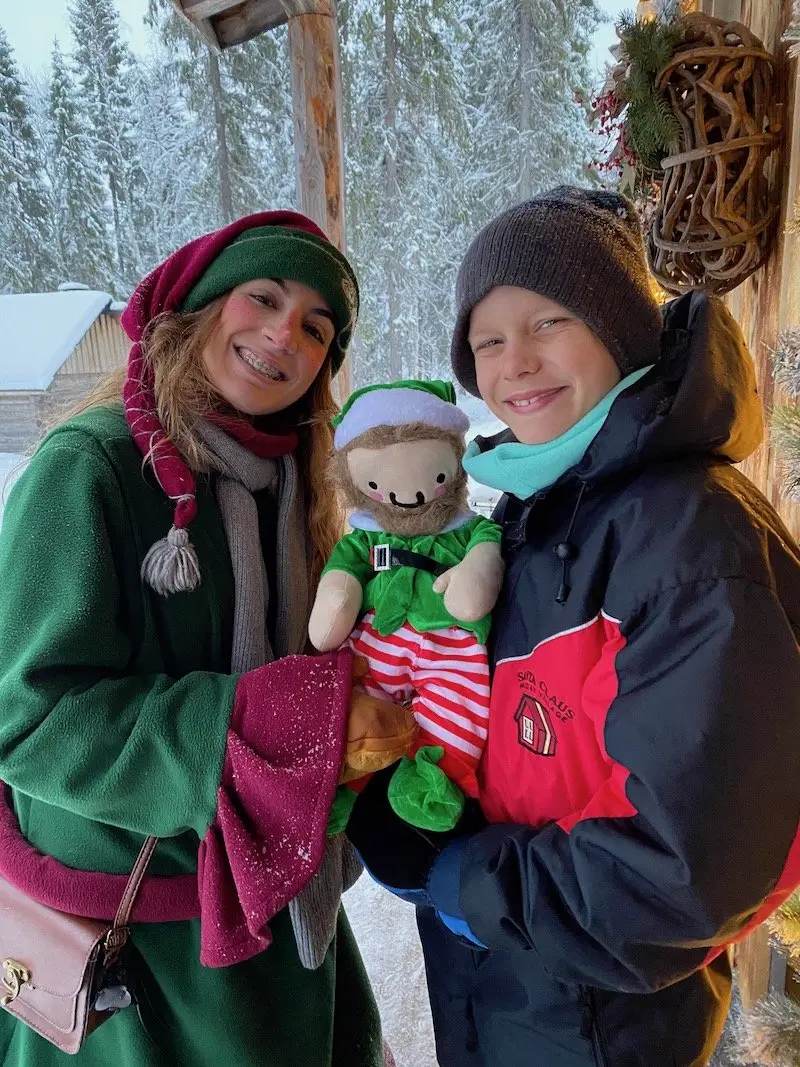 THE INSIDE SCOOP: "Which is the best Rovaniemi Santa Claus" Guide
Correct at time of publication on Roam the Gnome. Please check with venue for updates. We apologise in advance if there have been any changes we are unaware of. All prices in euro, unless otherwise stated
Let's start with ELVES.
Meeting a real life ELF on your way to meet Santa is an EXTRA SPECIAL BONUS.
Don't you think?
Elves definitely sway our ratings guide. Without a doubt.
There's two ways to meet REAL LIFE ELVES.
On one of the FOREST OF JOULUKKA tours
At SantaPark Rovaniemi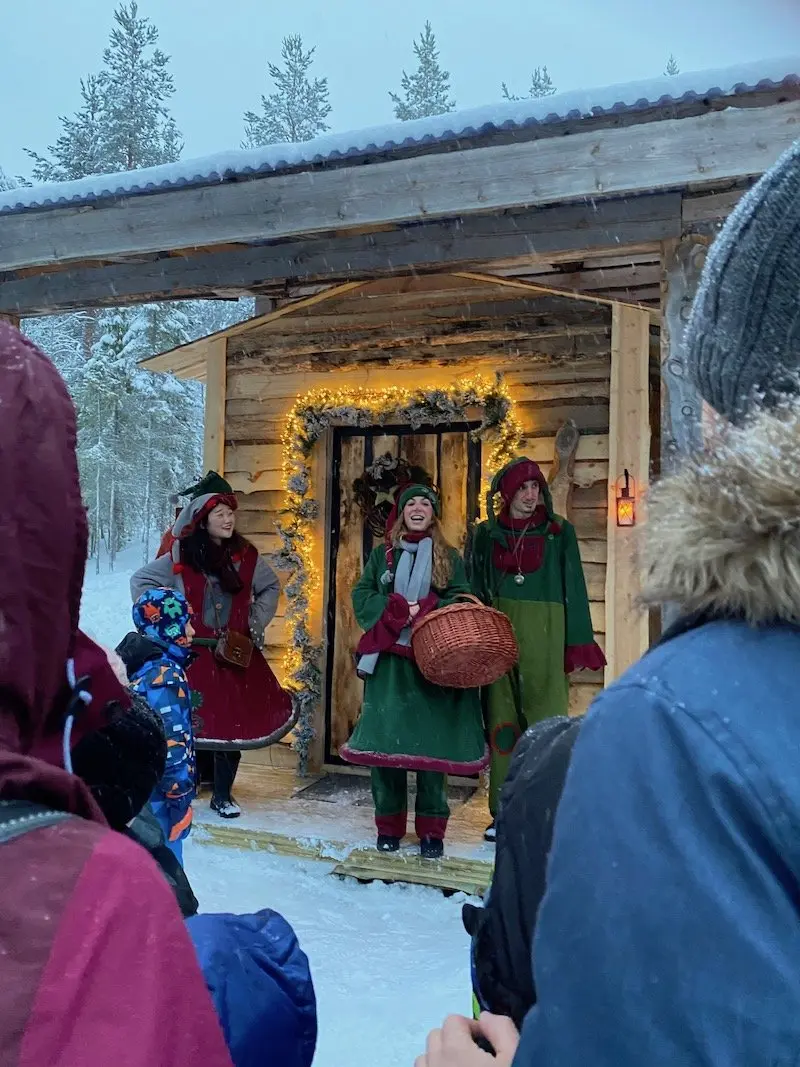 The Best Place to Visit Santa in Lapland
For the money, our bet is on Secret Forest of Joulukka.
Those elves are the real deal.
Totally loveable and in character 100% of the time, wearing adorable outfits full of magical Christmas charm, and if you are lucky enough to meet the elves we did, living large in their elf life.
No wonder Santa employs them!
With that understood, let's rate the Santa experiences from 1 to 5.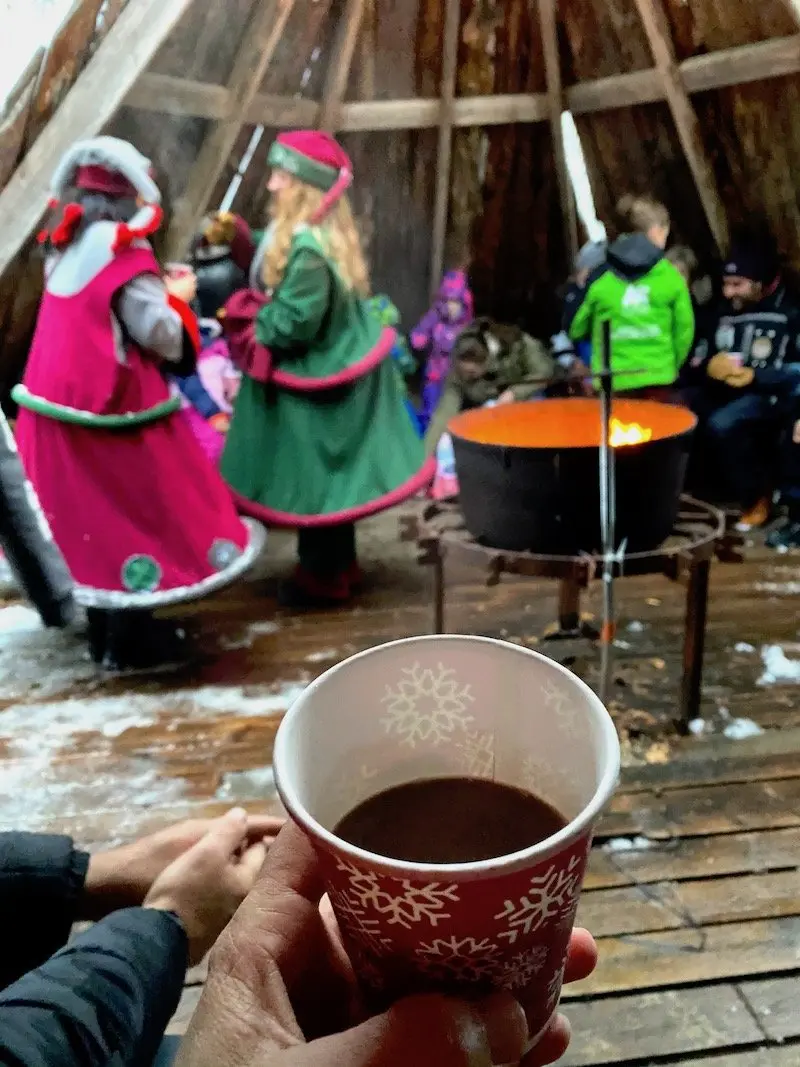 No.1: Santa Claus Secret Forest of Joulukka – Santa's Toy Factory Experience
THIS whole Santa Claus in Finland experience was our family's favourite adventure on our Christmas trip to Lapland.
(Until we met the Husky dogs of course, but that's just because Ned is an animal lover.)
The Santa's Toy Factory tour in Rovaniemi was the best money we spent in Lapland too.
I would pay double for this magical treat, for the joy of reliving the wonder of childhood and sharing that with my boys, and our Roam the Gnome.
This tour takes place OUTSIDE, surrounded by the magnificent snow-topped pine trees, with chances to dance, sing, play, learn from, and cuddle the elves.
Kids are able to:
toast marshmallows, and
drink berry juice, and later,
take a walk through the forest to the Kota hut for hot chocolate warmed on the fire pit.
The highlight, without giving too much away, was being SURPRISED by the big man himself on our exit after our elf-led tour of Santa's Toy Factory.
A bonus surprise was that Santa gave the boys a small soft toy as a gift, something they will have forever to remind them of this adventure.
The WHOLE experience is what elevates this to the number one spot.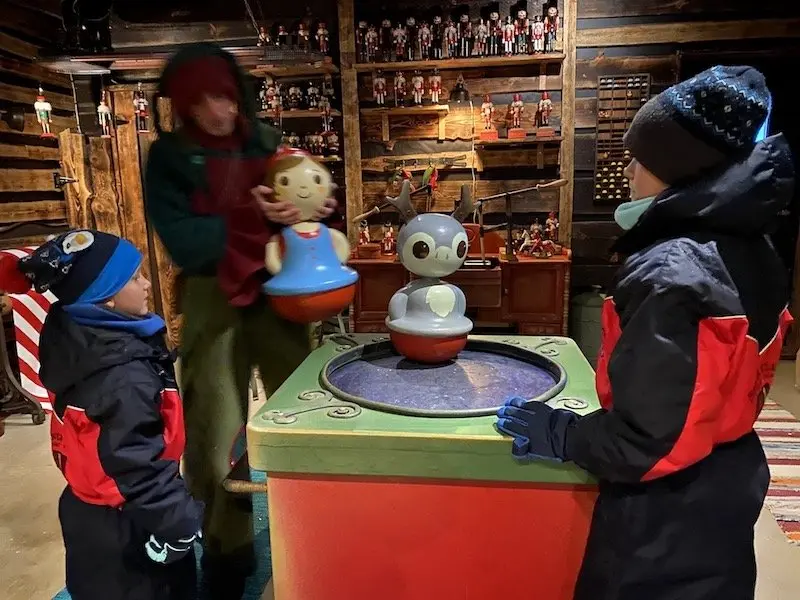 Book now!
When planning our Lapland holiday, this was always going to our opportunity to meet THE REAL Santa.
Because, as I told the kids, the real Santa is a very busy man, working in the toy factory with the elves to have everything ready on time, and as much as he'd love to, he simply doesn't have the time to meet EVERYONE.
You have to make a special appointment months or perhaps a year in advance to visit the forest, and, if you are very lucky, and time permits, Santa may pop his head up from his work to say hello to you.
The secluded location and the 'North Pole'-like snow-covered landscape lent credibility to my story.
Save up all your pennies and book it.
If you are independently wealthy, you can also book a private tour.
But to be honest, going on the bus with others was all I could manage on my budget, and it was perfectly handled so we all had our turn with Santa in private.
I'd say every single adult would back me when I say that we all shared a deep sense of how privileged we were to have partaken in this spectacular, once-in-a-lifetime meeting with the REAL SANTA.
I cried.
Other mums did too.
If it's beyond your budget, find a way to make it happen.
Everyone there would agree with me that it's worth every penny-pinching sacrifice, including saying no to your daily coffee purchase for a while!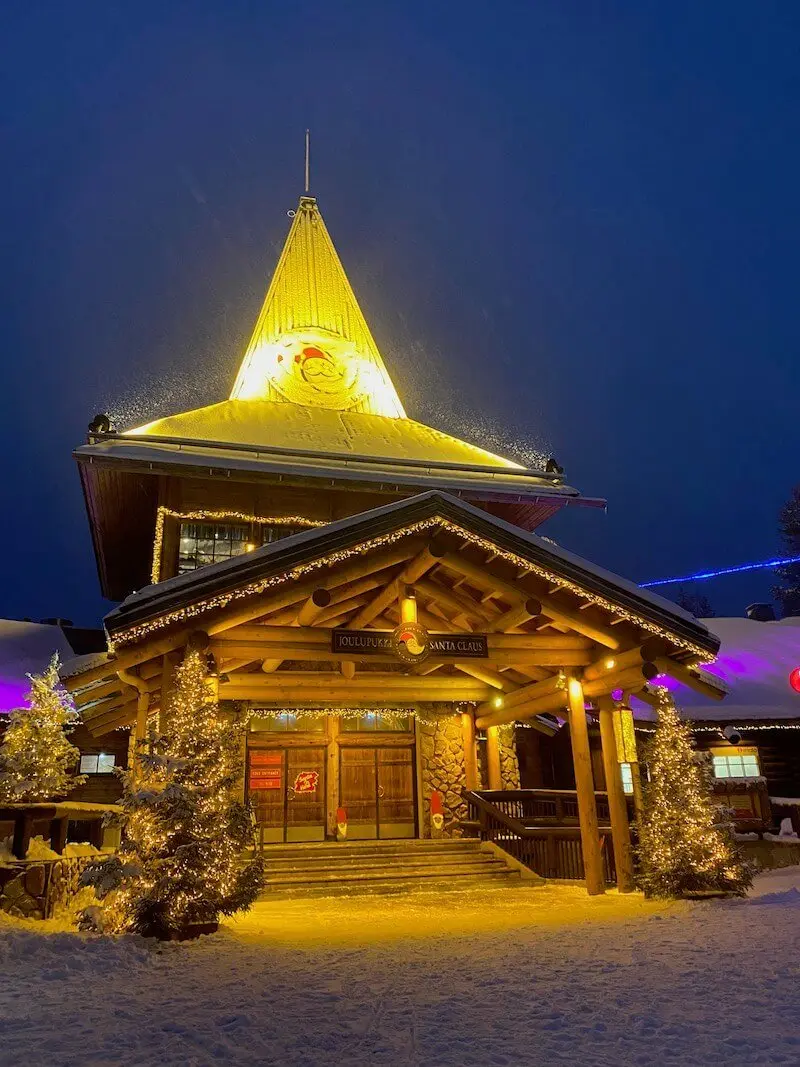 No.2: Santa Claus in the Main Office at Santa Claus Village
This is the Santa most visitors and day trippers to Santa Claus Holiday Village head for.
The location of this Santa is smack bang in the centre of the village, in the MAIN OFFICE building.
To get there from the car park, you'll also walk across the Arctic Circle line and see the distinctive pyramid shape roof of the building as you walk up from the bus drop off area.
If you are arriving by bus, the drop off point is at the Information Centre. Walk through the building to the back, and out, and you'll see the roofline of the Main Office building to your right.
If you've ever looked on Youtube, or have seen pictures of the Santa Claus Village in preparation for your trip, you'll recognise it straight away.
Outside the door, there are two Red Gnomes (painted logs) waiting to invite you inside.
The Santa Claus Main Office opens at 9am.
Be there as close to opening as you can, to avoid the crowds arriving on the day tour buses, and on the Santa Express bus from city hotels and the airport.
Otherwise, if you are staying on site in the Santa Village Hotel Cottages or Suites, plan your visit for the late afternoon.
You'll wander through a winding pathway of interesting Christmas surprises on your way to meet Santa.
Be sure to keep an eye out for interactive spots on the journey.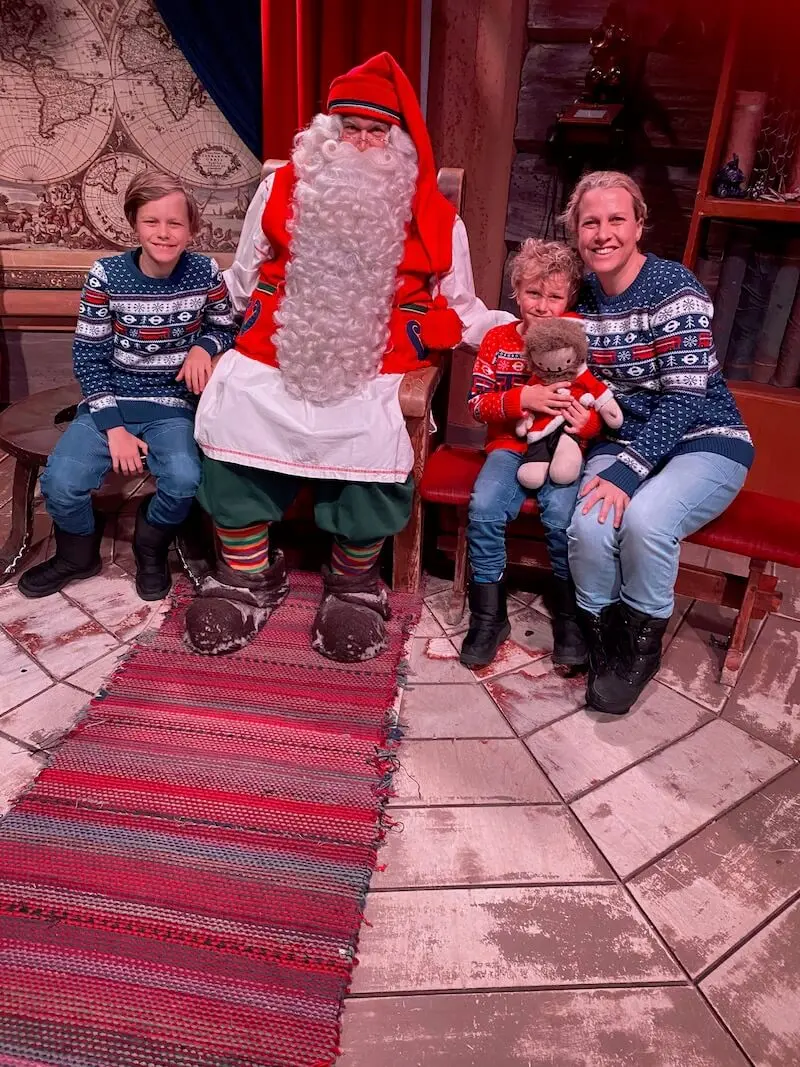 Main Office of Santa Claus Finland
We LOVED this Santa because he was warm and friendly, and his room was inviting.
This is also the BEST most unique Santa Photo backdrop, as far as we are concerned.
And check out his RAINBOW STOCKINGS!
I mean, he's simply loveable!
If you are on a mission to get your Christmas photo in Lapland, don't miss THIS Santa experience.
Professional photos of your visit are for sale as you leave the office.
Hot tip: You can also buy the digital download so you can share it with friends and family.
We decided this Santa is the PNP Santa, because he looks just like the Santa who sends the boys a personalised video each year.
(PNP stands for Portable North Pole. If you don't know this website yet, you MUST check it out.)
I also explained the existence of THIS duplicate Santa to my 6 year and 11 year old (who was VERY skeptical about Santa's existence until we met the REAL Santa in Joulukka the day before) in this way:
That REAL Santa appointed a very special second-in-charge to help him greet ALL the families who make the trek to Lapland to see him.
That this Santa is THE Santa who does all the official Santa jobs, such as reading the piles of letters that arrive each year from children from all over the world.
He also has the task of making and sending out all the videos and handwritten reply letters to children who've written to him this year.
They were happy enough with that story.
---
RELATED: The Ultimate Insider's Guide to the Santa Claus Main Office & Shop in Santa Claus Village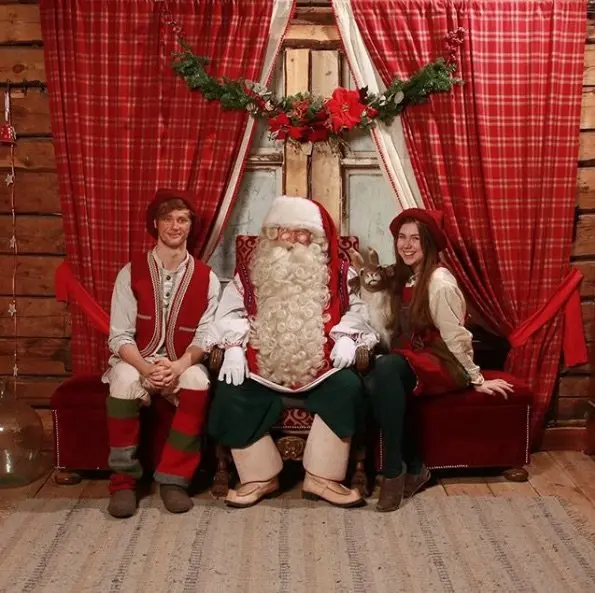 Image credit: Santa Park Finland Instagram
No.3: Santa Park Santa
Santa Park is the next most obvious place to meet Santa in real life.
If you are on a day tour to Lapland, this may be the one you are guided to.
Santa's Office in Santa Park sits inside his own little cottage.
The line to enter the cottage is to the right of the Magic Train ride, or to the left of the Elf Workshop where the craft activity is held.
This is also a coveted place to have your family Christmas photo taken, as the backdrop behind Santa is a traditional Christmas scene of garlands of greenery, a red brick wall, bright red curtains with sash ties, and frosty windows.
Santa sits on an ornately decorated chair, and invites families – one by one- to sit on leather seats next to him.
He's also very friendly, and warm.
The BIG BONUS here is being able to take as many pictures on your own camera as you like.
You can also buy the official Santa photo if you wish too.
The downside is it is expensive to enter, and expensive on the inside too.
Hot tip: This place is better suited for young children only.
---
RELATED: Roam the Gnome's Ultimate Guide to SANTA PARK ROVANIEMI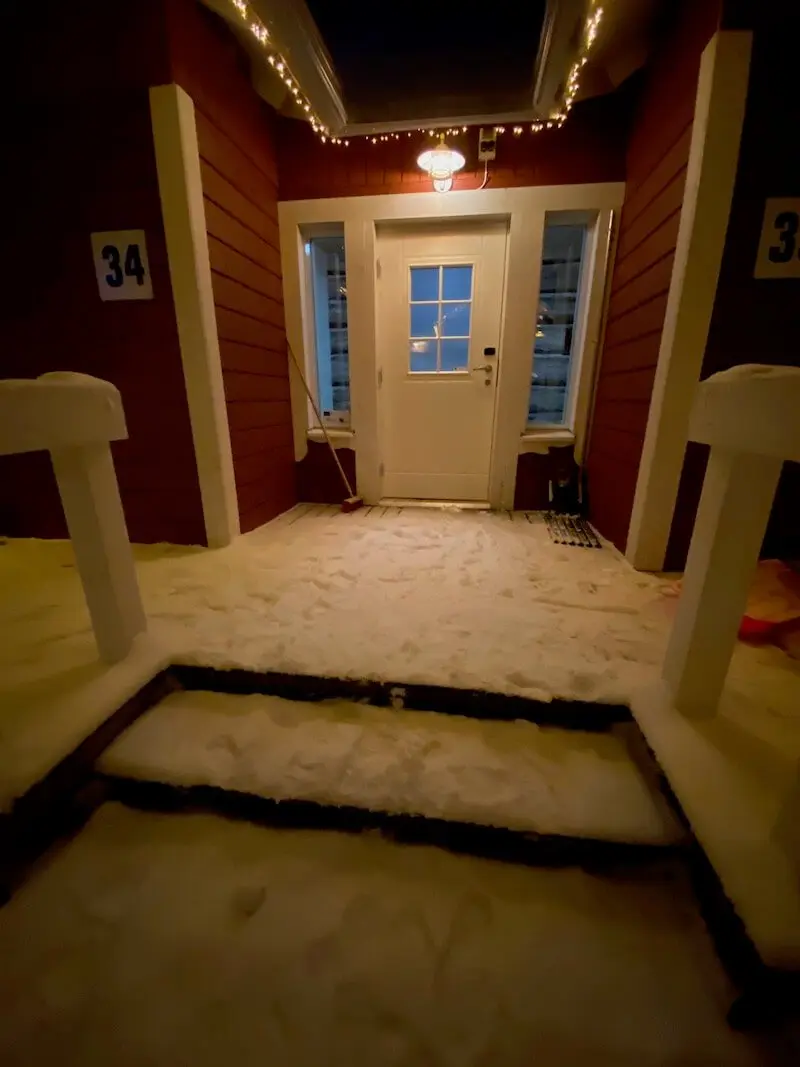 No.4: Invite Santa Claus to your cabin
If you are lucky enough to be staying onsite in one of the Classic Cottages, suites or cabins at the Santa Claus Holiday Village hotel, you can arrange to have Santa and a friend visit your kids in your classic SCHV cottage one evening.
While we didn't do this, we watched as he was driven in a black van from cabin to cabin around the village, visiting family after family, gifts in tow.
This is one for those families who have a spare 150 Euro up their sleeve, and who want a very special personalised experience with Santa in your own private space.
Santa stays for around 10-15 minutes.
I think it's the perfect Santa meet-and-greet for children under 5, especially if you only want to make your ONE Santa experience as magical as can be, and will simply avoid/skip the other ones in town.
(That's actually quite easy to do, without them knowing.)
Hot tip: Parents do need to supply the gifts for this experience. Drop your wrapped treasures to the reception before your booking. If you haven't brought any from home, drop into the Christmas House shop secretly, and pick up a soft toy you can wrap up in a jiffy.
PS: The answer to 'Can I hire a Santa in Rovaniemi' is YES.
No.5: Christmas House Santa
Options 4 & 5 are interchangeable.
Either of these should be your back-up option if you can't manage one of the first three options for some reason.
Christmas House Santa is friendly, and chatty.
But nothing special compared to the others.
The Christmas Exhibition will fill in some time after a visit to the Christmas House shop, or while you are waiting to be collected for a tour.
But unless you are stuck, this would not be my first, second or third choice.
---
RELATED: Roam the Gnome's Insider's Guide to the CHRISTMAS HOUSE SANTA & CHRISTMAS EXHIBITION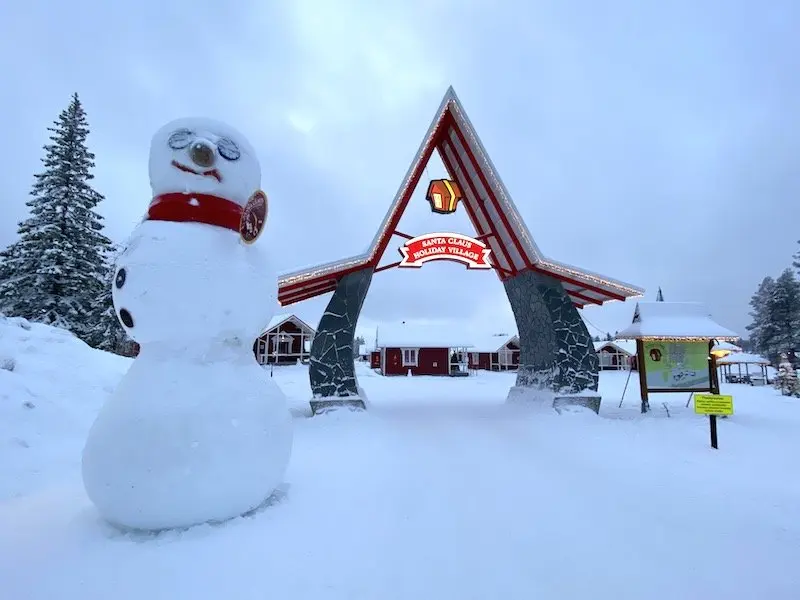 Where to see Santa in Lapland?
So in a nutshell,
Point 1: Don't miss Joulukka.
Either the "Dream of Joulukka" or "Santa's Toy Factory" weekly departure.
This elfin day out to visit Santa Claus is THE best thing you can do in Rovaniemi.
As far as we are concerned, Joulukka is home to the REAL Santa – it's the only place where you can meet Santa AND his real elf helpers.
Point 2: The Santa in the Main Office at Santa Claus Holiday Village should be your first alternative if you are not visiting Joulukka.
Point 3: If either of the two options above are not available, substitute a visit with the Santa Park Santa.
OR, if you are heading to Santa Park on day one of your Lapland trip, and the kids simply can't wait, join the Santa queue here.
Hopefully, this guide has helped you decide where to see Santa in real life!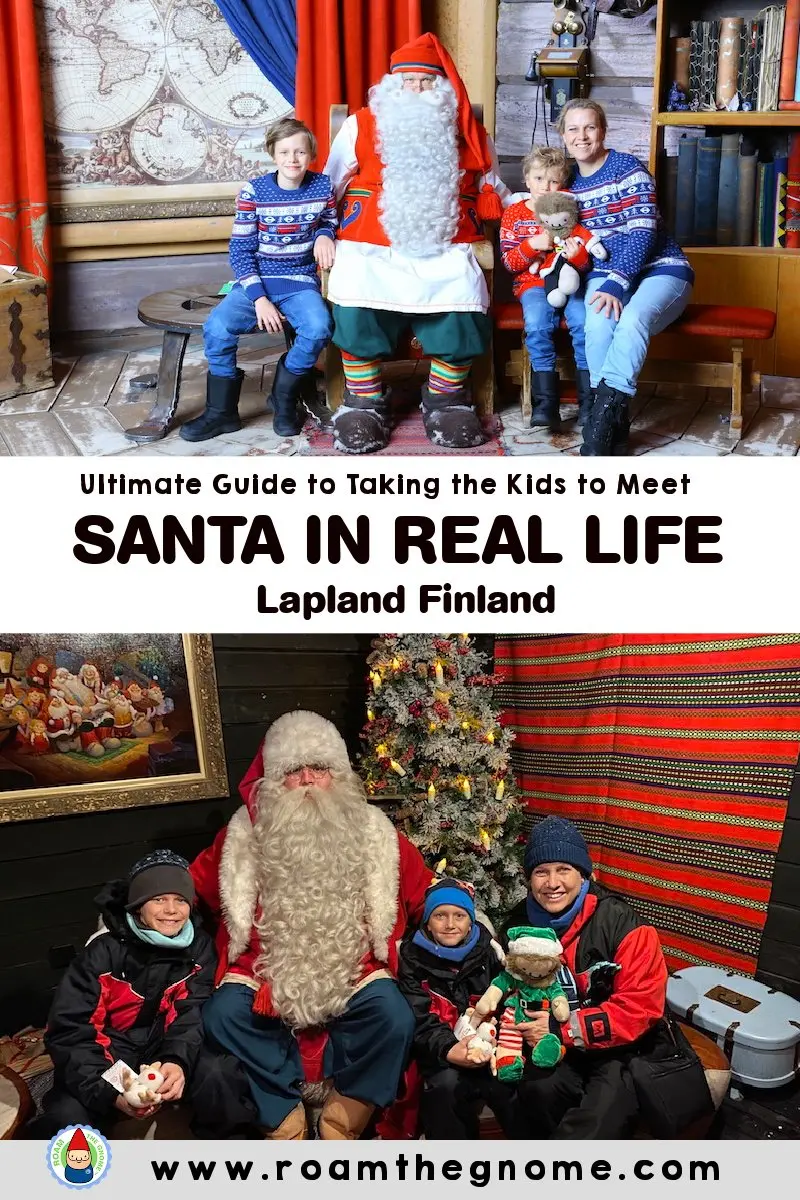 Have you met another Santa in Rovaniemi?
Let us know, and we'll add him to the list.
Looking for More Things to Do at Santa Claus Holiday Village?
Click the blue links for a sneak peek at these Christmas activities in Lapland