INSIDE: Everything you need to know about the Best things to do in Rovaniemi Lapland.
Rovaniemi in Finland is 800 odd kilometres north of Helsinki.
It's now the Santa capital of the world, and has become a very popular holiday destination for Christmas lovers.
A Rovaniemi holiday in the winter is a very popular trip for Londoners, Europeans, and the odd Australian who can summon up the energy to cross the globe with kids in tow to see Santa in real life.
But visiting Rovaniemi in the summer has charm too.
Take a look below to see what to do in Rovaniemi on a Lapland experience in both the Summer AND Winter.
(We've also listed our tips for the best places to stay in Rovaniemi in winter and summer below.)
Disclosure: This article contains affiliate links. If you make a purchase after clicking on one of these links, we may receive a small commission at NO extra cost to you.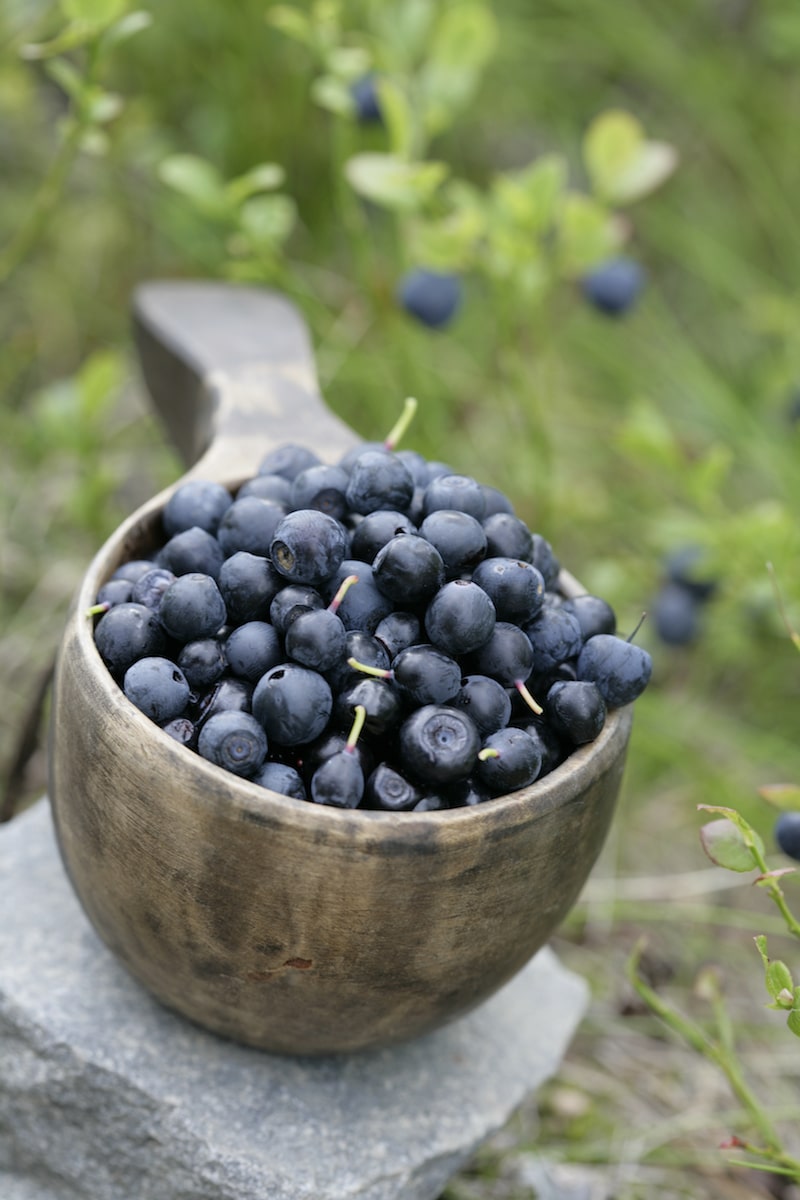 Image credit: Visit Rovaniemi
GUIDE OF BEST THINGS TO DO IN ROVANIEMI IN SUMMER
Correct at time of publication on Roam the Gnome. Please check with venue for updates. We apologise in advance if there have been any changes we are unaware of. All prices in euro, unless otherwise stated
Looking for a UNIQUE Rovaniemi Lapland experience?
Then head there in Summer.
It's pristine, and pure, and the air is like nothing else we've ever experienced.
Clean and healthy.
Best Rovaniemi Summer activities?
Visit Rovaniemi in summertime, where you can:
go berry picking (Be sure to take your Finnish kuksa cup with you.)
pick up a fishing rod, and go fishing
hike in nature,
go on a moose watching expedition,
take a summer Finnish sauna, or
learn some of the local crafts such as making a Sami bracelet, or crafting using wood or reindeer antlers.
Join in the Midsummer celebrations too.
There's plenty of other activities in Rovaniemi including:
festivals
music
crafting activities such as making flower garlands
art exhibitions, and more.
Ask at the local information centre about upcoming events during your stay.
And as the summer fades into autumn, you can also go mushroom picking too.
---
RELATED: Dreaming of a Lapland Christmas vacation? Read this planning guide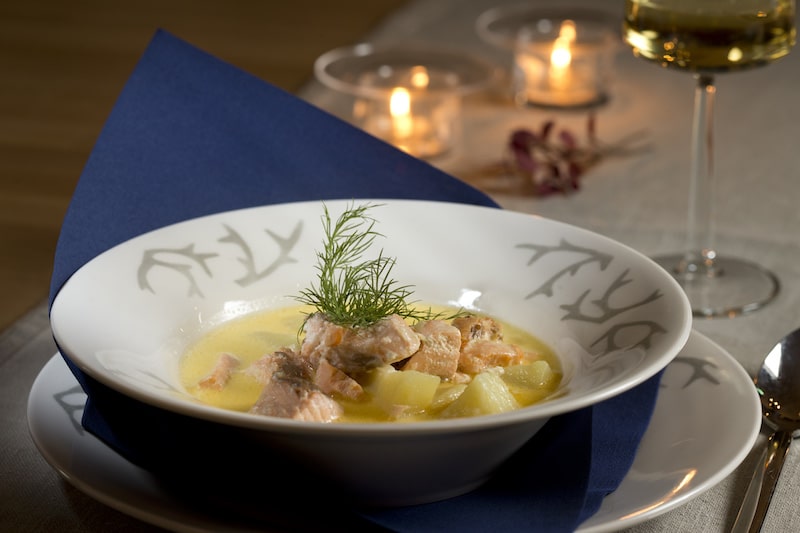 Image credit: VR Tourism Board
The BEST ROVANIEMI TOURS in Summer
Our three favourite tours are:
You can also try one of these 5 fun activities to do in Rovaniemi in Summer.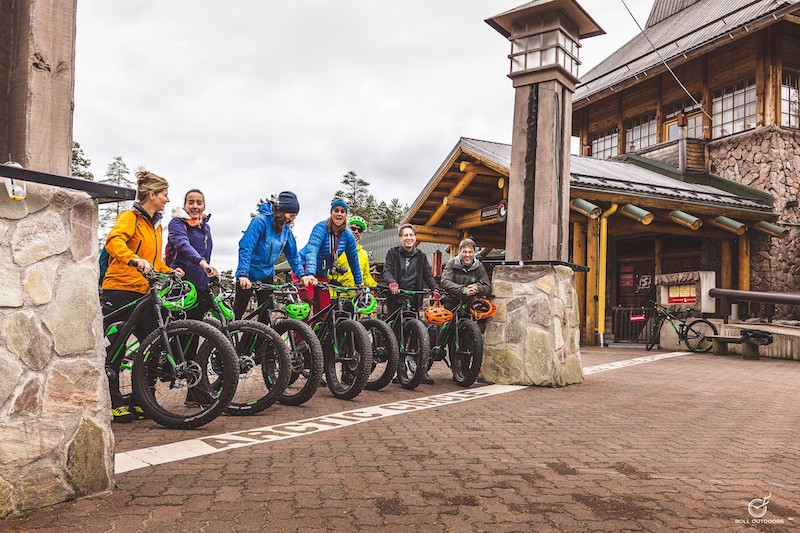 Image credit: Visit Rovaniemi
No.1: Santa Village Summer activities
If you visit Rovaniemi in Summer, you can enjoy different types of activities at the Santa Village including:
a chance to shop at the Santa Village stores in comfort instead of icy temperatures
cuddling the husky dogs up close and personal (it's called Husky therapy)
meeting the reindeer at the reindeer farm, and taking on the role of reindeer keeper (something you can't do in winter)
hiking around the Arctic circle, or
crossing the Arctic Circle line on a bike ride!
There's lots of time to explore and travel about too, as it's the time of the Midnight Sun, and the nightless night in June and July.
Plus, your photography will be improved instantly.
Winter is no good for taking good pics because of the low light.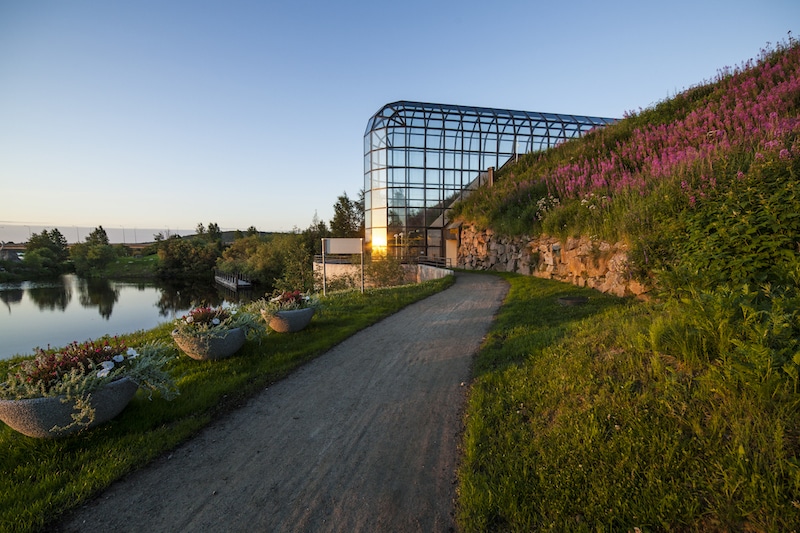 Image credit: Visit Rovaniemi
No.2: Visit the Arktikum Science Centre in Rovaniemi
Arktikum is a museum that lets you experience northern nature, culture, and history up close.
This museum is a fab spot to teach kids about the local Indigenous people, the Sami, as well as Nordic phenomena.
Click here for the inside scoop including entry fees, opening hours etc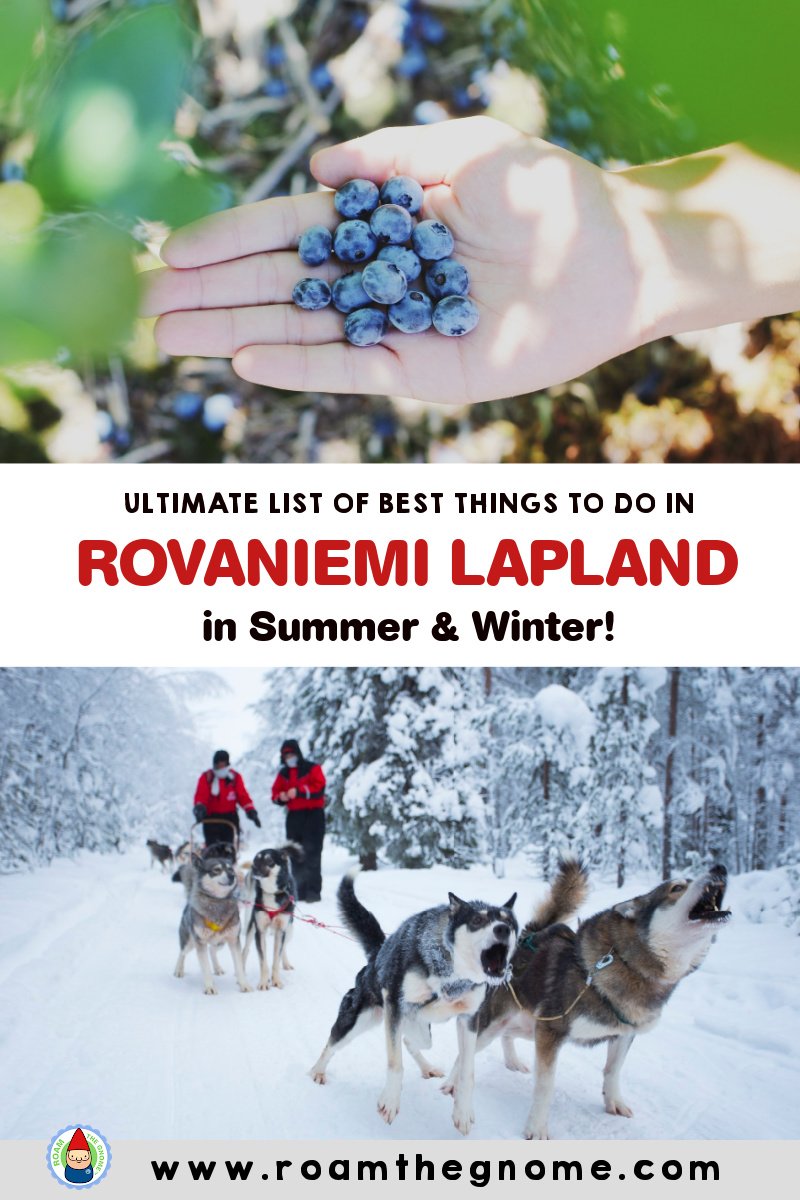 No.3: The Pilke Science Centre
Explore the forests of Lapland with hands-on activities at the interactive Science Centre Pilke at the Arktikum.
Kids can:
Get behind the wheel of a forestry machine
Climb into a bird house
Meet the Pilke mascot, Tuksu the pine weevil
Sing karaoke on an ant hill.
Click here for details of The Pilke Science Center opening times, prices etc.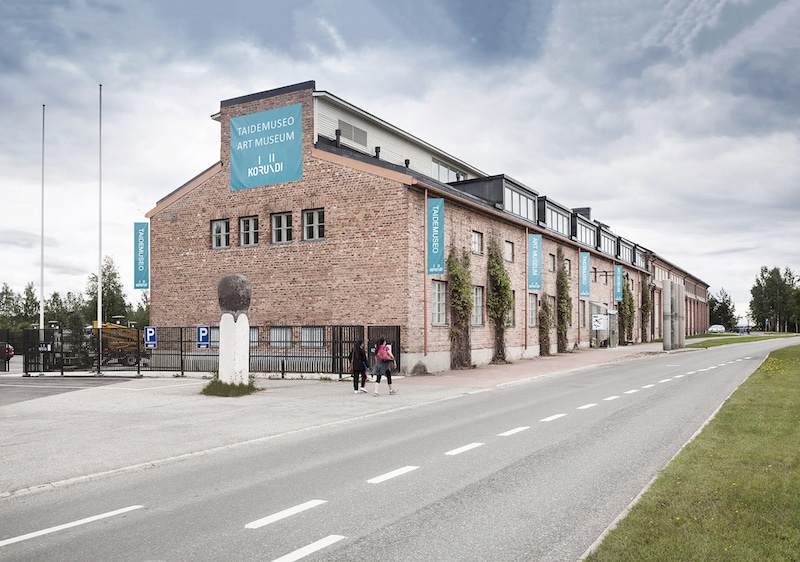 Image credit: VR
No.4: Vist the Korundi House of Culture
This is an art and culture museum with rotating exhibitions.
Meet the artist of the month, and see contemporary exhibitions by artists attempting to understand the world around them.
Hot tip: Visit all three (Arktikum, Pilke and Korundi) on a Culture Pass to save money. 50 Euro for 2+2, or 1 + 3 Children must be 7-15. Children 6 and under enter for free. Ticket valid for 7 days.
No.5: Forestry Museum of Lapland
The Forestry Museum of Lapland presents the cultural heritage of Lapland's forestry history through exhibitions, stories, photographs and videos.
This outdoor museum is mainly open in the summer.
Book a Lumberjack Experience to learn the basic methods of working with timber, such as two-man cross cut saw and timber barking.
After all that work, enjoy warm beverages by an open fire.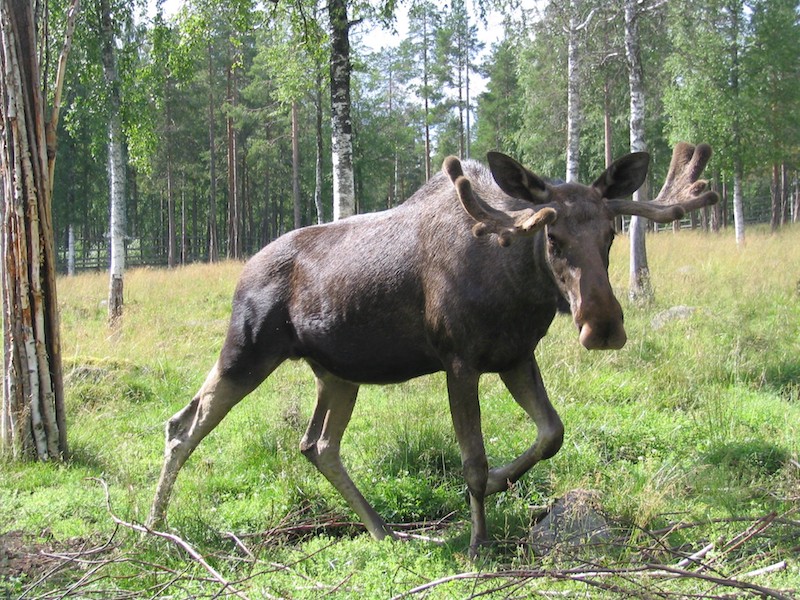 Image credit: Visit Rovaniemi
No.6: Ranua Zoo
Book a tour to Ranua Wildlife Park to see the polar bears, elk, otters, lynx, red foxes, the eagles and other animals.
It's so much easier (and more fun) to visit Ranua Zoo in the summer when it's light.
In the winter, you have to take a torch with you to see the animals in the late afternoon!
A brand new children's playground and park will open in 2020, along with a new Tiger Park, opening 1st of May 2020.
Ranua Zoo from Rovaniemi is about 80 km south of the town, and takes approximately an hour's drive.
Book your Day Tour here through Get your Guide.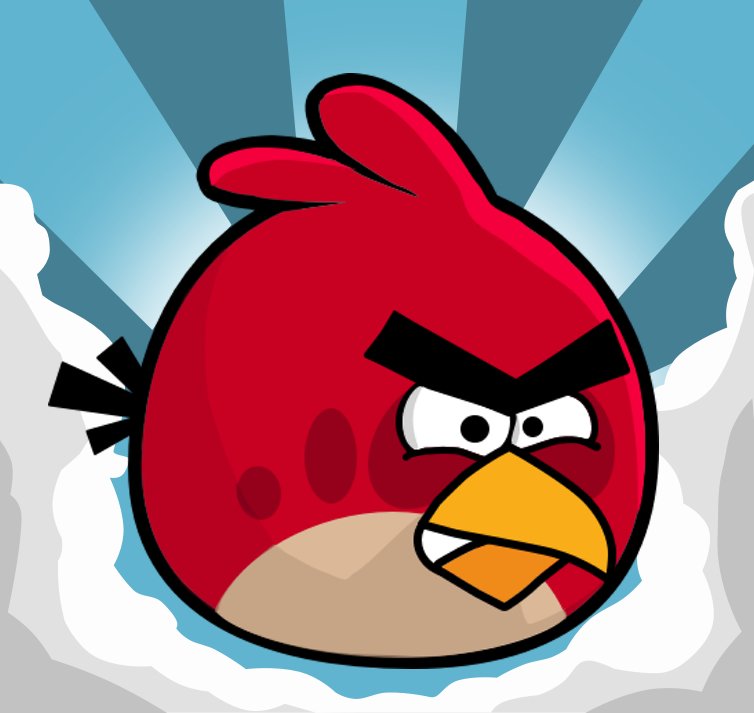 Image Credit: TheThreeSisters via Flickr CC BY 2.0
No.7: Visit the Angry Birds Playground in Rovaniemi
This is one for the kids.
Head to the Angry Birds Playground in Rovaniemi city centre, just a few minutes walk from town along the riverbank. You'll see all the Angry Birds characters keeping an eye on the prize.
There's a giant climbing frame, twisty slides, toddler bouncers, walking platforms, swings and more.
Plus, lots of space to run around.
Find it on Valtakatu-street. (Valtakatu 4, 96100)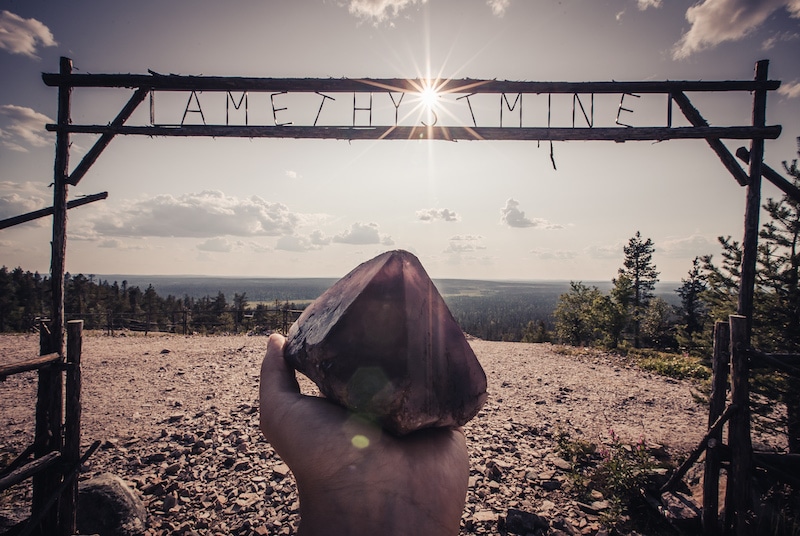 Image credit: Visit Lapland
No.8: Take a day trip to the Amethyst Mine
Take a tour to visit the enchanting Amethyst Mine in Luosto and dig for your very own Amethyst crystal.
This is a one-of-a-kind experience.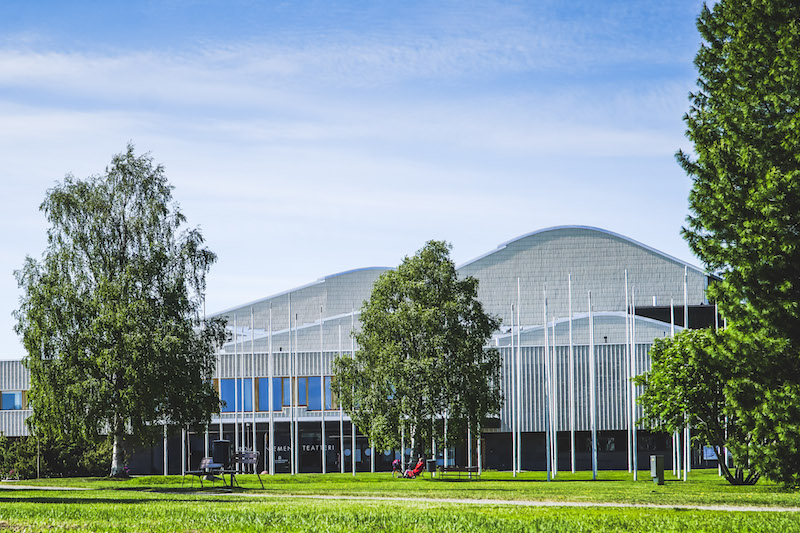 Image credit: Visit Finland Rovaniemi
What to do in Rovaniemi on a Rainy Day?
Wondering what to do in Rovaniemi on a rainy day?
Why not:
see a show at the Rovaniemi Theatre, or
visit the Rovaniemi City Library?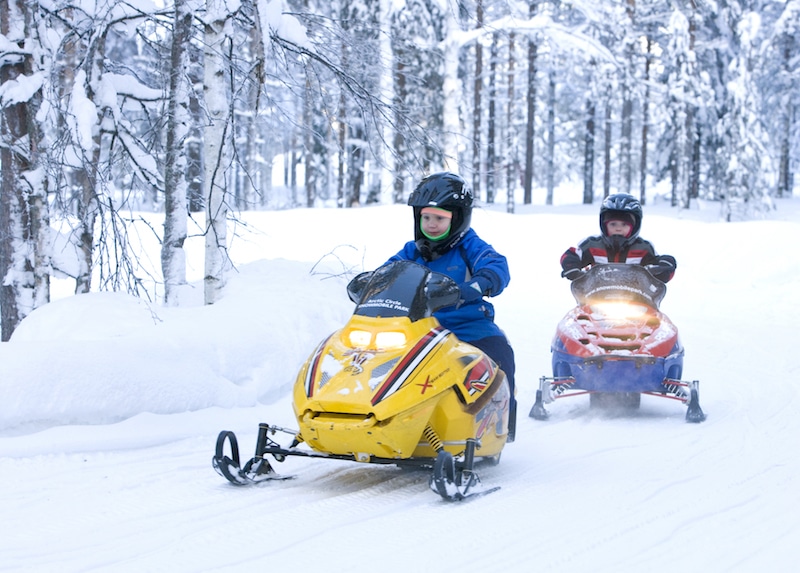 Image credit: Visit Rovaniemi
BEST THINGS TO DO IN ROVANIEMI IN WINTER
Planning your Rovaniemi holidays during winter?
This is the busy season leading up to Christmas.
There's LOTS of things to do in Rovaniemi at Christmas including Santa activities, but be sure to save some time for snow adventures too.
The Best Tours in Rovaniemi in Winter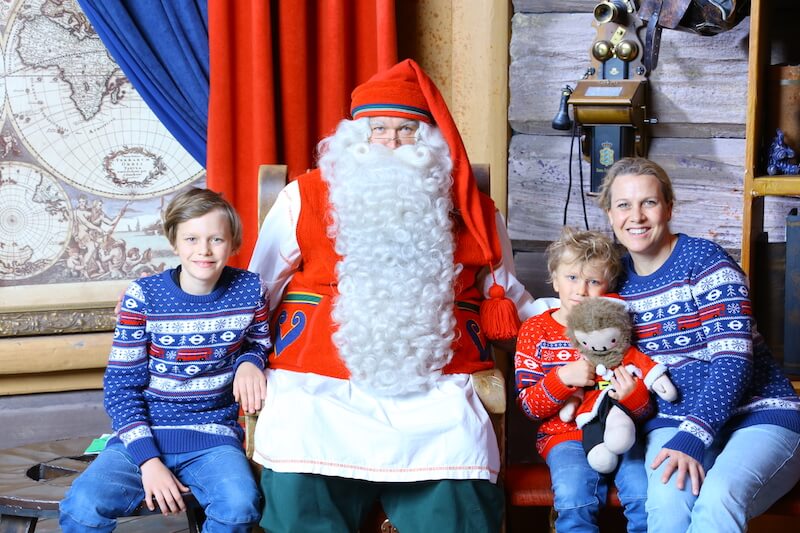 No.1: See Santa in Lapland
Santa's Main Office
If you are planning to visit Rovaniemi with kids on a Santa Claus holiday, take a day trip to Santa Claus Village.
(Or book a few nights stay here to really get the most out of it.)
At Santa Village, you need to head to the Main Santa Claus office to meet the OFFICIAL Santa in Lapland.
You'll be invited in for a private meeting with Santa, and a professional photographer will take your family photo. (No obligation to buy.)
Entry to Santa's Office in Finnish Lapland is FREE.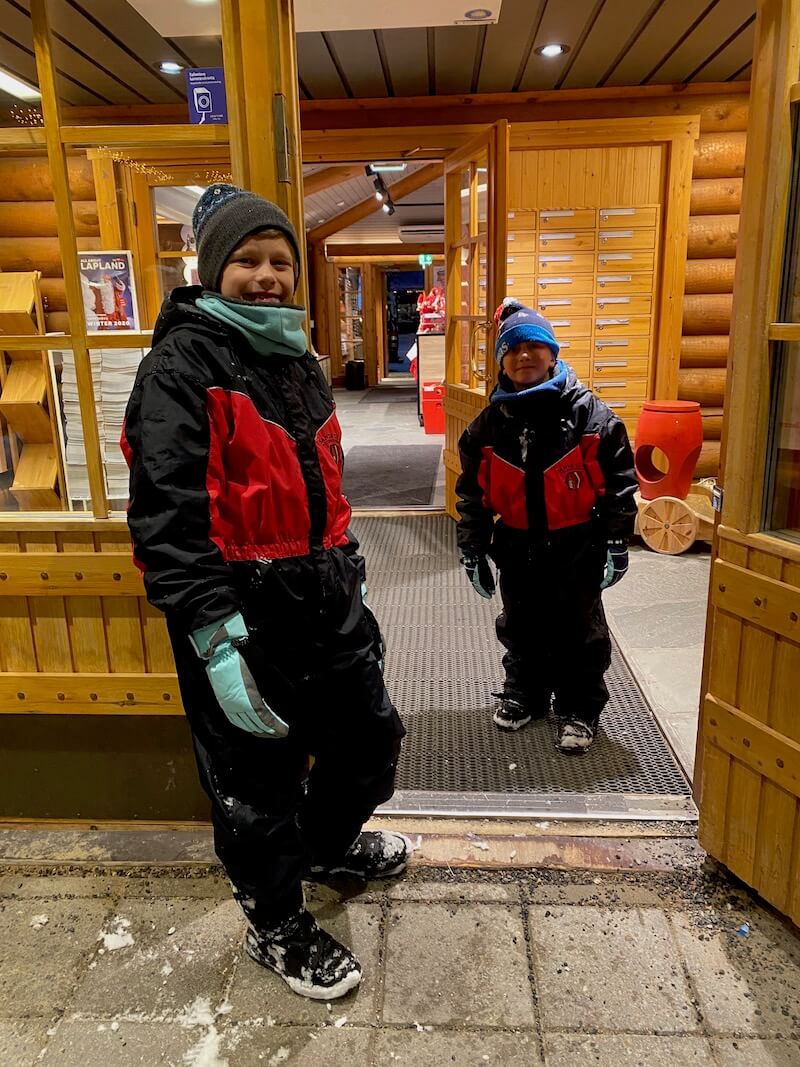 Santa Claus Main Post Office
Next, stop by the official Arctic Circle post office.
You'll see the destination for hundreds and thousands of letters all addressed to Santa, plus you can buy a postcard to send back home.
Pay for a stamp and they'll stamp your letter with a special Arctic Circle postmark.
This is one of the best things to do in Rovaniemi for free.
(There's not a lot of free activities around in winter)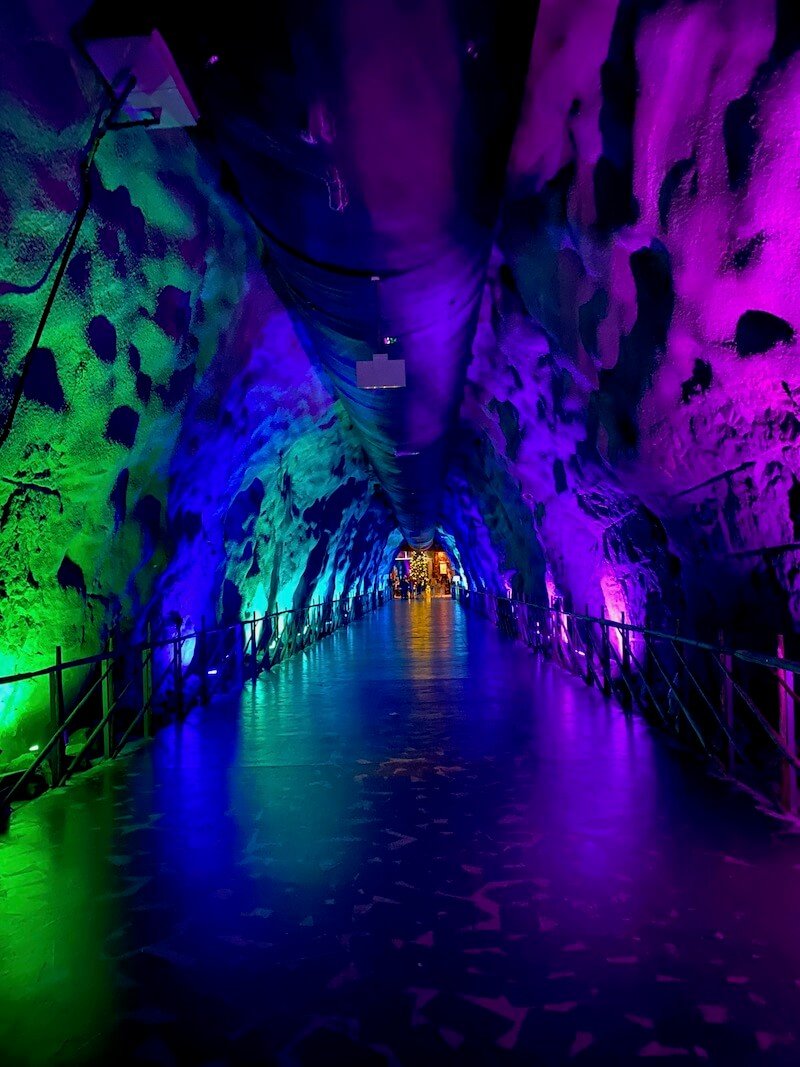 Santa Park Rovaniemi
You can also visit Santa's secret grotto at Santa Park Rovaniemi.
Santa's secret cavern is the place to meet the Ice Princess and see the ice sculptures, as well as decorate a gingerbread cookie, and take a train ride through the Elves workshops.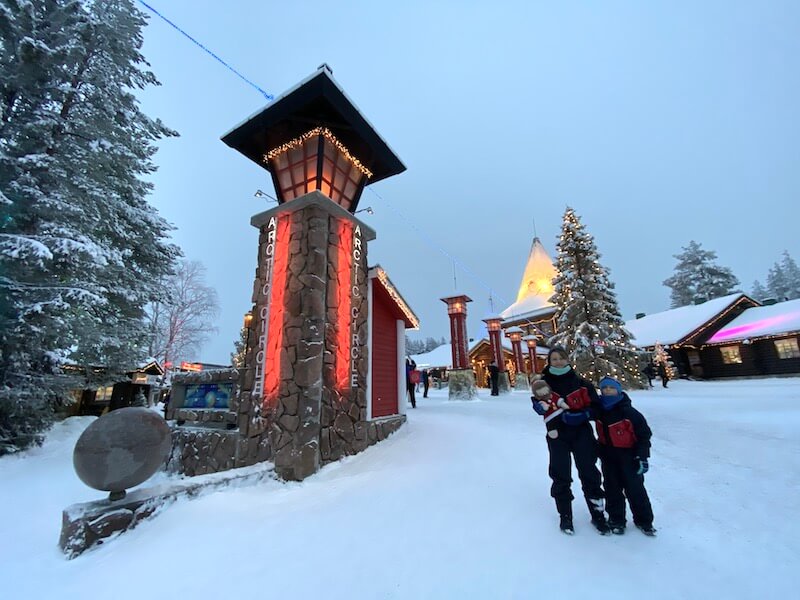 No.2 Arctic Circle Rovaniemi
There's a number of places you can enact an Arctic Circle crossing in Lapland, and the easiest one is at Santa Claus Holiday Village.
Pop into the Arctic Circle Tourist Information Office there to buy your Arctic Circle crossing certificate.
While you are there, book one of the many tours you can take by snowmobile or sledge or husky ride to cross the Arctic circle a little further afield.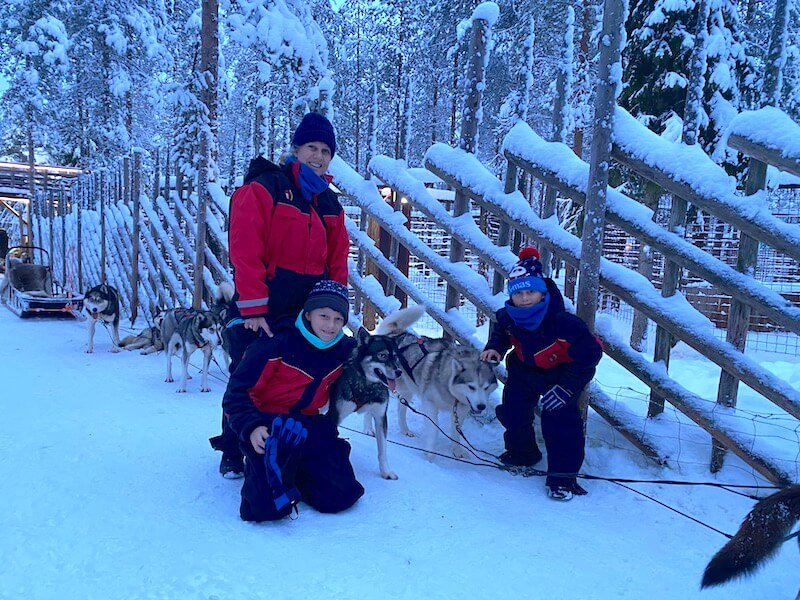 No.3 Enjoy this Husky Experience with a Husky Dog
Meet more than 100 husky dogs at the Husky Park.
You can book a short or medium length Husky safari from here too.
This is a fabulous winter activity in Rovaniemi for kids and adults alike.
READ MORE: The Ultimate Husky Experience in Santa Village (coming soon)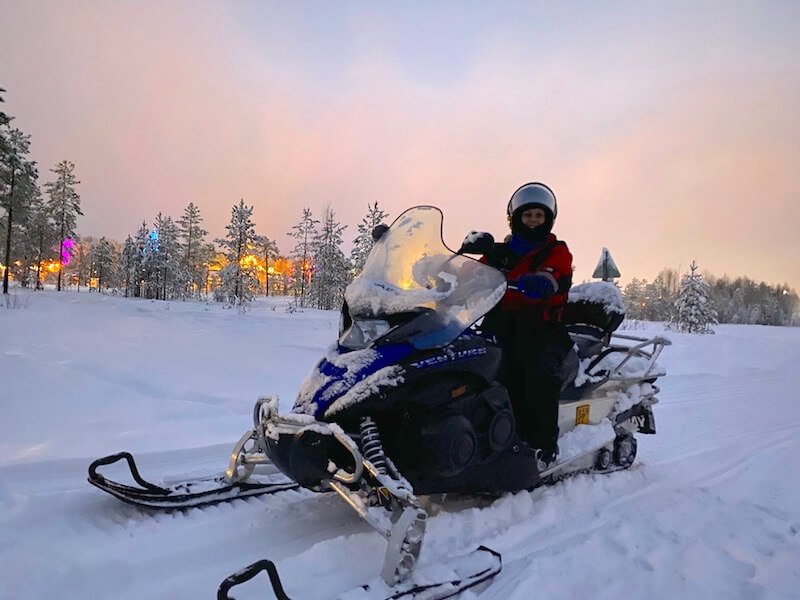 No. 4 Rovaniemi Snowmobile
Take a snowmobile for a lap in the forest on a 30 minute or 60 minute tour.
This is a fabulous experience you should not miss.
The wind in your hair, the power of the snowmobile in your control, and powdery snow underground – riding a snowmobile makes you feel alive!
Kids can join in the fun of gliding over frozen ground as they sit in a sledge pulled by the guide's snowmobile.
You can also let the kids take a ride on a Skidoo (kids snowmobile) on the child-friendly track.
Book now: 3 Hour Family Snowmobile Safari from Santa Claus Village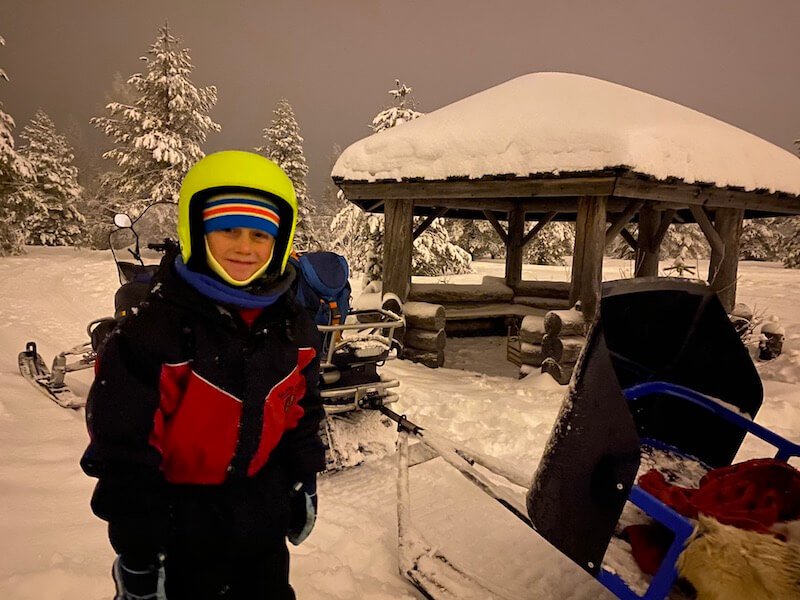 This shot was taken in the forest at 11pm at night. It's hard to get away from the lights of the city.
No.5 Rovaniemi Northern Lights
Book a Northern lights tour to head into nature, away from the lights and action, to find a peaceful quiet spot to chase the aurora borealis.
The best time to view the Northern Lights in Rovaniemi is during the winter, from mid December to February, when Rovaniemi is blanketed in darkness for hours a day.
There's no guarantee of seeing the Northern Lights, which makes it even more special when you do.
Hot tip: Strengthen your odds by choosing a starry cloudless night, on an evening when temps are lower than -10 degrees celsius.
The old wives tale is if you don't see the Northern Lights, you'll be lucky in love.
Both ways, you're a winner.
Book Now: Rovaniemi Northern Lights Sledge Ride by Snowmobile Tour. (It's the same one we did)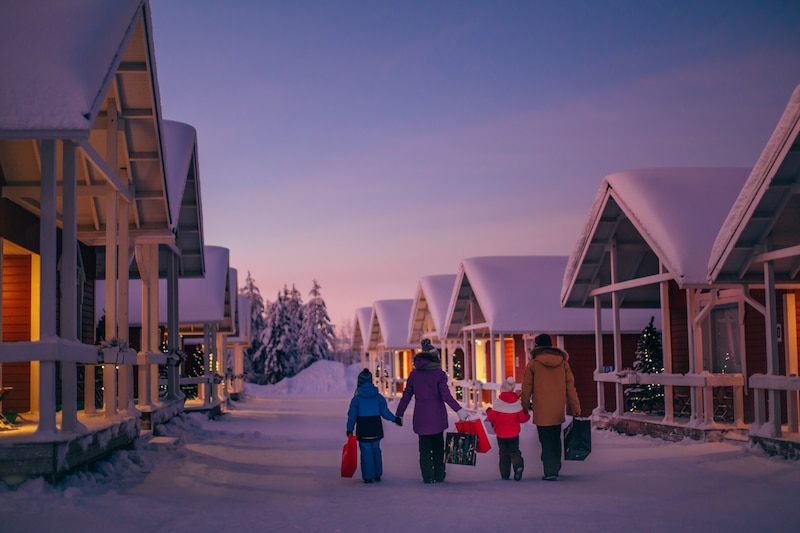 Image credit: Visit Rovaniemi
WHERE TO STAY IN ROVANIEMI
Best Rovaniemi Hotels
No.1: Santa Claus Holiday Village
The best place to stay in Rovaniemi in Lapland at Christmas with kids is the Santa Claus Holiday Village in Rovaniemi.
The Santa Claus Village is smack bang in the centre of the action, and that's where you want to be.
CHECK LATEST PRICES FOR SANTA CLAUS HOLIDAY VILLAGE ON BOOKING.COM
No.2: Santa's Glass Igloos on the Arctic Circle in Rovaniemi
You can also book a stay at the Rovaniemi Igloo hotel in the Santa Village.
There are 71 luxurious glass igloos with glass roofs at this hotel in the Santa Claus Village.
Want to watch the Lapland sky at night from your bed? This is the place.
CHECK LATEST PRICES ON BOOKING.COM
Image credit: Visit Rovaniemi
MORE Rovaniemi Finland Hotels
No.3: Glass Resort
Looking for accommodation in Lapland with a difference?
These posh apartments have a shape inspired by the traditional Kota buildings favoured by the Indigenous Sami people.
The giant sized windows, and the glass ceiling make you feel like you are in an upmarket glass igloo! Staying here is a magical experience where you wake up in the middle of a snowy forest. If you are lucky, you might even spy the Northern Lights from your bed!
Each Superior Glass Apartment features a sauna, equipped mini-kitchen AND your own private outdoor spa.
Make use of it!
CHECK LATEST PRICES ON BOOKING.COM
No.4: Nova Skyland Hotel and Restaurant
The Nova Skyland hotel apartments have a fireplace, sauna, terrace, fully equipped kitchen, high ceilings, and panoramic windows with views of the snowy forest.
CHECK LATEST PRICES ON BOOKING.COM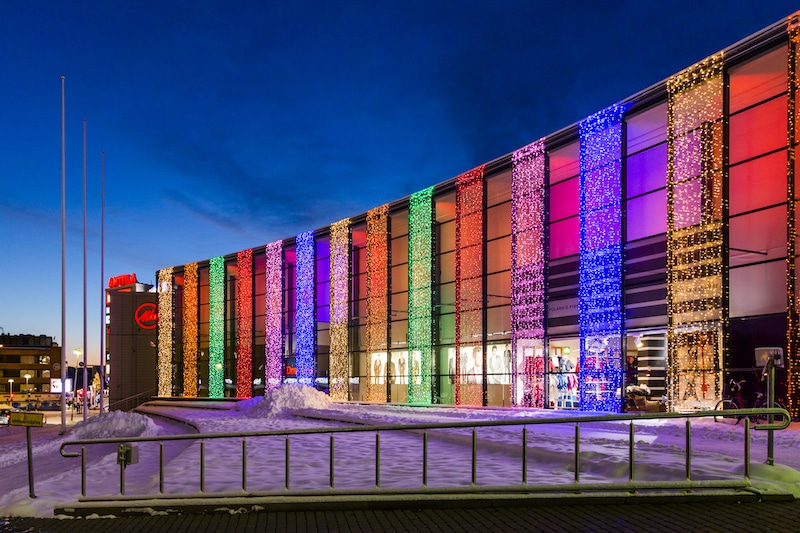 Image credit: Visit Rovaniemi
WHAT TO BUY IN ROVANIEMI
No.1: Rovaniemi Shopping Centre
Head straight to the LAURI Handicraft shop and Atelier, or the Arctic Design shop.
You don't need to look much further if you are after local and authentic gifts and souvenirs from Finland with style.
You can also check out the Shopping Centre Revontuli, or the Sampokeskus Shopping Centre for a bigger selection of stores.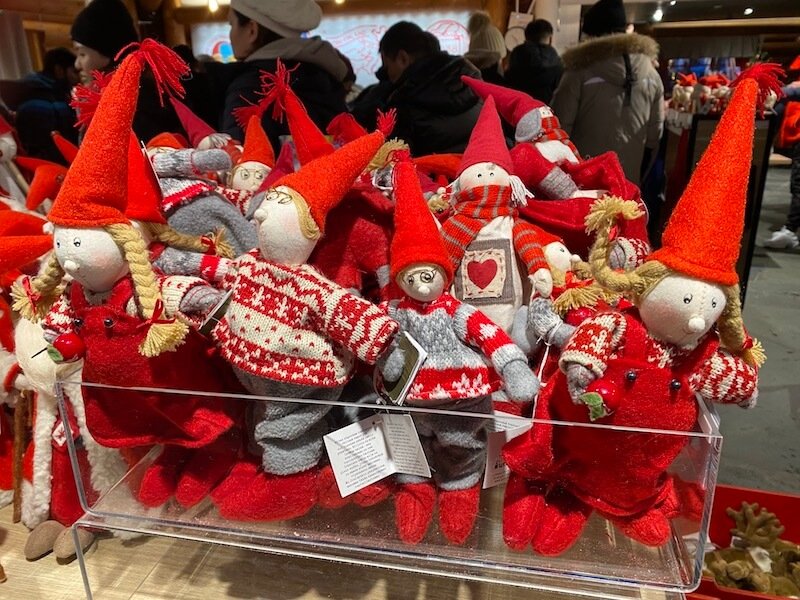 No.2: Santa Claus Village Shopping
Don't miss:
the Santa Village Post Office gift shop or
the Main Office of Santa Claus gift shop, or
our favourite, the Christmas House shop.
They are open all year round, and have a stack of traditional Finnish Christmas sculptures, dolls, toys, and ornaments for the tree.
As well as LOTS of Husky soft toys!
Hot tip: Stop by the Moomin shop in the Santa Claus Gift House for the cutest Finnish souvenirs you'll ever find!
Read this guide to the best shopping in Rovaniemi at Santa Claus Village.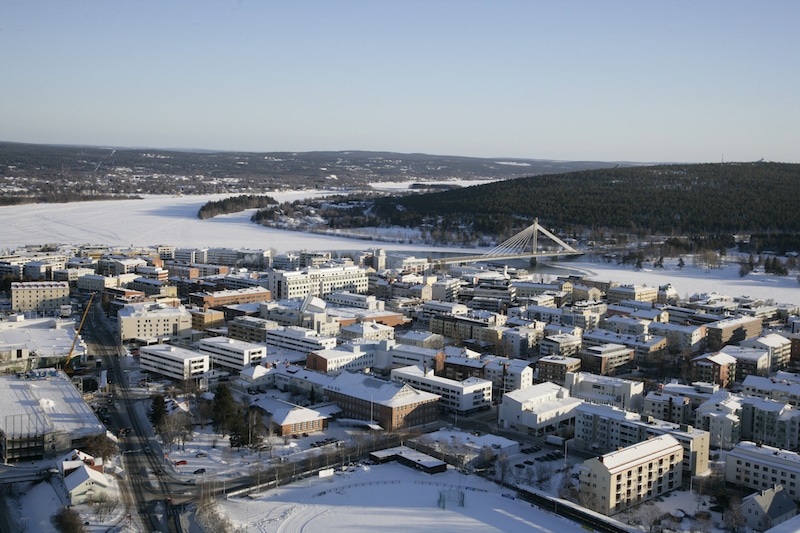 Image credit: Visit Rovaniemi
FREQUENTLY ASKED QUESTIONS
No.1: Where is Rovaniemi?
800 km north of Helsinki.
No.2: What's the Rovaniemi weather like?
Winter can get down to -30 degrees or lower in January, the coldest month.
But summer is pleasant, with temps between 15-25 degrees in June and July, peak summer.
No.3: When does it snow in Rovaniemi?
Anytime from December onwards.
But occasionally as early as October, or as late as mid December.
Snow on ground typically lasts throughout January to March, and into the beginning of April.
But the snow season changes each year and is unpredictable in current times.
No.4: What is the Currency in Lapland?
The Euro.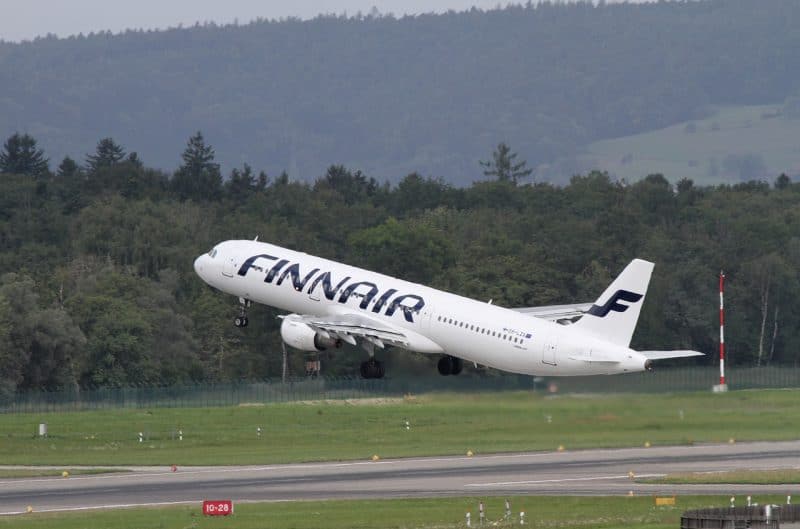 THE INSIDE SCOOP: How to get to Lapland
Who flies to Rovaniemi?
You can get flights to Rovaniemi from UK on Norwegian Air, Finnair, and British Airways.
There are no Easyjet flights to Lapland from London, or Ryanair flights to Lapland yet.
Flights to Lapland Rovaniemi airport are NOT cheap.
It cost us 1020 euro ($1650 AUD) for the three of us to go ONE WAY from Rovaniemi to London on British Airways (code share with Finnair), and we booked ONE YEAR in advance.
Yes, the flight was booked for the week before Christmas, so the price hike was understandable as it's peak traffic time, but seriously….
This did feel like they were taking advantage unnecessarily.
You can also book direct flights to Rovaniemi from Europe, and return.
READ MORE: Question: How long is the flight to Lapland? (update coming soon)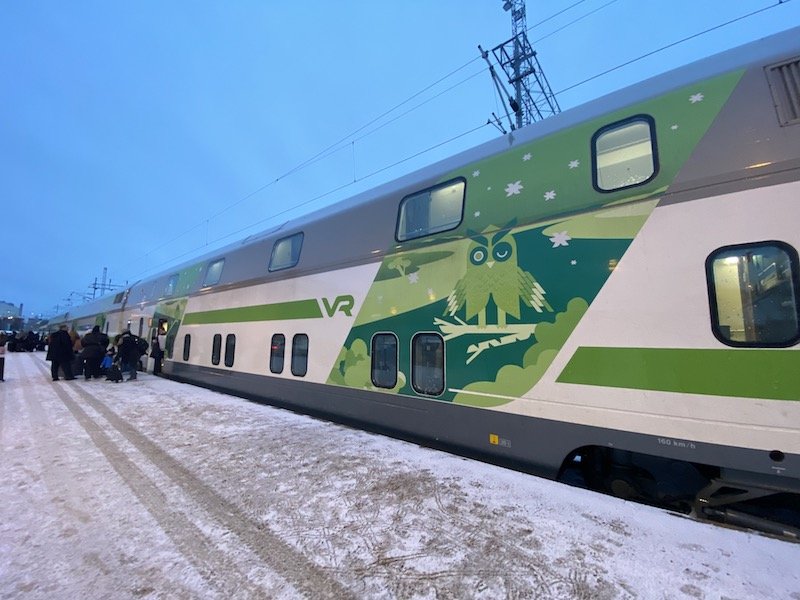 How to get to Lapland from Helsinki
While you can fly on a Helsinki to Rovaniemi flight in about 1 hour and 20 minutes, the most fun way to get to Rovaniemi from Helsinki is on the Santa Express overnight train.
Read all about our Santa Express Overnight Sleeper Train adventure here.
Rovaniemi Map
Looking for more Rovaniemi Christmas ideas?
Click the links in blue for more Lapland tips below.