INSIDE: Roam the Gnome's Complete Guide on What to Wear in Lapland in Winter.
Planning a visit to Lapland in Winter?
It's COLD.
Be prepared, especially if you are traveling with kids.
The cost to buy extra snow and winter here is outrageous.
Bring what you can.
Here's a collection of our tips and suggestions for clothing advice for Lapland to help you and your family stay warm, dry, and happy during this most epic of adventures.
Disclosure: This article contains affiliate links. If you make a purchase after clicking on one of these links, we may receive a small commission at NO extra cost to you.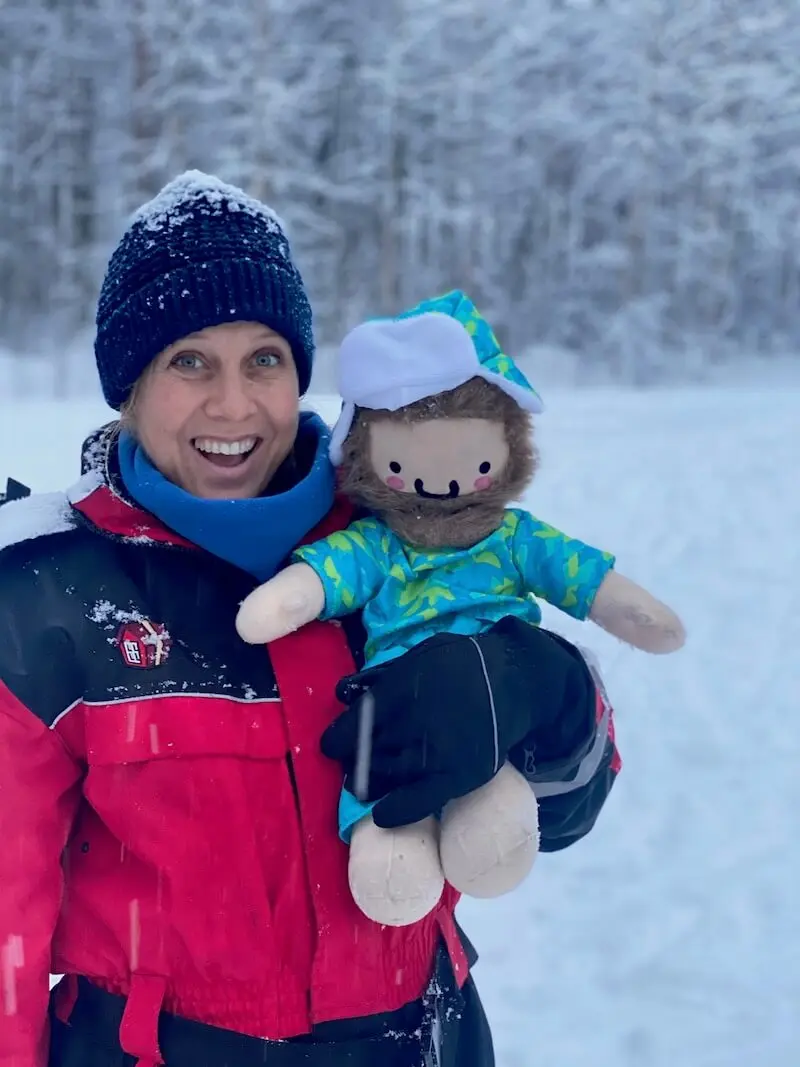 THE INSIDE SCOOP: Complete Guide of What to Wear in Lapland in Winter
Correct at time of publication on Roam the Gnome. Please check with venue for updates. We apologise in advance if there have been any changes we are unaware of. All prices in euro, unless otherwise stated
Wondering what to wear in Lapland in December?
First up, Lapland is cold.
Really cold.
Our research had shown temperatures of – 20° to – 25° celsius, but am happy to report that temperatures during our recent visit to Lapland in December ranged from + 2° celsius, down to – 10° celsius.
Not nearly as bad as we'd expected.
Still cold, but not unbearably so unless the snow got INSIDE our snow suits and boots.
Thank goodness.
Because any colder, and we would have been triple layering our thermals, and tripling our gloves, despite feeling like a puffer fish.
If you are wondering about the specifics of how many layers to wear in Lapland, or what shoes to wear in Lapland, or what trousers to wear in Lapland, read on.
---
RELATED: All you need to know about SANTA CLAUS HOLIDAY VILLAGE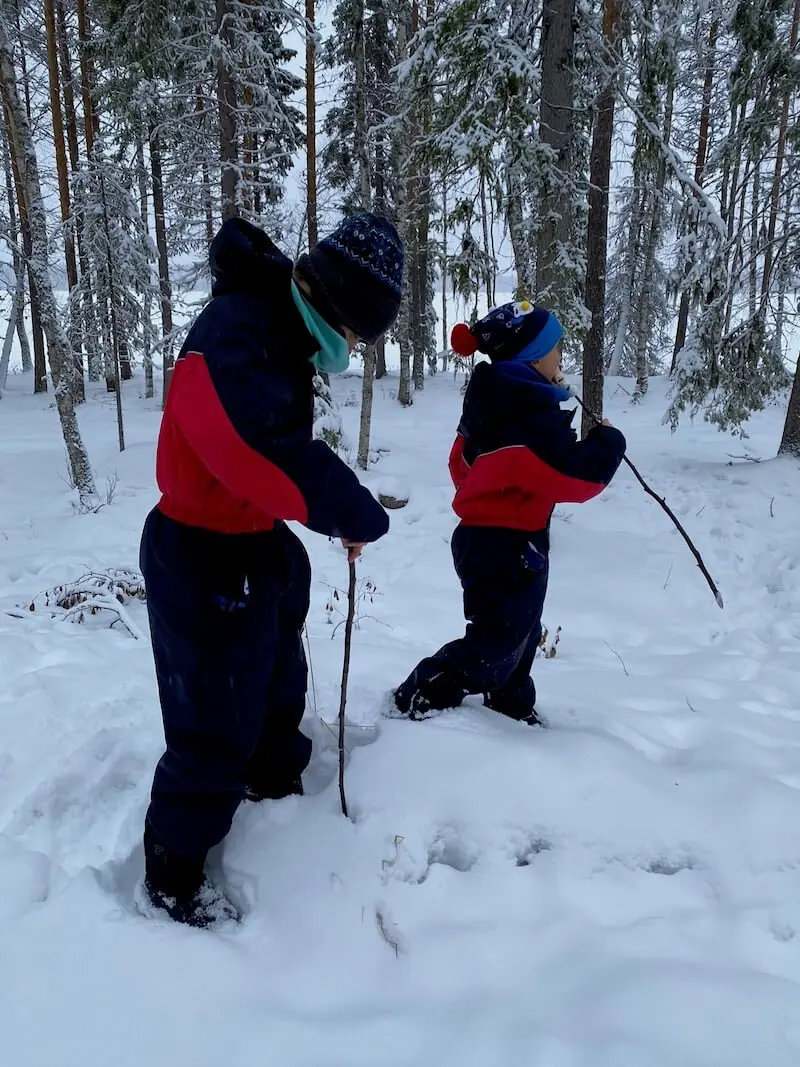 Things you need in your Lapland Winter Packing List
As family travellers, with just carry on luggage, space is at a premium.
This is what we brought with us for our Lapland winter vacation holidays, the final destination of our six week European winter road trip. And it all fit into three carry on bags, and one small day pack.
Check out this warm clothes list of what to park for Finland in winter.
No.1: Base Layers – Underwear
7 x underwear per person (3 x bra's for me also) to save having to wash more than once a week
4 x singlets per person
No.2: Thermal clothing – what layers to wear in Lapland
2 x thermal underwear sets per person.
Can be worn one on top of the other if necessary.
No.3: Warm tops
3 x thick warm jumpers in a simple style, and in either blue or black – two of these jumpers had padded hoods. Our third jumper/sweater was our matching Christmas Jumper we wanted to wear for our offical Santa photo in the Main Office of Santa Claus. (These Jumpers were from the Museum of Transport Shop in London)
3 x roll neck skivvy's (turtleneck) per person in navy to match jumpers
A warm tracksuit top and bottoms, to wear as pyjamas, or as clothes when it was laundry day.
Hot tip: Stick with plain colours such as khaki and navy blue for the trousers, so you can mix and match the tops to go.
No.4: Warm bottoms
3 x robust trousers/pants in soft cotton or terry cloth tracksuit material, or soft denim, ie: not skinny jeans.
Make sure all trousers have a little bit of wiggle room as the thermal underwear must go underneath.
My jogger jean pants have a elastic cuff at the bottom and a loose fit for comfort.
I would buy these in charcoal grey next time, to better hide stains as with only three outfits, it's likely they get worn a few times before washing.
No.5: Snow jacket or parka
A Kathmandu down-filled winter coat per person. (Mine was thigh length. The boys one's were waist length.)
Hot tip: How many layers to wear in Lapland?
Layering in Finland attire is vital to stay warm, so on top, we wore singlet, then thermal top, skivvy, and jumper, topped by our Kathmandu jackets when heading outside.
On our legs, we wore thermals, covered by one pair of pants.
If you have a snowsuit, you'll only need one layer of thermals and one layer of clothing underneath, unless the wind is blowing, or it's below – 10 degrees.
Otherwise you'll be too hot, and uncomfortable.
Packing for Europe Winter
This was a perfect amount of clothes for six weeks of Europe road trip, washing everything once a week, and smalls in the sink in between when we were in a hotel for more than three days, and had access to the drying bar heater in the bathroom.
If you are only going to Lapland for a week, or a few days, adjust as necessary.
**Check back soon for a PDF printable**
---
RELATED: The best hotel to book in Lapland is the Santa Claus Village Hotel in Rovaniemi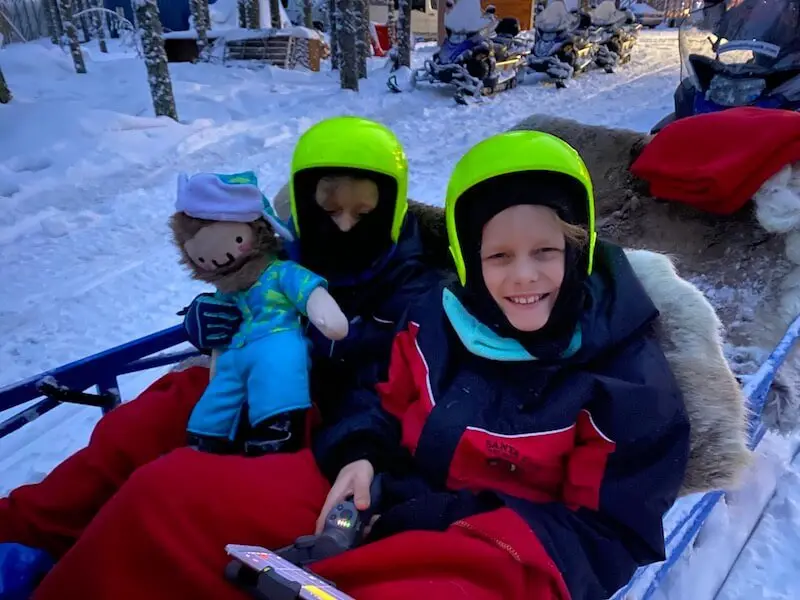 MORE for the Lapland Packing List
Add the Winter Thermal Wear Accessories
Each of us also brought our necessary cold weather accessories.
No.1: Winter gloves & Snow gloves
one pair of lightweight merino gloves for thermal protection underneath our ski gloves, or used on their own
one pair of water-resistant ski gloves, one size larger than normal
No.2: Polar Fleece neck warmers
a polar fleece neck warmer – the most VITAL piece of clothing in our suitcases
No.3: Beanies & Scarves
a knitted pure wool beanie
a knitted pure wool scarf
No.4: Thermal Socks
three pairs of thick thermal-insulating merino socks per person
two pairs of cotton socks
We were given a cotton balaclava to put on during our snowmobile rides to help with keeping the cold off our faces during this outdoor adventure.
Hot tip: Drying clothes in the sauna
In Finland, I washed our singlets and underwear in the sink, and dried them in the sauna overnight.
The sauna was also a fabulous drying rack for our snow gloves, inner gloves, socks and boots once it was turned off for the night.
Hot tip: I taught the kids early how to put their winter accessories away in the same spot each time after use, so they never went missing, eg gloves in one coat pocket, beanie in the inside pocket.
But we still lost a pair of gloves when Ned left them on the bus.
How to not lose ski gloves!
Our friend Kym told us a trick they use at home during winter:
slip a long piece of narrow rope through the arms of the jacket or snow suit
tie each end of the rope to the loop on the glove.
This way, the gloves can't ever disappear as they are attached to the child's clothing.
Lost Glove society
We aren't the only ones prone to losing gloves – after seeing one too many lost gloves on the train, on the underground, or on the city street, we started taking photos of these random finds, as a tribute to this strange phenomena!
I now know we're not the only ones to document lost gloves – there's even a Flickr group dedicated to these lonely abandoned hand coverings.
We also lost a beanie somewhere along the way.
Thankfully, it's possible to buy woollen beanies in most souvenir shops in Lapland to replace one if you need.
They aren't as cheap as buying one at home, but not overly expensive either.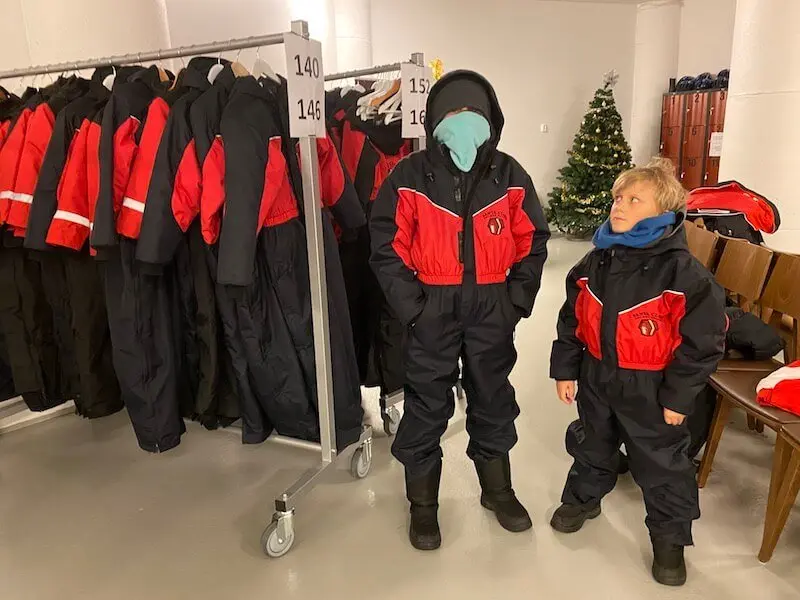 What to wear in winter in Lapland?
Good quality thermal snowsuits are a must for everyone who is going to be out and about during the day or night in the cold.
Lapland Clothing Hire at Santa Village
If you are staying in Lapland at the Santa Claus Village, you hire the snow suits (and snow boots if you need) for your entire trip.
If you rent the set, an all-in-one thermal snow suit + winter boots, the price is 20€ for the first day and 5€ for each following day.
If you need only one thing, eg the snow suit or the snow boots, the cost is 10 euro for the first day, and 5 euro per day after that.
You don't need to reserve thermal clothing or snow boots in advance.
It is always better to try upon arrival which size fits the best.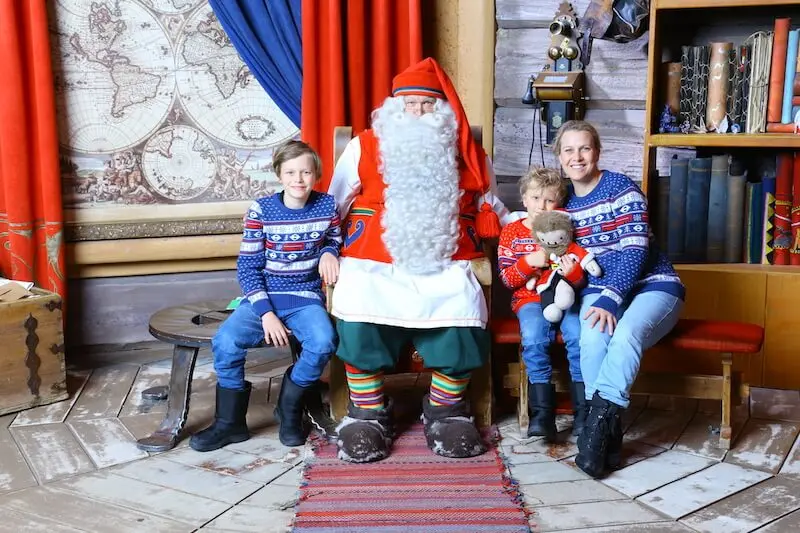 What to wear in Lapland in December
Or, What to wear under snowsuit in Lapland?
Wear your regular clothes in layers underneath your snow suit.
(eg jeans, singlet, long sleeved thermal top, long sleeve skivvy, and jumper/sweater).
When you head indoors for any length of time, roll the top of the snow suit down and tie the arms round your waist.
You'll see lots of people doing this during dinner, or breakfast at the Christmas House restaurant and Coffee Bar, and Three Elves Restaurant if you are visiting Santa Village in Rovaniemi.
It's the done thing.
We took off our snowsuit completely only once during our trip.
This was in preparation for our Santa photo in the Santa Claus Main Office.
The staff there gave us a big red bag to store our snowsuits in during our visit.
We put the snowsuits straight back on before we left the building.
We met other families throughout the week who didn't have snowsuits, and were wearing their ordinary thermal down jackets, and jeans or trousers with their snow boots.
Their greatest regret of their vacation was NOT bringing the snowsuit, or hiring one on site.
Without doubt, snowsuits (or ski pants and jacket) are invaluable when you are out and about in the Northern European Finnish Lapland snow.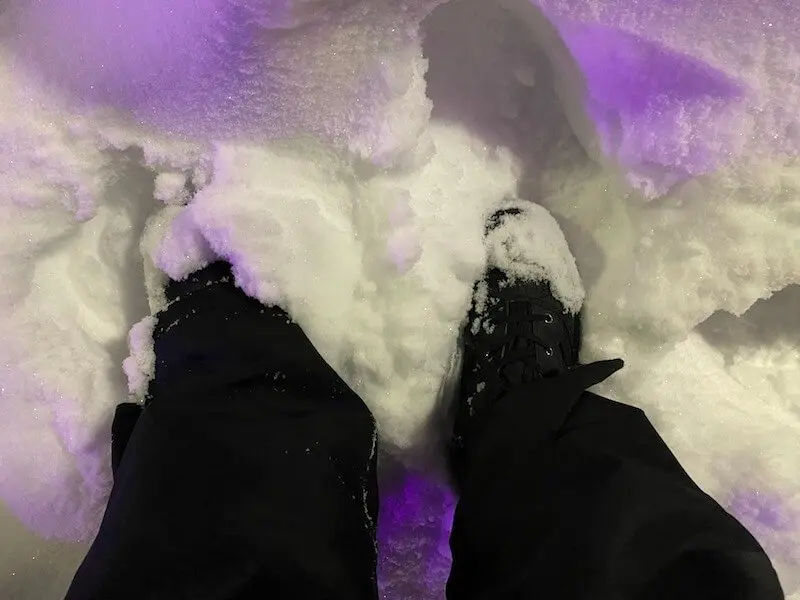 Lapland Footwear
We brought our own insulated and waterproof snow boots.
The boys boots from Anaconda sports store were simple, plain black with a velcro side tab.
Mine were black also, but with a lace up feature at the front.
This was the only footwear we wore in Lapland.
(We also wore the boots for the previous two weeks throughout Scandinavia and Germany when the weather turned colder.)
Snow boots are a necessity in Lapland.
If you don't have your own, we recommend hiring or borrowing a pair.
Snow boots have grip on the soles that help you stay upright when you accidentally stumble onto a slick of ice. Not that they prevent every fall, but they definitely help.
Make sure the snowsuit goes over the top of the boots, to create a barrier, so snow cannot get into the boots easily, even when you are walking in deep powdery snow, or playing on the sleds.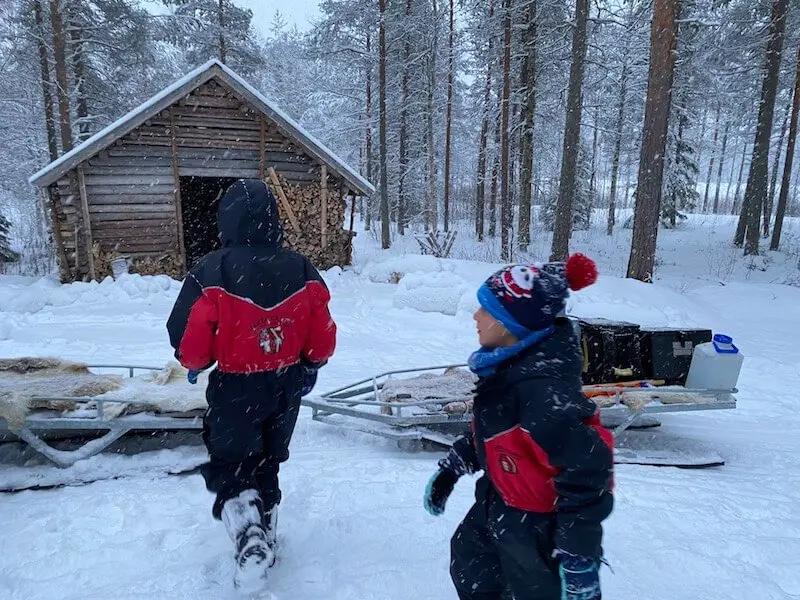 What to wear in Lapland in January?
January is often the coldest month in Lapland, and temperatures can vary between -15° to -30° celsius.
It's freezing.
What to wear in Lapland in this kind of cold weather?
Dress in all the above, a base layer, then more lots of layers, with at least two pairs of merino wool socks doubled up inside the boots.
The most important thing is to keep dry, especially the hands and feet.
It's wise to carry a backpack of spares with you:
two or three pairs of spare woollen socks
spare woollen gloves, and
a quick dry towel.
This way, even if you can't get back to your accommodation to change outfits, you can at least remove wet socks and gloves before putting on a new set.
A dry bag (or a reusable plastic shopping bag at least) is also a good idea, so you can store your wet gear away from your dry clothes.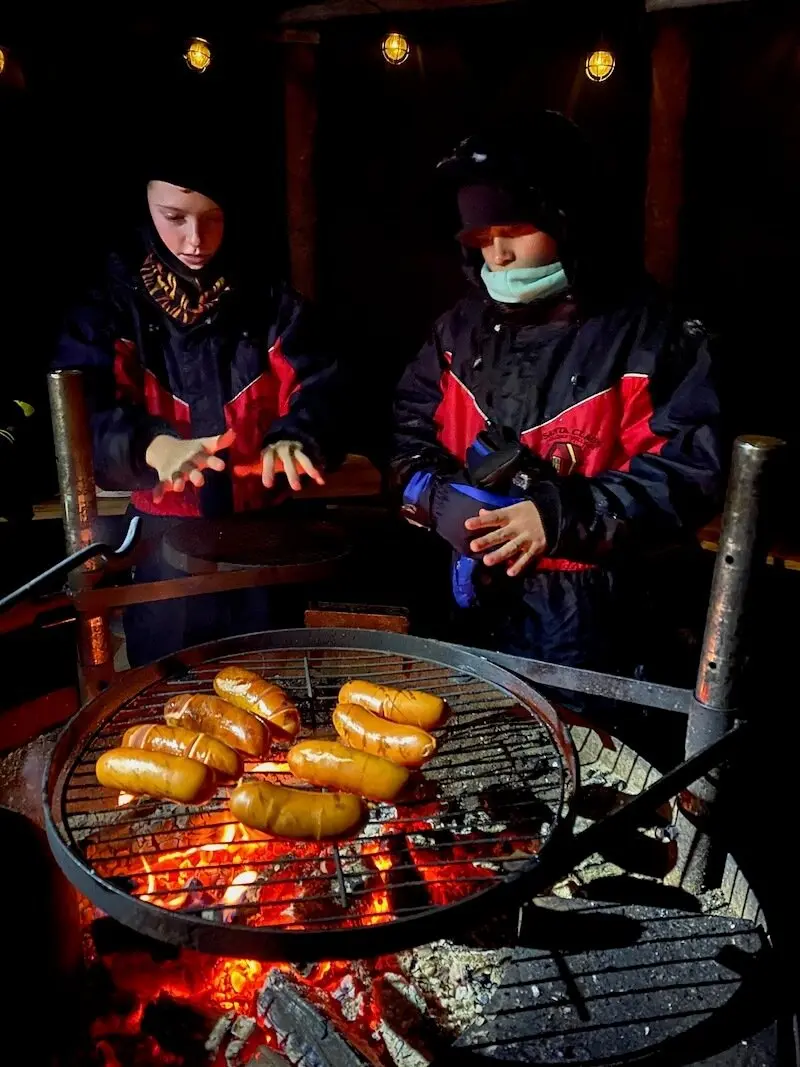 What to wear in Lapland in February and March?
In the colder months, we'd recommend short excursions out in the snowy weather, especially if you have kids in tow.
Just a couple of hours at a time.
Many of the day tours and attractions do set up a fire of some kind outside, where you can warm up, and toast your marshmallows.
But taking a break from the cold weather inside a hut or shelter, with a fire burning and hot chocolate brewing, or perhaps Finnish sausages cooking, is invaluable.
The coldest we were was during a late night snowmobile sledge ride to try and see the Northern Lights.
Despite our many, many layers, and blankets, and a reindeer hide on top, both Jack and Ned were frozen stiff.
After 90 minutes, Jack in tears because his feet were hurting, and Ned was not doing much better.
We suffered through the remaining minutes in the sledge by making up a song about wriggling your toes and alternatively arching your feet back and forth, to get the movement going.
In hindsight, I'm not sure a late night adventure in the cold is a good idea with kids under 12, although there were at least 10 kids aged between 1 year, and 11 years old on the trip with us.
The leader did tell me they refuse to take kids once it gets to -10 ° as it's miserable for everyone.
What we quickly learned, what that being able to return to your accommodation quickly is a clever idea, so you can warm up the kids under a shower, and dress them in a new dry outfit before you venture back out.
30 minutes or an hour at 'home' can revitalise their spirits too.
Let me tell you from experience.
As fun as snow can be, kids who have experienced extreme cold in Lapland may need this kind of coaxing before they'll brace themselves for more snow.
If you are not staying onsite, find someplace warm – a reception area, a lounge, or waiting room, to change them at least, and let them thaw out with a warm drink in hand.
Hot tips on what to take to Lapland day trip, or a longer stay
Bring ALL the snacks & water
Bring snacks, such as small packs of long life crackers & cream cheese, nuts, individual packs of chips, healthy fruit straps, roasted chickpeas, and small chocolate bars as a treat.
Snow and the cold makes kids hungrier than usual. Keep them fuelled.
Bring your own bottle of water. Refill it in your hotel room, or sink. One bottle of water here can cost upwards of 4 euro!
Bring ALL the socks.
Pack at least 6 pairs of pure merino (not blend) wool socks per person (not three as we did.)
Wear two pairs inside your boots, have a second set of two pairs for the next day when this first pair are drying, and put the extra spare couple in your daypack for emergencies.
Take the spares with you in your daypack or carry bag on your tours and excursions.
Bring an Empty Dry Bag
A dry bag from a camping store is a reusable waterproof sack with a rollover top that will seal your wet gear inside until you can dry it out.
You can buy them in all sizes. A medium size is enough to carry a bunch of wet mittens, gloves and socks.
Carry a small waterproof day pack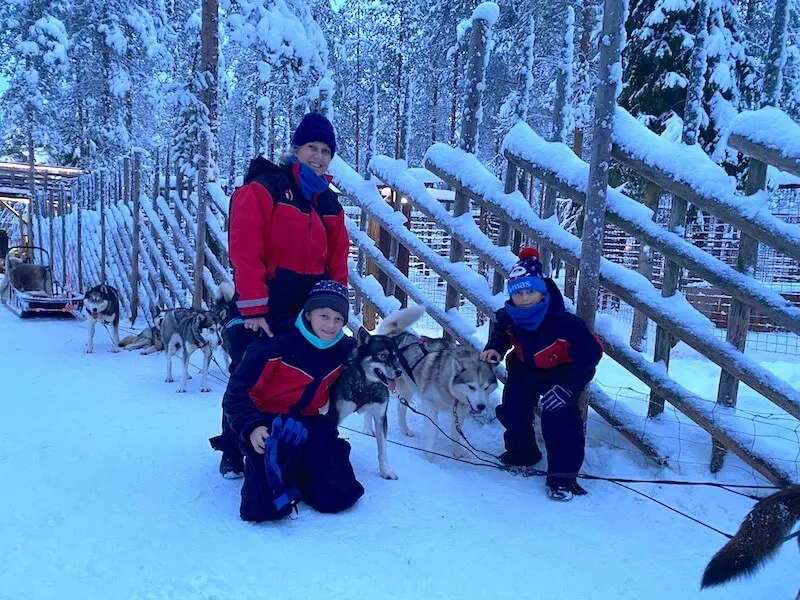 Wool Socks as Therapy for Cold Hands and Feet
You can use a pair of new dry wool socks to warm up the kids fingers when they freeze.
Gentle movement in the fingers or toes is necessary to warm the blood back to life when the pain of cold hits.
We were shown this tried and true trick when Jack was crying in pain after too much time out on the skidoo in the cold.
When the kids won't move their hands or toes themselves as it's too painful, pop this pair of dry woollen socks onto their hands.
Use the socks to gently rub their hands and warm them back to life.
Emergency mitten gloves
It's no fun when the kids' gloves get wet and cold.
You need to get the gloves off ASAP, and replace with something warm and dry quickly before the pain starts.
An extra pair of socks can be used as an emergency pair of mitten gloves when you are stuck.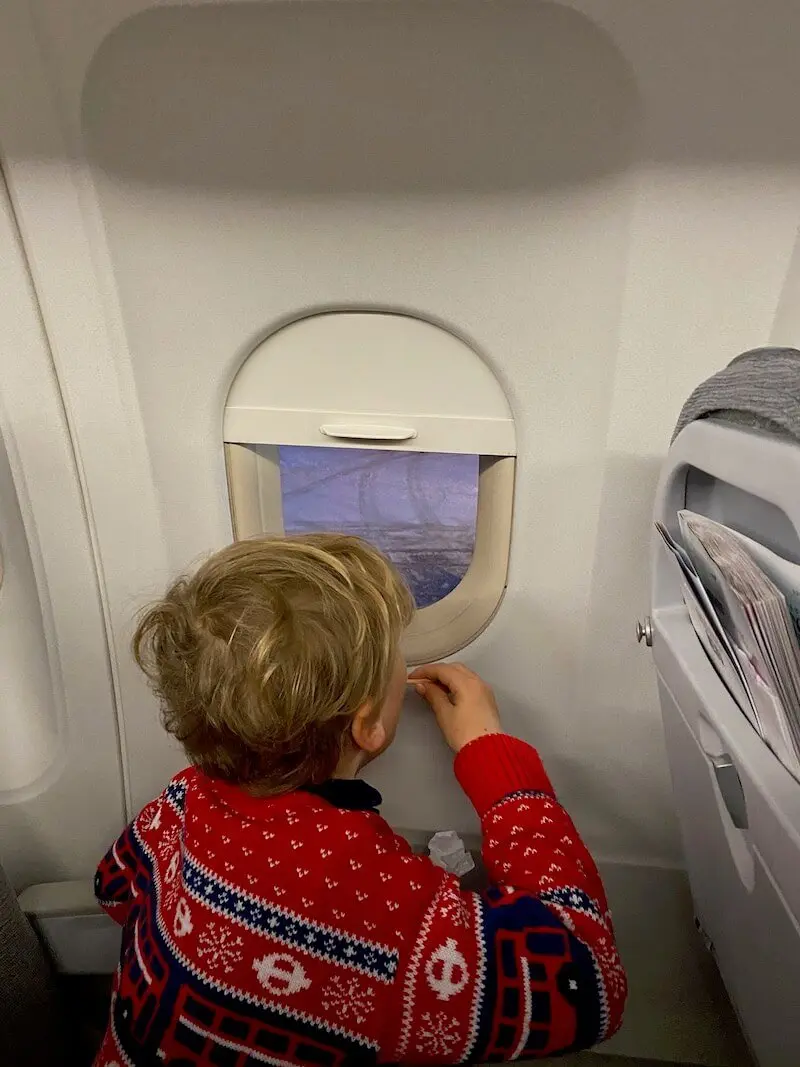 What to wear on the plane to Lapland?
Wondering what to wear to travel to Lapland?
For your winter travel dress, we suggest wearing your regular clothes, as above, in layers, so when you leave the plane at Rovaniemi, you are ready to don your snow suit and go.
Bring your regular thermal jacket along, as you'll need that during the transfers until you reach your hotel or accommodation.
Indoor areas are warm everywhere you go.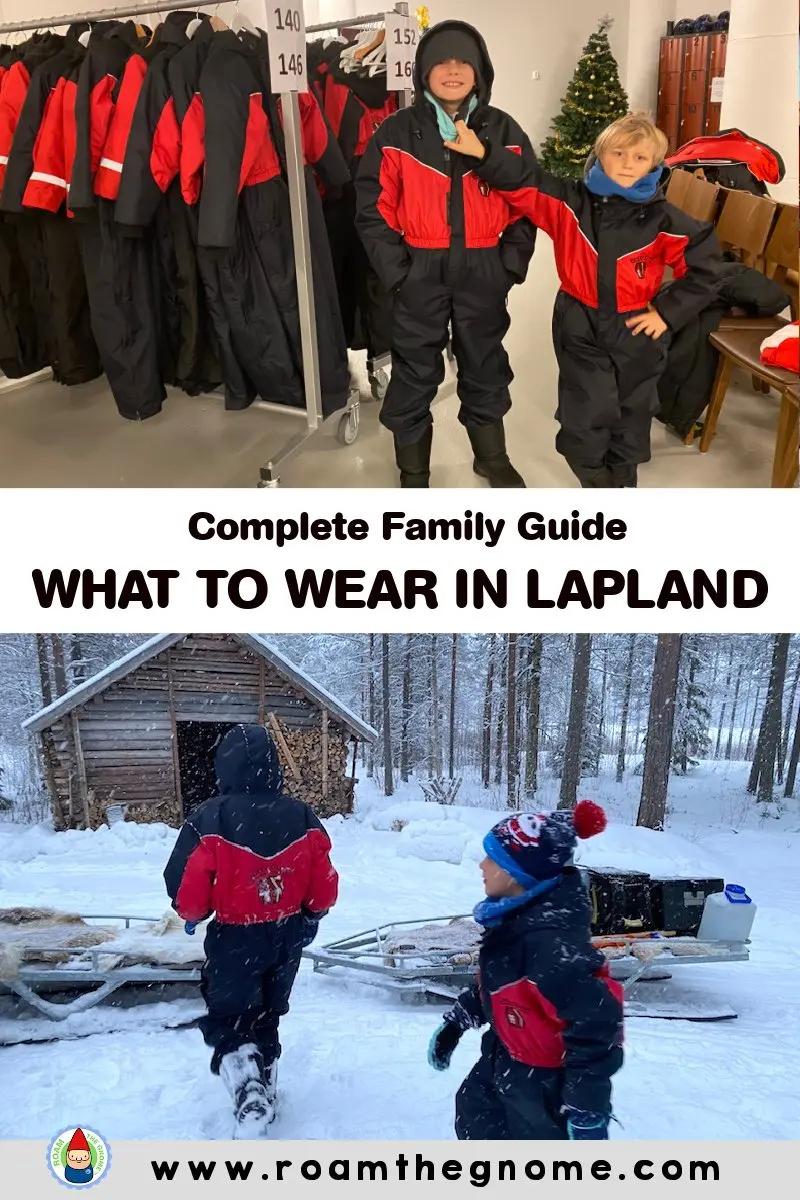 More Lapland Tips?
If you have any other tips on what to wear in Lapland Finland in winter, we'd love to know.
Send us an email to [email protected] and we'll add them.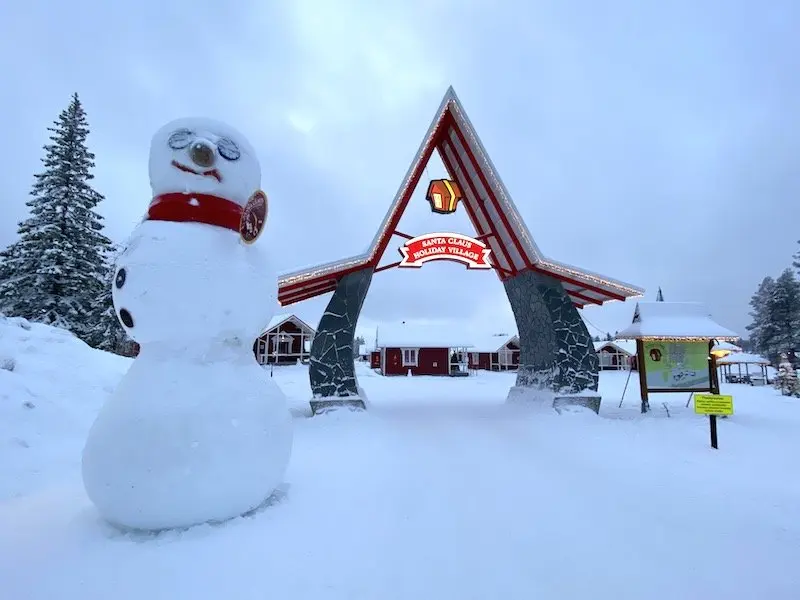 Visit Rovaniemi with Kids for Christmas in Lapland
If you'd like to know more about things to do in Lapland check out these posts.