INSIDE: Everything you need to know guide of what to buy in Rovaniemi at Santa Claus Village shops.
Planning a Lapland Christmas trip to Santa Claus Holiday Village?
Wondering what to buy in Lapland?
Take a look below at our guide to the Santa Claus Village shops.
So you can make the best Christmas gift list of all the Lapland souvenirs and mementos you'll bring home for friends, family and YOU.
Disclosure: This article contains affiliate links. If you make a purchase after clicking on one of these links, we may receive a small commission at NO extra cost to you.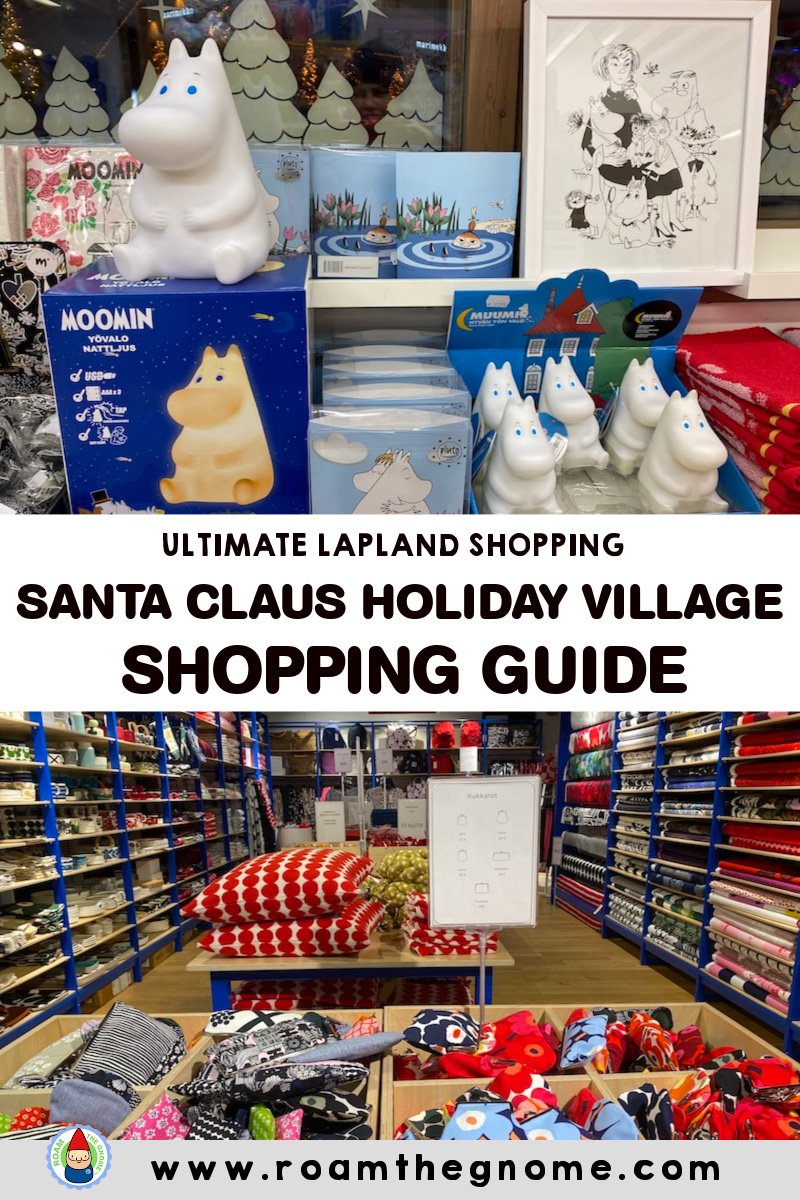 Wondering what to buy in Rovaniemi Lapland?
Hot tip: A Lapland shopping list is a good idea.
If you have kids in tow, there's no way they are going to want to wander the Rovaniemi shops with you when they can be outside playing in the snow and riding sleds with new friends.
Here they are:
A roundup of the best Lapland shops in the Santa Village.
---
RELATED: Complete Guide to planning a LAPLAND CHRISTMAS trip in Rovaniemi
THE BEST SANTA CLAUS VILLAGE SHOPS
No.1: Moomin Shop in Santa Village
The Moomins are a family of roundish trolls, a National Treasure much loved by Finnish people (and Japanese people).
Created by author-illustrator Tove Jansson, the stories of Moomins enchant people, young and old.
You can't possibly visit Finland without stopping in at a Moomin souvenir shop.
This Moomin shop in Lapland is FULL of Moomin gifts and souvenirs, including the cutest bedside table lamp for kids.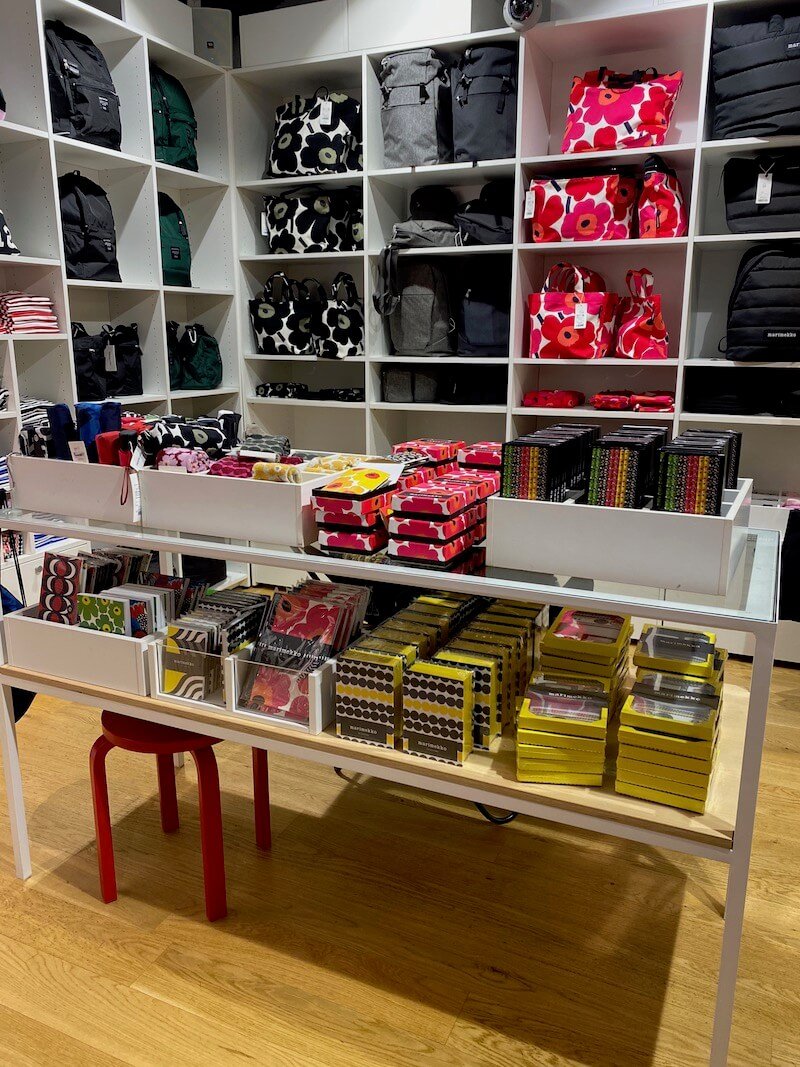 No.2: Marimekko Outlet Store
Marimekko is a Finnish design house and brand, famous for bright, bold, colorful and striking design.
Started in the 1950's, it's now an iconic shop in Finland.
Santa Village is home to the Marimekko outlet shop, and if you like Marimekko on sale, this is your shop.
Find all the latest Marimekko gifts and souvenirs including fashion, stationery, homewares and more.
Browse the range of Marimekko products in store.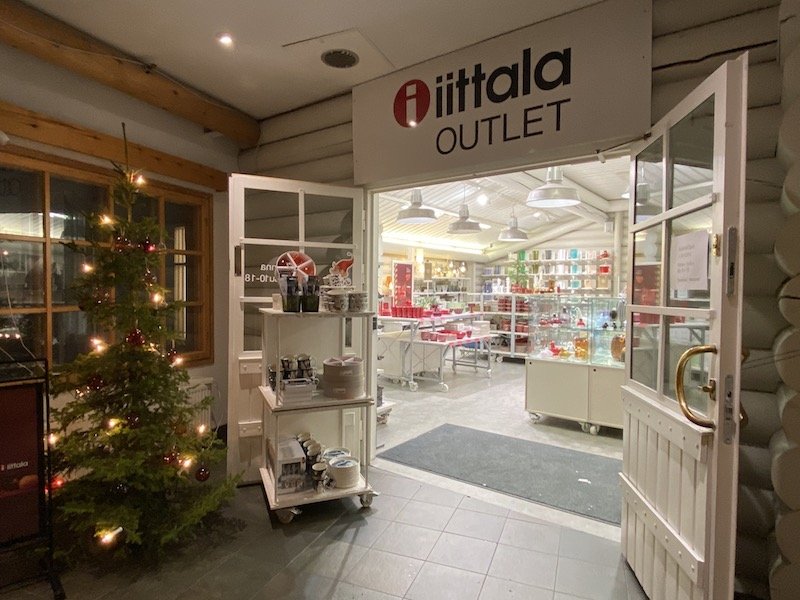 No.3: Iittala Outlet Store Finland
Iittala Arabia store in Santa Village is home to a wide range of homewares, glassware, ceramics, knives, cookware, and ornaments.
They'll wrap your gifts securely so you can take them with you, or post them home.
Look for the metal utensils.
Their style is top notch, and you may well covet the whole set too.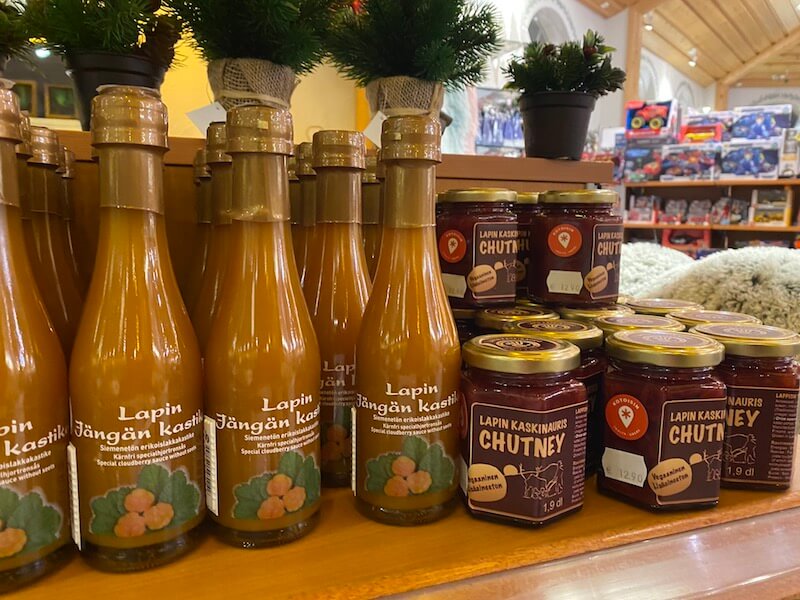 No.4: Christmas House Gift Shop
Christmas House in Santa Village is home to the Christmas House Restaurant and Coffee Bar (where hotel guests eat breakfast and dinner), the Christmas House exhibition, another opportunity to visit Santa.
But most important of all, the Christmas House Gift Shop.
This is our number one place to buy the best Christmas gifts and souvenirs in Lapland.
Be spoiled for choice here.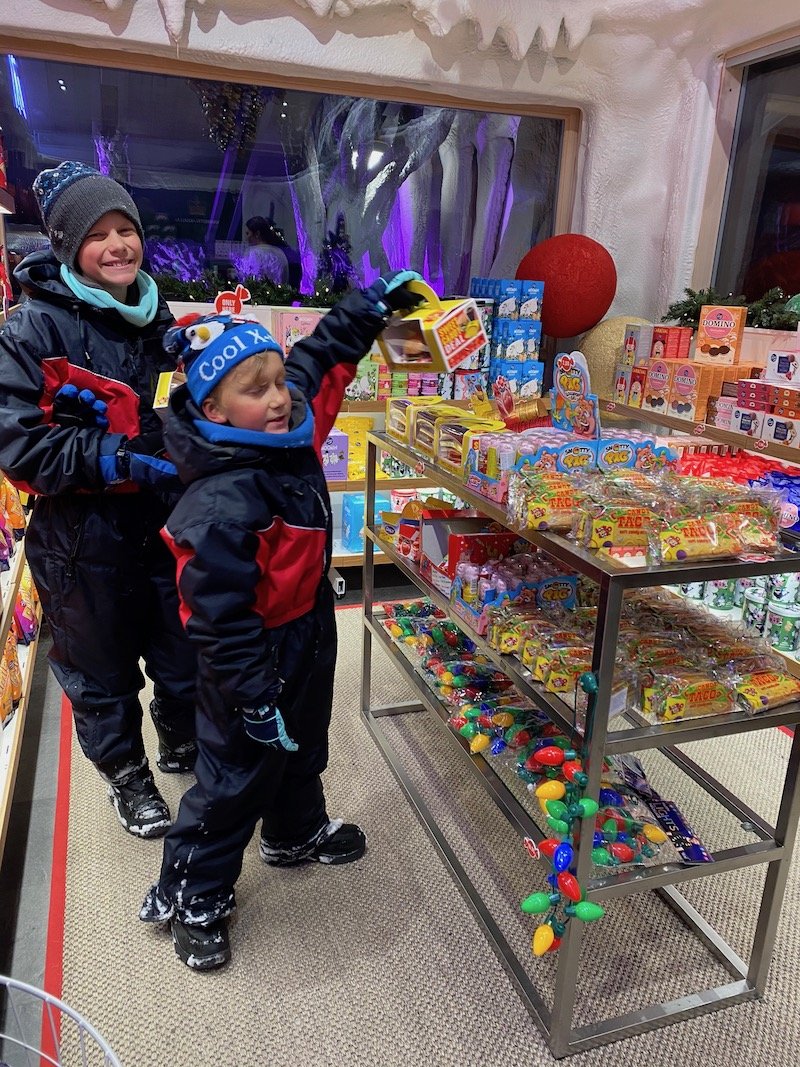 No.5: Santa Claus Chocolate and Candy Shop Arctic Circle
Looking for edible gifts and souvenirs from Lapland?
Visit the Santa Claus Chocolate shop in Santa Village.
It's full of Karl Fazer chocolates and biscuits.
In ALL the variations.
Plus, there's a section with Finnish candy and lollies.
Buy your Finnish chocolate gift boxes in bulk to be sure you won't go home without a suitcase full of Lapland gifts.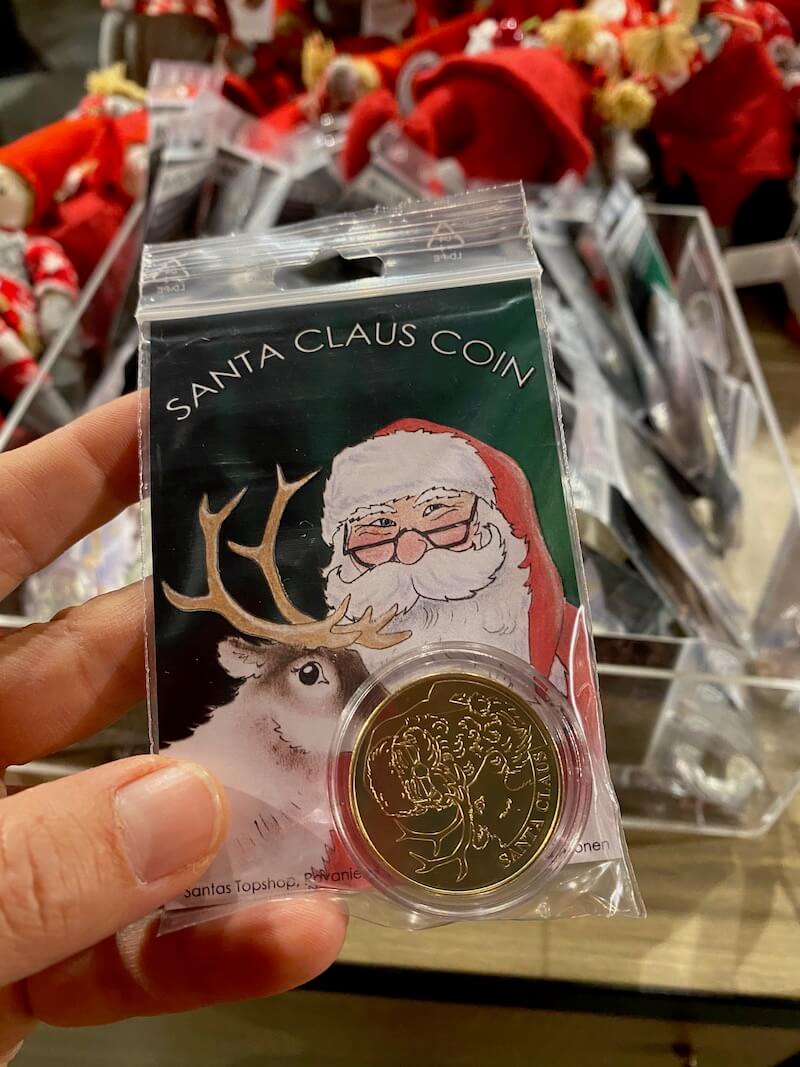 No.6: Santa Claus Post Office Shop in Santa Village
The Santa Claus Main Post Office in Santa Village is a real life Finnish post office, operated by Finnish postal service.
Send all your letters and postcards and gift parcels from here.
Plus, the Santa Post Office shop is full of unique stationery, books and gifts you won't find elsewhere in Santa Claus village.
Be sure to stop by to see where all the letters to Santa go to!

No.7: Main Office of Santa shop in Lapland
Santa Claus Main Office is the OFFICIAL home of Santa in Rovaniemi.
When you've finished telling him all your secrets, you'll arrive in the Main Office of Santa shop.
Look for the range of unique Christmas socks for everyone in the family.
Roam the Gnome was a fan of all the Lapland soft toys here too!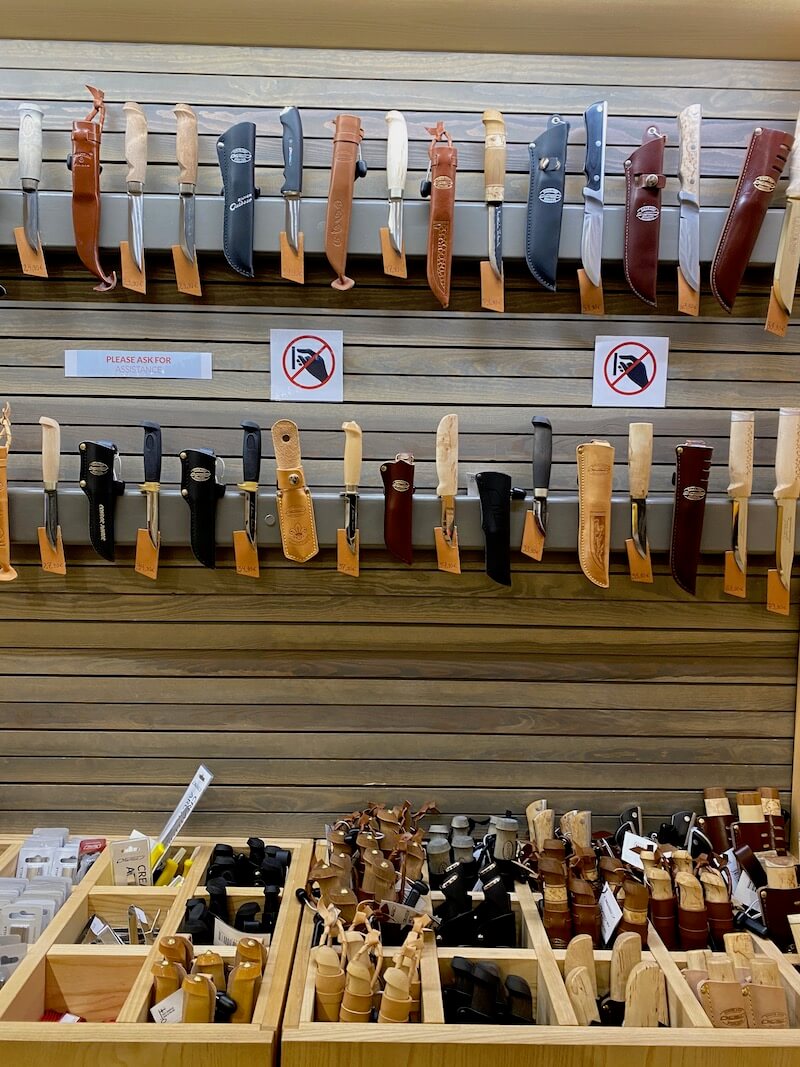 No.8: Marttiini Shop Santa Village
The Marttiini store in Santa Village is the place to find traditional Finnish knives.
This Lapland gift shop also sells a range of Finnish Kuksa cups made from local timbers.
A kuksa cup is a drinking vessel first made and used by indigenous Sami people, and now a part of Finnish culture.
Stop by to see all the traditional Finnish gifts and local products at this beautifully simple shop.
Click here for details of the Marttiini knife factory shop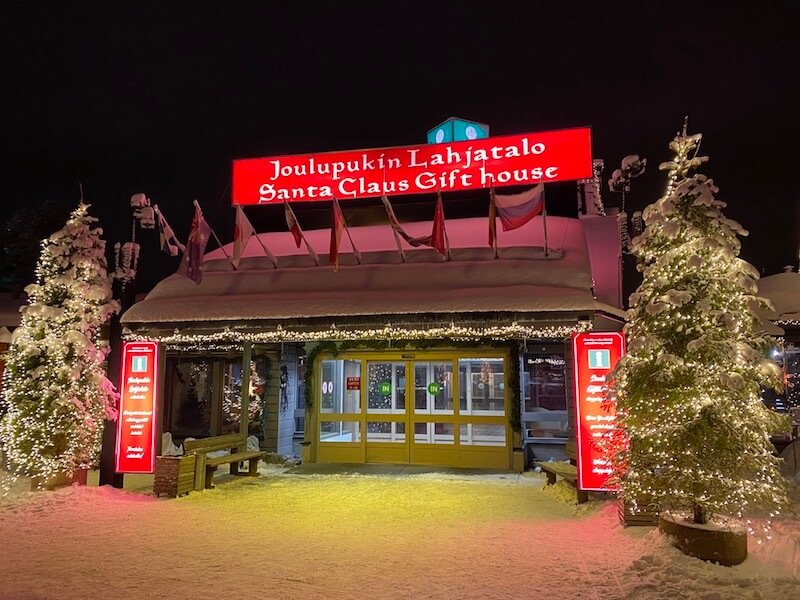 No.9: Santa Claus Gift House & Arctic Circle Information Centre
This shopping mall in Rovaniemi is last on the list.
You'll need time here to sort the good, from the not-so-good Lapland souvenirs.
Santa Claus Gift House shops sell a lot of commercialised souvenirs made in China and not so many authentic Lapland gifts.
With the exception of the Moomin shop inside, and a few handmade wool jumpers, there's not much else to highlight in the way of authentic Lapland souvenirs and gifts.
Read our review of the Santa Claus Gift House shop in Lapland here. (Coming soon.)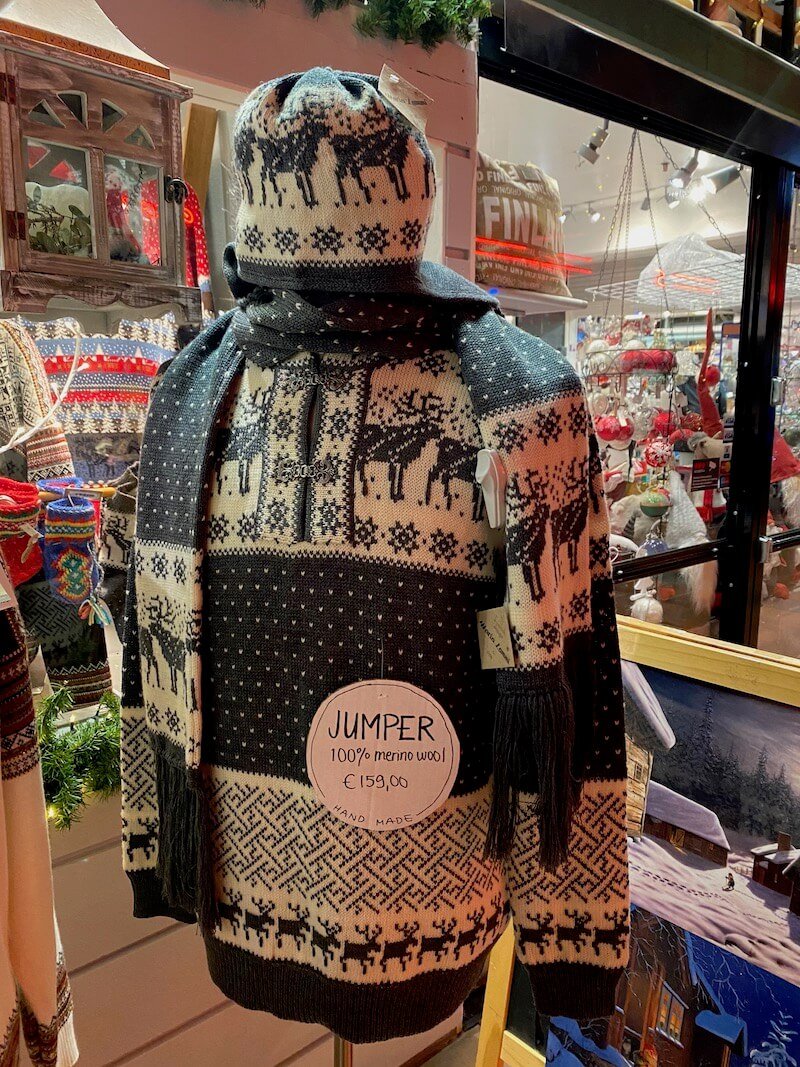 THE INSIDE SCOOP: The Complete Guide to Rovaniemi shopping at Santa Village Shops
Correct at time of publication on Roam the Gnome. Please check with venue for updates. We apologise in advance if there have been any changes we are unaware of. All prices in euro, unless otherwise stated
Santa Claus Holiday Village address: Tähtikuja 2, 96930 Rovaniemi, Finland
Santa Claus Holiday Village telephone: +358 40 1593811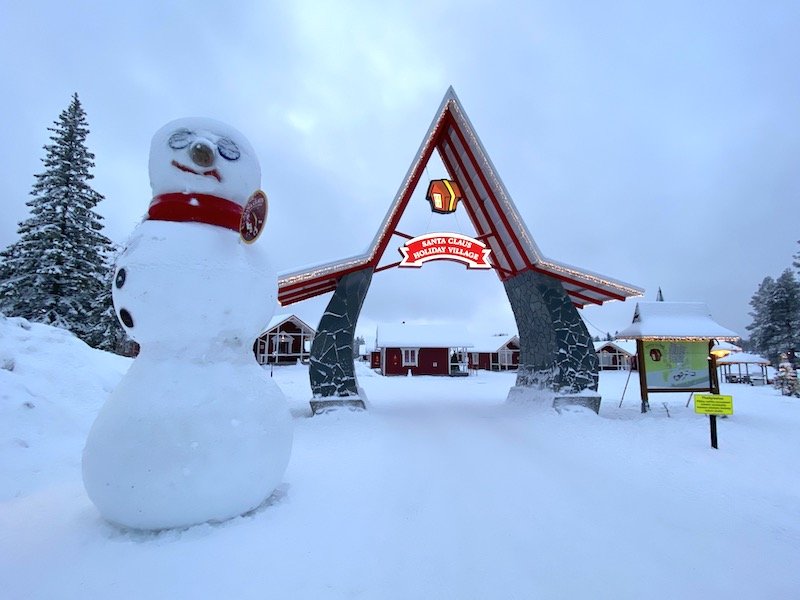 Santa Claus Holiday Village opening hours
All of the Rovaniemi Santa Claus Holiday Village shops, with the exception of Christmas House Gift shop, are independently owned and operated.
Most Rovaniemi shops open around 9am during the busy Christmas season, and close around 7pm.
The safest bet is to plan to shop in the Santa Village shops between 10am and 5pm.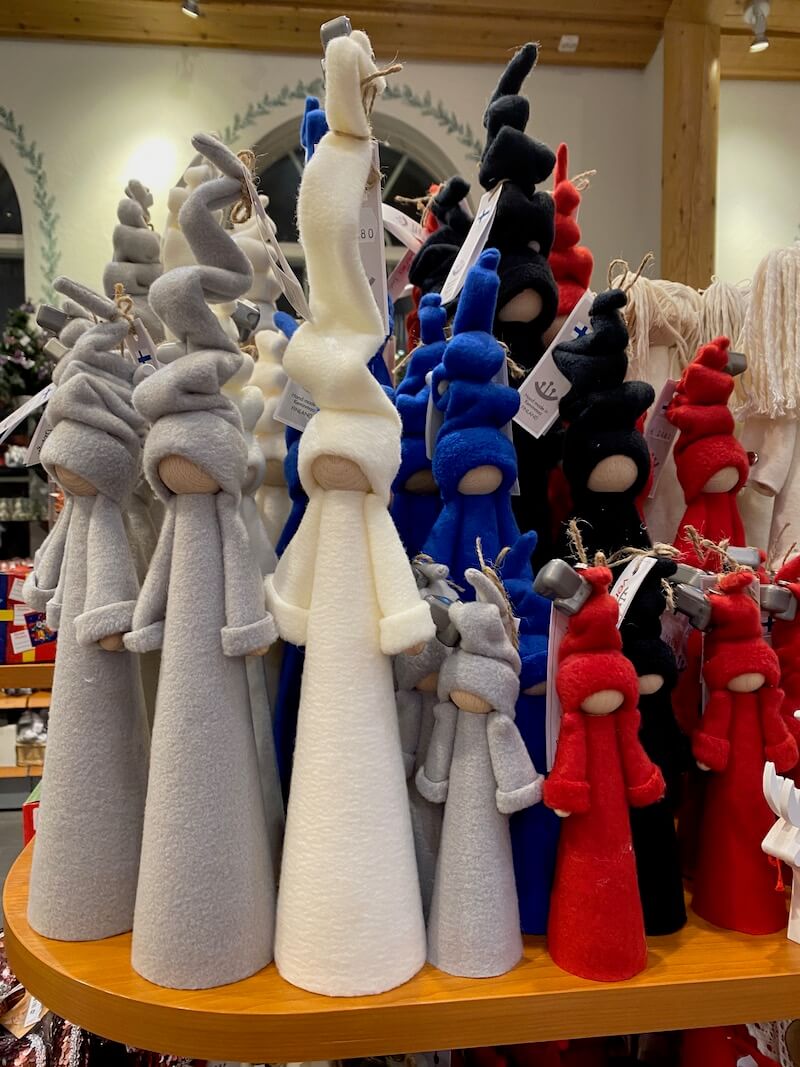 How to get to Santa Claus Village Lapland
How to get from London to Lapland
You can take flights to Lapland Rovaniemi from London via Helsinki.
Or you can fly to Helsinki, and catch the train there and back.
Or fly to Helsinki, take the overnight train to Rovaniemi, and fly back to London (as we did.)
How to get from Helsinki to Lapland on the overnight train
We loved taking the overland adventure on the train from Helsinki to Santa Village.
Long distance train travel is fabulous fun, and we'd do this sleeper train to Rovaniemi all again in a flash.
RELATED: Read our Guide on How to get from Helsinki to Rovaniemi on the overnight Santa train
How to get from Rovaniemi to Santa Claus Holiday Village – Santa Claus Express Bus
The best way to get from the Rovaniemi train station to Santa Claus village is on the Santa Claus Express Bus.
You can also jump on the Santa Claus bus from Rovaniemi airport too.
Or if you are staying at Santa Claus Holiday Village, call for a pick up transfer from the airport.
Or take a taxi. It's only 8 minutes drive.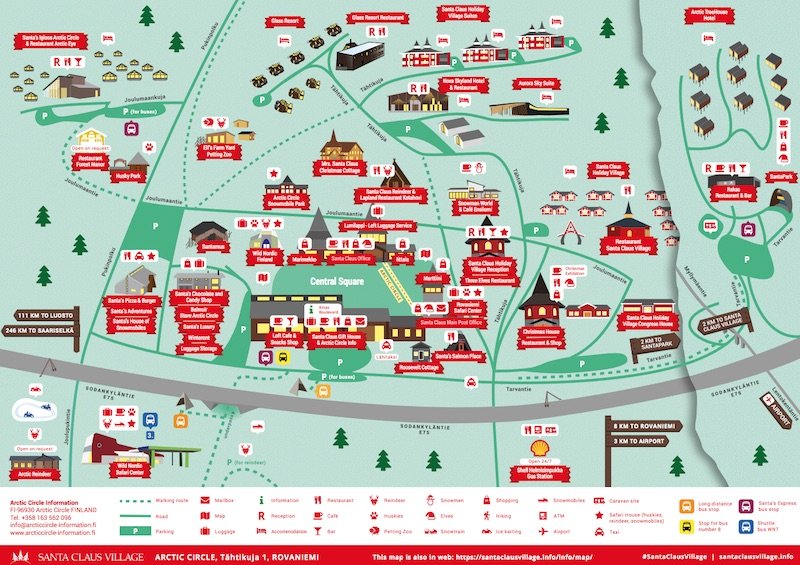 Printable PDF of Santa Claus Village Map
Click here for the Santa Village map of shops and attractions
Santa Claus Holiday Village Map
Tips for Shopping in Rovaniemi Finland
Read our guides to individual shops to gain a basic idea of what's in store
Allow browsing time in the village during your daily itinerary for Lapland
Shop early morning, or after 4pm to avoid the day trippers and the crowds
Toadstool Rating: Lapland Shops in Rovaniemi

Looking for More Things to Do in Santa Claus Holiday Village & Rovaniemi?
Click the blue links below for more Lapland stories