INSIDE: Roam the Gnome's Review of the Best Santa Theme Park in Lapland – Santa Park Rovaniemi.
Santa Park is THE best Santa experience for little kids, all under the one roof.
It's indoors, and that means no-one has to brave the -20° degrees celsius weather outside.
It's the best place to keep babies, toddlers and preschoolers warm, while they play and enjoy ALL the Santa Park activities.
Take a look below for details.
Disclosure: This article contains affiliate links. If you make a purchase after clicking on one of these links, we may receive a small commission at NO extra cost to you.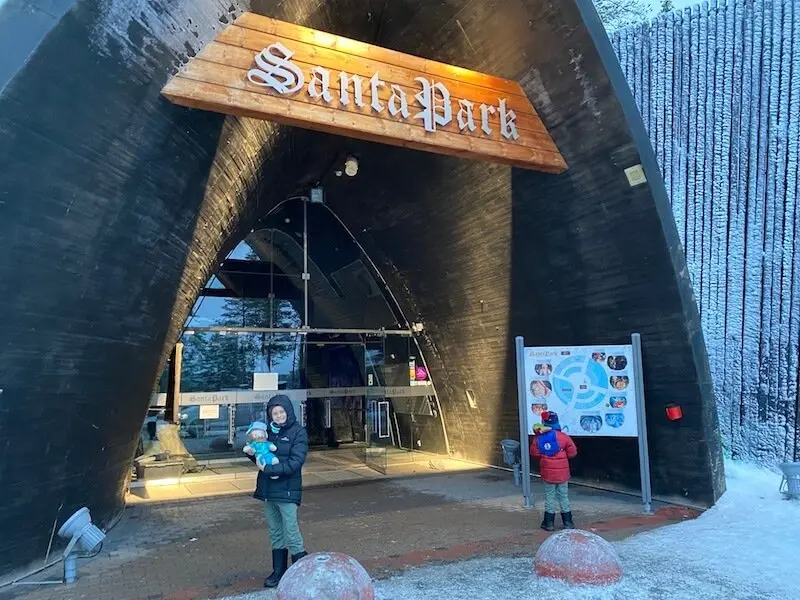 GUIDE TO SANTA PARK ROVANIEMI FINLAND
Santas Grotto Lapland
Go inside Santas secret cavern and meet Santa and his elves, as they work hard to prepare for that one special day of the year.
Christmas.
The underground grotto at Santa Park is a fairytale wonder for kids under 8 to 10.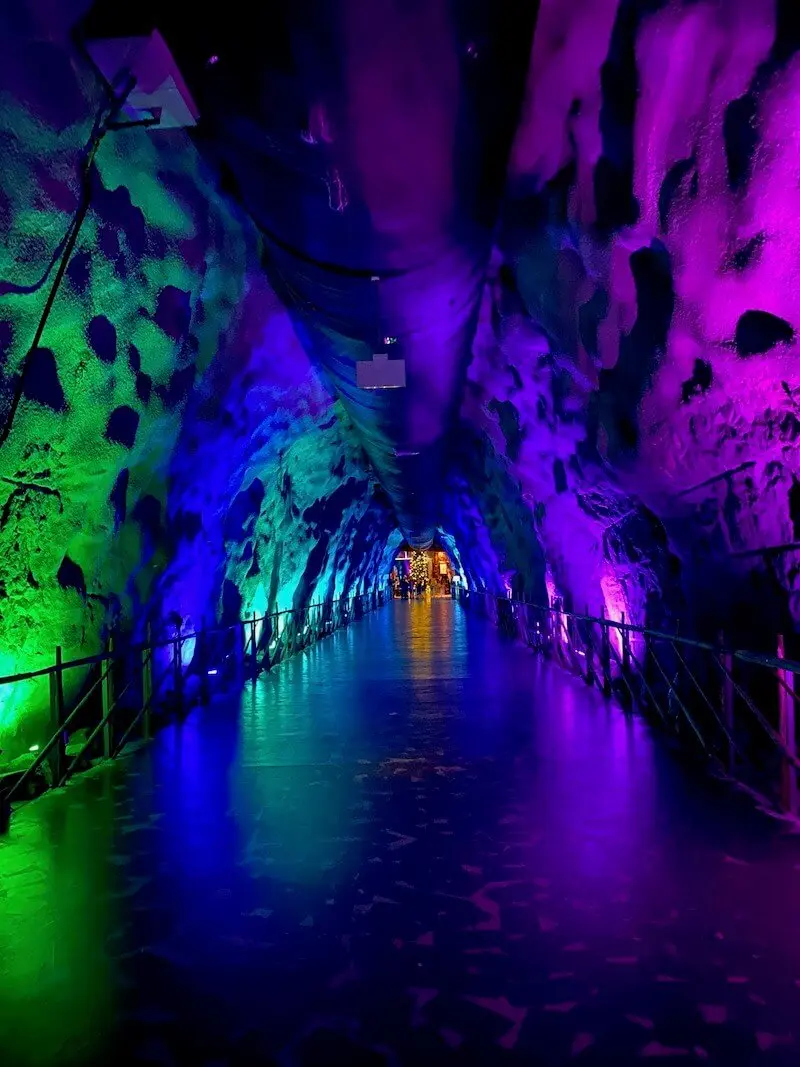 Entrance into Santa Park Lapland
Roam the Gnome and I were thrilled at the sight of twinkly lights along the fairy walkways, the holiday decor and Christmas decorations, and the Christmas theming from the spectacular entrance tunnel right throughout.
Santa Park looks a delight!
The downside is the cost of entrance and souvenirs.
In fact, some would say this place is guilty of souvenir overkill.
But if you can bear that, it's a nice way to spend a few hours in Lapland with toddlers and preschoolers.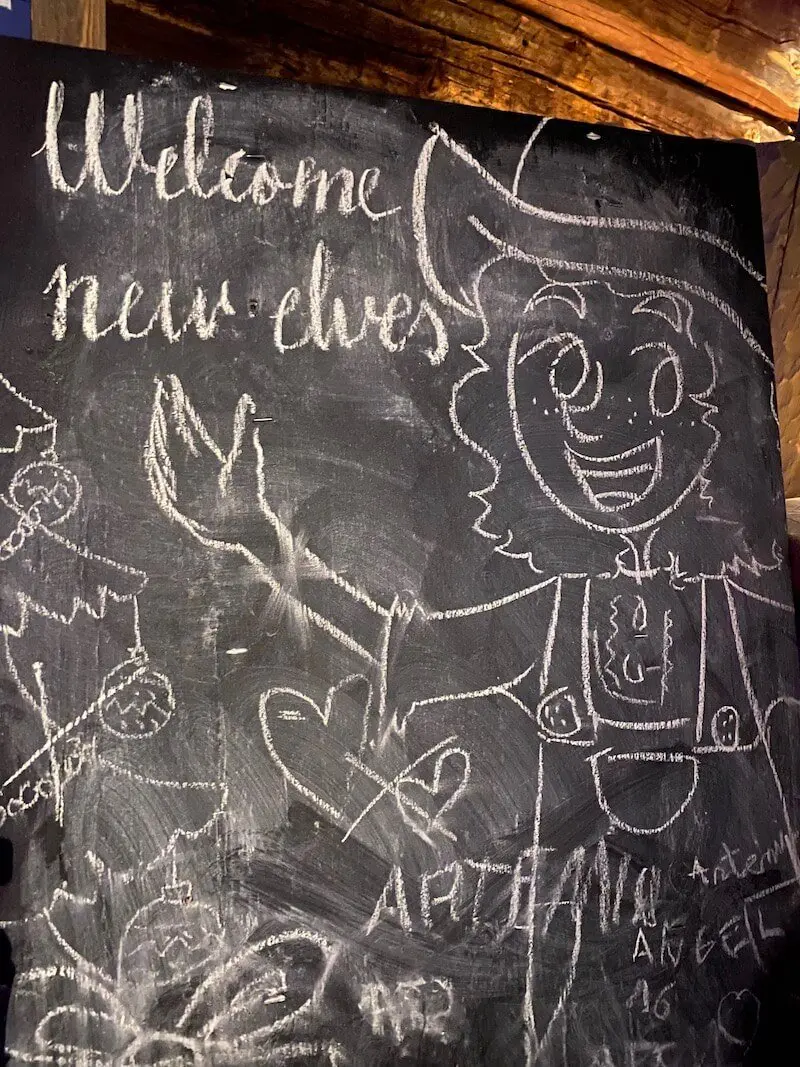 BEST ACTIVITIES TO DO AT ROVANIEMI SANTA PARK FINLAND
No.1: Elf School
Enrol the kids in Elf School.
This is the most fun they'll ever have at school.
But you'd better hope you are short.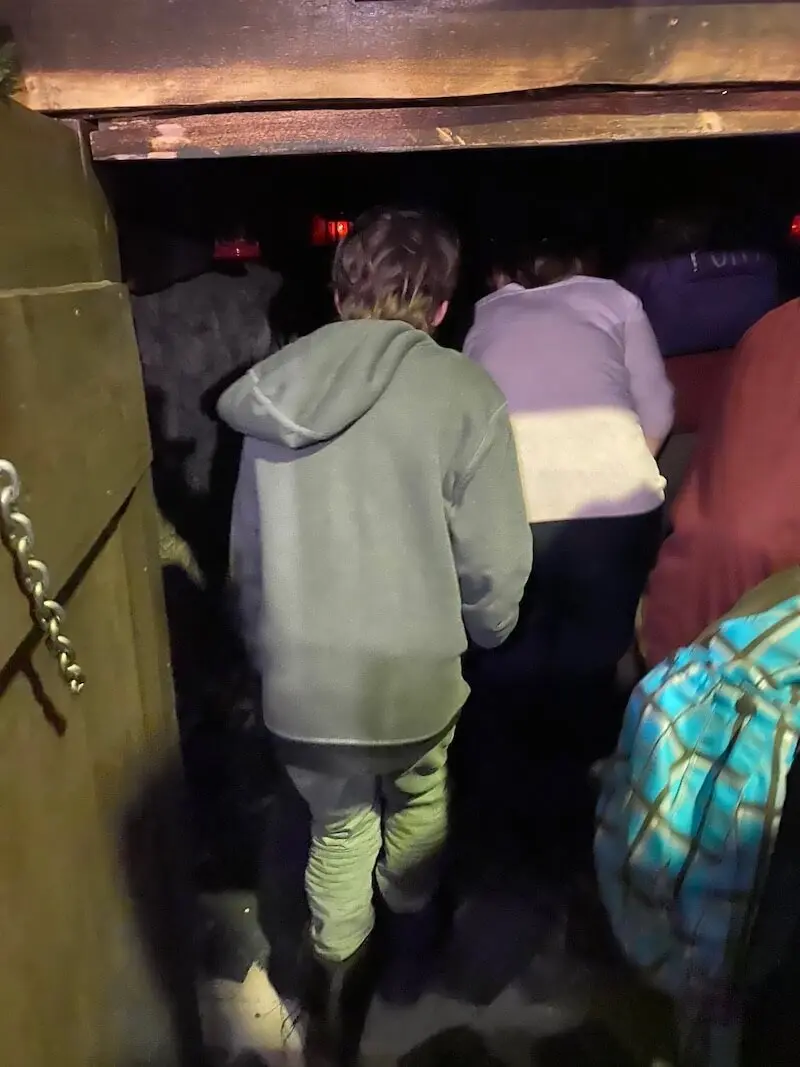 Elf doors are made for tall people.
Our Head Elf teacher was hilarious, full of life, and simply fabulous.
Her Elf translator sidekick was a much quieter personality, and a little bland.
But Head Elf didn't let that stop her.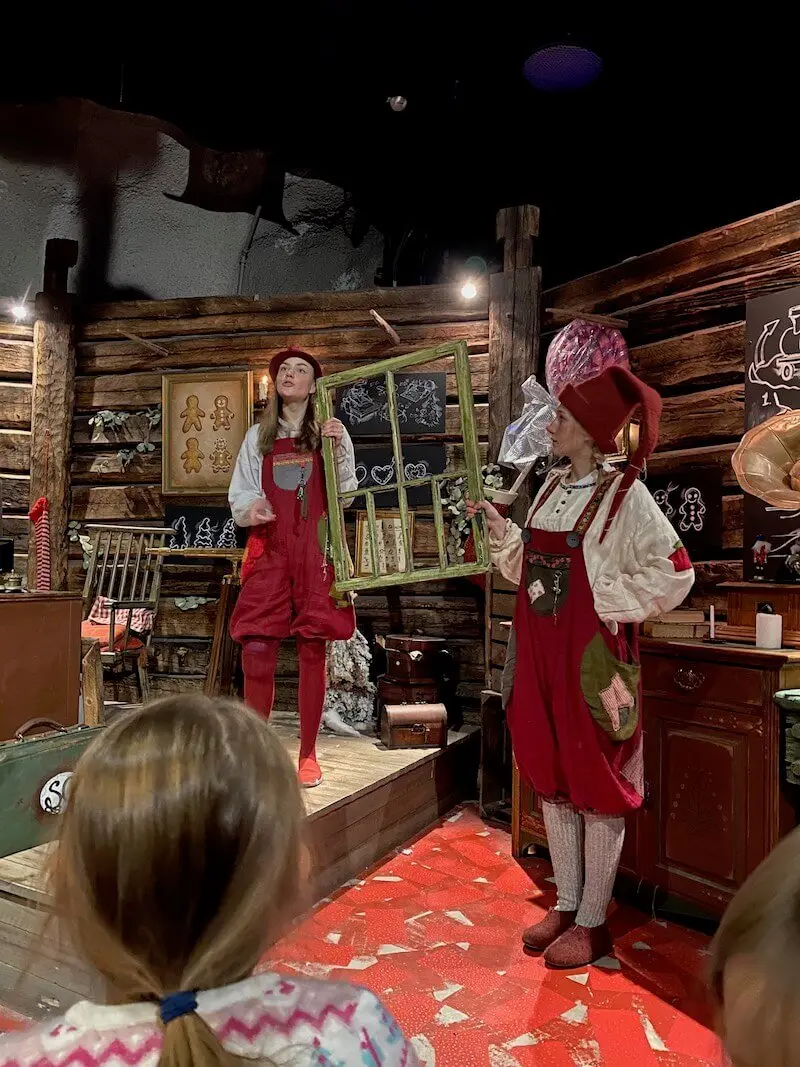 At Elf School, kids (and parents) can
learn the language of Elf speak
discover how Elves wrap presents ready for Santa
undertake study in Geography (as Santa needs to know where he's going)
see what happens in the daily life of an Elf as they go about their business.
Plus learn important skills such as:
Peeking Through The Windows, and
The Importance of Kindness.
Elf School was very very busy with day tripper crowds, so we had to wait for a second session, but the Elf teachers were accommodating and tried their very best to keep everyone happy.
Funny Lapland Elves at Santa Park
Once inside, the show was a hoot.
And well worth the wait.
Don't miss it.
This, plus the Elf Show, were the two activities that we felt gave us our money's worth.
Be sure to collect the kid's Elf Diplomas on the way out!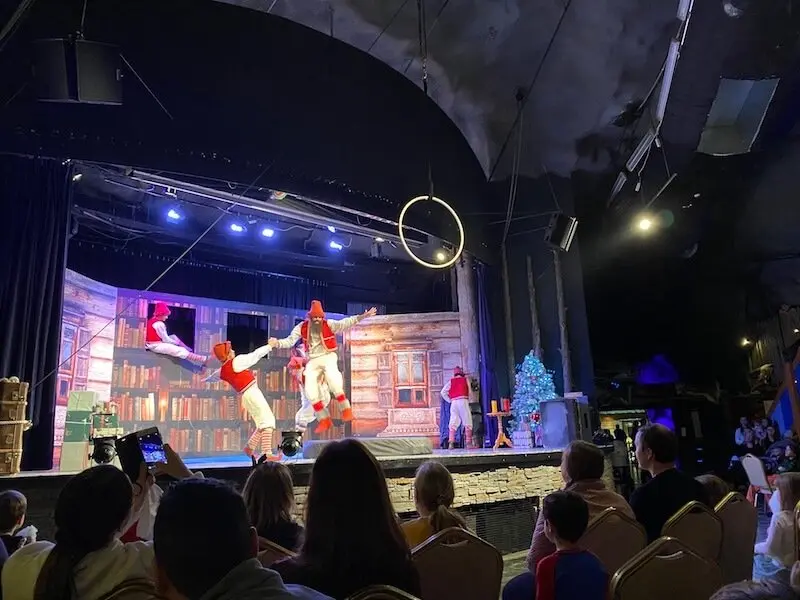 No.2: See the Lapland Elf Show
Don't miss the Elf Show either.
The performance schedule for the day is posted near the entrance.
When we visited, the show was on at 12, 2pm and 4pm.
Elf performances are full of energy, laughter and fun.
This was our favourite thing at Santa Park, even though we had to sit on the floor to watch it.
No.3: Elf Workshop
At the Elf Workshop, there's elf craft activities to do.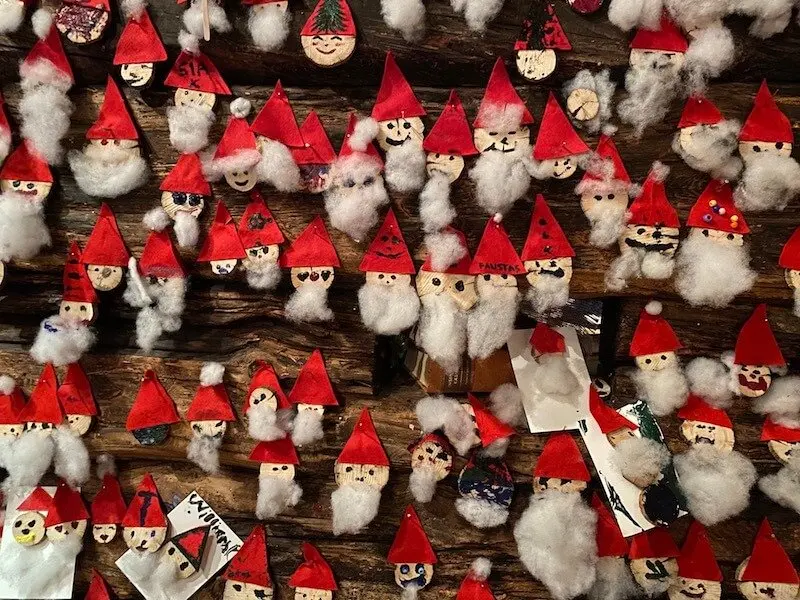 Elf Face
Kids can decorate their own elf on a timber round.
Or do as Jack did, and make a Reindeer face.
There's no rules.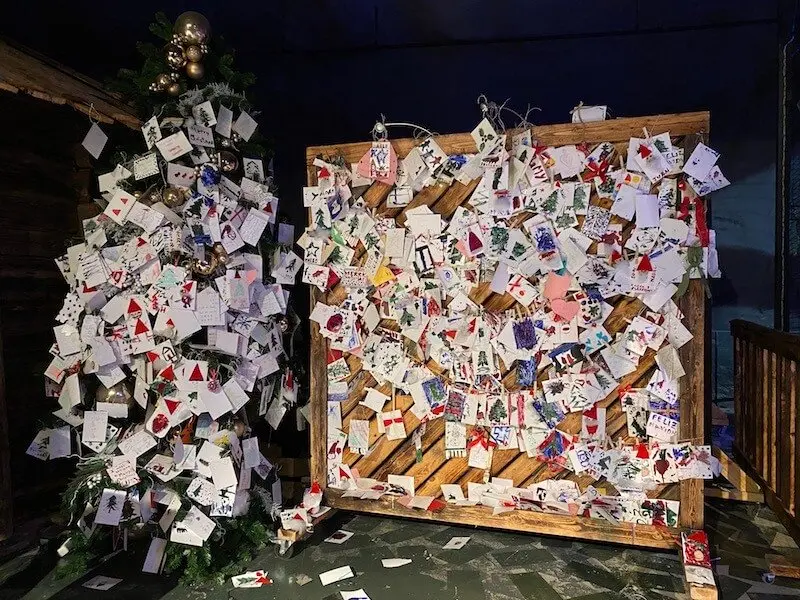 Christmas Cards
Or make a Christmas card using paint and popsicle sticks.
Let them dry, then take them home with you.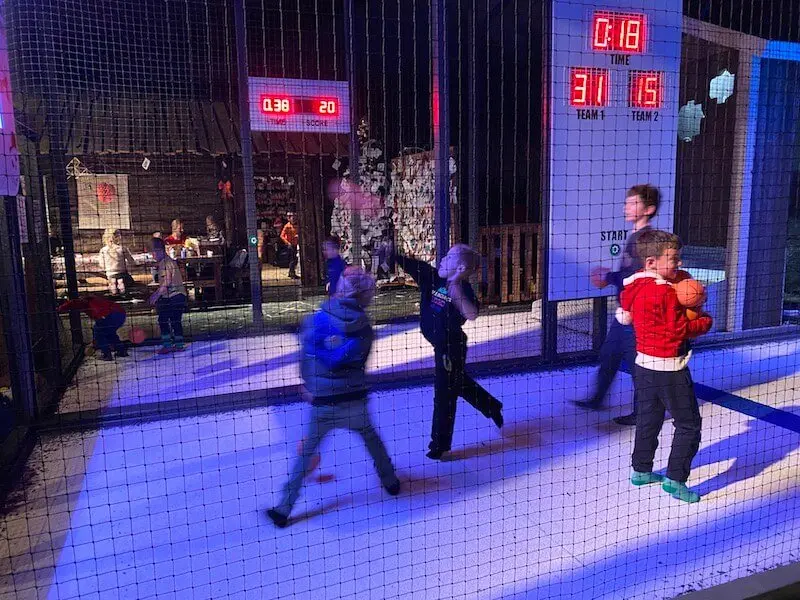 No.4: Santa Park Activity Zone for Kids
In between the Elf Workshop, and the Elf School, there's a top spot for kids to play and run off some energy.
There's two ball games.
The one for the bigger kids is a dual ball competition where two teams try to beat one another throwing balls into a hoop, working against the clock.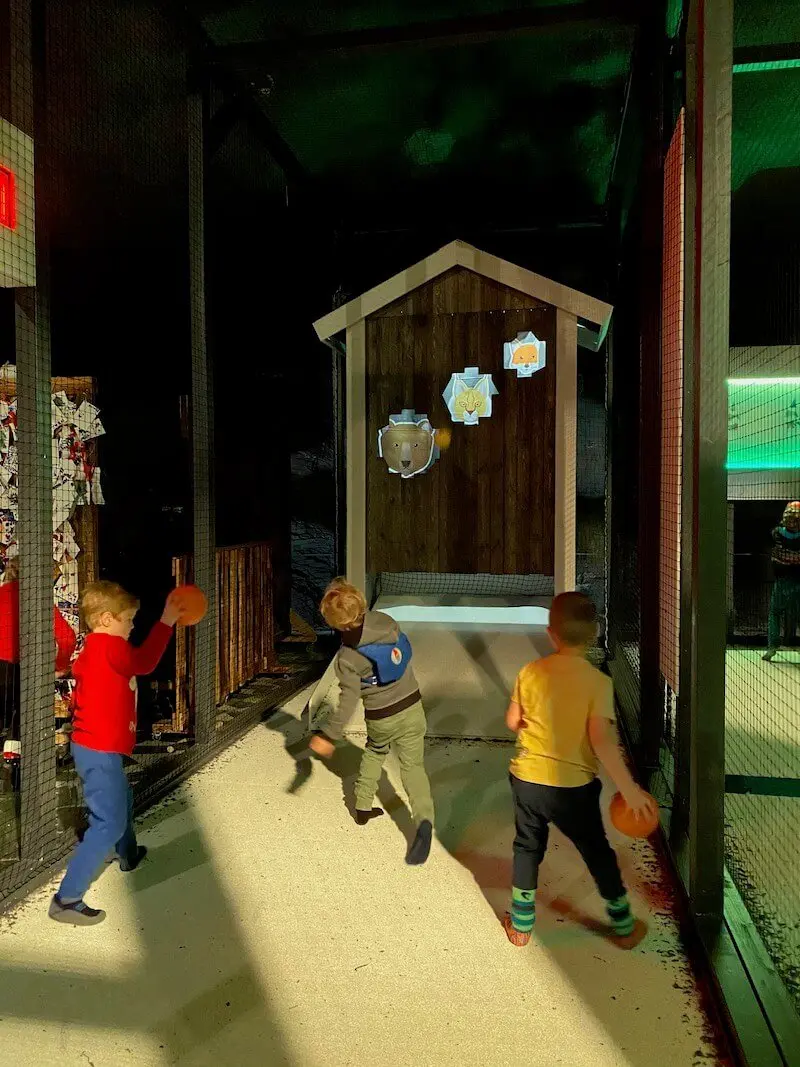 Santa Park games
The second one is like one of those arcade games where you throw your ball at a distance into one of three different sized holes – a Bear, some kind of cat, and a Red Fox.
These games were definitely more attractive for boys than girls.
Luckily, the Elf workshop is right next door, so if your kids are more into craft than ball games, you can still keep on eye on both of them while they do their thing.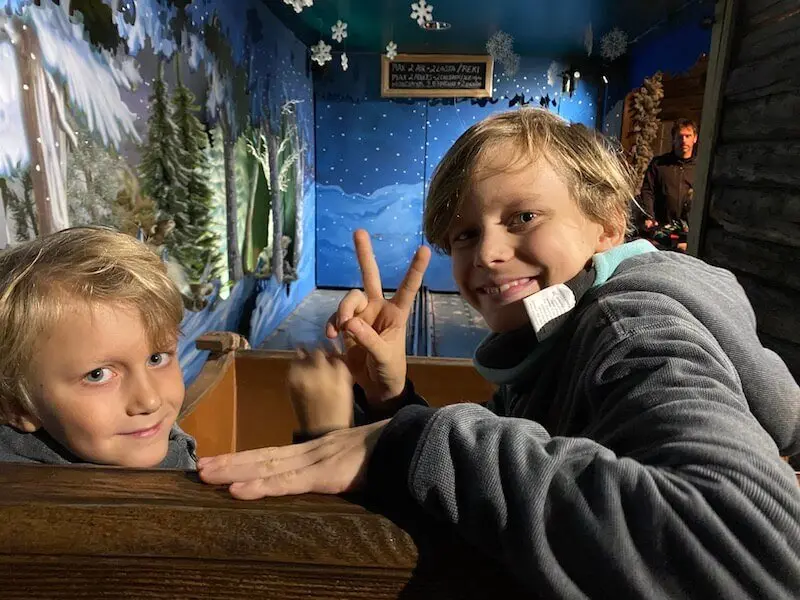 No.5: Santa Park Elf Train Ride
Kids can hop on the magic train and take a ride through the enchanting magical worlds of the Elves headquarters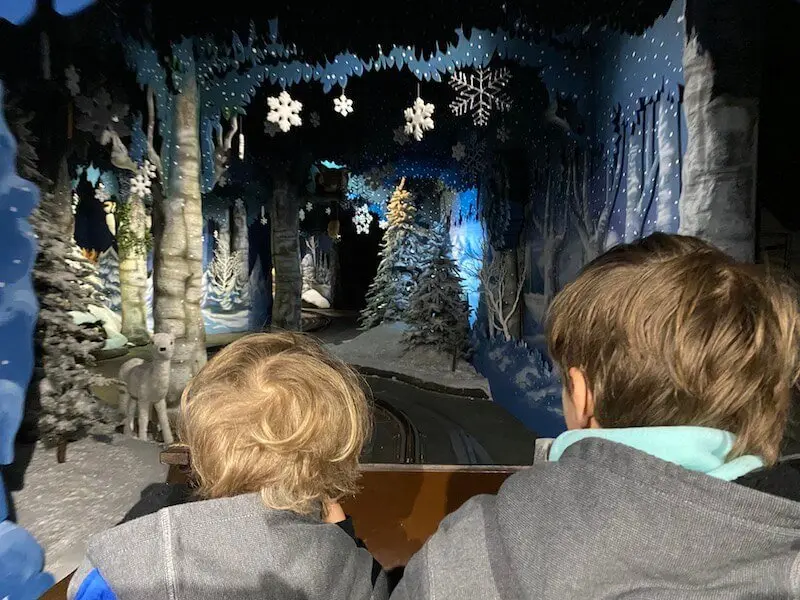 Inside the Santa Park Train ride
While it's not Disney, this ride is actually very cute once you are inside, and it takes you through many different worlds of Christmas.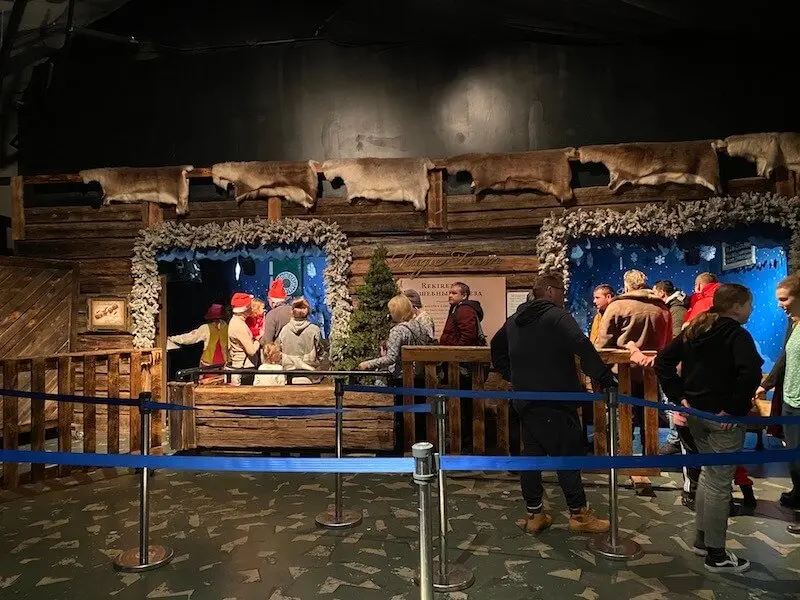 The Santa Elf Train was a lovely unexpected surprise, although one we did have to queue for.
Hot tip: Head over this way when Elf School is about to start and you'll miss some of the crowds.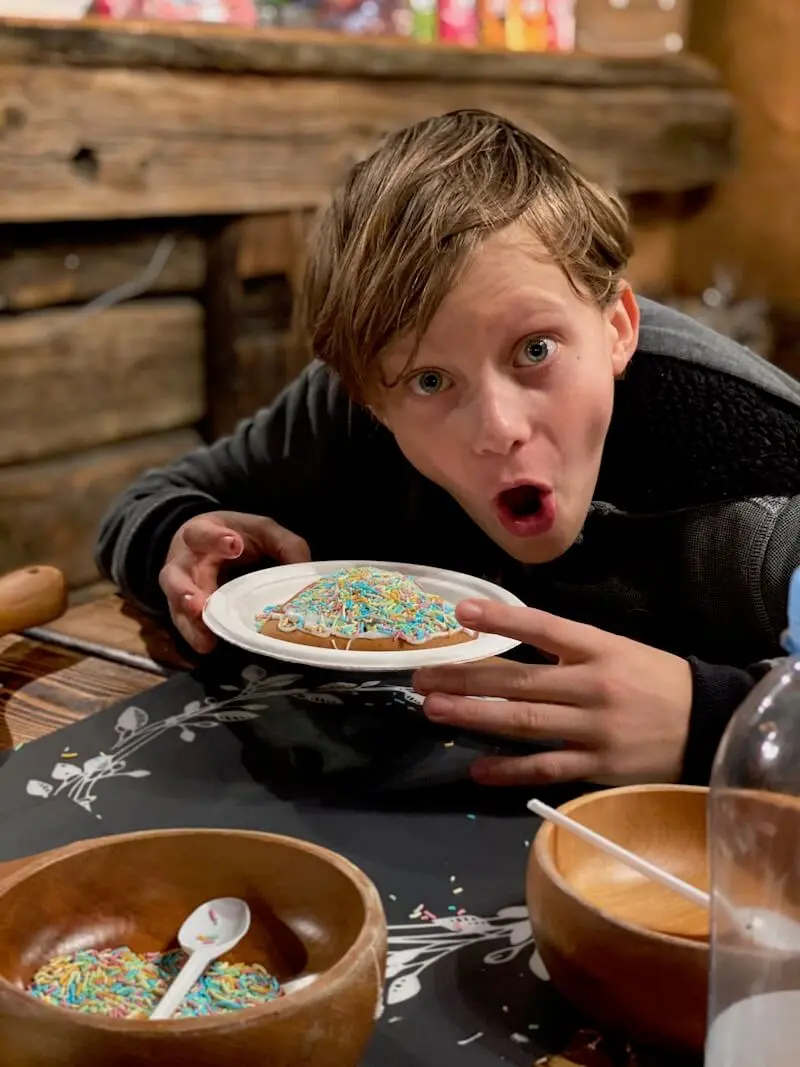 No.6: Bake with Mrs Gingerbread at Santa Park
Kids can decorate their own gingerbread cookie in Mrs Gingerbread's Kitchen, and then eat them in this cosy place.
You can order a cup of warm glögi on the side if you are prepared to pay the price.
Expect bill shock.
3 euro each, to decorate a cookie with a squeeze of icing sugar glue and sprinkles.
Plus a whole lot more for an emergency bottle of water, as we were all dying of thirst and I'd forgotten our bottle.
For the cost of entrance, I assumed this activity would be included, but NO.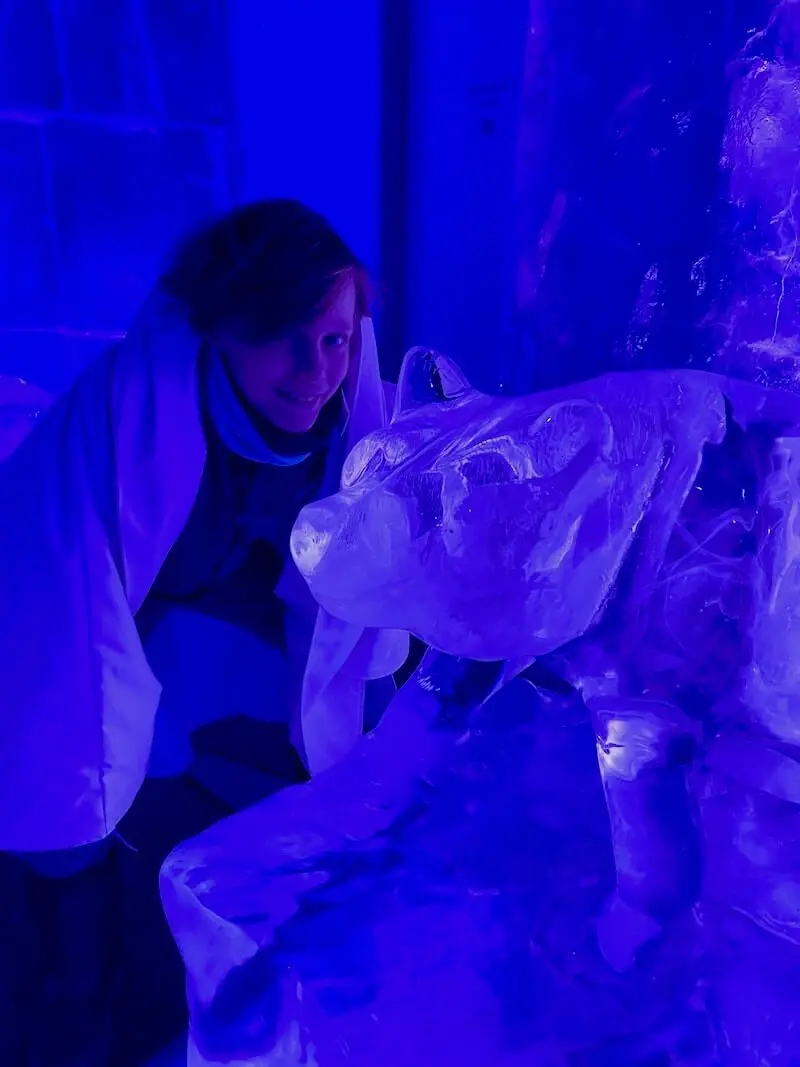 No.7: Visit the Santa Park Ice Gallery
Take a warm coat and head inside the Ice Gallery to see all the frozen sculptures, and if you are game, stay in the cold icy room to enjoy a drink at the ice bar.
(Another extra cost, of course, and you had to serve it yourself. Just follow the instructions on the note.)
I'd heard there was an Ice Princess to meet who can tell you about the different ice sculptures, and how they were made, but she was obviously at a hair appointment when we visited.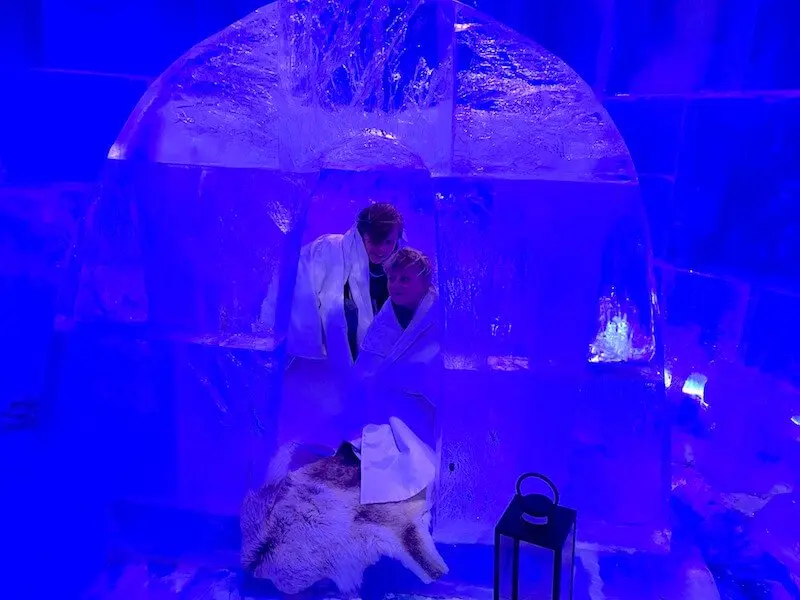 Inside the Santa Park Igloo
Sitting inside an ice igloo was something you can't do everyday, so the boys thought this was cool.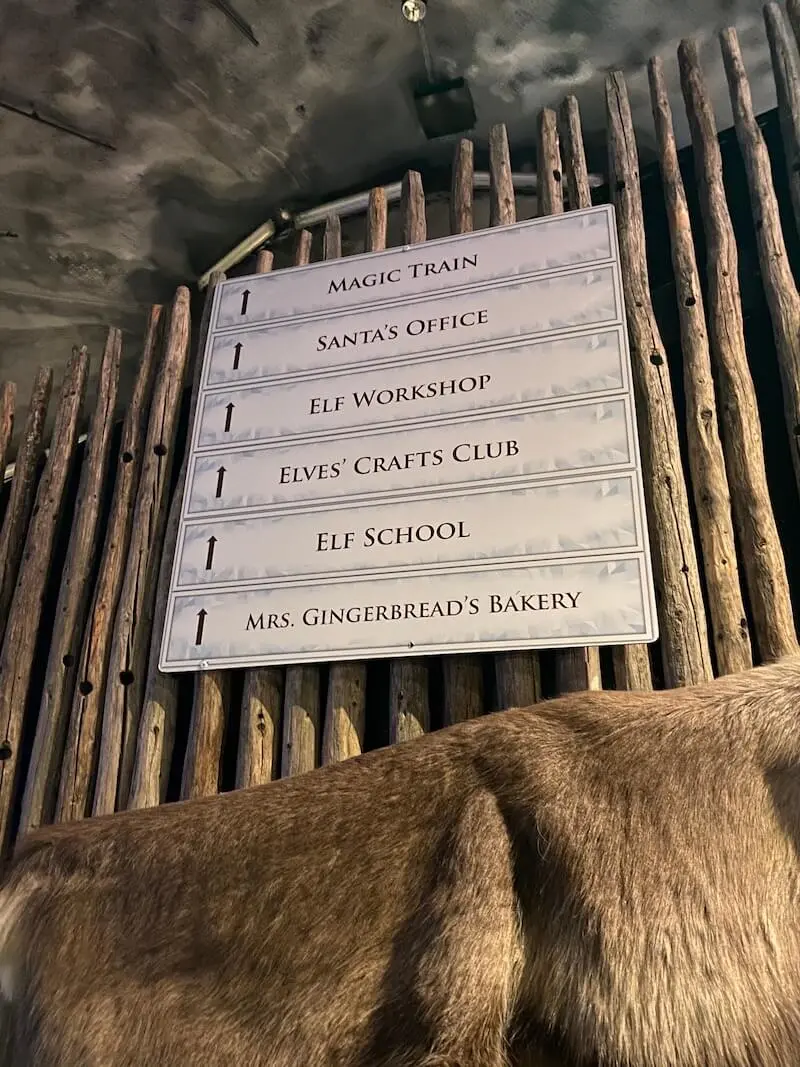 MORE Activities at Santa Park Arctic World
These activities are similar to what you'll find at the Santa Claus Village.
If you have, or are planning to meet the OFFICIAL Santa in Lapland, or visit the Official Santa Post Office IN the Santa Village, there's no reason to spend too much time doing these Santa Park activities, or it may confuse the kids.
You won't miss out on much if you skip them entirely.
---
RELATED: Everything you need to know about SANTA CLAUS HOLIDAY VILLAGE Attractions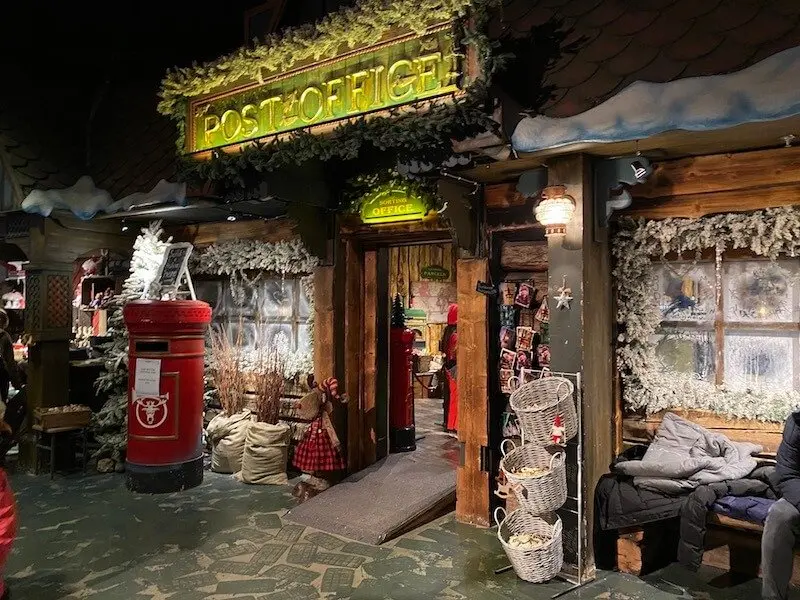 No.8: Santa Park Post Office
Drop into Santa's post office at Santa Park to send your Christmas greetings back home.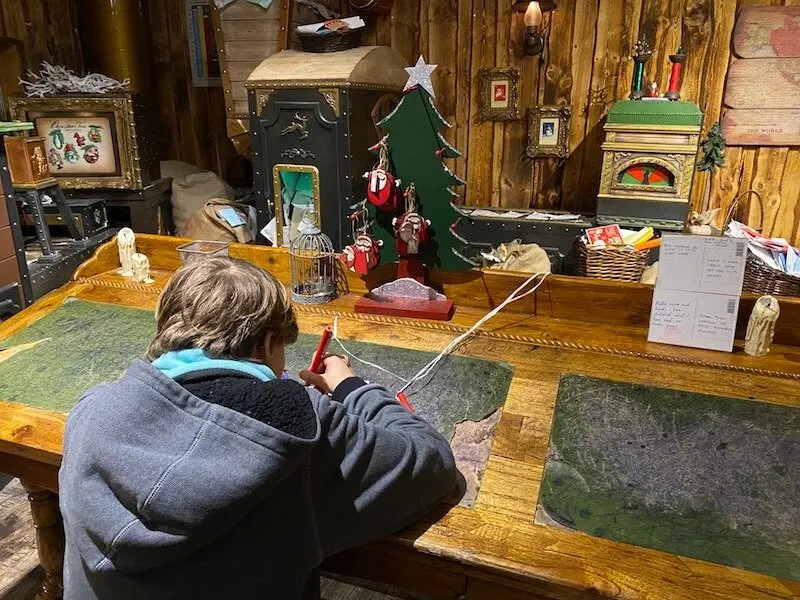 There is a cute Santa post office set up here if you want to WATCH the Christmas mail being sent off on it's way.
Do take a look!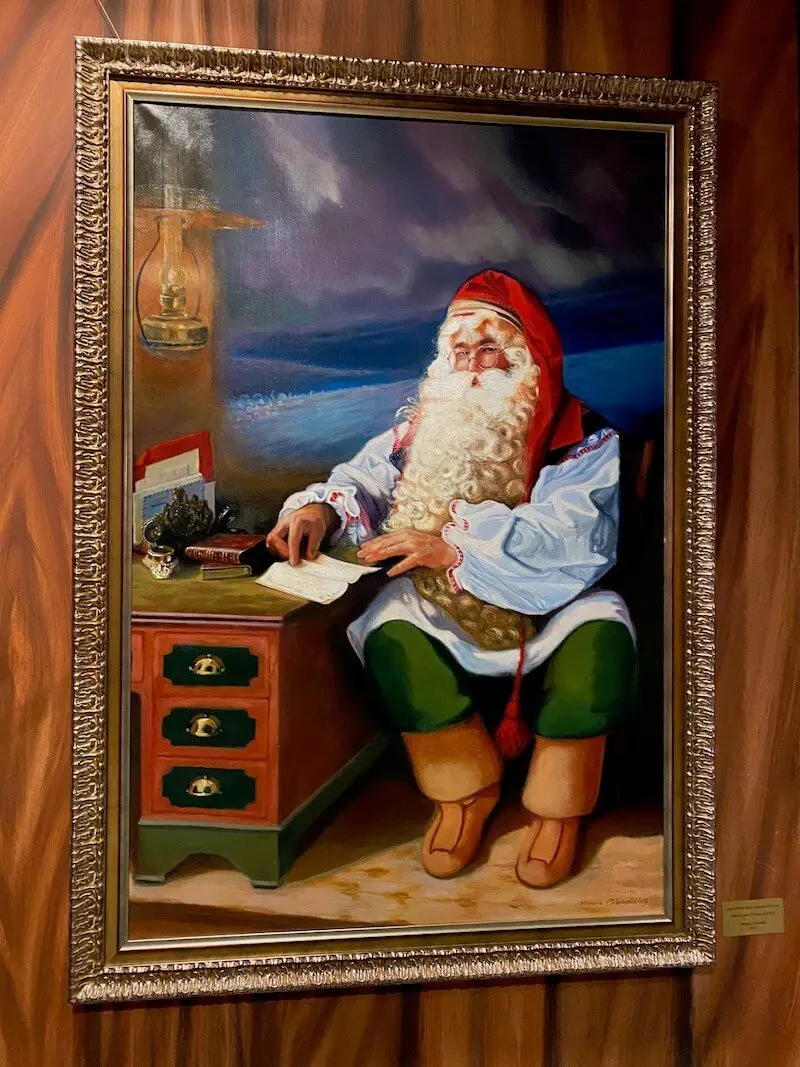 No.9: Meet Santa at Santa Park in Lapland
The highlight of any visit to Santa Park is to meet Santa in the secret grotto and take a family Christmas photo, but only if you won't see Santa elsewhere.
Confused and not sure which one to visit?
Take a look at our guide to the best Rovaniemi Santa for tips, and an overview.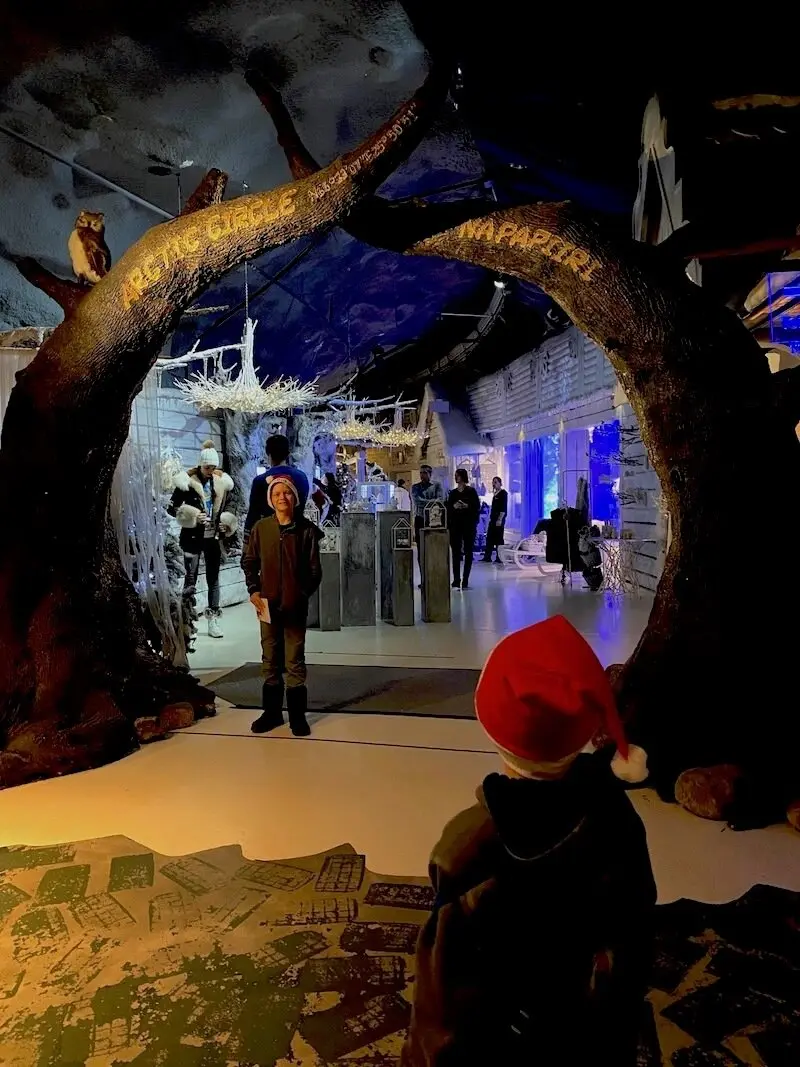 No.10 Crossing the Arctic Circle Underground at SantaPark Lapland
It's the only place IN THE WORLD where you'll cross the Arctic Circle UNDERGROUND, although that in itself is a bit underwhelming.
We had to ask staff to point it out to us, and then we realised we'd already walked under the archway.
(You can buy a certificate to commemorate this once-in-a-lifetime event)
Where to eat at Santa Park Restaurant?
Rovaniemi Santa Park is home to Cafe Kotakahvio.
Sit and eat while you enjoy the Elf Show, if you can find a seat.
While it's a huge room, the tour groups of day trippers do take up a lot of space.
It's an all-you-can-eat buffet meal, open from 11am to 4pm.
Adults are 18,90 euro, and children are 12,90 euro.
There are also some snacks and drinks available, however the prices are exorbitant.
Do BYO water, or stay thirsty!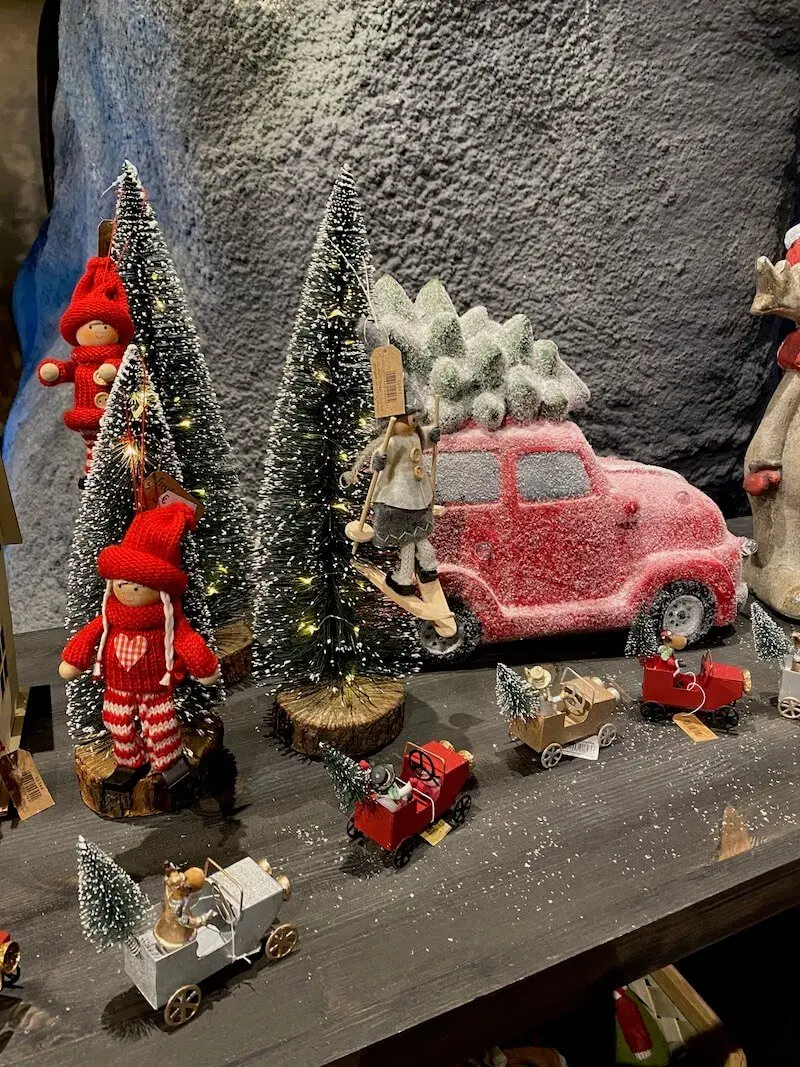 Inside the Santa Park Gift Shop
Santa Park is a shopper's delight.
In fact, there is almost too much to choose from.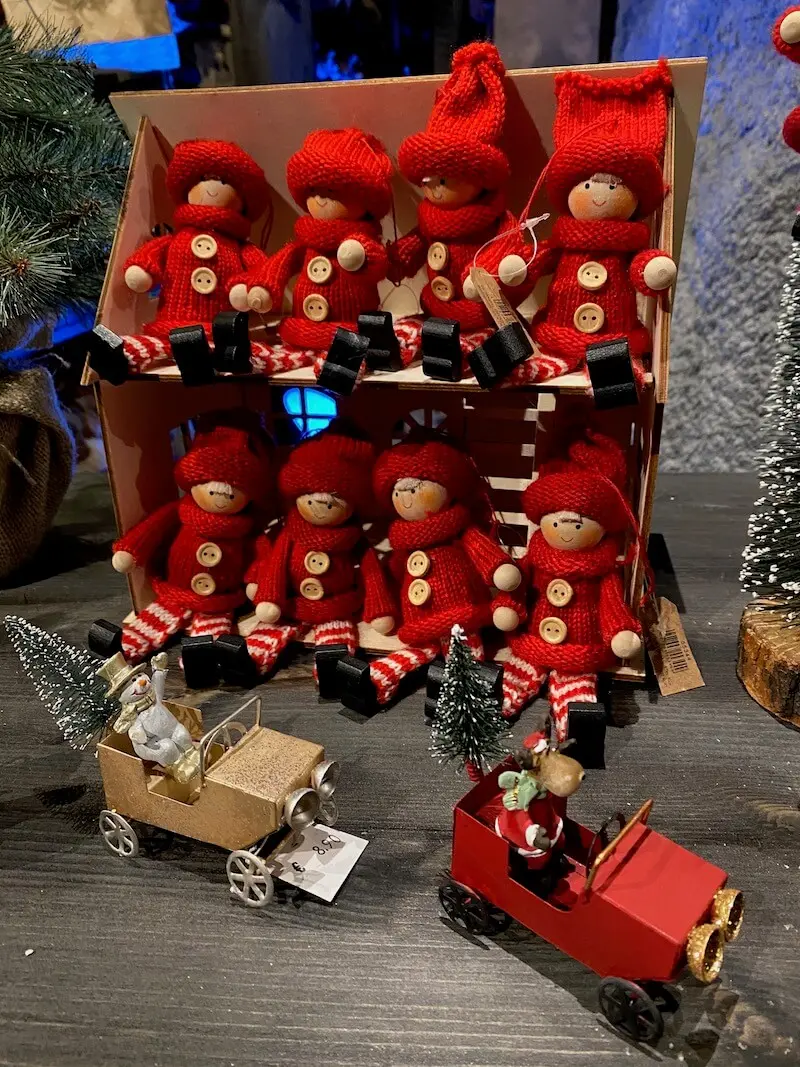 Best Lapland Souvenirs
There's all the normal range of Lapland Christmas souvenirs, including:
Reindeer hides from 149 euro
Santa Park coffee mugs
Christmas ornaments
Christmas tree decorations
Soft Toys
But there's one section that's a little more upmarket, with dressy coats, artworks, cashmere throws and beanies, puffer vests, and tote bags.
Find it on the left after the Post Office, along a white washed wall.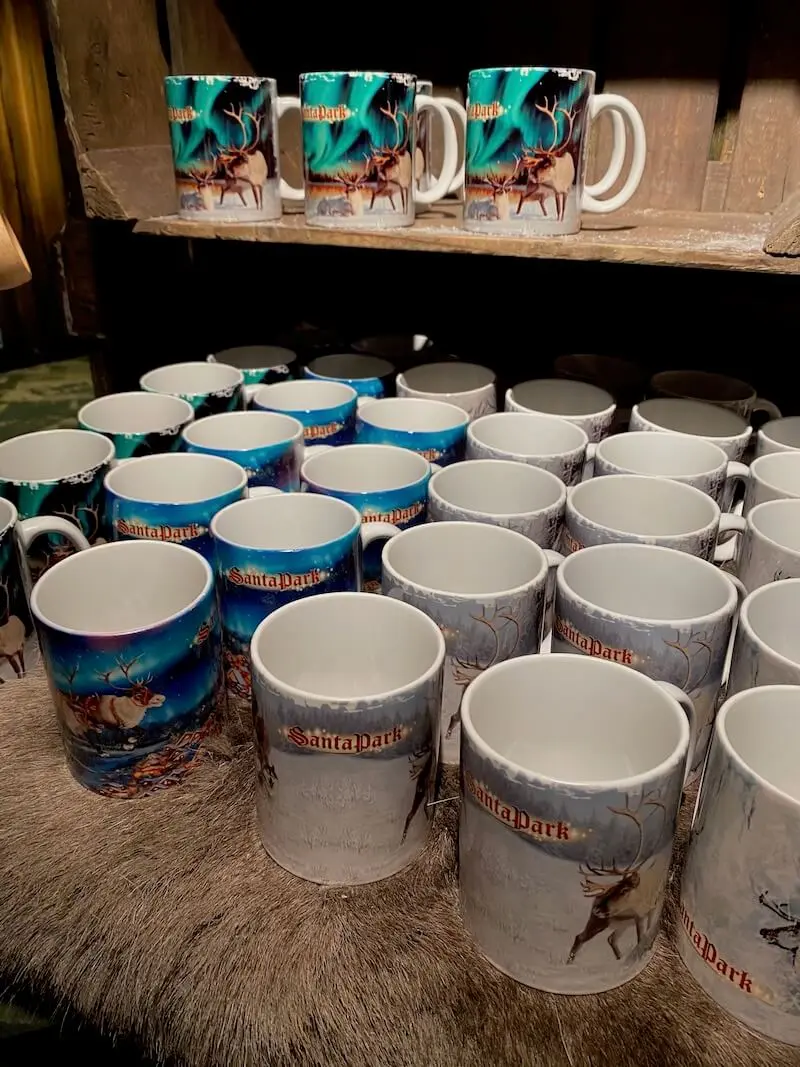 No.1: Santa Park Mugs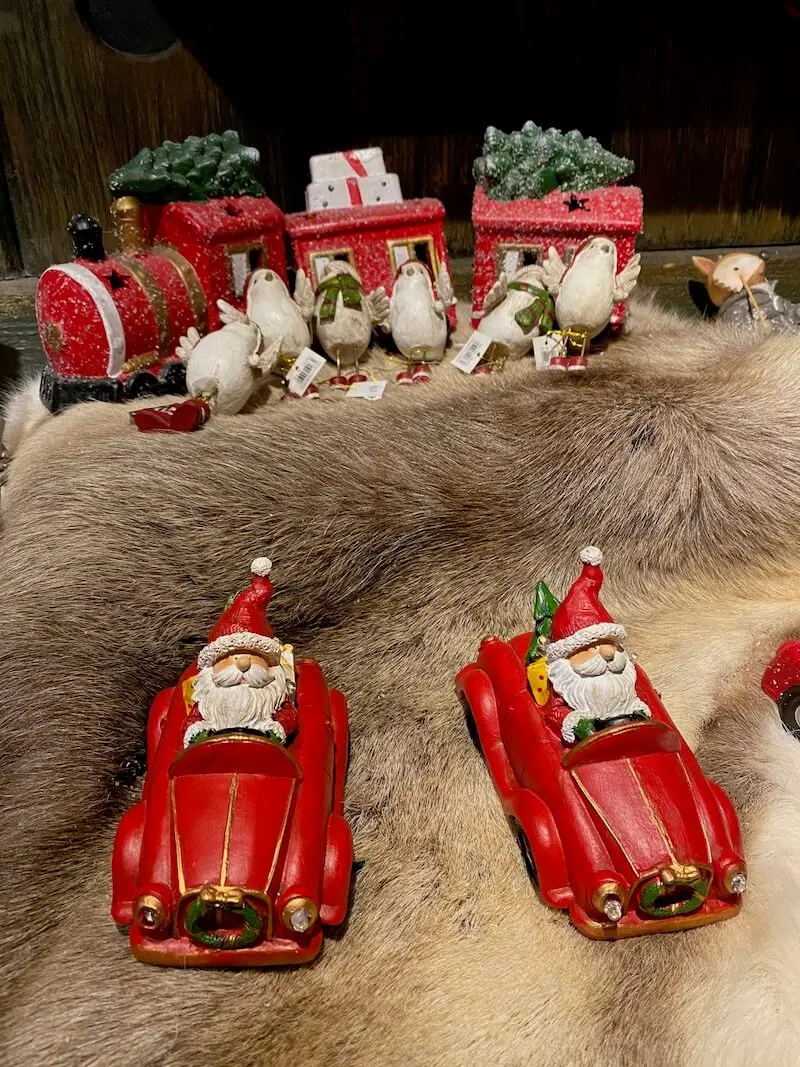 N0.2: Santa ornaments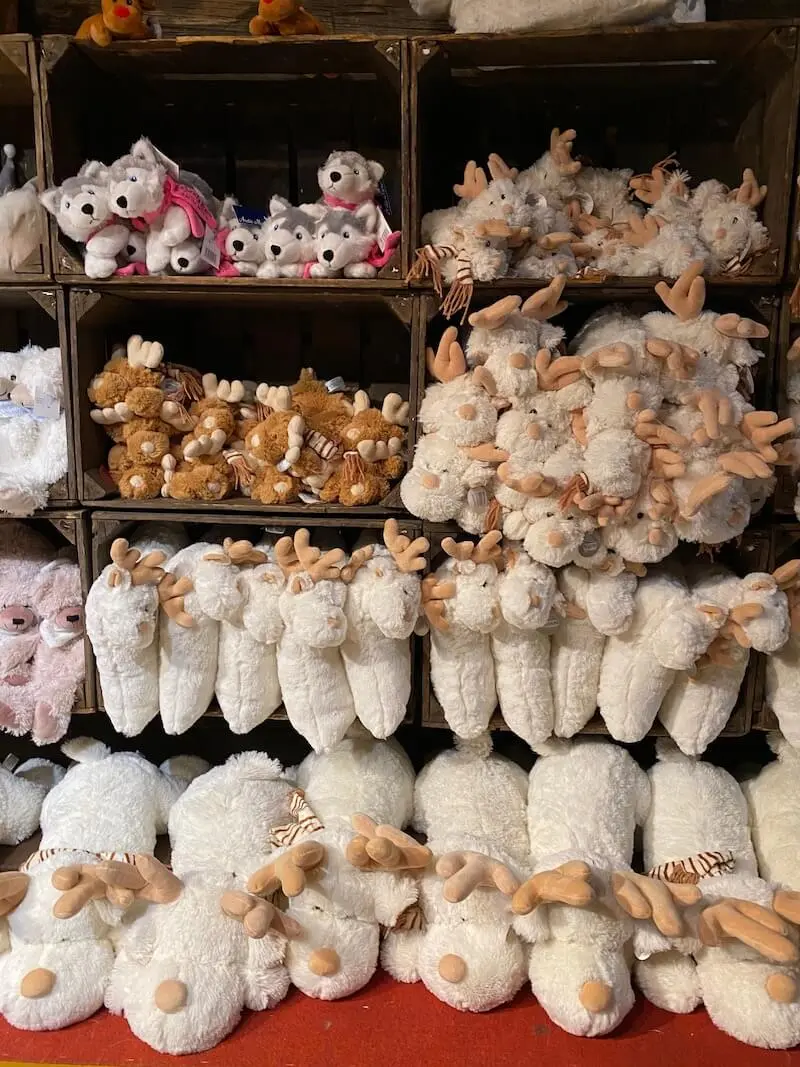 No.3: Husky Soft Toys & Reindeers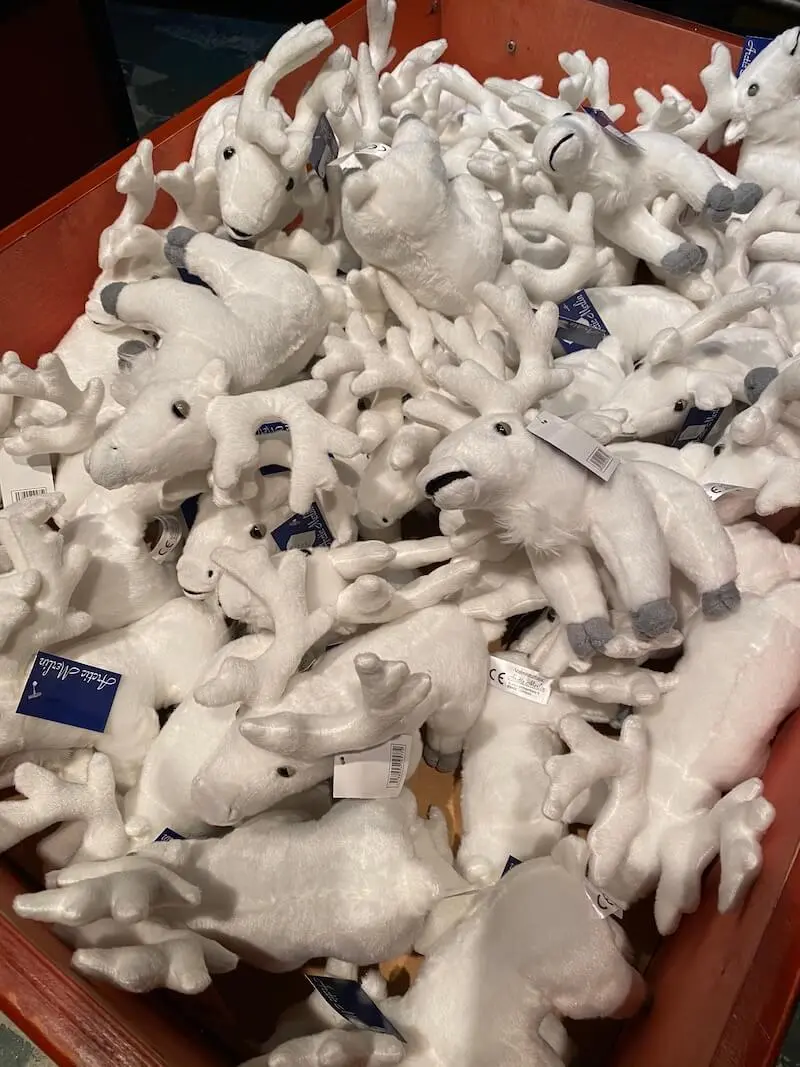 No.4: More Reindeer Stuffed Toys
These white reindeer toys cost 19,50 euro each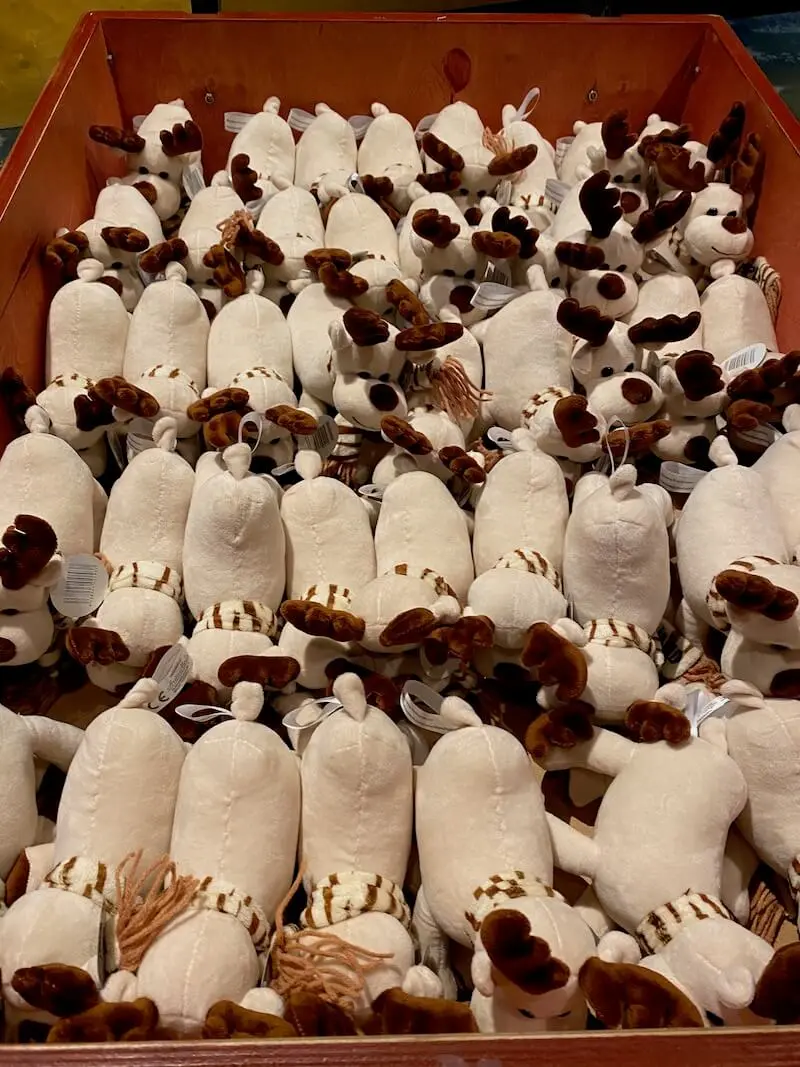 No.5: And MORE Plush Reindeer Toys…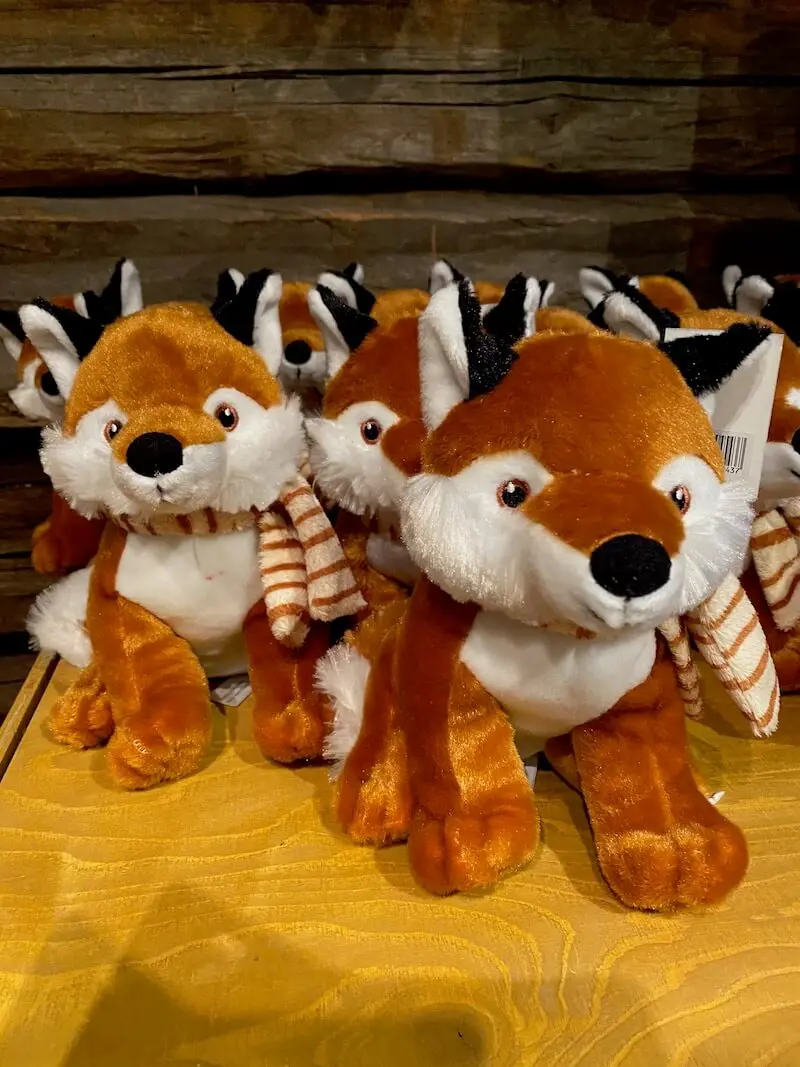 No.6: Cute Red Fox Plushies
The most adorable of the lot?
These cute red fox toys.
No.7: Unique Santa Football shirts
Football fans should keep an eye out for the red and white Adidas shirts with SANTA CLAUS 25 on them, on the right as you exit.
These shirts makes a fun but quality gag gift for soccer fanatics.
There's plenty of Santa Hats, but the most practical gift is a Santa Park water bottle.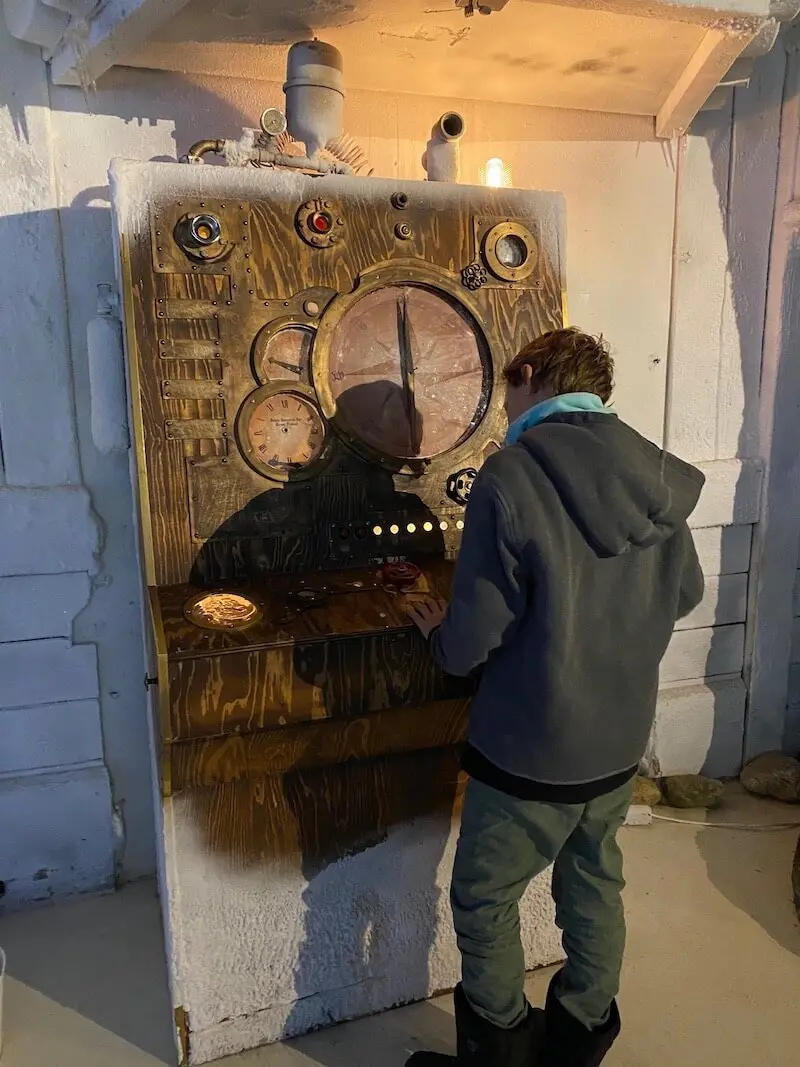 THE INSIDE SCOOP: Santa Park Arctic World
Correct at time of publication on Roam the Gnome. Please check with venue for updates. We apologise in advance if there have been any changes we are unaware of. All prices in EURO, unless otherwise stated
Santa Park address: Tarvantie 1, 96930 Arctic Circle, Finland
Website: Click here
Santa Park opening hours (2021 TBC)
Santa Park in Finland is open at these times below:
Month of November – 10.00 – 17.00 daily
December to Early January – 10.00 – 18.00 daily
Early January to Mid January – 10.00 – 17.00 daily
Exception: Christmas Eve is open from 10.00 – 16.00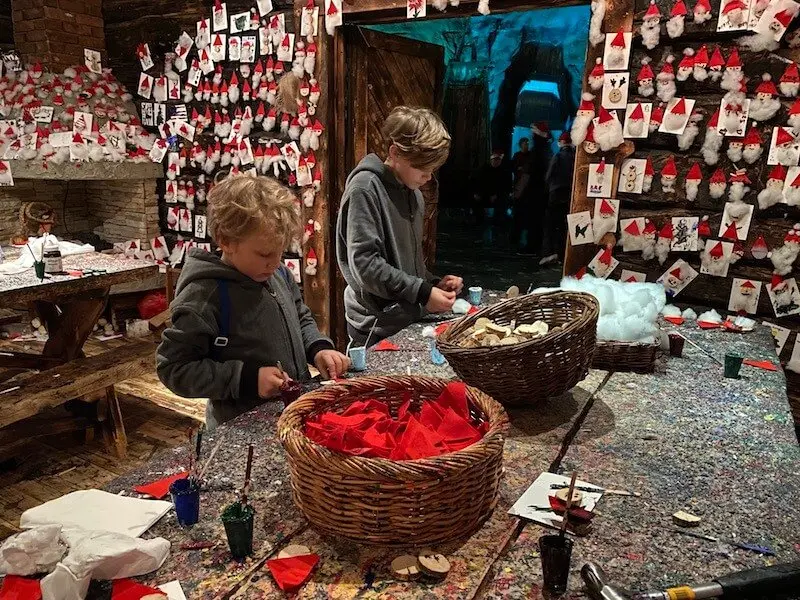 Santa Park Finland prices 2021 (TBC)
Children under 3 years old are FREE!
November
34,00 € / adult
28,00 € / child (3-12 years old)
1 December – 21 December
35,00 € / adult
29,00 € / child (3-12 years old)
22 December – 11 January
36,00 € / adult
30,00 € / child (3-12 years old)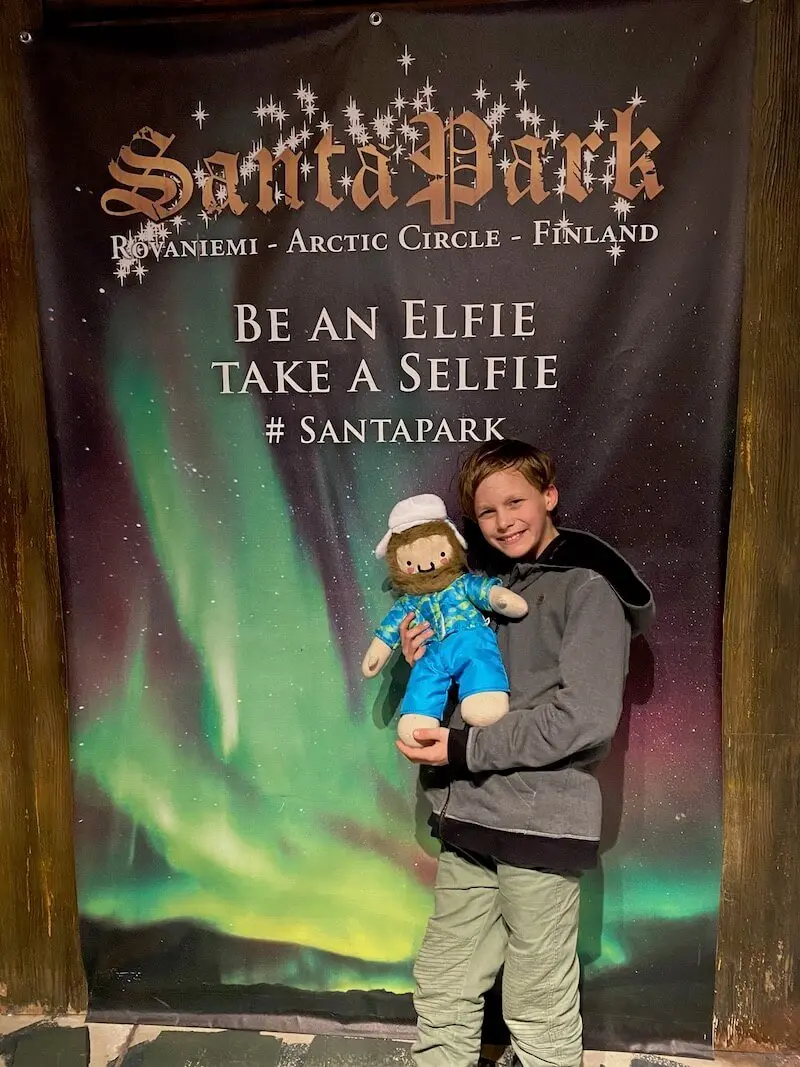 How to get to Santa Park from Santa Village
Wondering how to get to Santa Park Rovaniemi from Santa Village?
Catch a cab from the taxi rank outside Santa Village and drive the distance.
It costs about 15 euro for the one-way trip.
Santa Park is 2 kilometres north of Santa Village.
Although it IS possible to walk there from Santa Village if it's not too icy, I wouldn't walk if you have kids in tow.
There is no dedicated pathway in the snow, and it's sketchy to walk alongside the cars on slippery roads!
It's SAFER and quicker to catch a taxi, or organise a transfer from the village.
Santa Express Bus from Santa Park to Santa Village
The best way BACK from Santa Park to Santa Claus village is by bus.
The Santa Express bus runs in one direction, so you can catch it BACK from Santa Park to Santa Holiday Village but not on the way there (unless you want to travel the whole loop).
One way tickets are 3.50 euro for adults, and 1.80 euro for kids.
It's cheaper than a taxi, that's for sure.
Santa Park is an 8km drive from Rovaniemi City centre on the Santa Express bus, or in a taxi, but only 2km from the Rovaniemi airport.
There's free parking if you are driving by car.
---
RELATED: Guide to getting from Rovaniemi to Santa Claus Village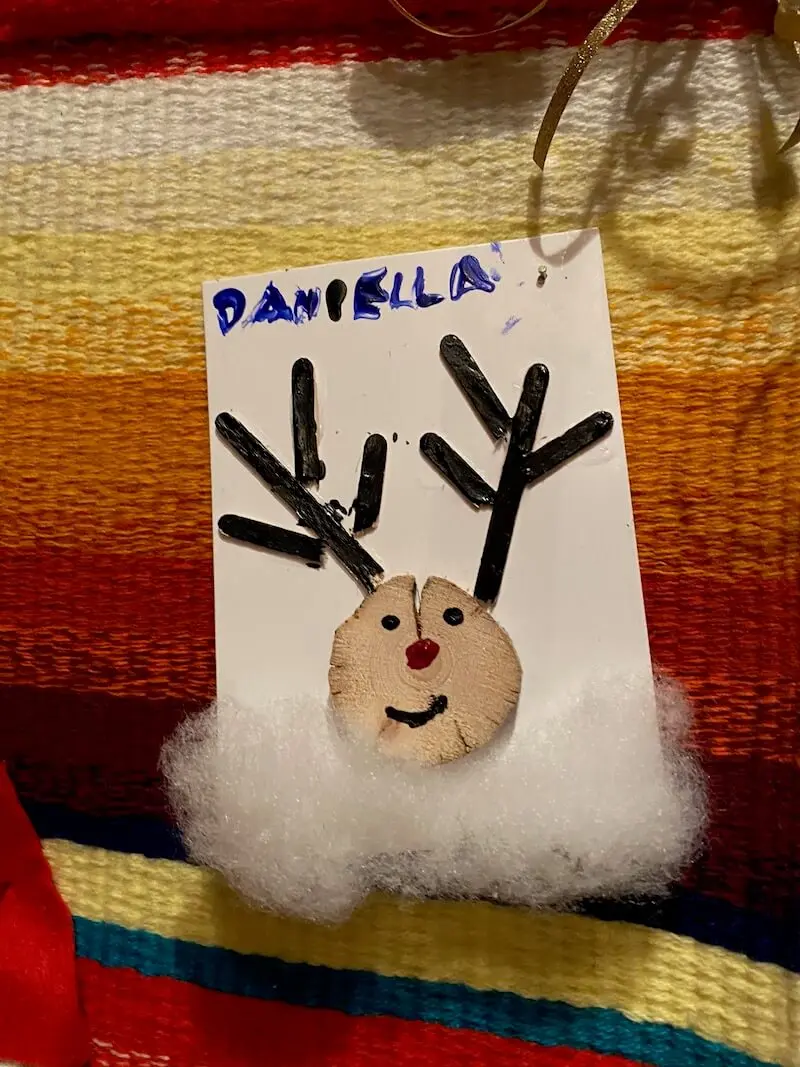 Getting to Rovaniemi in Finland
You might also find these guides useful.
How to get to Rovaniemi Lapland by airplane (update coming soon)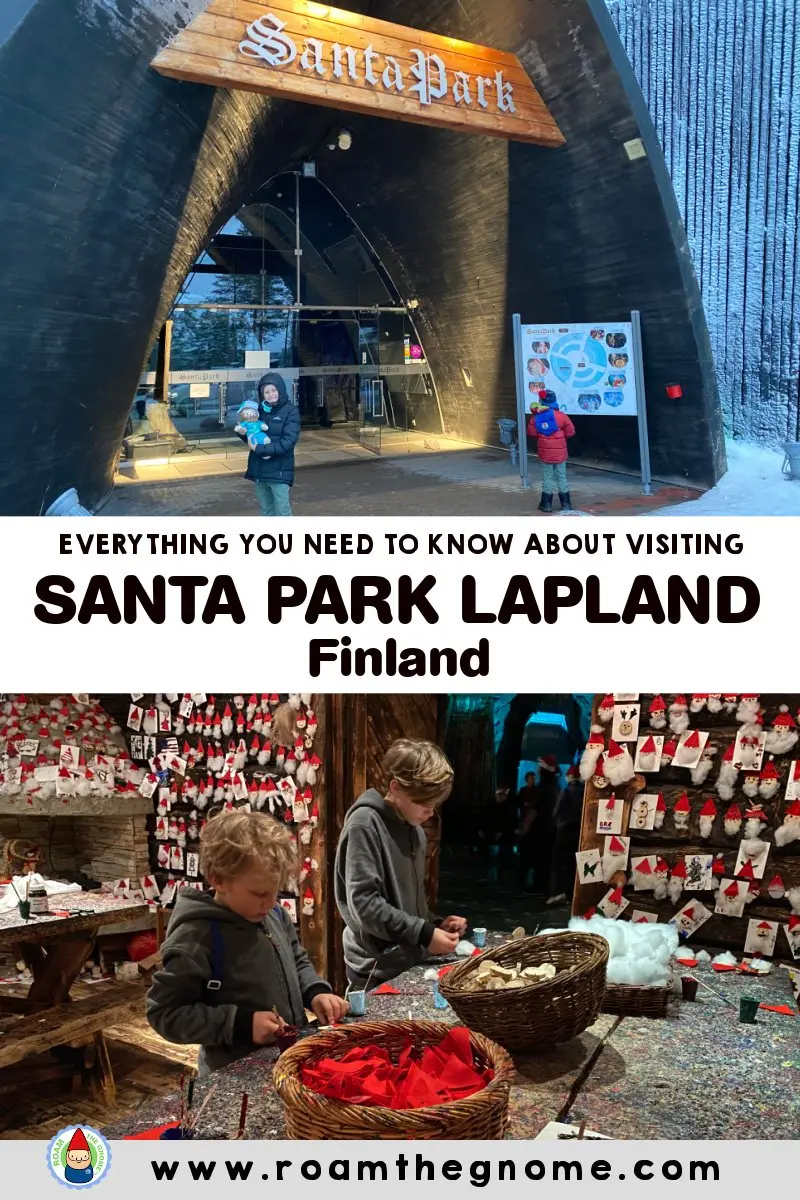 Santa Claus Park Finland Map
FREQUENTLY ASKED QUESTIONS ABOUT SANTAPARK OY
Should I visit Santa Park or Santa Village?
And, What's the difference between Santa Park vs Santa Claus Village?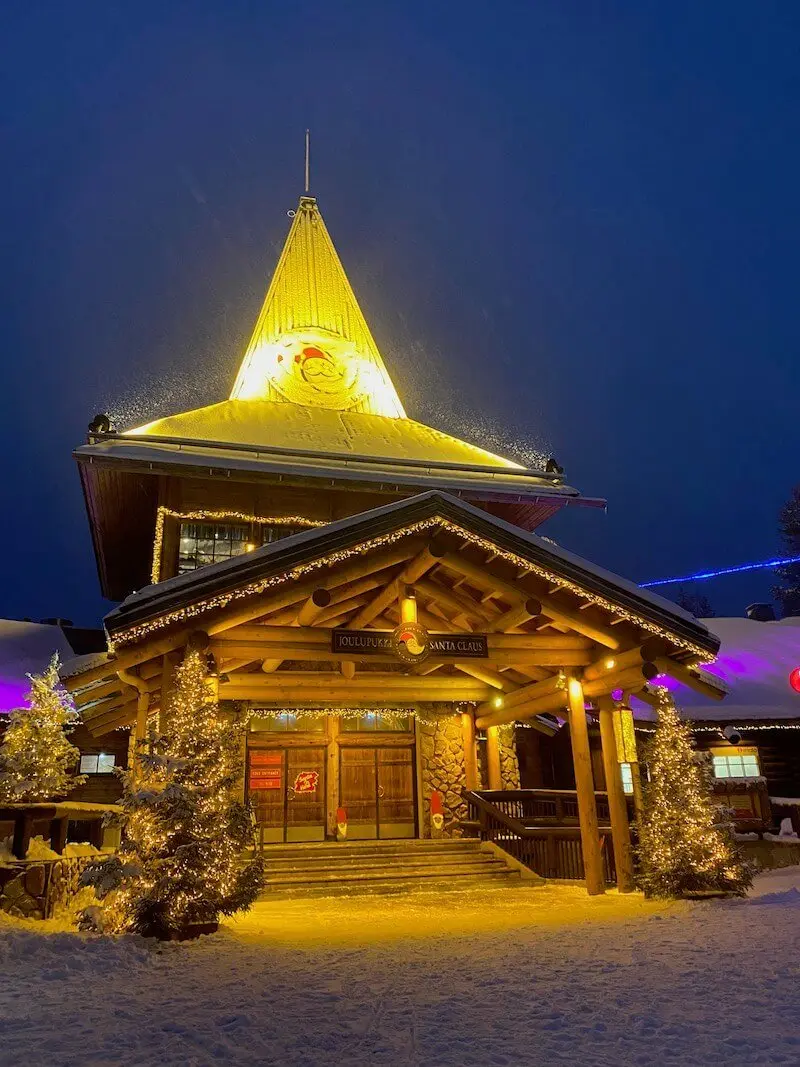 No.1: Santa VILLAGE
Santa Claus Village is outdoors, and you need your snow suit on to move between all the different activities.
Santa Claus VILLAGE is FREE to enter, and you can wander around all the different shops, tourist information centre, and activities at your leisure.
It's FREE to see Santa in the Main Office (or in Christmas House), although you if you want a photo with Santa, you need to pay for the privilege.
No.2: Santa PARK
Santa PARK is completely indoors.
Santa Park has adorable elves, its' best quality.
(The Elf School and the Elf Show are tops!)
Santa Park is definitely better suited for the younger kids, who can't stay too long outdoors in the cold. Santa Park is comfortably heated, a nice respite from the cold.
It is also fairly dark to set the mood (and a little dismal in places), unlike Santa Village which is light and bright.
Anyone who is young at heart, and who loves the Spirit of Christmas and the magic of this time of year will enjoy Santa Park too.
But without doubt, it IS expensive.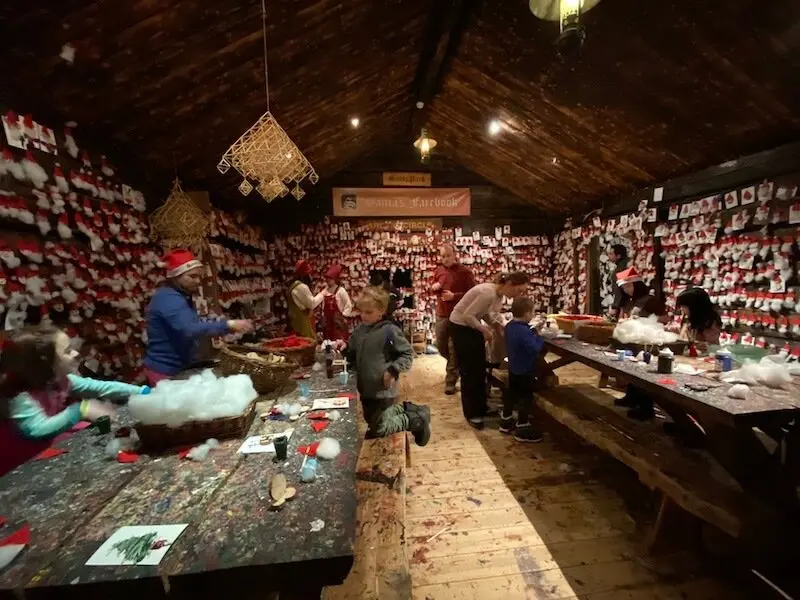 Toadstool Rating: Santapark Rovaniemi Finland
The million dollar question is would I go back to Santapark Arctic world?
Yes, but only with children no older than 5.
It's a bit hit and miss for older kids, although the boys were entranced by the two Elf shows.
Santa Park Rovaniemi Lapland is also a little too contrived for me.
I'd much prefer to spend the time playing in the snow at Santa Village, and see the Elves at Joulukka Forest.
(Joulukka is expensive, operated by Santa Park also, BUT this tour is worth EVERY CENT.)

MORE Things to Do in Rovaniemi for a Lapland Christmas Experience
Click the blue links below for more Lapland tips