INSIDE: Roam the Gnome's Ultimate Guide to a Lapland Christmas Experience Adventure – all you need to know.
Book the ULTIMATE LAPLAND CHRISTMAS ADVENTURE!
The best Lapland holidays include a visit to Santa in Lapland.
You will NEVER EVER regret a trip to meet Santa in Lapland.
I guarantee it.
Take a look at all the Christmas activities you can do in Lapland to make this Christmas your best family Christmas yet.
Disclosure: This article contains affiliate links. If you make a purchase after clicking on one of these links, we may receive a small commission at NO extra cost to you.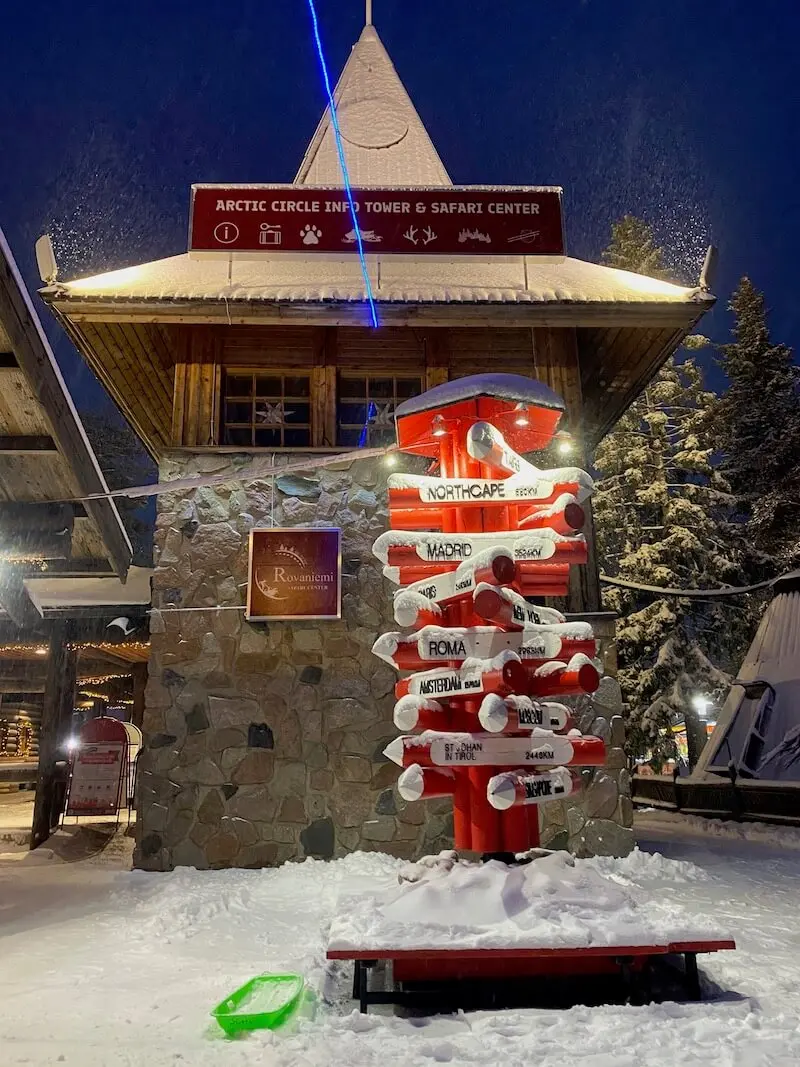 Enjoy Christmas in Lapland
Planning a Rovaniemi holiday with kids to the Lapland Christmas village?
We have all the tips on the top 16 adventures you can discover, plus comprehensive guides to ALL the activities you must do in Lapland as part of a Christmas in Lapland adventure.
PS: Check back soon for a PDF Lapland itinerary guide.
---
RELATED: Booking LAPLAND 2021 – Helpful Guide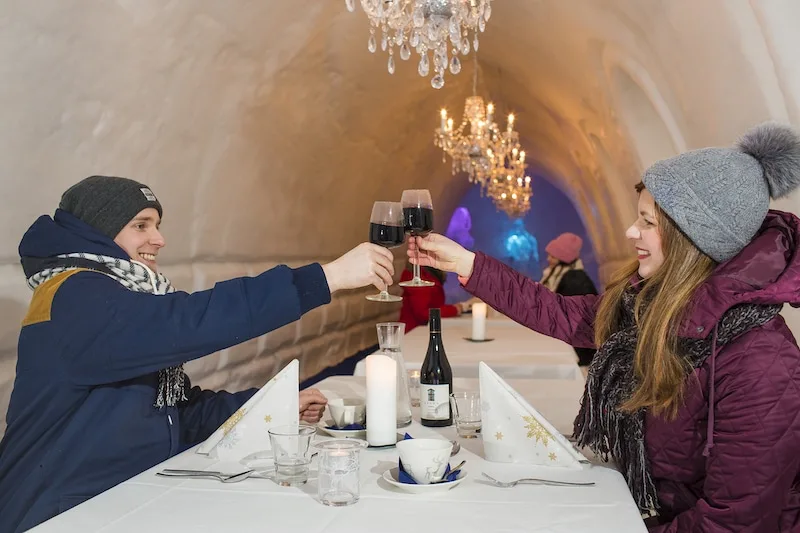 Image credit: Visit Rovaniemi
Should I visit Rovaniemi with Kids?
Don't think that Lapland is just for kids.
You definitely don't need a child of your own to visit.
Lapland for ADULTS is just as much fun!
(There's an Ice Restaurant and an Ice Bar for goodness sake!)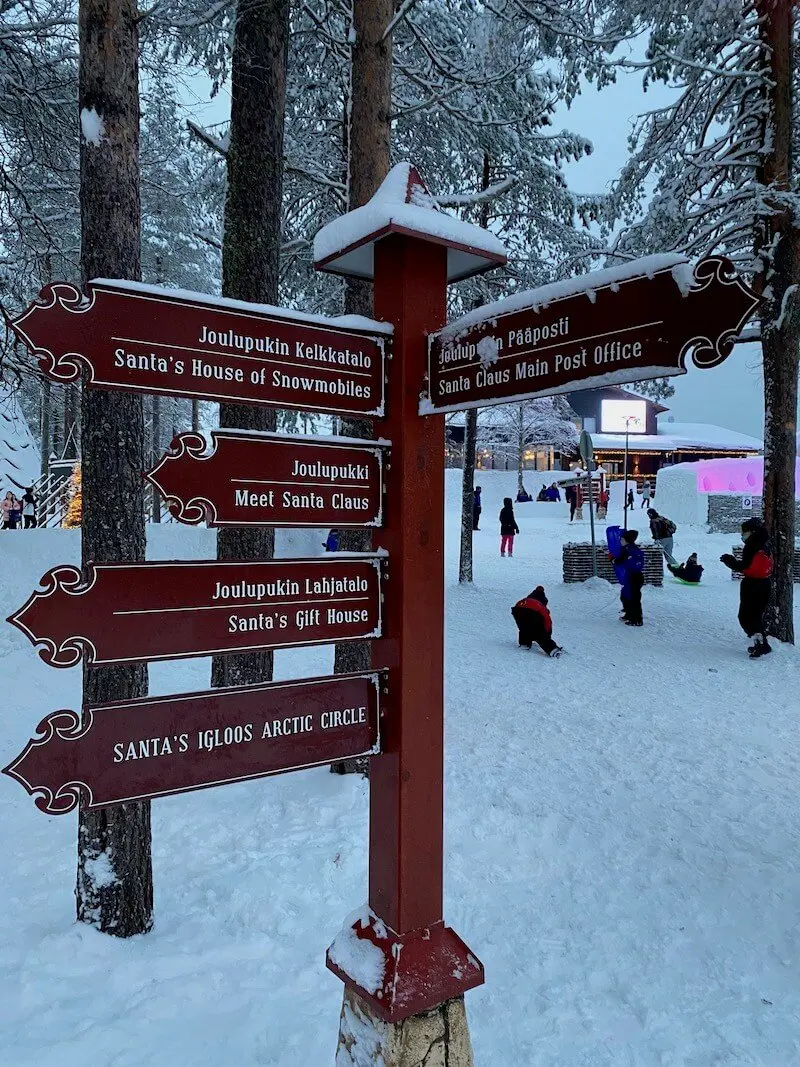 No.1: Stay at Santa Claus Village in Rovaniemi Finland Lapland
The best place to stay in Lapland at Christmas is the Santa Claus Holiday Village in Rovaniemi.
Without doubt, this is the best Lapland Santa experience for the whole shebang.
Santa Village Lapland is 8km from Rovaniemi city centre. Once you reach Rovaniemi, catch the Santa express bus from Rovaniemi to Santa Village.
Staying at Santa Village Rovaniemi is a magical escape from real life.
See the festive decorations, garlands, and lights at Santa Claus holiday village when you take holidays in Lapland at Christmas.
Look out for a Christmas tree outside your hotel room, AND you can even book a special personal, private family visit from Santa to your cabin!
Santa Claus Village Rovaniemi is a winter wonderland and a once-in-a-lifetime trip.
---
READ MORE: Roam the Gnome's Review of Santa Claus Holiday Village Hotel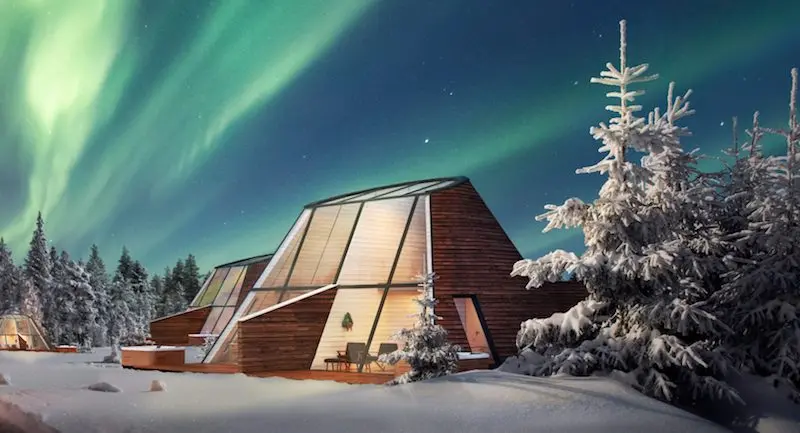 Image credit: Snowman Glass Resort Rovaniemi
More Hotels in Santa Village
If the cabins at Santa Village are fully booked, try one of these options.
No.1: Glass Resort
These posh apartments have a shape inspired by the traditional Kota buildings favoured by the Indigenous Sami people.
The giant sized windows, and the glass ceiling make you feel like you are in an upmarket glass igloo!
Each Superior Glass Apartment features a sauna, equipped mini-kitchen AND your own private outdoor spa.
CHECK LATEST PRICES ON BOOKING.COM
No.2: Nova Skyland Hotel and Restaurant
These exclusive hotel apartments are in semi-detached houses.
Decorated in Scandinavian style, each apartment has a fireplace, sauna, terrace, fully equipped kitchen, high ceilings, and panoramic windows that make you feel you are part of the Rovaniemi forest surrounding you.
CHECK LATEST PRICES ON BOOKING.COM
No.3: Santa's Glass Igloos on the Arctic Circle in Rovaniemi
These 71 luxurious glass igloos in the Santa Village are another hotel in Santa Claus Village to enjoy the Winter polar night.
The hotel-style igloos are glass-roofed, arctic view rooms, similar to Mongolian yurts in appearance, in the centre of Finnish Lapland nature.
CHECK LATEST PRICES ON BOOKING.COM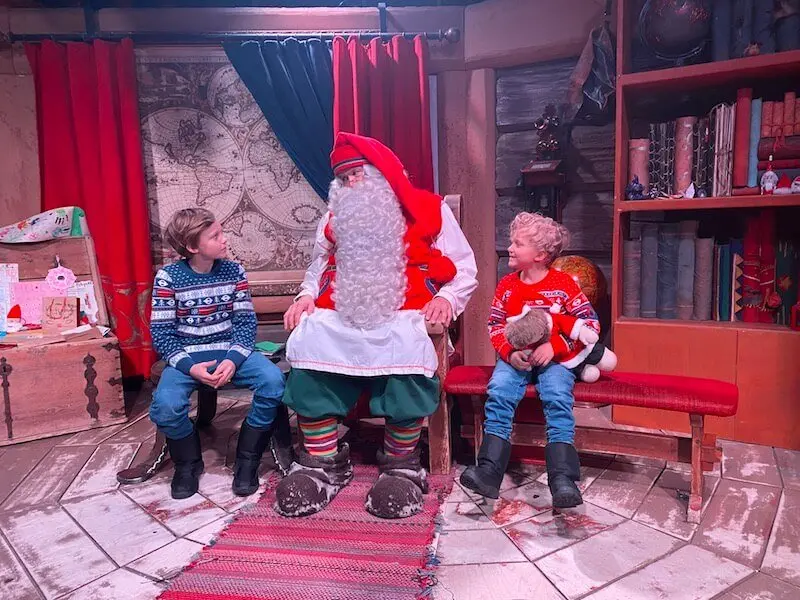 No.2: Visit Santa in Real Life
Normally kids write a letter to Santa, find out Santa's postal address, pop it into the Santa Post Office box, and then wait for official letters from Santa.
This year, you don't need to post your Santa letter.
Hand deliver your Christmas letter to Santa in person at the Main Santa Claus Officein Santa Village.
Kids have so many questions about Santa.
Where does Santa live?
Where is Santa located?
Does Santa live in Lapland?
Here you can ask him these questions yourself!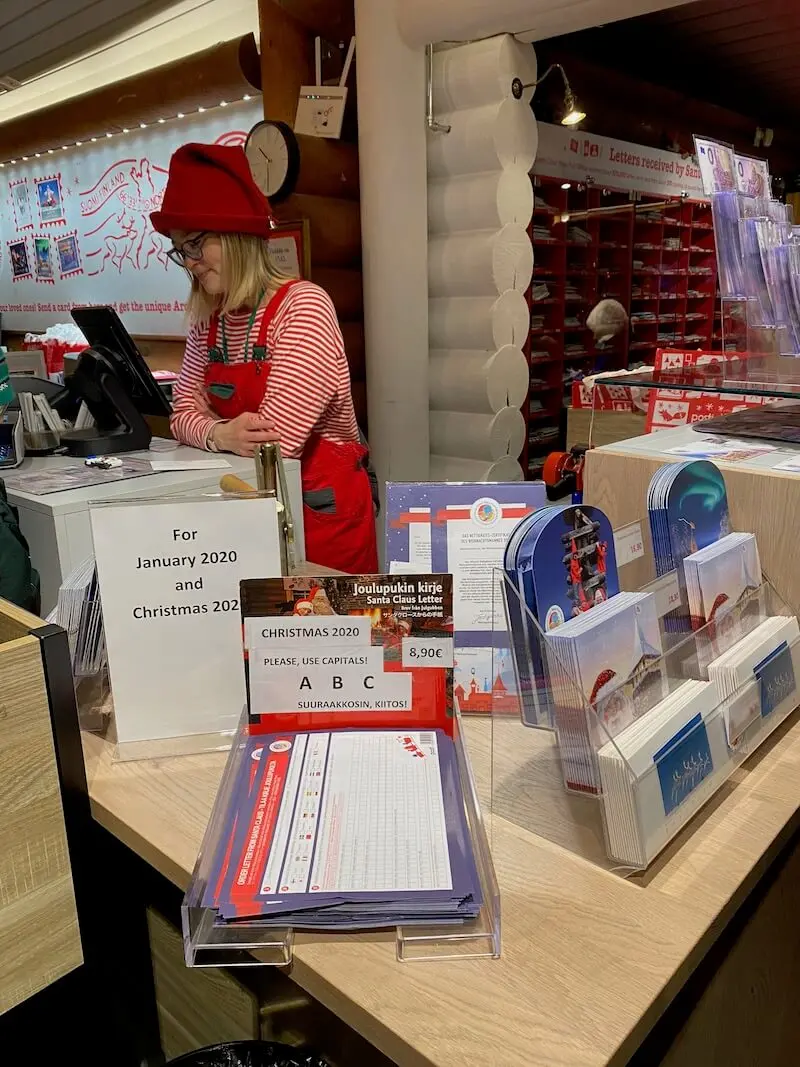 No.3: Visit the Santa Claus Main Post Office Rovaniemi
You may like to write a letter to family and friends back home while you are here, and post it from the official Post Office in Santa Village.
The Lapland Post Office in Rovaniemi is where you can have your letter or postcard franked (stamped) with an official North Pole postmark.
Santa's post office is open daily, 365 days a year.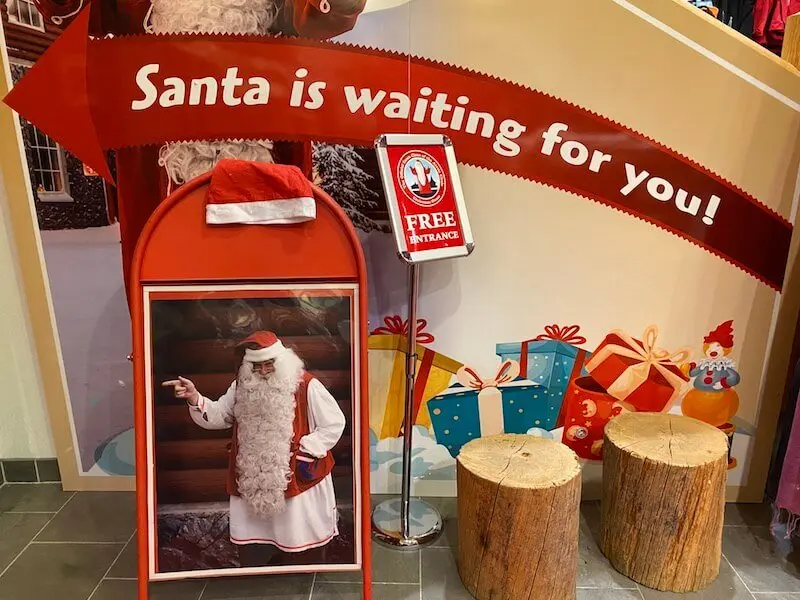 No. 4: Christmas Exhibition at Christmas House
Pop in to see this glorious Christmas exhibition in Rovaniemi featuring the many ways people celebrate Christmas around the world.
It's free.
Hot tip: There's another Santa here. Skip the queues at the main office and visit Santa here instead.
Grab all your Christmas ornaments and Christmas souvenirs at Christmas House gift shop here too.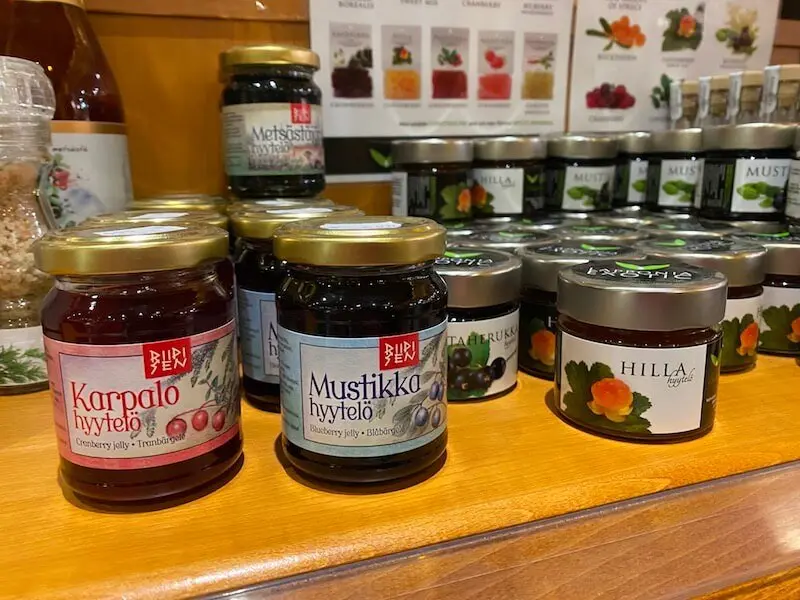 No. 5: Shopping at Santa Village
Visit the Santa Village shops.
There's a Marimekko shop, for those who love this famous designer.
Plus Santa's Chocolate and Candy Shop for those with a sweet tooth desperate to try Finnish chocolate.
Pick up authentic Finnish souvenirs at Arabia Iittala outlet, Balmuir store, Lappituote, Moomin souvenirs, and the famous knife shop, Marttini
Don't miss picking up a real Finnish Lapland woollen jacket from Saga gifts.
Or traditional Finnish food including:
locally made Finnish jam
tinned reindeer meat (!) or
Finnish porridge.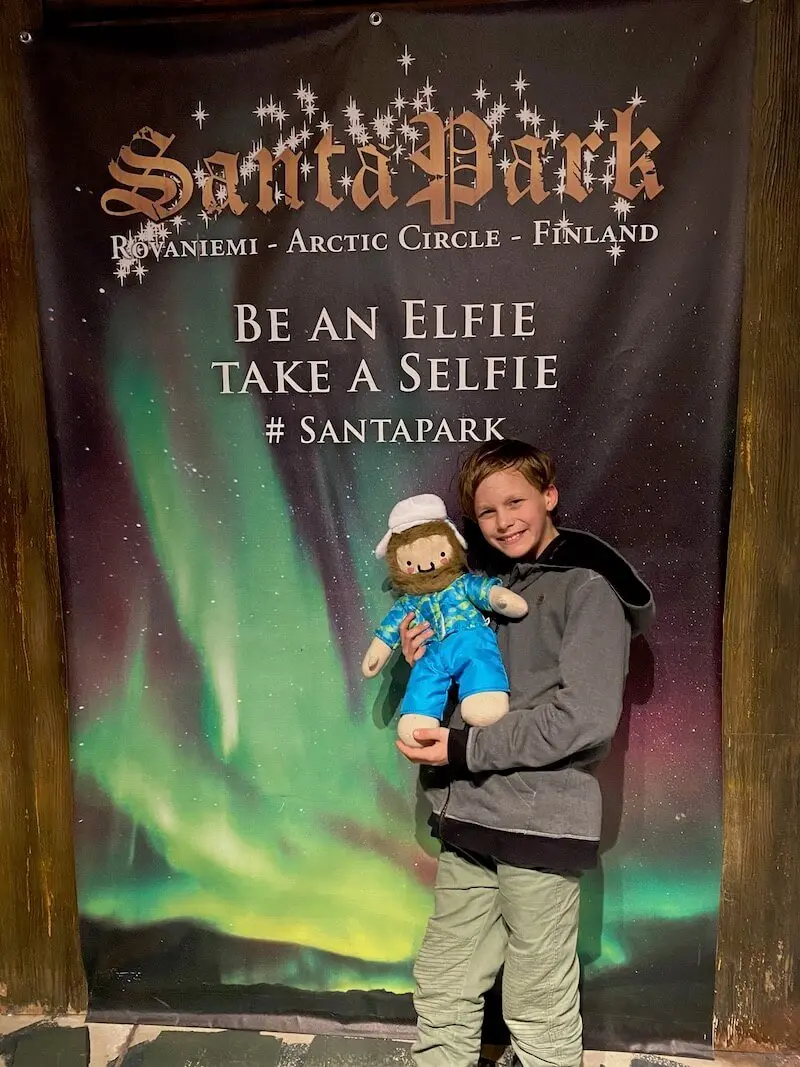 No. 6 Santa Park Arctic World
Did you know there's a Santa theme park in Finland?
There is.
It's just 2km up the road from Santa Village.
Santa park is an indoor theme park for younger kids.
Read our review of Santa Park for a sneak peek.
READ MORE: Roam the Gnome's Review of Santa Park Lapland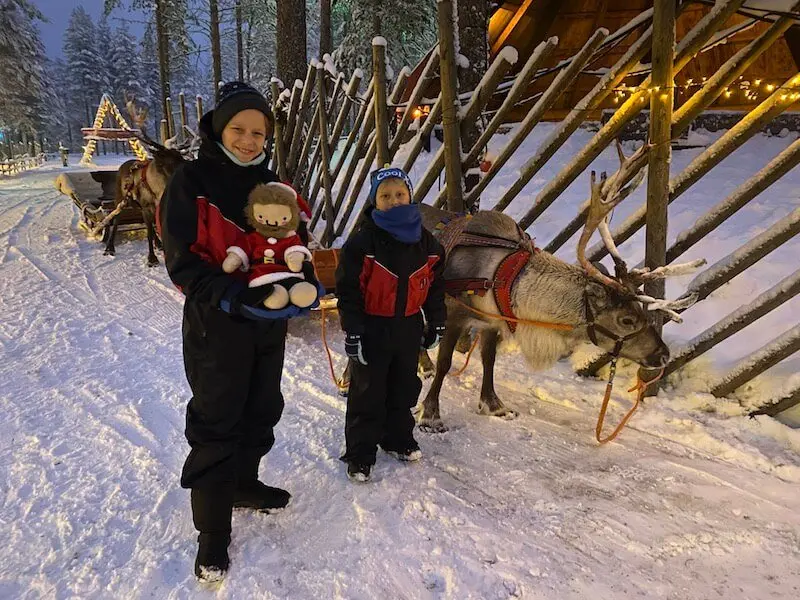 No.7 Ride in a reindeer sleigh or sled
A Lapland Christmas is not complete without a visit to a Reindeer Farm, and Reindeer sleigh rides or a sledge.
You can also take a short reindeer sleigh ride in the Santa Village but to see a reindeer herd, you need to head out on a tour.
Try this popular one with Get Your Guide where you can learn about the life of a reindeer on a traditional Sami reindeer farm, try for your Reindeer driving licence, and enjoy blueberry tea and warm cookies inside a kota hut by the fire.
Or this one where you can watch reindeers eating their breakfast, takes lots of pics up close, and enjoy a short reindeer sleigh trip too
Here's a whole day tour alternative for animal lovers:
Rovaniemi Arctic Animals Full Day Tour – Visit Husky Park, Ride in a Reindeer Sledge, & Visit Ranua Wildlife Park
Image credit: Visit Rovaniemi
No. 8 Visit Snowman World
Snowman World is the place to go tubing down icy channels.
The big one is FAST and will take your breath on the corner swing!
Go ice skating, slip down the indoor ice slide, and possibly meet a "Snow Man" character in real life if you happen to be in Snowman World at the right time.
Head into the Ice Restaurant and Ice Bar to look at all the ice sculptures.
Hungry? You will be.
Book a traditional Finnish lunch, or dinner here.
It's a unique experience you won't find anywhere else.
Book Now: Snowman World Winter Zone Ticket (Likely to sell out)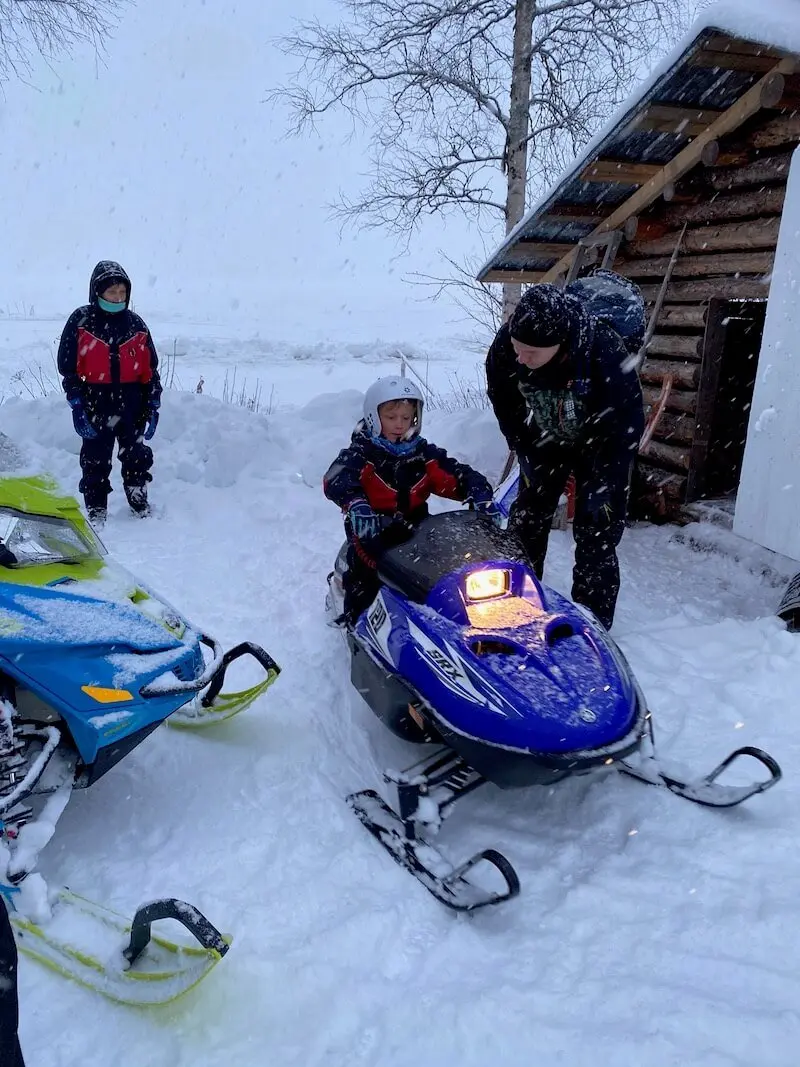 No. 9: Book Santa Fun Day Rovaniemi tours
This Lapland Experience was one of our favourite things to do in Rovaniemi at Christmas time in the snow.
We are SO happy we were able to leave Santa Village and head out further into the surrounding countryside to see spectacular untamed snowy forests and experience a frozen lake.
Santa Fun Day is a BIG DAY of Lappish children's games and activities in a Lapland snowy forest including:
ice fishing experience
mini skidoo for children
snowmobiling by sledge
ice fishing
snowshoeing
toboggan carousel
playing ice games
lassoing
making your own snow sculpture, and
a little snack of the most incredibly delicious sausage, and a hot drink by the campfire.
We had a ball!
READ MORE: Roam the Gnome's Insiders Guide to the SANTA FUN DAY (coming soon)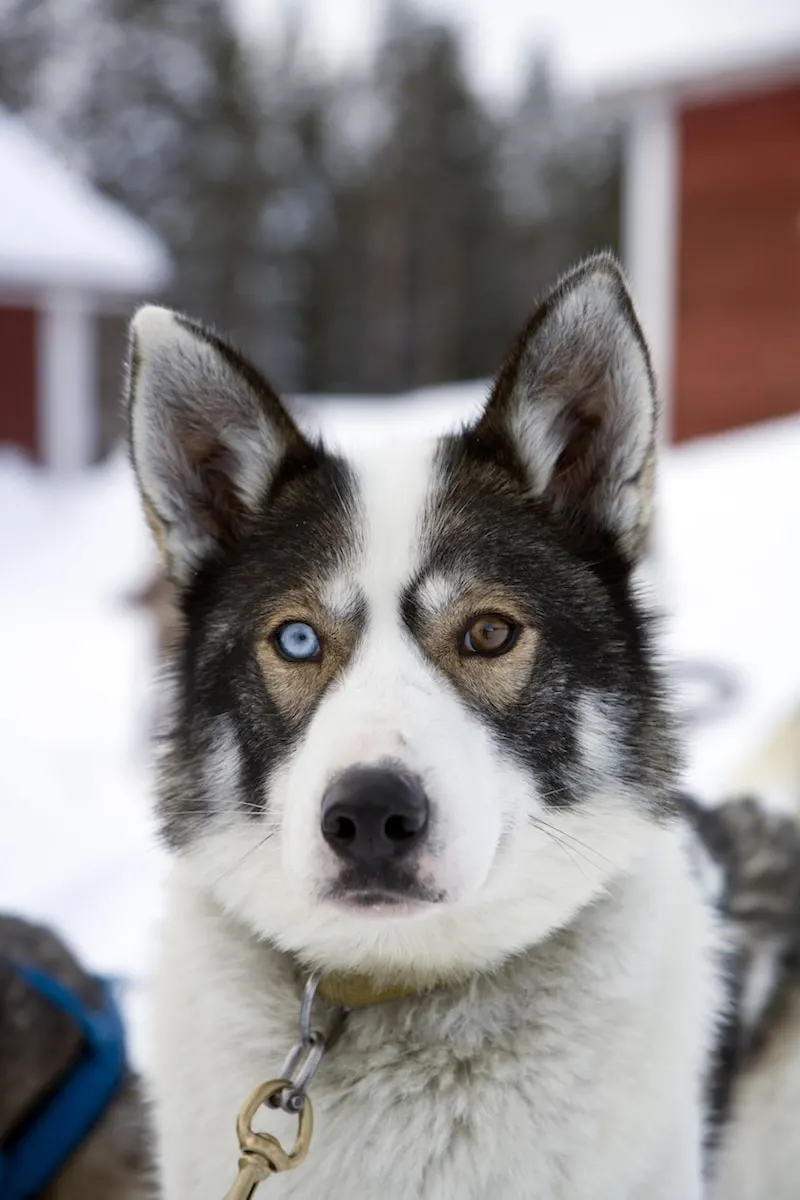 Image credit: Visit Rovaniemi
No. 10: See all the Animals in Lapland
In Rovaniemi on a Lapland holiday, you can meet lots of Lapland animals.
Visit a Husky farm at the Santa Village and take a Husky sledge ride
Visit a Reindeer Farm and enjoy a reindeer sleigh ride
Visit Ranua Zoo to see the polar bears, lynx, red foxes, elk, and eagles
Visit the Elf Farm to pat reindeer, and say hi to local domestic animals
Read more: The Complete Guide to all the Animals in Lapland you can meet (coming soon!)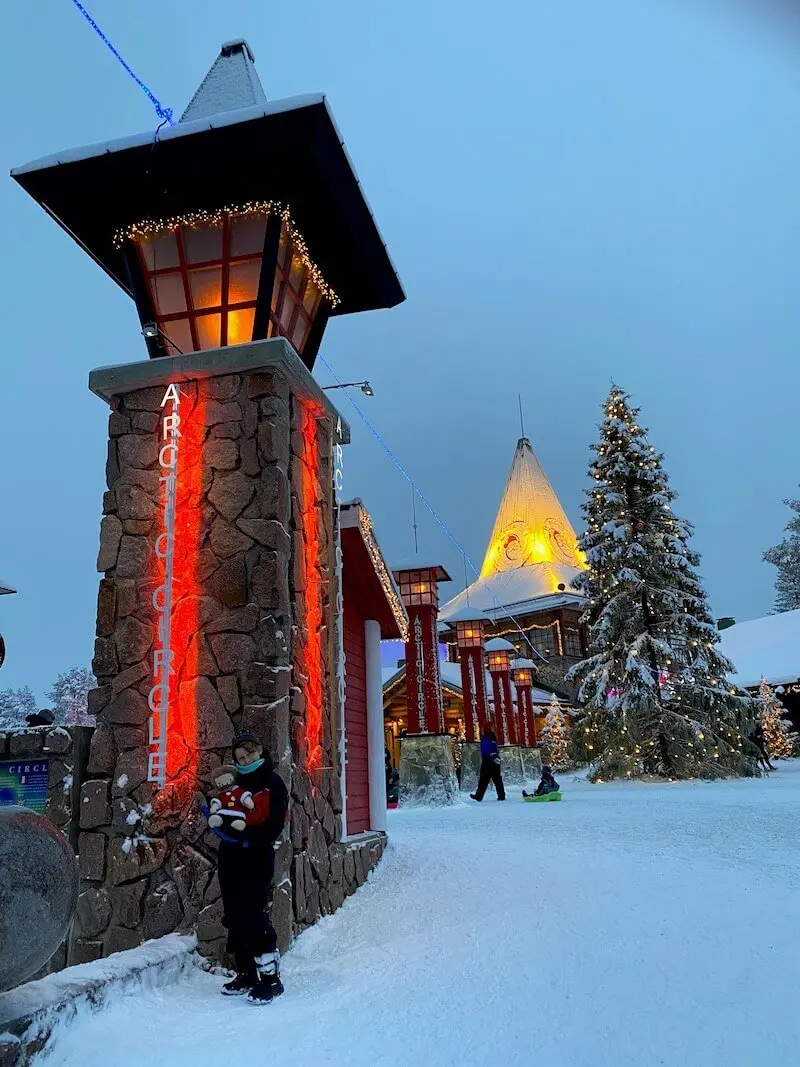 No.11: Walk over the Arctic Circle Crossing
Yes, you can do this at Santa Village, and at Santa Park too.
If you visit the Elf Farm in the village, you can borrow their equipment to snow-slide cross the Arctic Circle on traditional Lappish skis.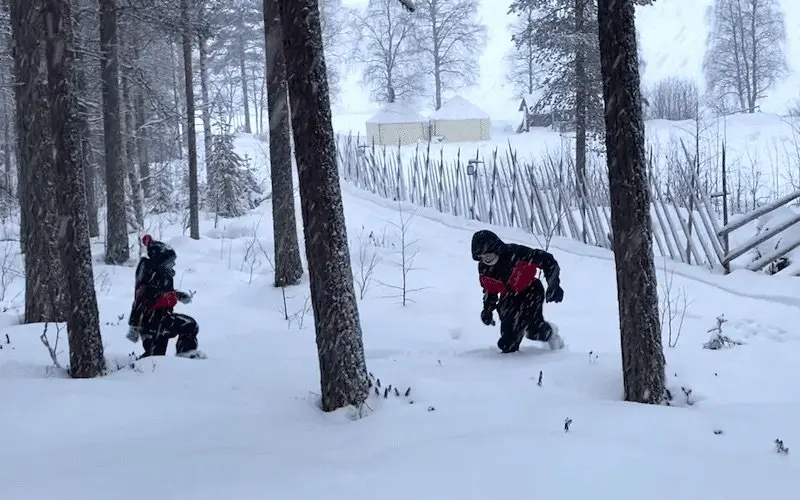 No.12: Play in the Rovaniemi Snow
"When does it snow in Rovaniemi?" is a commonly asked question.
The safe bet is not to book your Lapland Christmas trip any earlier than mid-December to be on the safe side.
Definitely not before the first week of December at a pinch.
Playing in the deep permanent snow at Rovaniemi is one of the best memories you can make with your kids.
Hot tip: If you stay at Santa Claus Holiday park, they give you a sledge to use on the snow for the duration of your stay!
Click here to find the latest Rovaniemi snow report.
We encourage you to bookmark the page.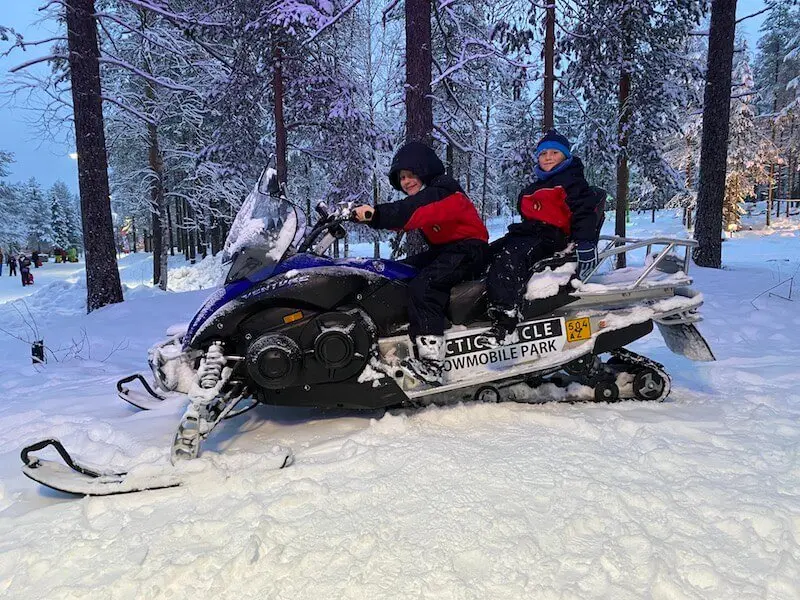 No.13: Lapland Activities: Snowmobile Tours
Hop on a snowmobile at least once during your Christmas holiday in Lapland.
You can visit the Arctic Circle Snowmobile Park in Santa Claus Village for:
short snowmobile rides
longer snowmobile safaris through the Rovaniemi forests, and
snowmobile sledge rides to the Northern Lights.
(See No.14)
Kids can try a 10 minute mini snowmobile around the track!
---
Book now: 5 hour Snowmobile Safari AND Ice Fishing experience (this is a popular tour, and likely to sell out)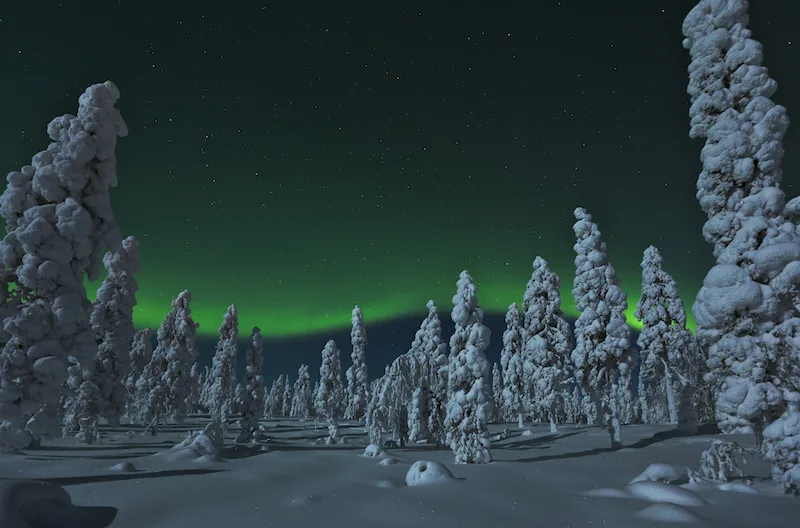 Image credit: Visit Rovaniemi
No.14: Northern Lights Christmas Viewing
Cross your fingers and toes when you book a tour to see the Rovaniemi northern lights at Christmas time.
December is one of the best times to view the Northern Lights in Lapland IF they are playing fair, and will shine their magnificence across the sky.
Sadly there's no guarantees, but that's half the magic.
Not everyone gets to see the Northern lights, and that means it's a great story to tell when you do.
---
Book now: Northern Lights tour via snowmobile sledge (This is the tour we took.)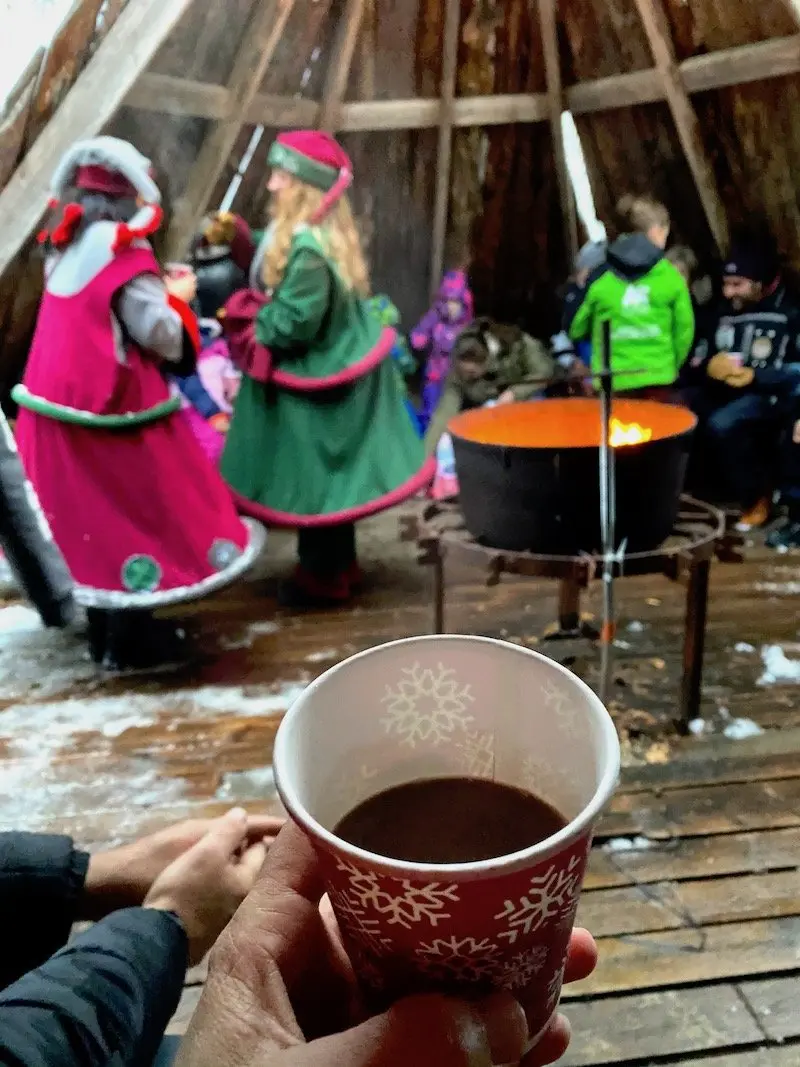 No.15: Meet the REAL Father Christmas in Lapland
As far as we believe, there's only one place you can meet REAL Lapland Elves, and Father Christmas himself.
The Lapland elves with pointy ears, and adorable outfits reside at Secret Forest of Joulukka, and you can book one of three tours to visit the Joulukka forest.
We booked the Santa's Toy Factory experience.
This was one of the most magical days of my life.
It's not the cheapest Santa experience for the short time you are there, but if you can save up some extra funds, we highly recommend it.
It's the best Santa Lapland experience for a whole immersion in the world of Santa, away from hundreds of tourists visiting Santa Claus village.
READ MORE: Rovaniemi Santa Comparison Guide
Image credit: Visit Rovaniemi
No.16: Visit an Amethyst Mine in Winter
Did you know there's the only amethyst mine in Europe and it's just a few hours away from Rovaniemi in Luosto?
Visit the Lampivaara amethyst mine to search for your own stone memento.
An Amethyst mine tour includes learning about amethyst, how it is mined (it's environmentally friendly), hearing the stories and the myths about this precious purple gemstone.
You'll be taken on a snow train wagon called a pendolino, pulled by a snow machine.
Tours also include refreshments including warm berry juice, and a keepsake of purple amethyst.
Book now: Amethyst Mine Tour to Luosto from Rovaniemi hotels (Get your Guide tour)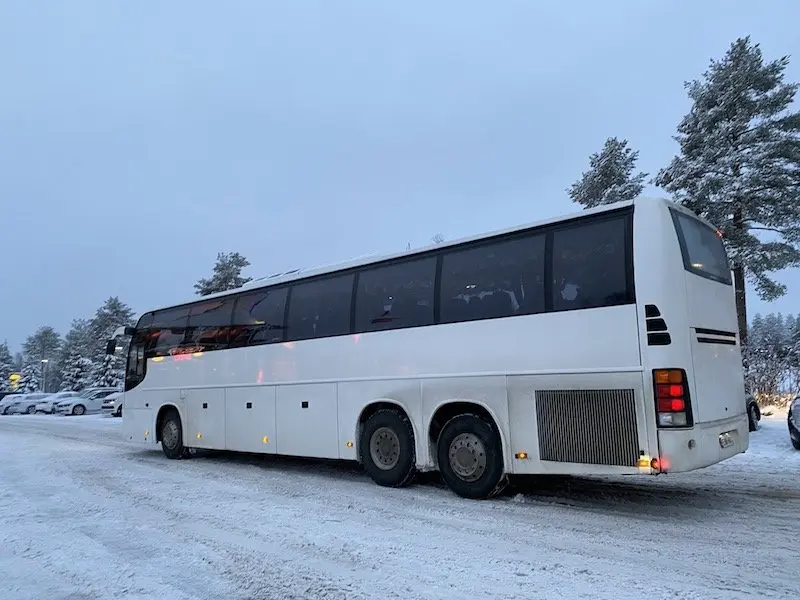 Take a Lapland Day Trip
There's plenty of trips to Lapland you can book.
A day trip to Lapland from London is doable.
There's lots you can do in Lapland for a day, and you can definitely experience the magic of Lapland.
But Santa day trips are rushed.
Book at least a one night or two night trip to Lapland if you can.
It's a shame to miss out on so much fun.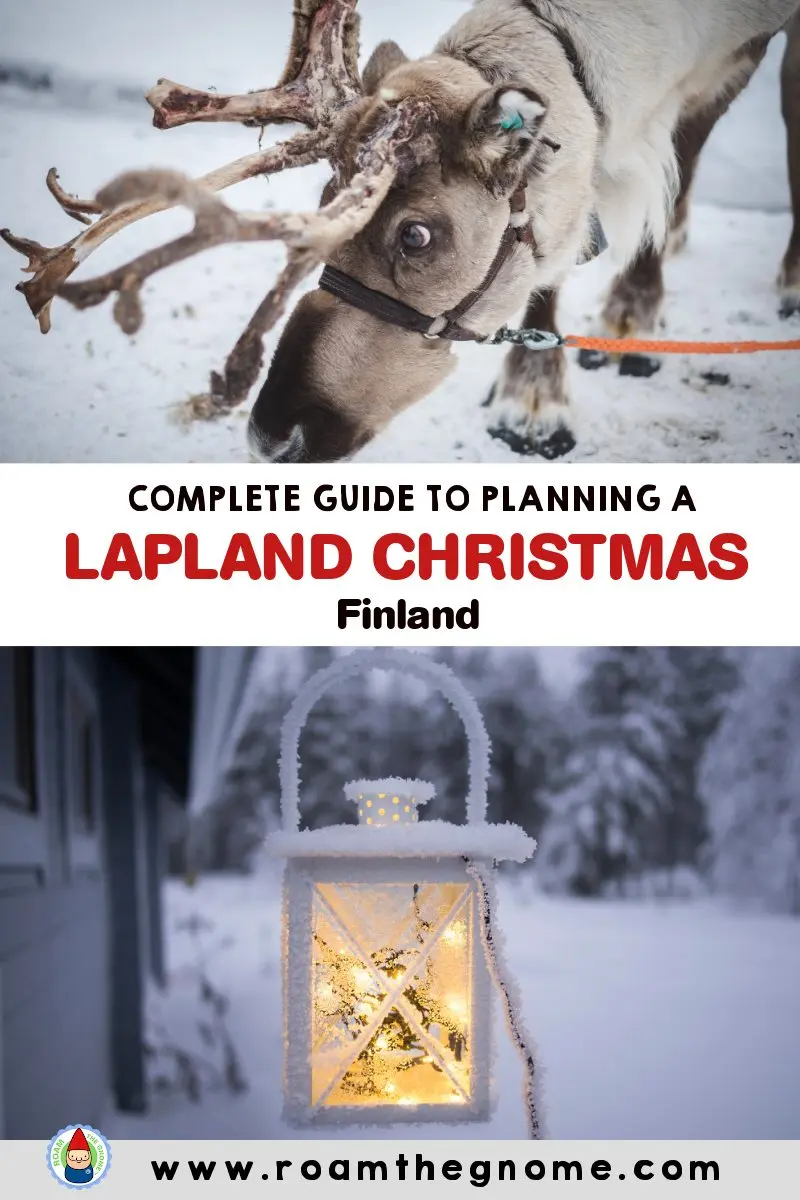 Cheap Lapland holidays?
The cheapest Lapland breaks are the Lapland deals you can book through companies such as:
Inghams
Tui Lapland
Santa Claus Trips
Santas Lapland tours, and
Regent Holidays.
There's debate over who is the best company for Lapland holidays or Lapland Christmas tours.
Ask around and do your research.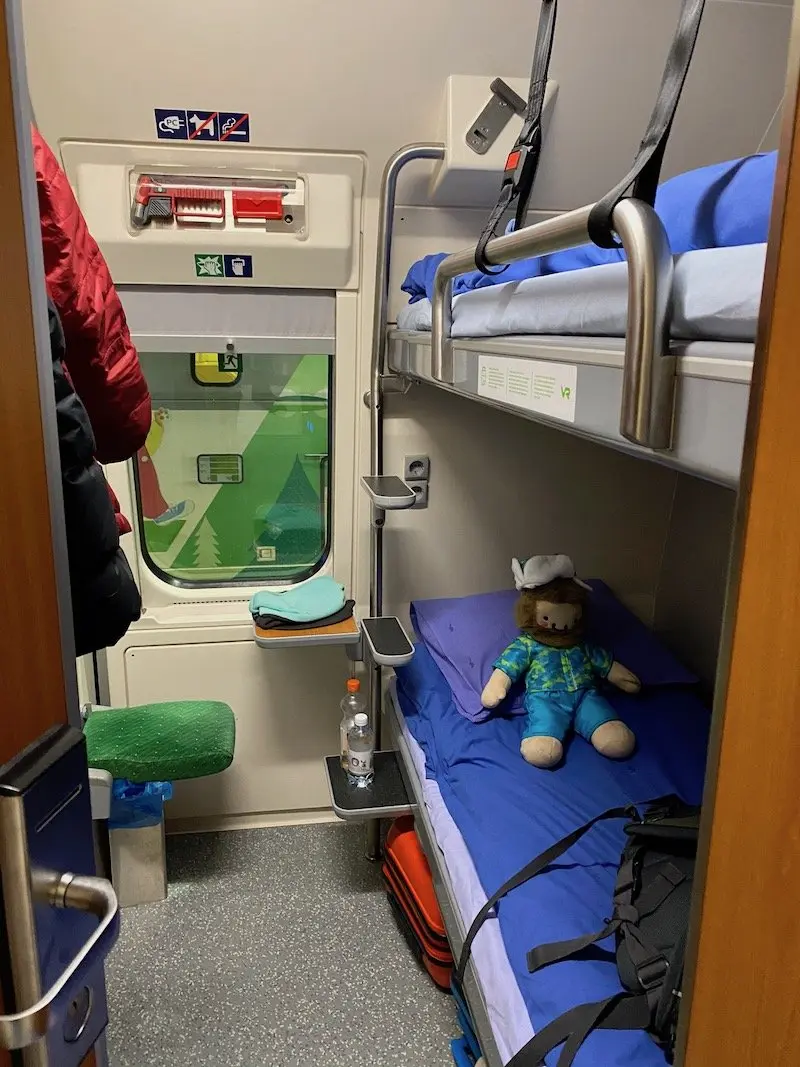 THE INSIDE SCOOP: Visit Lapland with Kids
Correct at time of publication on Roam the Gnome. Please check with venue for updates. We apologise in advance if there have been any changes we are unaware of. All prices in EURO, unless otherwise stated
How to get from London to Lapland
You can take flights to Lapland Rovaniemi from London via Helsinki.
Or you can fly to Helsinki, and catch the train there and back.
Or fly to Helsinki, take the overnight train to Rovaniemi, and fly back to London (as we did.)
How to get from Helsinki to Lapland on the overnight train
Take a look at our overland adventure on the train from Helsinki to Santa Village.
Long distance train travel is fabulous fun, and we'd do this sleeper train to Rovaniemi all again in a flash.
Read this: How to get from Helsinki to Rovaniemi on the overnight Santa train
How to get from Rovaniemi to Santa Claus Village Lapland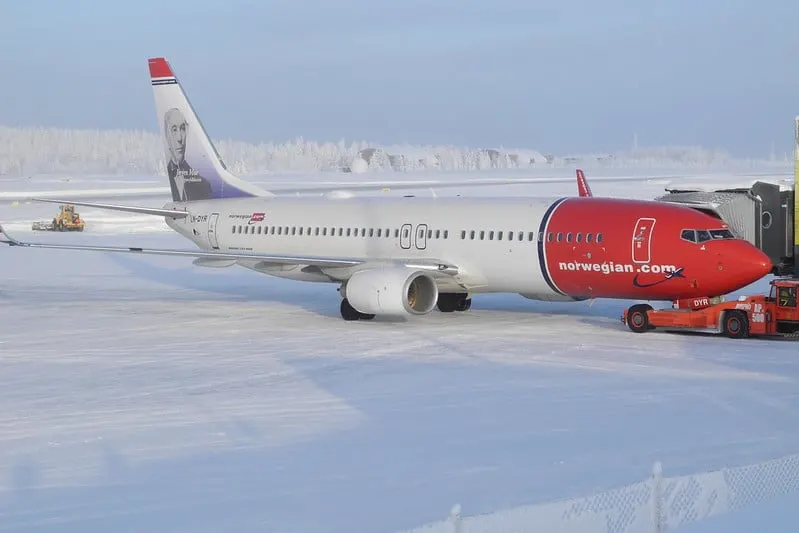 Photo by FlightLog (CC BY 2.0) via Flickr
How long is the flight to Lapland?
From Helsinki, about 1 hour and 20 minutes
From London, 3 hours and 20 minutes on a direct flight.
READ MORE: Our ultimate guide on how to get to Lapland (coming soon)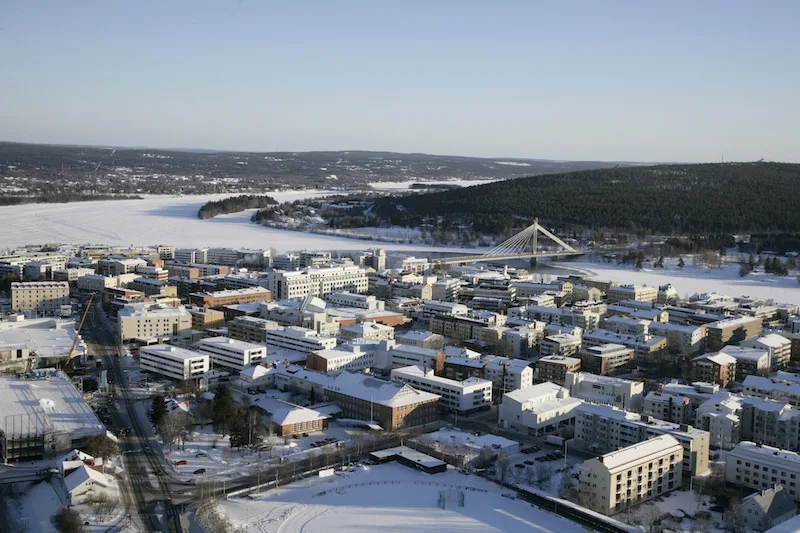 Image credit: Visit Rovaniemi
Frequently Asked Questions about Lapland
No.1: Where is Lapland located?
It's the northern part of Finland, AND Sweden, Norway, and Russia
No.2: Is Lapland a country?
No, Lapland is a region, covering the top third of Finland (and stretching across the other Nordic countries and Russia mentioned above).
No.3: Is Lapland a REAL country?
Well, that sounds like it's a question for Santa himself.
The answer is yes and no.
It's a real place, (and you can visit Santa there at his modern day abode in Rovaniemi these days), but officially Lapland is a region within the four countries mentioned above.
No.4: When does it snow in Rovaniemi?
It's tricky to predict, but historically, there's permanent snow from early December to early-mid April.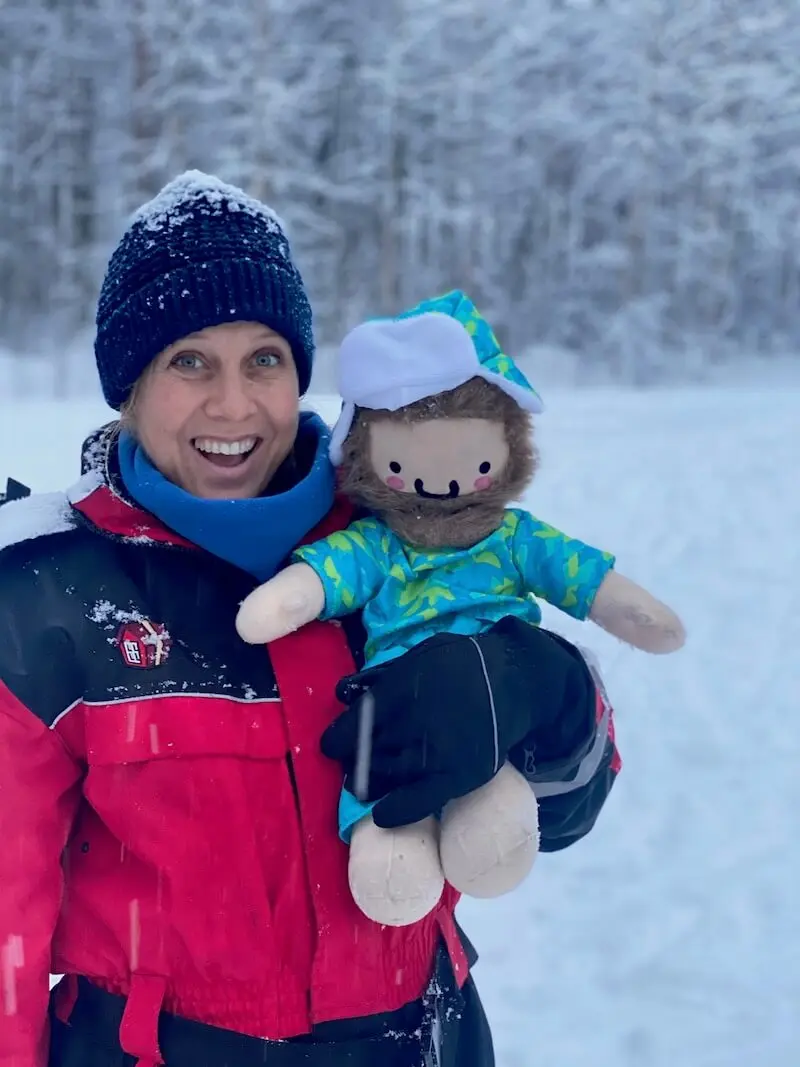 No.5: What to wear in Lapland?
LOTS of layers.
Thermal underwear, long sleeved shirts and pants, covered by thermal suits and waterproof boots.
It's the only way to get around without freezing your bum off.
READ MORE: Roam the Gnome's Guide on What to wear in Lapland in Winter
Detailed Guides for Lapland Christmas Experience Activities
Click the blue links below for more Lapland tips