INSIDE: Looking to visit the OFFICIAL Santa in Lapland? Head to Santa Claus Office in Rovaniemi.
If you are planning a trip to see Santa in Lapland, head to the Santa Claus Holiday Village, 8km from the city of Rovaniemi.
THIS is the centre of the action.
The epicentre of all things SANTA, and Christmas, and hopefully SNOW!
There are a few important things you need to know when you plan to MEET Santa in Lapland.
Interested?
Read on to find out everything you need to know about visiting the MAIN Santa Claus Office & gift shop, below.
Disclosure: This article contains affiliate links. If you make a purchase after clicking on one of these links, we may receive a small commission at NO extra cost to you. We toured the Main Office of Santa accompanied by Anne Saahkari, Media representative from Visit Rovaniemi, who gifted us the Digital Downloads of our Santa Photos. Thank you Anne. However all opinions are our own.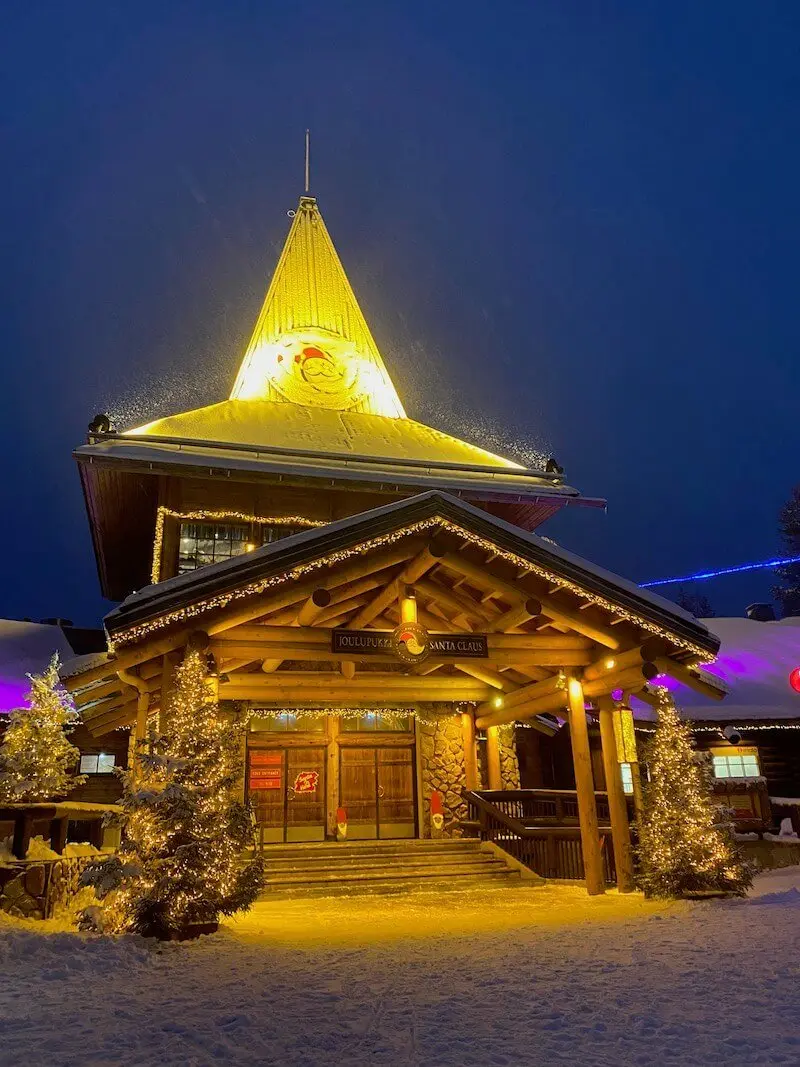 Want to Meet Santa in Lapland?
The Official SANTA in the village (and in the whole of Rovaniemi) is the one who spends his days at the MAIN OFFICE, or Joulupukka.
This is the building pictured above, with the distinctive roof top.
Look for the sign on the door that says "SANTA IS HERE".
This is where you need to go to MEET Santa in person.
You'll also spot two red GNOMES outside, guarding the door. (see picture above)
Where is Santa's post office?
Note, that the MAIN OFFICE of Santa, and the Santa Main POST OFFICE are different places.
These two Santa Claus village attractions are in two SEPARATE buildings, about 50 metres apart.
---
RELATED: Ultimate Guide to SANTA CLAUS HOLIDAY VILLAGE Activities, Attractions, Shopping & Dining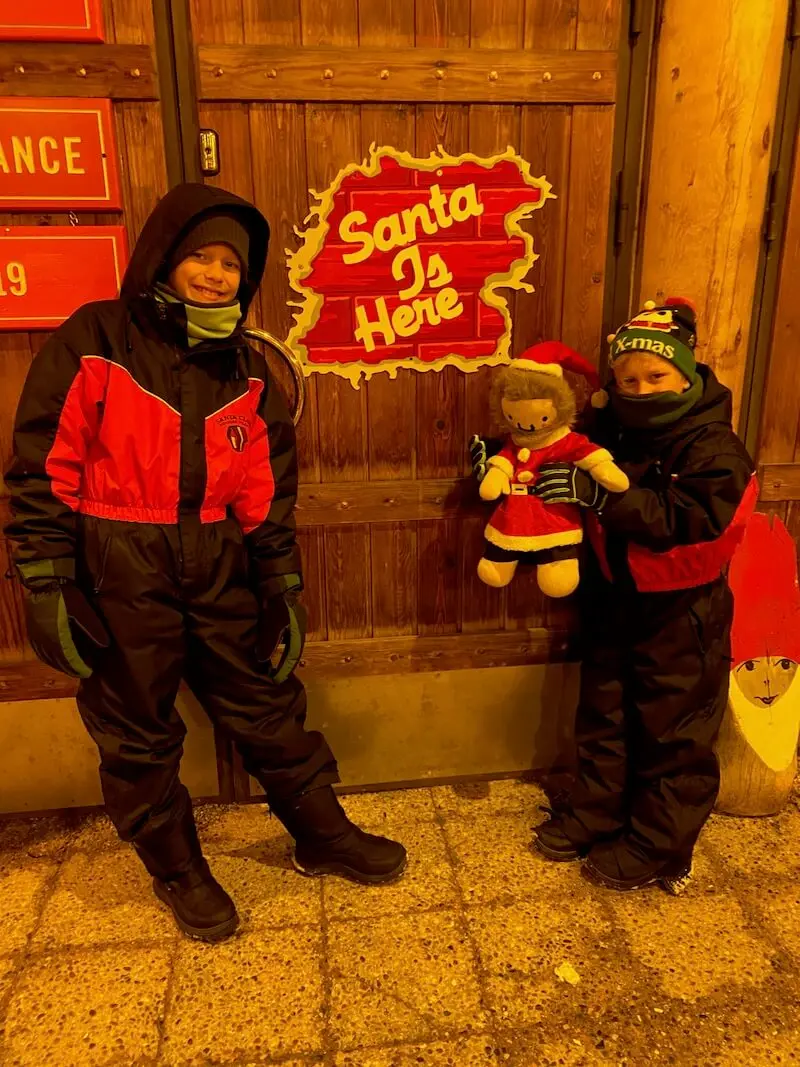 Official Santa Claus Office Finland
Santa in Lapland is in the MAIN OFFICE, as described above.
There is NO Santa Claus in Post Office.
There, we cleared that up.
Secondly, there is more than one Santa in the Santa Village, plus at least two other Santa's you may come across in your adventures and tours around Rovaniemi.
Click here for a detailed overview, so you can plan your Lapland itinerary to manage this challenge, and keep the magic of a visit to the REAL Santa alive and well.
Now, for details of what to expect when you head into the SANTA CLAUS MAIN OFFICE.
Take a peek.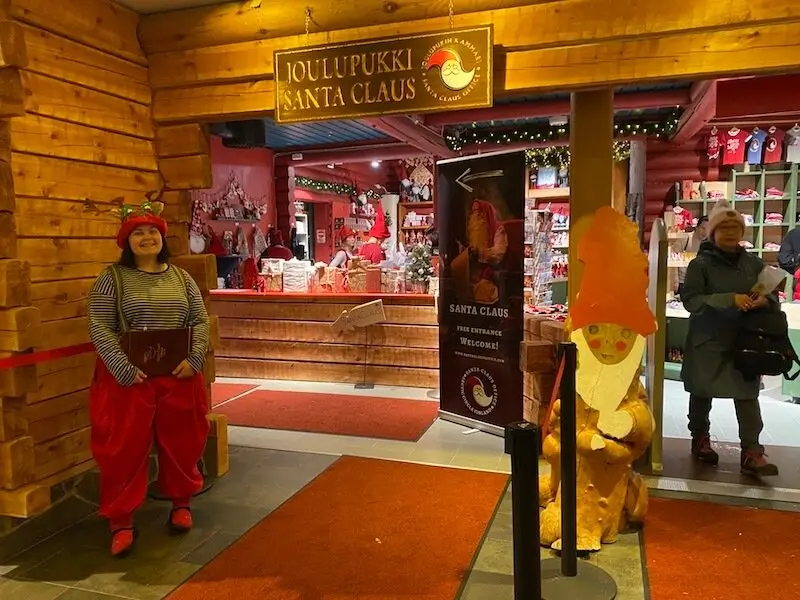 Entrance of the Main Office of Santa Claus Rovaniemi
Head in through the doors and you'll find the entrance to Joulupukki Santa Claus.
The happy helpers at the door will guide you to the beginning of the pathway that will lead you to Santa himself.
Hot tip: Go early, and beat the crowds coming in from Rovaniemi hotels, and on Santa day tour buses.
Santa Claus Village Hotel
Or if you are staying in the Santa Claus Village Cottages or Suites, pop in for a visit and photo with Santa AFTER the day trip to Lapland crowds dissipate, after 4pm.
This is the best way to visit Santa Claus in Lapland.
(Read our review of the Santa Claus Holiday Village cabins & find details of how and when to book too)
During the busy Christmas season, the Santa Office is open from 9am to 7pm.
Santa Claus Office Desk
Take your time as you wander along the corridor to Santa.
See Santa's OFFICIAL working desk.
This is where he makes all his notes about who is on his Nice List.
Don't miss a thing on your visit to Santa in Lapland.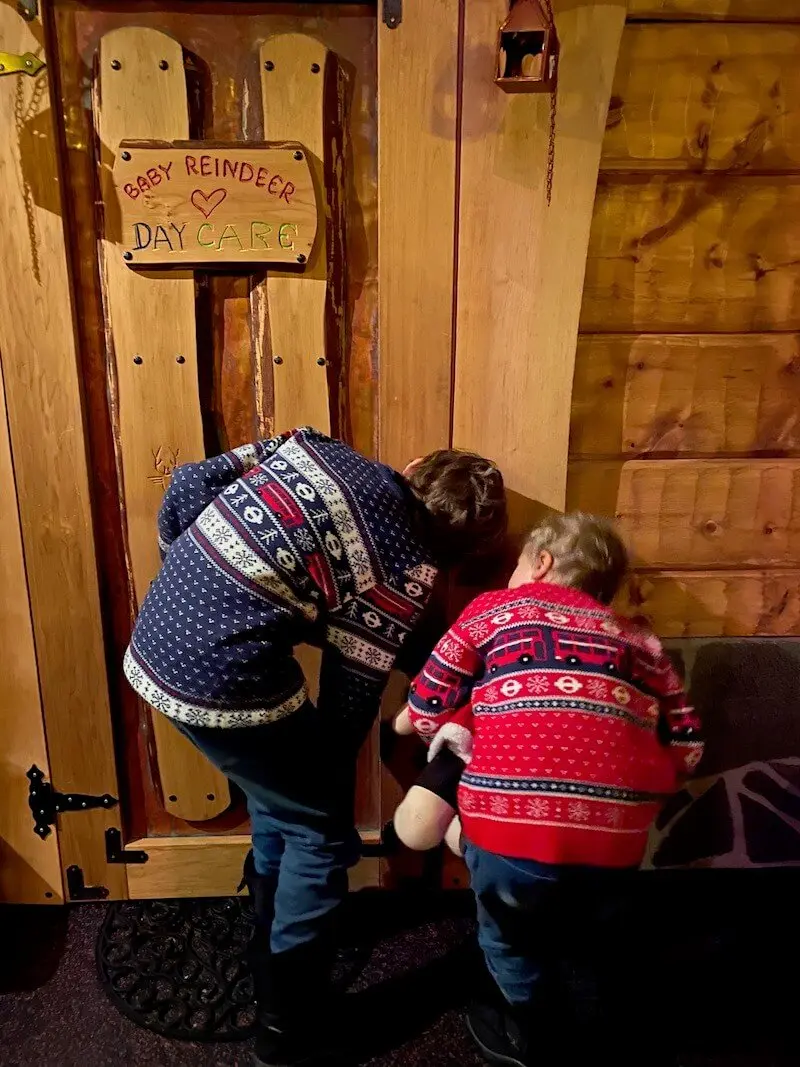 Baby Reindeer Day Care!
Look out for the peepholes around the place.
You might even see Baby Reindeer in Day Care!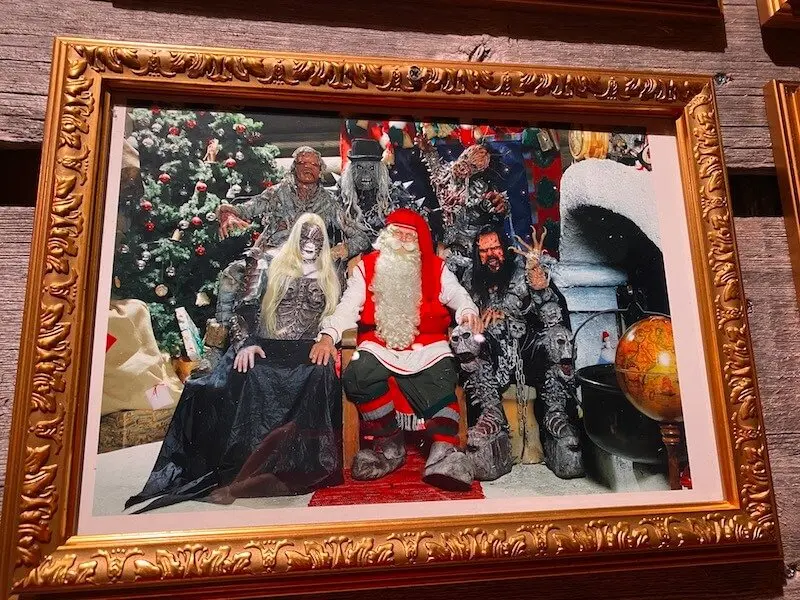 Santa's Photo Wall with Famous Visitors to Lapland
This is a picture of Santa with LORDI, a very famous Finnish death metal band.
Fun Fact: According to Wikipedia, the band won the Eurovision Song Contest 2006 with their song "Hard Rock Hallelujah".
Strange things do happen.
Spot the Spice Girls!
Yes, they are on the wall too, along with well known politicians, Finnish TV stars, and sports people.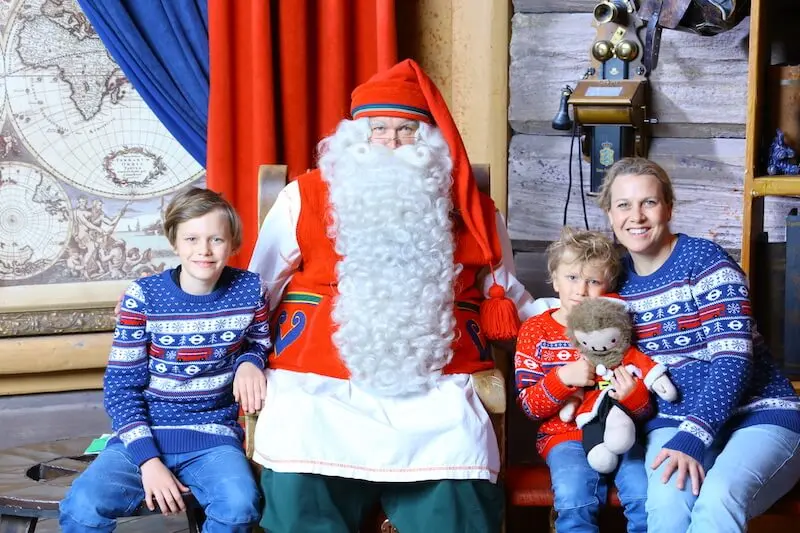 Next up, Santa Photos in Lapland
We stripped off our Snow Suits to capture our 2019 Santa Photo in our specially-chosen Santa Jumpers.
(These quirky ones are from the London Museum of Transport store.)
This is the BEST Santa Photo we've ever had, and we can't wait to add it to the prime spot on our Santa Photo fridge gallery.
(Our fridge at home features our Santa photos from 2009 when Ned was 1 up to 2018, so we enjoy looking at them daily!)
A professional photographer Elf takes a photo of every guest of Santa Claus.
However there is no obligation to buy photos (unless you love them, of course!)
Price of Main Office Santa Claus Photographs & Digital Downloads
Downloadable photographs and video start from 45,00 Euro (max. 5 people)
Photograph A4 size costs 32,00 Euro.
Santa Claus Main Office Shop in Lapland
When you've said goodbye to Santa for the final time, head into the shop to find beautiful Lapland souvenirs and gifts for family and friends.
Lots of the Finnish souvenirs and gifts here are unique, and/or handmade.
You won't find these Santa souvenirs anywhere else in the Santa Village.
Take a sneak peek inside the Santa Claus gift shop below.
BEST LAPLAND GIFTS in Santa Claus Shop
No.1: Finnish Santa Chocolate & Tea
Finnish food is always a winner, especially Fazer Chocolate and local tea.
There's also a Karl Fazer shop with all the Fazer biscuits in the village.
Hot tip: Read our guide to the best Finnish food and what to buy in a Finland supermarket here. (Update coming soon)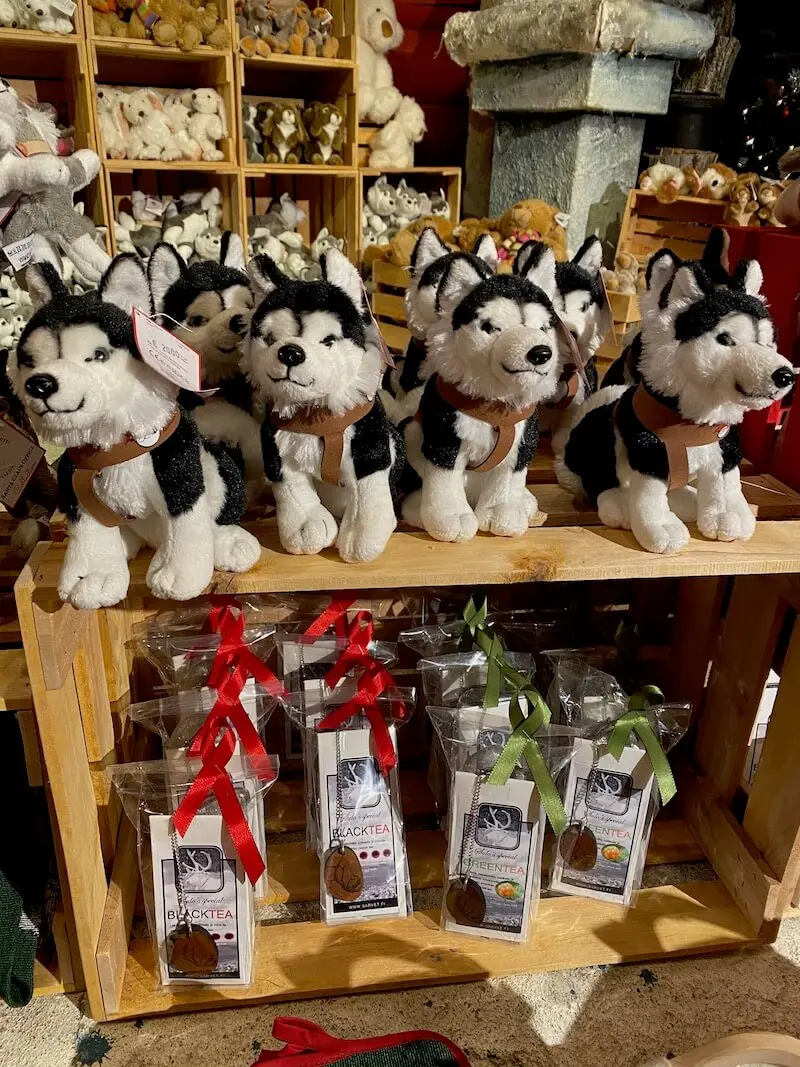 No.2: Husky Dog Soft Toys
There's a whole bunch of different Husky toys to choose from.
The hardest thing is to pick which one is the cutest.
Hot tip: Buy an extra husky dog or two. These are easy carry, lightweight souvenirs for all ages, & I guarantee you'll need an extra gift for someone you've forgotten to buy for!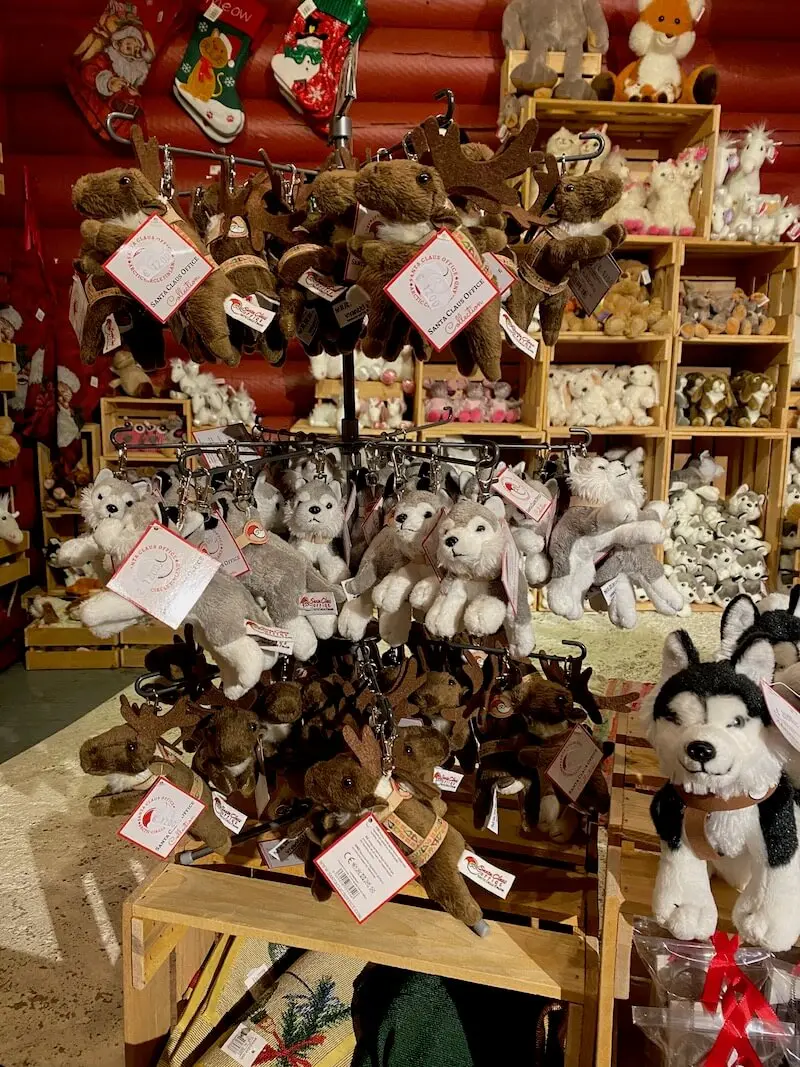 No.3: Stuffed Toys from the Santa Claus Office Collection
Smaller Husky and Reindeer Keyring plushies are available too, if you don't have lots of room in the suitcase.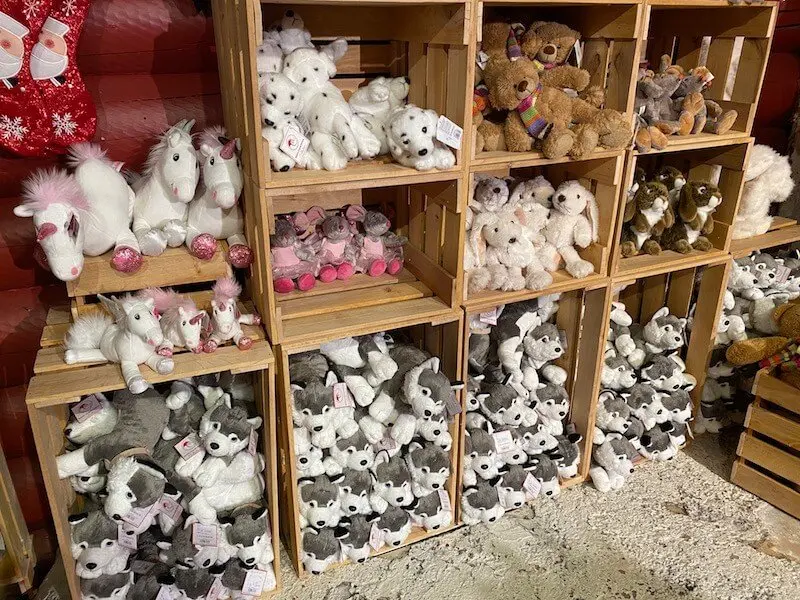 No.4: MORE Stuffed Teddies, Rabbits & Unicorns
Random!
Even a pink sparkly unicorn, just because.
No.5: Handmade Felted Dolls & Animals
Gorgeous handmade felt finger puppets, and animal faces make a unique addition to the Christmas displays at home.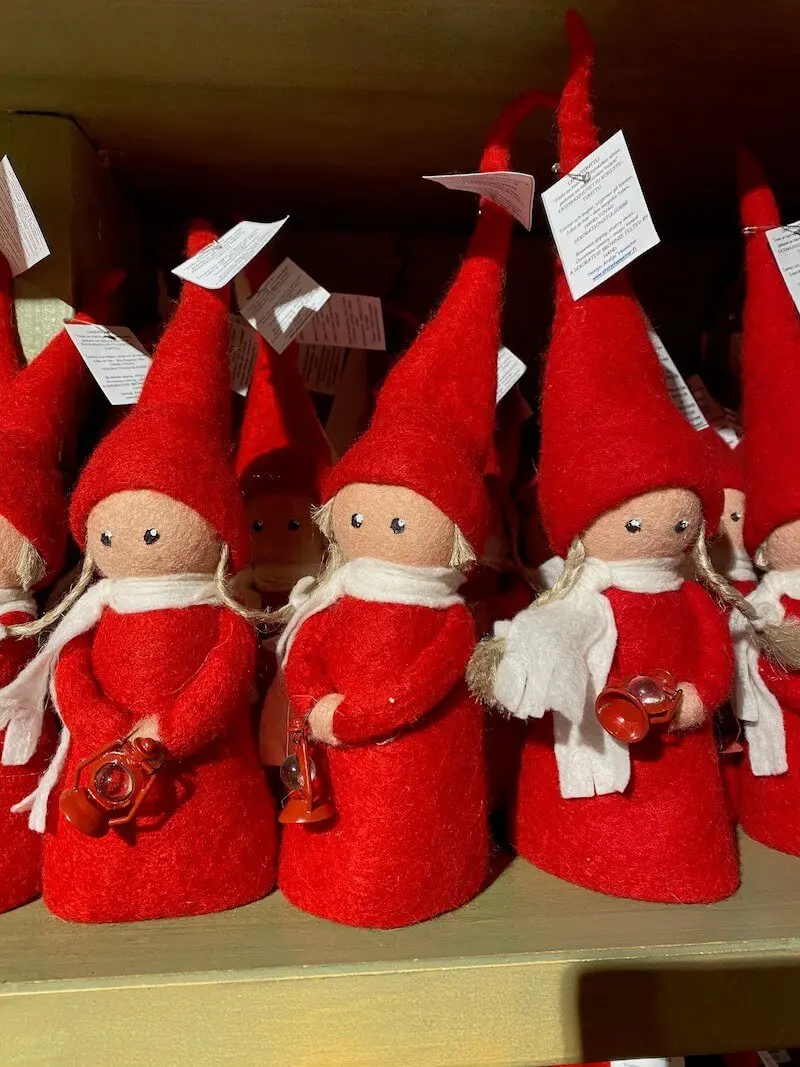 No.6: Decorative brownies felted by hand.
These gorgeous Christmas dolls are designed by Atelje Hannetar.
42,00 euro each.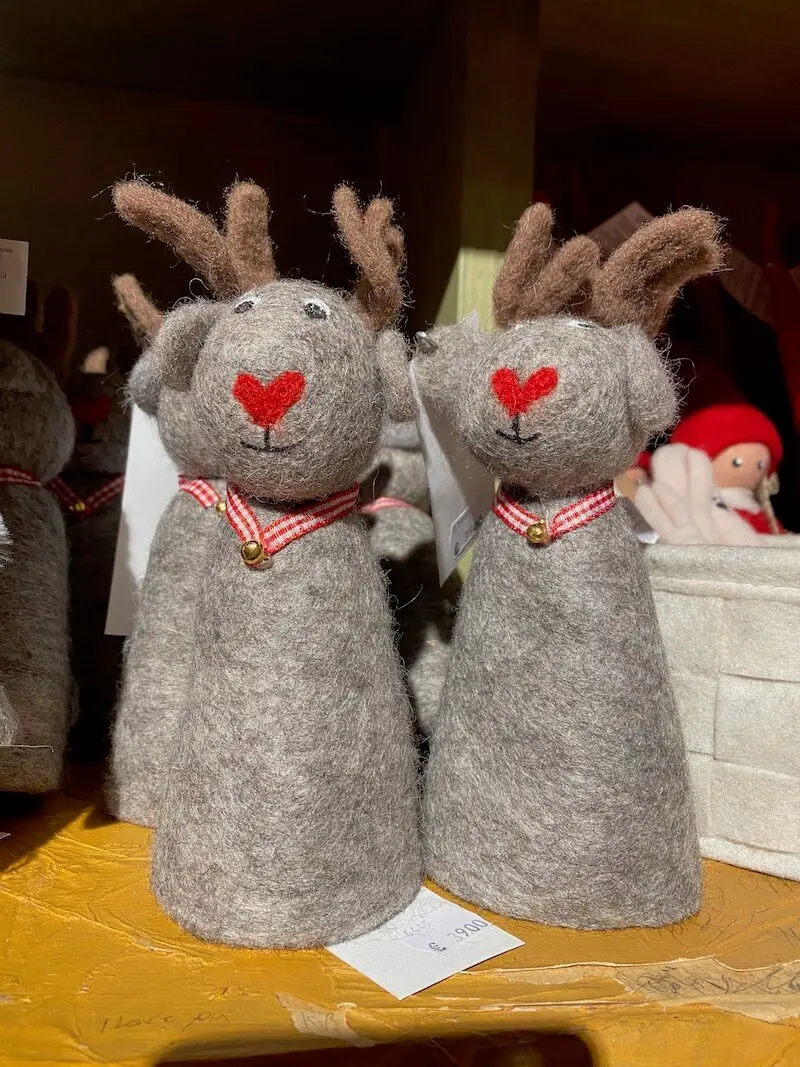 No.7: Felted Reindeer
Reindeer ornaments by the same designer.
39,00 euro each.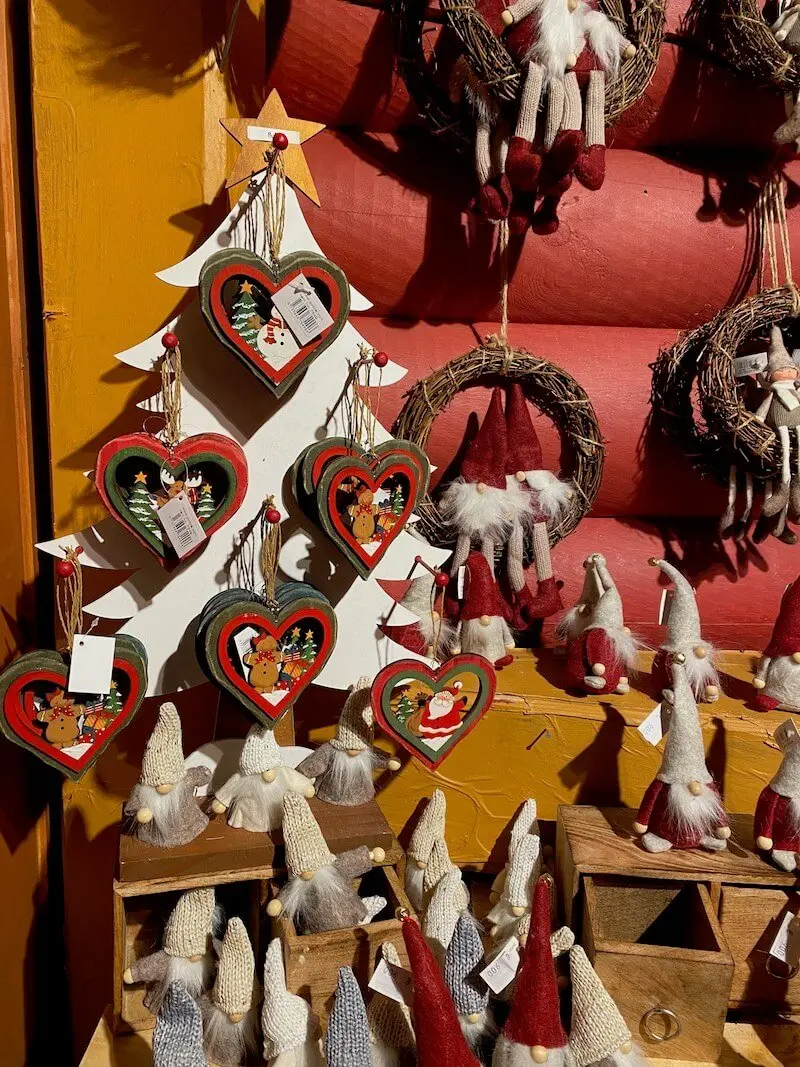 No.8: Christmas Gnomes and Christmas Ornaments
There's gingerbread men, and love heart decorations.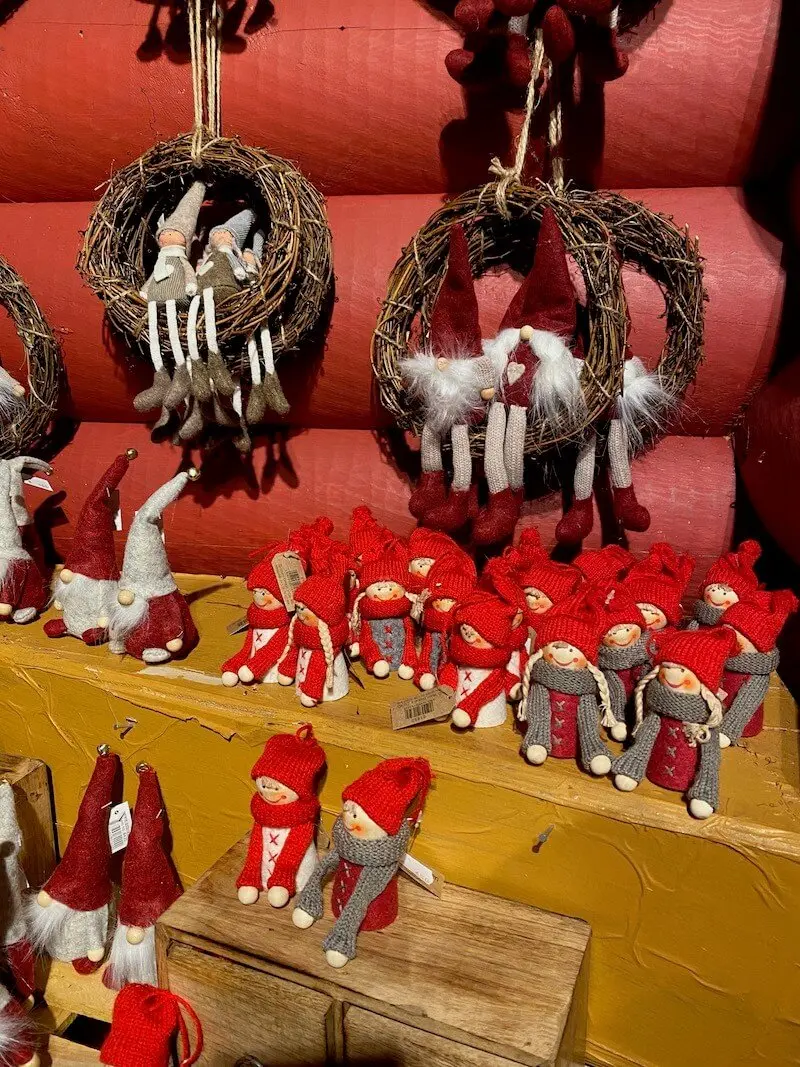 No.9: Miniature Tomten Gnomes
And Christmas Boy & Girl dolls that sit on the mantlepiece.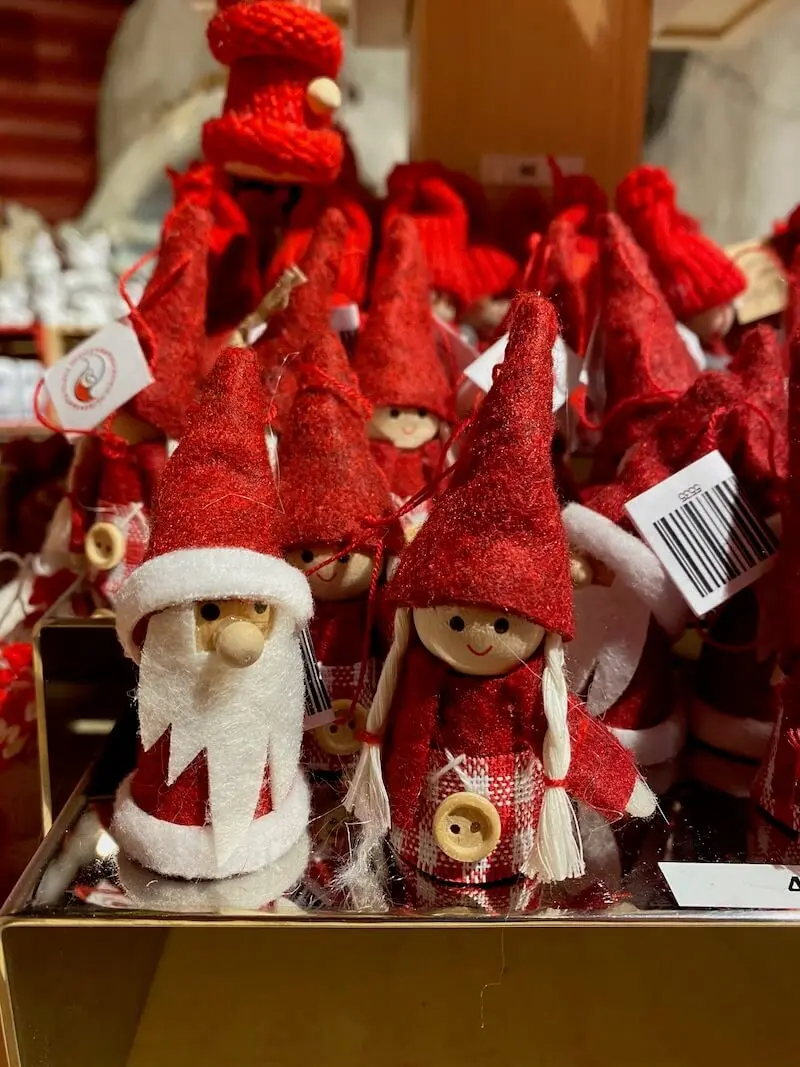 No.10: Santa & Elf Ornaments
Adorable Santa's like this one.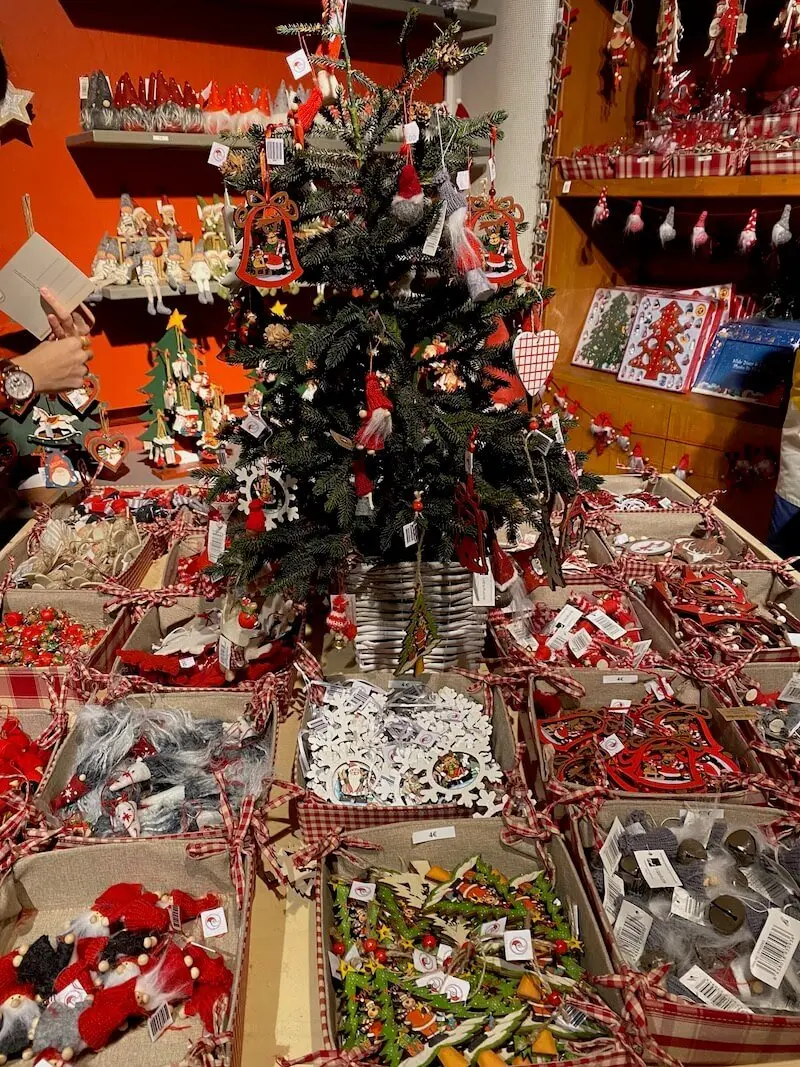 No.11: More Santa and Christmas Tree Ornaments
Mix and match your favourite tree decorations.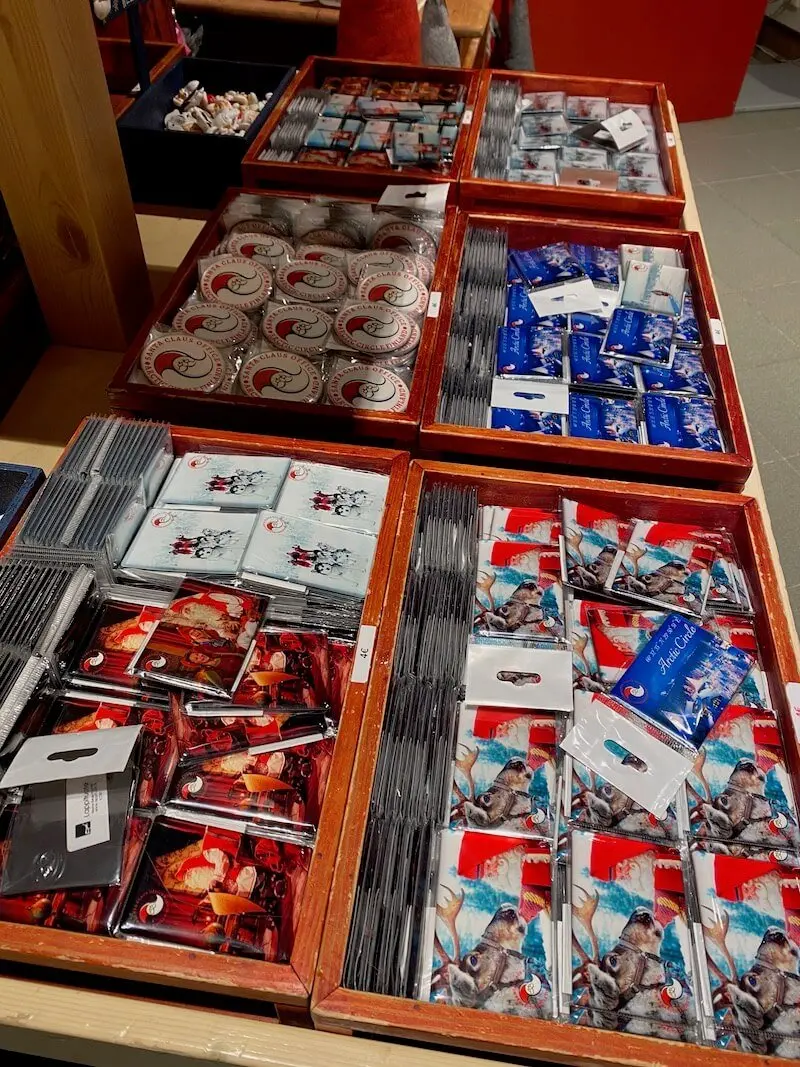 No.12: Santa Fridge Magnets
Add to your fridge magnet collections.
You might find these articles useful too: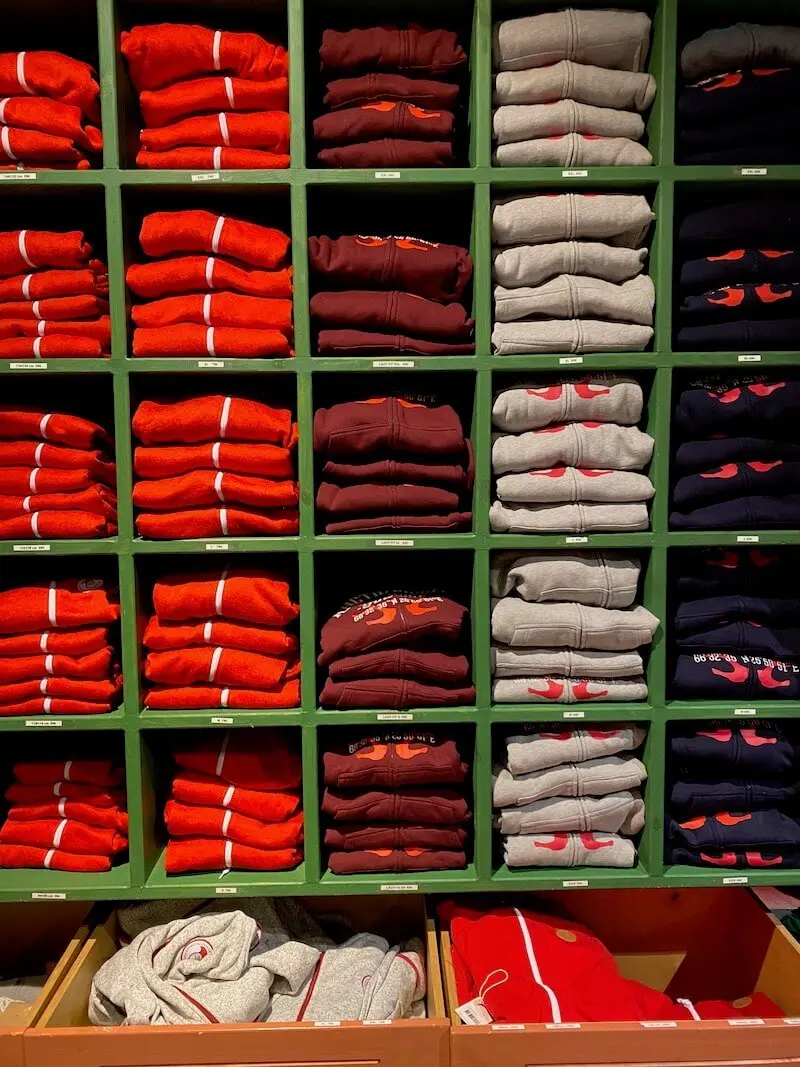 No.13: Santa Village Sweaters
Stay warm indoors and out.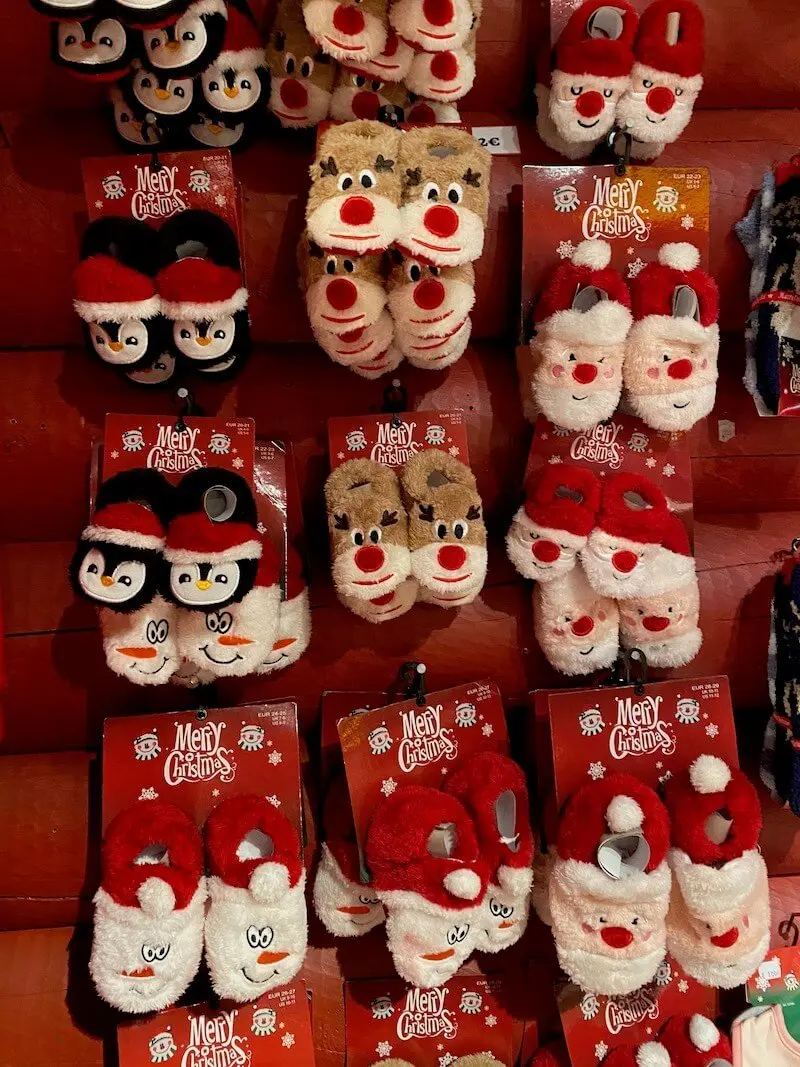 No.14: Novelty Christmas Booties for Babies and Toddlers
Ideal baby gifts from Lapland.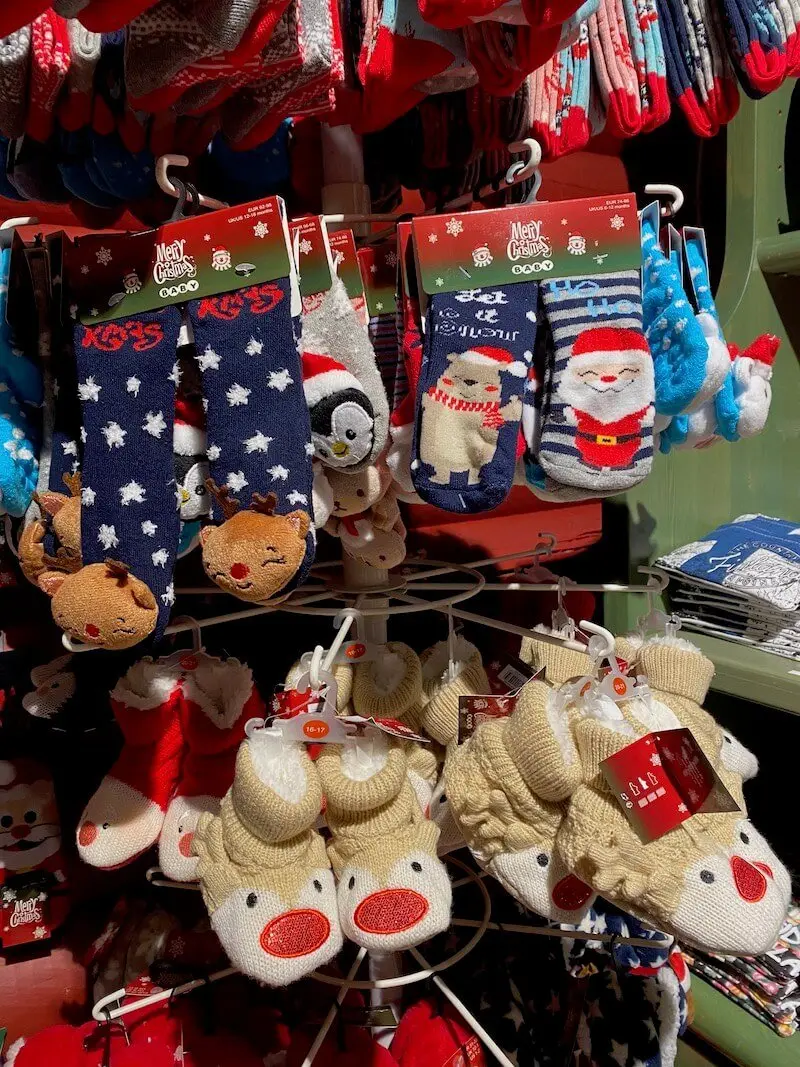 No.15: Cute Socks for Kids & Toddlers
Socks are cute gifts for babies from Lapland too.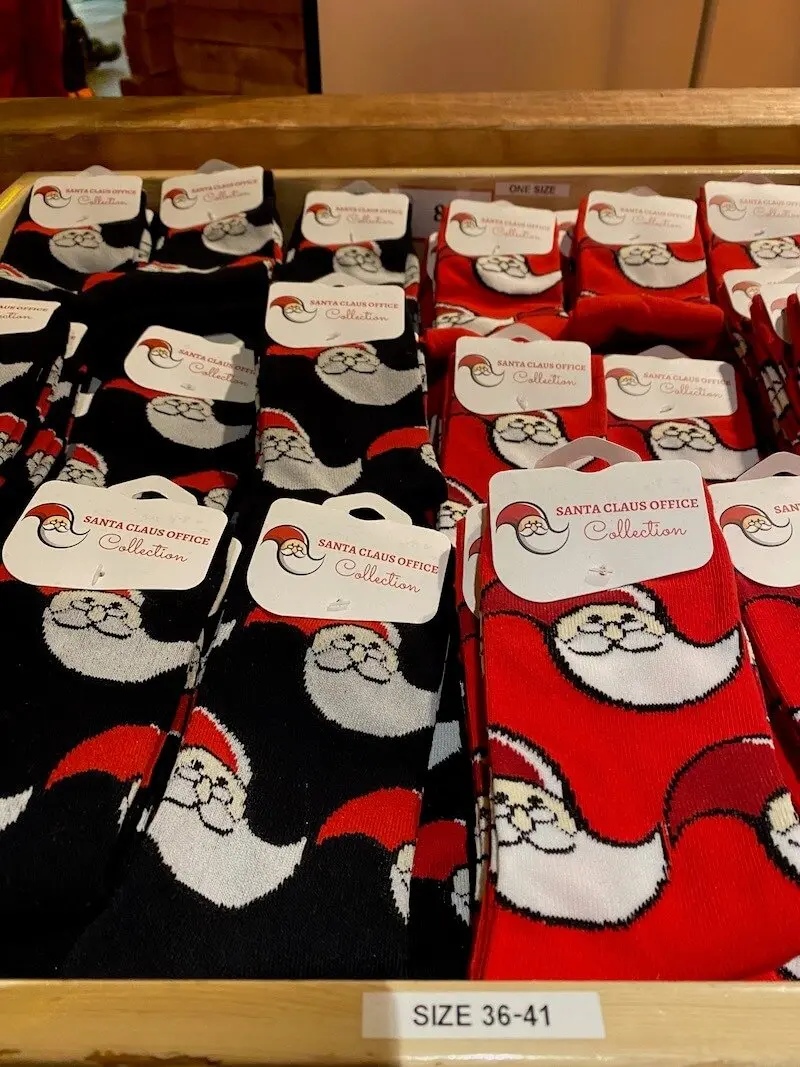 No.16: Christmas Socks for Adults too!
These are an official product from the Santa Claus Office.
Buy up big.
Hot tip: As you exit the shop, look for the staircase to your left.
There's a second floor, called Santa's Secret attic, full of more cute Christmas gifts from Lapland.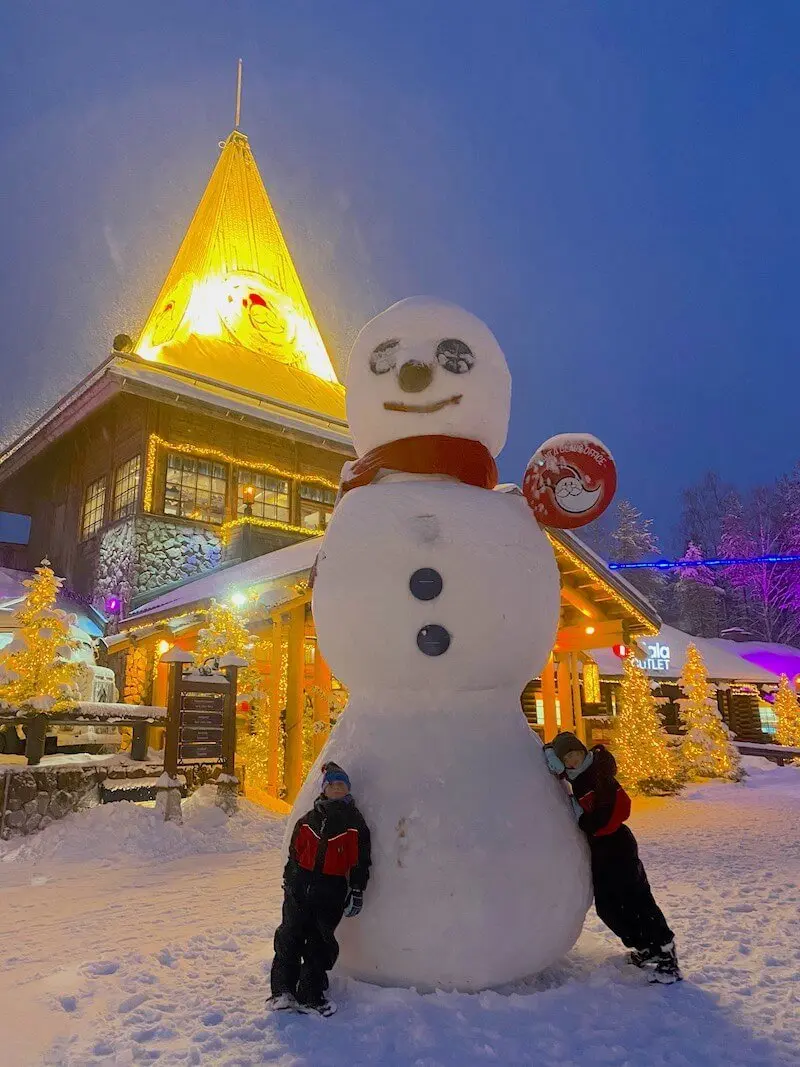 THE INSIDE SCOOP: A Trip to see MAIN OFFICE Santa Village Finland
Correct at time of publication on Roam the Gnome. Please check with venue for updates. We apologise in advance if there have been any changes we are unaware of. All prices in EURO, unless otherwise stated
Santa Claus Office address: Joulumaantie 1, 96930, Arctic Circle, Rovaniemi, Finland
Santa Claus Office email: [email protected]
Santa Claus Official website: Click here
Santa Claus Office cost
FREE ENTRY always
(Purchase of photos optional.)
Opening hours of Santa Claus Office:
Open every day of the year.
1st December until 6th January: 9am to 7pm (Christmas season)
7th January to 31st May: 10am to 5pm
1st June to 26th August: 9am to 6pm (Summer season)
27th August to 30th November: 10am to 5pm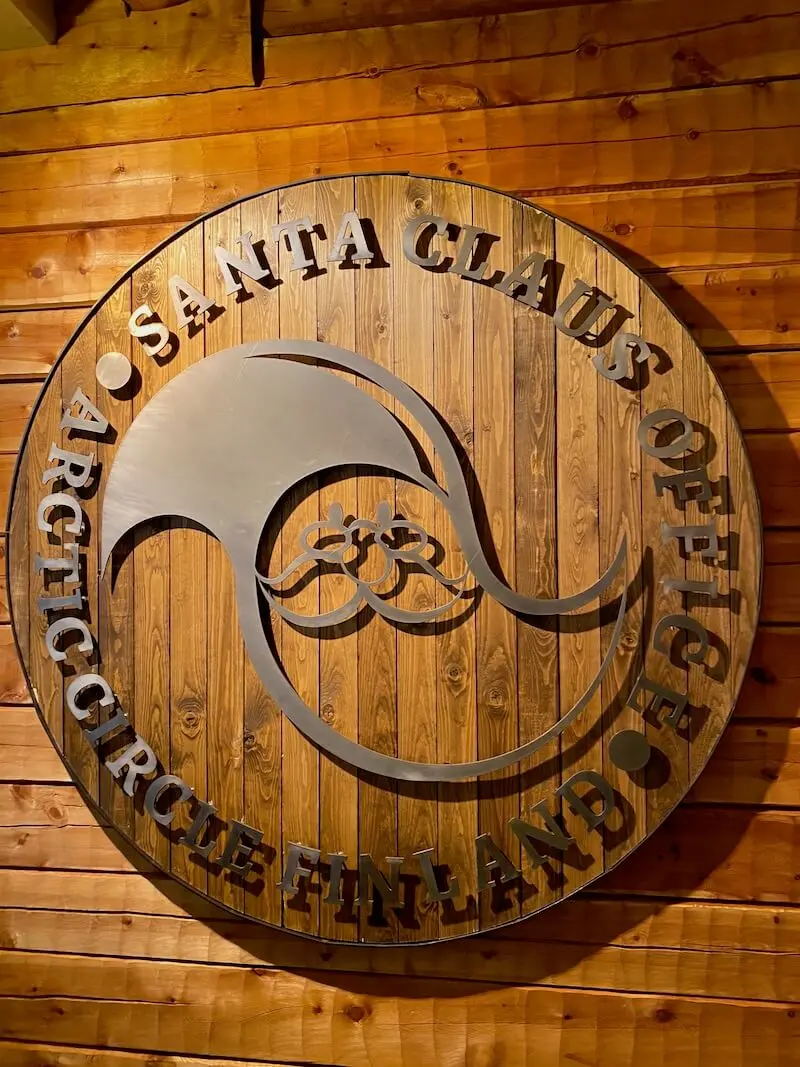 How to get to Santa Claus Office Lapland
You'll see the MAIN OFFICE of Santa Claus building as you walk into the Santa Village to the left of the Three Elves restaurant.
Go past the Arctic Circle crossing stone cairns to find the main Santa Claus office building on your right.
Click here for details of how to get from Rovaniemi to Santa Claus Village.
(You might also like details of how to get from Helsinki to Rovaniemi on the Santa Claus Express night train, and by plane.)
Santa Claus Village Map
Toadstool Rating: Official Home of Santa Claus in Lapland
The professional photo with Santa was top notch.
The best of all.
The shop is unique too.

DAY TRIPS TO DO SANTA CLAUS VILLAGE ACTIVITIES
Planning a 1 night trip to Lapland?
Please stop for a minute and reconsider.
If you are coming to Lapland, and travelling all that way, one night in this magical place is NOT enough.
The same goes for a Lapland day trip.
However, we understand that for some families, a Lapland day trip is better than nothing!
(And it is.)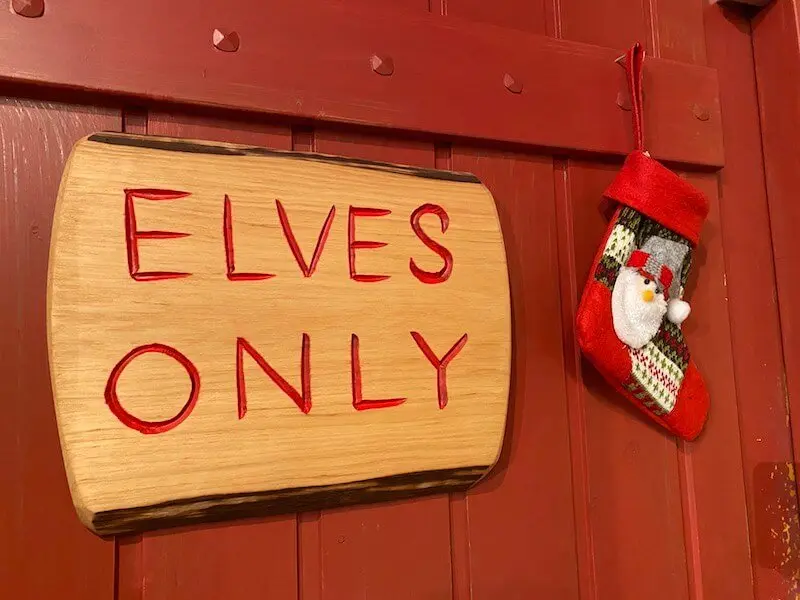 Think of it as a taste-test.
Then start saving to come back for a longer vacation to see Santa Claus & do ALL the fun stuff.
You can book a day trip to Santa in Lapland from the UK with a number of companies.
Unfortunately, we are unable to help you choose the best Lapland day trip company without having experienced it ourselves.
(We were on a self-arranged itinerary staying four days in Lapland.)
Itinerary coming soon!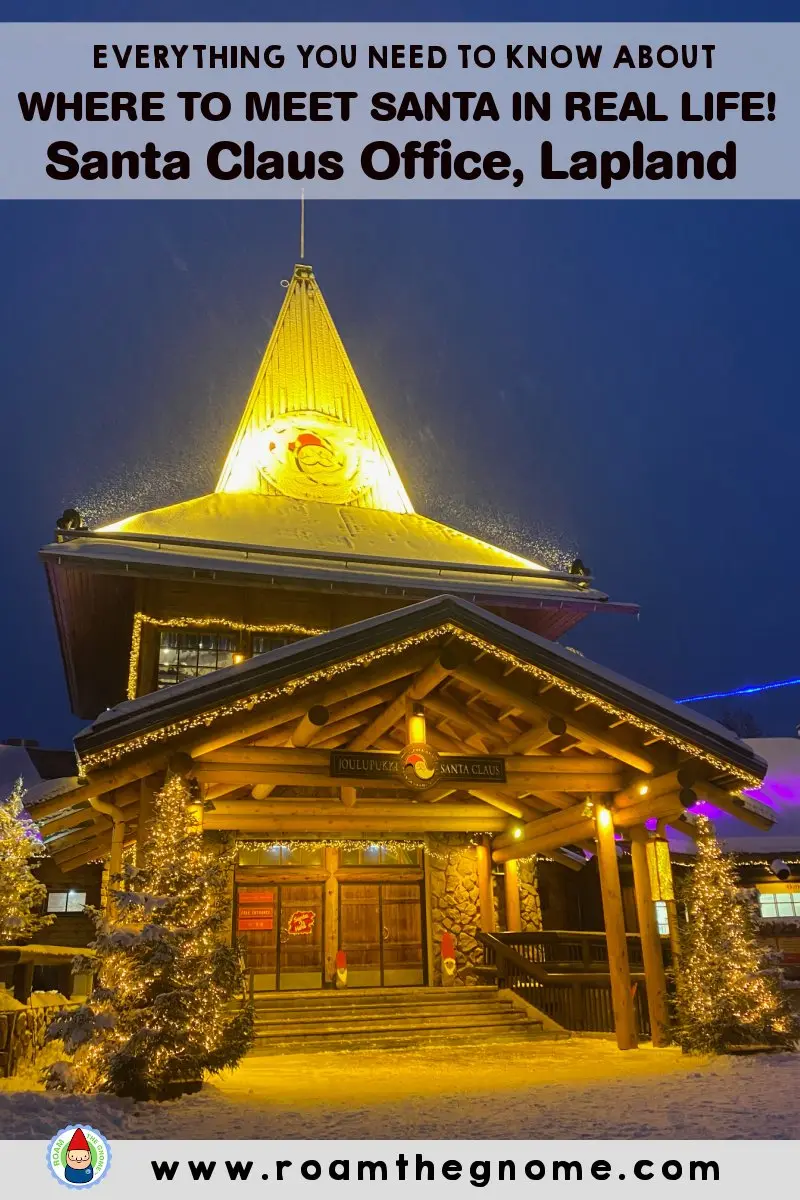 Santa Claus Finland Lapland Day Trip 2021
But start your research with the package deal companies listed below:
Santas Lapland
Tui
Santa Claus Trips
Inghams
Santa Holidays
Magic of Lapland (.net)
If you have the time, and will book a longer stay, take a look at our guide below.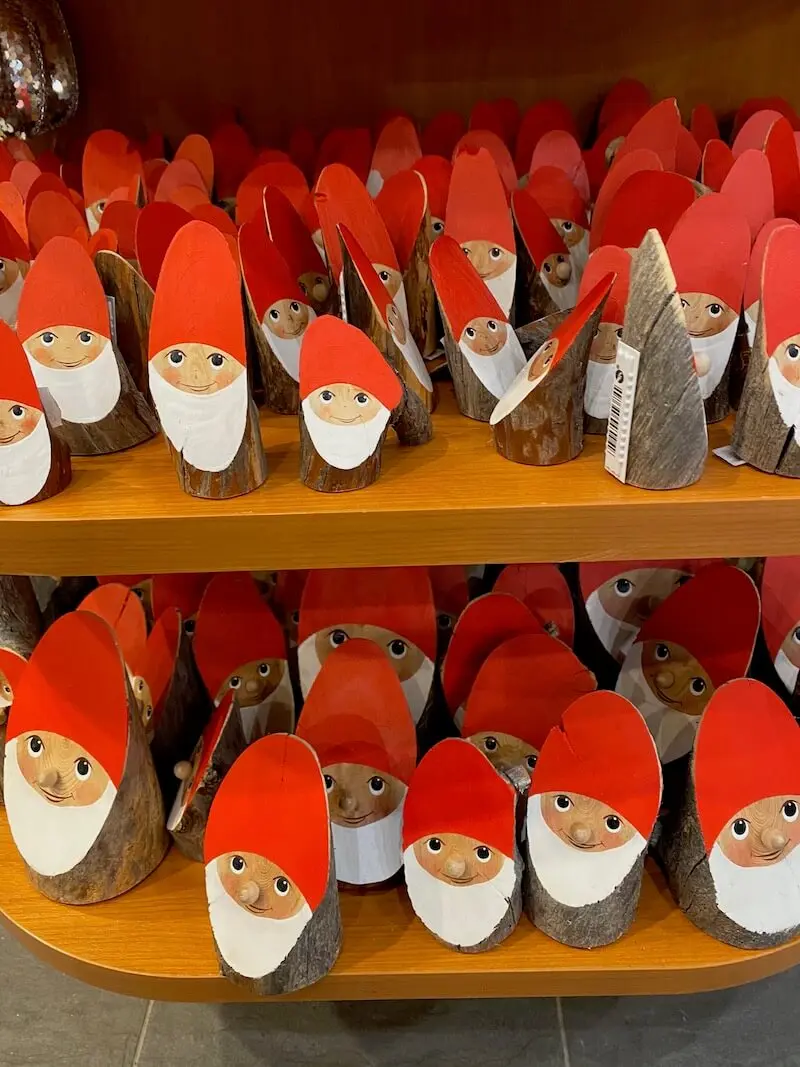 Planning Holidays to see Santa in Lapland 2020 for Christmas?
Starting to plan your Lapland 2021 holiday?
It's a LOT to think about to squeeze ALL of the amazing Lapland activities into your itinerary, so you don't miss a thing.
Want some help?
Take a look at our guide to 2020 Lapland vacations: EVERYTHING you need to know about a LAPLAND 2021 HOLIDAY
This is ALL the information we wish we'd had at our fingertips before we visited.
It will help you to decide what's worth the money, and what's not.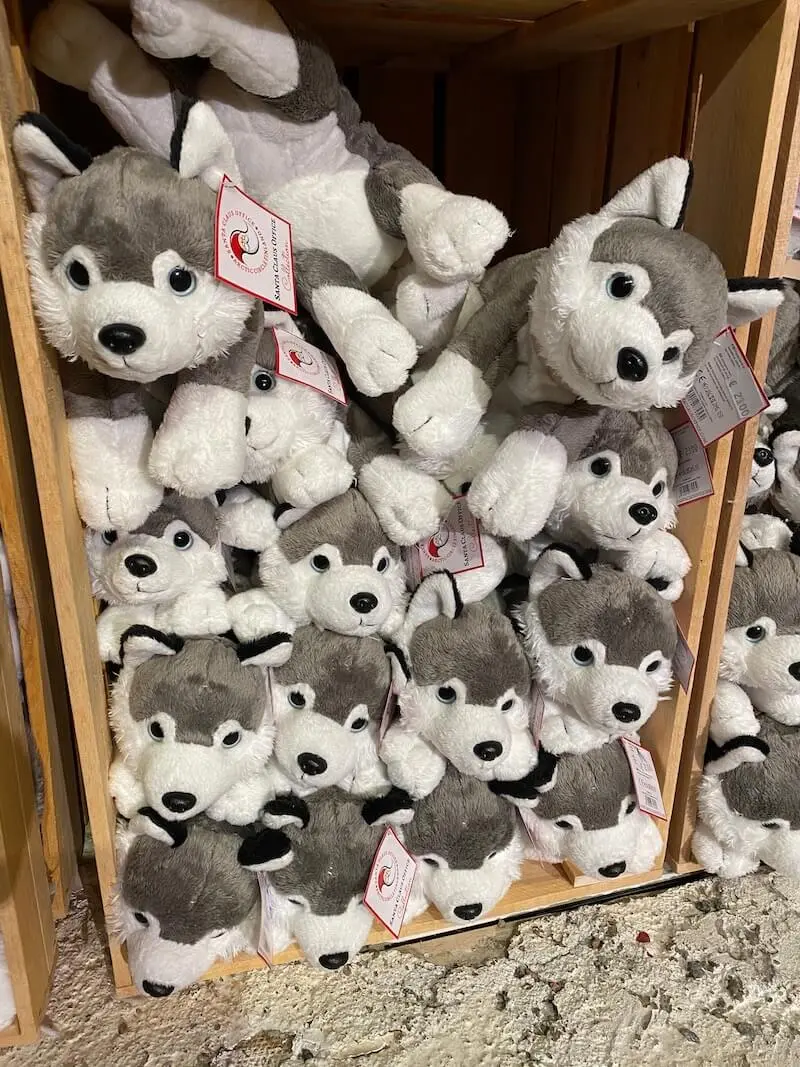 Lapland Santa Trip Planning
We also share information on the best tours, and don't-miss activities.
Plus HOW to get to Santa Claus Village, and whether you should catch the Santa Express train from Helsinki, or plane.
And, of course, what to wear in Lapland in Winter.
Do let us know if there's anything else you'd like to know!
We'll do our best to help you plan your best Christmas Holiday ever.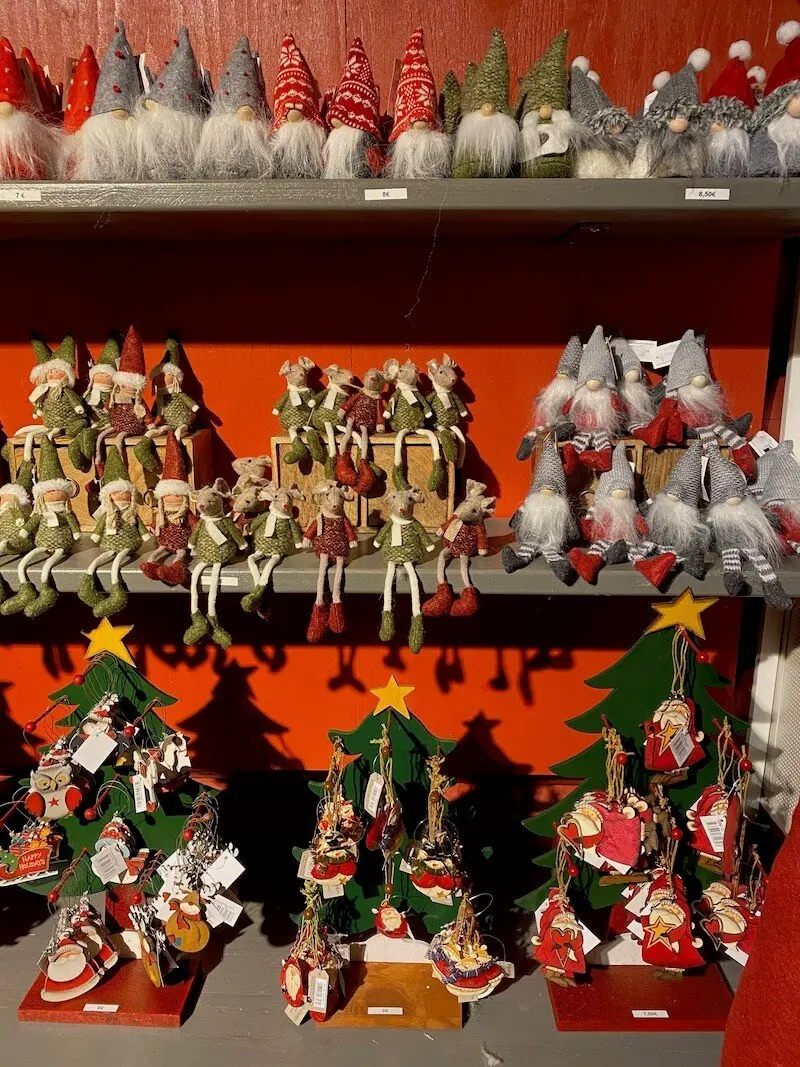 Looking for MORE THINGS TO DO IN ROVANIEMI Lapland with kids?
Click the blue links below for more Lapland tips