INSIDE: Insiders Guide to Arctic Circle Snowmobile Park Rovaniemi.
Planning your Finnish Lapland 2021 trip?
Trying to pick and choose what Santa Claus Holiday Village activities and tours you should book?
Add at least one snowmobile tour to your Lapland Christmas itinerary for kids.
Snowmobile tours in Lapland are a once in a lifetime opportunity for kids and families, and not something you can do everyday, like many of the Rovaniemi attractions.
Make sure to include a Snowmobile ride in your Lapland budget.
Check out our Arctic Circle Snowmobile Park reviews below.
Disclosure: This article contains affiliate links. If you make a purchase after clicking on one of these links, we may receive a small commission at NO extra cost to you. For transparency, the boys were gifted the ride on the little kids snowmobiles. All other tours were paid for by ourselves.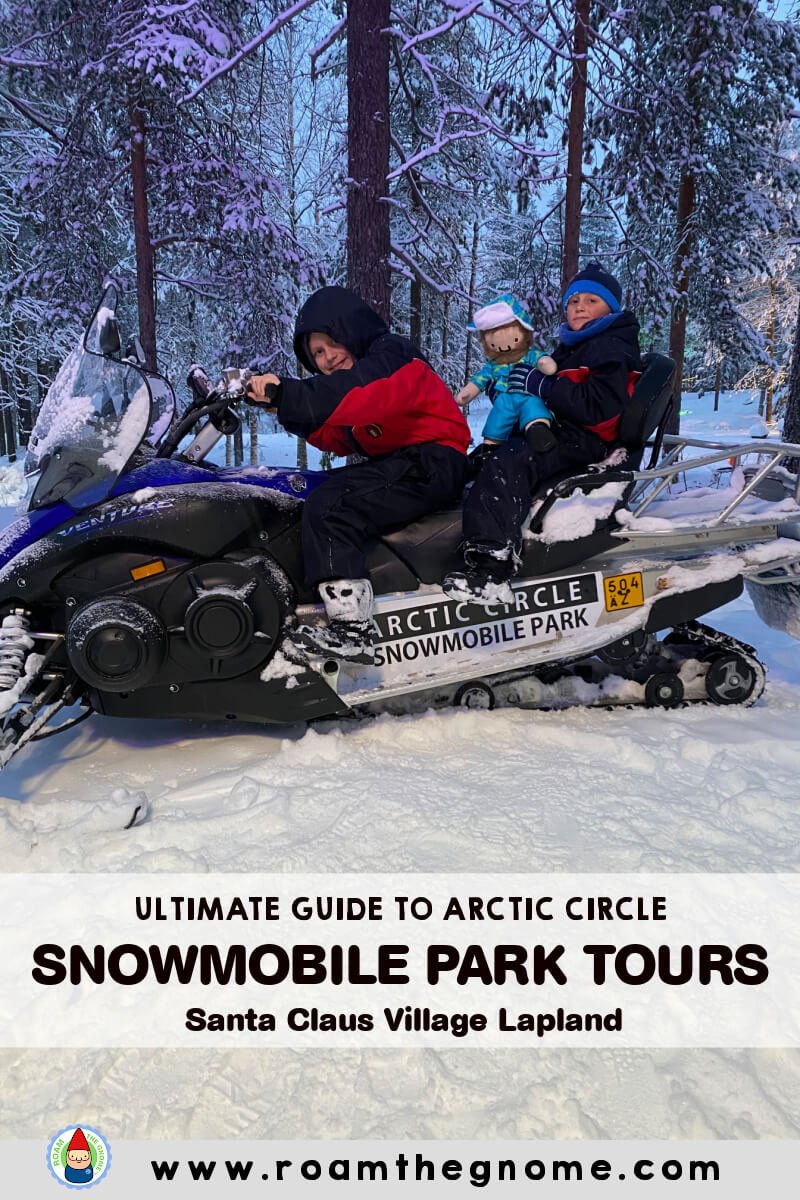 Guide to Arctic Circle Snowmobile Park Rovaniemi with kids
A Rovaniemi holiday is not complete without snowy activities, and a snowmobile ride should be up top of your list of things to do in Lapland.
Riding a snowmobile into the snowy Lapland forests is a once-in-a-lifetime experience you don't want to miss.
And these guys know all the best snowmobile trails in town.
---
READ MORE: Everything you need to know about SANTA CLAUS HOLIDAY VILLAGE & accommodation at Santa Village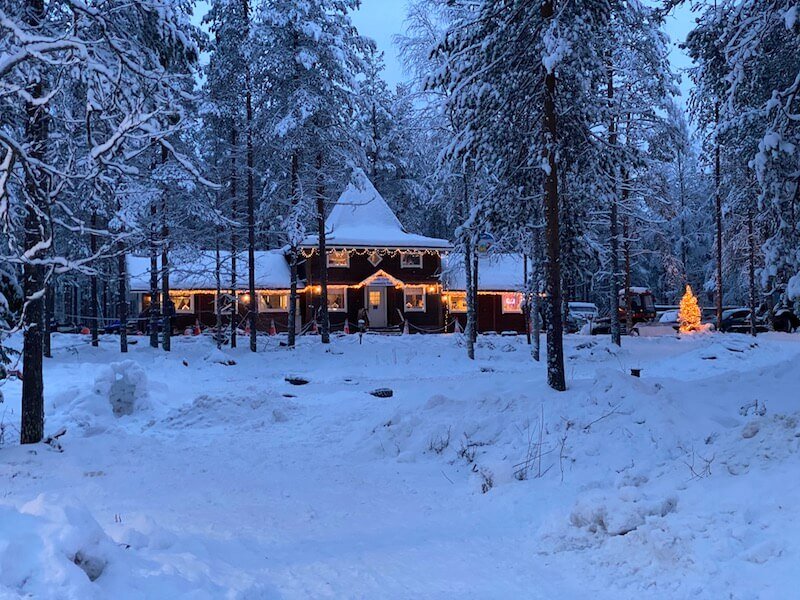 How to get to Arctic Circle Snowmobile Park in Santa Claus Village
The Arctic Circle Snowmobile Park in Rovaniemi is located IN the Santa Claus Holiday Village itself.
To get there from the central Santa Village plaza area near the Main Office of Santa Claus (where the OFFICIAL Santa is) find one of the pathways that heads up back from the main road in the direction of Snowman world, and walk left for about 50 metres.
You'll see a log cabin of sorts, set back from the main road (pictured above).
This is the office of the Arctic Circle Snowmobile rides.
You can book shorter snowmobile rides in Rovaniemi on site, but we recommend booking your snowmobile tours in advance, so you don't miss out.
Time (and light) is limited to do all the fun activities on Lapland holidays in winter, so it's a big pain when you have to rejig your Lapland itinerary when you can't join the tour you'd planned on.
Click here for details of how to get from Rovaniemi to Santa Claus Village.
(Also includes details of how to get from Helsinki to Rovaniemi on the Santa Claus Express train, and by plane.)
---
RELATED: The Complete Guide to Planning your Lapland Christmas Family Vacation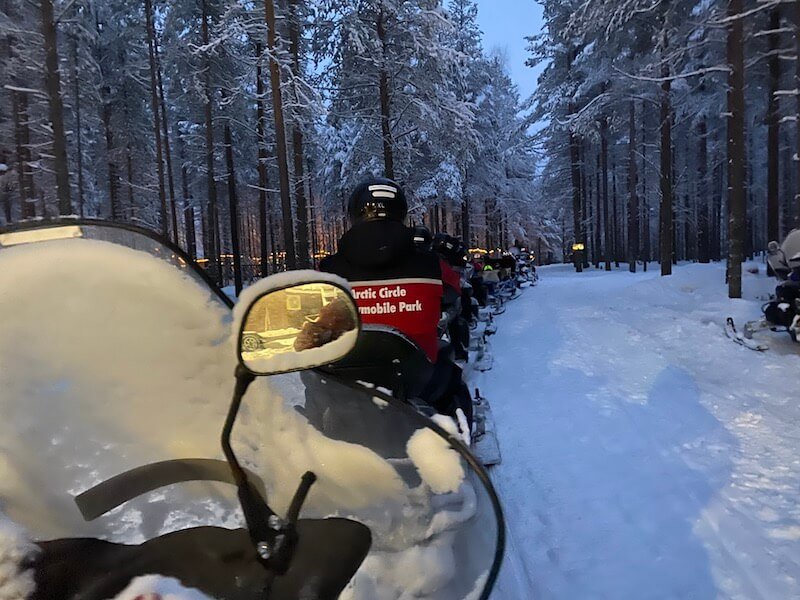 Best Selling Snowmobile Safari Rovaniemi in Finland
Duration 30 minutes, 1 hour or 2 hours
The best snowmobile tour takes 2 to 3 hours.
On a three hour snowmobile tour, you'll cover up to 70 kilometers of track.
Driving into the unimaginable landscape of the Arctic Circle with an expert guide is the only way to truly appreciate the snowy forests.
But you can also book shorter snowmobile rides at the office on the day for either 30 minutes or one hour if that's all the time you have.
Book Snowmobile Tours early to guarantee your spot.
Snowmobile gear (overall, boots, socks, gloves, helmet and balaclava) and transfers if necessary, included in tour price.
Snowmobile Park with Reindeer Farm Experience
The Arctic Circle snowmobiles also offer a snowmobile tour COMBINED with a visit to a reindeer farm.
This is a great Snowmobile tour option if you are keen to take the kids to see real reindeers in Lapland, as you need to leave the Santa Village for this experience.
(There are a couple of reindeers kept in the village for reindeer rides but it's not the same.)
Check Latest prices: Snowmobile Tour with Reindeer Farm Experience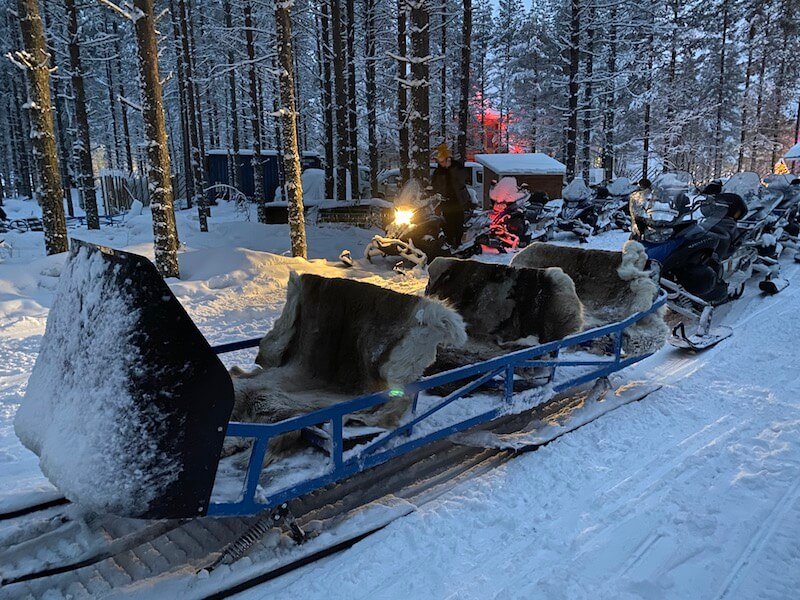 Snowmobile Sleigh Ride
If you've forgotten your driver's licence, or would prefer to ride behind an experienced snowmobile driver, take a sled ride on the back of a snowmobile.
A snowmobile sled (alt: snowmobile sleigh) is also the best way for families to experience a snowmobile ride through the Lapland forests, as you can all sit together.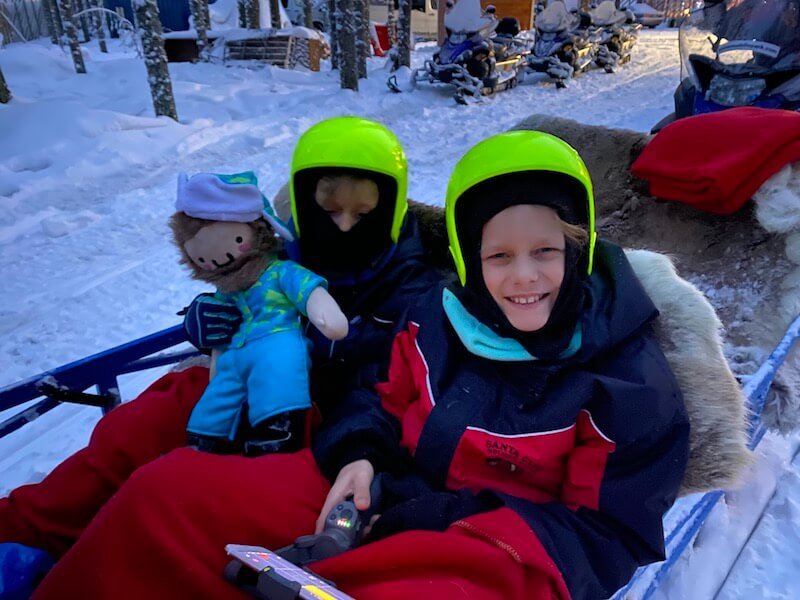 Sled rides are a win for solo parent travellers too.
While the boys rode in the sled behind the snowmobile tour leader, I had the extreme fun of driving the snowmobile at speed through the bumps, twists and turns of the snowy path.
The kids rode in comfort, sitting on warm reindeer hides, with heavy woollen blankets over their knees.
Me, the last rider in line, holding on to the handlebars and twisting the throttle in the freezing cold, trying my hardest to keep up with the group without running into a tree!
What a sight.
It's been a long time since I laughed so hard, EXHILARATED by this awesome adventure in Lapland.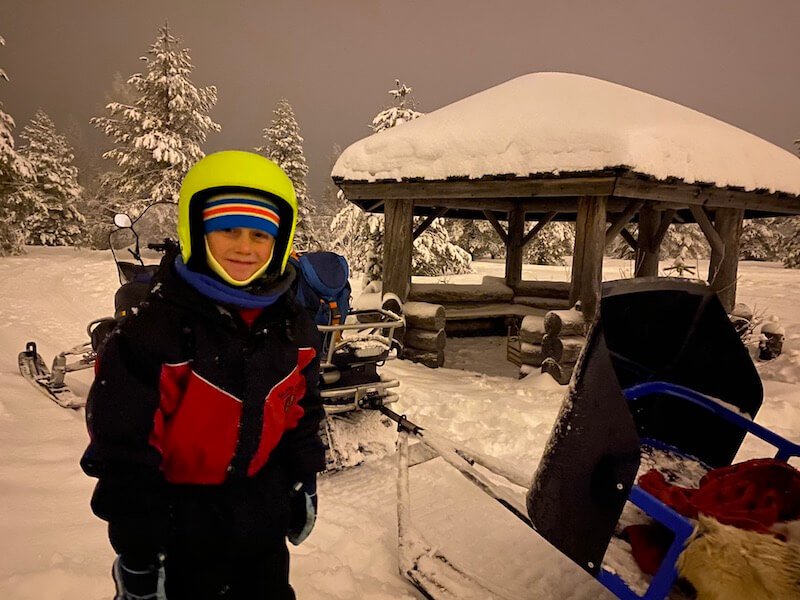 Snowmobile Ride to Northern Lights
Our last night, we took a snowmobile tour away from the city lights on our attempt to see the Northern Lights.
Sadly, for us, cloud cover was too strong.
But the late night trip into the dark forest was magical in this unusual light, and worth every penny.
Book now: Northern Lights Sledge ride pulled by snowmobile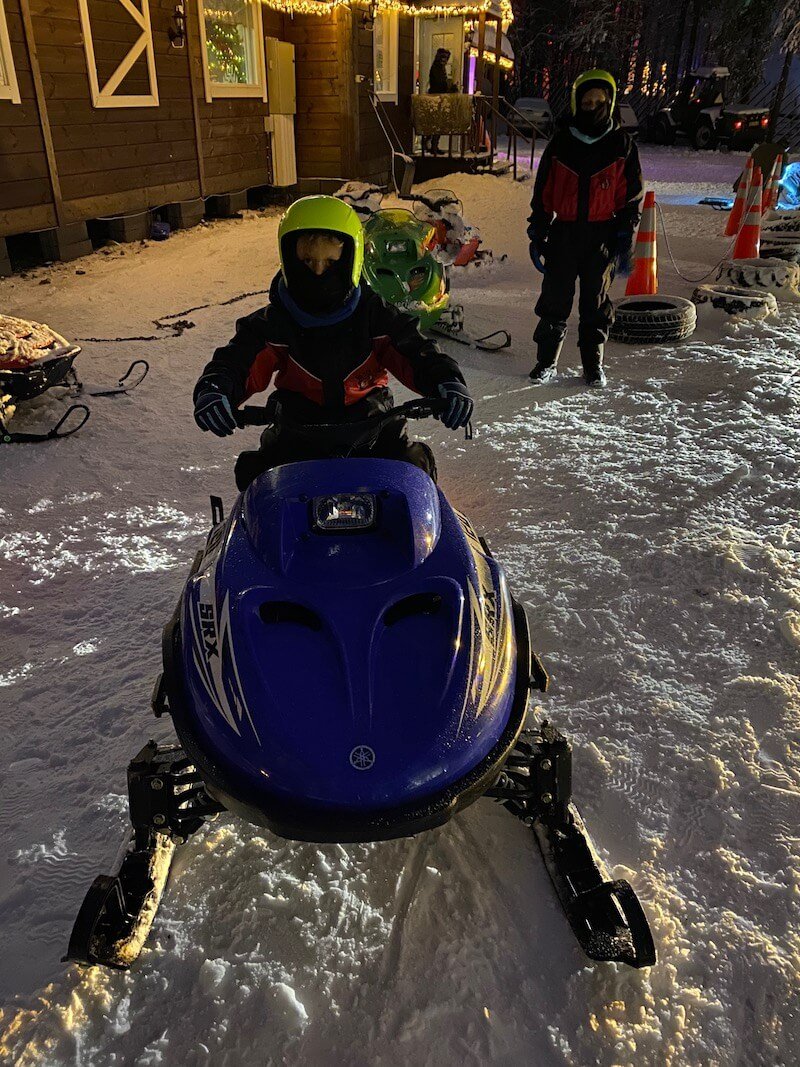 Mini Snowmobile Ride at Arctic Circle Snowmobile Park
In front of the office, a mini snowmobile track for kids circles through the trees.
This picture above is taken at 3pm.
Luckily, the mini skidoos have headlights, and there's spotlights in the trees, so they don't ride in complete darkness.
The kids are given verbal instructions in English, teaching them how to start the mini snowmobiles, and how to slow down, and brake, and what not to do, such as run into trees!
Or the person in front!
The kids are well spaced out, but it's amazing how one speed demon can still catch up to someone in front.
(Jack!)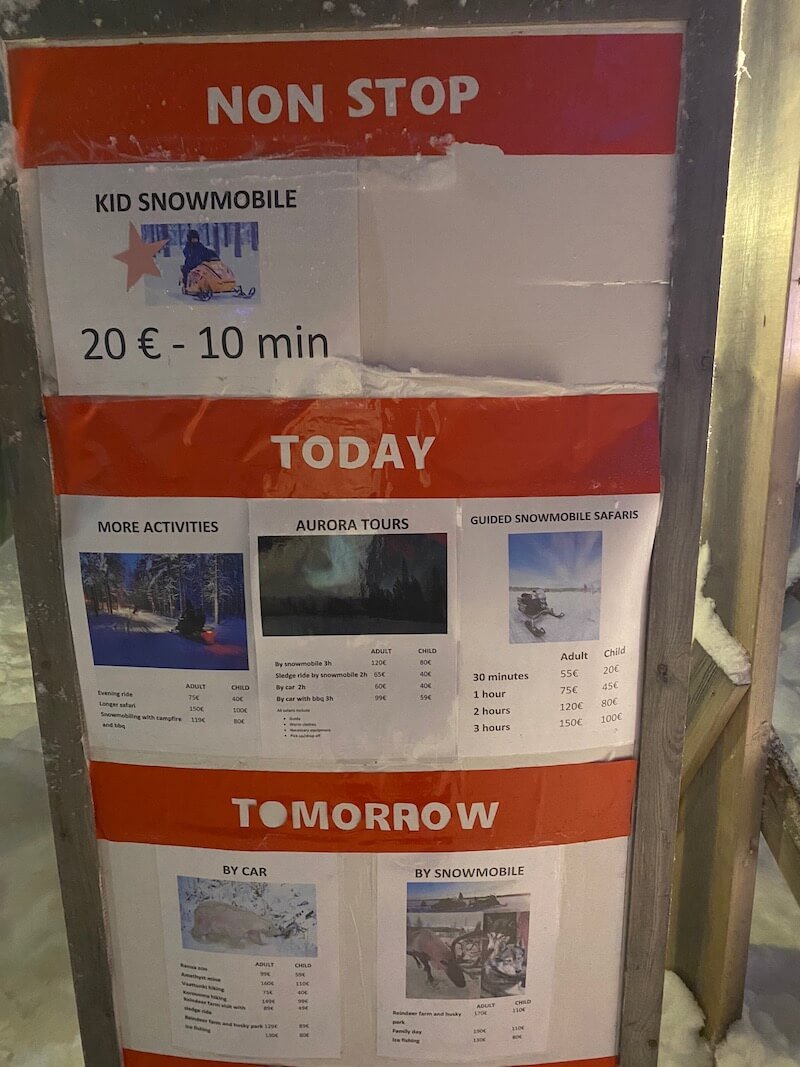 Price of Mini Snowmobile Rides
Cost is 20 euro per person for 10 minutes on the track.
Enquire at the office.
Mini snowmobile Rovaniemi hire runs all day long from 10am to around 3.30pm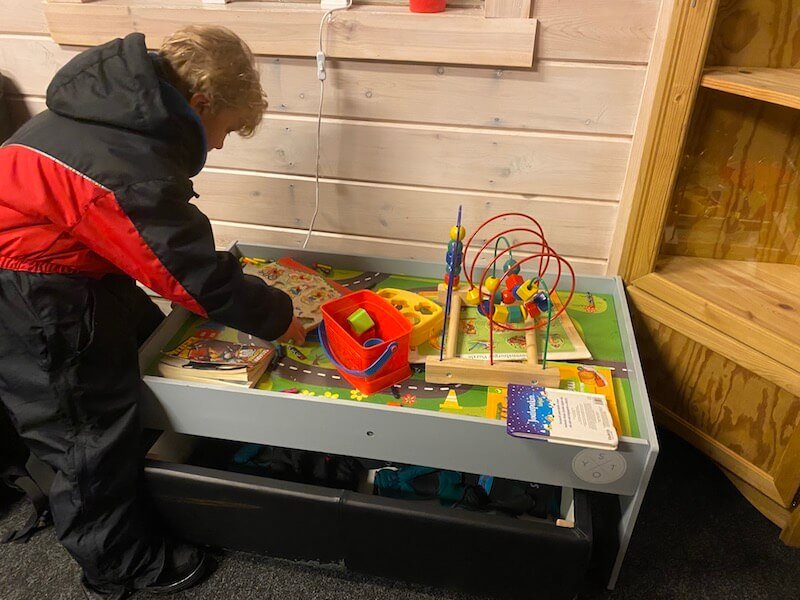 Office Play Area for Kids
Once the kids have helmets, gloves and suits on, there's some play toys in the office to keep them busy (and warm) before the adventure begins.
Stay inside as long as you can, because there's nothing worse than kids complaining (and possibly crying) because of cold hands and feet from waiting around too long.
If some members of your group are too young, or are not joining the tour, you can also wait here and keep the kids busy until the rest of the family return.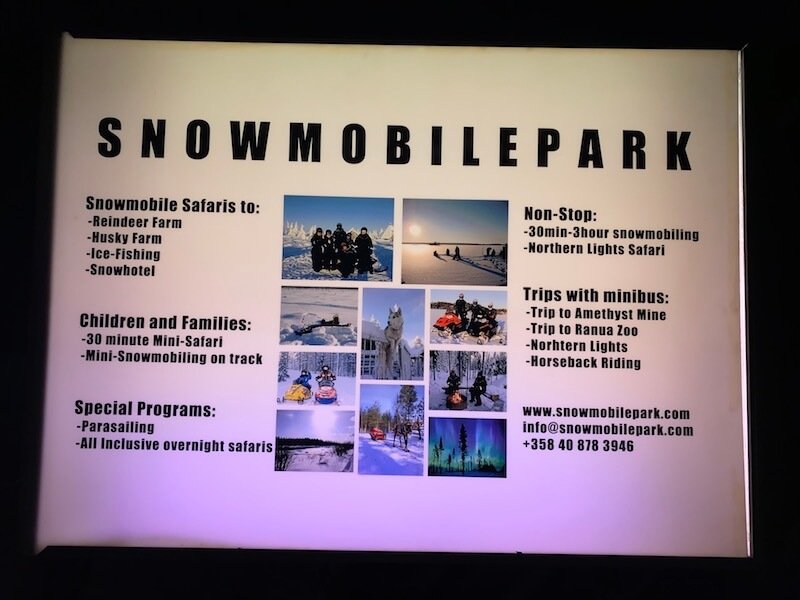 MORE Snowmobile Tours by Arctic Circle Snowmobile Park
An ice fishing dxperience is a unique Lapland adventure.
Ice Fishing and Snowmobile Safari Combo Day
If you are staying in one of the Rovaniemi hotels, book this family package:
Family Day of Snowmobile ride, Arctic Animals and Santa Village (includes buffet lunch)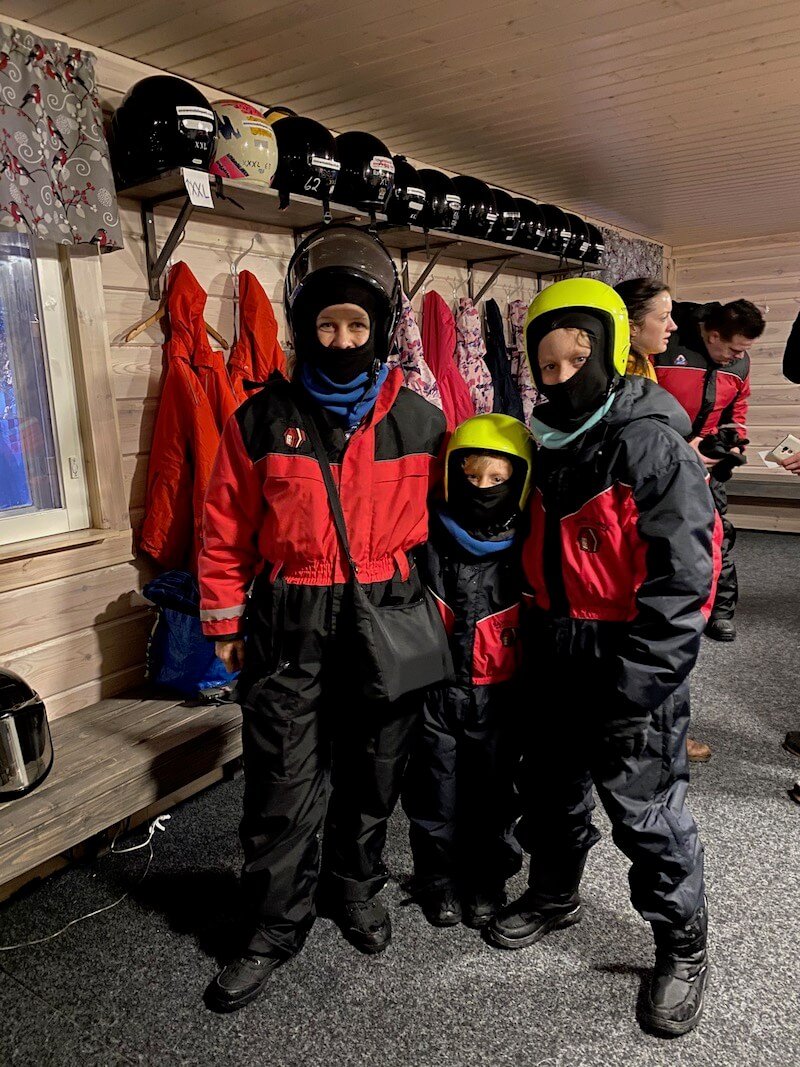 THE INSIDE SCOOP: Snowmobile Rovaniemi Tours
Correct at time of publication on Roam the Gnome. Please check with venue for updates. We apologise in advance if there have been any changes we are unaware of. All prices in euro, unless otherwise stated
Address: Arctic Circle Snowmobile Tours is at Joulumaantie 5, 96930 Arctic Circle
Telephone: + 358 (0) 504720023
Email: [email protected]
Website: Click here
What to wear in Lapland at Snowmobile Arctic Circle Park?
Wondering what to wear in Lapland to ride snowmobiles?
You need it all – snowsuit, beanies, gloves, undergloves. It's COLD.
Read our Guide to Packing for Lapland here.
If you don't have your own suit, you can borrow one for free when you book a tour.
Everyone is also given a free black balaclava to wear under the helmet to keep noses, chins and cheeks covered.
Arctic Circle Snowmobile Park Map
Frequently asked questions about Rovaniemi Weather
No.1: When does it snow in Rovaniemi Finland?
That's up to the weather Gods in Finland.
Permanent snow on ground is usually in place by mid November, but sometimes early. In 2018, snow didn't arrive till the first week of December.
So it's variable.
Snow lasts until late March or early April, depending on the year.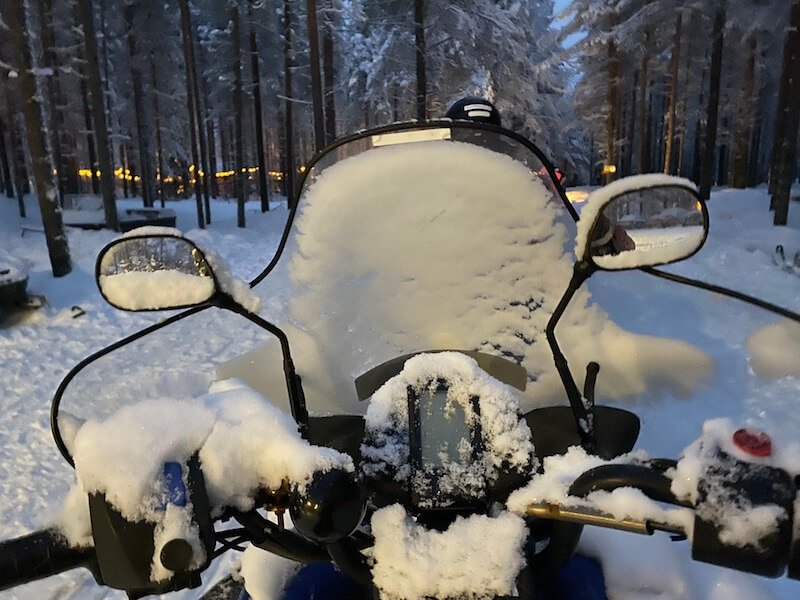 No.2: Rovaniemi snow report
Unfortunately, we are unable to locate a reliable Rovaniemi snow reporting website as yet.
Check back for updates.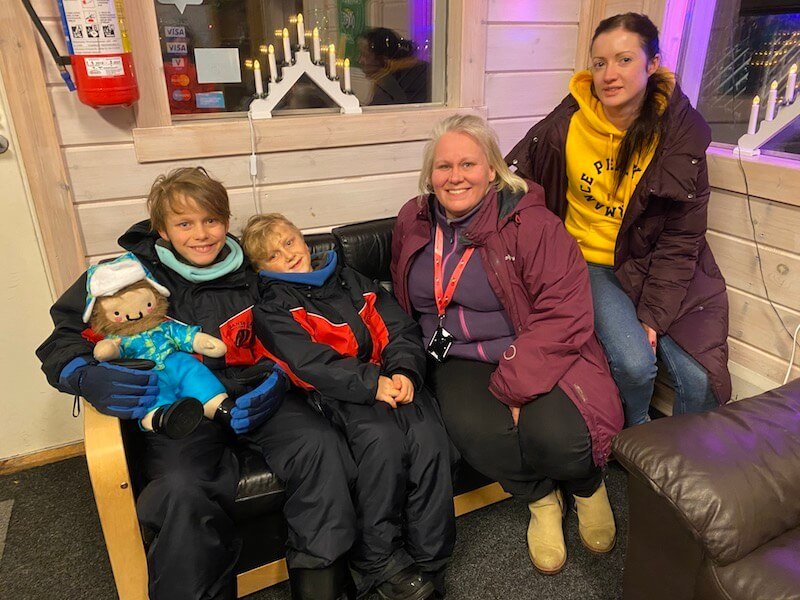 Toadstool Rating: Snowmobile safari in Lapland
Riding a snowmobile Rovaniemi style is a must do!
PS: Thanks to the team at Rovaniemi Snowmobile Park for their kindness and help with warming up Jack's frozen hands and toes!


Looking for MORE Santa Claus Holiday Village Activities?
Click the blue links below for more Lapland fun