INSIDE: Everything you need to know about the Christmas House Santa & Exhibition in the Santa Claus Village before you go.
Planning your trip to see Santa Claus in Lapland?
There are a number of different Santa Claus you can visit in Rovaniemi, and in the Santa Claus Holiday Village in Lapland itself.
The Christmas House Santa is just one.
This Santa can be found waiting for you at the end of your walk through the free Christmas House Exhibition.
Read on for full details.
(PS: For a thorough explanation of the differences to help you pick the right Santa to visit, click here.)
Disclosure: This article contains affiliate links. If you make a purchase after clicking on one of these links, we may receive a small commission at NO extra cost to you.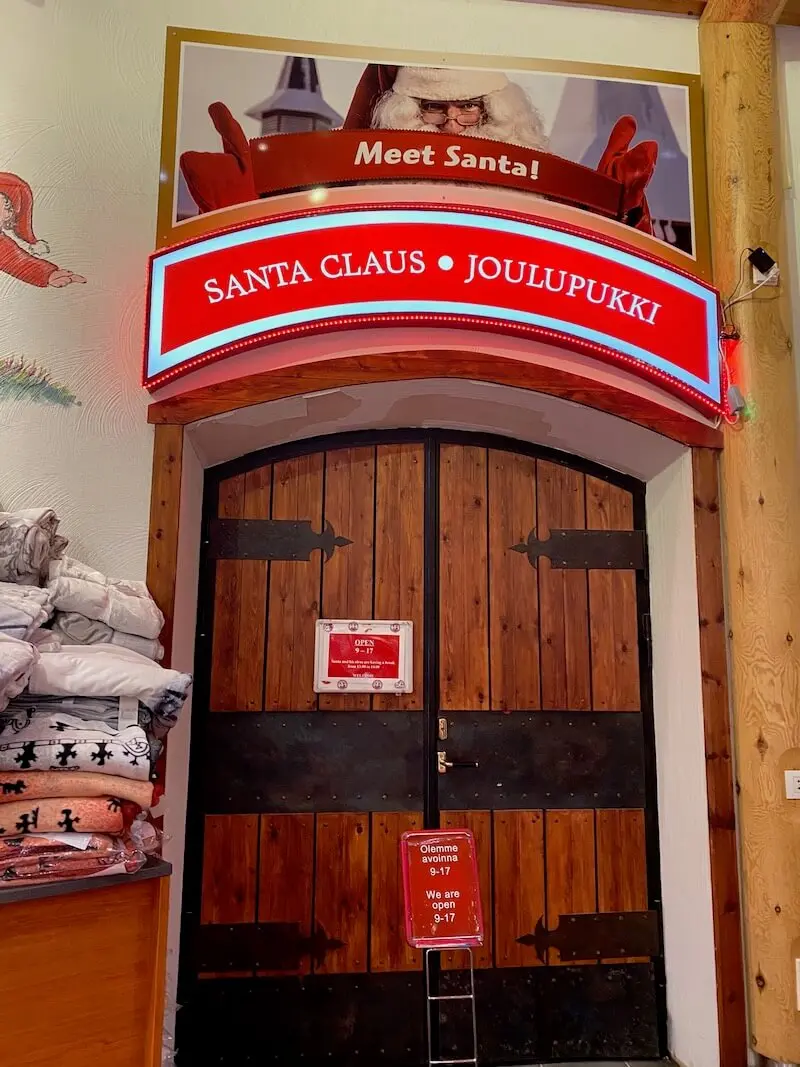 Christmas House Santa & the Christmas Exhibition
The entrance to the Christmas Exhibition inside the Christmas House building can be found on the left of the shop, once you have passed through the foyer area.
---
RELATED: Best things to do in SANTA CLAUS HOLIDAY VILLAGE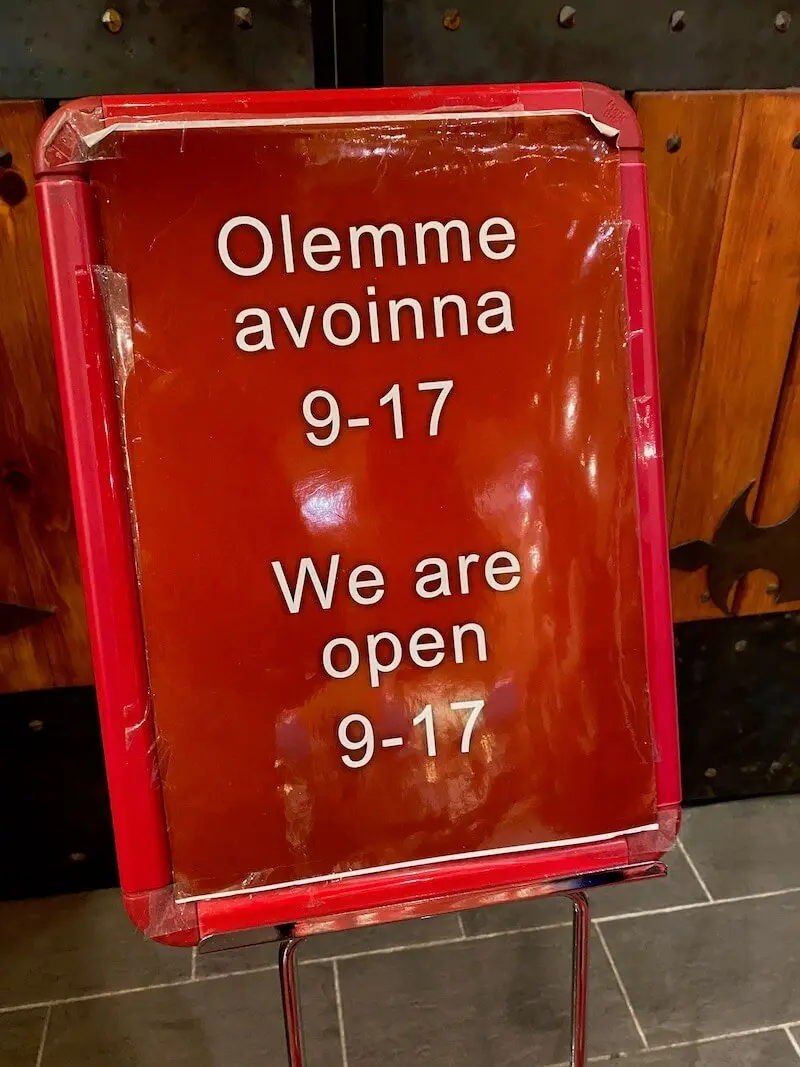 Christmas House Opening Hours
The Christmas House gift shop is open from 8am until 10pm.
The Christmas House Santa and Exhibition is open from 9am to 5pm during the Christmas season.
Hours may vary outside of the busy season.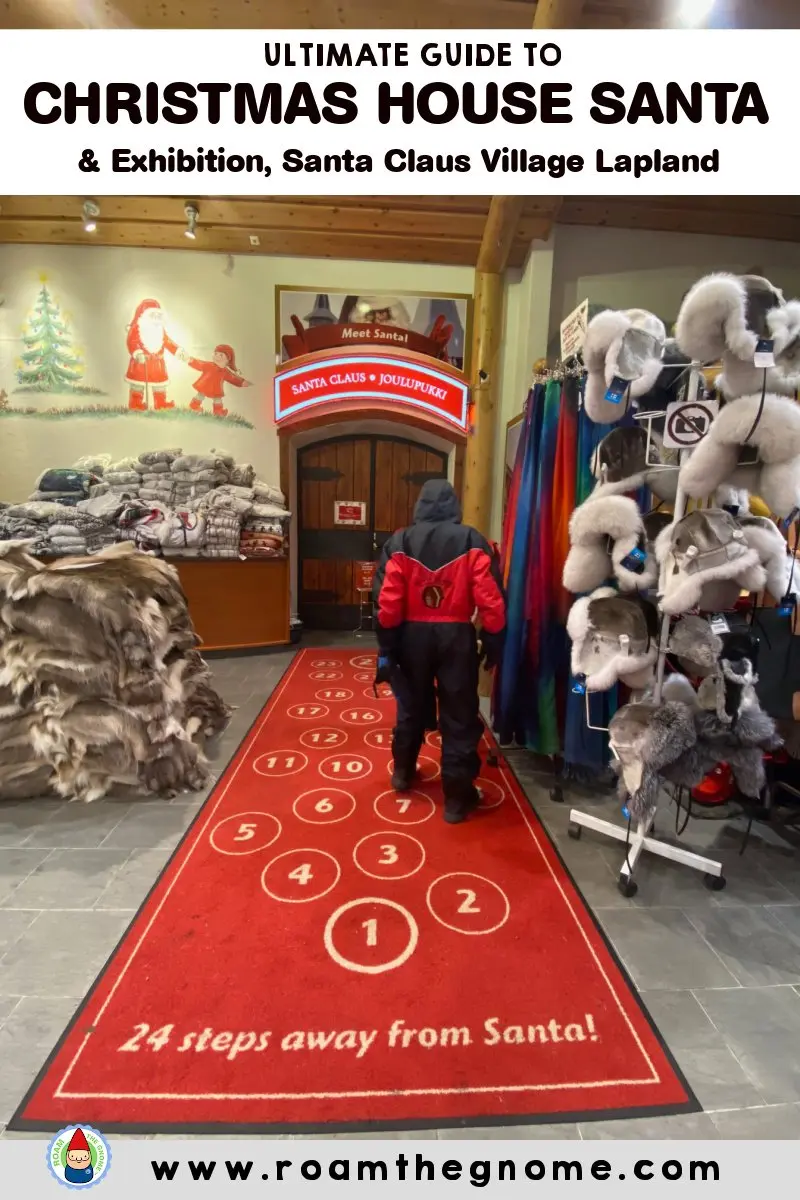 Part One: Christmas House Exhibition
Firstly, you'll wander through a timeline of how Christmas has evolved over the centuries, throughout the world.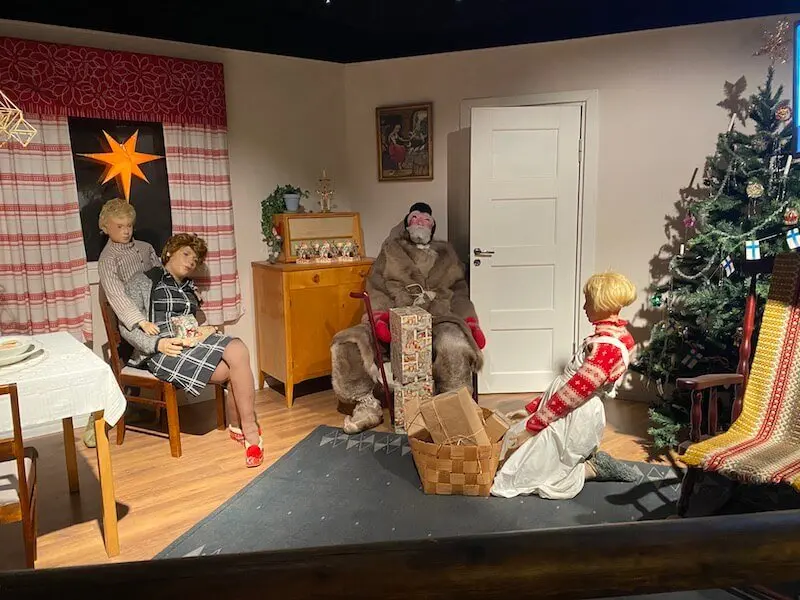 No.1: Celebrating a Finnish Christmas
You'll learn how Finnish families celebrate a Finnish Christmas, following much loved old traditions on Christmas eve.
Families bring in the Christmas tree, watch the declaration of Christmas Peace broadcast on TV from the old Finnish city of Turku (much like English people watch the Queen's Christmas Message each year.)
Then it's time for a Christmas sauna, listening to old Christmas tunes while the family waits for it to heat up.
Finnish families traditionally gather for their feast on Christmas Eve. Old lore says this was the only day of the year where people could eat till they were full.
The special guest on Christmas Eve in Finland is called Joulupukki, from far-off Lapland.
His visit is the highlight of the year for the kids, just like Santa visiting is for us.
The big difference is Joulupukki visits Finnish homes and gives the gifts to children personally on Christmas eve. Can you imagine the excitement as you wait for the knock on the door?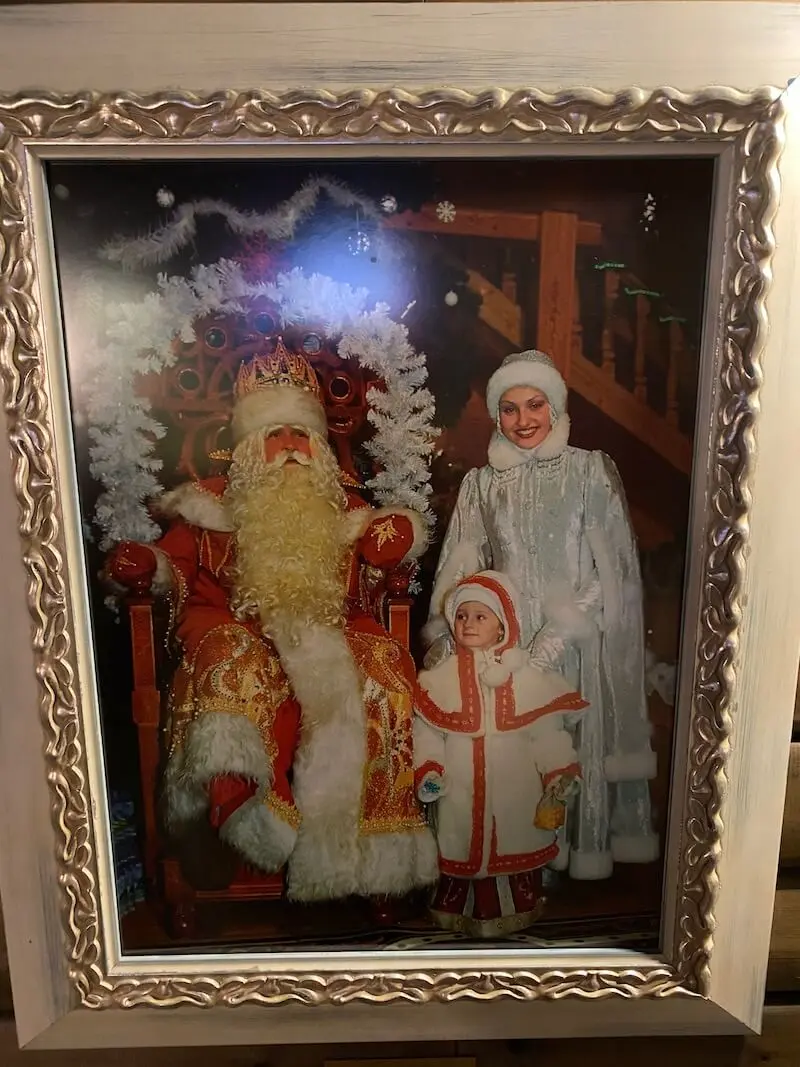 No.2: Permanent Christmas Exhibition Highlights
The permanent Christmas Exhibition includes:
displays of popular toys from yesteryear
posters and archives of old graphics and prints celebrating Christmas from around the world
Christmas Traditions from around the world (Father Frost pictured above)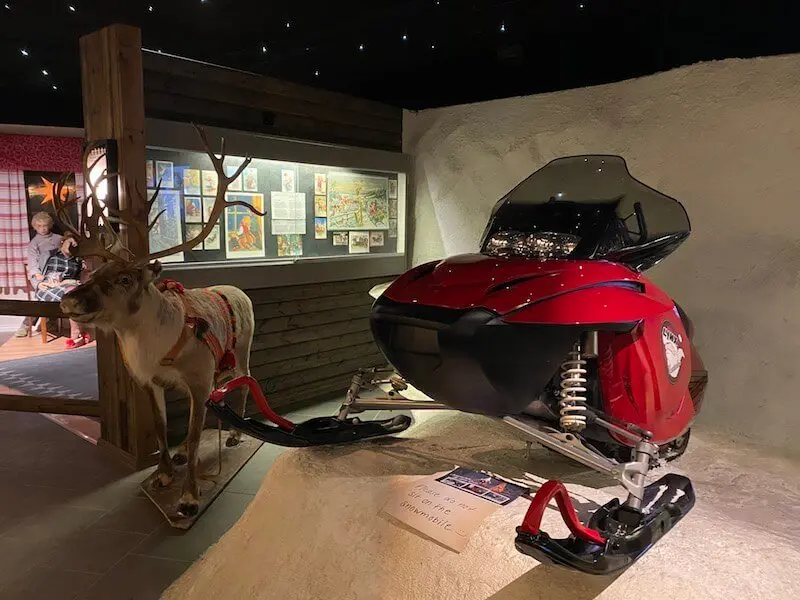 Famous Finland Transport
famous modes of Finnish transport
information about the history of Santa Claus of Lapland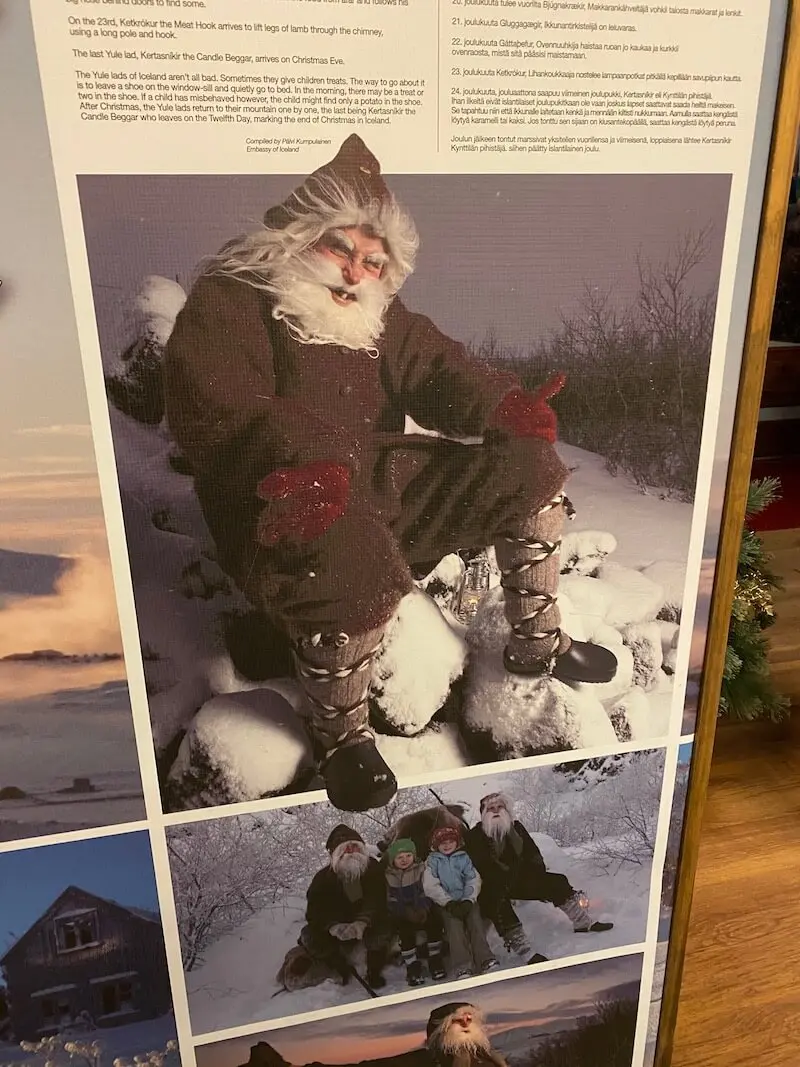 No.3: Myths & Legends of Christmas
Find explanations of the many different Santa traditions from around the world including:
Father Frost
St Nicolas, and
the somewhat scary "the Yule Lads of Iceland" (pictured above)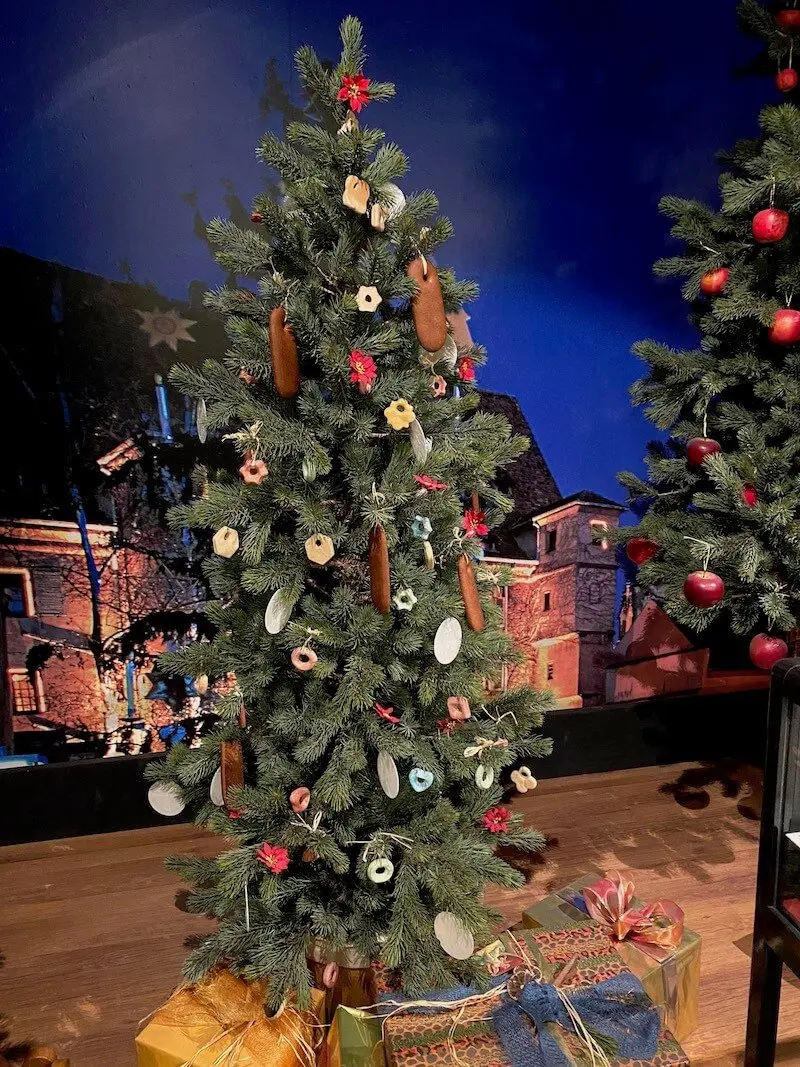 No.4: Christmas Tree origins
There's four Christmas trees dressed up as they were through the ages, from the 16th century until now.
You'll see:
a tree suspended from the ceiling (16th C)
a tree decorated with apples and pine cones, (17th C)
a tree decorated with round sweetmeats such as stuffed walnuts, gingerbread cookies and tiny Christmas cakes (18th C) and
a tree decorated with sugar coated, cakes, straw ornaments, gold and silver coloured nuts, shaped gingerbreads and wooden ornaments. (19th C).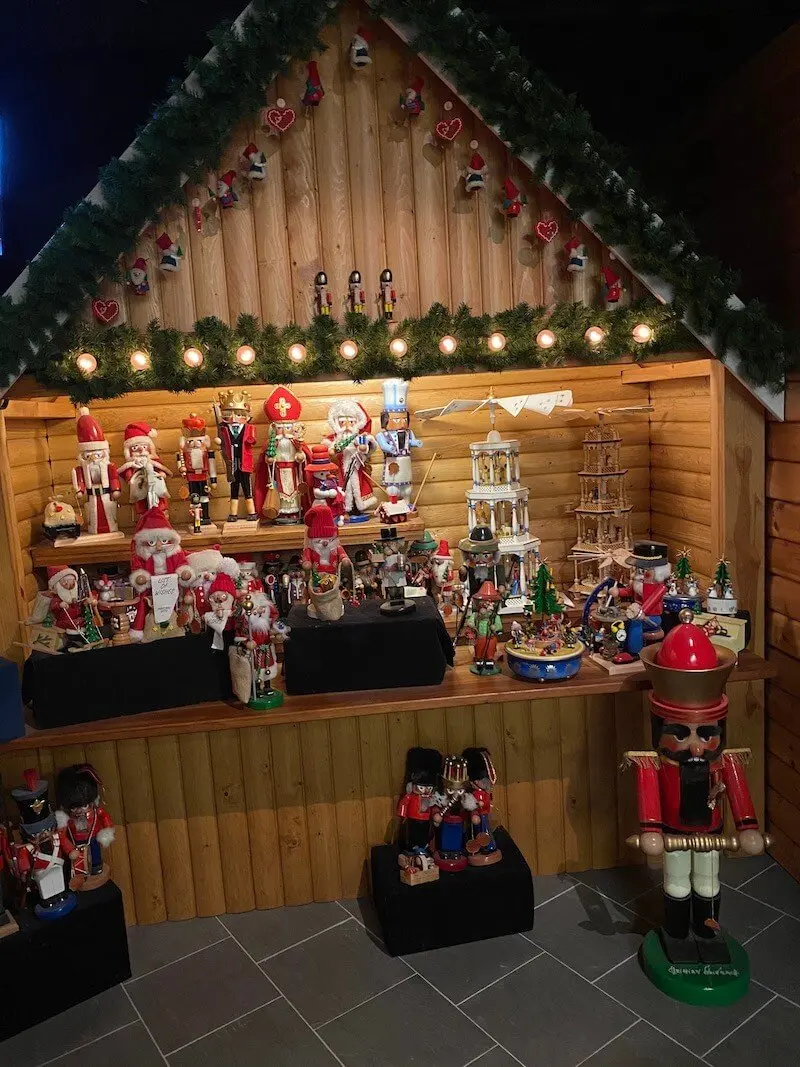 No.5: History of Christmas ornaments and decorations
See:
Decorations and Christmas ornaments from around the world
Letters and gifts sent to Santa over the years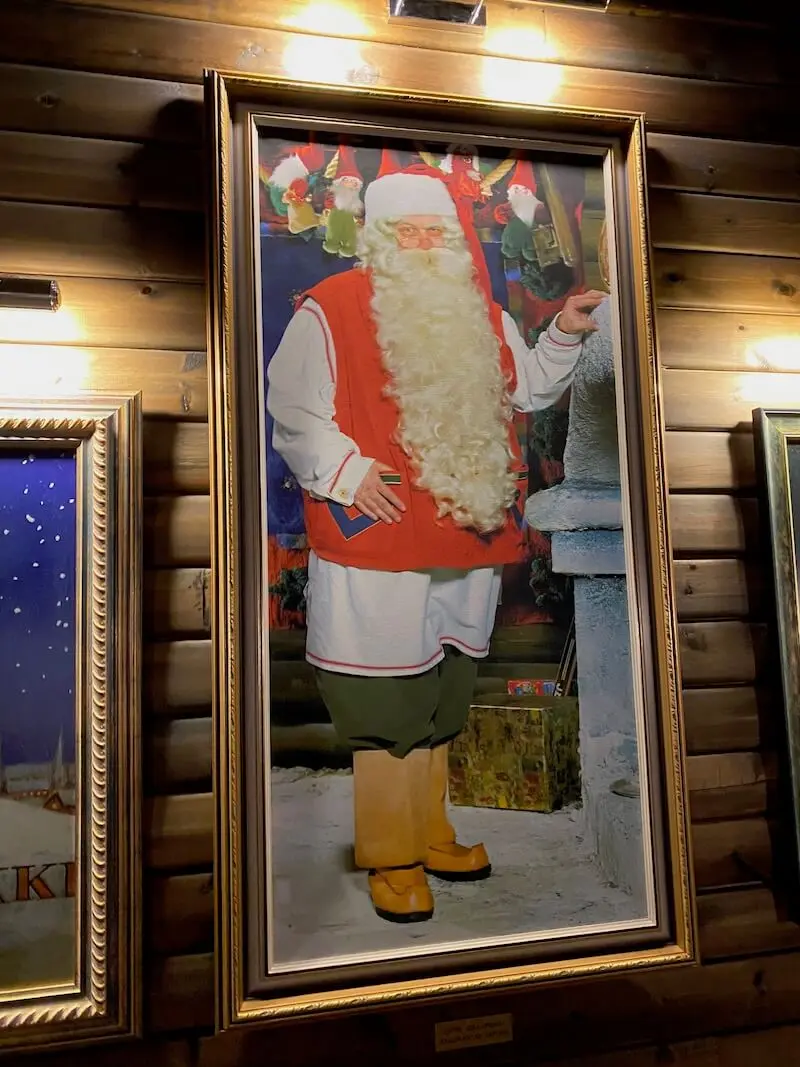 No. 6: Story of Christmas beginnings
Including:
The history of how the Christmas Card came to be a special tradition and booming industry
The origin of Christmas markets in Europe, Germany and the Nordic countries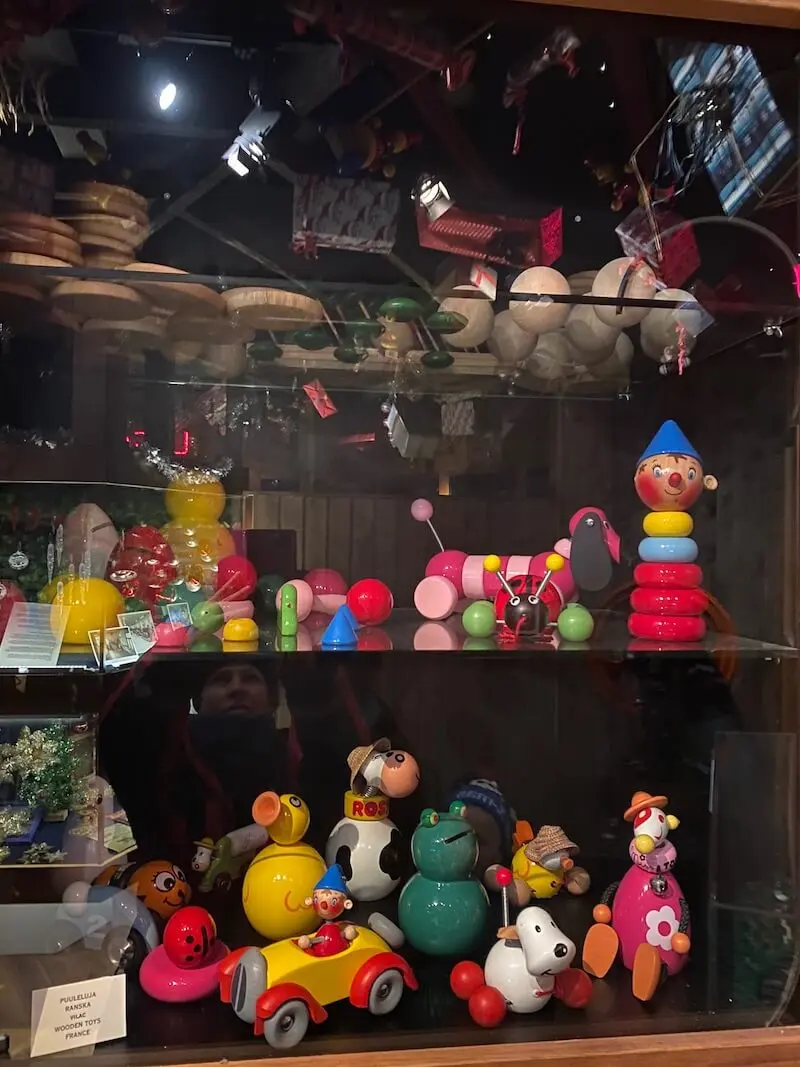 Christmas Toy Displays
There's an exhibition at the very end of some of the familiar Christmas toys children receive around the world.
Plus,
Christmas LEGO displays
Christmas videos, including the Finnish Broadcasting Company's historical television broadcasts about Finnish Christmas traditions.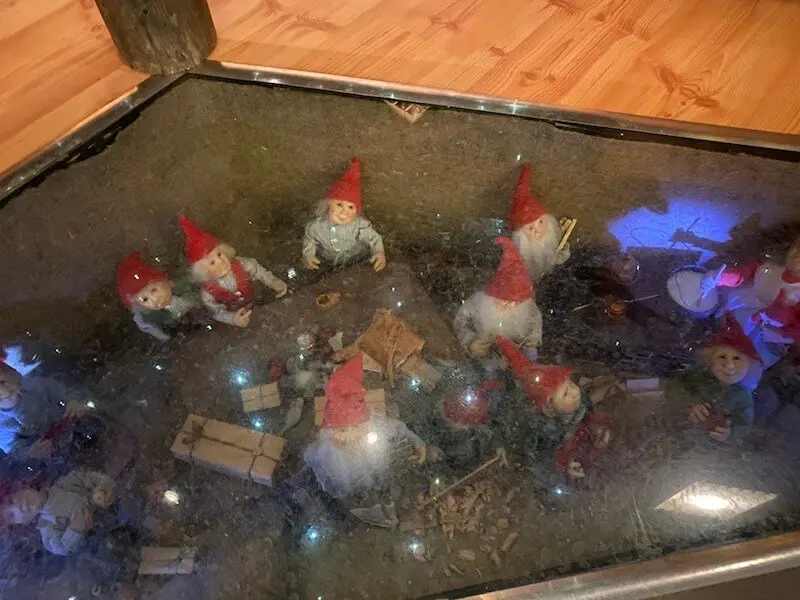 Look down!
Hot tip: Do look down and up, and in all nooks and crannies.
You may just spot the traditional Christmas 'nisse' working away making toys.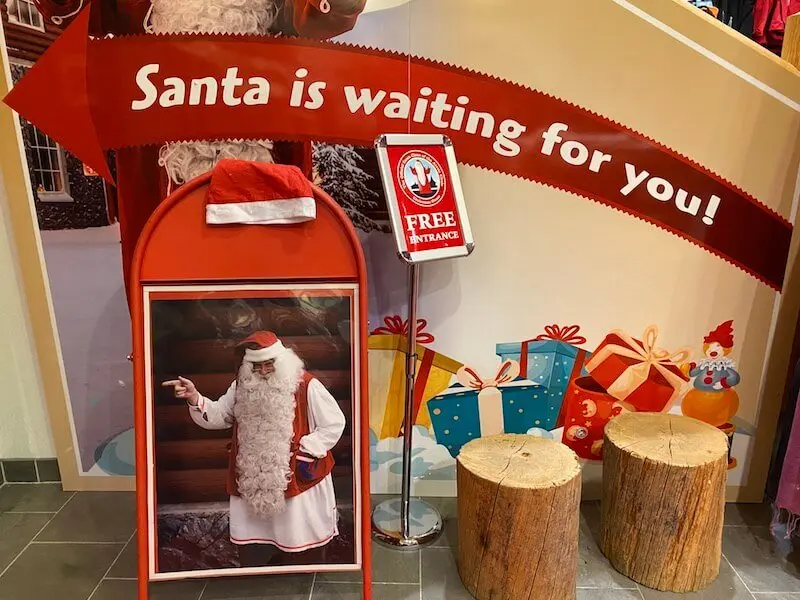 Part Two: Meeting Christmas House Santa Rovaniemi Style!
The best reason for visiting the Christmas House Santa over the one in the Main Office of Santa Claus is that you probably won't have to queue, as this Santa is a little bit off the beaten track, and lots of visitors don't know about him.
Plus, you can learn about the history of Christmas on the way.
Photos with Santa cost 40 euro, but there is no obligation to buy.
There is a small souvenir shop at the exit of the Christmas Exhibition also, where you can buy Santa souvenirs, postcards and a small selection of Lapland Santa gifts.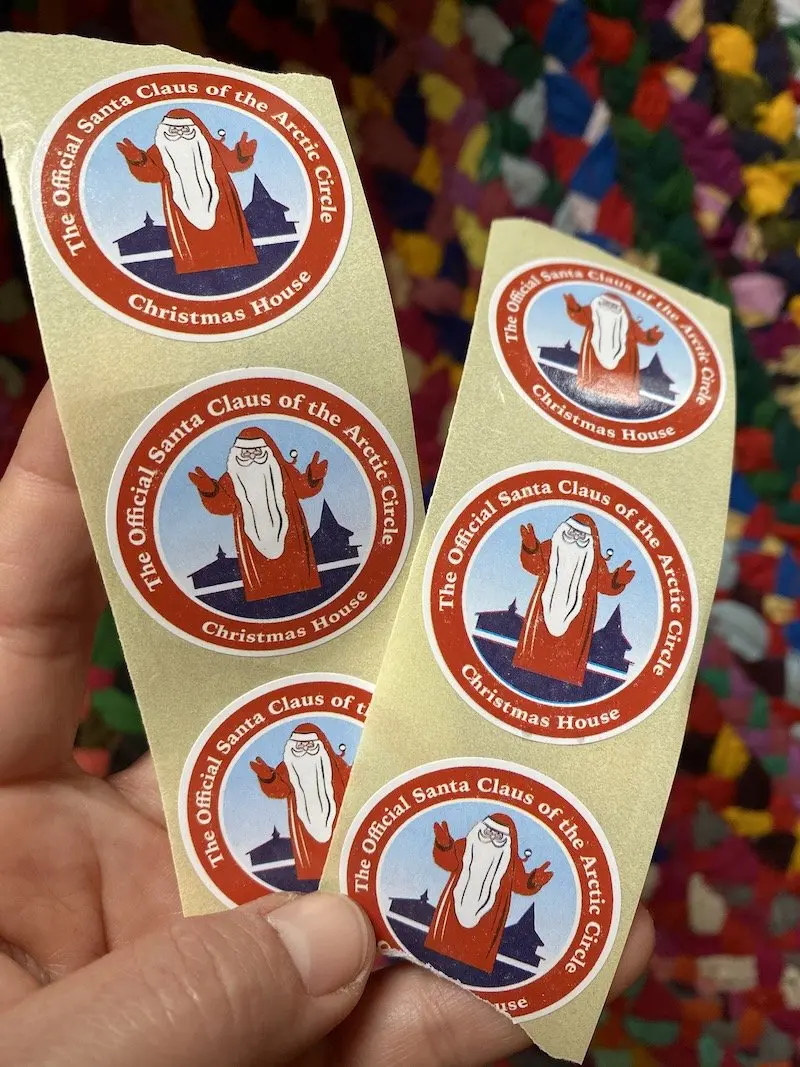 Free stickers!
Even if you don't buy a photo, the kind elves may give you some Christmas House Santa stickers to remember your visit.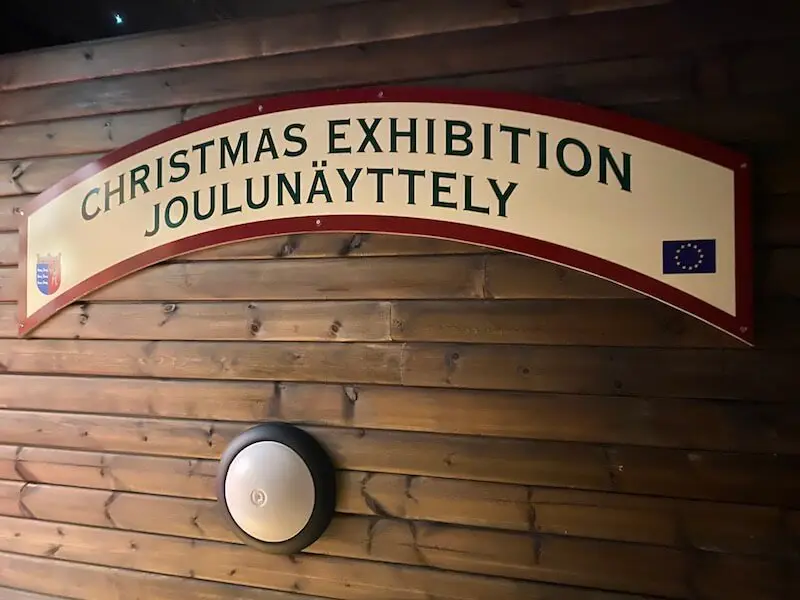 THE INSIDE SCOOP: Christmas House Exhibition & Meet Santa at the Christmas House
Correct at time of publication on Roam the Gnome. Please check with venue for updates. We apologise in advance if there have been any changes we are unaware of. All prices in euro, unless otherwise stated
Christmas House Exhibition telephone: (via reception) + 358 400 306 273
Christmas House Santa opening hours: 9am to 5pm. (subject to change depending on season)
Christmas House Exhibition website: Click here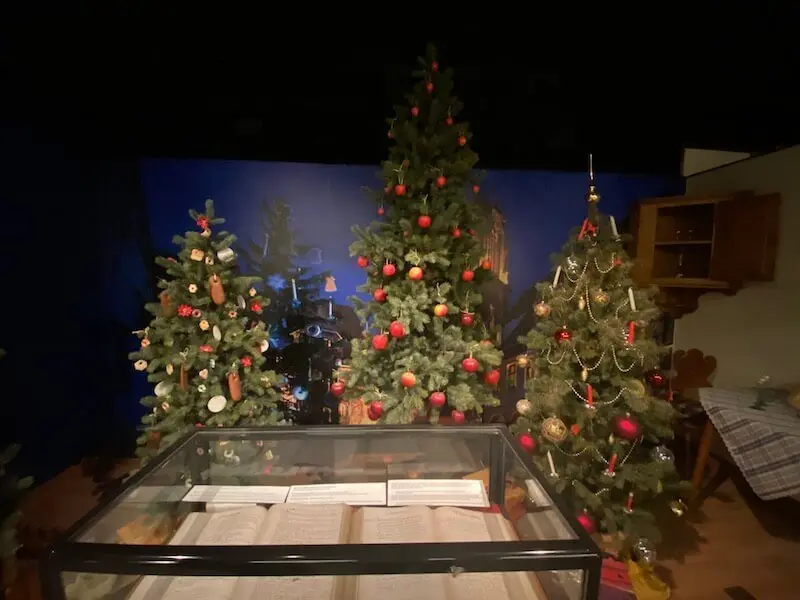 How to get to Christmas House Santa Village Lapland Finland
You'll see Christmas House to the RIGHT of the Three Elves Restaurant and Santa Claus Village check in, looking from the road.
Click here for details of how to get from Rovaniemi to Santa Claus Village.
(Also includes details of how to get from Helsinki to Rovaniemi on the Santa Claus Express train, and by plane.)
Christmas House Rovaniemi Map
Toadstool Rating: Christmas House in Rovaniemi
This is something to do only IF you have extra time after visiting the Christmas House store gift shop or after your delicious Finnish dinner at the Christmas House restaurant.
The exhibition is interesting, but dimly lit, making it hard to see and consequently, not so captivating for kids.
It's not a necessity.
Hot tip: Do make the detour into the building to buy the cutest Christmas House ornaments & plush toys at this Lapland gift shop, even if you won't visit Santa.


Looking for More Things to Do at Santa Claus Holiday Village?
Click the blue links for a sneak peek at these Christmas House & Santa Claus Village experiences in Lapland