INSIDE: Everything you need to know about a Santa Claus Holiday Village stay including ALL the activities you can do during your visit (or on a Lapland day trip!)
Want to STAY at the location of the BEST Santa Claus experience in the world?
You can!
Book a cabin at Santa Claus Holiday Village to be right in the centre of the action.
If you have a choice, don't book anywhere else.
Even if it takes a few more months of saving.
It's an exclusive and fabulous privilege for just a few to have the opportunity to be IN the village in the early morning before the day tour buses and hoards arrive, or in the later afternoon when most visitors have left for the day.
Take a sneak peek below at this complete adventure in Lapland with kids.
We've listed the BEST activities to do IN the Santa Claus Holiday Village, plus answered a whole bunch of frequently asked questions too.
Disclosure: This article contains affiliate links. If you make a purchase after clicking on one of these links, we may receive a small commission at NO extra cost to you.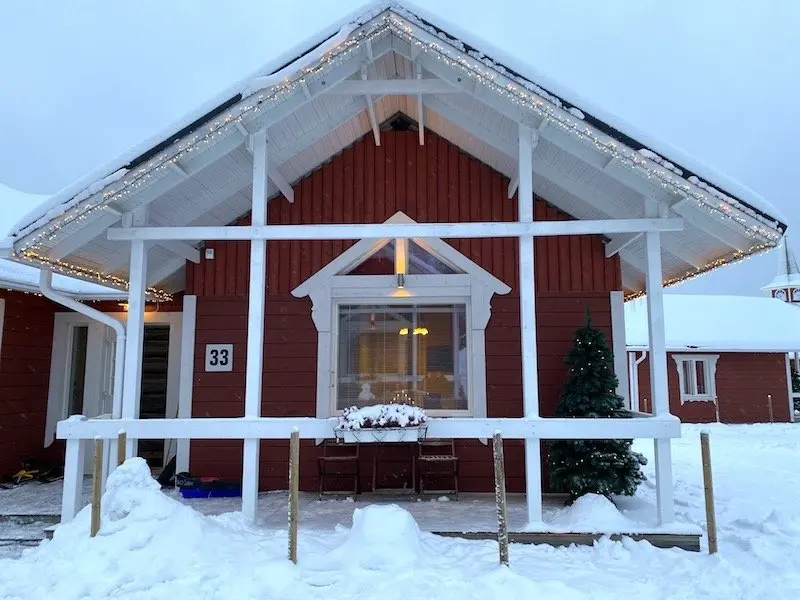 WHY YOU SHOULD STAY AT SANTA CLAUS HOLIDAY VILLAGE HOTEL LAPLAND
The Santa Claus Village in Rovaniemi is THE place to see Santa Claus in real life.
If you are planning to book Lapland Christmas holidays, you have a few choices of where to stay in Santa Claus Village.
We booked three nights in one of the Santa Claus Holiday Village cottages (classic cottage). You can also book a superior cottage for an additional charge.
These hotel quality apartments are stand-alone 'gingerbread' cottages with private sauna, bathroom, kitchenette and terrace.
The price also includes FREE use of a sledge so kids can have a ball riding on the snowy hills around the place!
And free wifi.
The best thing about booking a stay at Santa Claus Village Rovaniemi cabins is the LOCATION.
Just two minutes walk to the SANTA CLAUS MAIN OFFICE, and the rest of the village.
Visit Santa in Lapland
Without doubt, the Santa Claus Holiday Village is THE place to stay when you visit Santa in Lapland.
(Take a sneak peek inside the Santa Claus Village Hotel Cottages here.)
Plus, you can book all the different Santa Claus Village activities on the spot.
(See below for details)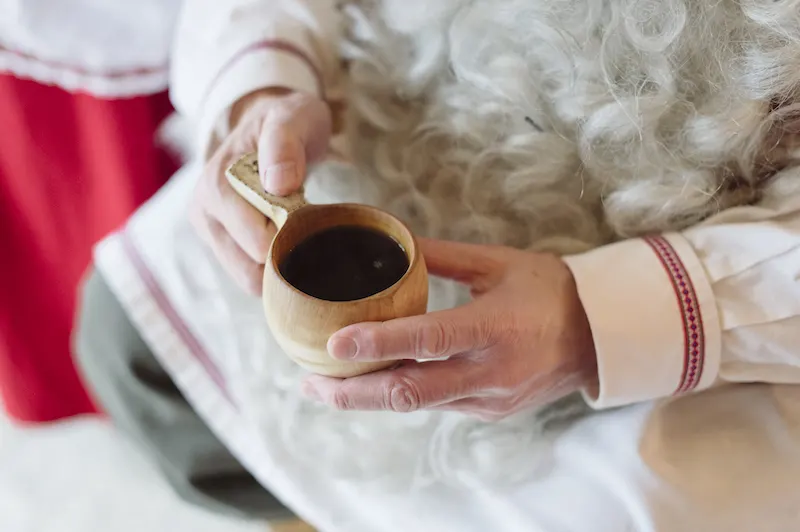 Image credit: Visit Rovaniemi
Invite Santa to visit YOUR cabin in person!
Hot tip: If you are staying onsite, you can invite Santa Claus to your own cabin to deliver gifts to your kids in person.
BYO wrapped Christmas gifts (or buy something from one of the gift shops in the village) and drop them to reception ahead of your scheduled meet time.
This VIP experience is exclusive to those staying in the Santa Claus accommodation at an additional cost of 150 euro.
---
HOT TIP: Everything you need to know about booking LAPLAND 2021 (including suggested itinerary)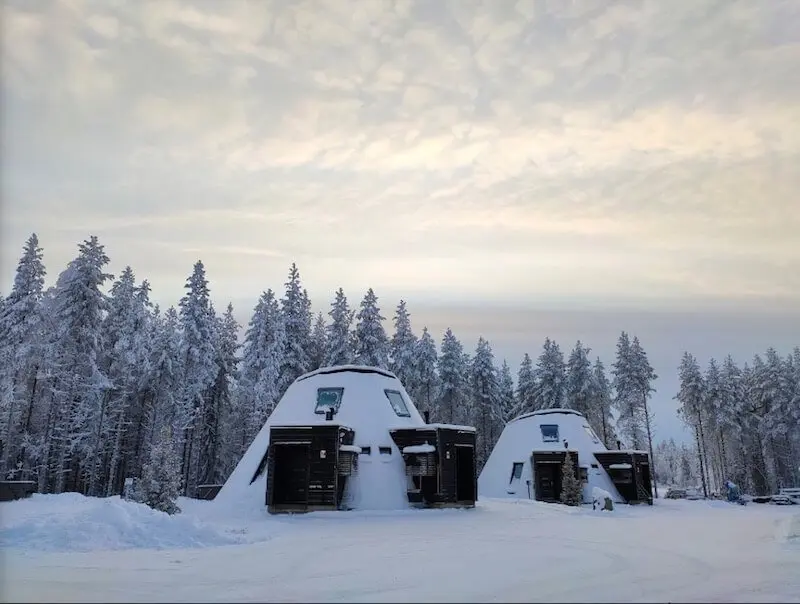 Image credit: Swe Latt
MORE Rovaniemi Hotels at Santa Claus Village Finland
If this hotel is full by the time you are ready to book your Santa Claus Village holidays, there's a few other options to try within the actual Santa Village Rovaniemi.
No.1: Snowman Glass Resort
Looking for something a little different?
These posh apartments located behind Arctic Circle Snowmobile Park in the Santa Village have a shape inspired by the traditional Kota buildings favoured by the Indigenous Sami people.
The giant sized windows, and the glass ceiling make you feel like you are in an upmarket glass igloo! Staying here is a magical experience where you wake up in the middle of a snowy forest.
If you are lucky, you might even spy the Northern Lights from your bed!
Each Superior Glass Apartment features a sauna, equipped mini-kitchen AND your own private outdoor spa.
Make use of it!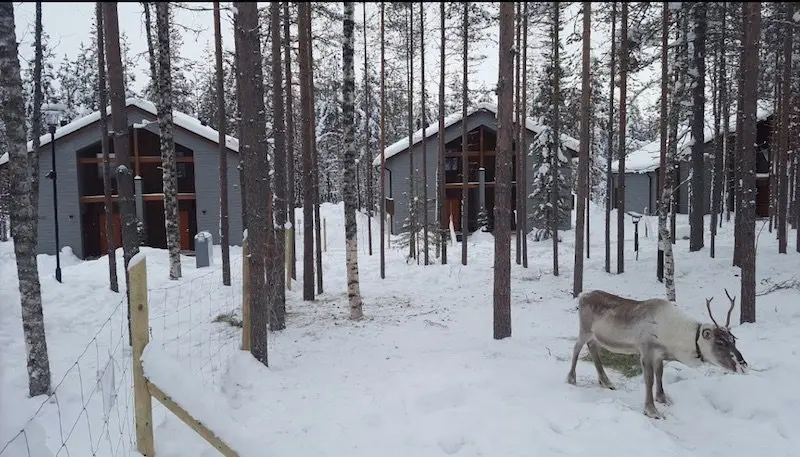 Image credit: Horace Kwok
No.2: Nova Skyland Hotel and Restaurant
These exclusive hotel apartments are in semi-detached houses, located directly behind Snowman World.
Decorated in Scandinavian style, each apartment has:
a fireplace
sauna
terrace
fully equipped kitchen
high ceilings, and p
anoramic windows that make you feel you are part of the Rovaniemi forest surrounding you.
Image credit: Rob Philips
No.3: Santa's Glass Igloos on the Arctic Circle in Rovaniemi
There are 71 luxurious glass igloos in the Santa Claus Village.
Located in the forest beyond the Husky Park Oy, just a few minutes walk from the Main Office of Santa Claus.
It's the place to stay if you want to enjoy the Winter Polar Night away from the crowds.
The hotel-style igloos are glass-roofed, arctic view rooms, similar to Mongolian yurts in appearance, in the centre of Finnish Lapland nature.
Enjoy a cup of tea, with snowy views to die for.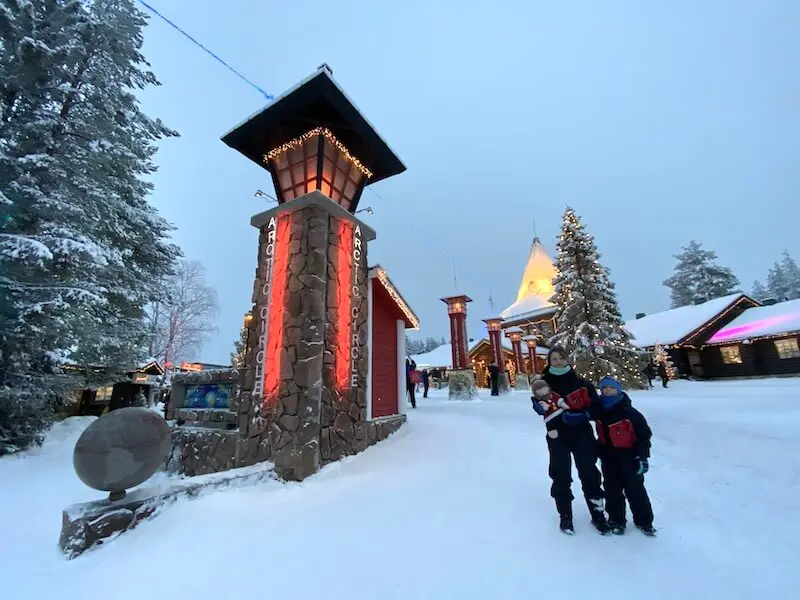 9 AWESOME THINGS TO DO AT SANTA CLAUS HOLIDAY VILLAGE ROVANIEMI FINLAND
Here's an overview of all the fun Santa Claus Holiday Village activities you can do with kids and family while you are in the Santa Village in Rovaniemi.
Fun Fact: Santa Claus Village is actually made up of 40 separate companies that all work together in the spirit of Christmas.
Every Santa Village activity or attraction sets their own opening and closing times, so please do check their individual websites listed below for up to date information on this.
Hot tip: All companies operate longer than normal hours during the Christmas season to cater for the large amount of visitors.
---
RELATED: Did you know you can visit Rovaniemi & Santa Claus Village in SUMMER too?
Finland in Summer is wilderness paradise and you can PICK BERRIES!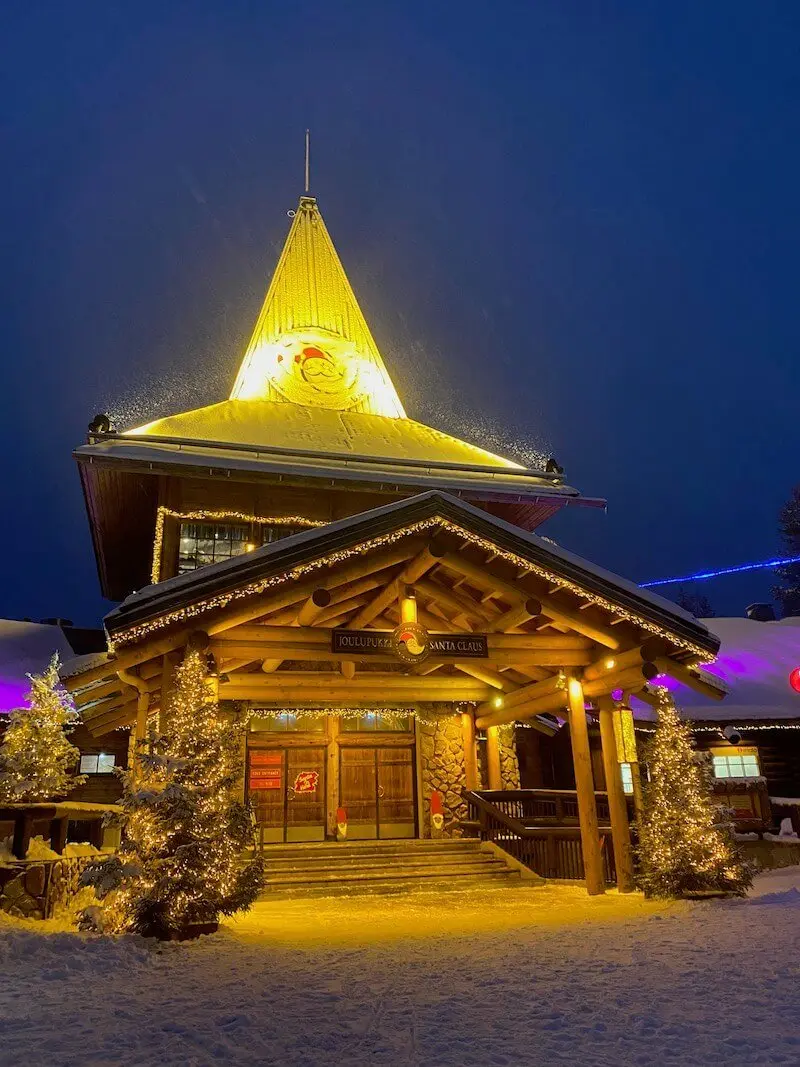 THE BEST SANTA CLAUS VILLAGE ACTIVITIES
No.1: Visit Santa at the Santa Claus Main Office
I'm not going to spoil the surprises here, but you can visit the big man himself at the Santa Claus Office.
The Santa Claus Office has been open every day of the year since 1992, and hundreds of thousands of people have stopped by to say hi!
This Santa reminded us of the PNP -Portable North Pole- Santa from the personalised video clips the kids have received every Christmas via email since they were little.
(If you haven't discovered this site yet, check it out here.)
The best thing about visiting Santa in the Main Office is that it's FREE!
For everyone.
Professional photos of your visit here, including digital downloads, can be bought after your visit if you choose.
Plus, there's a cute shop when you exit with lots of exclusive Santa souvenirs and Christmas decorations you won't find anywhere else in the village.
READ MORE: Take a Sneak Peek at the Main Santa Claus Office & Shop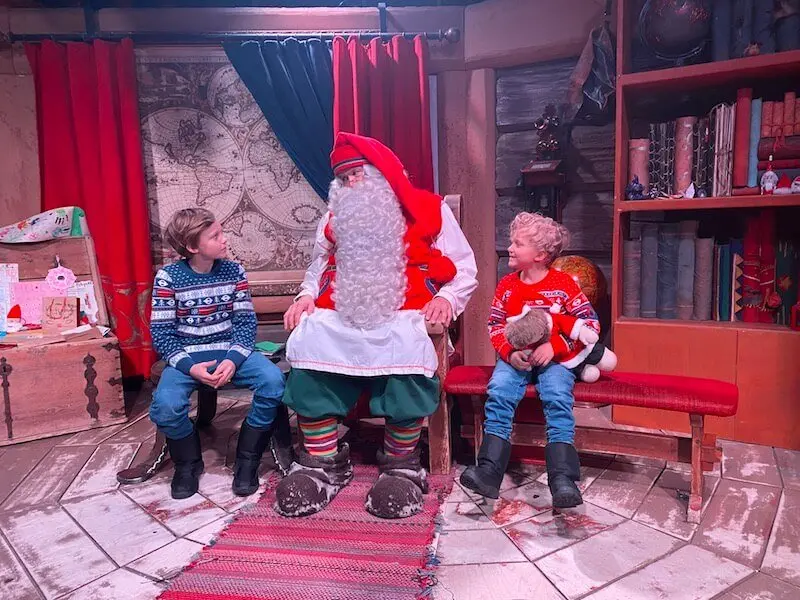 Is Santa Claus real?
Heads up.
There are a number of different Santa's around the village, plus another Santa at Santa Park.
There's yet another Santa to meet if you book one of the Santa Claus Secret Forest of Joulukka tours.
Joulukka (meaning: Christmas is Everywhere) is where you meet the cutest Lapland elves, as pictured above.
If you plan or risk visiting/seeing more than one Santa during your visit, it's helpful to have a strategy on how you will manage that, especially if the kids start questioning which one is the REAL Santa?
Click this link to discover how we navigated this, AND to find out which is the best Rovaniemi Santa Claus to put as your number one on your itinerary.
PS: If you are in any doubt… He is real. We met him. 😉
There's no better place to meet the real Santa than in Finland. No one will ever be able to tell me different.
The Magic of Christmas is NOT just for kids.
Take a trip here, and I bet you'll agree.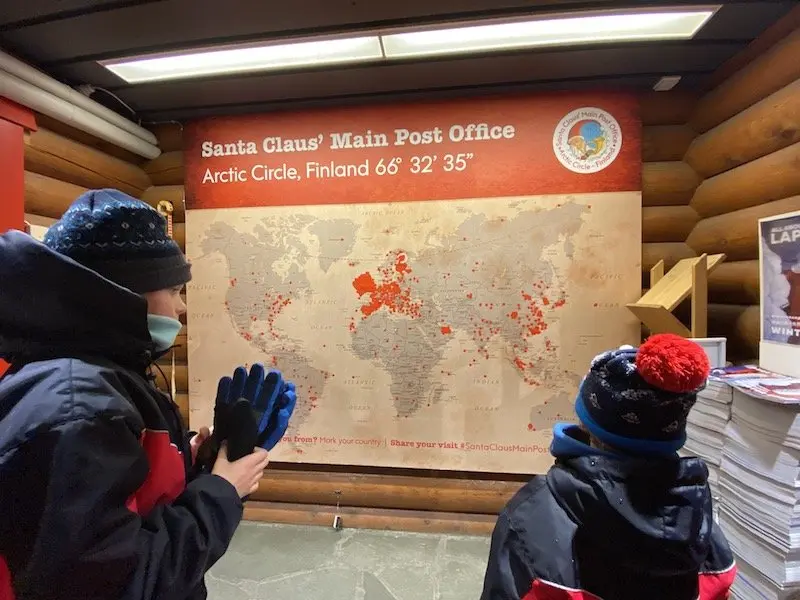 No.2: Visit the Santa Claus Post Office at Santa Village
The Santa Claus Main Post Office in Rovaniemi is the other main attraction in Santa Village.
This is the official Santa's address in the North Pole, operated by the Finnish postal service, just like all other post offices.
Over half a million letters arrive here for Santa each year, from children in over 200 countries from around the world.
Fun Fact: Did you know that most letters come from children in Poland, Italy, China and the UK?
Head into the Santa Claus Post Office in Rovaniemi to meet the Postal Elves who help Santa keep on top of this big job.
You can sit down and write letters to all your friends and family here, then take it to the counter to have these letters stamped with an official Arctic Circle postmark!
There's also a shop, with tonnes of cute Lapland souvenirs.
Hot tip: Spend some time looking around the letter writing room, and on the walls – there are a number of very cool Santa displays here, including a sample of some of the things people have sent TO Santa!
READ MORE: The ULTIMATE GUIDE to the Official SANTA POST OFFICE in Lapland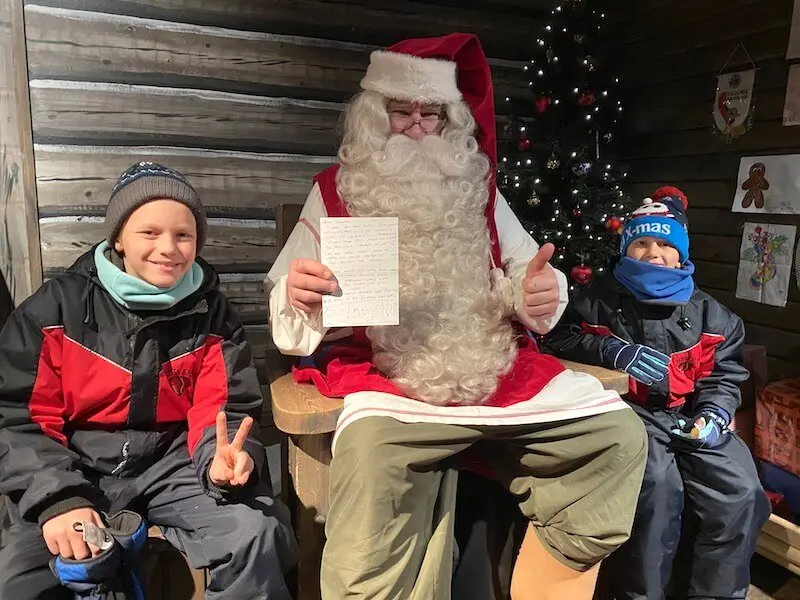 No.3: Meet Santa at the Christmas House Exhibition
Head into Christmas House Restaurant and Coffee Bar.
It's a beautiful building with gorgeous architecture.
The main hub of the building as you walk in is the Christmas House souvenir shop in Lapland.
There's LOTS of souvenirs and Christmas ornaments and gifts to purchase.
(Click here to take a sneak peek at the Lapland souvenirs you can purchase.)
If you feel the need, you can take the opportunity to meet Santa again.
Tell the kids that Santa forgot to tell them something, so he wanted to talk with them again?
We stopped by to drop him a letter from our friend Oscar, and so Jack could sing him a song, "All I want for Christmas is my two front teeth" as he'd lost his second front tooth just in time!
Turn left for a walk through of the Christmas Exhibition, a showcase of all the traditions of Christmas from around the world, and the Elves Toy Workshop display.
You'll find the Christmas House Santa waiting for you at the end of the displays.
Visiting is free, but there is the opportunity to buy your Santa photo, and a few exclusive Christmas souvenirs here too.
This Santa set up is smaller than the one in the Main Office, but it's less busy, and you may not have to queue.
READ MORE: Roam the Gnome's Guide to the Christmas House Exhibition & Santa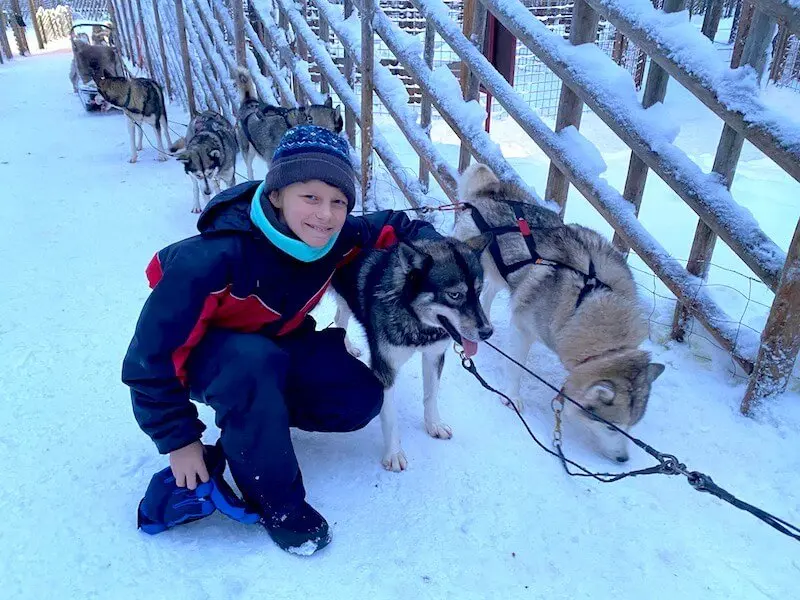 No.4: Arctic Circle Husky Park
If there is one MUST-DO in the Santa Claus Holiday Village other than saying hello to Santa, this is it.
The boys, including Roam the Gnome, rate this experience as their Number One of their favourite things to do in Santa Village Lapland.
The husky park is home to 113 charming, genuine Siberian Huskies, including both Working Line, and Show Line dogs.
The huskies love, and thrive, in the cold natural environment of this Rovaniemi forest.
You can book a husky ride on the spot at the office entrance desk.
They offer both short and medium length rides.
Our tip is to book the Husky cuddling adventure.
This gets you up close and personal to the dogs, patting and cuddling them. They may even try to kiss your nose.
Ned could not believe his luck!
You can also book longer Husky safaris, where you may be given the chance to drive the husky sled!
It's wise to book this one ahead and factor it into your itinerary.
READ MORE: Roam the Gnome's Insider Guide to the Arctic Circle Husky Park (coming soon)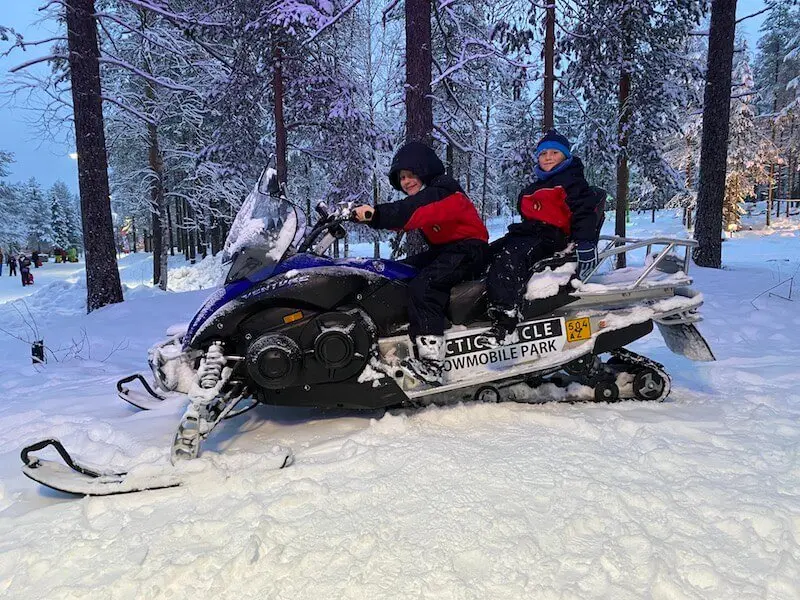 No.5: Arctic Circle Snowmobile Park
Book a snowmobile ride through snow-filled forests during the day.
A 30 minute self-drive snowmobile ride is plenty for a novice. (Remember to bring your regular drivers licence from home, or else you can't drive.)
It's bumpy, and exhilarating, and so much fun, but also tough on the bladder, and on your throttle-pressing thumb.
Kids ride in a sledge behind the snowmobile tour leader.
You can also book night time snowmobile rides, or a snowmobile-led sledge ride through the snowy forest to see the Northern Lights.
There's no guarantees, but your best bet starts when it's a cold night below -10 degrees celsius, and a cloudless sky.
For this reason, we'd suggest holding off booking your Northern Lights tour until you are in town and can check the weather maps, and Northern Lights tracking websites.
You can also book the kids anytime in for a ride on the Snowmobile Park skidoos. The circular track for the skidoos is in front of the Arctic Circle Snowmobile park office.
READ MORE: Roam the Gnome's Guide to the Arctic Circle Snowmobile Park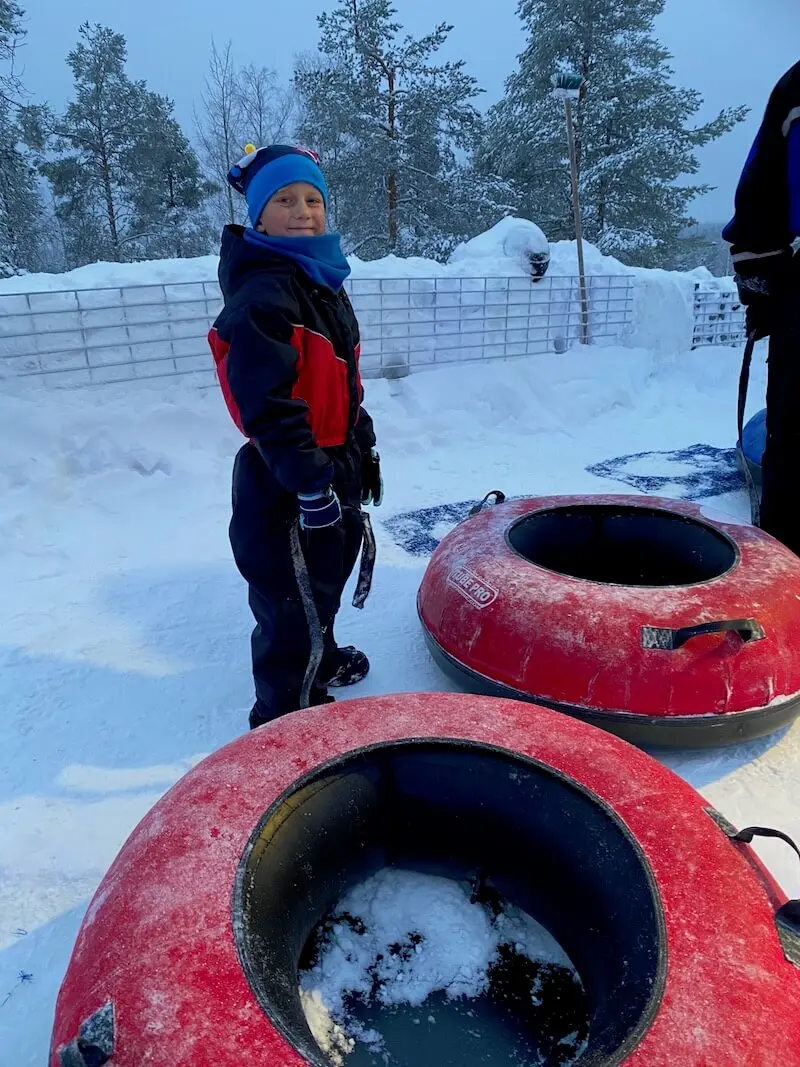 No. 6: Snowman World in Santa Claus Village
Snowman World is home to the best playground in Santa Claus Village!
Glide at pace down the indoor ice slide.
Brave the giant ice tube slide. (The kids did. I didn't)
If you are lucky, and time it right, you can meet real life SNOWMEN!
(All equipment included in the entry price)
There's also ice-skating. (Although this was not yet in operation when we visited)
Head inside the Ice Restaurant and Ice Bar before you go, to see the magnificent ice sculptures and enjoy a drink in this freezing cold (but once in a lifetime) attraction.
Book now: Snowman World tickets (likely to sell out)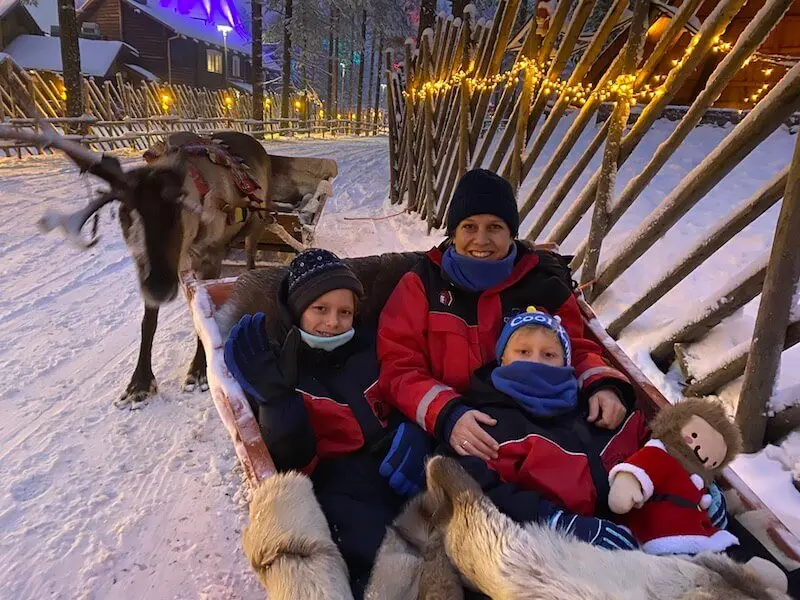 No.7: Santa Claus Reindeer Sleigh Ride Rovaniemi
Book a short reindeer ride around the Rovaniemi forest.
There's two choices – a reindeer path for 400 metres, or the forest path for 1000 metres.
A Santa Claus Village reindeer ride heads out straight from the backyard, behind the Main Santa Claus Office at the Arctic Circle in Santa Claus Village in Rovaniemi.
Riding in the reindeer sleigh is surprisingly slow, so if you have the need for speed, the husky ride is a better bet.
A reindeer ride is perfectly suited to families with small children, as well as a romantic interlude for couples.
Hot tip: If you hope to see lots of reindeer, and want to visit a real Reindeer Farm Rovaniemi style, you need to head out of the Santa Claus Village. There's only a few reindeer in harnesses kept in the village itself.
Book Now: Traditional Reindeer Farm Visit with Sledge Ride & Reindeer feeding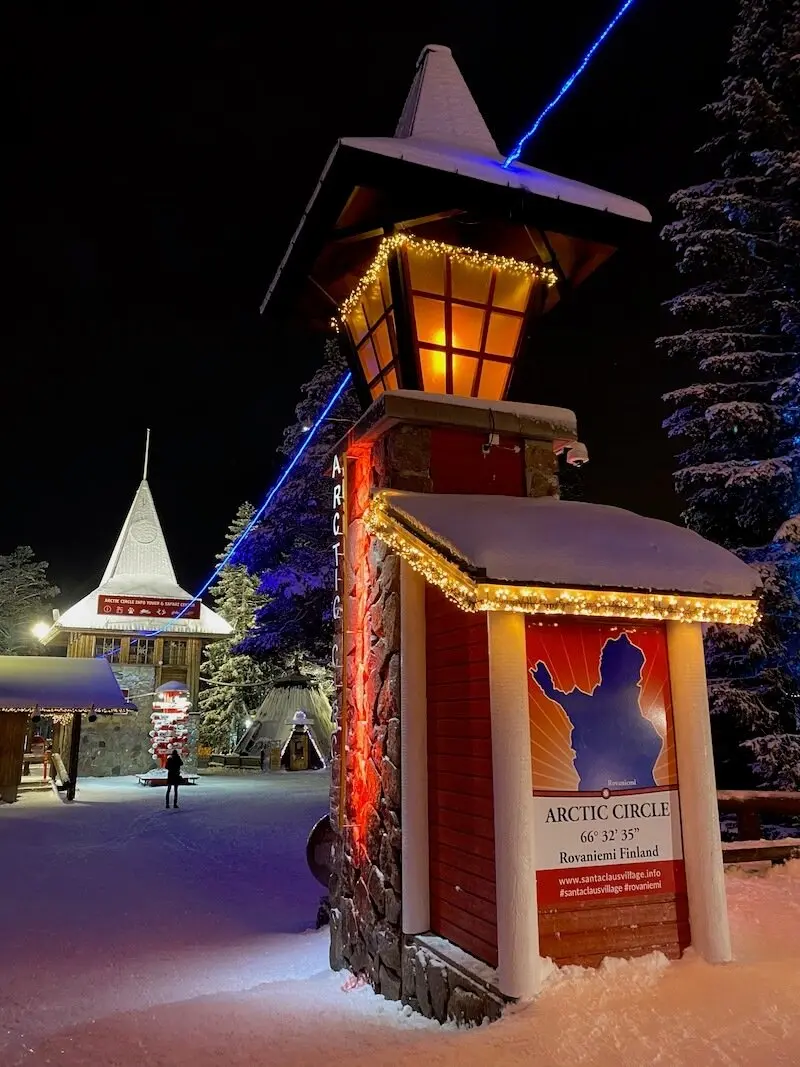 No.8: Santa Claus Village Arctic Circle
Visit the Arctic Circle in Santa Claus Village, and take a selfie as you complete the crossing of the Arctic Circle line in Rovaniemi.
Anne, from Visit Rovaniemi, explained to us why the Arctic Circle line is so revered.
"The Arctic Circle line is circle of latitude that runs 66°33′45.9″ north of the Equator.
Once you cross it, you've entered the home of the Midnight Sun, and the Polar Night ("Kaamos").
During Summer, the sun can stay above the horizon for up to 24 hours a day, giving almost continual daylight.
In the deepest winter, it's the opposite, where the sun almost never rises.
Right now, in December, the daylight only lasts from around 10.30am to 3pm before it gets dark again."
The Arctic Circle runs right through Santa Claus Village, and it's clearly marked with stone pillars and a blue light that runs above it.
If you want a souvenir to remember this adventure, head into the Arctic Circle Tourist Information office to buy a personalised Arctic Circle crossing certificate.
READ MORE: Roam the Gnome's guide to visiting the Arctic Circle Crossing (Coming soon)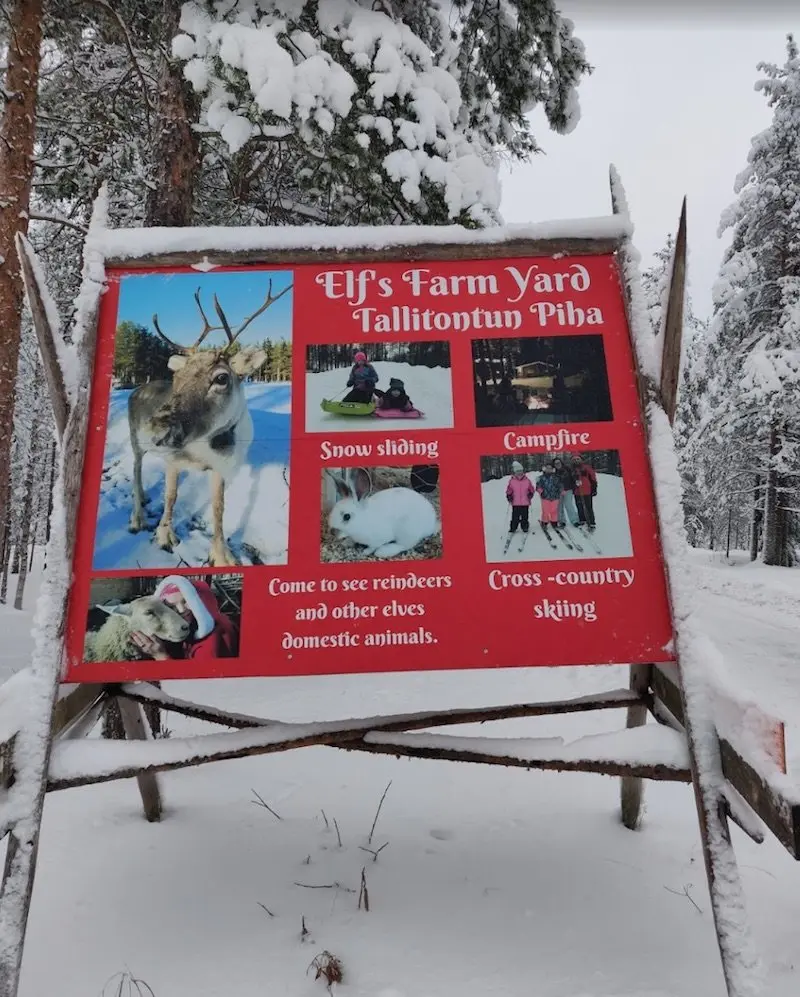 No.9: MORE Santa Claus Holiday Village Lapland activities
No.1: Elf Farm Rovaniemi
Kids will love Elf's Farm Yard petting zoo.
They can pat:
reindeer
sheep
goat
rabbits
hens and,
a rooster.
It's also possible to try snow-sliding on the traditional Lappish snow-skis, and cross the Arctic Circle line on these wooden skis.
No.2: Santa's House of Snowmobiles
There's a small museum of snowmobiles at the Santa Claus village.
See snowmobiles from the past five decades here, including Santa's favourite and one made by Harley Davidson.
The permanent exhibition includes all snowmobile makes as well as the necessary snowmobiling clothing, articles and equipment.
Kids can take the challenge of a PlayStation snowmobile game, and a paper-based activity too.
You can book more snowmobile tours from here too.
It's free to enter.
Find it in the same building as the Santa's Pizza and Burgers, the next building past the Balmuir store.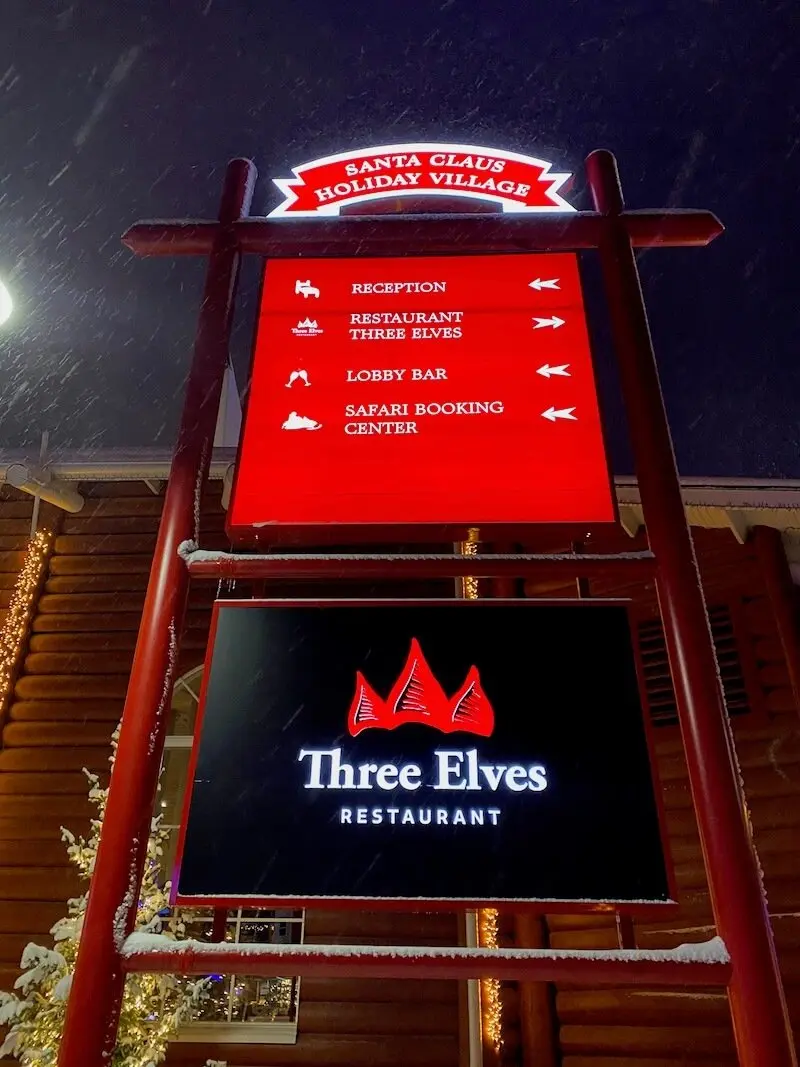 WHERE TO EAT AT SANTA CLAUS HOLIDAY VILLAGE FINLAND
There's a few different choices of restaurants in Santa Village.
No.1: Christmas House Restaurant & Coffee Bar
The main restaurant is Christmas House Restaurant and Coffee Bar.
If you book a package with meals included, such as a half board package, this is where you'll eat. Take a sneak peek by clicking the link above.
(NB: Those staying in the Superior or Deluxe cabins may be invited to eat breakfast at the Three Elves Restaurant instead.)
No.2: Three Elves Restaurant
The Three Elves Restaurant and Lobby Bar is another family favourite.
You'll find the Three Elves in the same building as the Santa Village hotel reception, at the back.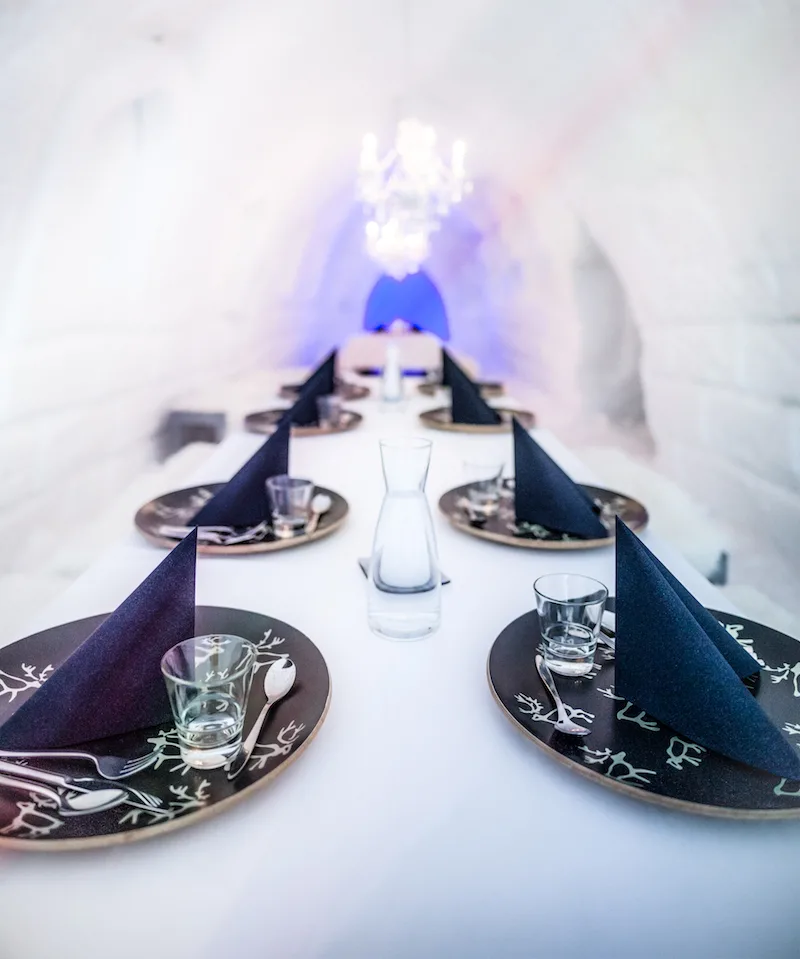 Image credit: Visit Rovaniemi
No.3: Snowman World Ice Restaurant
You can book lunch or a sumptuous dinner at the Snowman World Ice Restaurant if you dare.
This traditional Lappish meal includes salmon soup for lunch, and grilled salmon or reindeer fillet for the dinner main.
Plus decadent Finnish desserts.
It's one to tick off the bucket list.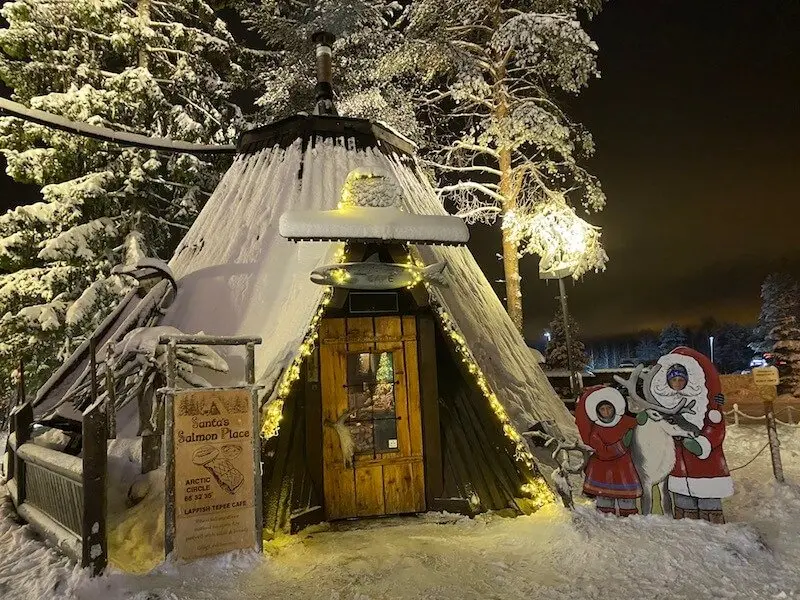 No.4: Santa's Salmon Place
Santa's Salmon Place is next to the Roosevelt cottage and Santa Post Office, inside a traditional kota hut.
This is the place to try fresh salmon cooked over the open fire.
You may need to book ahead, as it is ALWAYS busy.
No.5: Santa's Pizza and Burger
Santa's Pizza and Burger is a short walk past the Info Centre, and beyond the building housing the Santa Chocolate and Candy Store.
They have all the usual burgers, including a children's burger, a salmon burger and a vego burger.
The perfect place for fussy eaters.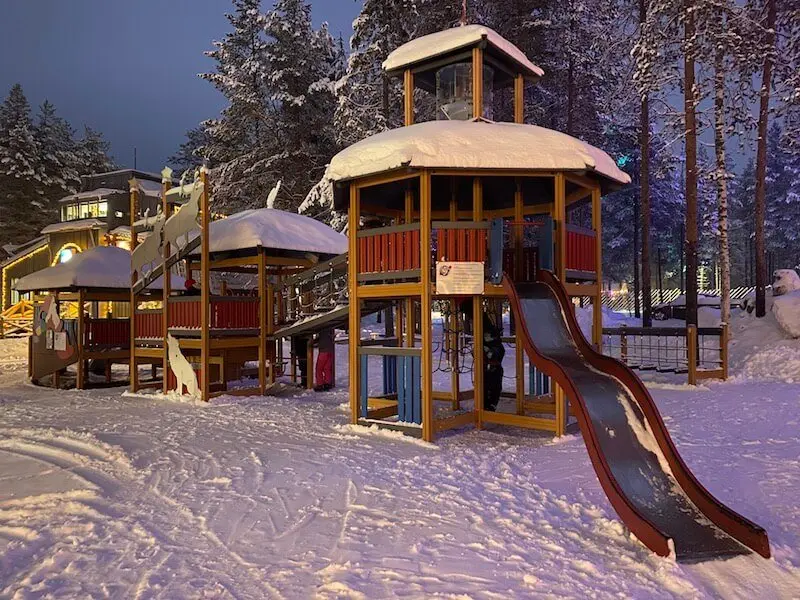 No.6: Loft Cafe
Loft Cafe is a popular spot with close-up views of the Santa Village playground from the terrace seating, so you can grab a coffee and sweet or savoury snack while keeping an eye on the kids outside.
No.7: Cafe-Restaurant Napatapuli
Tucked away behind the souvenir shops in the Santa Claus gift shop, you'll find Cafe-Restaurant Napatapuli.
It's the oldest restaurant in the village, having been in place for more than 20 years.
Try their berry pies, cakes, Finnish coffee, hot chocolate, burgers, sandwiches, and pastries.
They also serve delicious soup – an excellent lunch time meal in the cold.
No.8: Shell fuel station Santa Village
There's also a quick service restaurant at the Shell fuel station across the road if you want to find another option close by.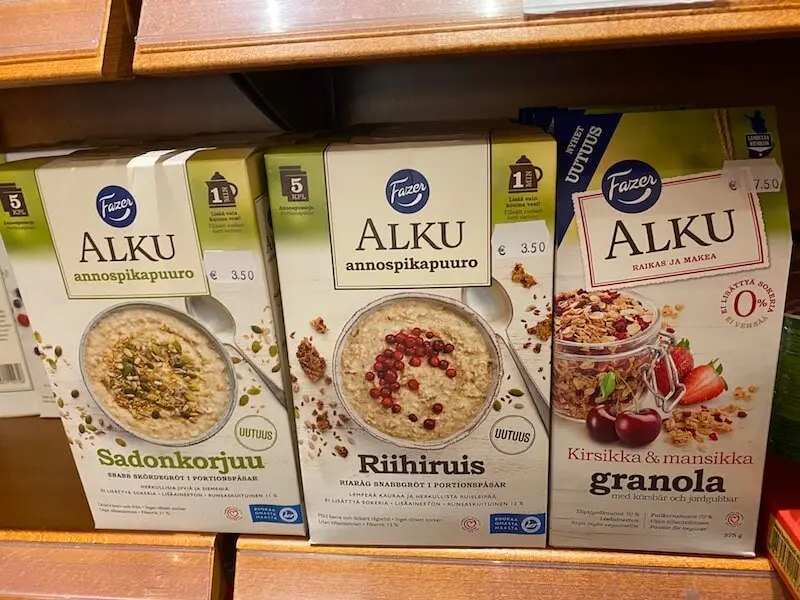 Where is the closest supermarket to the Santa Claus Holiday village?
If you are wanting to buy cheap grocery supplies, or snacks to last you the week, head to one of these two Rovaniemi supermarkets.
The nearest grocery store, K-Market Nivanvaara, is about a two kilometre walk from the village.
You can also take a taxi to the giant Citymarket supermarket which is five kilometres from the village.
The Shell service station (fuel station) across the road from the Santa Claus Village is good for emergency chocolate supplies and basic necessities.
You can also find a range of Finnish food, including vacuum-packed salami, snacks, biscuits, jams, tea, and chocolate in the Christmas House shop in the Santa Claus Village.
The food section is to the left of the Christmas House restaurant entrance.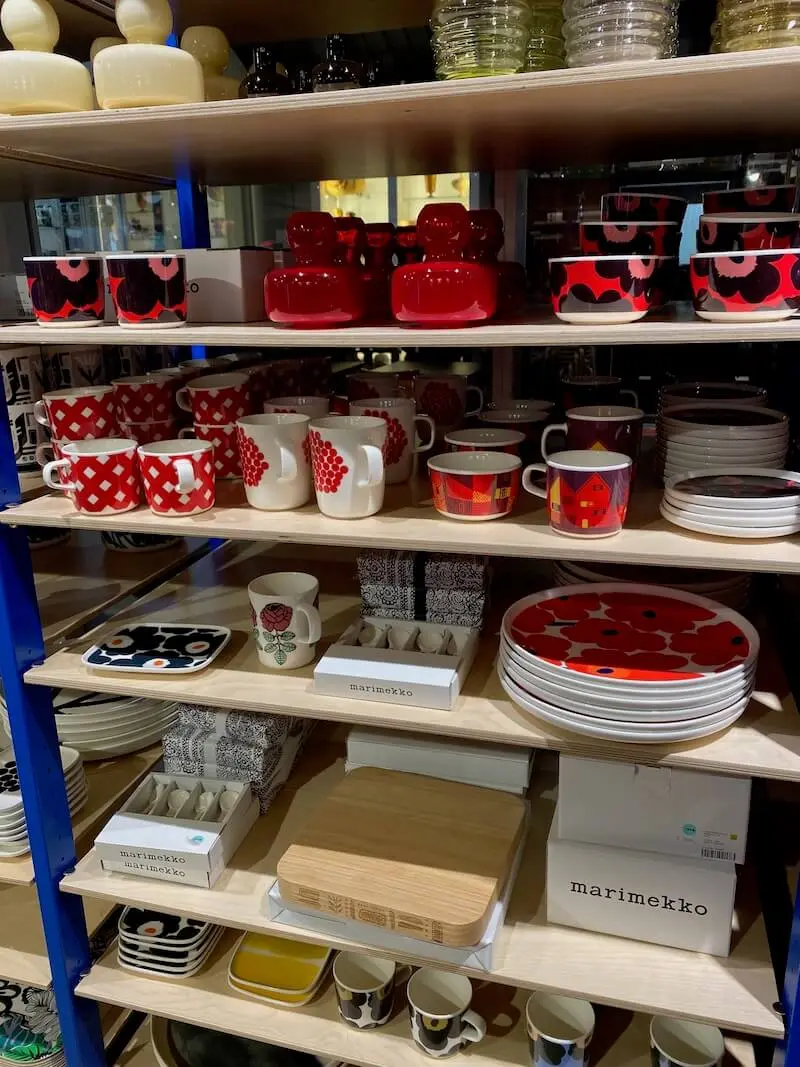 SHOPPING AT SANTA CLAUS VILLAGE
There's a number of gift shops in Santa Claus Village, including:
the excellent Christmas House shop (our go-to)
the Main Office of Santa Claus
the Moomin store inside Santa Claus Gift House (super cute!)
the Marttiini store with traditional Finnish knives and woodwork
Hot tip: Pick up traditional Finnish glassware from the Iittala outlet store.
Iittala outlet shop also stocks brands such as Fiskars, Hackman, and Arabia kitchenware including a delightful Moomin range of cups, plates and bowls.
If you are lucky, you might even find them on special.
We loved all of these shops.
Click here for the round up of what to buy in Rovaniemi at the best Santa Village Rovaniemi shops.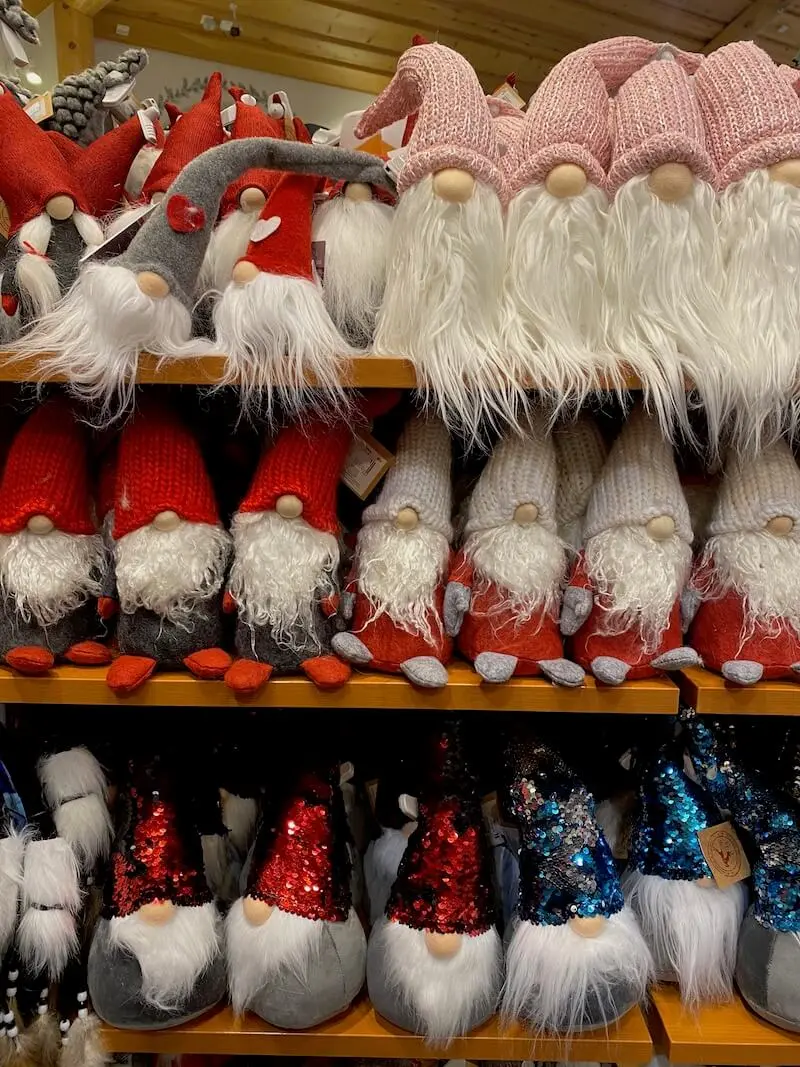 What to buy in Lapland?
Everywhere you look, there's soft toys such as:
Husky dogs
Cute fluffy reindeers
Santa toys, and
Moomin dolls.
You cannot walk 10 metres without spotting hundreds of variations of Nordic Christmas gnomes with big noses and lots of white hair, alternatively called Tomten, Tomte, or Tonttu.
Or Christmas ornaments.
Look further, and you may find Nordic trolls and the less common Nisse elf dolls, potentially dressed in traditional Sami clothing.
The Santa Claus Gift House (home of the Arctic Circle Information Centre) is worth a few minutes of your time if you are prepared to dig for a treasure amongst the commercial rubbish in most of these tacky Lapland souvenir shops.
Most of the shops are open 9am to 7pm year round, with extended hours during the busy Christmas season.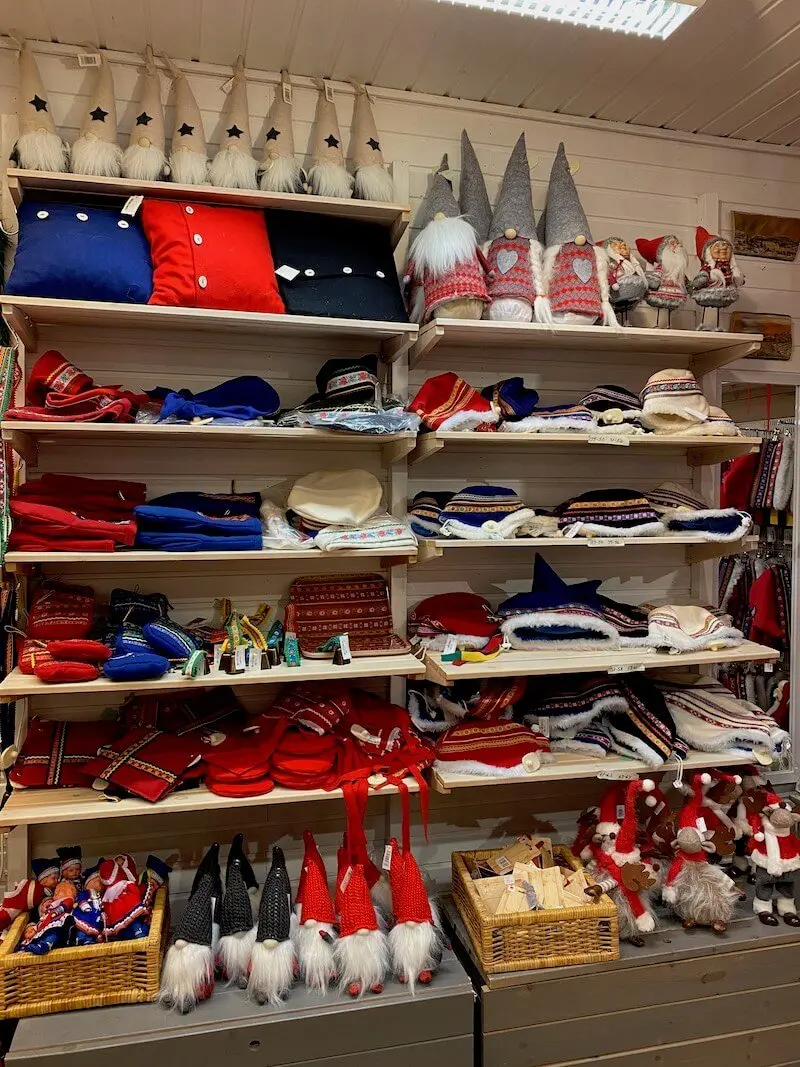 Locally made and hand-crafted Lapland souvenirs
Find more locally made hand-crafted gifts and souvenirs at any one of the Santa Claus Gift shops inside, including:
Wooden dolls, and fabric dolls in National Finnish dress
Finnish food souvenirs
traditional hats, gloves, and footwear
traditional Kuksa coffee cups – every Finn has one.
Finnish flags
Traditional Reindeer jerky, and tinned bear meat (?!)
Reindeer hides
Local handicrafts made from reindeer, birch, juniper, curly birch and reindeer leather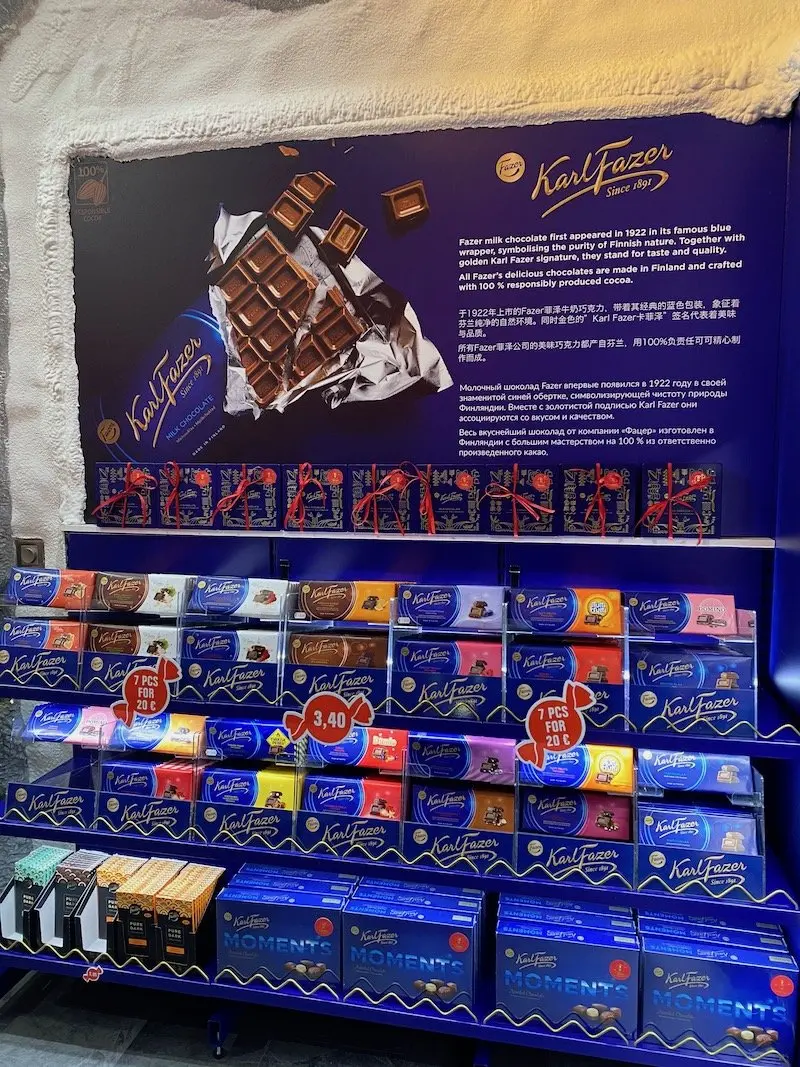 Finnish Chocolate
Kids will love the Santa's Chocolate and Candy Shop Arctic Circle in the Lapland Christmas Village.
It's located in the building next to the Santa Claus Gift shop, about 50 metres past the playground, walking in the opposite direction to the Arctic Circle crossing line.
It's chockablock full of Lapland chocolate and food gifts for friends and family too., including Finland's most trusted brand, Karl Fazer Chocolate.
(Click this link for a run down of the different Fazer chocolates so you know what to buy in Finland)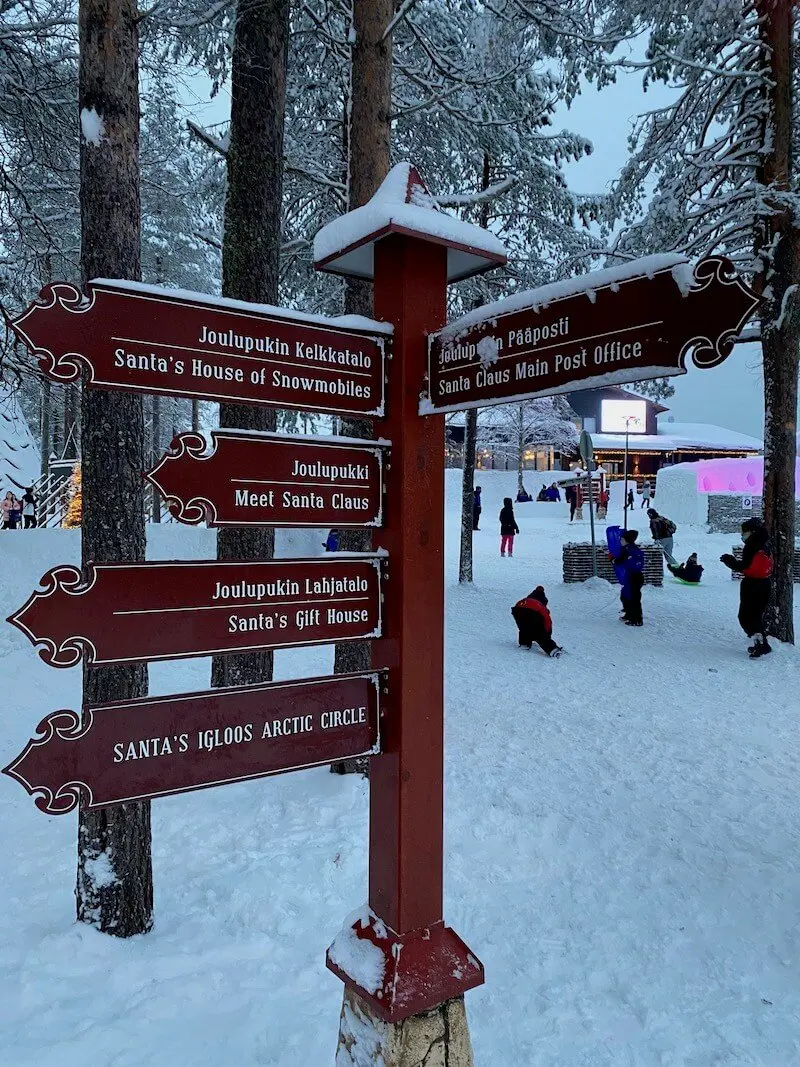 THE INSIDE SCOOP: Santa Claus Village Day Trip or Longer Stay
Correct at time of publication on Roam the Gnome. Please check with venue for updates. We apologise in advance if there have been any changes we are unaware of. All prices in EURO, unless otherwise stated
Santa Claus Village Rovaniemi address: Santa Claus Village Tähtikuja 1 96930 Napapiiri (Arctic Circle) Finland
Santa Claus Holiday Village website: Click here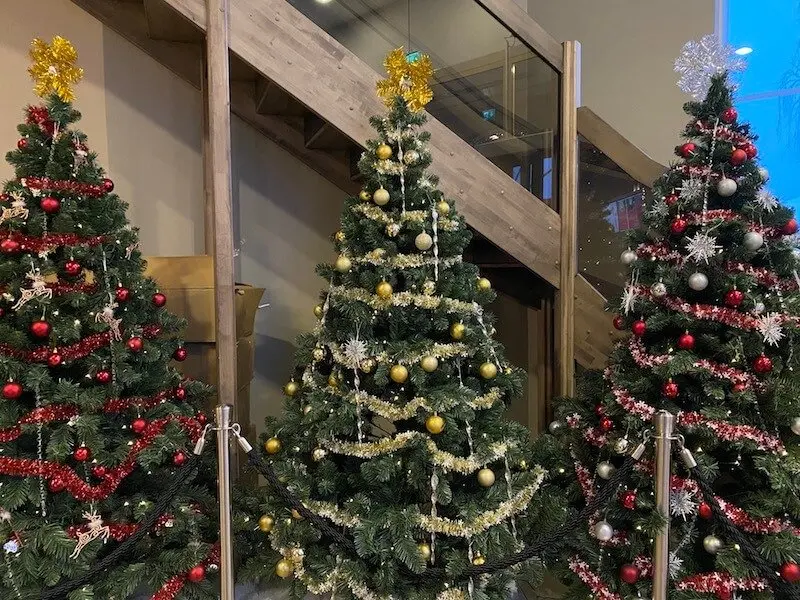 Santa Claus Holiday Village Booking
You can book your Santa Claus Holiday Village package online here.
If you are looking to book a stay in December, you need to book at least 12 months in advance.
Email the hotel directly, as we did, to secure your accommodation. ([email protected])
Note: you may be required to do a minimum three night stay during the busy period.
We suggest booking at least three or four nights minimum so you have time to soak up all the Christmas/Winter goodness!
A shorter stay is not enough.
You'll kick yourself.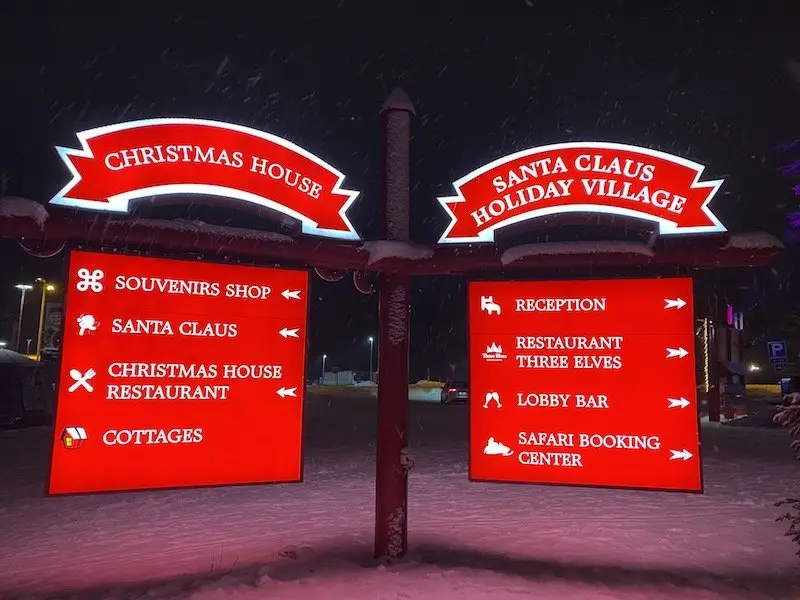 Santa Claus Village Opening Hours
Santa Claus Village Rovaniemi opening hours are different for each shop, and activity.
Stores and activities are open for longer durations during the busy Christmas season.
Most Santa Village attractions (such as Husky Park) open at 10am, some at 11am (Snowman World), and stay open until 5 or 6pm.
Souvenir and gift shops open earlier, around 9am, and stay open until at least 7pm during December.
Santa Claus Village Opening Ceremony of Christmas Season
The ceremony at Santa Village celebrating the start of the annual Christmas season is held sometime in November.
In 2019, it was held on Sunday 10th November.
There's also a special bells-and-whistles ceremony on the 23rd December to wish Santa all the best as he sets off on his round trip to deliver all the Christmas presents.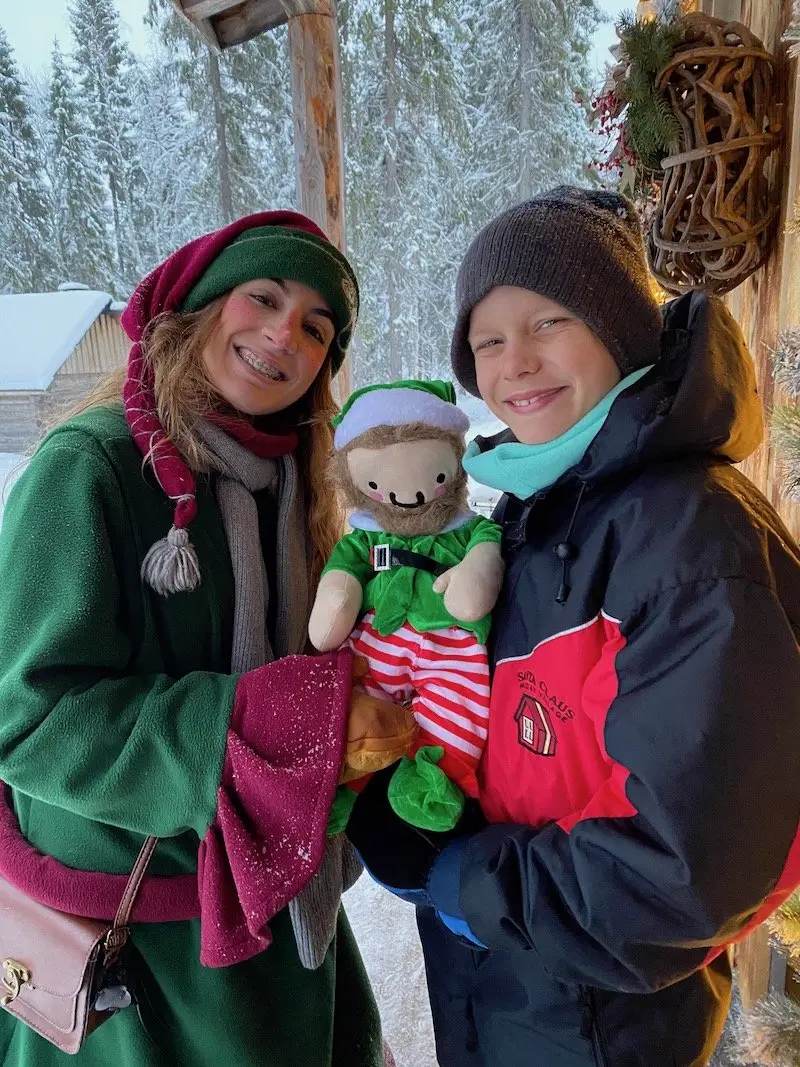 Do I need to book activities and tours before I arrive?
After much research, I booked three tours three months in advance.
The first two were family-friendly off-site tours.
Santa Claus Secret Forest of Joulukka – Santa's Toy Factory (pictured above) Hot tip: DO NOT MISS OUT on this tour.
Santa Fun Day by Santa's Adventures
Arctic Circle Snowmobile Park sledge ride to see the Northern Lights.
In hindsight, I would not have booked the Northern Lights tour until we'd arrived so I could have had a chance to see what the likelihood of seeing the lights would be for the current weather.
It IS wise to book OFF SITE tours before you arrive, as there's no guarantee they'll be able to fit you in if you don't.
These include:
any of the Secret Forest of Joulukka options
a tour of the reindeer farm, and
authentic husky sledding trails
For tours and activities that operate IN or out of the village itself, especially short activities such as a 2km Husky ride, or a short reindeer or snowmobile ride, you can book on the spot when you arrive.
This gives you more flexibility with your time.
You'll want time to wander and shop and snack, and the kids will be desperate for lots of sledding time on every hill they pass too.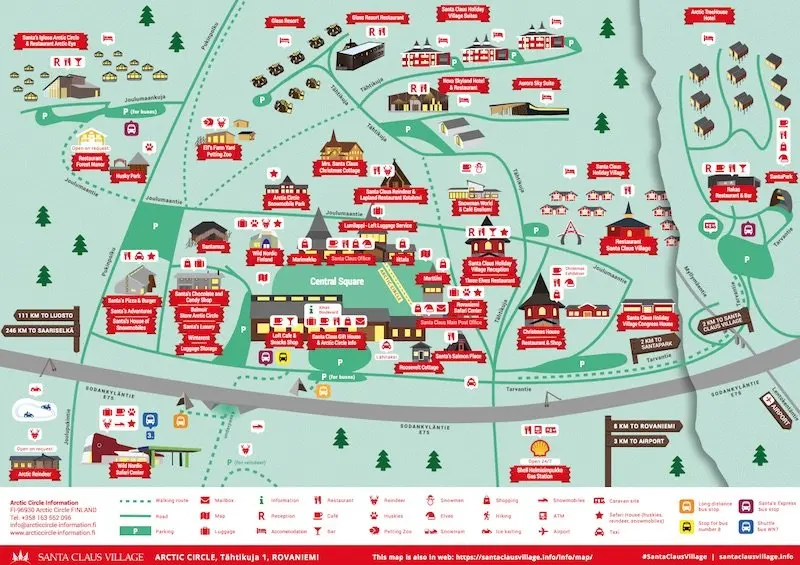 Santa Claus Holiday Village Map
Hot tip: It's a great idea to download and print the Santa Claus Village map before you go.
While it looks daunting, everything is very close together, and within a few minutes walk of each other, although things do spread out a little at the edges of the village.
Click here to download and print a map of Santa Claus Holiday Village
Parking at Santa Claus Holiday Village
There is plenty of FREE parking out front of the Santa Claus Holiday Village for visitors to the village.
If you are staying on site, a dedicated parking place with a car heating post is situated next to your cabin.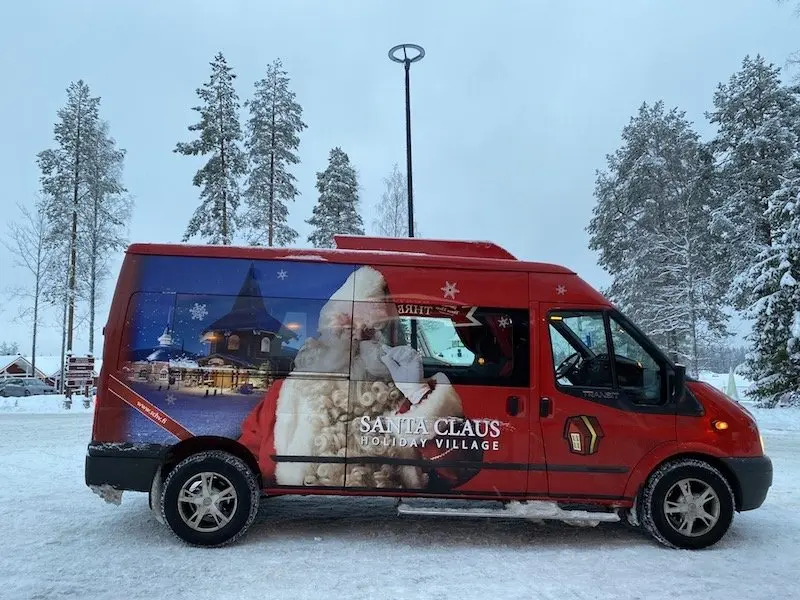 How to get to Santa Claus Village Rovaniemi
To and from the Rovaniemi train station
Take the Santa Express bus from the Rovaniemi train station, or the Local Bus No.8 from the Rovaniemi train station.
The Rovaniemi to Santa Claus village bus takes about 25 minutes.
If you prefer, call a taxi.
A taxi from Rovaniemi to Santa Claus Village will cost you around 25-30 euro to drive the 8km distance.
Taxi's are EXPENSIVE in this part of the world.
To and from the Rovaniemi Airport
From Rovaniemi airport to Santa Claus village, you can also catch the Santa Express bus.
Or if you are staying on site in the Santa Village cottages, request a FREE pick up from the Santa Claus Holiday Village reception on their free airport shuttle bus
READ MORE: Complete Guide on How to get from Rovaniemi to Santa Village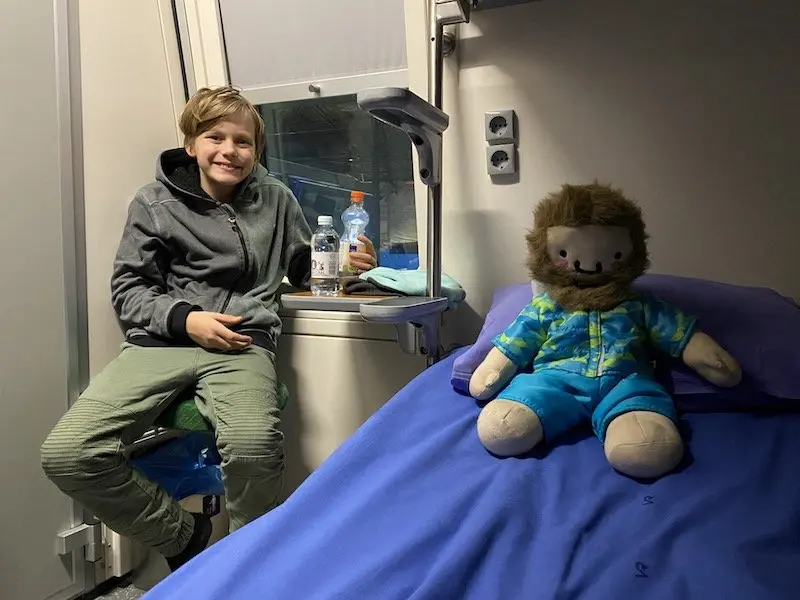 Getting from Helsinki to Santa Claus Village
The most fun way to get to Santa Claus Holiday Village from Helsinki is to catch the VR overnight train.
We wrote a guide (below) with all the tips.
Everything you need to know about the Santa Express Train from Helsinki to Rovaniemi, & back.
You can also fly direct.
(Details of how to get to Rovaniemi by plane soon)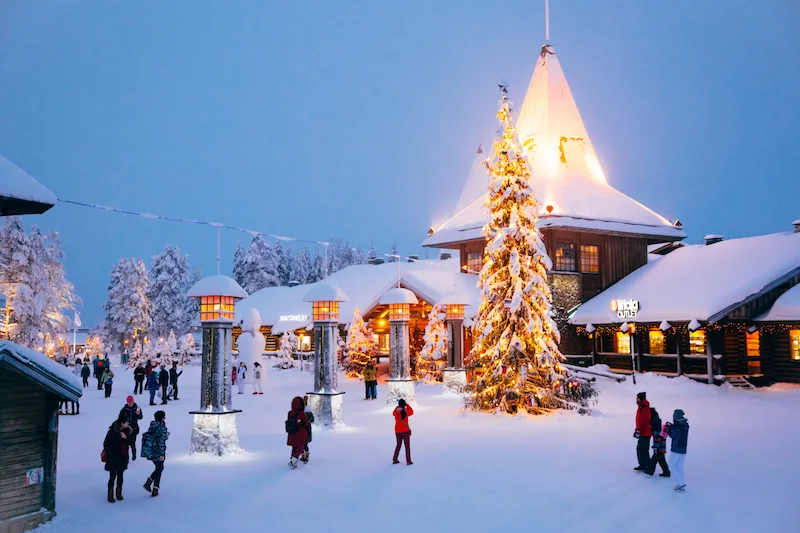 Image credit: Visit Rovaniemi
FREQUENTLY ASKED QUESTIONS
No.1: Where is Santa Claus Village?
Where is Santa Claus holiday village?
It's 8km from Rovaniemi city centre.
Rovaniemi is 12 hours by train north of Helsinki, or 1.5 hours flying time.
It's a magical world!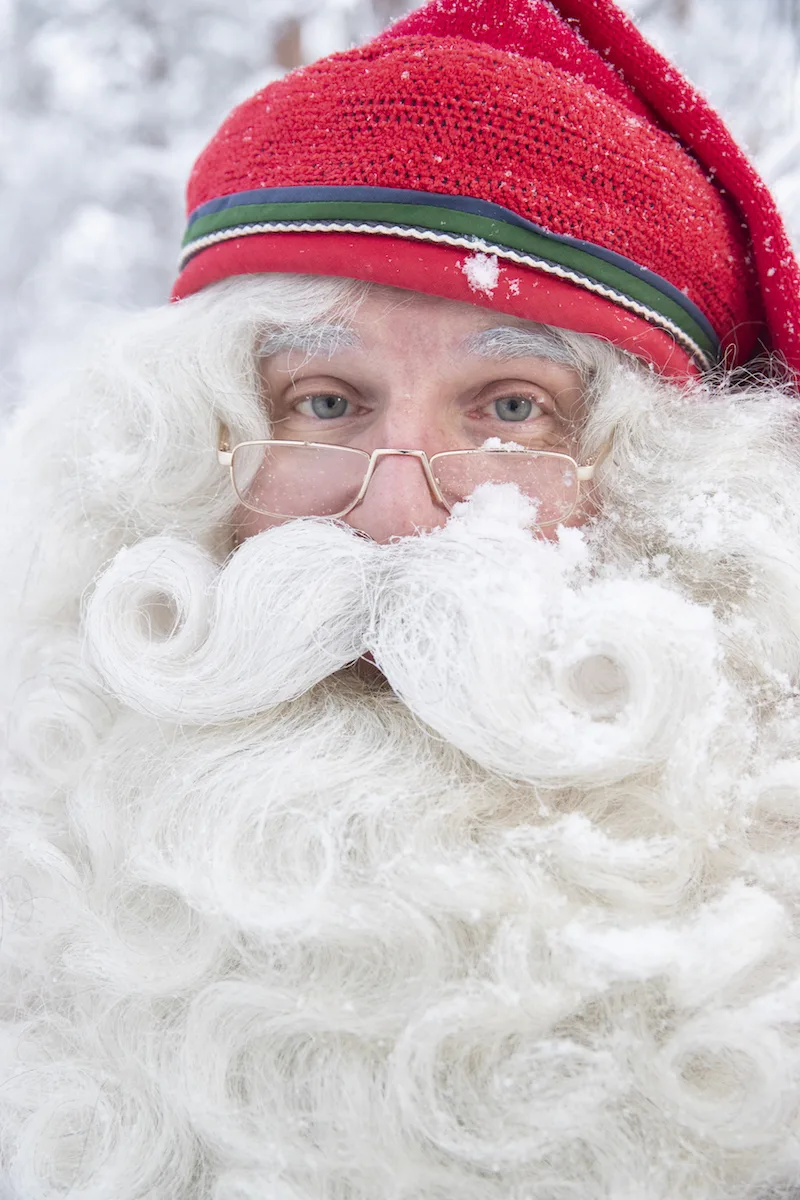 Image credit: Visit Rovaniemi
No.2: Is this where Santa lives?
Yes, it sure is.
In fact, there are a number of Santa's who live here!
(For that reason, pick one so the kids don't get confused. Or click here to see how we managed it.)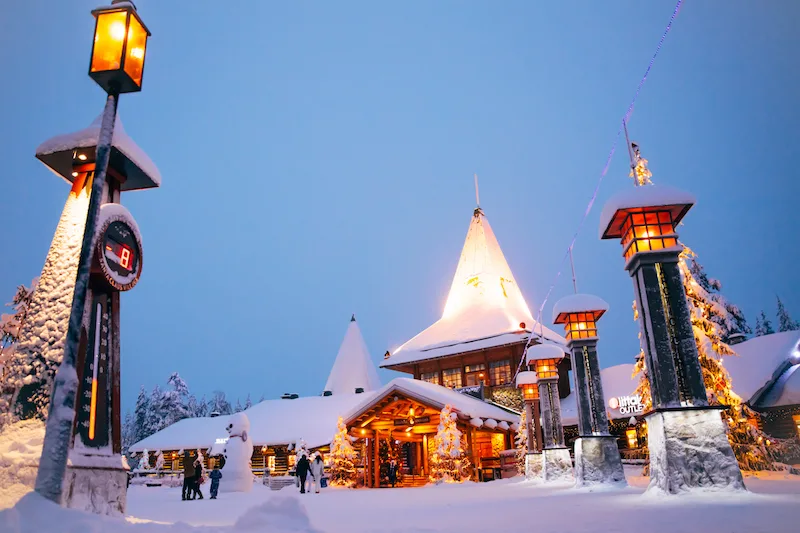 No.3: Santa Park or Santa Village?
Wondering about the differences between Santa Park vs Santa Claus Village?
No.1: Santa VILLAGE
Santa Claus VILLAGE is FREE to enter (there's no gates or fences), and you can wander around all the different shops, tourist information centre, activities and attractions at your leisure.
It's FREE to see Santa in the Main Office (and in the Christmas House exhibition), although you if you want to have a photo with Santa, you need to pay for the privilege.
Santa Claus Village is outdoors, and you need your snow suit (or very warm snow jacket and pants) to move between all the different activities.
The Main Santa Office, the Santa Post Office, the Tourist Information Centre, Santa Claus Gift House, the shops and the restaurants are heated inside.
Kids will definitely need a snow suit and good snow boots, as they will be tempted by all the sledges lying around, and will want to jump in the piles of snow too.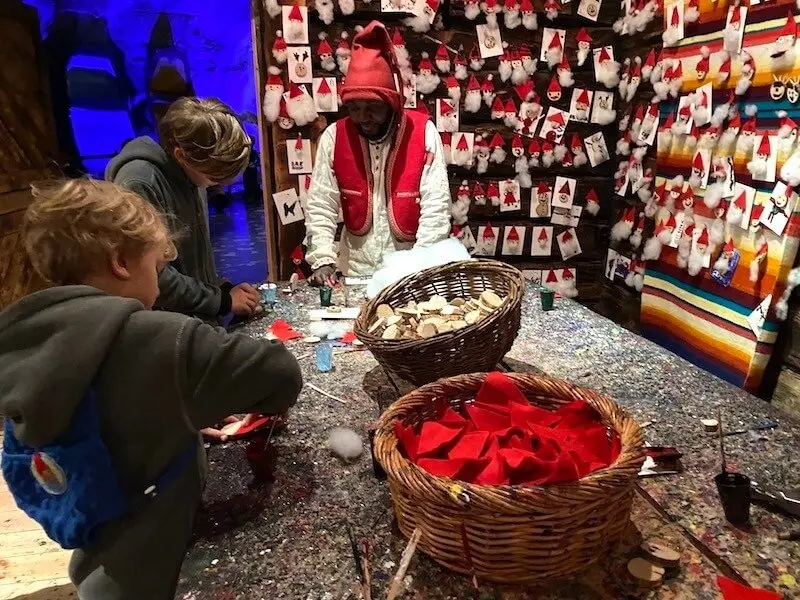 No.2: Santa PARK
Santa PARK is indoors.
It's 2 kilometres north of Santa Village.
Santa Park has elves, and a place to do some Christmas craft.
You can also visit Santa at Santa park.
Don't miss the elf tumbling show – it's a highlight.
It's better suited for the younger kids.
Anyone who is young at heart, and who loves the Spirit of Christmas and the magic of this time of year will enjoy Santa Park too.
But it's not cheap, and it's questionable whether or not it's worth the money outlay.
(If your kids are desperate to see real elves, book one of the Forest of Joulukka tours (link above), run by the same company, but outdoors in the magical snowy forest. THIS is worth every penny.)
READ MORE: Roam the Gnome's Guide to SANTA PARK in Rovaniemi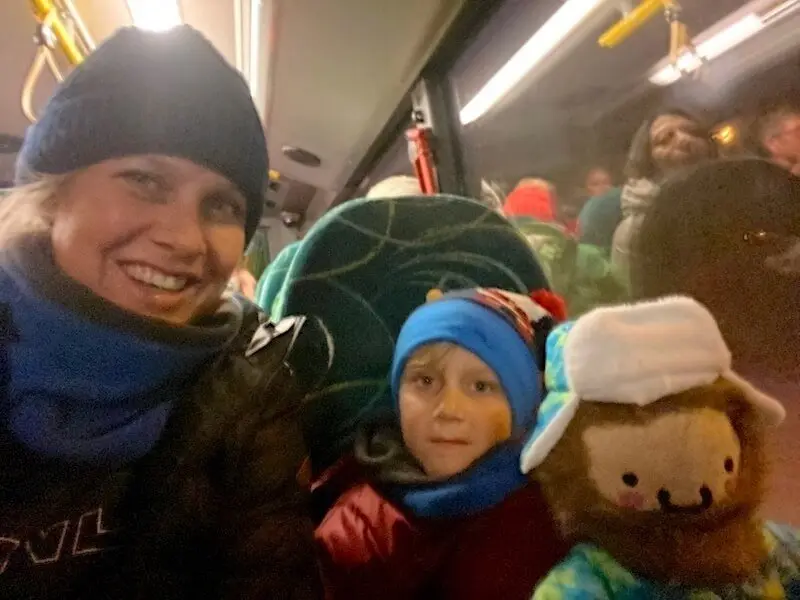 No.4: How to get to Santa Park from Santa Claus Village?
You CAN walk to Santa Park from Santa Village if it's not too icy, but the path is along the road, and not very safe at all for small children, or for pulling sleds.
I'd suggest you catch a cab, or organise pick up transport from the Santa Claus Village reception.
They have a fixed price service for 15 euro.
Taxi's are the same.
Returning from Santa park to the village is easy, and more affordable.
Simply catch the Santa Express bus for about 8 euro for a family of four.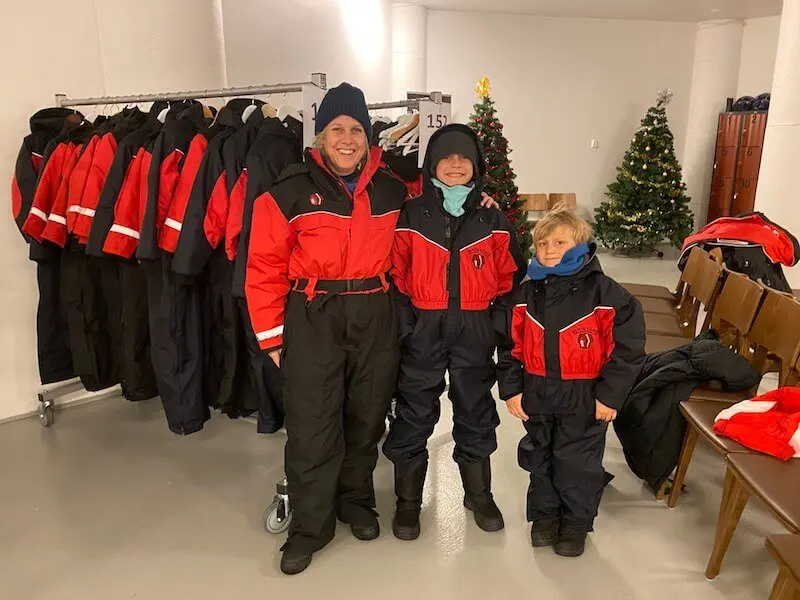 No.5: Rovaniemi Weather in Winter
It's cold in Rovaniemi in winter.
Daytime temps can be anywhere between -25 and -10 degrees celsius during the coldest winter months of January to March.
You need special snow outerwear to survive.
A down-filled jacket or three-quarter length coat and pants is not enough.
In December, we experienced temperatures from -3 degrees up to 2 degrees celsius during the day, but this was unseasonably warm.
You can hire boots, and/or thermal suits at Santa Village if you are staying there.
Hire costs are 20 euro per person for the first day, and 5 euro for each following day.
If you only need the suit or the boots, the cost is half of this.
(We paid 45 euro for three of us, for three days hire of the suit only. Best money spent in the village.)
---
RELATED: What to Wear in Lapland in Winter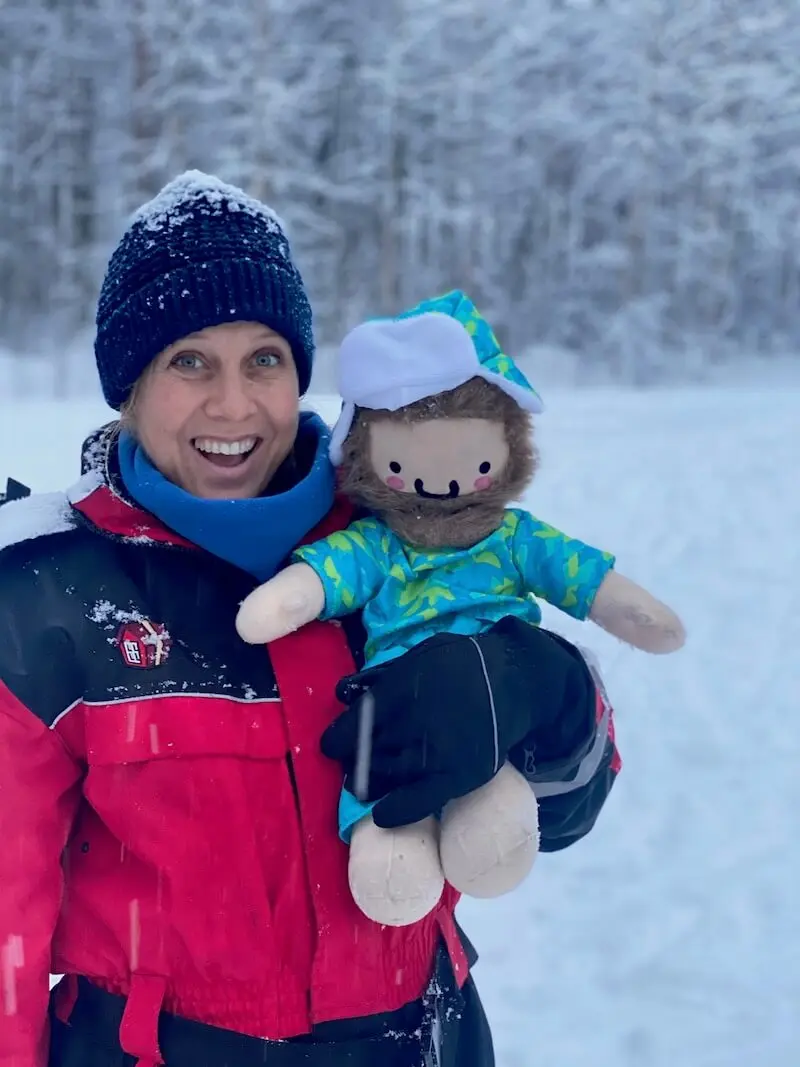 No.6: When does it snow in Rovaniemi?
Only in the winter time, and better snowfalls from mid January to March.
Not during summer.
You'll most likely find permanent snow from early December, but sometimes earlier than that. The snow stays until the end of winter, usually in April.
This year, the permanent snow arrived in late October.
Luckily, if you visit when there's no snow about, you can join in the fun Summer activities in Rovaniemi instead.
No.7: Where do I find a current Rovaniemi snow report
Click here for the snow report in Rovaniemi.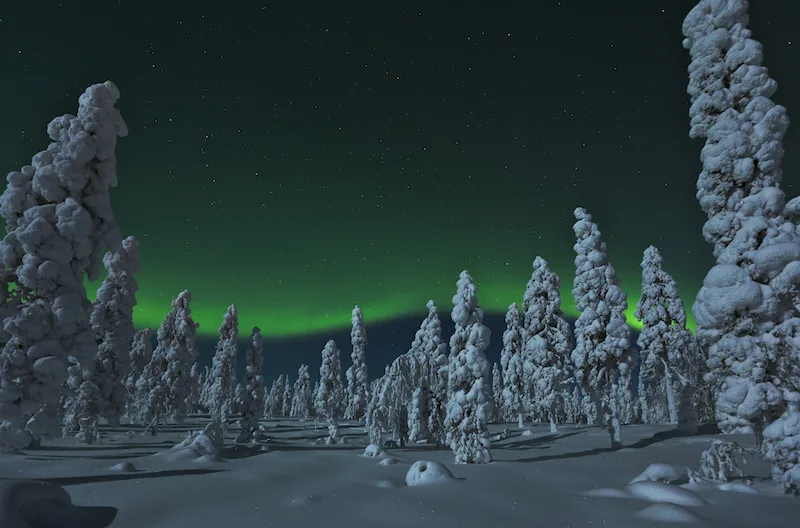 Image credit: Visit Rovaniemi
No.8: Can you see the Northern Lights from Santa Claus village?
The light pollution around the village makes it difficult but if you head out into the edges of the village, you might be in luck, but only if the Weather Gods are on your side.
The best way to see the aurora borealis in Rovaniemi is to book an aurora safari, and head out into the magical Lapland forests away from lights.
There's no guarantee of seeing the Northern Lights even in the darkest of night as they are elusive, like whimsical sprites, and and appear only when the conditions are just right.
Our guide told us that the best chance of seeing Northern Lights happens on cloudless, starry nights when the temperature is at least below -10 degrees celsius.
The colder the better.
Rug up!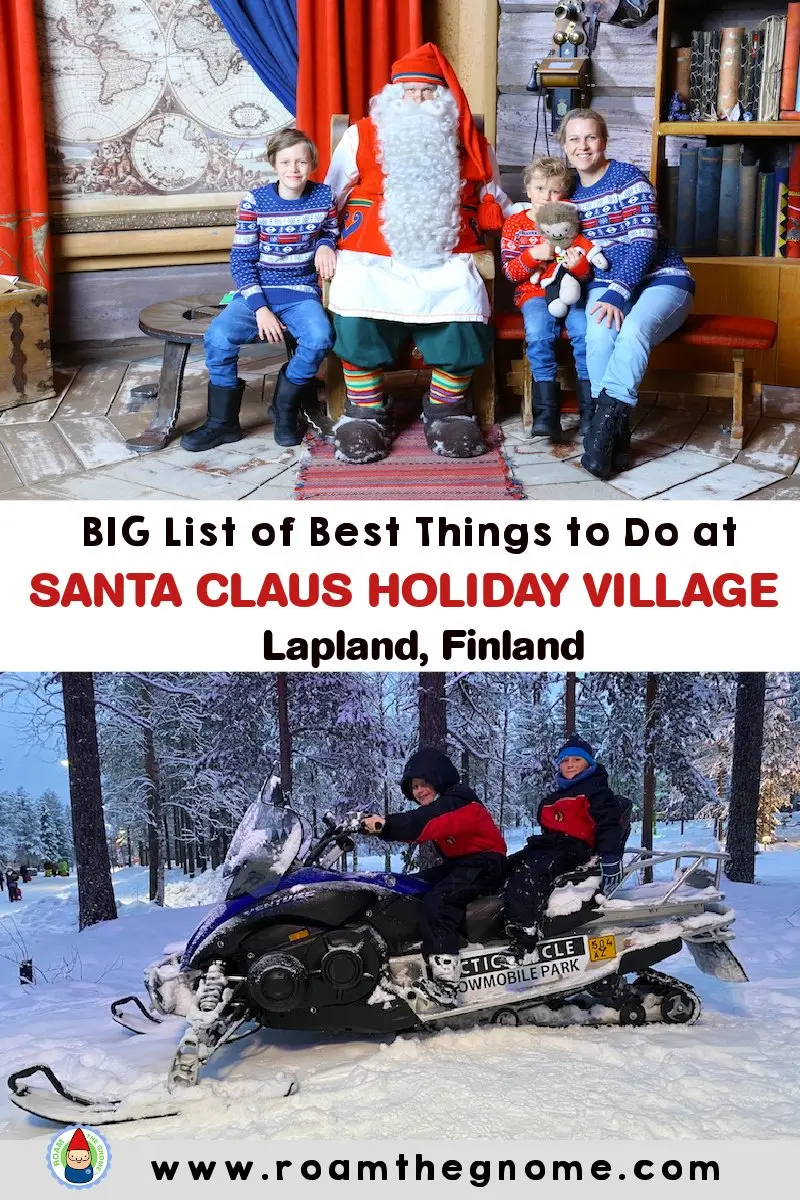 Hot tip: Request multiple blankets or reindeer hides on a tour, especially if you have kids in tow. Kids will freeze and cry when their hands and toes hurt from the cold. Bring extra big pairs of thermal socks to go over their gloves too, and make sure they have at least two pairs of dry socks on inside their boots.
Expect to see green lights for the most part.
The guides told us it's more common to see different colours when you view them through a camera lens, but not so easy by the human eye.
Good luck on your hunt!
No.9: Where is the Rovaniemi Webcam Santa Village – LIVE!
Did you know you can view a live cam of Santa Village every day of the year?
You can!
Click here to access the live vision of Santa Claus Village webcam
It's fun to spot fellow live-cam watchers do their dance in front of the camera, knowing they are being watched by hundreds!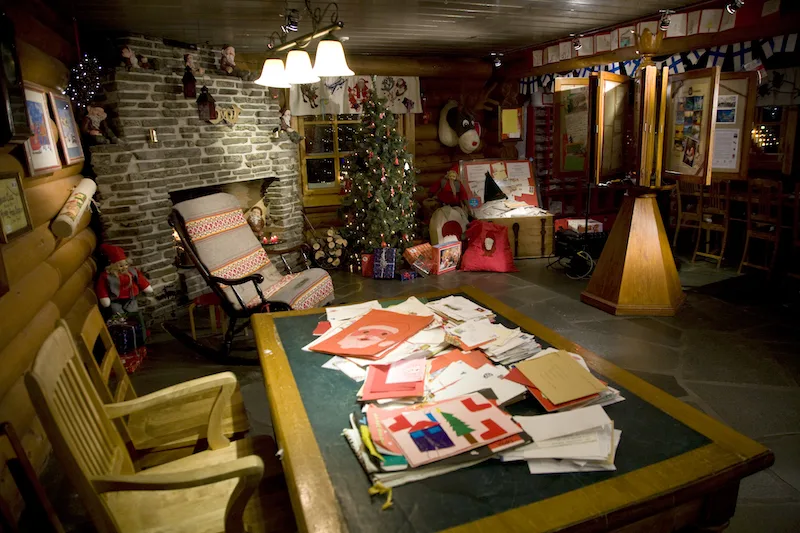 Image credit: Visit Rovaniemi
Toadstool Rating: Santa Claus Holiday Village Reviews

Visit Rovaniemi with Kids for Christmas in Lapland
Thanks for reading our Santa Claus holiday village reviews.
If you'd like to know more about things to do in Lapland, check out these posts.
Disclosure:
With thanks to Anne Saahkari from Visit Rovaniemi, who took us on a tour of the village to see Santa in the Main Office, take a behind the scenes look at the Santa Post Office, and explained the significance of the Arctic Circle crossing. She also gifted us a reindeer ride, and entry to Snowman world.