INSIDE: Insider's Guide – What to expect when you book one of the Santa Claus Village Hotel Cabins
Planning a Lapland Christmas trip to visit Santa?
Looking at your Lapland accommodation options?
We HIGHLY recommend staying on site at the Santa Claus Holiday Village Lapland itself if there is availability.
Sleeping in a gingerbread cottage, with your very own sled waiting on your front porch for you, just metres away from hub of Santa Claus Village itself is worth every cent.
Take a sneak peek at the Santa Claus Village hotel below!
Disclosure: This article contains affiliate links. If you make a purchase after clicking on one of these links, we may receive a small commission at NO extra cost to you.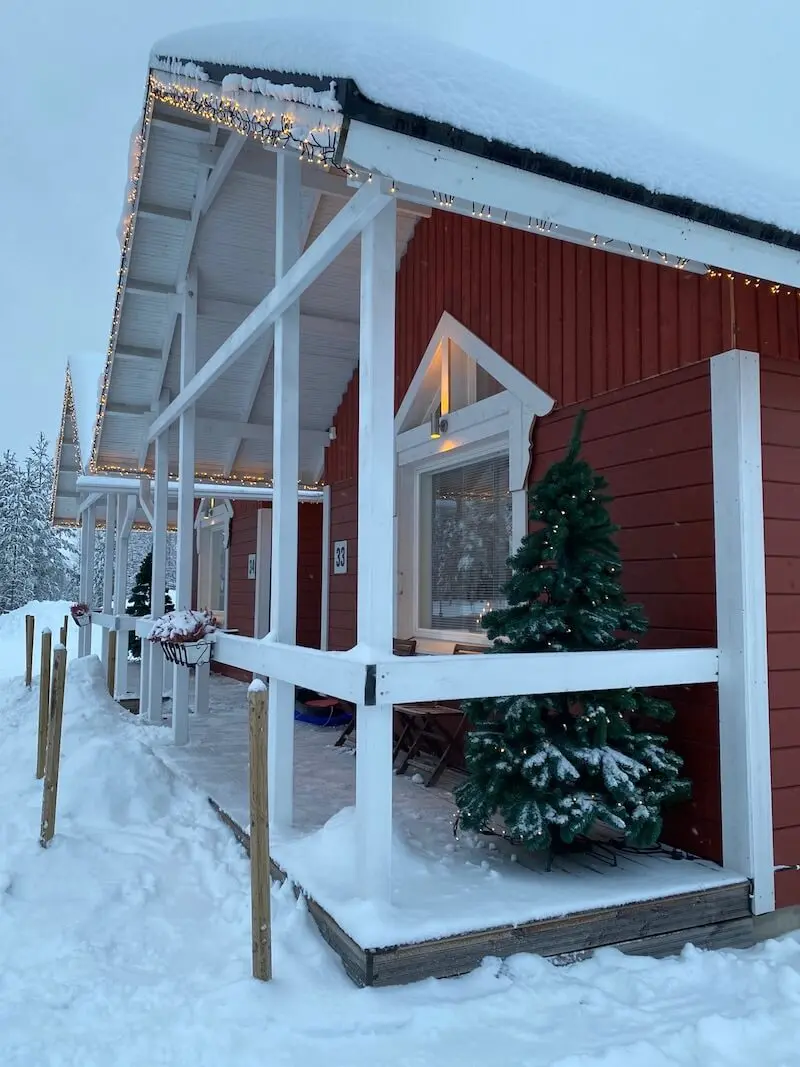 Santa Claus Village Hotel Lapland a.k.a the "Cute Gingerbread Cottages"
First things first.
If you are planning a trip to visit Santa in November or December, BOOK NOW.
If you don't, you may find there is no availability.
CHECK LATEST PRICES FOR SANTA CLAUS HOLIDAY VILLAGE ON BOOKING.COM
We booked ONE WHOLE YEAR ahead to secure our Santa Claus Holiday Village accommodation for the 15th to the 18th December.
Repeat.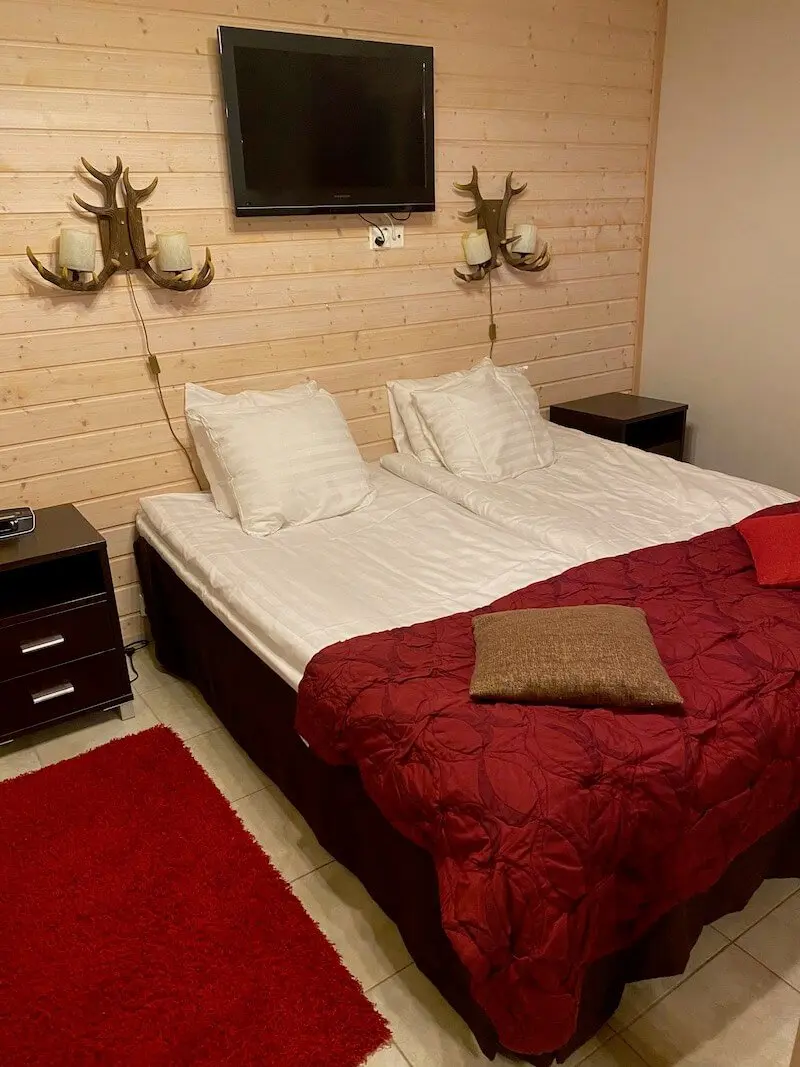 A Sneak Peek inside the Santa Claus Holiday Village Cottages
The Gingerbread cottage itself is two separate, standalone cabin apartments, side by side.
Entry is via a shared front door to the heated mud room area, and from here, there are separate front doors to the cabin on either side.
Standard Santa Claus Holiday Village Cabins have two beds that can be made into one double bed, and one fold-out sofa bed, 145cm wide.
The sofa bed is large enough for two adults.
We couldn't hear the neighbours at all, and I'm hopeful they didn't hear Jack's tantrum one morning when he woke up grumpy after not enough sleep.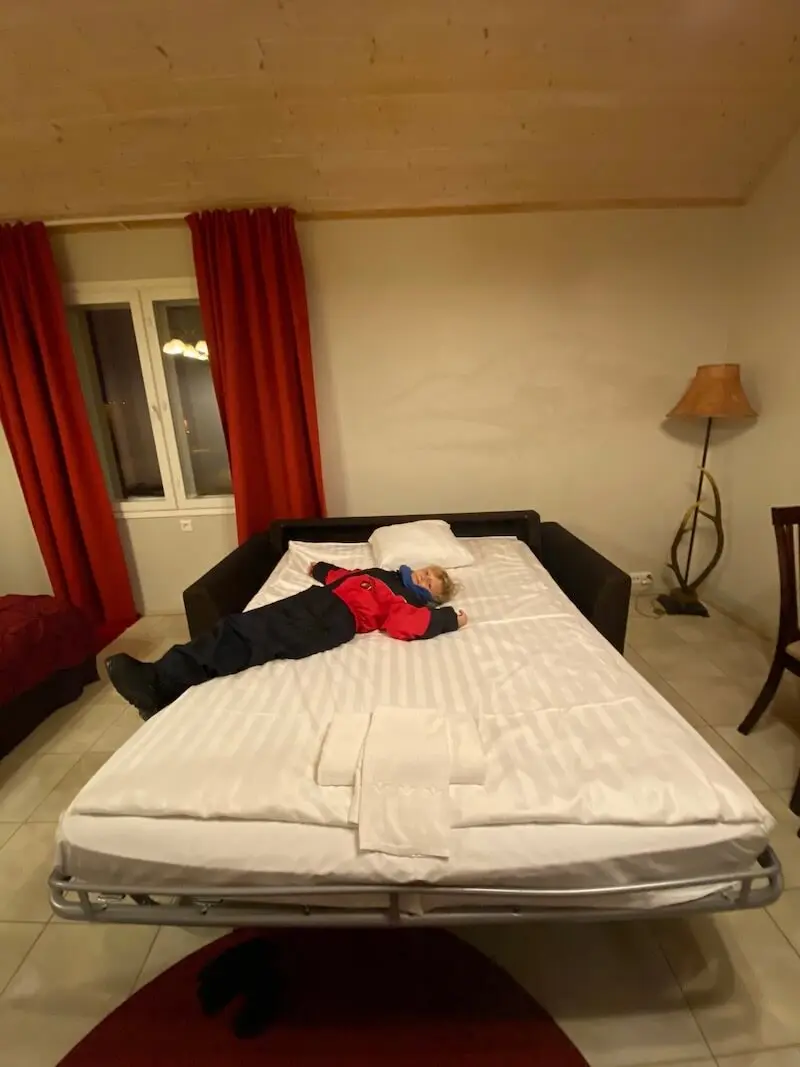 Pull out Sofa Bed
Apartment cabins fit a maximum of two adults, and two children.
If you have three children, choose a Family Suite, as this can accommodate up to two adults and three children.
Larger families and groups should book the whole cottage (two cabins).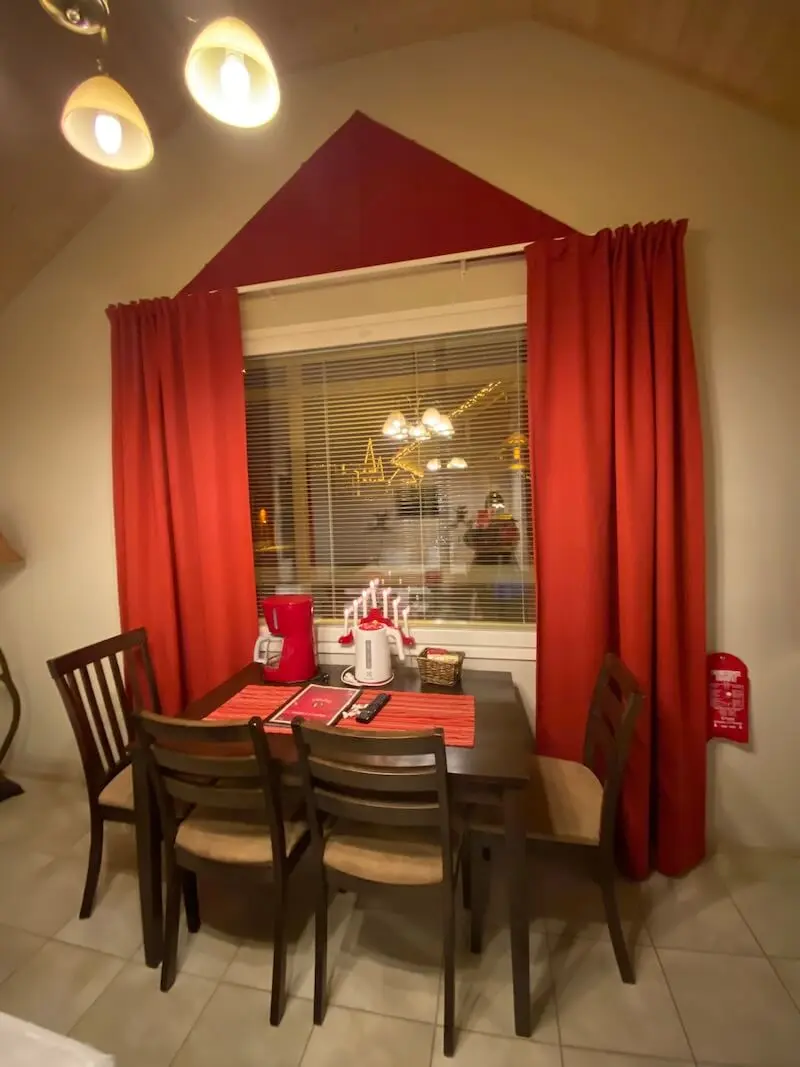 Facilities inside the Santas Village Lapland cabins
Every cabin apartment also has:
a mini-kitchen with a two burner stove, fridge, microwave oven, a pot, and a frying pan
dishes, plates, cups and cutlery for four people
washing up liquid, a sponge, wiping cloths, and a steel wool
a TV and remote control
bedding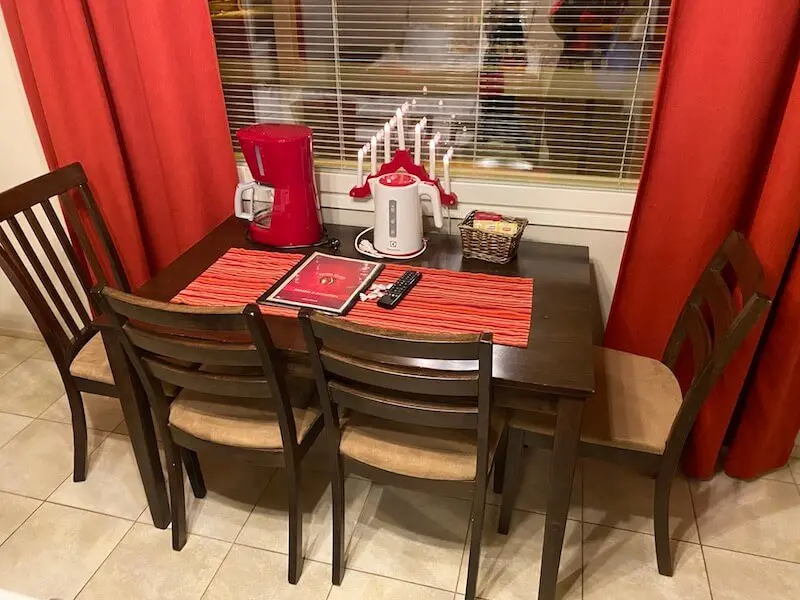 Tea and Coffee Making Facilities at Santa Claus Holiday Village Hotel Rovaniemi
Coffee lovers will rejoice to see a coffee machine, while tea drinkers like myself will be happy with the kettle.
There is a small selection of tea, creamers, and sugar on the table, but if you love your hot drinks, you'll need to bring your own supplies.
Heads up: There is no UHT milk, only creamer to use in an emergency.
Buy your own milk and extra teabags from the Shell service station across the road.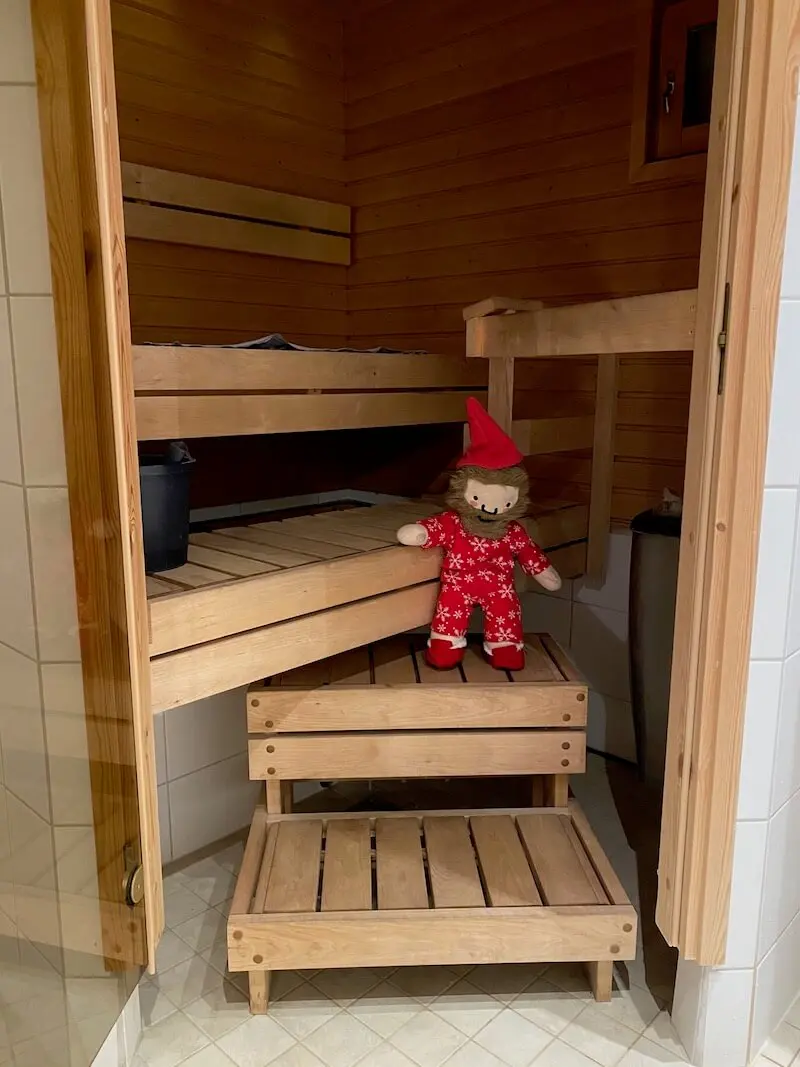 Santa Claus Village Sauna in room
The best feature in each cabin is a private SAUNA.
Don't be deterred by a lack of experience with saunas.
There's fully illustrated instructions on the wall.
Anyone can follow the prompts to kickstart the sauna in preparation for those needing to warm up their bodies after hours of snow fun.
We booted it up every single night, and sitting in the nude, in a hot steamy room, after a full day of snow, ice, and cold feet was luxury.
The boys were super fans!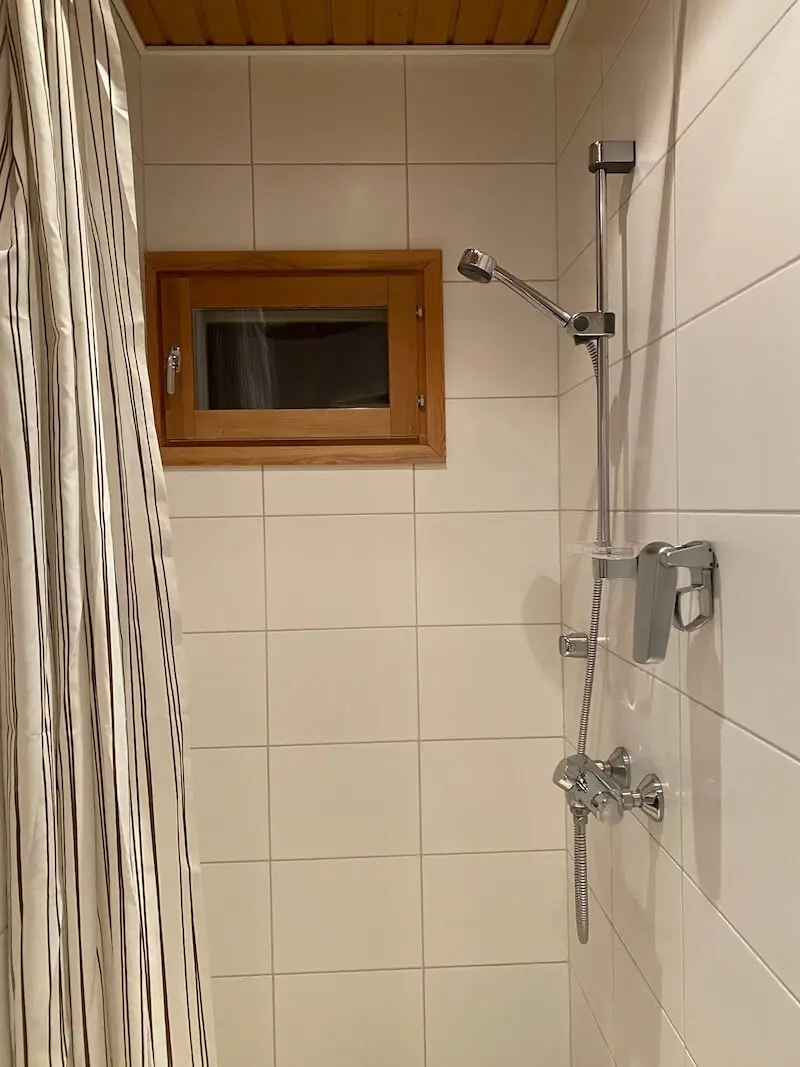 Other Bathroom facilities include:
a toilet
handsoap
a fabulous hot shower with excellent water pressure!
free shampoo and body wash
a hair dryer
towels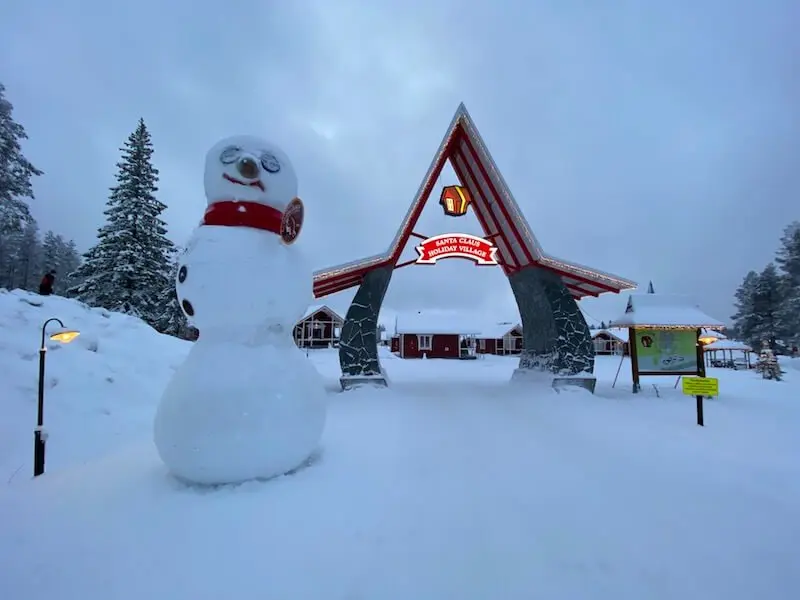 Santa Claus Village Hotel Review of the towels
For the money it costs to stay here, we'd expect fluffy white towels to be standard.
Not "hospital standard" style ones.
But it's our only gripe.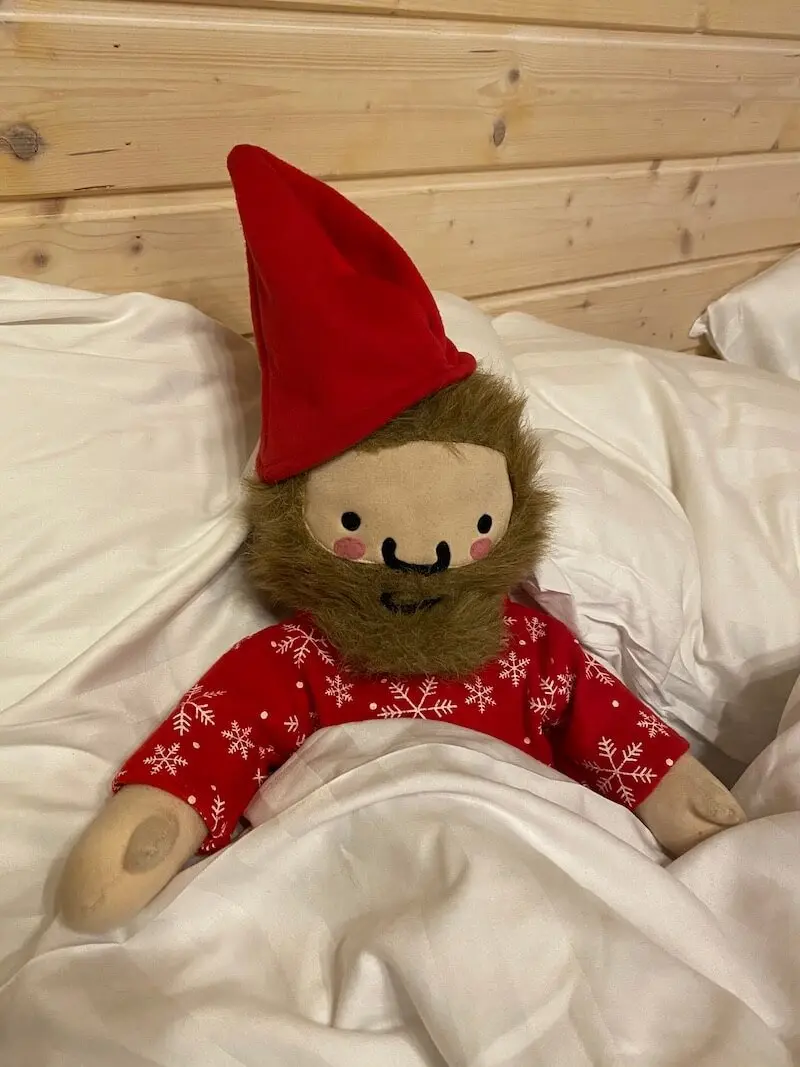 More information on Superior Cottages and Holiday Suites
Superior cottages are similar in design to the standard cottages, but have separate bedrooms and living rooms.
The B cottages also have Finnish box spring beds, a special touch for those who love a good night's sleep.
You can also now book the new Classic holiday suites, and Family suites, located just 5 minutes walk from the main building to the right of the classic cottages.
These are all lovingly decorated in five different styles of Finnish design, including Northern Lights, Red Fox, Snowy Night, Snow or Reindeer.
Extra facilities in these cabins, and the Superior cottages, include:
bathrobes and slippers
a high-quality GHD hair straightener
the kitchen is equipped with a dishwasher.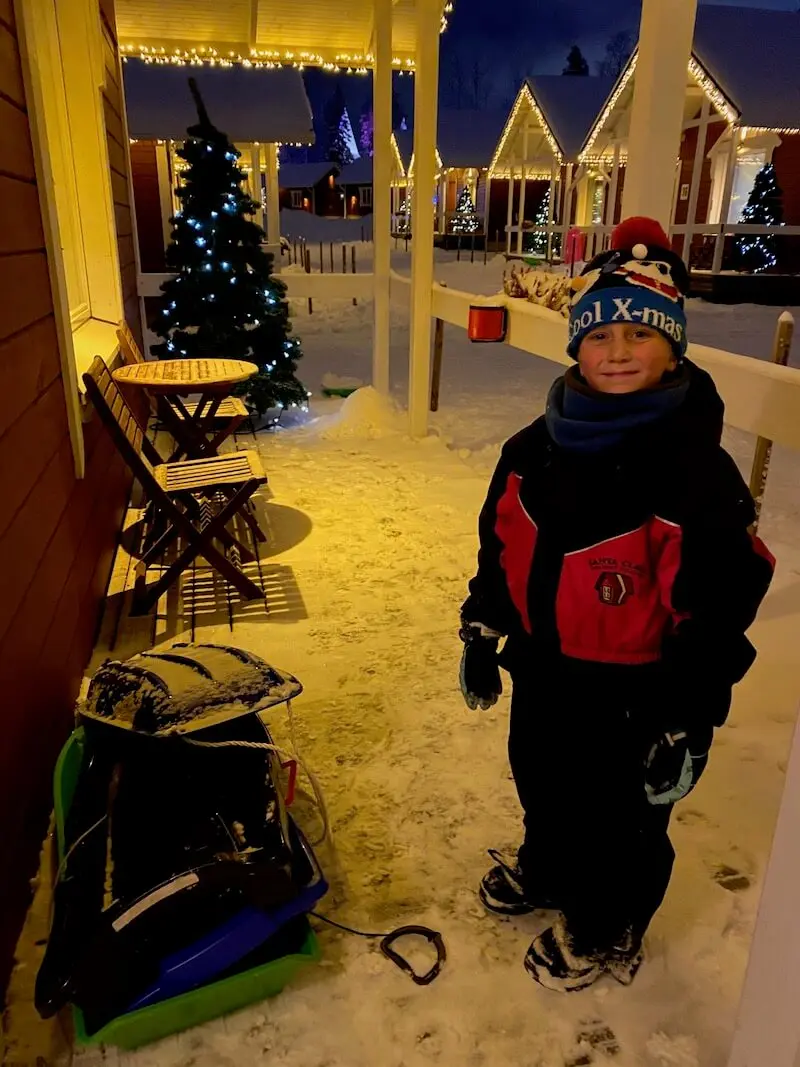 Facilities outside the cabin at Rovaniemi Santa Claus Holiday Village
Out front of each cabin, there's a terrace with:
a two-person outdoor setting of table and chairs
a magical Christmas tree wrapped in twinkly lights.
There's space to build your own snowman, or at least continue building up someone else's half-baked domes.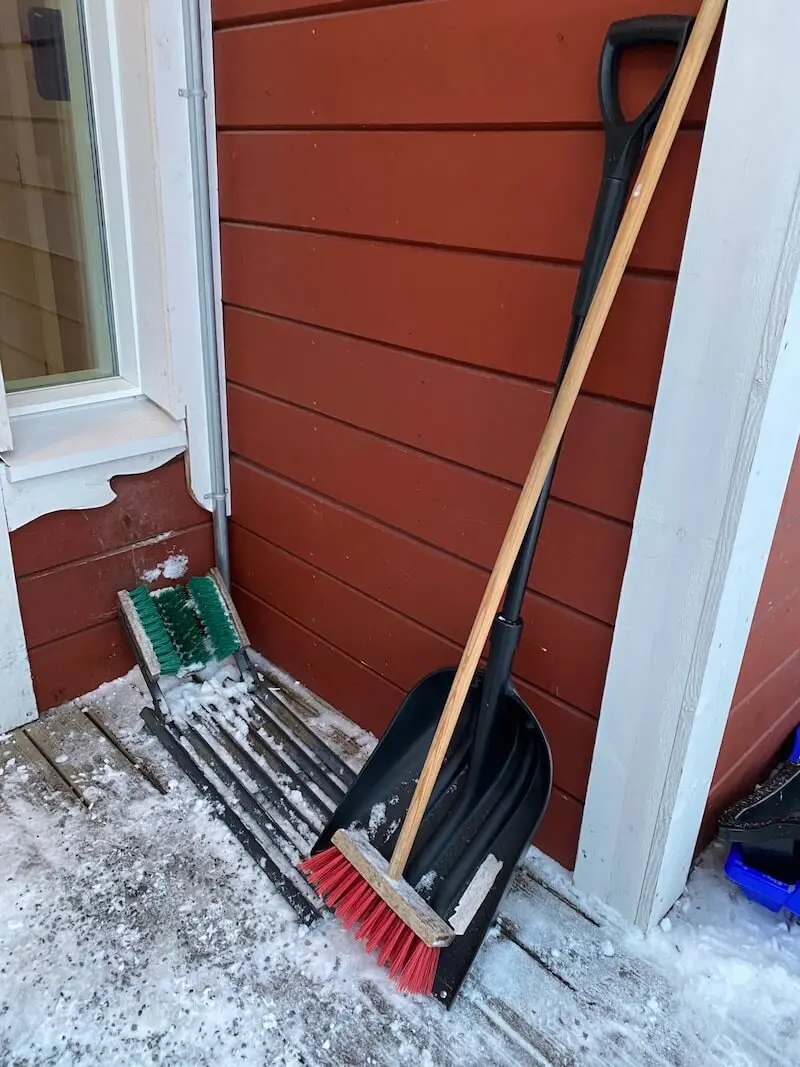 Snow tools
Keep the ice and snow outside with this clever gadget by the door (pictured above) where you can brush most of the snow and ice from your boots before entering.
There's also a shovel and broom, so you can scrape the slippery ice off your porch in the morning to stop potential slips and falls.
The kids also used the shovel to collect piles of loose snow in a sledge for our snowman building challenge.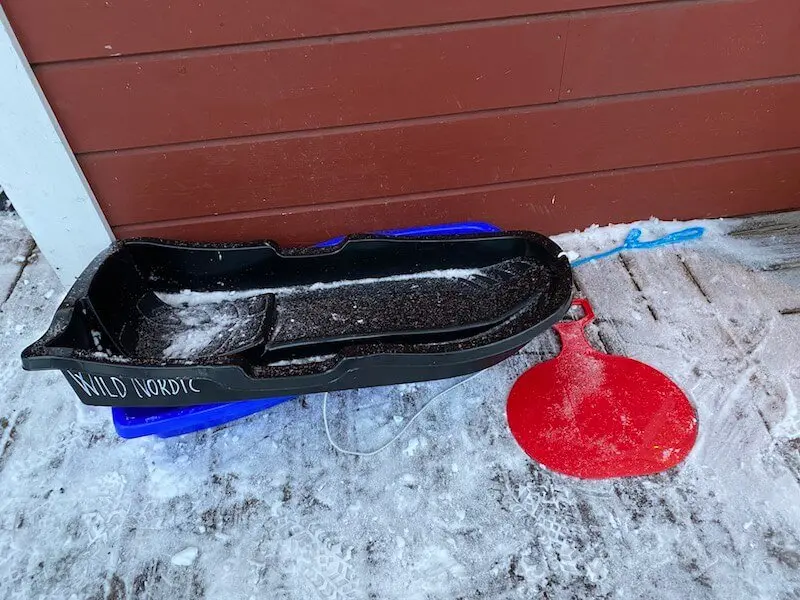 FREE Sledding equipment!
Best of all, there's always at least two or three plastic sleds, and a few of those 'bum sleighs'.
Jack LOVED the bum slider, seen here in red.
It was fast, and gave him serious air over the sledding hills.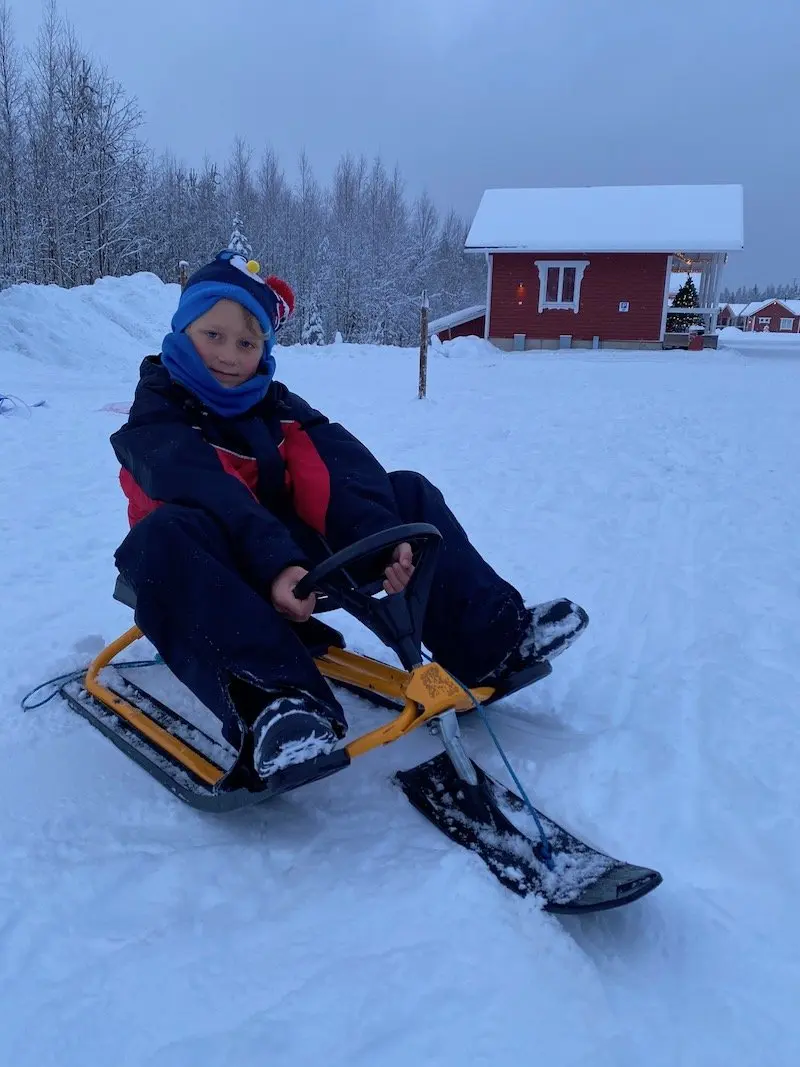 Free use of Sledge with steering wheel
We were also lucky enough to be 'gifted' a turn on this sledge with a steering wheel.
One of our neighbouring family found it on their terrace when they arrived, and was warned to keep a close eye on it if they took it out of the cabin area into the village.
They passed it onto our neighbours opposite when they departed, and we received it next.
I pulled Jack to breakfast on it one morning, and had to carry the sledge into the Christmas House restaurant with us, (and hide it in the corner behind our table) as we couldn't dare leave it outside without it disappearing.
We passed it on to our cabin neighbours on our last day too.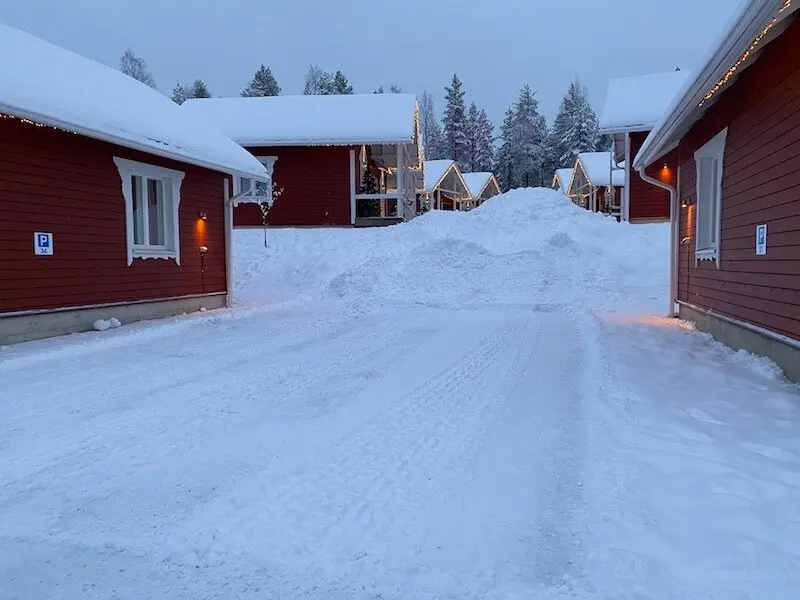 5 MORE Reasons why this is the Best Place to Stay in Lapland Christmas Village
No.1: Sledding Hills
The cabins in the Santa village are set out on terraced hills, and excess snow is driven back towards the backs of the cabins to keep the area free for car parking.
Luckily, it's a rare event when someone needs the car parking space, so these lanes becomes the much-coveted Hill of Hills.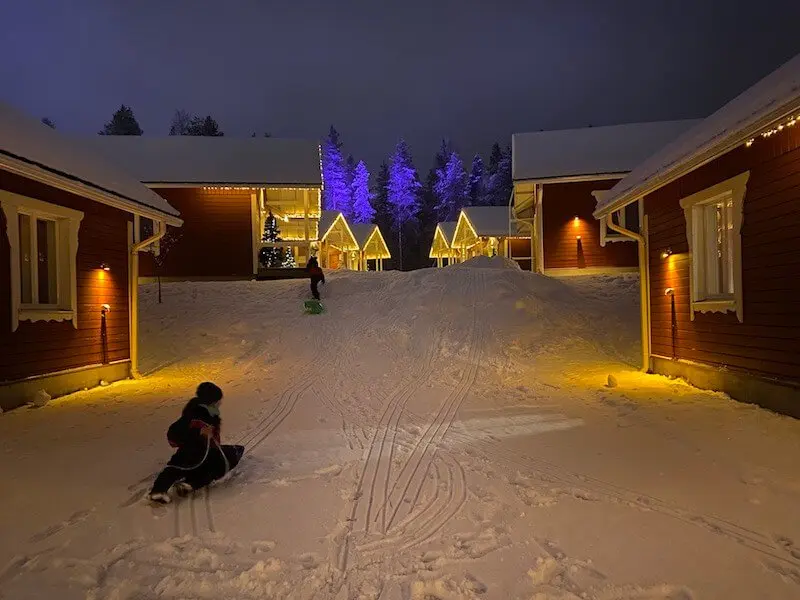 Sledding, any hour of the day!
Truly, kids don't need much more than:
a steep hill covered in snow
a free sledge to ride, and
a few mates from neighbouring cabins to challenge.
Remember that it's dark until 10am and the sun is gone by around 3pm, so a lot of the times kids will be riding their sleds in semi darkness!
Like this.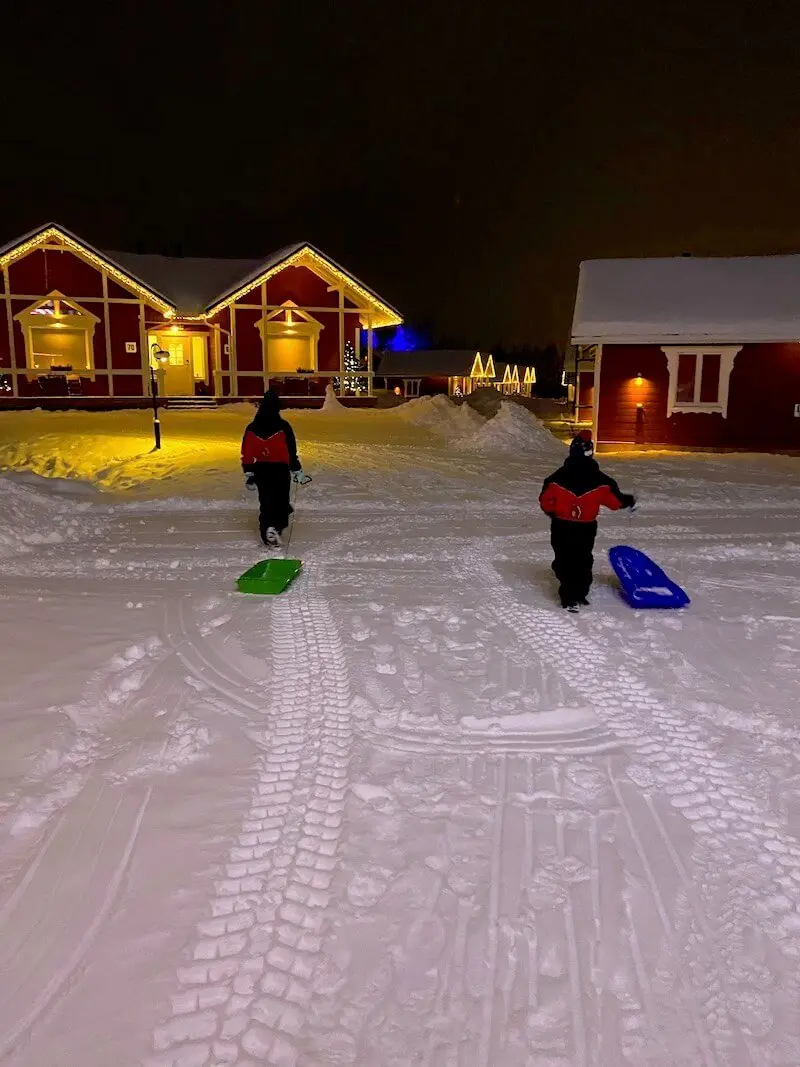 No.2: Location, Location, Location
The cabins are located less than a few minutes walk to the Christmas House restaurant where you eat breakfast (and potentially dinner, if your package includes half board).
Three Elves restaurant, and the Central Plaza area are just metres away from here too.
The location of these cabins is second to none, in THE prime position in the village.
You couldn't get any closer to the action.
If the kids are lucky, one of the adults might succumb to their pleading, and tow them home on the sled!
But if not, there won't be any grumbling about walking back to the room when they know the sledding hills are waiting.
NB: This pic was taken around 4pm. The odd half-light is quite a strange thing to get used to.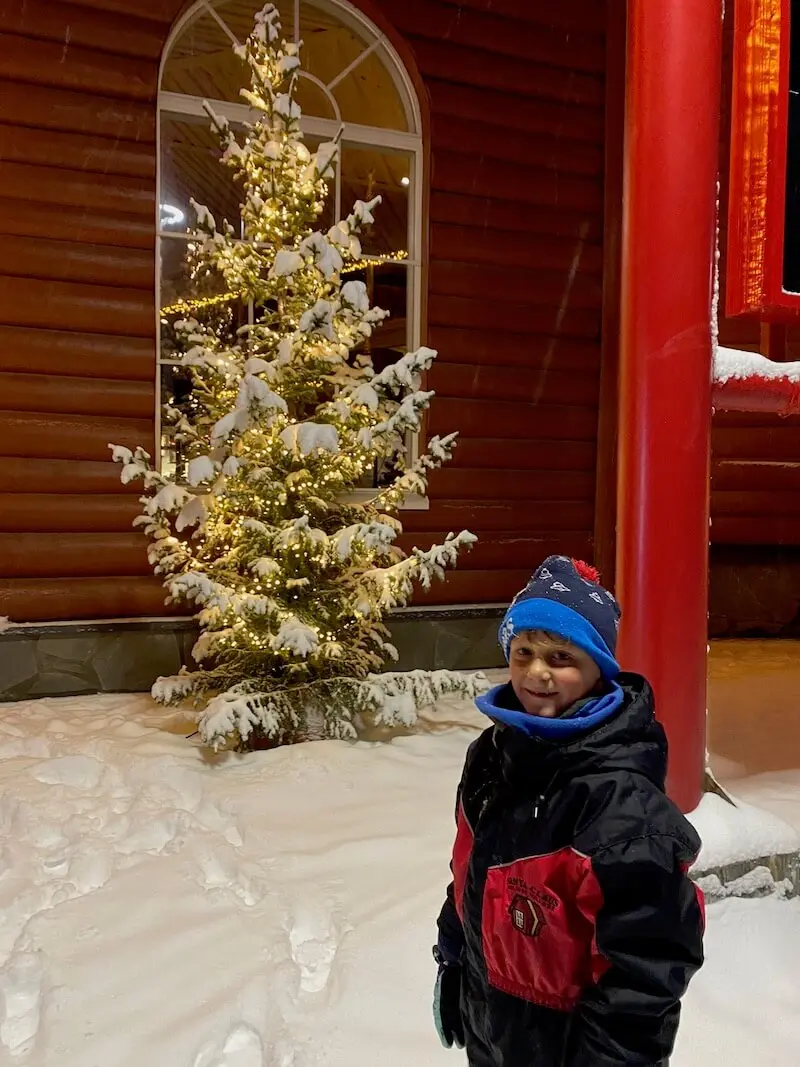 No.3: Christmas spirit in the air!
Everywhere in the village during the snow-covered months leading up to Christmas, you'll find Christmas trees covered in lights and snow.
Could there be any place more magical?
I think not!
We never wanted to leave.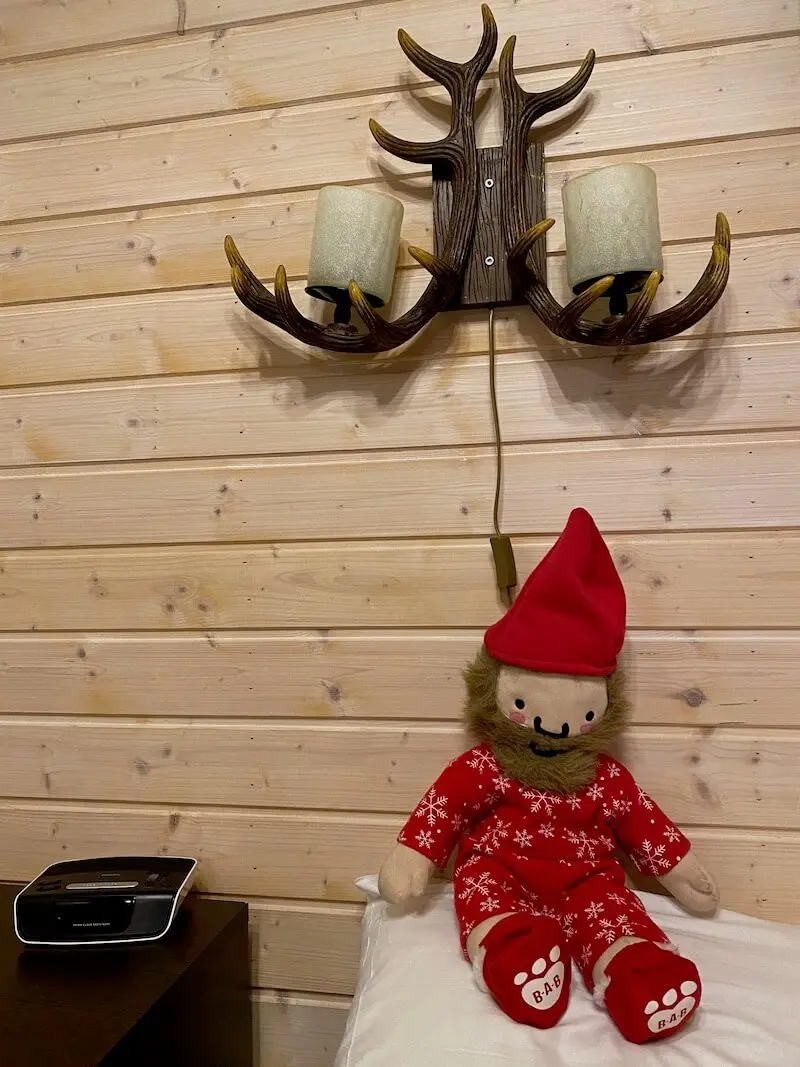 No.4: FREE Wifi
A bonus inclusion that the kids can't do without.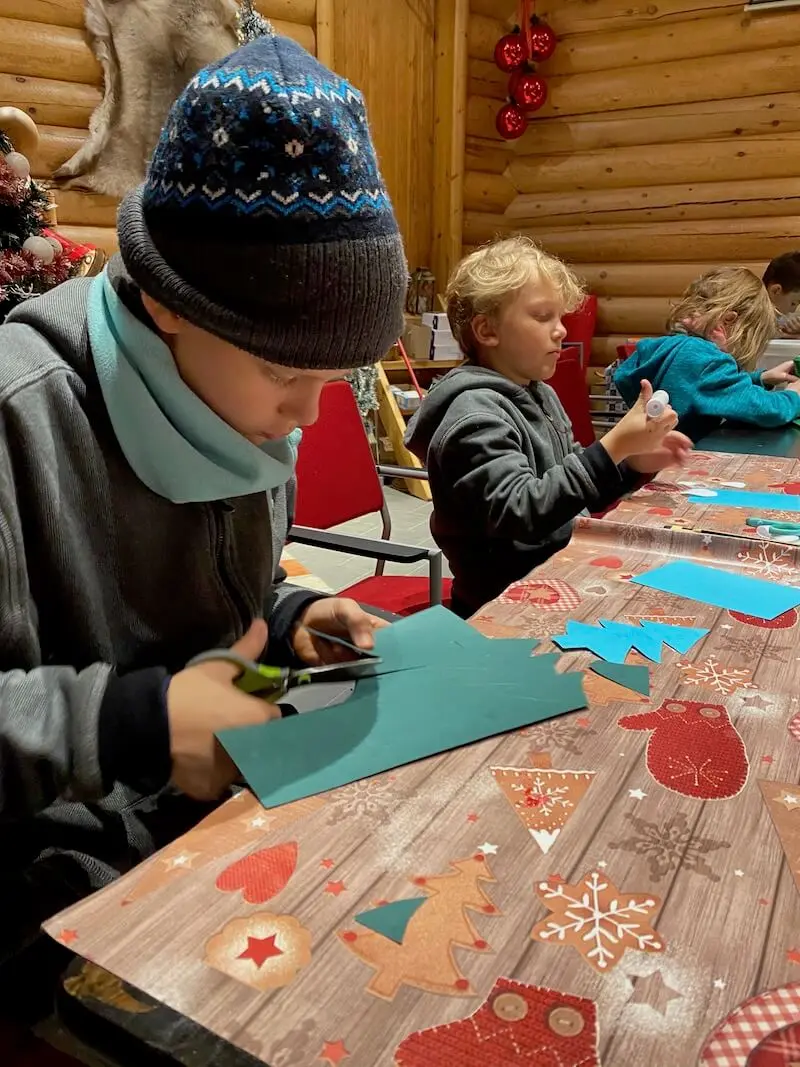 No.5: Gingerbread House Kids Club
BONUS!
If you are staying onsite during the Christmas period, kids can join in the Kids Club called Gingerbread House for FREE!
This is the place they can join in Christmas activities such as:
decorating Christmas cookies
baking
arts and crafts such as papercraft and card making
group sledging
skiing trips
Elf school, and
special surprises.
Gingerbread Kids Club meets every afternoon from 4pm to 6pm during the Christmas season (1 December – 10 January) in the conference room upstairs in the Christmas House shop (near the entrance).
GKC is included in the children's accommodation fee.
Whether or not your kids will want to join in is really dependent on who is hosting the class, and the ages of the other kids there.
Ned was a bit old for it, at almost 12.
But had there been a young vibrant leader taking them out to the sledding slopes, he might have thought differently.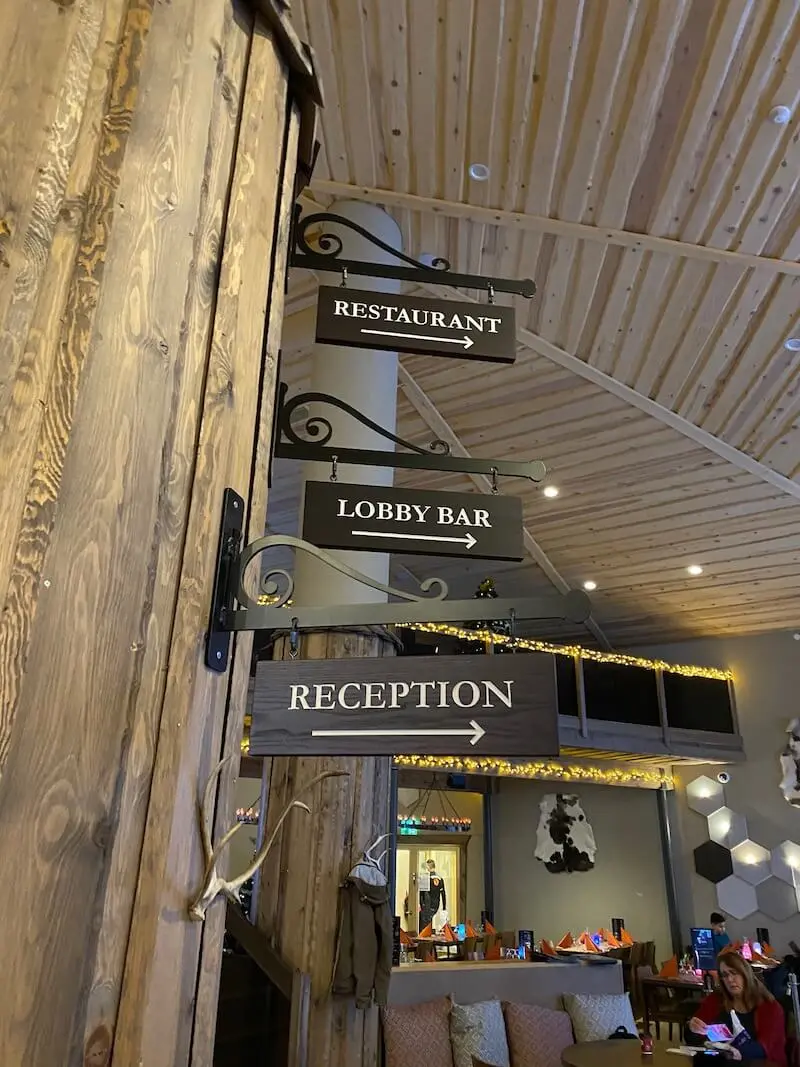 THE INSIDE SCOOP: Santa Claus Village Hotel Rovaniemi
Correct at time of publication on Roam the Gnome. Please check with venue for updates. We apologise in advance if there have been any changes we are unaware of. All prices in euro, unless otherwise stated
Santa Claus Holiday Village hotel address: Tähtikuja 2, 96930 Rovaniemi – Finland
Santa Claus Holiday Village hotel email address: [email protected]
Santa Claus Holiday Village hotel telephone number: +358 400 306 273
Santa Claus Holiday Village hotel website: Click here
Book your stay below
CHECK LATEST PRICES for SANTA CLAUS HOLIDAY VILLAGE on Booking.com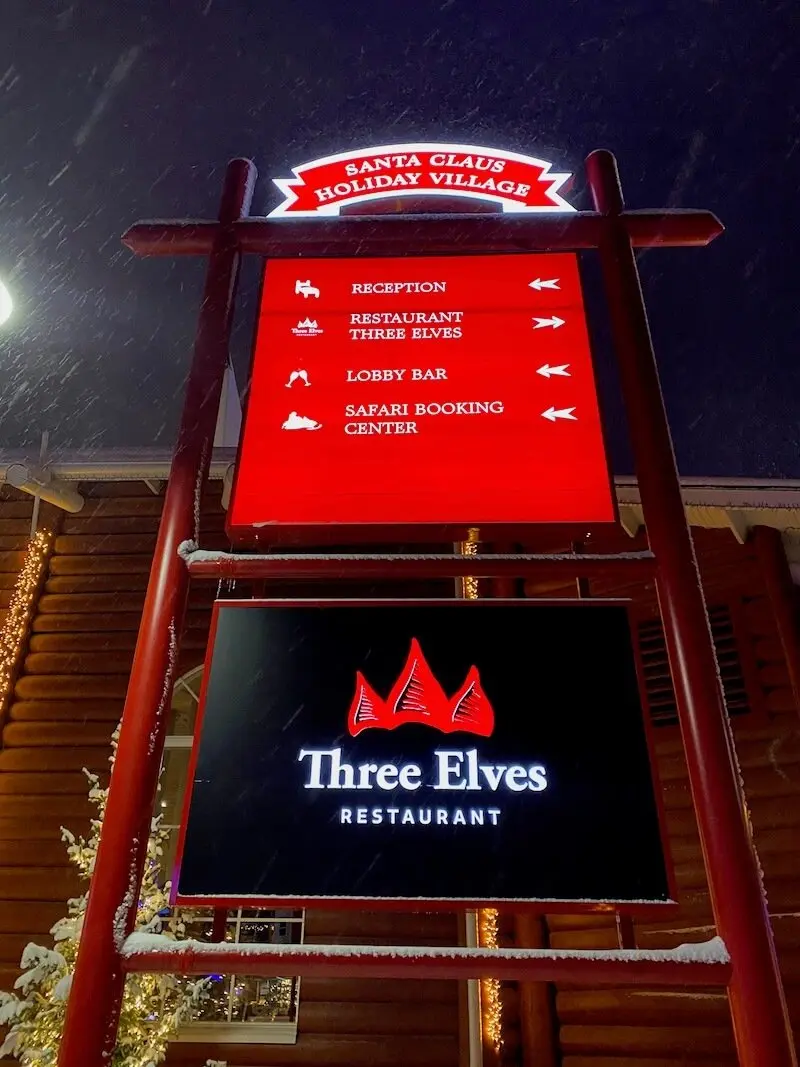 FREQUENTLY ASKED QUESTIONS
No.1: Where is the Santa Claus Village Hotel Reception?
Santa Village Hotel Reception is inside the same building as the Three Elves Restaurant.
Look for the large red and black sign when you arrive.
The Santa Express bus drops you outside the Tourist Information Centre.
Turn right to head towards the reception.
There's also a Tour Desk opposite the reception desk where you can book all your Safari's and Tours if you haven't already.
(Although do compare prices with the price on the operator's website first.)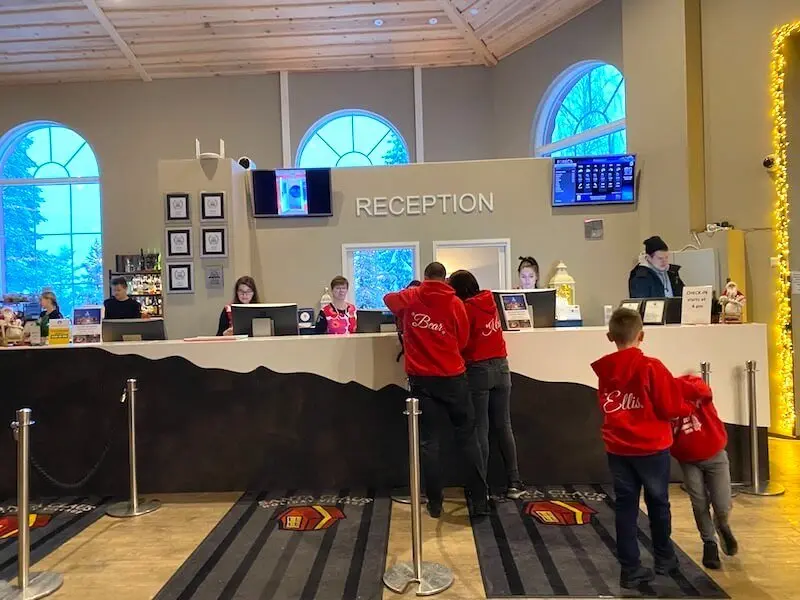 No.2: What time is check in at Santa Claus Village hotel?
Standard check-in time is from 4:00 p.m.
You can check in anytime up to midnight.
Please advise the reception by phone or email if you will be a late arrival, although the Santa Holiday Village reception is open 24 hours.
No.3: Santa Claus Village Luggage Storage
If you arrive at Santa's village hotel before 4pm check in, you can leave your luggage at reception.
They'll tag it, and transfer it to your room at no extra charge.
It's then time to start exploring the Santas Village Finland and surrounds.
Pick up your room keys after 4pm.
Happy days!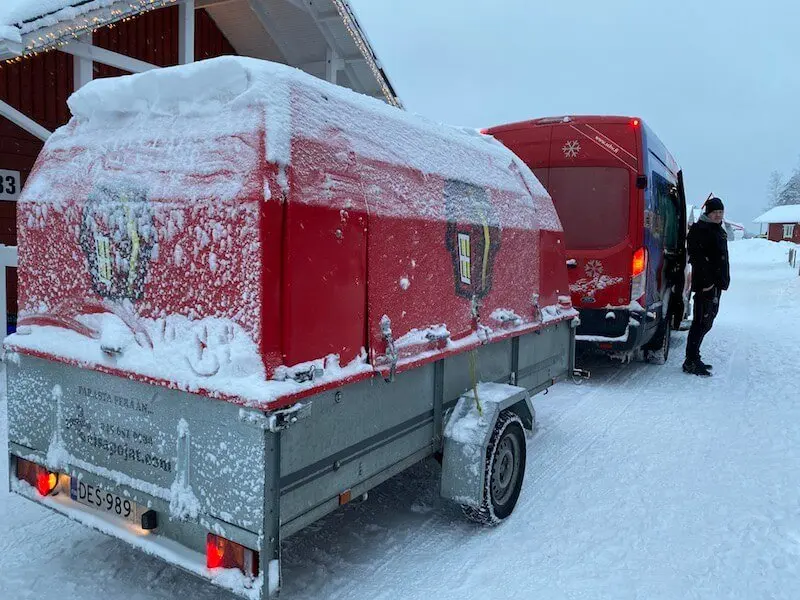 No.4: What time is check out at Santa Claus Village Hotel?
Check-out time is between 7:00 a.m. and 12:00 noon at the latest.
If you are heading to the airport, please inform the staff at reception in the early morning around 7am-8am when you check out, and book a time for a free transfer and collection from your room.
The Rovaniemi airport is less than 5 minutes away, so you only need to leave the village two hours ahead of your flight.
We were advised to be in our room by 12pm, with all bags and suitcases ready to go.
Transport staff collected family after family from the cottages until the van was full.
Our suitcases and gear was transported via a luggage trailer behind the van.
This was a fabulous surprise, giving us the entire morning to enjoy last-minute activities in the snow, without having to lug our suitcases back to reception.
We also had full use of the cabin until departure, for last minute toilet stops and cups of tea.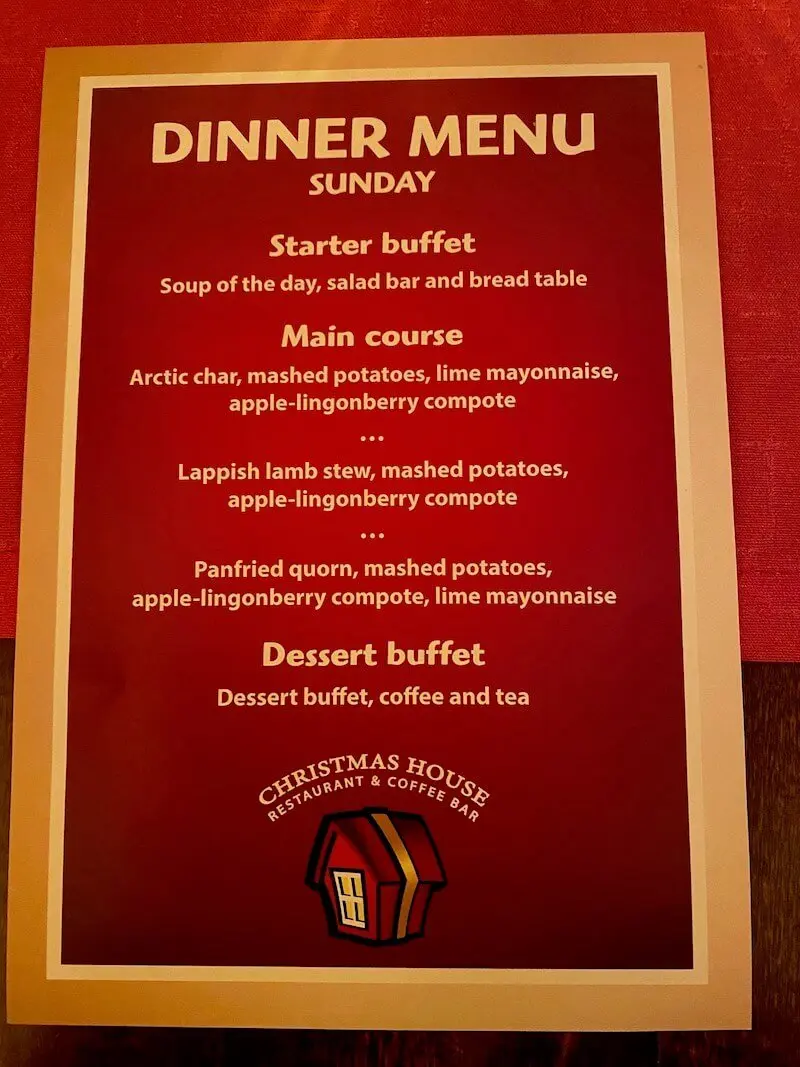 No.5: What is included in the price of a stay at the Santa Claus Village cabins?
The daily hotel fee in a standard cottage includes:
a buffet breakfast in the Christmas House restaurant
use of towels and bedding
a free parking place with a car heating post
cleaning after check-out
a free airport transfer in the SCHV airport shuttle, if you need it
Our hotel package, being so close to Christmas, included half board meals, which also included a delicious dinner at the Christmas house.
(Click here for detailed information on what kinds of food were on offer for package deals at the Christmas House restaurant & coffee bar. Ala carte meals include burgers, pizza, pasta, soup, and sauteed reindeer.)
If you wish to have daily cleaning, please arrange this with reception.
It's an extra charge.
Free daily cleaning is included with:
Superior cottages
Classic holiday suites, and
Family suites.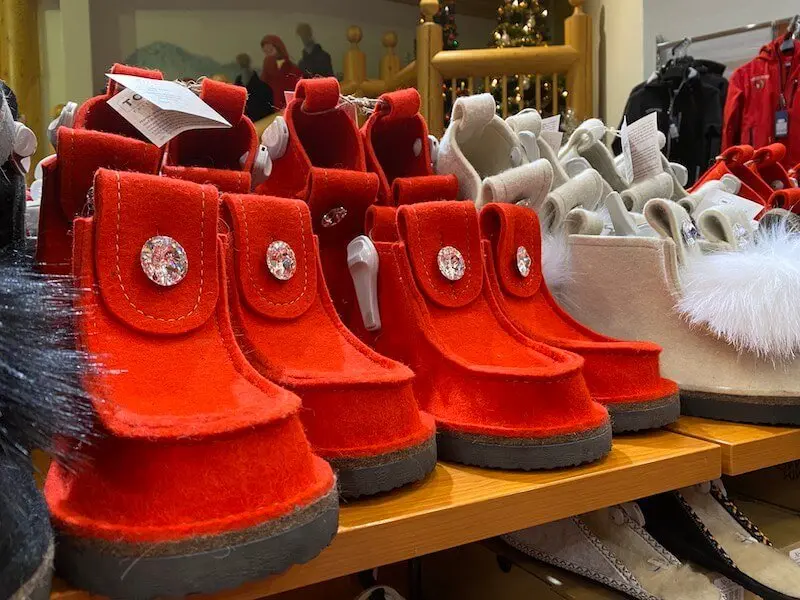 No.6: Discounts at Santa Village?
Your accommodation card (door card) gives you 10% discount in:
the Christmas House Souvenir Gift Shop,
in both the Three Elves and Christmas House restaurant (except alcohol), and
at the Christmas House Exhibition and Santa shop.
Please show your card before making a purchase.
No.7: Parking at Santa Claus Village Hotels
If you are holidaying on site, you will find parking at Santa Claus Holiday village is included in the price of your stay.
A dedicated parking place with a car heating post is situated next to your cabin.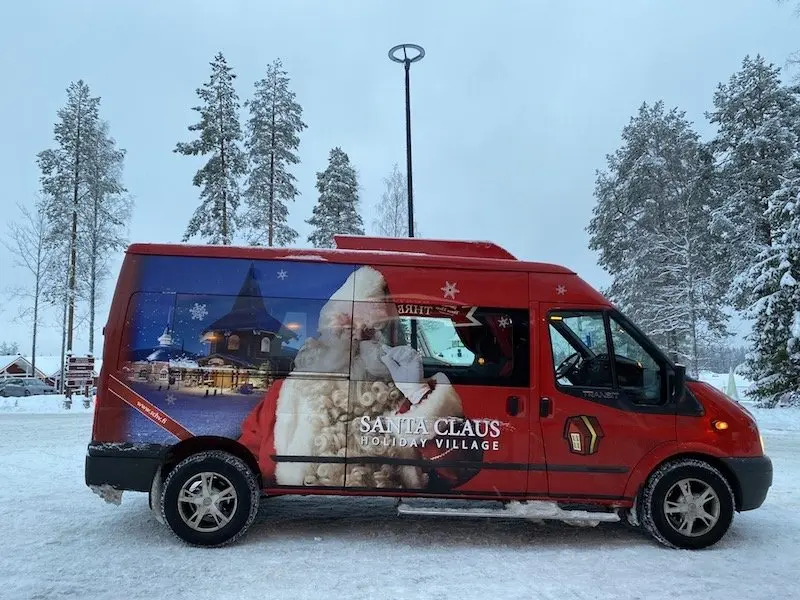 Getting from Rovaniemi to Santa Claus Village Accommodation
How do I get to Santa Claus Village from Rovaniemi Airport?
From Rovaniemi airport to Santa Claus village Finland, you can catch the Santa Express bus.
Or if you are staying on site in the Santa Village cottages, request a FREE pick up from the Santa Claus Holiday Village reception.
Arrange via email, or by calling reception in advance of your arrival.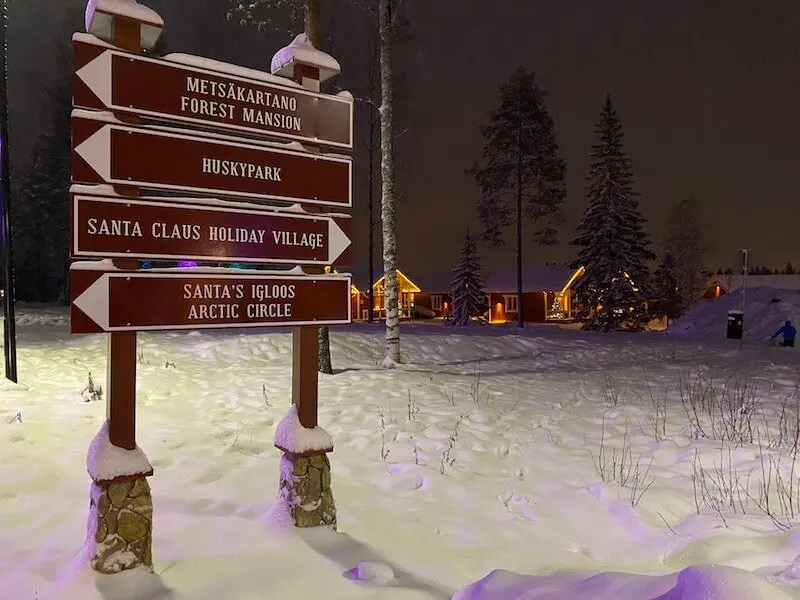 How do I get to Santa Claus Village from Rovaniemi train station?
If you've arrived via VR overnight train from Helsinki, take the Santa Express bus from the Rovaniemi train station, or the Local Bus No.8 from the Rovaniemi train station.
There's no need to rush.
The bus will wait for a good 10 – 15 minutes after the train's arrival. You have plenty of time to get on.
The Rovaniemi to Santa Claus village bus takes about 25 minutes.
If you prefer, call a taxi.
A taxi from Rovaniemi to Santa Claus Village will cost you around 25-30 euro to drive the 8km distance.
The bus is better value, and easy.
There's really no need for a taxi.
---
RELATED: How to get from Rovaniemi to Santa Claus Village – Everything you need to know guide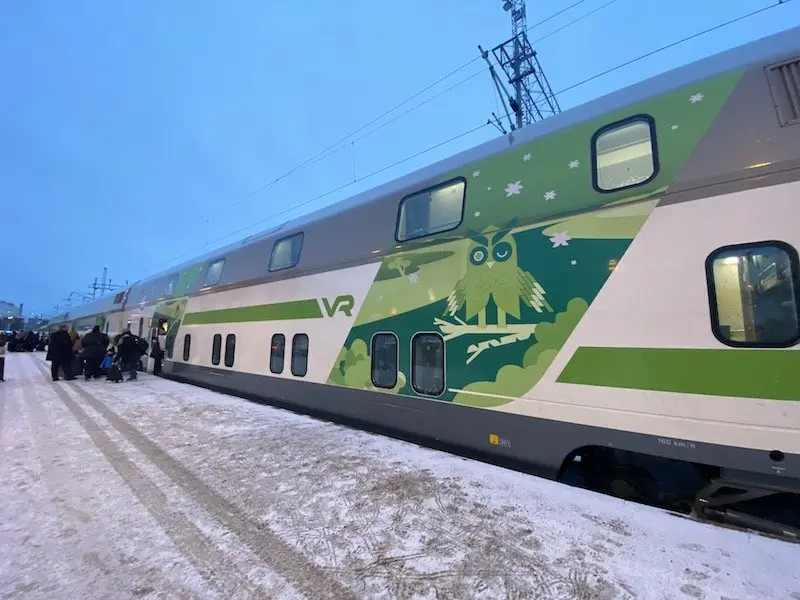 How do I get to Rovaniemi from Helsinki?
You have three choices when it comes to getting from Helsinki to Santa Claus Village:
Flight from Helsinki to Rovaniemi airport
Self drive
Click the links above for details.
As for self drive, the distance from Helsinki to Rovaniemi is approximately 830km, and will take 9.5 to 10.5 hour to drive without stops.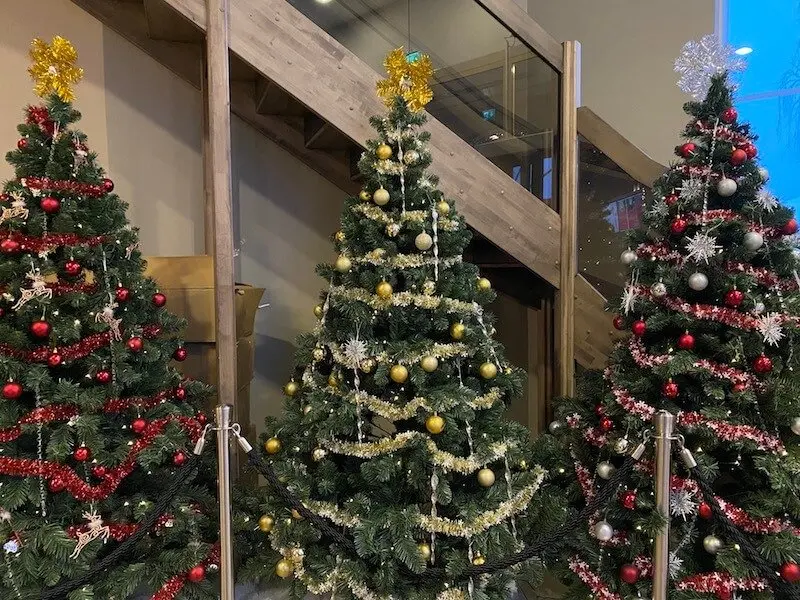 BEST SANTA CLAUS VILLAGE ACTIVITIES & ATTRACTIONS
There is SO much to do at Santa Claus Village.
Three days is not quite enough.
Four would be better.
Five just perfect.
Click here for a comprehensive guide on ALL the things to do in Santa Claus Holiday Village.
Hot tip: Do check out the Santa Claus Main Post office to see where all Santa's letters are delivered!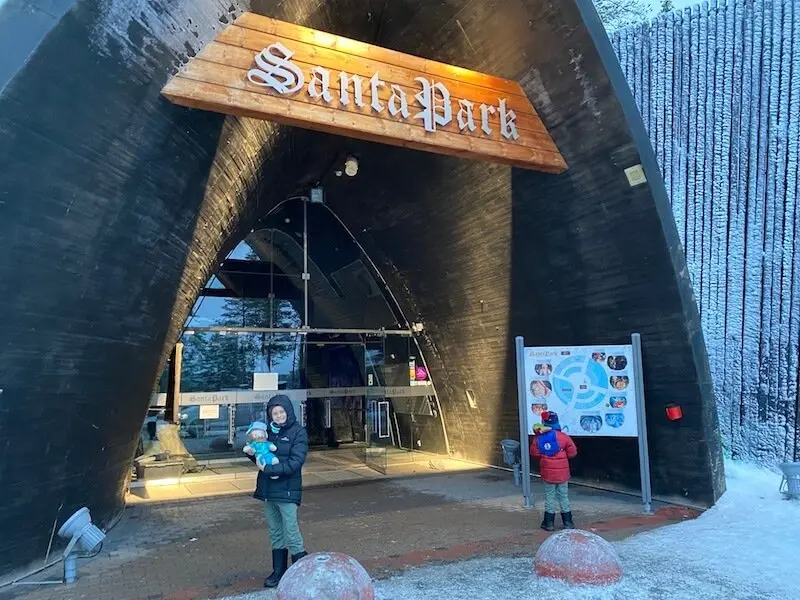 Tours from Santa Claus Village?
You can also visit the Santa Park Rovaniemi theme park for kids just down the road, or book outside tours such as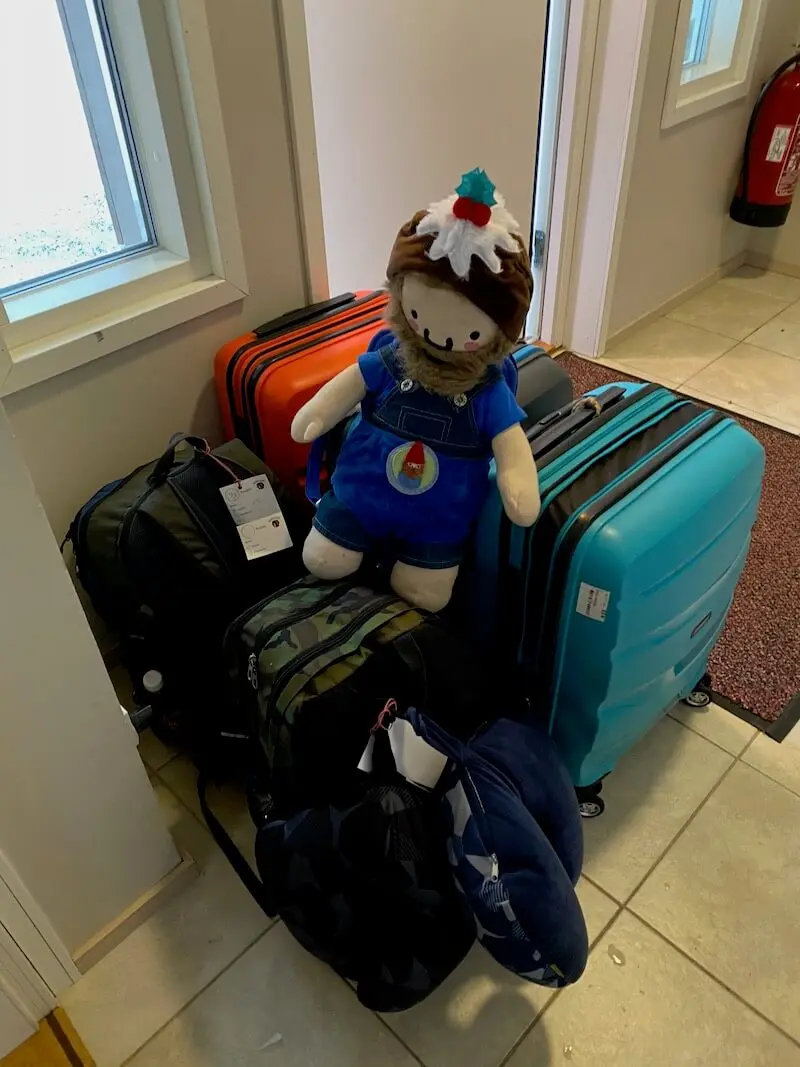 MORE FAQ about staying at Santa Claus Holiday Village Hotel
No.1: My stay at Santa Claus Holiday Village includes half board. Where do I eat breakfast and dinner?
The Santa Claus Village restaurant where you will eat depends on the type of cabin you booked.
Visitors staying in Standard cabins eat breakfast and dinner in the Christmas House restaurant & coffee bar.
Those staying in Superior or Deluxe cabins eat breakfast in the Three Elves Restaurant, and dinner in the Christmas House.
Click here for a sneak peek of what kinds of foods to expect.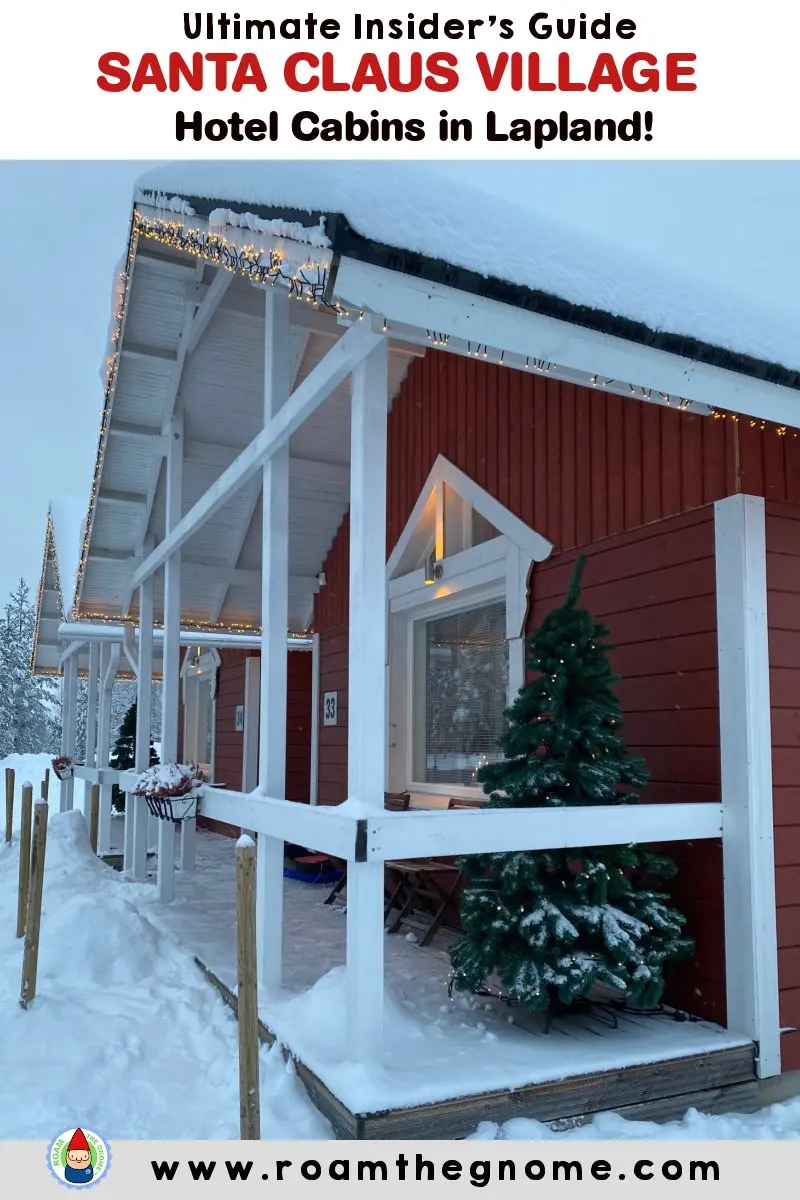 No.2: I'm arriving by the Helsinki to Rovaniemi Train and will be at the hotel by lunchtime. Can I leave my luggage at reception until check-in?
Yes.
Check in is from 4pm, but you are welcome to leave your luggage with us while you wait and head out to explore Santa Village.
The helpful staff in reception will organise your luggage to be transferred to your room at no extra cost.
No.3: My flight from Rovaniemi to Helsinki leaves at 2pm. How do I arrange a transfer from Santa Claus Village Hotel to the Rovaniemi airport?
Simple.
Head to the reception desk on the morning of your last day, and ask to book a transfer.
It might be wise to book the transfer the day before if it is very busy in the village.
Transport staff will collect you and your luggage from your room, and drive you the short distance to the airport with plenty of time before your flight departs.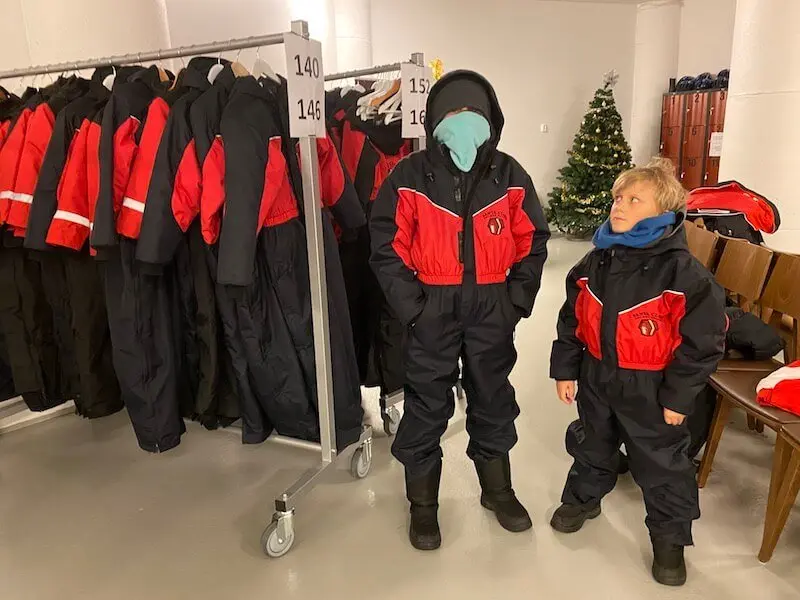 No.4: I don't have my own snow gear. Can I hire it in the Santa Village?
There is thermal clothing rental available at reception.
Santa Claus hotel in Lapland carries many different sizes, from children size 80 to adult size 3XL. The same for the winter boots.
If you rent the set, thermal suit + winter boots, the price is 20€ for the first day and 5€ for each following day.
If you need only the suit or only the boots, the price is 10€ for the first day and 2,5€ for each following day.
You don't need to reserve those in advance. It is always better to try upon arrival which size fits the best.
Head to reception and a staff member will take you into the basement to get suited and booted up.
---
RELATED: What to wear in Lapland in December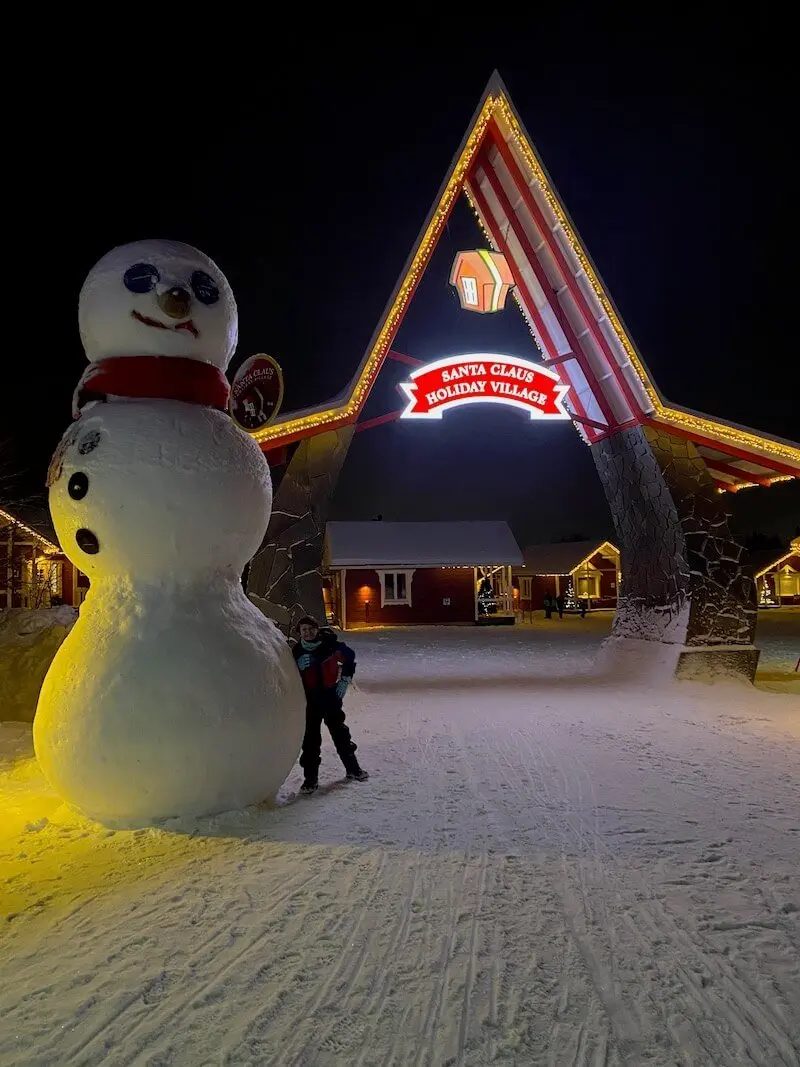 Toadstool Rating: Santa Claus Village Arctic Circle Hotel
The accommodation may not be anything flash for the price, BUT the location is one of a kind.
We'd go back in a flash.

Looking for more things to do in Lapland with kids?
If you'd like to know more about things to do in Lapland, check out these posts.