INSIDE: Ultimate Guide on where to find the best Aussie Comps for Aussie compers to enter.
We've gathered a list of the best Aussie comps website directories and databases for Aussie compers.
These directories collate all the current competitions & giveaways in Australia including:
simple online entry forms
25-words or less competitions
SMS competitions and mobile competitions
Facebook competitions
Twitter competitions
Instagram competitions (a selection only)
survey competitions
radio competitions, and
TV competitions.
Bookmark this page, so you can find all these Australian competition directories in one go, and don't have to go hunting or wasting time ever again!
Start your adventure of entering competitions below.
Disclosure: This article contains affiliate links. If you make a purchase after clicking on one of these links, we may receive a small commission at NO extra cost to you. Main image: Jill Wellington via Pexels CC0 BY-1.0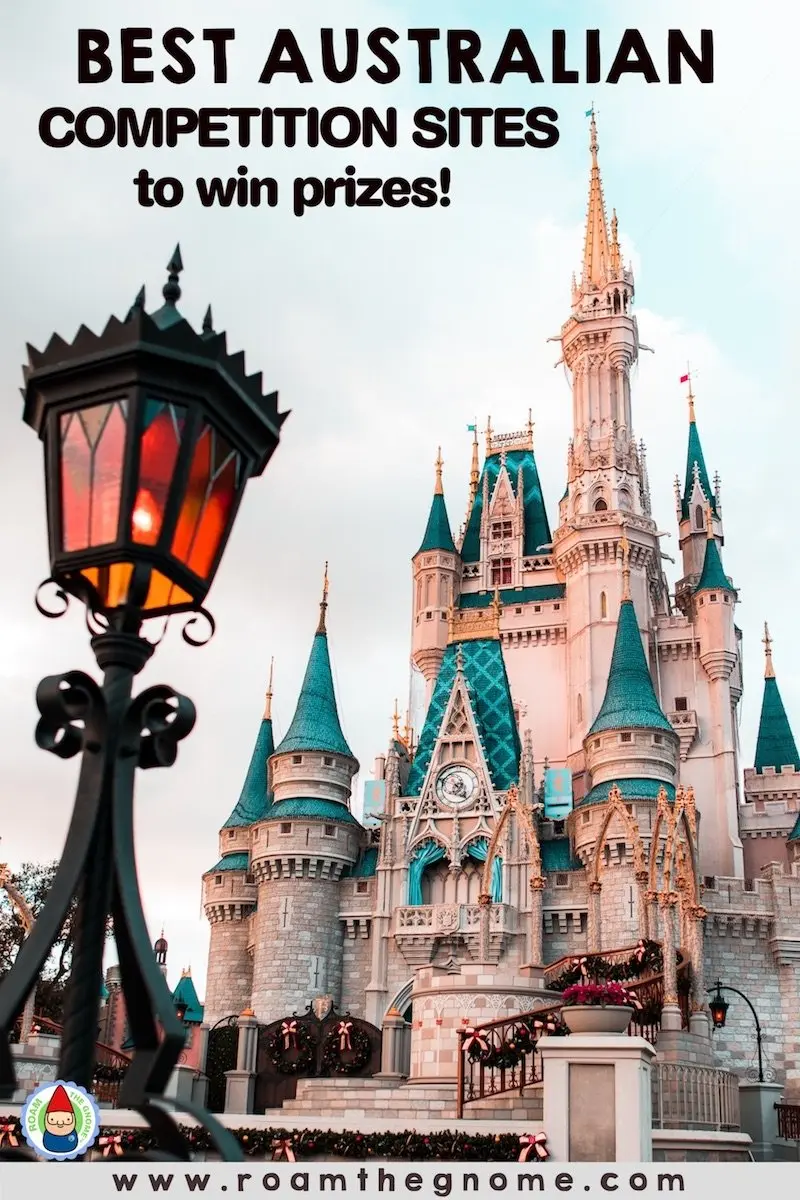 Best Top 1o Aussie Comps Directories for Aussie Compers
Hot tip: Set aside 2 hours each week for comping.
Be mindful that many of the competitions listed in one directory will be listed in the next directory too.
Choose your favourite one and enter the bulk of competitions there, then check the others to find stragglers.
Bookmark THIS URL so you have all the best comping websites in Australia in one place.
Then check each website below individually for brand new competitions and giveaways you'd like to enter.
---
RELATED: All you need to know about winning Family Travel Competitions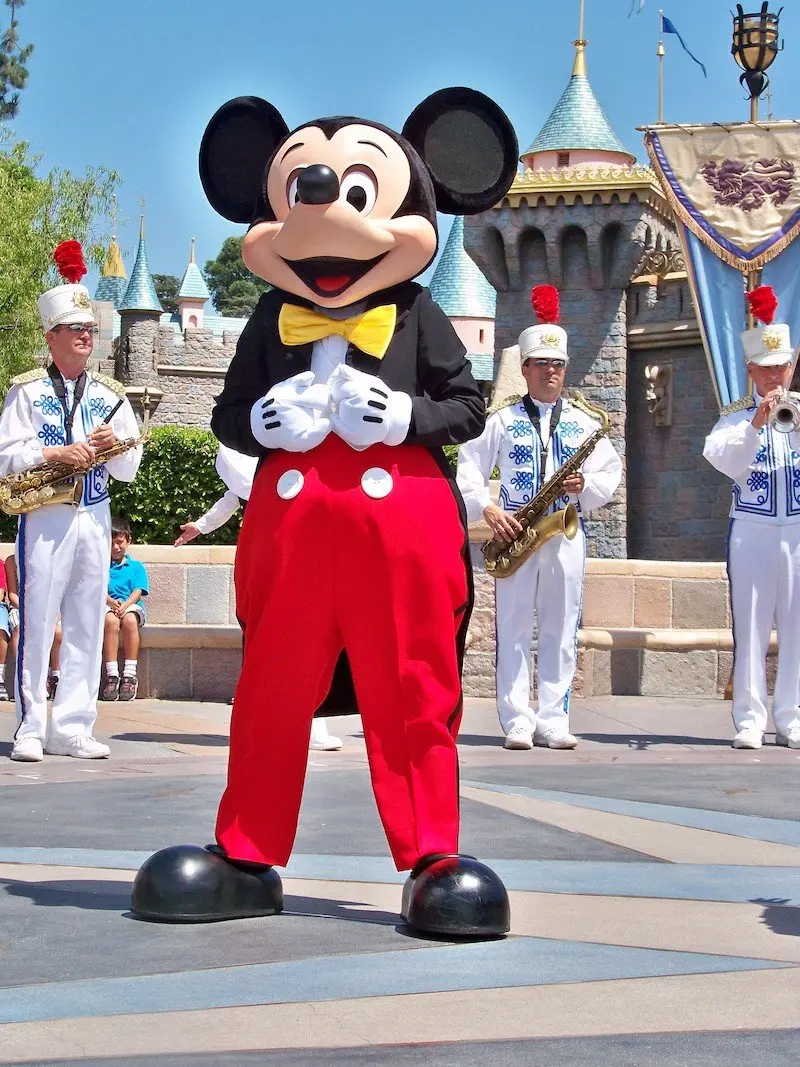 Image credit: Loren Javier via Flickr CC BY-ND 2.0
Look what you have the chance to win!
Travel Competitions to Win
family holiday competitions and camping trips
overseas trips to Dubai, Singapore, Thailand, Fiji, or America
trips to the Whitsundays
3 night trips to Melbourne or Sydney, all expenses paid
family trips to Disney World or once in a lifetime adventures at Disneyland in California
family trips to Universal Studios to see Harry Potter
weekend trip to Uluru
travel vouchers
weekend getaways
overnight hotel stays
winery tours & wine packages
long weekend cruises
14 night European cruise
Win tickets & cash competitions Australia
vouchers for dinners
show tickets
concert tickets
movie tickets
cash prizes
gift cards
festival tickets
Disney on Ice tickets
Sports events tickets
State of Origin tickets
Supernova tickets
Comic-con tickets
unique VIP experiences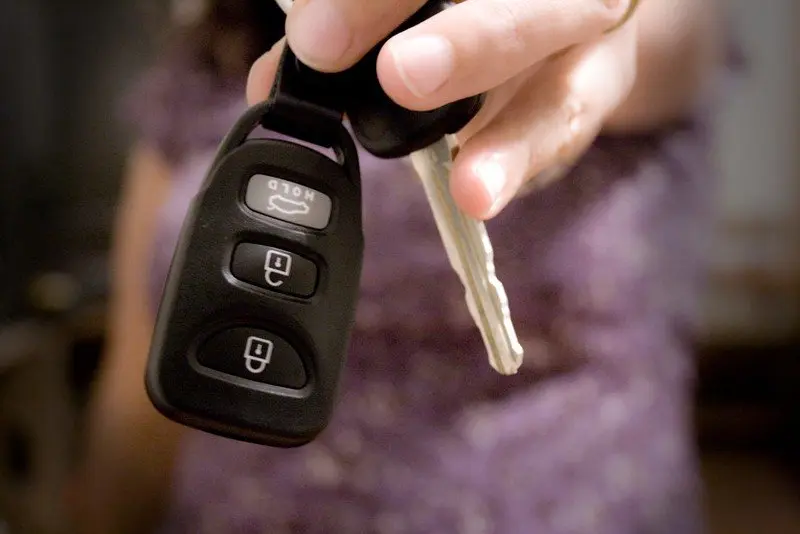 Image credit: Caitlin Regan via Flickr CC BY-2.0
Vehicle and Car Competitions Australian
Check out the featured comp on the site. It's often a cars competition. Get in the draw.
Lifestyle competitions
home renovations prize pack
furniture packages
home appliances (fridges, freezers, microwaves, kitchen packages, toasters, kettles, sausage roll making machines, ice cream makers)
win a new Spring wardrobe (or Summer)
Win products
No one will say no to be a winner of one of these valued prizes!
a year's supply of chocolate, or OPI nail polish, or Doritos chips
electronics
iPads and iPhones
PS4 game stations, gaming consoles, noise cancelling headphones
free products
toys and games
craft kits, books, and magazine subscriptions
Hot tip: Enter competitions that other people don't!
---
RELATED: Ultimate Guide to ALL the Best Australian Competitions and Giveaways

AUSTRALIAN COMPETITION WEBSITES (ROUND-UPS)
No.1: Competitions Guide
Competitions Guide is a well set out and easy to navigate competitions website in Australia.
The publisher of the website, Craig Seitam, has been featured on A Current Affair, the Today Show and Sunrise inspiring Australians to jump in and enter competitions to win prizes.
Their Win Competitions website is easy to see, listed in two columns, so you can scan quickly.
Details on each competition list:
the prize offering
prize pool value
number of prizes
competition closing date
If you create an account, you can keep track of the competitions you've entered, competitions you don't want to enter, and ones you've starred to come back and enter.
They even list all the best new comps in one place, as well as the best closing competitions just in case you haven't visited for a awhile.
It's a trusted source, and there's a minimum of 10 competitions added daily, so be sure to check back, again and again.

No.2: Competitions.com.au
Competitions.com.au is Australia's newest aggregate directory, gathering all the Australian competitions in one place.
Their goal is to build Australia's largest and most comprehensive site on competitions.
This free Australian competitions database is free for the public. Everyone's encouraged to add any competitions they find that aren't yet on the directory, comment and share their wins.
They add around 20 new comps per day.
The site is easy to navigate, just one continuous list of competitions with an ENTER now button on each entry, along with:
how many days left to enter
prize value
expiry dates for competitions so you can find competitions that close today, or
competitions closing soon.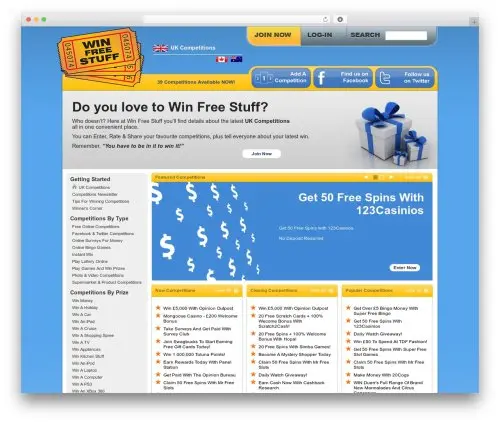 No.3: Win Free Stuff
Win Free Stuff has all the details about the latest Australian Competitions in one convenient place.
Of all the top 3, the layout of this website is best.
See all the competitions in one of three columns:
new competitions
closing competitions
popular competitions
Then click the link of the comps you want to enter.
On the left, is a menu of the different competitions by type, and the competitions by prize, so you can pick and choose and prioritise what you'll spend your time doing.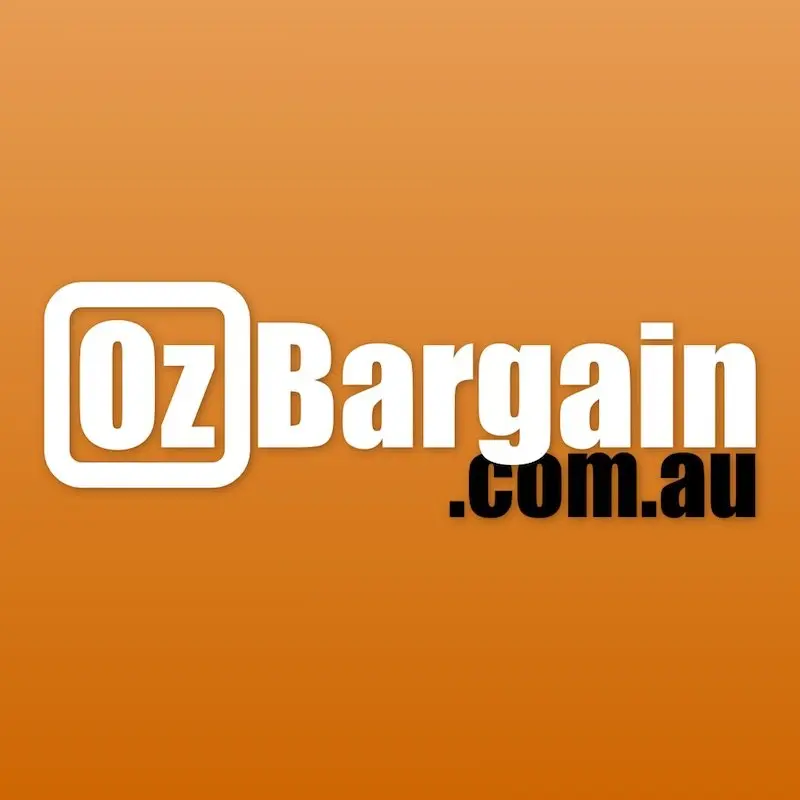 No.4: Oz Bargain
Oz Bargain is a deals website for money off products, restaurant meals, fashion, electrical products and gaming, health and beauty goods and home and garden items.
They also collate and showcase current competitions in Australia.
It's not the prettiest of websites, but if you can handle a bit of a mess, it's worth a squiz.
Take a look here: Oz Bargain

No.5: Aussie Contests
Aussie Contests lets you win for free in Australian online competitions.
Search by category, or look down the main feed.
There's a pic of the prize with each entry.
Hot Tip: How to tell if a Competition is Legit
If you have any concerns that a particular contest or competition could be a scam, do your research before committing your details to any form.
Avoid any website ( Tomorro comes to mind) where the website is an aggregator or a front for a marketing company that simply lists competitions, some of which not end for a year or more.
If it sounds to good to be true, IT IS.
COMPETITIONS & GIVEAWAYS ON FACEBOOK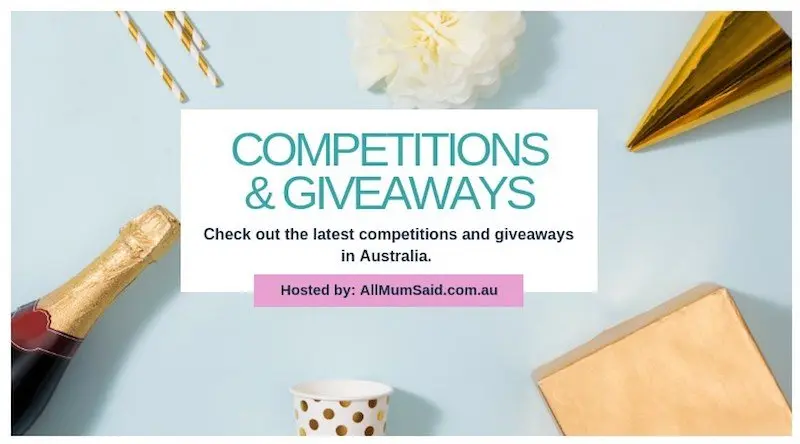 No.6: Competitions and Giveaways Australia (Facebook)
Competitions and Giveaways is our favourite facebook group for finding good competitions to enter, and 20,000 odd other people think so too.
This group, run by All Mum Said, is for bloggers, businesses and compers to promote and share competitions and giveaways in Australia.
So there's lots of smaller competitions but ones you have a good chance to win!
Insider tip: It's getting harder and harder for bloggers especially to find people who will spend the minute or two to enter their competitions. So do! You are in with a good shot.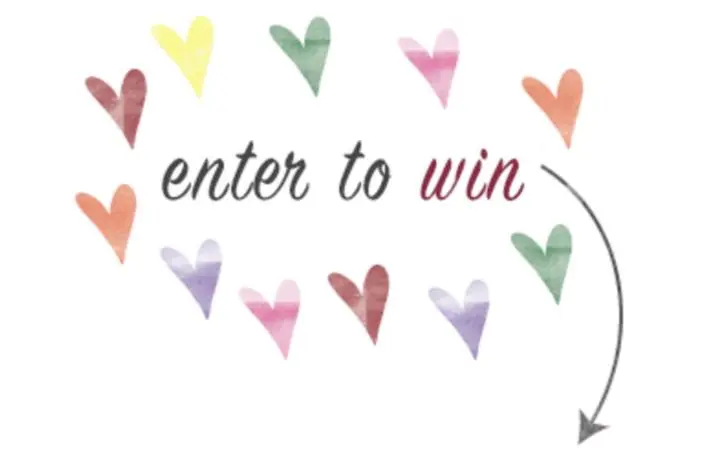 No.7: Australian Competitions and Giveaways (Facebook)
Australian competitions is another group, albeit smaller, with around 10,000 members.
You'll find things like:
Russell Hobbs sandwich presses
Diana adjustable mannequins for dressmakers
vacuum cleaners, gift cards
Mother's Day gifts including Triumph gift vouchers and random handmade jewellery
beauty packs, and
clothing giveaways!
Definitely worth a look!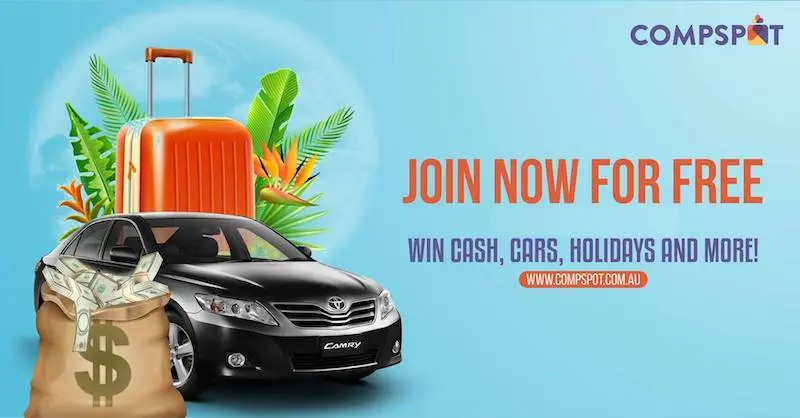 No.8 Competitions Australia (Facebook Group)
Competitions Australia is CompSpot is Australia's newest competitions site.
Join their facebook group here.
Sometimes, you have to visit their website to find and their enter competitions from there, rather than directly from the group.
Visit their website here.

No.9: Pro Comps Facebook
ProComps Competitions & Giveaways Australia is another facebook page where you can find competitions and giveaways in Australia.
They have some different competitions than other places, so good to have a peek.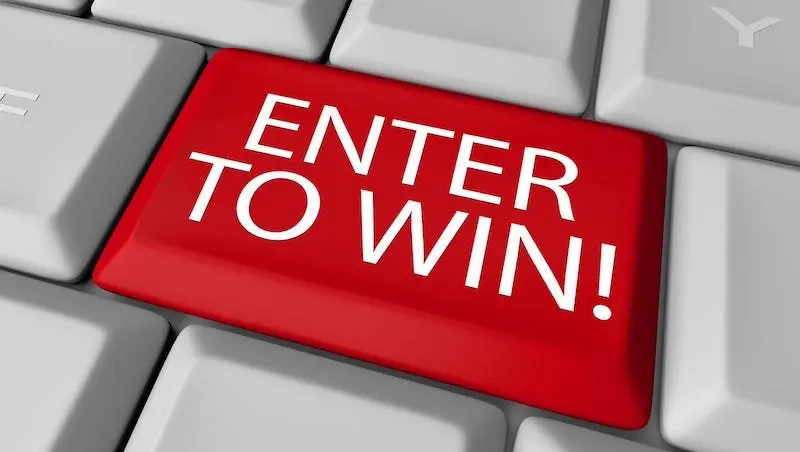 No.10: Competitions Free Samples & Giveaways in AUSTRALIA.
Join this facebook group for competitions, free samples & giveaways in Australia.
Although this group is listed last, don't ignore it.
There are LOTS of unique competitions to enter here.
Just today, the listings include:
The ultimate homefit pack (home gym setup) worth $4499 and a LSKD clothing pack worth $500
Medela swing flex single pump breastfeeding machine
$1000 Ethical Australian clothing voucher by Gwyllem
a year's supply of skincare by Charles and Lee
a Granite Belt food box delivered to your door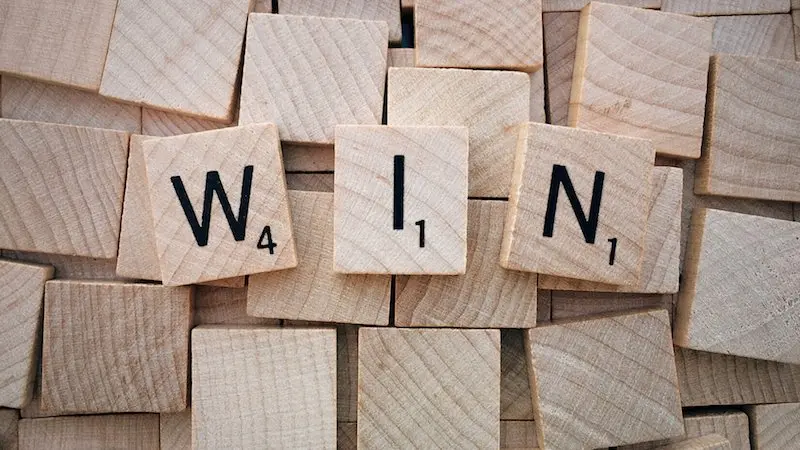 Want more tips on how to win competitions?
Correct at time of publication on Roam the Gnome. Please check with venue for updates. We apologise in advance if there have been any changes we are unaware of. All prices in AUD dollars, unless otherwise stated
Click the blue links below for more tips on winning competitions