INSIDE: The Ultimate Guide to the Shrek Adventure Shop.
If you are a massive fan of SHREK, do not miss the Shrek Adventure Shop in London at the end of the Dreamworks Tours Shrek's Adventure Tour.
You'll be in Shrek heaven.
Take a look and see what's inside.
Disclosure: This article contains affiliate links. If you make a purchase after clicking on one of these links, we may receive a small commission at NO extra cost to you.

Inside the Shrek Adventure Shop
The Shrek Adventure store in London is the icing on the cake after the awesome fun of the Shrek London tour.
(Click here to read our review of Shrek Adventure London. Includes a sneak peek of what to expect, and why you SHOULD visit!)
Here's a list of some of the best selling Shrek merchandise you'll find in the Shrek's Adventure shop in London.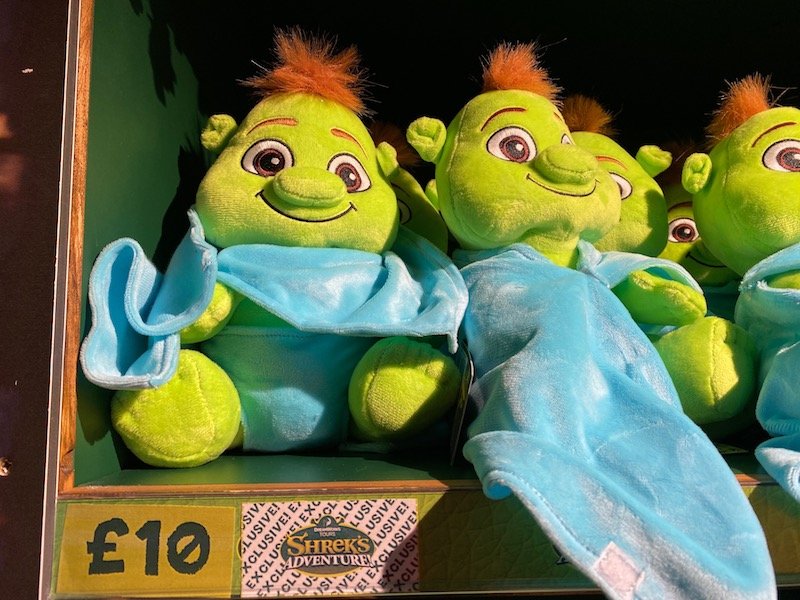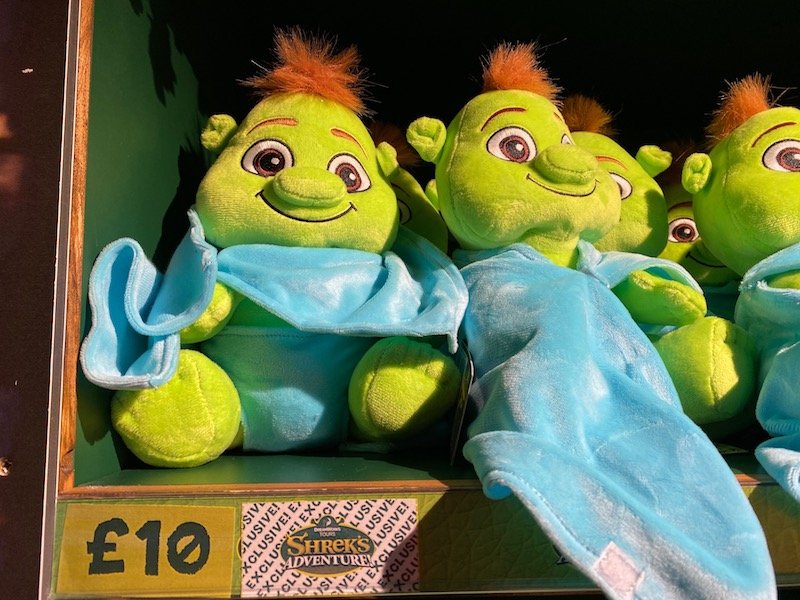 Shrek Ogre Baby Toys
The cutest things in the shop are the Ogre Baby in Pink, and the Ogre Baby in Blue, and BABY Donkey!
At £10 each, it's a worthwhile investment for a true fan.

Shrek Soft Toys
Imagine your joy waking up and seeing Shrek himself every morning!
A Shrek large soft toy is a fun London souvenir from Shrek's Adventure London Experience.
Find Princess Fiona toys too.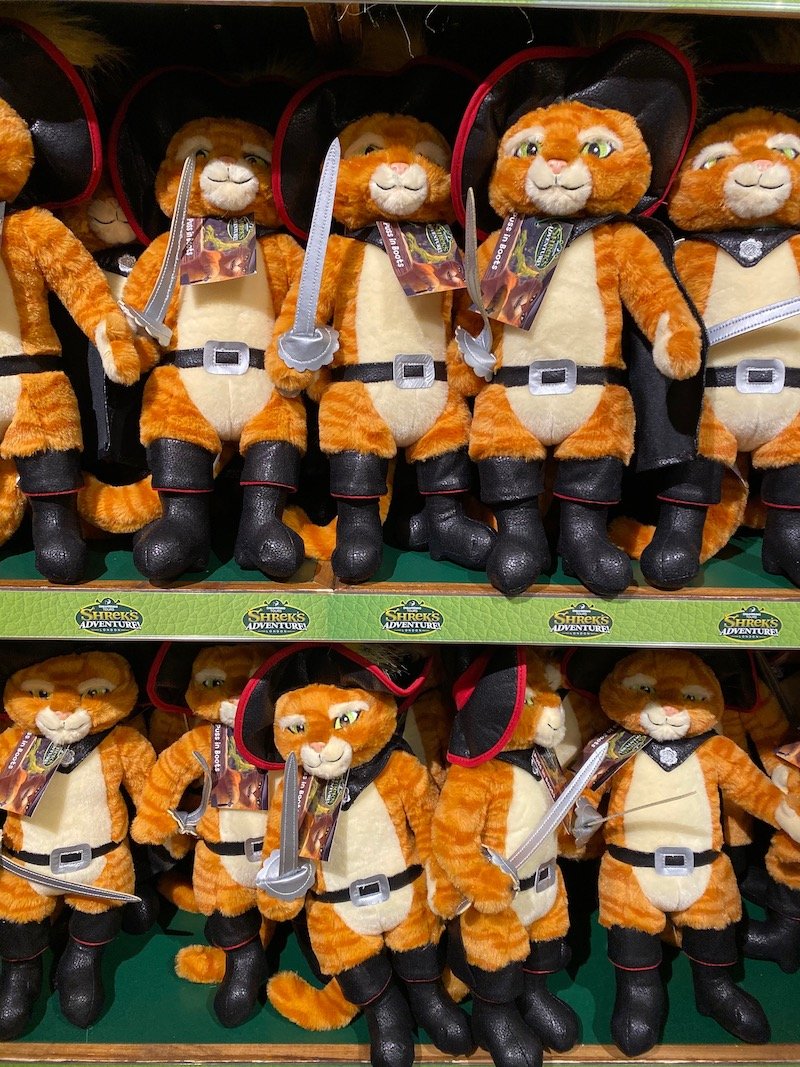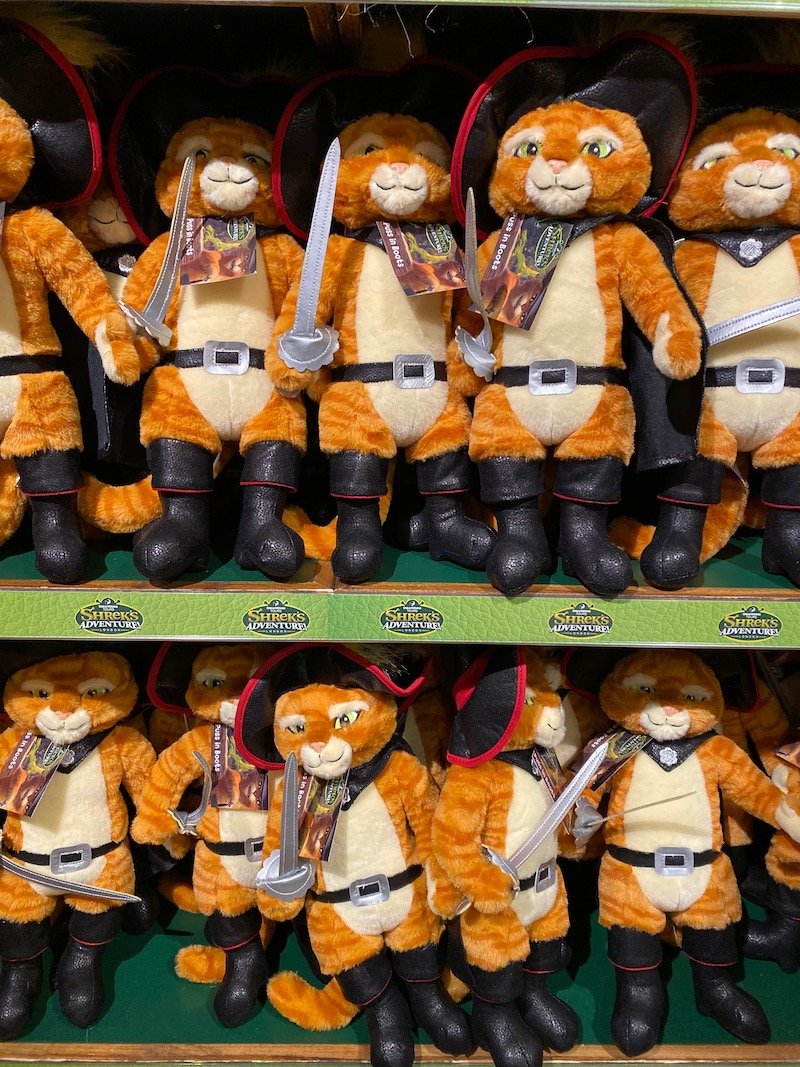 Puss in Boots soft toy
This one's adorable!
Don't you agree?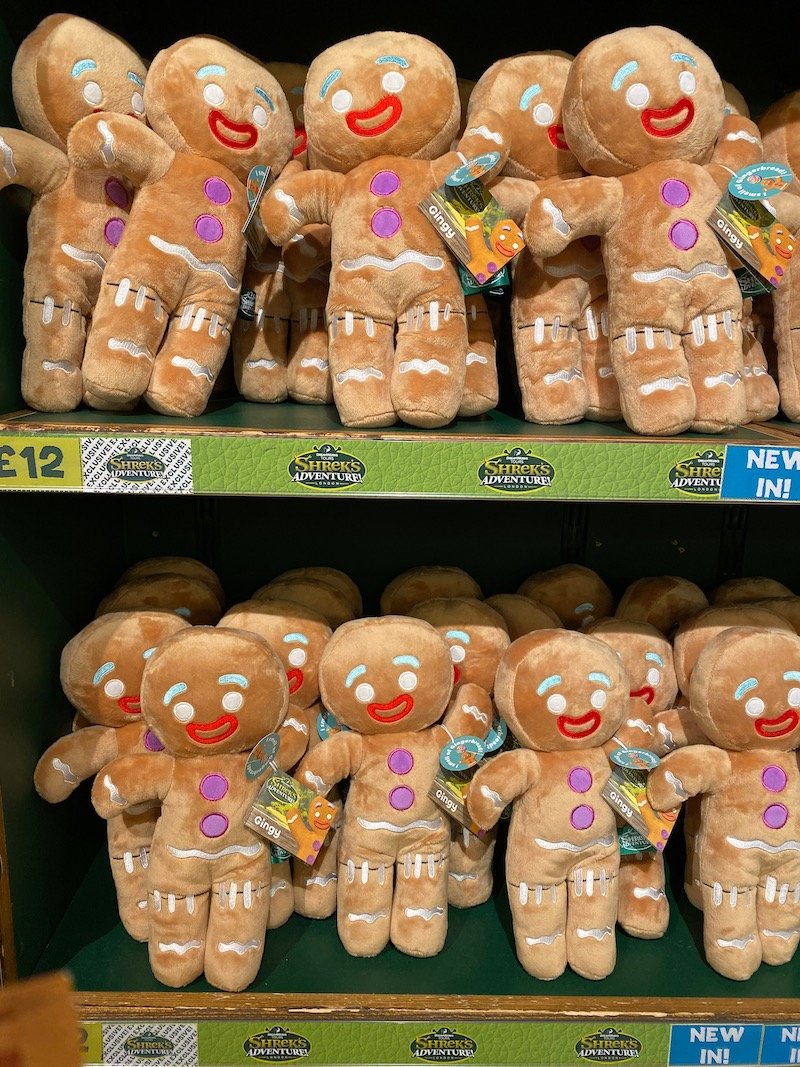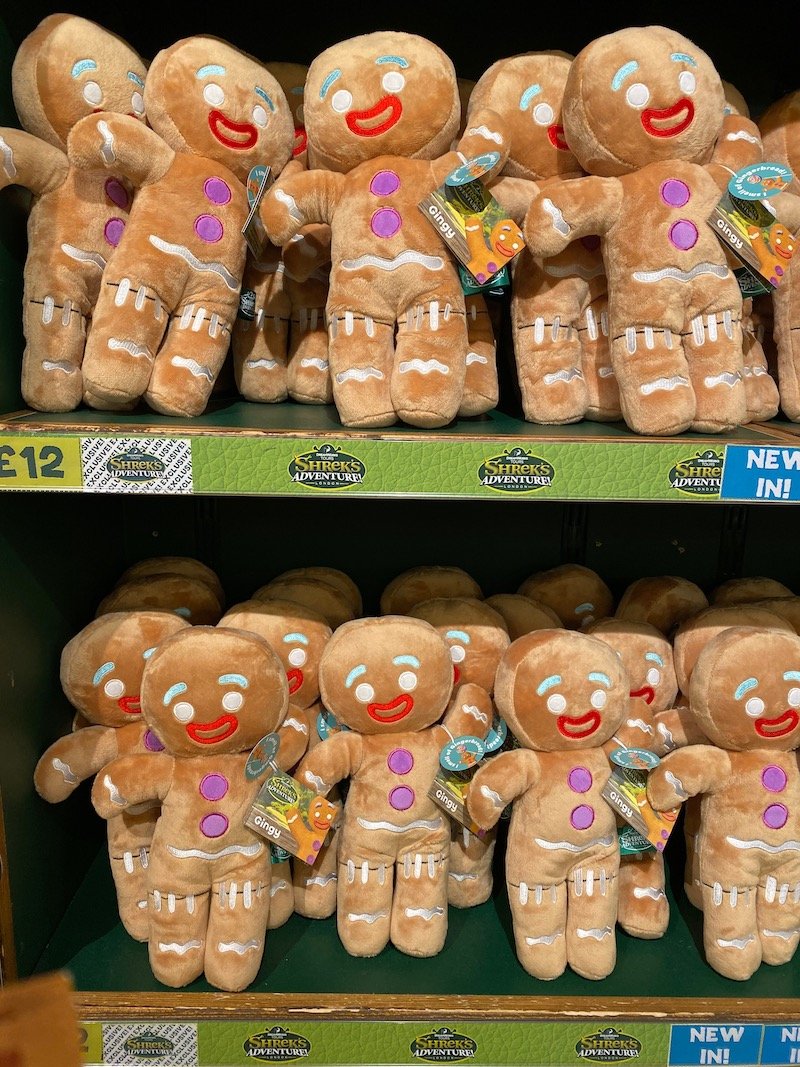 Gingy Soft Toy
These Scented Gingy soft toy dolls retail at £12 too.
He makes a top Christmas gift too.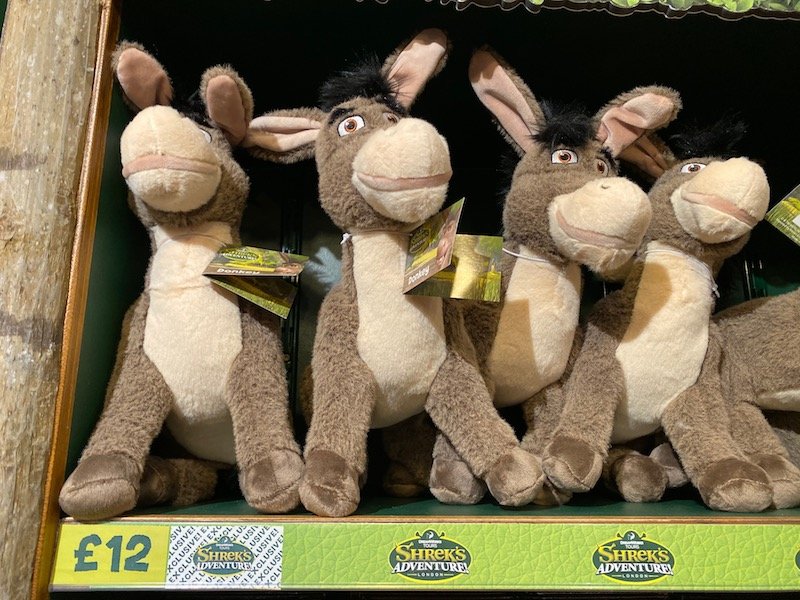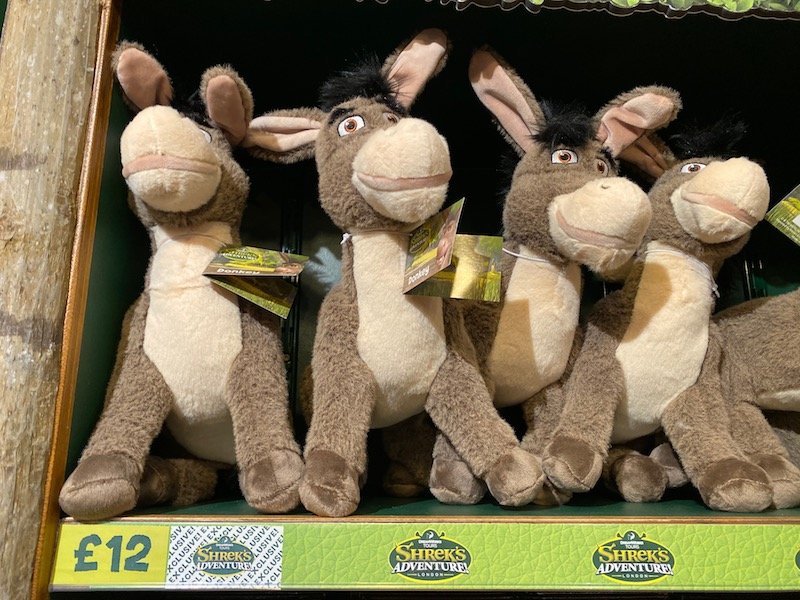 Shrek Donkey soft toy
At £12, this Donkey toy from Shrek is not going to break the bank. This donkey from Shrek toy is too cute to leave behind.
Shrek Cups
Donkey ears cup
Gingy beaker cup

Shrek character ears & fancy dress
There's also accessories Fancy Dress style.
Shrek ears (the ultimate dress up!)
Donkey character ears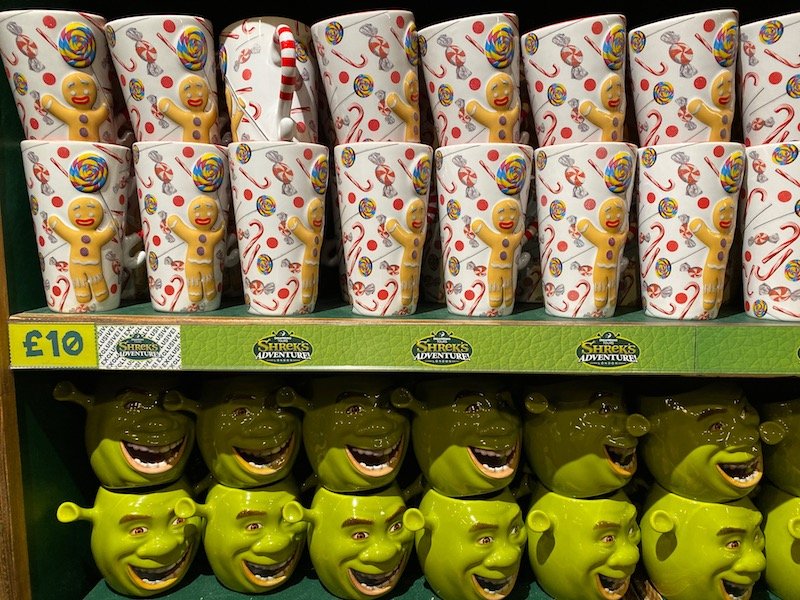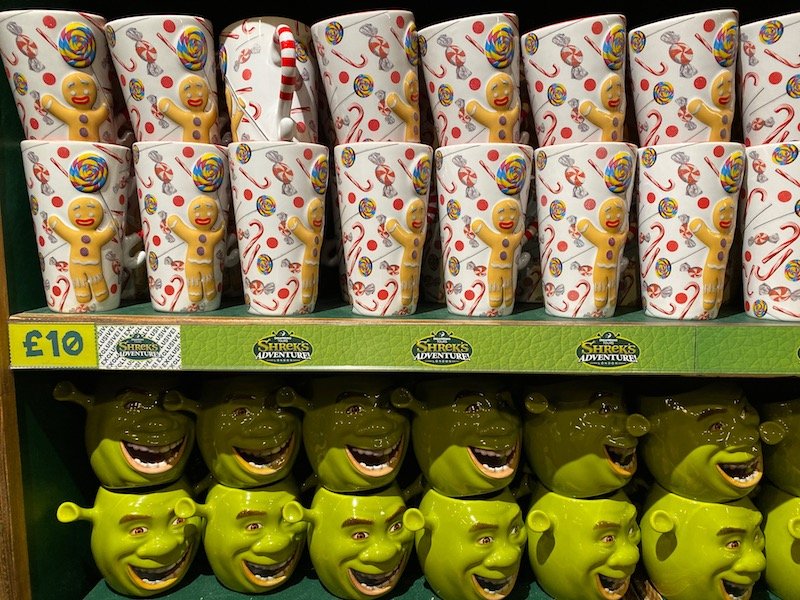 Shrek Mugs
How can any Shrek fan not own one of these?
3D Shrek mug featuring Shrek's face!
Donkey Mug
Gingy tea mug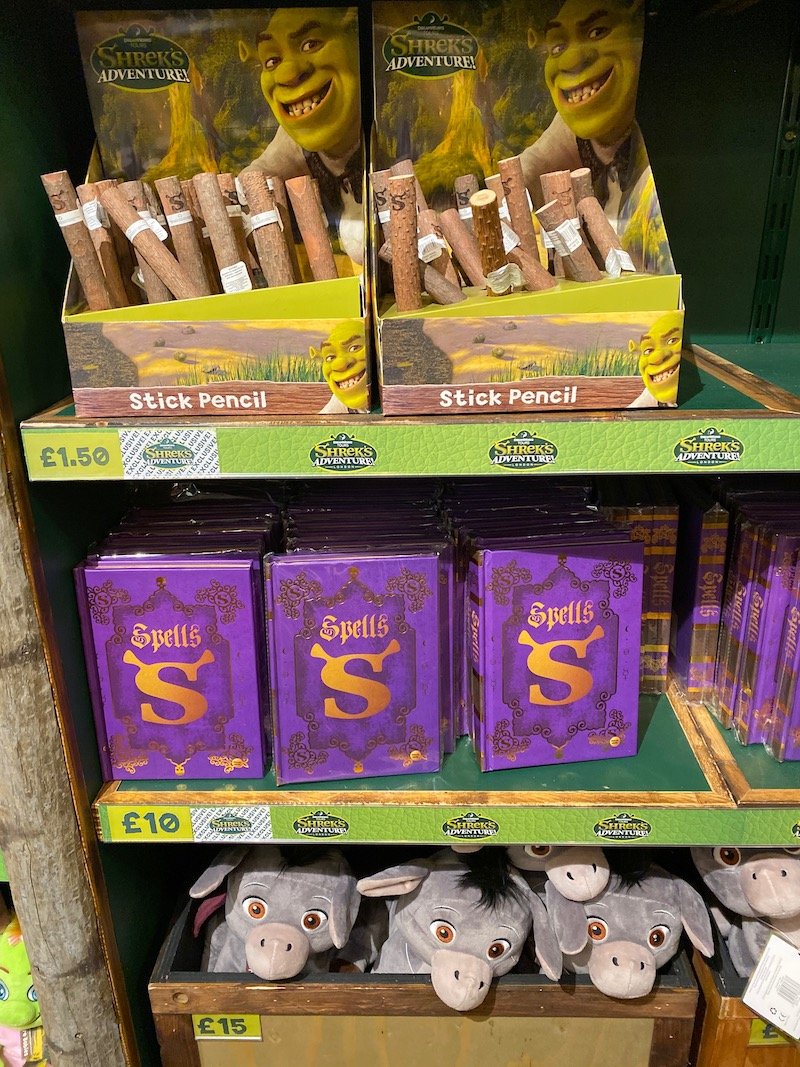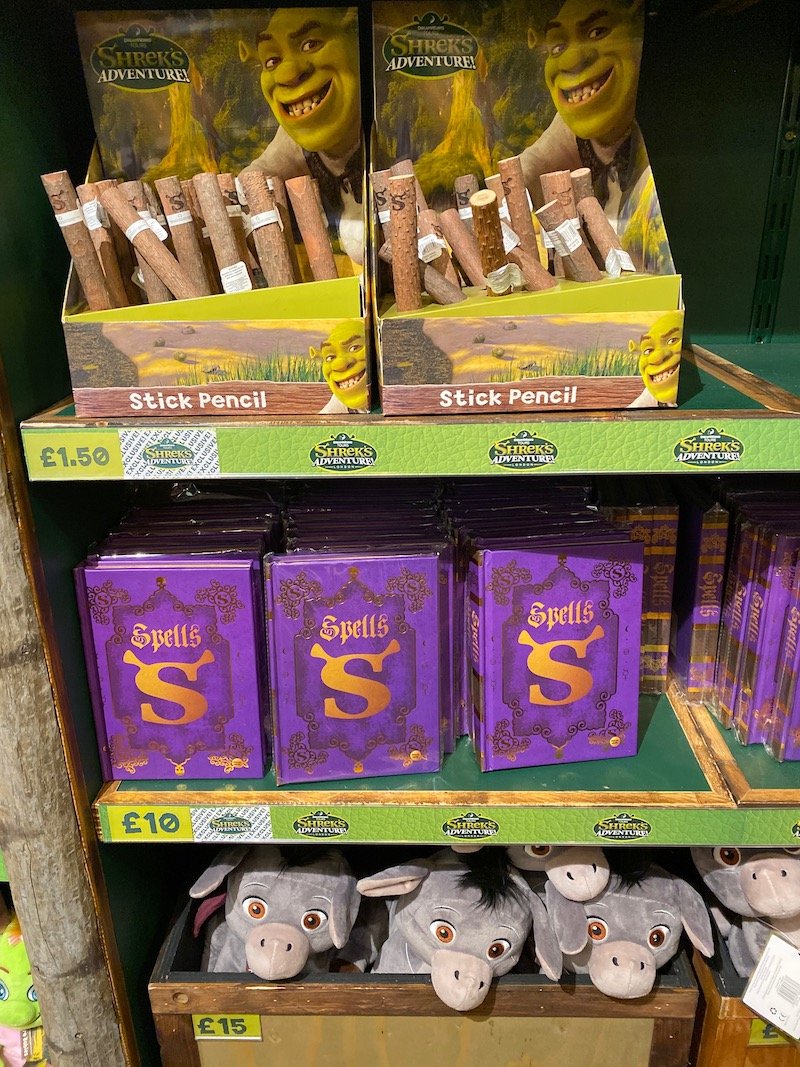 Shrek stationery
Find everything from a Donkey notebook to a Shrek Spells Book, and a swampy stick pencil.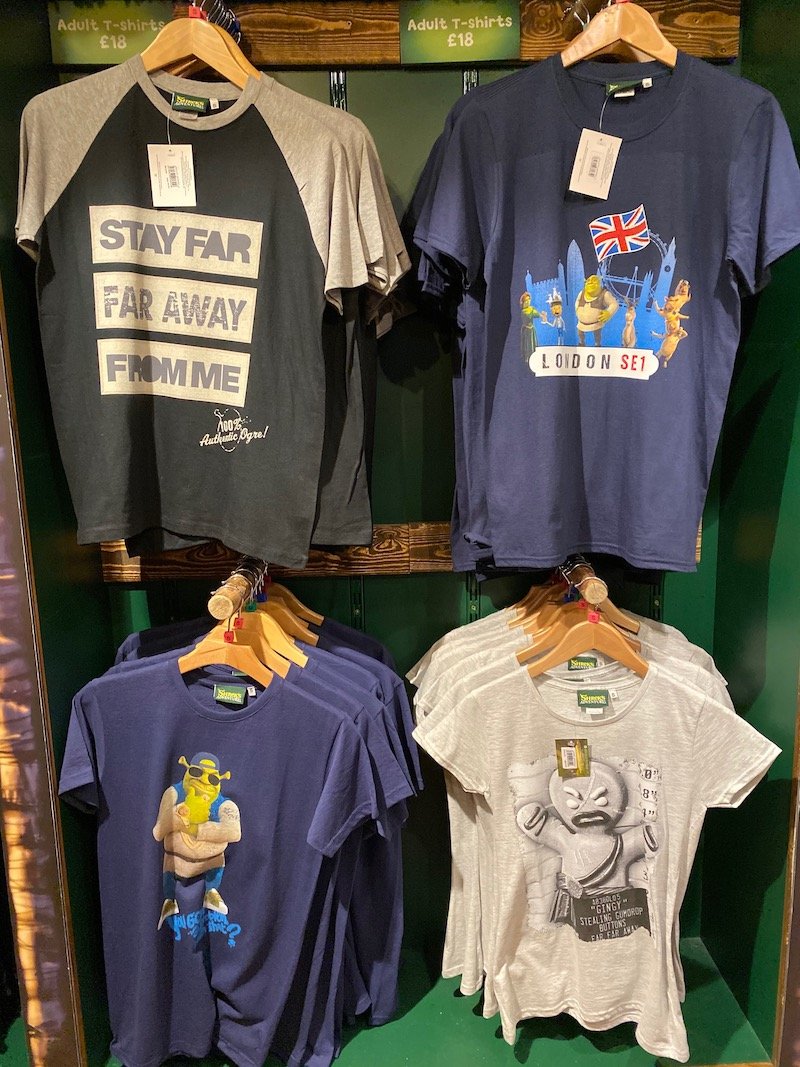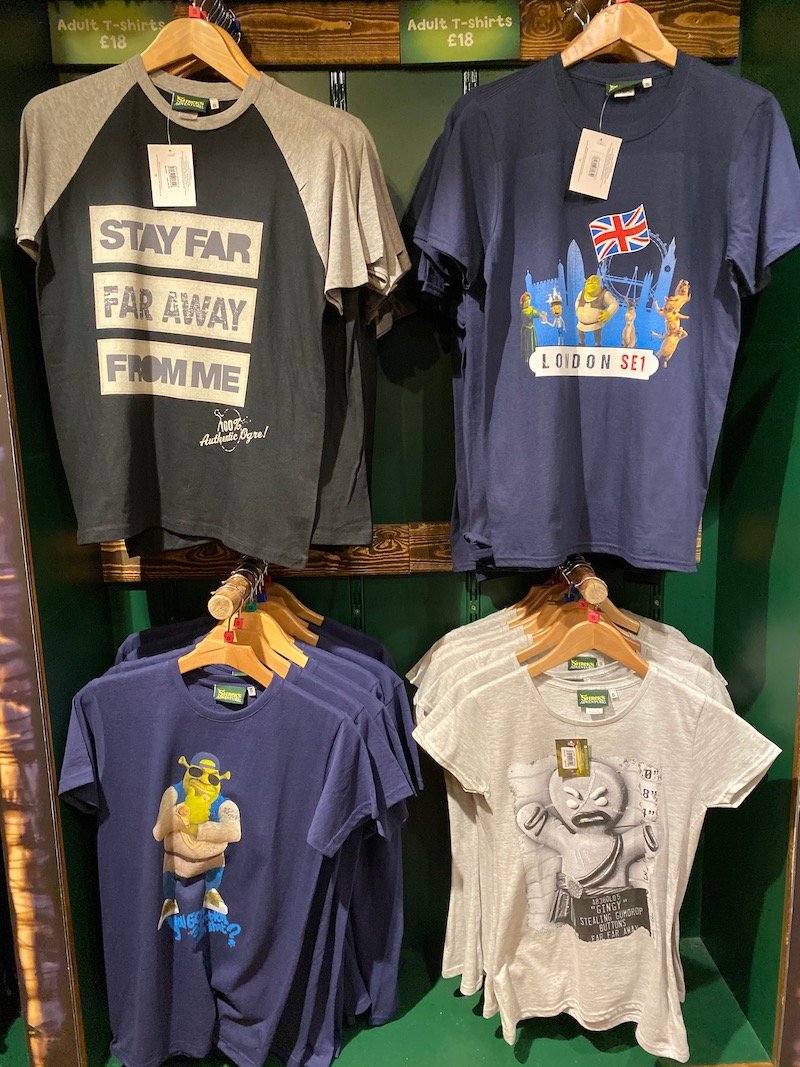 Shrek T-shirts
Find a selection of cute Shrek tees on one wall. Plus Shrek socks too at this Dreamworks store.
Unique Shrek souvenirs
The Gingy candy cane pin badge is the ultimate fashion statement. You can also buy a Princess Fiona shield pin badge, and a Puss in Boots enamel pin badge.
The Gingy pillow is cute too.

How to Train your Dragon Souvenirs
There's also a range of How to Train your Dragon gifts and souvenirs including:
a Toothless hat dress up
Nadder wings
Toothless soft toy
Toothless mug
Lightfury plush toys
Dragons pin badges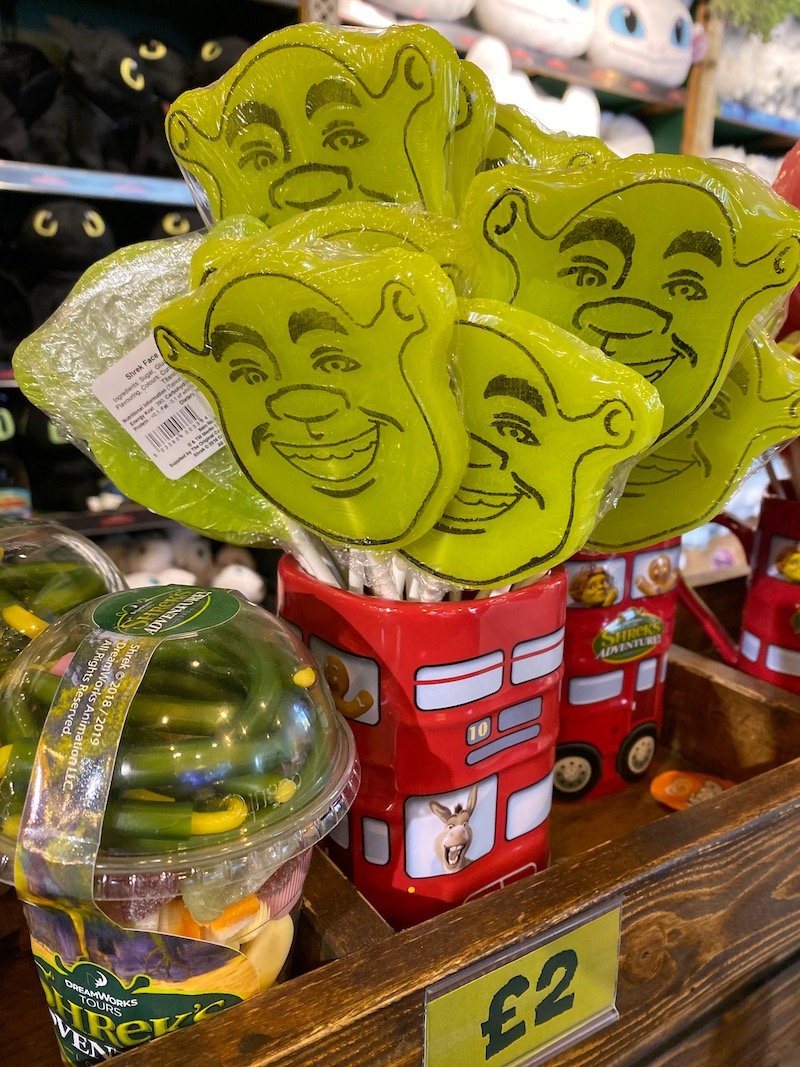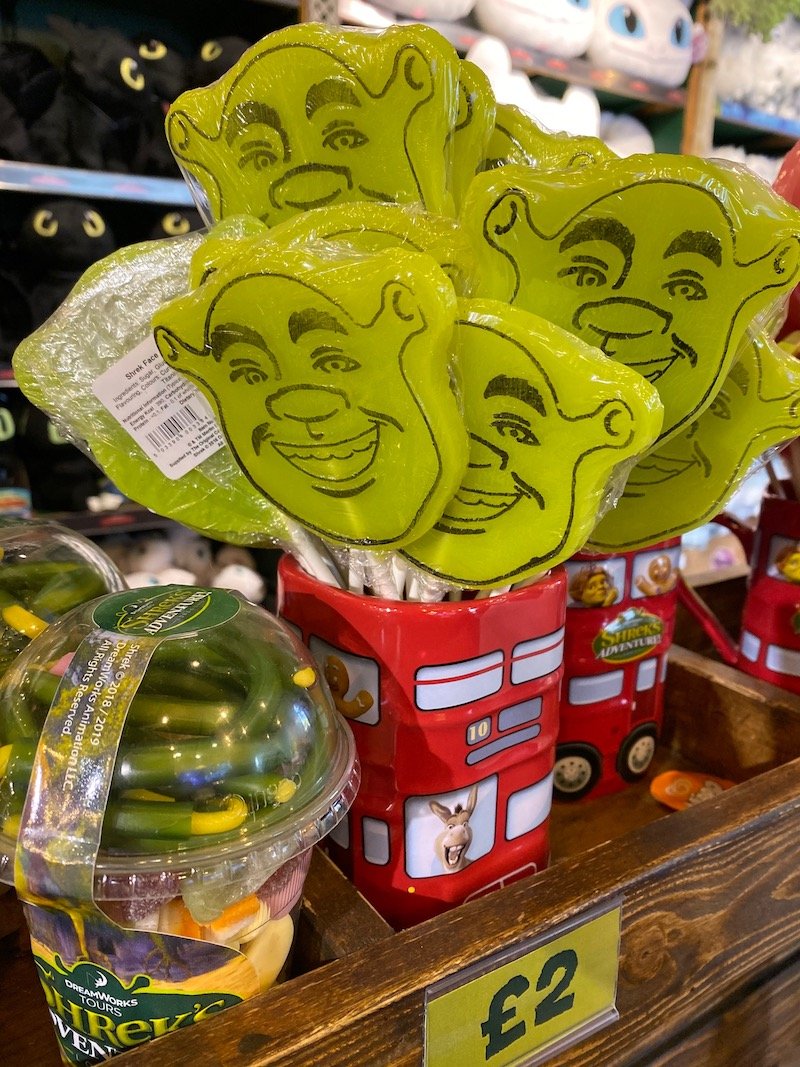 Shrek's Adventure Shop Prices
Shrek souvenirs start from £2 pounds.
Soft toys start from £10.
There's everything from pocket money toys, to expensive t-shirts for the dedicated Shrek fan, and tonnes of Shrek food souvenirs and toys featuring characters Shrek Princess Fiona Donkey Gingy and more to take home.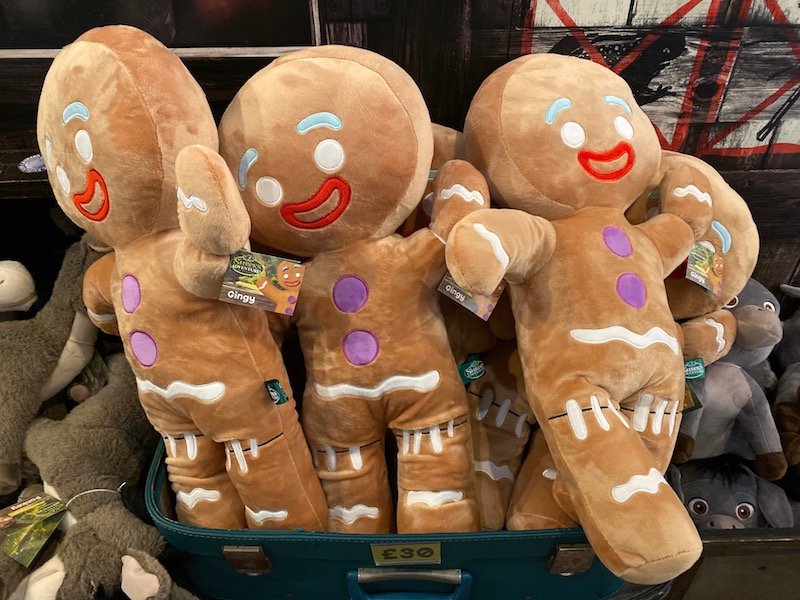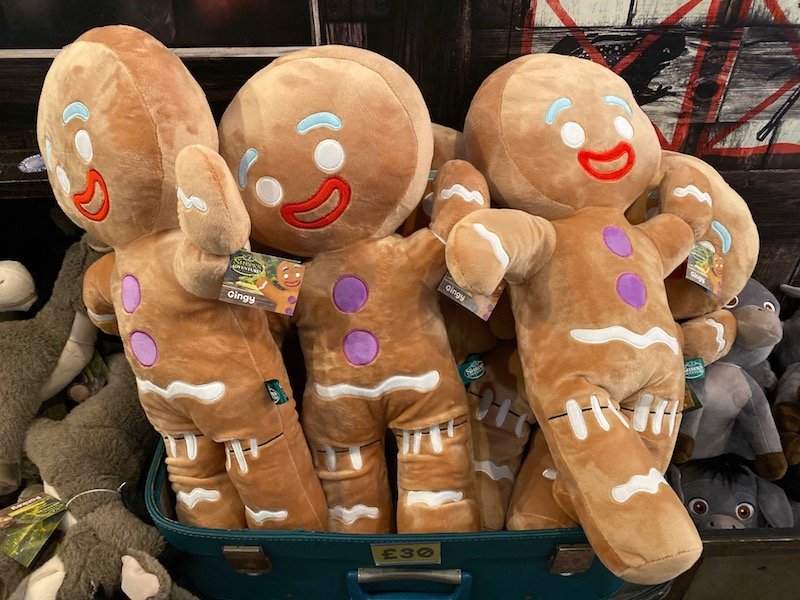 How to get to Shrek Adventure in London
The Shrek London experience is located at County Hall Riverside building, Southbank on the River Thames, next to the Coca Cola London Eye. It's on Westminster Bridge road, on the London Eye side of Westminster Bridge. .
Look out for the big Shreks Adventure sign on the building, plus two green advertising towers on the ground on either side of the entrance.
The nearest tube station to Dreamworks Animation Shrek Adventure London is either Waterloo or Westminster. It's a 5 minute walk from both these stations.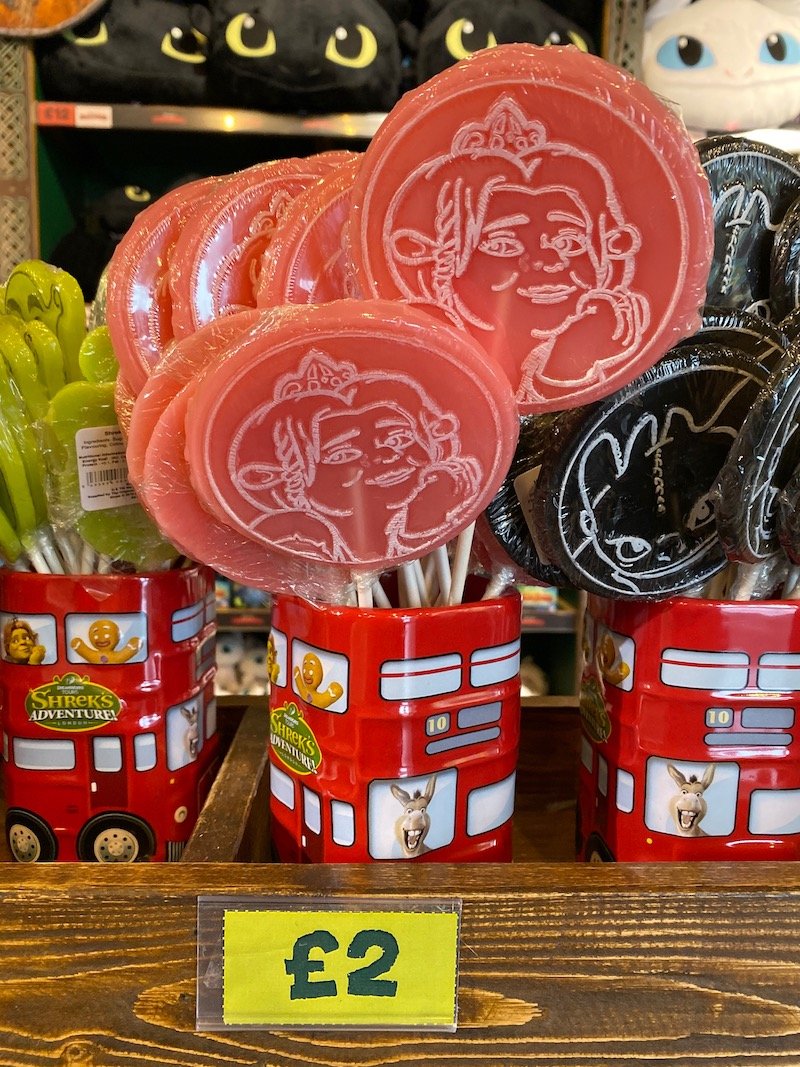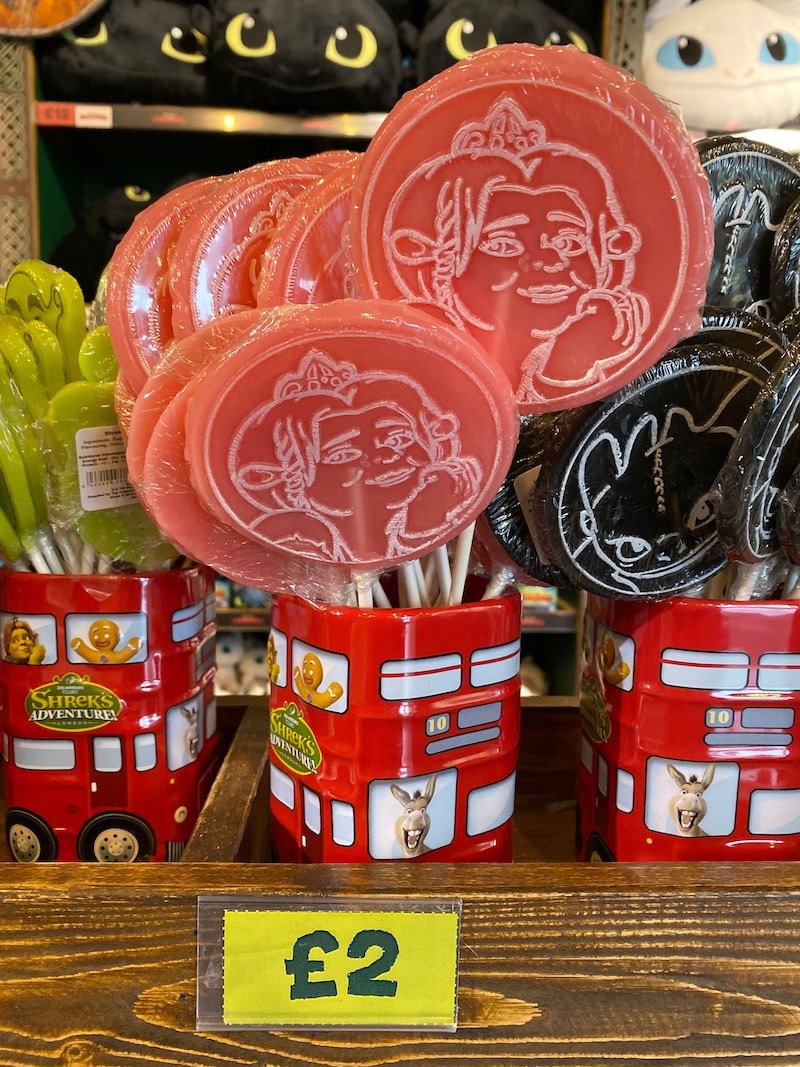 Toadstool Rating: The Dreamworks Shrek Store
The Dreamworks store of Shrek gifts, Princess Fiona toys, and Donkey themed gifts is worth a visit if you are a fan.
Find More of the Best Places to Shop in London