INSIDE: Everything you need to know about Waitomo Caves with kids in tow.
From time to time, we find a tourist attraction or activity with that extra special something.
An unexpected surprise is the spark that sears the place into our brains permanently, long after most holiday memories have faded.
I honestly didn't expect to find this happen at Waitomo Caves, BUT IT DID.
This one thing made our side trip to Waitomo worthwhile.
THIS tour has a SURPRISE ENDING!
If you are looking for things to do in Waitomo with kids, head to Waitomo Caves and book a tour.
Take a look below for all the details.
Disclosure: This article contains affiliate links. If you make a purchase after clicking on one of these links, we may receive a small commission at NO extra cost to you.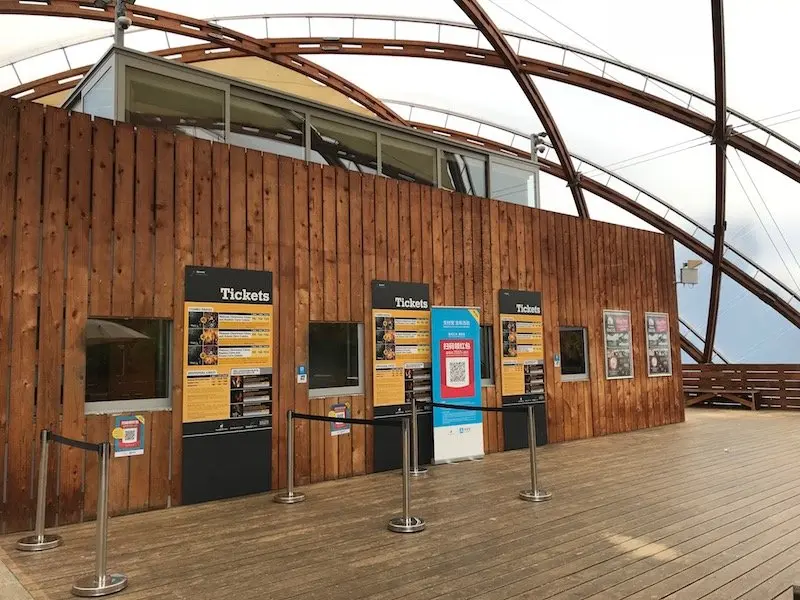 Ultimate Guide to Waitomo Caves with Kids
Waitomo Caves is a highly polished, glossy tourist operation, with expensive entry tickets, and overpriced food in their on-site cafe and restaurant.
It's clinical and impersonal, despite the grand entranceway, and if we hadn't already booked the tickets, I probably would have walked straight back out.
The stench of money-grabbing opportunity was strong.
There's a spiel, and our tour guide could hardly disguise his boredom, taking yet another group of tourists on a quick in-and-out Waitomo Glowworm Caves tour in exactly 45-minutes (and not a moment longer).
I was hardly surprised when the tour exited through the obligatory souvenir shop. (Yawn)
But despite all this, our experience on the Waitomo Glowworm Caves Tour rates as one of the best things we did in New Zealand this last trip.
I definitely don't want to give it away, and spoil the surprise of what's in store.
What I will say is that you should take the kids.
The Waitomo Caves Tour is a once-in-a-lifetime opportunity to see a glow worm cave from a DIFFERENT PERSPECTIVE, in complete darkness, and silence.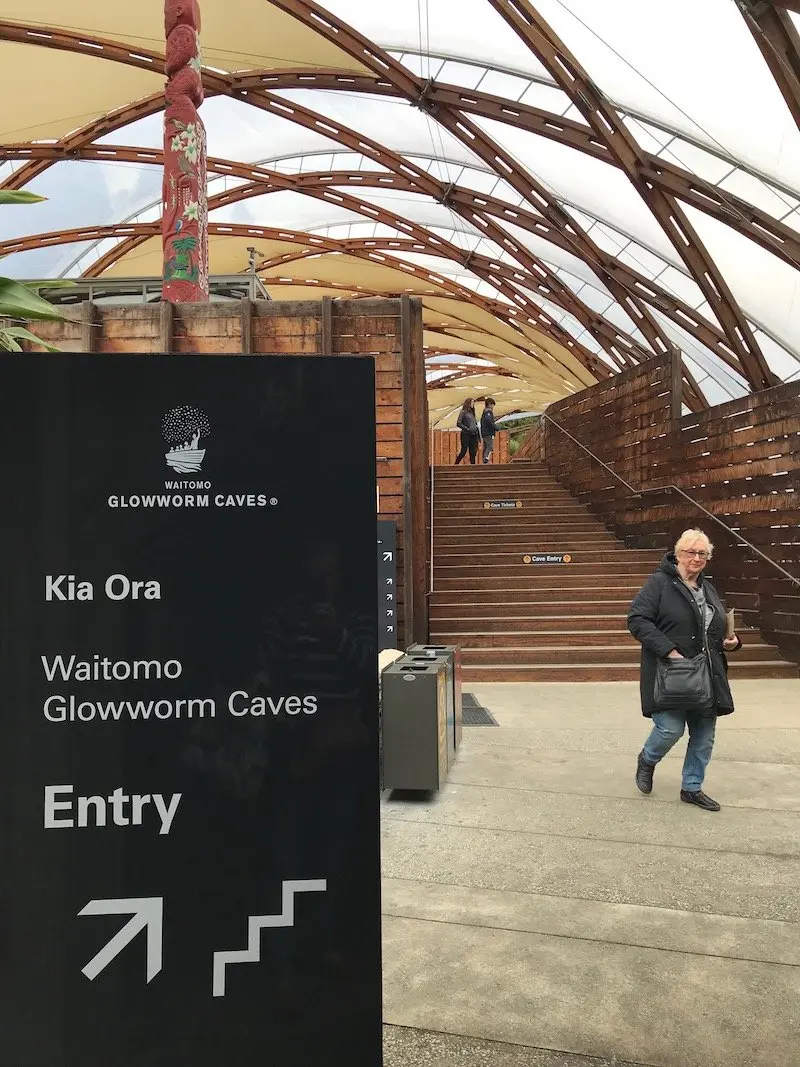 Waitomo Glowworm Caves
What to do in Waitomo Caves? Learn about Glow Worms!
As far as tour spiels go, this one about the Waitomo Cave glow worms was above average too, despite our host's gloomy demeanour.
I did not know much about glow worms, full stop.
I definitely did not know that Waitomo Caves glow worms catch their food by dangling sticky mucus-lined threads of silk from their mouths to trap tiny insects, and pull the threads upwards until the prey is close enough to nibble.
I definitely had not SEEN these silvery threads in real life.
(WOW factor 10 out of 10!)
I also definitely had not been in a cave with a modern tiled floor!
My jaw hit the ground when I saw this surprise – our nature experiences are usually 100% natural, not polished for commercial gain.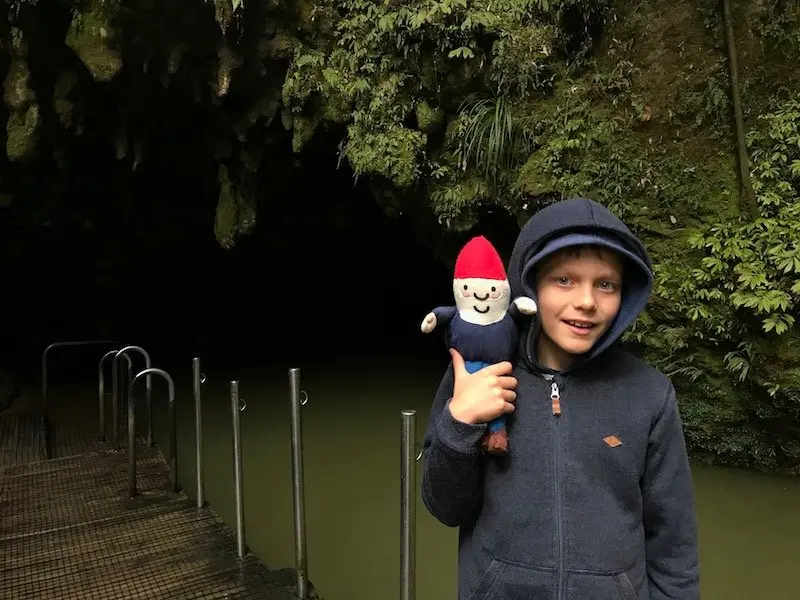 Waitomo Caves History
The Waitomo caves were first explored in 1887 by English Surveyor Fred Mace, accompanied by local Maori chief Tane Tinorau.
They built a raft of flax stems and with candles as their only lighting, floated into the cave where the stream goes underground.
130 years later, we can head in too.
Waitomo Caves Gift Shop
Glow Worm fanatics can also buy a Glowworm soft toy in the souvenir shop.
The Glowworm toy is a bit odd, but definitely a talking piece.
More Waitomo Caves Souvenirs
There's also more Waitomo Caves souvenirs including:
Glow in the Dark keyrings and magnets
Glowworm finger puppet
Waitomo Glowworm cartoon key rings
Glowworm puzzles
Glowworm stacking puzzles and magnetic toys
Paua shell jewellery
Retro magnets and posters
Enamel mugs, coffee mugs, reusable travel mugs, colour change mugs
shot glasses, cups and stainless steel water bottles
Bottle openers
Homewares including totes, hats, string bags
Hats, caps, rain ponchos, and tshirts
Waitomo Caves Restaurant & Cafe
Waitomo Caves restaurant is open for breakfast and lunch.
There's all your faves – burgers, fish and chips, curry, and pizzas.
Plus fries, AND KUMARA FRIES!
There's also a kids menu with a couple of options too.
Seating is inside, or outdoors under the Visitor Centre canopy.
If you just want a quick snack, the cafe upstairs has bakery goods, muffins, croissants, wraps, coffee, tea, soft drinks and ice creams.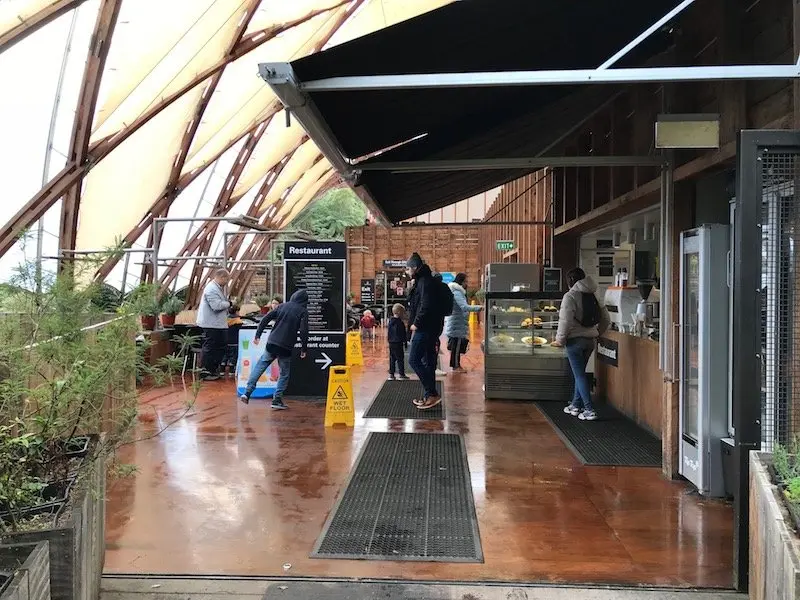 MORE of the Best Things to do in Waitomo Caves
Waitomo has more than one glowworm cave to explore around town (although this is the best marketed), plus other adventures including:
Find all the details here: 13 Best things to do in Waitomo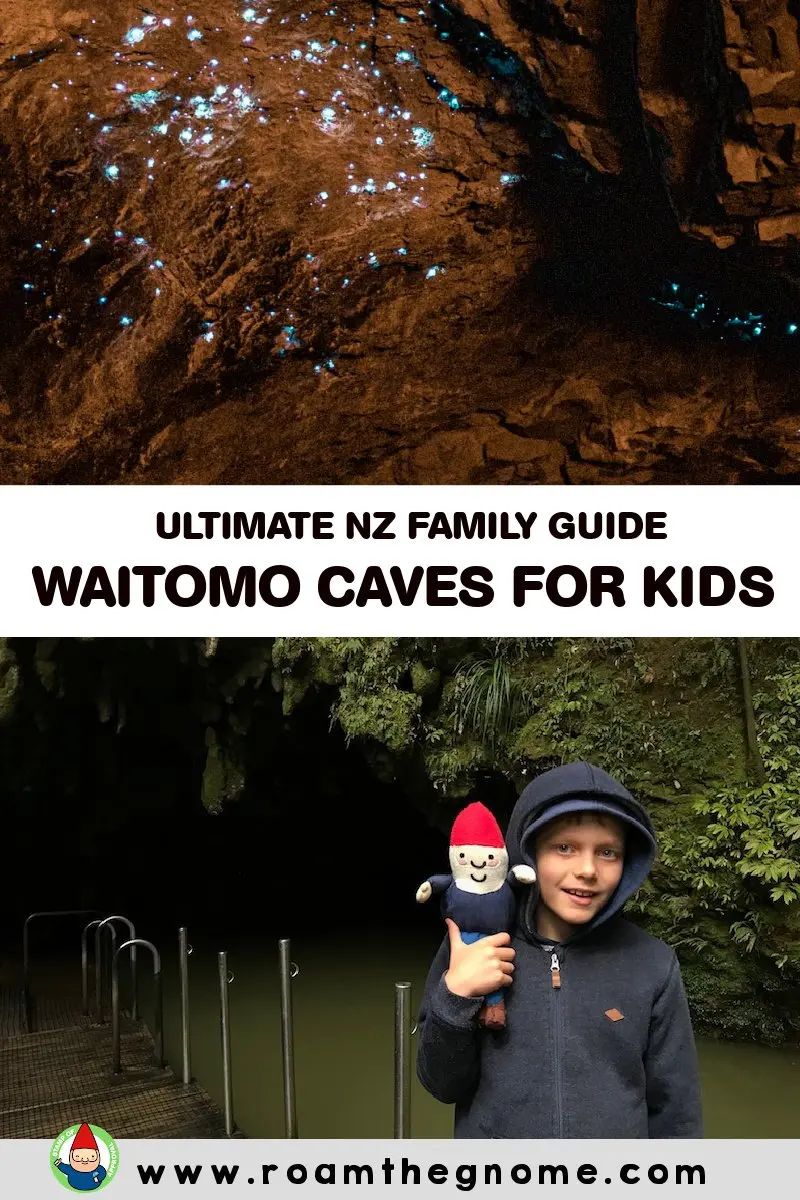 THE INSIDE SCOOP: Waitomo Glow Worm Caves New Zealand
Correct at time of publication on Roam the Gnome. Please check with venue for updates. We apologise in advance if there have been any changes we are unaware of. All prices in AUD dollars, unless otherwise stated
Waitomo Caves Address:
The Waitomo Caves are located at 39 Waitomo Village Rd, Waitomo Caves.
Drive through town and around the corner to find the Waitomo Caves Tourist attraction.
It is 550 metres past the iSITE tourist information centre, on the left.
Parking is on the right, across the road. The car park is on an incline and is steep. If you have anyone with you who requires assistance to walk, drop them off out the front before parking.
Walk to the entrance via the underground tunnel to avoid crossing the busy road.
Telephone: +64 7 878 8228
NZ Freephone: 0800 456 922​
Email: [email protected]​
Website: Click here
Waitomo Caves Opening Hours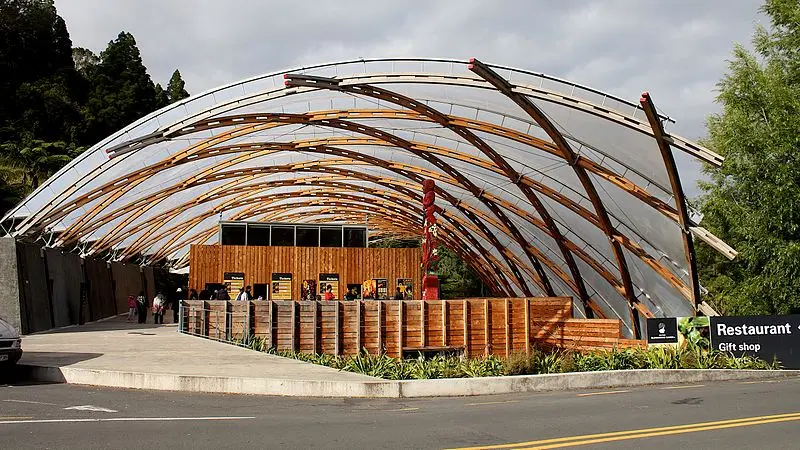 Image credit: Kristina DC Hoeppner via Flickr CC BY ND 2.0
The Waitomo Caves Tour Options
The Different Activities in Waitomo Caves Tours
There are three main tours you can join at Waitomo Caves.
No.1: The Waitomo Glowworm Caves Tour
A good introductory cave experience for busy tourists with limited time. Allow 45 minutes.
See Mother Nature's light display – a starry wonderland of glow worms in the darkness of the grotto.
THIS is the tour to book if you want to experience the 'surprise' ending boat ride I mentioned earlier.
Tours depart every half hour daily.
From 9am-5pm daily from 01 April – 31 October
From 9am to 5.30pm from 01 November – 31 March.
Book tickets here (Bestseller)
No.2: Waitomo Cave Tours – Aranui
Aranui Cave is a magical, mystical place that is steeped in Maori myth and legend.
It's Waitomo's smallest, most delicate cave and it's dry, with no river running through it like the others.
Regular tours run daily from 9:00am with the last tour at 4pm
(Bookings are recommended).
Allow 1 hour.
No.3: Ruakuri Cave Tour
The Ruakuri Cave Tour is New Zealand's longest underground tour at 2 hours duration.
Suitable for wheelchairs and strollers.
Tours depart daily at:
9:00am
10:00am
11:00am
12:30pm
1:30pm
2:30pm &
3:30pm.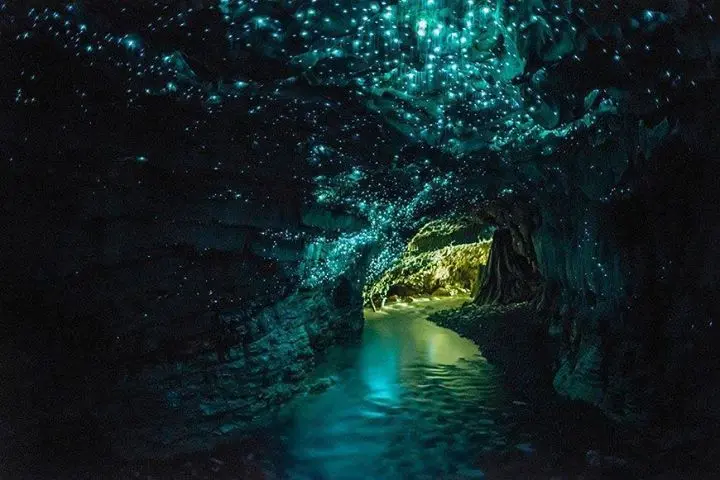 Image credit: 2ilorg via Flickr CC BY 2.0
Waitomo Caves Prices 2020
The Waitomo Glowworm Caves price at the ticket desk is:
$55 per adult
$25 per child
$136 per family of four, and
$20 per extra child.
The Aranui Cave tour price at the ticket desk is:
$55 per adult
$25 per child
$140 per family of 4, and
$20 per extra child.
The Ruakuri Cave tour price at the ticket desk is:
$79 per adult
$30 per child
$190 per family of 4, and
$20 per extra child.
Please note:
Rates are in NZD and are inclusive of 15% GST.
Child prices are for 4 -14 years old inclusive (proof may be required).
Children under 4 years of age are free.
Waitomo Cave Combo Deals
The cheapest way to visit is to buy a Combo Ticket – the most popular combo, the twin cave combo, or the triple cave combo.
Doing so will save you 30%!
There's also a Sky and Cave combo (including Waitomo Glowworm Cave, Ruakuri Cave and Sky Waka Gondola) or the Original Cave and Canopy combo of Black Water Rafting & Rotorua Canopy Tour.
MORE Waitomo Glowworm Caves Deals
Check the Waitomo Caves website above for seasonal discounts and package deals before you book.
They often offer:
2-for-1 deals
50% a second tour when you buy one, or
30% off specials for limited time.
Waitomo Caves Discount tickets?
Call in and ask the friendly staff at the Waitomo Caves Discovery Centre at the Waitomo iSITE tourist information centre at 21 Waitomo Village Rd.
They may have current brochures with discount coupons.
Or google Waitomo Caves discount code to see what current discount codes are available.
NEVER PAY FULL PRICE.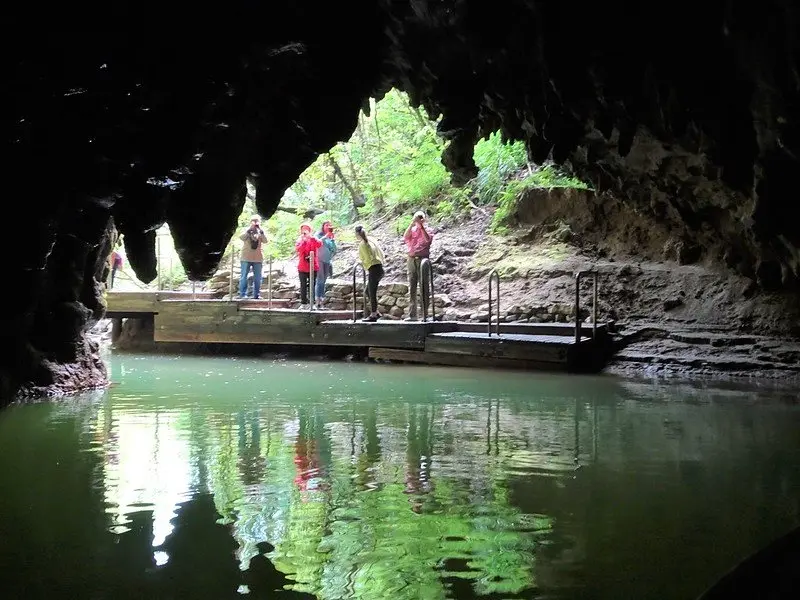 Image credit: Dennis Bin via Flickr CC BY ND 2.0
How to get to Waitomo Caves
By Car from Auckland to Waitomo Caves: The drive to Waitomo caves from Auckland takes 2.5 hours, a distance of 197 kilometres, via State Highway 1 and State Highway 39
By Car from Rotorua to Waitomo Caves: The drive takes 1 hour 50 minutes from Rotorua, a distance of 147 kilometres, via SH 5
Waitomo Caves parking
There's onsite parking for free across the road.
Stay safe by using the underground walking tunnel to cross the road.
Cars and buses speed around the bend, and accidents do happen.
Waitomo Caves Map

Nearest takeaway coffee and/or food options: Onsite cafe and restaurant
Toilets: Yes including baby change table
Disability access: Limited
Dogs: No
FAQ
Waitomo Caves with toddler?
The main cave tour is totally doable!
There were toddlers on our tour. As it's a walking tour, you can hang back and follow the group in your own time (keeping in mind they are on a schedule)
Best time to visit Waitomo Caves
Arrive as early as you can during peak and shoulder seasons, around 8.30am so you can join the first tour of the day, before the tour coaches arrive.
Waitomo is warmest during the Summer months, from November to April.
If you visit any other time of the year, bring LOTS of warm clothing as it cools down quickly and the caves can be freezing.
Free Things to do in Waitomo
Visit the Waitomo playground, or stop into the i-SITE visitor centre to view all the artefacts, skeletons and old photographs in the Waitomo museum.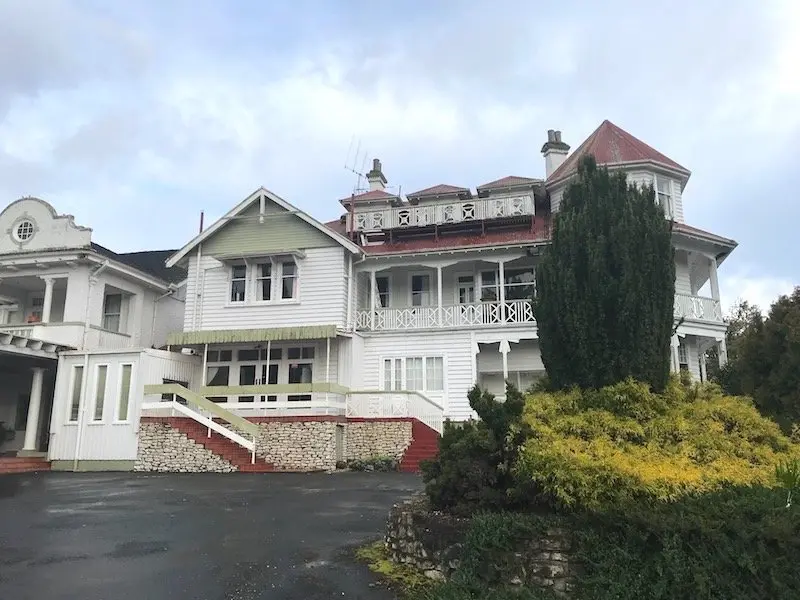 Accommodation near Waitomo Caves
Where to stay in Waitomo?
We stayed at the 100 year old Waitomo Caves Hotel, a grand historic hotel that despite having seen better days, was a delight! Perfect for a family holiday.
Waitomo Top 10 Holiday Park
This is a good option for families also, with a swimming pool and playground on site.
Woodlyn Park Hobbit Motel
THIS is a themed hotel in New Zealand, with Hobbit rooms, and Ship rooms, and Train rooms.
Super fun for kids, but very popular. Book early.
Freedom Camping Waitomo?
Head to Roselands Waitomo Caves, on 579 Fullerton Road, Waitomo 3943, New Zealand
Stop in for their famous all you can eat $10 dinner of Beef Casserole stew, roast potatoes and rice.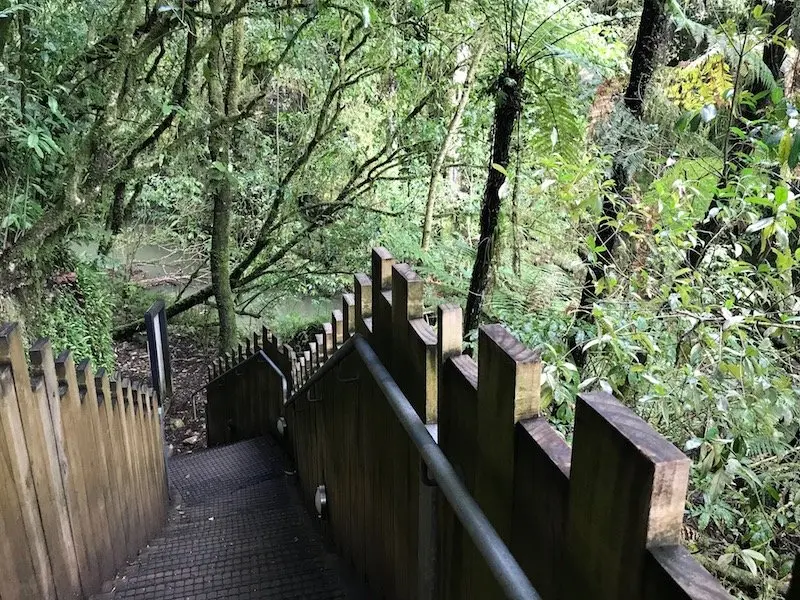 Toadstool Rating: Waitomo Glow Worm Caves
A delightful conclusion to the Glowworm Caves Tour makes the detour worth every km.

Looking for More Things to Do in New Zealand for Kids?
Click the blue links for more kiwi attractions