INSIDE: Ultimate guide to the Waitomo playground for kids
"Look, there's a playground!"
It's a regular call from the back seat, and one that is hard to ignore.
Especially when it's brightly coloured, uniquely intriguing, and brand new.
What's a mum to do?
We spotted this one on our way to our Waitomo Caves tour for kids.
So we stopped on the way back.
Here's all the details on where to find it so you can stop too.
Disclosure: This article contains affiliate links. If you make a purchase after clicking on one of these links, we may receive a small commission at NO extra cost to you.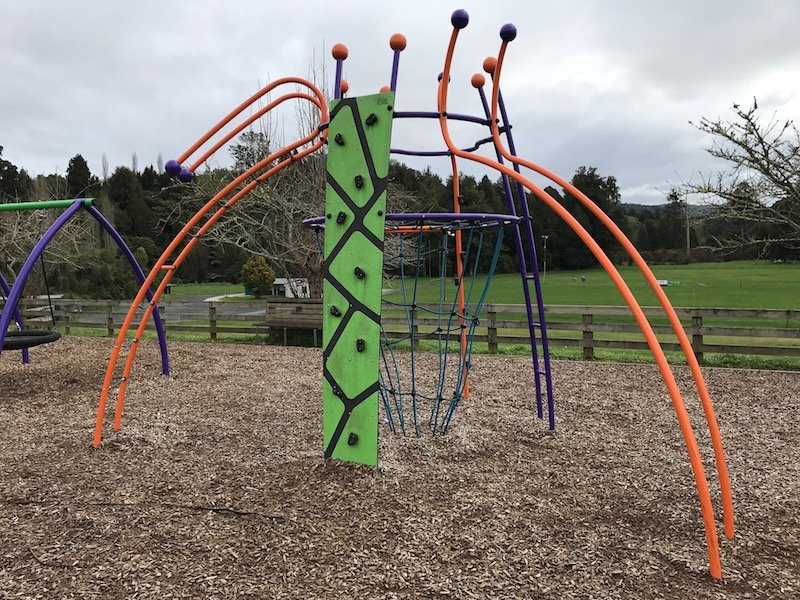 Guide to Waitomo Playground
Looking for fun Waitomo family activities?
Visit the cute playground.
It's one of the best Waitomo kids activities after the Caves tour.
The Waitomo playground is directly opposite the Waitomo iSITE tourist information centre on Waitomo Village Road.
The actual town of Waitomo is teeny-weeny, with just a scattering of hotels, motels and cafes.
Look to your right as you drive through towards the Waitomo Caves tourist attraction, and you'll spot this unique Waitomo playground and grassy park area on your right.
---
RELATED: 13 Best things to do in Waitomo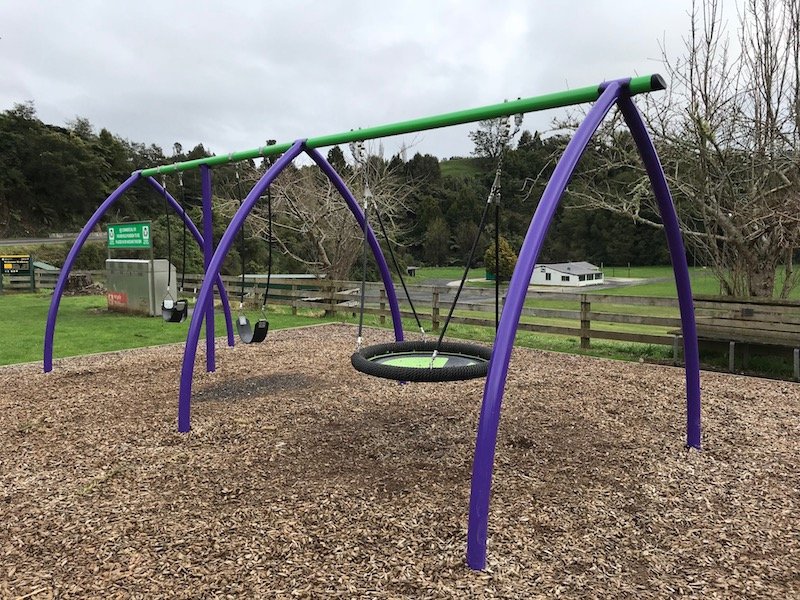 Waitomo Park Playground Equipment
There's three structures for kids to play on.
A modern-day fort with rope bridge, steps, platform and an eye-catching lime-green coloured slide.
A climbing frame with net basket
Two singular swings, plus a rope nest swing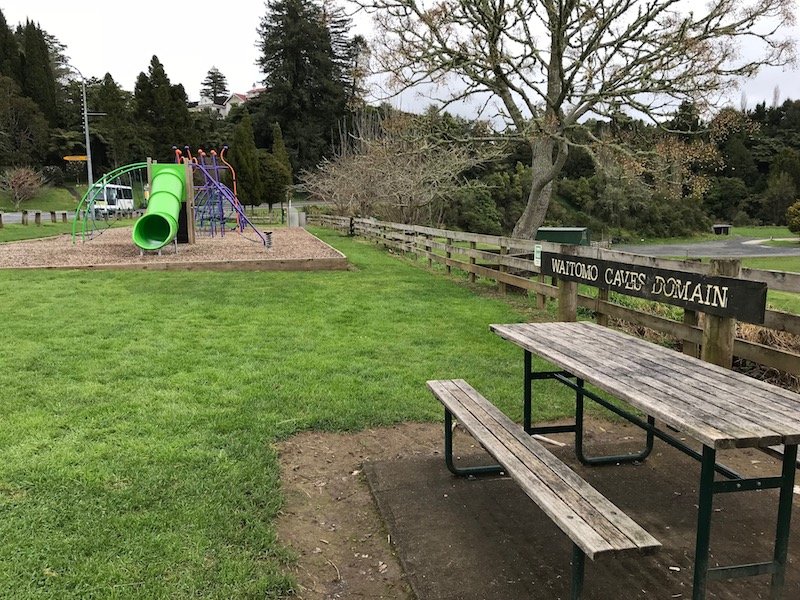 Waitomo Picnic Spots
There's a picnic table next to the playground, so it's the perfect spot for a picnic or to run off some steam after a Waitomo cave tour.
Waitomo Cafes
If it's cold, or picnicking is not your thing, visit one of the cafes in Waitomo district.
The General Store Waitomo at 15 Waitomo Village Road
HUHU Cafe at 10 Waitomo Caves Road
The Long Black Cafe at 585 Waitomo Caves Road
Waitomo Restaurants
The best Waitomo Caves restaurant for families is the Morepork Pizzeria and Cafe on Access road.
If that's not open, try the Tomo Bar & Eatery on Access Road, or the HUHU cafe as it stays open till 8pm.
The Waitomo Homestead is a good spot for a bite to eat on your way in, or out. They have an ice cream stand too.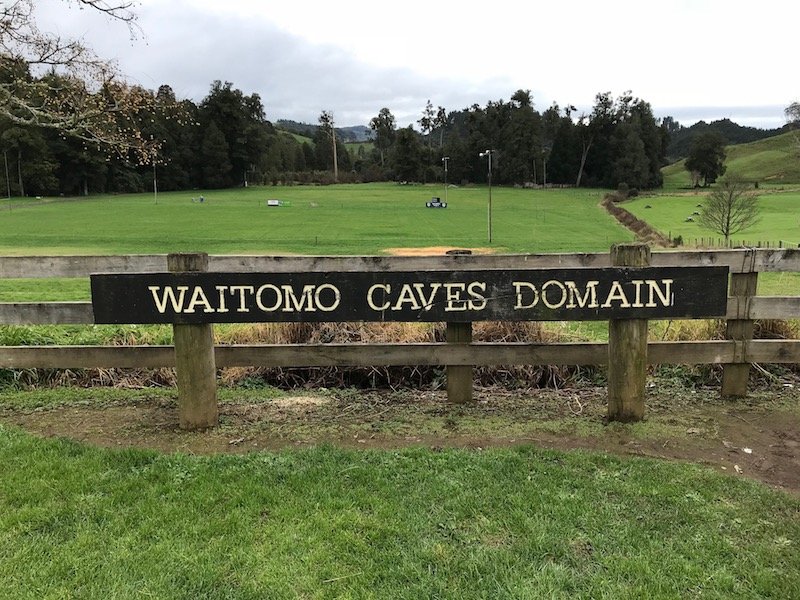 THE INSIDE SCOOP: Waitomo Caves Playground
Correct at time of publication on Roam the Gnome. Please check with venue for updates. We apologise in advance if there have been any changes we are unaware of. All prices in AUD dollars, unless otherwise stated
Address: The playground is on Waitomo Village road, opposite iSITE.
Opening hours: Sunrise to sunset
Entry fees: FREE
Playground Map
Toadstool Rating: Playground in Waitomo
A fun half hour experience in Waitomo Caves village on your Waitomo Caves holiday.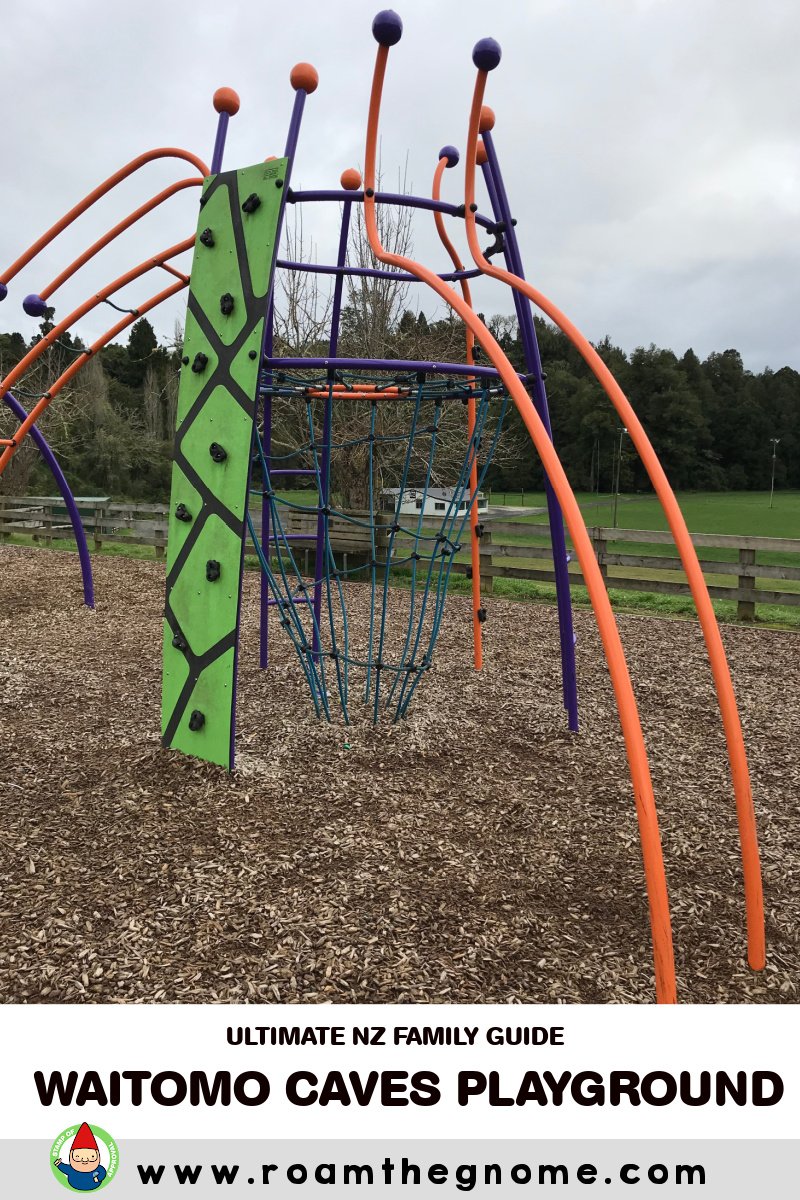 Looking for More Things to Do in New Zealand for Kids?
Click the blue links for more NZ tourist attractions & tips