INSIDE: Looking for Tokyo Attractions for Kids? The Tokyo Fire Museum has lots of hands-on activities.
The Tokyo Fire Museum is just three stops from Shinjuku station on the Marunouchi Red Line (or 6 stops the other direction from Tokyo station) at the Yotsuya-Sanchome station in Tokyo. It's a great Tokyo day trip for your Tokyo travel with kids.
The Fire Museum (Tokyo) is a hands-on spot with lots of opportunities for kids to climb in, climb on, and press buttons for kids aged one year old to 12 years old, teens and adults too.
(Team it with a visit to the Tokyo Toy Museum, just 5 minutes walk from here – don't miss it)
If you are looking for things to do in Tokyo for kids, the Fire Museum Tokyo is one of the best fun kid places to go.
Take a look below for details.
Disclosure: This article contains affiliate links. If you make a purchase after clicking on one of these links, we may receive a small commission at NO extra cost to you.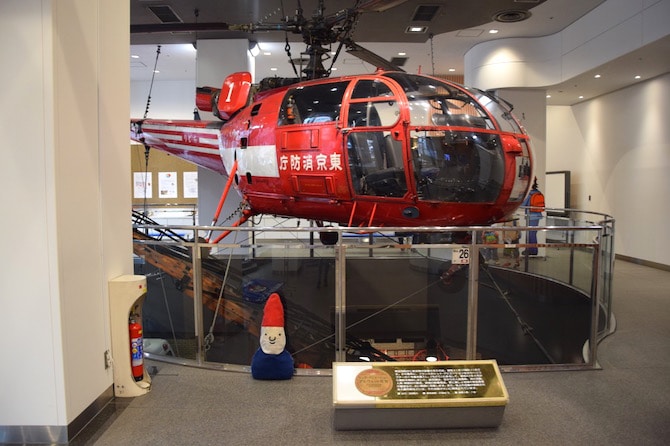 Tokyo Fire Museum – Things for the Kids to Do
If you are travelling in Tokyo with toddlers & kids who LOVE trucks, ambulances, helicopters, motorbikes, and cars too, this is a fun spot for a few hours interactivity.
Kids adore this family friendly museum in Tokyo, and you'll meet lots of local Japanese people too. (There's not many tourists.)
There's opportunity throughout most of the floors.
Basement BF1
BF1 showcases the history of Fire Engines.
1st Floor
1F is where the entrance is (and kids can spot the France-made fire helicopter which was in use until 1982)
3rd Floor
3F is all about the Fire Service today and shows fire men and women in action as they work to protect people and property from disasters of the natural and man-made kind
4th Floor & 5th Floor
4F and 5F is all about history – these not such fun floors for kids but do stop by the 5th as this is where you access the Outdoor Helicopter model.
6th Floor
6F has videos to watch, a cartoon theatre, a play space for toddlers, and a few coin slot rides.
7th Floor
7th floor is a library.
I'd suggest taking the lift to the top, and descending by stairs to each floor.
A quick scoot around each floor is all you need to find the kid-stuff.
---
RELATED: Big List of the Best Things to do in Tokyo With Kids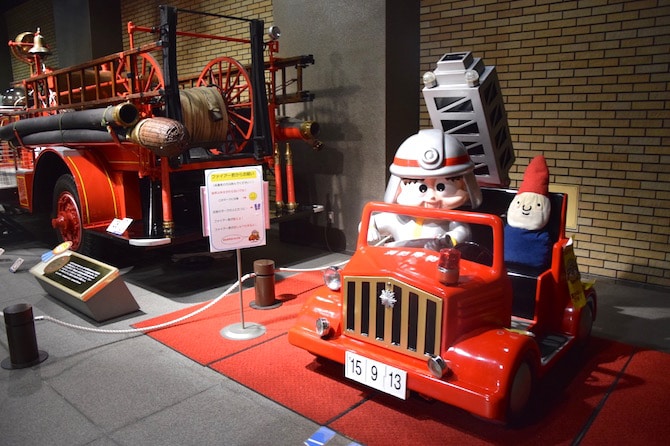 Tokyo Attractions for Kids at the Yotsuya Fire Museum
Try out an amusement car.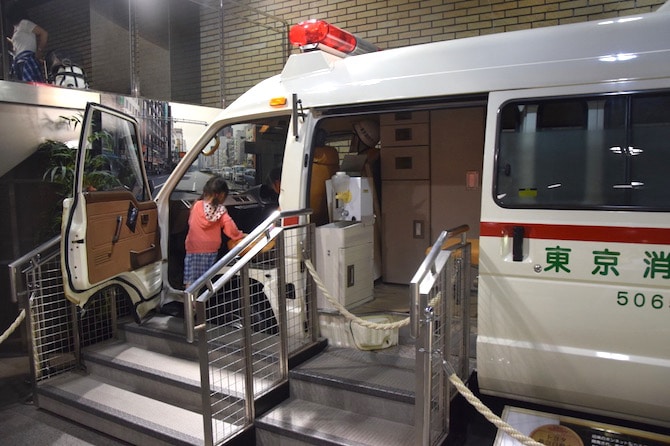 Pretend to drive the Japanese ambulance.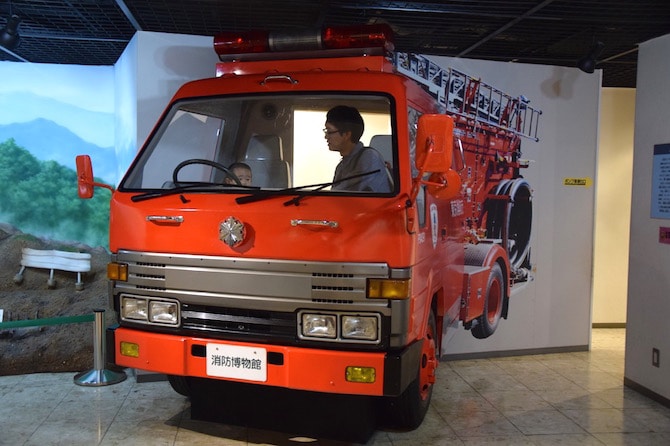 Drive a fire truck.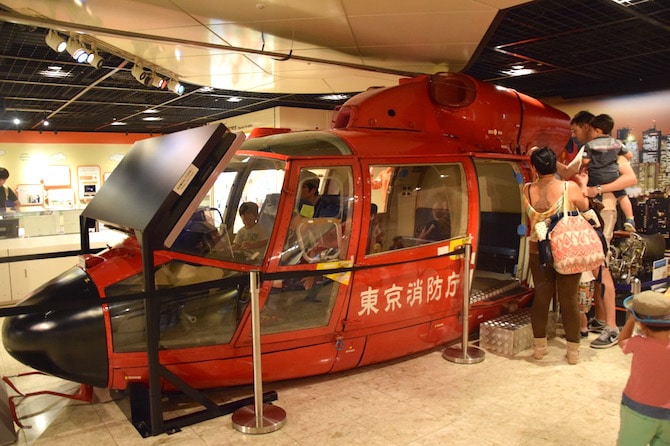 Take a peek inside the indoor helicopter.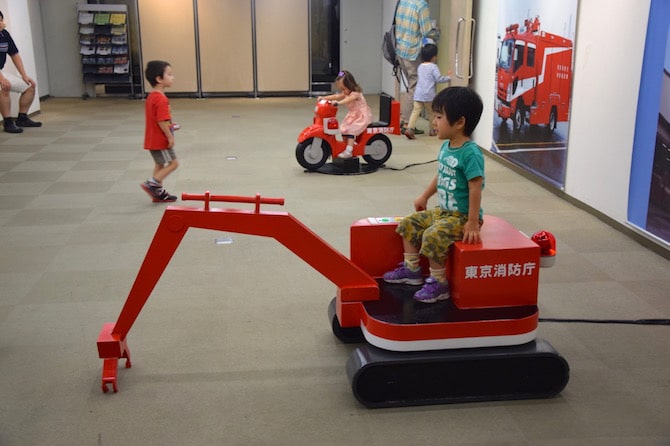 Take a trip on a Fire Truck excavator or motorbike carnival ride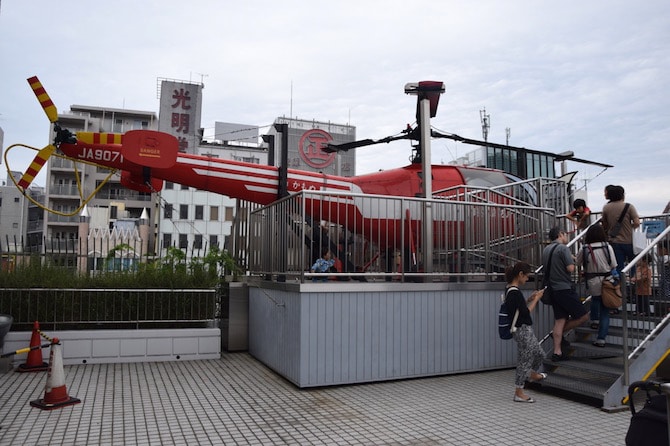 Pretend fly the outdoor helicopter
Stop by the 5th floor to test out the Outdoor Helicopter model.
Sit inside and imagine what it is like to fly one of these things!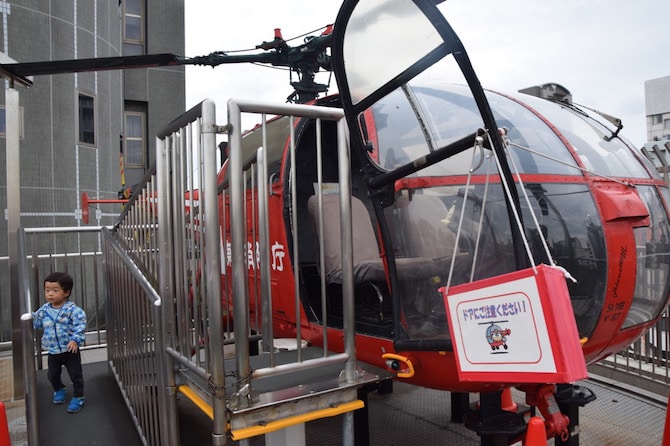 Japan for Kids? More Hands On fun at Fire Museum Tokyo!
There's lots of other hands-on experiences throughout the Tokyo Fire Museum too.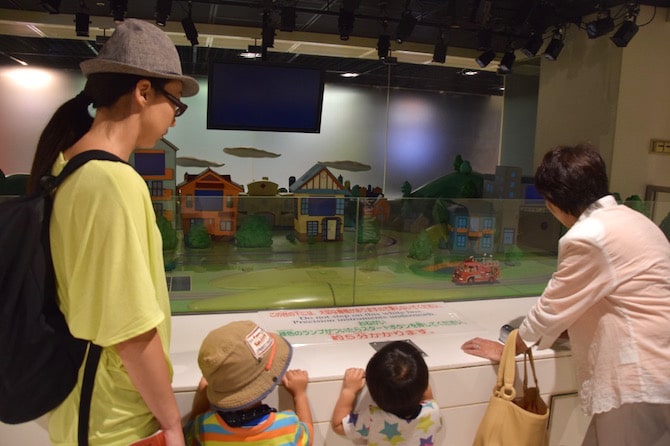 Kids can:
press buttons to drive fire trucks around a city-scape track
play with fire-truck toys
read fire-truck books and manga comics
watch fire-truck cartoons
try on some fire-fighting uniforms too.
More Photos of the Fire Museum (Tokyo) activities
Take a look at these kids attractions and things to do in Japan with kids at the Fire Museum.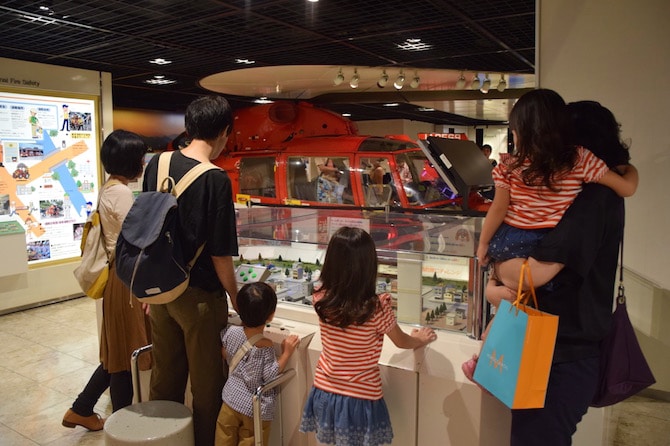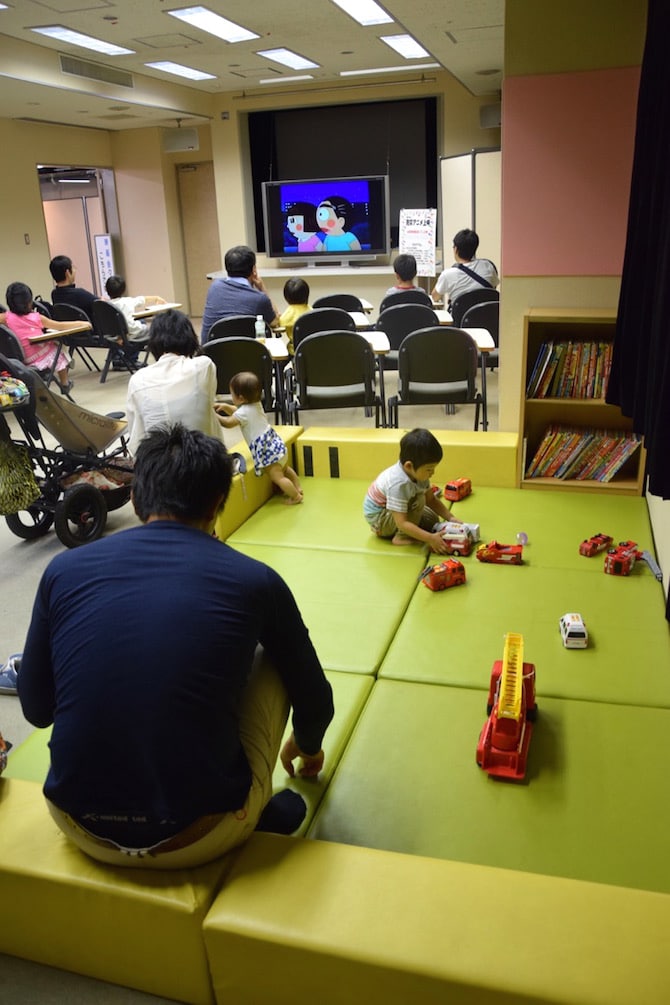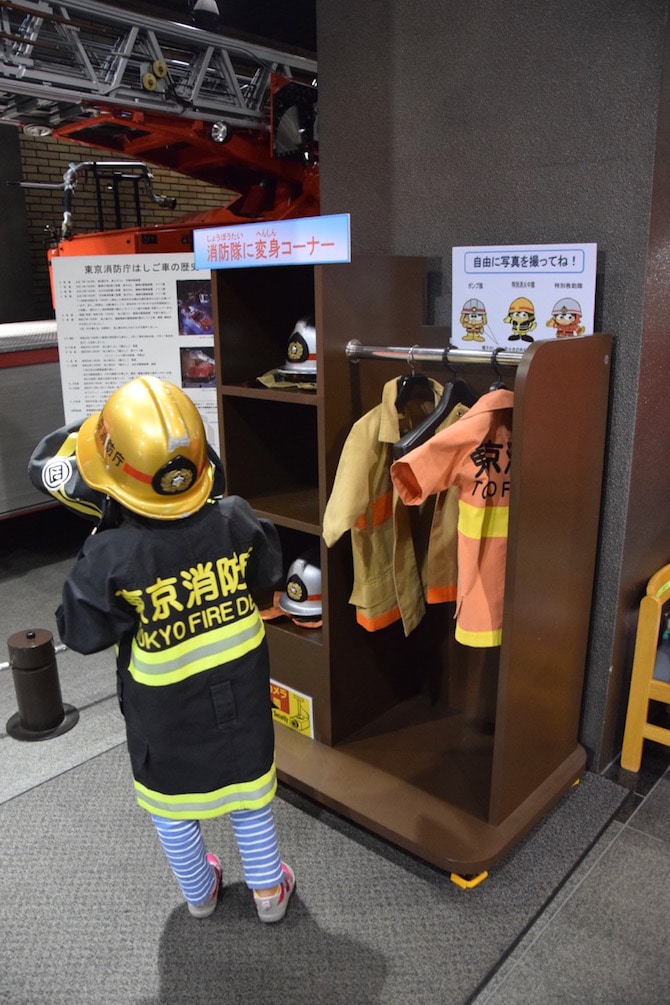 The Shinjuku Fire Museum will keep your kids busy for a couple of hours!

Tokyo Fire Museum Shinjuku for Adults and Older Kids
The Tokyo Fire Museum is not just for the kids.
Older children, teens, and adults will find lots to see and do too.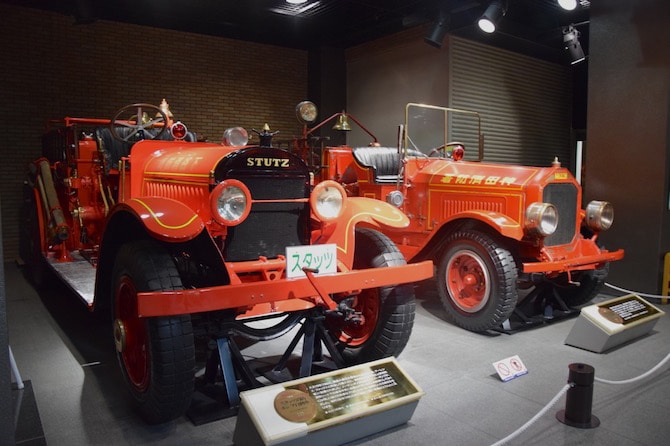 There's history with de-commissioned engines and helicopters on display and fun facts.
Did you know that motor fire engines were only introduced to Tokyo in 1917? Before that, it was horse and buggies!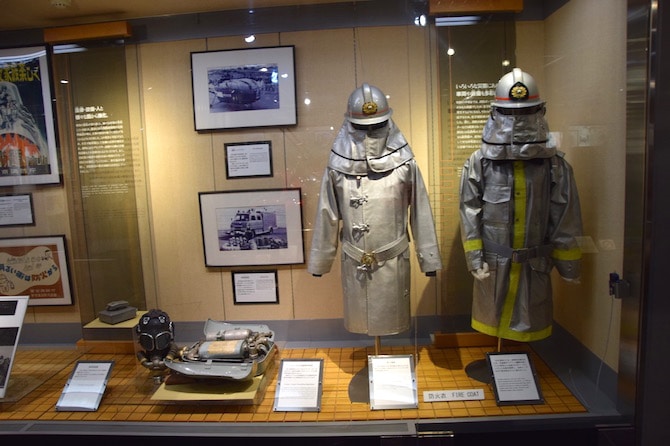 You can learn about fire prevention, and what to do if you are caught in a natural disaster such as a serious earthquake.
On the 4th and 5th floors, there's a pictorial and model display of the rapid progress of Japan's fire service since the mid-century.
There's also wooden block prints of the early days of fire fighting by 'kikeshi' (firefighters) in the 17th and 18th century.
You can also visit the 10th floor Observation Room to take a look across the Tokyo skyline. On a fine day, you'll see the Tokyo Skytree and maybe even Mt Fuji!

Shop for Unique Tokyo Souvenirs
There's also a shop where you can buy a whole bunch of fire-related souvenirs, including the Kyuta mascot for Tokyo metropolitan fire department, the fireman from the future.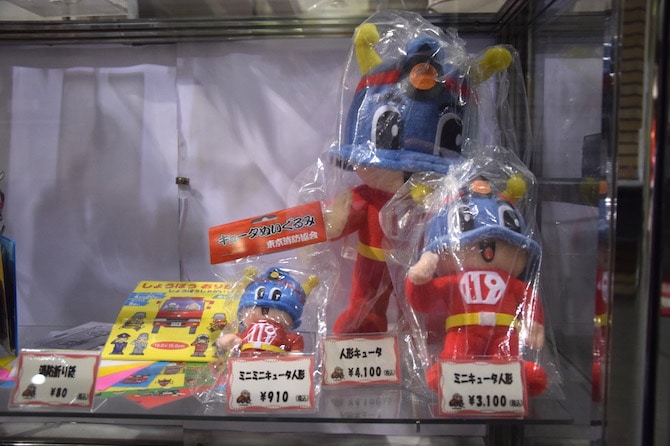 Kyuta wears a blue helmet, which represents water, and a red suit, which represents his fearlessness; his yellow antenna lights up when he detects danger, and his chest is imprinted with the emergency telephone number.
Kyuta's name comes from the 9 in 119, which in Japanese is pronounced kyu.
Also the two kanji 急 and 救, which mean "rapid" and "rescue" are both pronounced kyu.
This shop is a fun place in Tokyo for kids to shop.
THE INSIDE SCOOP: Learn about Japan with Kids at the Tokyo Fire Museum
Correct at time of publication on Roam the Gnome. Please check with venue for updates. We apologise in advance if there have been any changes we are unaware of. All prices in yen, unless otherwise stated
Address: Yotsuya 3-10, Shinjuku-ku, Tokyo 160-0004
Opening Hours: Opening time from 9.30 am to 5 pm, Tuesday through Sunday. Closed Mondays, and New Year Holiday (Dec 28th – Jan 4th)
Entry Fees: FREE entry. Main entrance at Exit 2 Yotsuya-Sanchome station.
Phone: 03 3353 9925
Website: Click here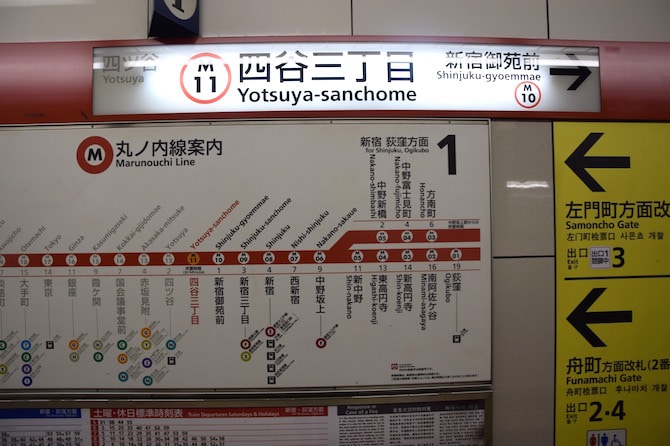 How to get to the Tokyo Fire Museum place
Catch the Marunouchi Red Line from Tokyo, or Shinjuku to Yotsuya-Sanchome station.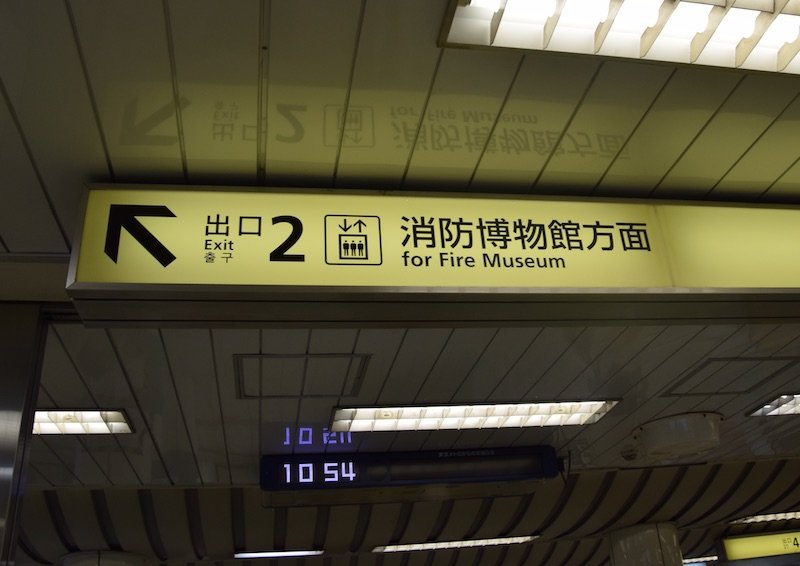 Take Exit 2 for the Tokyo Fire Museum. (The main entry is on Level 1, street level.) – see photos above, and below.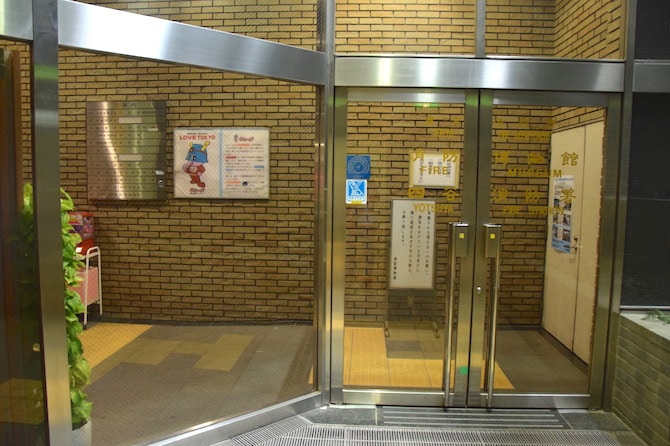 Hot tip: buy a pre-paid card, such as a Suica or Pasmo.
They require a refundable 500 yen initial charge, but make subway use infinitely easier than having to buy a paper ticket at a station whenever you ride a train. You only need to touch your card for a second on the sensor at the ticket wicket as you pass through.
Map of the Tokyo Fire Museum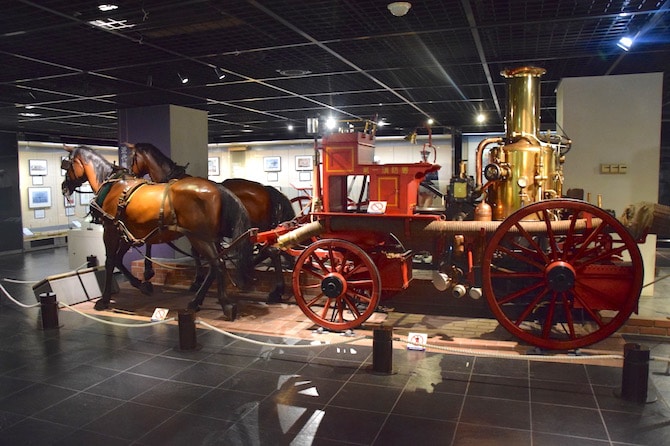 Toadstool Rating (by the kids) – Fire Museum Tokyo Attractions for Kids

Looking for MORE FUN things to do in TOKYO with kids?
Click the links in blue below for more Tokyo tips