INSIDE: Everything you need to know about the R.A.A.G.F Rabbit Cafe Tokyo Harajuku.
Japan, the land of the quirky experience, has all kinds of animal cafes.
You can meet (and eat) alongside Cats, Owls, Hedgehogs, Dogs AND Rabbits.
Roam the Gnome, Grandma Angie, and I set ourselves the task of finding a rabbit cafe.
While cat cafes are the most easy to find in Tokyo, the combination of cat hair and hayfever allergy do not mix well without causing a sneezing fit, so Rabbit cafes it was.
We found this Harajuku Rabbit Cafe in Tokyo.
Take a look below
Disclosure: This article contains affiliate links. If you make a purchase after clicking on one of these links, we may receive a small commission at NO extra cost to you.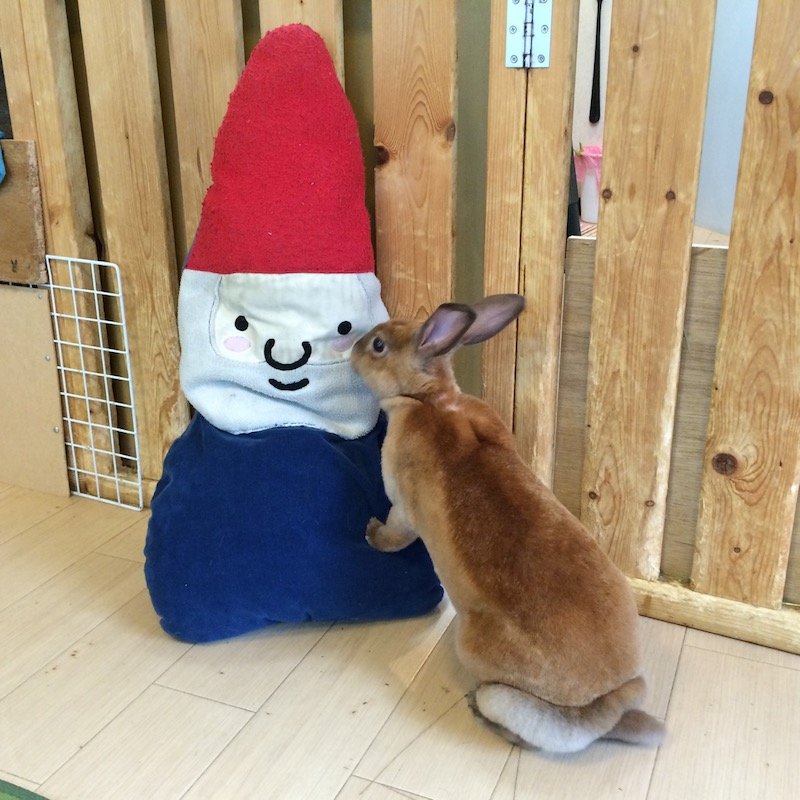 About Harajuku
Harajuku, and the world-famous Takeshita Dori street, is a must-stop place to visit in Tokyo for families and kids looking for:
Adorable Japanese shops full of squishies, and Japanese cartoon character soft toys
Cute Japanese stationery
Kawaii fashion
Purikura booths to take fun photos
Cosplayers dressed up in manga and anime outfits
Fun Harajuku food experiences like the longest soft serve ice creams, Japanese crepes, and GIANT rainbow cotton candy sticks
Guide to Harajuku Rabbit Cafe Tokyo
But one of the most unique things to do in Harajuku is visit a Rabbit Cafe.
These quirky cafes are another reason to LOVE Japan!
---
RELATED: Big List of the Best Things to do in Tokyo With Kids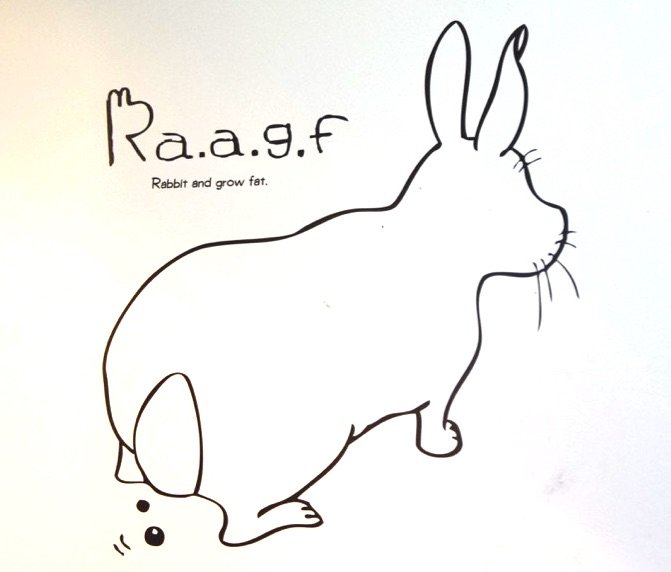 Guide to R.a.a.g.f Cafe in Harajuku
In the fun and fabulous town of Harajuku, you'll also find the R.a.a.g.f Cafe ("Rabbit, and Grow Fat". Random, and yet so classic Japan.)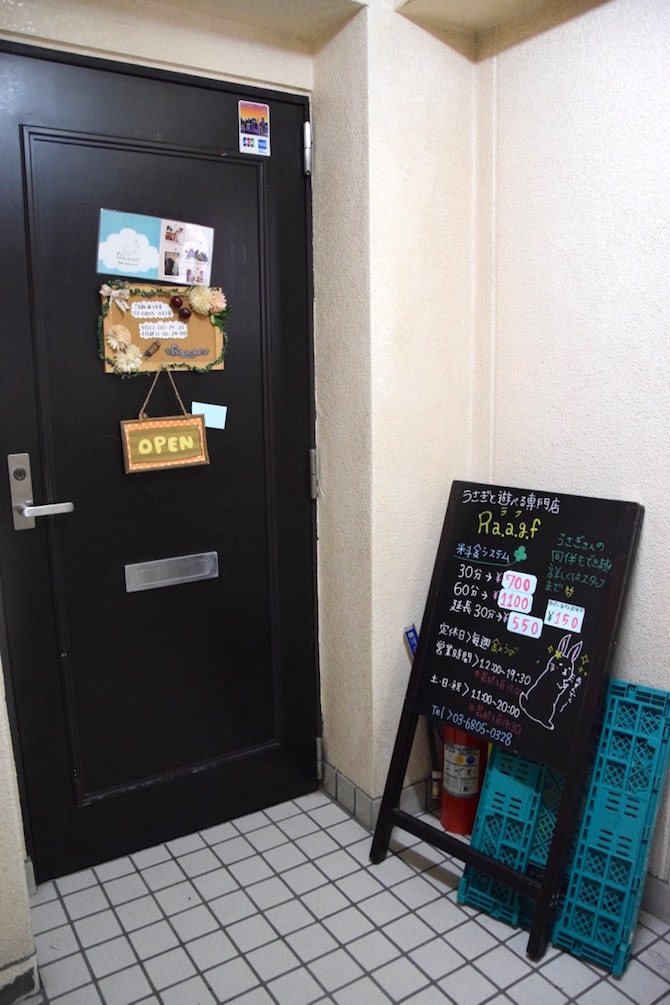 Walk in's Welcome at the Tokyo Rabbit Cafe Harajuku
The Harajuku Rabbits Cafe is located in a small room on the 3rd floor of the building.
There's a welcoming sign on the front door. Knock and enter.
The ladies in charge of the rabbit cafe will let you know if they have room for a visit or not.
If they do, take your shoes off and pop them in the shoe rack and head on in to the cafe, beyond the gate.
If not, you'll be asked to return at a later time.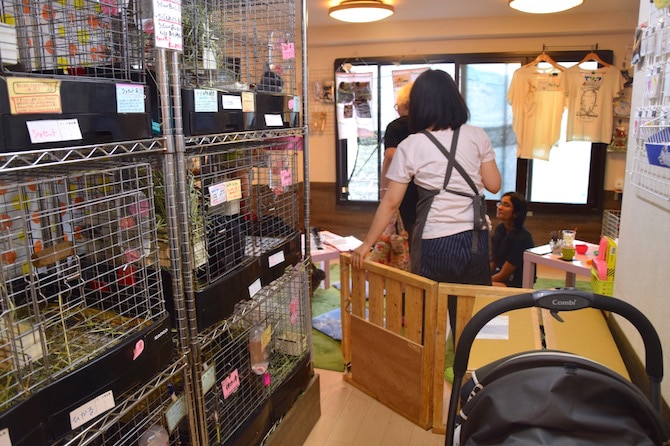 Rabbit Cafe Harajuku Building & Entrance Door
As you walk in to Cafe Rabbit, you'll see rows of cages.
Each rabbit has his or her own home, with fresh grass and hay keeping them warm, water, and fresh food.
Their coats are shiny and they look well-loved and cared for.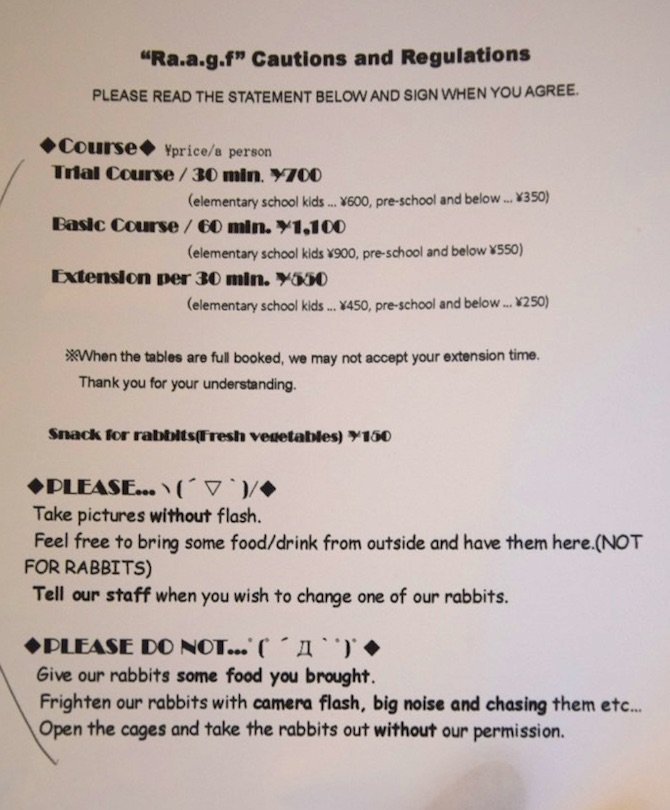 Entry to the Harajuku Rabbit Cafe Tokyo
Find a cushion and take a seat at a table.
You'll be given a R.a.a.g.f waiver to sign, asked to choose your 'course' (30 minutes, or an hour, or more) then asked for your choice of drink which is included in the entry price. (Hot tip: Milky tea. It's delicious!)
If you want to feed the rabbits, a snack is an extra ¥150.
You may bring your own snacks to eat while you visit the rabbits too, but if you are bringing kids, eat later or you'll run out of time.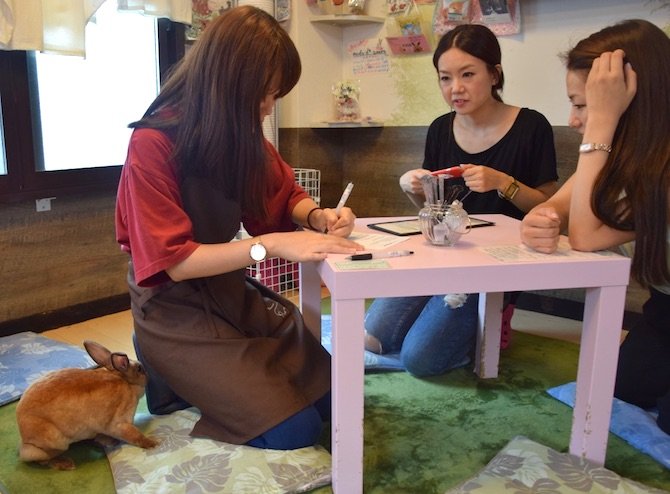 Rabbit Lovers Cafe Rules
Your hostess will inform you of the 'rules' and then ask you to choose your rabbit.
They bring out one rabbit at a time per table, and are happy to give you hints on which rabbits are more kid-friendly or amicable than others.
Rabbits take it in turns to visit, so they are not stressed out, or over-stretched. They are quite happy to swap your rabbit for another during your visit so you can meet more than one rabbit friend too.

Origins of Animal Cafes in Japan
Visiting animal cafes is quite the done thing in Japan.
Small houses, apartment living, and busy urban lifestyles prevent many from owning their own pet, and so visiting an animal cafe is a way to gain this interaction.
You'll see people of ALL ages in the cafe. Men, women, children, grandparents… it's a fun unique excursion for locals and visitors alike.
This Rabbit Cafe in Japan is also a chance to explore the differences of Japanese culture to home.
A Sneak Peek into this R.a.a.g.f Rabbit Cafe Tokyo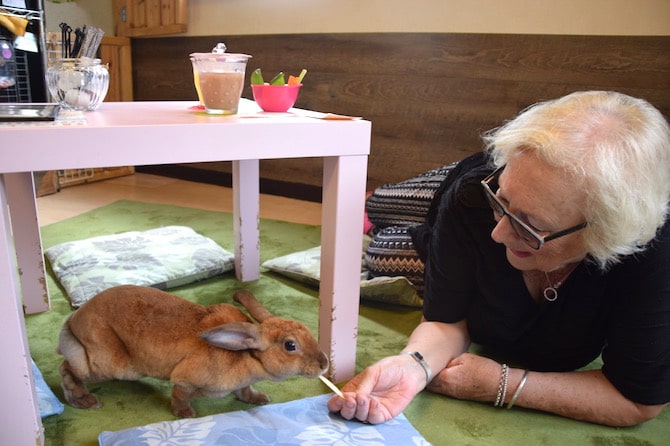 You can check out the different foods rabbits like to eat (and check out the dried fruits you can buy for them too.)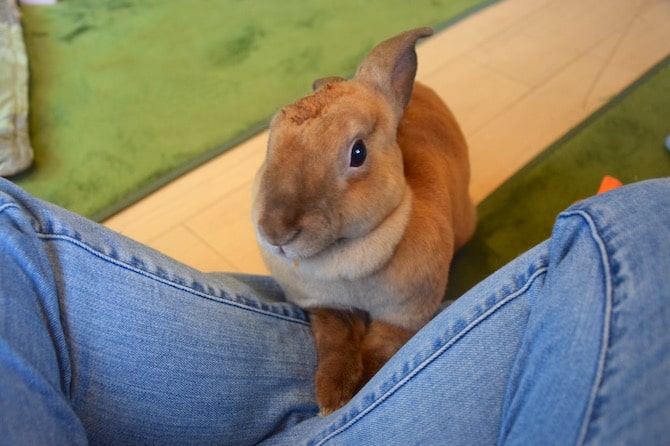 How to pat the rabbits
Gentleness is encouraged, so prep the kids not to chase, scare, or harass them.
The trick is to use the food to entice the rabbit up onto your lap of free will, or at least close to you, so you can pat them.
We found ourselves lounging and laying on the floor while squeaking our tongues to get our rabbit's attention and cajole him to wander over to us.

What is a Poop Scoop?
Beware – Rabbits are very fond of dropping poop pellets as they wander!
The hostesses are discreet as they quickly scoop it up out of sight.
Kids think that is the funniest thing! We did too.

THE INSIDE SCOOP: Tokyo Rabbit Cafe Japan
Correct at time of publication on Roam the Gnome. Please check with venue for updates. We apologise in advance if there have been any changes we are unaware of. All prices in yen, unless otherwise stated
Address: Jingumae 6-14-15, Maison Harajuku 3F
Opening Hours
Weekdays: 12 pm to 7.30 pm. (Last entry 7pm). Closed Tuesdays
Weekends & holidays: 11am to 8 pm (Last entry 7.30pm)
Entry fees:
700 yen for first 30 minutes. Average visit 30 – 60 minutes.
Telephone: 03 6805 0328
Website: Click here
Email: [email protected]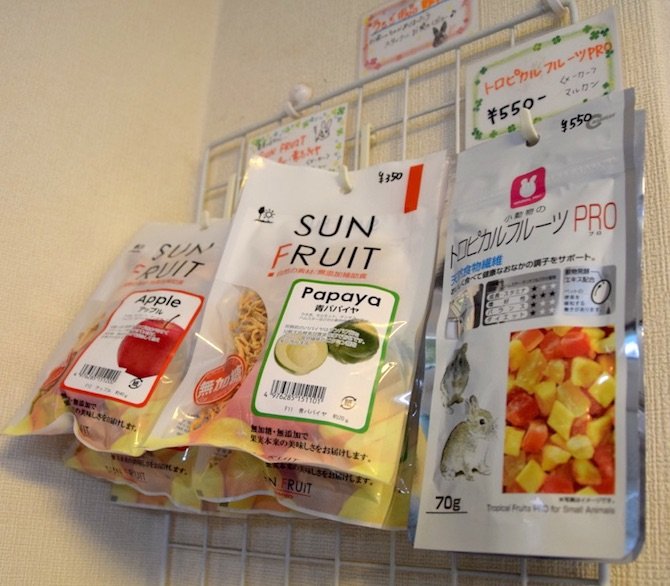 How to get to Harajuku Rabbit Cafe
The first trick is finding the Harajuku Rabbit Cafe.
It's just three minutes walk from Kiddyland on Omotesando, but you need to know where you are going.
We've popped some photos below to signpost your way and help you get there.
Quick directions: Starting at Kiddyland, head south away from Yoyogi Park. Turn left into Cat Street and walk down.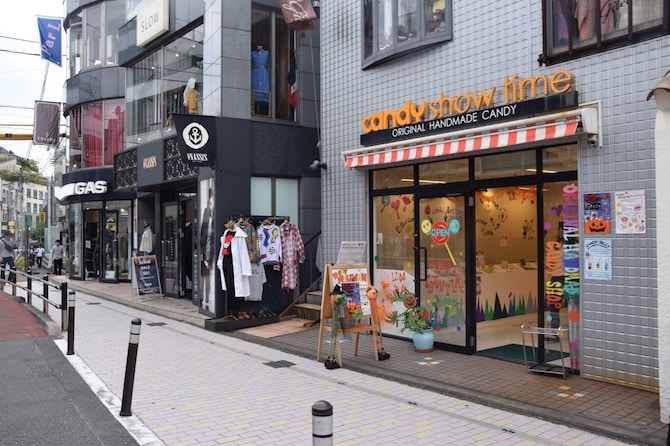 You'll pass Candy Show Time on your right, then just 25 metres past that, you'll see the clothing store GAS. Turn right at this junction.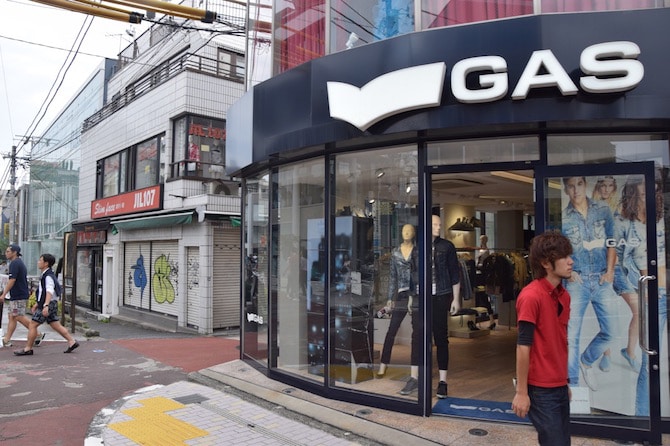 Wander up this narrow laneway (above) until you see the M'arijuan boutique on your left (see pic below).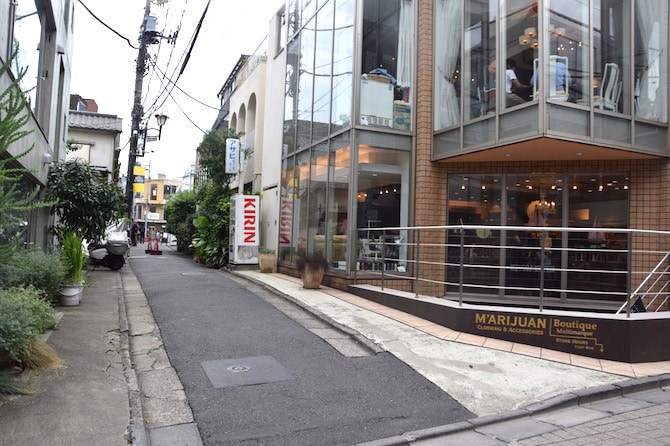 Turn left down this alleyway.
Pass the Kirin drinks machine, and the R.a.a.g.f building is on your left about 25 metres along.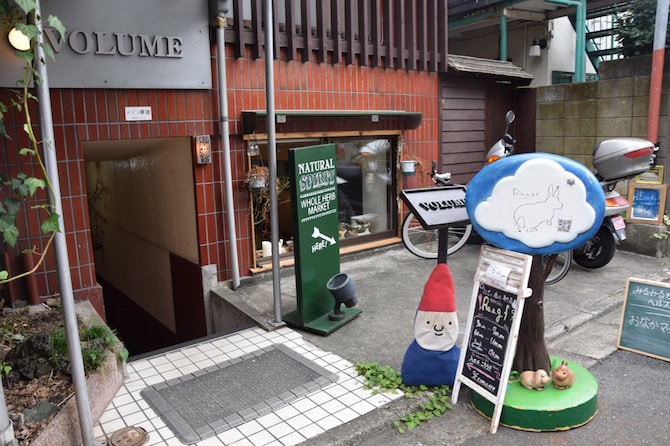 The Harajuku Rabbit Cafe is located on the 3rd floor of this building.
Look for this model 'tree' sign (that Roam the Gnome is sitting next to) – it's out front of the Harajuku Rabbit Cafe to mark the building.
Click here for a google map for directions.
Map of R.A.A.G.F the Rabbit Cafe in Tokyo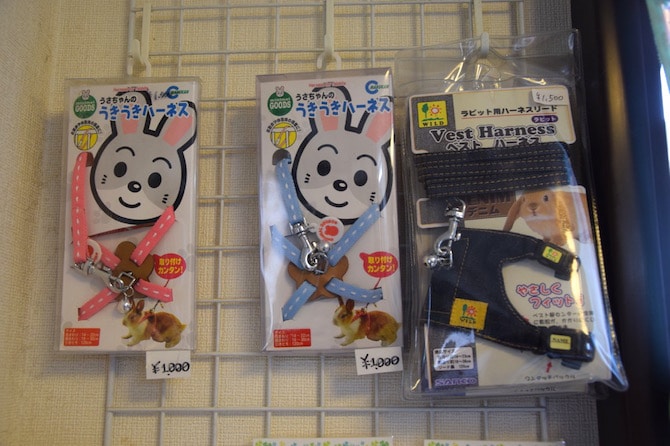 Toadstool Rating: Japan Rabbit Cafe Tokyo
The kids were fascinated to see my photos of Rabbit Harnesses for purchase in the Harajuku bunny shop, and wanted to know if they could take the bunnies for a walk…
This is definitely a Harajuku cafe with a difference!


Looking for MORE SUPER DOOPER FUN things to do in TOKYO with kids?
Click the links in blue below for more Tokyo travel tips.