INSIDE: Why Marylebone Green Playground in Regents Park is our pick for the Best Kids Playground in London. Updated 2019.
1. Jumbo fallen logs to scramble over? Tick.
2. A modern-design concrete "Castle" climbing frame with a slippery dip of epic proportions? Tick.
3. A Super Dooper Dun playground for children with the BEST STREET ADDRESS in London?
YES. YES. YES.
All this, and SO MUCH MORE, at Marylebone Green Playground in Regents Park, London.
One of London's best playgrounds for toddlers, preschoolers, and older kids.
READ MORE: The Ultimate Guide to the BEST London Playgrounds for Kids (NEW) 
Marylebone Green Playground in Regent's Park London
Regent's Park is one of the Royal Parks of London, and it's our second favourite London Park (after the archetypal London Park that is Hyde Park of course) because it has a bunch of very fun playgrounds for the kids. The Regent's Park is home to London Zoo too!
We spent a cool and cloudy day wandering throughout Regents Park gardens, visiting the playgrounds one by one, with Roam the Gnome in tow.
(We ended our adventure with a walk down Regent Street to Hamleys Toy Store!  It's a 20 minute stroll away, on one of London's most iconic streetscapes, so don't miss it!)
Marylebone Green Playground, on the corner of Park Square West and Ulster Terrace was given a major re-imagination a few years ago (that's so much better than 'refurbishment' don't you think?) and now it's like having THREE parks in one. 
It's top of our list of the best playgrounds in London.
Beautifully maintained, with plenty of green hedging and open space, this is one park to put on your "London Family Travel Bucketlist" when planning your next visit to this elegant city.

Play Equipment at Marylebone Playground Regents Park
Marylebone Playground Regents Park has:
A standard playground area, with a big blue and yellow climbing fort with bridges and slides
A swing area with swings for big kids, and those classic "box" swings for babies and toddlers (These box swings are typical of London parks but we've not seen anything like them anywhere else in the world!)
A spinning mini-carousel
A seesaw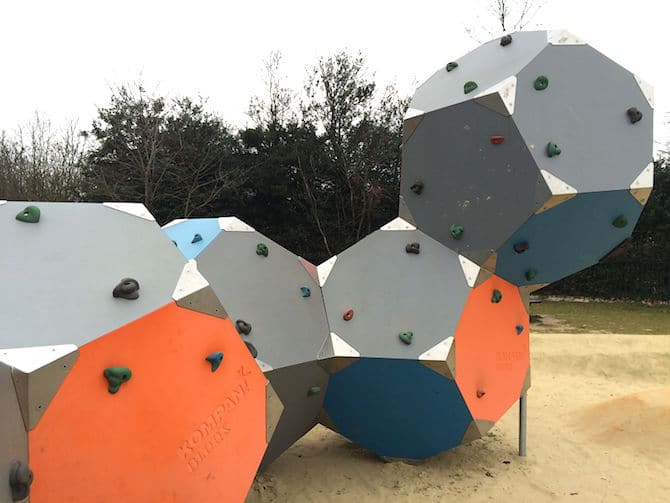 The modern interpretation of clever playground design has:
A Super Dooper Fun concrete climbing gym/castle, with a super fast slippery slide, concrete hidey-holes to crawl through,
A giant rocking rope hammock swing
A huge sandpit area with water play area, where kids can build sandcastles and enjoy messy sand play on waist-height tray tables
A Rock Climbing 'wall' with a difference!
A musical Glockenspiel wall to play

Regents Park Nature Playground
Marylebone Green Playground has a nature play area too!
It's separate to the modern playground, so keep an eye out, or you might miss it. Walk out the gates of the main playground and it's on the opposite side of the pathway.
My boys loved this London nature playground more than the purpose-built one!
There's:
A nature playground with giant-size logs for clambering over
A willow branch tunnel to dance through
Giant boulders to jump across
A pathway of natural log stumps of differing heights where kids can challenge their dexterity. These are cleverly hidden within a maze of upright timber poles – the perfect place to hop, skip, and jump your way along
A horizontal log balancing beam that sways from side to side.
READ MORE: Here's another Timber Log Playground to Explore – Right in the Centre of London
Watch our Marylebone Playground video!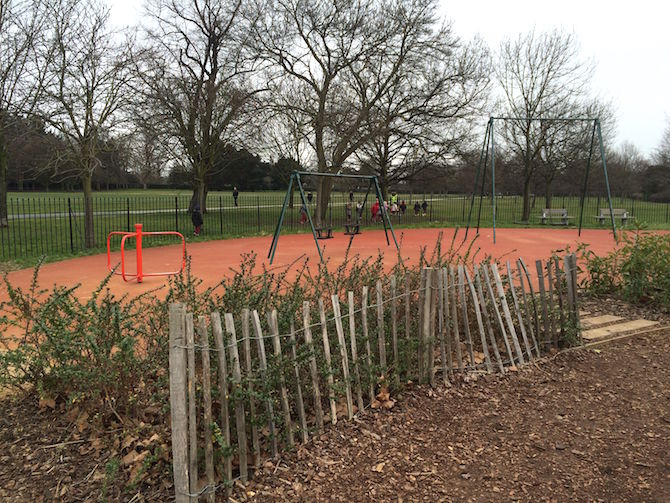 #1 Traditional Playground at Marylebone Park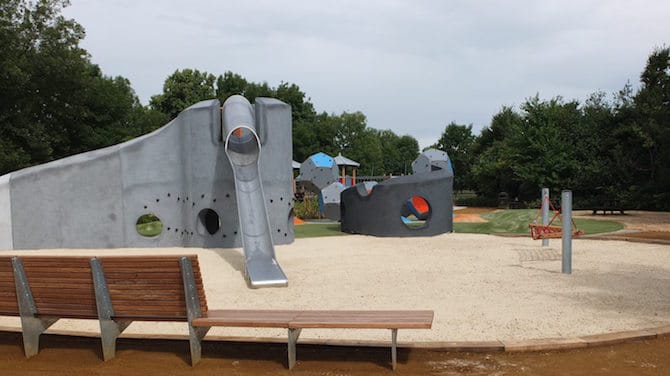 #2 Modern London Playground at Marylebone Gardens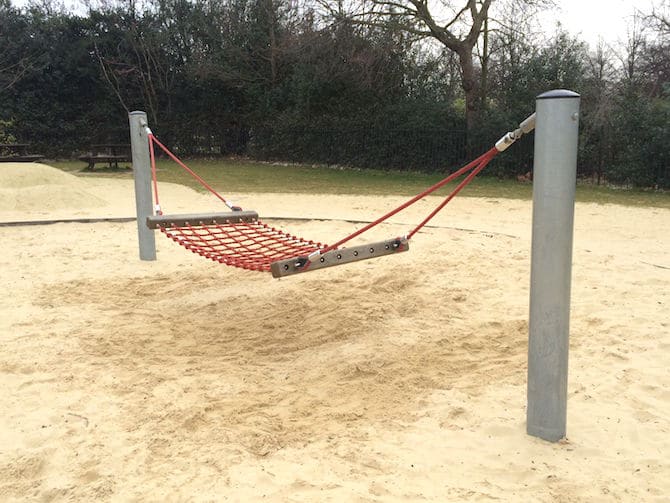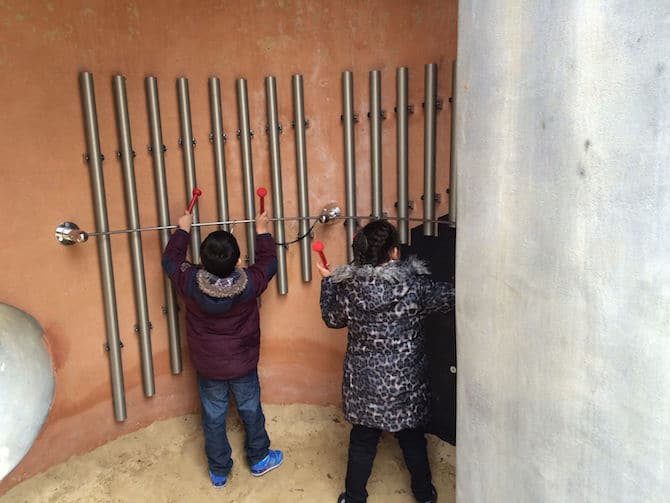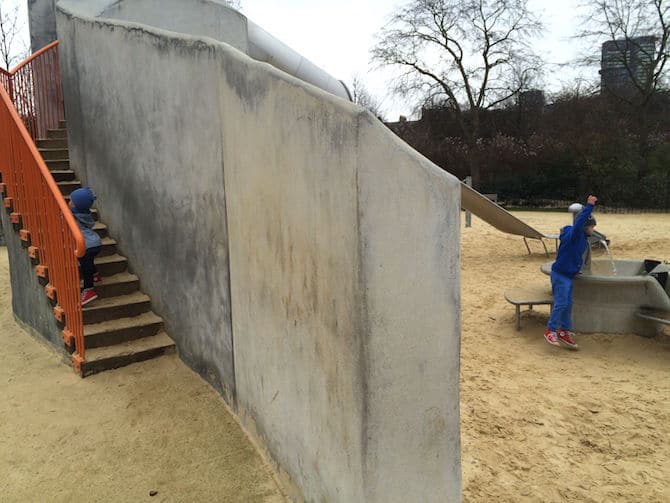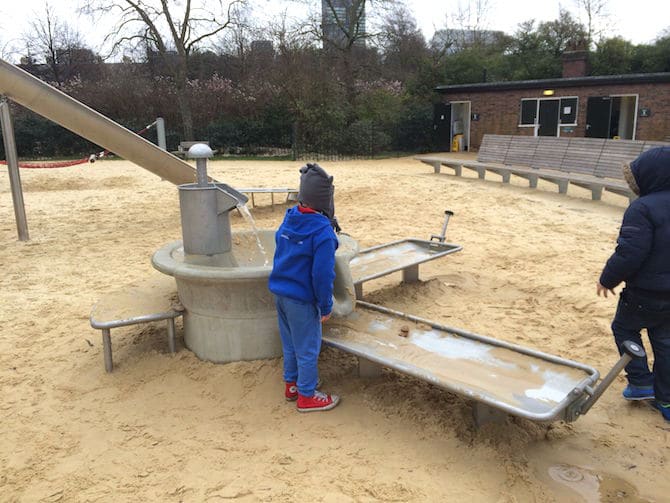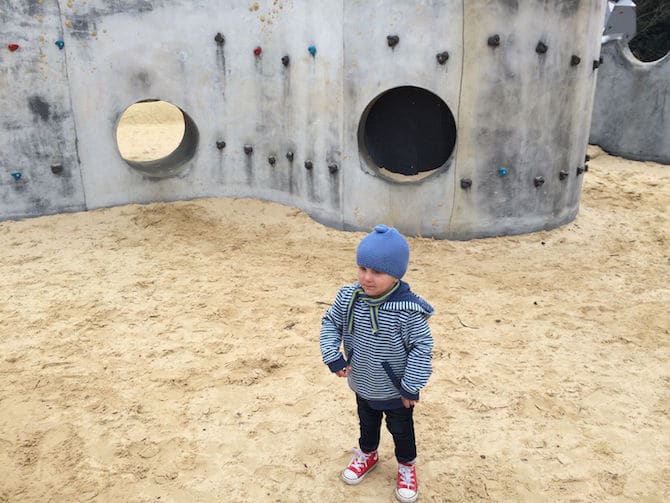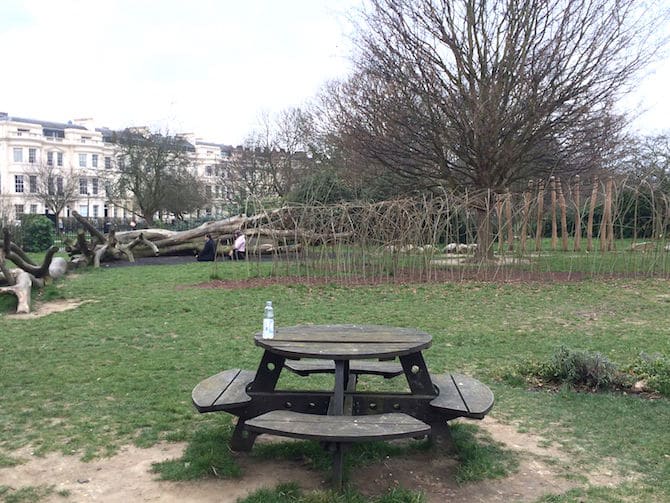 #3 Regents Park Nature Playground Photos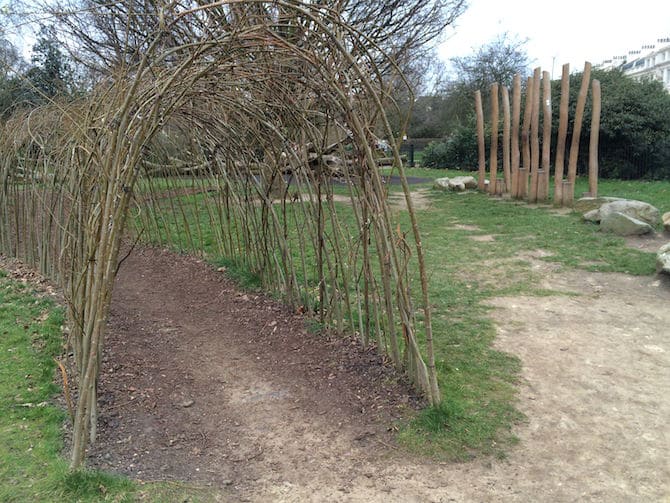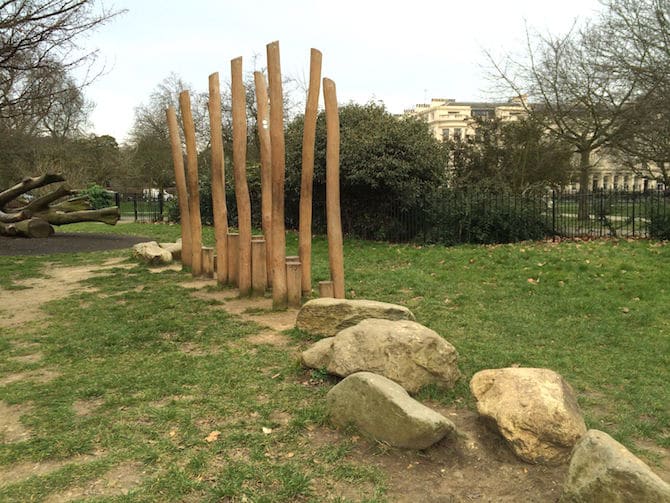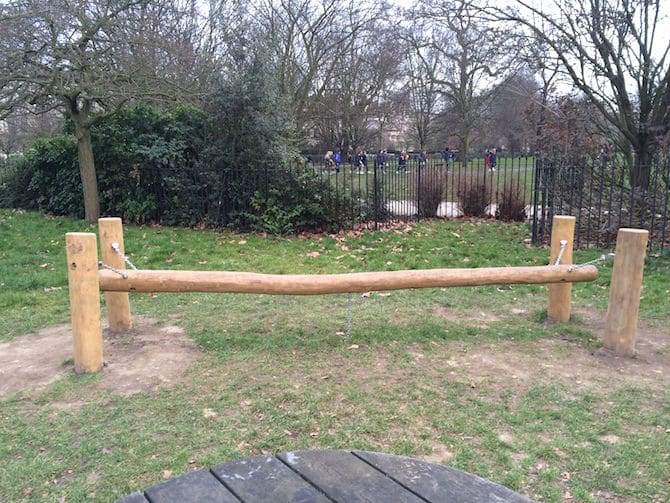 Regents Park – Street Entrance closest to Marylebone Park

The Inside Scoop – Marylebone Green Playground at the Regent's Park
Correct at time of publication. Please check with venue for updates. We apologise in advance if there have been any changes we are unaware of.
Address: Entrance to Marylebone Playground is at the Corner of Park Square West and Ulster Terrace road, Regent's Park, Greater London NW1 4, United Kingdom
Telephone: 0300 061 2000
Email: [email protected]
Website: Royal Parks
Regents Park Opening Hours: Open 10am daily. Closing times vary with the month of the year but around 5pm – 7pm  (Shorter hours in winter – 4pm close)
Regents Park Closing Time: Last entry is 30 minutes before closing.
Entry Fees:  FREE!
How to get there: 
By Tube/Underground: The closest Tube Station is Regent's Park Tube Station.
By Car: Be mindful when driving to the Regent's Park area that there is a Congestion Charge is an £11.50 daily charge for driving a vehicle within the charging zone between 07:00 and 18:00, Monday to Friday. The easiest way to pay is by registering for Congestion Charge Auto Pay. Exemptions and discounts are available.
The Regents Park Parking:
Pay and display parking is available in the Regents Park carpark everyday from 9.00am – 6.30pm.  The postcode for electronic device users is NW1 4NR, but please note this is for guidance only as the park covers a large area.
Charges for pay and display parking are: Monday to Saturday  – £2.40 per hour (60p per 15 minutes, 4 hours maximum stay), Sundays and Public Holidays – £1.40 per hour (35p per 15 minutes, no maximum stay)
Regents Park London Map
Nearest takeaway coffee and/or food options:
BYO Snacks and drinks as food venues are few and far between in the Regent's Park.
Find kid-friendly cafes and food outlets, including Starbucks and Nandos, about 10 minutes walk away.
Toilets: Yes, there's a toilet block including a baby change table inside the grounds
Disability access: Yes, but limited.
Closest ATM: Regent Street.
Shade: BYO hat and sunscreen as no shade structures on site. The nature playground has natural shade from the trees.
Enclosed: Yes, fenced all round.
Ground cover: Sand, Grass, Rubber soft fall, Concrete pathways
Picnic tables: Yes
Electric BBQs: No
Water Bubblers/fountains: Yes
Scooters and Bikes: Yes
Dogs: No
Notes:
Marylebone playground was last reviewed in February 2019.
Toadstool Rating (by the kids) – Regents Park Playground
Looking for MORE SUPER DOOPER FUN Things to Do with Kids in LONDON?
Click the links in blue below.
Subscribe
Bookmark Roam the Gnome
Disclosure:
This article may contain affiliate links. This means if you make a booking or purchase after clicking on one of these links on Roam the Gnome™, we may receive a small affiliate commission at NO extra cost to you.
Roam the Gnome™ is a participant in the Amazon Services LLC Associates Program, an affiliate advertising program designed to provide a means for sites to earn advertising fees by advertising and linking to amazon.com, amazon.co.uk, amazon.ca. Amazon and the Amazon logo are trademarks of Amazon.com, Inc. or its affiliates.
Thank you in advance for your support in helping us to grow Roam the Gnome Family Travel™ Website Directory