INSIDE: Roam the Gnome's Guide to the Mysterious Creatures of the Bremer River at Riverheart Parklands
Take the kids for a early-evening magical mystical adventure in Ipswich.
There's a rumour you can spy your very own Loch Ness Monster, right here in the Ipswich CBD.
Pop on your Sherlock Holmes hat and coat, and get ready to solve the mystery.
Look the part with an old-school spyglass or binoculars (and don't forget your glasses).
(You might need them!)
Take a look below for details.
Disclosure: This article contains affiliate links. If you make a purchase after clicking on one of these links, we may receive a small commission at NO extra cost to you.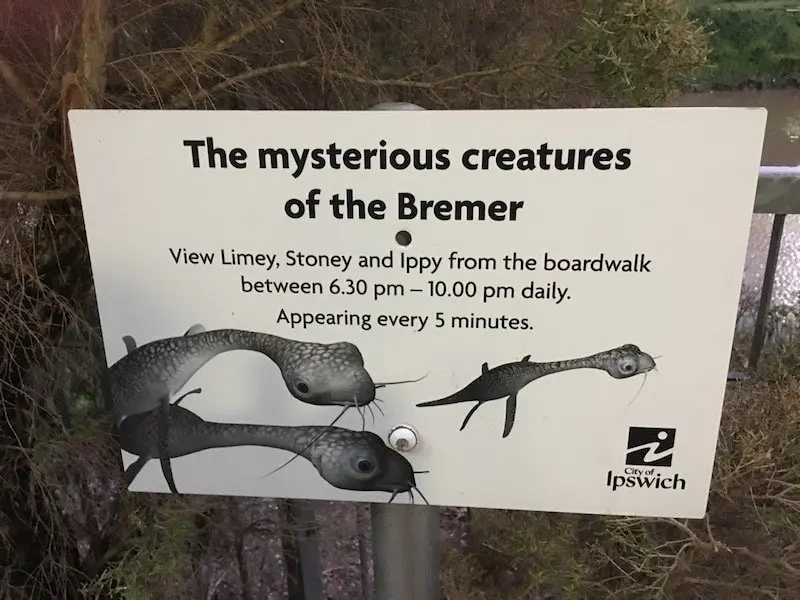 Mysterious Creatures at Riverheart Parklands Ipswich QLD
Start your mission to find the mysterious creatures of Bremer river by driving to Riverheart Parklands in Lismore.
Park in the Ipswich Council carpark on Elizabeth street (the rail bridge end).
Wander down the pram-friendly boardwalk (it's 1.2 kilometres long from start to finish).
Look for the Signs
Look for the white signs "The Mysterious Creatures of the Bremer", found along the waterfront section.
I have it on good authority that these mysterious creatures in the Bremer River do make an appearance every five minutes or so from 6.30pm to 10pm daily, so there's a good chance you and your kids can spot them too.
Look out for vague neon-yellow laser shadows.
Blink and you'll miss them the first time.
But once you know what you are looking for, they are easy to spot.
Ippy, Limey and Stoney might be mysterious, but luckily for the kids, they are predictable!
---
RELATED: Ultimate Guide of Fun Things to do in Brisbane with Kids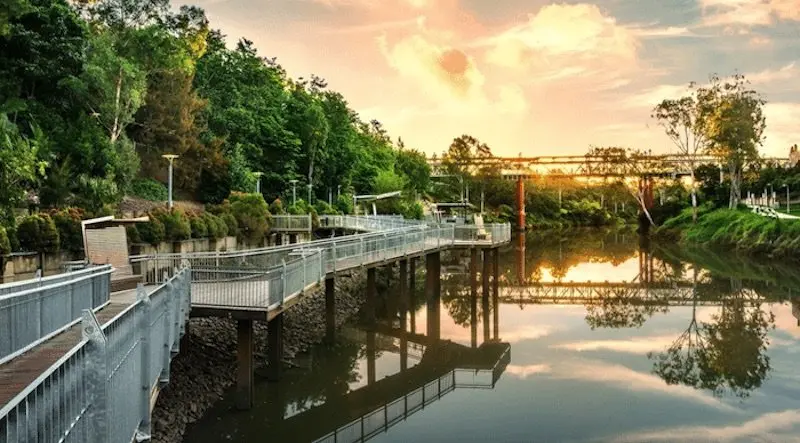 Image credit: Google Maps
MORE OF THE BEST ACTIVITIES IN IPSWICH FOR KIDS NEAR THE BREMER
No.1: Riverheart Parklands Boardwalk
The Riverheart Parklands boardwalk along the Bremer River starts from the old rail bridge and Bradfield Pedestrian Bridge.
If you park in the Ipswich City Council carpark near Elizabeth Street, you can wander and stroll the whole way to the Bob Gamble Park aquativity park and playground, and beyond to King Edward Parade.
(If the idea of the return walk with kids after a big day of fun is daunting, park your car on Bremer St (near East Street junction), next to this playground and start the walk from here).
No.2: Bob Gamble Park playground
The Bob Gamble playground has:
an EPIC water play area (it's FREE!)
climbing fort
sandpit and diggers
zipline
plus LOTS of play equipment for all ages, AND
a free Discovery Forest with nature play equipment right next door.
This Ipswich water park is worth an Ipswich day trip alone!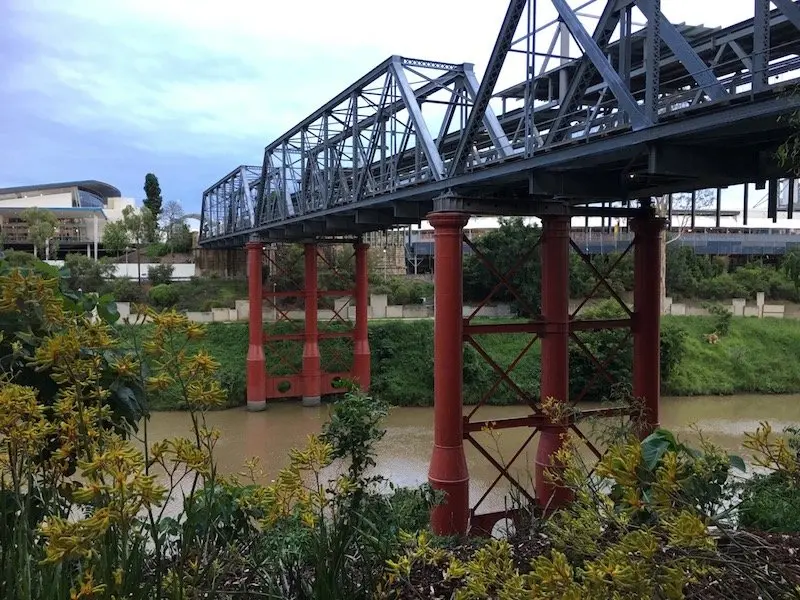 THE INSIDE SCOOP: The Bremer River Mysterious Creatures
Correct at time of publication. Please check with venue for updates. We apologise in advance if there have been any changes we are unaware of.
Address: Entry via Elizabeth & Bremer Streets Council Carpark, Ipswich
Website: Click here
Opening Hours: 6.30pm to 10pm
Entry Fees: Free entry
How to get to Riverheart Parklands in Ipswich
By Bus: Daily bus connections are available from the Brisbane Transit Centre in Brisbane. For more information contact the centre on 3236 2020.
By Train: The Brisbane Citytrain network provides regular connections from Ipswich to Brisbane and connections to the Gold and Sunshine Coast rail lines.
By Car:
The Ipswich Motorway links Ipswich to Brisbane. (approx 40 minutes).
The Logan Motorway links Ipswich to the Gold Coast and Pacific Highway from New South Wales, along with the Gateway Motorway from Brisbane Airport and Sunshine Coast.
Click here for directions to the Ipswich City Council carpark and beginning of walkway where the ramp is
Riverheart Parklands Parking – Ipswich Council Car Park
There's free street parking in the car park up top.
Facilities at River Heart Parklands Ipswich QLD
Nearest takeaway coffee and/or food options: BYO snacks and drinks.
Toilets: Yes, including baby change table, at start of walk
Disability access: Yes
Enclosed: Yes, fenced
Toadstool Rating – Ipswich Riverheart Parklands on the Bremer River
Mysterious Creatures in the Bremer River at Riverheart Parklands is a fun experience for imaginative kids, aged 5 to 10 years.
Will probably go over the heads of younger kids, and older kids will likely poo poo it.

Looking for MORE FUN things to do in Ipswich for kids?
Click the blue links below for more Brisbane tips