INSIDE: Everything you need to know about things to do in Times Square with kids.
Have you ever been to Times Square New York?
Can you believe Roam the Gnome featured on the Street Cam Times Square?
Roam the Gnome has travelled all over the world, but THIS iconic New York snap was one of his favourite moments ever!
Have you ever wanted to capture yourself on the giant Revlon Kiss Cam street cam in Times Square central?
We found ourselves in the pack of people at Times Square theatre district, waiting for our moment, and while we didn't snag pole position inside the love heart, you can see Roamie (the Gnomie) on the screen in the top right.
Can you spot his Red Gnome Hat?
If you are heading to NYC Time's Square, keep an eye out for this live action camera too.
Then check out all the fun things you can do in Times Square with kids (below)
Disclosure: This article contains affiliate links. If you make a purchase after clicking on one of these links, we may receive a small commission at NO extra cost to you.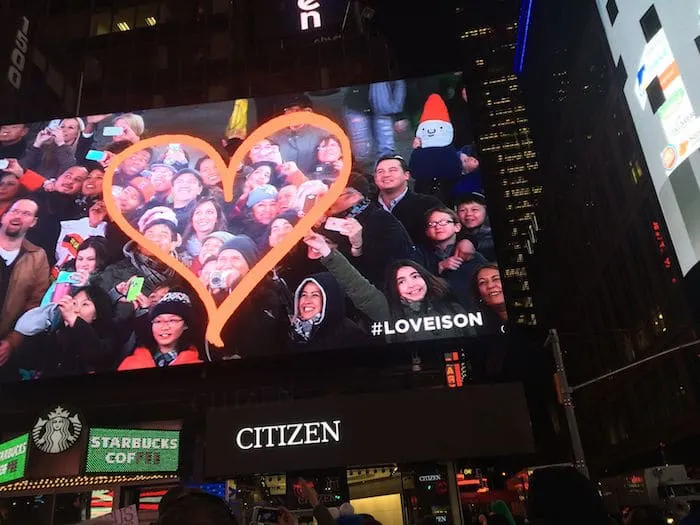 THE BEST THINGS TO DO IN TIMES SQUARE WITH KIDS
No.1: New York Times Square Kiss Cam
Times Square is a busy touristy destination in the heart of the Theater District known for bright lights, shopping, New York attractions, & shows.
If you are heading to Times Square in New York, and want to do something funny with the kids, join the crowds waiting for the Kiss Cam to capture a moment of happy smiley faces, and random kisses.
While in town, why not embarrass the kids with a big smooch on their cheek at the right moment on the live cam Times Square, and snap a picture of it for the gram. It will be captured for ever.
But look out for the costume characters in Times Square.
They are a little dodgy and overbearing.
---
RELATED: ULTIMATE guide of unique things to do in New York with kids
MORE OF WHAT TO DO IN TIMES SQUARE WITH KIDS
No.2: See a Broadway Show in New York
See a magnificent Broadway Show
Disney's Aladdin is a mesmerising encounter in a bejewelled Arabian world, or Disney's FROZEN is a Broadway adaptation of the record-breaking film.
There's Disney's The Lion King, or Wicked, the Broadway sensation featuring the Wicked Witch from Wizard of Oz!
The hardest decision is which one to choose? If you can afford it, book two, or three!
No.3: National Geographic Encounter
Visit the National Geographic Encounter: Ocean Odyssey immersive experience for a unique experience with oceanic creatures!
No.4: Gullivers Gate New York
Enter Gulliver's Gate, a miniature world that will thrill your imagination
THIS is top of the list of unique things to do in Times Square with children.
No.5: Madame Tussauds Times Square
Take a selfie or two at Madame Tussauds New York wax museum
Read our guide to Madame Tussards with kids here
No.6: Ripley's Believe it or Not New York
See the wild and wonderful objects and characters from around the world at Ripley's Believe it or Not!
No.7: Hershey's Chocolate World Times Square
Shop at Hersheys Chocolate world at 701 Seventh Ave
No.8: M & M's World New York Times Square
Pick up the best New York souvenir.
Print a personal greeting on M&M's chocolate candy at the hilarious M&M's World New York, and give it to all your friends & family
No.9: The Disney Store Times Square
Go crazy buying up all the American Disney souvenirs from the DISNEY Store in Times Square!
No.10: Happy Socks New York
Pick up a crazy pair of socks at the cute design shop, Happy Socks at 1588 Broadway.
BEST TIMES SQUARE RESTAURANTS FOR KIDS
No.1: Dave and Busters restaurant in New York
Eat some iconic American food at Dave and Busters family friendly chain restaurant in America with arcade games too
No.2: Planet Hollywood Times Square
American fare – burgers, ribs, salads and hot potato dishes – are rule of thumb, but it's the Hollywood Movie Memorabilia that captures the kids attention while you wait.
Address: 1540 Broadway, New York
No.3: Junior's Restaurant & Bakery
Pop in for delicious BBQ fare for starters, but know you won't be leaving until you've tried at least one of their American style cheesecakes.
The cheesecakes are the reason to visit this popular American eatery in New York City.
Address: 1515 Broadway, W 45th St, New York.
No.4: Hard Rock Cafe Times Square
Head to the famous Hard Rock Cafe rock'n'roll restaurant.
You can't go wrong with burgers, fries, ribs and more for the kids.
Address: 1501 Broadway, New York
No.5: Johns of Times Square
The best pizza in New York city, in business since 1929.
Don't miss it.
Address: 260 W 44th St, New York.
No.6: Bubba Gump Shrimp Co.
This is the restaurant inspired by the film, Forrest Gump.
So there's Shrimp everything of course.
Plus, fish and chips, Surf & Turf, fried chicken, Dixie style baby back ribs, Burgers, Texan sandwiches, and of course, Old Fashioned New England Clam Chowder.
THE INSIDE SCOOP: Funny Kiss Cam with Roamie Gnomie at Times Square!
Kiss Cam address: Corner of 7th avenue and W45th Ave, Manhattan New York
Website: Click here

How to get to Times Square New York
Broadway between 42 and 47th Streets have been closed to vehicular traffic and opened to pedestrians as part of the Times Square transformation.
Click here to learn more about the Times Square transformation.
Parking in Times Square:
Click here for parking garages near Times Square
Map of Street Cam Times Square
Looking for MORE Things to Do in NEW YORK CITY with Kids?
Click the blue links below for more New York travel tips