INSIDE: Need Quick Healthy Food in a flash to feed hungry kids in New York City? Visit Speedy's NYC Delicatessen.
SPEEDY'S NYC is the BEST fresh food cafe deli & take out in New York City central.
THIS place, SPEEDY'S NYC Deli, was a lifesaver at the end of a long day exploring New York City in freezing post-snow-dump temperatures.
We'd criss-crossed Central Park, from one playground to another, weaving in and out on our way to the Children's Museum Of Manhattan, and back for a Times Square visit and Madame Tussauds.
My hungry boys were in no shape to sit in a New York diner, a New York pizza shop, or any kind of fast-food joint.
I needed to find healthy takeaway food in a flash.
Food we could carry back to the hotel and eat in the comfort of our room.
Where they could sit and chill out in front of the TV watching American kid's cartoons on the tv if necessary.
This place saved this day, and more. Details below.
Disclosure: This article contains affiliate links. If you make a purchase after clicking on one of these links, we may receive a small commission at NO extra cost to you.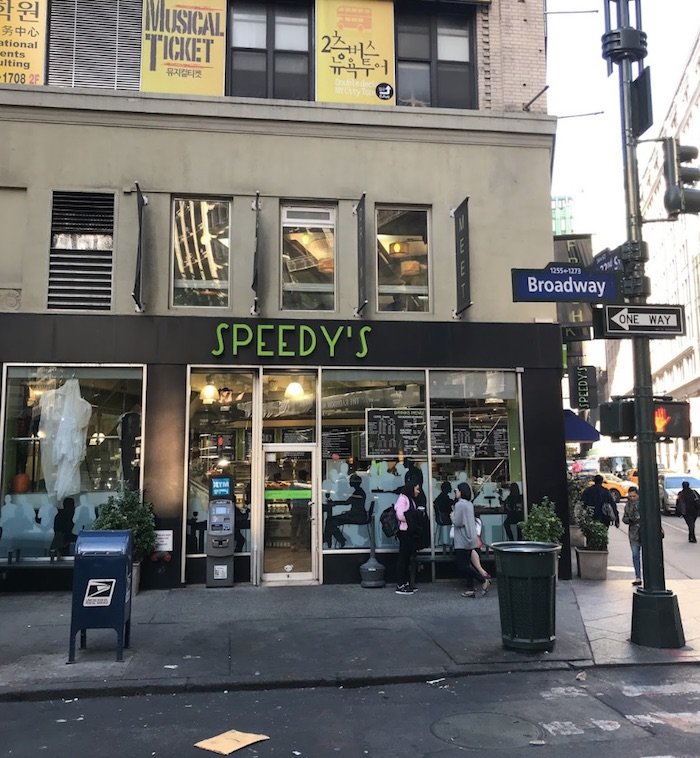 Guide to Speedy's NYC Diner and Take Out
On our fast-tracked walking route towards back to the hotel, my eyes were on high-alert.
Then, near Macy's Department Store, on the corner of Broadway and West 32nd Street, I spotted my miracle!
Speedy cafe, a quick-service take-out restaurant, right in the middle of New York City, with a HUGE menu of fresh food the kids would eat.
I wish I could find one of these take out diners on every corner of every city across the globe.
---
RELATED: ULTIMATE guide of unique things to do in New York with kids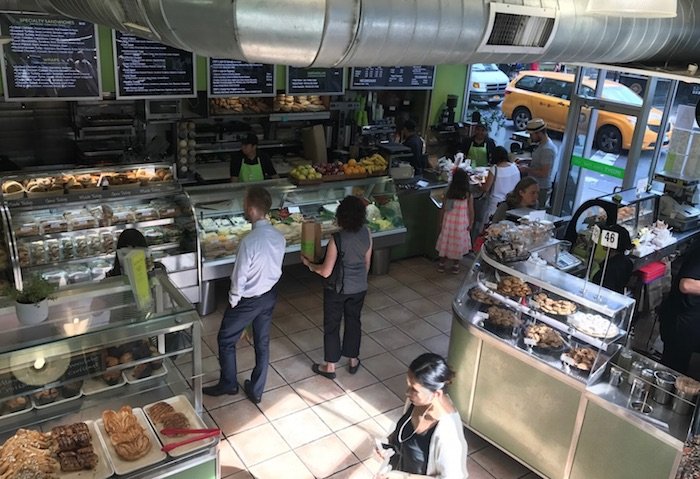 Speedys Deli on Broadway NYC – All Day Menu
Speedy's NYC has an all-day breakfast, sandwiches & other basic American fare.
You can dine in, or takeout around the clock.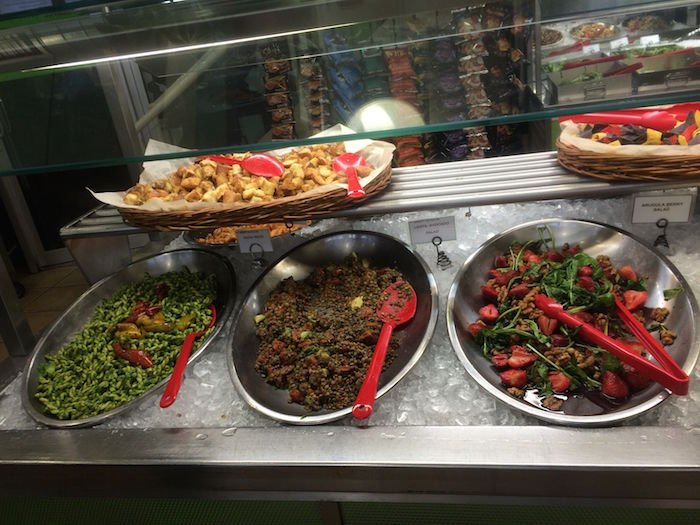 Self Serve at Speedy's Deli in New York
At Speedys Deli Cafe, there's a bunch of cabinets with self-serve foods, as well as counters to order your coffee, and collect your yoghurt, hot breakfasts, bakery goodies, salads and more.
If you are looking for delis on Broadway in NYC, this is the spot.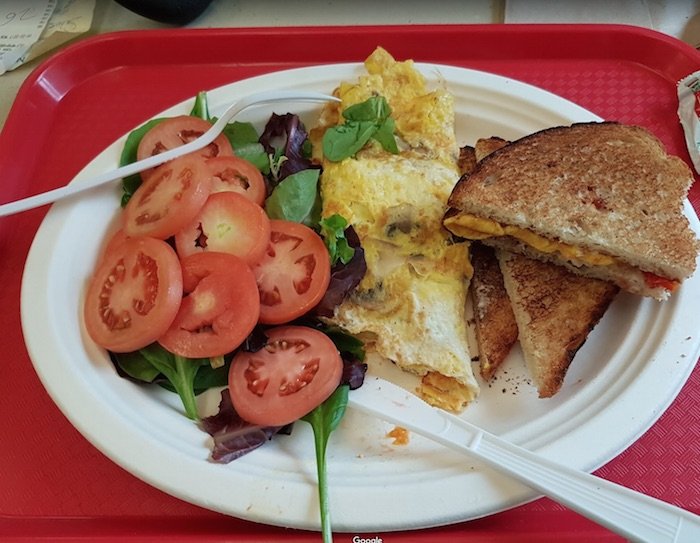 Speedy's Menu
The Speedy's Takeout Menu includes:
Coffee, tea, and iced drinks
Healthy smoothies and shakes
Baked goods including muffins, croissants, apple turnovers, and sweet danishes
Frozen Yoghurt and Greek yoghurt combos
Fresh fruit salads
Breakfast burritos, breakfast brioche buns, and country rolls
Omelettes with cheese
All American breakfast classics including eggs, potatoes and toast (with bacon, ham or sausage if you choose)
Buttermilk pancakes
The ultimate range of healthy fresh salads (these are the best!). Sold by the pound.
Soups, and open-grill sandwiches (hello, Tuna Melt!)
Wraps, burgers, AND hot pressed paninis with super yummy fillings
Sweet treats including jello (!), cakes, brownies, cookies, rice pudding and tiramisu
Speedy's cafe menu has something for everyone.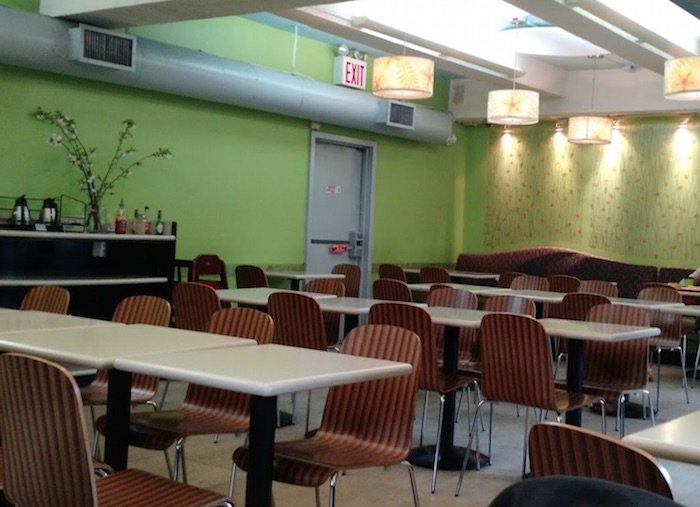 Menu Prices at Speedy's Fresh Food Cafe
You can definitely feed a family of four here at Speedy's NYC for about $30 US for breakfast, lunch or dinner, and maybe cheaper, depending on how much food your kids eat. Drinks extra.
Cakes and bakery goods go for around $2.50 – $3.50 US.
Shakes and smoothies are $5.95.
It's good food for a good price, and one of the only quick-serve diners we've seen with plenty of greens and salad options in New York.
Plus, if you go for breakfast, these locals have all the tips on where to go in New York City with kids.
Just ask!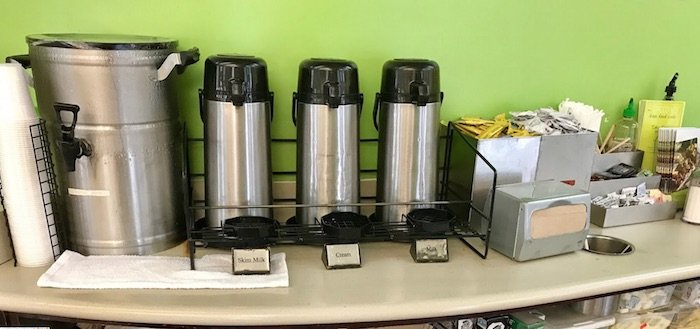 Seating Upstairs at Speedys NYC Restaurant too!
If your kids haven't yet reached the 'hangry' (hungry/angry) stage , and can cope with sitting down to eat on the run, head up the stairs.
You'll find a dining room with tables, chairs, and window seat views of NY City. The location is superb.
There's also a condiments station, where you'll find serviettes, salt, pepper, milk, and sauces for your food.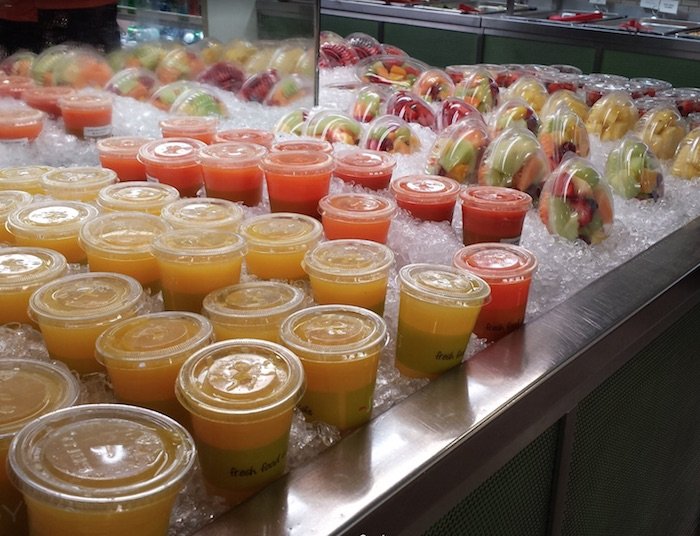 THE INSIDE SCOOP: Speedy's Fresh Food Cafe Broadway
Correct at time of publication on Roam the Gnome. Please check with venue for updates. We apologise in advance if there have been any changes we are unaware of. All prices in US dollars, unless otherwise stated
Address: 1271 Broadway, New York, NY 10001. Located between 6th and Broadway at 32nd St in front of the little park and the subway station.
Telephone: 212.683.8997
Email: [email protected]
Website: Click here
Speedy's New York Opening Hours: (Updated 2019)
Monday to Saturday: 6am to 11pm
Sunday : 6am to 10pm
How to get to Speedy's New York City
By Foot: 12 minutes walk from Times Square, 3 minutes walk from Macy's
By Bus: 6th Ave, and West 32rd St
By Subway Train: Closest station is 33rd Street (Blue or Orange line)
By Taxi: Pick up a Yellow Cab and make your way there before the kids die of hunger!
By Car: We suggest using public transport if you can. This part of New York is insanely busy and chaotic for driving.
Parking at Speedys: Limited street parking nearby
Speedys NYC Map
Facilities at Speedy's Restaurant
Toilets: Not yet confirmed.
(If anyone reading happens to be there, and can check, please let me know so I can update this section! I so appreciate your help. Email pics/confirmation to [email protected])
Disability access: Downstairs only
Closest ATM: Atm at front entrance.
Closest playground: Bryant Park doesn't have a playground, but there's tonnes of stuff for kids to do, including a carousel. Explore this mid city park!
Dogs: No
Toadstool Rating – Speedy's NYC Cafe
For a quick and easy meal eating with kids in New York, this place wins hands down.
The only downside is the single-use plastic plates and cutlery when eating in.
Hopefully that changes soon!

Looking for MORE places to eat in New York with kids?
Click the blue links below for more New York travel tips