INSIDE: Roam the Gnome's Guide to the Santa Express, the Helsinki to Rovaniemi Train.
Heading to visit the real life SANTA in Lapland?
Want to know the best way how to get to Santa Claus Village from Helsinki?
The unique way to travel to the Santa Claus Holiday Village to see Santa in real life is to catch the Santa Claus Express Finland.
The Santa Claus Express Helsinki Rovaniemi train is an overnight journey taking a smidge under 12 hours.
We LOVED the Santa overnight train Helsinki to Rovaniemi adventure!
What fun!
Read all the details, including the onboard menu, below.
Disclosure: This article contains affiliate links. If you make a purchase after clicking on one of these links, we may receive a small commission at NO extra cost to you.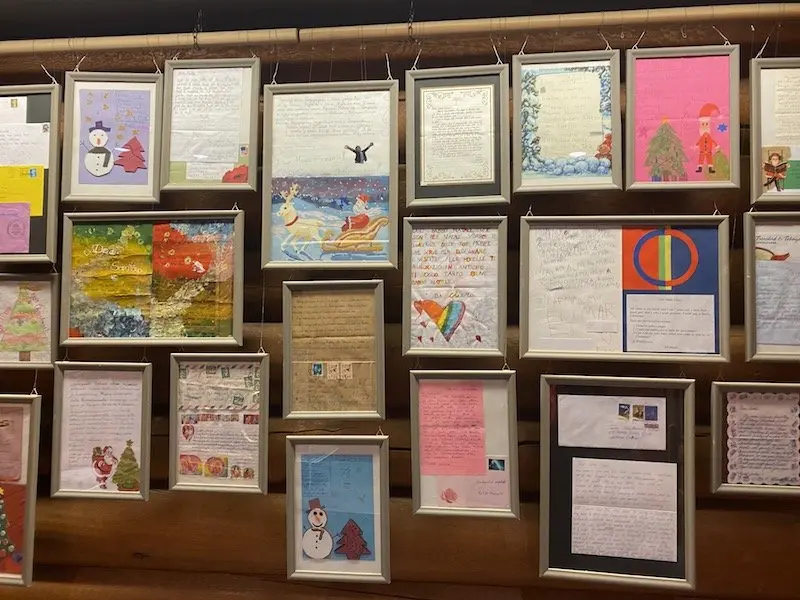 VISIT ROVANIEMI WITH KIDS VIA THE HELSINKI TO ROVANIEMI TRAIN
The Helsinki night train to Lapland is a double-storey overnight sleeper train that takes you all the way to Rovaniemi (and continues further on to Kemijärvi in the far north)
Rovaniemi is home to the Santa Claus Village, the number one Santa destination in the world.
It's the place to see the OFFICIAL Santa Claus Post Office, where all the Santa letters in the world end up.
---
RELATED: The Complete Guide to Planning a Lapland Christmas Trip for families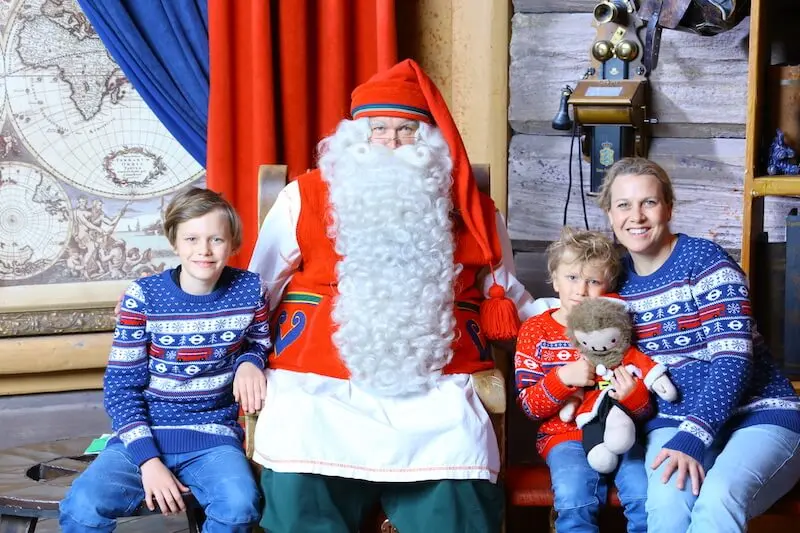 See Santa in Lapland
Santa himself is present here too, overseeing all the letters to determine who ends up on the good list.
You can also:
see Santa's reindeer and take a reindeer sleigh ride
zip along in a husky sled, pulled by a team of husky dogs
head up to the Santa Park theme park and bake cookies with Mrs Claus
cross the Arctic Circle.
In the winter months, it's a top spot to try spotting the aurora borealis, the Northern Lights.
Why?
Because the sun only rises for a few hours a day, and it's VERY dark most of the day!
This is an experience in itself.
Where to stay in Rovaniemi?
The FIRST thing you need to do when planning a trip to Santa, before even thinking about booking the Helsinki to Rovaniemi overnight train, is to BOOK your Rovaniemi Hotels accommodation.
Do this first.
Here's a tip: If you are planning to visit Santa in Lapland in December, you need to book your accommodation at least 12 months in advance.
The closer to Christmas Day you want to visit, the earlier you need to book.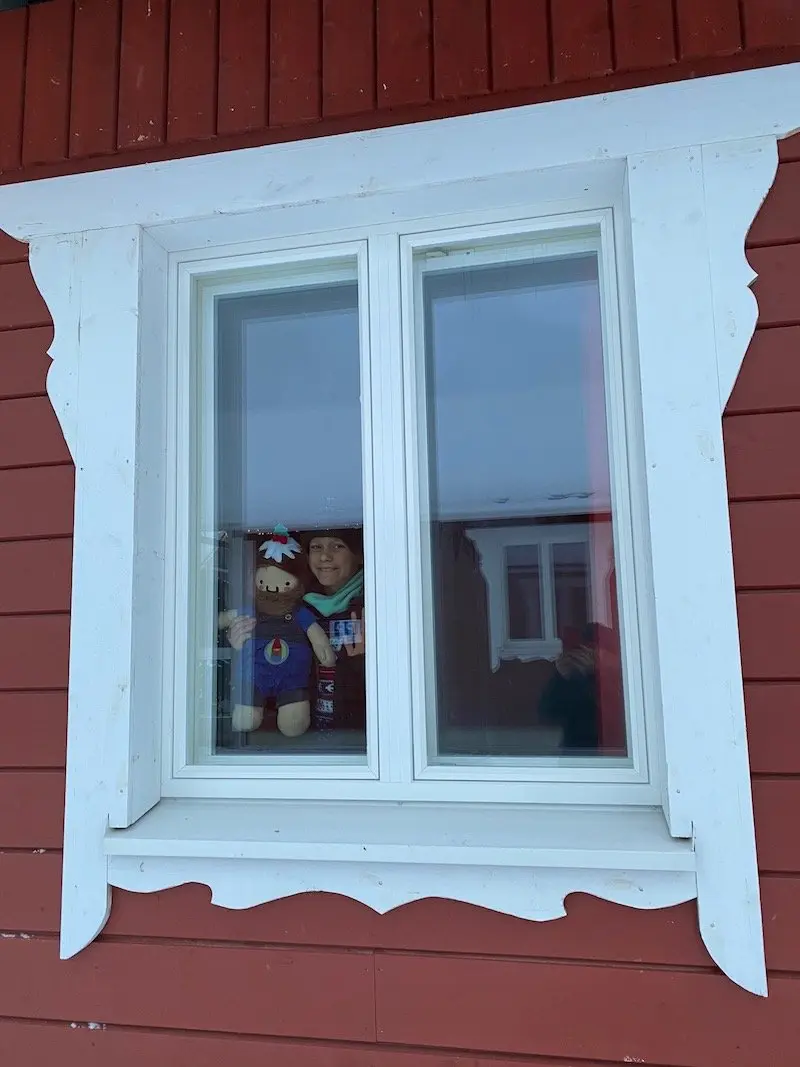 Book The Santa Claus Holiday Village Cabins
The best place to stay in Lapland at Christmas is the Santa Claus Holiday Village in Rovaniemi.
I booked the Santa Claus Holiday Inn direct through the hotel in November of the previous year.
13 months in advance.
Hotel Booking sites aren't even open to taking bookings then, and the flight schedules aren't ready for release either, so you have to take a punt and cross your fingers you can find cheap flights to Lapland to coincide with your dates.
---
RELATED: Everything you need to know about booking SANTA CLAUS HOLIDAY VILLAGE HOTEL ACCOMMODATION in Lapland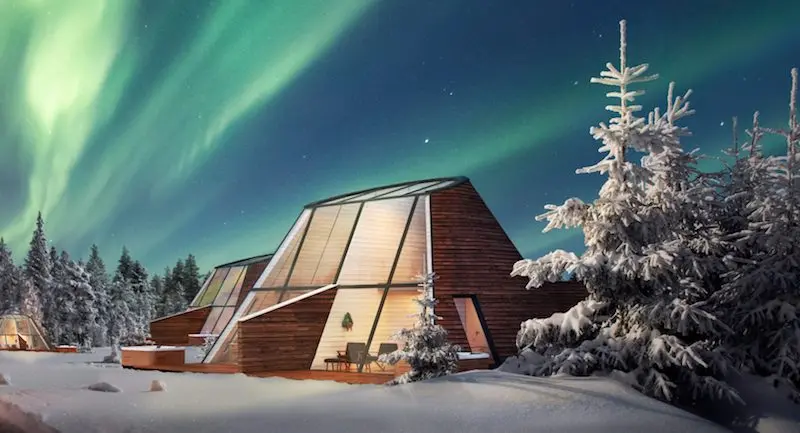 Image credit: Snowman Glass Resort Rovaniemi
MORE of the Best Family Hotels in Rovaniemi
The other four highly recommended accommodation in Rovaniemi to try are:
No.1: Snowman Glass Resort at Santa Village
Snowman World Glass resort apartments have floor-to-ceiling windows, their own personal sauna, and a private outdoor hot tub.
Plus, they are only a few hundred metres walk away from the Santa Claus Post office.
No.2: Santa's Igloos Arctic Circle Rovaniemi
Santa's Igloos are the instagram-famous glass-roofed igloos about 8km from the city of Rovaniemi.
This is the spot to stay if you fancy a chance at seeing the aurora borealis from your cosy bed!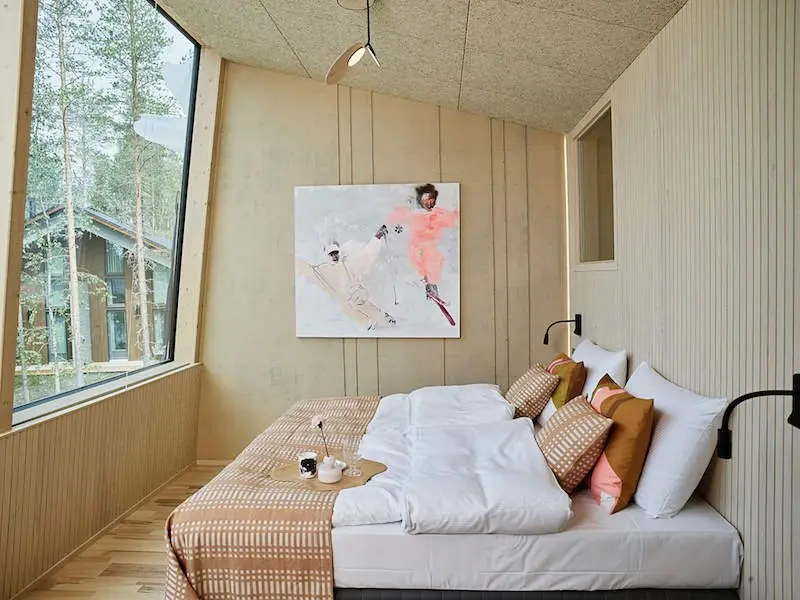 Image credit: Nova Skyland Hotel
No.3: Nova Skyland Hotel Rovaniemi
The last option of accommodation in Santa Village is the Nova Skyland hotel.
Think modern Scandinavian design, with blonde timbers and minimalist design, with a gigantic floor to ceiling window that lets you peer out into the snowy forests.
Each cabin has a personal sauna of course, and a log fire!
It's walking distance to everything in the Santa Village too.
No.4: Arctic Snow Hotel (at the same place as the Glass Igloos)
The Arctic SnowHotel is your unique chance to sleep in a hand-carved building made from blocks of ice, and sleep on a transparent bed made from snow and ice!
It's not for everyone, but it's definitely a story to tell.
Breakfast is included.
Hot tip: If things get too cold in the night, you can move to a warm area to continue sleeping.
You get a certificate celebrating your overnight stay too!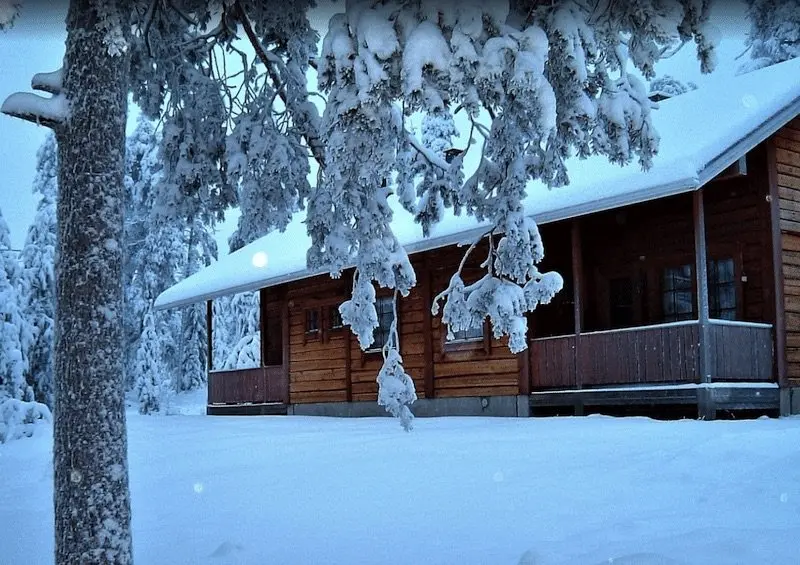 Image credit: Kieppi chalet
No.5: Log Cabins in Lapland
If you are desperate for a stay in a Log Cabin in Lapland, try Kieppi chalet in Rovaniemi. (pictured above)
It has ski in and out access, a private sauna, and is surrounded by Finnish woodlands.
You can't find a more magical log cabin!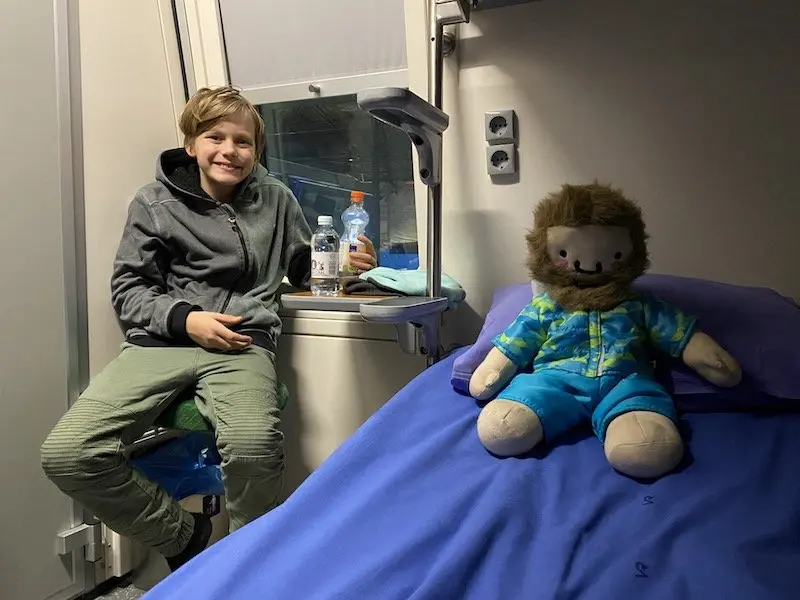 HOW TO GET TO LAPLAND FROM HELSINKI ON THE SANTA EXPRESS FINLAND
With your hotel accommodation booked, either at the Santa Village, or in Rovaniemi city, it's time to work out how to get to Rovaniemi from Helsinki.
The train from Helsinki to Santa Claus Village in Rovaniemi has a VR sleeping compartment so you arrive rested to start your Santa Claus holiday.
If you book this Lapland rail journey early enough, you can score the upper level cabins.
We booked one of these for the three of us.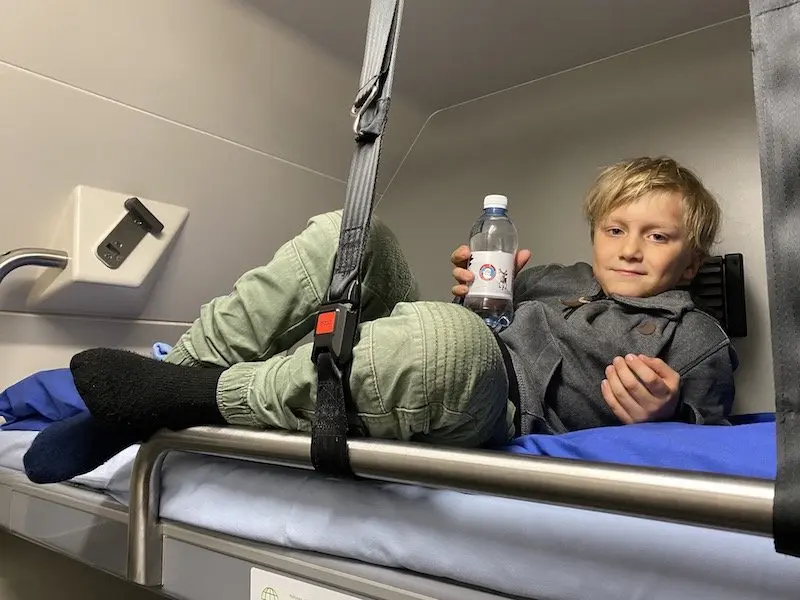 Inside the sleeping cabins on the Helsinki to Lapland Train
As Jack was 6, he was allowed to bunk in with us in this double sleeper without paying a reservation fee, and share one of the two bunk beds.
Somehow, this little guy wrangled the top bunk.
As his big brother did NOT want to sleep in the same bed with his annoying sibling that day, Ned and I had to top and tail on the bottom bunk.
It was a squash, but we managed.
Hot tip: If you are travelling with young kids, you can ask for a safety net to be put on the bed so your little one can't fall out.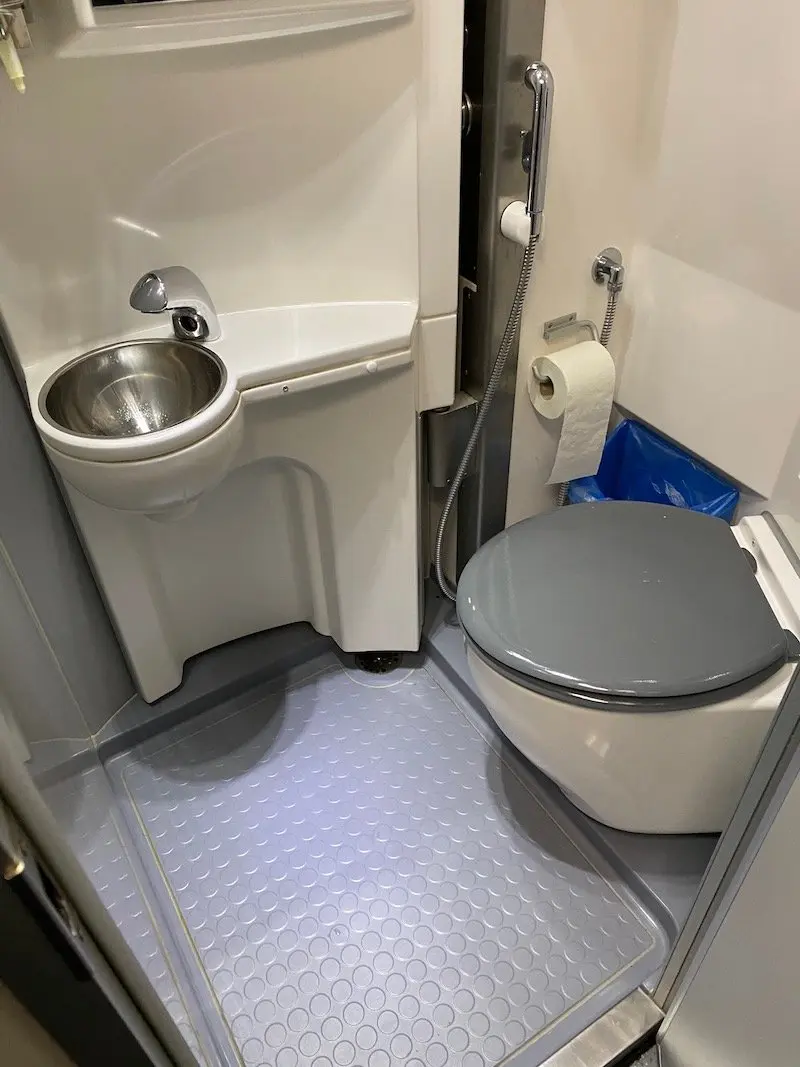 Shower Facilities on the VR Train from Helsinki to Rovaniemi
These come with their own private bathroom.
There's a toilet, a sink, and a mirror.
But the shower was a mystery!
Showering on the Santa Claus Express Night Train
I finally worked it out.
You push that button (bottom left of pic) and pull that knob on the left.
This unlocks the shower wall, and pulls this whole fabricated section forward to the right and blocks the toilet area, safeguarding it from water spray.
The shower cubicle is then revealed!
My morning shower was an experience that I could not miss.
(But I didn't bother showering the kids. Too much work.)
Showering on the train was surprisingly easy, despite the small space, and smooth.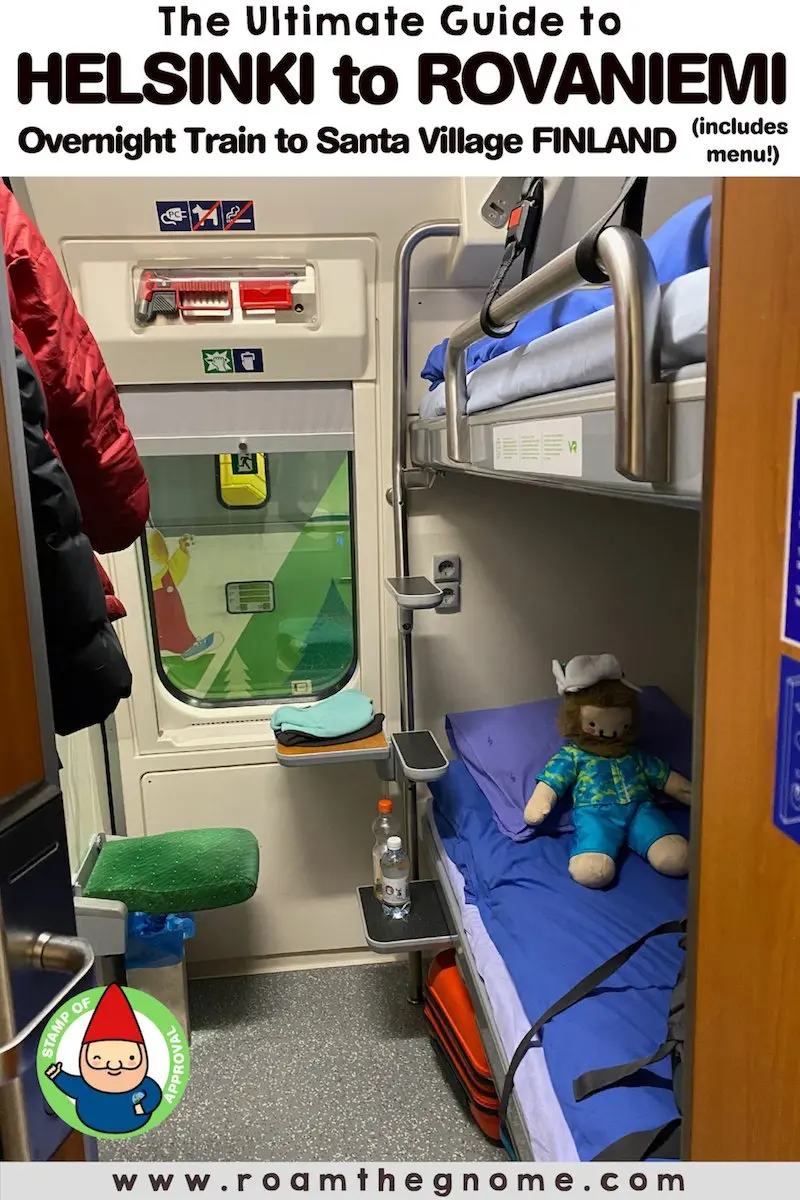 Other Facilities on the Helsinki to Rovaniemi Night Train
The double decker sleeping-car compartments have:
a bunk bed
a radio
an alarm-clock
a rubbish bin
a pc plug to charge all your devices
You can listen to the radio by using your own earphones, or watch a movie on your computer during the trip.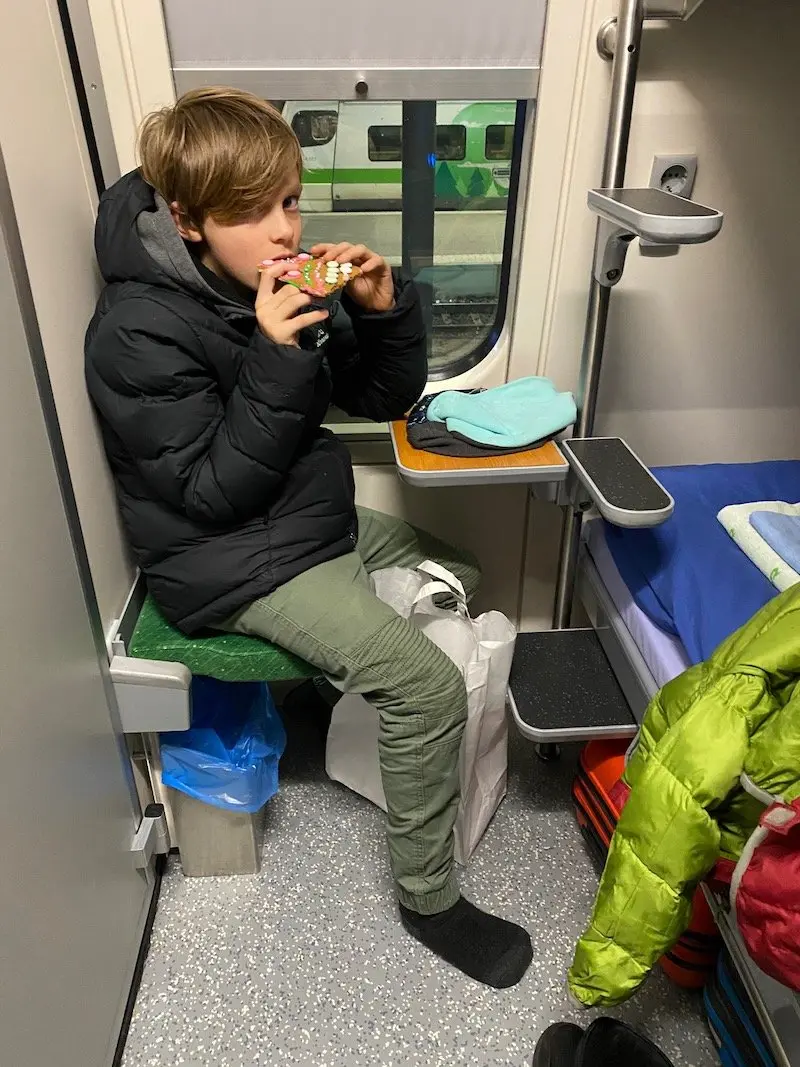 Where to store your luggage on the night train Helsinki to Rovaniemi?
There's room under the bottom bunk for suitcases and backpacks.
We had no trouble fitting three carry on suitcases in the space.
But it might be a struggle to fit more than two large suitcases.
There's hooks for your winter coats behind the door, and small steps to climb up to the top bunk.
Plus a little pull down seating area and table for snacks.
This was 11.30pm, just on the train, Ned feasting on the Gingerbread House he'd made earlier that day in Helsinki at the craft market.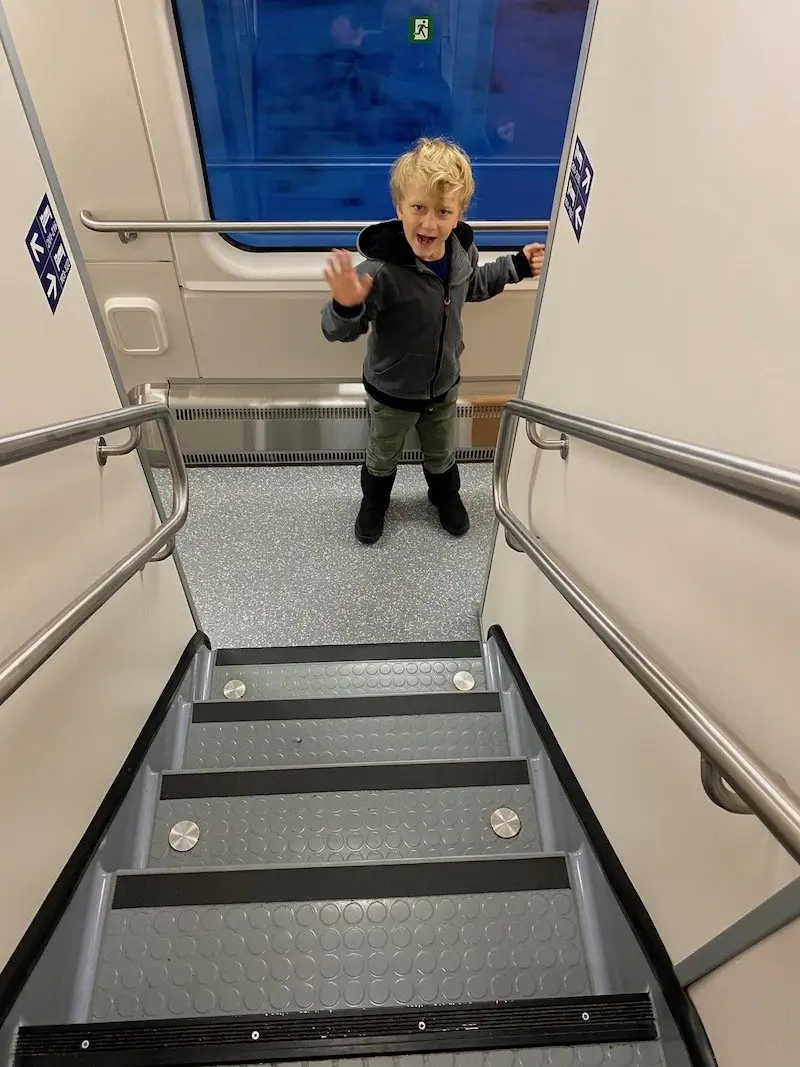 No Santa or Christmas Decorations on the VR Finnish Railways Train to Rovaniemi
The Lapland express train itself doesn't have any special decorations, or anything to suggest Santa or Christmas is on it's way.
It doesn't matter too much, but if there was one thing I could add to the train trip to make it more magical, it would be Christmas decorations.
Just a few.
A simple paper star light in the window, or a wreath on the door. Perhaps some Christmas bunting along the corridors.
Hello, VR Finnish Railway trains in Finland…. are you listening?
But the Santa Express Lapland is an overnight train, with your own train cabin to explore and make your own, and that's a big enough adventure for most kids!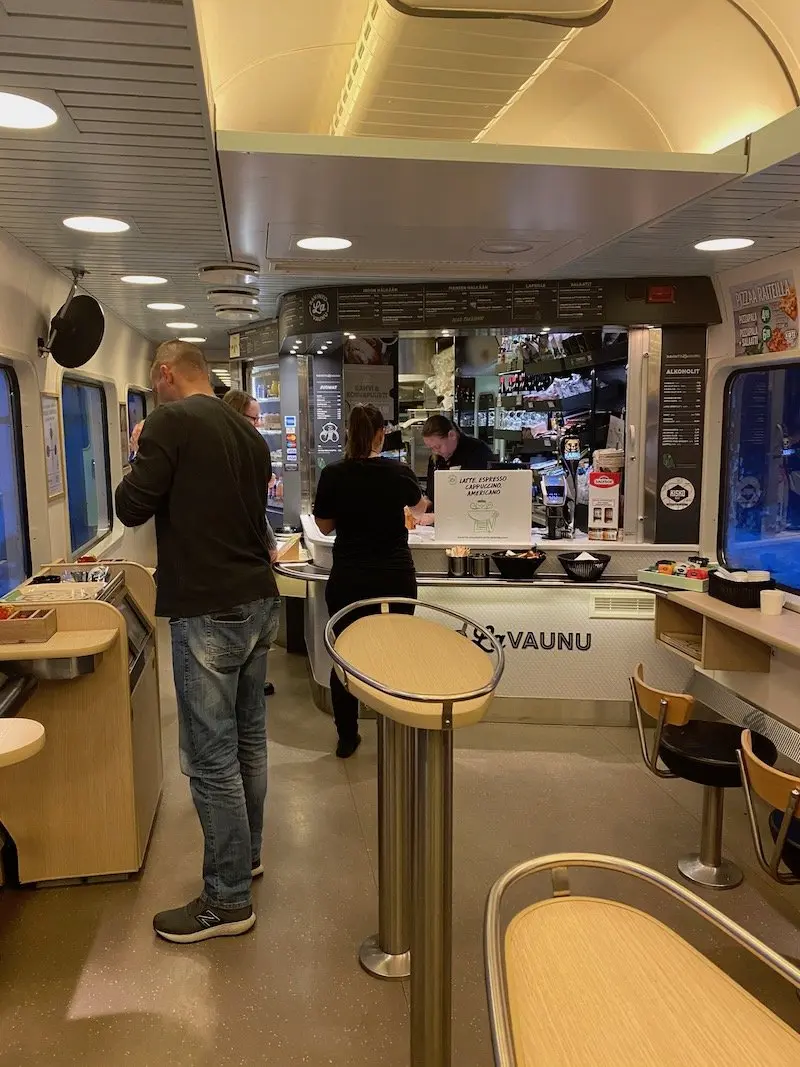 HELSINKI TO ROVANIEMI TRAIN CAFE RESTAURANT
There's a restaurant/cafe on board the train, with a seated dining car.
If that's full, or you are visiting for a quick snack, there's more window seating and stand up benches in the cafe car itself.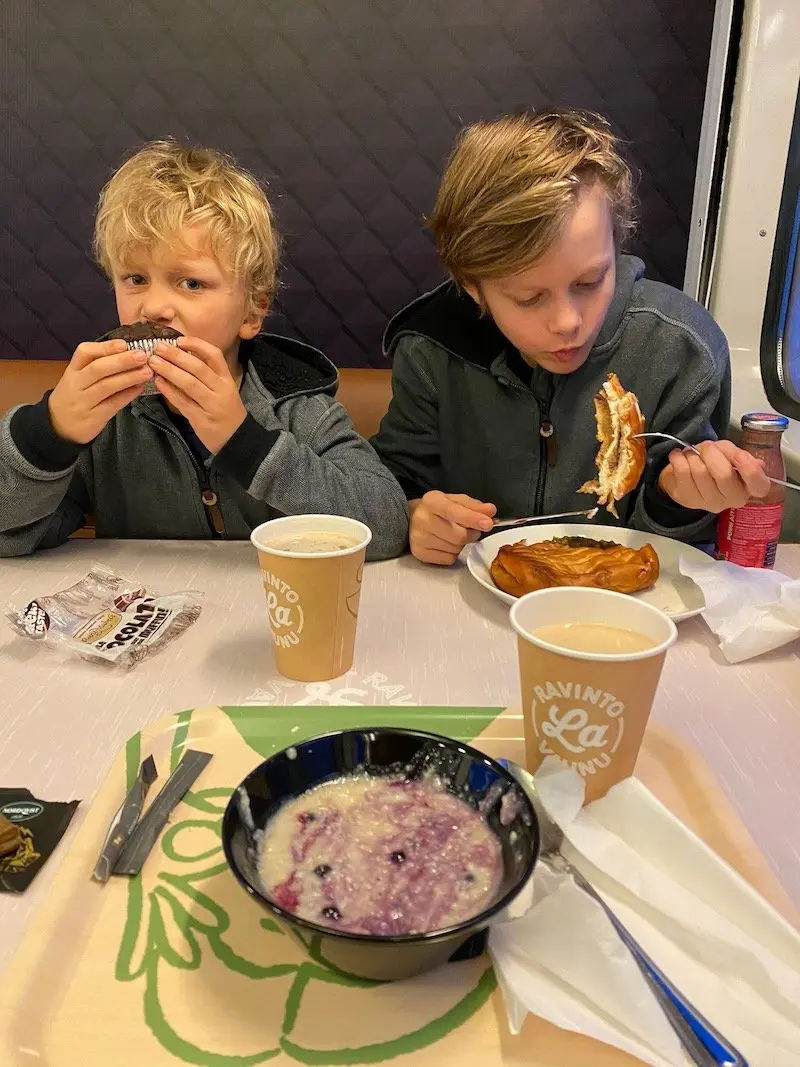 Breakfast Menu on Santa Train to Rovaniemi
Hot tip: Download the VR on the Go app and see the benefits and discounts on offer.
For early risers, buy a thermos mug to keep with a cup of coffee for 7,00 euro.
Create your own breakfast (served all day) for 7,90 euro.
Chooose from:
Coffee, tea or hot chocolate for drink
Rye bread with cheese, or filled baguette for main
One of these: Orange juice, a fresh pastry, or yoghurt with muesli
Or one of these breakfast options:
Porridge, and coffee or tea, plus juice for 7,50 (this was my choice)
Oatmeal porridge with berries on it's own is 3,60 euro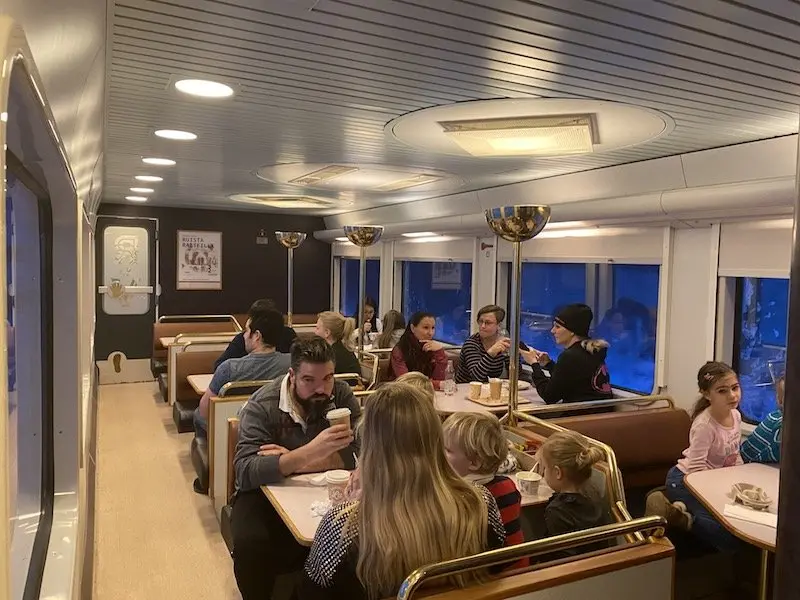 Big Hunger "Isoon Nälkään" menu
Meals are served all day.
Choose from:
Meatballs and mashed potatoes – 12,90 euro
Bigger portion of meatballs – 15,00 euro
Pasta carbonara – 11,50 euro
Pesto pasta with chicken – 12,50 euro
Pesto pasta with tomato – 10,50 euro
Salmon soup, bread with spread – 11,90 euro
Cheese omelette – 9,50 euro
Cheese omelette with chicken or frankfurters – 10,50 euro
Salads
So are salads.
Caesar salad natural – 6,50 euro
Caesar salad with chicken – 9,90 euro
Warm falafel salad and herb sauce – 8,90 euro
Side salad – 2,50 euro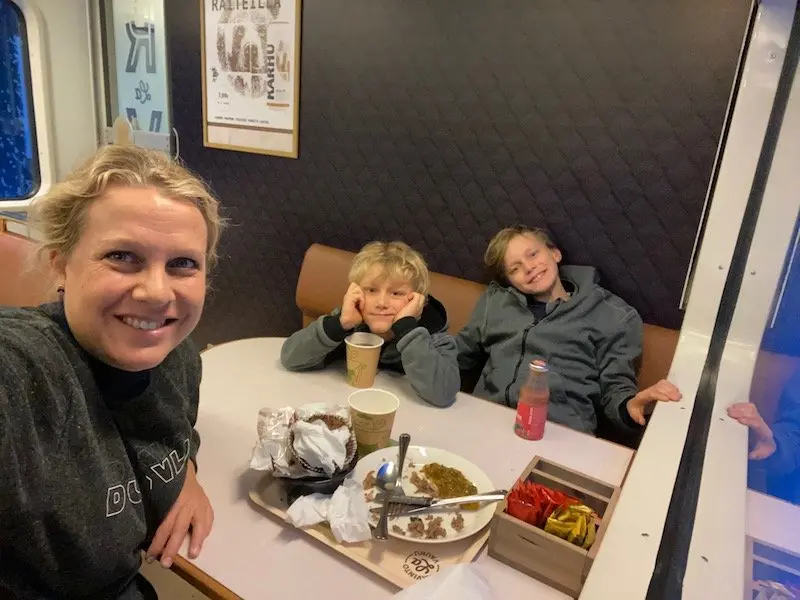 For Some Hunger "Pieneen Nälkään" menu
Served all day.
Choose from:
Giant meat pie -4,90 euro
Giant meat pie with frankfurters – 5,90 euro
Pie with feta cheese and brocolli – 7,20 euro
Cup of frankfurters – 5,00 euro
Slice of pizza – 4,60 euro
Slice of pizza with salad – 6,00 euro
You can order these as eat in or takeaway.
For Children "Lapsille" Kids menu
Not much choice here for kids, but there's pizza, and meat pies so all is good.
Kids meatballs – 7,00 euro
Kid's meatballs, soft drink and ice cream – 9,50 euro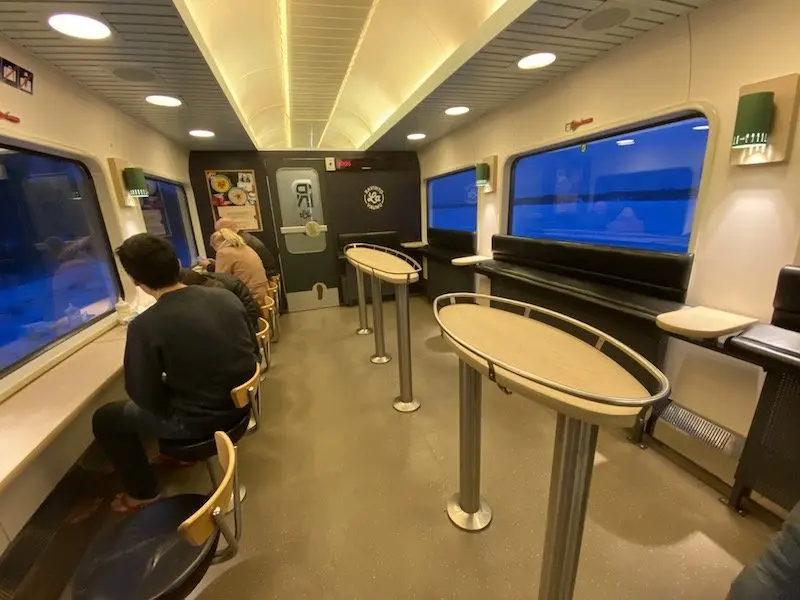 Snack menu on board the VR train to Finland
Kids 'starving to death'?
Buy Finnish snacks on board for a quick late night snack too.
Find:
chips
chocolate bars
crackers, and the like
But be sure to bring your own snacks for the journey if you want to save money for Santa Village.
Hot Tip: How to open your sleeping compartment door
The door key was in place in a holder inside the door when we arrived and found our cabin number.
After we'd settled, the boys were keen to explore the train and I took the key with us.
When we returned to the cabin, I could not open the cabin door for the life of me.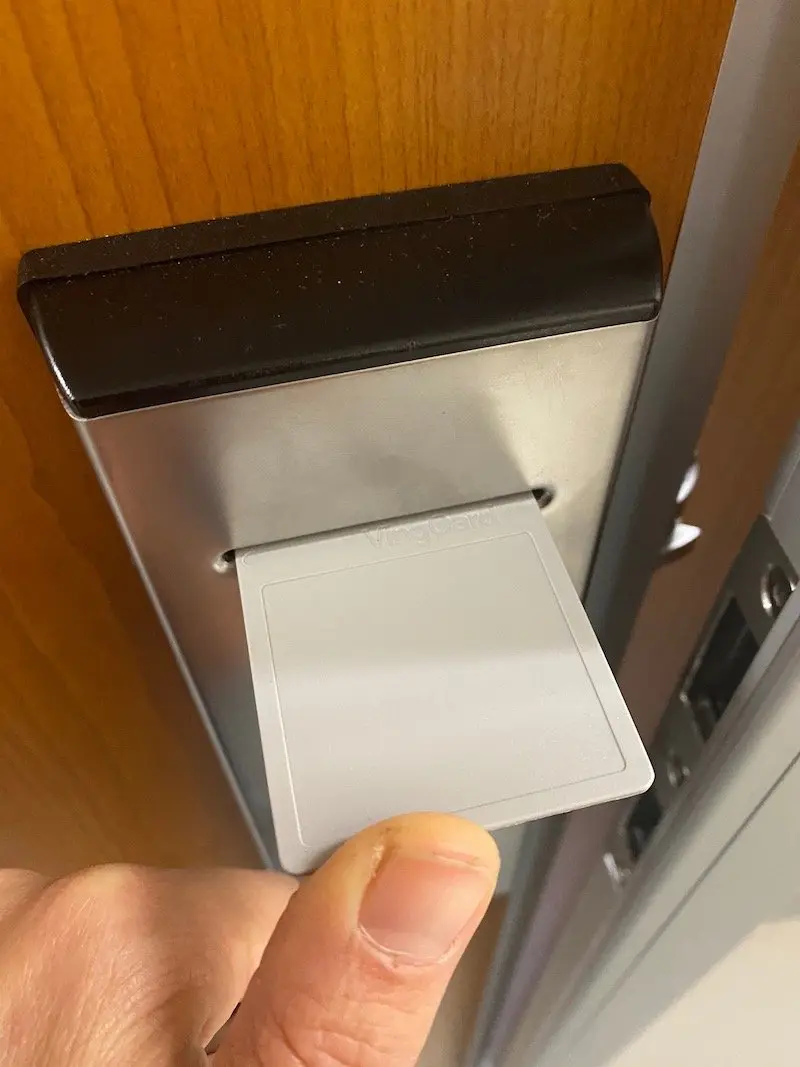 Until I pushed it into the latch with a little EXTRA push.
Then it opened like magic!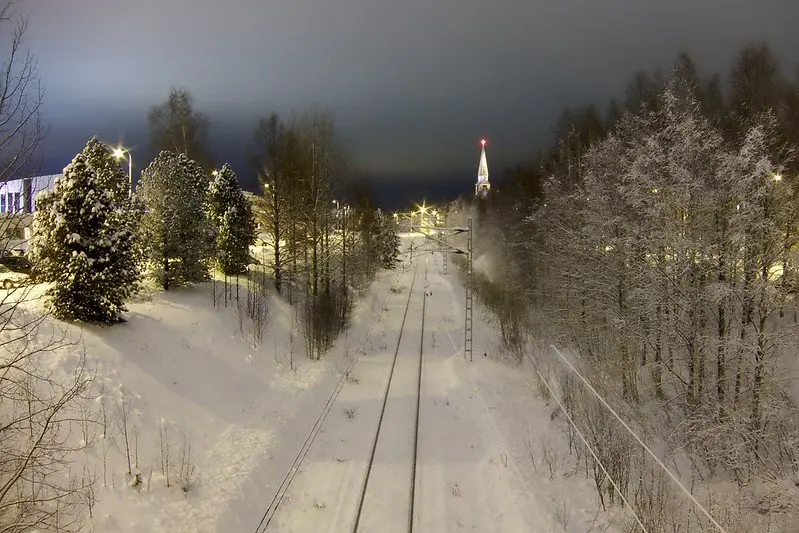 Image credit: Adrian Perez via Flickr CC BY-SA 2.0
Return Journey – Rovaniemi to Helsinki Train Timetable
The Rovaniemi to Helsinki train going the opposite direction departs at 18:00, and arrives in Helsinki at 6.27am.
The Rovaniemi Helsinki train no. 266 night train runs Monday to Sunday.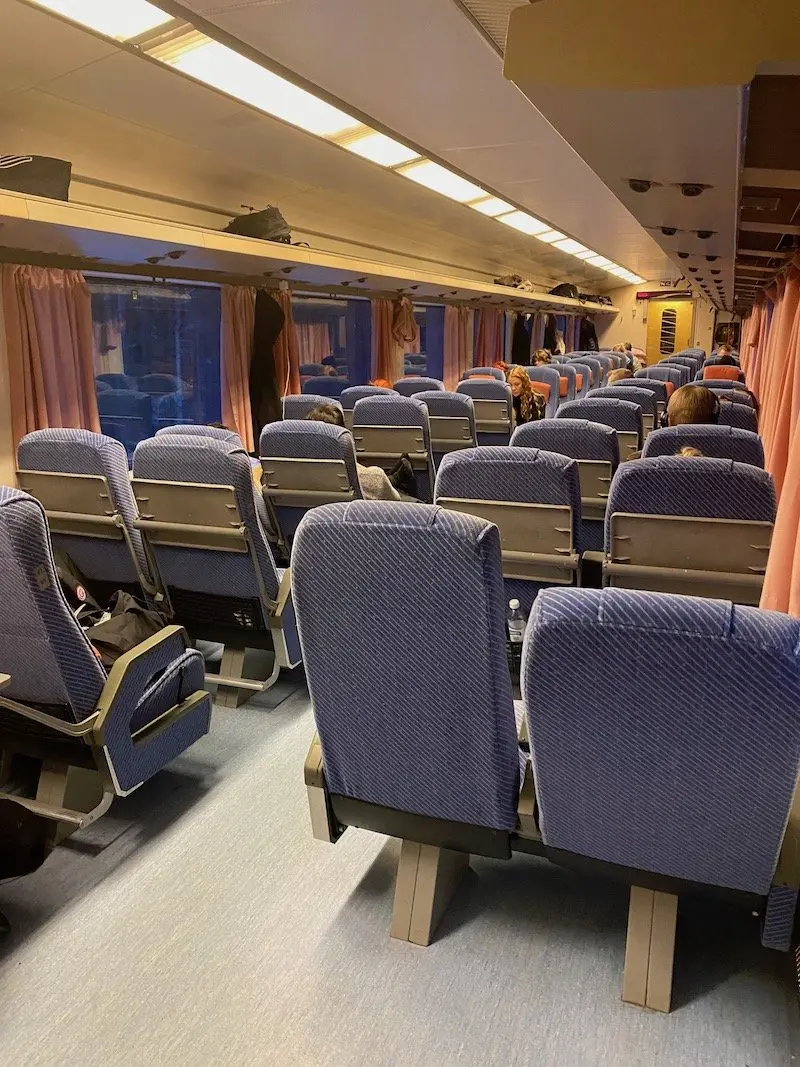 THE INSIDE SCOOP: Santa Claus Express Finland
Correct at time of publication on Roam the Gnome. Please check with venue for updates. We apologise in advance if there have been any changes we are unaware of. All prices in AUD dollars, unless otherwise stated
Helsinki to Rovaniemi Train Cost
VR Santa Claus Express Night Train Price (Reservations with Eurail pass)
If you have a Eurail pass, the Santa Claus Express Price for reservations starts at:
100 euros for a single sleeper
45 euros per person for a double sleeper with private bathroom, and
110 euros for a single sleeper with private bathroom.
The cost of train from Helsinki to Rovaniemi with a Eurail Global Pass was €108 for the three of us, with our own ensuite and shower. ($175 AUD or $120 USD)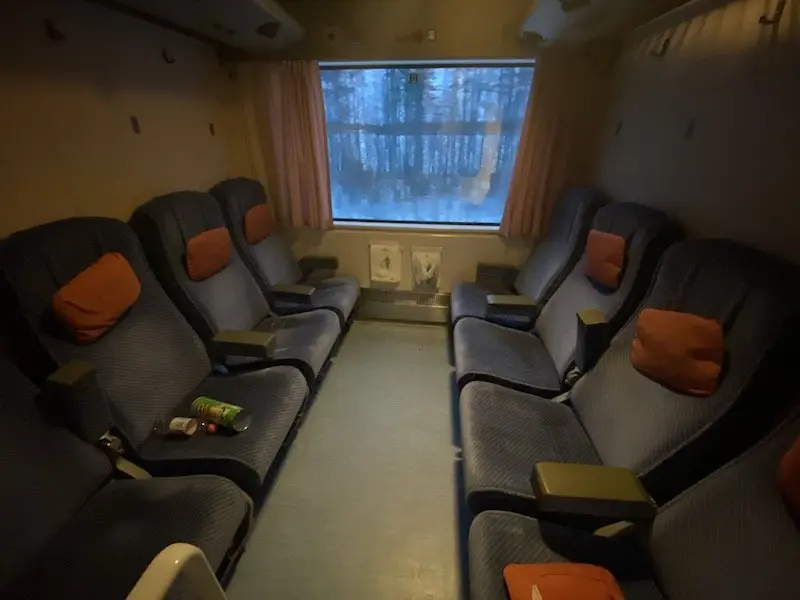 How much is the Helsinki to Rovaniemi train cost without Eurail pass?
The regular Helsinki to Rovaniemi train fare starts from:
80 Euro for a basic seat (as pictured above)
175 euro for a single person sleeping compartment, or
116 euro per person for a sleeping berth in a two-person compartment.
The Helsinki to Rovaniemi train price for kids is slightly cheaper.
Children aged 10 and younger travel free of charge on night trains with a parent in the same sleeping compartment.
A family of three or four can fit in one cabin so you don't have to split up.
Eg adult and two kids, or two adults and two children, as long as the kids are under 10 and share the beds with parents.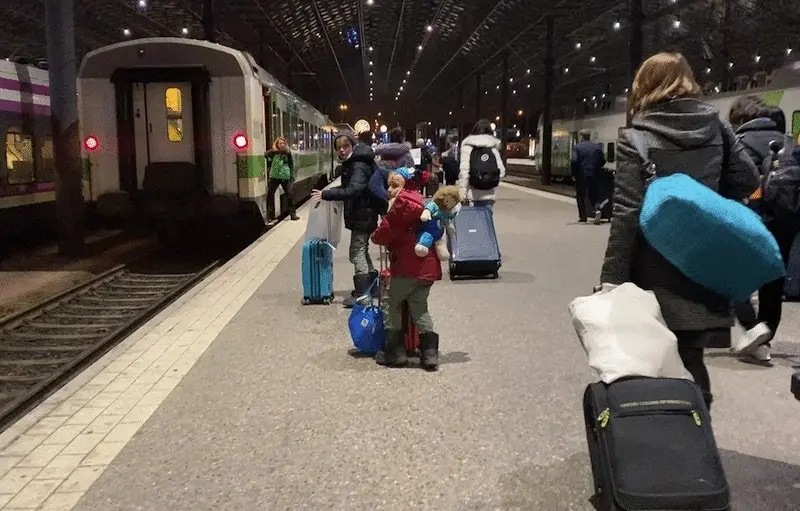 VR Santa Claus Express Reservation
We highly recommend booking your Eurail reservations for the Santa Claus Train tickets directly, by calling the Finnish Railways (VR) customer care (+358 9 2319 2902).
The train timetable that will allow you to book Santa Claus Express train was not released until June this year. (About 6 months in advance).
Hot tip: When it's getting close to 6 months until your departure date, call and enquire. Keep checking in every week about booking the Helsinki to Lapland train tickets until you secure your reservations.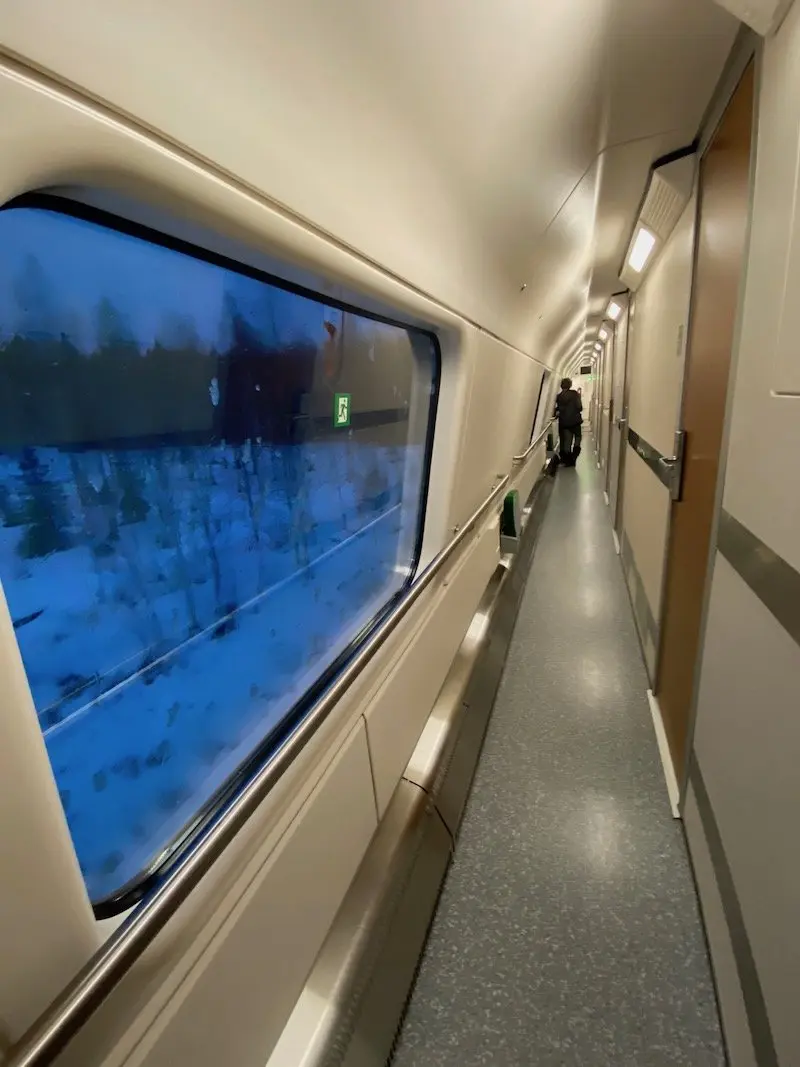 Helsinki to Rovaniemi Train Timetable
The Santa Claus Express Night Train Timetable
The Helsinki to Rovaniemi train departs at either:
18:49, arriving at 7:13 am, or
at 23.13 arriving at 11:05am.
Trains depart 7 days a week.
Note: There may only be one departure time each day, not necessarily both.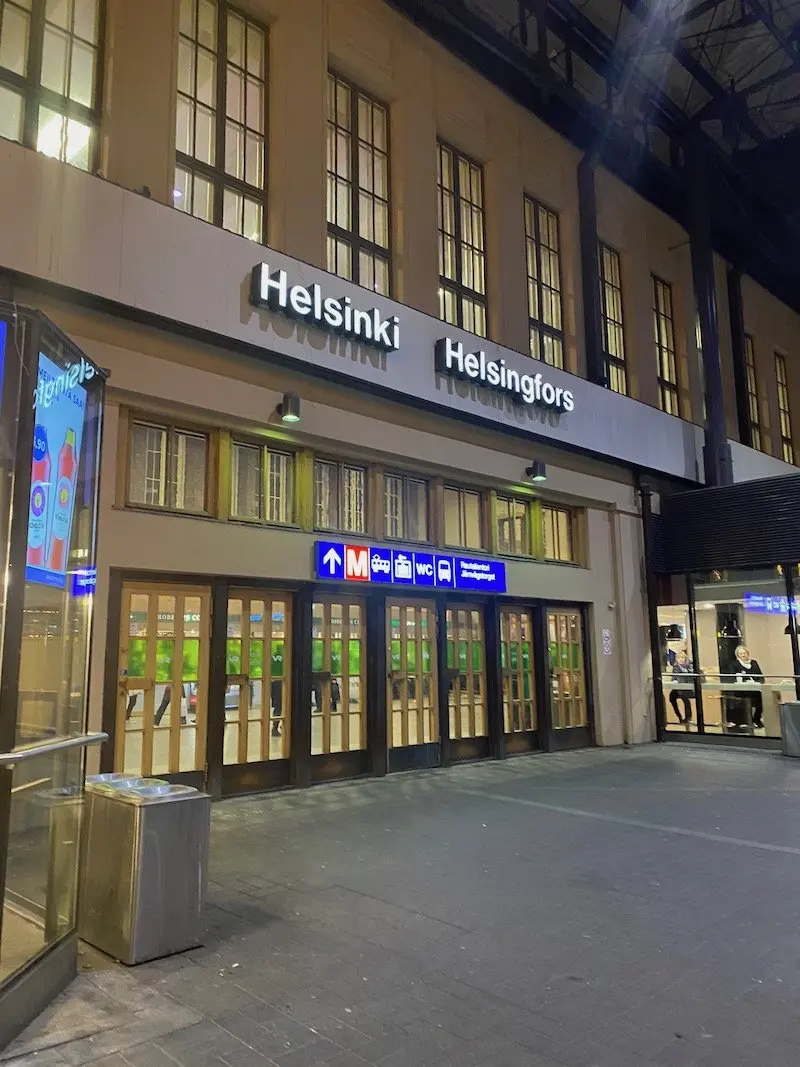 FREQUENTLY ASKED QUESTIONS ABOUT THE SANTA CLAUS EXPRESS FINLAND TRAIN
What is the Helsinki to Rovaniemi distance?
The distance between Helsinki and Rovaniemi via train is 705 km.
It's 852 kilometres from Helsinki to Rovaniemi by car.
How long is the Helsinki to Rovaniemi train duration?
The Helsinki to Lapland train duration is approximately 12 hours.
The return journey takes less time.
Our train departed at 11.10pm sharp, and arrived in Rovaniemi at 11.15am.
We loved this, as we had the whole day, and half the night to enjoy ourselves in Helsinki.
The worst part was waiting at the Helsinki train station for the train to appear.
We arrived around 8pm, with plenty of time to spare as we'd already checked out of our hotel, and while there were a few seats inside the station, no one was parting with them.
FYI: It's impossible to sit outside on the train platform for hours as it's too cold.
And the WAIT for the 11.10pm train to Rovaniemi is long….
In hindsight, the earlier train at 6pm would have been a better choice, if only to avoid Jack's tired and exhausted tantrums.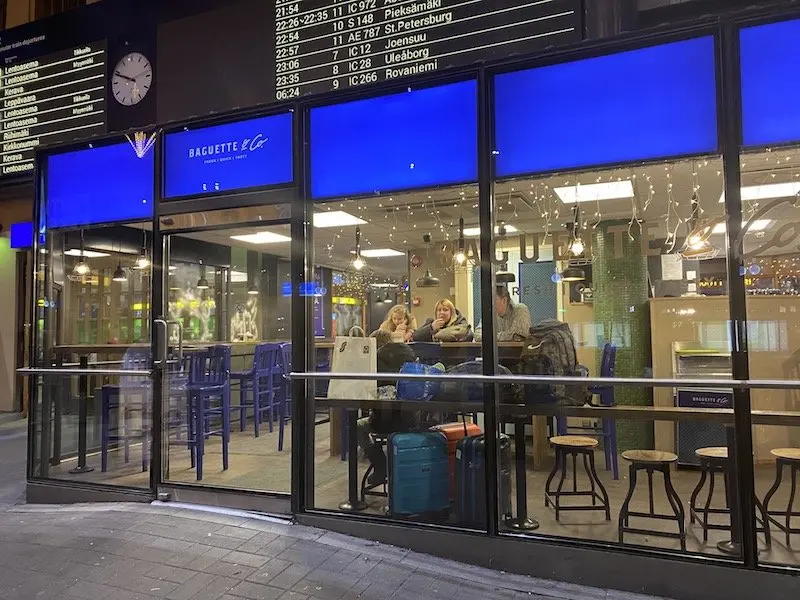 Waiting at the Helsinki Train station platform
I bought a cup of tea from Baguette and Co, and we piled into the eating area on the platform side of the shop, luggage and all.
Warm and cosy, we stayed there until the train came, figuring we'd plant ourselves there until we were asked to leave.
A few other families did the same.
Luckily, being late at night, there wasn't a huge demand for cafe seating so we were ok till the train arrived.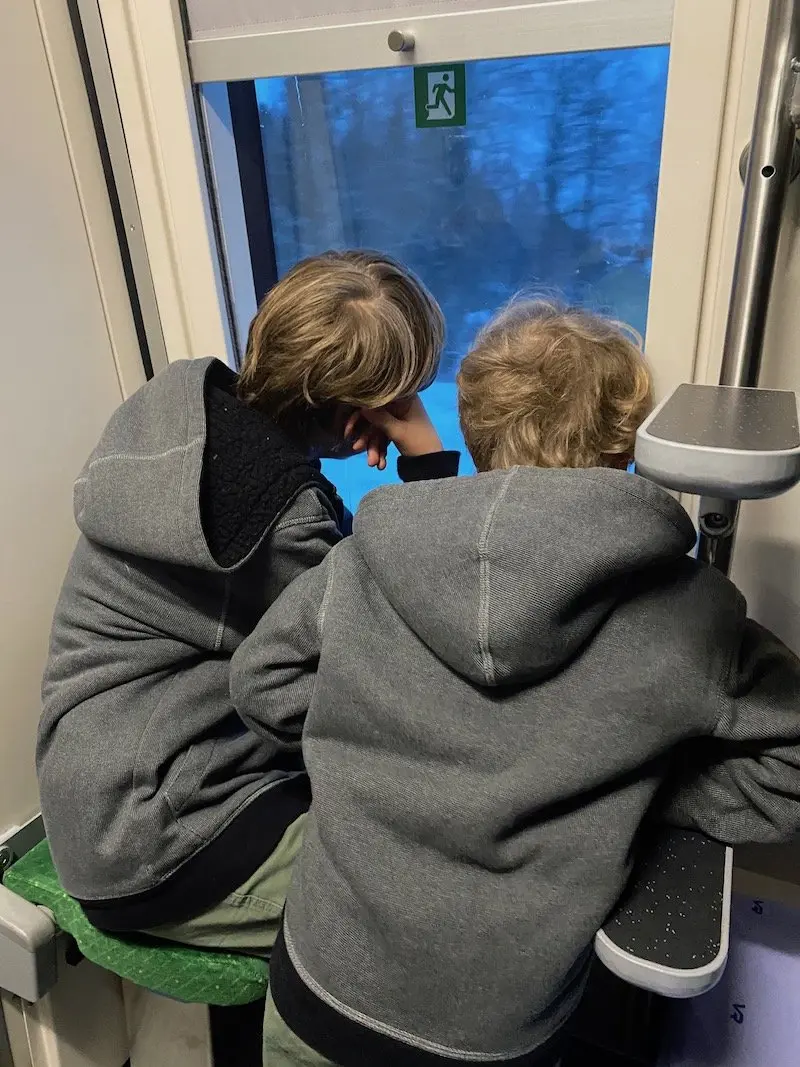 List of Helsinki to Rovaniemi train stops
This Santa train is said to only stop at Rovaniemi, and Kemijariv.
But it definitely stopped a few times along the way.
I'm not sure if anyone got on, or off, or whether they were picking up supplies or what.
The whole trip is a little dream like, in that you don't see anyone, not even a train ticket collector, anywhere until you leave your apartment and make your way to the dining car.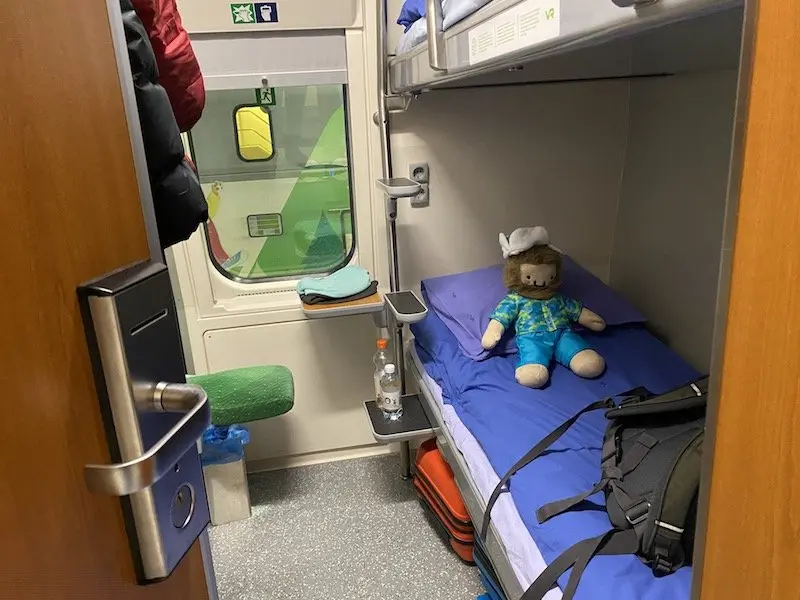 Where to eat on the Santa Express train?
InterCity trains have a restaurant car.
In theory, you can buy dinner or breakfast from the sales trolley that travels along past your compartment, but we didn't hear or see that.
Menu from the dining car is detailed in the post above.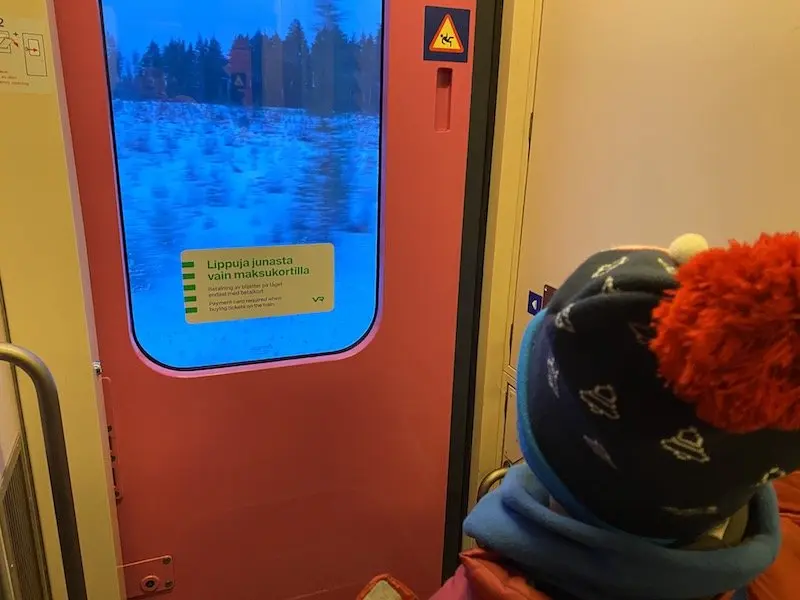 How to get to Santa Claus Village from Rovaniemi train station
Santa Claus Express Bus
The best way to get from the Rovaniemi train station to Santa Claus village when you hop off the train on the Rovaniemi platform is onthe Santa Claus Express Bus.
The Rovaniemi to Santa Claus Village Bus starts at the Rovaniemi train station.
There's no need to rush when the train arrives at Rovaniemi railway station. The bus is parked about 20 metres away from the train platform and the bus driver waits long after the train arrives for dawdlers.
Luggage is free.
Santa Express bus travels in a one-way circle route to:
the City Centre
Santa Park
Santa Claus Village
Santa's Igloos Arctic Circle
the Airport
back to the City centre, and
home to the the train station in Rovaniemi.
The bus ticket per on-off journey costs:
3.50 euro one way for an adult, and 6.60 round trip (ticket valid for a month).
Children's ticket cost 1.80 euro for one way, and 3.60 euro return.
Read our Guide to the Santa Express Bus (and don't make the same mistake we did)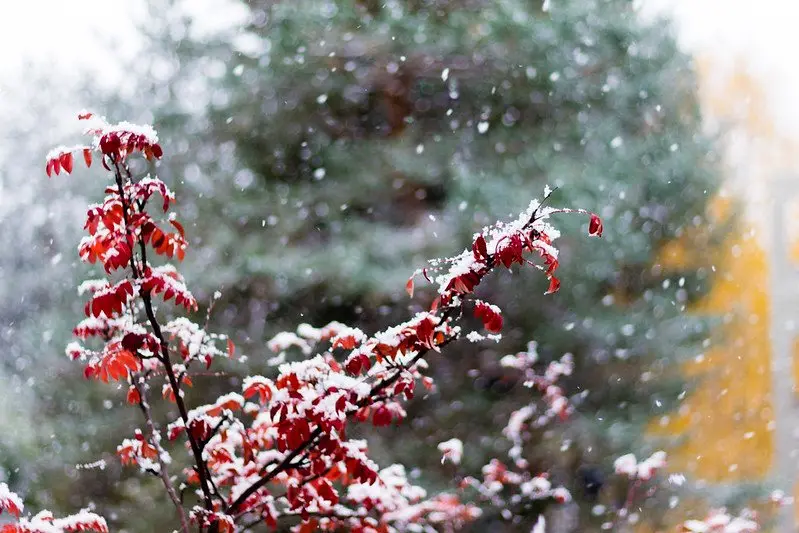 Image credit: Mathieu Cheviron via Flickr CC BY-ND 2.0
MORE Transfer Options from Rovaniemi station to Rovaniemi city hotels & Santa Village
Local Bus No. 8
You can also catch local bus no. 8 from the Rovaniemi bus station.
Taxi to Santa Claus Holiday Village
You can also take a taxi from Rovaniemi to Santa Claus Village, but honestly, there's no need unless you don't like being in close proximity to people and luggage on a full bus.
It costs about 25 Euro for a 8 km trip from the centre of Rovaniemi to Santa Claus Village.
Order a taxi in Rovaniemi Finland: Click here
Santa Claus Village also has a taxi rank.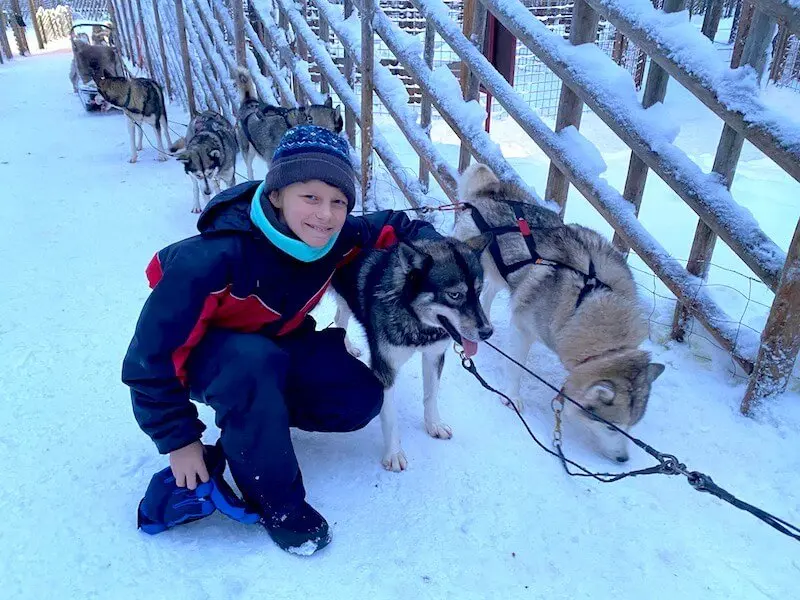 FREQUENTLY ASKED QUESTIONS ABOUT ROVANIEMI
How to get to Lapland?
Getting to Lapland is not that difficult, BUT it can be expensive.
Only Finnair, Norwegian Air and British Airways fly there, so there's not a lot of competition to keep the prices down.
Our tip would be to fly to Helsinki from London or anywhere in Europe, and catch the train to Finnish Lapland & the city of Rovaniemi.
Flights to Rovaniemi
But you can also fly direct to Rovaniemi via Helsinki from all major cities in Europe and London too.
The Helsinki to Rovaniemi flight takes an hour and 20 minutes.
It's another 3 hours and 10 minutes from London to Helsinki.
There are many travel companies that offer a day trip to Rovaniemi, including the flights.
Crazy but true.
---
READ MORE: The Ultimate Guide on Getting to Lapland. (coming soon)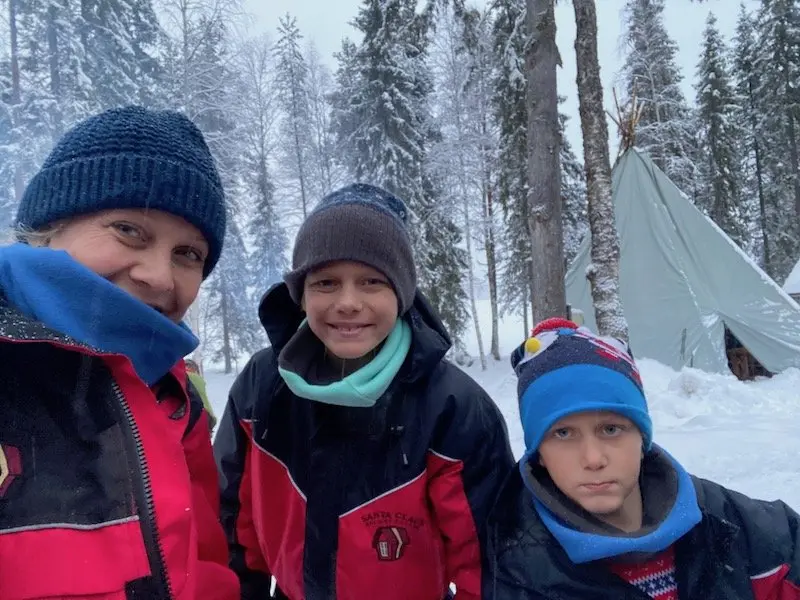 Rovaniemi Weather in Winter
It's cold.
Very cold.
Rug up in all your layers, and snow boots. Expect to use a Finnish sauna at the end of each day to thaw out!
If you are heading to Santa Village, you can expect day time temperatures to be in the ranges below.
December: -20 to -10 degrees Celsius
January: -30 to -15 degrees Celsius
February: -20 to -15 degrees Celsius
It's way colder at night. BRRR.
Check the weather in Rovaniemi this week here.
Hot tip: Guests staying at Santa Claus Holiday Village can hire thermal outer snow suits and boots for the duration of their trip.
---
RELATED: Ultimate Guide of What to wear in Lapland with kids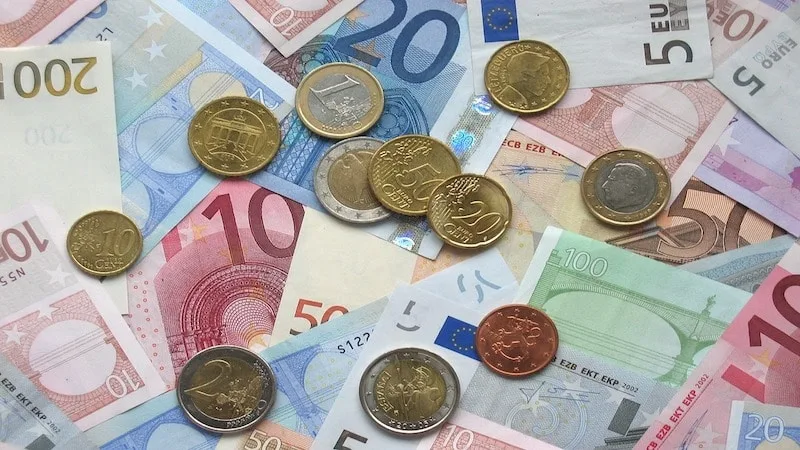 Currency in Lapland
The currency of Lapland is the Euro (EUR).
Toadstool Rating: The Santa Train to Rovaniemi
IF you are on this train, you are heading up to northern Finland to visit Santa.
There can be nothing less than a 5 toadstool rating for this adventure!

MORE of the BEST THINGS TO DO IN ROVANIEMI WITH KIDS
Other than meeting the Rovaniemi Santa Claus, you can also do lots of fun things in Rovaniemi and surrounds including Rovaniemi Santa Park, the best Santa theme park in Lapland.
Here's our Guide to Rovaniemi below.
READ MORE: The ULTIMATE GUIDE of the BEST THINGS TO DO IN ROVANIEMI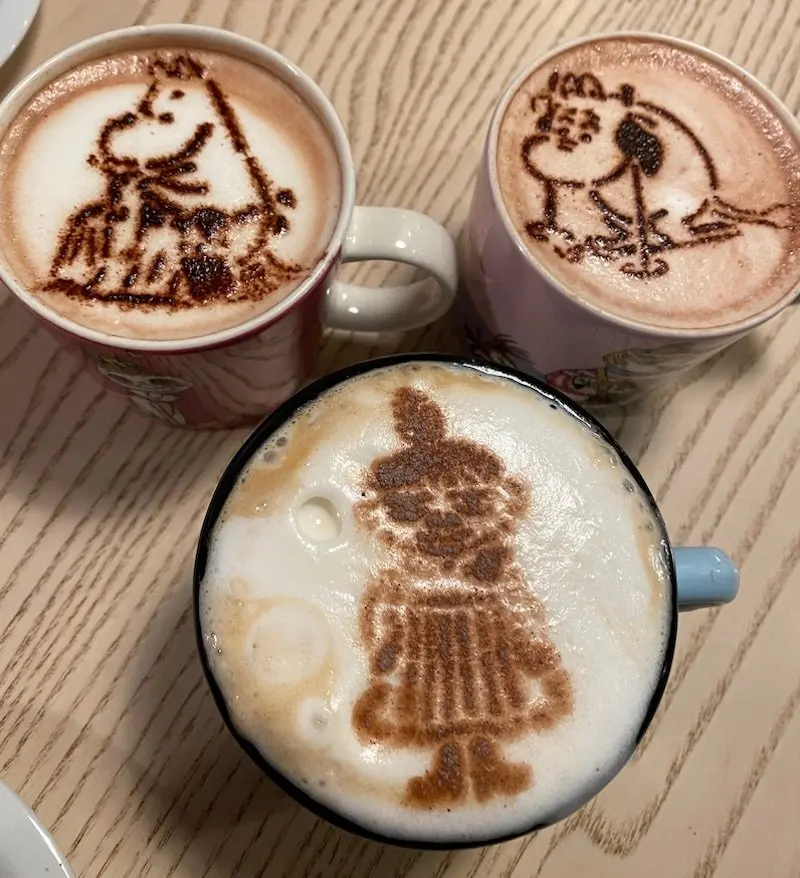 Looking for more things to do in Lapland Finland?
Click the blue links below for more Lapland activities.