INSIDE: Everything you need to know about Christmas House Restaurant & Coffee Bar at Santa Claus Holiday Village
If you are lucky enough to be staying at the Santa Claus Village Hotel cottages or cabins, breakfast is included with your stay.
Those who stay in Classic Cottages are invited to eat breakfast at the Christmas House restaurant and Coffee Bar.
(Those with bookings in Superior Cabins and suites are invited to eat breakfast in the Three Elves restaurant)
Napapiirin Lahja Oy's Christmas House Rovaniemi restaurant is located in the same building as the Christmas House Exhibition & Christmas House Santa, and the Christmas House Store gift shop.
Read all the details below.
Disclosure: This article contains affiliate links. If you make a purchase after clicking on one of these links, we may receive a small commission at NO extra cost to you.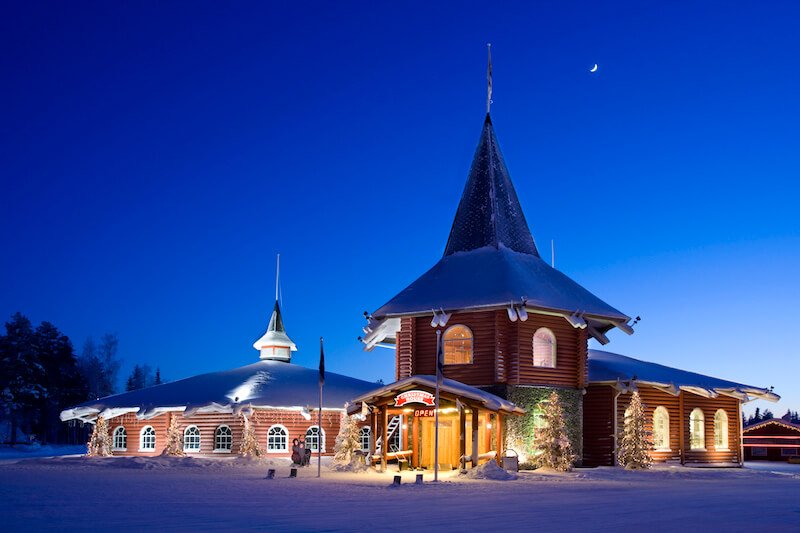 Image credit: Visit Rovaniemi
Guide to Christmas House Restaurant & Coffee Bar
Find the entrance to the restaurant by walking through the souvenir shop and down the slope at the far end.
The Christmas House Restaurant & Bar is open from 7.30am until 10pm, for both holidaying residents of the village, and drop in visitors and guests to Santa Claus Holiday Village looking for a meal.
Ala carte dishes include:
pizza
burgers
pasta
soup
sauteed reindeer
Hot tip: Those staying in the Santa Claus Holiday village cottages are entitled to 10% discount off food and drinks with the presentation of your accommodation card.
(Not including alcohol.)
---
RELATED: Everything you need to know about SANTA CLAUS HOLIDAY VILLAGE Activities, Attractions, Shopping & Dining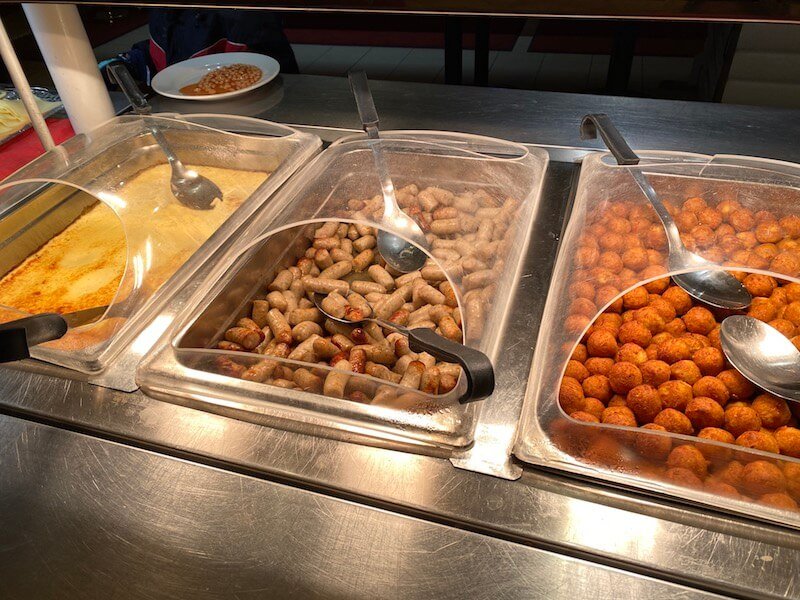 Santa Claus Village Breakfast
Breakfast at the Christmas House Restaurant & Coffee Bar is served from 7.30am to 10am.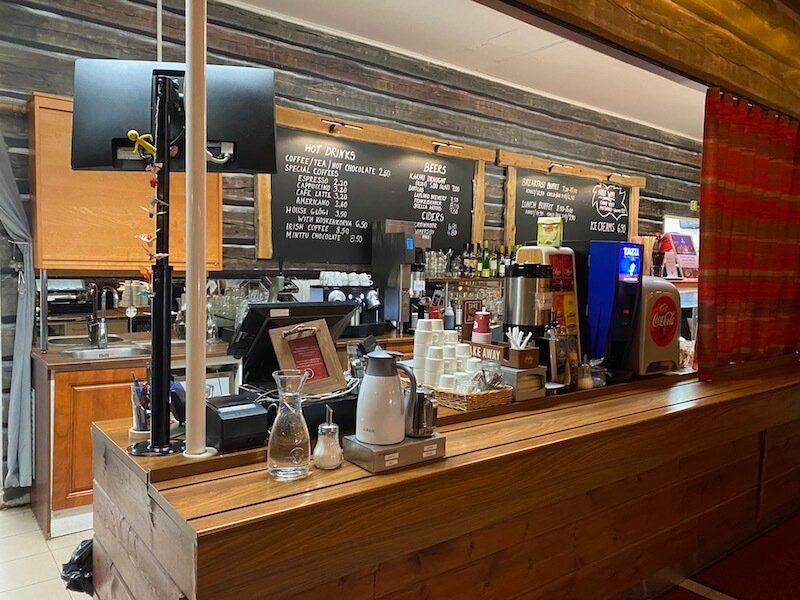 Christmas House Restaurant breakfast buffet
Head straight to the counter, and give your room number to the person on duty, who will hand you clean breakfast plates.
Find yourself a table, and you are set to choose your own breakfast from the buffet options.
There's hot drinks including coffee, hot chocolate, and a wide range of teas.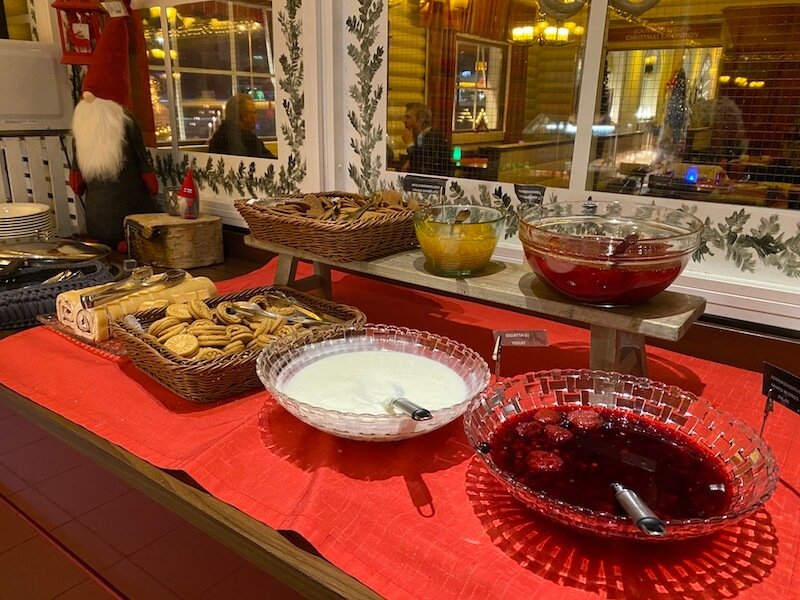 Sweet Finnish breakfast
There's hot porridge and yoghurt, with berries and preserves to accompany.
Plus, you may find gingerbread biscuits, cookies, and sweet treats from the bakery too.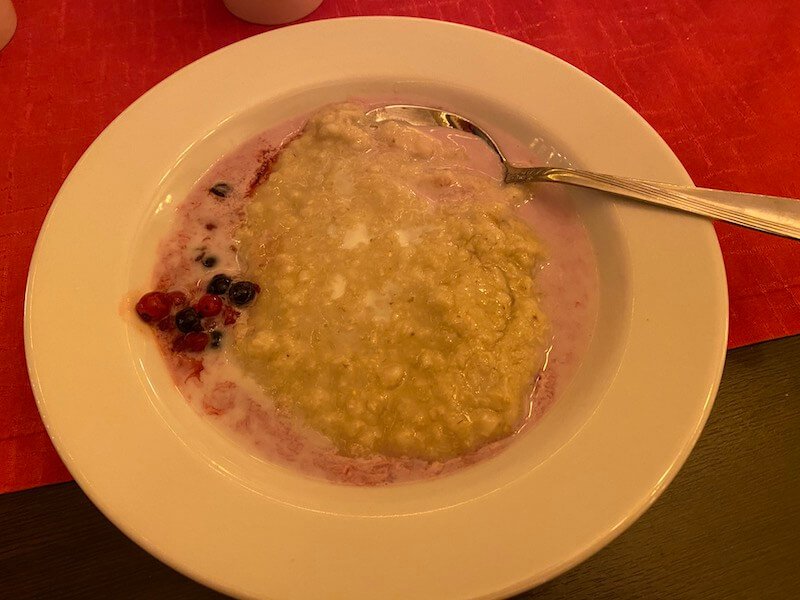 Hot Finnish porridge with berries
Porridge with sour berries was my go-to each day.
Delicious!
My mouth waters just thinking about it.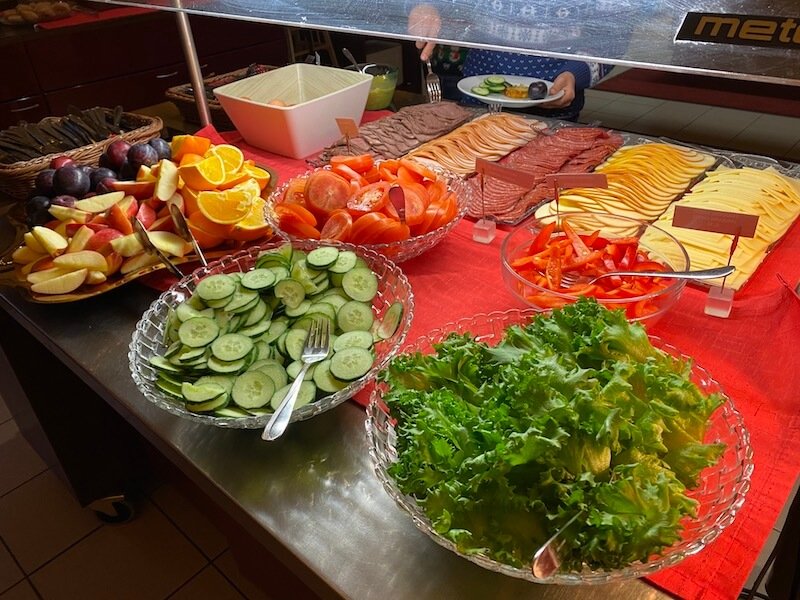 Breakfast options
The breakfast menu includes:
cold meats
cheese slices
salad
boiled eggs
cut fruit
Hot dishes at the Christmas House restaurant
Those who love a good hearty breakfast will rejoice in seeing the options on the hot buffet.
You'll find rotating dishes each day including:
falafel balls
carrot balls
breakfast sausages
breakfast omelette, Finnish style
hash browns
baked beans
bacon
mini pastries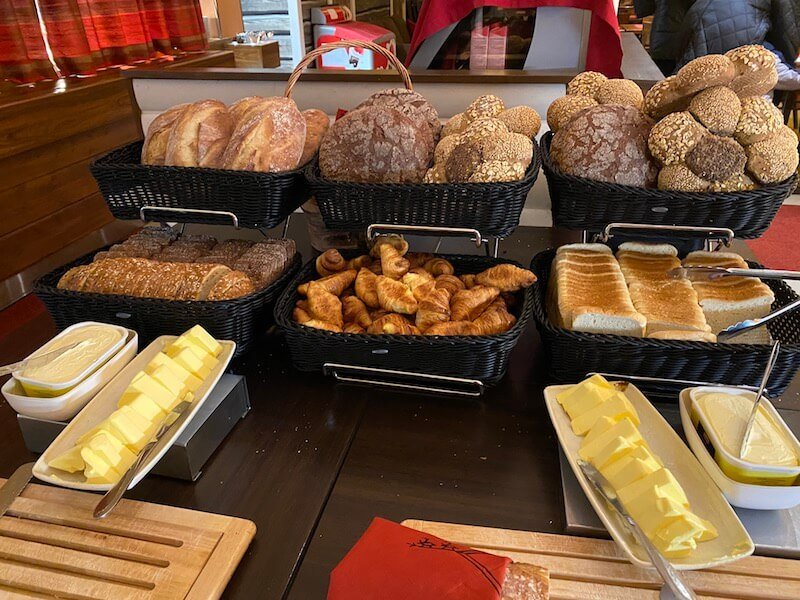 Bread servery
There's a bread servery at both breakfast and dinner, with a wide variety of breads to choose from including:
fresh bread
croissants
ciabatta bread rolls
rye loaves
seeded rolls
And real butter.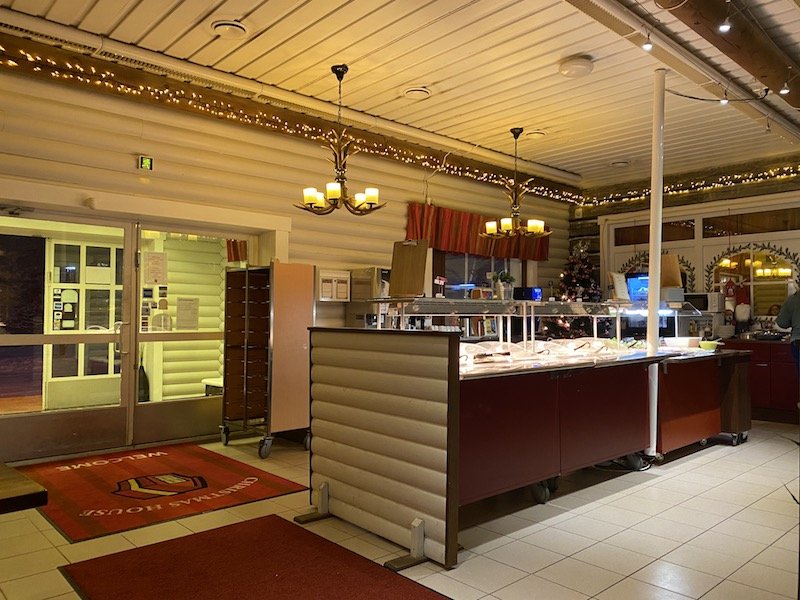 Dinner at Christmas House Restaurant and Coffee Bar
Dinner is a slightly more formal affair.
When you arrive, wait to be seated by your host.
Christmas House Restaurant dinner menu
There's seating in the main entrance room, and more tables on the other side of the buffet station, as pictured above.
This far side is a little more relaxed if you have kids.
Table servers are happy to let you choose your table.
Daily Menu at Christmas House Restaurant
Then it's time to pick your main meal from the day's menu in front of you.
As an example, on Sunday, I chose the Lappish Lamb Stew.
While you wait for your meal to arrive, it's time for the starter buffet.
Soup of the Day
Soup of the day, plus a choice of bread or rolls from the selection on the servery, and a bowl of salad.
Carrot soup was our family favourite.
Although the tomato soup was a winner too.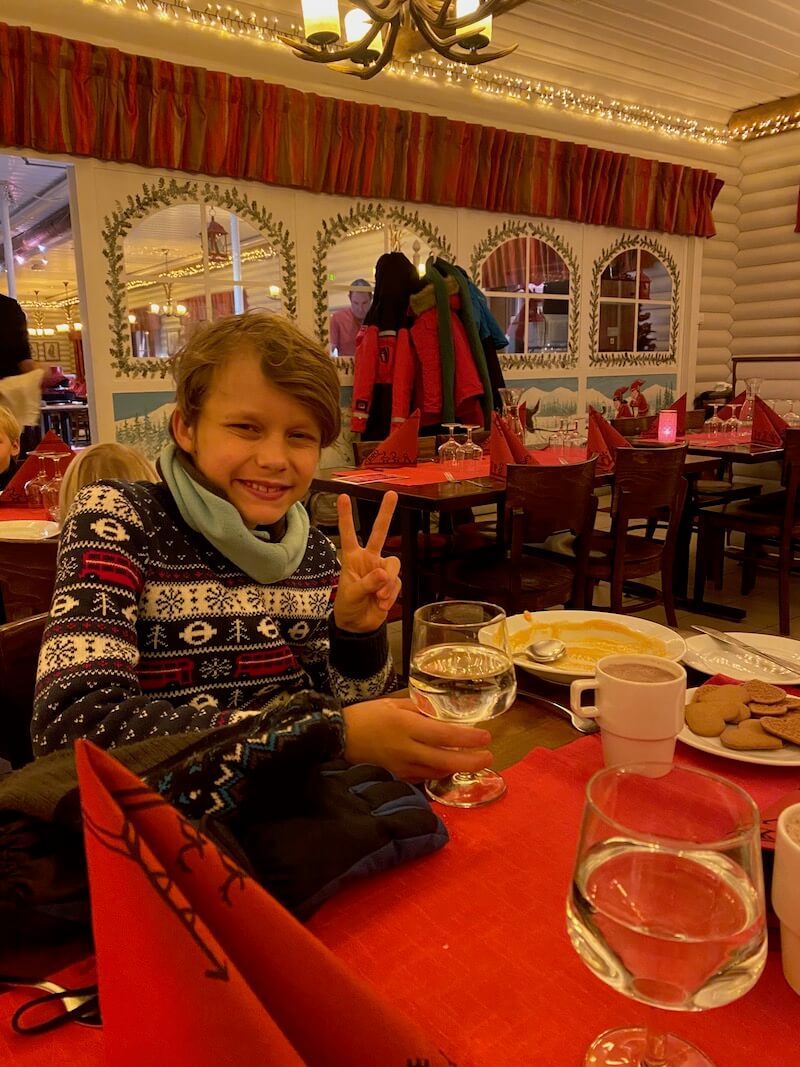 Dinner from 6pm
Dinner is served between 6pm and 9.30pm, but you can bet we were first in line.
Water is served with the meal, and other beverages including wine and beer can be purchased from the counter.
Hot tip: Many guests, especially families with kids, arrive direct from their end of day activities, wearing their their full snow suit. But the room is heated. It's totally acceptable to remove your arms from your suit, and tie the arms of the suit around your waist.
Or take it off completely, and hang it on one of the clothes racks in the room.
---
RELATED: What to wear in Lapland in Winter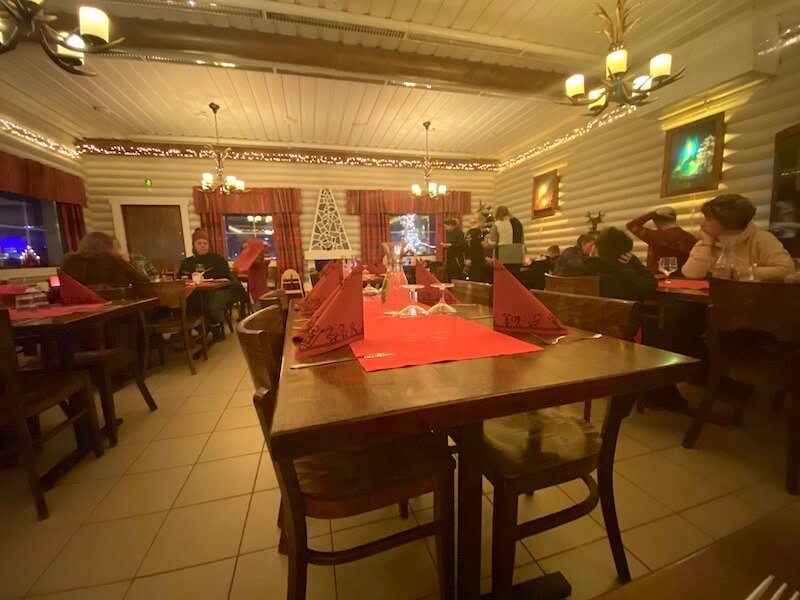 Dinner is a perfect time to chat with fellow families and kids about the day's adventures.
And I guarantee you, there have been plenty!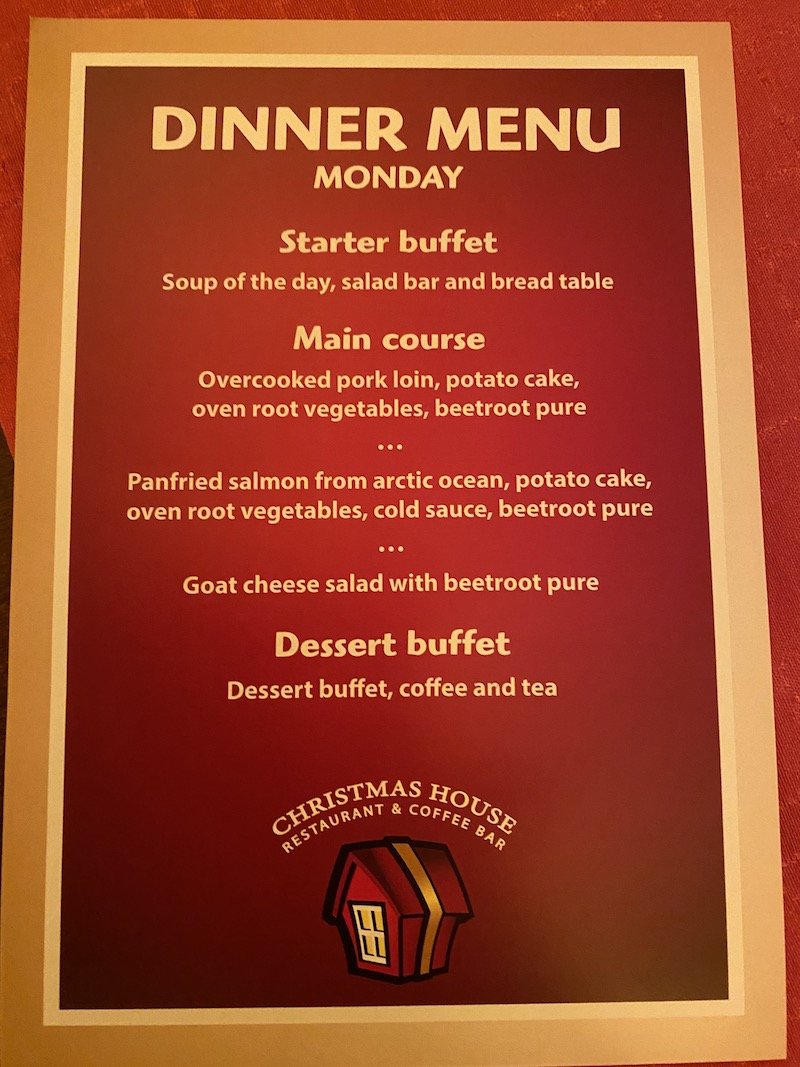 Monday dinner menu
Dinner on Monday included Salmon.
There's always a vegetarian option too.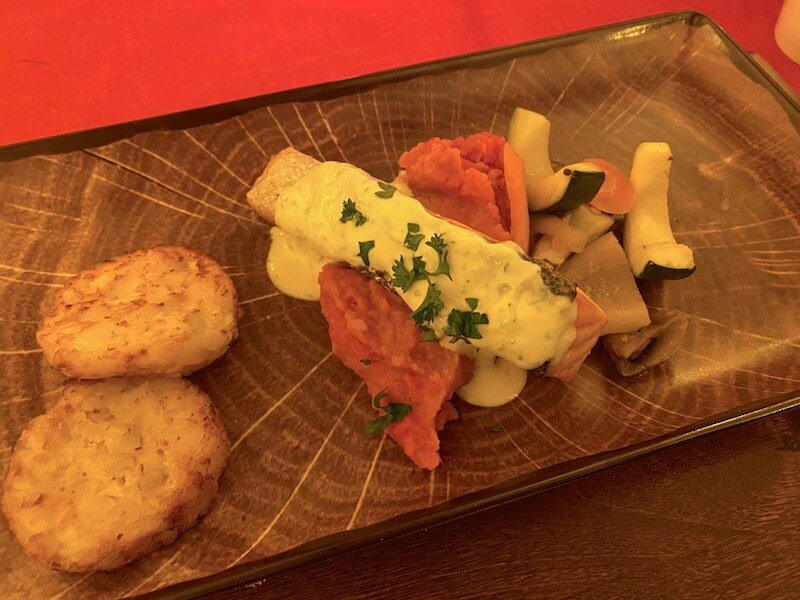 Salmon & Potato cakes
But who can resist a local favourite delicacy?
Main meal portions are small compared to home, so we quickly learned to fill up on soup and bread.
Cold weather makes everyone ravenous.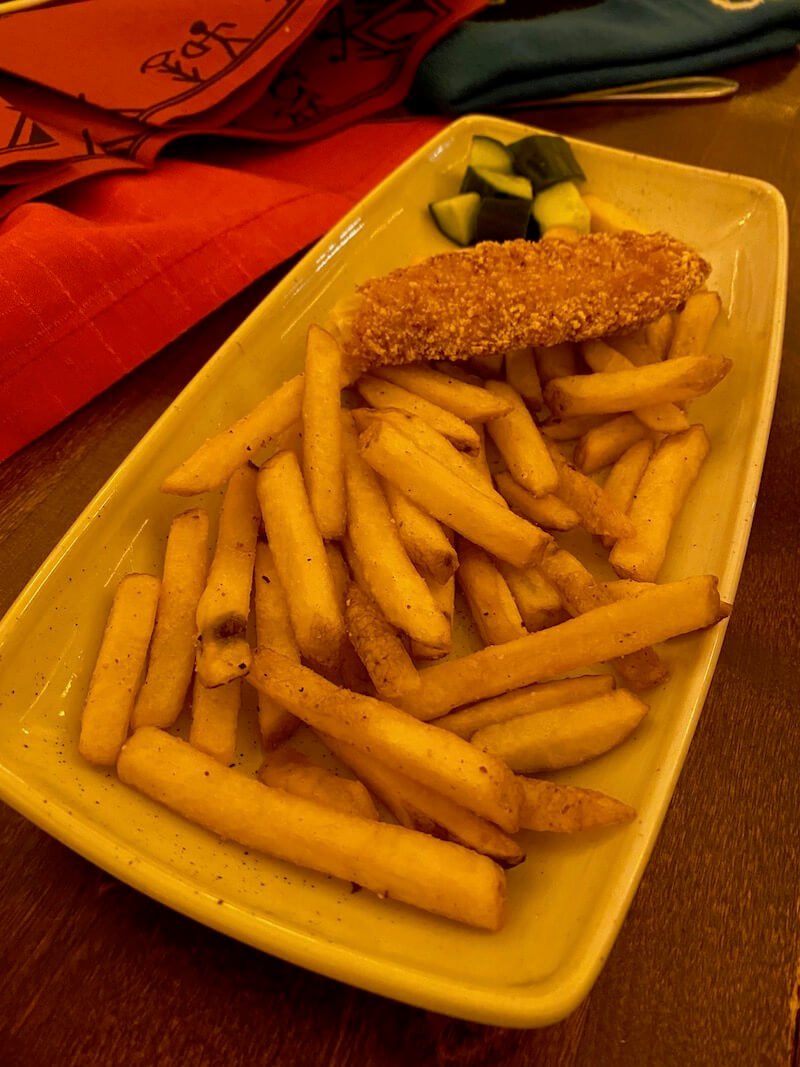 Children's Menu at Christmas House Restaurant
There is always a kids menu option – just one – with every menu.
During our trip, the kids had the option of:
chicken and chips
meatballs
fish and chips
Perfect simple choices for a fussy eater.
Or they can choose from the regular menu too.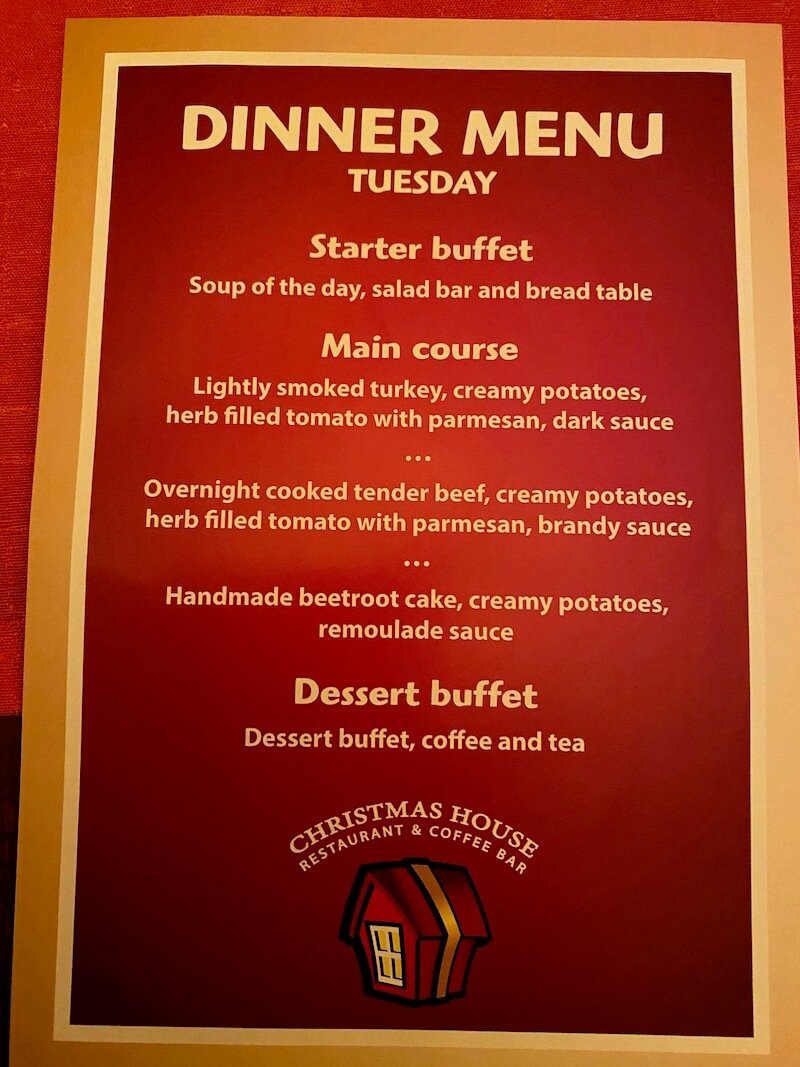 Dessert Buffet at Christmas House
The Christmas House restaurant dessert buffet was a simple affair.
Do not expect a Disney-style dessert buffet with 20 different choices.
In Lapland, dessert consisted of a choice of small slices of one or two cakes, such as carrot cake or a chocolate cake, and a mousse of some kind.
If you were quick, delicious Finnish chocolates were up for grabs.
But they didn't last long, with all the kids around.
Ned loved the Gingerbread biscuits to go with his hot chocolate, and I confess I dipped one or two in my English breakfast tea too.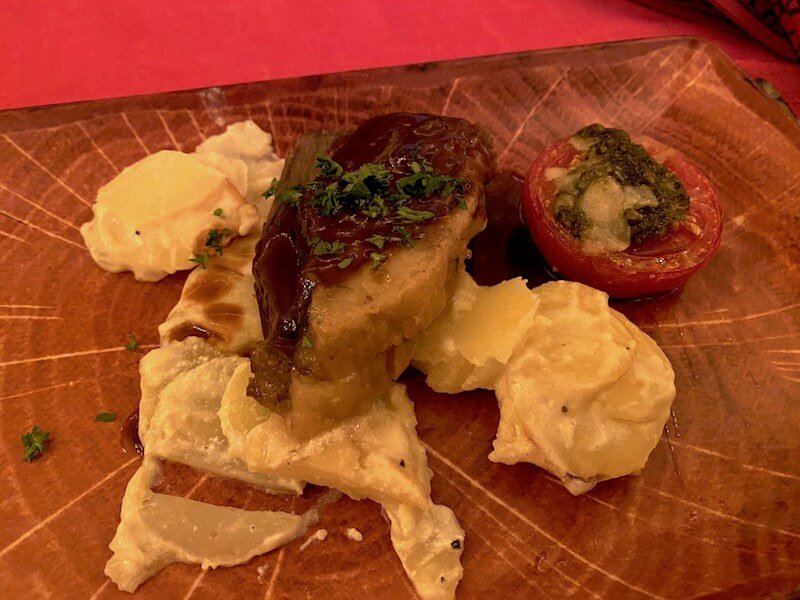 THE INSIDE SCOOP: Christmas House Restaurant Review
Correct at time of publication on Roam the Gnome. Please check with venue for updates. We apologise in advance if there have been any changes we are unaware of. All prices in euro, unless otherwise stated
Eating both breakfast and dinner at the Christmas House was a delicious and much-loved part of our Santa Claus Village Lapland package experience.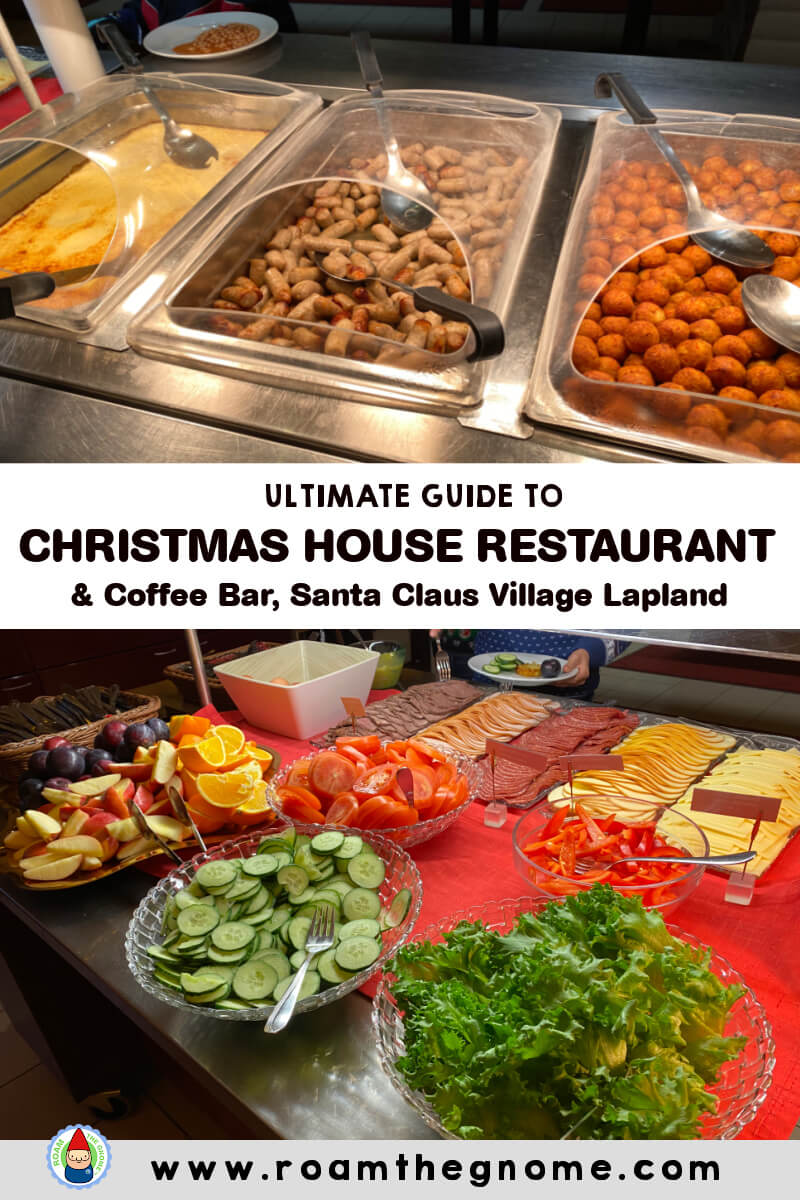 Christmas House Restaurant telephone: (via reception) + 358 400 306 273
Christmas House Restaurant opening hours: 7.30am to 10pm. (The kitchen closes at 9.30pm)
Christmas House Restaurant website: Click here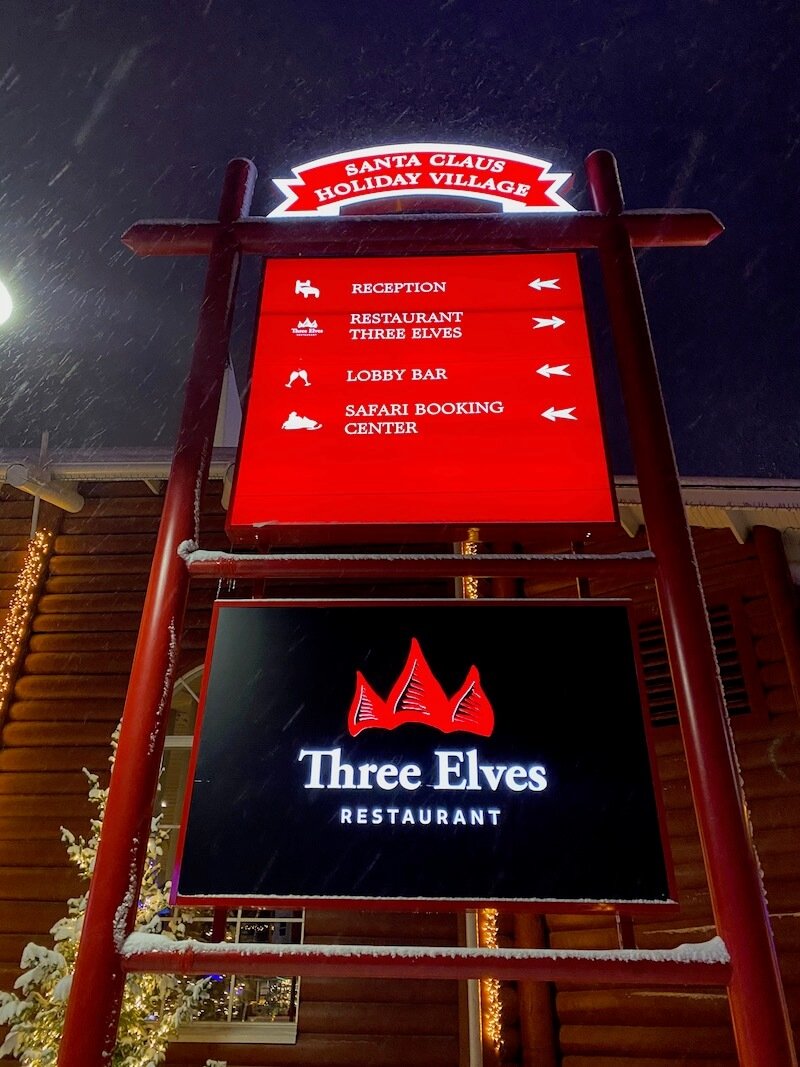 How to get to Christmas House Restaurant in Santa Village
You'll see Christmas House to the RIGHT of the Three Elves Restaurant and Santa Claus Village check in, looking from the road.
Click here for details of how to get from Rovaniemi to Santa Claus Village.
(Also includes details of how to get from Helsinki to Rovaniemi on the Santa Claus Express train, and by plane.)
Map of Santa Claus Village Restaurants in Rovaniemi
Toadstool Rating: Christmas House Restaurant Reviews
For the price you pay for a night's stay, the food could be better, especially the dessert selection BUT it is Santa's Christmas Village in the ARCTIC CIRCLE and we were so glad to be there, you could have fed us bird seed and we would have been happy!

Three More Things to Do at the Christmas House in Lapland Finland
Click the blue links for a sneak peek at these Christmas House & Santa Claus Village experiences in Lapland