INSIDE: Introducing the best Battery Park playground, Rockefeller Park Playground. It's opposite Poet's House in NYC.
Wander along the Hudson River Greenway around the tip of Battery Park and you'll stumble across the fenced Norman A. Rockefeller Park Playground.
If you are wondering does Battery Park have a playground, the answer is YES.
Get ready to stop for an hour at least so the kids can play.
This New York playground has a storybook feel, but best of all, a water spouting hippo!
Take a look below for details of this Battery Park playground and how to get there.
Disclosure: This article contains affiliate links. If you make a purchase after clicking on one of these links, we may receive a small commission at NO extra cost to you.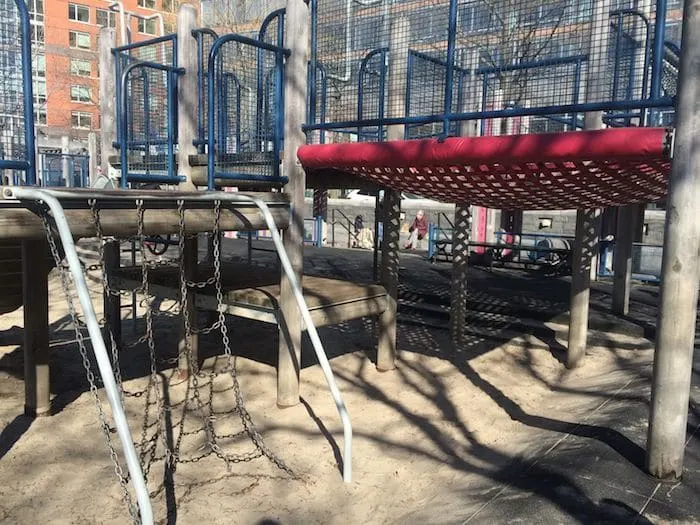 The Best Battery Park Playground
The Rockefeller Park Playground is one of the best playgrounds in New York City.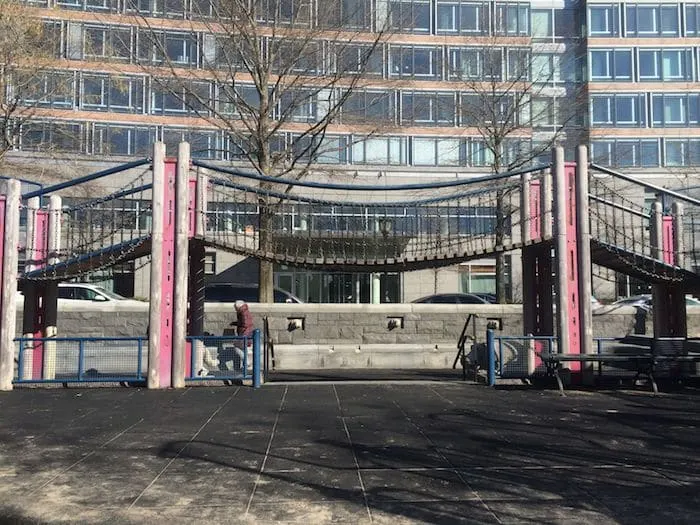 Introducing Rockefeller Park Playground
At Nelson A Rockefeller Park playground, you'll find a giant suspension bridge, perfect for imaginative games of Three Billygoats Gruff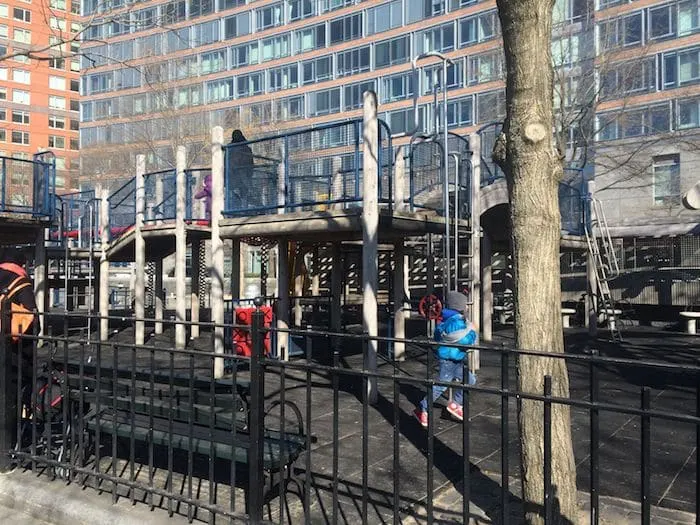 Rockefeller Park Battery Park City playground equipment
Centre of this playground, there's:
a medium sized fort featuring a platform
a play area made of bright red web straps
timber walkways, and
chain nets to climb.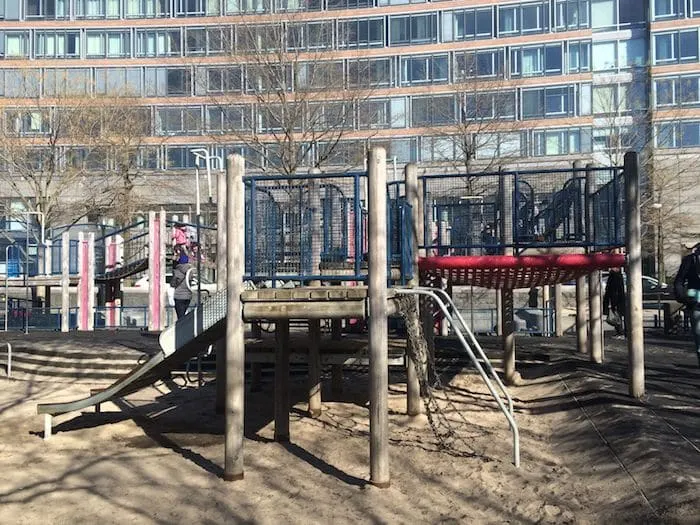 MORE Battery Park kids playground equipment
The giant sized concrete fort has:
fireman poles, and
super high viewing platforms on the play structure.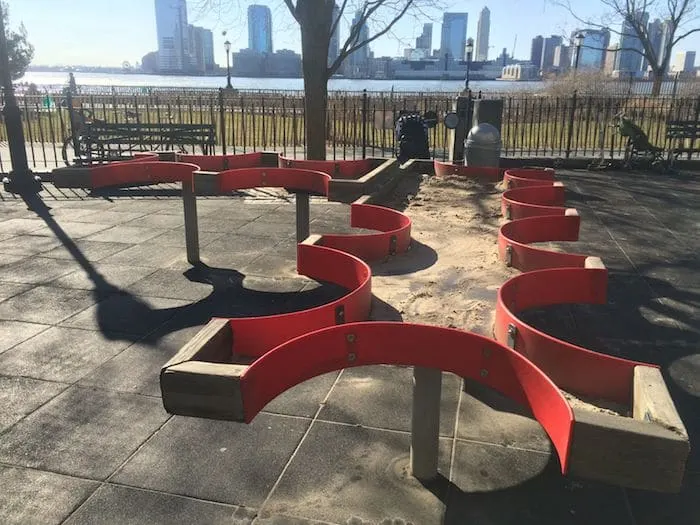 Accessible Playground in New York City
There's a raised sand table for play which is designed to be accessible for wheelchairs.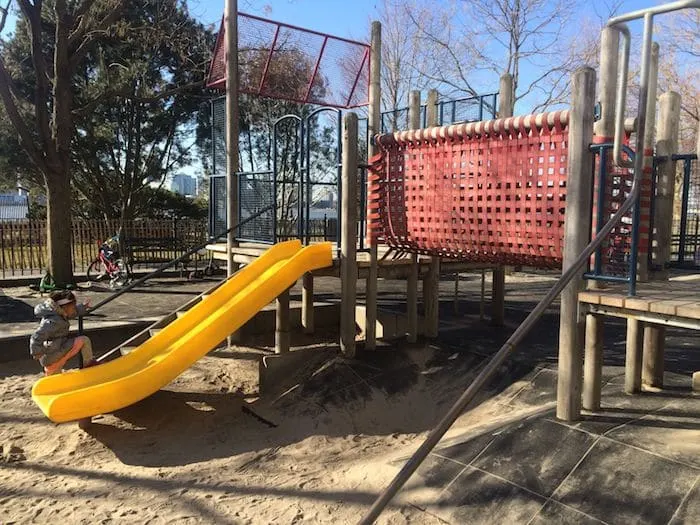 Toddler playground in NYC
There's a toddler playground fort with yellow slide.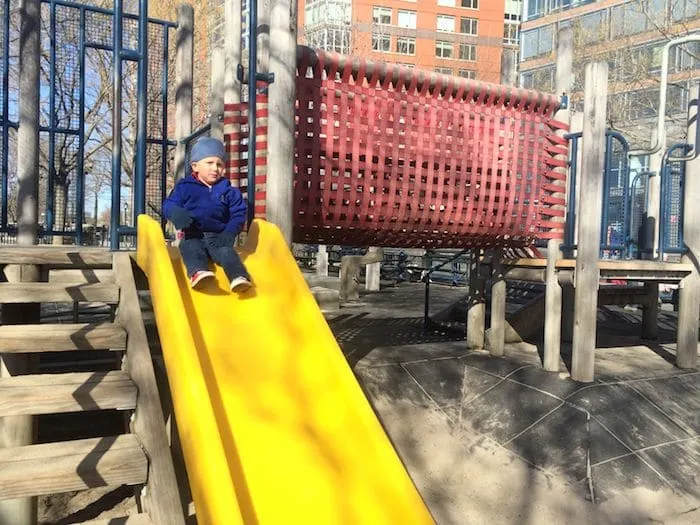 One of the slides lands straight into the toddlers sandbox!
Oops.
BYO sandbox toys.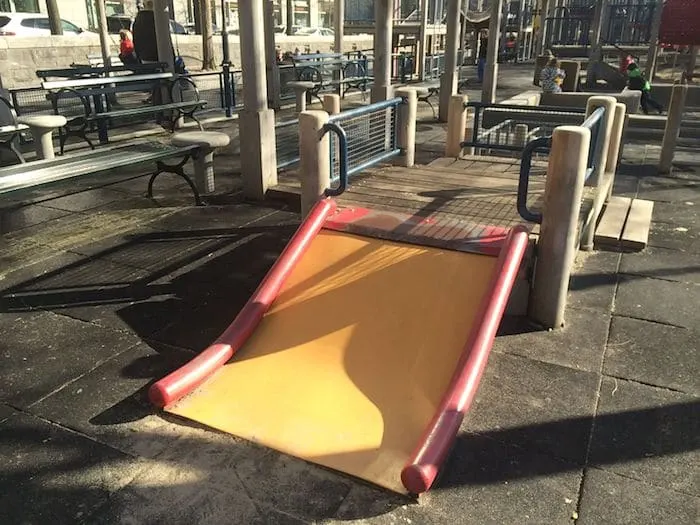 You'll find a wide slide for toddler friends to play on together, and infant swings too.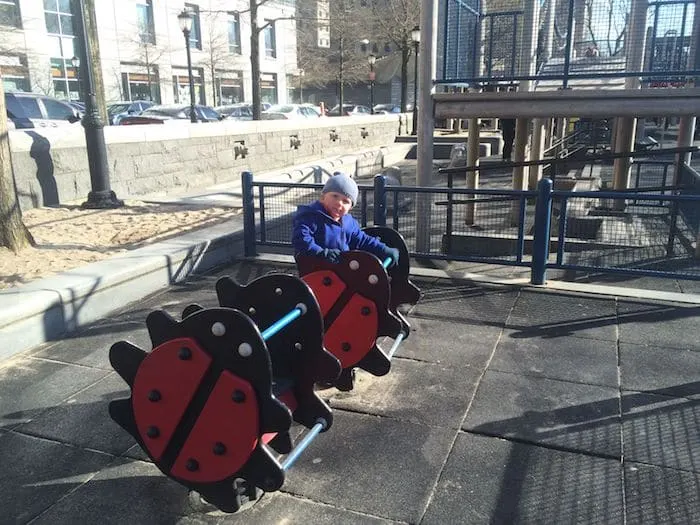 The toddler playground at Rockefeller Park has ladybug rockers, and is separated from the bigger play space by fences.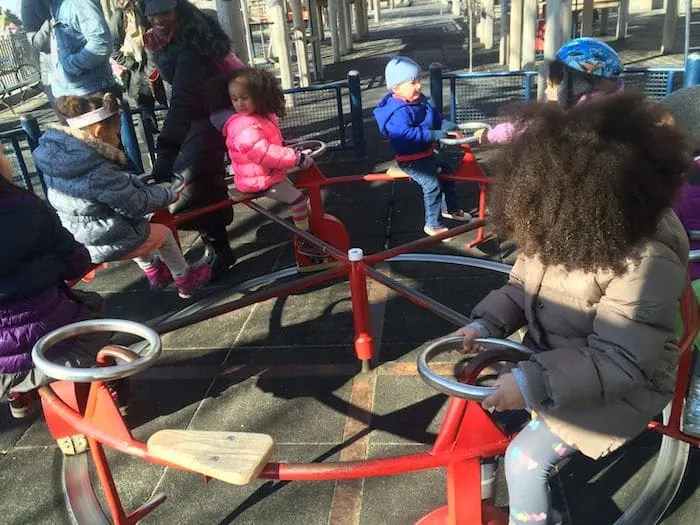 Battery Park Merry Go Round
Down the other end of this New York playground, there's a pedal powered merry go round carousel.
My boys LOVED the pedal-powered merry-go-round most of all.
This was a TEAM EFFORT, with the kids cycling, and a few parents helping to push too!
It's what I love most about visiting playgrounds when we travel – the chance for the kids to play with local kids who have cultures, languages or looks that may be different to their own.
They simply play, without prejudice.
Kids are kids.
A playground is also a spot for parents to have a (possibly rare) opportunity to engage with other adults and children from other places too.
I truly believe a playground can do wonders in this world to help kids of all ages and genders develop empathy, tolerance, understanding and a love of culture.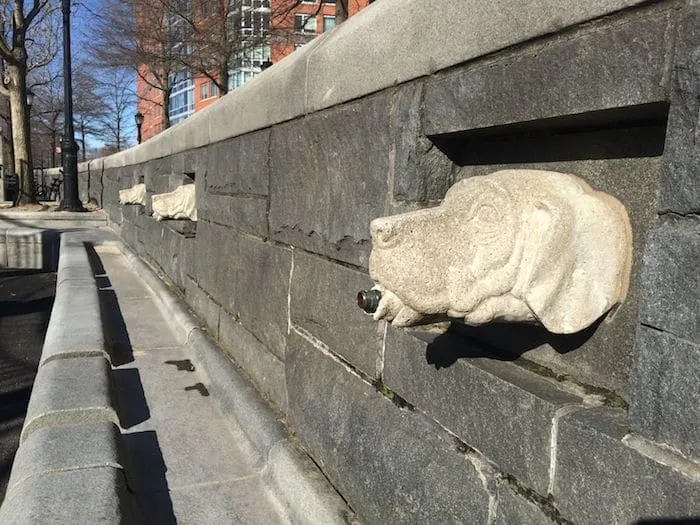 Visit the Water Playground Battery Park
When the weather warms up, pack your wet gear and prepare to get wet.
The Rockefeller Park water play area has three friendly dog faces lined up along one wall.
Water spouts from their mouths into a water trough below.
BYO water play toys and kids will spend hours pouring, measuring and splashing.
From our observations, it's likely your kids may end up IN the trough, instead of playing alongside it so bring towels and a few changes of clothes!
An elephant and a hippo spray streams of water onto anyone who dares venture between them.
Smaller children might prefer the dodo bird sprinkler near the swings.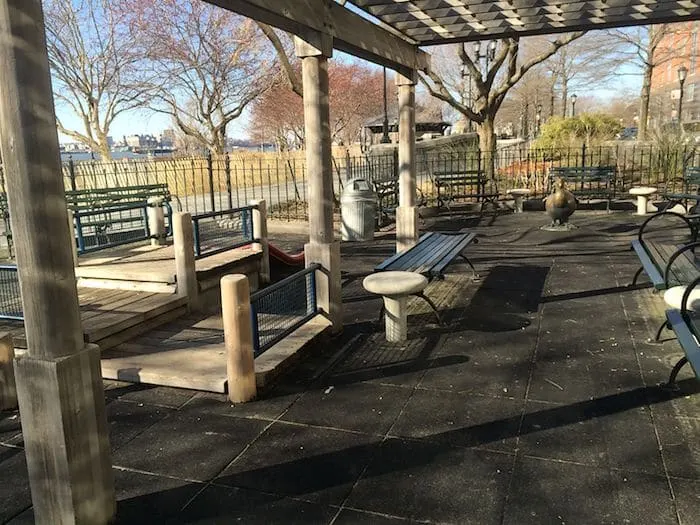 Picnic Areas at Rockefeller Park NY
Bring your snacks and drinks.
There's undercover areas for picnics and morning snack breaks

The Parkhouse at Battery Park NYC
The Parkhouse at Rockefeller Park loans out:
sports equipment for basketball, ping-pong, or billiards
board games
pre-school toys
books
and much more, including the odd art and craft activity.
Permanent ping pong and billiards tables are available, as well as basketball and handball courts and swings.
The Parkhouse is open 11:30am to 6:30pm each day May through October.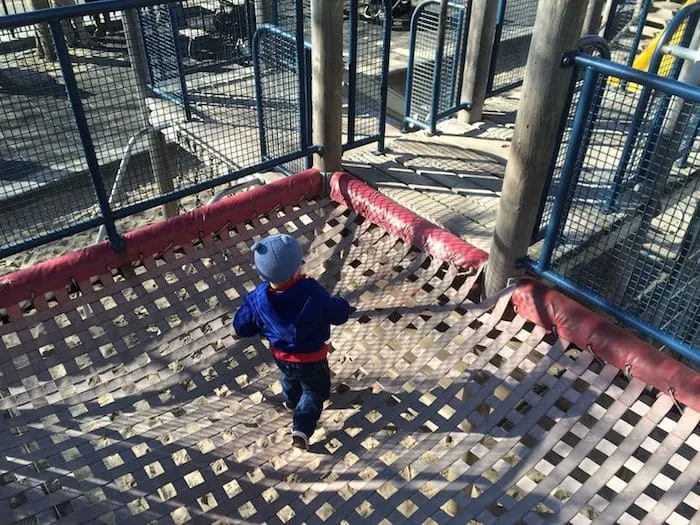 THE INSIDE SCOOP: Rockefeller Park Playground Battery Park
Correct at time of publication on Roam the Gnome. Please check with venue for updates. We apologise in advance if there have been any changes we are unaware of. All prices in US dollars, unless otherwise stated
Address: Rockefeller Park playground is located at the South end of Rockefeller Park at River Terrace (Park Terrace West near Murray Street) New York.
Website: Click here
Opening Hours: 8am to 6pm
Entry Fees: Free

How to get to Battery Park playground in Manhattan
Battery Park City playground is served by most subway lines.
By subway:
Catch the 1 train to Chambers Street station and walk 10 minutes towards the Greenway.
Or catch the 2 or 3 train to Park Place station and walk 10 minutes.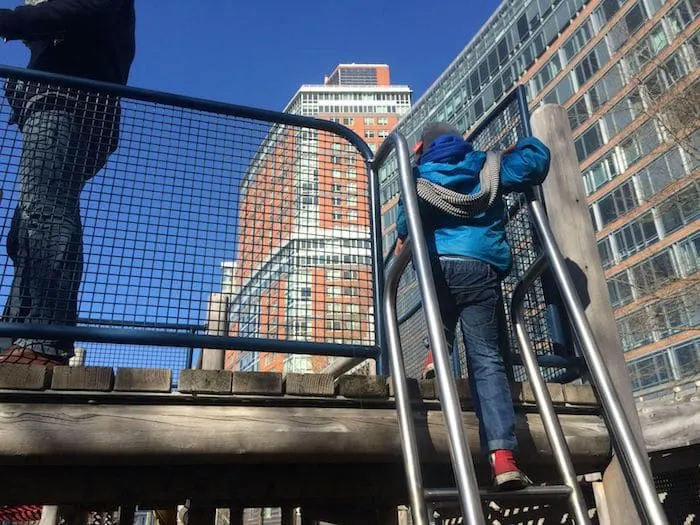 Battery Park Parking
There are a number of parking garages nearby.
Map of Norman A Rockefeller Playground at Battery Park
Facilities at this Battery Park Playground in New York
Toilets: Public Restrooms are located at the northwest corner of the Solaire Building, across the street from the Parkhouse.
Disability access: Yes
Shade: Yes.
Enclosed: Yes
Ground cover: Rubber tiles, concrete walls, sand.
Picnic tables: Shaded tables and lots of bench seating. Also shaded grass areas between the Hudson River and Rockefeller playground for BYO picnics.
Electric BBQs: No
Water Bubblers/fountains: Yes
Scooters and Bikes: Yes (to ride along the Hudson River Greenway)
Dogs: No

Toadstool Rating- Battery Park Playground NYC Parks
Definitely one of the best playgrounds in NYC for toddlers AND big kids together.

Looking for MORE Super Fun Things to Do in NEW YORK CITY with Kids & Local Playgrounds in NYC?
Click the blue links below for more New York tips