INSIDE: Roam the Gnome's guide to the Pod Playground Canberra.
Canberra's Arboretum Pod Playground is possibly Australia's coolest playground.
The Pod Playground in Canberra is definitely Roam the Gnome's favourite play space for kids.
He'd love to move in.
Take a look and see why he loves it so, below.
Disclosure: This article contains affiliate links. If you make a purchase after clicking on one of these links, we may receive a small commission at NO extra cost to you.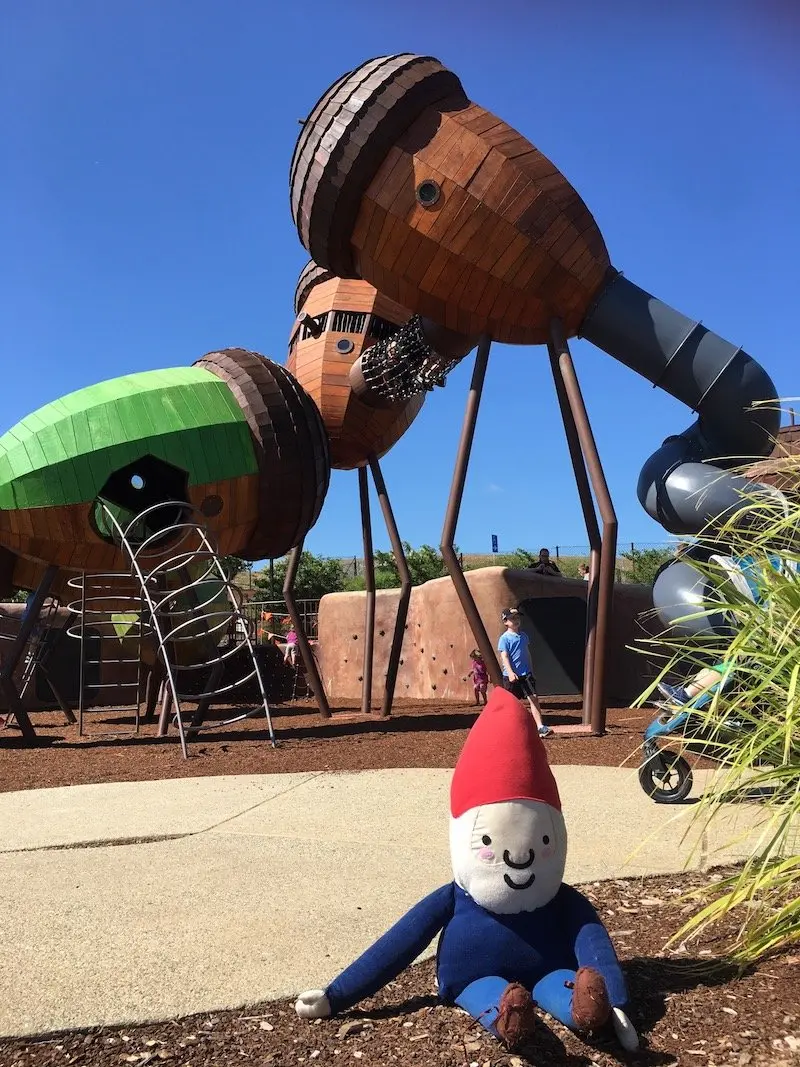 Insider's Guide to the Pod Playground Canberra
If you aren't drawn to the beauty of this whimsical playground and don't immediately want to join the kids in exploring it, we can't be friends.
Because seriously.
How cute is it?
---
RELATED: The ULTIMATE LIST of THINGS TO DO IN CANBERRA WITH KIDS
National Arboreum Playground Play Equipment
The centrepiece of the Pod Park Canberra are the giant acorn cubbies.
They are an Instagrammer's dream backdrop.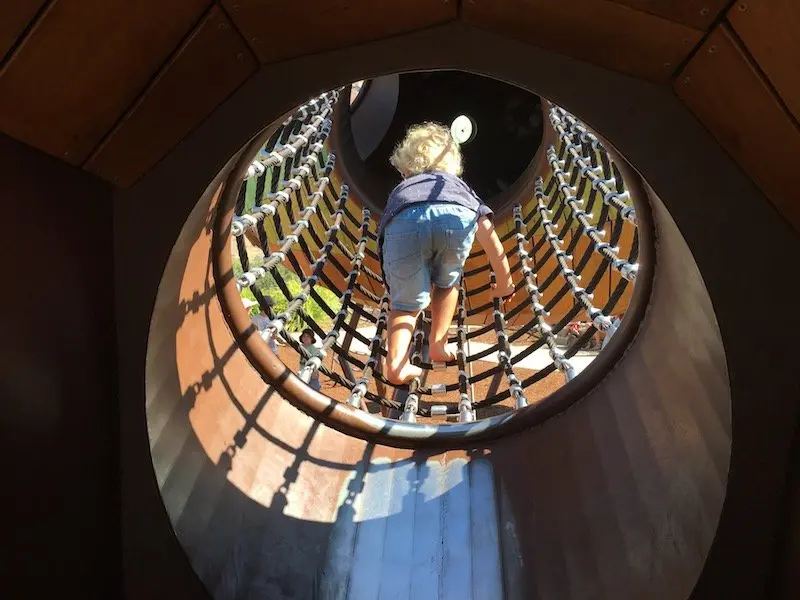 The Pod Playground for Big Kids
These giant acorn cubbies hover way up high in the sky on stilts, and have interconnecting net tunnels that children use to climb between the acorns.
There's a spiral slippery dip at one end, but expect to wait a while to see your kids emerge!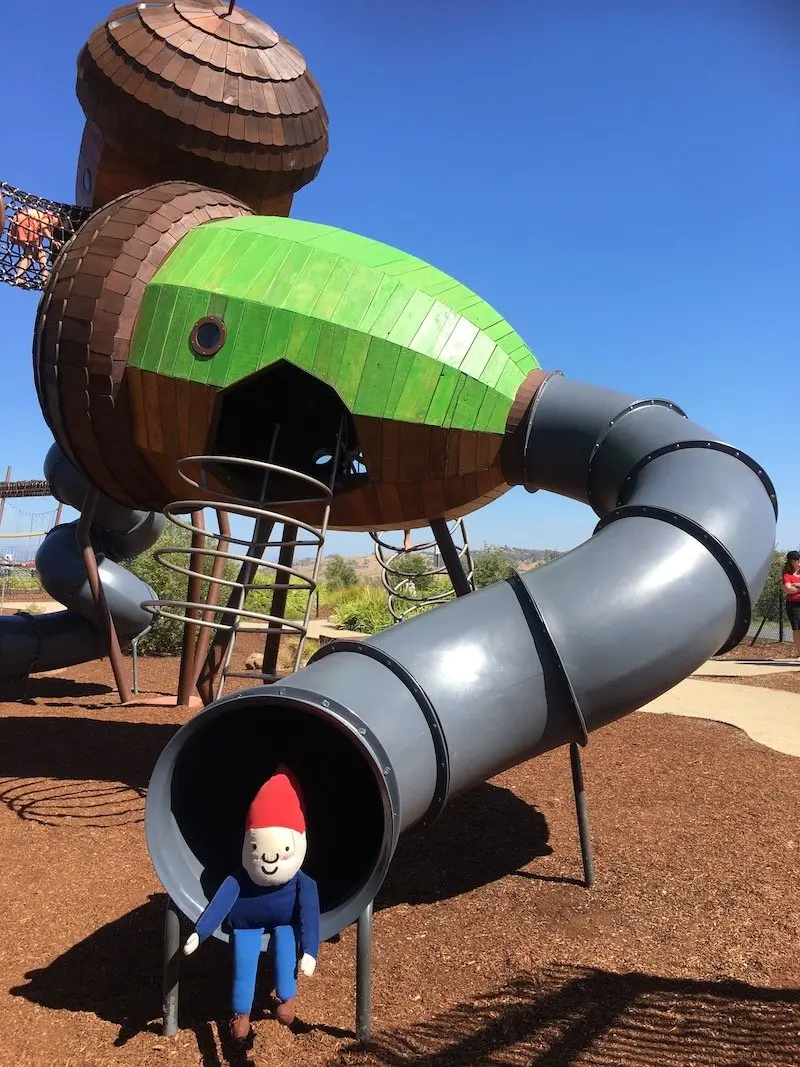 The Pod Playground for Little Kids
There's one standalone acorn cubby for the smaller kids.
---
READ MORE: Ultimate Guide to the National Australian War Memorial for Families (Kids Activities)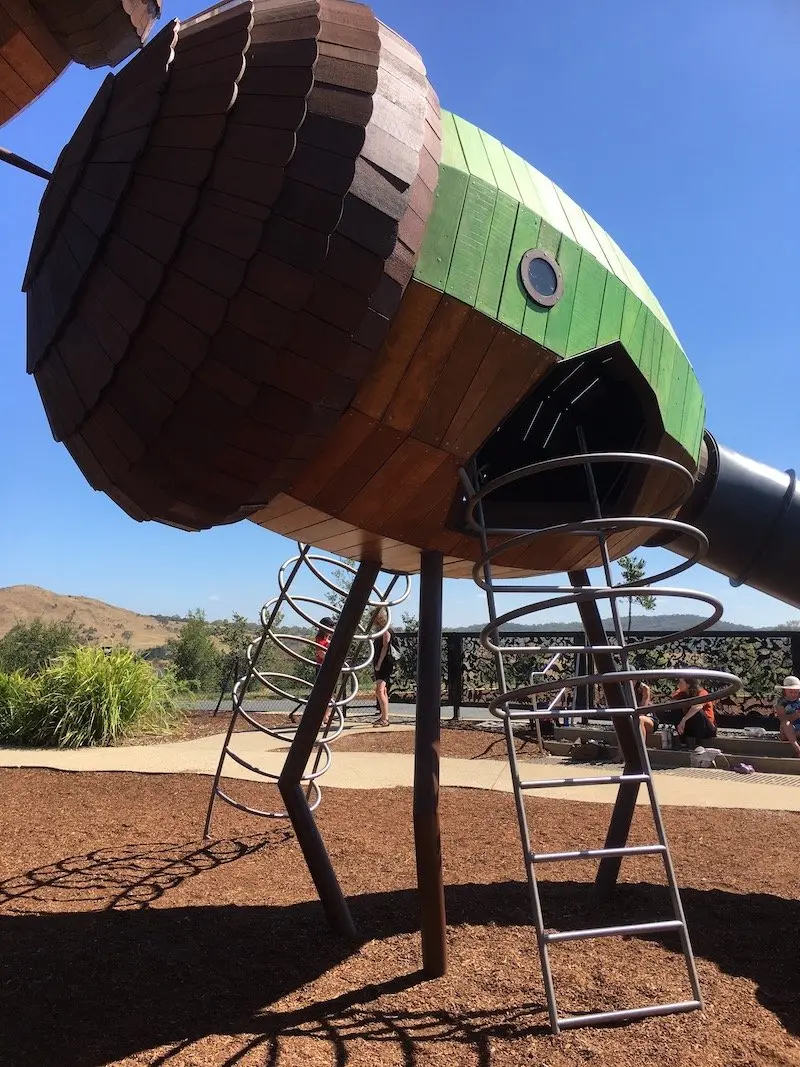 Acorn pod slides
This one has dual ringed ladders so they don't fall, with a smaller slide.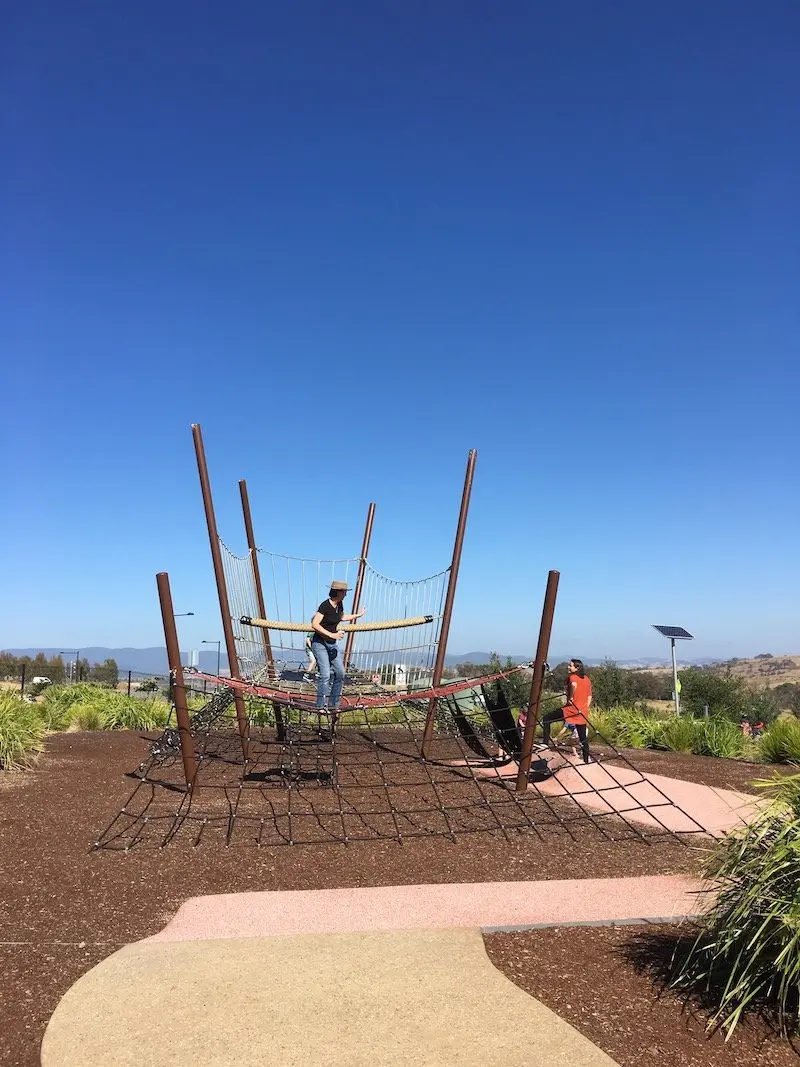 Giant Scramble Net & Musical Bridge
At the far end, there's a GIANT sized net for bigger kids to scramble along.
Step across the musical bridge to get there!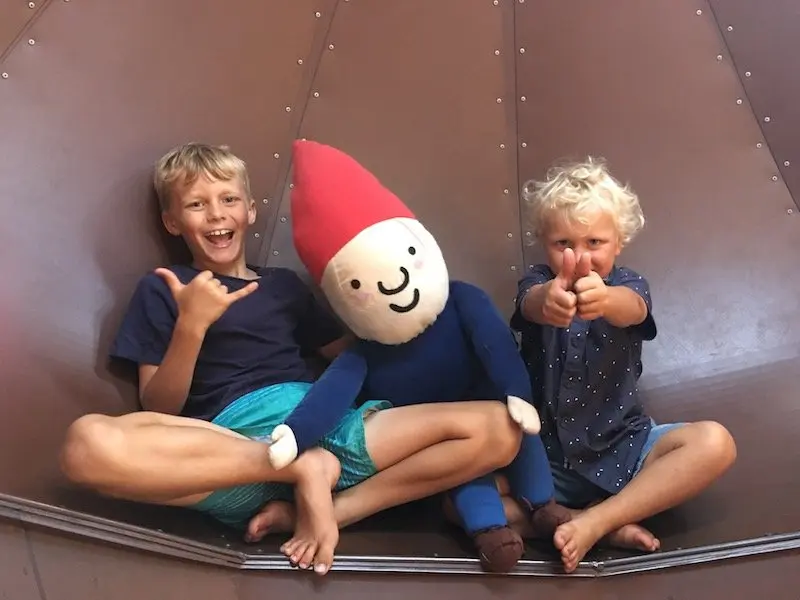 Giant Acorn Cubbies
The acorns are the perfect spot for a game of hide and seek with new friends!
---
READ MORE: Ultimate Guide to the National Dinosaur Museum in Canberra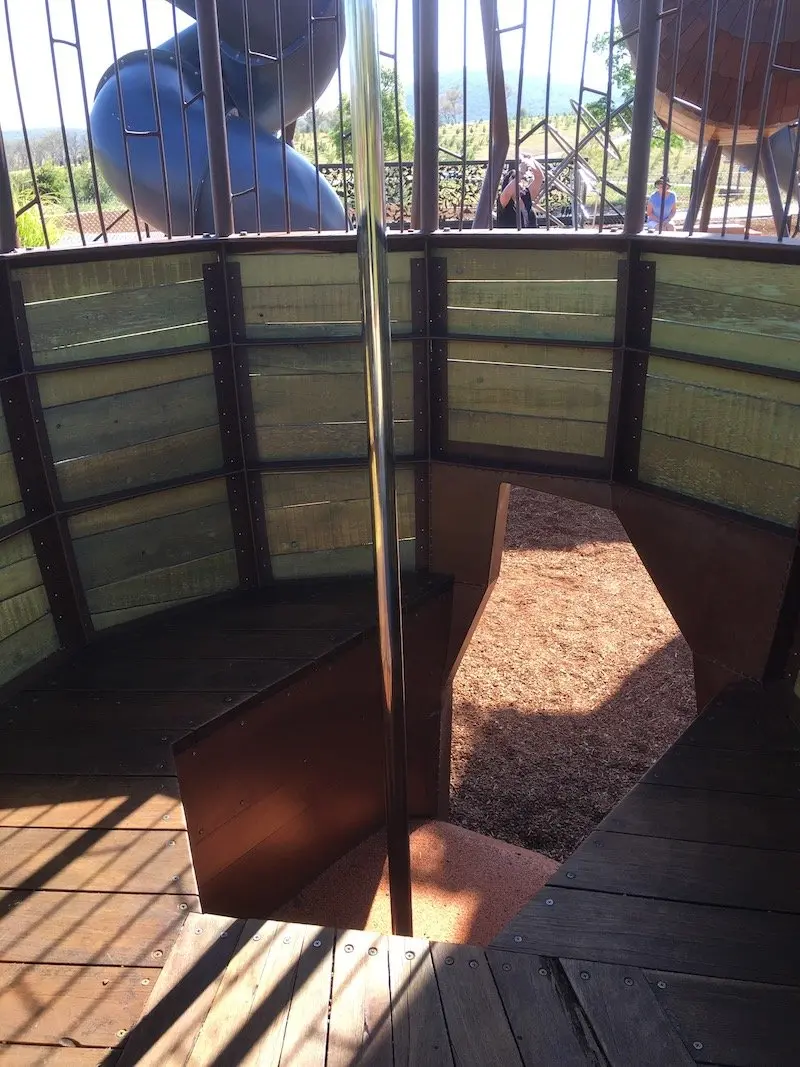 Fireman's Pole
There's even a fireman's pole.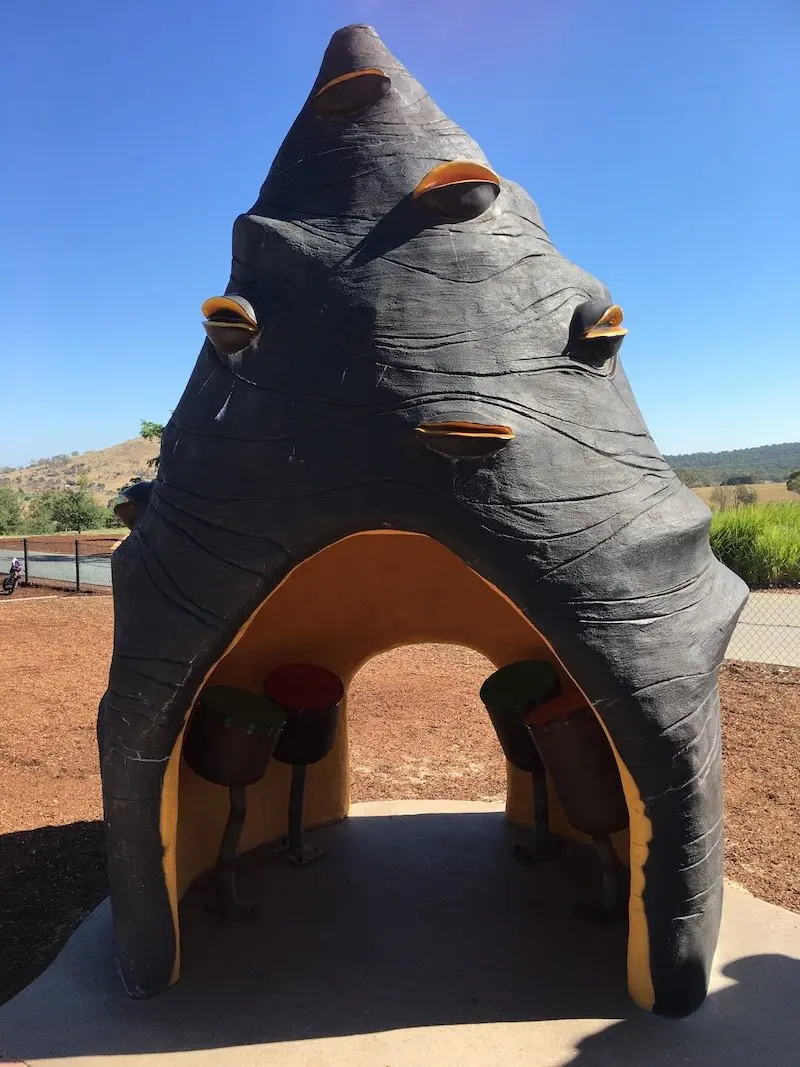 Drum Music Play
At the café end of the playground, there is a wonderful area for toddlers with giant banksia cones, sand, and musical instruments.
The Banksia Pod drums inside this banksia hut are a hit with all ages.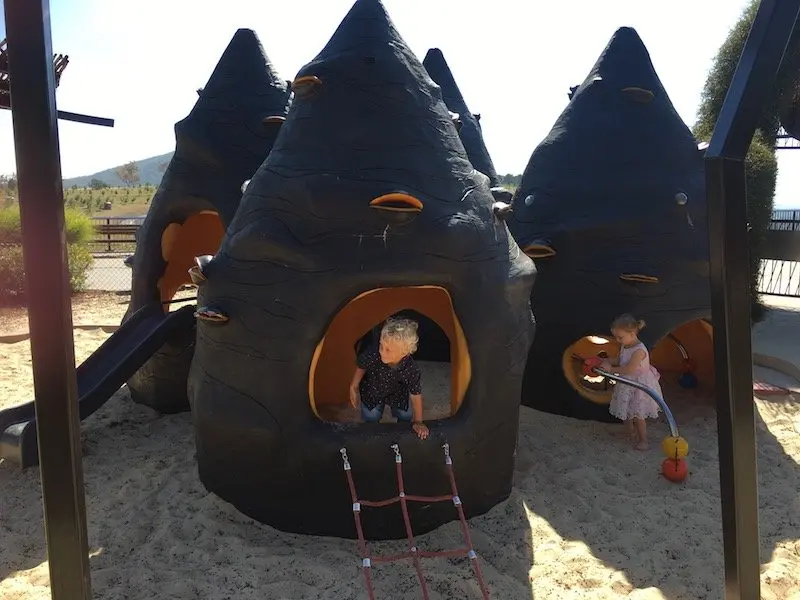 Banksia Pods Playground for toddlers
Closer to the entrance, near the Village Centre and Cafe, are the Banksia pod cones.
These are perched in a sandy zone.
BYO sand toys. (Check out this story on the best beach toys for ideas)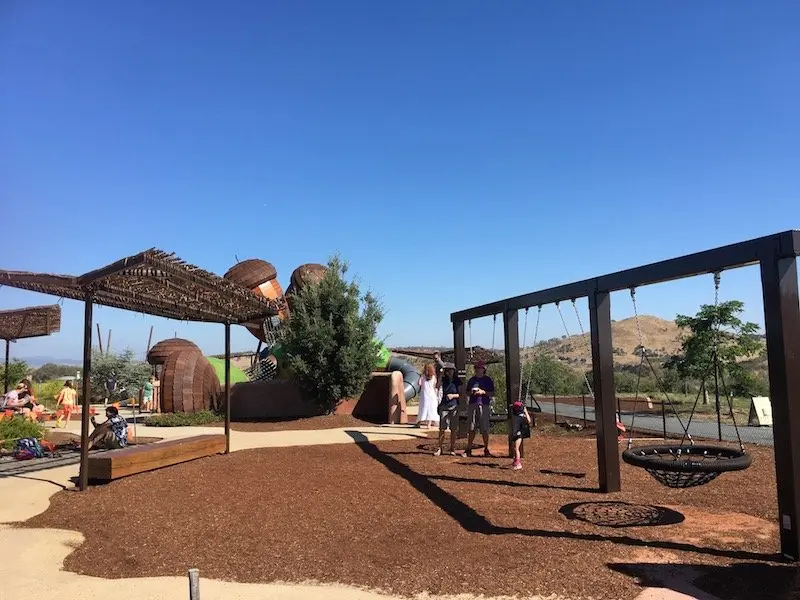 Playground Swings Zone
In the middle of the kid-friendly Canberra playground, there's two large nest swings and two toddler swings.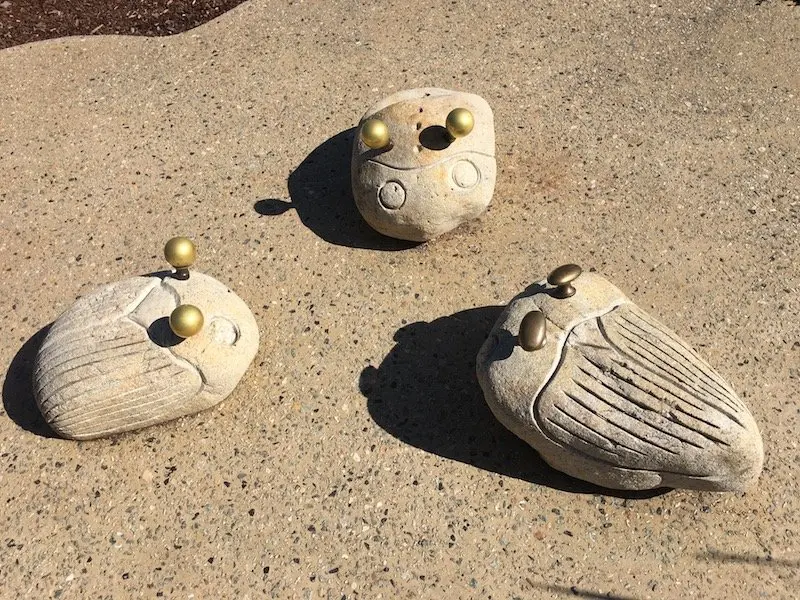 Where is the Pod Playground at the Arboretum?
The Pod playground is next to the Village Centre.
Fortify yourself by grabbing a delicious takeaway coffee on your way in, as you are not going anywhere soon.
The Pod Playground at these botanical gardens in Australia is a popular attraction for families, but requires special diligence by parents.
About Pod Access
NB: Access restrictions at Pod Canberra include:
no glass
no balls
no bicycles
no dogs or pet animals.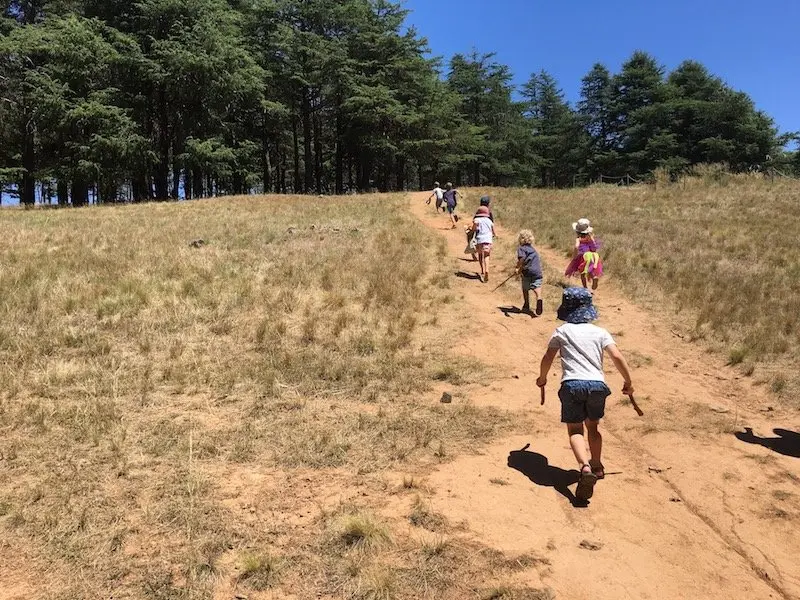 Nature Play at Canberra Arboretum
Hot tip: When the Pod playground is a bit too busy for your liking, or the kids are worn out and need a bit of quiet time before you head home, pop down to the Nature Play hub at the Himalayan Cedar Forest.
It was a surprise find, thanks to friends who led the way, and super cool.
---
READ MORE: Yarralumla Play Station has mini golf, a miniature railway, & a petting zoo farm!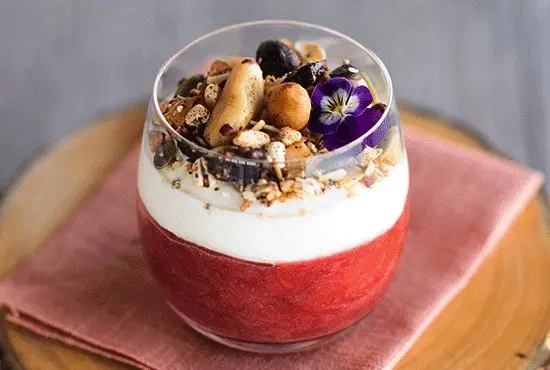 Where to eat at the Arboretum Canberra
Sprout Cafe Arboretum
Alternatively, visitors can purchase food and drinks at Sprout Cafe in the Village Centre.
Café food available everyday 9am – 4pm, including:
delicious snacks
great coffee
lunches, and
picnic food
No need to book.
Please note: indoor seating in the Village Centre is reserved for cafe patrons only.
Conservatory Restaurant
The Conservatory Restaurant serves:
lunch every day from 12-2pm, and
breakfast on Saturday & Sunday from 8am-11am.
Bookings recommended on 02 6130 0173 or [email protected].
The restaurant serves contemporary Australian cuisine showcasing fine local produce.
BYO Picnic
Visitors are welcome to bring your own food and non-alcoholic drinks and eat outdoors in the forests or on the Village Centre decks.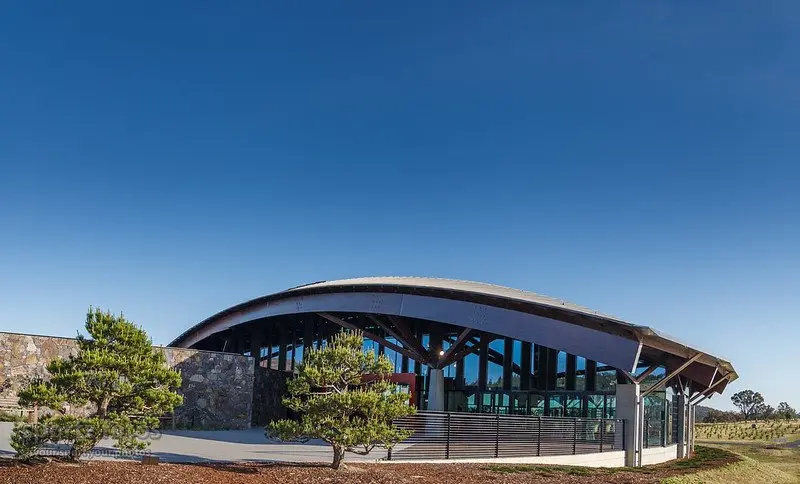 Image credit: SportzFotos via Flickr CC BY-SA 2.0
National Arboretum Gift Shop – The Curatoreum
The Curatoreum gift shop stocks:
wonderful books
gifts
children's activities
homewares and
jewellery.
With its focus on sourcing unique gifts and books, there are new treasures to discover each visit.
Click here for more information, or phone (02) 6251 3371
National Arboretum Canberra Events
Take advantage of the free events such as introductory talks and guided walks that happen daily.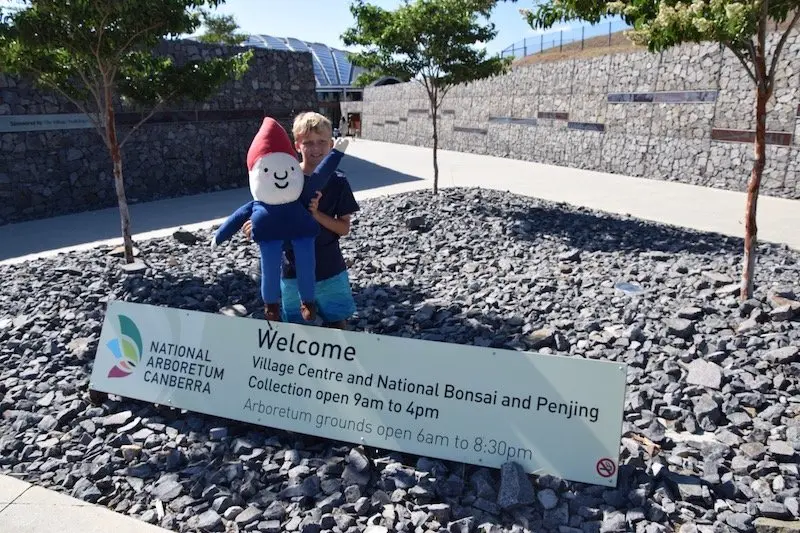 THE INSIDE SCOOP – Arboretum Canberra Playground
Correct at time of publication on Roam the Gnome. Please check with venue for updates. We apologise in advance if there have been any changes we are unaware of. All prices in AUD dollars, unless otherwise stated
Address: Forest Drive, off Tuggeranong Parkway, Weston Creek ACT 2611.
The National Arboretum Canberra is located six kilometres from the centre of Canberra, at the western end of Lake Burley Griffin.
Telephone: Information desk on 02 6207 8484, Monday to Sunday, 9am – 4pm.
Email: [email protected]
Website: Click here
Pod Opening Hours
The Arboretum grounds and Pod Playground are open:
from 6 am to 8:30 pm seven days a week during Daylight Savings Time, and
from 7 am to 5:30 pm seven days a week during Eastern Standard Time (Non-daylight Savings Time)
National Arboretum Opening Hours
The Village Centre, National Bonsai and Penjing Collection, Sprout Cafe and The Curatoreum shop are open from 9 am to 4 pm seven days a week.
The National Arboretum is closed Christmas Day, 25th December.
Entry Fees: Entry to the Canberra Arboretum is free-of-charge. Paid parking applies in some areas. See below for details.

How to get to the Pod Playground Canberra
Explore the Arboretum by car, bus, bike, horseback, or on foot.
The Arboretum is about trees and forests, and there's nothing like getting outdoors and seeing the trees, landscapes and views.
By Bus:
ACTION Buses leave from Platform 10 at the City Bus Station and stop at the Arboretum five times per day, seven days a week.
Buses take 21 minutes to reach to Arboretum's Visitors Centre from the city.
For timetables, see ACTION Bus Routes 81 on weekdays and 981 on weekends.
By Car: Click here to add your location and get google map directions
Canberra Arboretum Parking:
General parking is available in the main car park and requires payment for parking between 9am and 4pm, 7 days a week.
Rates are $2.10 per hour to a maximum of $7.80 per day.
The parking meters accept coins or credit card.
All parking fees are returned to the Arboretum.
If the main car park is full, the unsealed-surface overflow car park may be open and is free-of-charge.
Disability access to the Pod Playground Canberra:
There are 11 designated free disability parking spaces in the top tier of the main car park next to the Village Centre (sealed surface). Cars displaying a valid disabled parking voucher park free-of-charge.
Map of Arboretum in Canberra
Facilities at the Canberra Pod Playground
Nearest takeaway coffee: Sprout Cafe, in the Village Centre.
Toilets: Yes, throughout the Canberra Arboretum.
Closest ATM: The cafe, restaurant and shops take EFTPOS.
Shade: No shade. It gets VERY hot. Bring hats and lots of sunscreen. Go early, or late afternoon to avoid the worst of the sun.
Enclosed: Yes
Ground cover: Bark, concrete pathways
Picnic tables: Yes, at the Himalayan cedar picnic deck
Electric BBQs: Free electric barbeques are available (Forest 11).
Water Bubblers/fountains: Yes, at the Pod Playground
Scooters and Bikes: Bikes are allowed on certain trails.
Dogs:
Dogs on leads are permitted in the Arboretum during normal opening hours.
Dogs, other than assistance animals, are not allowed in buildings or the Pod Playground.
Dog owners are expected to carry bags and clean up after their dogs. No disposal bins or bag dispensers are provided, consistent with the policy across Canberra's urban parks and open areas.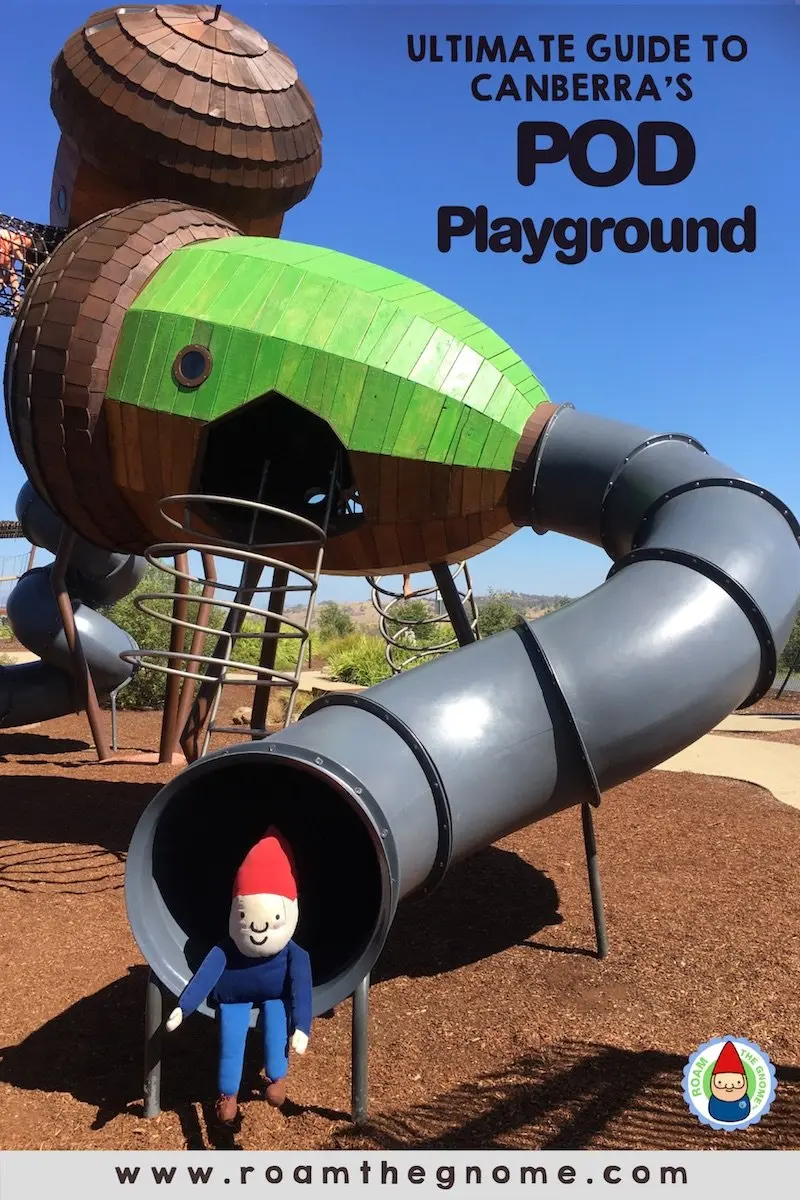 Toadstool Rating – Arboretum Playground.
The Pod Playground Canberra is a must-do on your next trip to Canberra with kids.


Looking for MORE of the Best Things to do in Canberra for kids?
Click the links in blue below for more Canberra activities for kids.