INSIDE: Roam the Gnome's Guide to the BEST Beach Toy Ideas.
A few years ago, Ned was lucky enough to go to the beach and join in a free kids program. It was a day to learn practical skills in caring for the beach environment, and they had a bunch of fun hands-on activities for the kids to experiment with.

One of their super dooper fun activities involved taking a whole bunch of odd socks to the beach.
Accompanying this, was a bucketful of small black rectangular blocks made of basalt sedimentary rock. These blocks similar in size and shape to a store-bought pumice stone, but heavy and dark, not light and airy like a pumice.

For these beach games, the kids were tasked to:
fill each of the socks with wet sand, and
tie the end of the socks into a knot, making a sausage-shaped 'sandbag'.
Want to know what they did with them? Read on.
Disclosure: This article contains affiliate links. If you make a purchase after clicking on one of these links, we may receive a small commission at NO extra cost to you.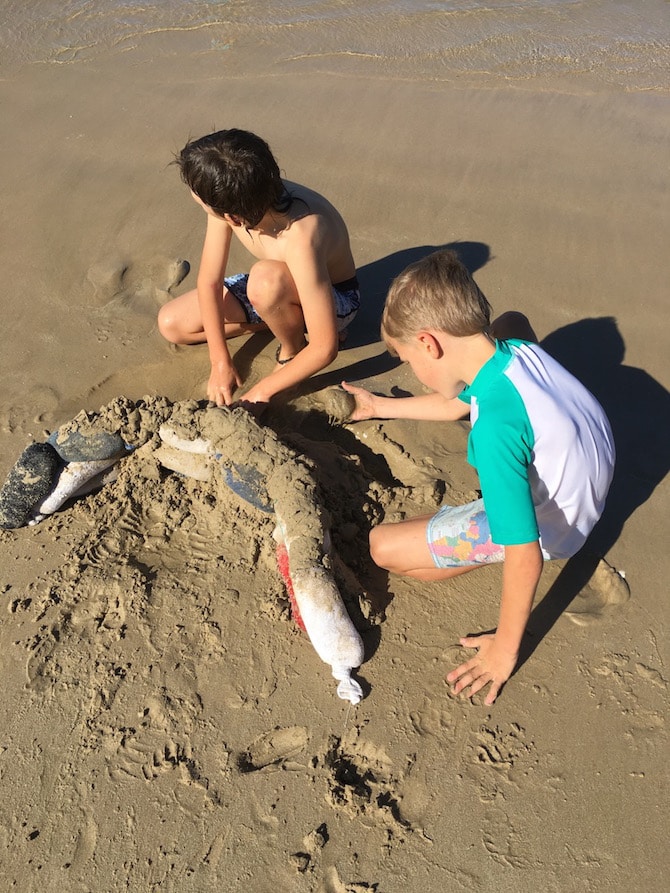 Best Beach Hack Ever!
Their challenge was to build a sandcastle on the shore line, and protect it from the incoming waves with these sandbags and rock barriers.
The team who built the most protective sand wall was declared the winner!
It was a race against time and tide, and every child joined in to help out, even little Jack.
Can you imagine the fun?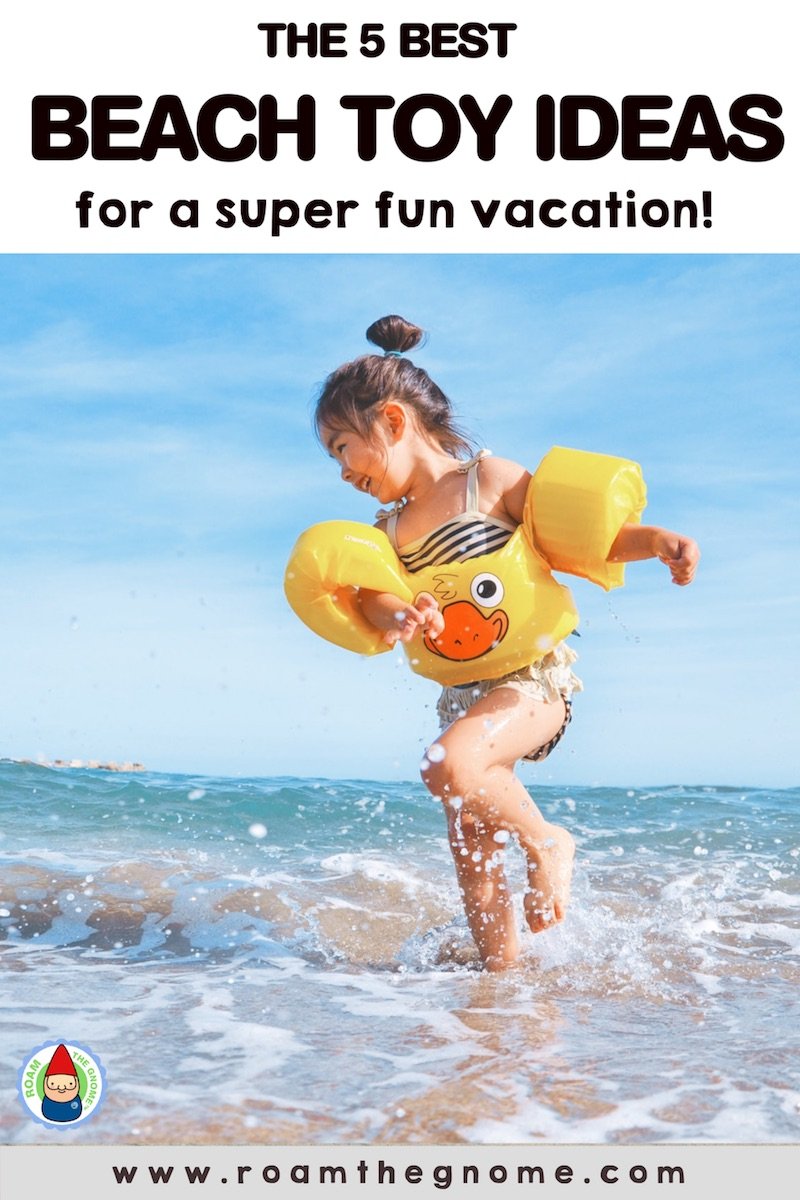 How to Entertain Kids at the Beach with Beach Sand Toys
So if you are packing for the beach or writing a list of things to take to the beach for a family beach trip, add a 'pile of odd socks' to it right now.
I guarantee your kids will love this fun activity as much as mine did, and it's FREE!

It's the perfect way to use up all those socks whose pair has gone awol!
And it's an easy, take-anywhere idea for road trips, or family travel vacations and adventures.
Heading to the beach this summer? Find more toy ideas below!
5 MORE Coolest Beach Toy Ideas!
Looking for packable beach toys for kids?
Take a look at these five kits and sets, most of which come with their own carry bag.
These are the best beach toys for the beach for all ages.
No.1: Emoji Toss & Catch Game
Play throw and catch with a traditional paddle-board game with a modern update!
Featuring emoji faces, and with two different sized balls in the pack, you can play with the kids, or turn it into a serious game of toss with the adults in your family.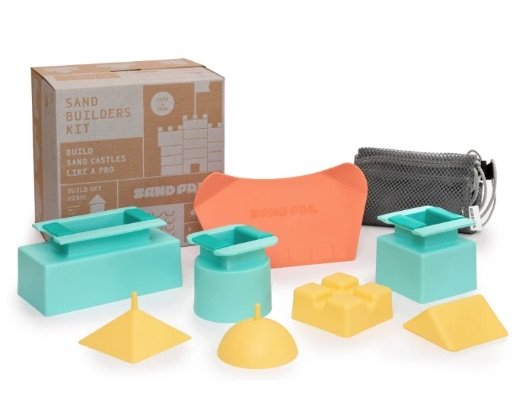 No.2: Brick Building Kit for Sand and Snow
This 9-piece brick building kit by Sand Pal has block builders in three shapes (block, cube,cylinder), an ergonomic shovel, and four 3-D shapes (dome, rook, pyramid, triangle roof) that you can use to finish off your building.
Use them in combination to build giant skyscrapers, castles, igloos, even the Taj Mahal.
These are great beach toys for 5 year olds and older especially.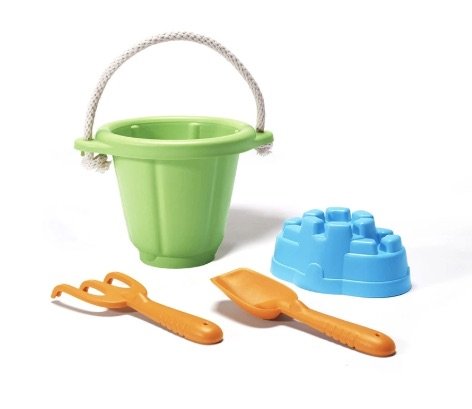 No.3: Green Toys Sand Play Kit
Get groovy with this modern update on sand toys, made from recycled plastic milk containers collected from the kerbside.
This kit includes a bucket, shovel, rake and sand mold in glorious natural hues.
They are the most durable sand toys we've ever used – well made, and solid.
Find a sunny patch and dig away with these best beach toys for babies and toddlers.
No.4: Create-a-Castle Building Kit
Take your castle building next level with this Create A Castle kit.
These unique sand toys take your beach entertainment next level.
This award winning 6-piece set includes a multi purpose tool, stackable towers including battlement and window molds, and a mesh bag backpack for easy storage and cleaning. The design of these kids beach toys is original and super clever too.
But the best thing is these sand molds make the BEST sand castle you've ever built!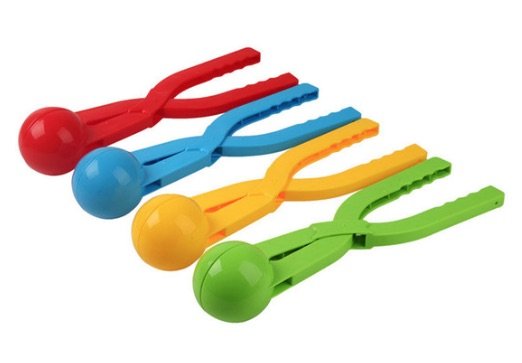 No. 5: Snow Ball Making Kit
Use this fabulous snow ball maker to ball up the sand to build sand castle walls and forts.
This cool beach toy is multifunctional, and can be used both at the beach and in the snow.
These are fun beach toys for dads too!
Toadstool Rating: Kids Beach Toys
When the little one is done playing with these magical sand toys, head over for an ice cream. Give the children a little rest, then head back for more play time. They'll love you for it!

Looking for MORE Fun Travel Hacks?
Correct at time of publication on Roam the Gnome. We apologise in advance if there have been any changes we are unaware of. All prices in US dollars, unless otherwise stated
Click the links in blue for more useful travel hacks.