INSIDE: Roam the Gnome's Complete Guide to the National Dinosaur Museum Canberra.
Imagine a front yard full of enormous dinosaurs in an aptly named DINOSAUR GARDEN.
Dinosaurs to hide behind, dinosaurs to climb in for your own Jurassic Park style photo opportunity, life-size dinosaurs to wow the kids.
Stegosaurus, Brontosaurus, Triceratops and Australian dinosaurs too.
Plus, the head of Godzilla?
This, and so much more, at Australia's Dinosaur Museum Canberra.
Dinosaur mad kids will be in their element.
Take a look.
Disclosure: This article contains affiliate links. If you make a purchase after clicking on one of these links, we may receive a small commission at NO extra cost to you.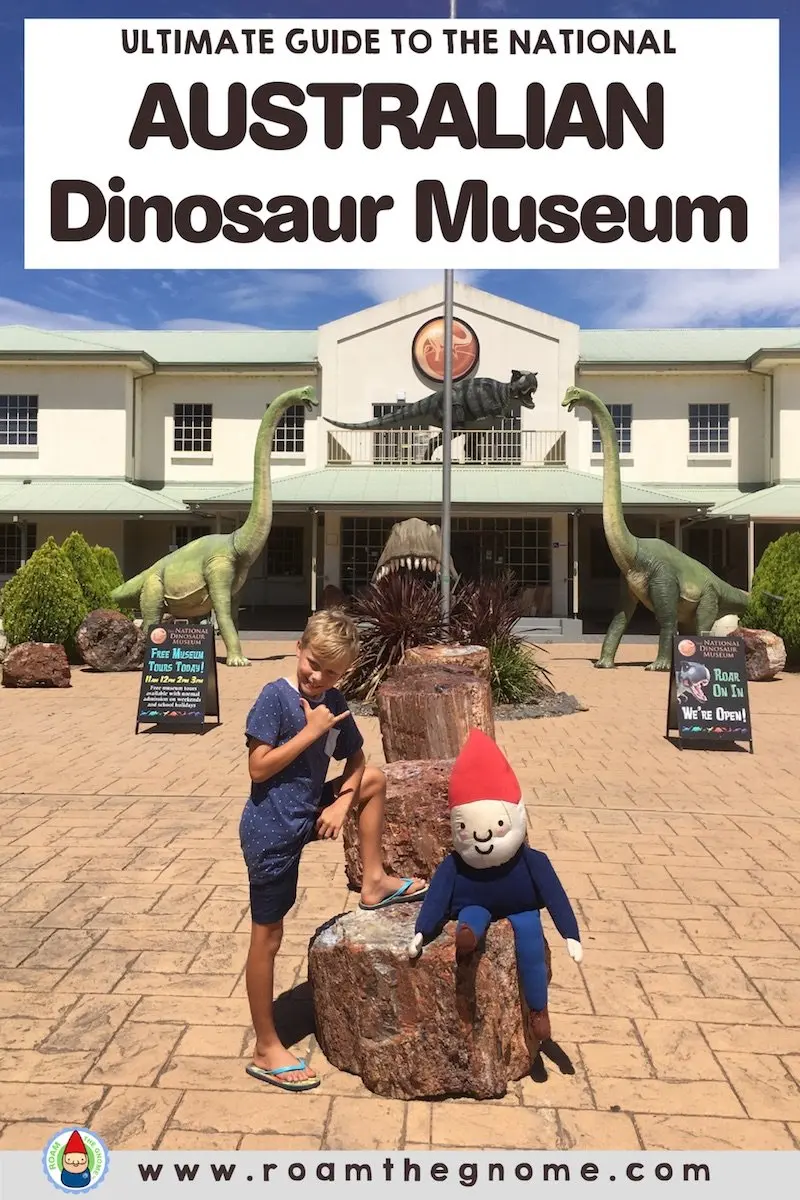 The National Dinosaur Museum Canberra Australia for Kids
What are the best activities to do with children when visiting Canberra with kids?
THIS ONE.
We've never seen so many dinosaur statues, sculptures and life-size replicas in one museum before.
The Dinosaur Museum in Canberra Australia has the best collection ever, including Australian dinosaurs
Room to room is filled to the brim.
The National Dinosaur Museum is Australia's largest permanent display of prehistoric specimens, located in Gold Creek Village near Canberra.
It's one of the best Canberra tourist attractions – a must do for dino-loving kids.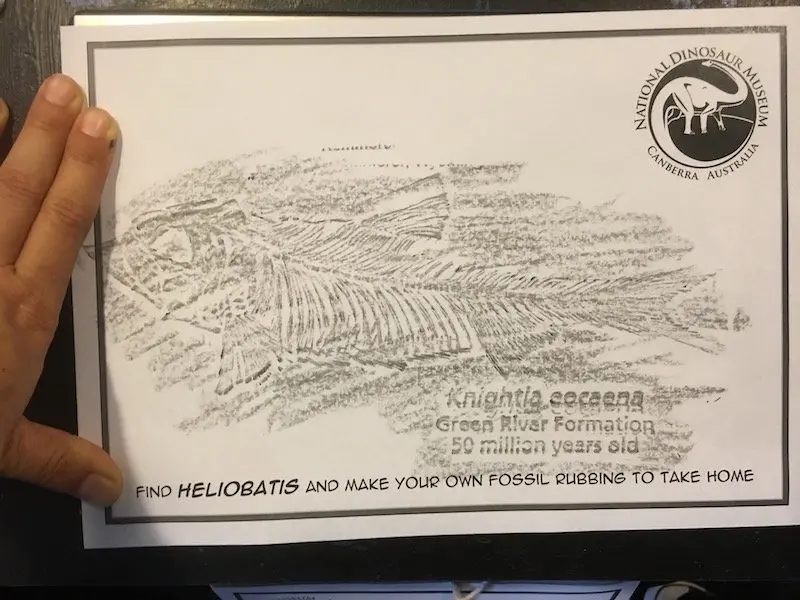 The Dinosaur Museum Canberra Family Lounge Activities
Start downstairs in the Dinosaur Activity Centre Family Lounge room where kids can:
play with dinosaur puzzles
watch dinosaur documentaries while lazing in beanbags
read dinosaur books
jump out of a giant dinosaur egg, and scare their brother or sister
build dinosaur skeletons
colour in dinosaur pictures
play with dinosaur figurines and toys, and
make fossil rubbings of dinosaurs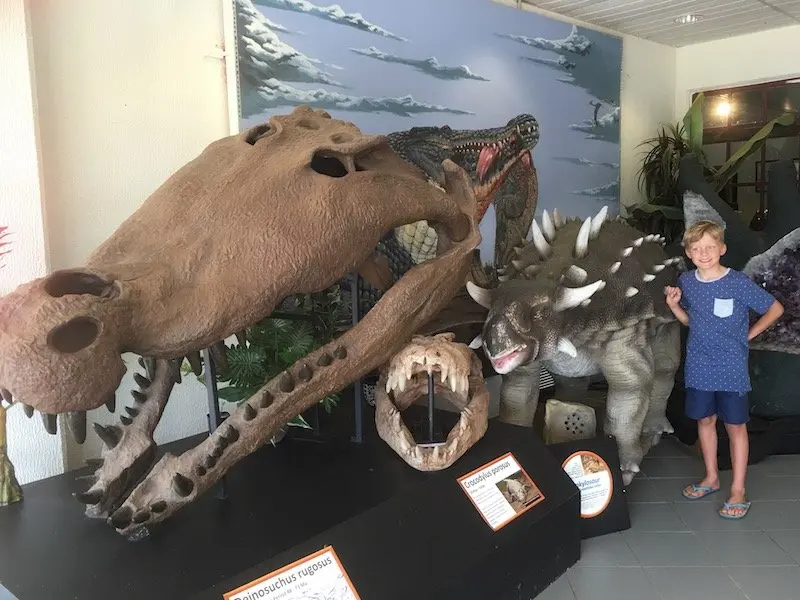 The Australian Dinosaur Museum Canberra Exhibits
The National Dinosaur Museum is not just about Dinosaurs.
The exhibitions cover the history of life on this planet with fossils from 700 million-year-old marine fauna through to fish, amphibians, reptiles, birds and mammals.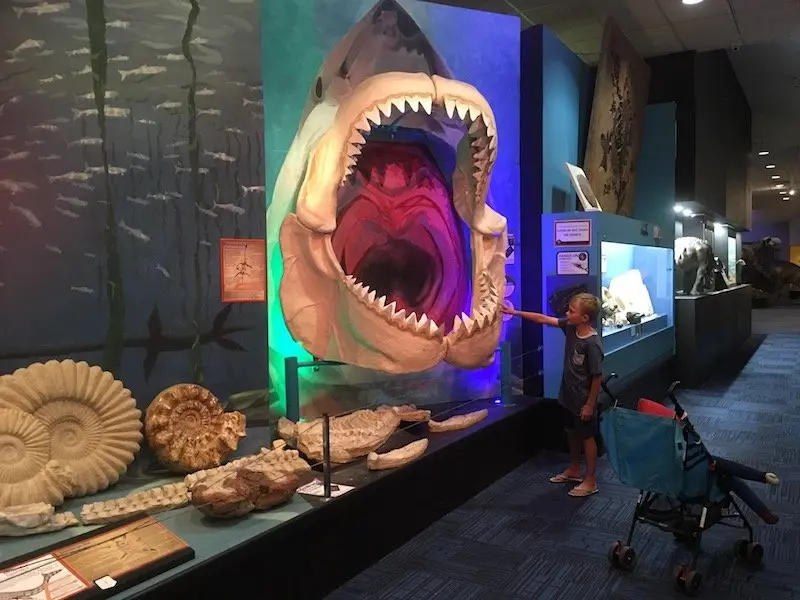 Highlights
The exhibitions are ordered chronologically and are easy to follow.
You can hire Info Wands at the front desk.
Use these to scan the Infodots on different displays to hear a short audio presentation about the things on show.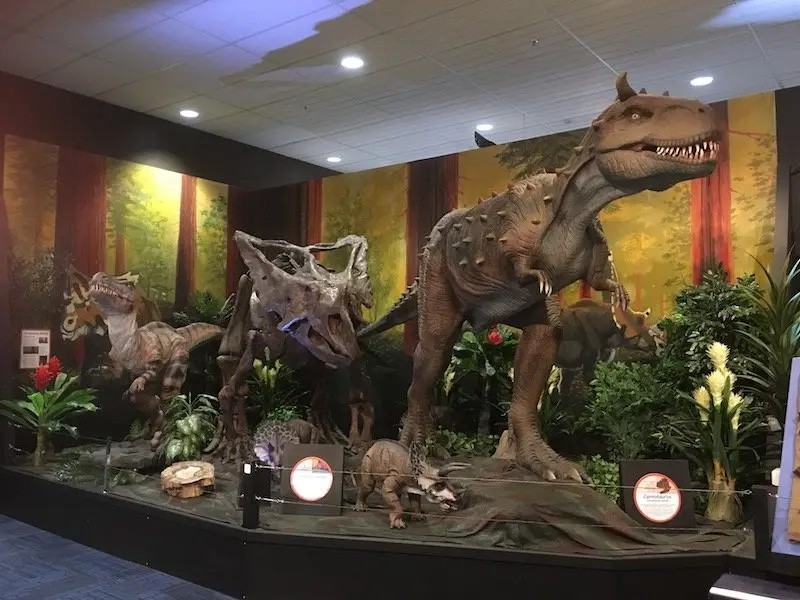 Best Features include:
Easy to read, educational information panels.
Beautiful murals depicting reconstructions of environments from the prehistoric past to enhance understanding of extinct biodiversity.
Dinosaurs and other fossils not on display anywhere else in the world.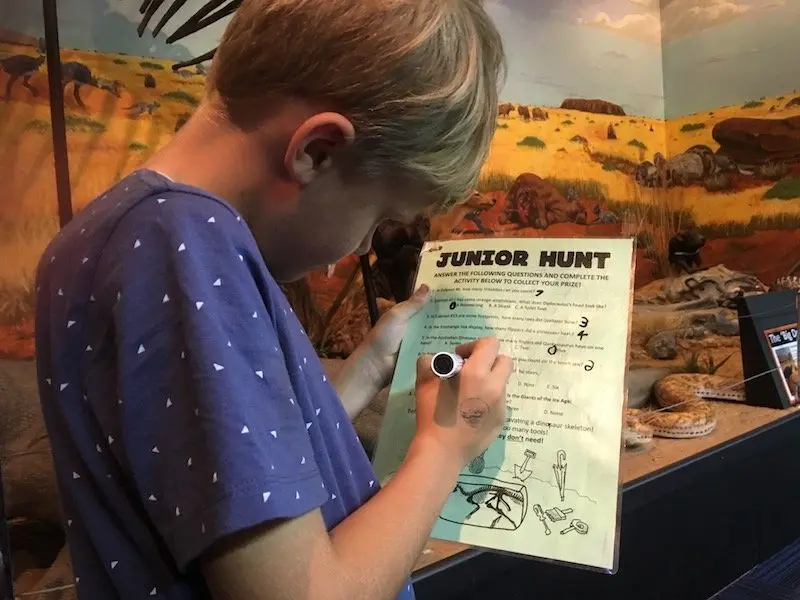 Junior Hunt at the Canberra Dinosaur Museum
Keep the kids engaged by first collecting a Junior Hunt kit at the front desk when you pay admission.
Kids are invited to answer some simple questions and fill them in on a laminated sheet using a whiteboard marker.
When they finish, take it back to the desk for a certificate and a real fossil to take home! Kids love it.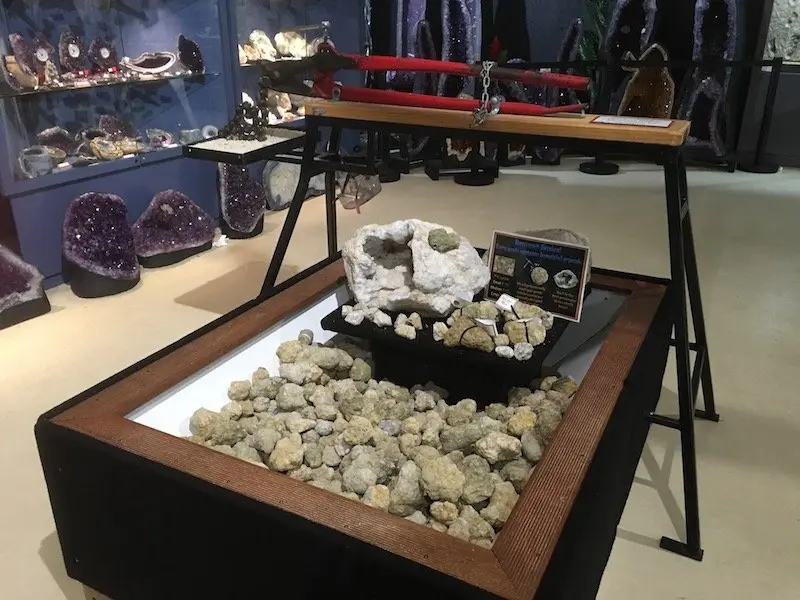 Dinosaur Museum Canberra Gift Shop
To the right of the admissions desk is the Dinosaur Museum shop.
As well as all your expected dinosaur-themed gifts, and a few surprises, the best thing is the fossils and gem showcase.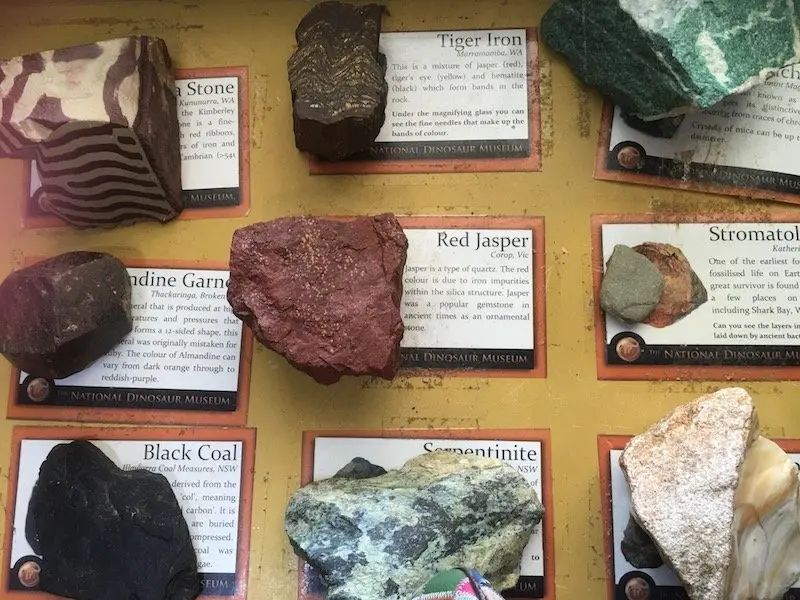 Fossils and Gems showcase
This area is filled with a collection of:
fossils
crystals
gems
geodes
rocks, and
a collection giant metre-high amethyst caves.
It's a mini museum inside the museum.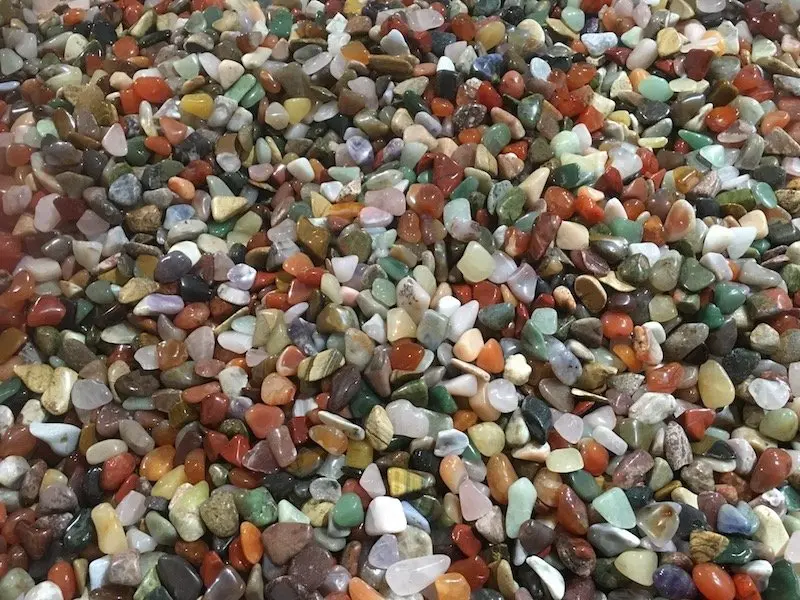 Polished gemstones
Treat the kids to a $5 bag of tumbled gemstones to avoid major meltdowns!
(Bribery is a tactic we call upon when in desperate situations like this.)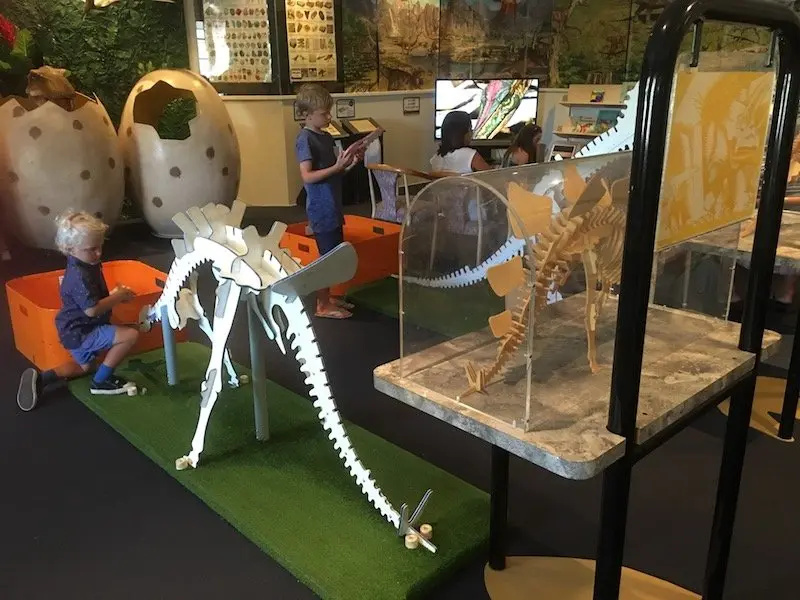 Free School Holiday Events at The Australian Dinosaur Museum
Look out for free kids activities during the holidays.
They may include:
Dinosaur Hunt
The Dinosaur Hunt where visitors can search the displays for answers to our prehistoric quiz and win a real fossil to take home
Guided Tours at the Dinosaur Museum
Guided tours where expert guides take families through the exhibition and answer all those sticky questions and learn more.
Tours run at:
The tours are free with admission and require no bookings, just show up!
Paint a Dinosaur Egg
Staff do a short presentation on the different shapes dinosaur eggs came in, then children are given their own egg to decorate with water-based paints.
BYO Picnic Lunch
Take a healthy picnic lunch with you as there is no cafe.
(Here's a guide to the best fun & healthy snacks & food for picnics and road trips)
There are tables and chairs outside in the shade.
If you are desperate, there is a self-serve instant coffee machine inside the building.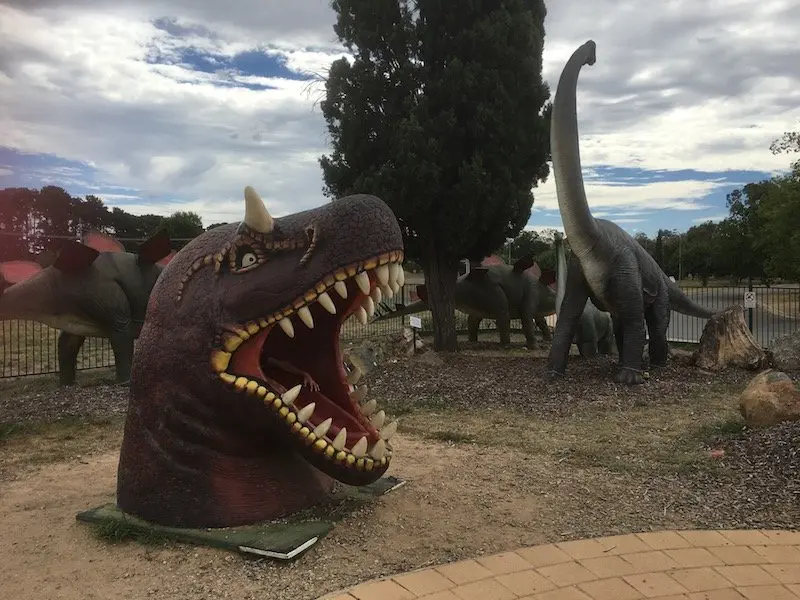 The Inside Scoop – The National Dinosaur Museum in Canberra
Correct at time of publication on Roam the Gnome. Please check with venue for updates. We apologise in advance if there have been any changes we are unaware of. All prices in AUD dollars, unless otherwise stated
Dinosaur Museum Canberra Address: The Australian Dinosaur Museum (sometimes called the Gold Creek Dinosaur Museum) is located in Gold Creek Village at 6 Gold Creek Road , Nicholls, ACT 2913
Telephone: (02) 6230 2655
Website: Click here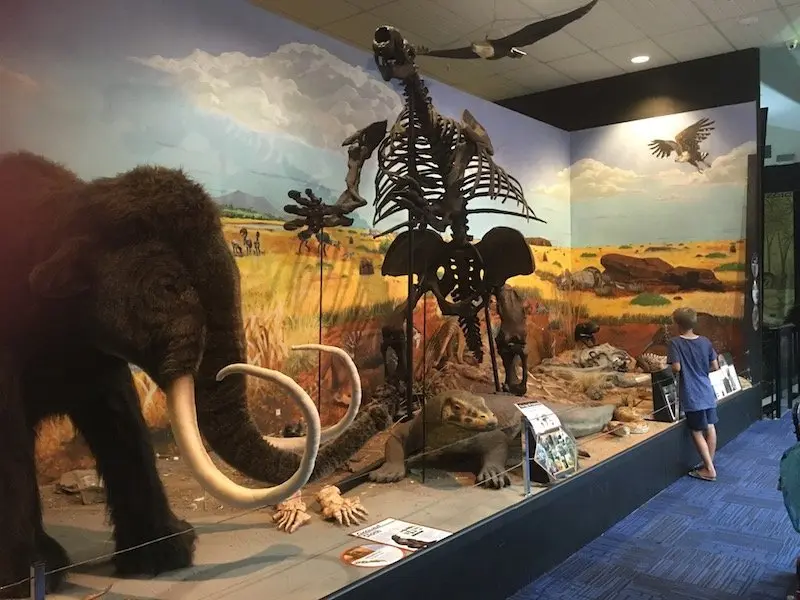 Dinosaur Museum Canberra Opening hours
Open 7 days a week from 10am –5pm.
Last admissions are at 4:30pm.
Closed Christmas Day.
Entry Fee for Dinosaur Park
The current Dinosaur park entry prices are:
Adults: $18
Children: $11
Family:$50 (Extra Child $5)
Concession:$13
Children 3 years and under: FREE!
Buy Dinosaur Museum Canberra tickets at the door.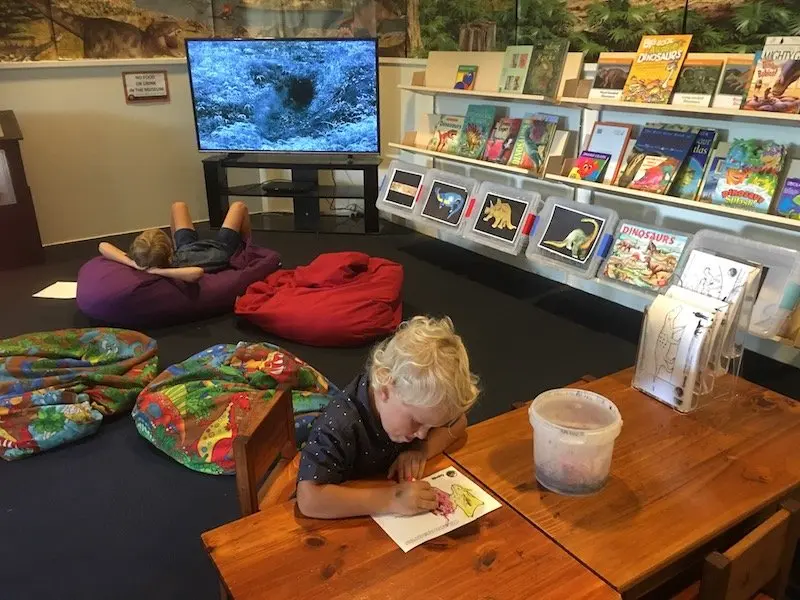 How to get to the Dinosaur Museum Canberra
By Car: 15 minutes (12 km) from Canberra's CBD via Northbourne Ave/A23 and Barton Hwy/A25
By Bus: Approximately 50 minutes by bus with one change. Click here for bus details.
Looking for Dinosaur museum directions? Click here and choose your starting point.
Parking at the National Dinosaur Museum Canberra
There's plenty of free parking onsite.
The Dinosaur Museum in Canberra Map
Facilities
Nearest takeaway coffee: Gold Creek village cafes and restaurants – click here for details.
Toilets: Yes, including baby change table
Disability access: Yes. Lift available to second floor.
Closest ATM: On site.
Food options: BYO only. Picnic tables outside.
Picnic tables: No
Electric BBQs: No
Water Bubblers/fountains: No
Scooters and Bikes: No
Dogs: No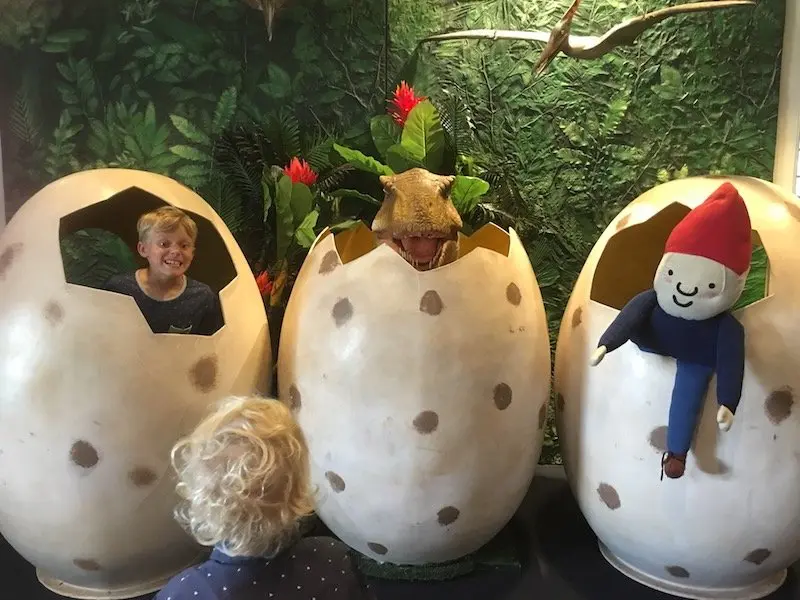 Toadstool Rating – The Dinosaur Museum Canberra Australian Capital Territory
It's is a little run down, and not as slick or shiny as some other premier tourist attractions in Canberra, but the bonus family lounge of activities makes it worth the entry price.
We stayed for hours.


Looking for MORE SUPER DOOPER FUN places to visit in Canberra with kids?
Click the links in blue below for more Canberra attractions.