INSIDE: Everything you need to know about the Arboretum Park Canberra for kids – the top spot for nature play in Canberra.
The super cute Pod Playground at the Canberra Arboretum is not the only fun activity there.
In fact, if your kids (like mine) love open space and nature play just as much as any manmade play equipment, no matter how cute it is, then a trip down to the Himalayan Cedar Trail at the Arboretum will be a highlight of their Canberra trip.
These cultivated forests are simply magical.
Take a sneak peek below to see what you'll find at Arboretum Park Canberra!
Disclosure: This article contains affiliate links. If you make a purchase after clicking on one of these links, we may receive a small commission at NO extra cost to you.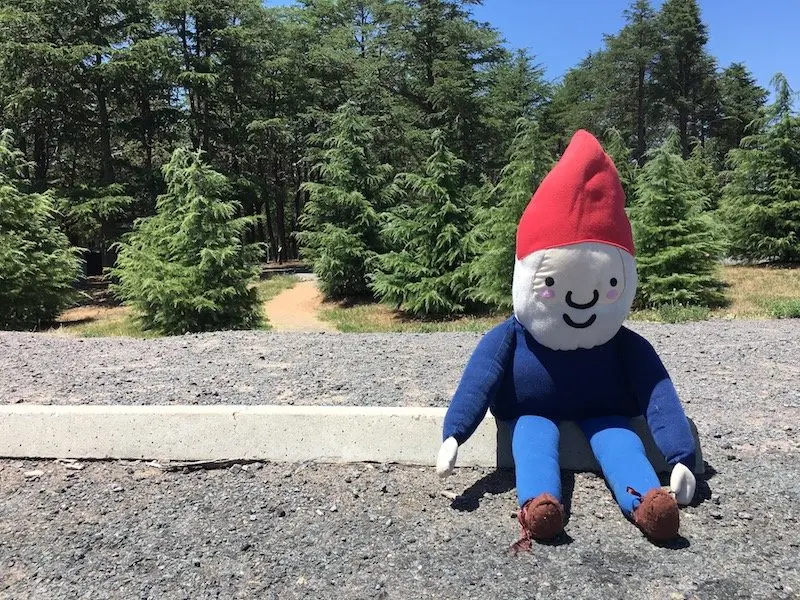 What is the Arboretum Canberra?
What is an Arboretum? According to the signboard I tracked down to find out, The National Arboretum Canberra is a living collection of trees for:
scientific
conservation
education, and
research purposes.
It is home to more than 44,000 rare, endangered and symbolic trees from Australia and around the world, growing across the huge 250 hectare site.
The Arboretum Trail network is a series of tracks and trails for walking and cycling, suitable for families, children and, somewhat surprisingly, your favourite pooch.
When was the Canberra Arboretum built? It was officially opened at a dawn ceremony on 1 February 2013.
---
RELATED: The ULTIMATE LIST of THINGS TO DO IN CANBERRA WITH KIDS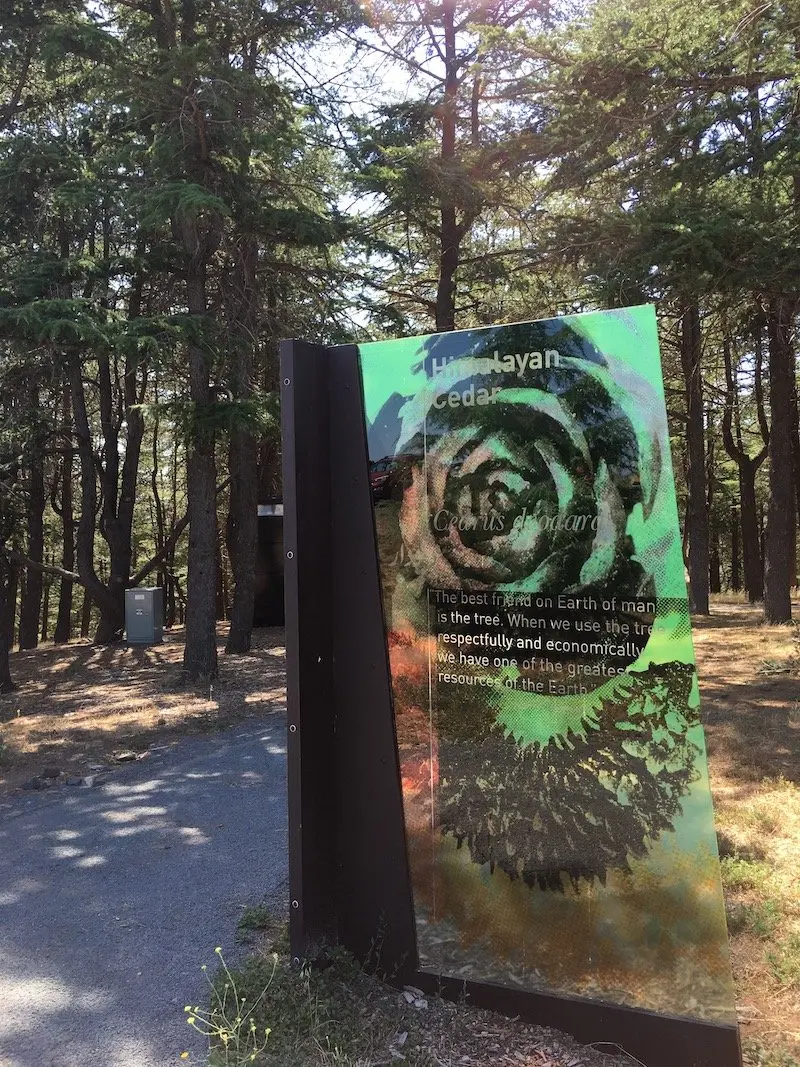 Guide of Best Things to do in the Arboretum Park Canberra
Friends of mine who live in the National Capital of Australia suggested we meet with the kids at the Himalayan Cedar Grove at the Arboretum.
There's a carpark up top, with a fancy toilet block nearby, and a cleared pathway leading down to a verandah area of seating (the Himalayan cedar picnic deck) with views across the forest.
But that was just a stop on the way to the real adventure.
A trek (or gentle mosey depending on your energy levels) into the depths of the Himalayan Cedar Grove.
Hot tip: bring a thick impermeable picnic blanket with you.
The comfier and thicker the better.
Spiny Himalayan cedar needles are nasty if they poke you in the bum!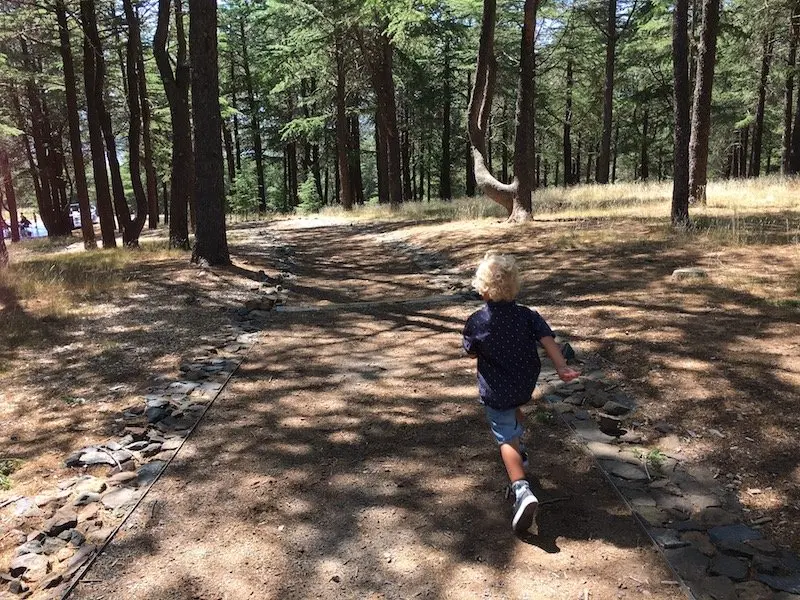 Canberra Arborteum Nature Play Ideas
BYO walkie talkies
Our gaggle of kids spent two hours:
racing one another up and down the trail
building cubby houses from fallen branches in amongst the cedar trees
using walkie talkies to play hide and seek, and
just generally having a right good ol' time.
We parents sat back and enjoyed the peace and quiet, nibbling on homemade cheese platters and crackers, chatting as they played, interrupted only by their calls for food and water.
Nature Play in Canberra is super fun at the Canberra Arboretum forests.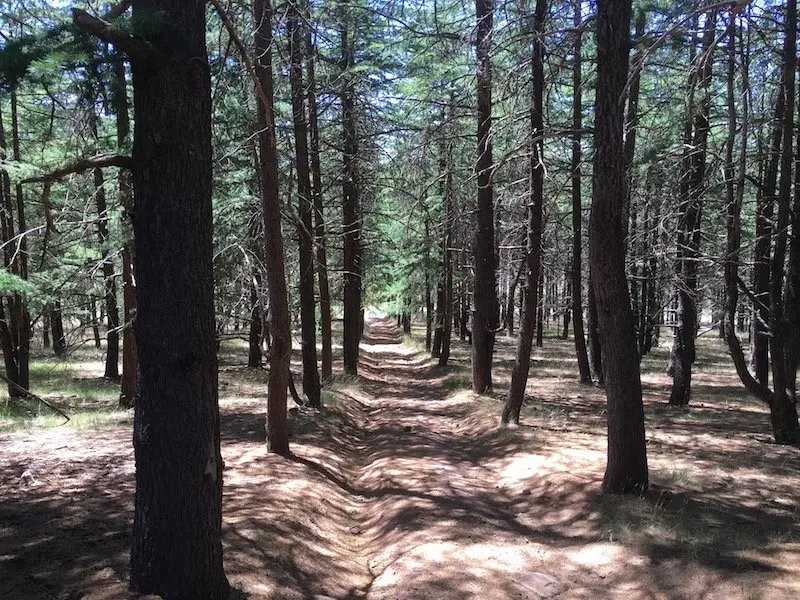 Things to do in Canberra with kids.
The Himalayan Cedar Trail is a 2.2km return walk.
Starting near the Pod Playground, the track takes you past the Wide Brown Land sculpture to the majestic Himalayan cedar forest, planted in 1917-1930.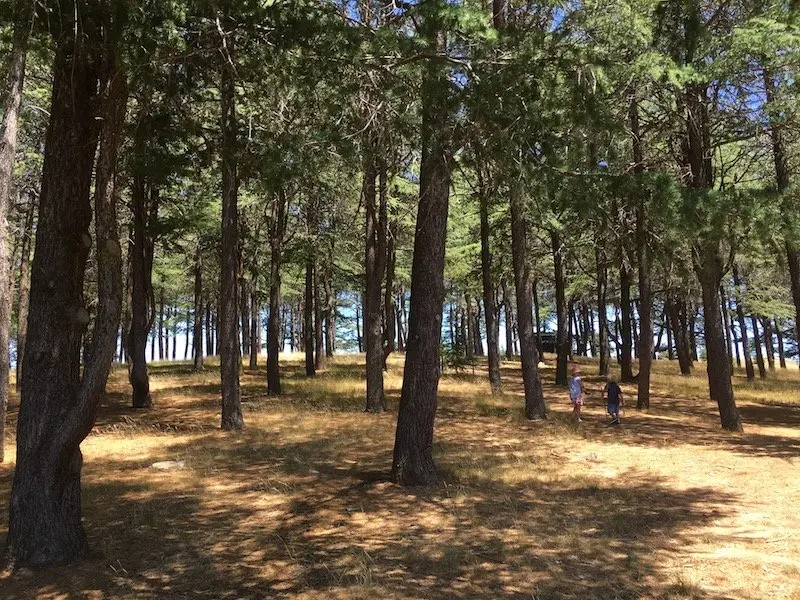 Other trails you can try include:
the Cork Oak Trail easy loop walk planted in 1917 and 1920 from acorns provided by Walter Burley Griffen, the designer of Canberra.
the STEP circuit, a 700 metre return walk to the regional botanic garden for the Southern Tablelands Ecosystems Park (STEP). There's an outdoor meeting place and picnic space here.
the Dairy Farmers Hill Circuit, a 2km return loop walk with fabulous panoramic views over the Arboretum. This is a walk through rare, endangered and symbolic trees.
There's also the Canberra Centenary Trail for walkers, dogs, and cyclists, and the Bicentennial National Trail for walkers, dogs, cyclists and horses.
Click here for an Arboretum map of the walking trails.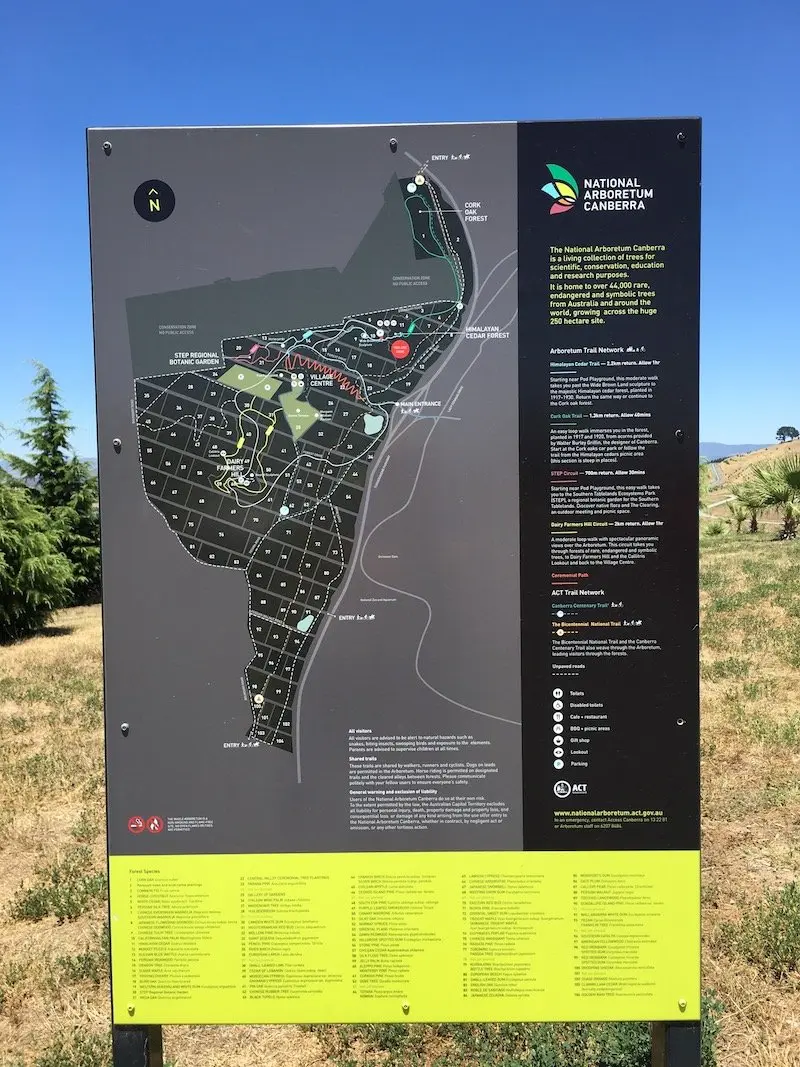 National Bonsai and Penjing Collection
Be fascinated by this extraordinary national collection of miniature trees and forests in the National Bonsai and Penjing Collection.
Canberra Discovery Garden
Learn about water-efficient, sustainable gardening at the Canberra Discovery Garden.
The Discovery Garden demonstrates what to grow to achieve an interesting garden all year-round, while using minimal water.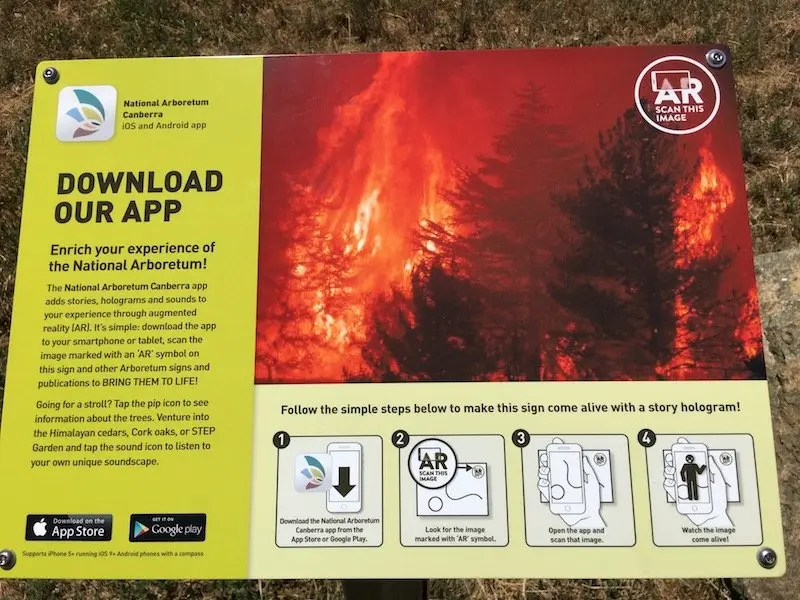 National Arboretum App
Kids will love the National Arboretum App.
It's the ultimate modern technology to elevate your Canberra Arboretum experience.
The app adds stories, holograms, and sounds to your experience through augmented reality (AR).
Download the National Arboretum app to your phone or tablet and scan the images on the signs and publications around the Canberra Arboretum to bring them to life!
Download app here on Google Play
Canberra Tourism really is taking new leaps and bounds!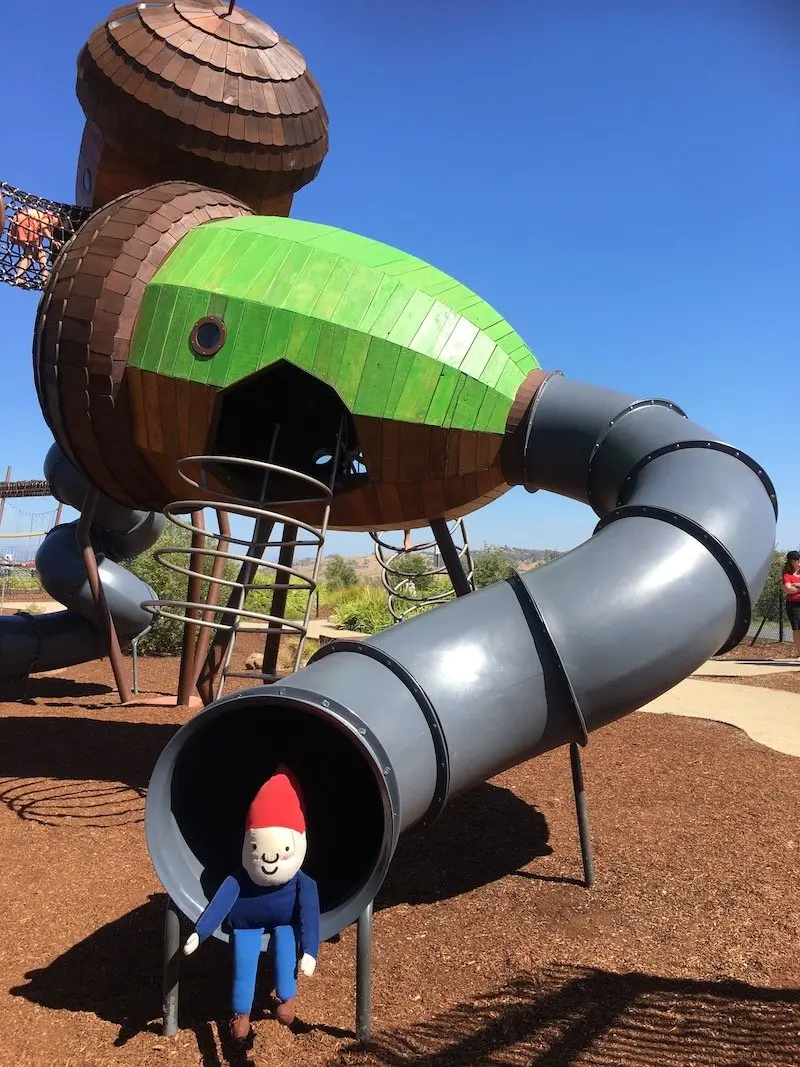 Arboretum Playground Canberra (Pod Playground)
A day here simply would not be complete with at least an hour at the Pod Playground at the Arboretum.
You can also find more of the best Canberra playgrounds here.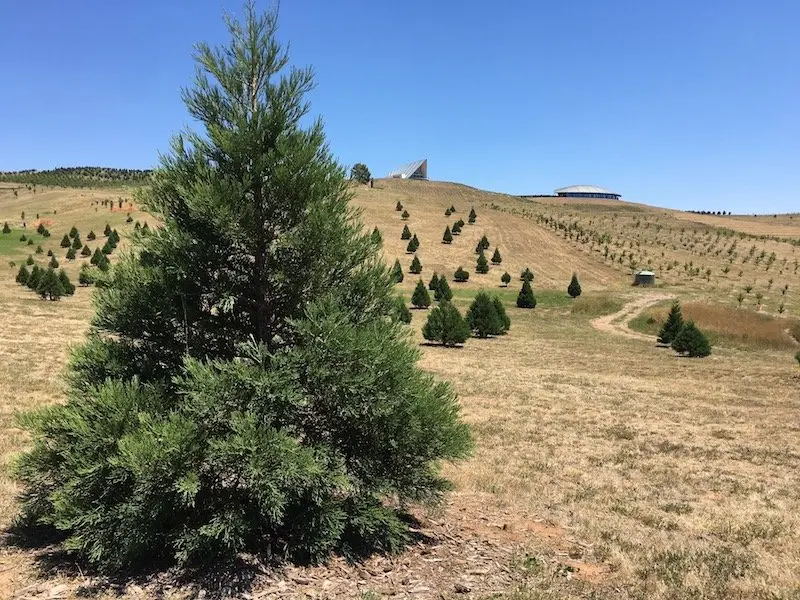 Where to eat at the National Arboretum Cafe & Grounds
BYO Picnic food
Visitors are welcome to pack your own healthy picnic food and non-alcoholic drinks, and eat outdoors in the forests, or on the Village Centre decks.
Sprout Cafe Arboretum Menu
Alternatively, purchase food and drinks at Sprout Cafe in the Village Centre.
They sell a range of:
yummy snacks
excellent coffee
fresh healthy lunches and
picnic food options
Café food is available everyday from 9am – 4pm, and there's no need to book.
Please note: indoor seating in the Village Centre is reserved for cafe patrons only.
Conservatory Restaurant
The Conservatory Restaurant serves:
lunch every day from 12-2pm, and
breakfast on Saturday & Sunday from 8am-11am.
Make a booking to enjoy contemporary Australian cuisine made from the finest local produce.
Bookings recommended on 02 6130 0173 or [email protected].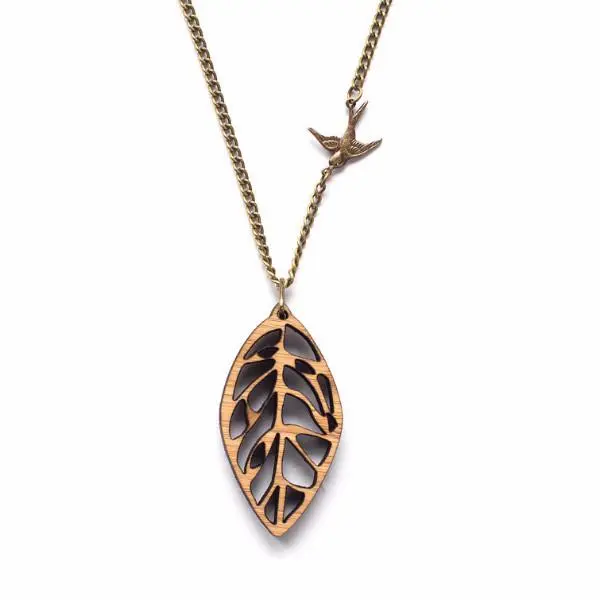 Image credit: The Curatoreum Gift Shop
Where to shop at the Arboretum
The Curatoreum gift shop stocks a wonderful range of bespoke gifts and souvenirs including:
creative books on nature & simplicity
design books
biographies & coffee table tomes
Myrtle and Moss scents, body and beauty products
delicious cookbooks
children's activities, toys and clothes
silk scarves, woollen beanies and linen
homewares, gifts, and jewellery.
With its focus on sourcing unique Australian gifts and books, there are new treasures to discover each visit.
For more information, or to shop online, visit this link
Or phone (02) 6251 3371.

National Arboretum Canberra Events
There's always free events on at the Arboretum.
These include:
introductory talks
daily guided walks
ceremonial tree plantings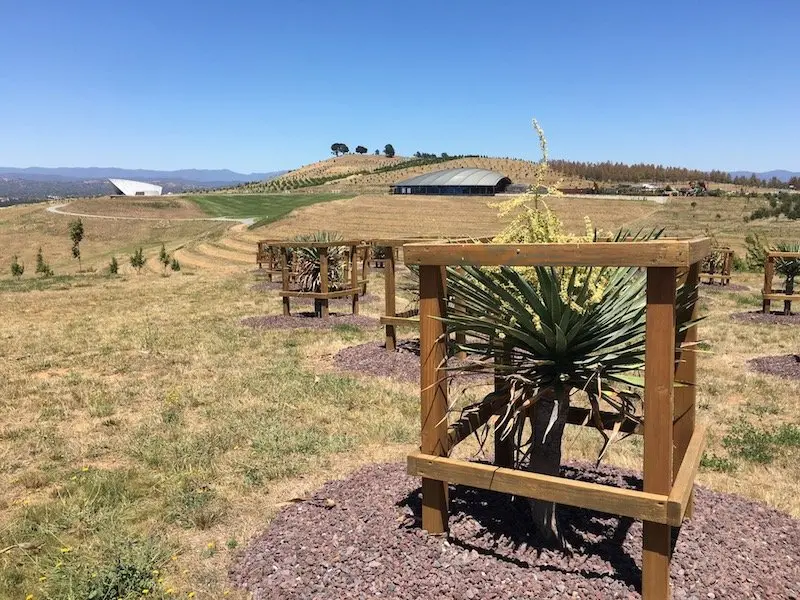 THE INSIDE SCOOP: Canberra National Arboretum
Correct at time of publication on Roam the Gnome. Please check with venue for updates. We apologise in advance if there have been any changes we are unaware of. All prices in AUD dollars, unless otherwise stated
Address: Forest Drive, off Tuggeranong Parkway, Weston Creek ACT 2611.
The National Arboretum Canberra gardens is located six kilometres from the centre of Canberra, at the western end of Lake Burley Griffin, Australian Capital Territory.
Telephone: Information desk on 02 6207 8484, Monday to Sunday, 9am – 4pm.
Email: contact [email protected]
Website: Click here
The Canberra Arboretum Opening Hours
The Arboretum grounds and Pod Playground are open:
from 6 am to 8:30 pm seven days a week during Daylight Savings Time, and
from 7 am to 5:30 pm seven days a week during Eastern Standard Time (Non-daylight Savings Time).
The Village Centre, National Bonsai and Penjing Collection, Sprout Cafe and The Curatoreum shop are open from:
9 am to 4 pm
Seven days a week.
The National Arboretum is closed Christmas Day, 25th December.
Entry Fees:
Entry to the Canberra Arboretum is free-of-charge.
Paid parking applies in some areas. See below for details.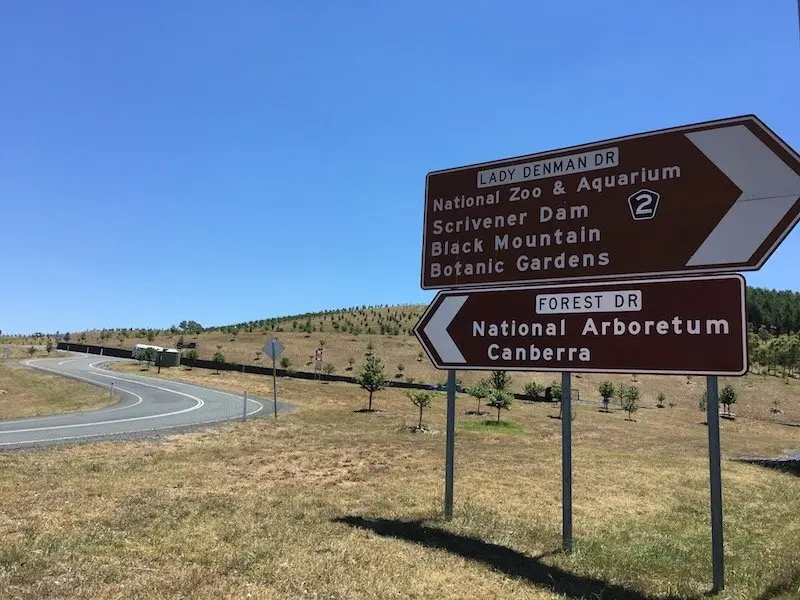 How to get to the Arboretum in Canberra
The Arboretum is about trees and forests, and there's nothing like getting outdoors and seeing the trees, landscapes and views.
Explore the Arboretum by car, bus, bike, horseback, or on foot.
By Bus:
ACTION Buses leave from Platform 10 at the City Bus Station and stop at the Arboretum five times per day, seven days a week.
Buses take 21 minutes to reach to Arboretum's Visitors Centre from the city.
For timetables, see ACTION Bus Routes 81 on weekdays and 981 on weekends.
By Car: Click here to add your location to get google map directions
Parking at Himayalan Cedar Forest
Limited sealed-surface car parking is available at the Himalayan Cedar Forest and Dairy Farmers Hill car parks.
Parking is free of charge in these car parks.
Parking at the Arboretum
General parking is available in the main car park and requires payment for parking between 9am and 4pm, 7 days a week.
Rates are $2.10 per hour to a maximum of $7.80 per day.
The parking meters accept coins or credit card.
All parking fees are returned to the Arboretum.
If the main car park is full, the unsealed-surface overflow car park may be open and is free-of-charge.
There is also a small unsealed-surface car park at the end of Cork Oak Road, about 200 metres from the start of the Cork Oak Forest where visitors may park free of charge.
Where is Canberra Arboretum Map

Image credit: Franz Venhaus via Flickr CC BY-ND 2.0
Facilities at the Arboretum Canberra
Nearest takeaway coffee: Sprout Cafe, in the Village Centre.
Toilets: Yes, throughout the Canberra Arboretum
The National Arboretum Safety Tips:
Look out for natural hazards such as snakes, biting insects, swooping birds and exposure to the elements.
Walkers, joggers, cyclists and equestrians should exercise special caution at road junctions, car park entrances and exits and on steep gradients.
Cyclists, walkers and joggers are required to give way to horses.
Disability access:
There are 11 designated free disability parking spaces in the top tier of the main car park next to the Village Centre (sealed surface). Cars displaying a valid disabled parking voucher park free-of-charge.
Small, sealed-surface car parks are available at the Himalayan Cedar Forest and Dairy Farmers Hill. Parking is free of charge in these car parks. The Dairy Farmers Hill car park includes one designated disabled car parking space.
A wheelchair-accessible, sealed and graded gravel path leads from the Himalayan Cedar car park to the forest, picnic deck and 'Wide Brown Land' outdoor sculpture. A wheelchair-accessible, sealed and graded gravel path leads from the Dairy Farmers Hill car park to the lookout.
Closest ATM: The cafe, restaurant and shops take EFTPOS.
Closest playground: The whimsical Pod Playground sits outside the Village Centre at the top of the hill.
Shade: Lots of shade in the forest and at the Himalayan Cedar Picnic deck.
Enclosed: No. Look out for cars in the carpark.
Ground cover: Grass, dirt walking tracks
Picnic tables: Yes, at the Himalayan cedar picnic deck
Electric BBQs: Free electric barbeques are available (Forest 11).
Water Bubblers/fountains: Yes, at the Pod Playground
Scooters and Bikes: Bikes are allowed on certain trails.
Dogs:
Dogs on leads are permitted in the Arboretum during normal opening hours.
Dogs, other than assistance animals, are not allowed in buildings or the Pod Playground.
Dog owners are expected to carry bags and clean up after their dogs. No disposal bins or bag dispensers are provided, consistent with the policy across Canberra's urban parks and open areas.
Toadstool Rating: Australia Botanical Gardens
The National Arboretum in Canberra is a must-do on your next trip to Canberra with kids.
Don't miss the nature play areas!

Looking for MORE SUPER DOOPER FUN things to see in Canberra with kids?
Click the links in blue below for more Canberra attractions.