INSIDE: Everything you need to know about The Discovery Zone at the Australian War Memorial Canberra.
The Australian War Memorial Canberra is surprisingly interesting for kids!
The Discovery Zone at the Australian War Memorial in Canberra, designed for families and children, is an opportunity to experience what life was like in some of the places Australians have served.
We were not expecting that.
The Discovery Zone made our visit to the War Memorial Canberra one of the HIGHLIGHTS of our Canberra visit.
Don't miss it.
Take a sneak peek below.
Disclosure: This article contains affiliate links. If you make a purchase after clicking on one of these links, we may receive a small commission at NO extra cost to you.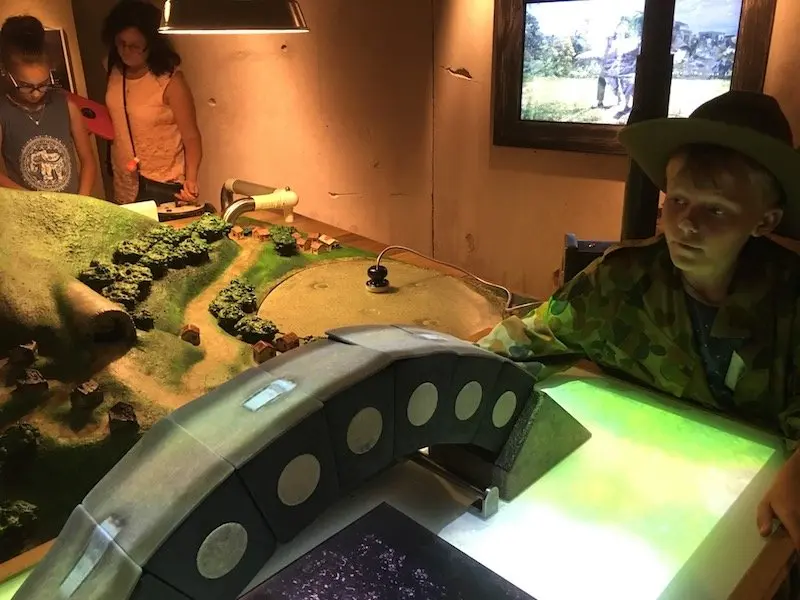 War Memorial Discovery Zone Canberra
The Discovery Zone at Canberra's War Memorial in Australia features five environments inspired by Australia's military history
Discovery Zone Canberra is super hands on, with opportunities to discover something of the experiences of Australians during conflict and peacekeeping.
Kids can explore:
1. A trench on the Western Front in France from the First World War
2. The Australian home front during the Second World War
3. An Iroquois helicopter hovering in a field in Vietnam
4. An Oberon Class submarine, searching for enemy targets
5. A peacekeeping mission in a war-ravaged community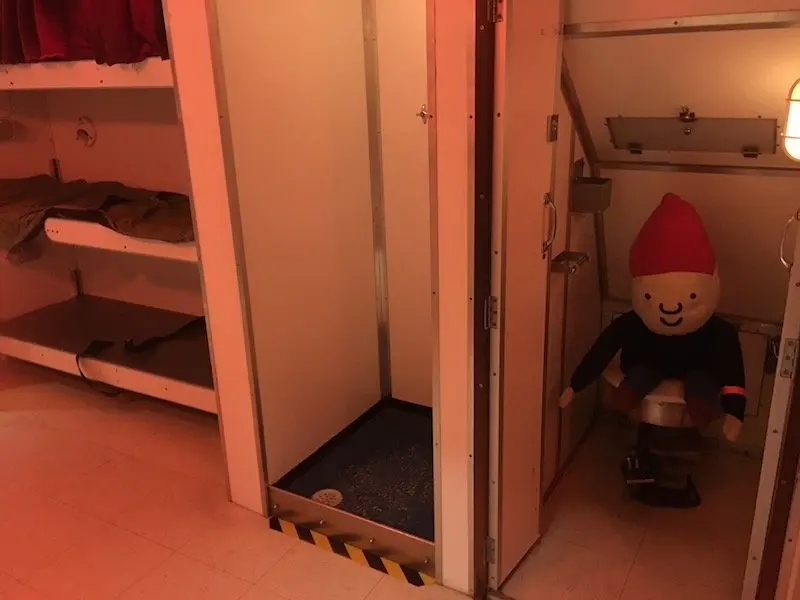 Australian War Memorial Activities for kids
There's hands on opportunities to:
dress up and play pretend
touch and listen and observe and join in
crawl through trench tunnels in darkness,
explore communication systems
---
RELATED: The ULTIMATE LIST of THINGS TO DO IN CANBERRA WITH KIDS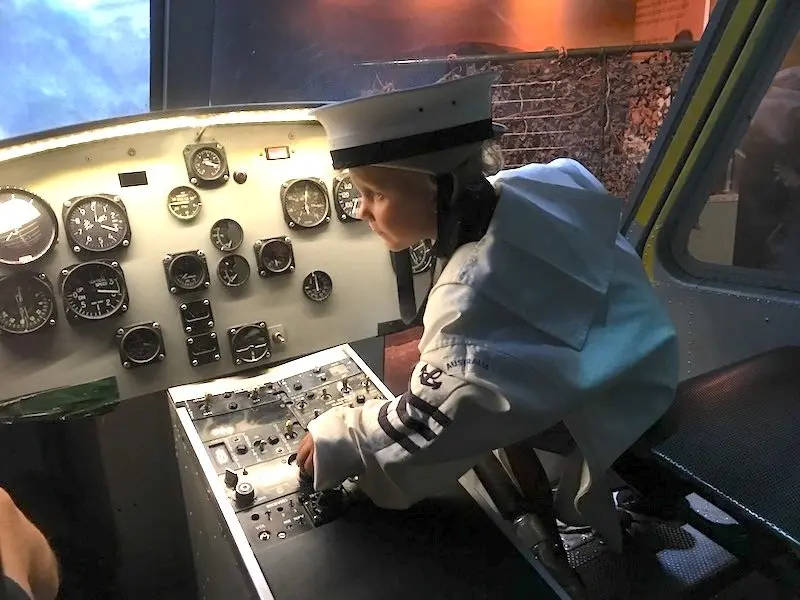 Best Things for Kids to Do at the Australian War Memorial Canberra Discovery Zone
The Discovery Zone is an educational space for visiting school groups.
The public is invited to enjoy this space from 12.30 pm to 1.30 pm on weekdays, and all day during weekends, public holidays and ACT school holidays.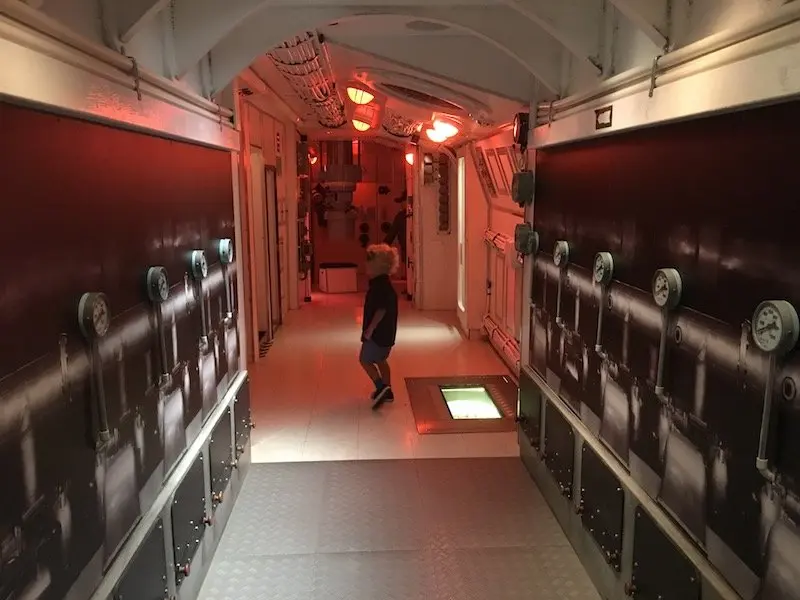 Here's a preview of the activities kids can do:
Dodge sniper fire in a First World War trench
Discover how pigeons were used to carry messages to the men in the front line (hint: it involved a capsule that was strapped to the pigeon's leg!)
Tap out morse code messages
Support the home-front effort in the Second World War
Take control of an Iroquois helicopter in Vietnam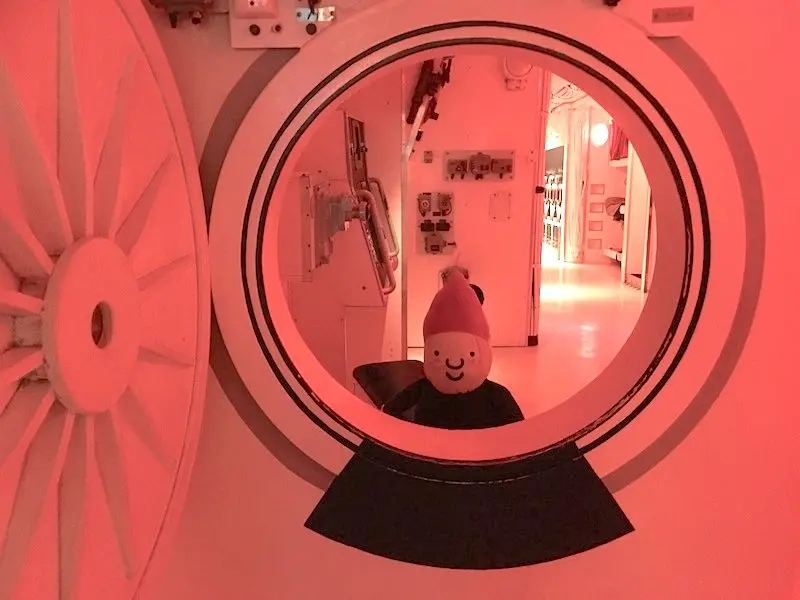 Check out what a Vietnam troop member carried in his trunk
Build a block bridge to help keep transport and troops moving in a virtual reality game
Dive in the Cold War-era submarine and play a game of cat-and-mouse as you try to track a ship on the sonar without being detected.
Peer through the periscope of a Cold War submarine.
Restore peace and order and help rebuild war-torn communities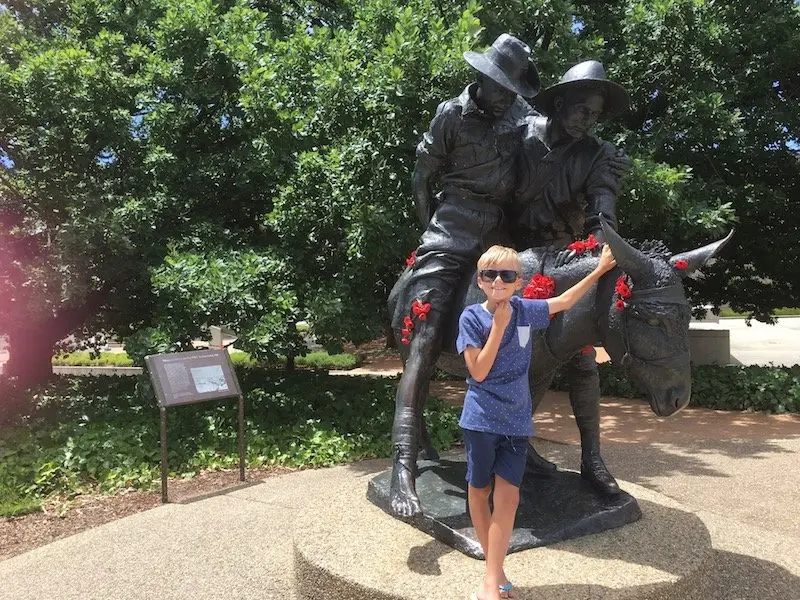 7 MORE things to see at the Australian War Memorial in Canberra
No.1: Statues in The National War Memorial Grounds
Search for the famous Simpson and his Donkey statue in the gardens.
The story behind this act of "mateship" and care is one all Australian kids should know.
"John Simpson Kirkpatrick enlisted in the 3rd Australian Field Ambulance as Private Simpson on 25 August 1914.
He took part in the landing on Gallipoli on 25 April 1915 and became famous among Australian troops for his bravery and compassion.
Under continual shell fire, he used a donkey to carry water up Shrapnel Gully, and to bring wounded men down to the beach on Anzac Cover from the firing line on the ridges above.
After less than four weeks in action, he was fatally wounded on 19 May 1915.
Although he was known on Gallipoli by a variety of nicknames, most of the soldiers who witnessed his bravery knew him as the man with the donkey, without ever learning his name.
Simpson has come to embody for Australians the spirit of self-sacrifice in war."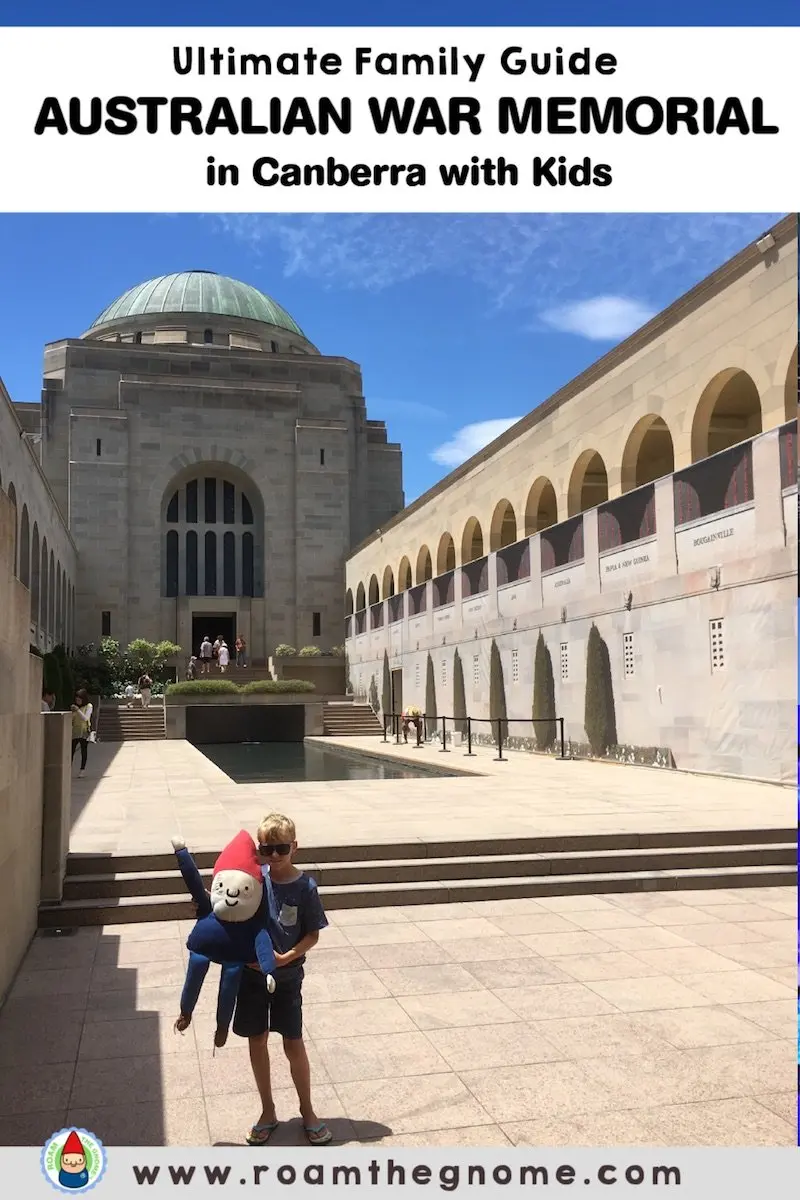 No.2: Front Entrance of the War Memorial Museum
Commemorative Area, the Roll of Honour, and the Hall of Memory
Stepping through the front entrance to the Memorial, your attention is immediately captured by the Commemorative Courtyard.
Straight ahead are the Pool of Reflection and the Eternal Flame.
Above are 26 sculptures carved in sandstone, representing the people and animals inhabiting Australia.
Light and shade
flowers and stone
flame and water
All the elements here are designed to evoke a mood of calm contemplation.
Surrounding the courtyard and glimpsed through arched cloisters is the Roll of Honour.
Here are inscribed in bronze the names of more than 102,000 Australians – all of whom have died during or as a result of serving their country in conflicts since 1885.
The Hall of Memory, set above the Pool of Reflection, is the heart of the Australian War Memorial.
It can only be reached by walking past the names of the more than 102,000 who have given their lives in the service of this country.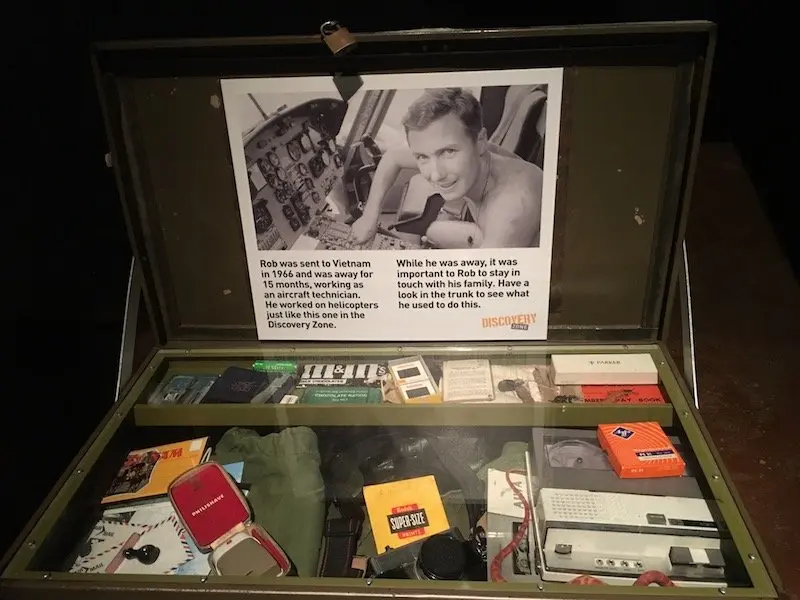 No.3: The Dioramas
Counted among the greatest treasures of the Memorial, the First World War dioramas were constructed in the 1920s.
Two new Korean dioramas were completed in 2007.
Originally built to assist Australians to understand the devastation and danger of battle, the Dioramas are still a stand out feature of the Memorial experience.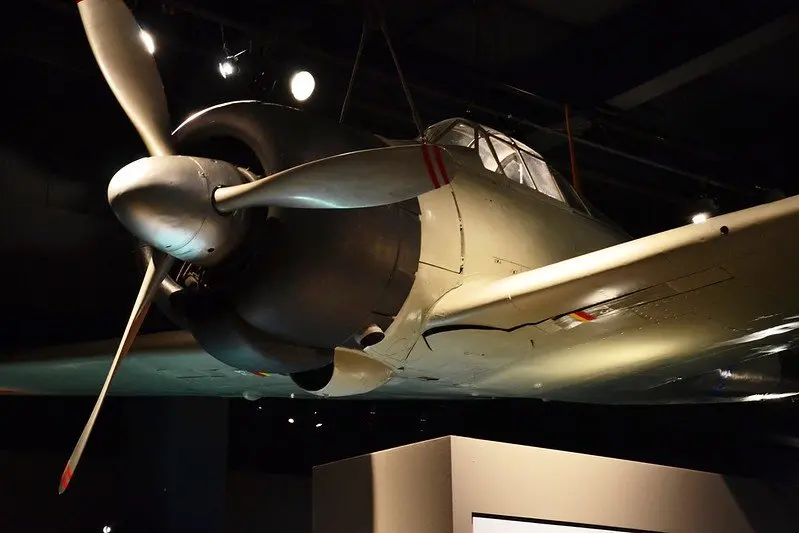 Image credit: Simon Sees via Flickr CC BY-2.0
No.4: Aircraft Hall
Aircraft Hall contains the exhibition Air power in the Pacific, 1941–53.
You can learn about both the practical side of air power – how aircraft work and are put together – and the stories of how it affected everyday life during the Second World War and the Korean War.
No.5: Anzac Hall
Anzac Hall shows some of the Memorial's most significant large objects, using sound and light in innovative ways.
The objects themselves become screens to tell compelling stories of Australia's servicemen and women.
Image credit: Alpha via Flickr CC BY-SA 2.0
No.6: The Galleries
There are four permanent galleries:
First World War
The First World War including Gallipoli and the Western front.
Second World War
The Second World War showing how Aussies fought in campaigns against Germany, Italy, North Africa and Japan
Conflicts 1945 to Today
Tells stories through modern technology about conflict since the end of the the Second World War
The Colonial Conflicts
Covers Australia's early military history from European settlement to the end of the Boer War.
You can also learn about the extraordinary efforts of Australians in Afghanistan through the words of our veterans and their families, and hear stories from survivors of the horrific Holocaust.
Each of these galleries has things of interest for children, particularly large scale replicas of vehicles, but just be mindful that there are objects and stories of a sensitive nature in here too.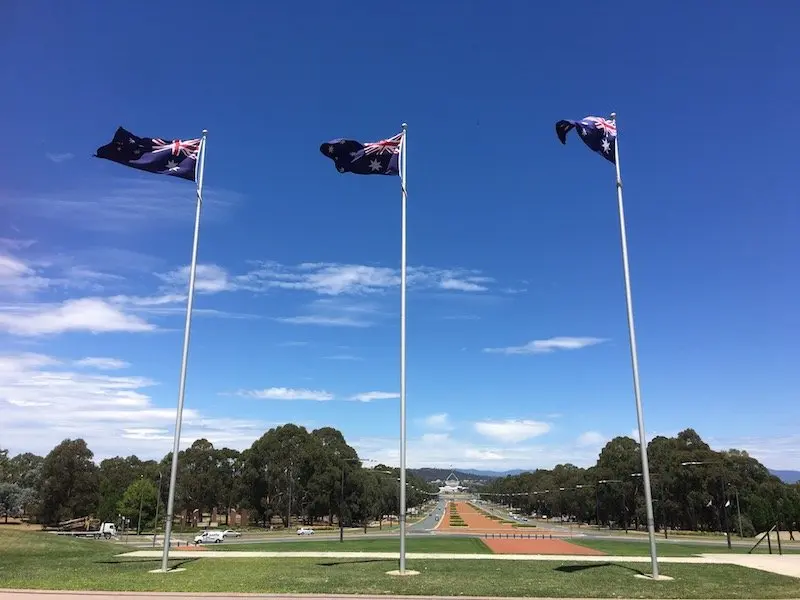 No.7: Experience the Last Post Ceremony Events – Held daily
Commencing at approximately 4.55 pm AEST, the Memorial farewells visitors with its moving Last Post Ceremony in the Commemorative Courtyard.
Each night the ceremony shares the story behind one of the names on the Roll of Honour.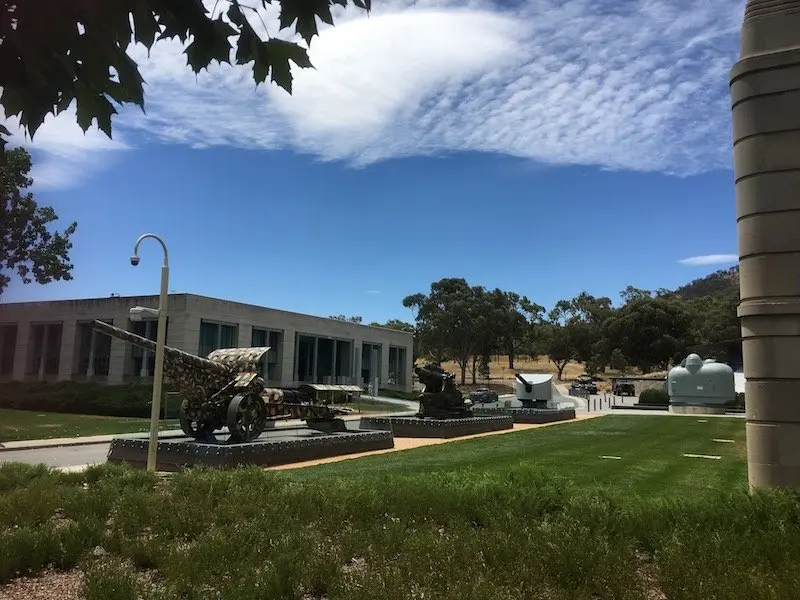 THE INSIDE SCOOP: Anzac War Memorial Canberra
Correct at time of publication on Roam the Gnome. Please check with venue for updates. We apologise in advance if there have been any changes we are unaware of. All prices in AUD dollars, unless otherwise stated
War Memorial Address Canberra: Treloar Crescent, Campbell ACT 2612.
Telephone: (02) 6243 4211
Email: [email protected]
Website: Click here
War Memorial Canberra Opening Hours:
10am – 5pm daily.
Closed Christmas day
Entry Fees: Free entry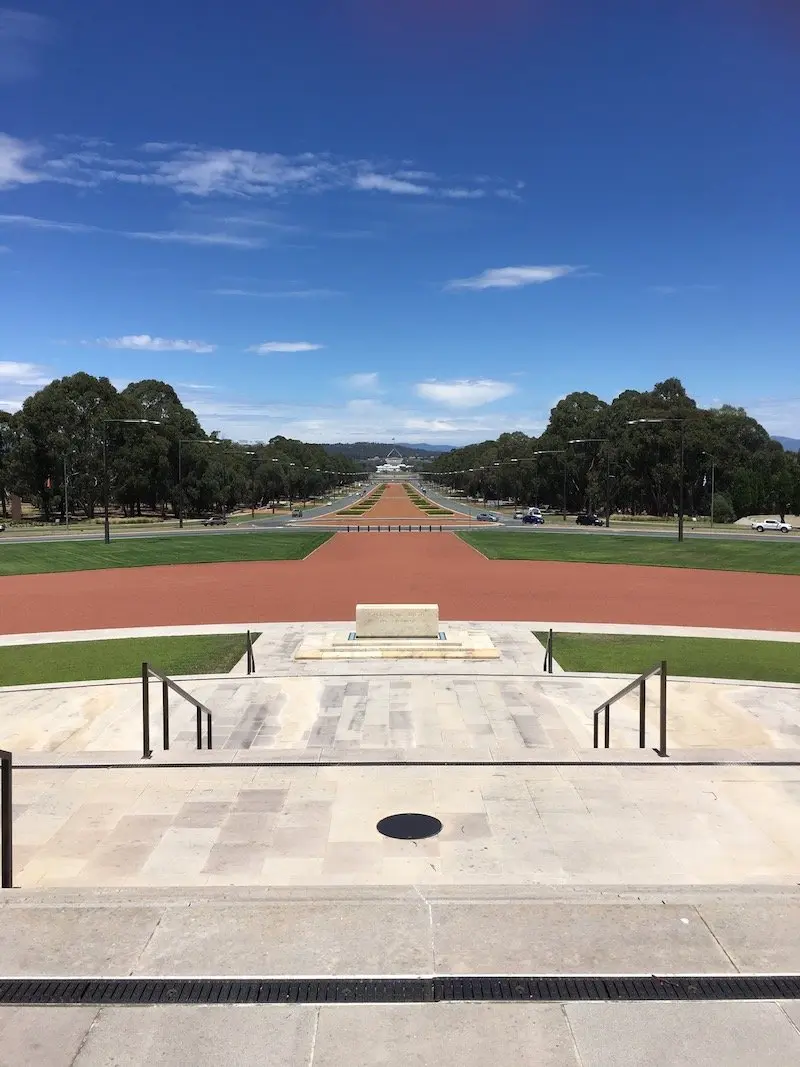 How to get to the National War Memorial Canberra
By Bus:
Transport Canberra regularly services the Australian War Memorial on both weekday and weekends.
Bus stops are located on Limestone Avenue.
Special services also operate on Anzac Day.
Route 10 on weekdays, and Route 910 on Saturday and Sunday.
By Car: The National War Memorial is located at the top of Anzac Parade, just minutes from Canberra's city centre. Click here for directions from Google Maps.
Parking at the Australian Warm Memorial
4 hour limits apply between 7.30am – 6.00pm (Monday to Friday, excluding public holidays).
See the Front Desk for a temporary parking pass if you require longer.
Underground parking is available off Fairbairn Avenue; above-ground parking is available off Treloar Crescent.
The War Memorial Canberra Map
Facilities at the Canberra War Memorial Museum
Nearest takeaway coffee: The War Memorial Cafe
Poppy's Café is located on the Australian War Memorial grounds.
Open daily from 8.30am to 4.30pm.
Breakfast and lunch selections
a children's menu
a range of sandwiches, salads, and mouth watering sweets and cakes for morning and afternoon tea.
Gluten free is available for all meals upon request.
The cafe has a wide variety of beverages, from fresh coffee to milkshakes.
Toilets: Yes, including baby change table
Disability access: Yes
Dogs: No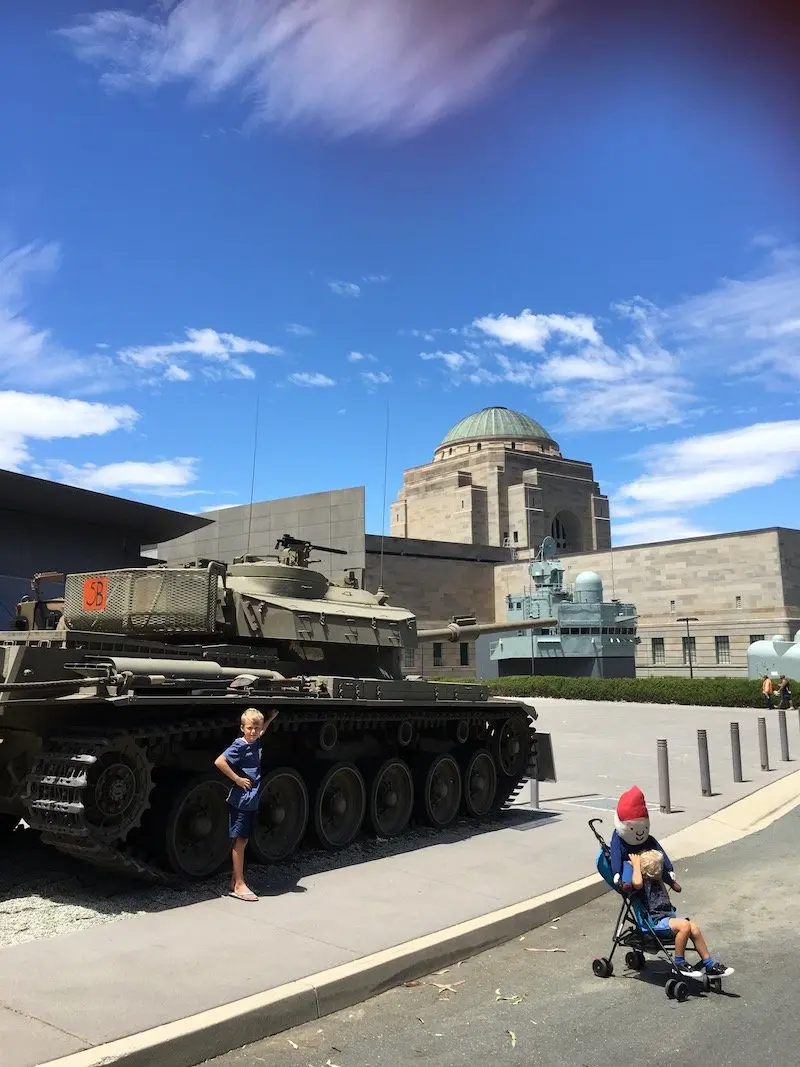 Toadstool Rating – The War Memorial Australia in Canberra
It's educational, reflective, and engaging all in one.


Looking for MORE SUPER DOOPER FUN Things to Do in Canberra with Kids?
Click the links in blue below for more Canberra attractions.