INSIDE: Roam the Gnome's Family Guide to Questacon Canberra & the epic Questacon Free Fall Slide!
The Orange Suit is evidence of my Questacon free fall experience.
Would I do it again?
NO WAY!
It may be short, lasting less than 5 seconds, but those 5 seconds will haunt me forever.
I now know I can NEVER sky dive.
My heart would explode!
But scary as it was, it's AWESOME.
The Questacon Slide is just ONE of the hundreds of fabulous hands-on activities here. Take a look.
Disclosure: This article contains affiliate links. If you make a purchase after clicking on one of these links, we may receive a small commission at NO extra cost to you.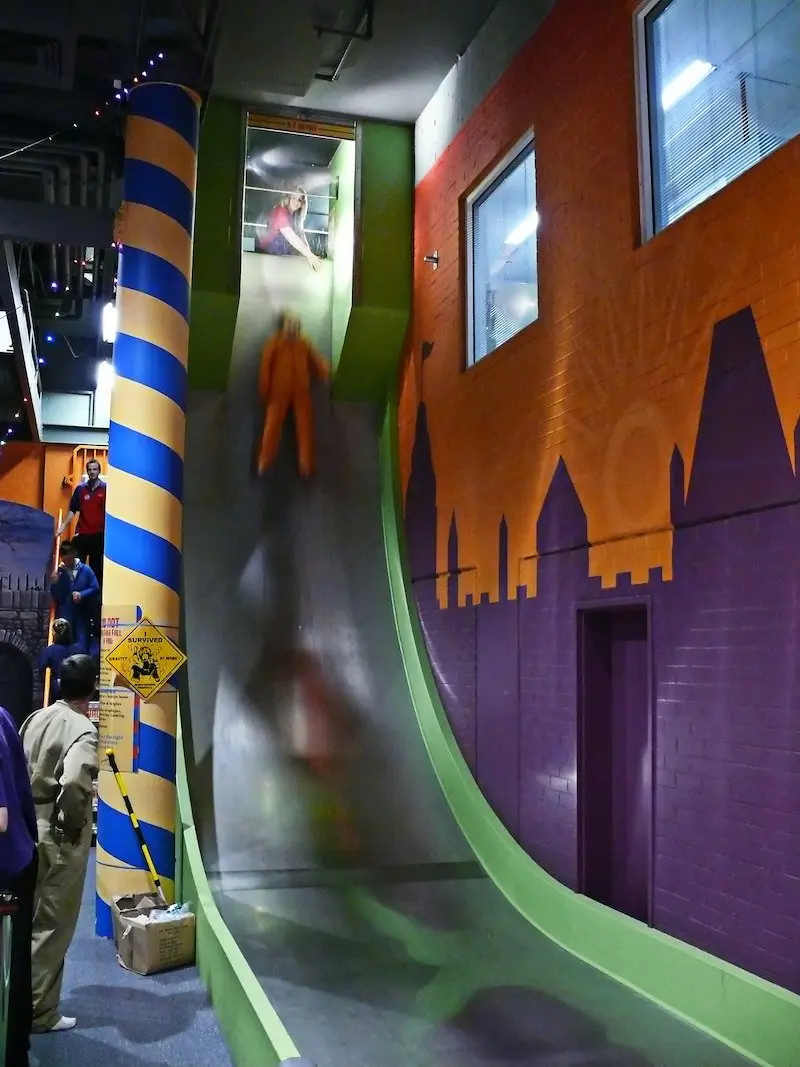 Image credit: Nico Nelson via Flickr CC BY-2.0
Who can ride the Questacon Free Fall Slide?
Questacon's Free Fall slide is approximately 6.7 metres high, and there is an element of fear or anxiety involved for many!
This exhibit requires visitors to pass certain medical and physical checks before use, including a height restriction.
Kids must be 5 or over to have a go.
If you are worried, walk to the top and take a look at this human free fall slide.
There's no pressure to continue if you feel the ride is not for you.
But someone in the family has to do it.
If you haven't got kids over, that person might be you!
(It was me!)
Get ready for the biggest, if shortest, thrill since childbirth.
It's equally as scary, thrilling, and exciting, and the pain of the lead-up is quickly forgotten too.
Find it at Excite@Q in Gallery 7.
---
RELATED: The ULTIMATE LIST of THINGS TO DO IN CANBERRA WITH KIDS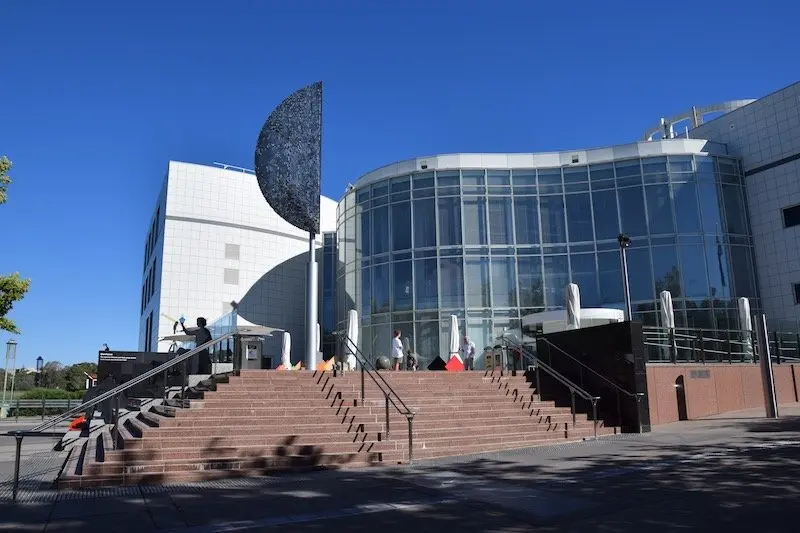 FAQ about Free Fall and Gravity
What is freefall, and What is free falling?
If we had to describe free fall, it's a downward movement under the force of gravity only.
Speed of free fall at Questacon?
That totally depends on your body shape, but strangely, NOT weight. The mass of the object does not come into play in free fall.
But it's quick.
Here's a good explanation of what happens!
What is Questacon Canberra?
Questacon Canberra is the National Science Museum in Canberra, a 7 storey-building full of every science experiment you can ever imagine, and a few more too.
It's one of the BEST Science Museums we've ever visited, and we've seen a few.
We rate Questacon Canberra FIVE toadstools.
In fact, the boys would rate it 10 if they could.
We don't normally give our ratings away till the end, but this place is SO good, we don't want you to skip it.
We want you to put it top of your Canberra itinerary.
We know your kids will love it as much as ours.
Allow at least four-five hours, but you could spend the whole day if you wanted to.

Questacon Science Museum Canberra
Questacon has been a favourite Science Museum of mine since way back in 1998, when I first visited as part of our 12-month "Big Lap" around Australia, with my then 3-year-old daughter.
It hasn't changed that much in the intervening 20 years, other than keep upping the technological value of the exhibits to reflect current times.
Here's a few more things you shouldn't miss: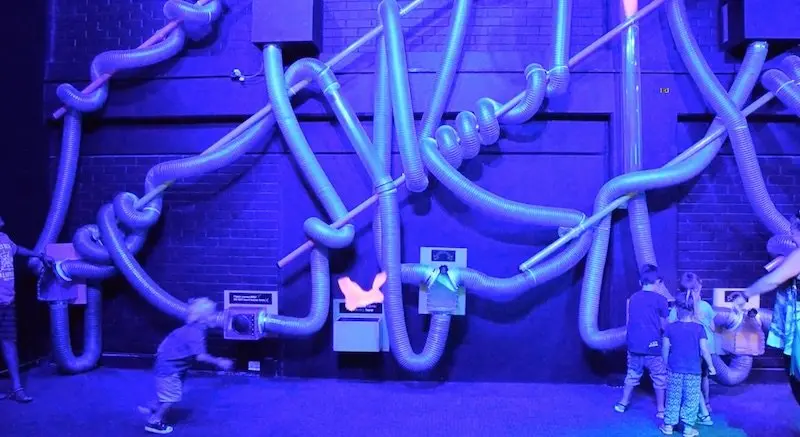 Whoosh
Insert one or more fabric scarves into an inlet box, and watch how the scarves fly through a labyrinth of air tubes via vacuum.
Find it at Excite@Q in Gallery 7.
Awesome Earth
Visit Awesome Earth in Gallery 3 to feel the force of an earthquake.
Hold on tight.
Line up to join the fun.
And, let lightning spark your imagination.
High voltages create a spectacular display of plasma and electric arcs.
Counting down the minutes and seconds is half the fun!
Lightning strikes every 15 minutes.
It's loud!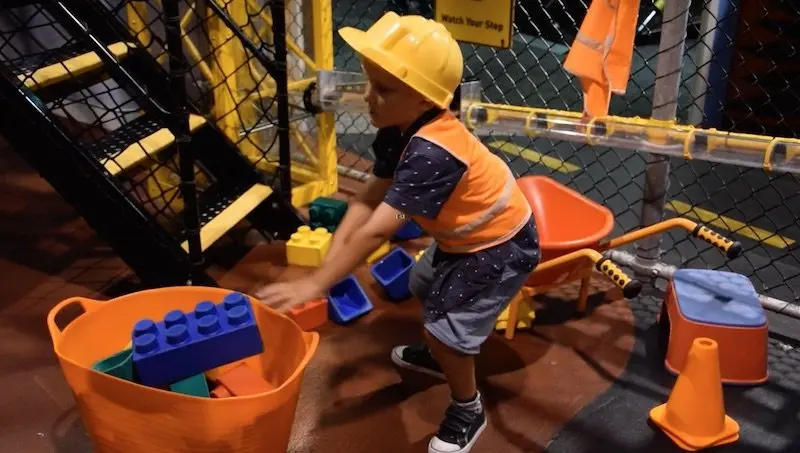 Questacon Galleries from Top to Bottom
Questacon exhibits are arranged in a spiral of galleries.
Head up the ramp to the very top, and work your way down.
Gallery 1 (Top Floor): Fundamental
Fundamental is classic science, reimagined with hands-on activities.
Explore forces, light and momentum in much-loved exhibits like Harmonograph and Frozen Shadows.
Or jump straight into experimenting yourself in new and fun ways with Turntable and Slow Bubble.
Gallery 2: Colour
This gallery has more than 25 interactive experiences, where kids can explore how light influences colour.
There's:
coloured bubbles
iridescent insects
colour illusions
a chance to take a high-resolution image of your eye
see glowing quantum nanomaterials that change their colour with crystal size, and
'See like a bee' with the ultraviolet camera.
For younger visitors, there's a Kids' Trail activity to follow.
Ask an attendant for details.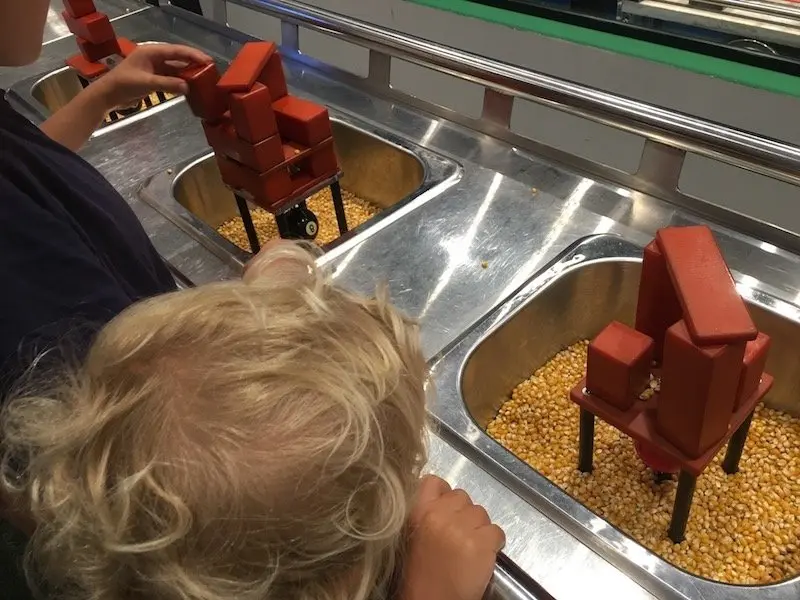 Gallery 3: Awesome Earth
Wonder at the grandeur of the universe.
Home to the Lightning Strikes (above), and the Earthquake experience where you have the chance to build 'earthquake' resistant buildings BEFORE THE QUAKE HITS!
See if your creation stands.
Gallery 4: Q Lab
Observe, examine and experiment with hands-on activities.
Includes the ultimate opportunity to chat to both Questacon-based and visiting Scientists as you wander about.

Gallery 5: The Shed
The Tinkering Lab is a place to build and create with hands-on materials.
This was Jack's favourite gallery.

Gallery 6: Mini Q
Mini Q is just for kids.
Check out the details below.
Gallery 7: Excite@Q
Do not miss this gallery.
Not only is it home to Whoosh, and the adrenalin-making FREEFALL SLIDE, you can:
battle a robot in a game of air hockey, or
try to stay upright in the Rototron.
Gallery 8 (Floor Level): H2O
The ground floor gallery is the place to:
launch a hydrogen rocket
pump water towards the ceiling, and
on a serious note, learn about water sustainability and how to help.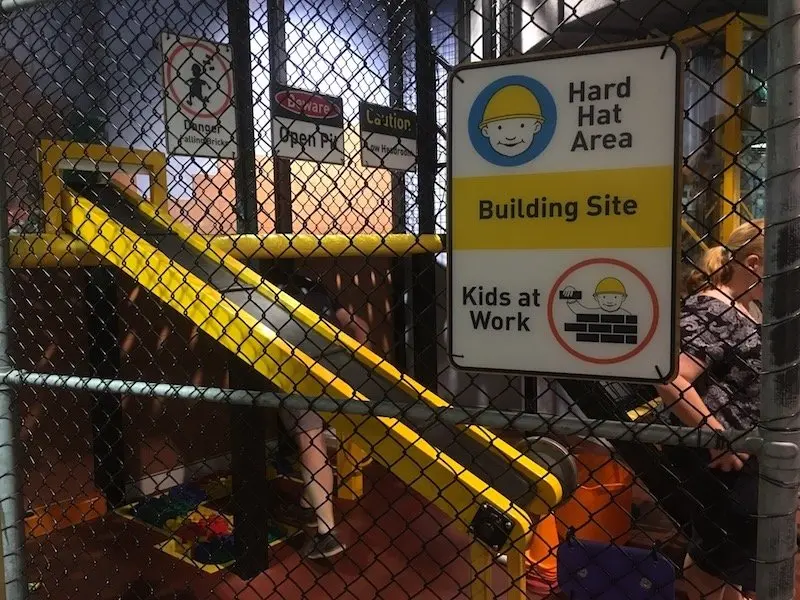 Mini Q at Questacon
Mini Q entry details
Mini Q is a very popular place for the smaller kids so during school holidays.
Questacon staggers entry times, and limits numbers.
Mini Q tickets can only be booked on the day, in person at the Ticket Desk.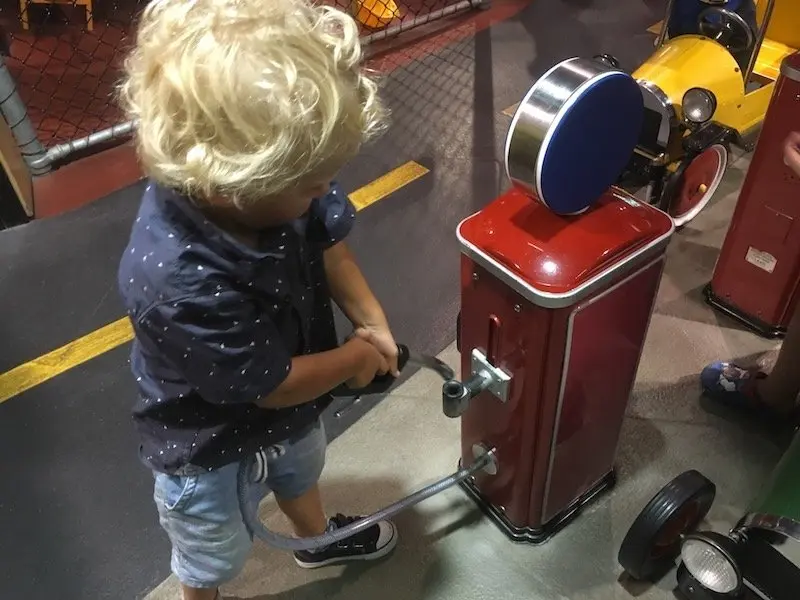 Mini Q Building Site
Find these fun attractions inside:
a hands-on Building Site where kids can move blocks and bricks from place to place via clever machinery
role play zones with dress ups
fill up the cars at an old-fashioned petrol station, and
spend time at the ultimate water play area for kids too.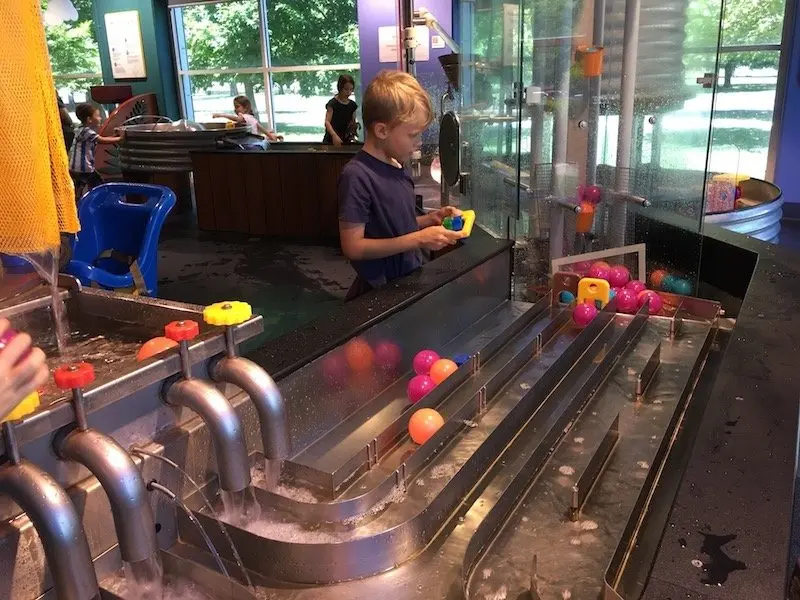 Water Play at Mini Q
Kids can splash, sprinkle and spray water in this hands-on activity.
Mini Q is in Gallery 6.
Questacon Science Time
Try your luck at getting into a show during your visit.
Questacon's theatre troupe, the Excited Particles perform live Spectacular Science Shows daily exploring a diverse range of scientific topics.
Sit in the audience of:
shows that explore the properties of liquid nitrogen (The BOC Liquid Nitrogen Show)
fun balloon shows (Instrumental as Anything)
rocket shows (Move It! The Engineering Show) and
shows about electrical energy (Awesome Earth)
Most Questacon shows will tickle your funnybone too!
Shows run for approximately 30 minutes and are available at 11:00am, 12:00pm, 1:30pm and 2:30pm at no additional cost.
Bookings essential.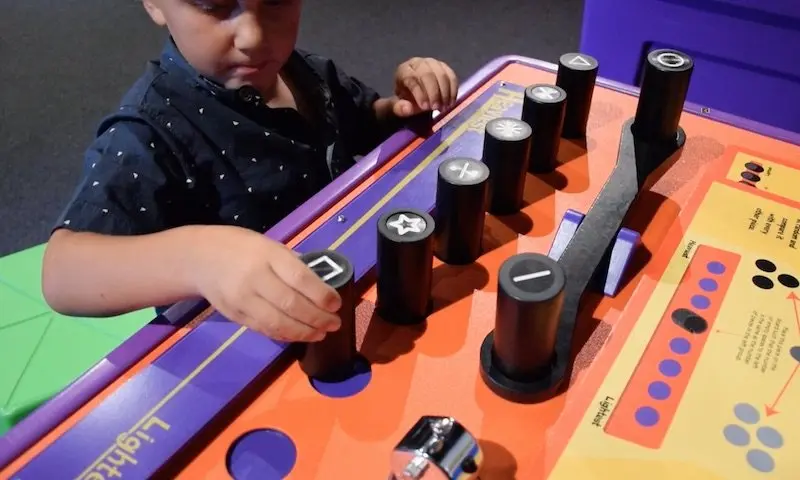 MORE QUESTACON ACTIVITIES
Current Events at Questacon Canberra
Click here for current Questacon Canberra events.
Download the Questacon Apps
Did you know Questacon has developed a couple of apps so you can continue the fun of Questacon at home.
Questacon Shop "The Q Shop"
Be prepared to accept that if you enter the shop with your kids in tow, you will likely be parting with your hard-earned cash.
There are super cute science toys, and souvenirs for sale, and the kids will want them all.
Open daily between 9-5 pm.

THE INSIDE SCOOP: Questacon Australia, the Canberra Science Centre
Correct at time of publication on Roam the Gnome. Please check with venue for updates. We apologise in advance if there have been any changes we are unaware of. All prices in AUD dollars, unless otherwise stated
Where is Questacon?
Questacon Address: Questacon Canberra is located on King Edward Terrace, Parkes, in Canberra, Australian Capital Territory, Australia.
Questacon information: The information desk is available just inside the front entrance.
Telephone: 02 6270 2800
Email: [email protected]
Website: Click here
Opening Hours: 9.00 am – 5.00 pm (Closed December 25)
Questacon Prices:
Adults $23.00
Concession $17.50
Child (4-16 years) $17.50
Best Value Questacon Tickets? The Questacon Family Pass (2 adults and 3 children) – $70.00 ($8.00 for each additional child)
Questacon Prepaid Tickets: Purchase Questacon Tickets online.
Questacon NRMA tickets?: NRMA members can buy 3-in-1 discount tickets to Questacon, AIS Australian Institute of Sport and Cockington Green.
Click here for details of the 3-in-1 combo deal.

How to get to Questacon in Canberra
By Bus:Action Buses
By Foot: Questacon is a 30-minute walk across the bridge from Canberra's main business district
By Car: 3km (5 minutes drive) from the Canberra CBD via Commonwealth Ave.
Questacon Parking
Paid parking is available alongside the building, accessible from Parkes Place, with additional parking further along Parkes Place in the large car park near the lake.
The smaller car park adjacent to Questacon contains only 4 hour parking.
The larger car park (further down Parkes Place West) contains 4 hour parking (in the first two rows) and all day parking in the remaining rows.
Questacon Map
Questacon Cafe
The Mega Bites Café is located in the Questacon foyer. It's open daily between 9.00 am-5.00 pm.
The Questacon cafe serves tea and coffee, tasty cakes and slices, health foods and light refreshment options, and caters for a wide range of dietary requirements.
There are plenty of tables and chairs in the Mega Bites Cafe, the Questacon foyer, and the sunny outdoor Science Court to enjoy your meal.
Questacon Facilities
Toilets: Yes, on many levels. Baby change tables available on level 3, 6 and 7, and the ground floor.
Lockers: Yes, public lockers are available. Ask at the front desk.
Disability access: Yes. A hearing loop is provided. There is a lift to access all levels.
Closest ATM: Eftpos and Credit card accepted at Questacon
Closest playground: Boundless Playground is 5 minutes away – take the Kings Ave bridge back over Lake Burley Griffin
Water Bubblers/fountains: Yes
Scooters and Bikes: Bike parking available outside.
Dogs: No
Toadstool Rating – Questacon Review
$23 for an adult ticket and $17.50 for kids for 200+ educational and interactive exhibits?
For that price, Questacon is a no-brainer.
But it's not just about the value for money.
It's also THE ultimate day out for families in Canberra.
If it's not on your itinerary, put it there straight away.
Kids under 4 are free too, so what are you waiting for?
Pack the kids, pack the car, pack the snacks, and set the GPS in one direction only – QUESTACON IN CANBERRA.
Questacon ACT is THE Museum To Visit with Kids
Looking for MORE SUPER Canberra Attractions for Families?
Click the links in blue below for more Canberra attractions.