INSIDE: Everything you need to know about the NATURAL HISTORY MUSEUM LONDON Kids Exhibitions & Events
The London Natural History Museum for kids is AWESOME fun but not without its' challenges for family travel in London!
This is the most confusing museum layout we've ever encountered, with up and down levels randomly encountered, and it's so easy to miss stuff.
Hot tip: Spend the £1 and buy the map, then make a rough plan before you go in.
Lesson learned. It doesn't always pay to be cheap!
Also, hold onto your kids.
There are so many entrances, doors, and separate rooms that if you lose one of the kids even momentarily, it's time for a freak-out moment as you decide where you should look first.
This is one place where you need to contain wandering-prone toddlers in London.
If you have older kids in tow, strap the baby or toddler into the stroller for as long as humanly possible!
Challenges of logistics aside, this London museum for kids is a winner.
Find all you need to know details below.
Disclosure: This article contains affiliate links. If you make a purchase after clicking on one of these links, we may receive a small commission at NO extra cost to you.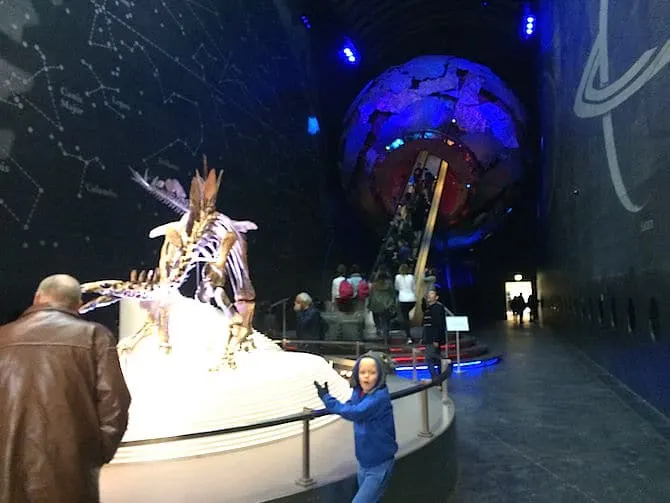 Entrance to the Natural History Museum for Kids in London
Enter via Exhibition Road for the BEST London museum entrance YOU EVER DID SEE!
Don't even think about entering through any other door.
Natural History Museum London Red Zone
When you enter the Exhibition Road entrance and hit the Red Zone, with Earth Hall and a Stegosaurus skeleton, spot the super imposing Earth Ball escalator.
It's SPECTACULAR!
The escalator leads you upwards into Volcanoes and Earthquakes, where you can experience a Japanese earthquake for real.
Then we walked down into Earth's Treasury and wandered.
Look out for these magical treasures with the kids:
mineral marvels that glow in the dark
REAL GOLD nuggets
Stonehenge rock and
yes, kryptonite!
When you've seen it all, head back to the ground floor, and into the Green Zone.
---
RELATED: The ULTIMATE List of Things to Do in London with Kids

Best Things to do in the Natural History Museum Green Zone
Both boys were fascinated by the fossil marine reptiles and the skeletons on show.

No.1: London Fossil displays
Many of the fossil displays are pretty impressive, behind glass, and mounted almost floor to ceiling.
There's also birds, creepy crawlies, and a hands-on Investigate Centre in this zone.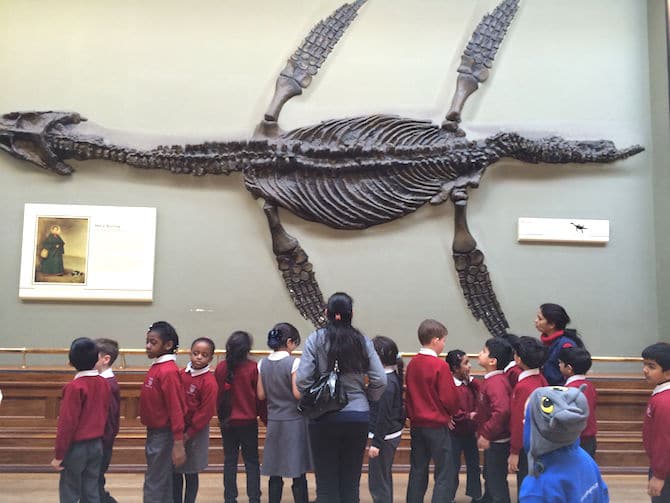 No.2: The Investigate Centre London
The Investigate Centre is where children and adults can explore animal, plant and geological treasures from the collection and use microscopes and other scientific tools to examine specimens to learn more about the natural world.
Open to the public in term time afternoons from 15.30-17.00.
Also open, and free to the public during weekends and holidays 11.00-17.00.
Last entry is 16.30.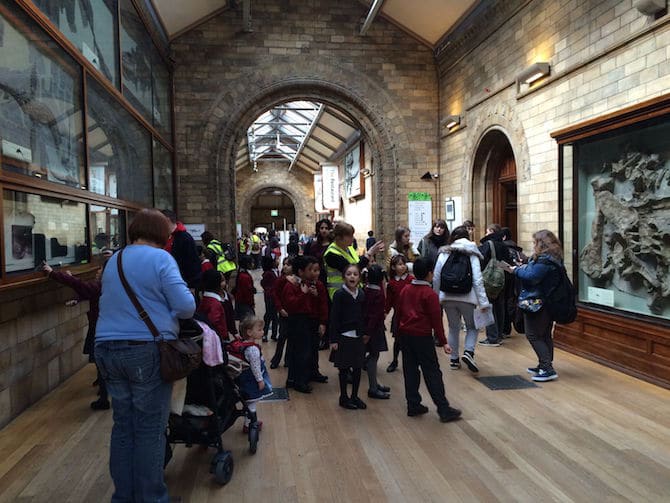 No.3: Mars Rock!
This part of the building, with it's brick corridors, archways, and timber floors remind me of the film 'Night at the Museum'.
There's definitely a certain air of history, mystery and mayhem to the place.
We shared our time with a few school excursions so it was pretty busy and make keeping my eye on the kids even more difficult.
This is a daily thing, so the only way to overcome it is to go later in the day to avoid some of the crowds.
Do go to the Vault to see a rare piece of MARS rock!
No.4: Natural History Museum Diplodocus
Hintze Hall's is an impressive backdrop to the Museum's highlights, including the Natural History Museum DIPPY Dinosaur Diplodocus skeleton cast.
There's also a woolly mammoth skull and tusks, Darwin's statue, and the coelacanth fish (the most famous fossil of an animal that is still in existence today).
Take a look at the preserved timber slice of the 1,300-year-old giant sequoia tree from California, on display in the NHM since 1893!
No.5: Natural History Museum Blue Whale Skeleton
Look up to see the 25.2 metre long Blue whale skeleton too.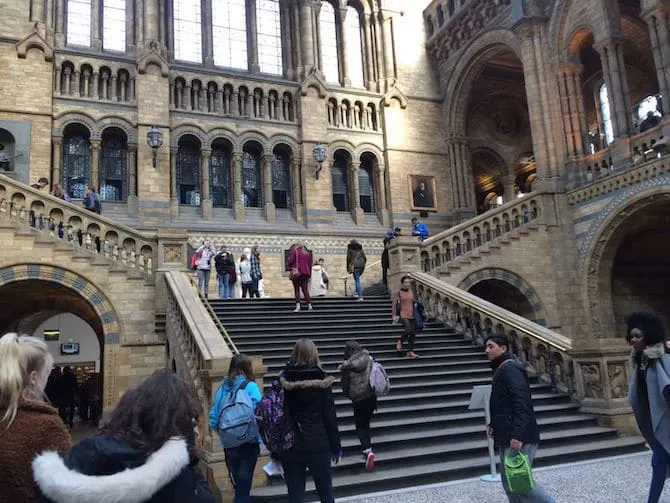 No.6: Natural History Museum architecture
For me, this room was the highlight of my visit.
The Natural History Museum architecture featuring the cathedral-like structure and the staircase is breathtaking!
Things to do in the Natural History Museum Blue Zone
Turn left into the highly popular Dinosaur Walkway exhibit.
Prams are not allowed in here, so find a park for it.
There were TONNES OF PEOPLE along this walkway when we went in, a surging crowd of bodies, and the kids did have a hard time actually seeing the dinosaurs over the heads of grownups.
But at the end of the walkway, you head back to ground level and are able to pass each exhibit again, this time in close up.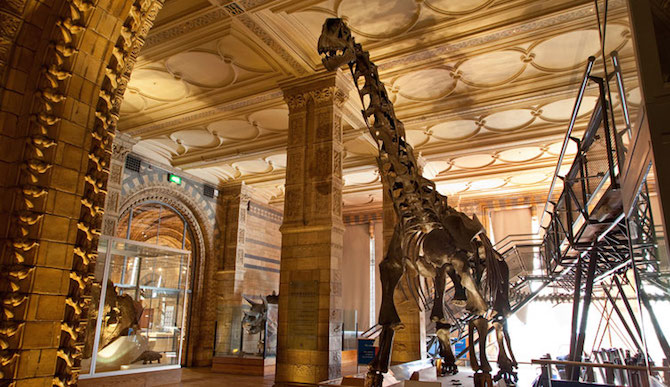 No.1: Dinosaur Walkway Exhibit
This dinosaur walk alone makes this one of the best museums for kids in London.
What kid can resist standing next to a GIANT DINOSAUR skeleton?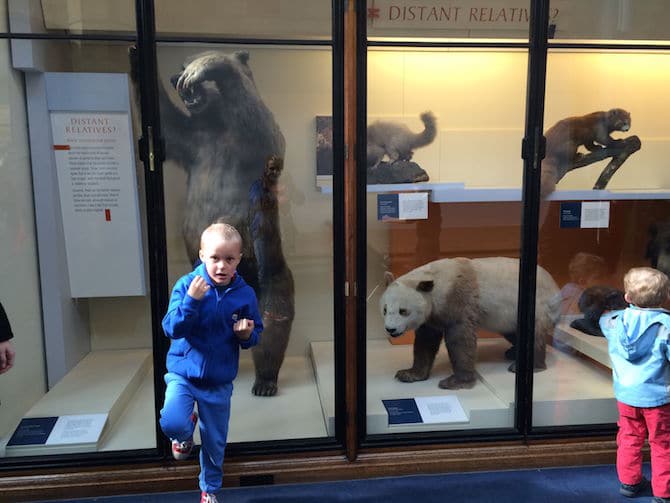 No.2: Hall of Mammals
On the right of this hall are the Mammals – think stuffed animals behind glass.
We walked through this gallery to yet another highlight, the Mammals, and the Blue Whale room!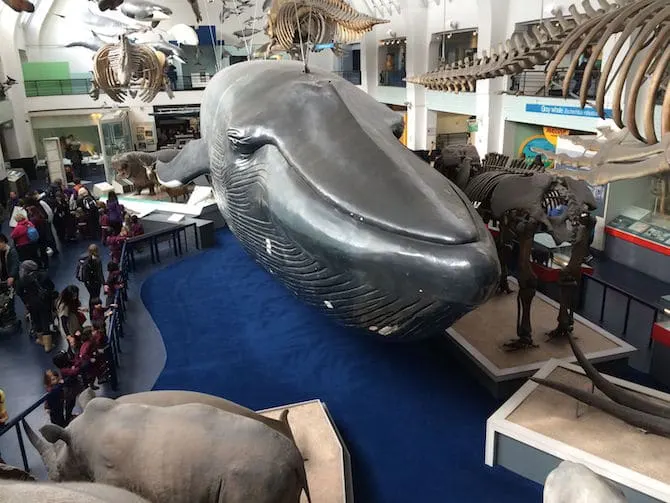 No.3: Natural History Museum Blue Whale Model
The Blue Whale model is suspended from the ceiling, along with other marine mammals including:
dolphins
whales and
porpoises.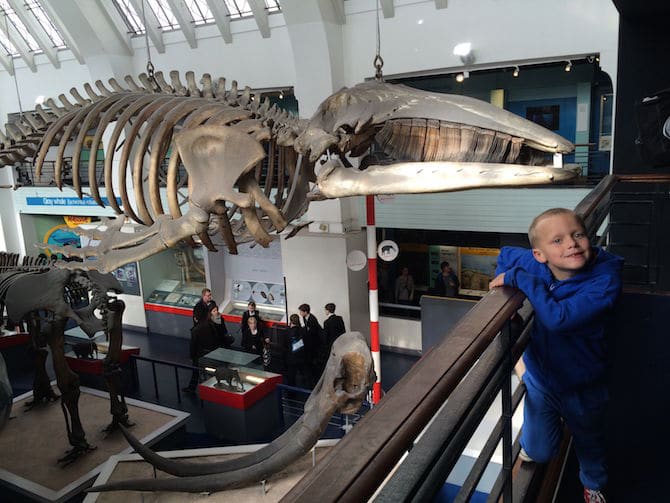 Ceiling display
These marine creatures swim over a ground floor display of:
extinct mammoths
giant elk
giraffes
hippo
rhinos and
horses.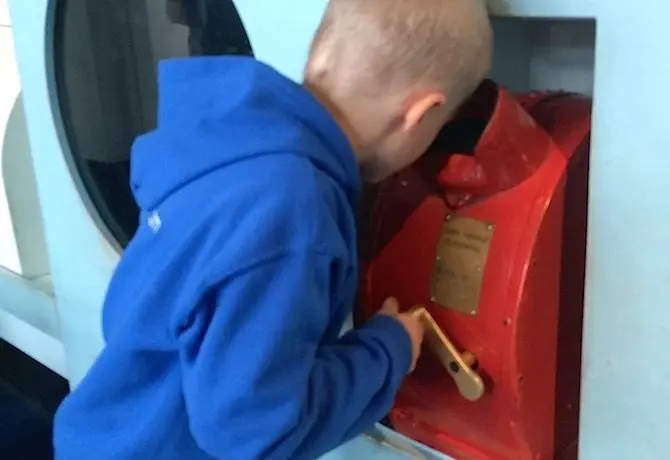 Hands on exhibits
Upstairs, there are hands-on exhibits (including this 'moving picture' machine) around the edges of the room and interesting facts (be sure to find the species that inspired mermaid stories) , but really, the star of the show here is the GIANT Blue Whale.
You MUST see it to believe it!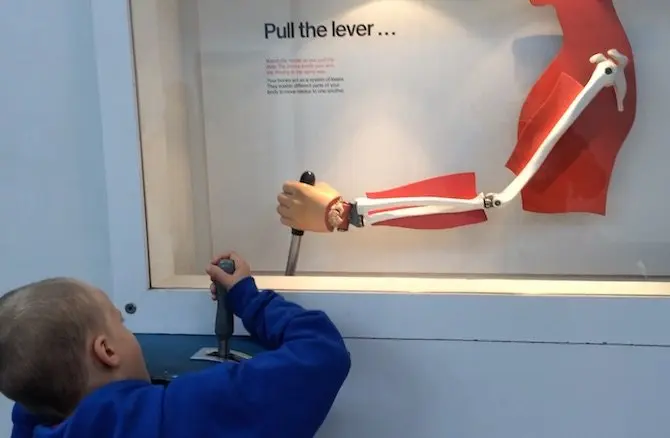 No.4: Human Biology
There's also Fishes, Amphibians and Reptiles, hands-on exhibits on Human biology including this fellow above, and Images of Nature.
We didn't go to see the Images of Nature, but I have heard there's a a drawing wall, where you can contribute your own picture, and interactive screens, where you can explore a variety of artworks.
Kids would love that.
Things to do in Natural History Museum Orange Zone & Attenborough Studio
The final section is the Orange Zone with the infamous Cocoon, the Attenborough Studio; a Wildlife Garden, and the Zoology spirit building.
We missed this entirely (but not on purpose).
We simply never found it as we moseyed around.
This is why it pays to take a last look at the NHM map before you leave the museum.
(Hot tip: Download the Natural History Museum London map before you go here. )
Inside the Cocoon, you can see:
hundreds of museum specimens
marvel at beetles and butterflies
metre-high plants
huge tarantulas, and
historic herbaria.
Kids can see scientists at work.
There's also opportunities to drop in to daily events in the high-tech Attenborough Studio, hear talks with scientists, and watch live shows.
Check out current events here.
Round up of Natural History Museum cafe & restaurants
The T Rex Grill Restaurant.
Find hearty meals including burgers, steaks, pizzas and puddings. Kids welcome.
Open 11.00-16.00 daily.
The Kitchen.
The menu features sandwiches, wraps, seasonal salads, cakes, pastries and muffins.
For kids, there are special lunch and activity packs.
In the Red Zone.
Open 10.00-17.00.
The Coffee House.
Stop for an artisan coffee with a side of freshly baked pastries or cake.
In the Red Zone, next to the Lasting Impressions gallery.
Open 10.00-17.00.
The Central Cafe.
Sandwiches and salads, along with a range of crisps, cakes, pastries and fruit.
In the Blue Zone.
Open 10.00-17.30.
High chairs are available for babies and toddlers.
Darwin Centre Cafe.
More sandwiches and salads, crisps, cakes, pastries, muffins and sweet snacks.
In the Orange Zone.
Open 10.00-17.00.
Best Natural History Museum Events
No.1: Sleepover National History Museum Overnight Stay
Book your kids into an overnight DINO SNORE sleepover at the Natural History museum.
For kids 7 -11, it's a chance to explore the Museum after dark.
Kids will take part in:
a torch-lit trail
a dinosaur t-shirt-making workshop
an educational science show with a Natural History Museum scientist
All before going to sleep around midnight under iconic exhibits in the Hintze Hall, on the ground floor and the first floor.
The following morning, breakfast is served bright and early, and there's a live animal show before the Museum opens to the public at 10am.
Please read the FAQ before you book.
Tickets:
No.2: Natural History Museum Lates
The Museum comes alive at night.
Explore our galleries, exhibitions and shops after hours
Join in exciting late-night activities including science demos and talks, and
Enjoy a drink or dinner too.
Click here for dates & details.
Last Friday of the month. Free entry. No ticket required.
No.3: Natural History Museum Kids Only Events for Families and Children
Looking for activities in London?
Visiting London with a toddler?
Or need half term London things to do?
A visit to this children's museum in London is the perfect family day out in London, with free or low-cost activities running daily.
Enjoy family exhibitions, plus plenty of hands-on, interactive activities and action-packed school holiday programmes too.
Natural History Museum Shop
Do not miss the NHM shop near Hintze Hall and the Cromwell Road entrance.
It's full of science and nature toys including:
the cutest dinosaur homewares such as a T Rex Egg Cup or dinosaur plant holders
dinosaur models
dinosaur t-shirts
science wall prints
dinosaur board games and toys
dress ups, and
themed LEGO toys.
Take a sneak peek here.
Cranbourne Boutique
There's also the grown up shop, the Cranbourne Boutique for elegant gifts and souvenirs including:
fashion
specimen replicas
homewares
fashion accessories and more.
Find it in the red zone opposite the Coffee House. Open daily, 10-5pm.
London Natural History Museum Dino Store
Dino Store is the spot for models, soft toys, games, puzzles, mugs and baby clothes.
Find it at the exit of the Dinosaurs gallery.

THE INSIDE SCOOP: Natural History Museum in London with Kids
Correct at time of publication on Roam the Gnome. Please check with venue for updates. We apologise in advance if there have been any changes we are unaware of. All prices in British pounds, unless otherwise stated
This is one of the BEST museums in London for kids. Even better, it's one of the best FREE museums in London too!
Natural History Museum Address: The Natural History Museum, Cromwell Road, London SW7 5BD.
The main entrance is on Cromwell Road, just five minutes' walk from South Kensington Tube station. Enter via Exhibition Road for that grand entrance and an escalator ride through the centre of the Earth.
Telephone: +44 (0)20 7942 5000
Website: Click here
Natural History Museum Opening Times
The Natural History Museum opening hours are 10.00-17.50.
Last entry 17.30
Open daily
Closed 24th – 26th December
Natural History Museum Prices
The permanent collections are FREE to visit!
Donations however, are always welcome (donation boxes are by the entrance/exit doors) or spend money in the shops, restaurant or cafes. Every dollar helps!
Natural History Museum London Prices for Ticketed Exhibitions & Events:
There are also ticketed exhibitions and after-hours events.
Buy Natural History Museum London tickets online or at the ticket desks in the museum. Click here for events and pricing.
Entrances to Natural History Museum in London
The Museum has three entrances, on Cromwell Road, Exhibition Road and Queen's Gate.
No.1: Cromwell Road (access at the corner of Exhibition Road)
This entrance is open and has step-free access.
Closest Tube station: South Kensington.
No.2: Exhibition Road
This entrance is open and has step-free access.
Closest Tube station: South Kensington
No.3: Queen's Gate entrance
This entrance may be open during busy periods, such as holidays and half term.
Closest Tube station: Gloucester Road
How to get to the Natural History Museum in South Kensington
Where is the Natural History Museum?
South Kensington, next to the London Science Museum and just a few minutes walk south of the Royal Albert Hall, Kensington Gardens and Hyde Park.
By Tube
The nearest Natural History Museum tube station is South Kensington. This is on the District, Circle and Piccadilly lines and is a 5 minute walk from the Museum. A pedestrian subway connects South Kensington station to the main entrance.
Gloucester Road tube station is also on the District, Circle and Piccadilly lines and is a 15 minute walk.
Find out the latest Transport for London tube status updates.
By Bus:
Bus routes 14, 49, 70, 74, 345, 360, 414, 430 and C1 stop outside South Kensington Underground Station.
Bus routes 9, 10, 52, 452 and 70 stop outside the Royal Albert Hall on Kensington Gore.
By Bicycle:
Transport for London Barclays Cycle Hire docking stations are available outside the Museum on Exhibition Road and on Thurloe Place near South Kensington tube station.There are no dedicated bicycle stands, but folding bicycles can be left in the cloakroom on the lower ground floor.
By Car:
Click here for google map directions
Natural History Museum parking
There are no car parking facilities and local parking is very limited. There is no visitor parking in Exhibition Road.
The nearest pay and display car parking is in Prince Consort Road and Queen's Gate.
Royal Borough of Kensington and Chelsea have more information about parking near the Museum.

Natural History Museum London Map
More Museums in Central London for kids
Take a look at these Museums in Central London with kids activities.
Click the links in blue to see our reviews.
Museum of Childhood
National Army Museum
Madame Tussauds Wax Museum
Imperial War Museum
Museum of London
Toadstool Rating: Natural History Museum UK
This is one of the most fun museums in London for kids.
For animal and nature lovers (isn't that all kids?), it's a MUST DO in London.
Give yourselves at least 1/2 day; a full one if you can spare it.

Looking for MORE Things to Do with Kids in LONDON near the museum?
Click the links in blue below for more London tips