INSIDE: Revisit the history of Victorian Toys at Pollock's Toy Museum London.
A visit to Pollock's British Toy Museum is a modern-day stroll into a place not unlike that mystical street from Harry Potter, the mysterious Diagon Alley.
It's whimsical, weird, and wonderful all in one.
Housed in a pair of fabulously creaky and theatrical Georgian town houses in London's Fitzrovia, the Pollocks Toy Museum on Goodge Street in London is named after Benjamin Pollock, and is chocka-block full of Victorian toys of old to fill your heart with joy.
Take a look below for details.
Disclosure: This article contains affiliate links. If you make a purchase after clicking on one of these links, we may receive a small commission at NO extra cost to you.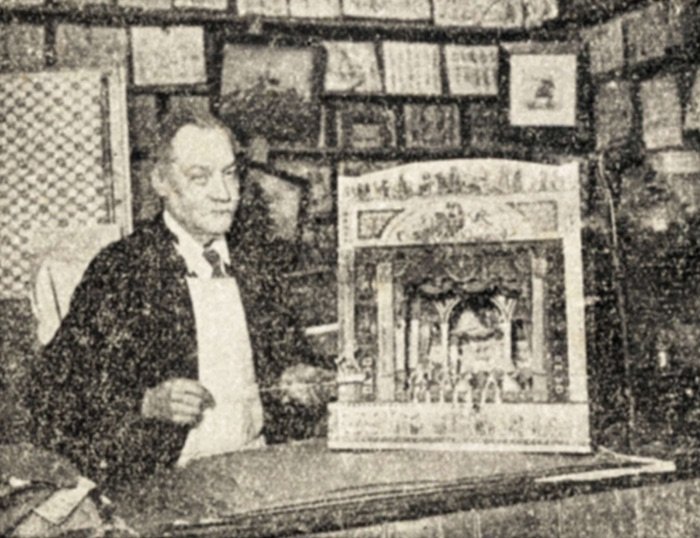 History of Pollocks Toy Museum London
Mr Pollock was a well-known maker of toy theatre sets, a popular toy from Victorian times.
He hand printed, constructed and coloured most of the Victorian toy theatre material housed in the museum today.
Take a walk upstairs and you'll see the Pollock's Toy Theatre collection of these toy theatres for yourself, including many made by Mr Pollock's own hands.
---
RELATED: The Big List of Best Things to Do in LONDON with Kids
About Pollocks Toy Theatres
See Pollocks Toy Theatres like the one above.
The upstairs collection also houses:
puppets
Victorian toys
Victorian teddy bears, and
unusual dolls from history.
It's an archive of Victorian toys and games, and Victorian toy box objects in London.
Best Things to do at Pollock's Toy Museum London
People often ask what toys did Victorian children play with, and you'd be surprised to see how many toys were around in those times.
The list is huge.
Many of those antique toys were the homespun version of toys children still play with today.
The Pollocks Toys Museum is one of the best old toy museums and it's a wonderful place to see some of these:
marbles
wax dolls
Victorian balance toys
Victorian skipping ropes with wooden handles
model ships
old Victorian toys with wheels
optical toys
Victorian rocking horse
Victorian toy soldiers
Victorian board games
wind-up toys
toy birds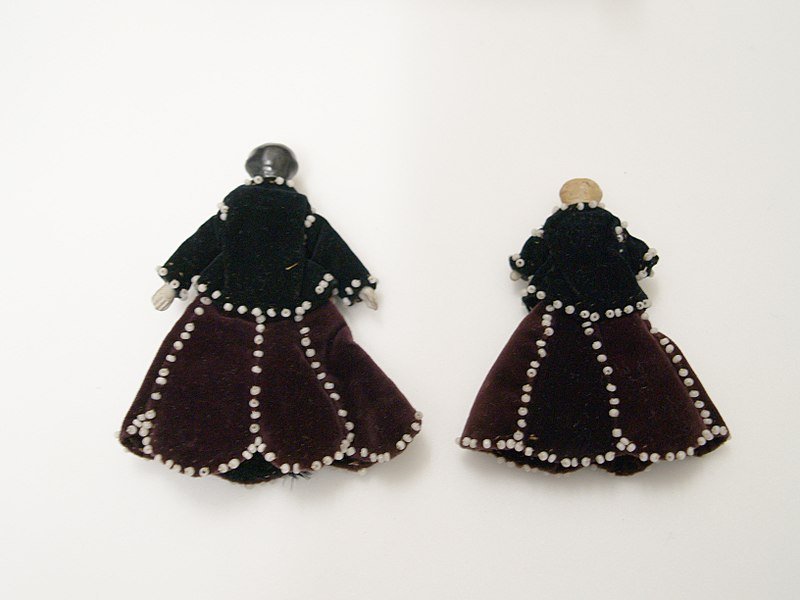 Image credit: Auckland War Memorial via Wikipedia CC BY 4.0
No.1: Jumbo Collection of Vintage Victorian Toys & Victorian doll houses
cup and ball toy
money boxes
Victorian spinning top
telephones
tin toys
Victorian mechanical toys
folk toys
flying toys
paper toys
Victorian toy tea set
traditional wooden toys & Victorian wooden toys
Victorian baby toys
Victorian moving toys
kaleidoscopes Victorian toys
boxed dolls and toys from around the world (Latin America, Africa, India and Europe)
AND the World's Oldest Surviving Teddy Bear.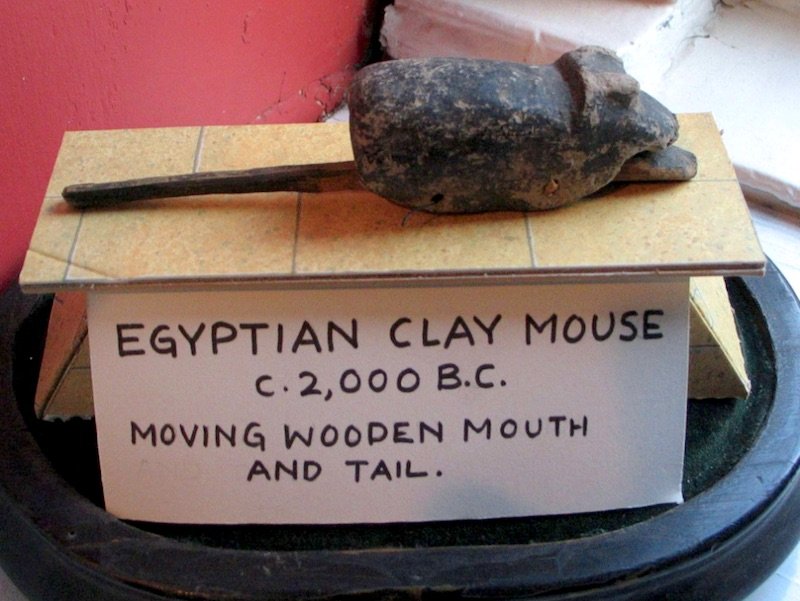 No.2: 4000 year old Toy Mouse
The collection of Victorian children's toys includes a 4,000 year old mouse made from Nile Clay.
Wow.
That must be the world's oldest toy ever.
The British Toy Museum you shouldn't miss!
This little time capsule of life is unimaginably atmospheric and filled with character.
Step back into Old London Town on your next visit at this iconic British Toy Museum filled with Victoria childrens toys.
The Vintage childrens toys museum is highly recommended.
No.3: Pollock's Toy Museum Shop
There's also a little shop on site selling a small selection of old-fashioned Victorian toys for kids you can take home for fun.
There's tin cars, and tin whistles, & ball games and card games too.
Interesting Victorian Toys Facts
Take a look at these Victorian facts for kids.
No.1: How much did Victorian toys cost?
Lots of money!
A doll house alone could cost more than a week's wages for most lower earning citizens.
But in Victorian times, only children of the rich had the time to play with toys for extended periods, as many children were already working to help their parents pay the bills.
Many of the toys children did have were handmade and very simple, especially in poorer households.
No.2: The Best Victorian board games
Games played in Victorian times include:
Snakes and Ladders
Chess
Checkers
Backgammon
Victorian puzzles
Simple card games, and educational card games. Many children loved to try and build a house of cards.
Reading was another popular past-time in the Victorian era, as was playing a musical instrument if the families could afford it.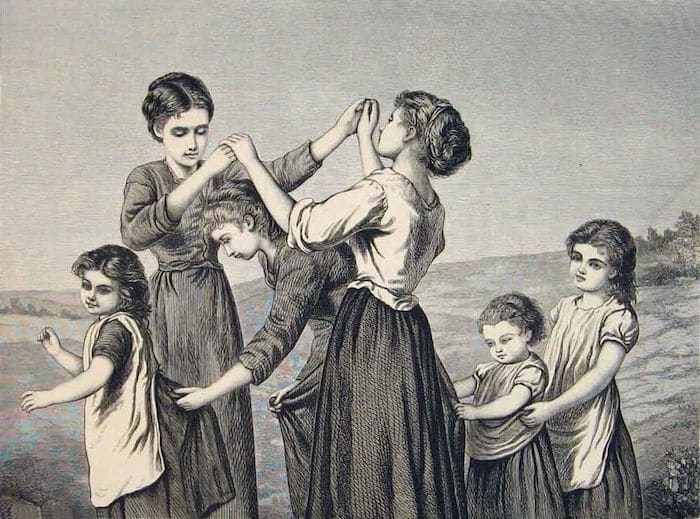 No.3: Victorian playground games
Wondering what games did Victorians play?
Victorian street games included the old fashioned hoop and stick game,
Victorian cup and ball toy game was popular too, where you spin the attached ball into the air, and try and catch it into the cup
Victorian yoyo games were in fashion too
Quoits
Skittles
Popular Victoria era Indoor Parlour games included Charades, pin the tail on the donkey, Oranges and Lemons, and Blind Man's Bluff
No.4: What toys did rich Victorians play with?
Victorian era past-times were a little different to ours today.
They did not have giant Toys R Us toy shops filled with mass-produced plastic rubbish.
So even rich Victorian children did not have rooms full of toys, like many modern children today, but the quality of the toys they owned was far greater.
Victorian dolls hair was made from real human hair, and placed strand by strand.
These China doll faces were made from porcelain.
They were so valuable that children were not often allowed to play with them!
Popular toys for wealthy Victorian families included:
Victorian tea sets
train sets
doll houses
hobby horses
zoetrope moving picture toys, and
rocking horses.
Toys were valued for their educational value above all else so puzzles, board games, and card games were prized.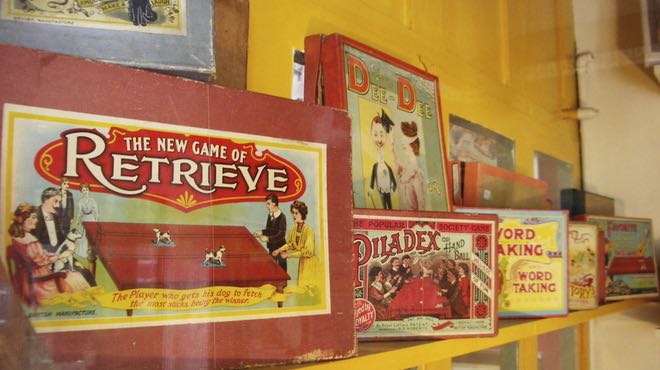 No.5: Victorian toys for the poor
Most families did not have money or access for expensive toys, but this didn't stop them.
Their lack of resources sparked their creativity to make their own toys from wood and metal.
Handmade dolls, peg dolls, spinning tops, wooden blocks, and handmade balls made from material offcuts could be found in almost every household.
Many children loved paper toys, including:
paper dolls, and
recreations of their local village and animals.
Many children whiled a day away making elaborate doll houses from cardboard or craters, and filling their doll houses with furniture and furnishings cut from paper.
Outdoors, poor children played with marbles, offcuts for skipping ropes, simple hoop and stick games, and went fishing with simple lines.
It was what it was.
They also spent a lot of time outdoors making forts and cubbies from branches and sticks they found.
Imagination was everything.
No.6: What were Victorian toys made of?
Wood, metal or whatever material they could lay their hands on.

No.7: What Victorian Christmas Toys did children receive?
Special gifts of toys for Christmas in Victorian times, for the rich who could afford them, included:
kaleidoscopes
moving pictures (zoetropes)
metal toys
puppet theatres
toy theatres, and,
Otherwise families had to make their own version or make do.
Victorian toys to make at home
Learn how to make Victorian toys including a spinning top from paper, a peg doll, and a thaumatrope ( a spinning disk that creates a moving image) here.
How to make a Victorian toy out of paper
Download a printable of a Victorian paper doll from 1886 and her wardrobe here.
Learn how to make a Victorian Jack-in-the-box toy here.
Learn how to make a Circus Rider from paper here.
Next stop: Benjamin Pollock's Toy Shop in Covent Garden!
Be sure to visit Benjamin Pollock's incredible Toy Shop in Covent Garden too.
Click the blue link above for all the details of Benjamin Pollocks Covent Garden store.
THE INSIDE SCOOP: Pollocks London Toy and Model Museum
Correct at time of publication on Roam the Gnome. Please check with venue for updates. We apologise in advance if there have been any changes we are unaware of. All prices in British pounds, unless otherwise stated
Address: Pollock's Victorian Toys Museum is located at 1 Scala St, London W1T 2HL. Enter from 41 Whitfield St, W1
Telephone: 0207 636 3452
Email: [email protected]
Website: Pollocks Museum London
Pollocks toy museum Opening Hours:
This old toy museum is open 6 days.
Monday – Saturday 10am – 5pm
Last admission to Museum 4.30pm
Closed Sundays and Bank Holidays
Pollock's Toy Museum price
The Pollock Toy Museum ticket price is as follows:
Adult £7
Child £4
Senior/Student £6
Under-threes FREE
How to get to Pollocks Toy Museum Goodge Street London
By Bus: 10 minutes by bus from Trafalgar Square (24, 29, N5, N20, N5, N29, N279)
By Tube:
From Victoria Station to Warren St exit, walk 8 minutes.
You can also catch the Northern line's Charing Cross branch to Goodge Street between Tottenham Court Road and Warren Street stations,
It's in Travelcard Zone 1.
By Car: 8 minutes drive on the A400 from Trafalgar Square.
Pollocks Toy Museum parking
Limited on-street parking may be found nearby, or find a paid parking station here.
Map of Pollocks Toy Museum London
Facilities at Pollocks Toy Shop Museum
Nearest takeaway coffee and/or food options: Cafes within walking distance.
Disability access: Limited – stairs.
Dogs: No
Toadstool Rating- Pollocks Toy Theatre & Museum

Looking for MORE things to do in London for kids?
Click the links in blue below for more London ideas.