INSIDE: Roam the Gnome's EPIC Guide to the Princess Diana Memorial Playground, a tribute to the story of Peter Pan & Neverland.
You'll hear the twinkling of musical chimes, and bucketloads of children's laughter before you catch a glimpse of the Princess Diana Memorial Playground in Hyde Park.
And then, through the tops of the trees, you'll spy it.
The centrepiece of the Lady Diana Memorial Playground.
The reason it's nicknamed the "Pirate Ship Playground".
Peter Pan's Pirate Ship in FULL SIZE!
Ahoy Me Hearties!
Fun Fact: Did you know over 1,000,000 visitors enjoy this free playground each year? WOW!
There's lots of reasons why. Take a look below to find out more.
Disclosure: This article contains affiliate links. If you make a purchase after clicking on one of these links, we may receive a small commission at NO extra cost to you.
Guide to Princess Diana Memorial Playground "Pirate Ship Playground"
The Princess Diana Playground in Hyde Park London is tucked away in a far corner of the grounds, on the Bayswater Road side of the park, just five minutes walk from Queensway Tube station.
The design of the Pirate Ship playground (formally known as the Diana, Princess of Wales Memorial Playground but also known as the Peter Pan Park London) was inspired by the stories of Peter Pan and Neverland.
We'll try and answer all your questions about both the playground and the woman it was named for, including:
Where is Princess Diana Memorial Playground?
How to get to Princess Diana Memorial playground?
Who was Princess Diana ?
Why was Princess Diana called the peoples princess?
What was Princess Diana best known for?
---
RELATED: The Ultimate Guide to the BEST London Playgrounds for Kids (NEW)

Peter Pan & the Diana Princess of Wales Memorial Playground
The Princess Diana playground has tonnes of stuff to:
explore
do
climb
navigate
balance on, and
play music on.
Throughout the Pirate Ship playground, you'll spot lots of references to the Peter Pan in Neverland story.
---
RELATED: Ultimate Guide of Things to do in London with kids

The Princess Diana Playground Hyde Park Pirate Ship
Most obvious, the giant Pirate Ship playground smack bang in the centre of a city-bound beach.
This wooden pirate ship has:
rope bridges
a steering cabin
port holes, and
a ship's mast just waiting to be climbed.

The Ultimate Peter Pan Playground in London
More fun at Peter Pans Playground in Neverland!
There's smaller sailing boats that rock from side to side, a teepee village, and crocodiles …. (Yes, crocodiles!)
Plus,
rows of swings
slides
Flintstone-like log tractors
miniature log cabins to play in
life-size musical instruments

Landscape Design at Hyde Park Princess Diana Playground
The magical space at the Lady Diana playground is beautifully divided into many different areas of fun and hidden lands, which helps to separate and manage the crowds so you don't feel like you're communing with half of London.

Princess Diana park grounds
There's secret pockets, pathways lined with:
brambly hedges
climbing frames
a sensory garden
rocking horses, and
tunnels to move from place to place.

Set boundaries before you arrive
There's one drawback to the size and layout of the Princess Diana Playground.
Finding your kids in here when they have run off in different directions can be challenging.
Be sure to attach some kind of identification on them somehow, and be firm and insistent when you set the rules that they are NOT to leave the park, or go out the front gate without you.

Princess Diana Water park
Best of all, the Princess Diana park has a water park too, operating during London's warm summertime.
Kids can run and splash under the fountains, and in amongst the manmade streams.
THIS spot gets VERY busy!

Musical instruments at the Pirate Ship playground in London
Roam the Gnome and the boys made a beeline to the Land of Music they could hear.
Hidden behind a labyrinth of trees, children could make music using a number of different instruments.
The best one… the jumping xylophone!
All the kids wanted a go.
(Watch the video below to see it in action.)
Twinkly magical music!
THIS is what we could hear as we entered the park, well before we had any idea where the playground was hiding.
The spinning disc ride was also a hit.
Put the Diana playground at the top of your list of things to do in South Kensington with kids and join in too.
Be prepared for a long stay. No one is leaving here any time soon if the kids have their way!

History of the Kensington Gardens Playground
Princess Diana was wife to Prince Charles, King in waiting, and mother to William and Harry.
A humanitarian at heart, she was called 'The People's Princess" because of her ability to break through class boundaries, and love everyone, of every size, shape and colour.
She died tragically at a very young age, following a car chase through the streets of Paris while being followed by blood-hungry paparazzi and journalists looking for a story.
The Pirate Ship Playground in Hyde Park was opened on the 30th June 2000 as a permanent memorial to Diana, Princess of Wales, recognising her love of children.
Curated to ensure equal access to both able-bodied and those less able, the storytelling aspect of the playground was designed to capture to imaginations and hearts of children while supporting their play and physical development.

Take Risks. Climb High. Know your Limitations. Grow in Confidence.
Happily, risk taking – in a controlled play environment of course – is all part of the fun!
Playground staff are there to monitor children and families but also educate them on the importance of risky play.

Risky play welcome!
Parents, guardians and grandparents are advised to be aware of this before making a trip.
Helicopter parents need not apply.
Kids can climb RIGHT TO THE VERY TOP of the Pirate Ship's mast (and it's bloody high!)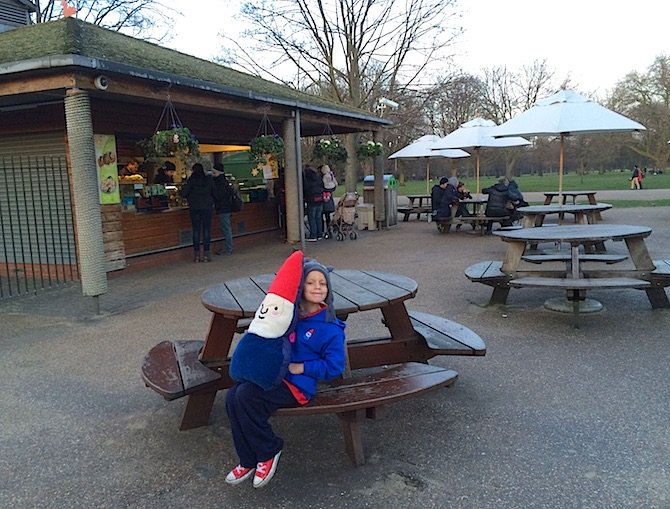 Princess Diana Playground Cafe (Broad Walk Cafe and Play Cafe)
Wondering if there's anywhere to eat at Princess Diana playground in Kensington Gardens?
There is!
The Diana Playground Café (Broadwalk Cafe and Play Cafe) onsite serves:
fresh salads
stone baked pizzas
fresh sandwiches
drinks including speciality coffee, and delicious hot chocolate.
They also have a children's menu.
Hot tip: BYO snacks, and water bottles.

The Elfin Oak at Diana Princess of Wales Memorial Playground
The Princess Diana Playground Hyde Park is located next to Diana's Kensington Palace home.
The playground is a fitting tribute for a Princess who loved the innocence of childhood.
Take a peek at The Elfin Oak.
It's right in front of the entrance gates, next to the cafe above.
The Elfin Oak the stump of a 900-year-old oak tree, carved and painted to look as though elves, gnomes and small animals are living in its bark.
The hollow, donated by Lady Fortescue, originally came from Richmond Park.
The tree was moved to Kensington Gardens in 1928 as part of George Lansbury's scheme of public improvements in London.
Over the next two years the illustrator, Ivor Innes, carved the figures of the "Little People" into it.
These included:
Wookey the Witch, with her three jars of health, wealth and happiness
Huckleberry the Gnome, carrying a bag of berries up the Gnomes' Stairway to the banquet within Bark Hall, and
Grumples and Groodles the Elves, being awakened by Brownie, Dinkie, Rumplelocks and Hereandthere stealing eggs from the crows' nest.

THE INSIDE SCOOP: Princess Diana Adventure Playground
Correct at time of publication on Roam the Gnome. Please check with venue for updates. We apologise in advance if there have been any changes we are unaware of. All prices in British pounds, unless otherwise stated
Address: Memorial Playground in Kensington Gardens is located at Broad Walk, Hyde Park, London, United Kingdom
Telephone: +44 300 061 2001
Email: [email protected]
Website: Click here
Princess Diana playground Opening Hours
May to August 10 am to 7.45 pm
April & September 10 am to 6.45 pm
March & Early October 10 am to 5.45 pm
February & Late October 10 am to 4.45 pm
November to January 10 am to 3.45 pm
Please note, last entry is 15 minutes prior to closing time. Closed Christmas Day.
To ensure safety and security of children, only adults supervising children up to the age of 12 will be admitted.
Please note: unaccompanied adults may only enter the playground between 9.30 and 10.00.
Princess Diana Playground Entry Fees
Entry is FREE!
Go early, or late in the afternoon.
If you go at peak times (10am to 2pm) expect a queue.
There's limits on the number of children allowed inside at one time, and when it's full, the staff will action 'queue management' and only let more people in as other people exit.
Wait times can range from 15 minutes to an hour or more.

How to get to Princess Diana Memorial Playground London
By Bus: Children under the age of 11 travel free on buses and trams. Plan your bus journey here.
By Tube: Princess Diana Memorial Playground nearest Tube? We suggest exiting at Queensway station (Central Line) for the quickest walk. Bayswater Tube station is another option.
By Car/Taxi/Uber: Exit at Bayswater Road & Orme Ct.
Where to park near Princess Diana playground Kensington Gardens
Try the Euro Car Park on Bayswater Road.
Diana Princess of Wales Playground Map
Facilities at Princess Diana Park London
Toilets: Yes, including disabled and baby change facilities.
Disability access: Yes
Shade: Lots of trees. Take hats and sunscreen in summer.
Enclosed: Yes, fenced all round.
Ground cover: Sand, concrete pathways, grassy fields, gravel, bark, stones
Picnic tables: Yes, near cafe.
Electric BBQs: No
Water Bubblers/fountains: Yes
Scooters and Bikes: Yes
Dogs: No

Toadstool Rating: Princess Diana Playground London
When in London with kids, the Princess Diana Adventure Playground should be the Number One playground on your list.
DEFINITELY in the top 3 of the best playgrounds in London!

Looking for MORE things to do in London for kids?
Click the links in blue below for more London tips.