INSIDE: Roam the Gnome's Guide to London Zoo Animals & Adventure Playground.
Did you know there is a new interactive exhibition at London Zoo called the Land of the Lions?
Get up close and personal with mighty Asiatic lions in this Indian themed display.
It's really quite something!
But that's not all.
There's places to play, penguins to giggle with, BUGS, and so much more.
Read our COMPLETE guide to London Zoo with kids below.
Disclosure: This article contains affiliate links. If you make a purchase after clicking on one of these links, we may receive a small commission at NO extra cost to you. Main image credit: Neil Js via Flickr CC BY 2.0
London Zoo Animals You Must See!
There are so many animal exhibits at London Zoo, including:
The Australian Outback exhibit
London Zoo endangered animals, and,
London Zoo monkeys
We've listed our favourite must-see animals in London for kids to see here.
No.1: Lions (of course)
In the Gir Forest. Don't miss them.
No.3: Galapagos Tortoises
Check out the Galapagos tortoises – Dolly, Polly and Priscilla!
These guys live for 150 odd years.
Here's an interesting fact.
Spanish sailors who first visited the islands thought that some of the tortoises's shells looked like saddles on a horse. The Spanish sailors named the islands 'Galapagos' which means 'saddles' in Spanish.
No.3: Tiger Territory
Come face to face with Sumatran tigers through the floor-to-ceiling glass windows in the Indonesian-themed Tiger Territory
---
RELATED: The Big List of Best Things to Do in LONDON with Kids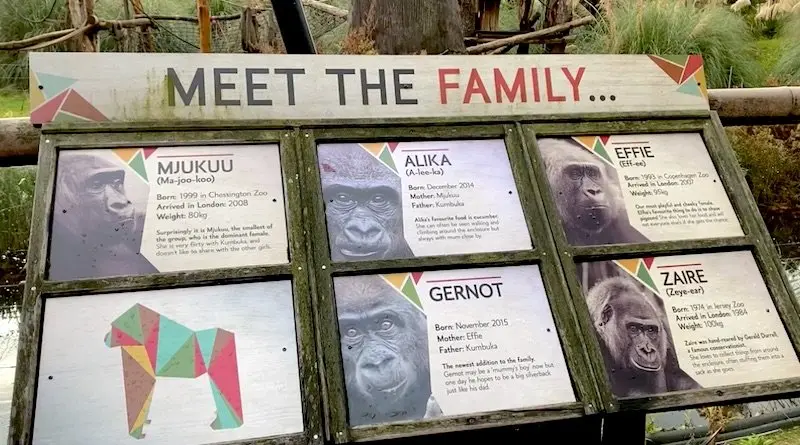 More Things to See at London Zoo for Kids!
No.4: London Zoo Gorillas
Meet the zoo's colony of western lowland gorillas.
Impressive male silverback Kumbuka and his mate Mjukuu have two bubs:
a baby girl named Alika, and
a male called Gernot.
The group is completed by females Effie, the guts of the group, and Zaire, who is the definition of a 'cheeky monkey'!
They live in Gorilla Kingdom, an engaging environment mimicking their natural habitat.

No.5: Tiger Territory
A replica of the Indonesia jungle filled with tall trees for the tiger to climb, it has floor to ceiling glass windows so visitors can observe these beauties in safety.
No.6: Aquarium
The aquarium has THREE halls full of fish.
But our favourite thing to do is spot the cute seahorses!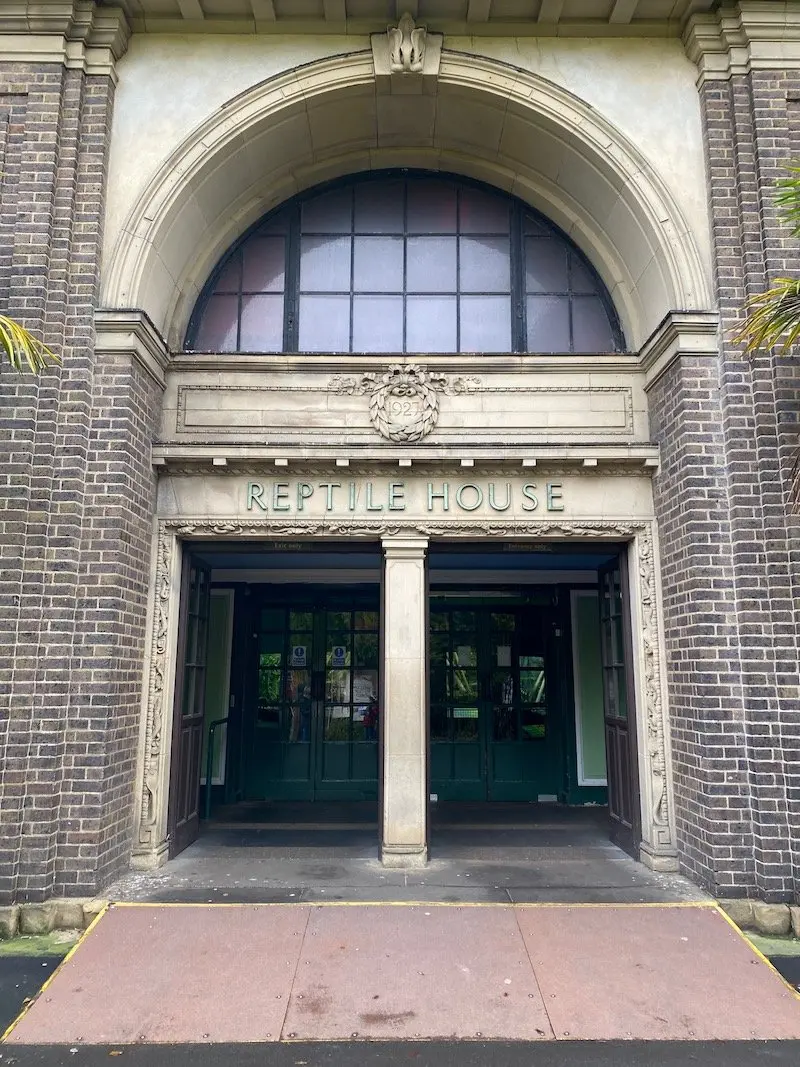 No.7: Reptile House at London Zoo
Kids who adore snakes and lizards need to visit Reptile House at ZSL London Zoo first to see their top notch collection of reptiles and amphibians, including:
snakes
lizards
frogs and
the odd crocodile!
Hot tip: Did you know they filmed a key Harry Potter scene for the first film inside this building ?
No.8: Into Africa Exhibition
Enjoy the African-themed environment where you'll meet giraffes, zebras, okapis, warthogs and African hunting dogs too.
See the two pygmy hippos, Thug and Nicky, in their new home.
These West African animals have two loves in life – sleeping and bathing. The roof of the enclosure has solar panels that keep the water in their territory at a warm temperature all year round.
Close by, giggle with the otters and laugh at the meerkats antics too.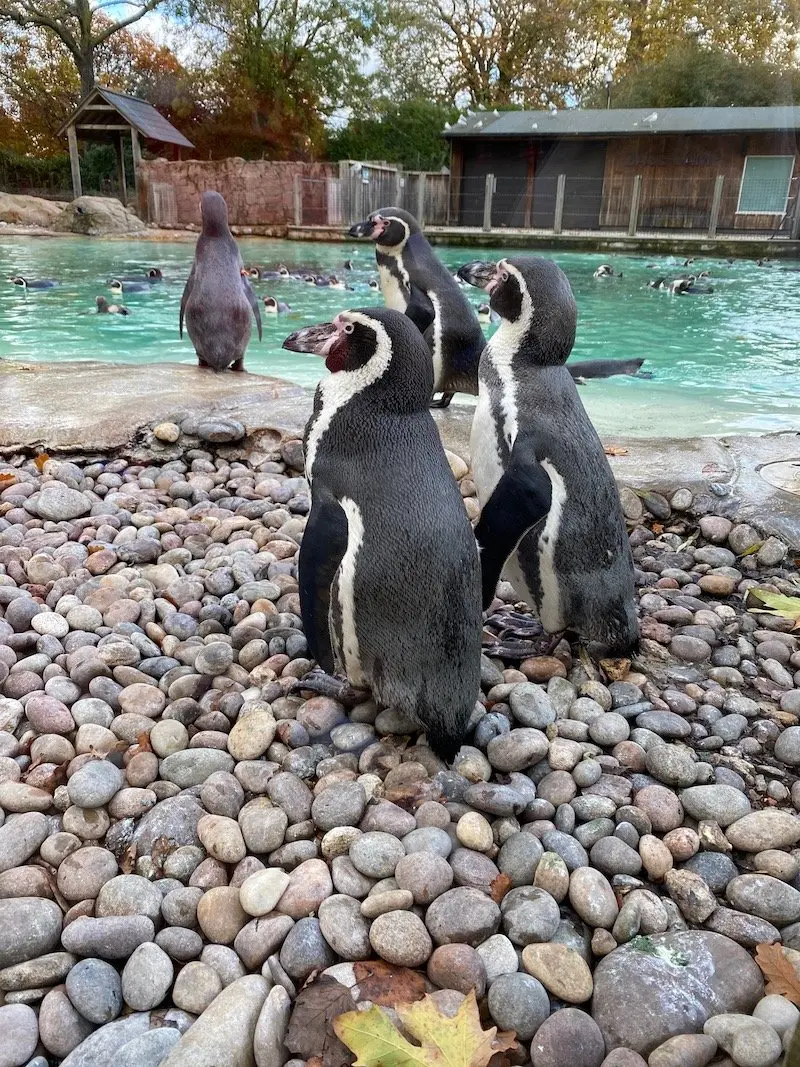 No.9: Penguin Beach
Penguin Beach at London Zoo is the BEST animal exhibition area we've ever seen.
Centrestage, a huge underwater pool with glass-fronted viewing all round, so you can watch the penguins swim underwater.
Twice a day, you can see the keepers feeding the penguins there too.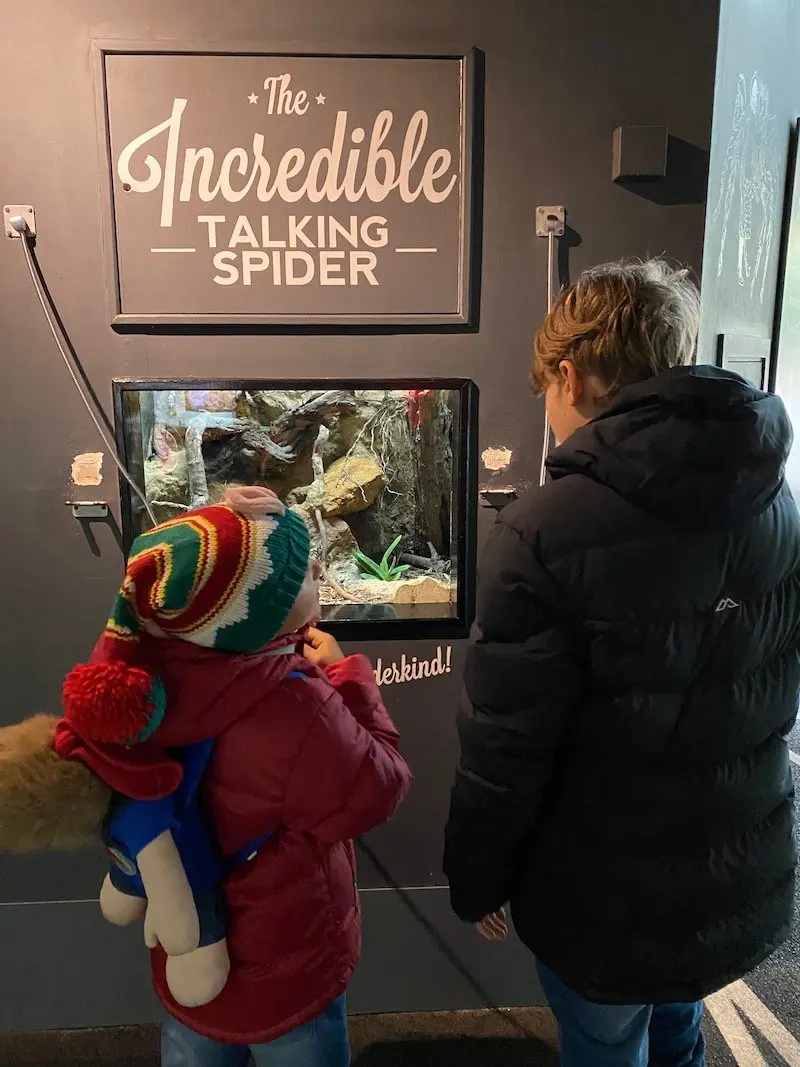 London Zoo Walk-Thru Exhibits
Not only are there animals, there are world-first interactive exhibits. London Zoo animals are amazing.
No.10: In with the Spiders!
Fancy meeting spiders FACE to FACE?
Then walk-through this exhibit of amazing arachnids from around the world.
Yes, you walk in and under them! Oooohhhh!
This walk-through spider exhibition in London is the only one in Europe!
No.11: Rainforest Life
The only place in London to see a sloth in real life!
Monkeys, bats, and rats call this area home too.
No.12: In with the Lemurs!
Another walk-through exhibit lets you come close to delightful Lemurs in a Madagascan shrub forest where the Lemurs will be leaping, climbing and lounging within metres of you.
No.13: In with the Monkeys!
Visit the black-capped squirrel monkeys in the open-topped walk-through eco-safari habitat designed to mimic the Bolivian rainforests as closely as possible.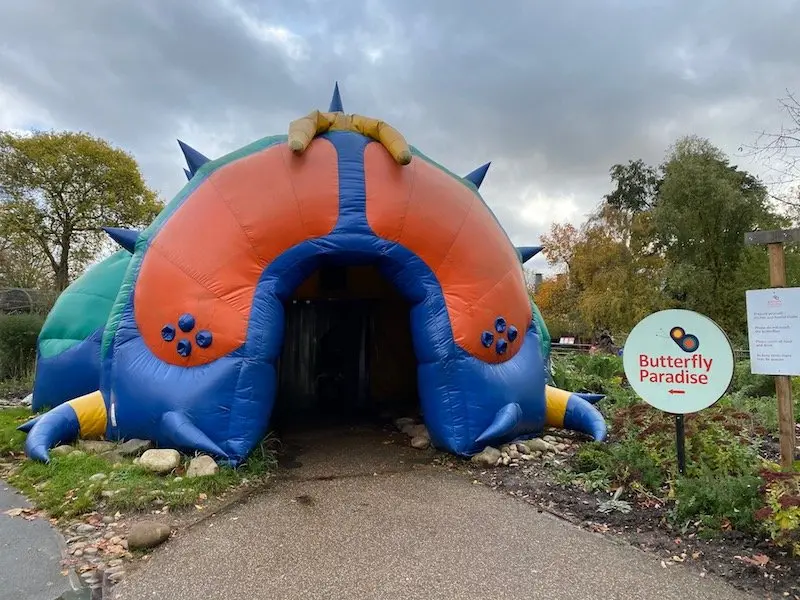 No.14: Butterfly Paradise
Butterfly Paradise is the last of the 'walk though' environments in London Zoo, with hundreds of butterflies from south-east Asia, Central and south America and East Africa meeting up in this global community.
It's the perfect place for kids to learn about butterfly life cycles, biodiversity and climate change.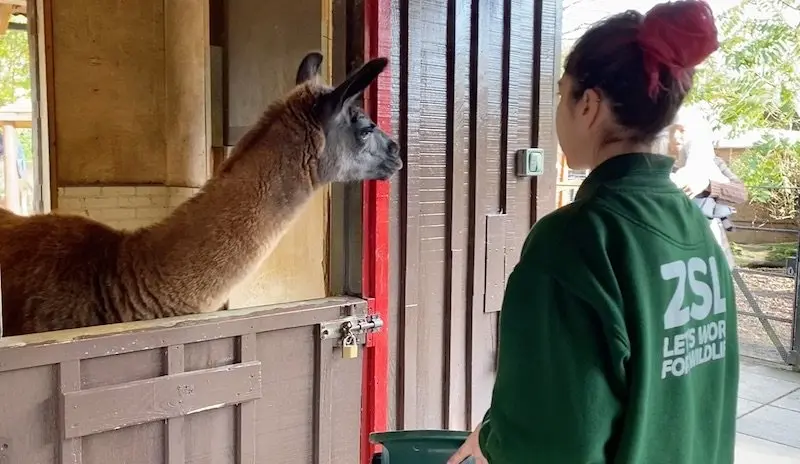 Introducing the Children's Zoo Animal Adventure Zone
But the best bit of all for kids?
The brand new Animal Adventure Zone Children's Zoo.
With opportunities to meet eagle owls, porcupines, mongoose and meerkats up close and personal, the Animal adventure zone is tonnes of fun for kids.
This area has specially designed low barriers to help kids have a better experience of what it's like to see animals in the wild.
Chat to the zoo keepers to learn about nature and it's special creatures, and listen to the daily talks.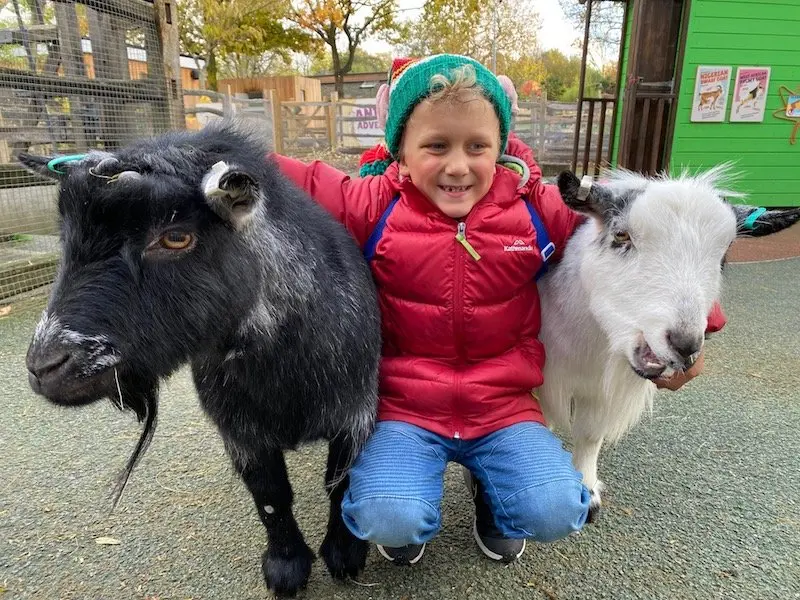 No.1: The Farmyard (London Zoo petting zoo)
The Farmyard encourages children to get hands-on with domestic animals.
Kids can groom and feed the goats and sheep, then meet the zoo's donkeys, llamas and kune-kune pigs.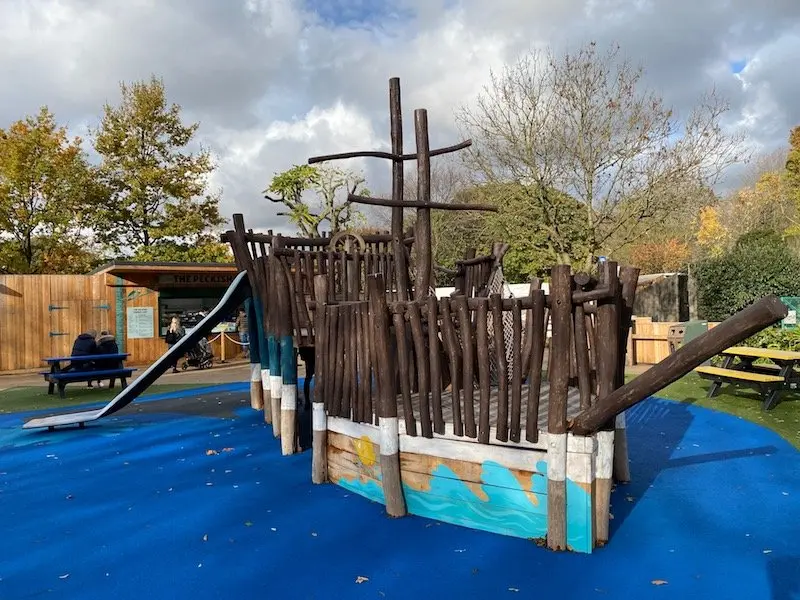 No.2: London Zoo Playground
Your last stop should be the London Zoo Adventure Playground!
It's located near Penguin Beach, and the entrance of the Butterfly Paradise.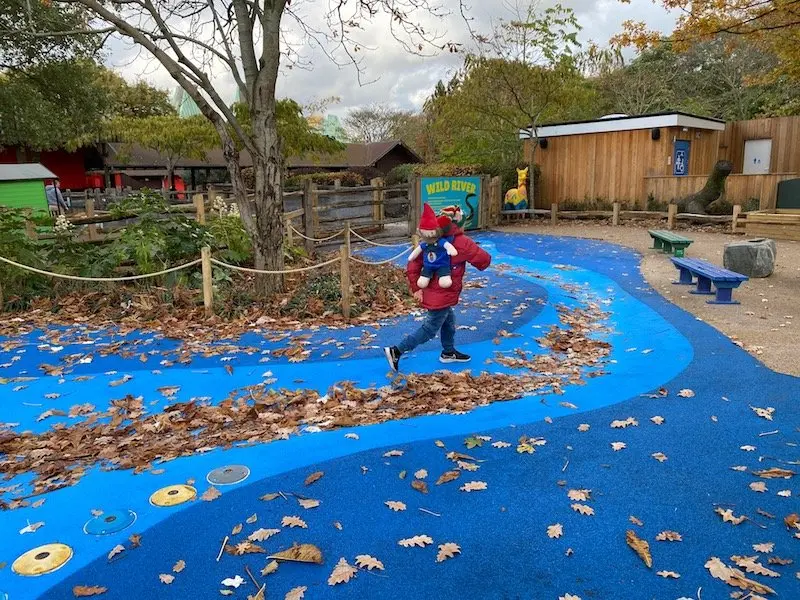 No.3: Mini River
There's a brand new play area with:
mini climbing wall, and
a water splash zone too.
No.4: Animal adventure kiosk
Parents are catered for with a new Animal Adventure Kiosk – grab a coffee, or a snack to eat while you watch the kids play.
Entry is included in the ticket price.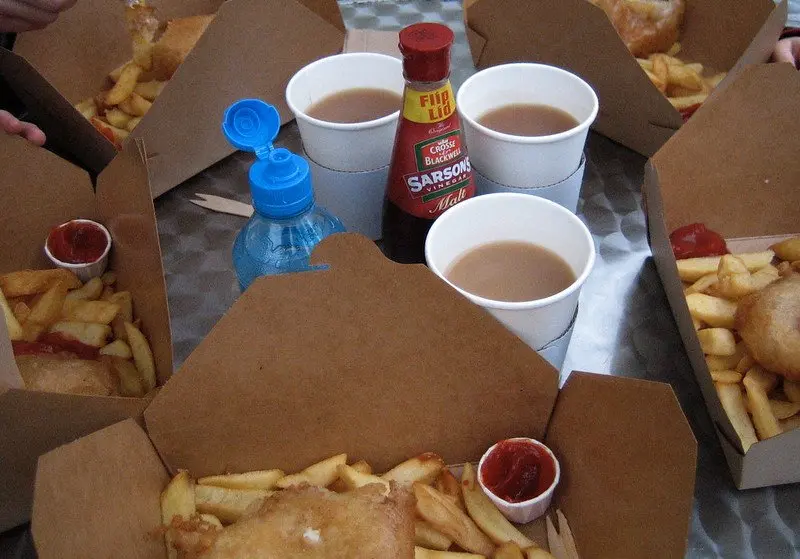 Image credit: Paul Downey via Flickr CC BY 2.0
MORE Places to eat at London Zoo with kids
No.1: London Zoo Terrace Restaurant
The Terrace restaurant's most popular food is the stone baked pizza, and fish and chips.
But on a cold day, you can chow down on curries, soups, and big hearty burgers.
During summer, the menu swaps to lighter meals including wraps, salads and picnic foods.
There's a kids meal called Little Keepers, where they can make their own lunch pack choices with a selection of hot and cold foods including pasta, fish cakes, chicken fingers, and the English fave, bangers and mash.
Cakes are available in the displays all day long.
From time to time, you can enjoy Afternoon Tea at London Zoo as a special high tea event. Check with the zoo for details.
No.2: Street Food Counter
In a hurry? Pick up burritos or a roti bar
The Terrace Restaurant is situated in Barclay Court, opposite the Amphitheatre and next to the Zoo shop and exit.
No.3: Aquarium Kiosk
The other food option is near the entrance to the Zoo, next to the Aquarium.
Fancy an ice cream?
This is the place.
It's also the place to pick up hot pastries, hot and cold drinks, fairtrade coffee, tasty sandwiches and cakes.
No.4: Picnics at London Zoo
You are welcome to bring your own picnic food to eat at the picnic tables around the park.
Need sheltered space?
Find it in the foyer area in the B.U.G.S exhibit and the Aquarium.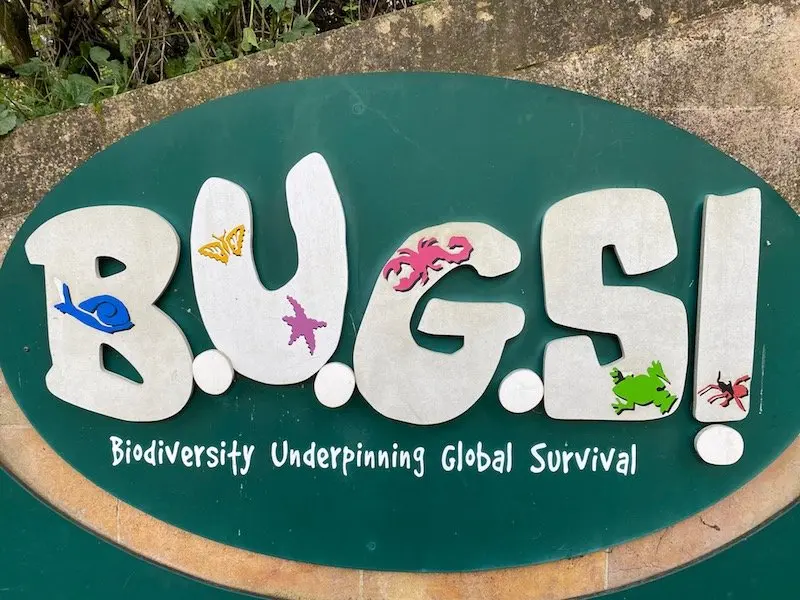 London Zoo Facts for Kids
No.1: (Are) Is there elephants at London zoo?
Not at this kids zoo London. Try Whipsnade zoo.
No.2: What is the list of animals at London Zoo?
We've listed 90% of the animals here, but if you want to know what animals does London zoo have in total, see the full list.
No.3: How many animals are there in London Zoo?
Lots! London zoo is home to more than 17,000 animals across over 750 species.
No.4: What is the rarest animal in London Zoo?
That's a tough question.
Sumatran tigers might be the rarest animal in London Zoo, but there's quite a few animals at London Zoo on the edge of extinction.
Click here to read all about them.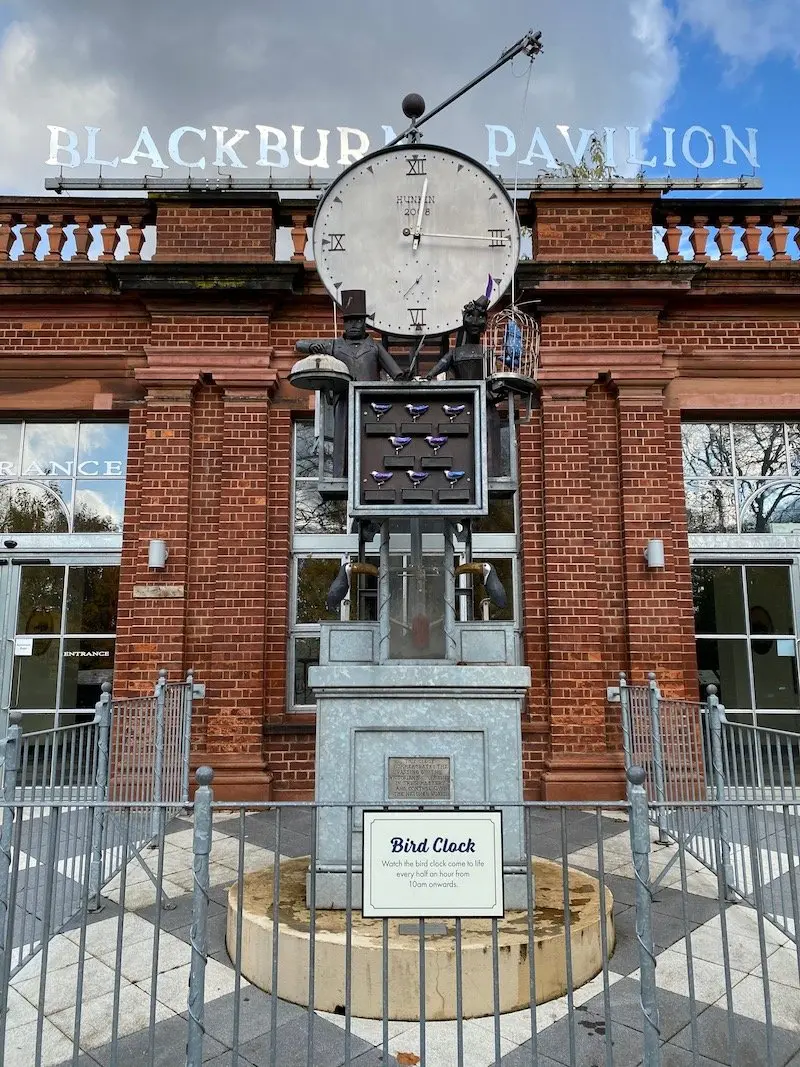 London Zoo Information
No.1: Who owns London Zoo?
ZSL (Zoological Society of London) is a charity, founded by Sir Stamford Raffles and Sir Humphry Davy in 1826. Her Majesty The Queen is The Patron of ZSL. The zoo will be 200 years old in 2026!
No.2: How long does it take to visit the London zoo?
Allow at least 3-4 hours to make the most of your trip.
No.3: Is London Zoo animal friendly?
All of our animals are fed diets which are specifically designed for their needs. They even have indoor areas in the exhibitions for those animals who don't like the rain or cold.
No.4: Is London zoo good for animals?
SL (Zoological Society of London) is an international conservation charity working to ensure wildlife thrives. They are working to bring wildlife back from the brink of extinction.
Through the work of their pioneering scientists, dedicated conservationists and their unrivalled animal experts in our two zoos, they guide and enable others in the UK and all across the world.
No.5: Can I stay at London Zoo?
Yes! You can stay over at London Zoo in two different ways- Safari Tents in Gir Forest, OR in the Bugs room!
Click here for details about a London Zoo Safari Sleepover experience.
READ MORE: Enjoy a London Zoo Bedbugs Sleepover Experience!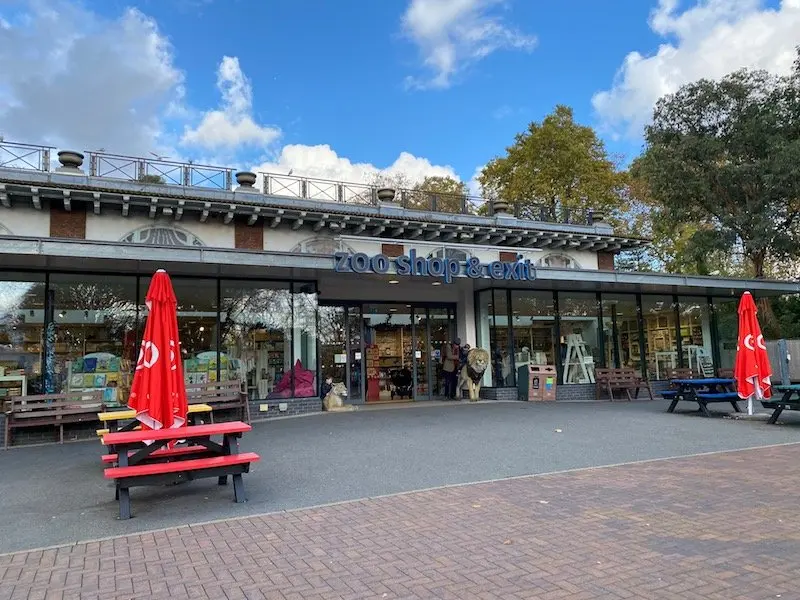 London Zoo Gift Shop
Is there a London Zoo shop?
Yes! With lots of lots of London souvenirs to purchase.
Read our guide (coming soon)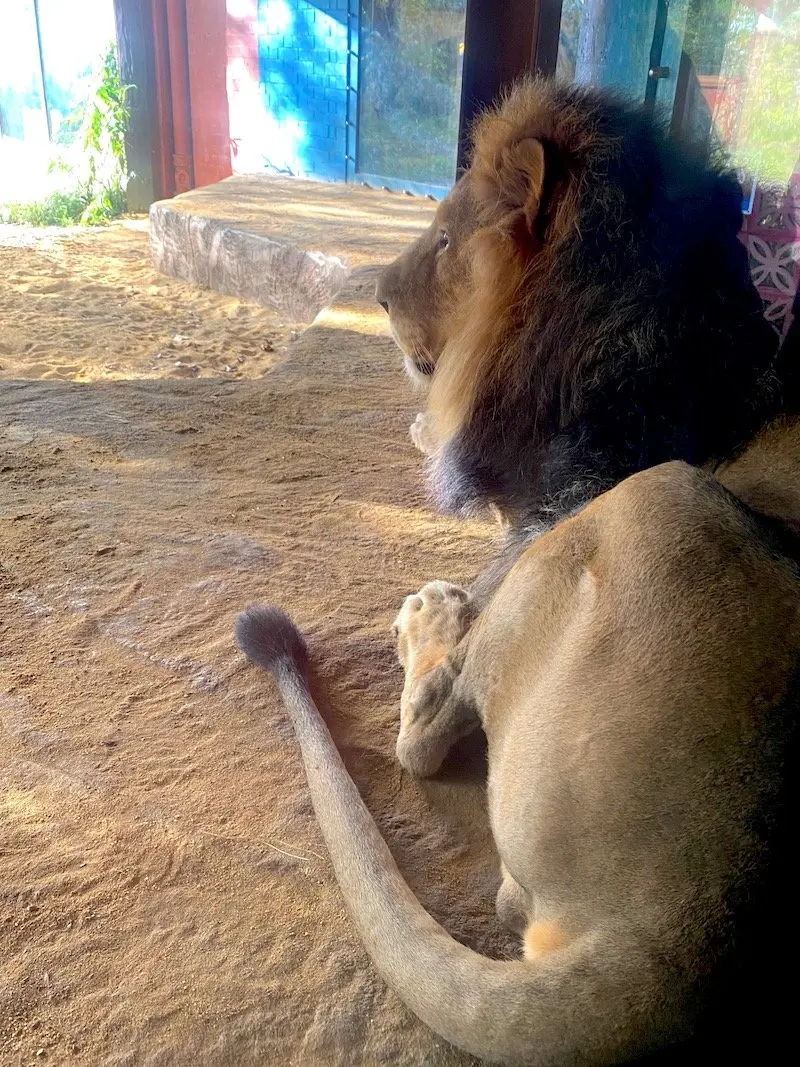 THE INSIDE SCOOP: ZSL London Zoo
Correct at time of publication on Roam the Gnome. Please check with venue for updates. We apologise in advance if there have been any changes we are unaware of. All prices in British pounds, unless otherwise stated
Founded in 1826, the Zoological Society of London (ZSL) is an international scientific, conservation and educational charity whose mission is to promote and achieve the worldwide conservation of animals and their habitats.
Address: Outer Circle, Regent's Park, London, NW1 4RY
Telephone: 0344 225 1826
Website: Click here
Email (bookings): [email protected]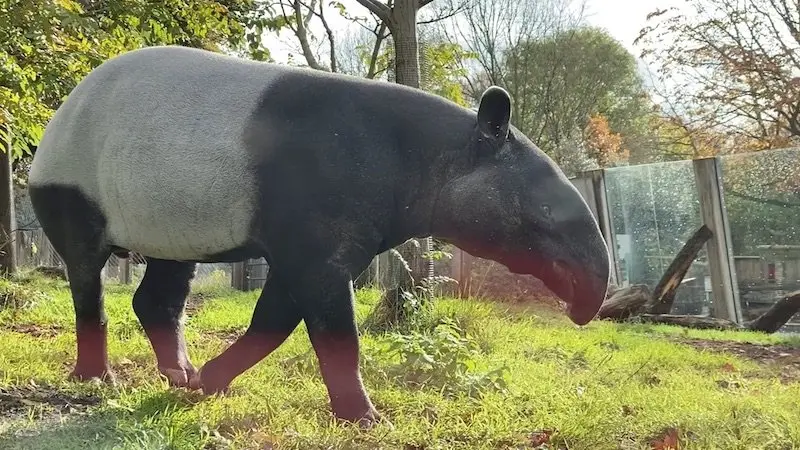 London Zoo Opening Times
ZSL London Zoo is open every day of the year except Christmas Day.
London Zoo opening hours are:
From 31 March 2019, opening 10am – 6pm
From 2 September 2019, opening 10am to 5.00pm
From 27 October 2019, opening 10am to 4pm
Last admission is one hour before advertised closing time
Some animal exhibits may close up to 30 minutes before closing time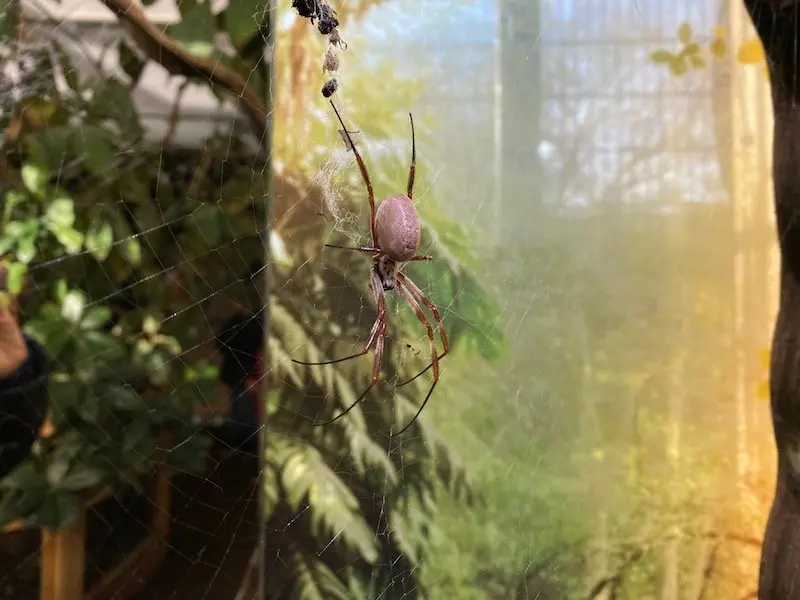 London Zoo Prices
London Zoo ticket prices include flexible pricing options now. It's most expensive to visit during peak times, but now they offer standard, off peak, saver and super saver prices too.
Flexible ticket prices make it easier for you to plan your visit as you can browse through different ticket prices across the year and choose the perfect time to visit based on your budget.
Looking to purchase London Zoo discount tickets? Buying London Zoo tickets online in advance is the quickest and cheapest way for you to get into ZSL London Zoo. Save 10% instantly off gate prices.
An adult ticket during peak season is £35. (£31.50 online). The super saver is £26 on the gate. (£23.40 online)
A child's ticket aged 3 -15 is £22.75 at the gate. (£20.47 online). The super saver cheapest tickets is £16.90 on the gate (£15.21 online)
Children 2 and under are FREE!
There is a reduced rate for people 65+, those with a disability, and students
There is no longer a London Zoo family ticket available
London Zoo deals
You can also get in for FREE with a London Pass!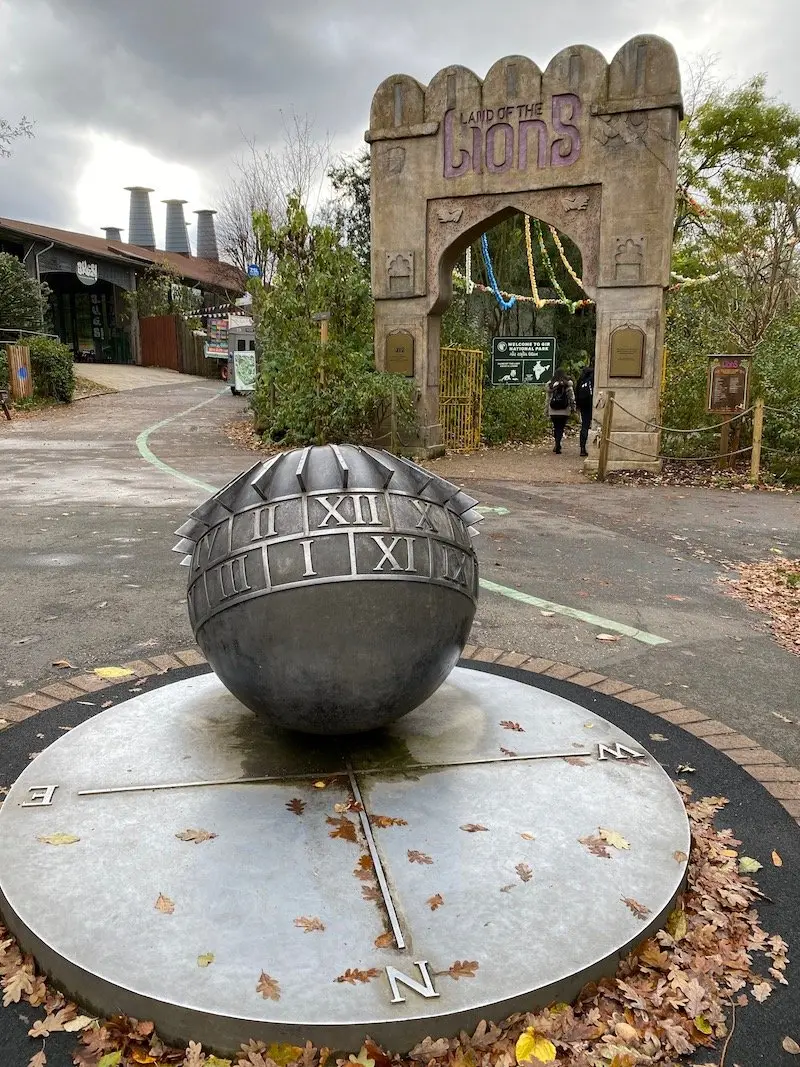 Prepare for your London Zoo Trip
Ground Plan of London Zoo: Download a map of London Zoo Animals before you arrive so you can get your game plan ready.
London Zoo App:
Download ZSL London Zoo's official app on iPhone
Find out more about your favourite animals, create your own bespoke tour or follow one of theirs, find out about all of the exciting daily events and set yourself reminders, and play the Walkabout Game, where you find and photograph animals to win Explorer trophies and Spotter badges!
Buy tickets, get directions and plan your visit, and use the "What's on" section to find out about daily animal talks and events.
Take the Nature Trail at London Zoo:
Pick up a copy of the Nature Trail map at the main gate or information kiosk at the Zoo. Or download a copy before you arrive here.
There's 9 activities for kids and families to complete, and it takes you all round the zoo in a logical way so you don't miss anything.
Daily activities at London Zoo
There's talks and shows all day long at London Zoo. Check out the timetable at the entrance when you arrive.
Don't miss the Penguin Beach live show, or the Tiger interaction at lunchtime to see their skills in action.
You can follow the keepers all day long as they enter different exhibits and walk through areas to showcase the animals there.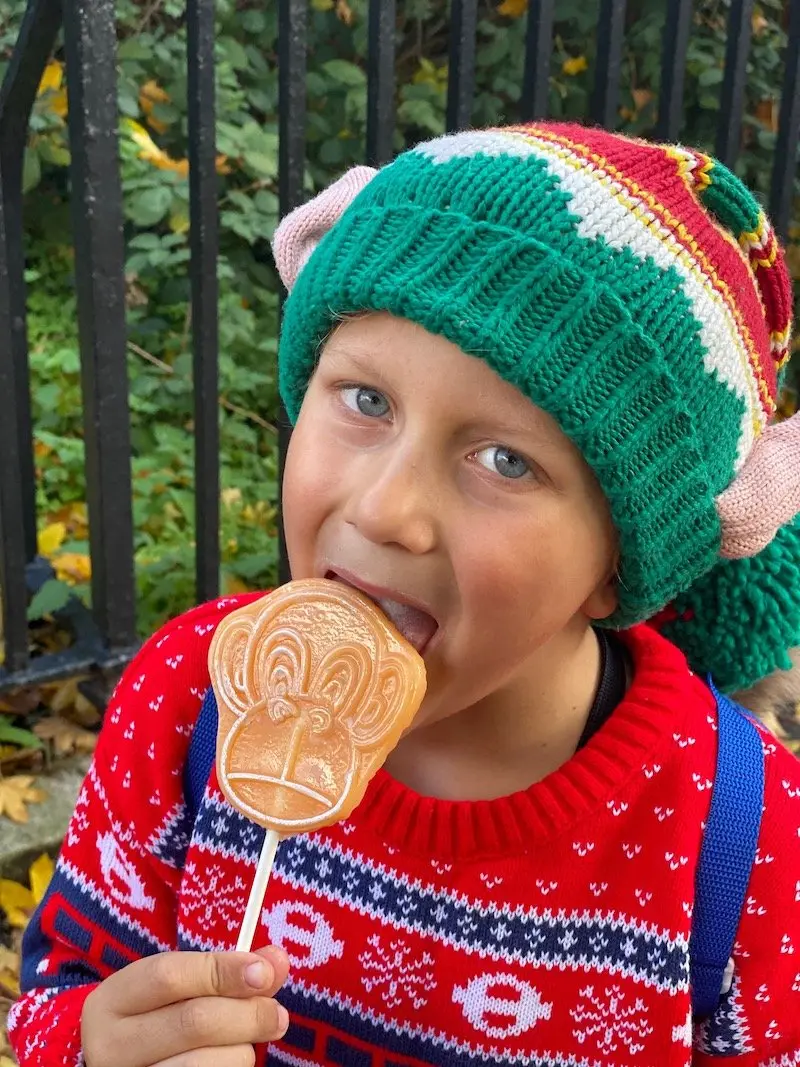 London Zoo Events
No.1: London Zoo nights
London Zoo special events happen from time to time, including the popular Zoo Nights, in the summer where you can visit London Zoo at night. A look at the animals after dark, with a party like atmosphere, street food stalls, animal lanterns, activities and entertainment.
No.2: London Zoo Special events
There's history tours, and for kids, opportunities to become a zoo keeper for the day.
London Zoo Christmas is another exciting time.
Enquire at the information desk or on the website for what's on.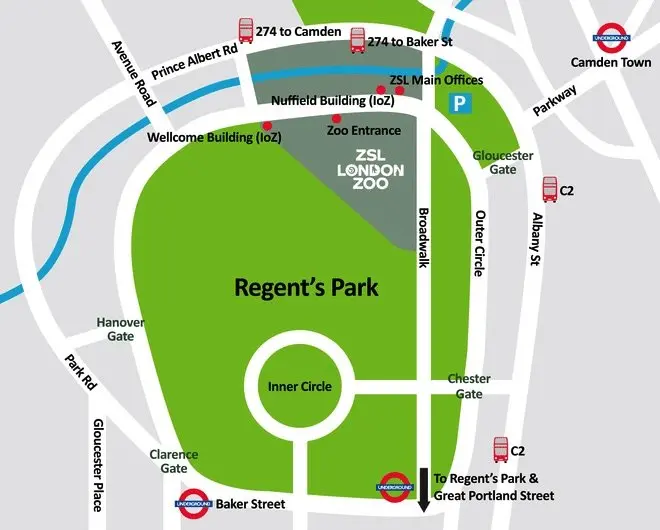 How to get to London Zoo
Click here for all your transport options
London Zoo parking
Parking for Zoo visitors is available in the Zoo's Gloucester Slips Car Park and is payable on the day at a cost of £14.50.
The Zoo's Main Gate is situated on the Outer Circle of Regent's Park NW1, which is outside of the congestion charge zone.
Pay and display parking is also available on the Outer Circle at £2.40 per hour Monday to Saturday and £1.40 per hour on Sundays from 9am to 6.30pm each day.
There is a 4 hour max stay Monday-Saturday but no maximum stay on Sundays.
Facilities at London Zoo for Kids
Self service storage lockers from £1 per hour for a medium sized locker or from, £2 per hour for a large locker. Unfortunately they cannot be reserved and there are a limited number available on a first-come-first-serve basis.
Pram Hire
Trike hire
London Zoo Map
Toadstool Rating: London Zoo Kids
You can also visit Whipsnade Zoo if you are not yet zooed out.

Looking for MORE Things to do in Regents Park with kids?
Click the links in blue below for more London ideas.