INSIDE: The Ultimate Guide to the London Science Museum for Toddlers, Kids & Families.
Wondering what there is to do in the London Science Museum for toddlers, preschoolers and bigger kids?
Do yourself a favour and head Straight to the THIRD FLOOR WONDERLAB for Kids aged 8 -14!
The Wonderlab Science Museum age is NOT just for kids 8 -14, as the brochure said.
My boys (aged 2 and 7), and our cheeky never-ageing Gnome, LOVED it.
What is Wonderlab at the Science Museum?
It's over 50 hands-on science experiments, exhibits and activities, just for kids.
We think you'll love it too.
Take a look below for ALL the details.
Disclosure: This article contains affiliate links. If you make a purchase after clicking on one of these links, we may receive a small commission at NO extra cost to you.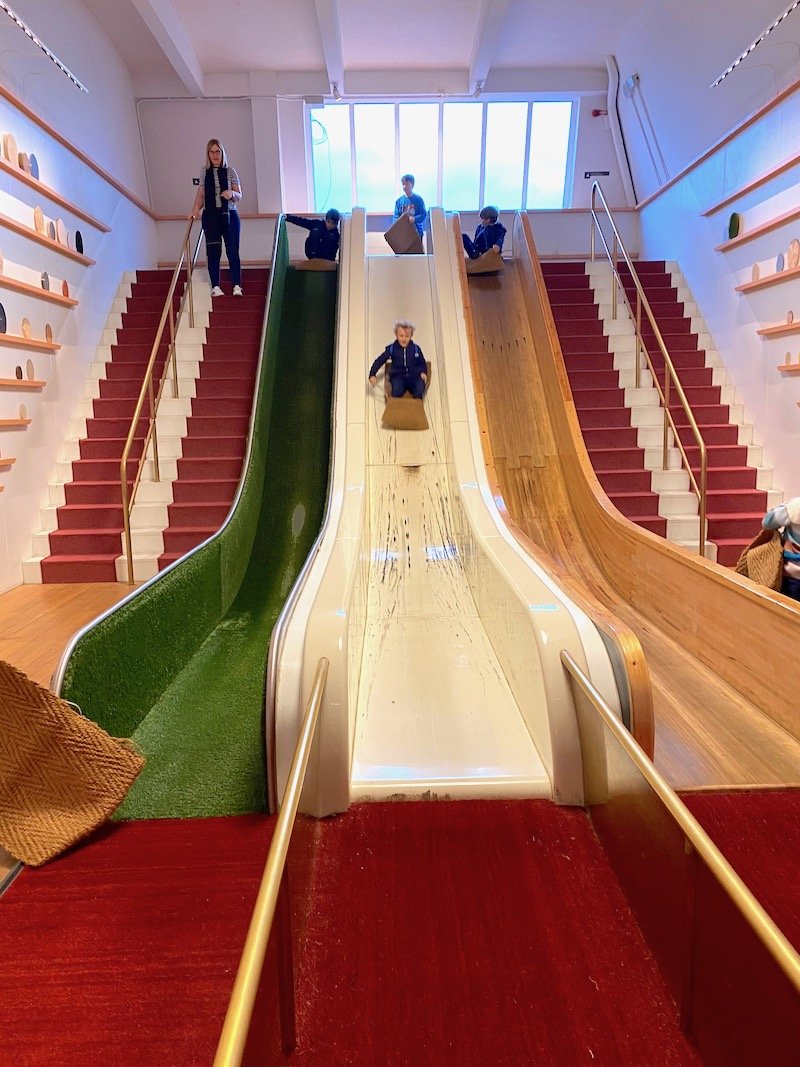 Guide to WONDERLAB Science Museum London on Level 3
Toddlers and kids can join in more than 50 mind-blowing exhibits, shows and demonstrations.
There's SEVEN zones for kids to explore and join in real science experiments, and there's a team of Explainers on site ready to help kids understand how the science experiments work.
Toddlers, preschoolers and big kids can:
join in live experiments at the Chemistry Bar in the Matter Zone
watch lightning strike in the Electricity Zone
race your friends on the three giant friction slides in the Forces Zone
play with colour in the Light Zone (hot tip: wear white!)
explore space and planets in the Space Zone
investigate shapes and modelling in the Maths Zone
use the thermal imaging camera to find out how hot and cold things are
move liquid using magnets in the Matter Zone
touch sound and feel it in your body at the Sound Pods in the Sound Zone
Launchpad Science Museum
Sadly, the Science Museum Launchpad is no longer, but this is an awesome replacement.
---
RELATED: The ULTIMATE List of Things to Do in London with Kids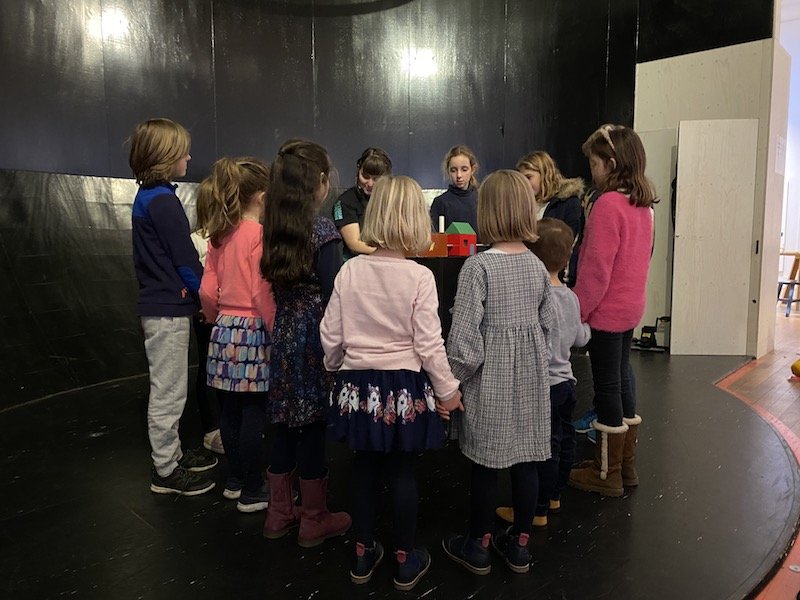 4 Science Museum Wonderlab Shows for Big Kids
There's FOUR fun science shows for the big kids to enjoy too.
No.1: Flash, Bang, Wallop for kids aged 7-12
All things fire and explosions. It's LOUD!
No.2: Live Wire! for kids aged 7-12
A chance to discover the secrets of electricity.
No.3: The Rocket Show for kids aged 9-14
Watch the launch of a rocket, learn about rocket fuel, and discover HOW astronauts get into space and back without imploding!
No.4: Prime Time for kids aged 9-14:
A look at maths in the real world in daily life, including architecture, design, and playing games.
---
RELATED: The Epic Guide to the Natural History Museum London Kids Exhibitions & Events
Wonderlab Tickets & Wonderlab Prices
A daily pass to Wonderlab Interactive Gallery starts from £8.00 for kids aged 4-16, and £10.00 for adults.
Toddlers and babies under 3 enter for FREE.
A family discount applies for groups of three or more.
You must prebook your entry time when you buy tickets as they have rolling entry into this hands-on exhibition. Time slots start every 15 minutes.
However, once inside the gallery, you can stay as long as you like.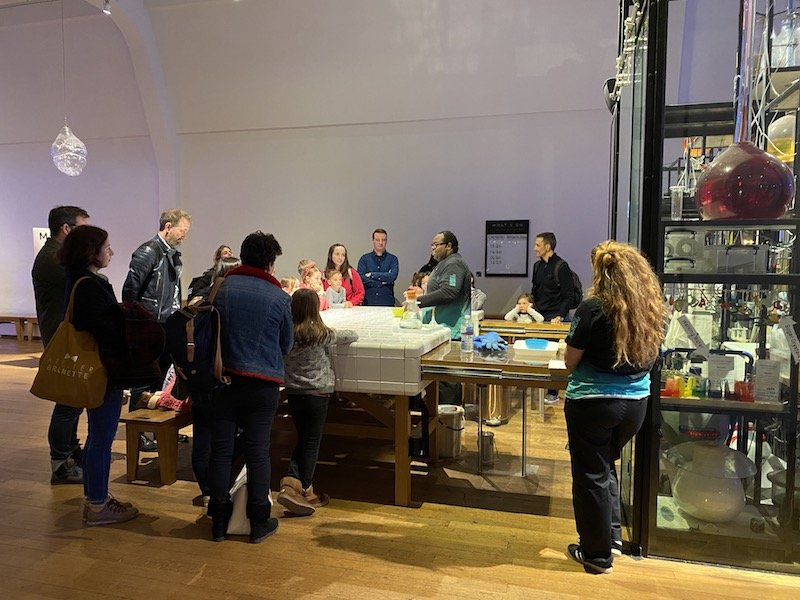 Hot tips for visiting the London Science Museum on a School Excursion Day
It pays to visit when there's a school excursion on sometimes, even though it's busy!
Some of the experiments work better when there are LOTS of kids to man all the stations and contribute their energy to the task.
But if you don't want lots of kids around, go after 2.00pm.
The crowds of school kids are there one minute, gone the next.
Plan to spend at least two hours at the Science Museum Wonderlab.
Bring a book just in case. You won't get them out of here in a hurry.
Sneak Peek inside the Wonderlab London
Take a look at the video above for a sneak peek into the Wonderlab science museum.
The video shows just a tiny fraction of the fun things to do at the Science Museum, but it's a good start.

The Wonderlab Milkshake Bar – 3rd floor
Design your own ice-cream tub with a range of toppings, or indulge in a made-to-order ice cream milkshakes.
Monday–Friday 11.00–15.00
Saturday–Sunday 11.00–17.00

Explore the Rest of the Science Museum London with Kids
When the kids have had enough of the Wonderlab area, it's time to explore the rest of the Natural Science Museum in London.
There's no wonder this place ranks so highly on the list of things to do in London with kids.
It's extraordinary!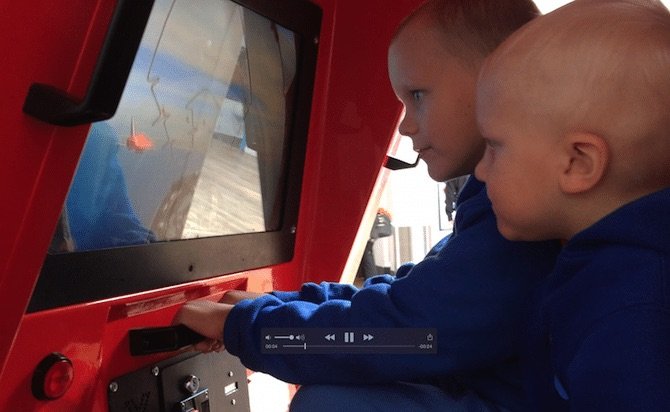 Level 3 at the London Science Museum for Kids
No.1: Fly Zone
There are two flight simulators on Level 3 in the Fly Zone.
Kids aged 4 + and families can sit in on the Red Arrows 3D Science Museum flight simulation theatre for a sensational aerobatic display, or jump into the Typhoon Force and fly a low-level mission in the cockpit of a RAF Typhoon jet. (Ticketed)
Fly Kids is a chance for younger kids to fly with the Red Arrows! This is a 2D pod ride for ages 3 -5. (Ticketed)
No.2: Flight Gallery
Check out over 100 aircraft models from the history of flight from the earliest pioneers to modern jumbo jets in the Flight Gallery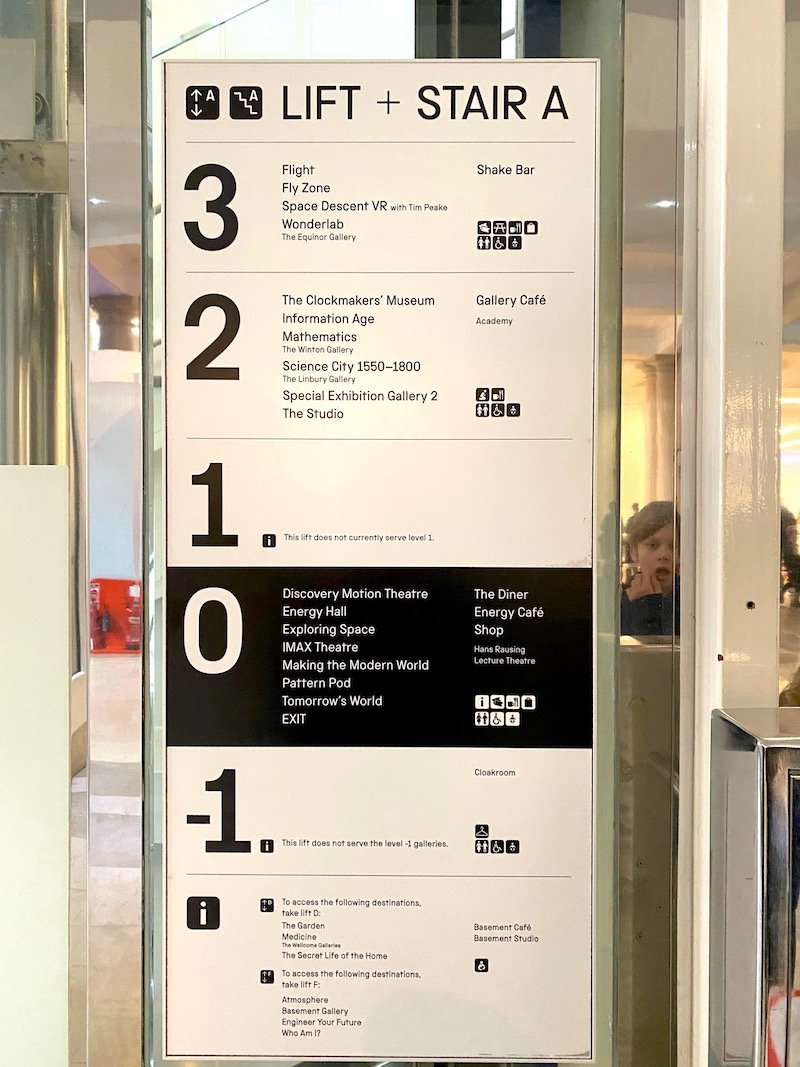 Level 2 for Kids at the London Science Museum
No.1: Information Age
Has it's own InfoAge+ app. Download it before you come, and set your kids up with some tasks such as finding a news story in the gallery or creating a video report.
This gallery showcases the technological advances of information and communication equipment over past 200 years.
No.2: The Clockmakers museum
No.3: Mathematics
Lots of maths games to challenge the thinking.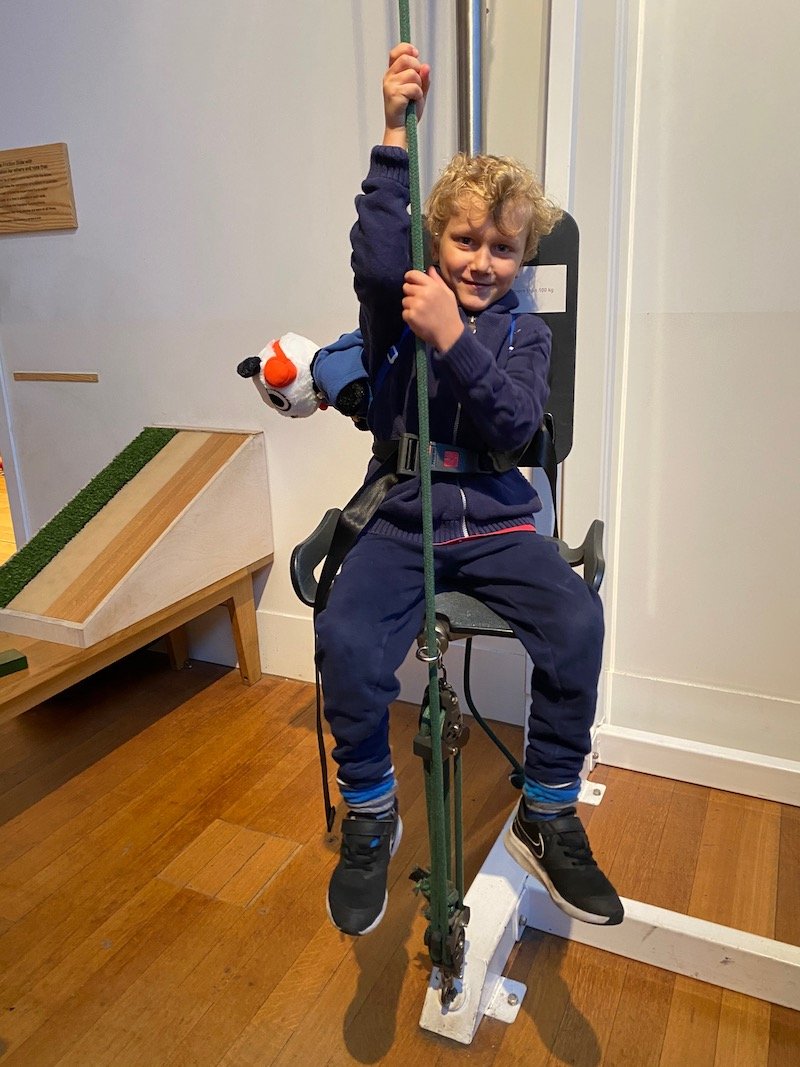 Level 1 for Kids at the London Science Museum
No.1: Who Am I? Gallery
Discover more about the human being and morph your face to see what it will be like as you age!

Level 0 for Kids at the London Science Museum
No.1: Pattern Pod Science Museum
Touch screens, playful science games, and experiments with water, shapes, and patterns, perfect for 5 -8 year olds.
No.2: Making the Modern World
Kids can check out the cultural history of our world and how things have changed from the 1750's to today
They'll love the planes, trains and automobiles on display!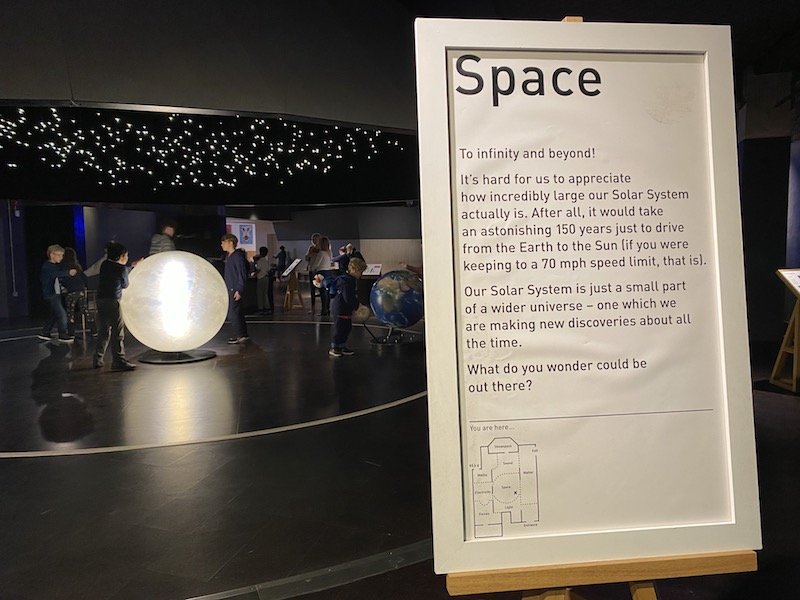 No.3: Explore space
See a real piece of the moon, then find out how astronauts breathe, eat, drink and go to the toilet in space!
Lots of rockets, satellites, space probes and landers to check out too.
No.4: IMAX theatre 3D & 2D movie experience.
If you've not done IMAX with the kids before, now's the time.
See current shows and book tickets here.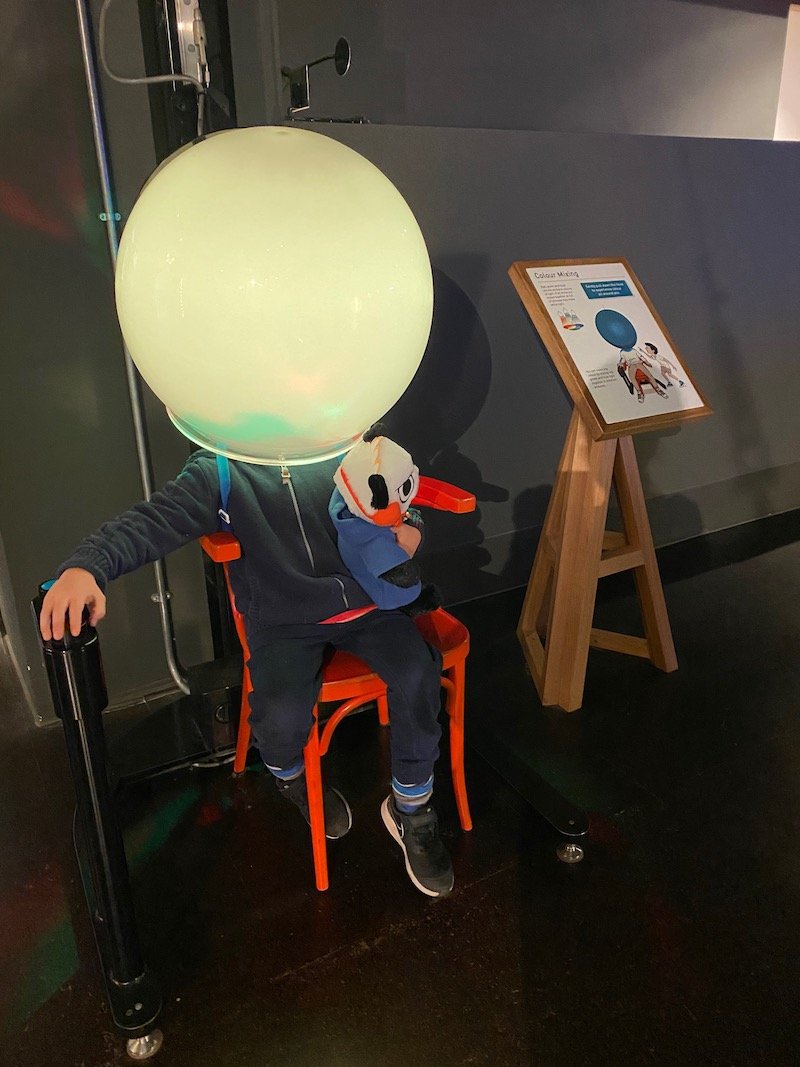 Basement Level for Kids at the London Science Museum
No.1: The Garden at the Science Museum
Did you know there's also a dedicated zone for toddlers at the Science Museum.
Visit The Garden, on basement level, a place for kids aged 3-7 to explore science through play.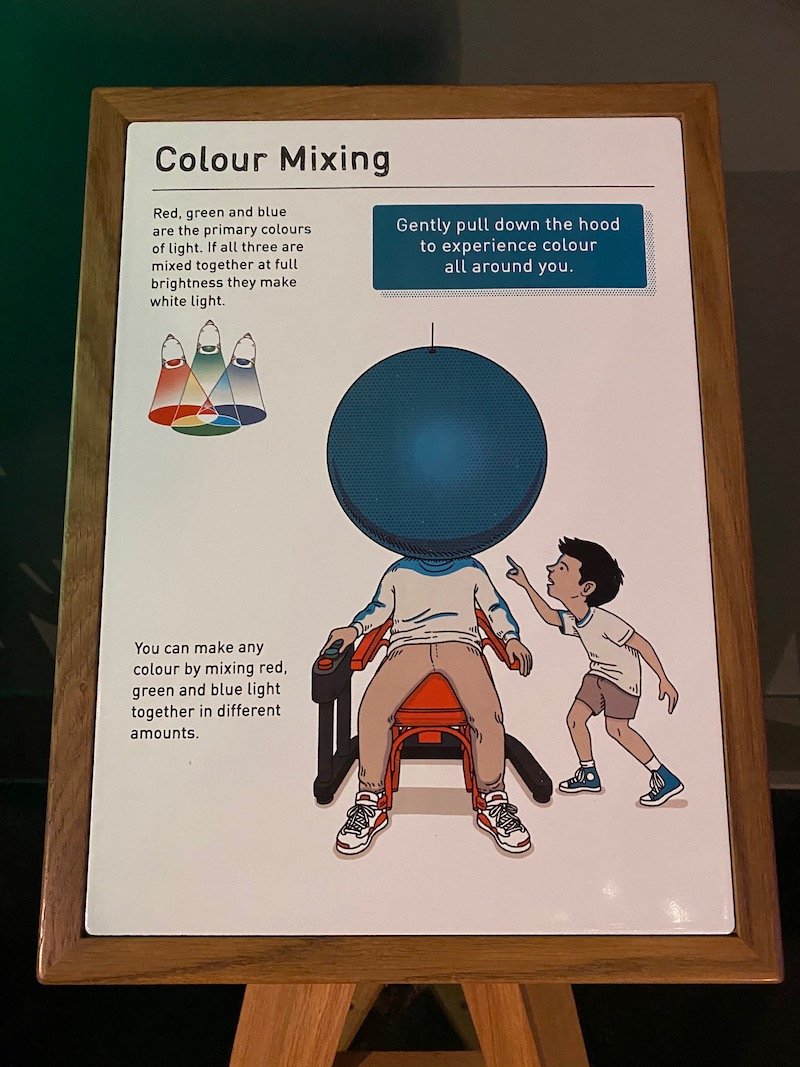 Explore the Science Museum Garden.
This child-centred interactive gallery is where preschoolers and toddlers in London can learn about science in a fun, engaging way through games and activities.
This science centre for toddlers and kids aged 3 -7 years has "Museum explainers" on hand to help answer questions or join in the games.
If you are on the fence and wondering is the Science museum good for toddlers, or is the Science museum suitable for toddlers, we say YES in bold.
They'll be entranced.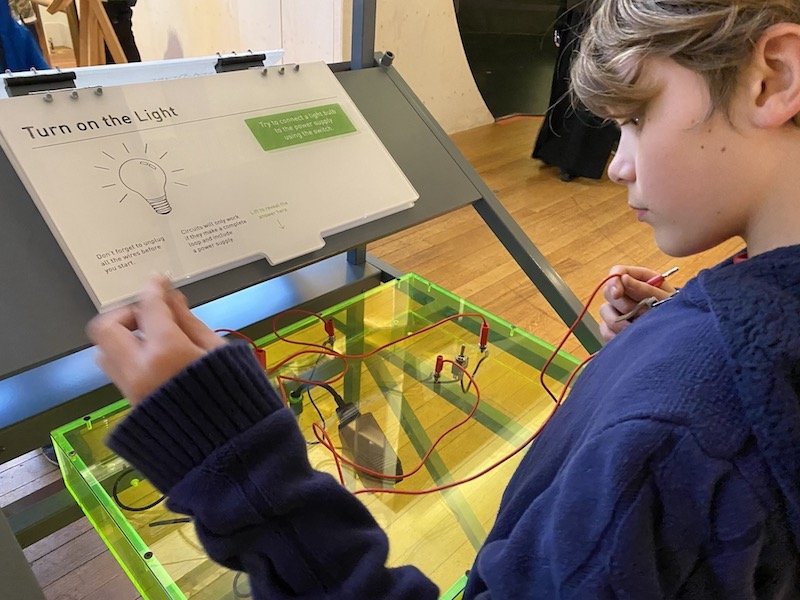 No.2: The Secret Life of the Home
Kids can:
flush a loo to see how it works
see horse-drawn vacuum cleaners
explore pop-up toasters
learn about other everyday household objects and
see how they've changed over the years.
No.3: Family Amenities
There's also:
a Family room
buggy parking
a picnic area and the Basement Café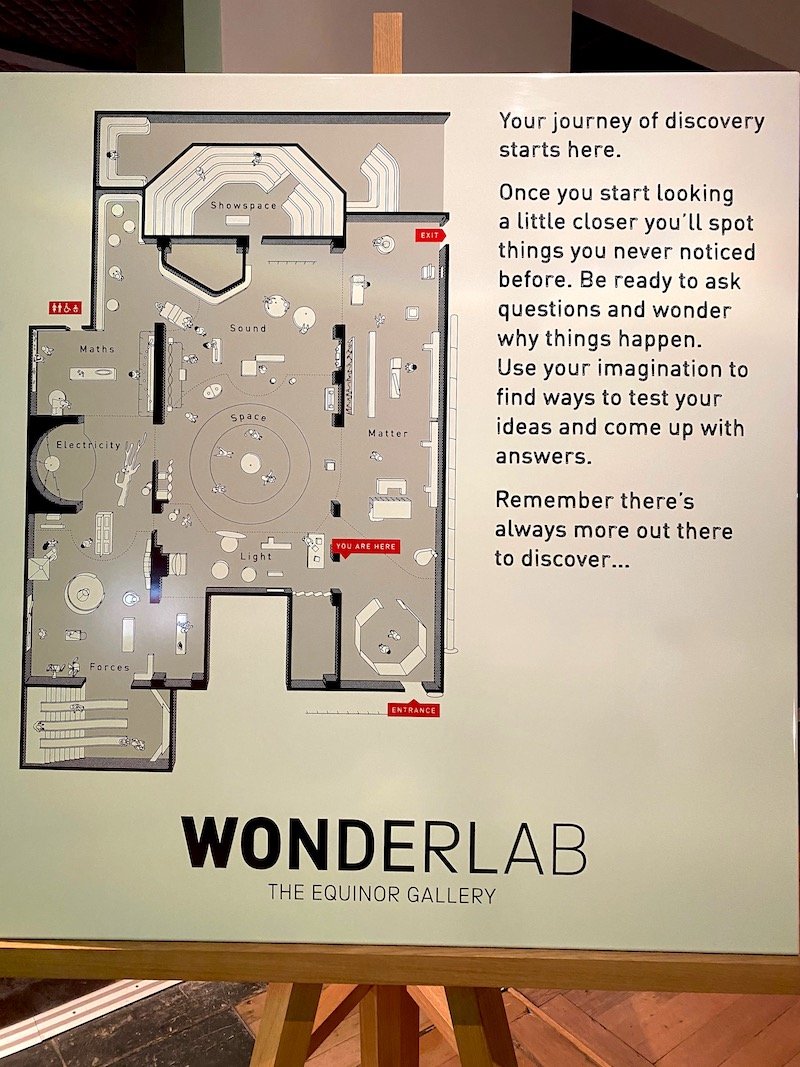 Science Museum App
Download the London Science Museum App – Treasure Hunters- to create your very own tour of the museum.
Download from the App store
Download from Google Play

What to eat at the Science Museum London Cafe
No.1: Energy Cafe – Level 0, next to the shop
Grab and go food with seating on two levels. Cakes, sandwiches, hot and cold dishes, hot specials, made to order pizza, cold drinks, teas and coffees on offer.
Monday–Sunday 10.00–17.30 (until 18.30 during school holidays)
No.2: The Diner – Level 0
Feast on an extensive menu of burgers, salads and desserts at our family restaurant.
Monday–Sunday 11.00–15.00 (until 17.00 on weekends and during school holidays)
No.3: The Basement Cafe – Level 1
Coffees and cakes, juices, smoothies and teas.
Watch out – there's pick and mix sweets on the shelves too!
Monday–Friday 11.00–15.00, Saturday–Sunday 11.00–16.00
No.4: Gallery Cafe – Level 2
Extensive range of vegetarian food, salads and hot and cold drinks.
Monday–Sunday 10.00–16.00 (until 17.00 during school holidays)
No.5: BYO picnic – Level 1 & 3
Ask a staff member to point you in the direction of a picnic area. (There's a few around the museum)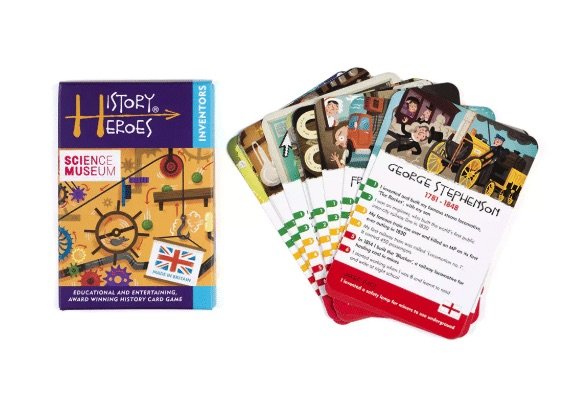 London Science Museum Shop – Level 0
Stop at the Science Museum London Shop.
The Museum of Science Gift Shop has an amazing range of lifestyle products and gadgets for everyone including:
tech products
science kits
science themed homewares
fun fashion and science t shirts
children's toys
Look out for the range of unique London gifts & souvenirs inspired by the Science Museum's exhibitions, galleries and collections.
Science Museum Lates
Science Museum Lates are adults-only, after-hours theme nights that take place in the museum on the last Wednesday of every month.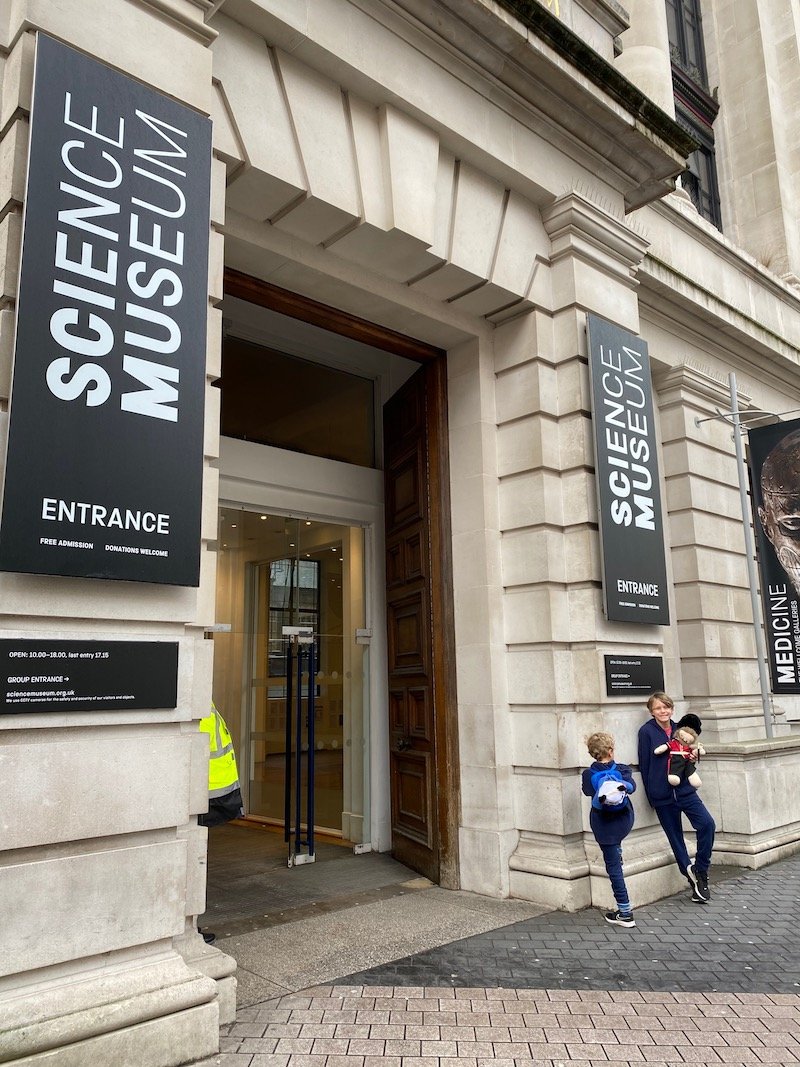 THE INSIDE SCOOP: London Science Museum Under 5s
Correct at time of publication on Roam the Gnome. Please check with venue for updates. We apologise in advance if there have been any changes we are unaware of. All prices in British pounds, unless otherwise stated
Sign up for the newsletter to find out about current and upcoming events and exhibitions.
Address: The main entrance is on Exhibition Rd south, Kensington, London SW7 2DD, UK
Telephone: +44 870 870 4868
Website: Click here
Science Museum Opening Times
Interactive Gallery open daily 10am to 6pm.
Last admission 5.15pm.
Galleries start to close at 5.30pm
Closed 24-26 December
Entry fees
FREE entry.
Some exhibitions and attractions are ticketed. Look out for the 'ticket' shaped sign as you go around. Book individual tickets at any of the ticket desks.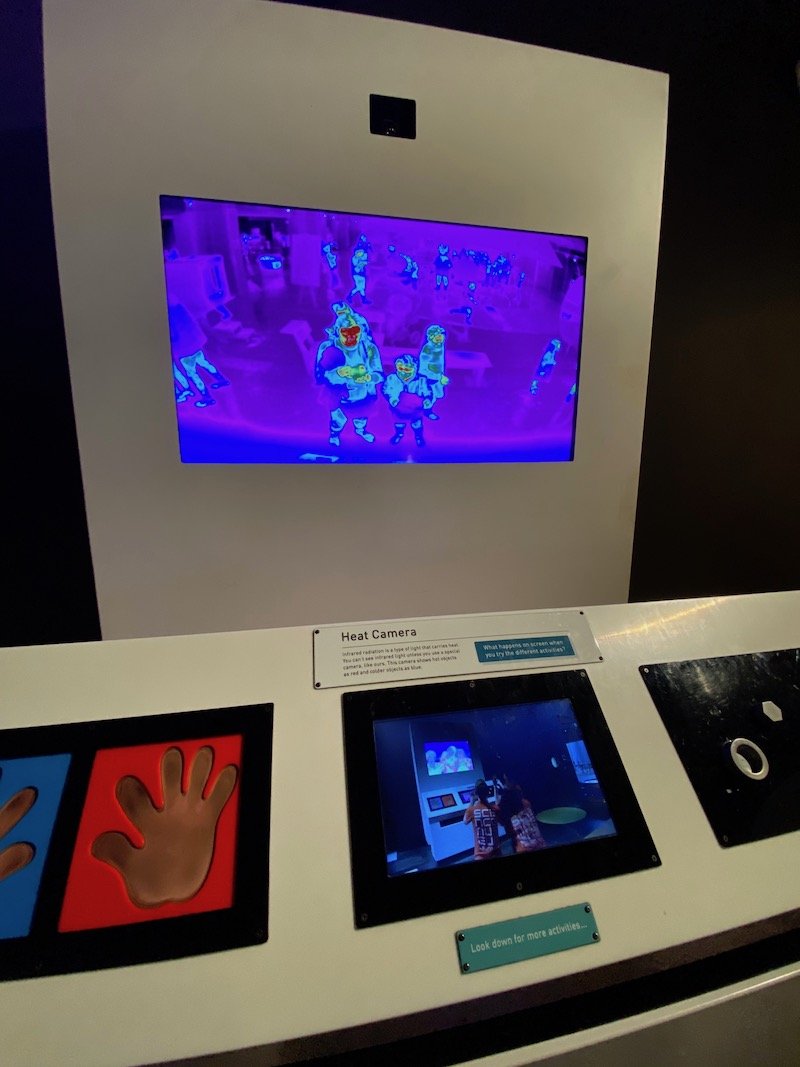 How to get to the London Science Museum
By Underground
The nearest Science Museum London tube station is South Kensington. This is on the District, Circle and Piccadilly lines and is a 5 minute walk from the Museum. A pedestrian subway connects South Kensington station to our main entrance.
Gloucester Road tube station is also on the District, Circle and Piccadilly lines and is a 15 minute walk.
Find out the latest Transport for London tube status updates.
By Bus
Bus routes 14, 49, 70, 74, 345, 360, 414, 430 and C1 stop outside South Kensington Underground Station.
Bus routes 9, 10, 52, 452 and 70 stop outside the Royal Albert Hall on Kensington Gore.
By Bicycle
Transport for London Barclays Cycle Hire docking stations are available outside the Museum on Exhibition Road and on Thurloe Place near South Kensington tube station.
We do not have dedicated bicycle stands, but folding bicycles can be left in our cloakroom on the lower ground floor.
By Car
We do not have car parking facilities and local parking is very limited.
There is no visitor parking in Exhibition Road.
We suggest catching public transport as it's much easier
Science Museum Parking
Map of the London Science Museum
Toadstool Rating: The Wonderlab Science Museum Review
So good. We can't wait to go back, again.

Looking for More London Museums for Kids?
Click the links in blue below for more London tips