INSIDE: A sneak peek at the fabulous Imagination Playground NYC.
With views of the harbour, and on prime Manhattan land at Burling Slip, Imagination Playground New York is surely the world's most expensive playground!
The transformable open space design is perfect to inspire child-directed unstructured free play.
There's a multi-level space with a giant sand pit, and a water play area.
But the WOW FACTOR of this interactive playground is that kids can manipulate their play environment with loose parts, and build and create wherever there's a free space.
IMAGINATION PLAYGROUND NYC is the Best Loose Parts Playground in New York!
It's also one of the best things to do at South Street Seaport with kids!
Take a look below.
Disclosure: This article contains affiliate links. If you make a purchase after clicking on one of these links, we may receive a small commission at NO extra cost to you.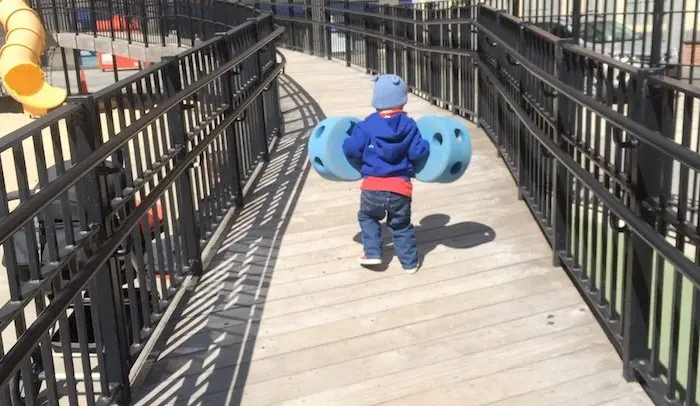 Guide to Loose Parts Play at Imagination Playground NYC
At Imagination Playground New York, loose parts and elements are provided by the trained on-site 'play associate' staff who manage the playground and provide supervision over the loose parts.
---
Related: The Ultimate Guide of Best Things to do in New York with kids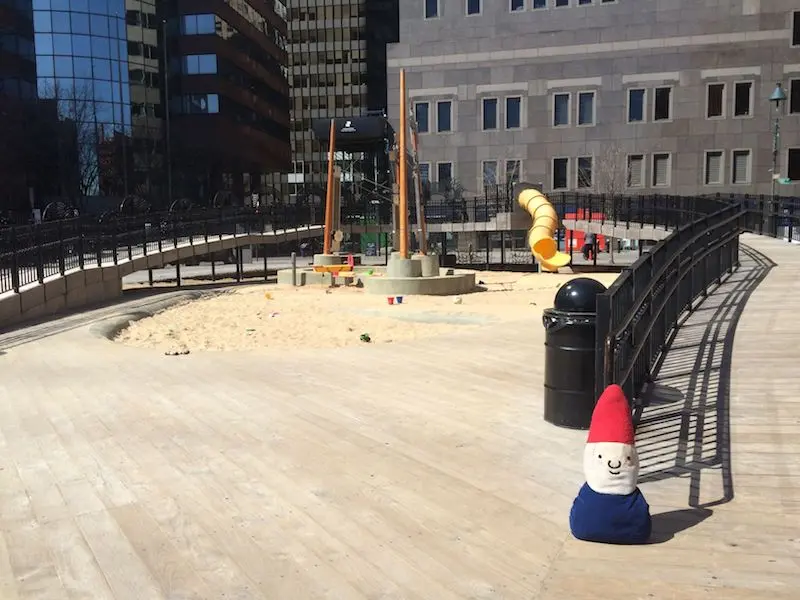 Imagination Playground New York playground equipment
Children are allowed to constantly redesign and change up their environment.
They are encouraged to design their own imaginative play experiences with these ever-changing loose parts such as toys, tools and giant foam building blocks.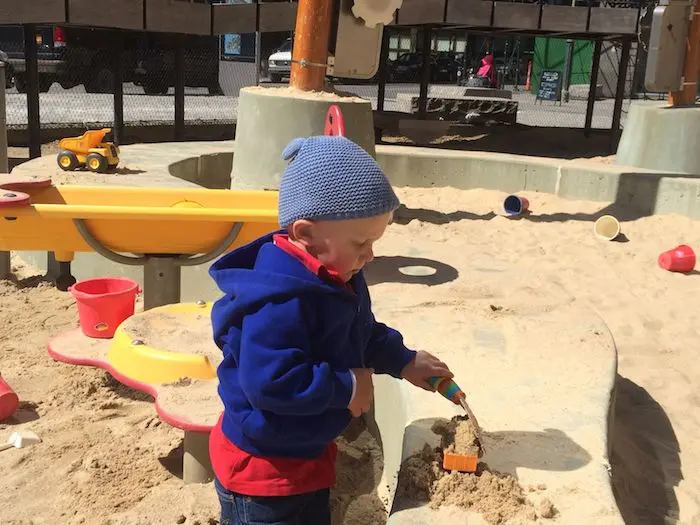 Imagination Playground Blocks ideas
The Imagination Playground foam blocks come in all kinds of shapes including:
balls
ramps
tracks
circles
pipes
troughs, and
balls.
Kids are invited to use their intuition as a guide for play as they build something, tear it down, and start all over again.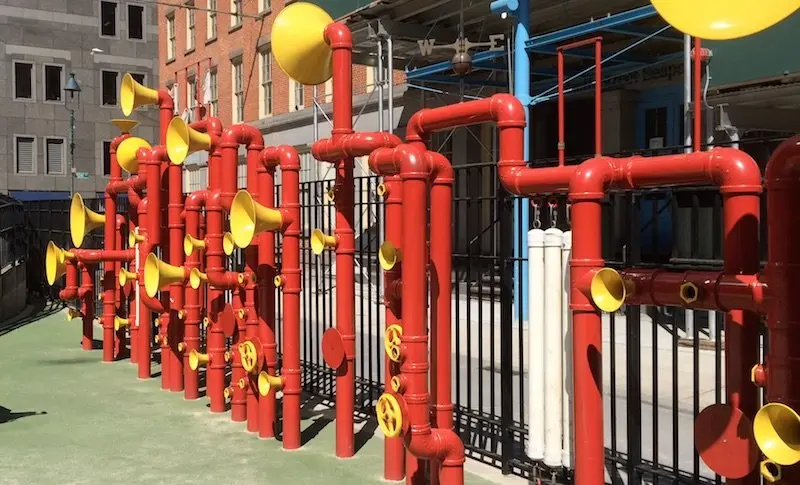 Imagination Playground architect?
Designed by famed architect David Rockwell, the Imagination Playground in New York lets kids exercise their minds AND muscles.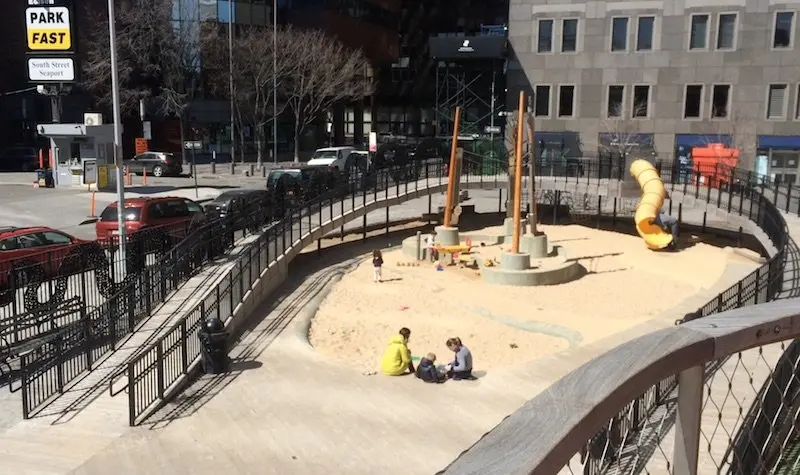 More things to do at this New York playground
Kids can:
run up and down the ramps or hide under them for some cool shade
slide down the iconic yellow tunnel slide
climb the ropes
laze in the hammocks
skip, and jump
as well as play out their own imaginative games with new friends.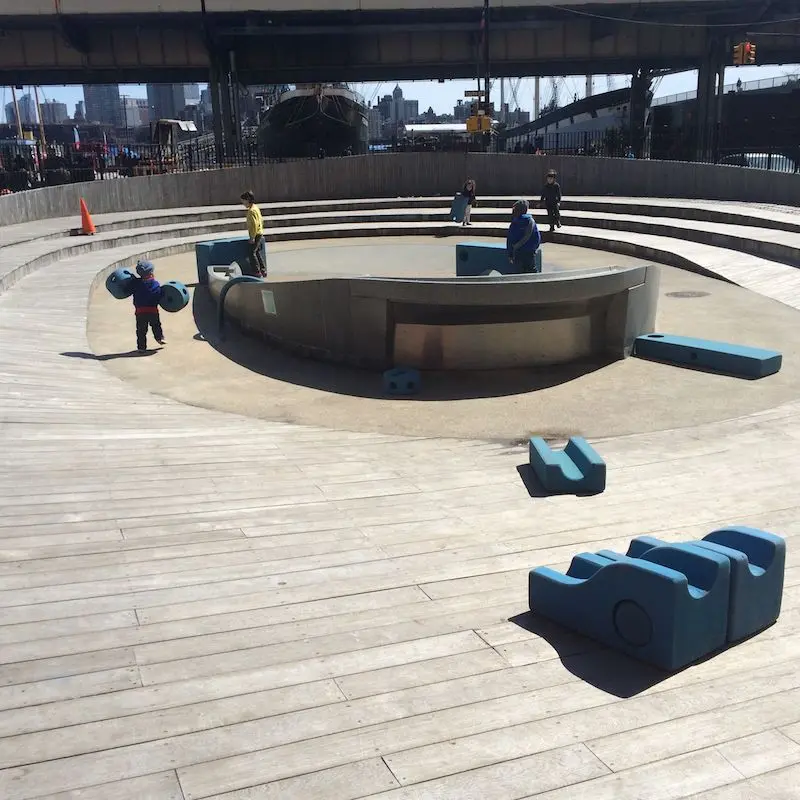 Water Play at Imagination Playground South Street Seaport
Loose part pipes and hoses are added to the water play area for kids to build with.
There's a small wading pool zone, a waterfall down one side, and jets that spout water into the sky too.
Kids love to step on them!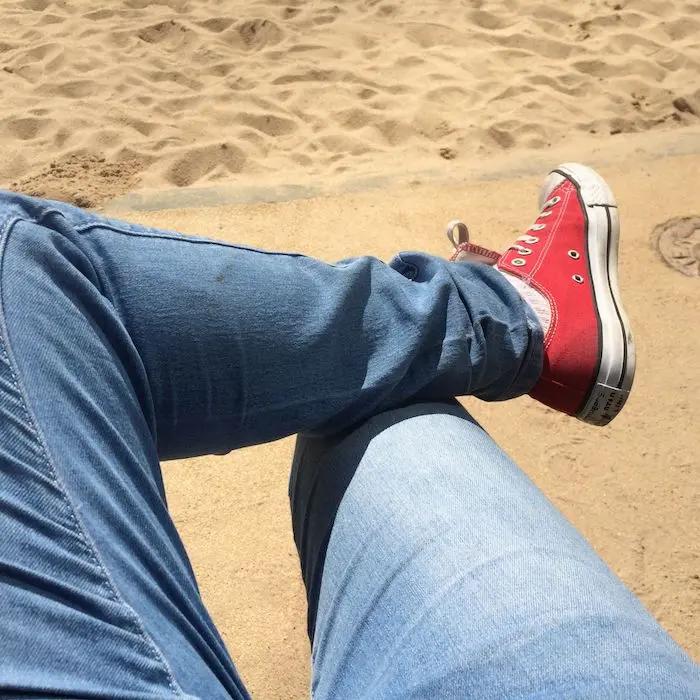 Supervise from the side
This is one playground where parents are encouraged to sit on the sidelines under the shade umbrellas (necessary to block out the hot sun!) and enjoy their own self-prescribed time out.
It's fenced from traffic too, so it makes this our favourite playground to visit on a sunny day!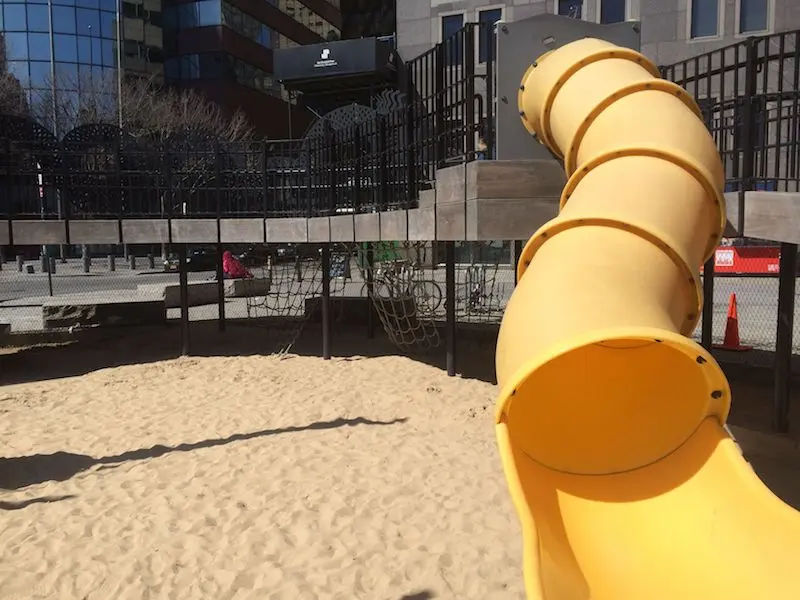 Fun Manhattan Playground at Burling Slip
The Imagination Playground captures Burling Slip and South Street Seaport's rich maritime and commercial history.
The design includes ship and harbour themed elements such as:
a cascading water channel
a climbing rope
masts and pulleys, and
a lookout ramp with telescopes.
Amphitheatre
The built landscape also incorporates amphitheater seating and a "crow's nest" that has a double function as a storage unit for the playground's loose parts.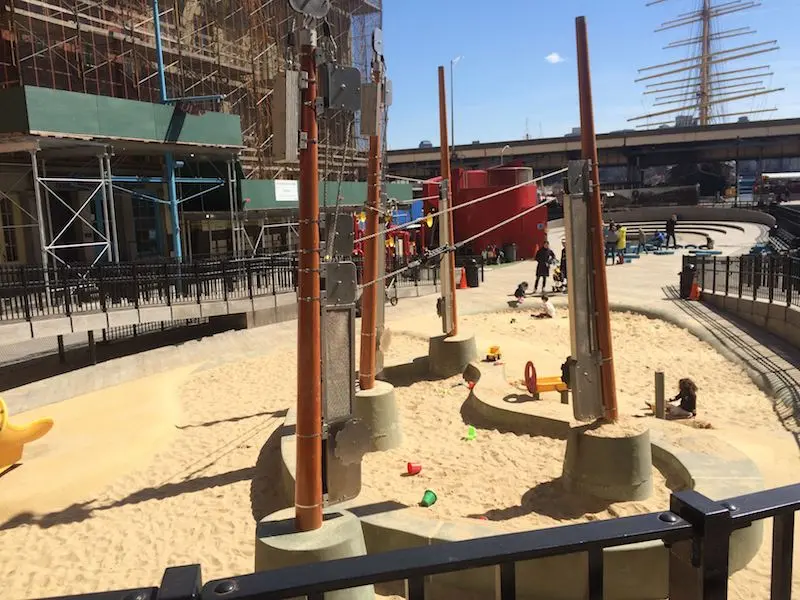 Colorful playground in NYC
It's bold, bright and colorful and we love it!
So many reasons that Imagination Playground is one of the best playgrounds in NYC.
Visit the South Street Seaport Museum ships
When you are done, visit the South Street Seaport Museum. It's 2 minutes walk away.
Once you've bought tickets, kids can:
take a look at the fleet of five historic vessels
explore the inside of the Wavertree ship and the lightship Ambrose
visit the 19th century style print shop at 211 Water street to see New York's oldest operating stationers
play in the kids play area
Where to eat at South Street Seaport Restaurants
Looking for restaurants near South Street Seaport playground?
These five New York eateries are very close by:
Periscope Coffee
Roast Kitchen
Luchadores NYC
Flavors Cafe
The Paris Cafe
Little Tokyo cafe on South Street is especially good for kids too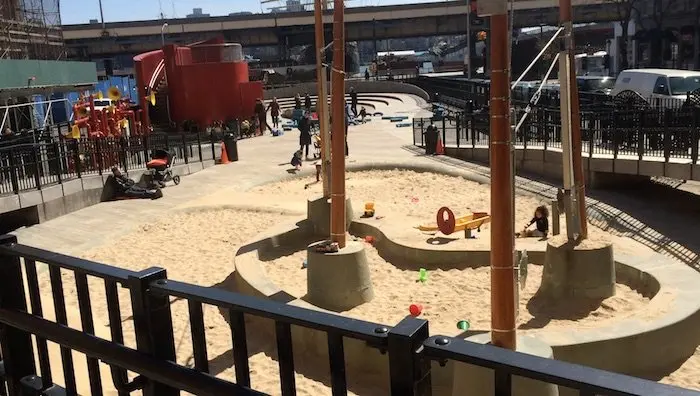 THE INSIDE SCOOP: Imagination South Street Seaport Playground
Correct at time of publication on Roam the Gnome. Please check with venue for updates. We apologise in advance if there have been any changes we are unaware of. All prices in US dollars, unless otherwise stated
Address: 158 John Street Burling Slip between Front Street and South Street in New York, NY (Opposite South Street Seaport. Front fence located between Pier 15 and Pier 16)
Telephone: Please call 311.
Website: Click here
Imagination Playground Opening Hours
9am to 6.30pm.
The playground is closed on Thanksgiving Day, Christmas Day and New Year's Day
Entry Fees:
Free entry.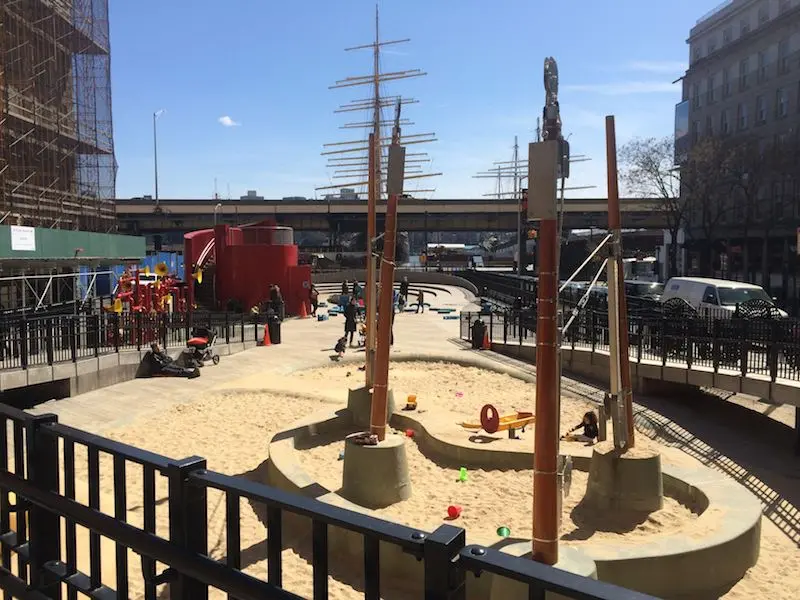 How to get to South Street Seaport Imagination Playground NYC
By train: Take the A, C, 2, 3, J, Z, 4, or 5 train to Fulton Street.
Upon exiting, walk east on Fulton Street until you reach the playground.
By bus:
Take the M-15 SBS or M-15 to Fulton Street. Note: On the M-15 SBS, you must pay at the bus stop before boarding.
Walk two blocks east.
South Street Seaport Parking
Parking near the Imagination Playground NYC at Burling Slip is limited.
There is a parking lot located at Front and John Streets, just one block from the museum. Another lot is available at 294 Pearl Street.
Map of Imagination Playground South Street Seaport
Facilities at this New York Playground
Nearest takeaway coffee and/or food options: BYO snacks and drinks.
Toilets: Yes, theres' toilets at Imagination Playground Seaport inside the bright red silo, including baby change table
Disability access: Yes
Shade: Limited. Large sun umbrellas are dotted around the playground to ward off the hot sun. BYO hats and sunscreen.
Enclosed: Yes
Ground cover: Timber decking, sand, concrete pathways, timber ramps.
Picnic tables: No. Lots of seating around though.
Water Bubblers/fountains: Yes
Scooters and Bikes: Yes
Dogs: No
Toadstool Rating – Best Playgrounds in New York City
This South Street playground in Manhattan is one of them!

Looking for MORE Things to Do in NEW YORK CITY with Kids?
Click the blue links below for more New York activities.