INSIDE: The Complete Guide to Hudson River Park Pier 25 Playground.
The Hexagonal Scramble Net at the Hudson River Park Pier 25 Playground in Manhattan grabbed our attention as we wandered along the Hudson River Greenway on this very cold New York day.
We stopped to play, even though the wind chill factor was high and the kids were freezing.
Weather doesn't hold back their need to play, jump, run, and make new friends.
When you head out and about with kids into the bustling crowds of New York City, an adventure playground to run off steam is a blessing in every kind of weather.
Take a look at this one below.
Disclosure: This article contains affiliate links. If you make a purchase after clicking on one of these links, we may receive a small commission at NO extra cost to you.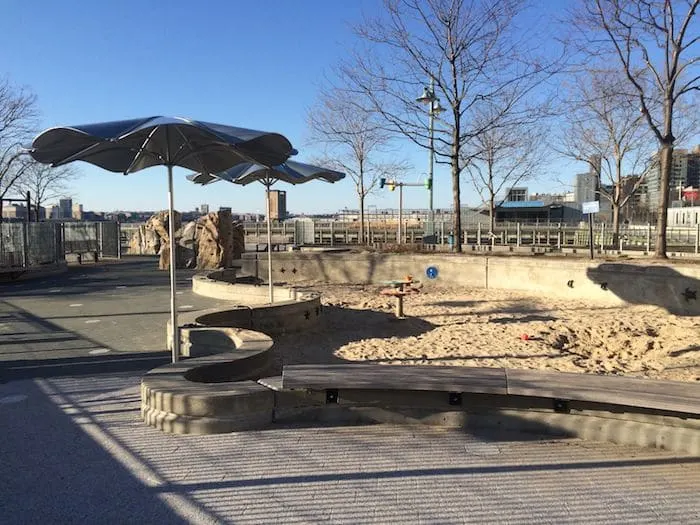 Guide to Hudson River Park Pier 25 Playground NYC
The Hudson River Park Pier 25 Playground New York City is opposite the Tribeca Skate Park, so you can't miss it.
Centre stage, there's a giant concrete-rimmed sandpit that is 'under the sea' themed.
---
Related: The Ultimate Guide of Best Things to do in New York with kids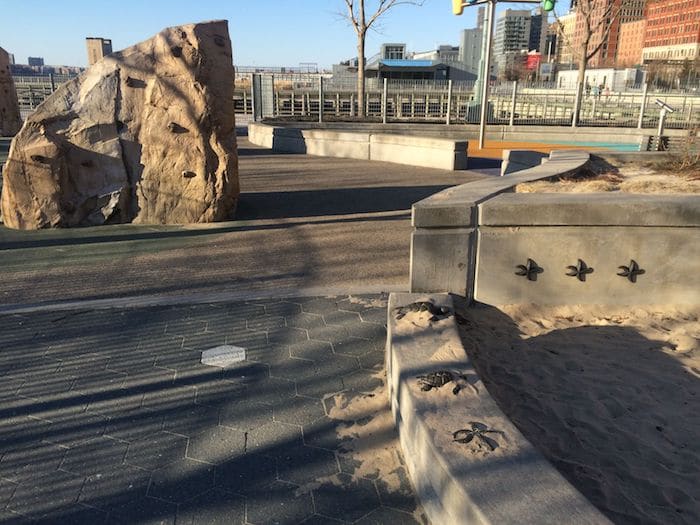 Check out the adorable green back turtle sculptures and the starfish!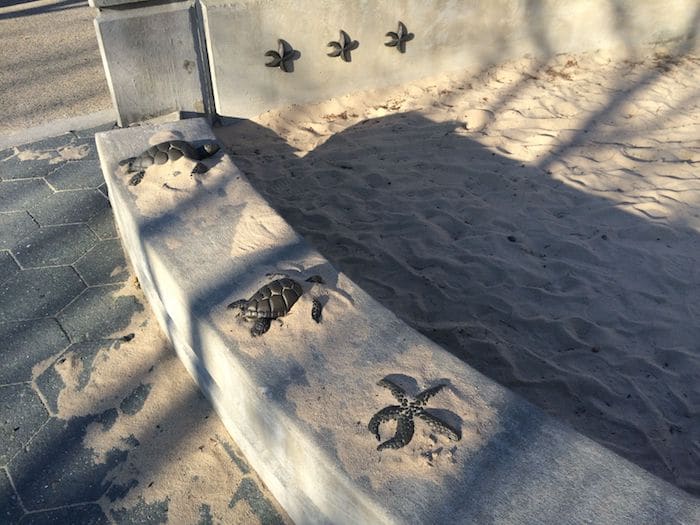 Pier 25 NYC sandbox
At this gated play area, there's also:
Giant standing rocks that double as rock climbing walls
A carousel spinning wheel kids can lie on and spin around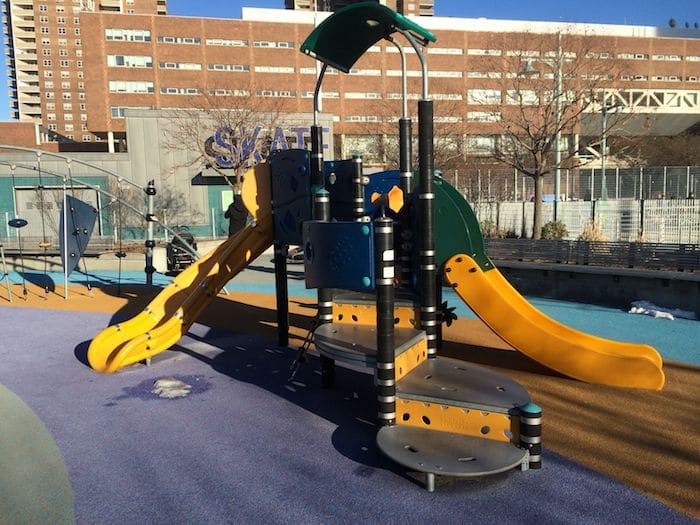 Hudson River Park Pier 25 playground equipment for kids
Toddler Fort with two slides
Boat themed play spaces
Seesaws and rubber swing platforms
A separately fenced row of swings including two all-ability swings
A water playground (warmer weather only)

Playground Equipment at this Pier 25 Hudson River playground
Ned loved this Parkour climbing structure, with:
handholds
footholds
ropes to swing across, and
bars to monkey across.
PIER 25 PLAYGROUND on the Greenway is definitely the best parkour playground in NYC for teens & big kids!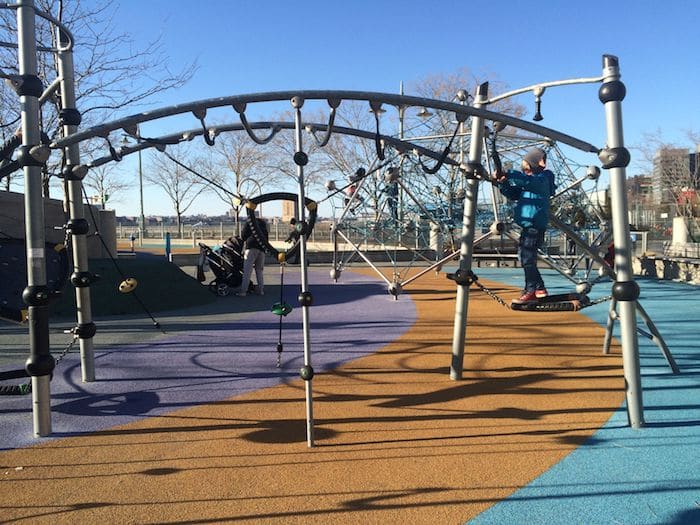 Floor is Lava challenge
Pier 25 Playground is the best place to play the 'the floor is lava challenge' too, making their way around the climbing equipment without touching the ground.
There's nothing like a physical challenge to prove your mettle to yourself.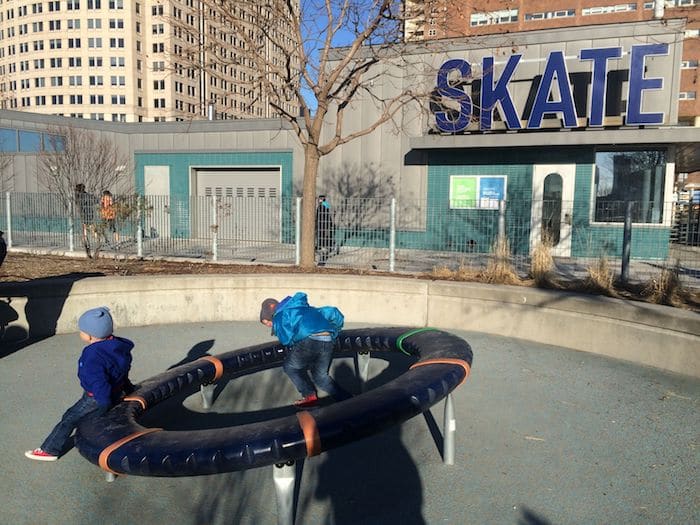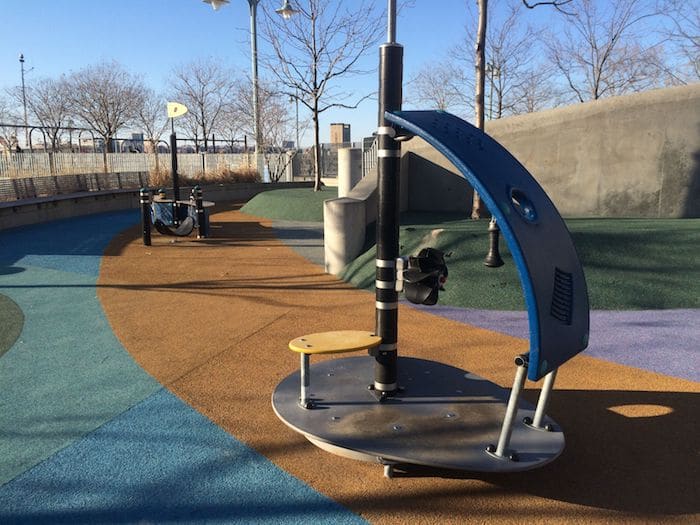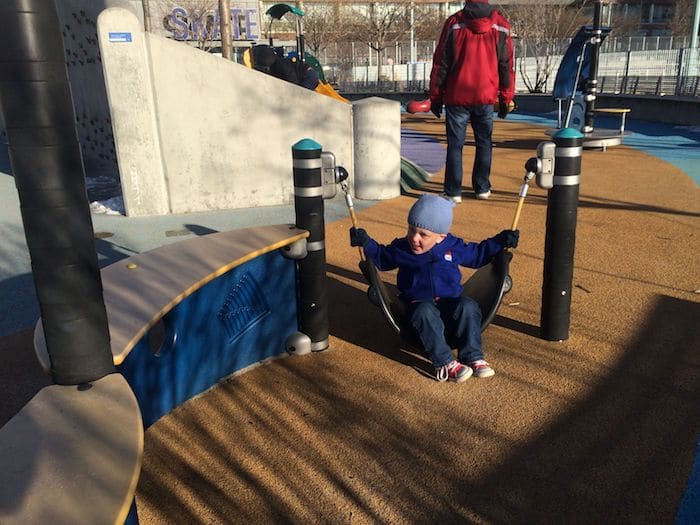 More things to do at Pier 25 New York
No.1: Play Pier 25 Mini Golf
This mini golf at Pier 25 is full size, 18 holes of fun. Test your skill on the golf stick around waterfalls, streams, pond, foot bridges, a cave. and booby traps!
It's cheap too. Just $4 for a child's game and $5 for an adults game.
No reservations necessary. Rock up any time from 12pm to 6pm daily. (Earlier starts in the summer months)
No.2: Beach Volleyball Court at Pier 25
Pull up a seat to watch a game of beach volleyball or two.
No.3: Tribeca Skatepark
Hudson River Park's Tribeca Skatepark is FREE. Anyone who skate boards, roller skates or roller blades is welcome.
A unique street course with a diverse range of terrain including stairs, ledges, and rails that resemble an actual street plaza.
This street-style skatepark is 8,840 square foot in size!
Open 8am to dusk, all year round, weather permitting.
NB: The Tribeca skatepark is unsupervised. Visit at your own risk.
No.4: Visit Historic Ships
Visit Historic Ships and Boating vessels berthed at Pier 25. These vessels were used for commerce and transportation.
MORE Things to do near Pier 25
No.1: Ghostbusters Fire Station
Check out the Ghostbusters Fire Station at 4, N Moore St, TriBeCa New York city. It's 500 metres away.
No.2: New York City Fire Museum
Visit the New York City Fire Museum at 278 Spring St, New York city.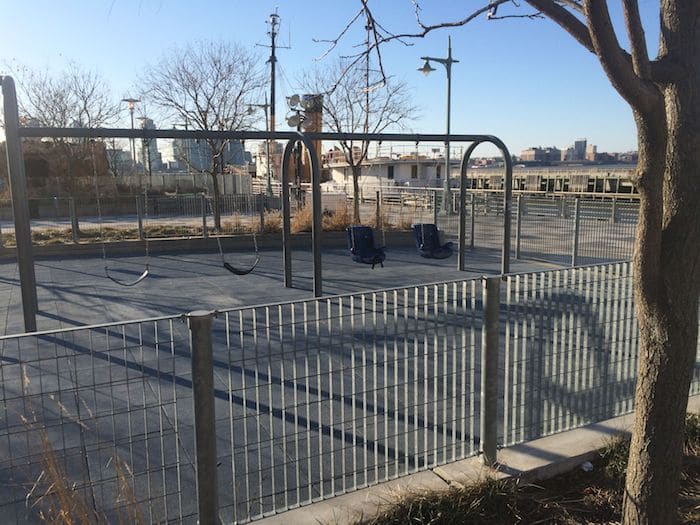 THE INSIDE SCOOP: Pier 25 Hudson River Park Playground
Correct at time of publication on Roam the Gnome. Please check with venue for updates. We apologise in advance if there have been any changes we are unaware of. All prices in US dollars, unless otherwise stated
**The Hudson River Park Playground at Pier 25 is currently undergoing restoration and will reopen in Summer 2019.**
Address: The Pier 25 address is 227 West St, New York, NY 10013, USA
Website: Click here
Opening Hours: 8am to 6pm
Entry Fees: Free

How to get to Pier 25 Play Area
By subway:
A, C, E – Trains (0.7 mi – a 15 min walk)
Exit subway at Canal St.station
Walk south to Beach St. and turn right.
Turn left onto Varick St.
Turn right onto N. Moore St. and proceed to West Side Highway.
Cross West Side Highway with caution at crosswalk.
Proceed onto Pier 25.
By Train:
1 Train (.5 mi/15 min walk)
Exit subway at Franklin St. Station.
Walk west along N. Moore St. and proceed to West Side Highway.
Cross West Side Highway with caution at crosswalk.
Proceed onto Pier 25.
Map of Pier 25 Playground at Hudson River Park
Facilities at Pier 25 Playground on the Hudson Greenway
Toilets: Yes, Pier 25 comfort station.
Disability access: Yes
Shade: No
Enclosed: Yes
Ground cover: Rubber soft fall, concrete pathways
Picnic tables: No, but lots of bench seating around the perimeter.
Electric BBQs: No
Water Bubblers/fountains: Yes
Scooters and Bikes: Yes
Dogs: No
Toadstool Rating- Hudson River Park Playground at Pier 25 NYC

Looking for MORE Things to Do in NEW YORK CITY with Kids?
Click the blue links below for more New York activities.