INSIDE: The Hudson River Greenway Walk is the best thing to do on the Manhattan Waterfront.
An unexpected highlight of our trip to New York City was the day we strolled along the Hudson River Greenway walking and bike path.
Starting from Battery Park at the southern tip of Manhattan in New York, and making it all the way to Pier 51, the kids playing at all the New York City playgrounds along the way.
We didn't make it all the way to the end of the trail as the sun was setting (it stops at the Little Red Lighthouse underneath George Washington Bridge), but we'll be back.
The best day out in New York City for families on a budget is the Hudson River Greenway walk & bike path. Take a look below for details.
Disclosure: This article contains affiliate links. If you make a purchase after clicking on one of these links, we may receive a small commission at NO extra cost to you.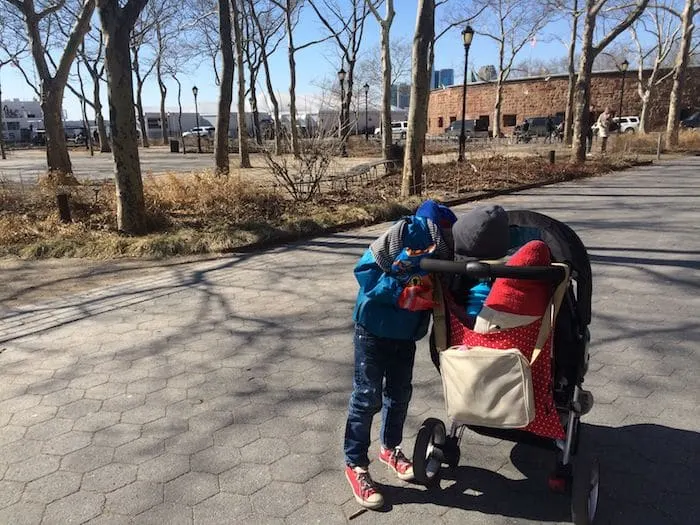 Meet NYC Locals on the Hudson River Greenway Bike Path & Walkway
The views of New York City all along the Hudson River Greenway are spectacular, but the best bit is that this walk lands you smack bang amongst New York LOCALS and New York FAMILIES.
And that's real travel.
---
BOOK NOW: Hire a bike for an hour or a day pass with Hudson River Bike Rentals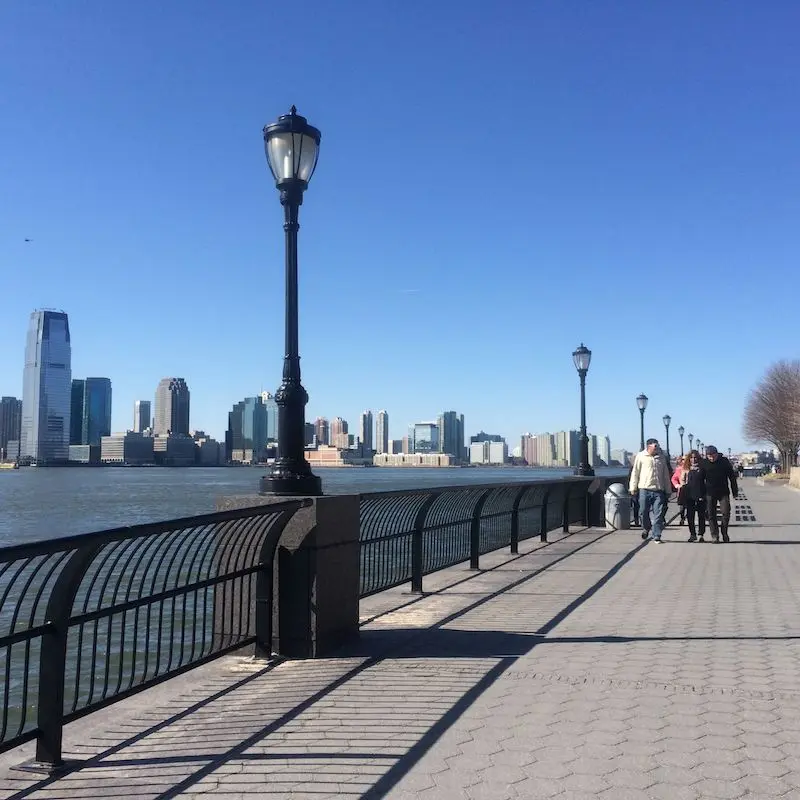 Hudson River Bike Path
If you have them with you, take your bikes or scooters for a ride along this path.
If you don't, you can hire bikes and bike trailers locally.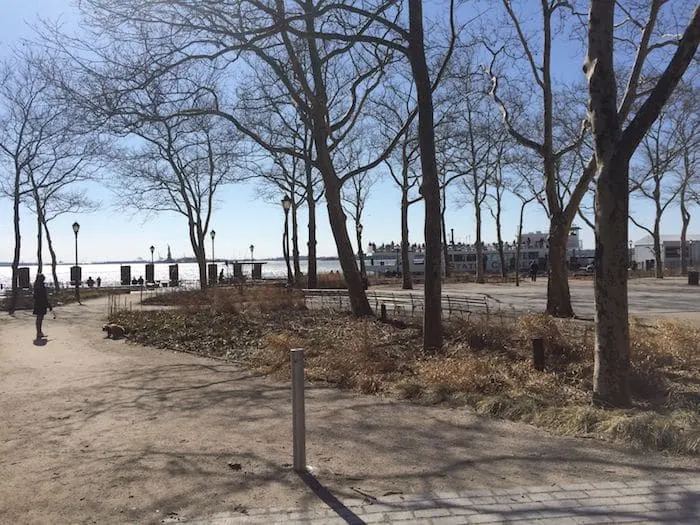 Hudson River Walkway route
The Manhattan waterfront greenway is a 12.9 mile pathway away from traffic.
It's made of concrete and asphalt, and runs along the Hudson River waterfront with the Manhattan CBD on the other side.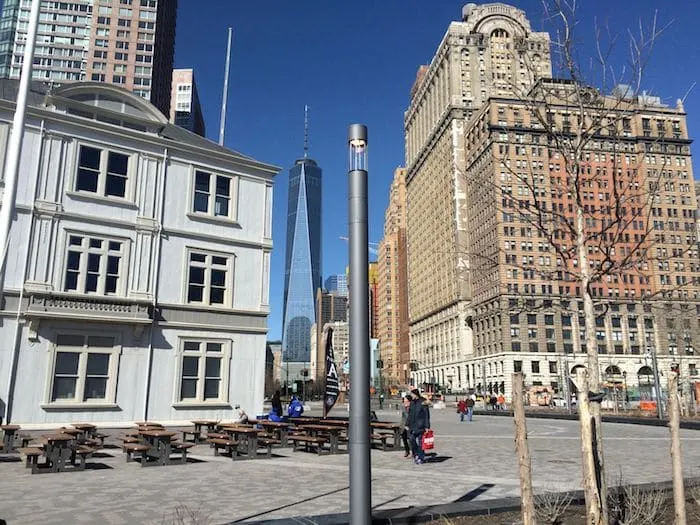 It's definitely one of the MOST picturesque city walks you can take, and it's NEW YORK CITY.
There's nowhere better to take your time and enjoy a wander and stroll in this fast-paced town.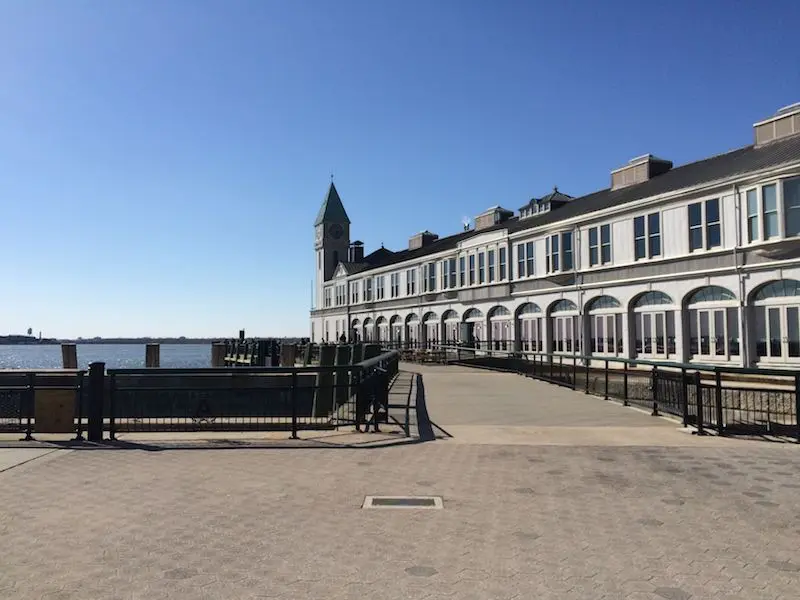 Hudson River Greenway Map of Route in New York City
Grab a Manhattan map of the whole route here.
This Hudson River waterfront walkway map is the best walking map of Manhattan.
Walking along this greenway in New York is a godsend when you have kids in tow, and need a break from the hustle and bustle of the CBD.
If you leave the NYC Greenway where we did, head to the High Line.
It's another iconic NYC destination, and only minutes away.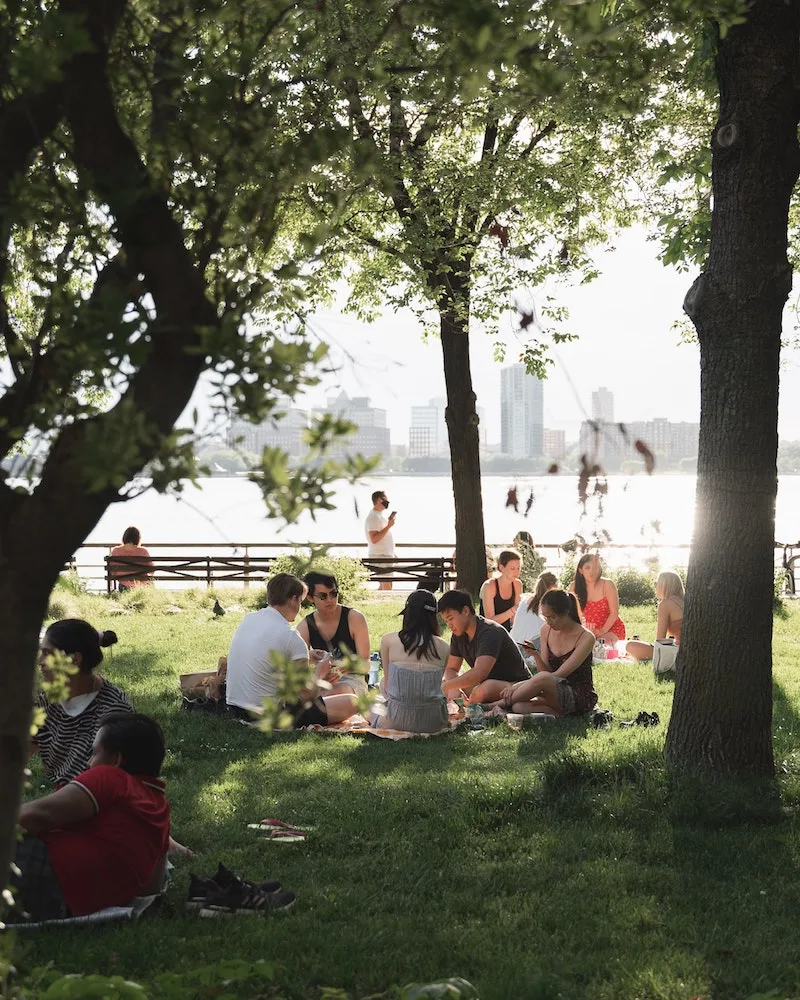 Image credit: Mason Dahl via Unsplash
Best Hudson River Greenway entrances?
Check this map to find entrances for Hudson River greenway.
They are represented as a yellow dot.
Here they are in summary:
Battery Park playground
W. 56th St
W. 72nd St
W. 133rd St
W. 157th St
W. 181st St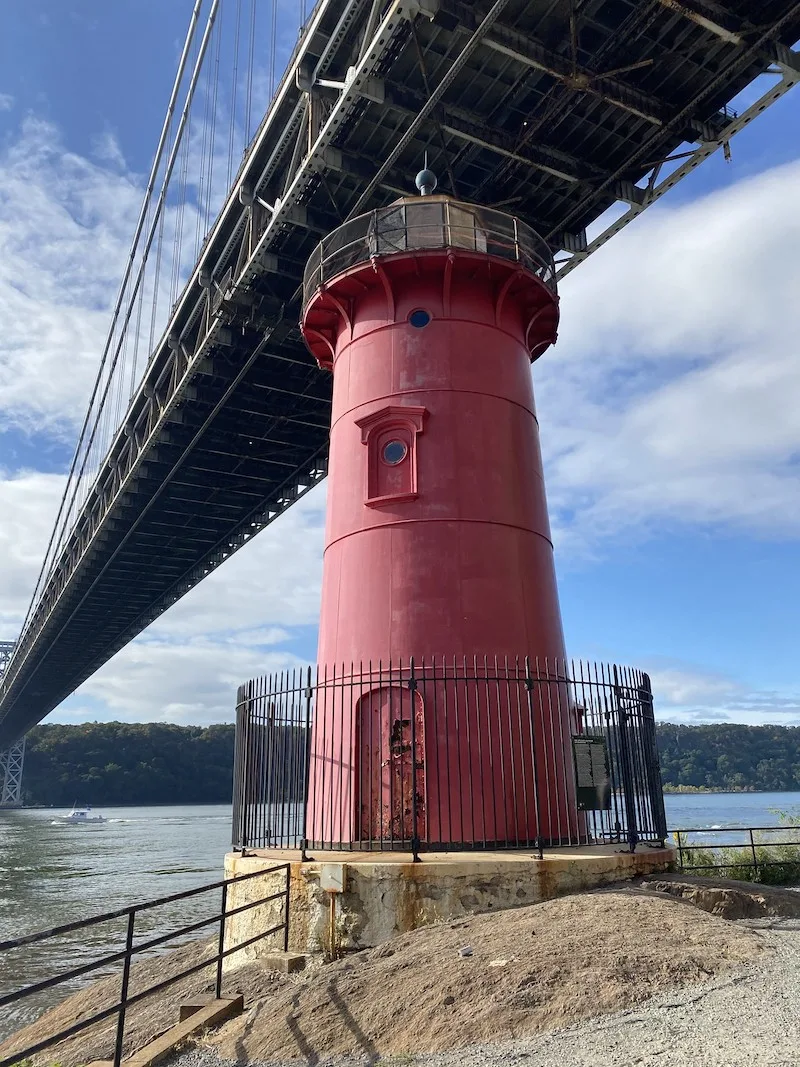 Image credit: The Turducken via Flickr CC BY 2.0
FAQ about Hudson River Greenway
Is the Hudson River Greenway safe?
During daylight hours, it's totally safe for families.
At dusk or later at night, it's wise to visit in groups.
Much of the path is lit at night also.
BOOK NOW: New York Highline & Greenwich Village Combo Tour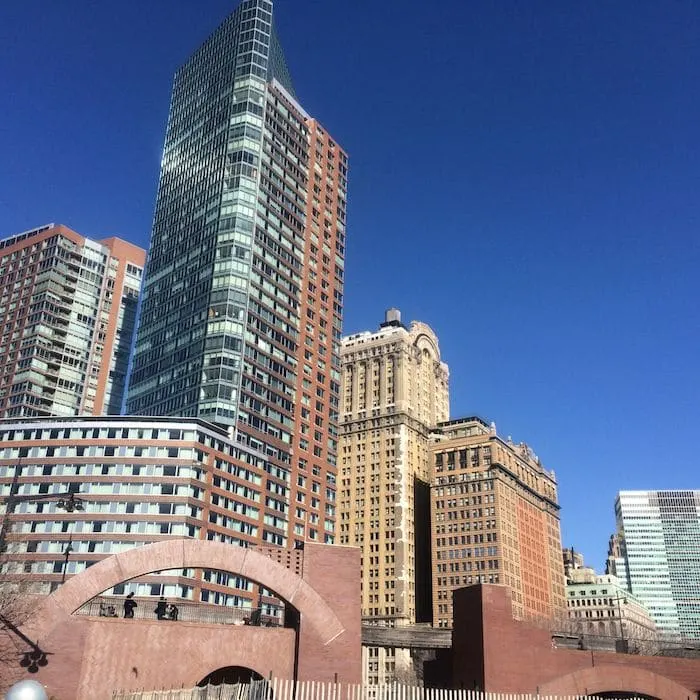 THE INSIDE SCOOP: Hudson Greenway Bike Trail & Walk
Correct at time of publication on Roam the Gnome. Please check with venue for updates. We apologise in advance if there have been any changes we are unaware of. All prices in US dollars, unless otherwise stated
Address: Hudson River Greenway starts at Battery Park and runs along to the Little Red Lighthouse under the George Washington Bridge.
Website: Click here
Opening Hours: Sunrise to sunset. Some areas of the pathway are lit at night.
Entry Fees: Free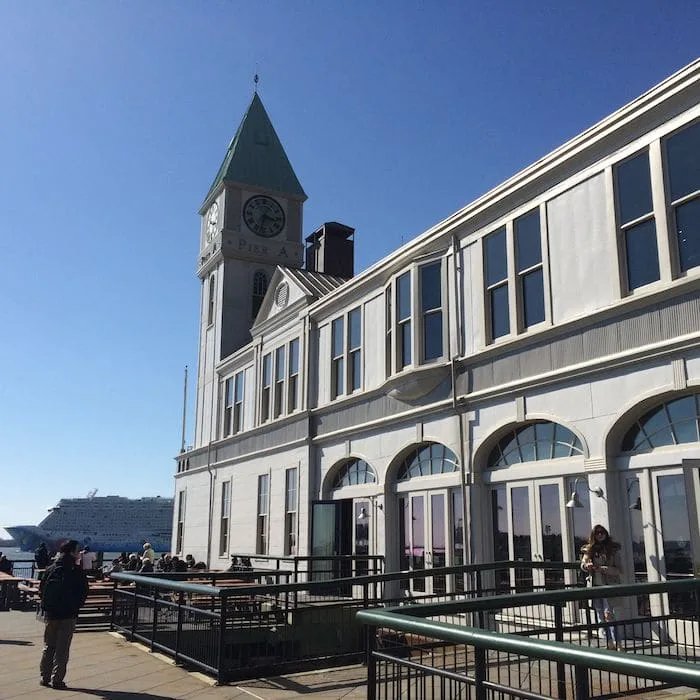 How to get to the Hudson River Greenway Trail
Our tip is to start at Battery Park right at the tip of Manhattan island.
By Car: We recommend public transport as parking in the area is limited.
Hudson River Greenway parking:
There is a parking lot located at Front and John Streets. Another lot is available at 294 Pearl Street.
By Subway:
Catch the subway from Times Square to Bowling green subway station.
Then walk about 5 minutes to Battery Park and the beginning of the Hudson River Walkway NYC.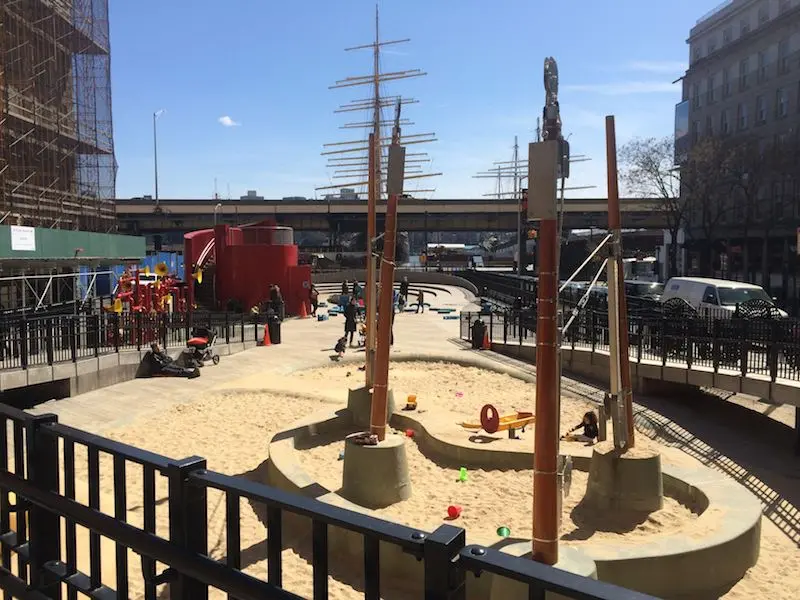 Imagination Playground South Street Seaway
If you aren't coming back this way, start your day by turning left from Bowling Green station and walk about 800 metres.
This is where you'll find the Imagination Playground at South Street Seaport.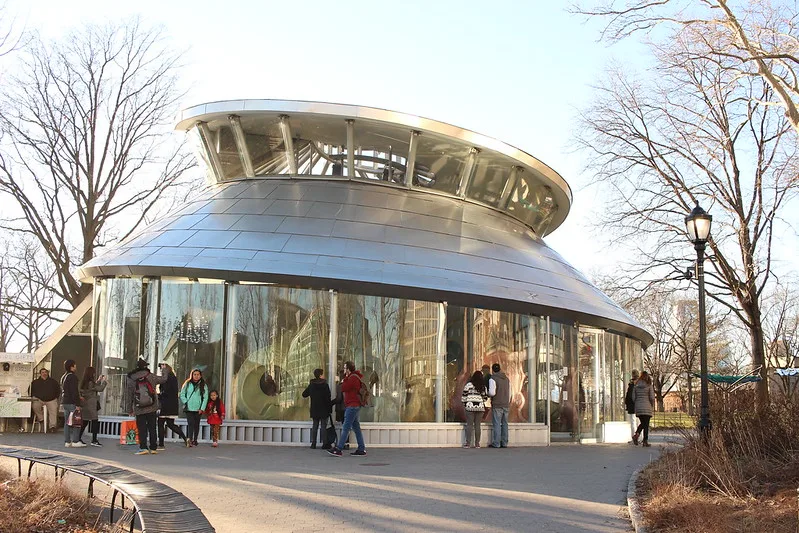 Best Things to do at Battery Park NYC with kids
No.1: Seaglass Carousel
After a play at Imagination Playground, walk back towards Battery Park and take the kids to the SeaGlass carousel.
The Sea Glass carousel in New York is one of the most, if not the most, beautiful carousel in the world, filled with sparkly fish and sea creatures to ride in.
It's spectacular!
No.2: Staten Island Ferry trip
If you have time, take a trip on the Staten Island ferry to get up close and personal with the Statue of Liberty, and visit Governors Island too.
No.3: Governors Island playgrounds
Hot tip: Governors Island has two fabulous playground for kids if you have time to visit:
the Yard tinker playground on Hammock Grove, and
the Hills playground where the slides on Slide Hill are 57 feet long!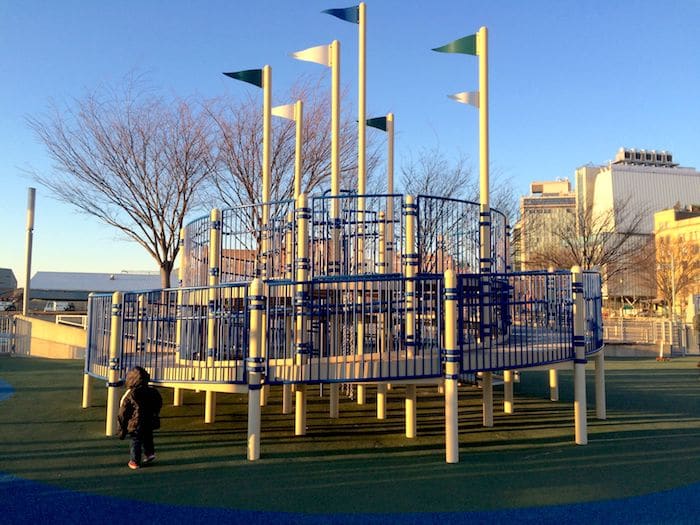 Best Hudson River Park playgrounds
Then begin your Manhattan Greenway adventure, working your way along the Greenway bike path and walking path past these Hudson River playground areas:
No.1: Hudson River Park Pier 25 Playground
Check out the Hudson River Pier 25 playground and the Tribeca skate park
No.2: Hudson River Park Pier 51 Playground
Hudson River Greenway Pier 51 Playground has been rated one of the top 25 playgrounds in New York City.
No.3: Rockefeller Park playground at Hudson River Park
Climb the Scramble nets at Rockefeller Park Playground
No.4: Tom Otterness sculptures
Check out the much loved Real World bronze sculptures by Tom Otterness
Hudson River Greenway Map
Where to eat on the Greenway in Manhattan
Food and drink options nearby: LOTS of cafes and restaurants along the way. Pick your favourite.
Toilets: Public restrooms dotted along the way.
Disability access: Yes
Shade: Limited
Enclosed: Riverside is fenced.
Ground cover: Concrete pathways
Picnic tables: Look out for grassy picnic areas and picnic tables along the way. BYO snacks and water bottle.
Electric BBQs: No
Water Bubblers/fountains: Yes
Scooters and Bikes: Yes. All the wheeled things.
Dogs: On leash.
Toadstool Rating- Manhattan Greenway
Walking is one of our favourite things to do when we visit a city to get a LOCAL's perspective.
This Manhattan Greenway walk in New York is one of the best walks (rides) in the United States. Ride all the way up to Central Park, and see this famous park too.

Looking for MORE Super Fun Things to Do in NEW YORK CITY with Kids?
Click the blue links below.