INSIDE: How to Avoid Mosquitos in Bali.
Late at night. All the doors closed and the windows tightly shut since before dusk. The kids quiet, and asleep in bed.
That all too fleeting, happy blissful moment of silence on vacation in Bali, and I'm drifting, almost asleep.
Then, that all-too-familiar buzz of a mosquito headed my way.
Straight for my nose, the only thing not covered by a cotton sheet.
This mosquito visitor was JUMBO SIZED.
In fact, way bigger than normal, like a mozzie on steroids.
Proof that it's wise to have all the mossie fighting arsenal on standby in Bali.
You just NEVER KNOW when one's going to sneak up on you!
Read below for all the best tips on how to avoid mosquitos in Bali. (Updated for 2020)
Disclosure: This article contains affiliate links. If you make a purchase after clicking on one of these links, we may receive a small commission at NO extra cost to you. Main Image by Trini CC BY 2.1 jp, via Wikimedia Commons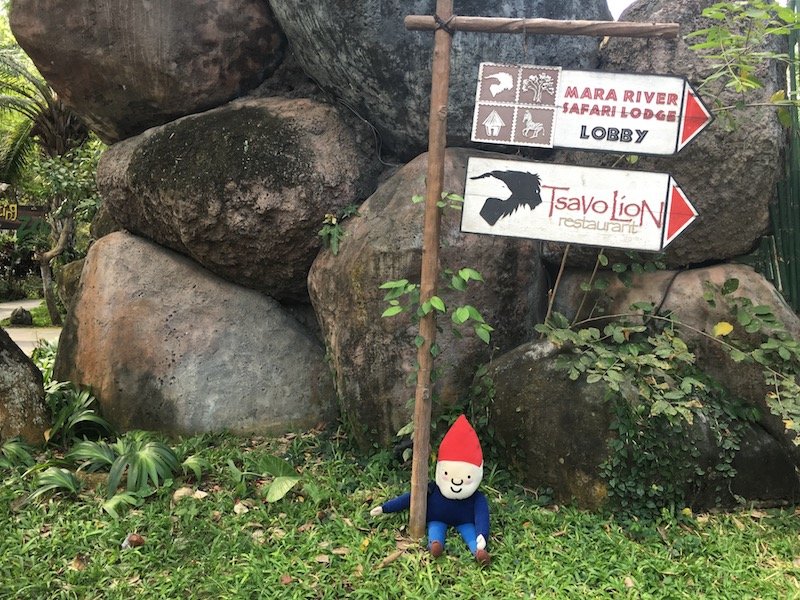 How to Avoid Mosquitoes in Bali
Correct at time of publication on Roam the Gnome. Please check with venue for updates. We apologise in advance if there have been any changes we are unaware of. All prices in Indonesian rupiah, unless otherwise stated
Strangely, we didn't notice any mosquitos in the actual Bali Safari Park, or on the Bali Safari night tour.
We've hedged bets that the influx of mosquito visitors into our hotel room was directly related to the water-filled moat less than 5 metres from our balcony at the Mara River Safari Lodge, the awesome zoo hotel in Bali on the site of the Bali Safari and Marine Park.
The water-filled moat was a good idea to keep the large than expected Zebras and Ostriches from venturing too close, but not so good for combating mossie invasions.
We didn't stand much chance keeping all the mossies out of the room when there were two super-excited kids going in and out the door to grab the carrots and vegetables from the fruit bowl.
Especially with real life Zebras and the Ostriches waiting for a feed!
Luckily, we brought our arsenal of mozzie-fighting weapons.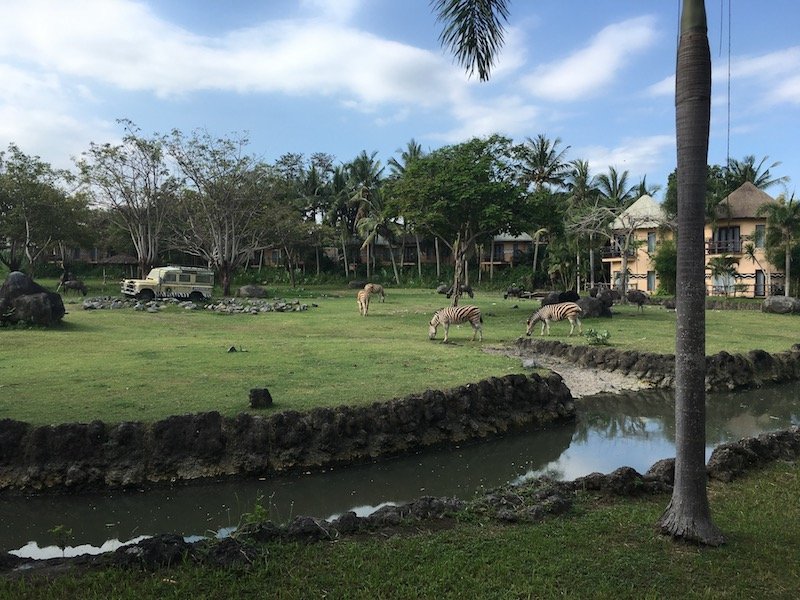 Are there Mosquitos in Bali?
Yes.
Lots, but some places are worse than others.
Where do you find mozzies in Bali?
It's possible to find mosquitoes somewhere in every Bali suburb and coastal hub, including:
anywhere you find animals, large and small, including on the night tour at Bali zoo, and in shady areas at the the magnificent Bali Safari and Marine Park.
up in the mountains visiting the Monkey Forest and rice fields in Ubud
by the ocean in beachside areas of Kuta and Legian
in the holiday villages and upmarket resorts at Sanur and Nusa Dua
in the city suburbs of Denpasar and Kerobokan
when you are watching an outdoor cultural show
in the shopping districts of Canggu and Seminyak, and
in the surfers paradise of Uluwatu, Dreamland and Bingin beaches on the peninsula
If you are planning to book breakfast with the orangutans at Bali Zoo, take note.
If you are worried, these are the Bali places to avoid once the sun goes down.
When do you find Mosquitos in Bali?
First up, a handy bit of information about mozzies in Bali.
Bali mosquitos are usually worse in the rainy season (October to March) but you do need to be vigilant all year round.
Mosquitoes in Bali are evident in varying degrees at all times.
Nowhere is 100% safe at all times.
Be sure to get your travel insurance, just in case.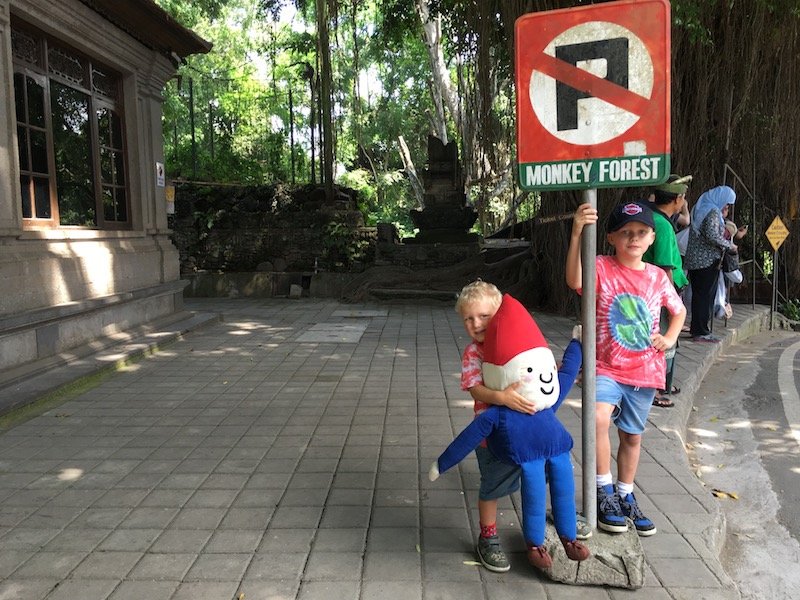 Mosquito borne disease in Bali
The following information must be viewed as a guide only. It is not intended, nor implied to be a substitute for professional medical advice. Visit your local doctor for up-to-date information about safe travel to Bali, including vaccination and treatment of mosquito borne disease.
There are two Bali diseases that you want to avoid if at all possible.
Prevention is better than cure, so do take mosquito prevention in Bali seriously, especially if you are travelling with kids to Bali.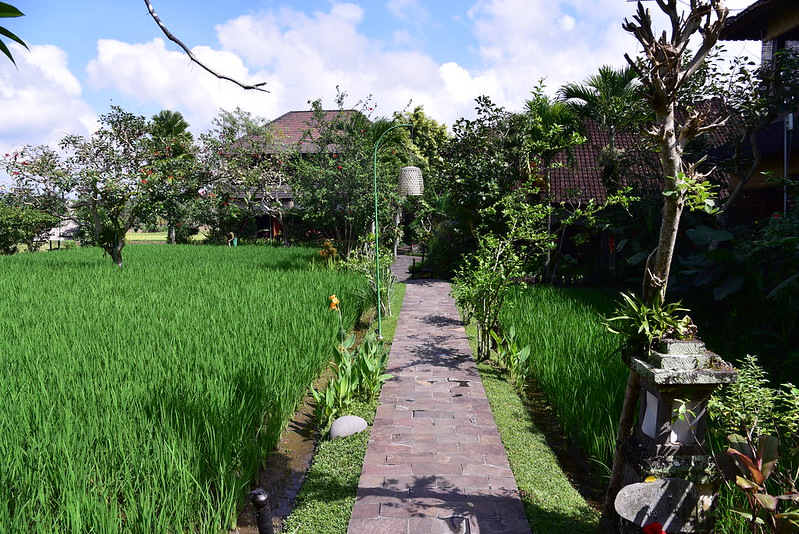 Photo by Shankar.S. (CC BY 2.0) via Flickr
Dengue Fever in Bali
Dengue Fever is a viral disease spread by the Aedes mosquito who carry the disease from infected human to healthy human.
These tiger-striped mozzies are active during the day, so are hard to avoid.
They also thrive indoors, and in shady areas so you need to take care to avoid them.
Dengue fever causes a mild flu-like feeling with joint pain and most people make a full recovery, but a serious dose can be life-threatening.
There is no vaccine for dengue fever & prevention is based upon insect avoidance via repellents, nets & insecticides.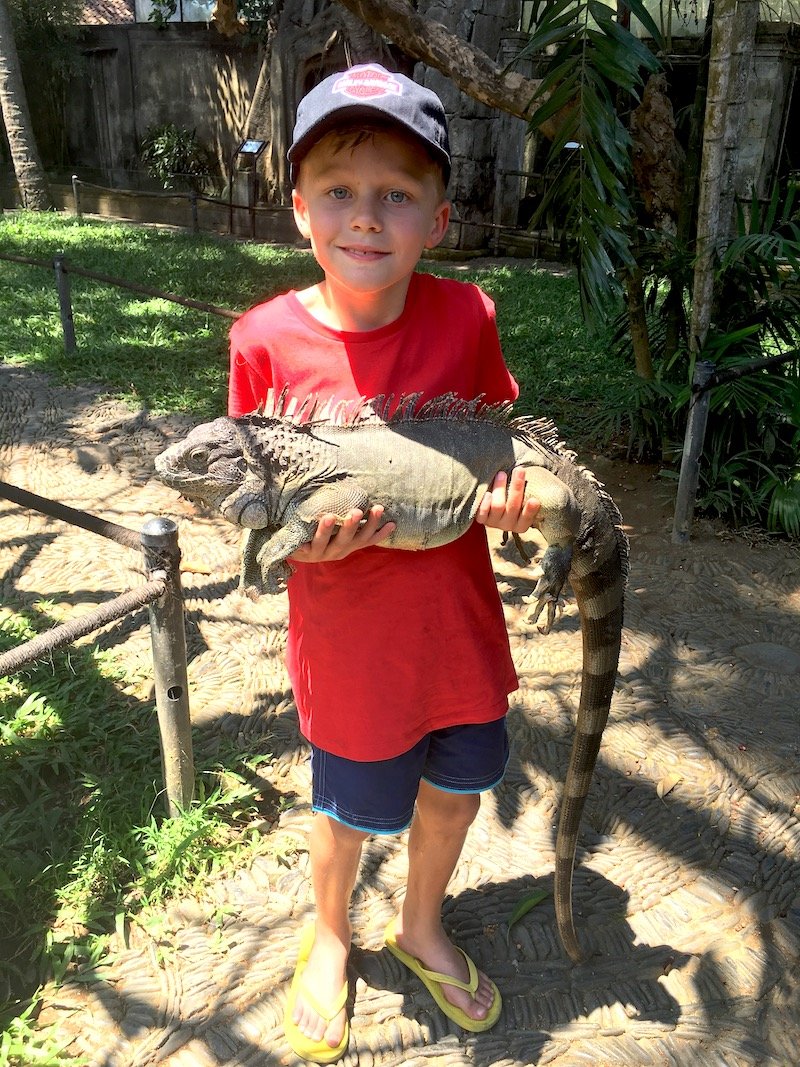 Malaria in Bali
A common question we are asked is " Can you get malaria in Bali "?
Malaria is transmitted by a night biting mosquito.
The risk of exposure is very low in Bali, particularly when the stay is restricted to the main tourist areas.
But yes, it is possible.
Take extra precautions in airy Bali villas with lots of lush greenery and open doors.
Be mozzie aware when you stay in modern, clean hotels and apartments, especially if the kids are coming and going, as mosquitoes are sneaky.
No matter where you stay, do close up your rooms before dusk.
Hot Tip: Keep an eye on what the locals are doing.
Ask your hotel staff, porters, Department Store staff, and restaurant owners for their opinion on current mosquito risks
They know when the dangerous mozzies are about. Don't be shy.
Medications to reduce the risk of disease are not generally recommended by doctors in Australia unless you are going off the beaten track.
Do report any illness which is flu-like in nature after returning home, as these should still be checked for malaria.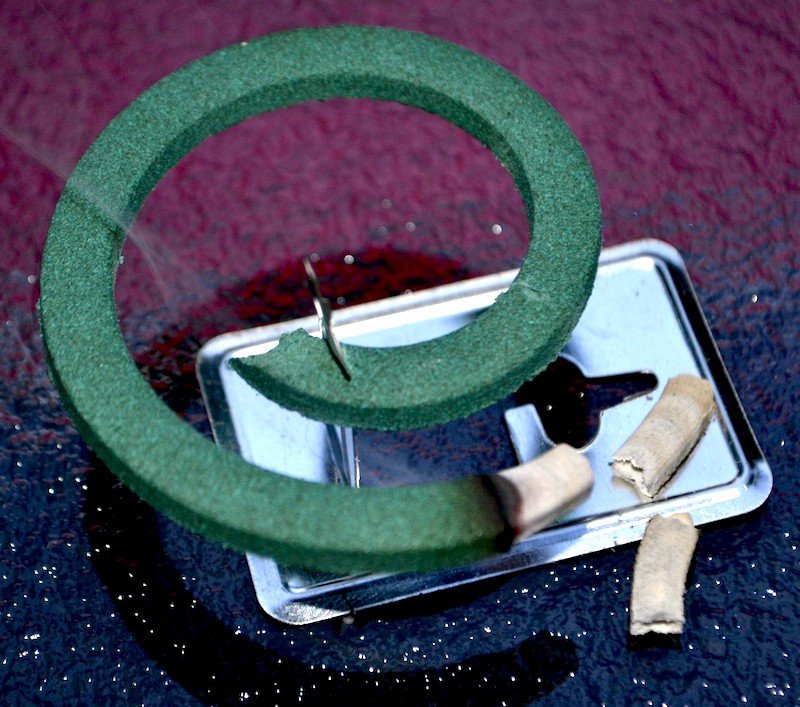 Image credit: Jo Naylor via Flickr CC BY 2.0
Bali Travel Tips: The Best Weapons Against Mozzies in Bali
Families visiting Bali need to avoid insect bites to stay healthy.
Prevention is infinitely better than cure.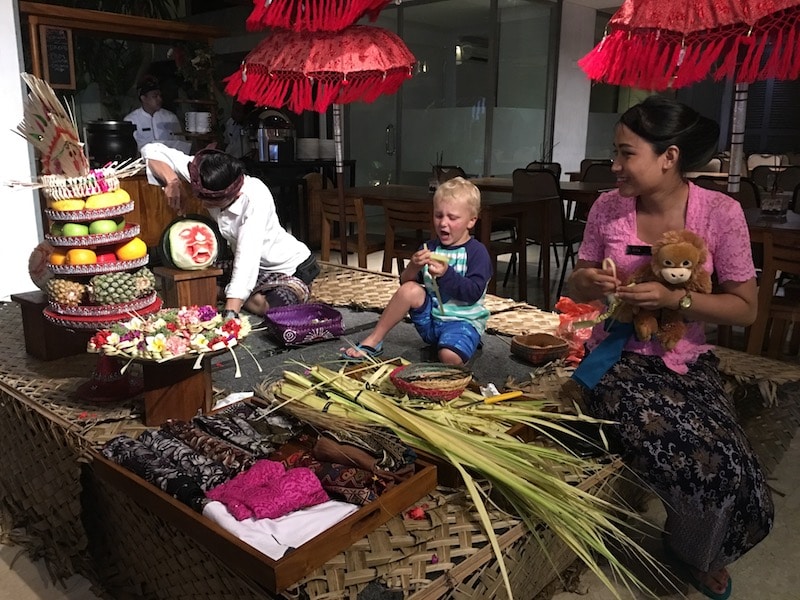 THE INSIDE SCOOP: TOP 5 TIPS TO STOP BITES FROM MOSQUITOS IN BALI
No. 1: Cover up with long sleeve clothing after dusk
Cover up with loose fitting clothing on the arms and legs.
Sarongs are a good investment, particularly useful over kids in strollers during the day and night.
Wear covered clothing such as long pants and long sleeves in shady areas such as forests and the rice paddies.
Just before dusk, change into long sleeve and long pant clothing. This is a MUST for kids.
We take long sleeve and pant lightweight cotton pyjamas too.
Wear light coloured clothing.
There's an old wives tale that mozzies like black or dark clothing best.
Who knows if there's any truth to this or not, but there's no harm sticking to light colour clothing just in case.
The bonus is light coloured clothing is cooler in the hot sun.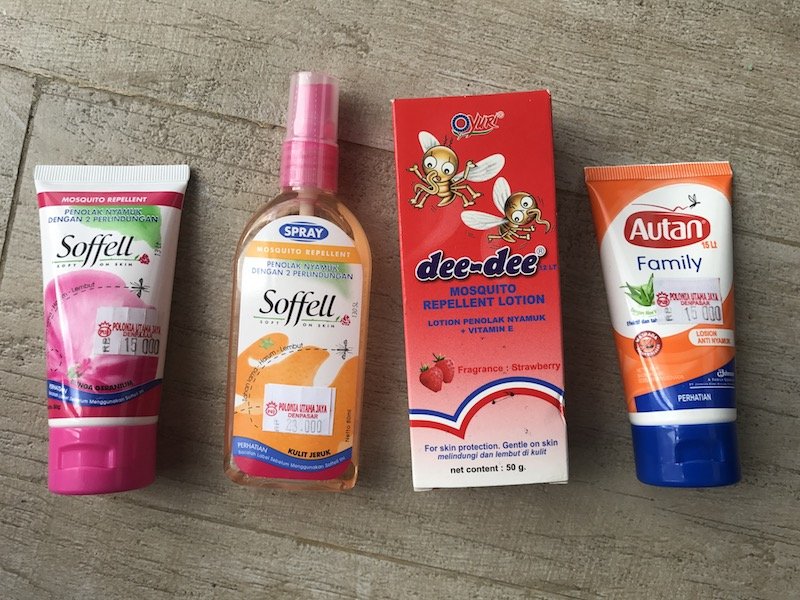 No. 2: Regularly apply personal insect repellant
Insect repellent wipes
Carry insect repellant wipes in your hand luggage
Apply that on the kids arms and legs before stepping off the plane.
Swipe it all over the adults arms and legs too.
DEET mosquito repellents
While not everyone's favourite, a DEET insect repellent can be applied to any exposed skin, especially hot spots such as backs of hands, necks, ankles, wrists, and waists where the clothes join.
Use this all over the body if you are not wearing long sleeve clothing.
During mossie season in Bali, we use roll-on during the day (20% strength) and the more intense 40% spray from dusk.
We stock up on Balinese mosquito repellents while we are there too.
Balinese Mosquito Lotions
Soffel, Dee-dee and Autan are the most popular Balinese mosquito repellents, and you'll find the cheapest prices in:
These products are what the locals use and trust, so follow their lead.
Just to be clear, at home, we don't often use insect repellent at all.
But as the risk of dodgy mosquitos in Bali is real, we also bring a DEET product from home for our short-term trips as we know they work.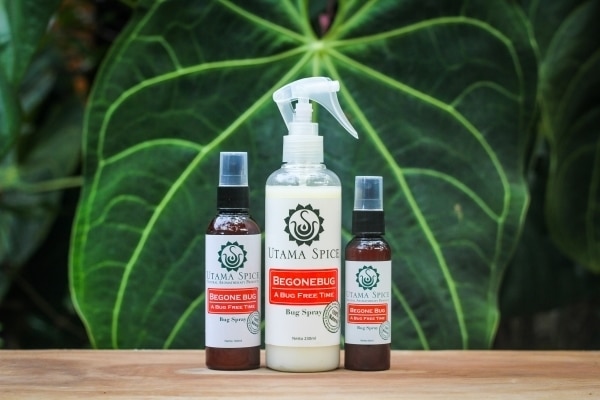 Non-chemical mosquito repellent alternatives
If you prefer a non-chemical alternative, apply a non-DEET, more 'natural' repellent like:
Essential Oils
Add a few drops of these essential oils to a carrier oil and apply to your skin. Be sure to do a test patch first to make sure there's no irritation or allergy reaction on the skin.
Lemon Eucalyptus.
Peppermint Oil.
Lemongrass Oil.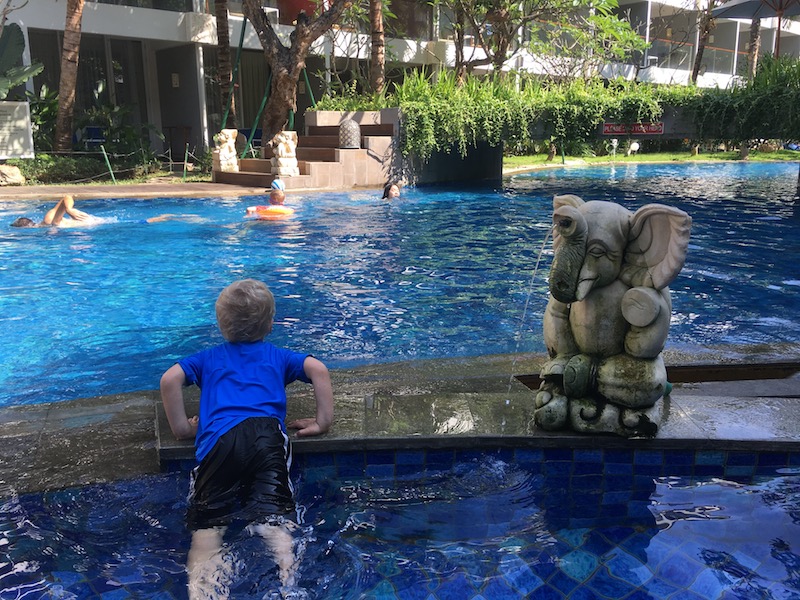 Hot tips for applying mosquito repellent
Try these:
Remember to reapply insect repellent frequently, especially after every swim.
Make it a habit to apply regularly, at particular times of the day. If you can't remember, set an alarm in your phone.
Do take a good antihistamine with you if you are prone to swelling and redness after bites.
Calamine lotion helps to stop the itch too if you are unfortunate enough to be bitten.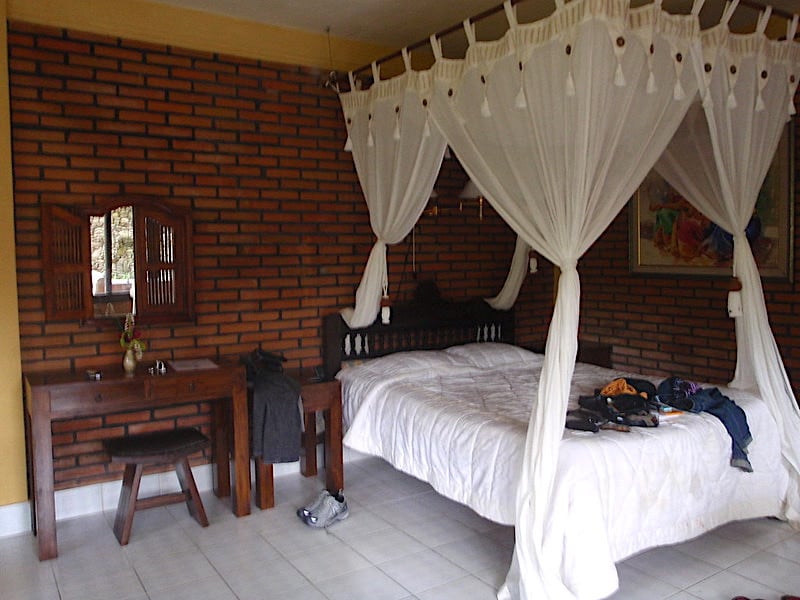 Image credit: Becky Stern (CC BY-SA 2.0) via Flickr
No. 3: Choose mosquito-proof accommodation
Use mosquito nets over your beds when sleeping where possible.
Close doors & windows before dusk.
Burn mosquito coils or sandalwood incense sticks on your hotel or villa verandah. These can be found in all local mini marts for under a few dollars.
Turn on all the fans to keep air circulating. A standing desk fan up close to the bed can help keep mozzies at bay too.
Burn Vanilla Mozi candles in your room. Bonus – they smell divine.
For those who can bear it, spray your room with regular insect repellant before going out to your evening meal. Exit quickly as these sprays are toxic and smelly, and leave it to do its' job.
We'd NEVER do this at home.
But when the mozzies are bad in Bali, it's one of the tricks up our sleeve that lets us get a good night sleep without hearing that piercing "eeeeeeeee" sound all night long, knowing they are out to get you!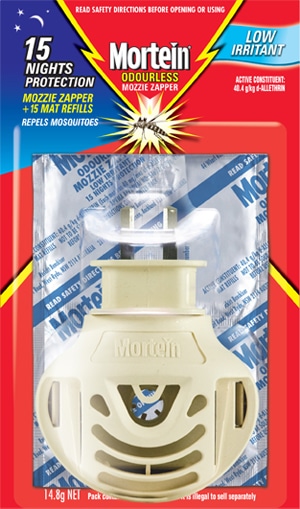 Plug In Mozzie zappers
If you don't like the smell of mozzie coils, use a plug in mozzie zapper, similar to this one pictured.
Some Balinese hotels provide these for guests. Enquire when you book.
Otherwise, you can buy these at the supermarket in Bali with the correct power adapter. (Look for the HIT brand.)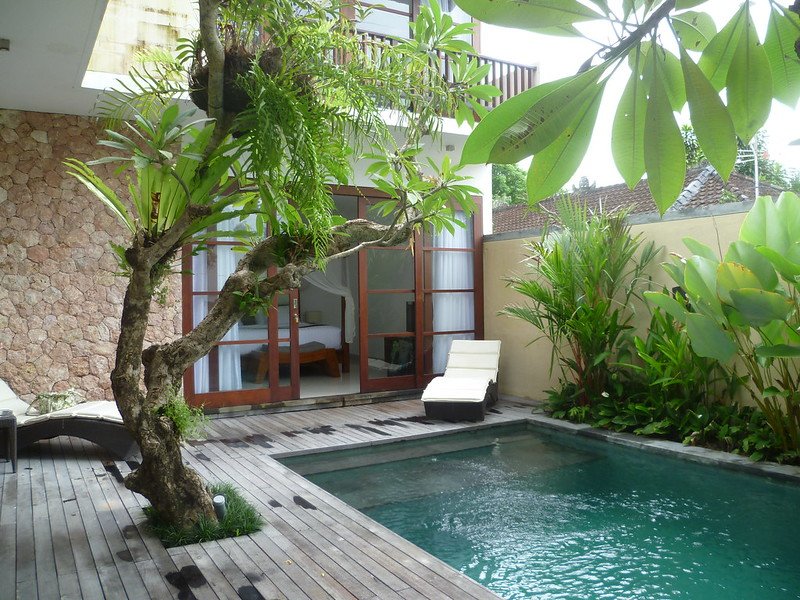 Image Credit: Tjeerd Wiersma by Flickr CC BY 2.0
Choose accommodation wisely
Book accommodation where you can close the doors completely.
Avoid anything too open plan if you have kids, as there's no way you can train them to keep everything shut.
Fully air-conditioned rooms are essential during mosquito season so you don't have to open windows to catch the breeze.
Staying close to the beach does not necessarily mean less mosquitoes.
Avoid properties with outdoor bathrooms, ponds, or stagnant water nearby. Standing water is one of the worst factors in enabling mosquito infestations.
Close vents in bathrooms.
Close the windows and doors before dusk.
Be mindful of too much greenery and shade near your room.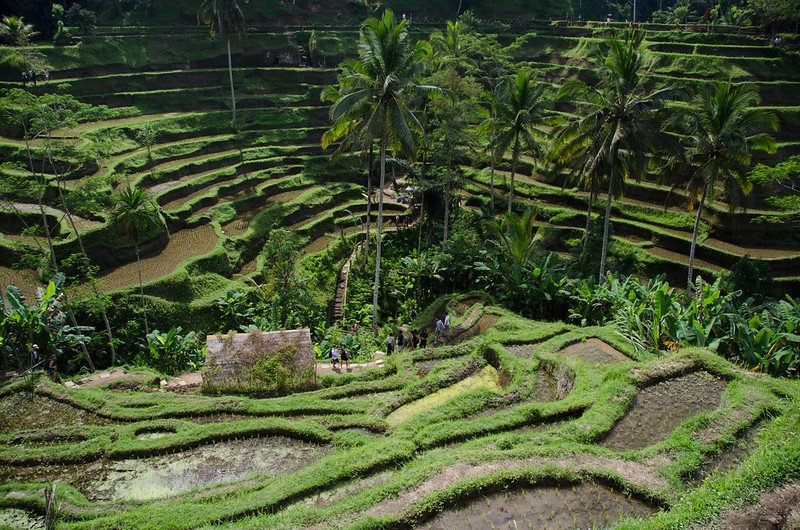 Image Credit: Dom Crossley via Flickr CC BY 2.0
No. 4: Avoid Mosquito Environments
Stay away from mosquito loving habitats at all costs
Be extra careful in shady areas and forests. Mosquitos in Bali love these hidey holes.
Take preventative care in wetlands, rice paddies, and anywhere where there is stagnate water.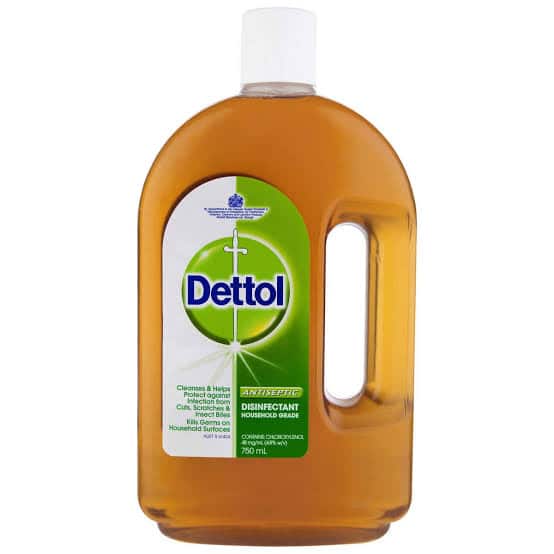 No. 5 – Homegrown Remedies to avoid Mosquitos in Bali
We know lots of travellers to Bali swear by these home grown remedies when bitten by mosquitos in Bali.
Try at your own risk.
Minyak Sereh
In Bali, locals swear by Minyak Sereh, 100% citronella (Sereh/lemongrass) oil applied on the skin.
It's primarily used as a mosquito bite and insect repellent.
It's properties are said to:
relieve joint pain
relieve aches
help with sprains too.
It's available in most mini-marts and supermarkets.
Dettol bath
A few regular Bali visitors who travel there with their kids have told us about the Dettol trick.
(We've heard this is used in North Queensland tropics too)
Mix a solution of 1/2 Dettol and 1/2 water in a spray bottle and spray the body a number of times during the day.
Alternatively, mix 1/2 Dettol and 1/2 Baby oil and rub it on like moisturiser.
You can also add a small amount of Dettol to the children's bath water as an extra precaution.
Side note: In Darwin, the locals swear that drinking 'beer' is a help too because of the B vitamins in it, but there's plenty of science to debunk that theory.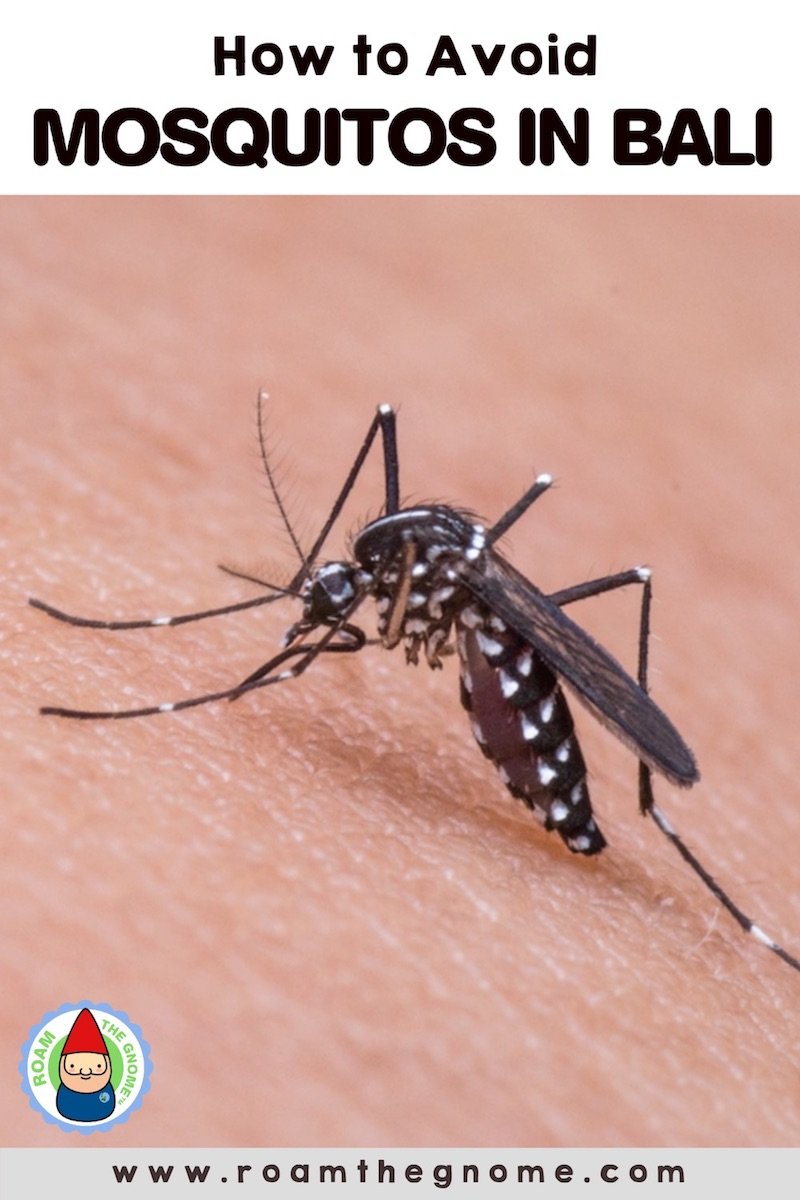 What to eat to avoid mosquitos
As well as beer, eating these foods regularly is said to build resistance to mosquito bites, but the science is out on this one.
But if you like these foods, it can't hurt to increase them in your diet in the lead up to your tropical getaway to Bali!
apple cider vinegar – a teaspoon a day in the lead up to your trip
bananas
grapefruit
garlic (or garlic tablets)
vegemite or marmite (with vitamin B1 'thiamine')
lemongrass (hot tip: add lemongrass to your curry for a few weeks beforehand)
Let us know how you go!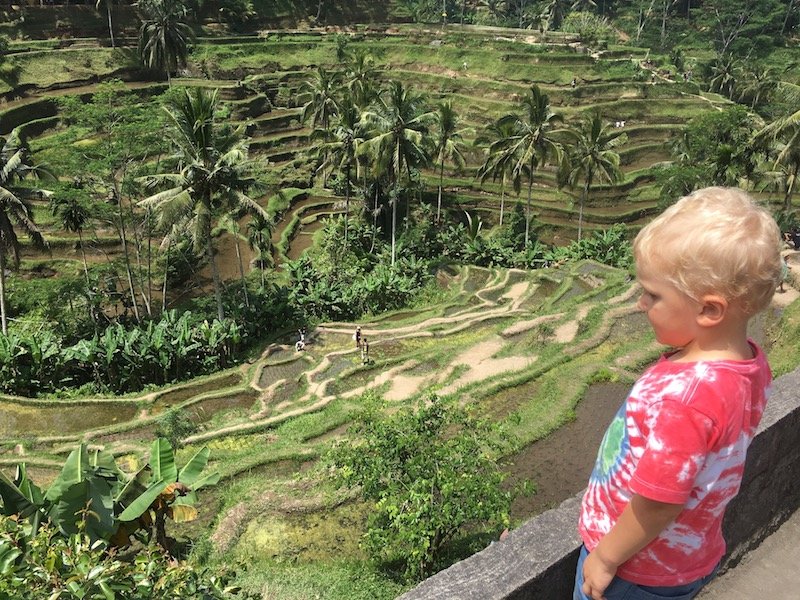 Looking for MORE SUPER DOOPER FUN things to do and places to eat in Bali?
Click the links in blue for more Bali ideas below.