INSIDE: A sneak peek at Albert Park Playground, the Magical Fairy Castle Playground.
Does your kid love to dress up?
Do they wear fairy dresses or pirate suits all day long?
Then put on your best costume and head to Albert Park Playground next to Albert Park Lake, near St Kilda.
Albert Park Playground is a Magical Timber Castle Fortress playground, one of the best Melbourne playgrounds around!
Take a sneak peek below.
Disclosure: This article contains affiliate links. If you make a purchase after clicking on one of these links, we may receive a small commission at NO extra cost to you.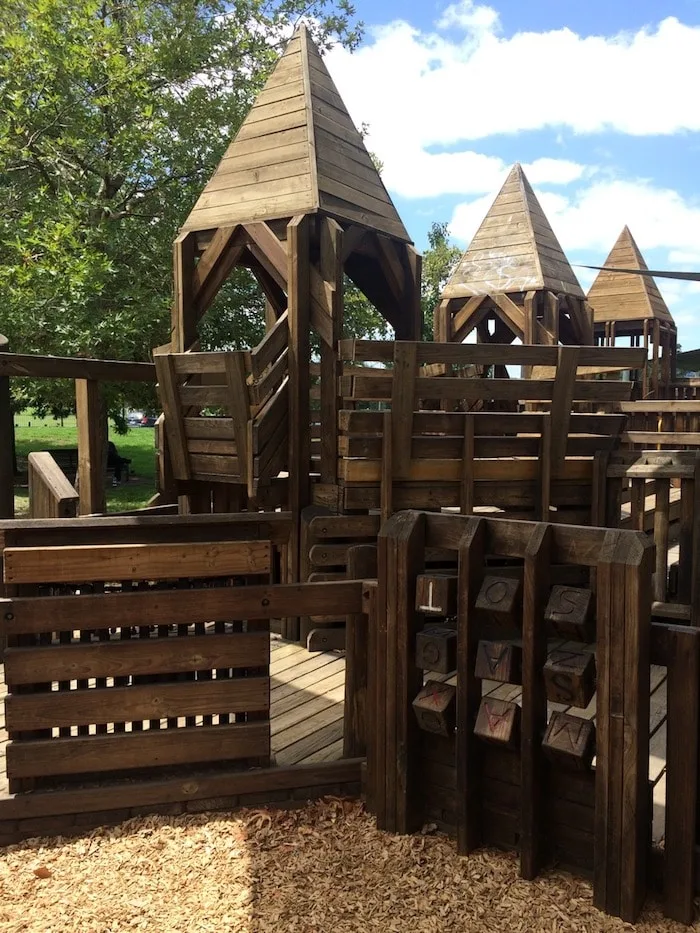 Insider's Guide to Albert Park Playground Melbourne VIC
Albert Park playground is inside ALBERT PARK, near the Athletics Victoria centre.
The Albert Park playground design was a collaborative effort between local kids and playground architects.
It's the play space that every child dreams of!
There's:
hidey holes
tunnels
nooks
crannies
pathways, and
platforms.
---
Book Now: 24 Hour Melbourne Hop On Hop Off Bus & River Cruise tickets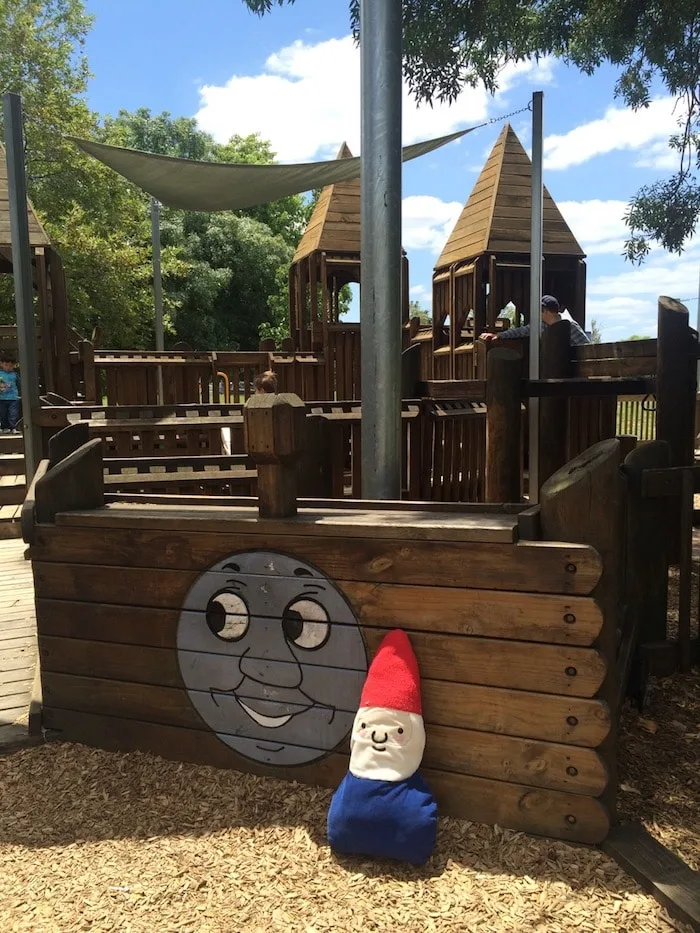 Best Playgrounds in Melbourne
It's by far the best playground in Melbourne for a fabulous game of HIDE AND SEEK.
Bring a picnic of healthy snacks.
BYO digging tools and sandpit toys too. (We like these ones)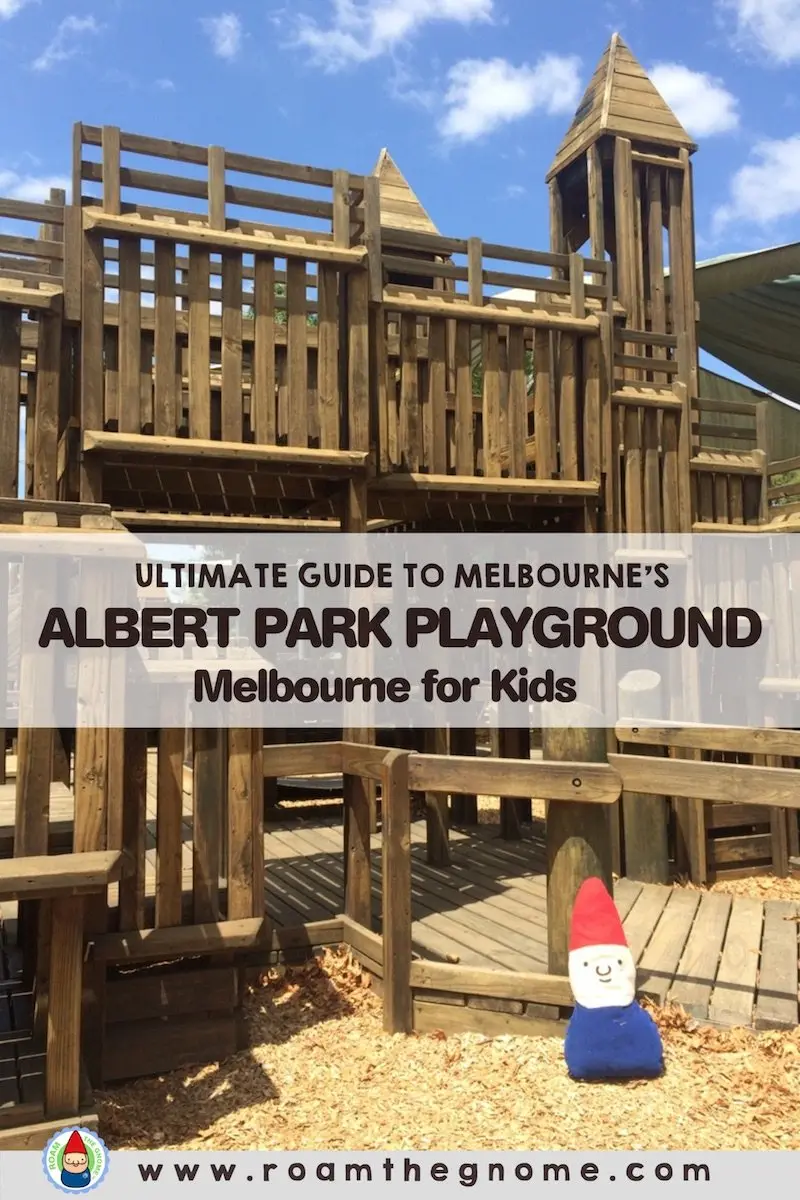 Inside this Melbourne Playground in Albert Park
Features include:
Giant X's and O's game
Wooden Fortress lookouts
Balance beams
Monkey bars
Swings
Hot tip: Visit the Neighbours "Ramsey St" set with exclusive access on this tour!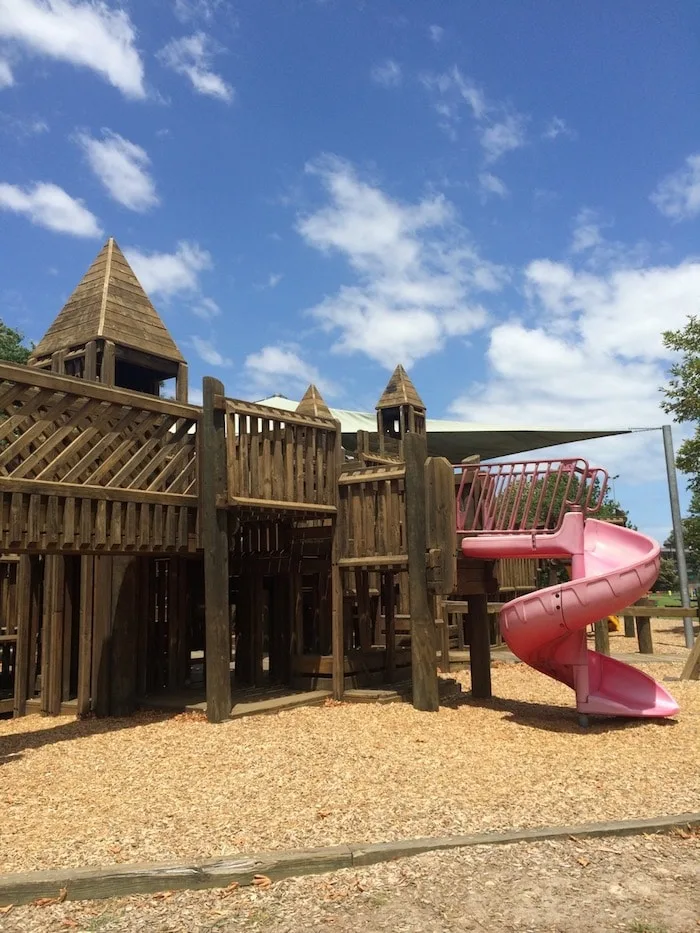 More play equipment at Albert Park
Spiral slide
Straight slides
Rope bridges
Wonky bridges
If you are looking for good playgrounds in Melbourne, pop it on your bucket list.
It's the perfect Melbourne playground for kids 2-12.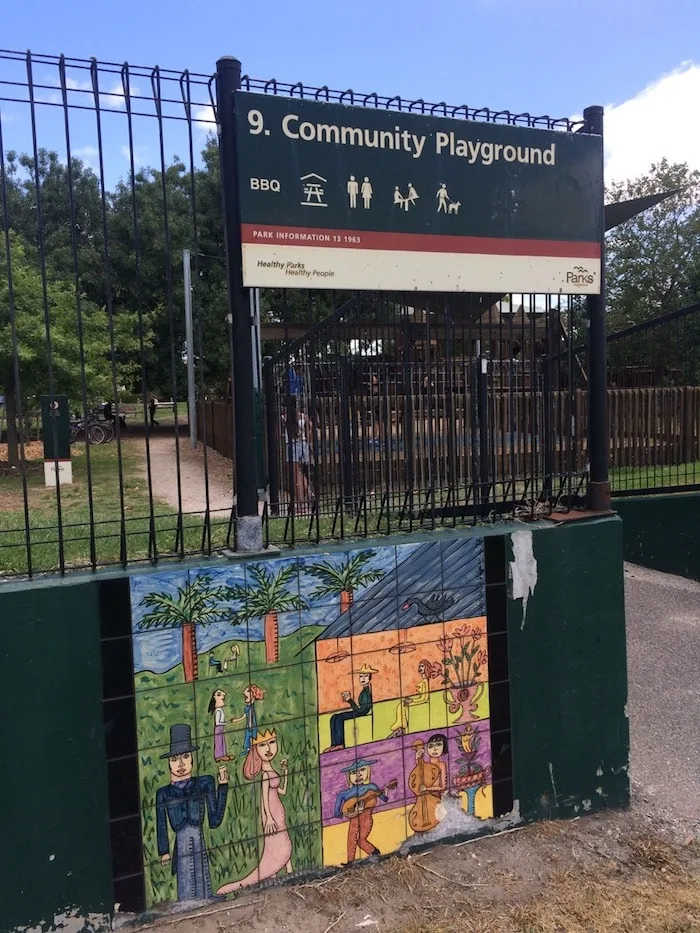 Building the Albert Park Playground
This beautiful wooden playground is proof that community spirit is alive and well.
Built by volunteers over 5 days in 1993, over 3000 people worked shifts from 7am to 10pm at night:
sawing
sanding
painting
shaping
hammering and
nailing the timber.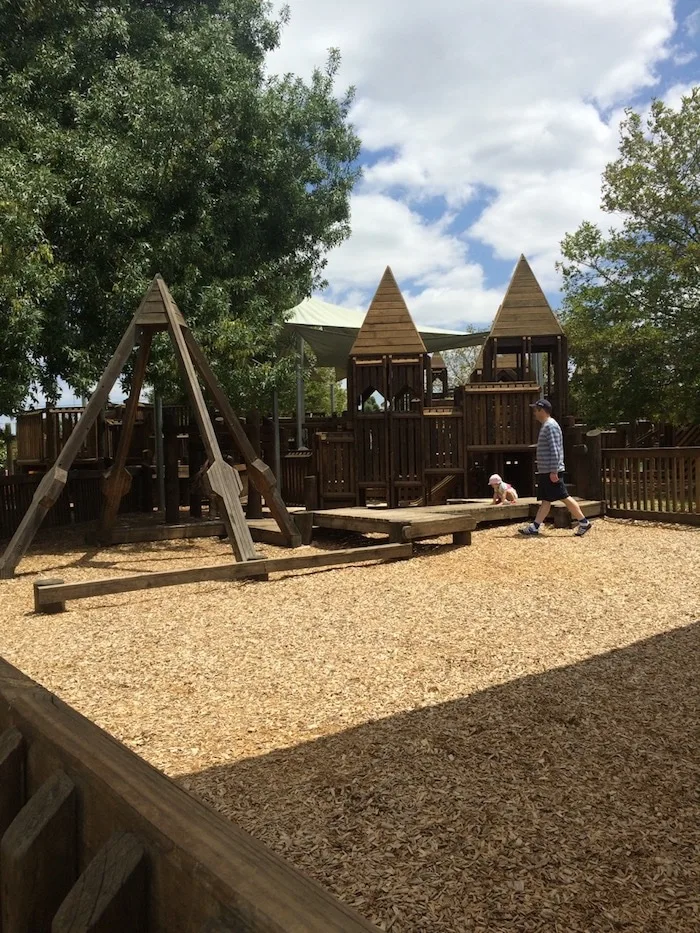 Team Effort
Mums and dads wheelbarrowed bark and mulch into place.
Local school kids scrubbed and sealed the tyres, and sanded the wood.
Yet others cooked free meals to feed and water the volunteer crew.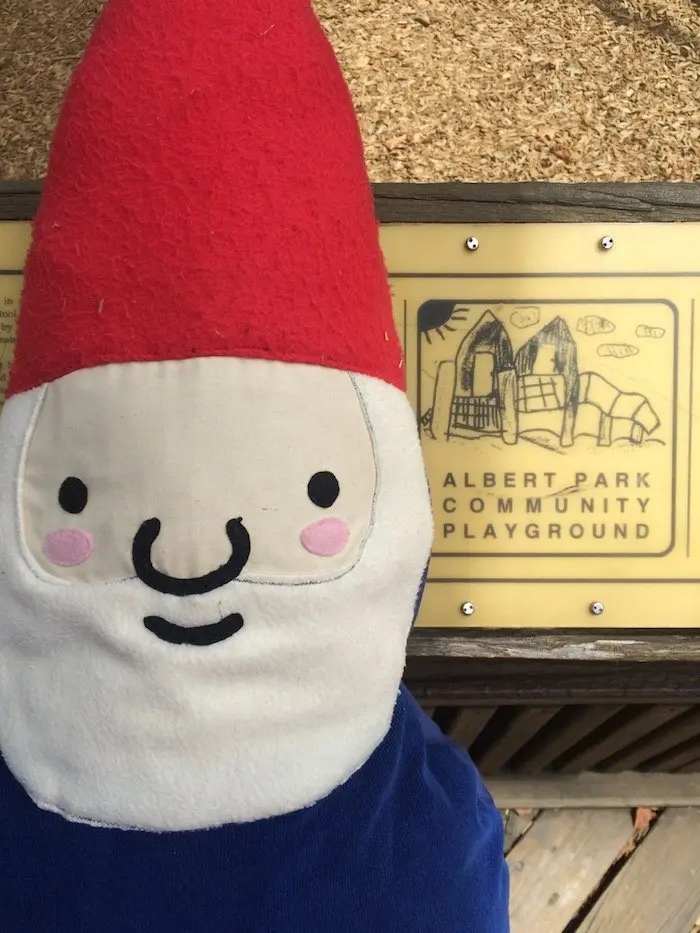 Built by the local community
Local building businesses lent their tools.
Bigger companies donated building materials.
The rest was bought with donated money.
Roam the Gnome rates it of the top 10 playgrounds in Melbourne.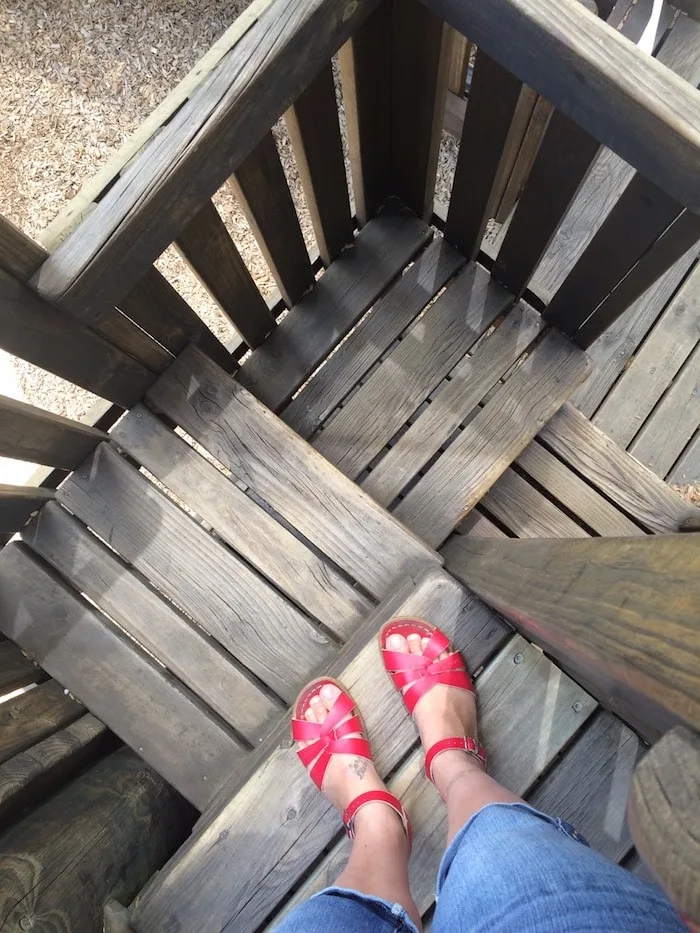 MORE Albert Park Playground Photos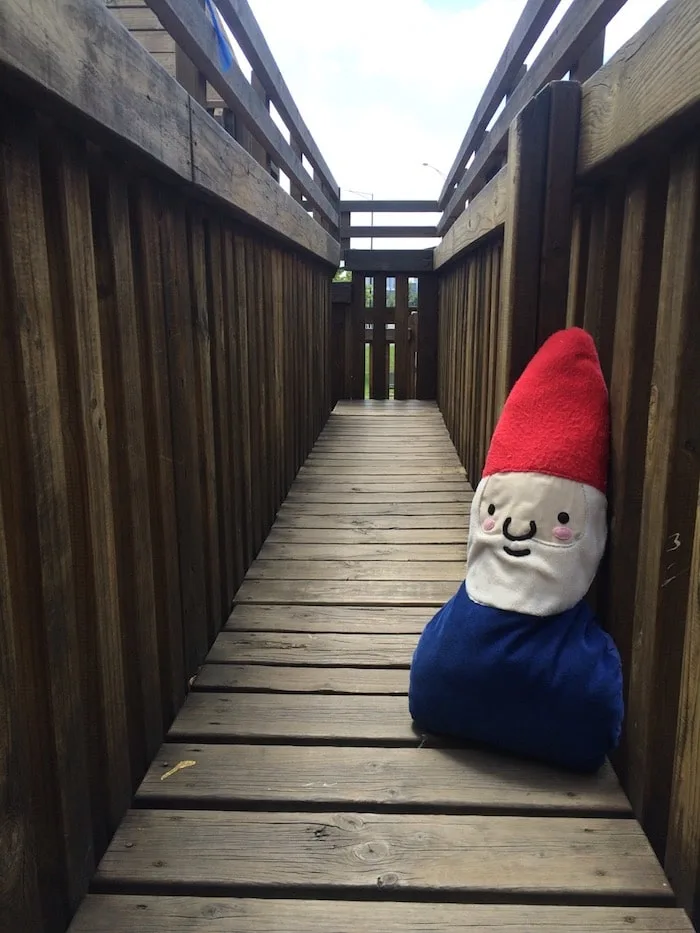 Walkways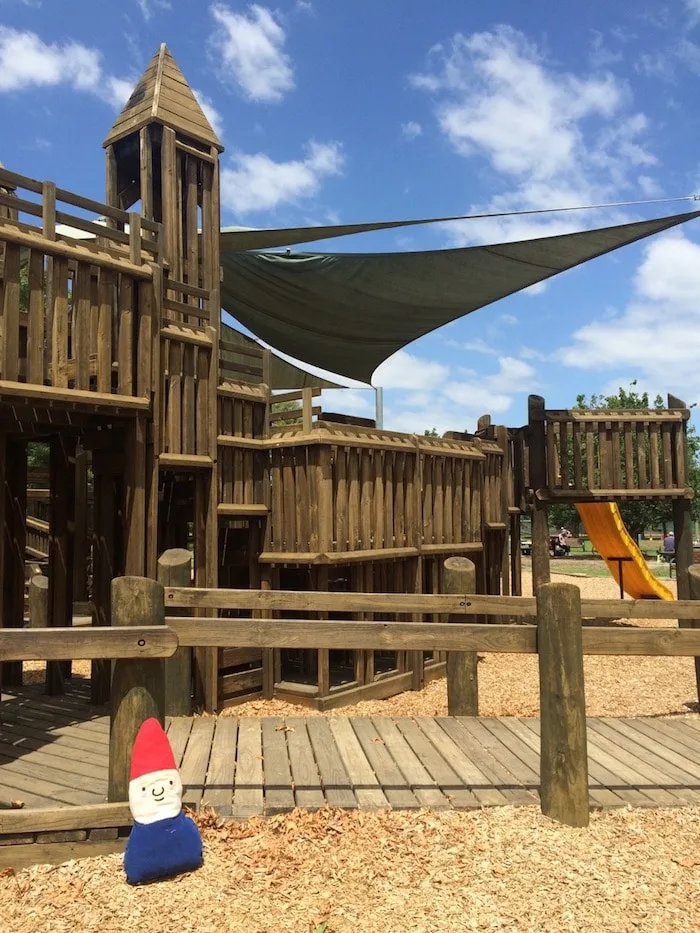 Turrets & Paths
Some people call it the Fairy Castle Melbourne, because of these turrets.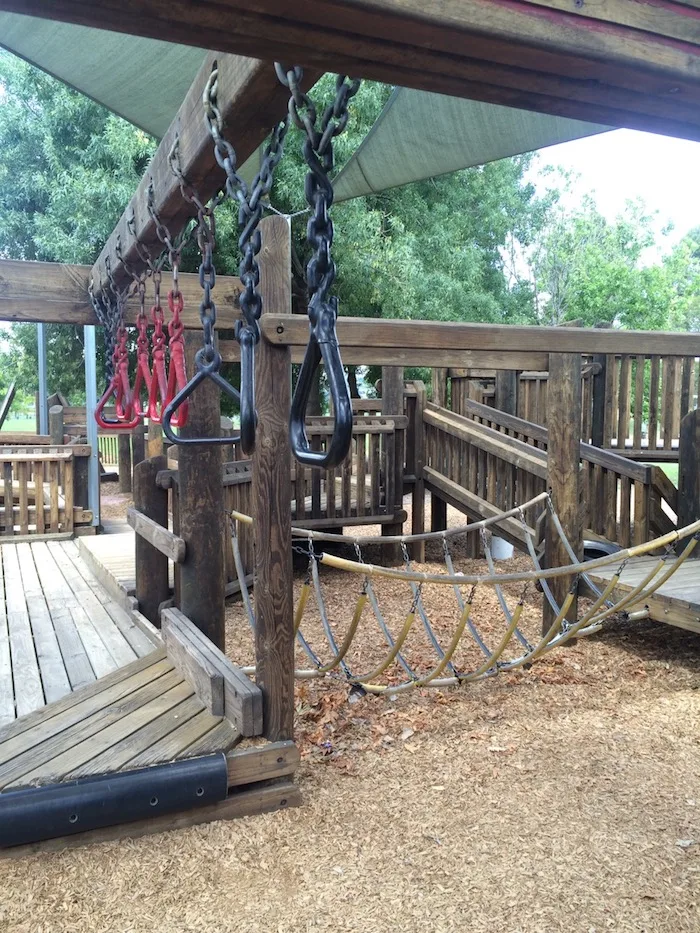 Swing bridges & monkey grips
THE INSIDE SCOOP: Albert Park Adventure Playground
Correct at time of publication on Roam the Gnome. Please check with venue for updates. We apologise in advance if there have been any changes we are unaware of. All prices in AUD dollars, unless otherwise stated
Address: On the western side of Aughtie Drive, Albert Park.
Website: Click here
Entry Fees: Free
Opening hours: Sunrise to sunset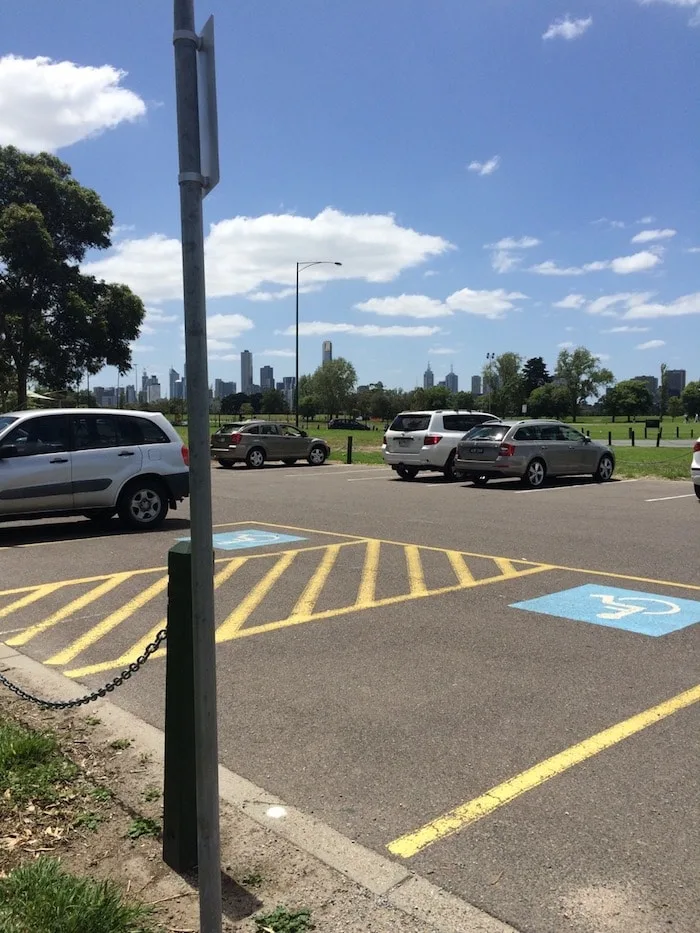 How to get to Albert Park Playground Melbourne
By Tram:
The easiest way to get to Albert Park from the city center is to take a tram.
It's a 3km route on Melbourne tram route 96
Closest tram stops are Melbourne Sports & Aquatic Centre/Albert Road 131, or Melbourne Sports and Aquatic Centre light rail stop.
By Car: Click here to add your location for google map directions
Albert Park parking
Yes, free on site street parking available, right outside the playground.
Map of Playground Albert Park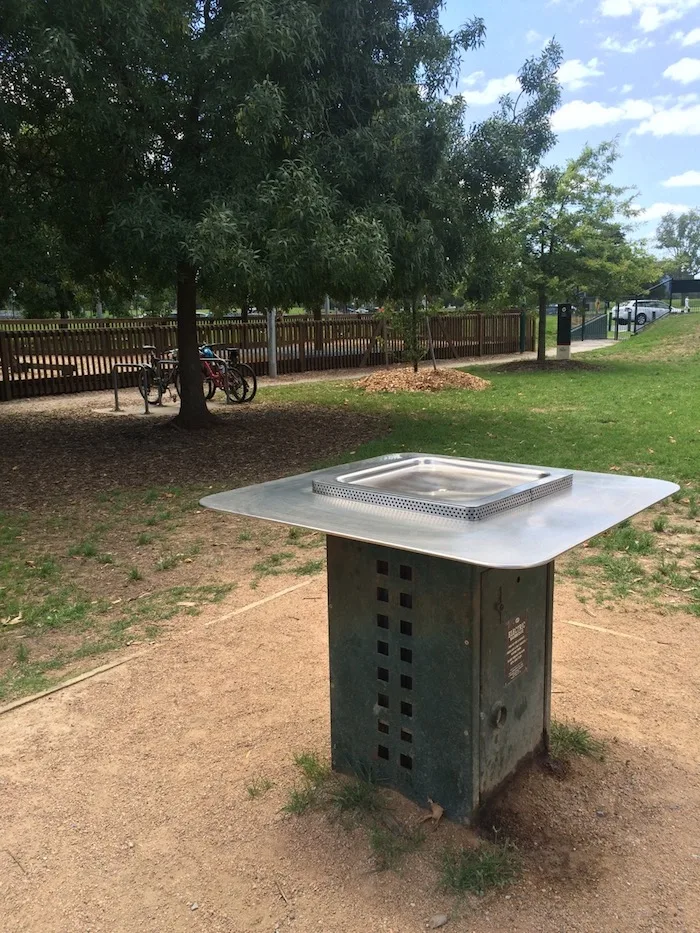 Facilities at Albert Park playground
Toilets: Yes, including baby change table
Disability access: Limited. Wheelchair accessible ramp leads to inner fort.
Shade: Yes, trees and shade sails
Enclosed: Yes, fenced all round.
Ground cover: Bark soft fall, concrete pathways, grassy field
Picnic tables: Yes
Electric BBQs: Yes
Water Bubblers/fountains: Yes
Scooters and Bikes: Yes, bike paths in park nearby
Dogs: No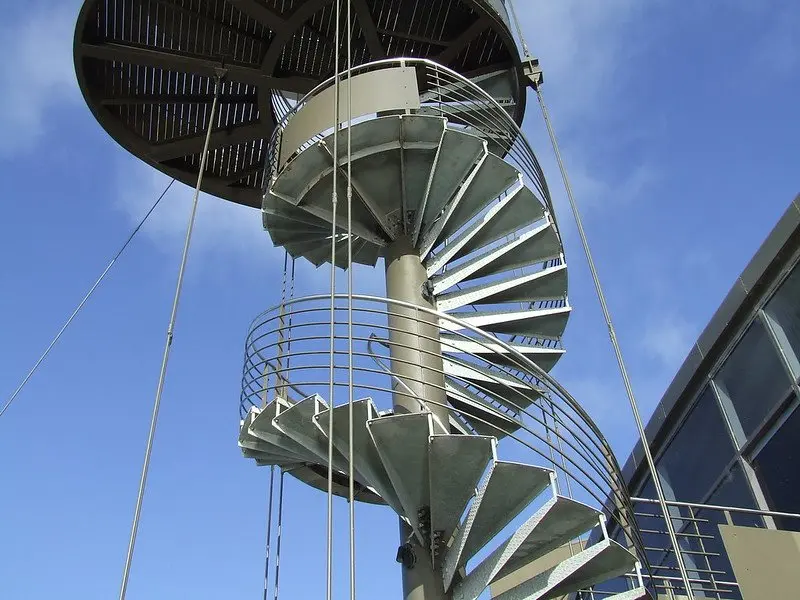 Image credit: Jessica Cross via Flickr CC BY-2.0
MORE THINGS TO DO AT ALBERT PARK
Albert Park is a HUGE 560 acres big, yet just 3km from the Melbourne city centre.
World famous for the Melbourne Grand Prix circuit, it's also home to many sporting facilities and parks activities.
Check out:
the Melbourne Sports and Aquatic Centre
the Albert Park golf course
Junction oval (historical sports ground)
Lakeside stadium (home of Athletics Victoria, and South Melbourne Football Club)
the Aquatower
Gunn Island
Albert Park Lake lookout (pictured above)
No.1: Albert Park Golf Course
The Championship golf course is on Queens Rd &, Lakeside Dr, Melbourne.
Click here to find out more about playing a round on the golf course, golf lessons, and the golf club shop.
No.2: Albert Park Mini Golf
There's also a mini golf course at Albert Park.
Play 18 holes with the kids around obstacles, cubby houses, and more to get a hole in one!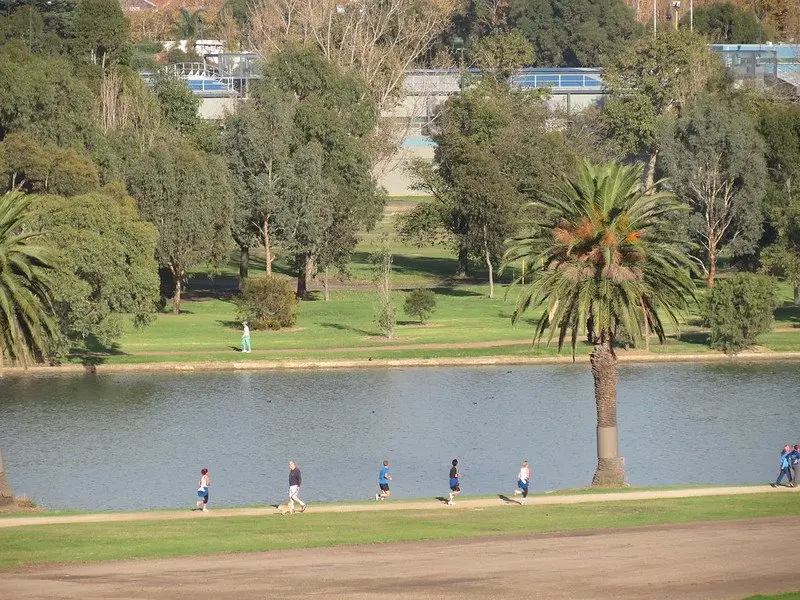 Image credit: Ken Hodge via Flickr CC BY-2.0
No.2: Albert Park Lake
How long is the walk around Albert Park Lake?
It's a 4.8km track, popular with:
local runners
joggers and
mums with prams.
Stop for a drink at one of the water fountains, placed along the track every kilometre.
A common question is can you swim in Albert Park Lake?
The answer is no, not in this manmade lake.
It's not advisable.
Head inside to the Melbourne Sports and Aquatic centre for a dip instead.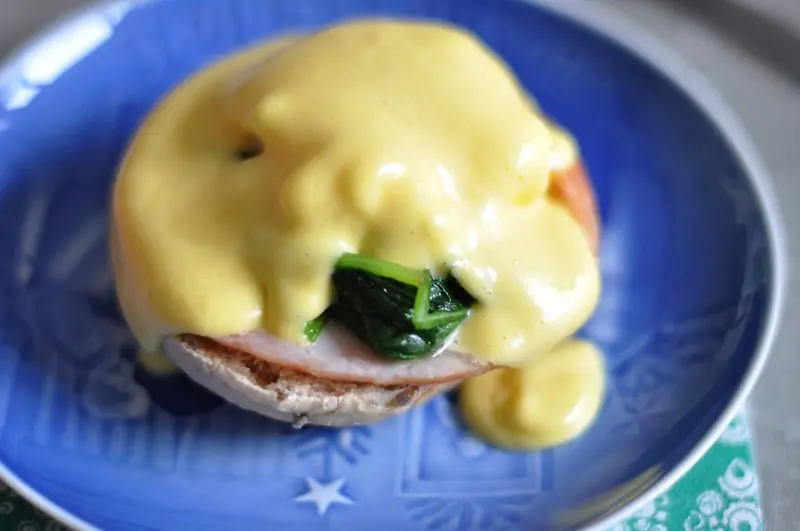 Image credit: Cyclone Bill via Flickr CC BY-SA 2.0
No.3: Albert Park Cafe & Restaurants
Try these Albert Park restaurants for breakfast, lunch or dinner:
Carousel Cafe, or the Boatshed Cafe, both on the lake
Sir Albert Cafe is near the roundabout at 30 Aughtie Dr, Albert Park. It's a fancy Melbourne cafe with good coffee.
Jack the Geezer has delicious eggs benedict, and smoothie bowls, burgers, chips and coffee. It's 3 minutes walk from the playground.
Hungry? Book a 2 hour Foodies Tour of Queen Victoria Market. Kids 8+ welcome.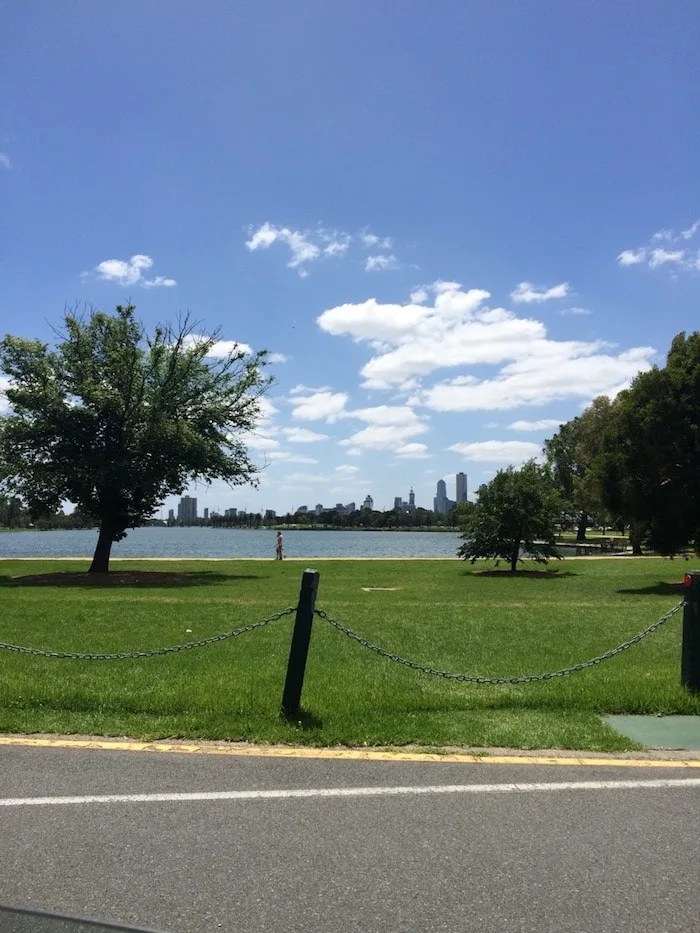 Toadstool Rating- Albert Park Community Playground
In Melbourne with kids?
Make a detour and travel to this family play area.


Looking For More Things to Do in Melbourne with Kids?
Click the blue links below for more Melbourne attractions for kids.