Put your hand up if you love mosquitoes. Nope. Us either.
And while we can cope with the odd mozzie bite at home, in particular countries, a mozzie bite can be more than just an annoying itch. One bite can be life-changing.
Protect the Kids with the best mozzie repellents
We've learned that when travelling with kids, it's best to have the full arsenal of the best mozzie repellents. Kids are magnets for this icky creatures.
1. Bushman Insect Repellent
There are tonnes of insect repellents on the market but when travelling to Bali, we take the best – Bushmans Insect Repellent.
Bushman Insect Repellent does contain DEET so it's not top of the list for everyone, but we use it sparingly in dire mozzie circumstances such as in rainforest areas, in the shade, and near animals.
Buy our favourite Bushman Insect Repellent here.
2. Vanilla Mozi- pictured above
We also love Vanilla Mozi candles.
Take one with you and light it in the room every evening to keep the mozzies at bay.
Each candle has a minimum burn time of 45 hours so should last you throughout your trip.
3. Insect Repellent Wipes
Have you discovered insect repellent wipes?
These wipes are a convenient way of applying a low irritant but highly effective formulation to young children without the mess of roll-ons, the choking spray of insect repellent aerosols, or getting it into their eyes and mouth.
Buzz Wipes! are fully Australian developed and owned and are the only Insect Repellent Wipes that are registered and approved by the Australian Government.
Kmart sells Mozzigear Mosquito wipes. These wipes contain citronella oil and offer waterproof protection for up to 6 hours, and general protection up to 12 hours.
Parents like them because they are non-toxic, alcohol free and do not contain diethyltoluamide (DEET). Mozzigear wipes are suitable for children over 6 months.
4. Refillable Parakito Mosquito Bands and Clips
The essential oils in PARA'KITO pellets are safe for even the youngest of skins.
You can buy wrist bands or clips. Wrist bands are for kids over 3. Bands are one-size-fits-all, both for adults and kids.
For babies and toddlers, use a clip. Attach it to their pram or stroller, clip it to the back of their shorts, or on the back shoulder strap of a dress.
Parakito pellets are waterproof and the active ingredient lasts 15 consecutive days.
5. Mosquito Bands – Silicone Wrist and Ankle Bands
We haul these out from time to time, usually when we head out to dinner.
The boys wear one on each ankle under their long pants. They also wear one on each wrist when they go to bed.
6. Mosquito Patches – Adhesive stick-on patches for clothing, hats, furniture, bedding, and pillowcases
Mosquito-Patch contains citronella oil and is a natural solution effective for up to 12 hours.
Mozzigear have a range of citronella-infused mosquito patches too.
Pop one of these on the kids pillows before they sleep, or on their pyjamas.
These are the best insect repellents for creating a Star Wars-like forcefield around your kids when they are most vulnerable.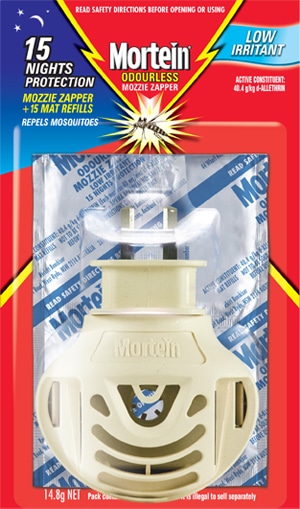 7. Plug-in Mosquito Zappers
Don't bother bringing these from home.
Many hotels and villas have them ready for you, and you can buy them for about half the price in the larger supermarkets like Carrefours and Bintang supermarket.
They are a pretty common item for sale.
The Best Mozzie Repellents you can buy in Bali
There are three other insect repellents that are very popular with Australians in Bali.
You can find these products in local chemists in tourist areas and near hospitals.
Hot tip: Chemists in Bali are also called pharmacies and drugstores, but most commonly, "Apoteks".
These insect repellents can also be found in the larger supermarkets such as Bintang, Mataharis, and Carrefour, and in most minimarts.
Kimia Farma and Guardian are two popular chemist chains, stocking a variety of products to ease common ailments, as well as prescription medicines.
Soffell Mosquito repellent
Soffel insect repellent can be found all over Bali.
Soffel Fresh Fragrance is an insect repellent in a spray bottle that can be used for all types of outdoor and camping activities.
It is effective in repelling biting mosquitoes and insects for at least 7 hours. Has a floral or orange scent.
Autan or Dee-Dee mosquito repellent lotions are two other types to be found.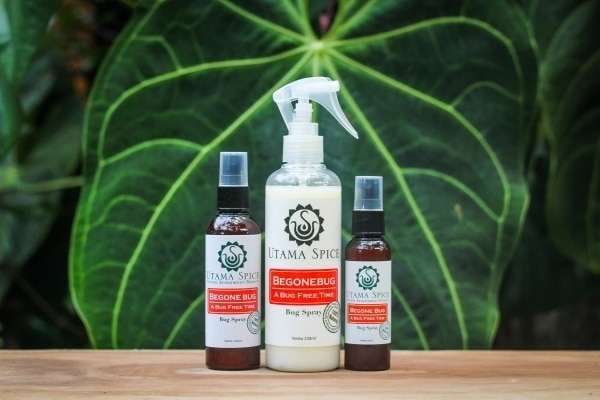 Utama Spice Bug Spray
Utama Spice is another Aussie fave in Bali.
These natural aromatherapy products from this traditional skincare company have been made Ubud, Bali since 1989.
Made with 100% pure natural ingredients including citronella, clove and cajaputi, their Begone Bug Spray is a very popular natural alternative.
Begone Bug Spray is probably the best mozzie repellent for those who don't want chemicals on their kids' skin.
It comes in two smaller spray pumps (perfect for the handbag or daypack) and a larger spray bottle. There's also a 1 litre bottle for refills.
Buy it in most Guardian pharmacies across Bali. Store locator.

Minyak Sereh lotion
Locals swear by Minyak Sereh, 100% citronella (sereh/lemongrass) oil.
It's primarily used as a mosquito bite and insect repellent.
It's properties are said to relieve joint pain, aches, sprains. Could be the best mozzie repellent of all.
Prevention better than the cure – How to Avoid Mosquitoes in Bali
Here's our comprehensive and useful guide to all the other things you can do to avoid mosquitoes in Bali. Thank me later.
Looking for MORE SUPER DOOPER FUN things to do and places to eat in Bali?
Click the links in blue below.