INSIDE: The Only Guide you need to help you plan a visit to the Empire State Building for Kids.
The Empire State Building features in the list of the top 10 iconic buildings in New York.
It's one of the tallest New York skyscrapers in New York and gives you fabulous 360 degree views of Manhattan, New York City, and beyond on a sunny day.
If you are looking for things to do with kids in New York, put a trip to the EMPIRE STATE BUILDING with kids on your list (at least once).
You'll love our Ultimate Guide to the Empire State Building for Kids.
We've included:
all the tricks to cope with busy lines
how to avoid queues
how to avoiding wait times,
plus the best things to do for kids at Empire State Building
Those super fast elevators are the highlight!
Take a look below for details.
Disclosure: This article contains affiliate links. If you make a purchase after clicking on one of these links, we may receive a small commission at NO extra cost to you.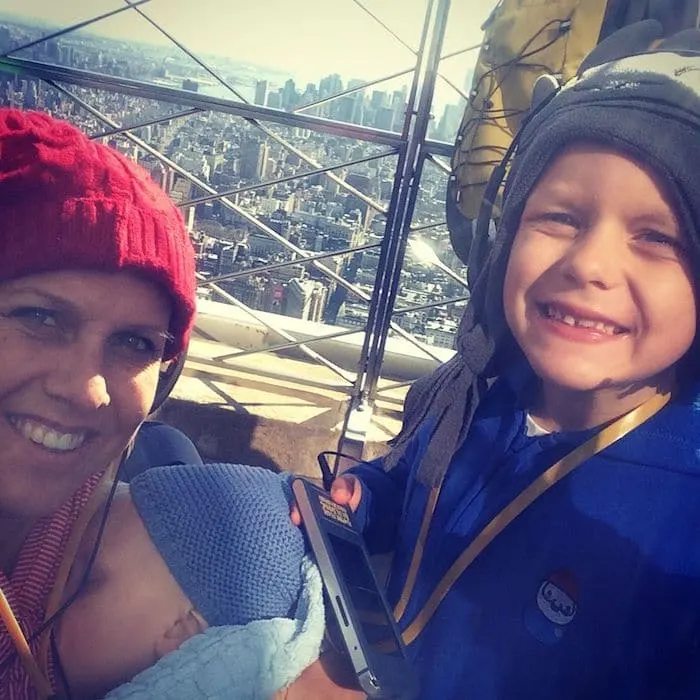 The Three Best Empire State Building Tips
Tip One:
Be FLEXIBLE with your New York itinerary so you can head up on a clear day if at all possible. I wouldn't waste my time or money heading up if it's overcast. There's nothing to see.
Tip Two:
Buy some kind of EXPRESS PASS to skip the lines.
We love the New York Pass, because you can save big bucks visiting lots of kid-friendly attractions and museums in NYC.
Tip Three:
Book central accommodation and GO EARLY. Visit between 8am and 11am.
New York doesn't really get going till 10am, so take advantage of late sleeping tourists and beat the crowds with a short walk.
HOT TIP: Book an Empire State Building AM/PM Experience Ticket and go up twice in one day! (Day & Night)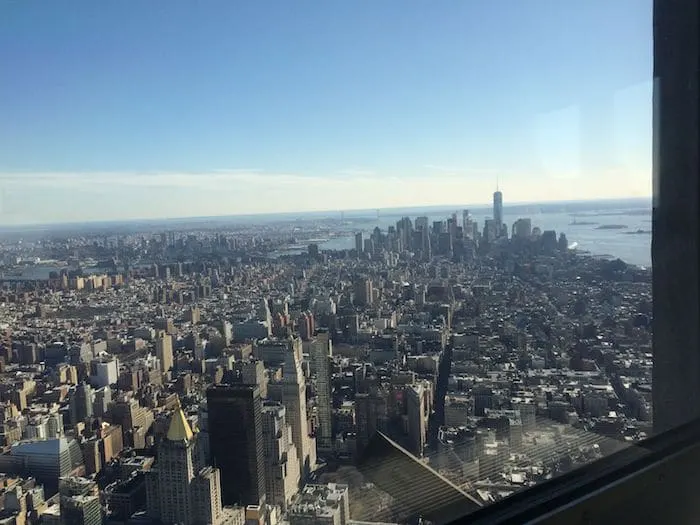 Visit Empire State Building with Kids
The observatories are on the 86th and 102nd floors.
An average of 4 million visitors take the elevator to the top each year.
That is exactly why an express pass to the top is necessary during the summer and holiday periods!
Enter through the new guest entrance and Visitor Center on 34th Street.
This is a spacious, fully air-conditioned venue designed for visitors to orient themselves, clear security, and buy tickets at the self-serving kiosks (or print if you buy tickets online).
BYO snacks and a small water bottle for the kids to avoid potential meltdowns in queues.
Includes:
2 Day Pass on Hop on Hop Off Bus
Empire State Building 86th Floor Observatory.
Includes FREE 1-hr cruise past Statue of Liberty!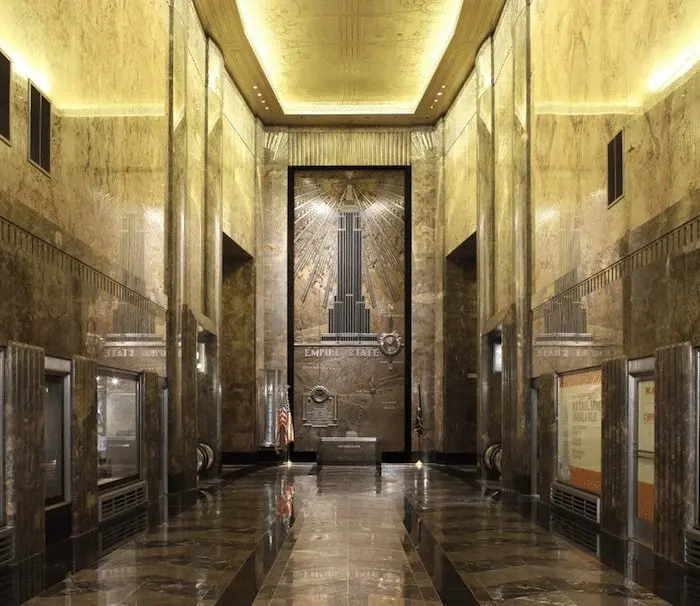 Empire State Building Observation Deck 86th Floor
The Observation Deck on the 86th floor wraps around the building's spire, providing 360-degree views of New York and beyond.
From up here, you'll get one-of-a-kind views of:
Central Park
The Hudson River and East River
The Brooklyn Bridge
Times Square
The Statue of Liberty,
and much more.
The official Observatory Experience app teaches you about your view from every direction.
Then take advantage of the high-powered binoculars to get a closer look.
Visitors now exit Empire State Building through the lobby.
This is where you can see the Art Deco inspired ceiling murals and spot the famous image of the Empire State Building with beams of light radiating out from the mast.
(It's above the front desk.)
Hot tip: Love Superheroes? Book a 3-Hour SUPERHERO Bus Tour to see where they filmed your fave action movies featuring Comic Book legends!
The Empire State Building for Kids
Buy the tickets to the 102nd floor observatory.
It's extra but worth it!
You only live once.
The Top Deck 102nd floor observatory at Empire State Building is the spot to see the most spectacular views of the city, the grid of streets, Central Park, and up to 80 miles beyond.
Book now: Walking Tour of New York to see all the famous sights in midtown Manhattan

Visit the Empire State Building Gift Shop
Visit the souvenir shop on the 2nd floor before you go. This freshly renovate Empire State Building gift store is one of the best shops in New York for iconic and unique New York souvenirs.
You'll find something special among this curated range of New York gifts and souvenirs including:
Empire State building clothing and apparel
Christmas ornaments
Empire State Building doorman teddy bears
NYPD die cast cars
ESB playing cards
pop up books
model kits
puzzles
a range of sweets and chocolates
keychains
magnets
mugs
shot glasses
globes
Empire State Building replicas,
and more.
The Empire State Building Gift Store is open seven days a week, from 8:00 a.m. until 2:00 a.m.
HOT TIP: BUY Empire State Building LEGO at the LEGO Brick Store Rockefeller Center!
Top of the Rock or Empire State Building?
Why not both?
Top of the Rock is much less crowded, for a similar view.
But if you have to choose, the Empire State Building wins the vote simply by being a New York Bucket List attraction.
Outside of New York, who has heard of the Top of the Rock?

BEST Empire State Building Facts for Kids
Take a look at all this Empire State Building information and facts about the Empire State building.
No.1: How tall is the Empire State Building?
It's a 102-story Art Deco skyscraper in Midtown Manhattan, New York City.
The height of Empire State building stands a total of 1,454 feet (443.2 m) tall, including its antenna.
No.2: Why is the Empire State Building famous?
It was the tallest building in New York for many, many years.
The building has been named as one of the Seven Wonders of the Modern World by the American Society of Civil Engineers.
No.3: When was the Empire State Building built?
Construction on the building itself started on March 17, 1930, with an average construction rate of one floor per day.
The base covers 2 acres!
No.4: How long did it take to build the Empire State building?
It opened on May 1, 1931, thirteen and a half months after the first steel beam was erected.
MORE Facts about Empire State Building
No.5: How many floors in the Empire State Building?
If you are wondering how many floors are in the Empire State building, wonder no longer.
The building has 85 floors of commercial and office space.
No.6: Why do tourists visit the Empire State Building?
To check out the indoor and outdoor observation decks on the 86th floor, and take in the views of New York city from this awesome vantage point.
The 86th floor is the the highest floor within the actual tower.
The remaining 16 stories are part of the Art Deco spire, which is capped by a second observatory tourists can access on the 102nd-floor.
Interestingly, the spire is hollow with no floors between levels 86 and 102.
No.7: What is the Empire State Building used for?
According to their website,
"The Empire State Building is the center of the New York City and tri-state region's broadcasting operations.
Its technology supports delivery of broadcasting signals to cable and satellite systems and directly to television and radio receivers reaching over 7.4 million television households, representing over 6.5% of all TV households in the U.S."
More commonly, it's an office building, home of many local and international companies going about their daily business.

Empire State Building View
No.8: What color is the Empire State Building?
The exterior of the building is clad in Indiana limestone panels sourced from the Empire Mill in Sanders, Indiana, which give the building its signature blonde color.
No.9: Why do the Empire State Building colors change?
On a regular basis, the Empire State building colors change to highlight or celebrate particular events such as Valentines Day, St Patricks Day, Memorial Day, Red Nose Day,
They change to red, white and blue for Labor Day, and rainbow colors with an hourly sparkle for World Pride day.
They may change colors for a film shoot too.
The building lights were changed to blue and red in honor of the film, Spider-Man: Far from Home.
Take a look here for the calendar of upcoming tower lightings.
No.10: How many steps in Empire State Building?
The building rises 1,860 steps from the first to the 102nd floor
No.11: What's at the top of Empire State Building?
Atop the tower is the 203 ft (61.9 m) pinnacle, much of which is covered by broadcast antennas, and surmounted with a lightning rod.
No.12: How many elevators in the Empire State Building?
The Empire state building has 6,500 windows and 73 elevators including service elevators.
With thanks to Empire State Building Wikipedia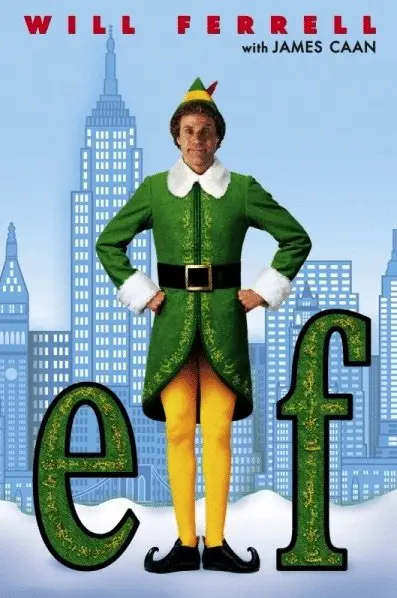 Movies that Feature the Empire State Building
How many movies feature the Empire State Building?
It has been featured in more than 250 TV shows and movies since the film King Kong was released in 1933.
Our favourite movie featuring the Empire State Building is ELF with Will Ferrell.
(Here's a few facts you probably didn't know about the movie ELF)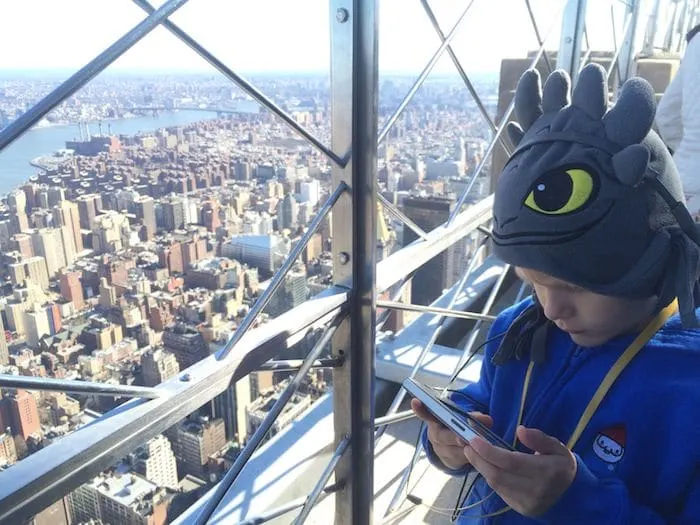 Empire State Building App
A free multimedia tour APP is included with every admission to the Empire State Building.
Kids love this. Ned was fascinated with the history of the building, and pointing out iconic landmarks too.
Download the APP for free from either the Apple Store or Google Play, or connect once on-site via their free Wi-Fi.
Empire State Building Live Cam
Take a look at the Empire State Building Live cam to watch the building light up!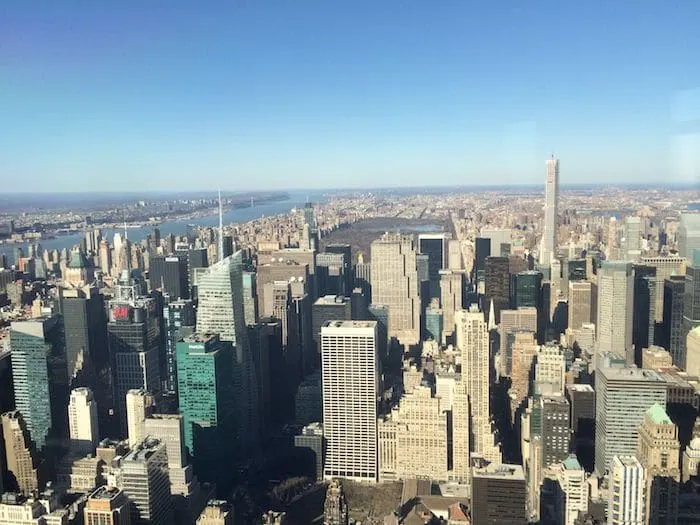 THE INSIDE SCOOP: Visit the Empire State Building in New York with Kids
Correct at time of publication on Roam the Gnome. Please check with venue for updates. We apologise in advance if there have been any changes we are unaware of. All prices in US dollars, unless otherwise stated
Empire State Building Address: 20 West 34th Street, New York, NY 10118
It's located on the west side of Fifth Avenue (between 5th & 6th Avenue) between West 33rd and 34th Streets.
Website: Click here
Empire State Building Open Hours
What time does the Empire State building open?
It's open every day, including all holidays, 365 days a year, rain or shine from 8am to 2am.
We suggest visiting between 8am and 11am to avoid the bulk of the crowds.
Empire State Building Tickets Price
Hot tip: Buy tickets online to get the best available price.
Kids under six are free. If you're bringing a stroller, you'll need to fold it before entering the elevator.
86th Floor observatory only: Prices start from $38 adults, $32 children 6-12 years and seniors from $36.
86th floor AND 102nd floor: Prices start from $58 adults and $52 children 6-12 years.
Empire State Building Fast Pass
Empire State Building Skip the Line tickets (VIP express passes) to the 86th floor start at $73 for all guests.
Buy Express Passes online here to skip the lines.
NB: If you are buying online, you can only buy the ESB passes to the 86th floor.
Upgrade upon arrival and pay the difference at the counter.
Empire State Building Tickets Discount
The cost to go up Empire state building can be reduced by finding a discount pass.
We recommend buying your discount entry to Empire State Building with KLOOK. We buy all our discount entries to local attractions with Klook where possible.
If you have a New York Pass, you get FREE ENTRY to The Empire State Building Observatory. Save $43.55.
If you have a New York City Pass, you get one-time FREE general admission entry to the 86th floor observatory, plus bonus same-night general admission, plus entry to 5 more top NYC attractions. Look out for City Pass sales. This sometimes drops the price of the New York City pass by up to 45%!
NB: Both these New York passes only allow you entry to the 86th floor.
Empire State Building tickets 102nd floor
Wondering how to buy tickets to the 102nd floor of the Empire State Building observatory?
You will need to purchase the add-on of the 102nd floor observatory at the counter when you arrive, either at the entrance, or on the 86th floor.
The current cost of the ticket is $20 per person.
Conditions of Empire State Building Tickets and Express Passes:
Observatory tickets purchased online may be used at any time from one year of purchase.
Tickets purchased at the ticket office may be used at any time from 14 days of purchase.
Express Pass tickets are not sold on the streets in front of the Empire State Building, only on this website or from our onsite ticket office
How to get to the Empire State Building
The closest subway stop is 34th Street/ Herald Square.
The closest Big Bus hop on hop off Tour stop is Stop 4 on Downtown route and stop 32 on Uptown route
Parking at Empire State Building.
Our tip? Leave the car at home.
Facilities
Nearest takeaway coffee and/or food options: Click here for restaurants and cafes in the Empire State Building.
Toilets: Yes, including baby change table. Go BEFORE you head up to the observation decks.
Disability access: Yes
Closest playground: Heckscher Park playground at the entrance to Central Park is a 30 minute walk. Catch the subway if you prefer.
Toadstool Rating- Visiting the Empire State Building with Kids

Looking for MORE Super Fun Things to Do in NEW YORK CITY with Kids?
Click the blue links below for more New York tips