INSIDE: Sail Central Park Sailboats with the Kids at Conservatory Water Pond in Central Park New York .
Stuart Little, that wily, but charming little mouse from the book and movies of the same name, sailed his fictional sailboat to VICTORY on the Conservatory Water Pond in Central Park.
Do you remember the scene?
Take a look at the pic below to jog your memory!
Plus, find details of how to book below.
Disclosure: This article contains affiliate links. If you make a purchase after clicking on one of these links, we may receive a small commission at NO extra cost to you.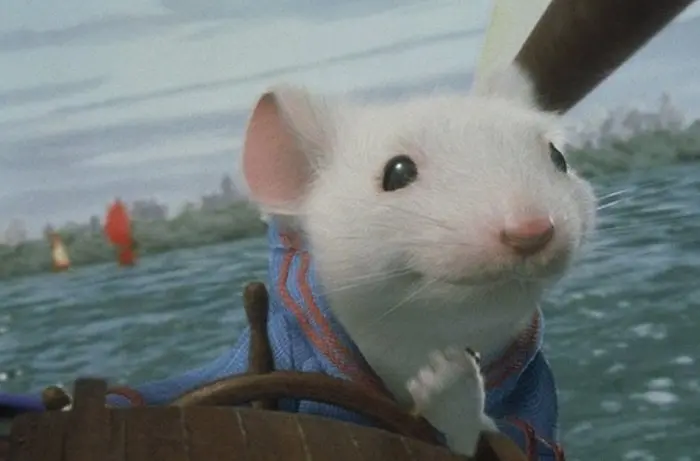 See Famous Places in Central Park – the Stuart Little Central Park Pond
Follow in Stuart Little's footsteps by taking the kids to sail their own Central Park sailboats on the pond too!
Rent them at the cart provided by the boathouse – it's next to the Conservatory Water pond – and join in the fun!
It's one of the best things to do in Central Park in New York with kids.
---
RELATED: ULTIMATE guide of unique things to do in New York with kids
Model Sailboat Racing at Conservatory Water Central Park with Kids
If you are wondering what to see in Central Park with the kids, sailboat racing on the the model boat pond in Central Park, made famous by Stuart Little, should be on your list.
(The Central Park boat pond is formally known as Conservatory Water)
On sunny and warm days from March through to September, the Central Park Model Boat Sailing pond is the place to see wind powered model sailboats, gliding across the water.
Many of these sailboats in Central Park are privately owned by NYC locals (but your rented boats are welcome too).
If you happen to visit on a Saturday, Central Park Model Yacht Club members participate in races held on the water of Central Park sailboat pond.
Kick off is around 10am, and everyone is welcome to be a spectator!
We visited in late March, after an unexpected few days of bitter cold, and the pond was frozen over in parts, so there was no model boats racing.
We'll be back.
Central Park Sailboats Hire at Conservatory Water Central Park
Sail the Park offers a way for adults and children to enjoy this pastime during the warm NYC months, April to November.
The company rents out small sailboats that are completely wind powered.
The user operates a remote control that allows you to control the trim of the sail and the direction of the rudder.
Sailing novices and experts are both welcome.
Central Park Remote Control Boats Training
You do not need any special training to sail the remote control boats in Central Park.
Beginners are provided with instruction on how to get started.
Kids of any age are welcome to sail, as long as they are able to properly handle and control the remote.
First Come, First Served. No Reservations required.
The Central Park remote control boats are offered on a first-come, first-served basis, so expect a wait on weekends.
Sailing is dependent on the weather and it is not open during rain.
Sailboat Hire Central Park Opening Hours
Monday – Thurs 11:00 am to 5:00 pm
Friday 11:00 am to 7:00 pm
Saturday 1:00 pm to 7:00 pm
Sunday 10:00 am to 6:00 pm
Sailboat Hire Price
Wondering what is the price for a boat rental?
The Central Park boats cost $11, plus tax, for a 30 minute rental.
BYO Remote Control Boat for Kids
Buy your very own Model Sailboats for Kids here.
Sailboat models
Racing boats
Racing sailboats
Toy sailboat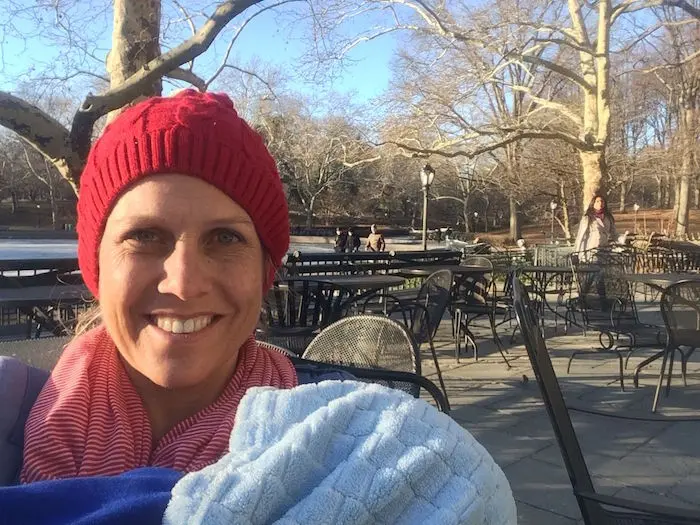 Best Places to Eat in Central Park Manhattan?
No.1: Kerbs Boathouse Cafe
On the East side of the Conservatory Water Central Park Pond stands the green-tinged copper-roofed boathouse that is home to the Kerbs Boathouse Central Park.
The building is home to model yachts.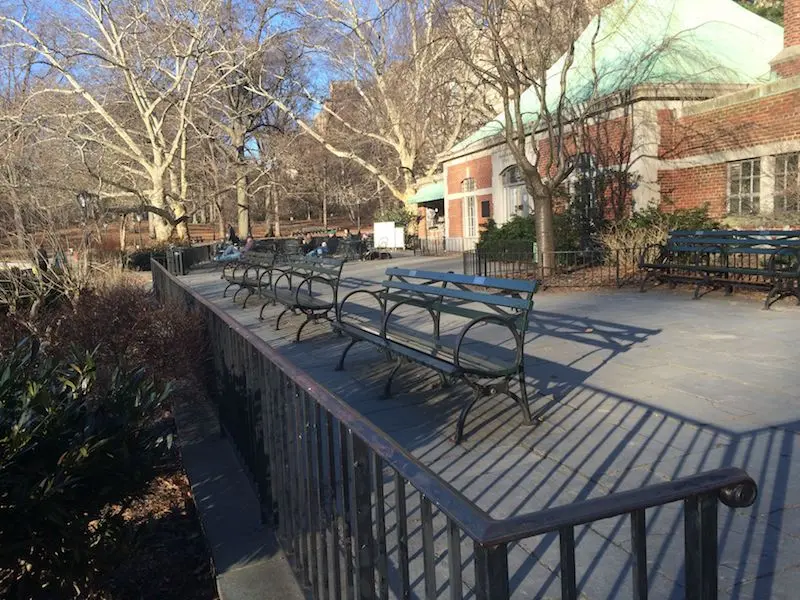 No.2: Le Pain Quotiden New York City
There's also a cafe, operated by Le Pain Quotidien, with hot and cold drinks, light snacks, and light meals.
You'll find the cafe at Kerbs Boathouse Central Park at the Conservatory Pond too.
It has a delightful patio and is landscaped with perennial planting beds, and plenty of bench seating and tables outside to enjoy the fresh air.
Cafe Opening Hours
The cafe opens at 7am and closes 15 minutes before sunset, unless it is bad weather or there are no visitors around.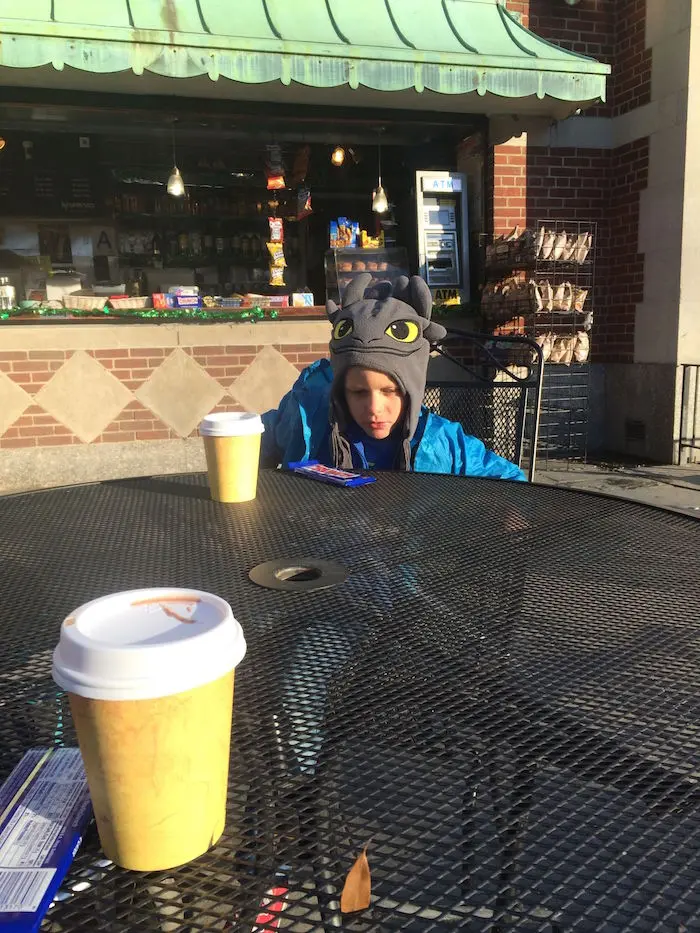 New York Hot Chocolate!
We put our feet up and enjoyed the best cup of HOT CHOCOLATE we'd had all week, and a snack, with the frosty air nipping at our fingers and toes.
This famous park in New York really has the goods!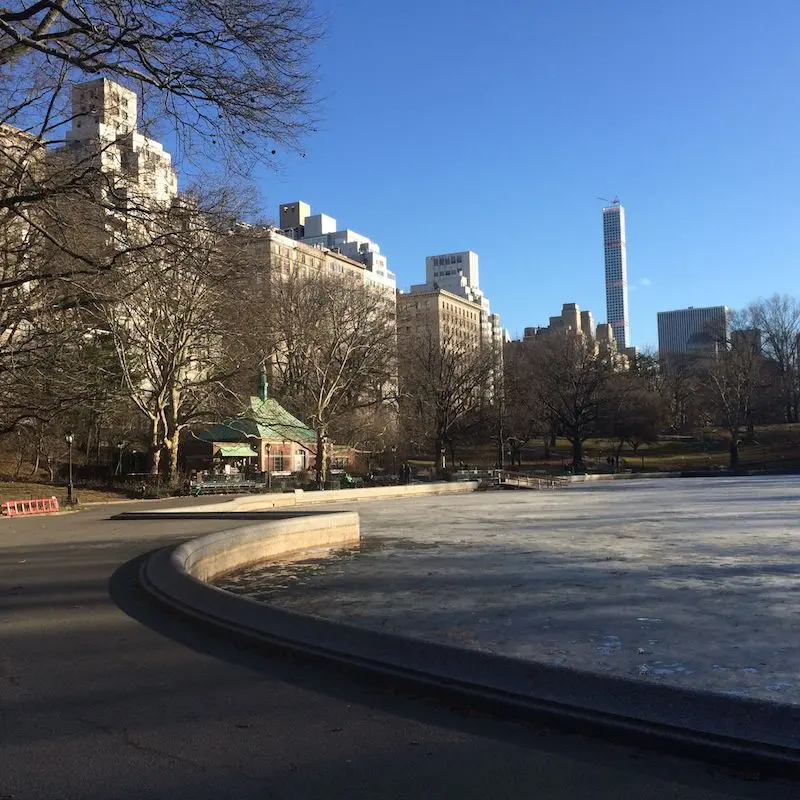 Bonus – Central Park Restrooms!
Yes, thank goodness.
The Kerbs Boathouse is home to Central Park bathrooms too.
Bathrooms (toilets) are hard to find in Central Park New York, so make sure everyone in the family takes their turn to tinkle.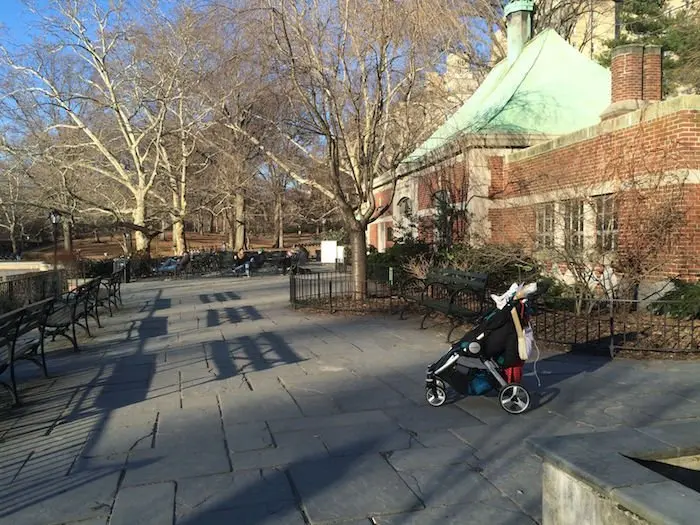 MORE FUN THINGS TO DO IN CENTRAL PARK NEW YORK WITH KIDS
Take a look at these 7 more Central Park activities you can do with kids.
These Central Park attractions are fun for the whole family.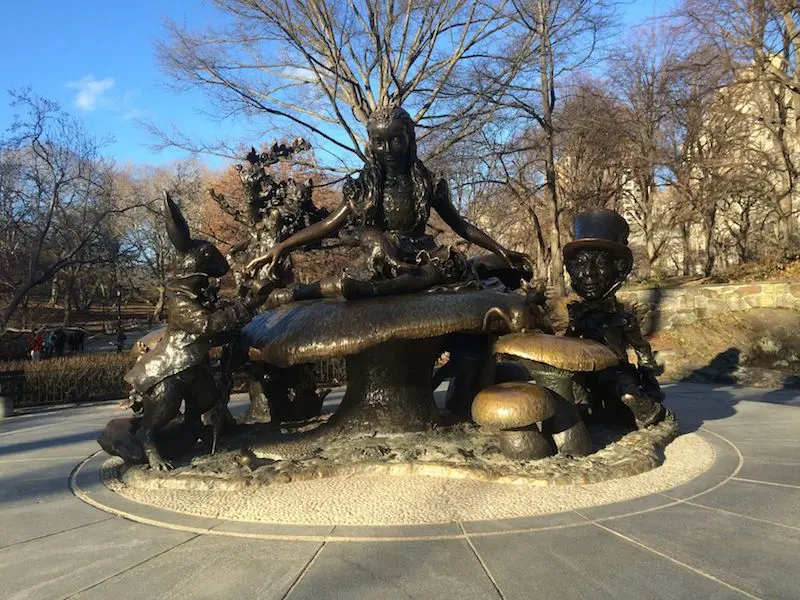 BEST CENTRAL PARK ACTIVITIES FOR KIDS
No.1: Alice in Wonderland Statue Central Park
While you are here, visit with the Alice in Wonderland Statue on the north side of the pond, and the Hans Christian Anderson Statue Monument on the west side.
It's giving your kids the childhood of dreams to see all three.
You might also see bird watchers with binoculars at the ready.
They are searching for signs of the famous Fifth Avenue red-tailed hawks.
No.2: Try Central Park Boating
The Central Park row boats on The Lake is available April through October, weather permitting.
Row boats and gondolas can be rented at the Loeb Boathouse daily, 10:00 am until dusk.
Central Park boat rental prices are $15 per hour (cash only), plus $4.00 for each additional 15 minutes. (A $20 cash deposit is also payable upon booking.)
Each row boat holds up to 4 people, and children under 12 must be accompanied by an adult.
The Loeb Boathouse will provide life jackets.
Boat rentals are first come first served. There are no prior reservations.
Venetian Gondolas on the Lake
Weather permitting, you can also ride in a classic Venetian gondola on the lake with hosts Andres Garcia-Peña and Joseph Gama.
Reservations recommended.
Please call 212.517.2233 or email [email protected].
No.3: Central Park Skating at Wollman Rink
Ice skating in Central Park is a bucket list activity for LOTS of people, both locals and visitors to New York.
It's a yearly Christmas tradition for many New Yorkers, and something visitors want to try after seeing it in lots of movies!
Rink Hours
Monday – Tuesday: 10:00 am – 2:30 pm
Wednesday – Thursday: 10:00 am – 10:00 pm
Friday – Saturday: 10:00 am – 11:00 pm
Sunday: 10:00 am – 9:00 pm
Admission Fees – cash only
Monday – Thursday: Adults: $12, Children (11 & under): $6, Seniors: $5
Friday – Sunday & Holidays: Adults: $19, Children (11 & under): $6, Seniors: $9
Rentals – cash only
Skates: $9
Locks: $5 + $6 refundable deposit
Address: 59th Street and 6th Avenue, New York
Web: Click here for Winter season opening and closing dates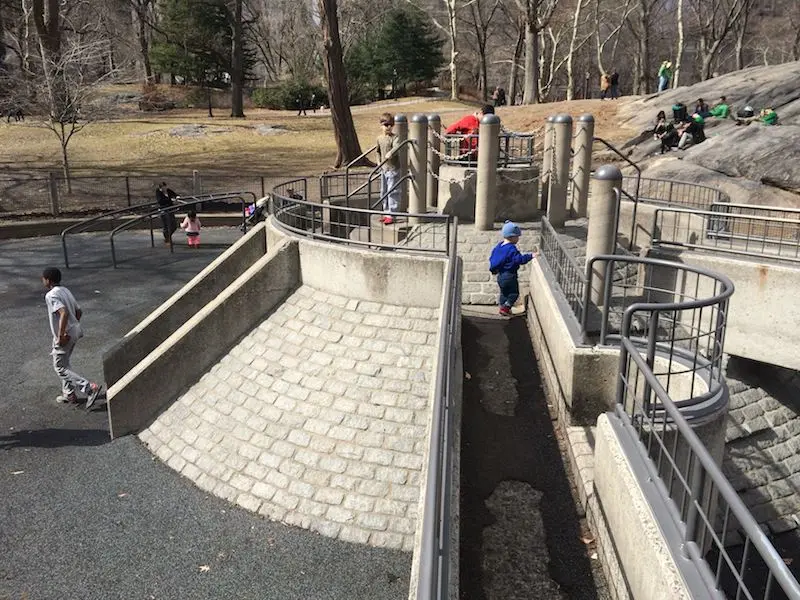 No.4: Visit Heckscher Playground in Central Park
Heckscher Park Playground is the oldest playground in Central Park, and one of the most unique playgrounds we've ever visited.
It's like something from Egypt or another world!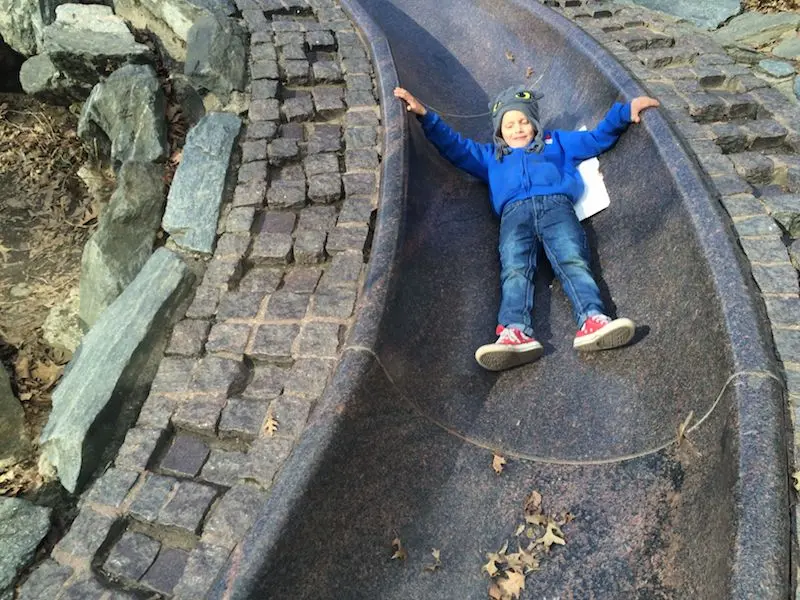 No. 5: Visit Billy Johnson Playground in Central Park
The super slippery granite slide is the highlight of a visit to Billy Johnson playground in New York.
The kids love it!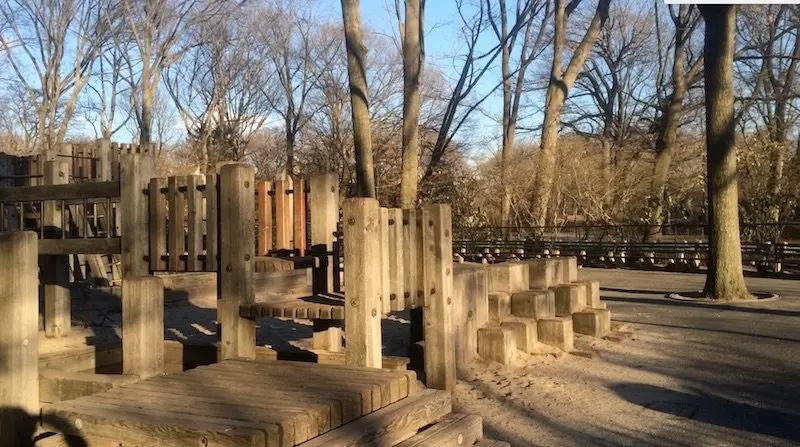 No.6: Diana Ross Playground in Central Park (Yes! That DIANA ROSS)
The Diana Ross Playground is the most epic timber fort playground we've ever seen, and the LIGHT in the late afternoon makes the whole city glow.
Visit this playground after a day out at the Natural History Museum in New York.
It's just up the road.
READ MORE: The Ultimate Guide to the Diana Ross Playground in Central Park New York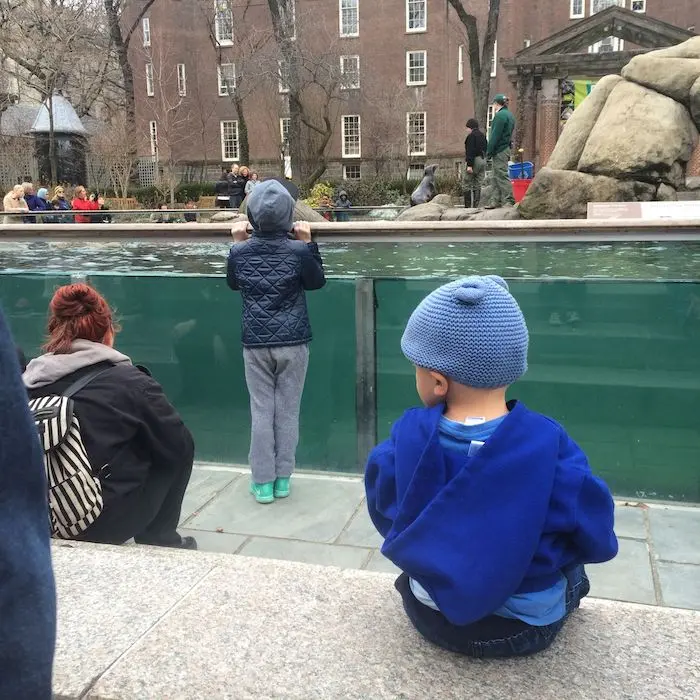 No.7: Visit the Central Park Zoo
This is the best zoo in New York City, with the best views of the New York skyline.
The bonus is seeing the Grizzly Bears!
One for the Adults: Visit Strawberry Fields Central Park
Strawberry Fields is a 2.5 acre area of Central Park that pays tribute to the late Beatle, John Lennon, singer, songwriter, musician and peace activist.
This area of the park is located close to the Dakota apartments that was the home of John and Yoko Ono at the time of his death.
The famous Imagine Mosaic is the thing to see.

THE INSIDE SCOOP: Conservatory Water Central Park Boat Pond
Correct at time of publication on Roam the Gnome. Please check with venue for updates. We apologise in advance if there have been any changes we are unaware of. All prices in US dollars, unless otherwise stated
Address: Conservatory Water Central Park Pond is at East Side at 74th Street. Find Conservatory Water pond just north of the E. 72nd Street and 5th Avenue entrance on the east side of Central Park.
Telephone: Contact the Central Park Conservancy on 212-310-6600 – Monday – Friday, for information 9:00 am – 5:00 pm
Central Park New York Opening Hours
Central Park is free and open to visitors 365 days a year. Central Park opens at 6:00 am and closes at 1:00 am. Kerbs Boathouse Cafe is open from sunrise till dusk.
Central Park Entry Fees
Free
Directions to Central Park Conservatory Water
By Subway Train: Q train (Yellow line) Stop at Lexington Av – 63 St Subway Station
By Subway Train: 4, 6 Train (Green line): 72 Street or 77 Street Station
On Foot: Enter at the E 72nd St entrance and walk down the hill
By Taxi/Uber: Exit at E 72nd and 5th Avenue
Central Park New York Parking
There is NO parking in Central Park.
Many parking garages are available nearby.
Central Park Map
Where is Central Park?
Take a look at this map of Central Park NYC.
It's interactive!
Interactive Central Park Map: Find cafes, toilets, playgrounds and more here.
Facilities at the Sailboat Pond Central Park
Toilets: Yes including baby change table
Disability access: Yes
Closest playground: Billy Johnson Playground
Shade: Shady trees
Enclosed: No fences. Keep an steady eye on small children near the water.
Ground cover: Concrete
Picnic tables: Yes – for Cafe patrons only
Electric BBQs: No
Water Bubblers/fountains: Yes
Scooters and Bikes: Yes
Dogs: On leash only.
Toadstool Rating – Central Park Model Boat Sailing
The Stuart Little Pond, as we like to call it, is a spot to enjoy the outdoors in New York and perhaps try your hand at sailing model boats.
This is also the spot to share your love of childhood fairy tales with your kids by visiting the Alice in Wonderland Statue, and the Hans Christian Andersen statue.

Looking for MORE Super Fun Things to Do in NEW YORK CITY with Kids?
Click the blue links below for more New York tips