INSIDE: Everything you need to know about New York Children's Museum of Manhattan.
If you only had one day to explore with the kids in New York, this New York Children's museum should top your list.
It's not really a museum.
It's more an ode to childhood, a place that caters to every kid's need to touch, listen, see, sense, and explore to gain an understanding of the world around them.
The CHILDRENS MUSEUM OF MANHATTAN is our No. 1 Destination for Kids in New York.
Take a sneak peek inside below.
Disclosure: This article contains affiliate links. If you make a purchase after clicking on one of these links, we may receive a small commission at NO extra cost to you.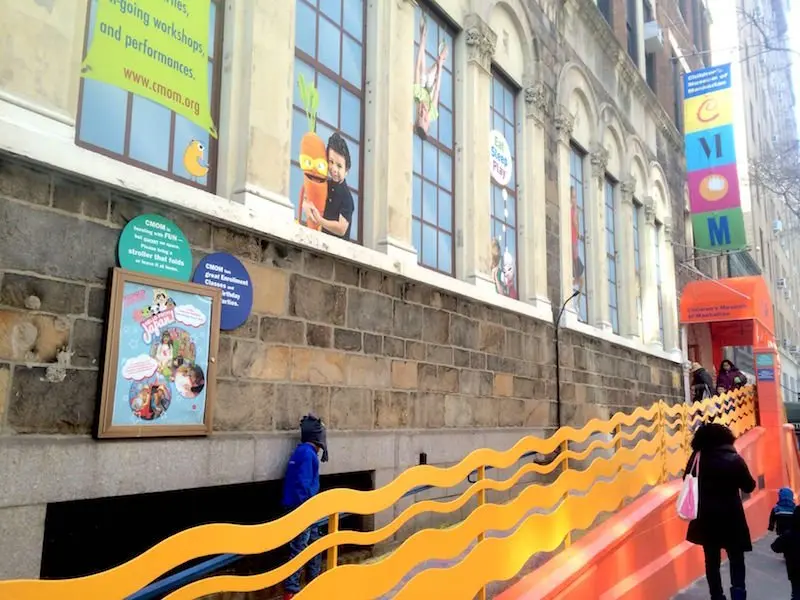 The Childrens Museum of Manhattan New York (CMOM)
If you are in Manhattan with kids, put the New York children's museum on your to-do list now.
It's one of the best museums in Manhattan for kids & families with five levels of fun things to do and 5 permanent exhibitions to Explore!
Check out what's inside this New York museum below.
---
RELATED: Big List of Best Things to do in NYC with Kids

New York Children's Museum Lower Level
Lower Level: Let's Dance
This new exhibition has a dance portal where kids can dance along with professional, community, and student dance companies from New York and abroad. How cool is that?
Kids can also join in rainbow-coloured shadow dancing, dress up in fun costumes, choreograph their own dance sequences and use props to help, play with authentic percussion instruments, and play with figures making them into new shapes and poses.
There's dance workshops at this museum for kids in New York, and maybe even a chance to watch a world-class performance.
Check the CMOM website for details.
Children's Museum Manhattan First Floor
Art, Artists and You
From June 8 to December 31, 2018, there's a new artist exhibit for kids at the Children's Museum of Manhattan.
Art, Artists & You is a new interactive experience aimed at encouraging children and their families to explore self-expression and identity through art-making.
This dynamic, hands-on environment at the Children's Museum offers visitors unique opportunities to watch, follow, collaborate with, and take inspiration from working contemporary artists in studio workspaces created especially for this exhibit at the Museum.
The exhibition showcases sculpture, works on paper and fiber, and digital media too.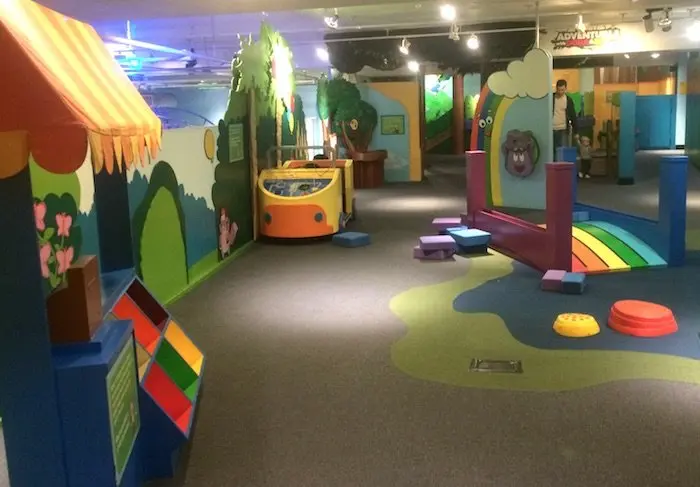 New York Children's Museum Second Floor
Adventures with Dora and Diego (for children aged 2-6)
Toddlers and young children adore the Dora and Diego room.
There's heaps of hands-on, fun Latin American learning adventures (games, activities) with Dora and Diego in this room!
Children can guide the armadillos to safety in the upright ball-dropping puzzle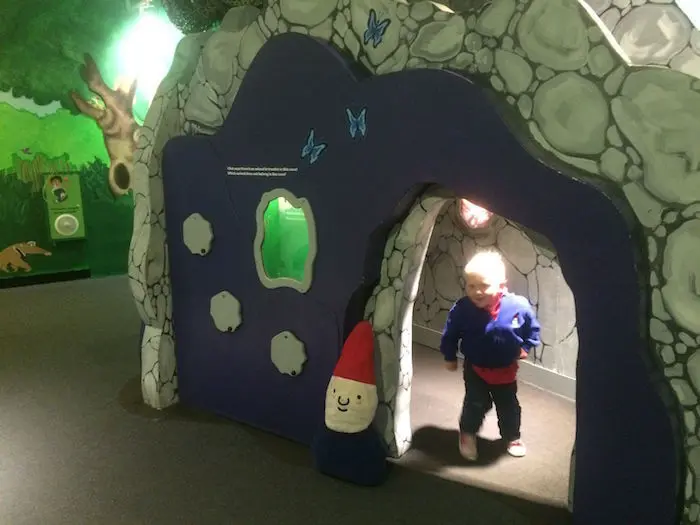 Kids can rescue the animal stuck in the cave (the perfect hide-and-seek spot for toddlers too!)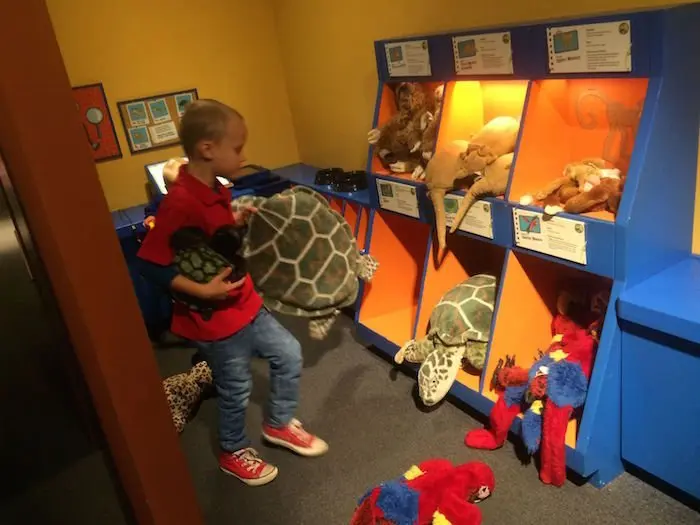 They can look after the (stuffed toy) jaguars, green sea turtles, scarlet macaws, spider monkeys, three toed sloths, and armadillos in the Animal Care center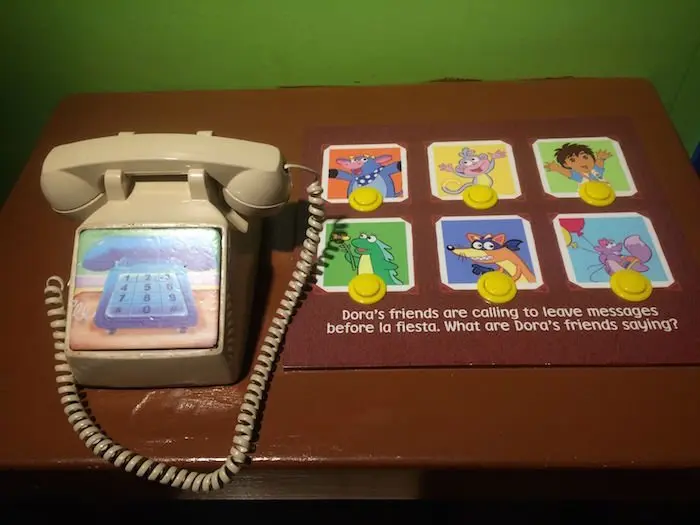 Answer Dora's phone and hear the messages from her friends, or explore a cave, a beach and the rainforest environments with Diego
Crafty folk can make a animal footprint rubbing.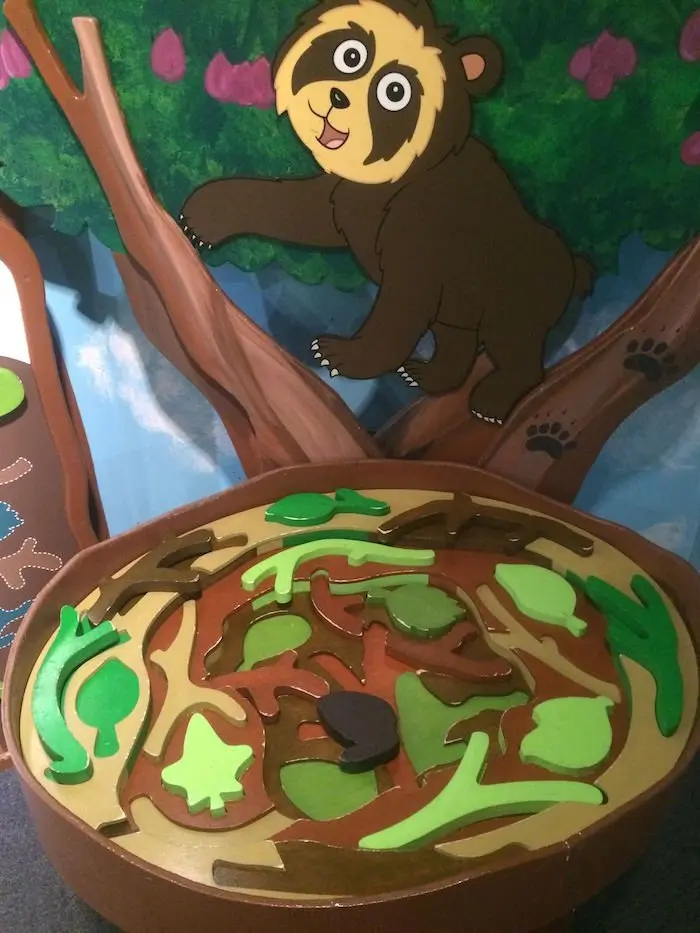 There's opportunities to drive Tico's yellow car, or build the walls of the Rainbow Bridge (and knock them down again!)
Or, play drums in Dora's house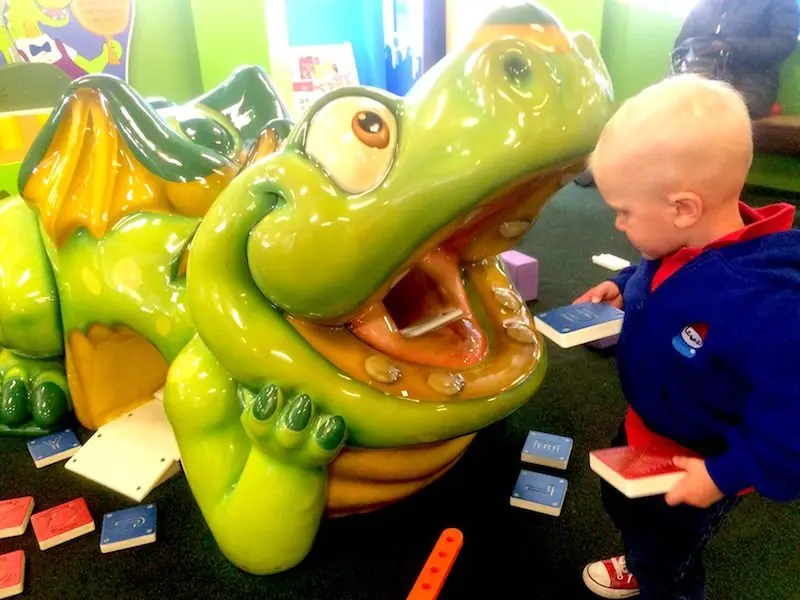 Childrens Museum NYC Third Floor
Playworks (for children aged
birth – 4 years)
Playworks was our favourite floor!
There's a science/art lab but the kids raced to the drive the pretend F.D.N.Y fire truck.
Jack fed Alphie, the giant talking dragon with yummy 'letters'.
(Oops. We thought he was an alligator!)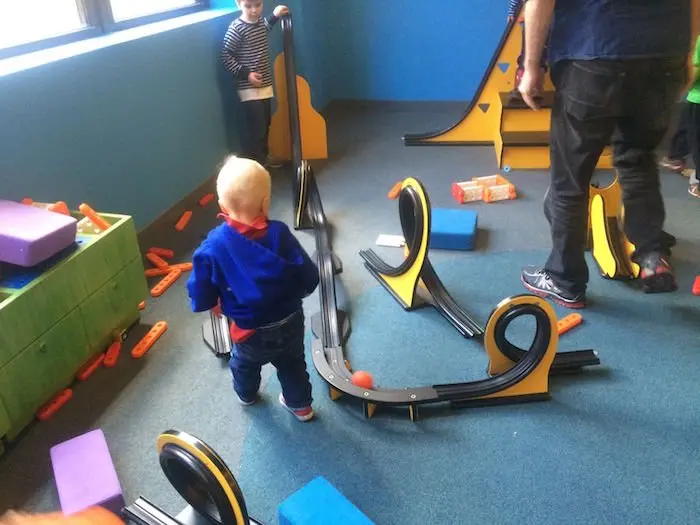 Hot wheels tracks
Ned was entralled with the giant version of Hot Wheels-style racing car tracks, and buddied up with some other kids to create dual tracks to race against one another.
Then Jack stepped in to break them all down!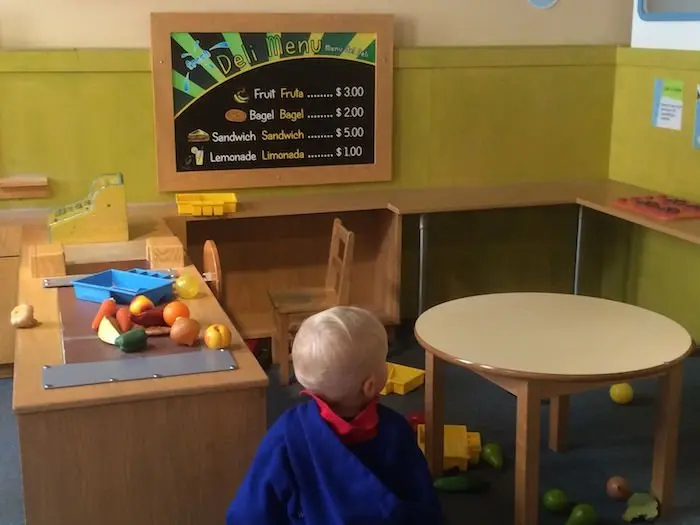 Play shopkeepers
The Deli supermarket was another drawcard, with a cash register to add up the tally of fruits and vegetables a friend wanted to purchase.
Playing shops just went next level – this is a place to practice language skills too.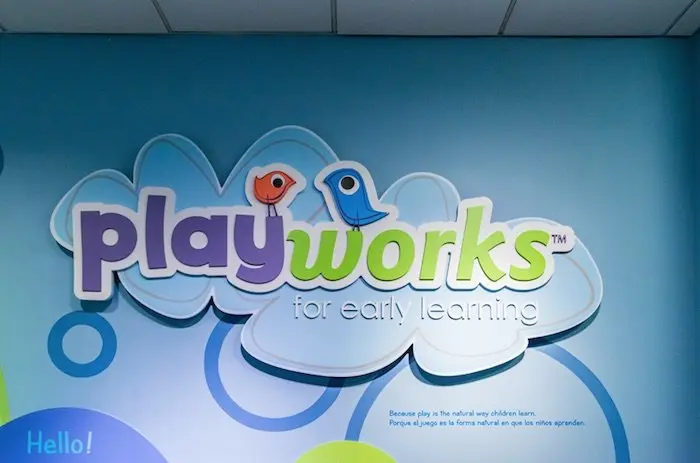 Playworks Design
The Playworks design, layout and colours (predominantly blue and green) along with the half-walls, circular spaces, and design is super appealing, and calming too.
It's the first children's museum I've been to where I was happy to stay in the room indefinitely!
Hands-on Activities
There's also:
puzzle tables
indoor waist-height sand boxes with tonnes of sand pit toys to help kids dig, weigh, funnel, scoop and build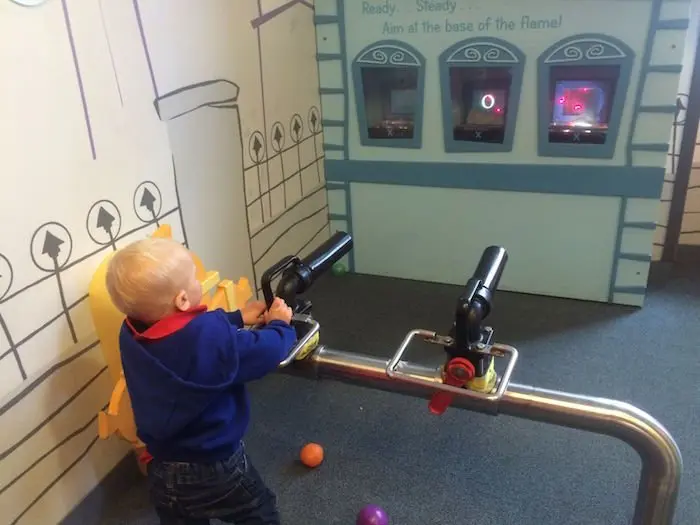 Kids can play with:
'Fire fighting' hoses where kids point their nozzle to the base of the flame (computer generated)
a 'Create a Story' spinner, to inspire imaginative storytelling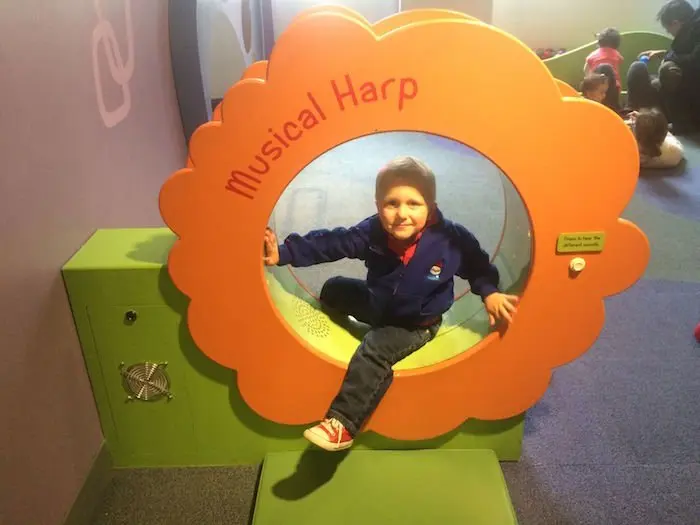 There's also:
a 'musical harp' children can sit inside to listen to different sounds
a soft block play zone for the little ones
a blue and green castle fort with stairs to climb, walls to weave through, tunnels to hide in, and a silver slide
Try:
screen-based art activities, including Little Artists Paint Palette
a mural painting wall
There's vehicles to 'drive' too.
Plus, daily drop-in programs at the Art Lab where kids can craft to their heart's content.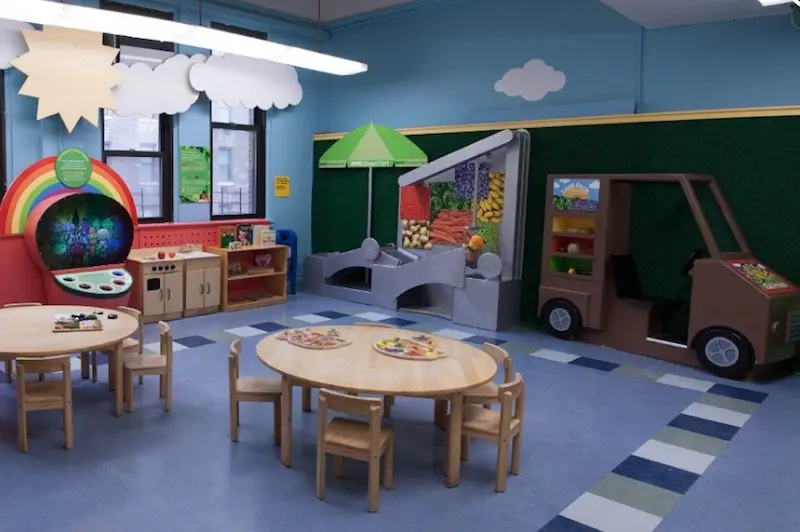 Children's Museum of Manhattan NYC Fourth Floor
Eat Sleep Play (all ages)
Find more hands-on activities in this room.
This is why we love the CMOM so much.
There's never-ending stuff to do with kids!
Challenge each other while pedalling, running, balancing and jumping on the physical games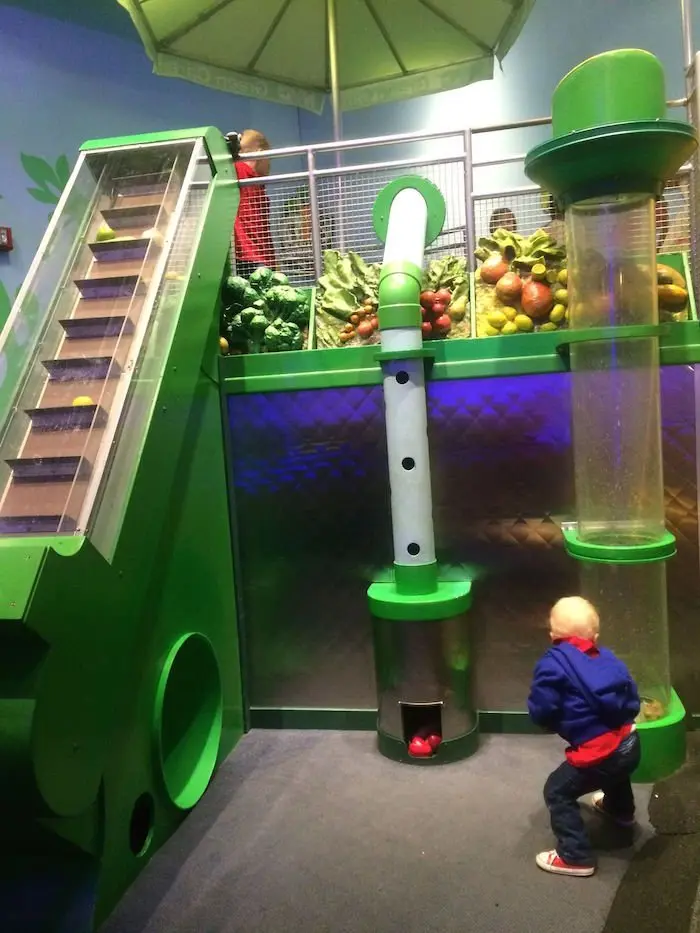 Introducing the Super Sprowtz team
Kids can meet 'Super Sprowtz' – a team of super-powered vegetable heroes, and play in their vegetable sorting house.
There's a slide, and hand-turned conveyor belts to move the fruit up and down.
Ned's competitive streak was evident here, as he joined a few other kids to get as many vegetables to the top of the house before the others could send them back down.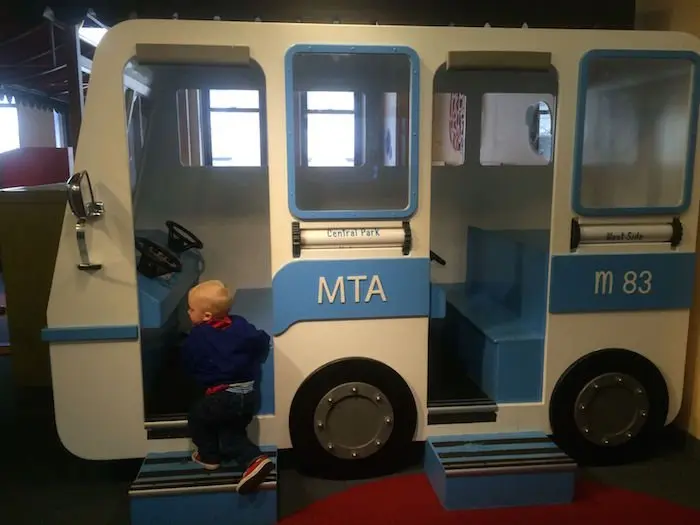 Kids can pretend to drive a NYC MTA bus to a city park or farmer's market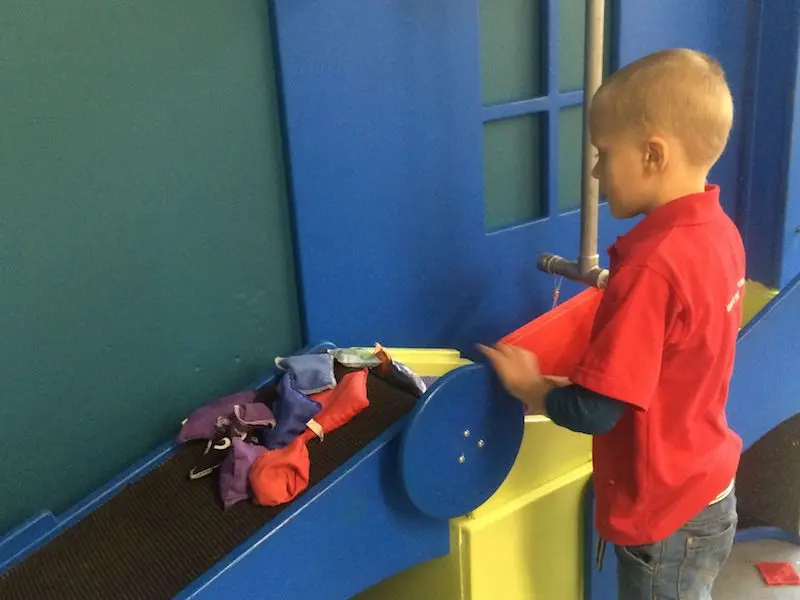 There's a place to be a New York City postman and deliver packets of mail along a conveyor belt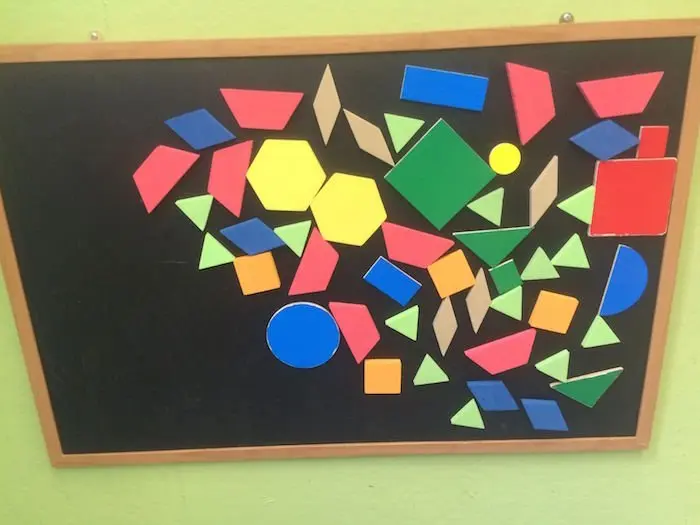 And if you have kids who like maths, shapes, and color, the magnetic board game with colourful shapes to create pictures is a hit.
The Best Museums for Kids NYC
The Children's Museum of Manhattan is one of the best museums for kids in New York, and it has a water play area too!
BONUS: Dynamic H20 (In the Sussman Environmental Center, all ages)
We didn't visit this water play area as it was closed for winter when we were there, but it looks like tonnes of fun too.
It's a place where kids can splash about in 800 square foot of hands-on interactive activities about the water cycle in the local NYC environment, and how New York gets its water in the first place.
Kids can:
release a rain shower
follow small floating droplets downstream toward the city.
create waterfalls, build dams, and pretend to fish.
build their own city, pump water to the top of a skyscraper, and create their own 92 mile aqueduct
play dress ups and role play as they pretend to be marine scientists, chemical engineer, and even sewage treatment workers! (Yes, just the job I'd be dreaming of too!)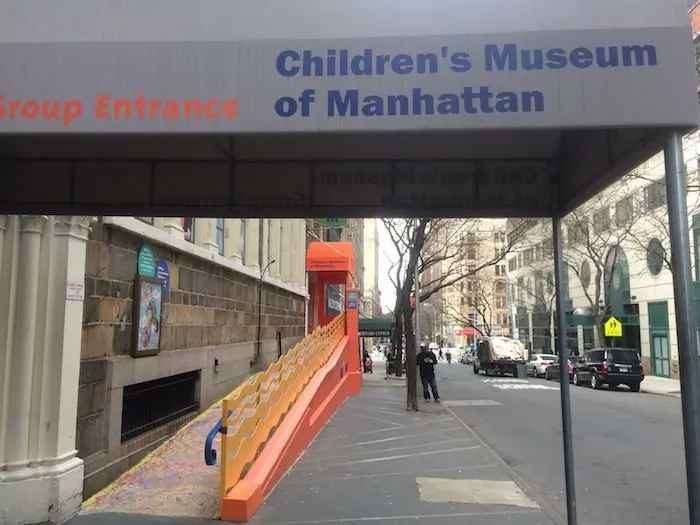 Where to eat near the Children's Museum of Manhattan (CMOM)
There's no cafe inside the museum but you can leave the museum for snacks or lunch and return. (Your entry stamp allows you reentry).
FREE water can be found on the 3rd floor and Lower level.
Bring your sippy cups and bottles for kids under 4.
Big Daddy's
Awadh indian food
Cafe Lalo
Candle Cafe West
Frank Mac's Pub
Orwashers Bakery
Children's Museum in Manhattan Gift Shop
The Children's Museum of Manhattan gift shop is open daily when the museum is open, from 10am until closing.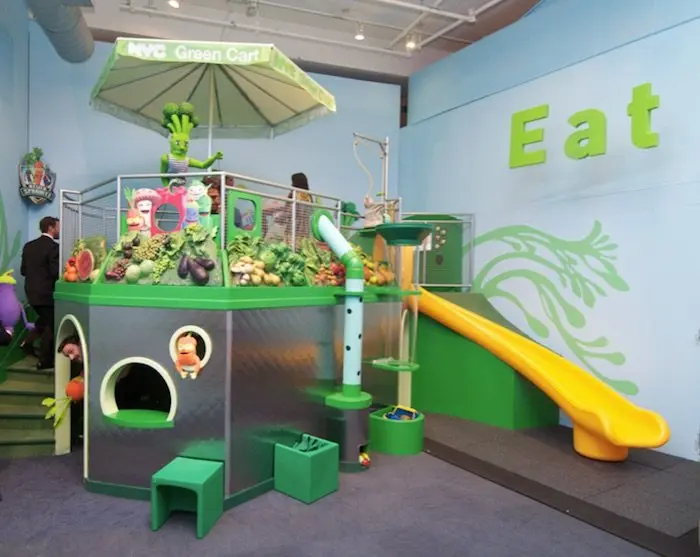 THE INSIDE SCOOP: Childrens Museum of Manhattan NY
Correct at time of publication on Roam the Gnome. Please check with venue for updates. We apologise in advance if there have been any changes we are unaware of. All prices in US dollars, unless otherwise stated
Heads up: The CMOM is moving to the First Church of Christ, Scientist at 361 Central Park West and 96th St. The new CMOM museum is expected to open in 2021.
Address: The Children's Museum NYC (CMOM) is located at The Tisch Building, 212 West 83rd Street, New York, NY 10024
Telephone: (212)-721-1223
Email: Contact page
Website: Click here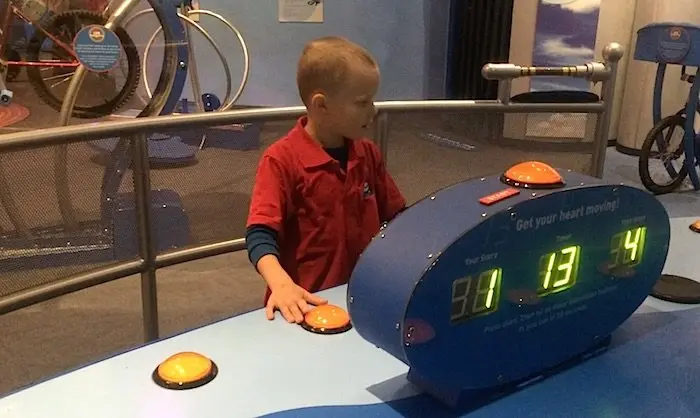 Childrens Museum of Manhattan Hours
Summer Hours:
Monday-Friday & Sunday: 10am–5pm
Saturday: 10am–7pm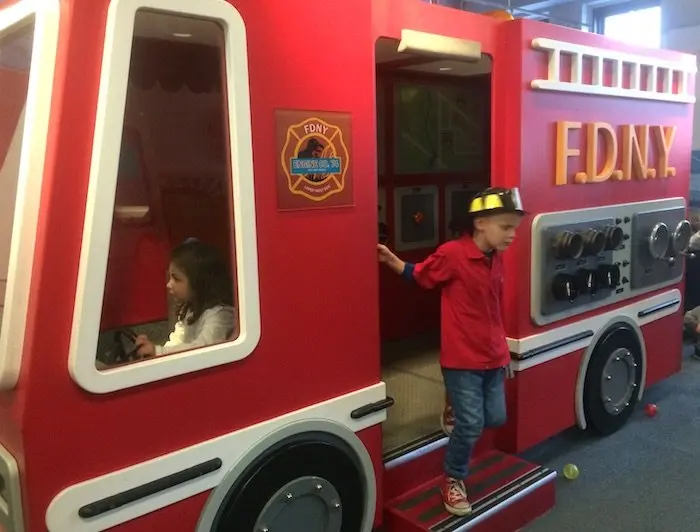 Childrens Museum of Manhattan Admission fees
Children and Adults: $15
Seniors (65+): $12
Visitors with disabilities: $12
Children under 12 months FREE
Members FREE
Childrens Museum of Manhattan discounts?
Click here to find out if you qualify for a discounted entry into the Childrens Museum of Manhattan.
Hot tip: Read our New York Pass Comparison Guide & save money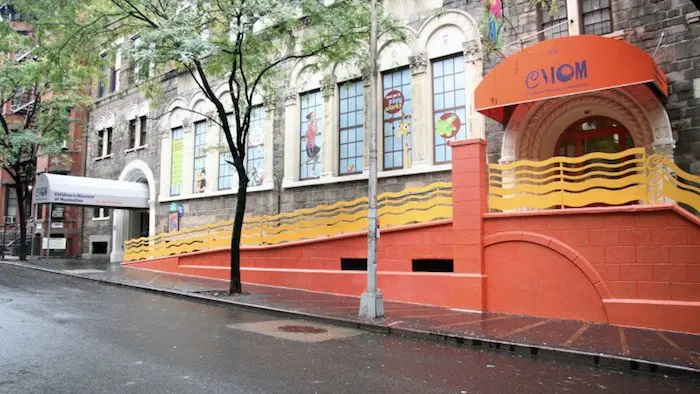 How to get to the Childrens Museum in Manhattan NYC:
By Bus: West Side: M7, M10, M11, or M104 to 83rd Street. Cross-town: M79 or M86 to Broadway
By Subway: 1 to 79th Street or 86th Street; B or C to 81st Street or 86th Street
By Car:
From the West Side Highway, take the 79th Street exit.
Go three blocks east on 79th Street.
Take a left onto Amsterdam Avenue.
Go four blocks north on Amsterdam Avenue.
Take a left onto 83rd Street.
The Museum is in the middle of the block on the left.
Children's Museum of Manhattan parking
Need to find Manhattan children's museum parking?
Click here for parking lots near the CMOM building in New York.
Map of Childrens Museum Manhattan
Facilities & Disability Access at Children s Museum of Manhattan
Bathrooms: Yes, including baby change table for changing diapers. Restrooms are on lower level, and ground floor. You can breastfeed anywhere but the museum suggests the fourth floor as it is a quieter space.
Disability access:
Yes. CMOM has a ramp entrance and open lobby for free movement.
The Museum is wheelchair accessible in all locations except the lower level of the Dynamic H2O exhibition.
The CMOM does not charge admission fees for personal care attendants accompanying people with disabilities.
If you have questions or concerns about your child's specific needs, please contact the museum at [email protected].
For an accessible subway station, take the 1, 2, or 3 to 72nd Street From there, either head nine blocks north on Broadway, or transfer to the uptown M7, M11, or M104 bus to 83rd Street
For an accessible bus, take the M104 on Broadway; or take the M7 or M11 on Amsterdam Ave.; from the east side take the M79 Crosstown or the M86 Crosstown.
For additional MTA accessibility information, visit web.mta.info/accessibility/stations.htm
Closest ATM: There's a Bank of America ATM at the end of the block. 2301 Broadway, New York.
Closest playground: The Diana Ross Playground in Central Park is a must-do on your way home. It's 10 minutes walk, and two blocks away.
Water Bubblers/fountains: Yes
Scooters and Bikes: No
Dogs: No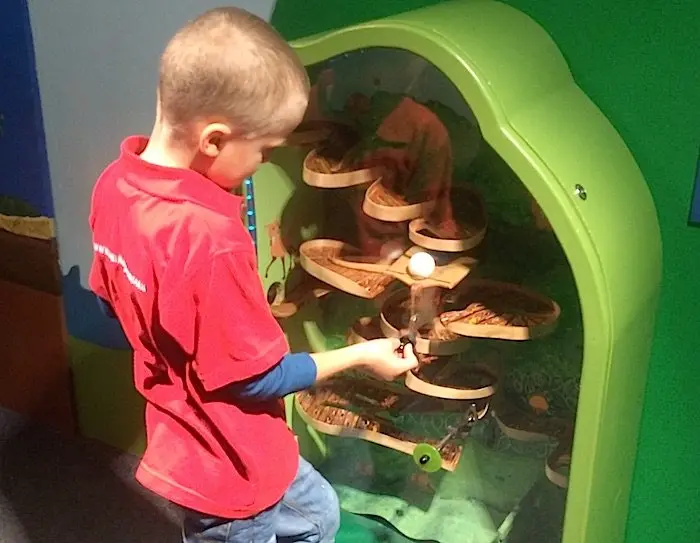 Toadstool Rating: One of the Best Museums for Toddlers NYC
The Childrens Museum of Manhattan Kids museum should be TOP of your list of things to do in Manhattan with kids.
It's easy to get to, and you'll be one of the only foreign families there.
It's a well-kept locals secret!

Looking for MORE Museums in New York for kids?
Click the blue links below for more NYC ideas