INSIDE: Everything you need to know about Brooklyn Botanical Garden Cherry Blossom Festival & more.
Immerse your kids in nature, and nature play, at the Brooklyn Botanic Gardens in NYC.
We visited the Brooklyn Botanic Garden NYC in March, after a wild unseasonal snow dump, and the poor Carp in the Japanese Hill-and-Pond garden were freezing their little tails off!
We can't wait to head back in the warmer weather to enjoy more of the fun family activities on offer.
There's a BIG bunch of FUN THINGS TO DO AT BROOKLYN BOTANIC GARDEN that kids and families will find intriguing, including the popular and very special Japanese Cherry blossom viewing in Brooklyn, New York.
(The Brooklyn Botanical Garden cherry blossom festival is so popular it sells out!)
Take a look below for details.
Disclosure: This article contains affiliate links. If you make a purchase after clicking on one of these links, we may receive a small commission at NO extra cost to you. Main image: Kim via Flicker CC BY SA 2.0
Guide to Brooklyn Botanical Garden Cherry Blossom Festival
The number one reason people visit the Brooklyn Botanic Garden is to see the Brooklyn Botanical Garden Cherry Blossom trees bloom in the Japanese garden.
The Brooklyn Botanical Garden Cherry Blossom festival is called the Brooklyn Botanical Garden Sakura Matsuri.
Sakura Matsuri, the Garden's annual cherry blossom festival for the community, pays homage to Japanese culture with a rich program of events.
"Sakura Matsuri" offers nearly 60 events and performances that celebrate traditional and contemporary Japanese culture and cuisine.
The two-day event to see the cherry trees in full bloom will be held in late April or early May 2019. Book tickets ahead of time online as they sell out quickly.
Keep your eyes out for the announcement of the dates of the Brooklyn Botanical Garden CHERRY BLOSSOM Festival.
Sign up to the BBG newsletter to stay in the loop.
---
RELATED: ULTIMATE guide of unique things to do in New York with kids
Brooklyn Botanic Garden Japanese Cherry Blossom Festival Events
The Cherry blossom festival Brooklyn is held over two days, Saturday and Sunday.
First the team must predict "when do cherry blossoms bloom in NYC?" to answer the question "when is Brooklyn Botanic Garden Cherry blossom festival?" to set the date for the year.
It's usually sometime in April or May (depending on the weather).
The schedule of events at the Brooklyn Botanical Garden CHERRY BLOSSOM Festival usually includes:
Taiko drumming
Japanese folk dance demonstrations
Bonsai living sculpture exhibits
Origami arts
Samurai sword and martial arts demonstrations
Japanese music
Japanese traditional dance
Manga comic workshops
Cosplay
Japanese tea ceremony
Japanese workshops & shops at Cherry Blossom Festival
There's workshops too at the cherry blossom garden including taiko drumming for families, Japanese games, Japanese songs, fan decorating workshops for kids, Japanese calligraphy, Japanese crafts for kids, origami, and more.
Stop by the market stalls to buy:
Japanese comics
manga comics and art
Japanese zines and books
ink illustrations
Japanese ceramics and pottery
Japanese kokeshi dolls
Tenugui decorative cloth wraps, and
vintage kimonos.
---
READ MORE: A MONSTER List of the Best Japanese Things to Buy
Best Japanese street food festival
Buy Japanese street food including:
Japanese wagashi sweets
Japanese chocolate including the famous Royce chocolate, and
other Japanese food and beverages throughout the garden, and enjoy a picnic in the Cherry Esplanade too.
---
READ MORE: The Complete Guide to Japanese Street Food to try at least once in your life
READ MORE: An Epic Guide to the Best Japanese Chocolate & Chocolate Snacks
READ MORE: The Ultimate List of Japanese Snacks to try
13 MORE THINGS TO DO AT BROOKLYN BOTANIC GARDENS WITH KIDS
Read on to discover all the other things you can do at Brooklyn Botanical Garden in New York with Kids!

No.1: Visit the Japanese Hill and Pond Garden
The Japanese Hill-and-Pond Garden is one of the oldest and most visited Japanese-inspired gardens outside Japan.
It really is just like being in Kyoto!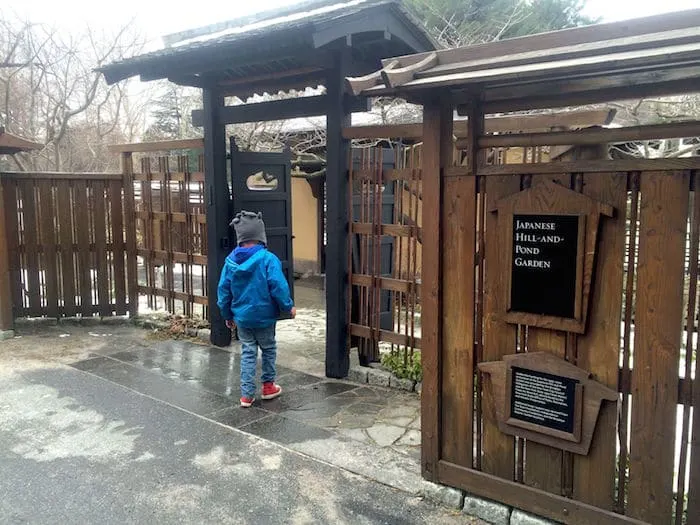 The Japanese Garden Brooklyn style has artificial hills contoured around a pond, a waterfall, and an island, along with carefully placed rocks.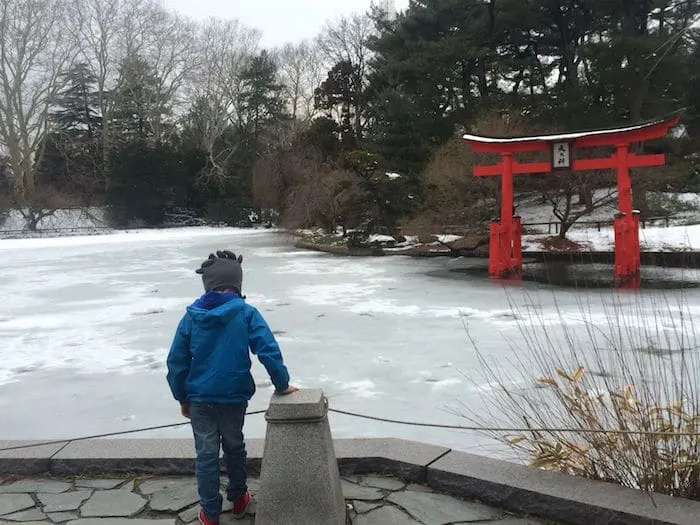 Look out for wooden bridges, stone lanterns, a viewing pavilion, the red Torii gates, and a Shinto shrine too.
The Japanese Hill-and-Pond Garden is an excellent place to experience the cherry blossom season from April to May too, even if you can't visit during the festival itself.

No. 2: The Botanic Museum – Bonsai Museum
Brooklyn Botanic Garden's extensive bonsai collection is one of the finest in the world.
If your kids have ever seen Karate Kid, or have tried to grow a bonsai of their own, take a peek.
There's up to 30 bonsai trees on display at any time, from a collection of 350!

No.3: Fragrance Garden
The Fragrance garden is awesome for the kids as it's designed for people to touch (gently) and smell the plants.
Garden beds are arranged by theme:
Plants with Scented Leaves
Plants for Touch
Fragrant Flowers, and
Kitchen Herbs.
Created in 1955, this was the first garden in the country designed for the sight-impaired.
Use your nose to explore. Find your favourite smelling plant. What does it remind you of?
Get in touch. Close your eyes, gently touch the plants, and compare the textures.
No.4: The Bluebell Wood at Brooklyn Botanic Garden NYC
If you happen to visit in late April, look out for this magical experience – a wander through the enchanted garden of more than 45,000 bluebells (Hyacinthoides hispanica 'Excelsior')
It's on Roam the Gnome's personal bucket list to see this one day, and visit his woodland folk friends too!
No.5: Wander the Celebrity Path
Across from the Shakespeare Garden is the start of Celebrity Path, where stepping-stones are inscribed with names of over 100 famous people who've grown up and lived in Brooklyn (Brooklynites).
Can you find the name of:
Singer Barbara Streisand
Poet Walt Whitman
Comedian Mel Brooks
Singer Neil Diamond
Writer Frank McCourt
The Three Stooges
Actress Mae West
No.6: More Gardens and Conservatories
We can't name them all, and there may be others you want to explore too.
Check out the full list of gardens and conservatories here.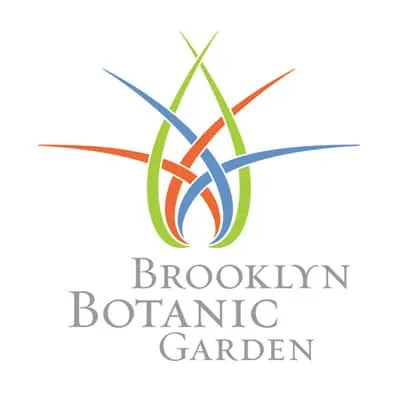 No.7: Brooklyn Botanic Garden NYC for the Kids: Visit The Discovery Garden
Kids of all ages can explore habitats, uncover plant mysteries, and learn about garden wildlife at fun, hands-on exhibits throughout the Discovery Garden.
This is a place of hands-on exhibits and nature activities for kids to explore the natural world, investigate plants and animals, and visit a meadow, a marsh, a woodland, a fruit and veggie garden, and a four-seasons garden.
The Discovery Garden is accessible for everyone, but they do also host special events with early openings and activities for special needs kids from time to time.
Before you go, you might like to read the Guide to the Discovery Garden.
It's a PDF full of ideas and tips for teachers and group leaders exploring the garden, but it's useful for parents taking their kids to the Brooklyn Botanic Gardens too.
Highlights of the Discovery Garden
The new Discovery Garden includes meadow, marsh, and woodland habitats to explore, as well as a four-seasons garden and a fruit and vegetable garden.
The Meadow
In the meadow, let the children wander winding paths through tall meadow grasses and flowers.
Native plantings that attract butterflies, bees, moths, and hummingbirds also lend themselves to a focus on plant-pollinator relationships.
The Woodland
The Woodland is home to both deciduous and evergreen forest environments.
Raised boardwalks and platforms allow the children to explore the habitat from a variety of vantage points.
The Woodland is the biggest part of the Discover Garden at BBG.
The Marsh
In the marsh, children are invited to follow a circuit of split logs and boulders surrounding this rich environment populated with species that have adapted to living in or near water.
The Hamm Children's Learning Courtyard
The Hamm Children's Learning Courtyard is a garden dedicated to the cultivation of flowers, fruits, and vegetables.
It offers visitors hands-on scientific encounters with the natural world as they sow, tend, and harvest plants that relate to their own lives.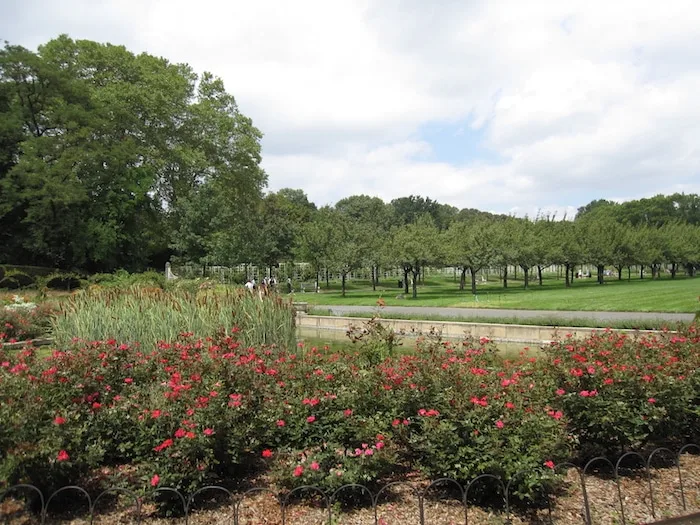 Image credit
No.8: Brooklyn Botanic Gardens Events- Drop-In Family Activities
There's lots to do with kids at the Brooklyn Botanic Garden Discovery Garden on a normal day, but from time to time, you can also join in drop-in family activities where the kids can explore, learn gardening skills, water and week, take a cooking class, play and listen to stories.
Take a look at the list below to find BBG Events for Families.
Please note:
All programs are outdoors and canceled in inclement weather.
These are drop-in programs for families with children of all ages.
The majority of activities run in the summer months. It's the best time to visit the BBG.
Kid's Discovery Stations – Free with Garden admission.
Explore plants and use real science tools alongside Discovery guides at hands-on activity stations throughout the Discovery Garden.
Kids can explore the garden at their own pace and participate in multi-sensory activities at facilitated stations.
Learn about bees, aquatic plants, sweet-tasting plants, and more!
Use real tools to explore plants.
Read stories.
See the insect hotel
Discover Gardening – Free with Garden admission.
Drop in and practice gardening skills alongside Discovery guides in the Hamm Children's Learning Courtyard inside the Discovery Garden.
Kids can water and weed fruit and vegetable beds, plant a seed, and learn about what's growing!
Plus they can create a plant-inspired craft to take home.

Family Discovery Weekends – Free with Garden admission.
On a Discovery weekend, find hands-on stations throughout the garden's meadow, woodland, and marsh habitats and in the vegetable garden that are designed to encourage families to explore nature together.
Create a nature-based craft, artwork, or invention with Discovery guides.
Garden Storytime in the Discovery Garden – Free with Garden admission
Read garden-inspired stories alongside BBG volunteers.
Drop in anytime during program hours to join in.
This is a drop-in program for families with children of all ages. No registration necessary.
First Discoveries for Toddlers – Free with Garden admission.
This is a fun morning activity for kids up to 5, where toddlers can plant a seed, touch a wriggly worm, read a story, or create a unique nature craft at special activity stations designed for toddlers.
Activities rotate seasonally.
Click here for all Kids and Families activities and dates.
No.10: Family Cooking at the Garden
The whole family can join in an afternoon cooking class at the Children's Garden too.
Kids will harvest and wash produce from the garden, then explore our Children's Garden-approved kitchen tools, techniques, and recipes that will also keep kids engaged in the home kitchen.
The group will prepare one farm-fresh entrée and one dessert to share.
Dates and times vary. See website for details.
Fee is $28 per person, non-member.
Please note: Prices are per person, including kids. Kids under 1 are free. No more than 2 children per adult, please.
Please call BBG at 718-623-7220 or email [email protected] for further information.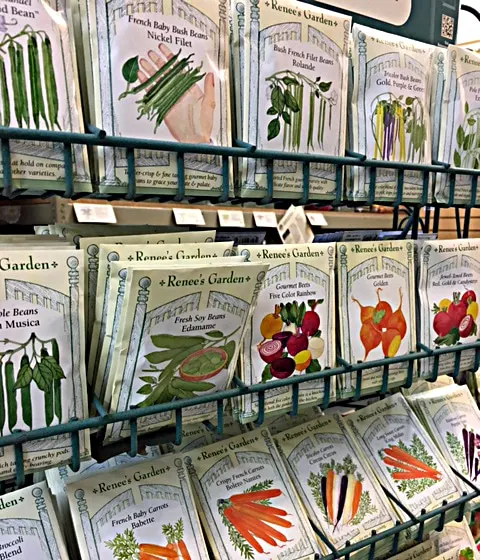 No.11: Brooklyn Botanical Garden Shop
The Steinhardt Conservatory & Gallery, and the Brooklyn Botanical Garden Gift Shop opening hours are:
Summer hours: Tuesday through Sunday, 10 a.m. to 6 p.m.
Winter hours: Tuesday through Sunday, 10 a.m. to 4:30 p.m.
Members receive a 10% discount. All profits go back to supporting the BBG.
At this gorgeous gift shop in Brooklyn, you can buy:
an enormous selection of indoor plants and seasonal outdoor plants, bulbs and seeds
garden supplies and books
artisanal gifts for children and adults
jewelry
homewares
signature items featuring the BBG logo
artwork including prints and stationery
huge selection of nature and gardening toys, books, science kits, and crafts for kids.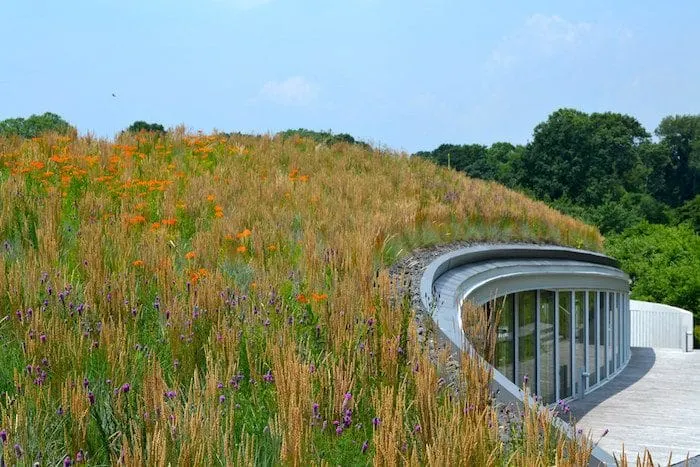 No.12: Brooklyn Botanic Garden Visitor Center
The BBG Visitor Center is open Tuesday to Sunday from 10am to 5.30pm.
Take a peek inside to see the history of BBG, and more.
No.13: Brooklyn Botanic Gardens Cafe
Enjoy brunch or lunch at the Yellow Magnolia cafe is a full service cafe serving delicious vegetable-packed cuisine including:
a garden mezze dish (OMG!)
soups
salads
fried chicken
house tacos, and
noodle dishes.
There's a top quality children's menu too.
Try the hand crafted ice cream, or one of the signature desserts at this Brooklyn Botanical Garden Restaurant.
You can also stop by the seasonal outdoor eatery Yellow Magnolia Canteen for quick snacks and light meals such as fresh sandwiches, soups, and salads.
There's a coffee bar too, offering fresh baked goods and snacks in the Visitor Centre. Open Friday through to Sunday from 10-3pm.
This is your view above!
Cafe opening hours – updated 2019
Cafe open Tuesday–Sunday: 11 a.m.–5 p.m.
Canteen open Tuesday–Sunday: 10 a.m.–6 p.m
You must pay Garden admission to access the cafe.
MORE Places to eat near Brooklyn Botanical Gardens
Outside of the BBG, you can find:
Starbucks
Barboncino Pizza
Lincoln Station coffee shop for sandwiches and comfort food
Domo Taco Asian-inspired tacos, burritos & rice bowls , and
the French-Caribbean cafe, Ital kitchen for vegetarian food only.

Brooklyn Botanic Garden entrance
There are three entrances to the BBG.
The MAIN entrance is 990 Washington Avenue, Brooklyn, NY 11225.
The other two Brooklyn Botanic Garden entrance gates are at:
150 Eastern Parkway, Brooklyn, NY 11225
455 Flatbush Avenue, Brooklyn, NY 11225

THE INSIDE SCOOP: Brooklyn Botanic Garden New York
Correct at time of publication on Roam the Gnome. Please check with venue for updates. We apologise in advance if there have been any changes we are unaware of. All prices in US dollars, unless otherwise stated
Brooklyn Botanical Garden Address: 990 Washington Avenue, Brooklyn, NY 11225.
Telephone: 718-623-7200
Email: [email protected]
Website: Click here
Brooklyn Botanic Garden Hours
Last admission into the Garden is 30 minutes before closing time

Summer Hours: March–October
Tuesday–Friday: 8 a.m.–6 p.m.
Saturday and Sunday: 10 a.m.–6 p.m.
Midseason: November
Tuesday–Friday: 8 a.m.–4:30 p.m.
Saturday and Sunday: 10 a.m.–4:30 p.m.
Winter Hours: December–February
Tuesday–Sunday: 10 a.m.–4:30 p.m.
Gardens Closed:
Mondays (except public holidays)
New Year's Day
Labor Day
Thanksgiving
Christmas
Brooklyn Botanic Garden Admission.
Brooklyn Botanic Garden tickets cost:
Adults $15
Seniors (65+)$8
Students 12+ with ID$8
Children under 12 – FREE
Brooklyn Botanic Garden Free Day?
FREE Friday mornings before noon (March – November)
Winter weekdays (December–February) – FREE

Brooklyn Botanic Garden Directions
Wondering how to get to Brooklyn Botanic Gardens?
By Subway: Take the 2, 3 (Red line) to Eastern Parkway—Brooklyn Museum station (weekends: 4/5 replaces 2/3)
By Subway: Take the B (Orange), Q (Yellow) or the S train to Prospect Park station (weekends: B train does not run)
By Subway: Take the 4, 5 (Green line) to Franklin Avenue station (weekends: use Eastern Parkway—Brooklyn Museum station)
By Bus to closest bus station to BBG: B16 to Ocean Avenue; B41 to Empire Boulevard; B43 to Washington Avenue; B45 to Washington Avenue or the B48 to Eastern Parkway
By LIRR: LIRR to Flatbush Avenue/Atlantic Avenue Station. Connect with 2, 3, 4, or 5 train or B41 bus
Brooklyn Botanical Garden Parking
Find details of parking at Brooklyn Botanic Garden below:
Attended parking (for a fee) is available at 900 Washington Avenue.
Parking lot opens at 6 a.m. on weekdays and 7 a.m. on weekends.
There is no overnight parking; monthly parking by arrangement.
Fees start from $5 for one hour, and up to $18 till closing.

Garden Map of Brooklyn Botanic Gardens
Plan your visit ahead of time to get the most out of it.
Download a map of the BBG gardens here.
Brooklyn Botanic Gardens Map
Facilities at BBG
Toilets and Bathrooms at Brooklyn Botanic Garden NYC:
There are bathrooms in the Steinberg Visitor Center, the Administration Building, and the Steinhardt Conservatory, and at the Flatbush Avenue Entrance.
Disability access at Brooklyn Botanic Garden NYC:
Accessible bathrooms and wheelchairs are available at the Flatbush Avenue entrance.
Inside the nearby Discovery Garden, pathways and exhibits are accessible to visitors using wheelchairs.
All entrances and most of our pathways are accessible to people in wheelchairs and those with other disabilities. Certain paths may be uneven or steep. Please see the accessibility guidelines for more information.
Closest ATM: Eftpos and credit card accepted for tickets, at shop and at cafe
Closest playground: Vanderbilt Playground in Prospect Park
Picnic tables: No
Electric BBQs: No
Water Bubblers/fountains: Yes
Scooters and Bikes: No
Dogs: No
Notes: There are no lockers or storage facilities on site.

Hotels near Brooklyn Botanic Garden
Details of accommodation near Brooklyn Botanic Gardens coming soon!
We're gathering a list of the best hotels near Brooklyn Botanic Gardens for families and couples.
Check back soon.
Toadstool Rating – Brooklyn Botanic Garden NYC
Please keep a close eye on toddlers and young children.
The Brooklyn Botanic Gardens NY are fragile, and do not take kindly to adventurous feet, or inquisitive little hands!

Looking for MORE Super Fun Things to Do in NEW YORK CITY with Kids?
Click the blue links below for more New York travel tips