INSIDE: Ultimate Guide to Waitomo Caves Hotel New Zealand.
Hotels that have been around for over 100 years have a lot of stories to tell.
The stories are in the walls, in the nooks, in the crannies.
Every creak a whisper of time gone by.
This majestic hotel in Waitomo, just minutes from the Waitomo Caves, is full of them.
We definitely recommend a stay because this charming Grand Hotel is the BEST Waitomo Caves accommodation for families, with LOTS of space and a story.
Take a look inside below.
Disclosure: This article contains affiliate links. If you make a purchase after clicking on one of these links, we may receive a small commission at NO extra cost to you.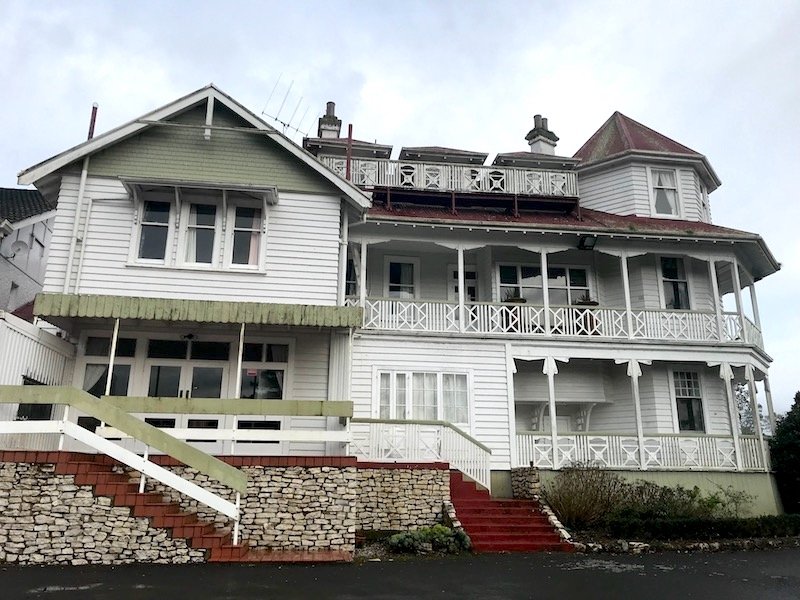 Guide to Waitomo Caves Hotel NZ
Waitomo Caves Hotel is a whimsical treasure!
This place must have been majestic in its day, a delightful temporary residence for well-to-do ladies and gentleman, road tripping for the weekend to the Waitomo Caves.
(Check out our review of the Waitomo Caves for kids here.)
---
RELATED: 13 Best things to do in Waitomo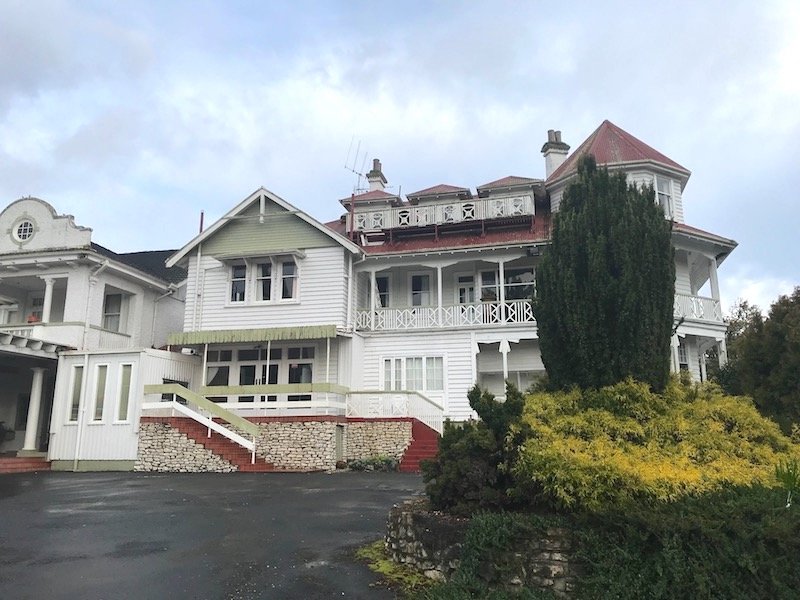 Is the Waitomo Caves Hotel haunted?
Is the Waitomo Caves Hotel haunted? It's the question on everyone's mind.
It could be.
Will you be lucky enough to meet the Waitomo Caves Hotel ghost?
(Thankfully, we didn't)
Yesteryear Grandeur
While it's lost some of it's sheen and polish, the Waitomo Caves Hotel retains something of it's grandeur.
It's the plush salmon carpet.
You just don't see that in hotels anymore!
Waitomo Caves Hotel Reception
There's also a chandelier at the front desk reception!
Classic Accommodation in Waitomo
It's also the monumental size of the rooms.
The balcony doors you can swing open with theatrical grace to let the cool night air in.
The four-poster bed.
Waitomo Caves Hotel History
The rose-covered curtains.
And velvet couches in hidden corners inviting you to sit and rest.
It's an elegant – if somewhat dated and run down – perfect weekend escape, reminiscent of yesteryear.
You'll forgive the fragile plaster, the runs in the carpet, and the hole-in-the-wall repairs.
It's all part of the charm.
(Read all about the history of Waitomo Caves Hotel here.)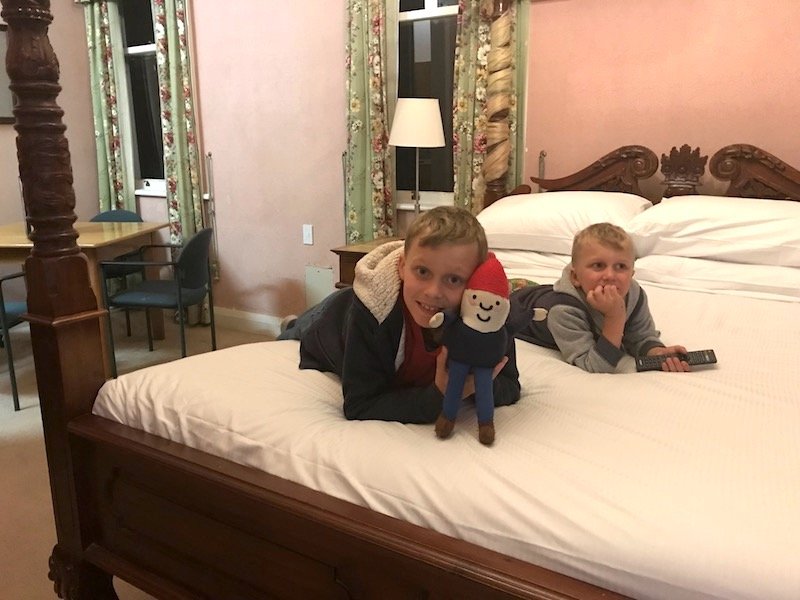 Budget Waitomo Caves Accommodation
The Waitomo Caves Hotel is definitely NOT five-star, more like three, but the super-soft linen and the cloud-like bedding will win you over.
PS: Please forgive the lack of light in our photos, both indoors and out. It was a dull overcast morning, and we simply couldn't capture the charm of the rooms in this place even though we tried.
Waitomo Caves Hotel Restaurant
A vintage-style hotel restaurant, "The Lazy Trout", is open for breakfast and dinner daily.
At check-in, the front office staff offered to look after the boys for breakfast if we wanted to enjoy a sleep in!
(Now that's the definition of good hotel service.)
(This is a better pic of what it looks like with good light! With thanks to Waitomo Caves Hotel)
THE INSIDE SCOOP: Waitomo Caves Accommodation.
Correct at time of publication on Roam the Gnome. Please check with venue for updates. We apologise in advance if there have been any changes we are unaware of. All prices in AUD dollars, unless otherwise stated
Address: School Access Rd, Waitomo Caves, Waitomo, New Zealand
Telephone: +64 7 878 8204
Website: Click here
Cost: Rooms from $95 NZ per night
Waitomo Caves Hotel Rooms
We booked the two bedroom unit, with a four-poster Queen bed in one room, and two single beds in the 2nd bedroom.
There's an ensuite with bath (Hot tip- we found the plug sitting up on the soap dish), a T.V, fridge, and tea and coffee making facilities.
Kitchenette
There's also a small kitchenette area but no cooking facilities for guests, and a dining table and chairs but no separate lounge.
It's huge!
One of the biggest hotel rooms we've seen in years, another reason why it's good accommodation near Waitomo caves for families.
There's also FREE WIFI!
Check out all the room styles here.
How to get to Waitomo Caves
By Bus: You can reach Waitomo village by bus. Click here for options.
By Car:
The easiest and best way to access this Waitomo Caves accommodation is by car. Click here for google map directions.
The best hire car company in New Zealand is Aerodrive if you want cheap, reliable, and to use a debit card (not credit card) for the deposit.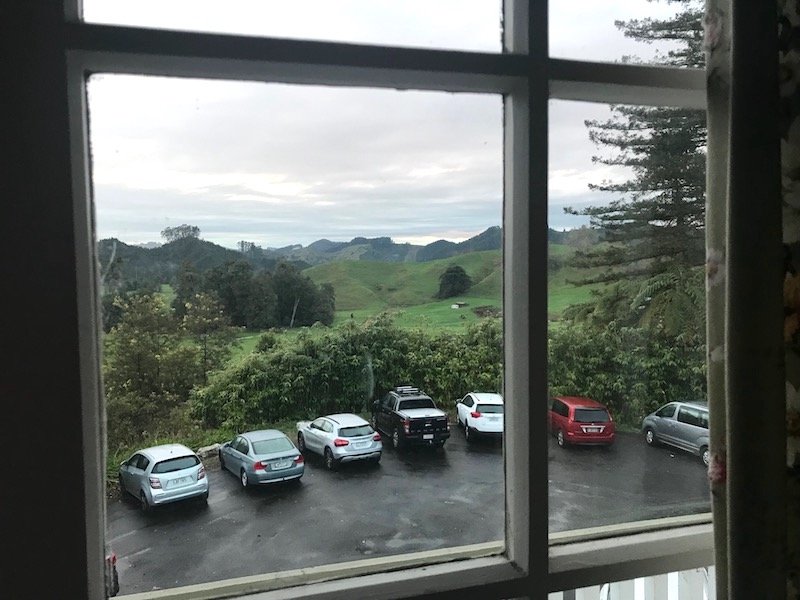 Waitomo Caves hotel parking
Free on-site parking available.
Waitomo Caves Hotels Location Map
Facilities at Caves Hotel Waitomo
Disability access:
Difficult. There are no lifts and LOTS of stairs.
Our hot tip is to leave your big luggage in the car if you can, and enjoy your stay with only the essentials in hand luggage so you don't have to lug your bags up.
Dogs: No
Toadstool Rating – Waitomo Caves Hotel Reviews
If you need budget accommodation in Waitomo, this is your place. It's the ideal spot for a short stay to experience all the Waitomo activities on offer.

Looking for More Things to Do in New Zealand for Kids?
Click the blue links for more NZ tourist attractions & tips