INSIDE: All you need to know to find the best New York dessert places.
Anything, or almost anything, goes when you are on vacation.
One certainty is dessert after every dinner.
Sometimes, dessert comes BEFORE dinner!
Especially when there are epic dessert places to try out.
That's the nature of holidays, isn't it?
Take a look at these delicious must-try New York desserts below.
Disclosure: This article contains affiliate links. If you make a purchase after clicking on one of these links, we may receive a small commission at NO extra cost to you.
"Rules" for Eating on Vacation at NYC Dessert Places
These are some Dessert rules I came across. (Source unknown)
It's the law that everyone should know these 'rules' before setting off on an American vacation.
Rule 1: If no one sees you eat it, it has no calories.
Rule 2: If you drink a diet soda with candy, they cancel each other out.
Rule 3: When eating with someone else, calories don't count if you both eat the same amount.
Rule 4: Foods used for medicinal purposes have no calories.
This includes any food consumed as a boost of energy to deal with rapidly changing timezones or children suffering a lack of routine, food eaten on plane and bus trips, or food eaten in the car when small children are in tow.
These foods may include family-sized blocks of chocolate, American cheesecake (eaten whole), and ice cream by the bucket.
Rule 5: Foods eaten during movies, at theme parks, playgrounds and family restaurants are much lower in calories simply because they are a part of the entertainment experience and not part of one's personal fuel.
This includes (but is not limited to):
popcorn with butter
mints
chocolate bars
soft drink and
Gummi Bears.
Rule 6: If you eat the food off someone else's plate, it doesn't count.
Rule 7: STRESSED (travelling with kids may bring on this condition) is just DESSERTS spelled backward.
Now, we have these rules out of the way, these are seven NOT TO BE MISSED Dessert Restaurants in New York for the kids.
Eat at one, or eat them all.
Anything goes on vacation.
ESPECIALLY if you are accompanied by kids – this is the best excuse to try all the fun stuff!
---
RELATED: Big List of Best Things to do in NYC with Kids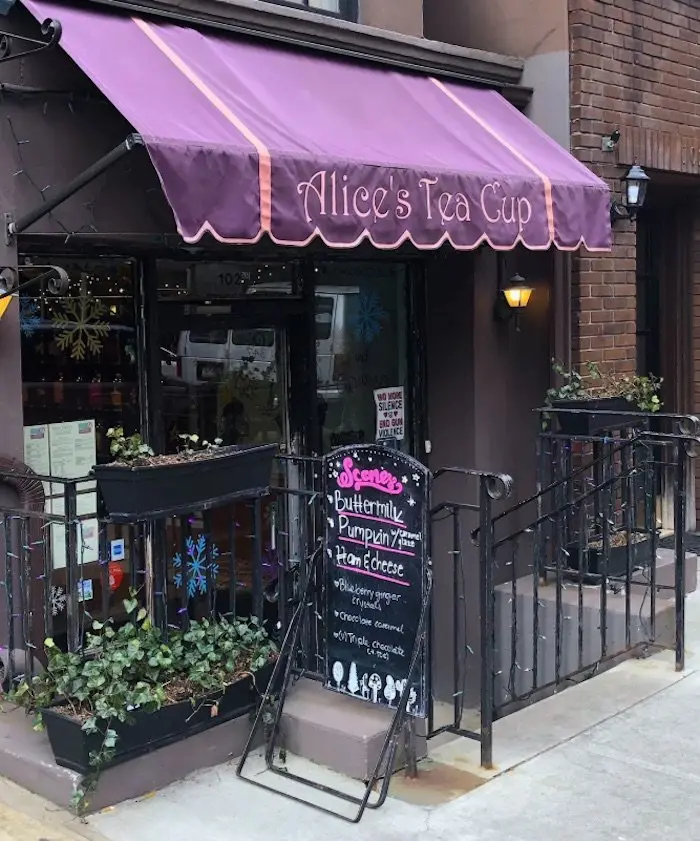 Image credit: Alice's Tea Cup Restaurant
ROUND UP OF BEST NEW YORK DESSERTS

Correct at time of publication on Roam the Gnome. Please check with venue for updates. We apologise in advance if there have been any changes we are unaware of. All prices in US dollars, unless otherwise stated
It's a tough job researching the best dessert places in New York, but I'm happy to help!
No.1: ALICE'S TEA CUP
If tea is your thing, then bring the kids to one of the three Alice's Tea Cup restaurants, New York City's most whimsical tea house. (and our vote for one of the top 7 of the best New York dessert places.)
The space is decorated in themes and mood of the enchanting Alice in Wonderland story, and children can even borrow wings to wear while they nibble.
The menu for breakfast, lunch and dinner is broad with things for all kinds of tastes, and levels of fussiness.
At breakfast, there's:
eggs
French toast
you can even create your own crepe flavours.
Will it be sweet, or savoury?
Try:
Alice's scones served with clotted cream and jam, or
one of their signature egg dishes
pancakes
crepes
porridge, or
granola!
Most importantly, enjoy one of the 100 plus teas from their tea menu.
Or go all out with Alice's Loco Cocoa (rich chocolate spiced with cayenne pepper, cinnamon and nutmeg)
Warming? Yes!
Lunch menu
For lunch, or anytime, don't go past the Croque Monsieur, fresh soup, or my favourite, the Queen's Tuna Melt.
Nothing like a tuna melt for a smashing New York experience.
Kids (little and big) love the desserts.
I'm eyeing off the Banana Nutella cake, and Alice's-S'mores.
Served melted and messy… oh yes please.
You can have a 'High Tea' at any meal also.
Their three-tier afternoon tea platter is filled to the brim with tastings of some of Alice's best sellers.
Kids Menu
There's a kids menu too.
Kids can gobble down cup o' soup, PB and J on banana bread, cookies and milk, or a grilled cheese sandwich for afternoon tea.
Alice's Teacup has three locations in Manhattan (Chapter One, Chapter Two, and Alice's to Go) but it's busy all the time.
Try to visit during the week rather than a weekend, and make a reservation if you can.
Open daily, 7.30am to 5.30pm.
Chapter One address: Located at 102 W. 73rd St., at Columbus Ave, New York
Telephone: 799-3006.
Chapter Two address: 156 E. 64th St., at Lexington Ave New York.
Telephone: 486-9200
Website: Click here
No.2: CAFFÉ PALERMO DESSERT NYC
Dreaming of fresh, creamy, sweet, giant cannoli?
Those crunchy sweet pastries famous in Italy?
This New York version from this gorgeous café in Little Italy are delish.
The owner "Baby John" is known as the Cannoli King.
Not a fan of cannoli? Why not try their:
traditional cheesecake
tiramisu
pastiera napoletana cake, or
textured Italian ricotta cheesecake.
Drooling yet?
Caffe Palermo Cannoli
Sit inside, or take advantage of checking out the locals with a table on the sidewalk.
Walk ins welcome.
Address: Located at 148 Mulberry St New York, between Grand and Hester streets. It's been open since 1973!
Telephone: 431-4205
Website: Click here
Open:
Monday to Thursday 10.30am to 11.30pm
Friday, Saturday – 10.30am to 12.30am
Sunday – 10.30am to 11.30pm

Image Credit: TripAdvisor
No.3: SERENDIPITY NYC
Who can wander past a place that is named after 'the art of making happy discoveries, or finding the unexpectedly pleasant by chance".
Not me.
And YES, it is the place where John Cusack and Kate Beckinsale slurped together in the film of the same name, SERENDIPITY in New York.
I knew it!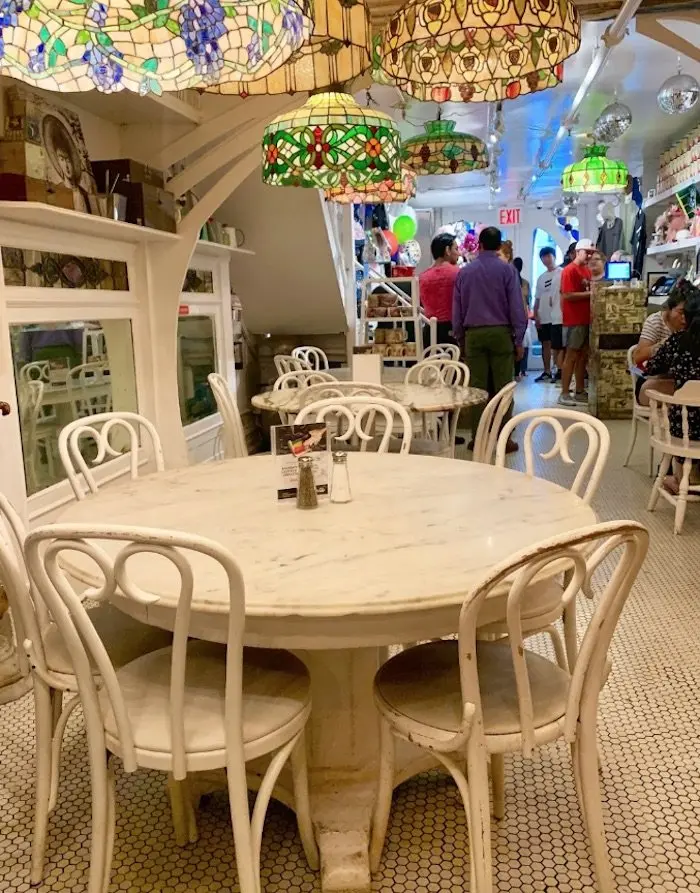 Image credit: Nancy M. de Suarez
Serendipity 3 cafe
This iconic Upper East Side place (Andy Warhol and Jackie O. were both fans) is an old-fashioned ice cream parlor and sweets shop.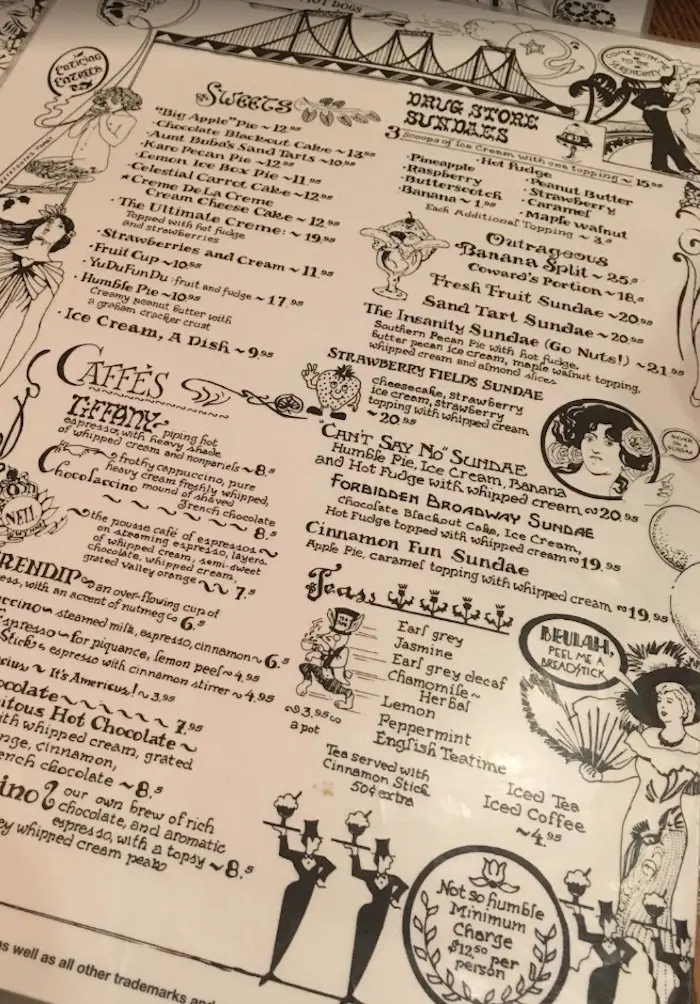 Image credit: Robert Cardoni
Serendipity 3 Menu
Don't bother with real food.
Go straight for the desserts and drinks.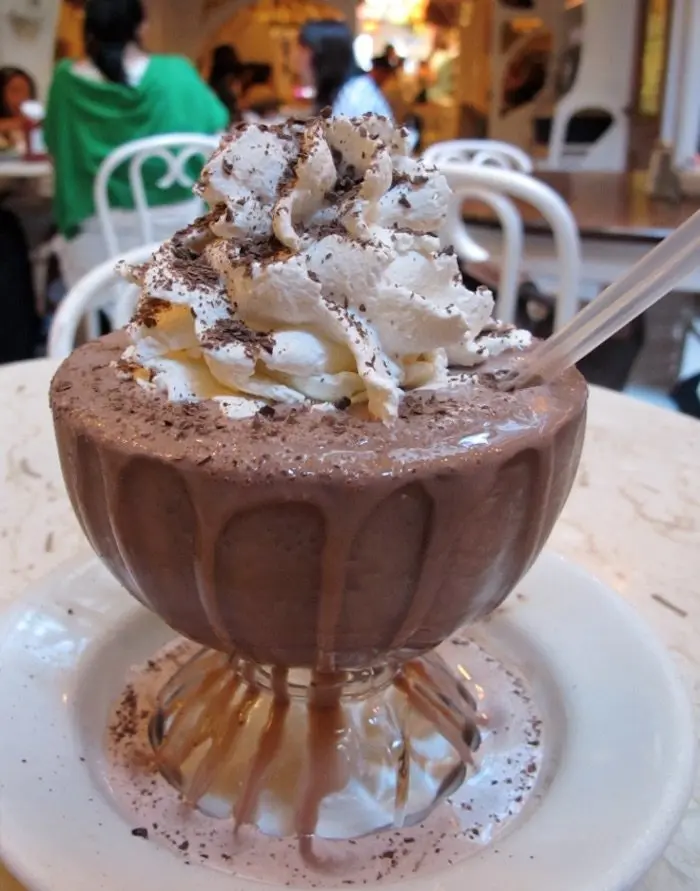 Image credit: Brian Coble
Serendipity 3 Signature Frozen Hot Chocolate
Their frrrozen hot chocolate, a blended concoction of chocolate milk shake and slushie, is what they are world-famous for.
Do not miss this experience.
It's one from the bucket list of dessert places. Share with your loved ones if you must.
(PS: There's a S'MORES Frozen Hot Chocolate too, with toasted marshmallow melting onto a block of choc. Which to choose?)
Saying that, I've got it on good authority that ALL the desserts are to-die-for, especially those that involve chocolate fudge or chocolate sauce.
Want a peek at the menu?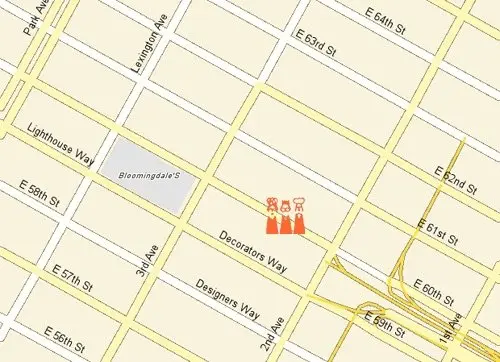 How to find Serendipity 3 in New York
Address: Located at 225 E. 60th St, New York, between Second and Third Ave
Reservations: 212-838-3531 between 10am and 6pm
Opening Hours:
Sunday to Thursday 11:30am to midnight.
Friday and Saturday 11:30am to 1:00am.
Hot off the press: You can even buy Serendipity Frozen Hot Choc mix to take home so you can recreate this classic NYC experience with your friends and family too!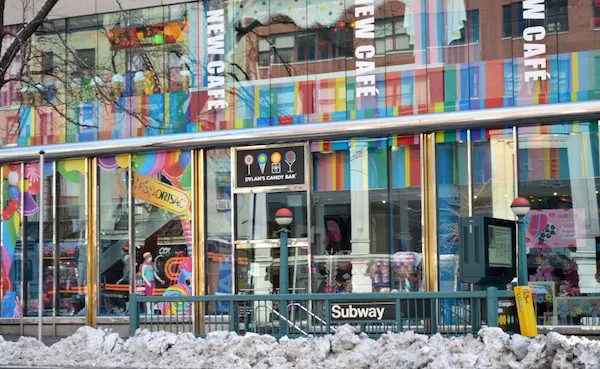 No.4: DYLAN'S CANDY BAR
The kids will LOVE you forever if you take them here, especially if you set a budget for each one and let them go wild to choose their favourite sweet treats for an after dinner dessert.
Today is NOT the day for quitting sugar.
No sirree.
Nor it is a day for monochrome or minimalism.
Dylan's is all about bright rainbow colour explosions, like a super firework display.
It's Willy Wonka Chocolate Factory on steroids.
Keep your sunnies close by.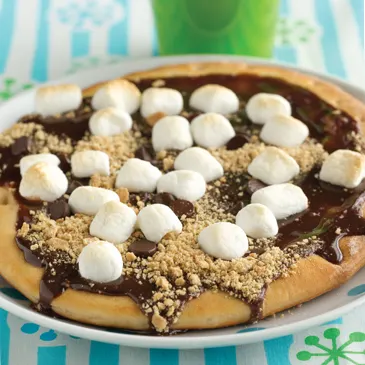 Dylan's Candy Cafe
Book a reservation at Dylan's Candy Café, with dessert pizza, super sundaes, ice-cream 'chillin's' and FUN-due to share.
To counter balance all that sweet, there's salad and melts galore.
Dylans Candy Shop
Website: Click here to read our review of Dylan's Candy Store
(And find details of where it is, how to get there, and opening hours)

Image credit: TripAdvisor
No. 5: SPOT DESSERT RESTAURANT
Spot Dessert bar has an innovative and never-before-seen menu with an array of tapas desserts inspired by Thailand.
Very quickly, this dessert cafe became the go-to spot for sweet lovers in New York.
Try these signature dishes by Iron Chef Ian Kittichai first:
Green Tea Lava cake
Golden Toast
Mango Tango
Cookie Camp
The Harvest
Address: SPOT ST. MARKS Flagship store is at 13 St Marks Pl, New York, NY 10003
Telephone: (212) 677-5670
Opening hours:
Sunday to Wednesday, 12pm-12am
Thursday to Friday: 12pm-1am
Saturday: 1pm-1am
No. 6: MAGNOLIA CUPCAKES
Made famous by Carrie and her Sex and the City friends, this classic American bakery is best known for decadent cupcakes but also bakes classic American baked goods.
The first store opened in 1996 in New York City's West Village, but now there's Magnolia Bakery shops around the world, from Los Angeles to Mexico City, Abu Dhabi to Manila.
Everything is baked on the premises from scratch, every single day of the year, using top quality ingredients.
Classic cupcakes include:
vanilla
chocolate
buttercream, and
red velvet.
Speciality cupcakes include:
caramel
carrot
coconut
peanut butter & jelly
hummingbird
devil's food, and
confetti!
Not a fan of a cupcake?
No problem!
Choose:
a fruit pie
flourless chocolate cake
icebox bars
cookies
brownies, or this epic concoction below.
THE Magnolia Bakery's Famous Banana Pudding!
Small ones start from $4.50.
Magnolia Bakery Cafe
Address: 401 Bleeker Street and W. 11th Street, New York.
Telephone: 212.462.2572
Opening Hours:
Sun.-Thur.: 9:30am – 10:30pm
Fri.-Sat.: 9:30am – 11:30pm
Website: Click here
MORE Magnolia Bakery locations in New York
Upper West Side
Bloomingdales
Grand Central Station, and
Rockefeller Center
You can also order a dessert delivery.
No.7: WAFELS & DINGES
The best waffles in New York, with the best branding, and fun staff.
Keeping New Yorkers happy and well fed since 2007.
Click here for locations of Wafels and Dinges food trucks.
Check back soon for more of the BEST Dessert Places in NYC!
The Best Bakeries in NYC
The Best Cupcakes in NYC
The Best Chocolate restaurant NYC
The Best Pastries in NYC
The Best Ice Cream Places in NYC
Looking for MORE places to eat in New York with kids?
Click the blue links below for more New York city ideas