INSIDE: A sneak peek into the Christmas House Rovaniemi gift shop in Lapland.
Planning a trip to Lapland?
Heading to the Santa Claus Holiday village?
Wondering what kinds of souvenirs you can buy in this Christmas village?
Take a look below at what you can find in the popular Christmas House Gift Shop.
THIS is the spot to do your souvenir shopping in Lapland.
Disclosure: This article contains affiliate links. If you make a purchase after clicking on one of these links, we may receive a small commission at NO extra cost to you.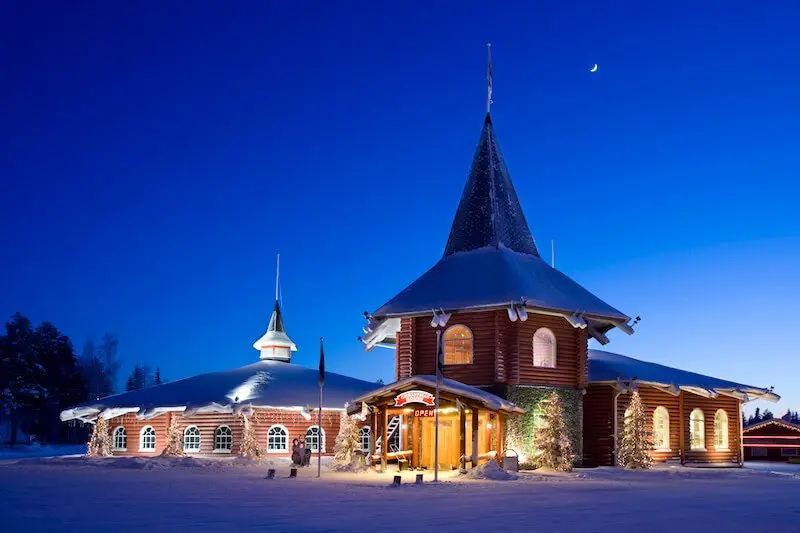 Image credit: Visit Rovaniemi
Guide to Christmas House Gift Shop in Rovaniemi
Shop for the best Lapland Souvenirs at CHRISTMAS HOUSE Rovaniemi.
The Christmas House Rovaniemi gift shop is chockablock FULL of Lapland souvenirs, most of which would make a wonderful gift for friends and family back home.
And it's decorated with festive Christmas lights, fairy lights, stars, Christmas trees, and other Christmas House decor.
The Christmas House shop is located at the front of the Santa Claus Holiday Village, to the right of the Three Elves Restaurant and Hotel reception building.
It's in the same building as the Christmas House Santa & Exhibition, and the Christmas House restaurant & coffee bar.
---
RELATED: The Ultimate Guide to SANTA CLAUS HOLIDAY VILLAGE in Rovaniemi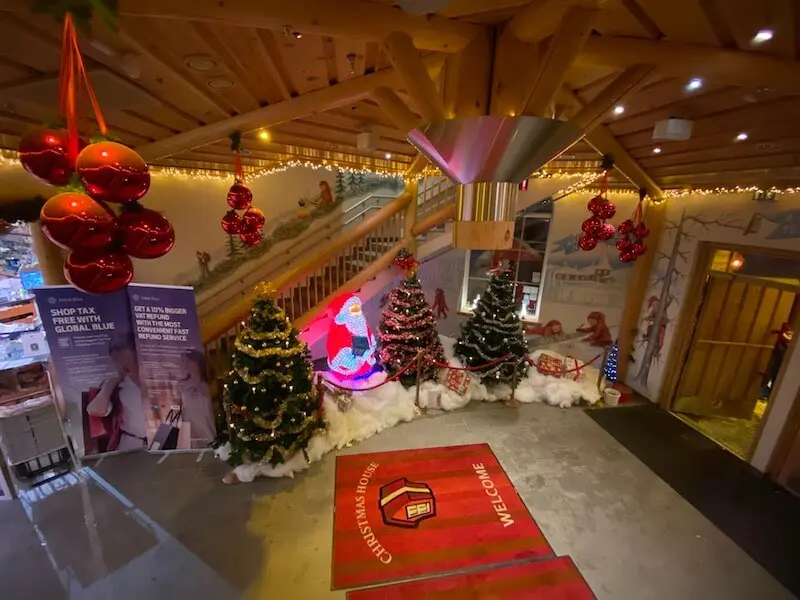 Inside the Christmas House Store
Pull open the door to enter the Christmassy foyer space, filled with:
decorated trees
baubles hanging from the ceiling
pictures of elves, and
snow.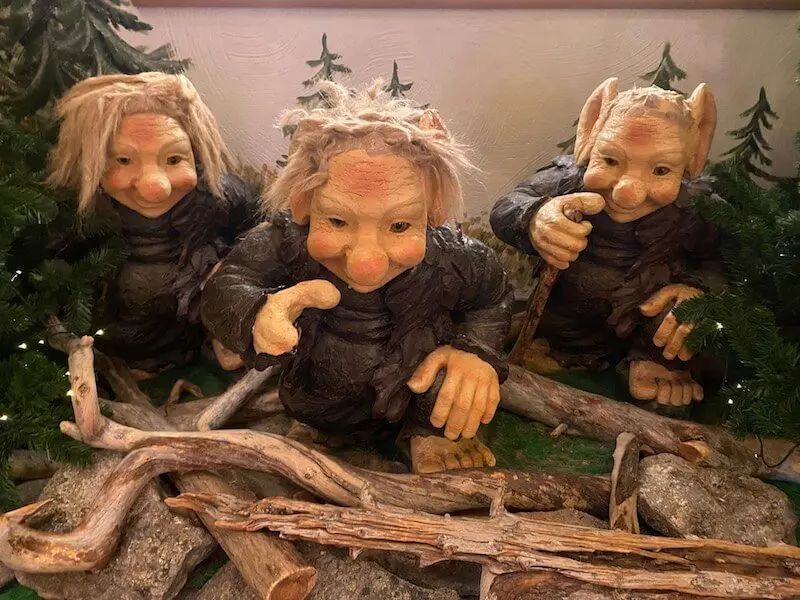 You may even spot a few trolls!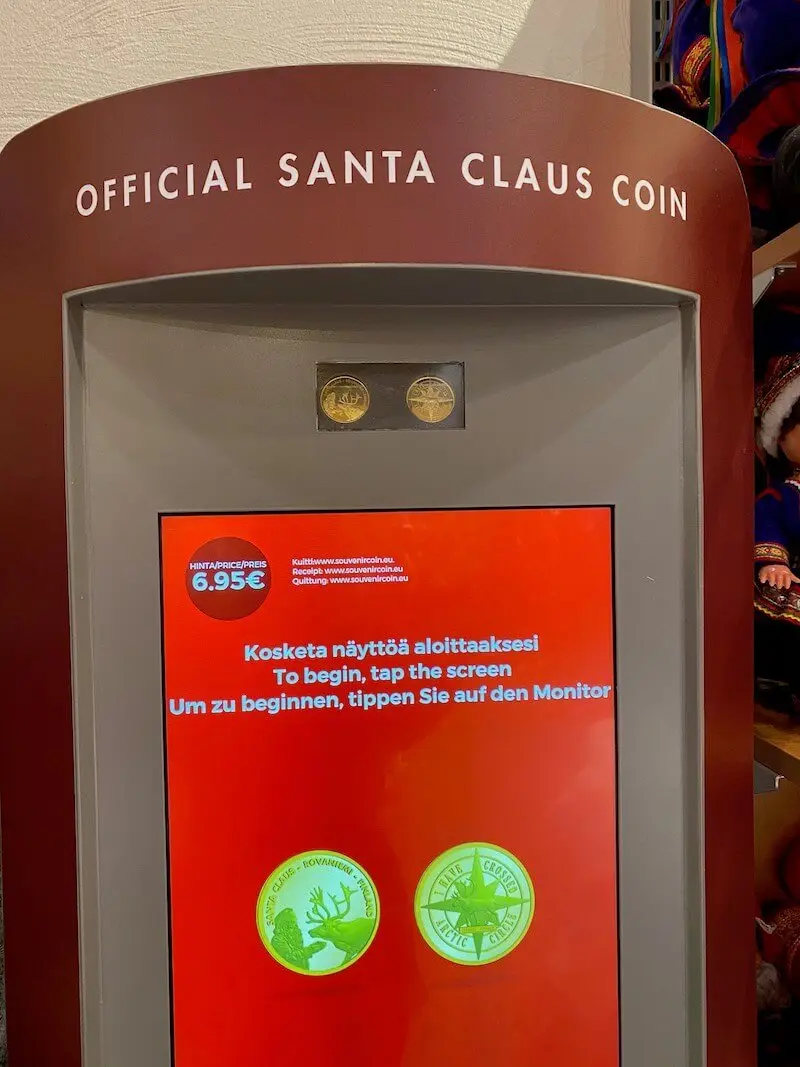 BEST LAPLAND SOUVENIRS TO BUY IN SANTA CLAUS VILLAGE
Here's an epic list of the BEST souvenirs from Lapland in this epic Lapland gift shop.
No.1: Official Santa Claus Coin
The first thing you'll see when you enter the shop is this Official Santa Claus Coin machine.
The ideal gift for someone who has everything!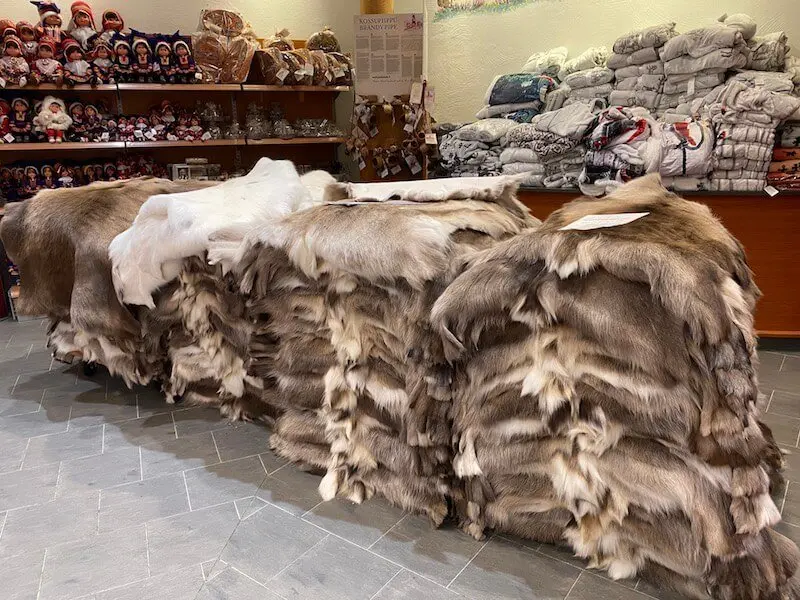 No.2: Reindeer Hides
Next up, you'll spy the piles of reindeer skins.
These are a much loved souvenir for those who like house design and want a souvenir from their Lapland trip.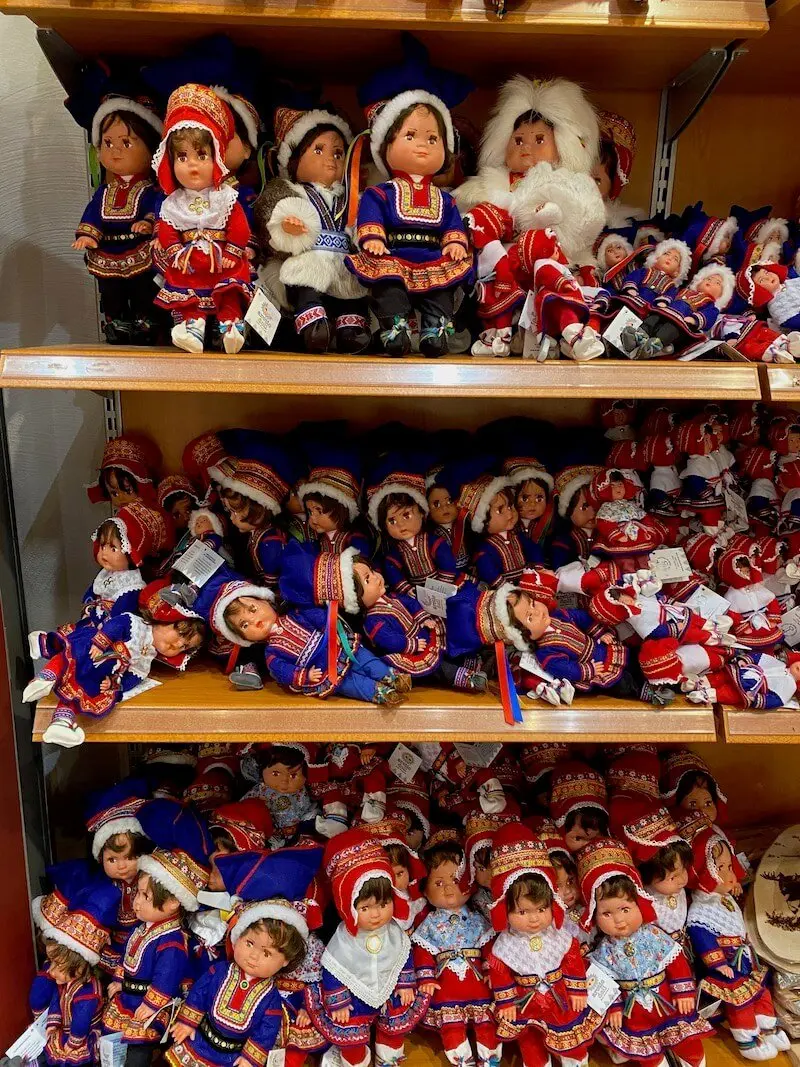 No.3: Traditional Finnish Dolls
Behind that, a merry band of traditional Finnish dolls in full National costume.
No.4: Plastic Snow Sleds & Bum Sliders
Jack couldn't believe his eyes when he spotted the plastic snow sleds and bum sliders for sale.
He thought this would make an excellent souvenir for him to take home to sunburnt Australia!
I'm not sure we'd ever have somewhere to use this, except maybe on the sandhills on Fraser Island in Queensland, so I said a big no.
But for those visiting on a Lapland day trip, and who want to give their kids a turn on a sled, the Christmas House gift shop in Santa Claus Village is where you will find them to purchase.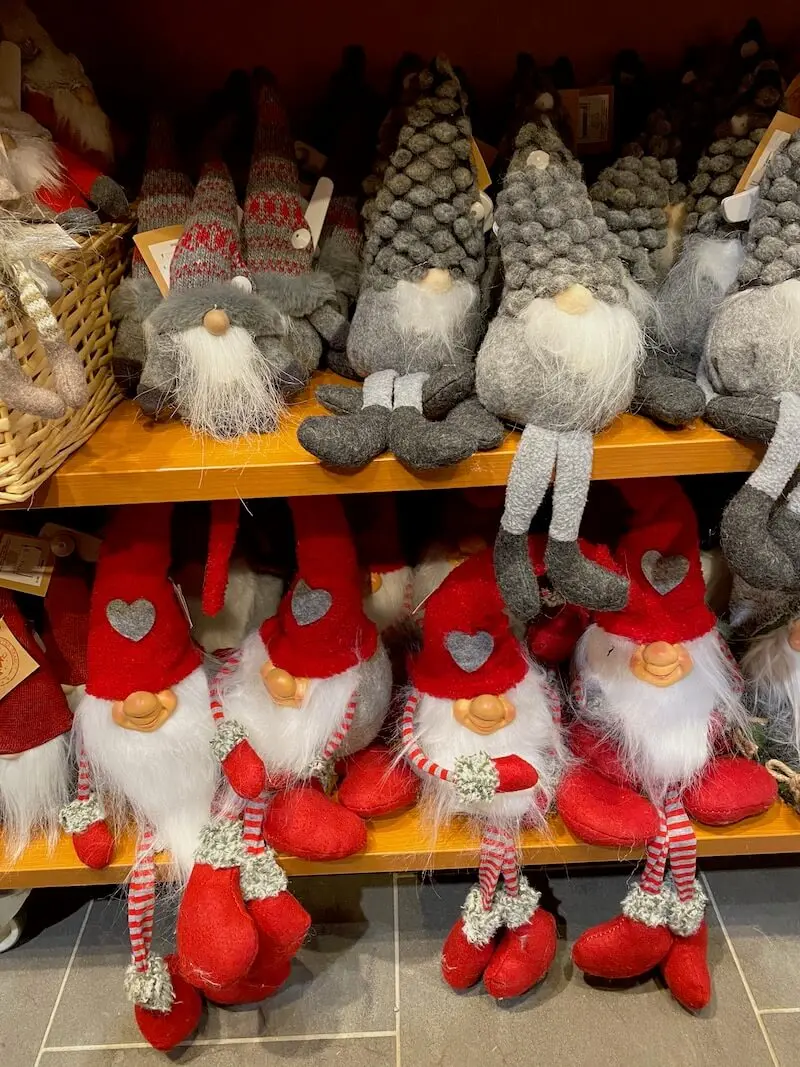 No.5: Santa Gnome toys (Tomten souvenirs)
Everywhere you turn you'll see 101 variations on the famous Nordic gnome dolls.
There's Tomte dolls that stand, sit, and ones that guard the front door.
Some Tomten dolls have only noses visible.
Others have crinkly faces, or dangly hands and feet.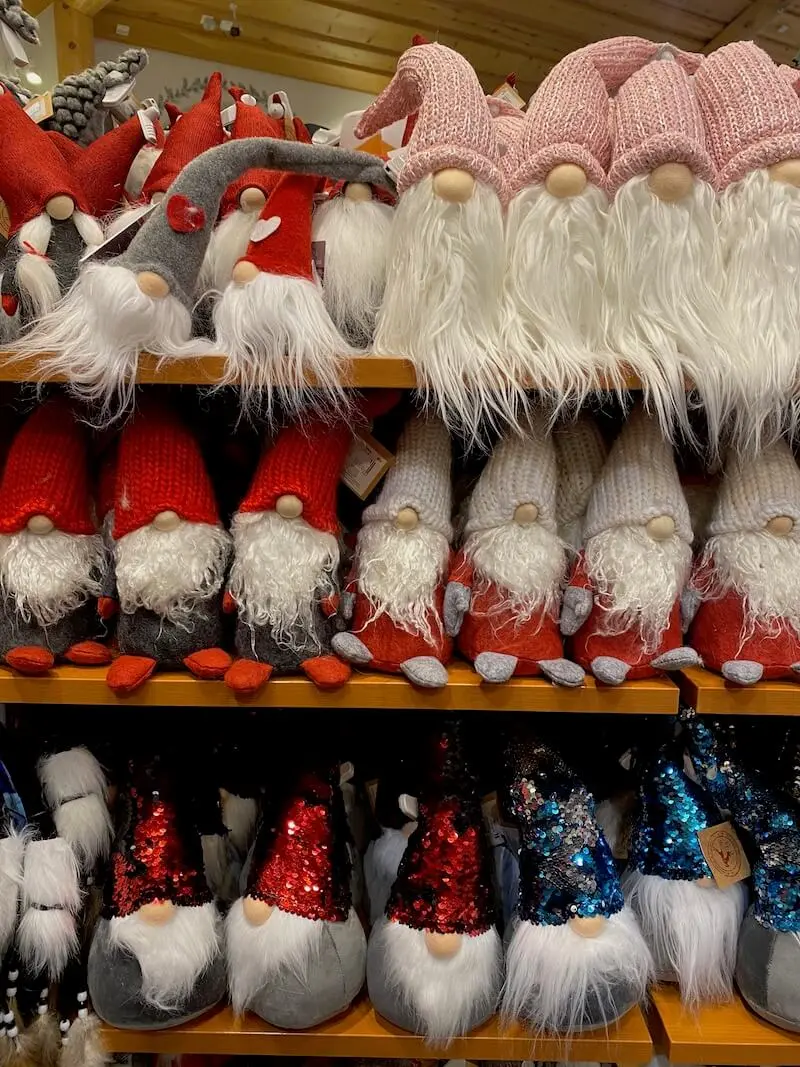 No.6: More Finnish Gnomes
They range in size from 5cm tall, up to half a metre tall, and come in all the colours, although mostly red, grey and white.
This year, it's time for sequinned gnome dolls to appear.
You'll need to buy at least one.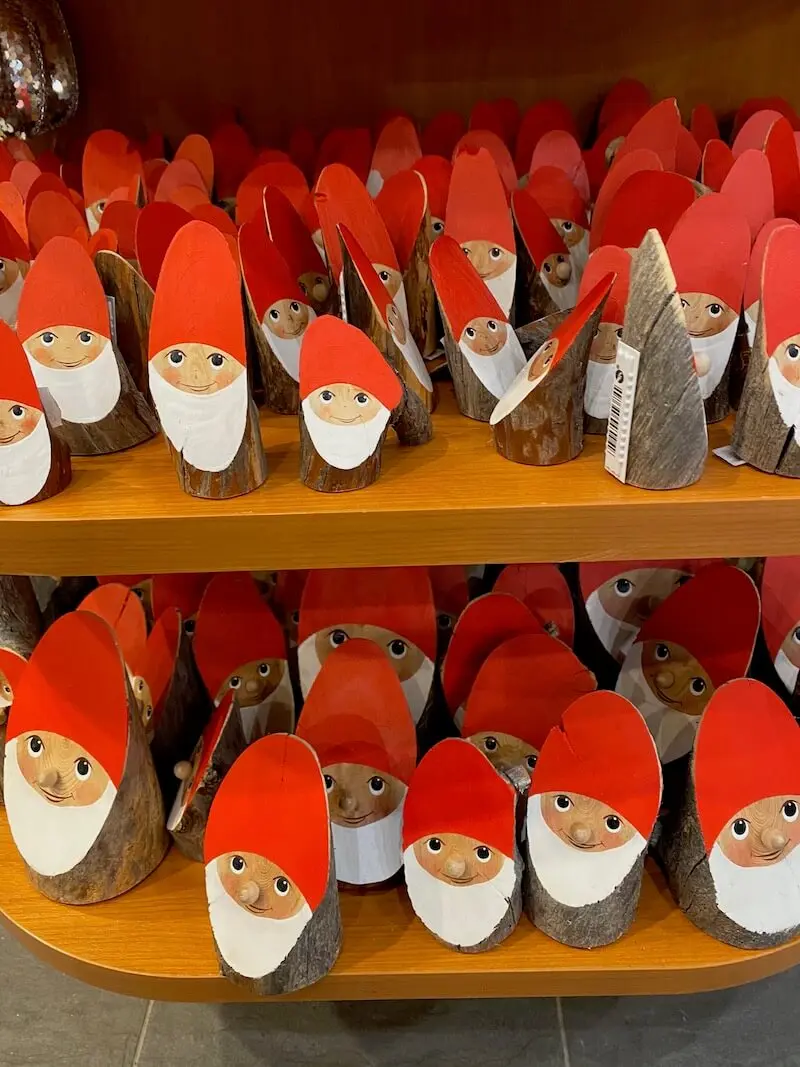 No.7: Wooden Painted gnomes
The cutest gnomes of all are made from painted timber logs.
How can anyone resist?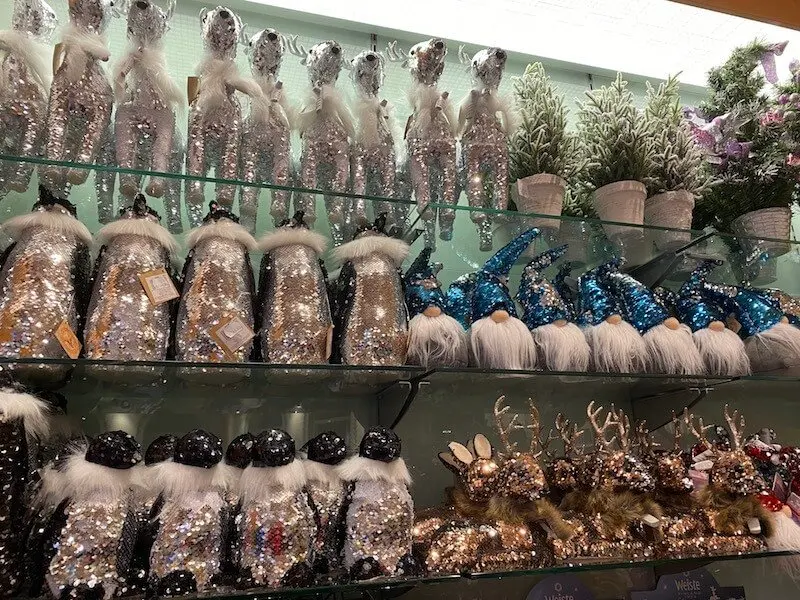 No.8: Lapland Soft Toys, Husky toys & Reindeer toys
Take a look at the rows of sequinned reindeers and plush reindeers.
That's a unique Christmas souvenir from Santa Village.
Look out for baskets of the cutest soft toys you ever did see:
fluffy Husky dog toys with "Lapland" emblazoned harnesses
red fox toys, and
bears.
No.9: Finnish Christmas Dolls
There's an adorable range of simple but sweet Christmas dolls for ornamental display.
Some of them are to be hung as a Christmas tree ornament.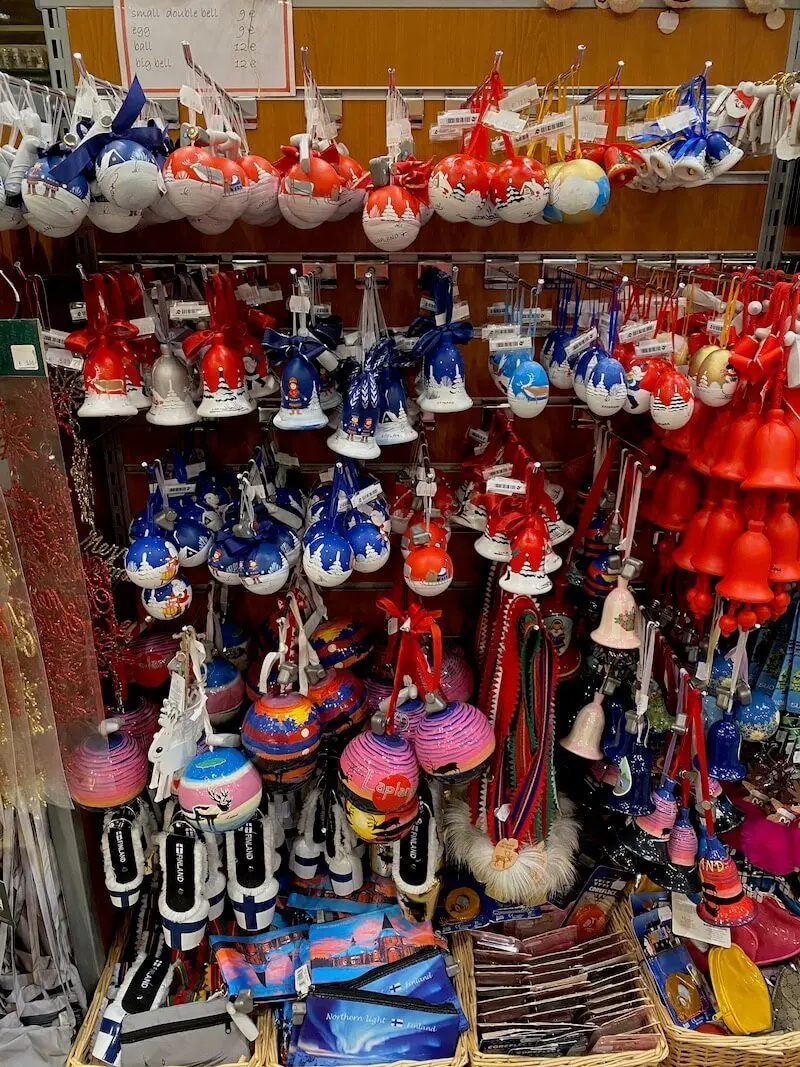 No.10: Christmas Ornaments from Lapland
You can find whole shelves full of Lapland Christmas decorations.
The only challenge is to limit yourself on how many you buy.
Christmas decorations from Lapland make great easy-pack and thoughtful gifts to take home for the family.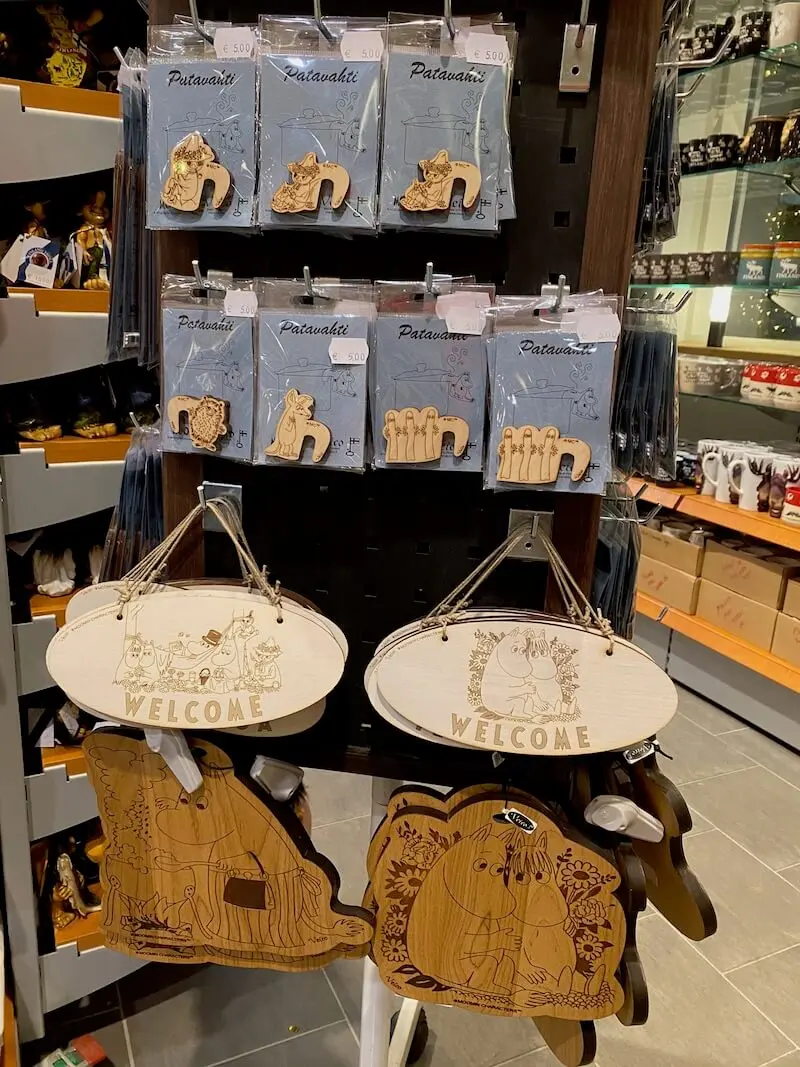 No.11: Moomin Souvenirs
The Christmas House shop stocks only a few Moomin souvenirs, but their selection is different to what we've seen elsewhere.
Hot tip: We recommend a visit to the Moomin Shop in the Santa Claus Gift House nearby to buy more of the best Moomin souvenirs too.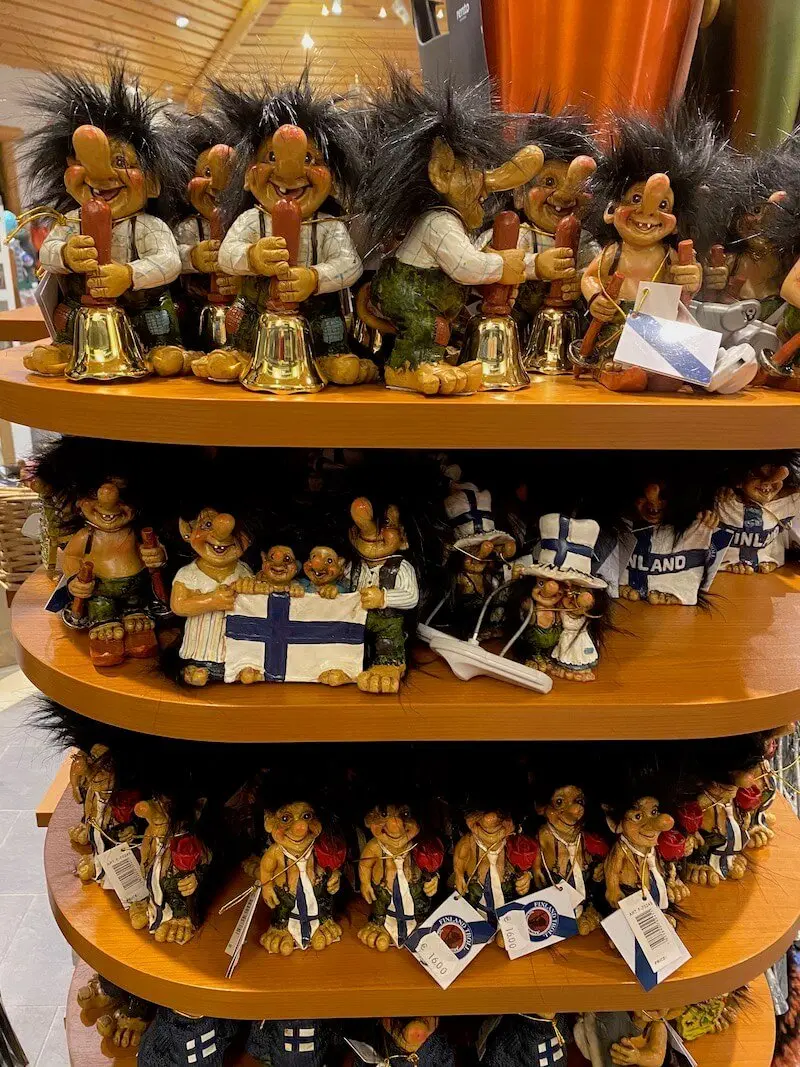 No.12: Traditional Finland Trolls
Looking for something unique to take home?
Trolls are mystical forest-dwelling creatures, derived from Scandinavian myths of old.
Why not snaffle a Finland troll for yourself?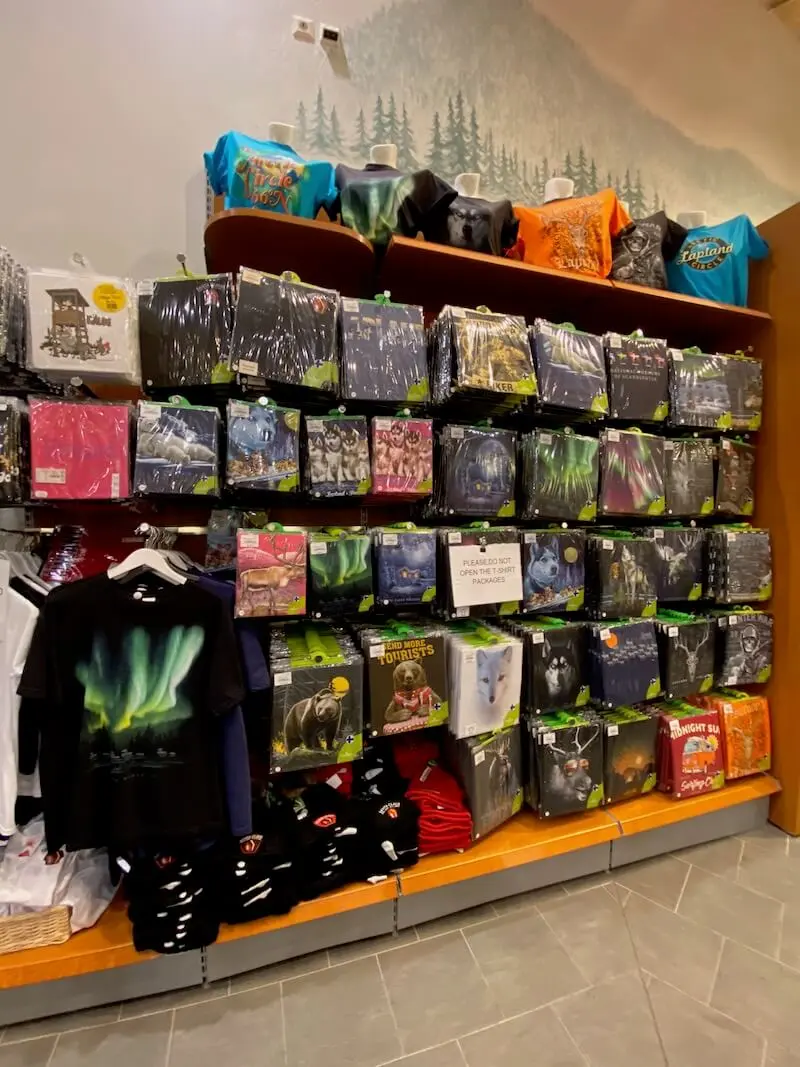 No.13: Lapland Souvenir t-shirts
On one wall, there's a varied selection of souvenir t-shirts from Lapland including designs such as:
Northern Lights Aurora Borealis
Husky dogs
Brown bears
Reindeers
Arctic Circle crossing souvenir t shirts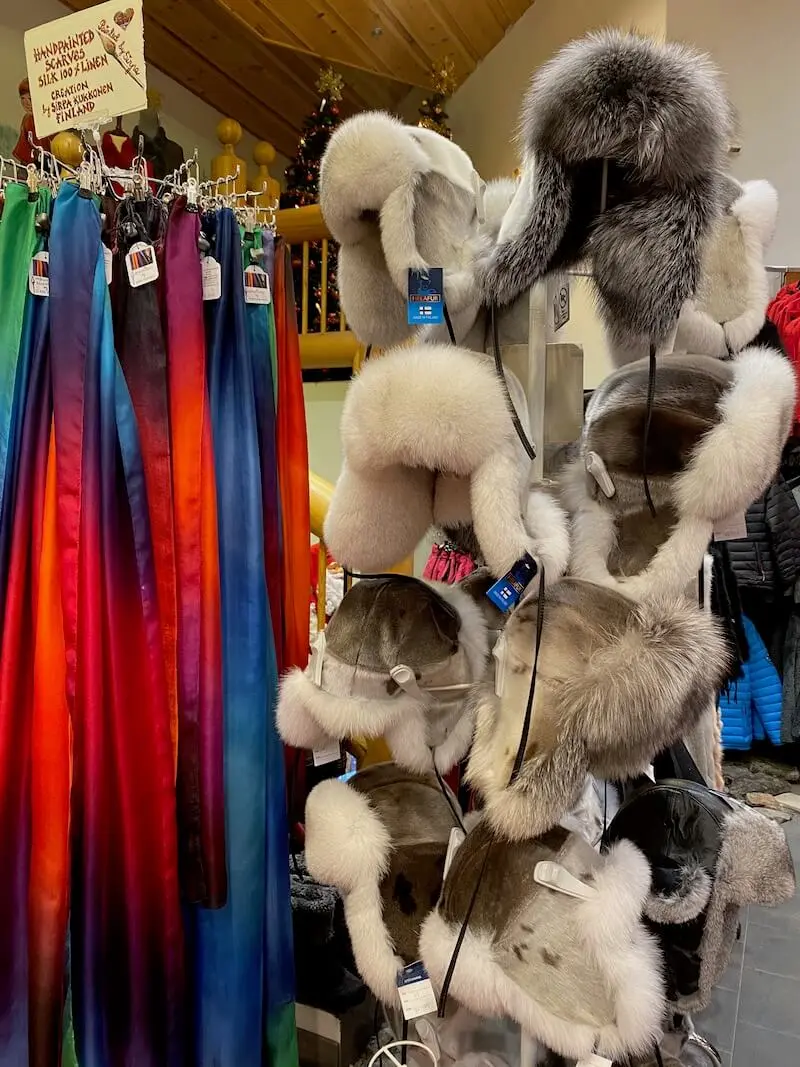 No.14: Traditional Lapland Clothing Souvenirs
The middle of this treasure trove of a Lapland gift shop is home to all different types of clothing and accessories.
Traditional Lappish hats
Hand painted silk scarves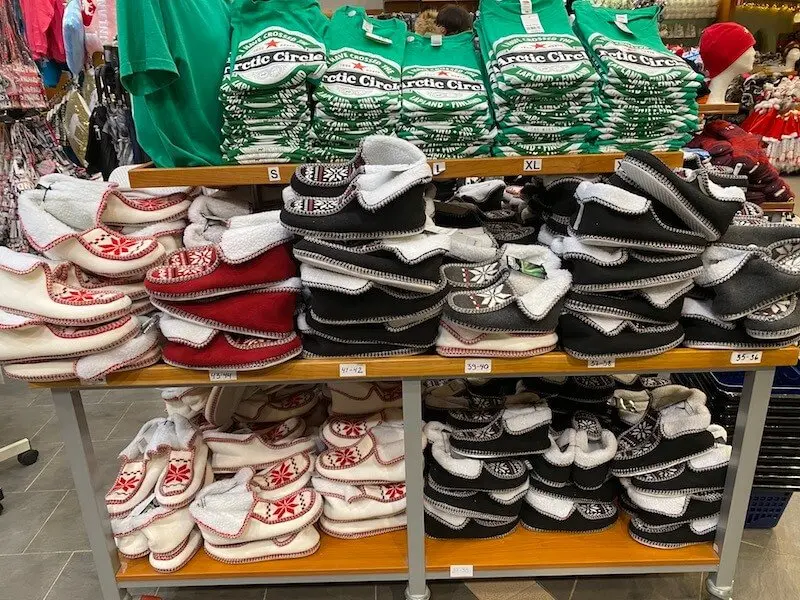 Traditional Finnish shoes, patterned with embroidery
Moomin slippers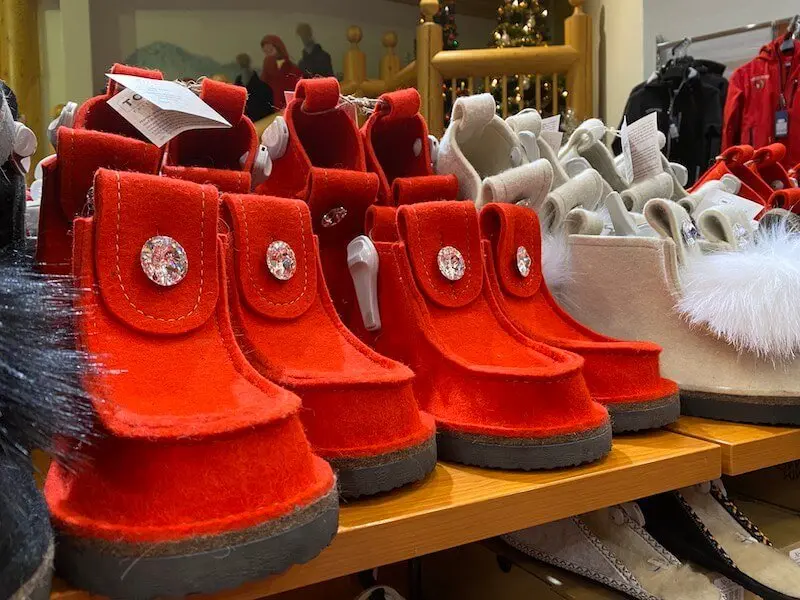 Finnish shoes
Felt shoes for warmth!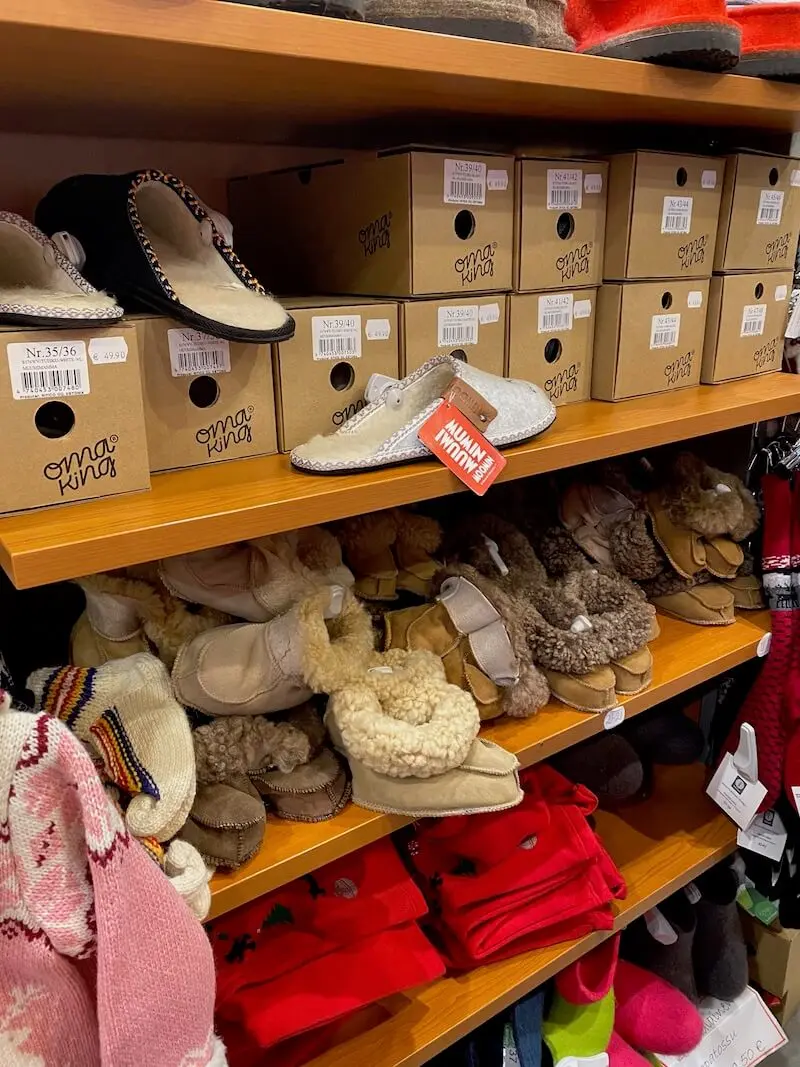 Emergency clothing supplies
There's a small selection of warm jumpers, sheepskin slippers, fleece pants, and long sleeved shirts that could be used as spare clothes in an emergency when the kids are cold and wet, and you've run out of spares.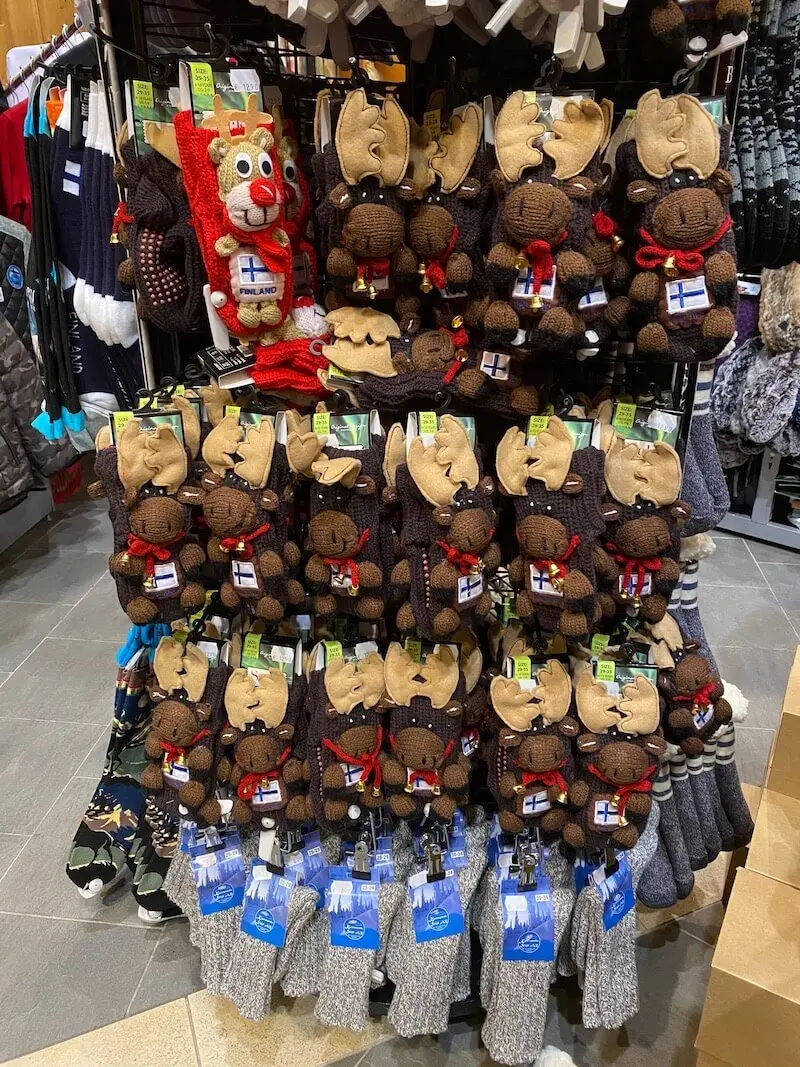 No.15: Novelty Socks, Wool Socks, & Snow Gloves
We purchased a new set of snow gloves for 15 euro when Ned left his pair on the tour bus.
They have quite a decent range of quality snow gloves and merino gloves for both kids and adults, from 13 -20 euro in price.
It's not as cheap as buying them at home, but we were so grateful to find a pair of new snow gloves in the Santa Claus Village so Ned could continue to play in the snow that cost was not a factor.
If you've arrived unprepared, or just need a top up of dry socks, the Christmas House store in the Santa Village can definitely help with:
merino wool socks
gloves
beanies
scarfs
mittens, and
neck warmers.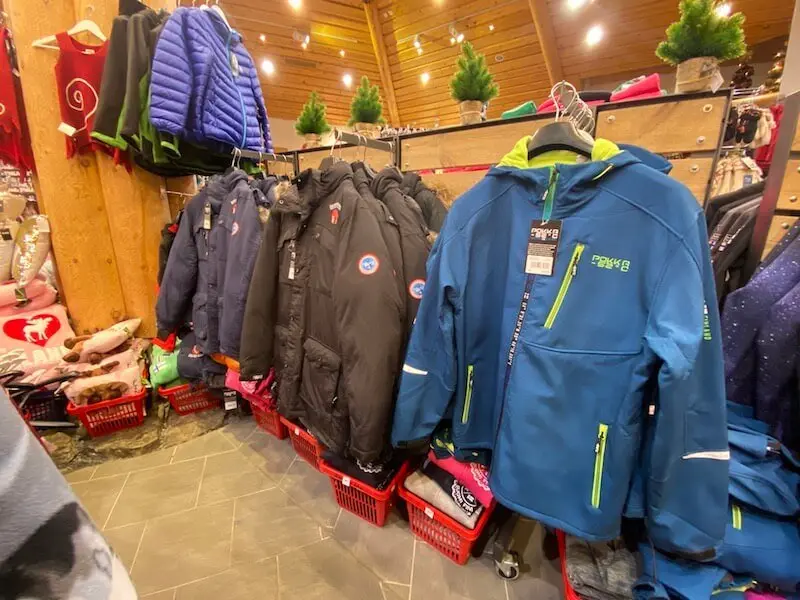 No.16: Winter Jackets for Lapland
There's also a few aisles with:
thick pullover jumpers/sweaters
snow jackets
thermal jackets made from gore tex
polar fleece jackets, and
thermal puffer jackets.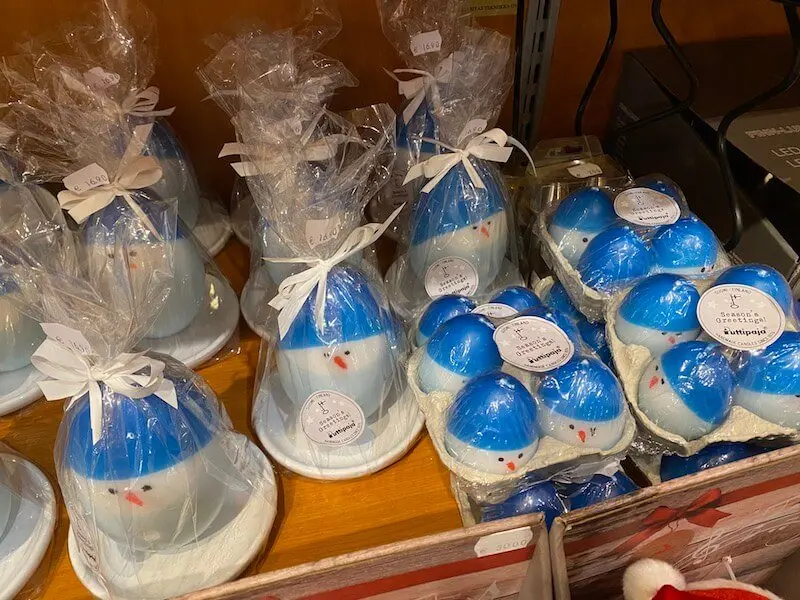 No.17: Snowman Candles & Homewares
There's also plenty of Christmas inspired candles and homewares to choose from, including these sweet Snowman candles.
And adorable round Santa candles too!
(See picture at top)
This is a more stout version of the traditional Finnish Santa candle, made from a long white taper candle dipped in red and green wax.
What a wonderful Christmas Day table decoration these make.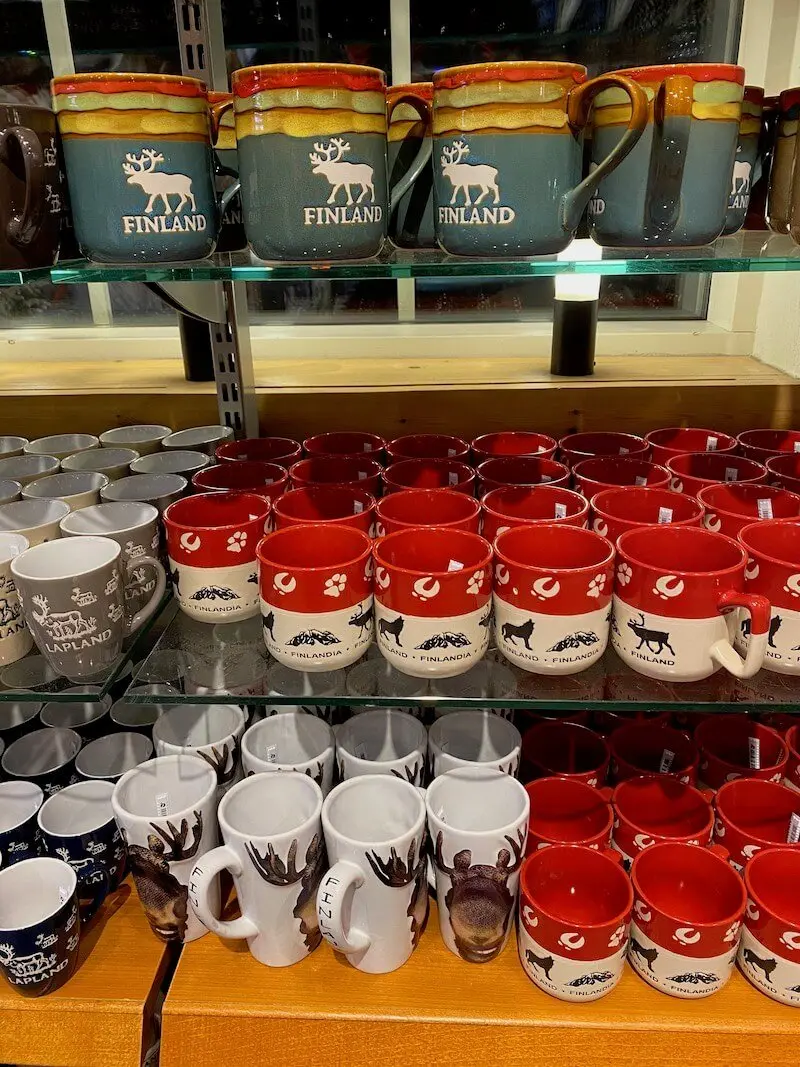 No.18: Finland Souvenir Mugs
Pick up a new coffee mug with a Finland design.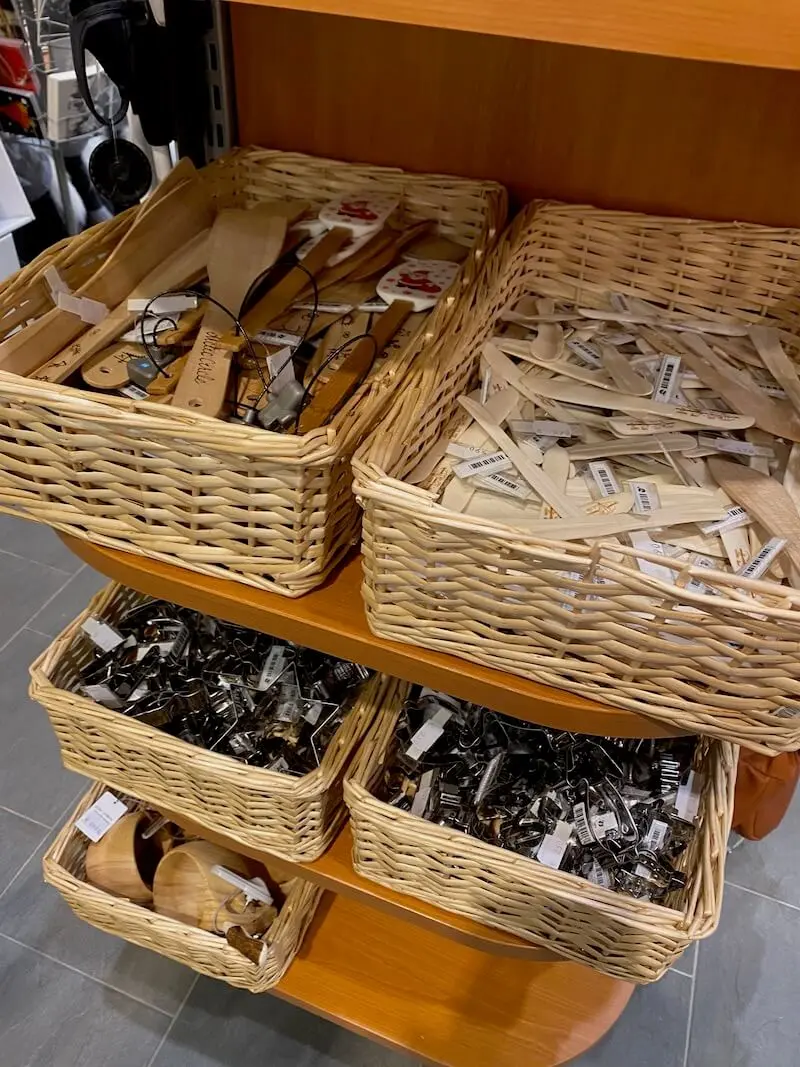 No.19: Finnish Kuksa coffee cup
Or look for a traditional wooden Kuksa mug in store.
Kuksa mugs are beloved by Finnish people – everyone has their own one for their morning cuppa, and for camping or hiking trips.
You can also purchase kitchen utensils and tools made from local timbers and reindeer horn, as well as gingerbread cookie cutters in Christmas shapes.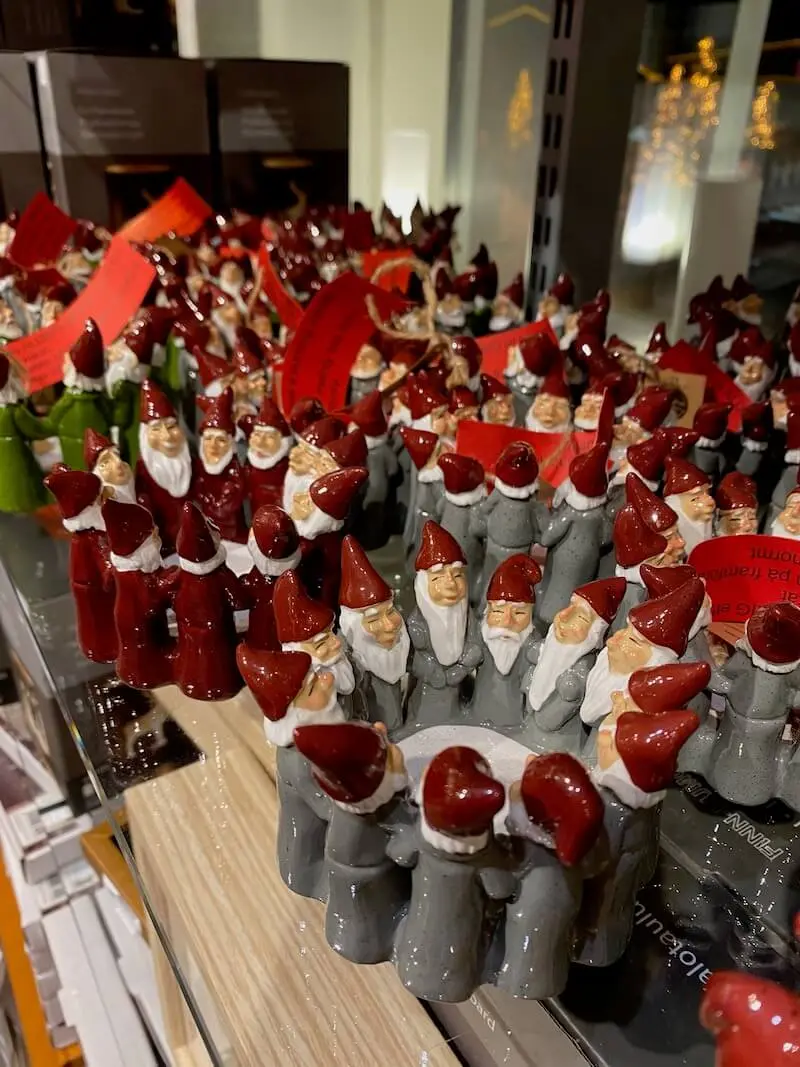 No.20: Ceramic Candle holders and Santa Snow Globes
Look along the outer walls to find all kinds of ceramics, and breakables, including these Gnome rings, and Snowman circles (pictured below).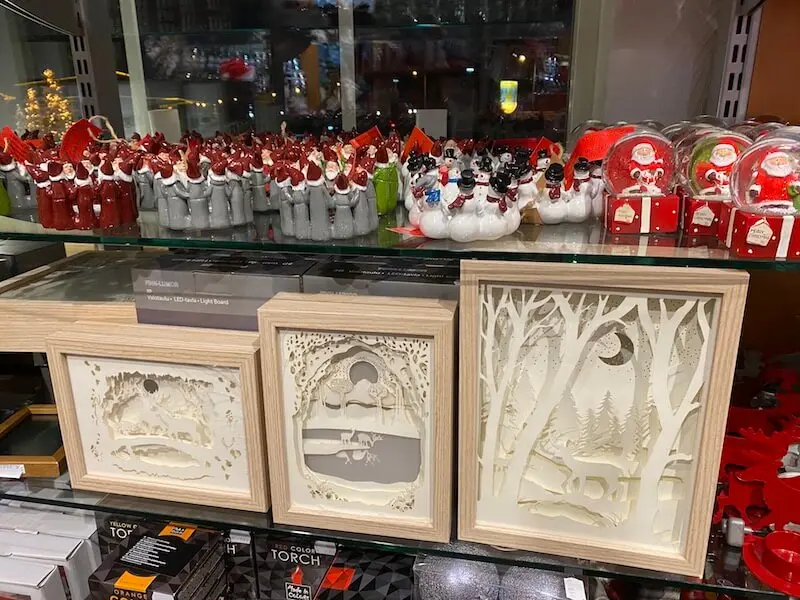 No.21: Lapland Art
These Finnish paper cut art displays have a light inside, so you can create shadow boxes. (picture above)
This is the most elegant souvenir in the shop.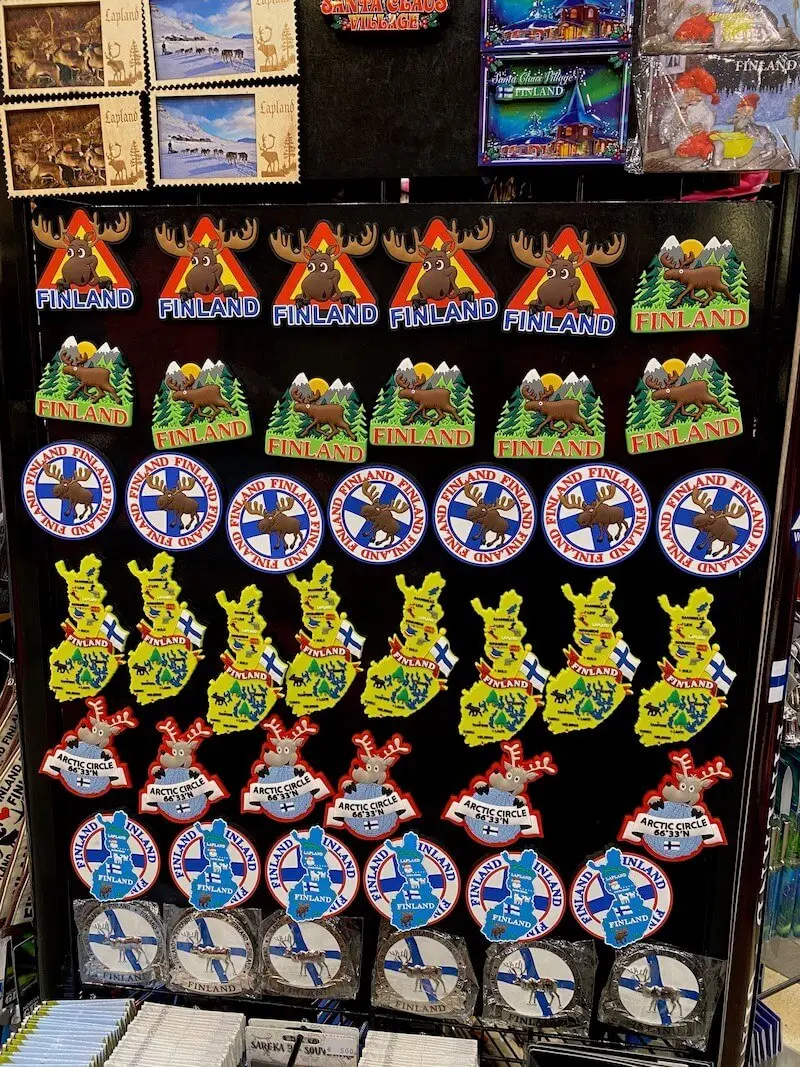 No.22: Cheap Lapland Souvenirs
There's not really such a thing as a 'cheap Lapland souvenir' but if you are looking for small, token gifts, you can't go wrong with a Finland magnet.
There's also a range of cheaper Finnish gifts close to the payment counter.
Take a look there to see if anything catches your fancy.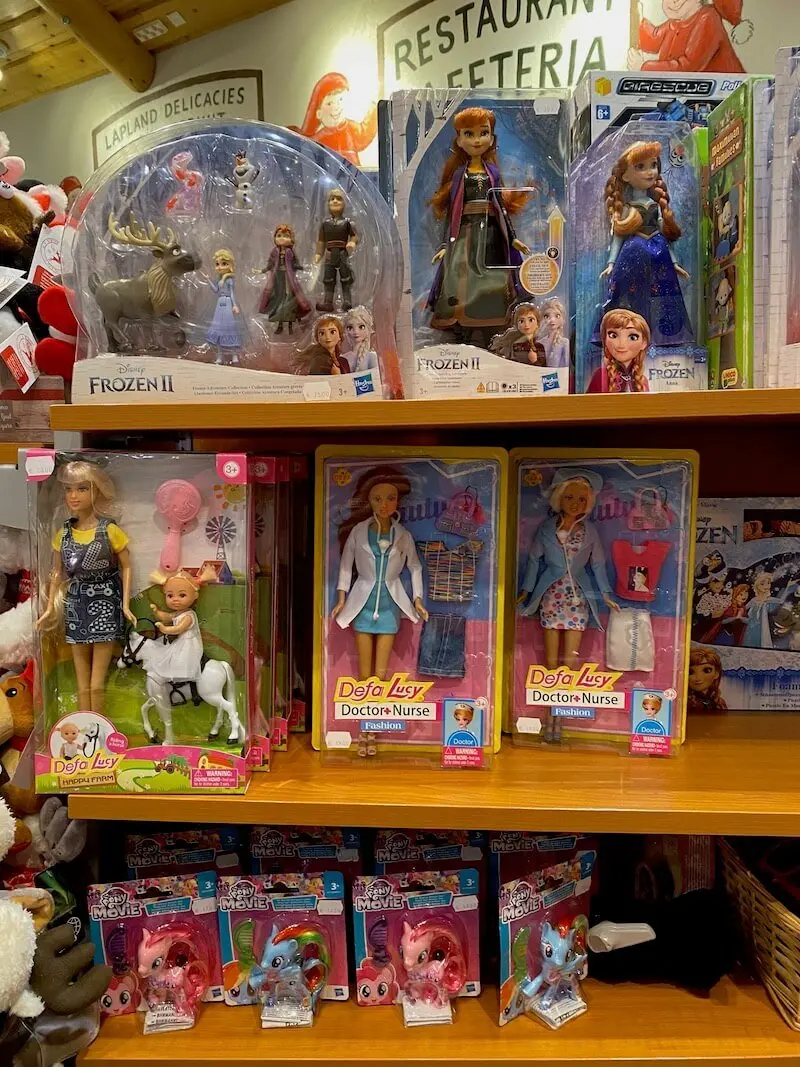 The Useful Toy Shop
Surprisingly, you'll find a range of random commercial toys in the shop too including:
My Little Pony
Tonka Trucks
Nerf guns
Matchbox cars
Frozen 2 dolls
Defa Lucy (similar to Barbie)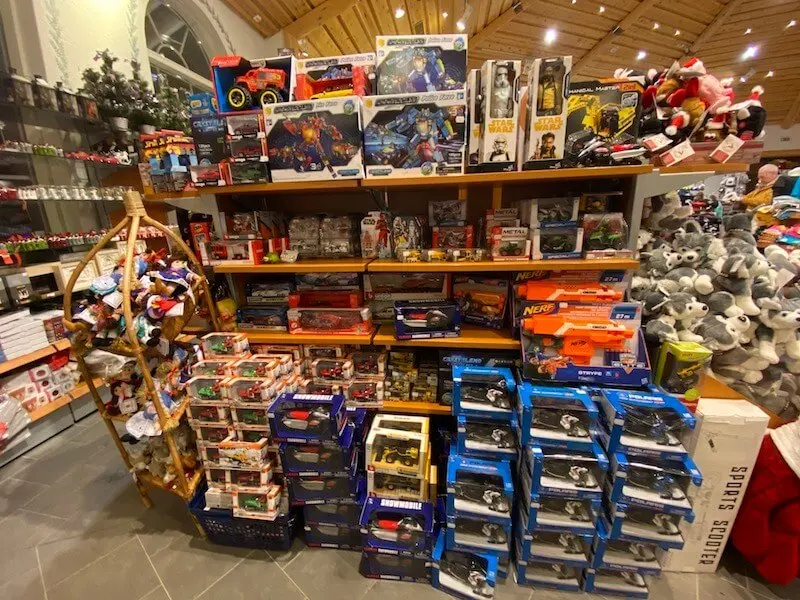 Purchase Toys for a Private Santa visit
There is a selection of toys available in store for those parents staying on site who have arranged a visit from Santa to their cabin, and need to purchase a gift to wrap so it can be delivered during the surprise greeting.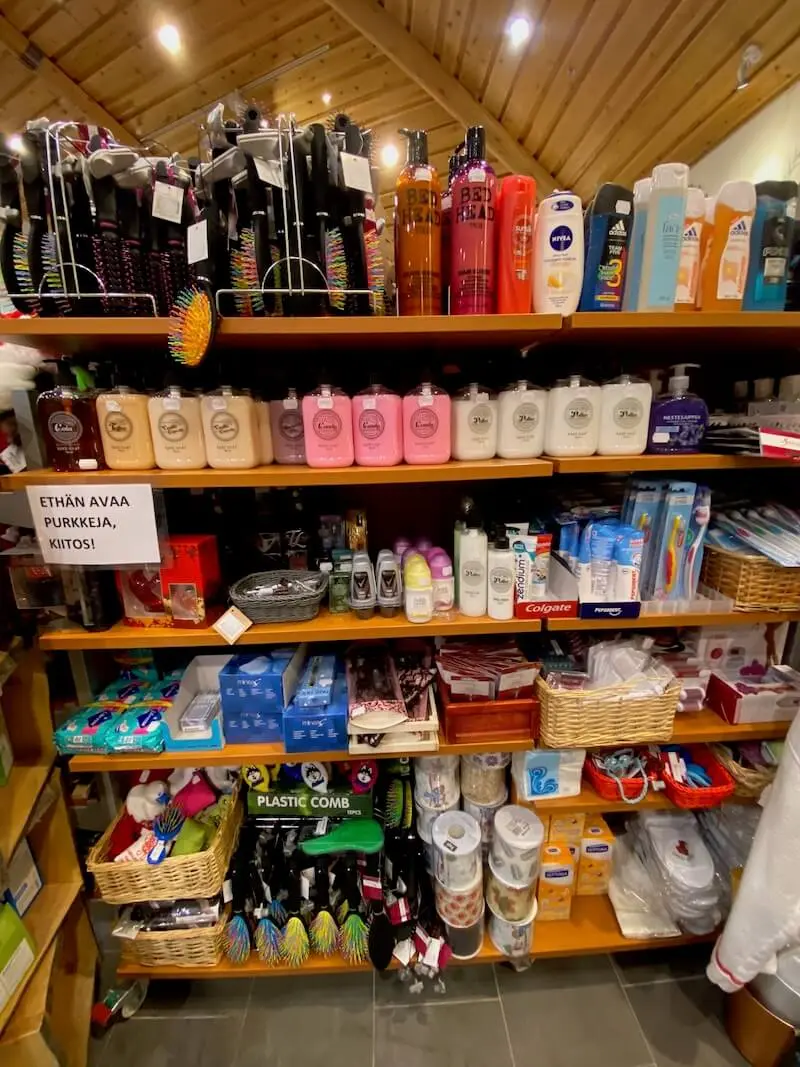 Basic Essentials for Sale
Happily, there's also a range of basic essentials including:
tissues
sanitary pads and tampons
toothbrushes and toothpaste
deodorant
hair brushes
wrapping paper
disposable slippers
wipes
make up remover
perfume
shampoo, conditioner and body wash
As I've discovered, you never know when you'll need something like this.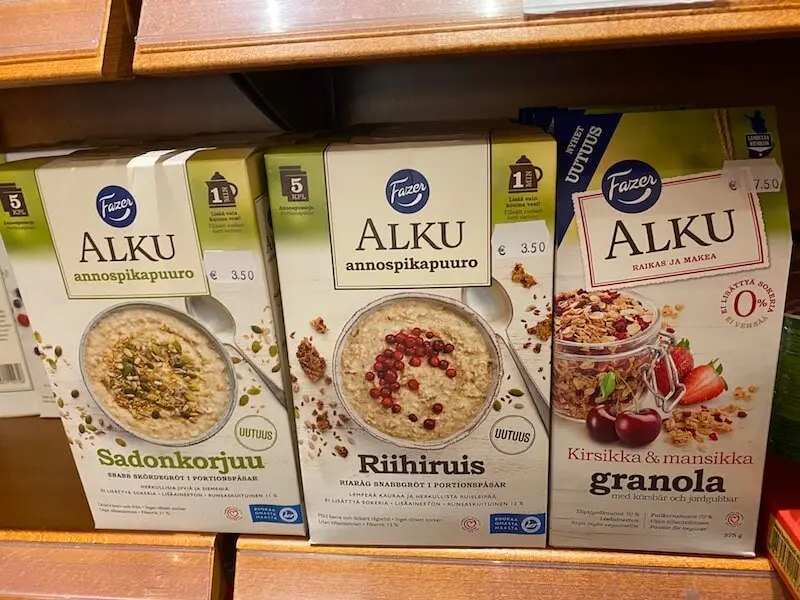 Nordic & Finnish Food souvenirs
At the back of the Christmas House gift shop, near the entrance to the restaurant, there is a section full of traditional Finnish food, including:

vacuum packed salami
tinned reindeer meat
Finnish porridge and granola
Finnish jams, jellies and marmalade
Lingonberry cordial
Finnish gingerbread biscuits
Finnish tea bags
Finnish chocolate
Read our guide to the best Finland food to buy in a Finnish supermarket here.
Food from Finland makes a great, easy carry, lightweight gift too.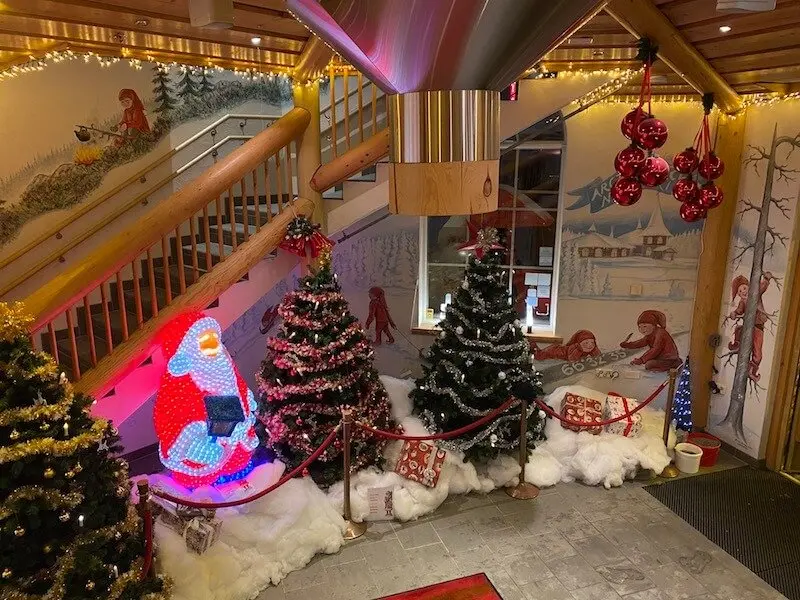 THE INSIDE SCOOP: Christmas House Rovaniemi Shopping
Correct at time of publication on Roam the Gnome. Please check with venue for updates. We apologise in advance if there have been any changes we are unaware of. All prices in euro, unless otherwise stated
Christmas House Gift Shop telephone: (via reception) + 358 400 306 273
Christmas House Shop opening hours: 8am to 10pm.
Christmas House Souvenir Shop website: Click here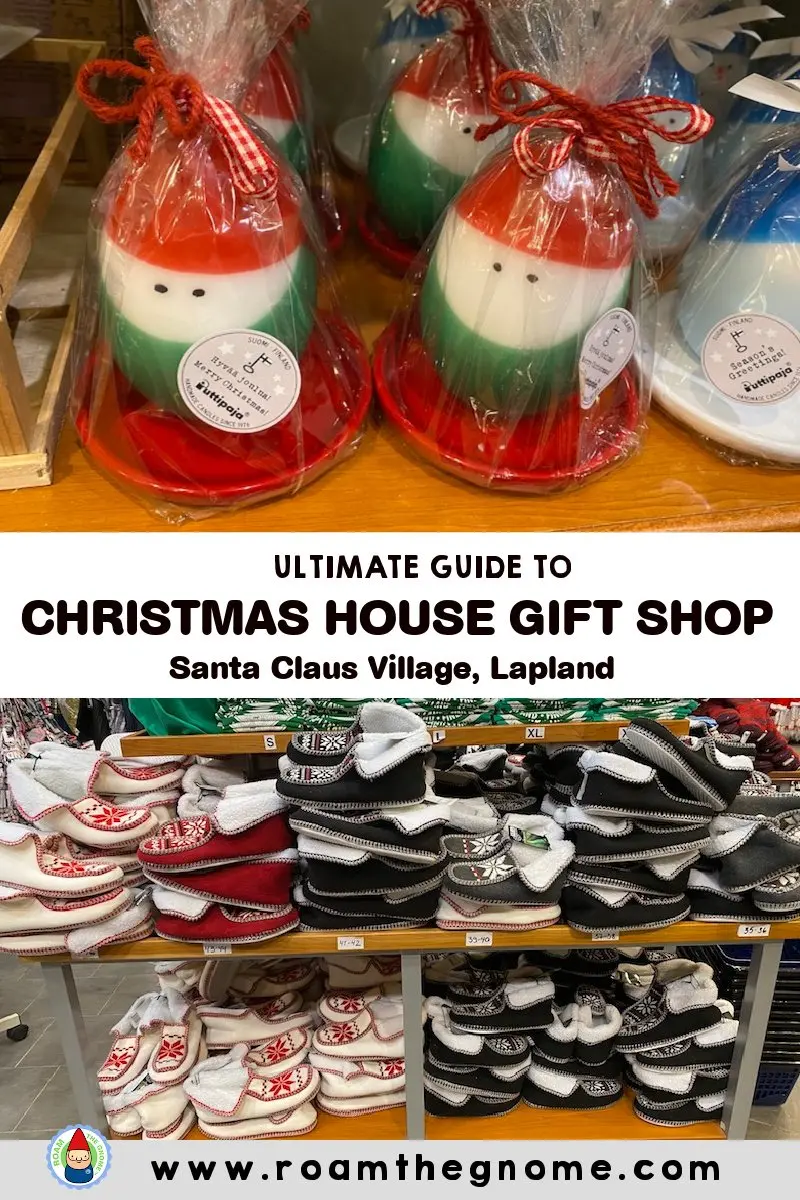 How to get to Santa Claus Village from Rovaniemi
Christmas House is the building that is to the RIGHT of the Three Elves Restaurant.
Click here for details of how to get from Rovaniemi to Santa Claus Village.
Guide above also includes details of how to get from Helsinki to Rovaniemi on the Santa Claus Express train, and by plane.
Christmas House Gift Store Map
Toadstool Rating: Santa Claus Holiday Village Christmas House Gift Shop
Christmas House in Rovaniemi IS the best gift shop in Lapland.
Something for everyone.

Looking for More Things to Do at Santa Claus Holiday Village?
Click the blue links for a sneak peek at these Christmas House & Santa Claus Village experiences in Lapland