INSIDE: Roam the Gnome's Insider's Guide to the MOOMIN SHOP Finland Rovaniemi (Santa Village)
Visiting Finland and looking for a unique Finnish gift for kids, or anyone who loves the quirky characters that are known as the Moomins (or Mummi)?
You need to visit a Moomin Shop.
It's the place to buy Finland's CUTEST souvenirs.
There is a Moomin Cafe, with an attached Moomin shop in Helsinki, but the best one is the Moomin Shop in Rovaniemi, the one that is inside the Santa Claus Gift House and Arctic Circle Information Centre at the Santa Claus Holiday Village.
Take a peek inside the Moomin shop in Santa Claus Holiday Village below!
Disclosure: This article contains affiliate links. If you make a purchase after clicking on one of these links, we may receive a small commission at NO extra cost to you.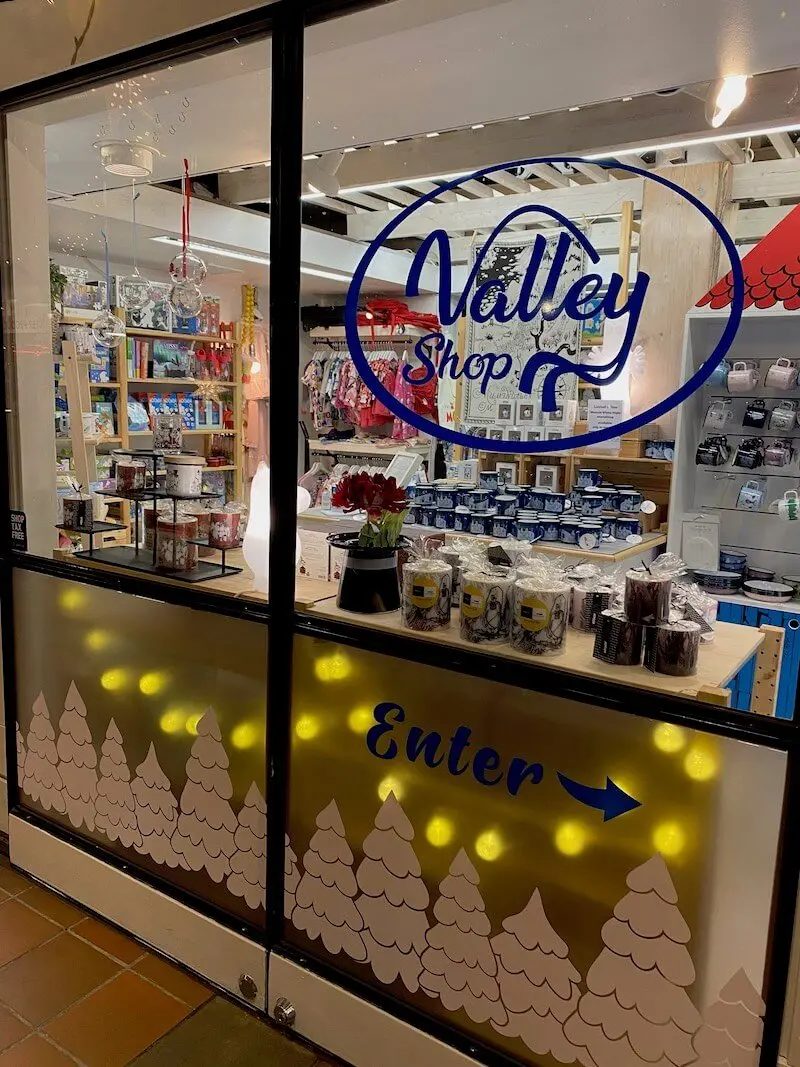 Who are the Moomins of Finland?
From a sign in the shop:
(Edited for length)
"The Moomins are the central characters in a series of books and a comic strip by Swedish-Finn illustrator, visual artist and writer, Tove Jansson, originally published in Swedish in Finland.
They are a family of trolls who are white and roundish, with large snouts, who love adventures with their friends. The carefree and adventurous family live in their house in Moominvalley.
Moominvalley is a peaceful place where the Moomins live in harmony with nature. Moominhouse is the largest building in the valley, and visitors from far and wide are welcome to visit.
The Moomins made a path from the Moominhouse to the seashore, and built a small bathhouse there. Moomins love the sea and playing on the beach.
The Moomins do love a good journey and their adventures take them far and wide, but they know their home is always there for them to return to.
The Moomins are a direct reflection of author-illustrator Tove Jansson's life philosophy and practices, and people from around the world continue to resonate with her messages"
---
RELATED: The Complete Guide to Planning a Lapland Christmas Trip for families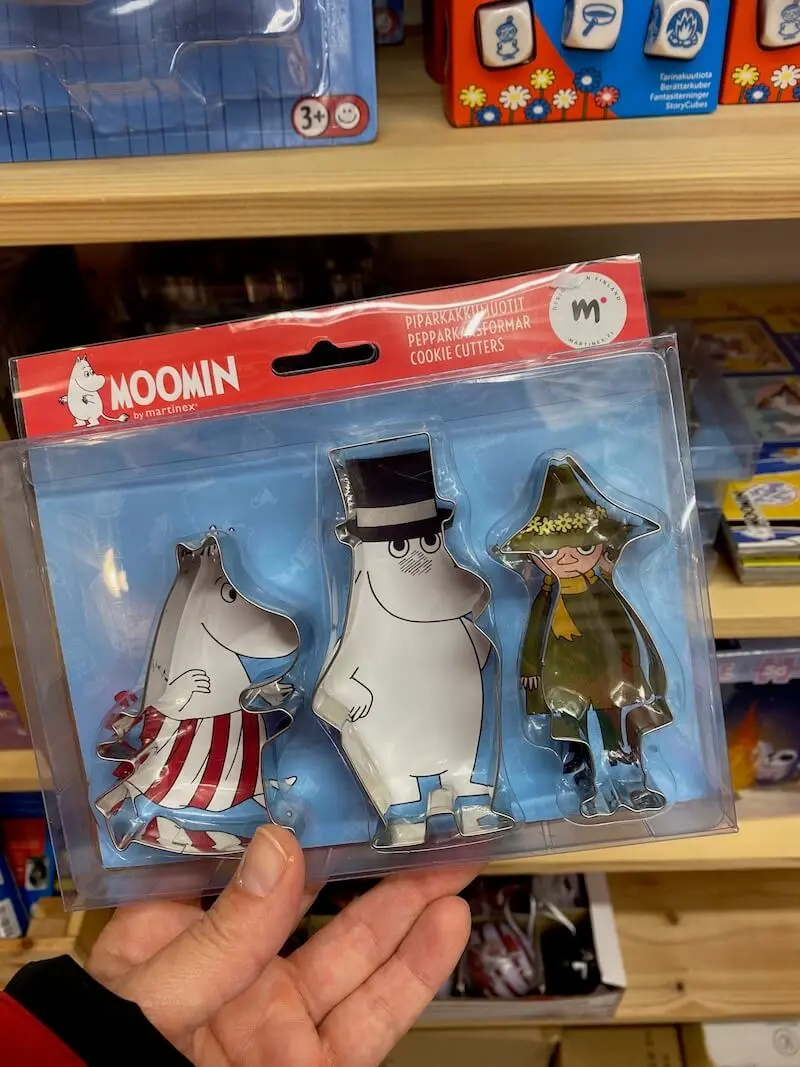 Guide to Moomin Shop Finland
The Moomin shop in Rovaniemi is FULL of Moomin toys, Moomin mugs, Moomin gifts and more.
There's something for everyone inside this Moomins shop, including Moomin cookie cutters!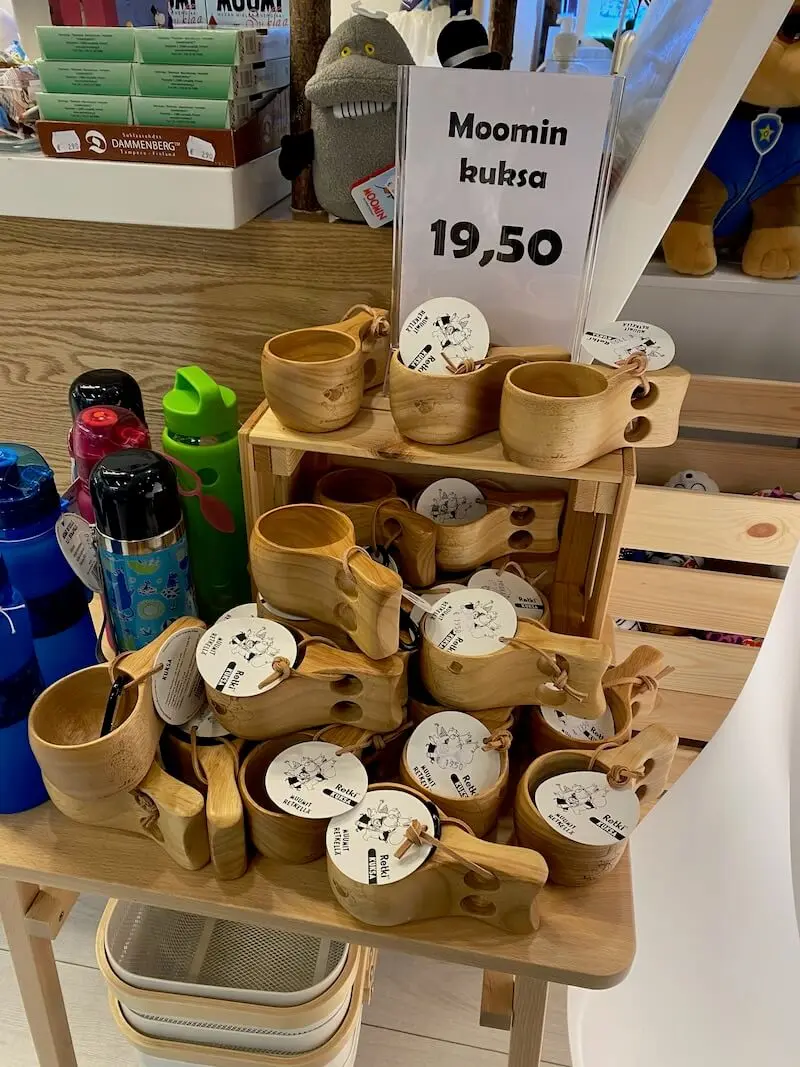 A Sneak Peek inside the Finland Moomin Shop Rovaniemi
The most Finnish of all Moomin troll gifts is a traditional Finnish Kuksa mug.
At 19,50 euro, it's not the cheapest of Moomin souvenirs BUT it is one of the most authentic Finland gifts you can give.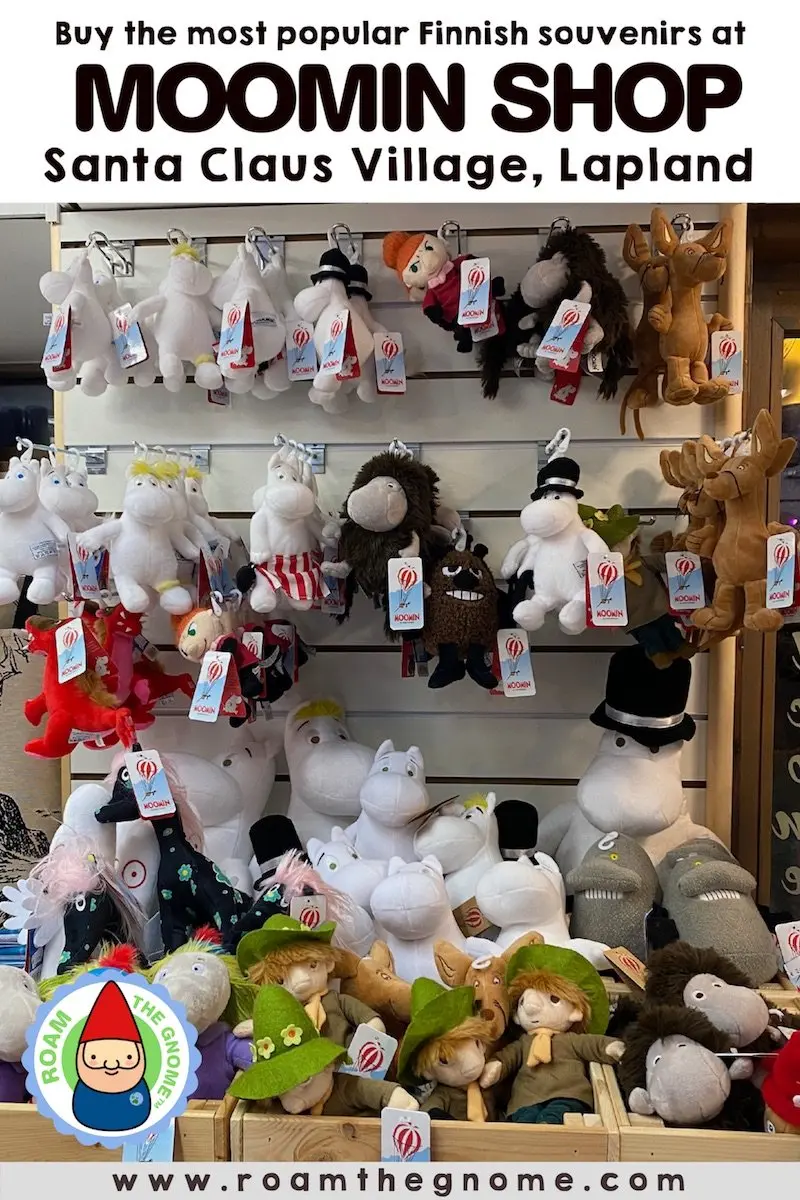 BEST MOOMIN MERCHANDISE LIST
No.1: Moomin Plush Toys
The Moomin Plush range in store is quite something!
This is a Moomin toy my boys would go crazy for.
That, or a Moomin costume.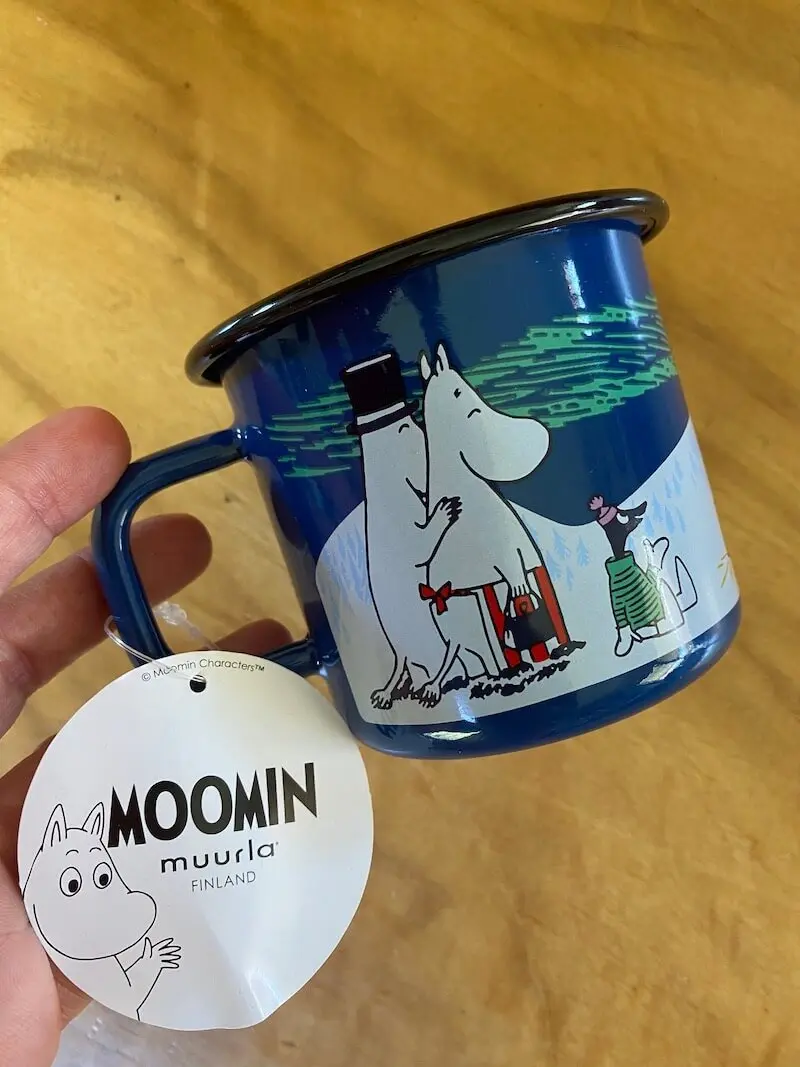 No.2: Moomin Mugs
We bought one of these EXCLUSIVE Moomin of Finland mugs.
This Moomin mug design is ONLY available at the Moomin shop in Lapland.
Nowhere else.
These mugs cost 17,90 euro, but an enamel Moomin mug is a gift that will be around for a long time.
Morning coffee will never be the same.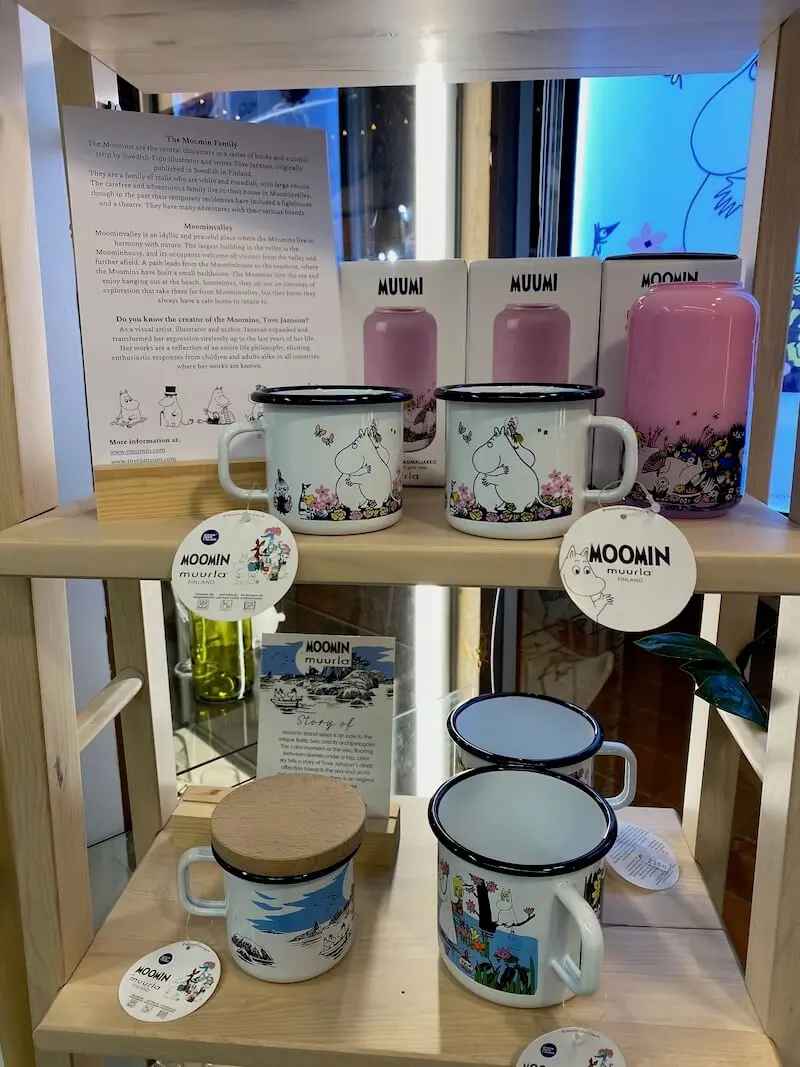 More Moomin Mug designs in store
Check out all the other designs too.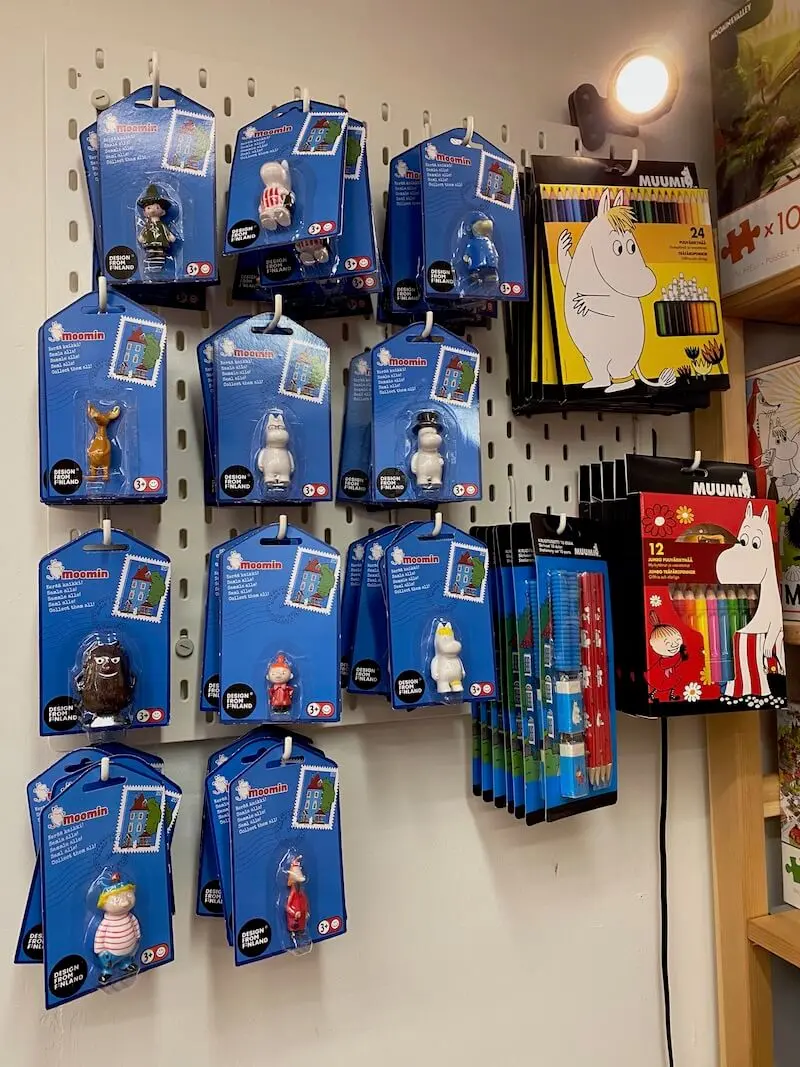 No.3: Moomin Troll Figurines
Kids love Moomin characters they can play with.
These Moomin figurines feature all the key family members and friends.
The Moomin Family
Moomintroll
Moominmamma
Moominpappa
Best Friends
Snufkin.
Little My
Snorkmaiden.
Snork (with the glasses)
Sniff
Those of the Moominvalley and surrounds
Mymble.
The Groke
The Police Inspector
Hattifatteners
Too-Ticky ( in the red and white striped shirt)
and a whole lot more….
Want a list of every single Moomin character?
No.4: Moomin Stationery
The Moomin shop in the Santa Village also sells a range of Moomin stationery, including:
coloured pencils, and
lead pencil sets.
No.5: Moomin Books in English
Did you know that in total, there were nine books released in the series, together with five picture books and a comic strip that ran between 1945 and 1993.
The Moomin shop in Lapland sells Moomin books in English.
No.6: Moomin Games
Plus, there's a shelf full of activities and games including:
Moomin Story Cubes
Moomin puzzles
Moomin money boxes
Moomin umbrellas
Look out for the range of Moomin poster boards, and original Moomin art.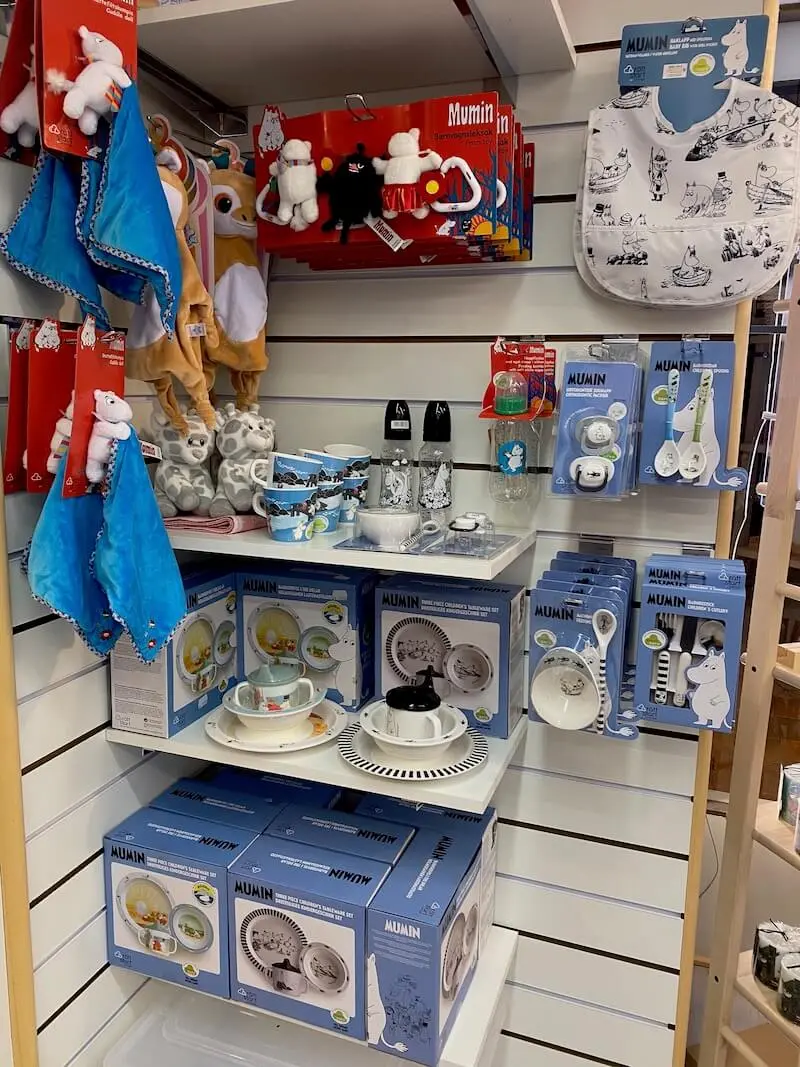 No.7: Moomin Baby Gifts
The Moomins are very popular with new mamas so you can now find a range of:
Mumin cutlery
Mumin baby bowls
Moomin spoons
a Moomin cup
dummies
Moomin cups (sippers)
Moomin baby bottles
Moomin bibs, and
Moomin pram toys
The choice of what to buy is difficult, as it's all so cute!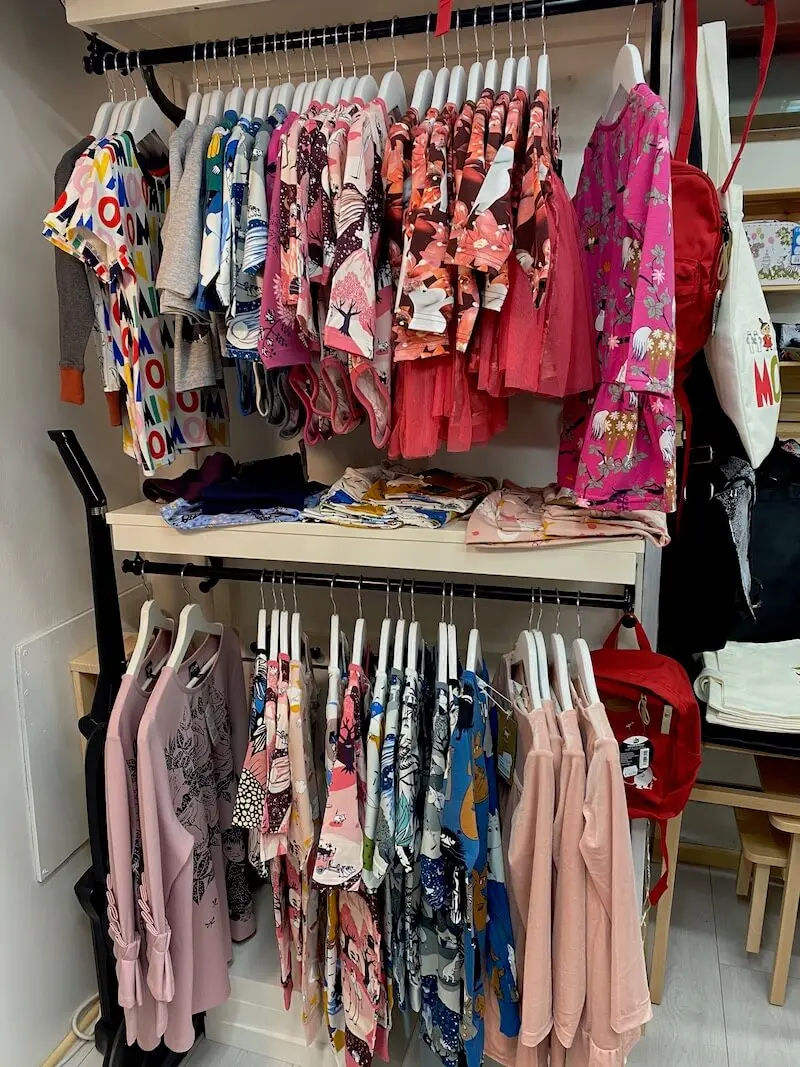 No.8: Moomin Clothes & Moomin Baby Clothes
The shop stocks Moomin baby clothes, children's clothes, and Moomin pyjamas for young and old.
Plus, a range of Moomin t shirts too.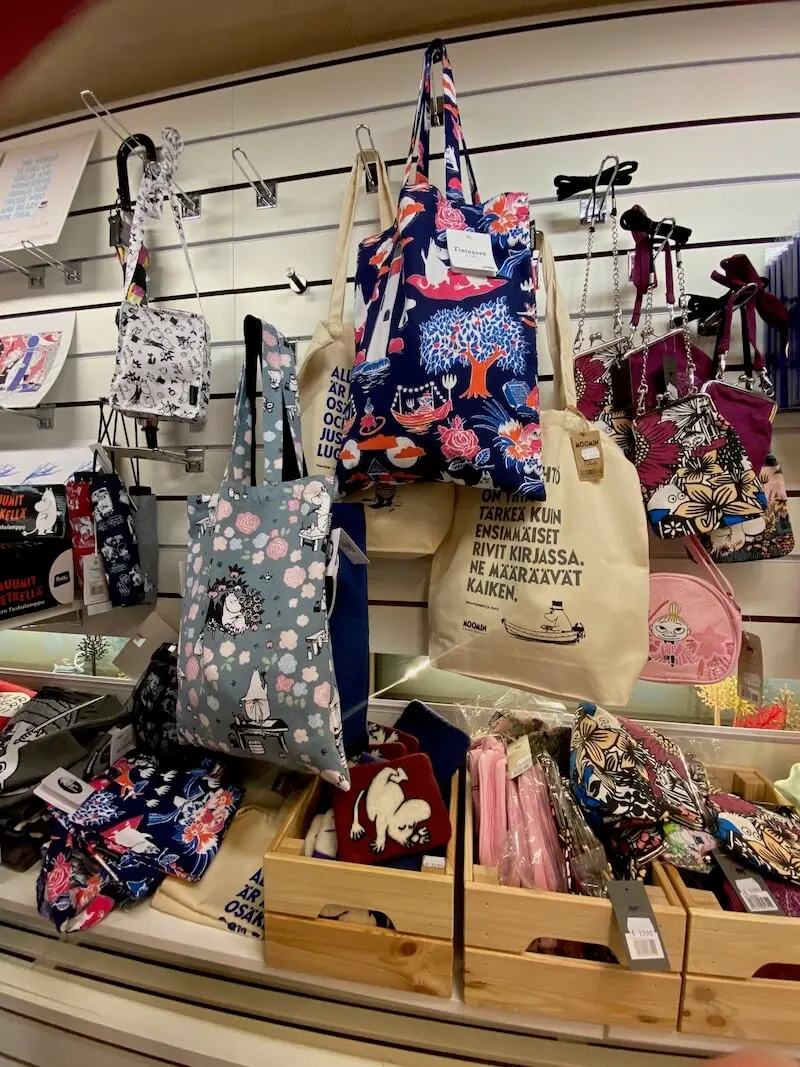 No.9: Moomin Shopping Bag and Moomin Tote Bags
Look out for:
Moomin tote bags
Moomin shoulder bag
Moomin shopping bags
Moomin carry bags
Moomin purses, and more.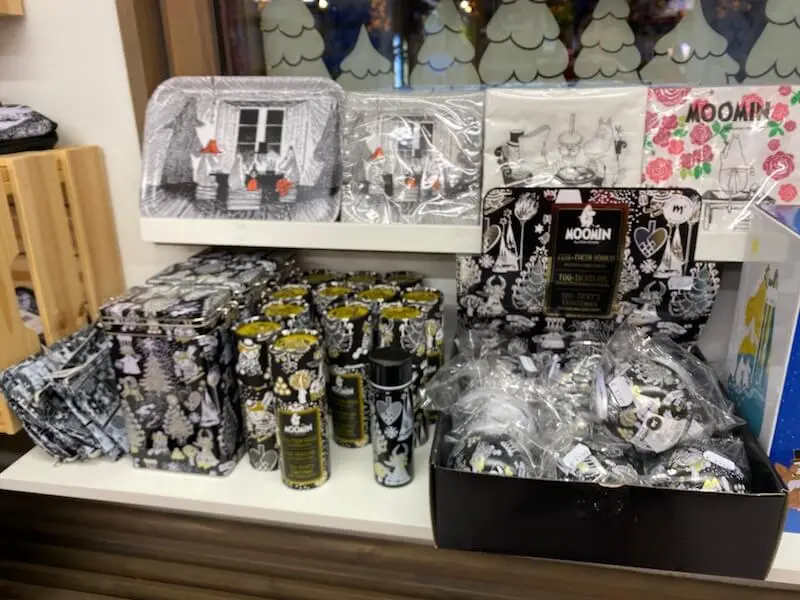 No.10: Moomin Party Goods
There's Moomin paper plates, napkins and more.
Everything you need for a Moomin themed party.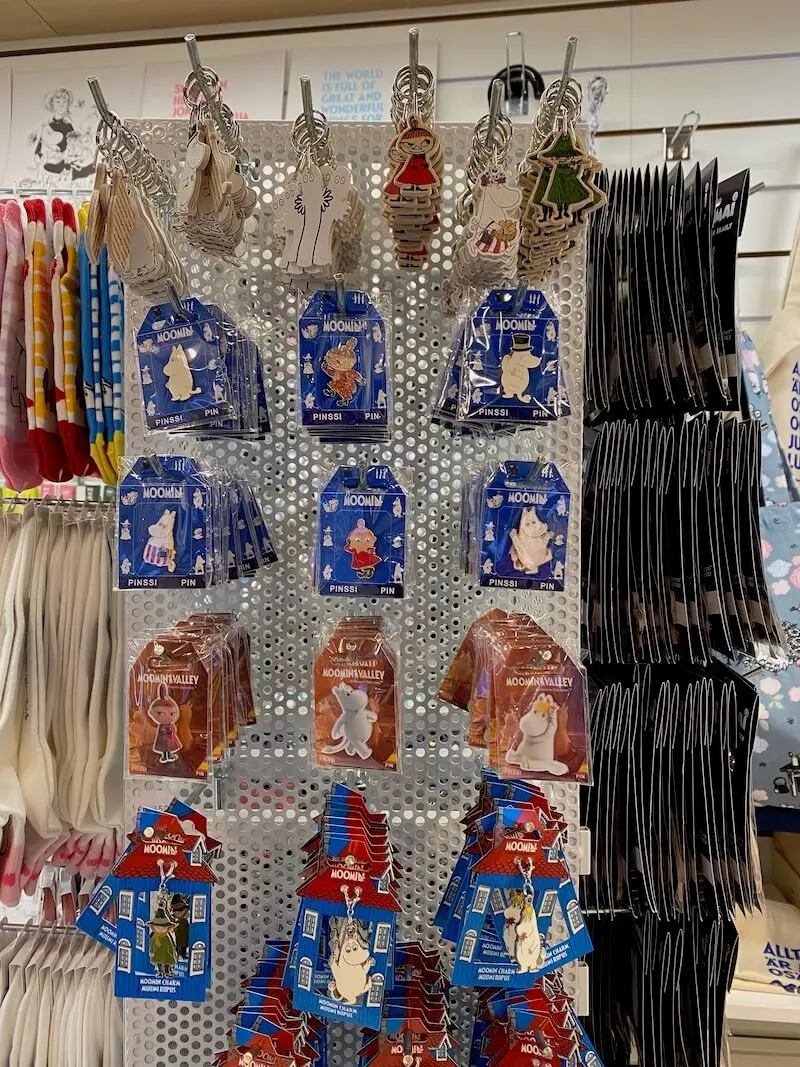 No.11: Cheap Moomin Gifts
While there's really no such thing as a cheap Moomin gift or budget Moomin merchandise, the best bet if you are on a budget is to purchase either a:
Moomin keyring
Moomin phone case, or
Moomin socks.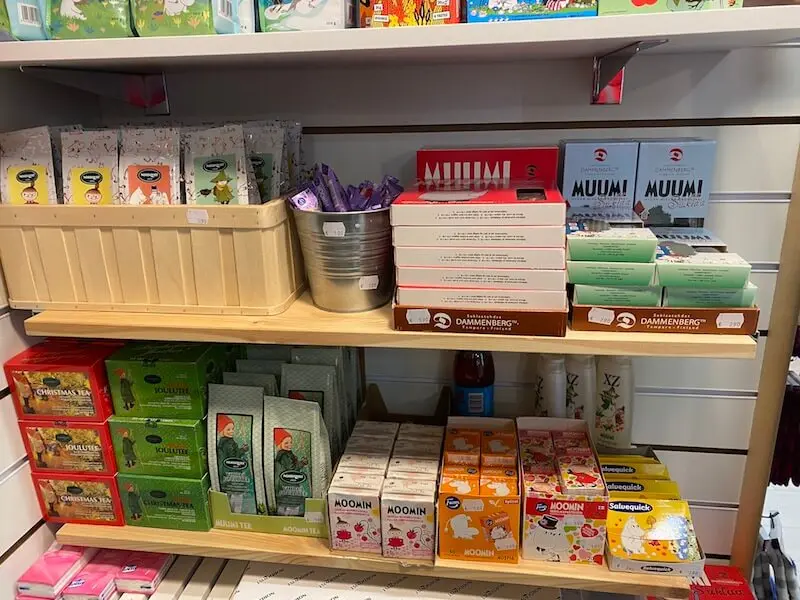 No.12: Moomin Food Souvenirs
Or stick with edible Moomin gifts and drinks.
The Fazer Moomin biscuits are delicious, with a hint of vanilla.
Find at the Fazer shop in Santa Village too
(The official name of this place is the Santa Claus Chocolate and Candy Shop, and there's LOTS of Finnish food souvenirs to choose from)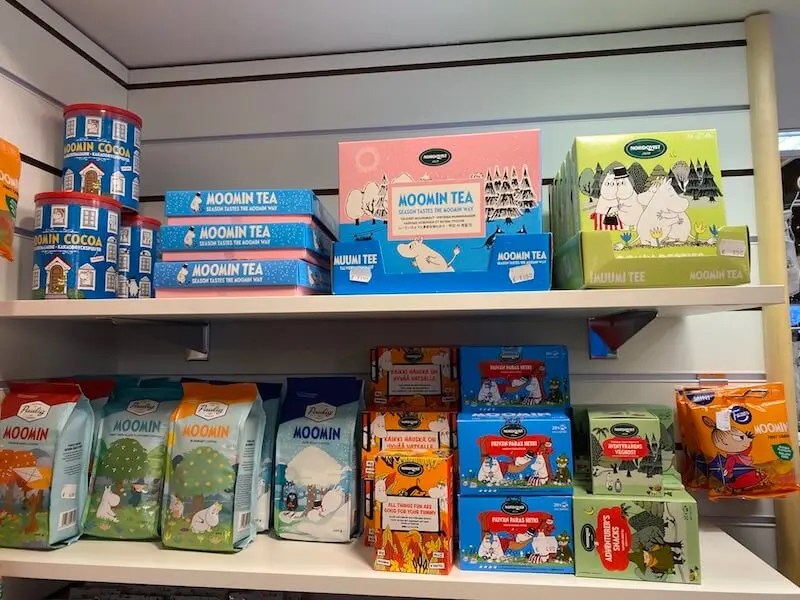 No.13: Moomin Biscuits and Candy
There's lots to choose from including:
Moomin teabags
Moomin gum
Moomin candy
Moomin chocolate
Moomin cocoa in a tin
Moomin gummies
Moomin biscuits
Moomin fudge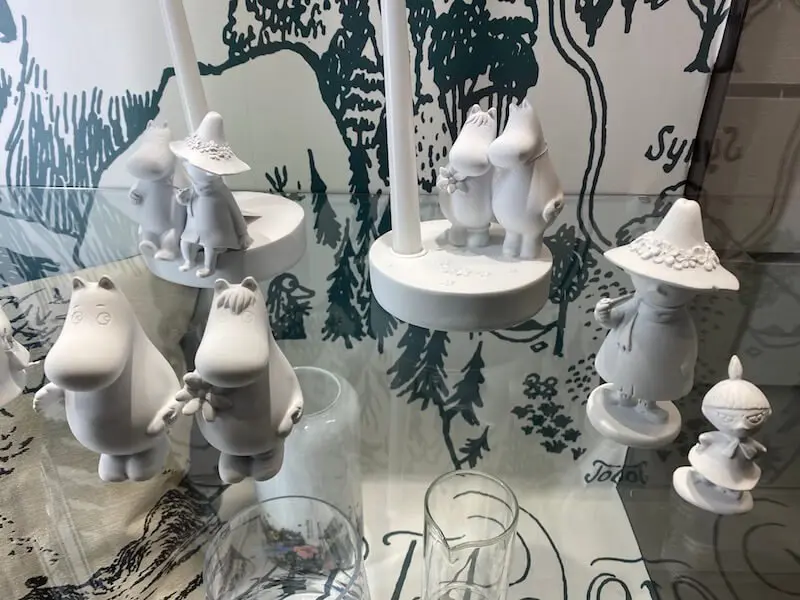 No.14: Moomin Collectibles
If the budget is not a concern, a Moomin collectible is a one-of-a-kind gift for a Moomin fan.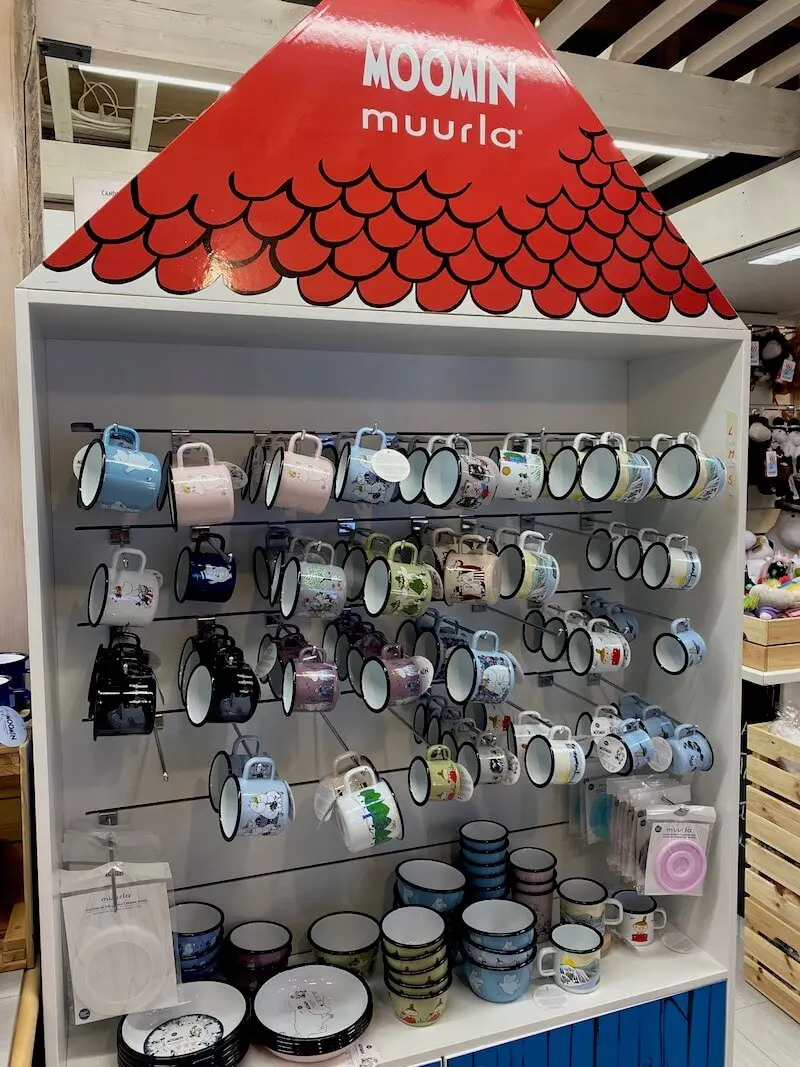 No.15: Moomin Enamel Ware
As well as the mugs, there's also Moomin enamel bowls and plates to match.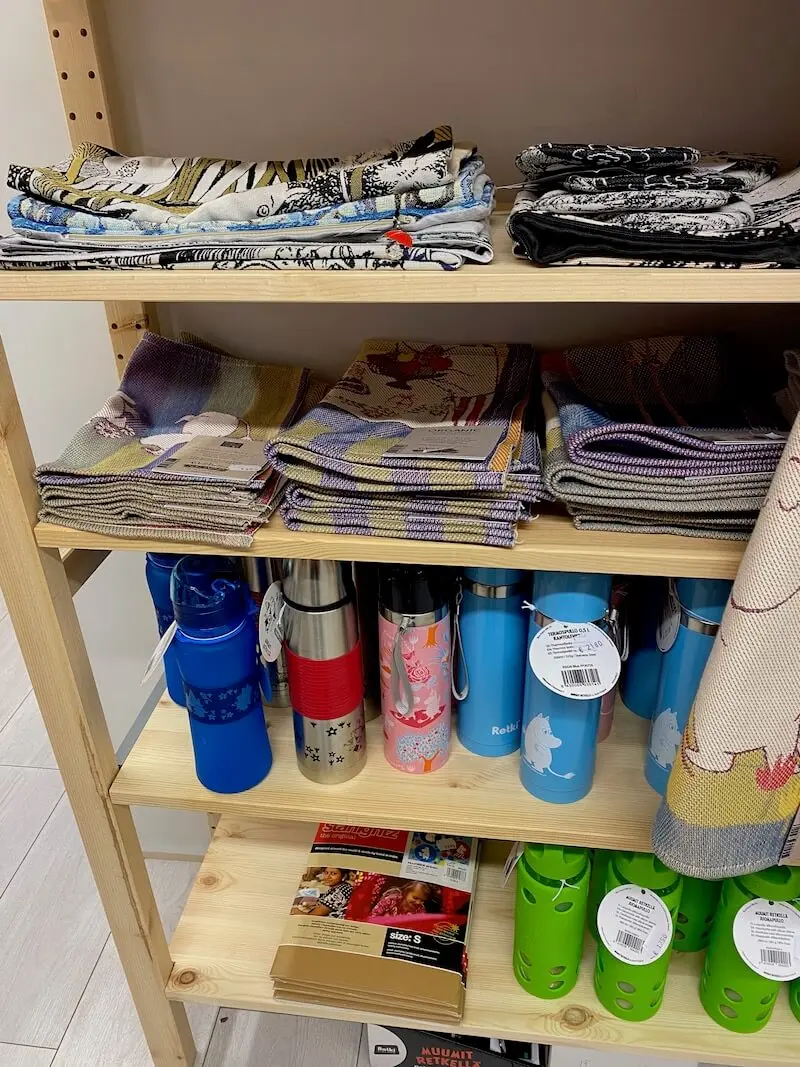 No.16: Moomin kitchenware & homewares
Look out for teatowels, table runners, placemats, and Moomin drink bottles.
You may even spot a Moomin apron – the perfect gift for a foodie friend.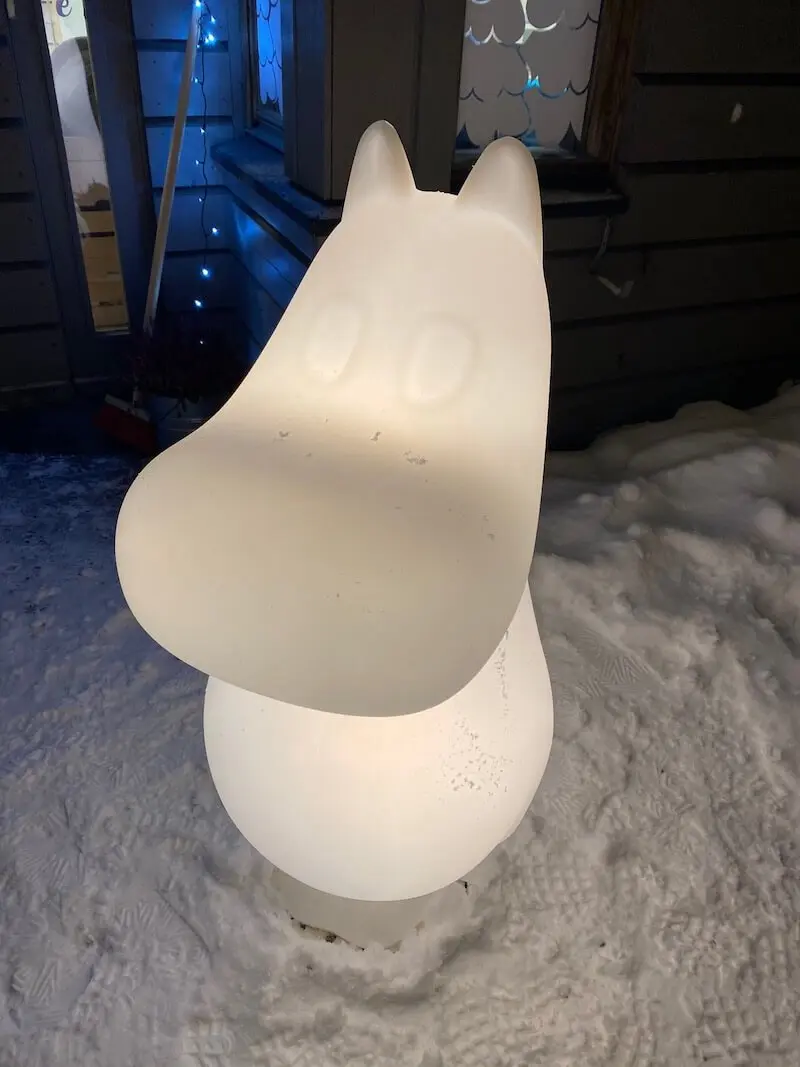 No.17: Moomin Lamp (pictured at top)
Jack and Roam the Gnome decided on a Moomin lamp, a pocket sized version of this Moomin lamp that sits outside the shop, in the snow at Santa Village.
Our little piece of Moomin Valley is now home, safe and sound on the nightstand.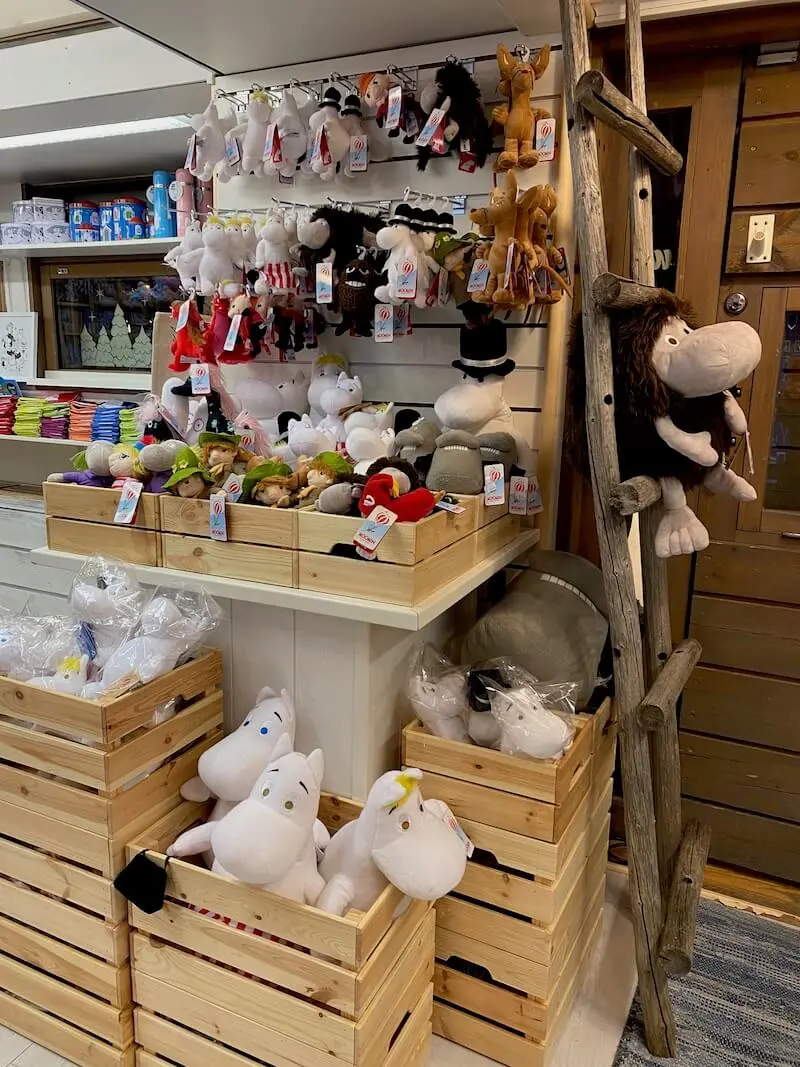 THE INSIDE SCOOP: The Moomin Shop in Santa Claus Village Finland
Correct at time of publication on Roam the Gnome. Please check with venue for updates. We apologise in advance if there have been any changes we are unaware of. All prices in EURO, unless otherwise stated
Address: Moomin Valley Shop in Santa Claus Village is at Joulupukin Pajakyla, Rovaniemi 96930 Finland.
Find the shop inside Santa Claus Gift House and Arctic Circle Information Centre.
Turn left as you enter from the front, and you will see the shop.
It's the first store you come to on the right side of the aisle.
Telephone: +358 40 5173135
Website: Click here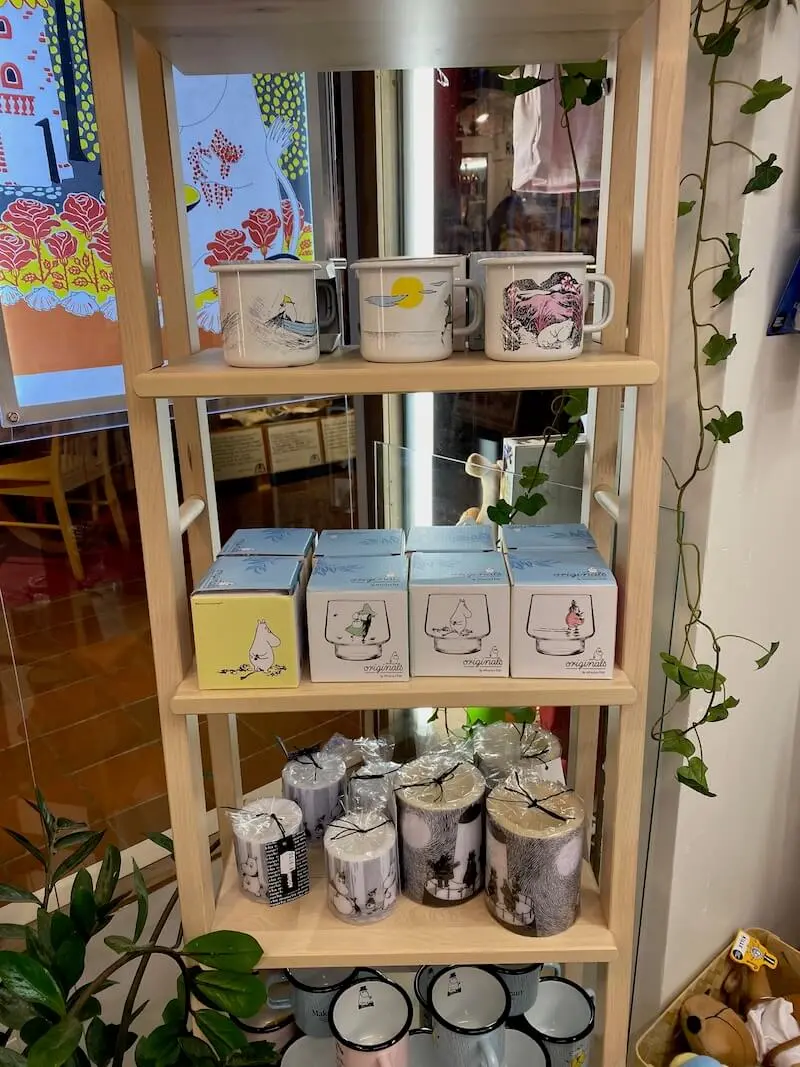 Moomin shop opening hours
10am to 6pm during the Christmas season.
The shop is open every day of the year. Hours may vary during low season.
Please check their facebook page for updates.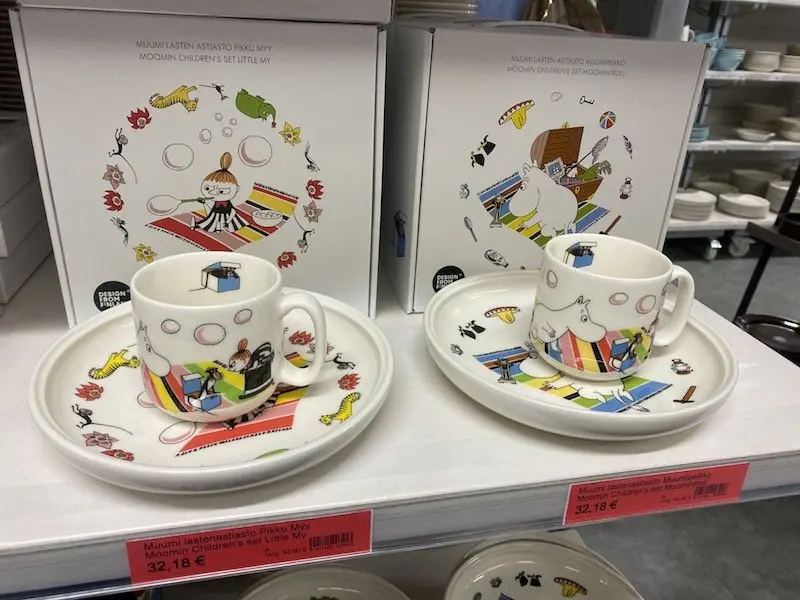 Arabia Moomin Mugs & More
Hot tip: If you are visiting the Moominshop in Rovaniemi in the Santa Village, make your next stop Iittala Arabia store inside the Main Office of Santa Building.
They have a range of Moomin Arabia dinnerwear, mugs, dishes, cutlery and more.
When we visited during the month of December, there was a 30% off sale off all Moomin products.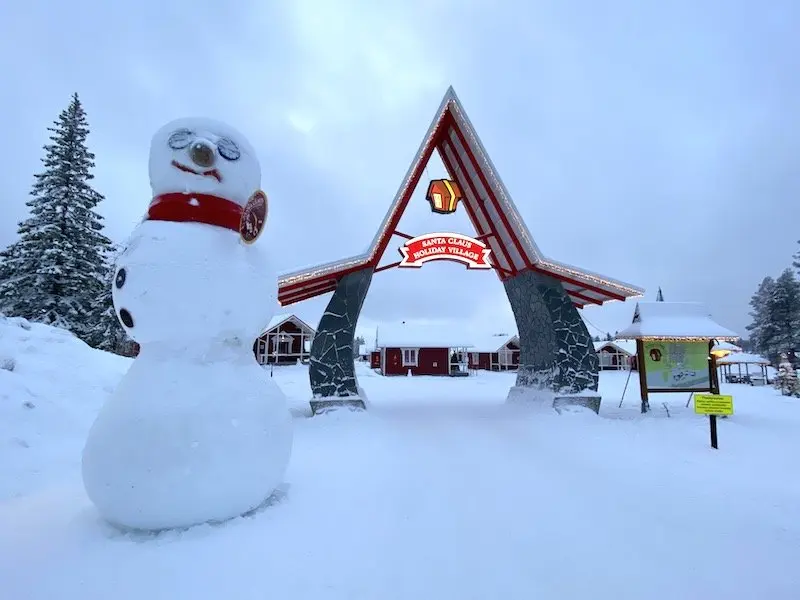 How to get to Santa Claus Village from Rovaniemi
Click here for details of how to get from Rovaniemi to Santa Claus Village.
Also includes details of how to get from Helsinki to Rovaniemi on the Santa Claus Express train, and by plane.
Moomin Shop Map
Toadstool Rating: Moomin Valley Shop in Lapland
This is a shop specialising in Moomin products at Santa Claus Village on the Arctic Circle, Rovaniemi.
DO VISIT.
The shop owner is a delight, and very keen to help.
She has a LOVE of Moomin that is palpable.

MORE MOOMINS SHOP & MOOMIN CAFE LOCATIONS!
No.1: The Moomin Shop Helsinki
There's actually three Moomin shops in Helsinki but the main one is the Moomin Shop Forum at Mannerheimintie 20, 00100, Helsinki, Finland
This is the spot to buy giant Moomin plush toys!
The Moomin store Helsinki style is opposite the Vans store in Helsinki.
Hot tip: Visit the Tove Jansson gallery at Helsinki Art Museum while you are there – Find it at HAM Södra Järnvägsgatan 8, 00100, Helsingfors, Finland
No.2: The Moomin Cafe Helsinki
We visited the Moomin Finland cafe in Helsinki
Read our review here.
Find it at Fabianinkatu 29 Helsinki, opposite Esplandi park.
There's a small shop at the back of the cafe selling cute Moomin toys, stationery and suitcases for kids, plus Moomin biscuits and hot chocolate.
No.3: The Moomin Shop Hawaii
Head to the Ala Moana shopping centre and find the Moomin Shop at Shop # 3560, Honolulu.
This one is GIGANTIC!
A must for Moomin fans.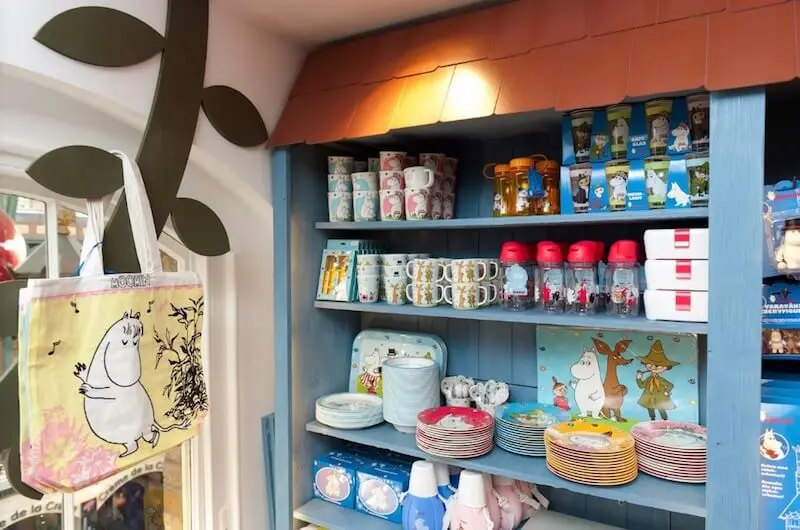 Image credit: Moomin Shop Covent Garden
No.4: The Moomin Shop London
Head to Covent Garden in London to pick up all your Moomin souvenirs and gifts.
The Moomin book range here is outstanding, and so is the selection of Moomin toys.
But it's the brightly coloured melamine plates, bowls, spoons and serving trays that catch my eye.
Dare you to leave empty handed.
Look for the teal coloured doors, next to our other favourite design shop Pylones.
London Moomin Shop is at Shop 43Covent Garden London.
No.5: The Moomin Shop Tokyo
The Moomin Shop is located in First Avenue Tokyo Station, on Tokyo Character street.
We've been there.
Take a look here for details, and how to get there.
No.6: Moomin Café In Tokyo Skytree Town
Yes, there is a new Moomin cafe in Tokyo.
The food is super cute.
Find it a 1-1-2 Oshiage, Sumida-ku, Tokyo 131-0045 Tokyo Sky Tree Town Soramachi 1F Tower Yard 6
The cafe is open from 10am – 9.30pm daily
There's also Moomin Bakery & Cafe Tokyo Dome City LaQua.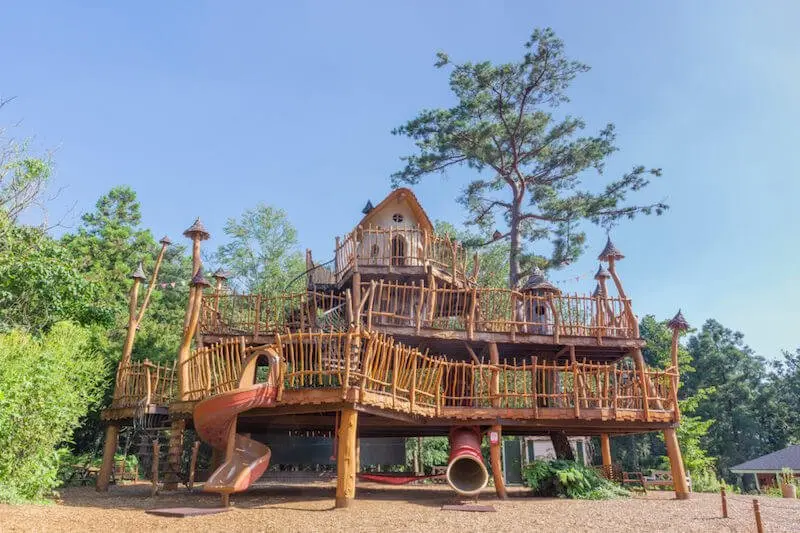 Image credit: Moominvalley Park playground
No.7: Moominvalley Park Saitama
Join in some cute Moomin craft workshops and candle making workshops, or a class to make your own Moomin stuffed animals.
Check out the lighthouse, Moominhouse, the exhibition house, the particapatory theatre with Moomins, watch shows or take a ride on the Oshun Oxtra.
Hemulen's playground is the best thing ever for kids!
Don't miss eating at the Moominvalley dining room or the Moomin Japan pancake restaurant.
Find it at Miyazawa, Hanno, Saitama 357-0001, Japan
Moomin Cafe Singapore?
As much as we'd love it, unfortunately, this is not yet a thing.
Moomin Shop Australia?
Unfortunately, there's no Moomin shop in Australia yet.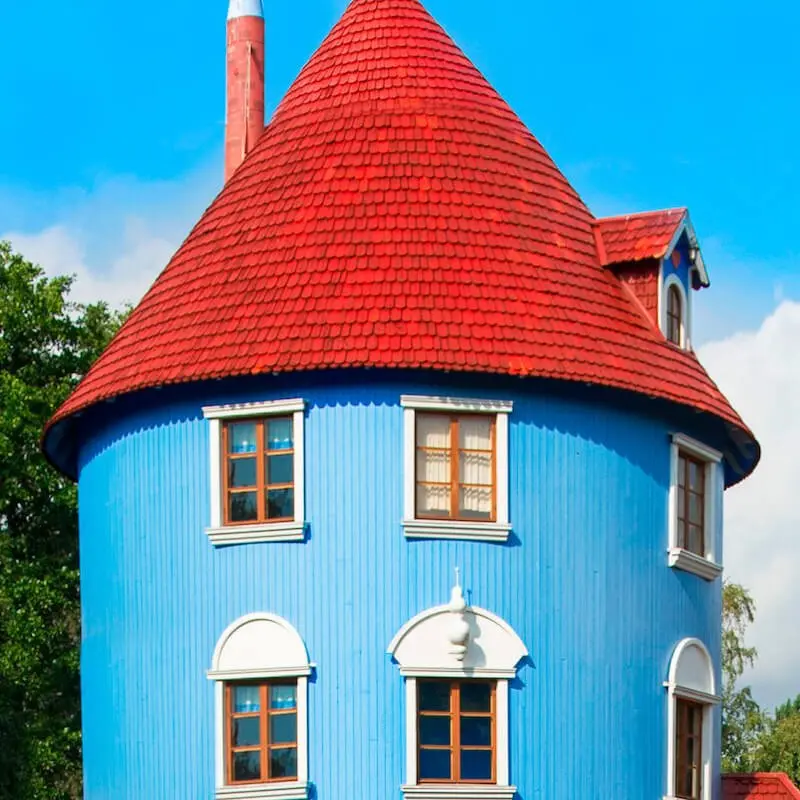 Image credit: Moominworld
Moomin World Theme Park
Moominworld in Naantali is the spot to walk INTO the world of the Moomins in real life!
Human size, in fact.
You can HUG a Moomin here.
Plus,
visit Snork's Park of Inventions
stop by Sniff's Shop to check out exclusive Moominworld souvenirs
see Moomin shows
eat in Mamma's kitchen restaurant
visit the Moomin post office
check out Snufkin's camp
take a nap at Whileaway park, or
dine at Snork's potato factory.
Check out the Moominworld Map here (summer openings).

Moomin Museum
Dedicated Moomin fans will love this museum with around 400 original illustrations by the well known artist and illustrator Tove Jansson.
Plus 30 three-dimensional Moomin tableaux by her partner, the graphic artist Tuulikki Pietilä.
Plus, find a Moomin reading room, and a shop too.
Find it at Tampere Hall, Yliopistonkatu 55, 33100 Tampere, Finland
Looking for MORE THINGS TO DO IN SANTA CLAUS VILLAGE Lapland with kids?
Click the links in blue for more Lapland tips below.